Get ready to turn your home into a hauntingly captivating space with DIY Halloween decorations! As the air gets chilly and the nights grow longer, it's time to embrace the spirit of the season and infuse your living space with eerie charm. Whether you're hosting a Halloween bash or simply looking to create a spooky ambiance for trick-or-treaters, these do-it-yourself decor ideas will transform your home into a wickedly enchanting haven.

From haunted house-inspired door wreaths to ghostly window silhouettes, DIY Halloween decorations offer endless possibilities for unleashing your creativity. Craft spider webs out of yarn or cotton, adorn your walls with creepy portraits, and dangle ghostly apparitions from the ceiling. The key is to mix chilling elements with a touch of whimsy, conjuring an atmosphere that delights and spooks in equal measure.

With a few basic supplies and a dash of imagination, you can bring your most chilling visions to life. So, grab your glue gun, dust off your craft supplies, and prepare to create a spine-tingling spectacle within your own home. With DIY Halloween decorations, you can immerse yourself in the thrill of the season and unleash your inner Halloween artist. Let the transformation begin!
---
◆ When is the best time to do your DIY Halloween decorations?
The best time to start working on your DIY Halloween decorations is typically several weeks before Halloween itself. It's recommended to begin in early to mid-October to allow yourself enough time to plan, gather materials, and create your decorations.

Starting early ensures you have ample time to complete the projects and make any necessary adjustments or additions. Additionally, by beginning ahead of time, you'll be able to enjoy the process of crafting the decorations without feeling rushed or stressed.

Early preparation also gives you the opportunity to showcase your creations for a longer period, bringing the Halloween spirit to your home or surroundings throughout the entire month of October. So, mark your calendar for the beginning of October to kick off your DIY Halloween decoration endeavors.
---
◆ To make DIY Halloween decorations at home, you will need a variety of supplies. The specific materials will depend on the decorations you plan to create, but here are some common supplies often used in Halloween crafts:
1. Construction paper or cardstock: These are versatile materials for creating cutouts, masks, banners, and other paper-based decorations.
2. Scissors: Essential for cutting and shaping paper, fabric, and other materials.
3. Glue or adhesive: Choose a glue suitable for your project, such as a glue stick, craft glue, or hot glue gun with glue sticks for stronger adhesion.
4. Paint and brushes: Acrylic paints in Halloween colors like orange, black, and green can be used to add details to your decorations.
5. Markers or pens: These are useful for drawing and adding finer details to your crafts.
6. Fabric or felt: Great for making fabric-based decorations like banners, garlands, or costumes.
7. Craft foam: Ideal for creating 3D elements, such as masks or props.
8. Ribbon or twine: Perfect for hanging decorations or adding decorative touches.
9. LED lights or candles: To add an eerie glow to your decorations, consider incorporating battery-powered LED lights or flameless candles.
10. Miscellaneous items: Depending on your specific projects, you may need items like pipe cleaners, googly eyes, beads, sequins, yarn, or other embellishments.
---
21. DIY Halloween Potion Bottles
Get ready to add an enchanting touch to your DIY Halloween decorations with the captivating allure of homemade potion bottles. These bewitching creations serve as eye-catching props and can be easily made using simple materials.

Begin by gathering glass bottles of various shapes and sizes, ensuring they are thoroughly cleaned. Next, unleash your creativity by applying layers of paint in haunting hues like deep purple, mossy green, or eerie black.

Use a sponge or a brush to achieve a weathered or aged effect. For an extra touch of authenticity, consider labeling the bottles with spooky names using calligraphy or printed labels.

Fill the bottles with intriguing concoctions like colored water, glitter, or dried herbs to complete the mystical look. Arrange them on shelves, mantels, or as part of a centerpiece to create an atmospheric display that will mesmerize your guests.

With these DIY Halloween potion bottles, you'll conjure an enchanting ambiance that will leave everyone spellbound.
Get it here.

To enjoy holidays, must try holiday camping dinner recipes, high tea recipes, squash recipes, tuna recipes and protein powder recipes!
---
20. Fake Fire Prop for Halloween
The Ultimate Fake Fire Prop for Halloween is a must-have addition to your arsenal of Halloween ideas. Transform your space into a spooky inferno without the risk of real flames.

The prop features realistic flickering flames that dance and sway, creating an eerie and captivating ambiance. With its easy setup and versatility, it can be placed in a fireplace, cauldron, or even outdoors to enhance your Halloween décor.

The prop utilizes innovative LED technology, providing a safe and energy-efficient alternative to traditional fire effects. Its adjustable settings allow you to customize the flame's intensity and color, from a haunting blue to a fiery red.

Whether you're hosting a haunted house party or setting the stage for trick-or-treaters, the Ultimate Fake Fire Prop is sure to impress and create a spine-chilling atmosphere.

Embrace the spirit of Halloween and ignite your imagination with this mesmerizing and bewitching decoration.
Get it here.
---
19. Flying Ghost Craft
The Flying Ghost Craft with DIY crafts is an impressive sight! It features a spooky yet elegant appearance, perfect for Halloween decorations. Using simple materials like white fabric, wire, and a lightweight frame, this craft embodies creativity and imagination.

Transitioning smoothly, its ghostly form is easily crafted by cutting the fabric and draping it over the frame. Subsequently, securing the fabric with the wire shapes the ghost's ethereal body. Further embellishments can be added, enhancing the overall allure.

The final result showcases a hauntingly beautiful ghost, seemingly hovering in mid-air. DIY crafts enthusiasts will find joy in this engaging project, enabling them to flaunt their artistic abilities and elevate their Halloween décor to new heights.

In conclusion, the Flying Ghost Craft is a must-try DIY endeavor, merging artistry and spookiness in one mesmerizing creation.
Get it here.

But if you want you can try margarita cocktails & peach cocktails & fall drinks for celebrating fall season.
---
18. DIY Mini Witch Cauldron
The DIY Mini Witch Cauldron is a delightful addition to your collection of DIY crafts for Halloween. These petite cauldrons are easy to make and add a touch of enchantment to your Halloween decor.

Begin by gathering small black pots or containers, such as clay pots or plastic buckets. Apply a coat of matte black spray paint for a bewitching finish. Once dry, use metallic paint or a metallic marker to add intricate designs and symbols to the cauldrons, such as crescent moons or stars.

To complete the look, add a handle using thick black wire or twine, attaching it securely to the sides of the cauldrons. These mini cauldrons can be filled with colorful potions, faux spiders, or Halloween treats, becoming eye-catching table centerpieces or party favors.

Let your imagination brew as you personalize each cauldron with your own unique touches. Get ready to cast a spell of creativity and DIY magic with these charming DIY Mini Witch Cauldrons.
Get it here.
---
17. How to Make the Spookiest Snow White Poison Apple
Are you seeking home decor ideas for a spooky touch? Look no further than the eerie Spookiest Snow White Poison Apple! This captivating piece combines Halloween charm with classic fairy tale allure, making it a perfect addition to your decor.

Crafted meticulously, it boasts a sinister design that mesmerizes with its dark allure. Display it on a mantle or as a table centerpiece to cast a bewitching spell on your space. Its sinister red hue contrasts against the glossy black, creating an ominous effect.

With its wicked charm, the Spookiest Snow White Poison Apple is sure to be a spine-chilling conversation starter at any gathering. So, if you want to infuse your home with a touch of mystery and enchantment, this bewitching apple is a must-have!
Get it here.
---
16. DIY Book Page Ghost Garland
Get ready to add a touch of literary spookiness to your Halloween decor with the DIY Book Page Ghost Garland. This hauntingly beautiful creation will enchant and delight your guests. Begin by gathering old books or thrift store finds with pages that are no longer needed.

Carefully cut out ghost shapes from the pages, making them different sizes for a varied and whimsical effect. Use a hole punch to create holes near the top of each ghost. String them together with fishing line, twine, or ribbon, allowing them to hang freely and sway in the breeze.

For an extra touch of magic, consider adding glitter or a light mist of spray adhesive and sprinkle with faux spiderwebs. Hang the DIY Book Page Ghost Garland across doorways, mantels, or windows to create a captivating and ethereal display.

This unique Halloween idea combines literature and creativity, making it a hauntingly brilliant addition to your festive decor.
Get it here.

Must try these halloween food ideas to enjoy halloween party! Also, for halloween celebration, these halloween appetizers the best for party!
---
15. Paper Spiderwebs
If you're looking for a quick and easy way to add a spooky touch to your Halloween decorations, paper spider webs are a fantastic choice. These intricately crafted webs are simple to make and create a hauntingly beautiful effect.

Start by gathering black construction paper or cardstock. Fold the paper in half and cut out a half-circle shape, resembling a spiderweb. Unfold the paper to reveal a full circular spiderweb.

To add depth, fold and cut out smaller sections of the web, creating an intricate pattern. Hang the paper spiderwebs on walls, windows, or across doorways using tape or string. They instantly transform your space into a chillingly atmospheric scene.

The delicate design and dark color make them a striking addition to any Halloween decor. Let your creativity spin and weave an eerie web of Halloween charm with these DIY paper spider webs.
Get it here.
---
14. How to Make a Bubbling Cauldron for Halloween
Are you searching for Halloween ideas? If so, here's a guide on making a bubbling cauldron! To start, find a large pot or cauldron. Next, gather dry ice and water. Fill the cauldron with water, leaving some space on top.

Carefully add small pieces of dry ice to create the eerie bubbling effect. Remember, never handle dry ice with bare hands. Always use gloves or tongs! For extra spookiness, add green food coloring to the water.

To enhance the ambiance, place the cauldron on a sturdy surface outdoors or on a protected table. As the dry ice evaporates, the cauldron will bubble and emit a creepy fog, perfect for Halloween gatherings.

Ensure safety precautions and keep the cauldron away from children and pets. Enjoy the enchanting atmosphere it creates!
Get it here.

Must try these amazing pumpkin wreaths for fall season.
---
13. Simple Halloween Pumpkin Porch Steps
The Simple Halloween Pumpkin Porch is a fantastic way to create a festive and inviting atmosphere. Begin by selecting a variety of pumpkins in different shapes and sizes. Opt for a mix of orange, white, and even heirloom pumpkins for added visual interest.

Arrange them on your porch or steps, creating a captivating display. To add a creative twist, use stencils and black paint to create spooky or playful faces on the pumpkins. Alternatively, you can carve intricate designs or patterns for a more traditional look.

Incorporate other elements such as hay bales, fall foliage, or string lights to enhance the overall aesthetic. The Simple Halloween Pumpkin Porch is an easy yet effective way to bring the spirit of Halloween to your home.

Embrace the harvest season and let your porch become a festive canvas that welcomes trick-or-treaters and delights guests.
Get it here.

These halloween desserts are the best for halloween party, wanna try?
---
12. Adorable DIY Pumpkin Coasters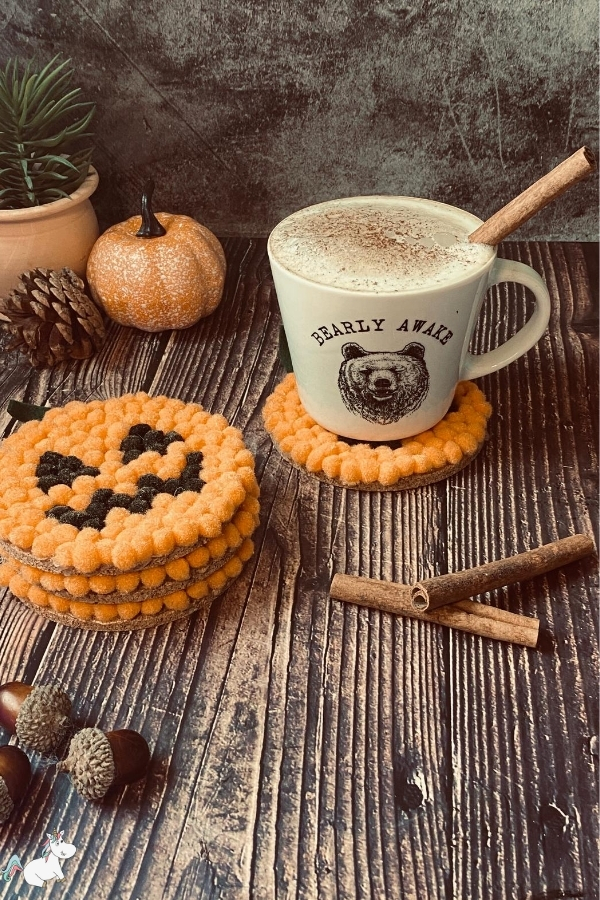 If you're looking for cute and practical DIY Halloween decorations, look no further than Adorable DIY Pumpkin Coasters. These delightful coasters not only protect your surfaces but also add a festive touch to your home decor.

Start by gathering small circular pieces of cork or felt in orange hues. Use a stencil or freehand to trace pumpkin shapes onto the cork or felt. Cut out the shapes and add details such as facial features using fabric markers or acrylic paint.

Allow them to dry completely before using them as coasters. These DIY Pumpkin Coasters are a charming addition to any Halloween-themed gathering or simply as everyday decor throughout the season.

They also make thoughtful homemade gifts for friends and family. Get ready to sip your favorite Halloween beverages while admiring these adorable DIY Pumpkin Coasters that effortlessly combine functionality and style.
Get it here.
---
11. Super Simple Mummy Jam Jar Lanterns
Get ready to illuminate your Halloween with the Super Simple Mummy Jam Jar Lanterns. These easy-to-make lanterns are a perfect addition to your repertoire of Halloween ideas. Start by collecting empty glass jam jars or mason jars.

Wrap them with strips of white gauze or cheesecloth, leaving gaps for the eyes to create a mummy-like appearance. Secure the cloth with glue or tape. Add googly eyes or draw eyes on the cloth using a permanent marker.

Place battery-powered tea lights inside the jars to bring the mummies to life with an eerie glow. Arrange them on your porch, windowsills, or as a haunting centerpiece for a spooky effect.

The Super Simple Mummy Jam Jar Lanterns are a fun and budget-friendly way to add a touch of whimsy to your Halloween decorations.

Let these adorable mummy lanterns light up your Halloween festivities and create a cozy and enchanting ambiance.
Get it here.

To make fall recipes at home, try these fall dinners, fall desserts, fall appetizers & fall breakfast ideas for enjoying fall season.
---
10. DIY Spooky Tray of Eyeballs
Are you seeking unique home decor ideas for Halloween? Look no further than the Spooky Tray of Eyeballs. This creative and creepy display is sure to impress your guests and add a touch of spine-chilling elegance to your Halloween decor.

Start by gathering round glass or acrylic jars of various sizes. Fill them with peeled grapes or small, round fruits like lychees to resemble eyeballs. For added effect, you can paint irises or bloodshot veins on the fruits using food coloring or edible markers.

Arrange the jars on a decorative tray, and add a lace or spiderweb-patterned doily for an extra eerie touch. Place the Spooky Tray of Eyeballs as a centerpiece on your table or sideboard, or as part of a haunted buffet.

This unique and unsettling display will surely captivate and unsettle your guests, creating a memorable Halloween experience. Let your imagination run wild and bring this macabre yet sophisticated idea to life.
Get it here.
---
9. DIY Halloween Lanterns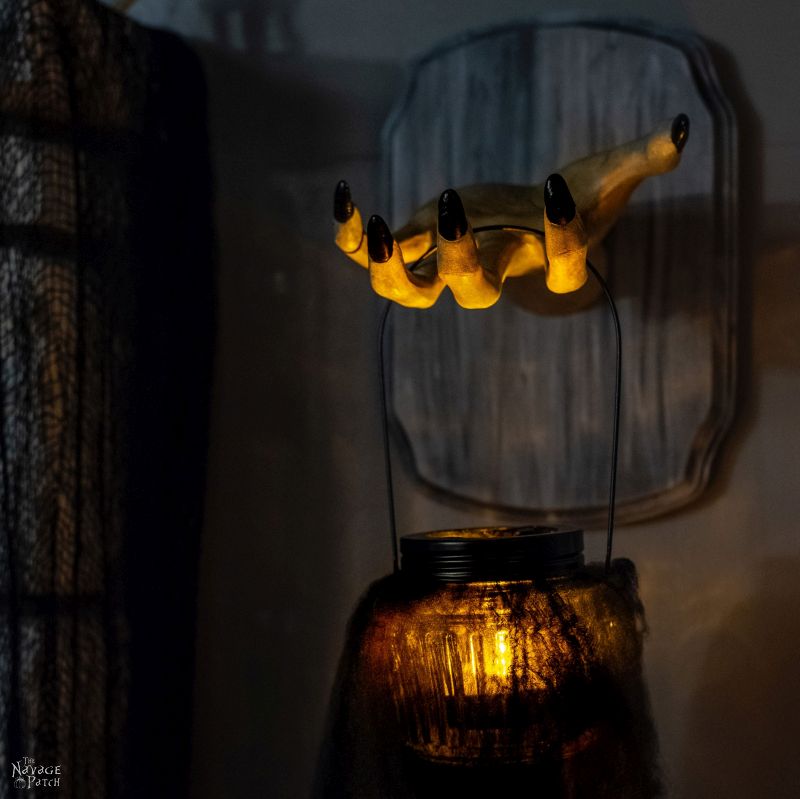 The DIY Halloween lanterns are spooktacular charming. The flickering flames cast eerie shadows, creating a mesmerizing ambiance. Crafted from simple materials, they radiate creativity.

First, gather mason jars, tissue paper, and glue. Next, cut haunting shapes from the paper and adhere them to the jars. Afterward, insert LED candles to prevent accidents. Additionally, add glitter for a magical touch.

Moreover, hang them outdoors to welcome trick-or-treaters or place them indoors as bewitching decor. Furthermore, they are cost-effective, customizable, and a fun activity for all ages.

In conclusion, these enchanting lanterns will illuminate your Halloween night with a bewitching glow, leaving a hauntingly delightful impression on your guests. Happy Halloween!
Get it here.
---
8. Halloween Quick DIY Spiderweb Vase
Get ready for a quick and easy DIY project that will elevate your Halloween decor: the Spider Web Vase. This simple yet striking centerpiece will add a touch of spookiness to your home. Start by gathering a clear glass vase and black adhesive craft foam or black ribbon.

Cut out spider web shapes from the craft foam or create a web pattern with the ribbon. Attach the spiderweb design to the vase, ensuring it adheres securely. Fill the vase with water and add a bouquet of your favorite Halloween-themed flowers or black roses for a dramatic effect.

Place the Spider Web Vase on your table or mantel as a focal point. The contrast between the black spiderweb and the vibrant blooms will create an eye-catching display. This Halloween Quick DIY project is a creative way to incorporate spooky elements into your home decor effortlessly.

Unleash your creativity and let the Spider Web Vase weave its magic this Halloween season.
Get it here.

To enjoy more in halloween days, you can create halloween crafts for kids.
---
7. Cousin Itt Halloween Prop Tutorial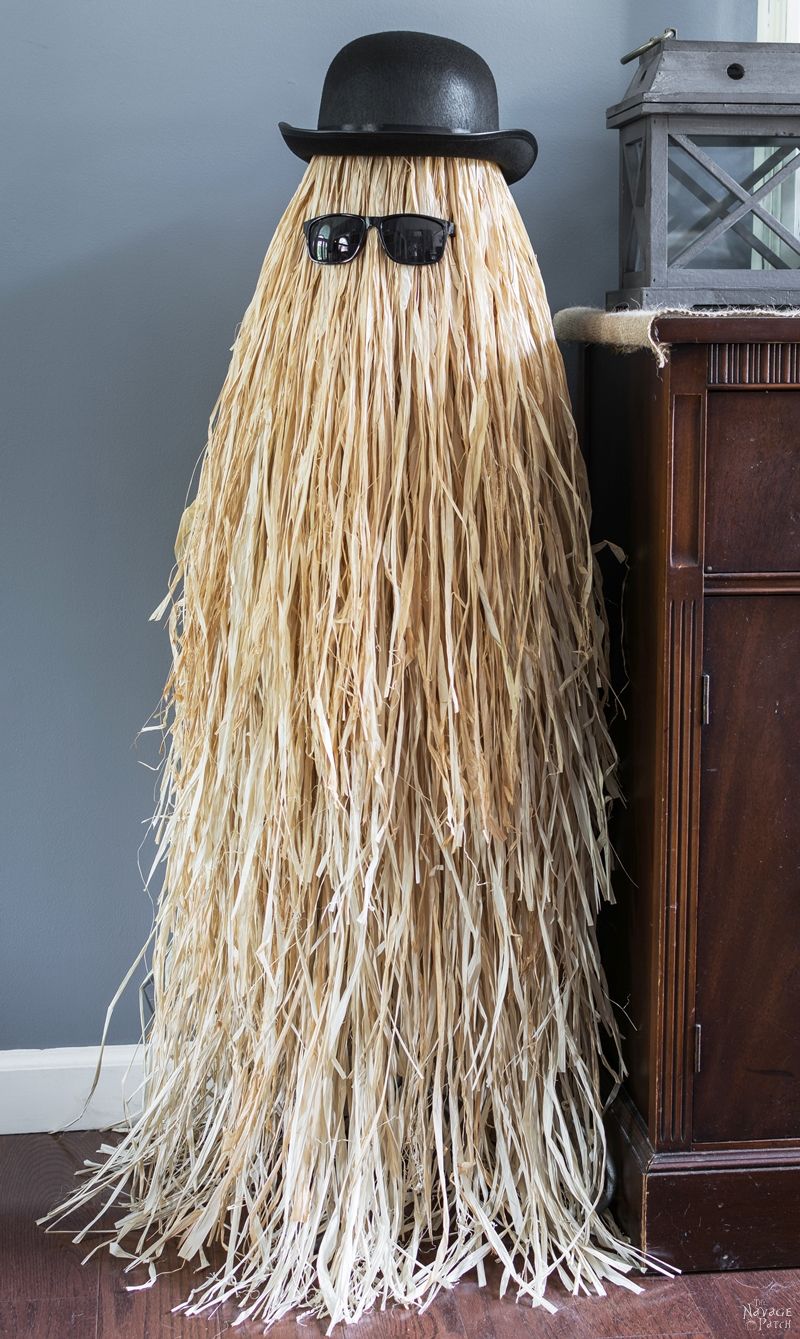 If you're looking to make a statement with your Halloween decorations, look no further than the Cousin Itt Halloween Prop. This unique and attention-grabbing prop is inspired by the iconic character from "The Addams Family."

To create your own Cousin Itt, start by gathering a tall plant stand or tripod and covering it with a long, thick layer of synthetic hair in a dark color. Secure the hair in place using zip ties or string.

Add a hat or a pair of sunglasses to give your Cousin Itt a personal touch. Place the prop in a prominent spot, such as your porch or entryway, for maximum impact.

With its shaggy appearance and mysterious vibe, the Cousin Itt Halloween Prop is sure to become a conversation starter and a memorable addition to your Halloween decor.

Let your creativity shine as you bring this beloved character to life in a spooktacular way.
Get it here.
---
6. Epic Halloween Porch Decor Ideas
The Epic Halloween Porch Decor Ideas will transform your porch into a captivating and spooky space. Get ready to impress your neighbors and trick-or-treaters with these DIY Halloween decorations and with many types of halloween wreaths.

Start by adorning your porch with a combination of classic and creative elements. Hang a haunted wreath on your front door, crafted with faux spiderwebs, black feathers, or miniature skeletons. Line your porch steps with carved jack-o'-lanterns and flickering LED candles.

Create a chilling atmosphere by draping cobwebs across railings and corners, and add spooky silhouettes in your windows using black cardboard or adhesive decals. Don't forget to place life-sized skeletons or scarecrows in strategic spots to surprise your guests.

Enhance the overall effect with fog machines or strategically placed colored lighting. These Epic Halloween Porch Decor Ideas will instantly set the stage for a memorable and spine-chilling Halloween experience.

Let your imagination run wild as you craft a porch that will leave everyone in awe of your DIY Halloween decorations.
Get it here.
---
5. Halloween Sock Gnomes
Get ready to add a whimsical touch to your Halloween decor with Halloween Sock Gnomes. These adorable and easy-to-make gnomes are a perfect addition to your list of Halloween ideas.

Start by gathering festive Halloween-themed socks, preferably in different colors and patterns. Fill the toe of each sock with rice or stuffing to create the gnome's body. Use rubber bands or string to secure the filled portion, creating a round shape.

Fold the remaining sock over the filled portion to form the gnome's hat, and secure it with a rubber band or string. Embellish the gnomes with googly eyes, felt or fabric scraps for noses, and yarn for beards.

For an extra Halloween touch, add miniature witch hats or pumpkin accessories. Arrange the Halloween Sock Gnomes on your mantel, shelves, or as table decorations to bring a playful and festive spirit to your home.

These charming gnomes are a delightful DIY project that will add a touch of whimsy to your Halloween celebrations.
Get it here.

Also these halloween dinner ideas makes you full and fun in this halloween days, Wanna try?
---
4. Cardboard Haunted House Luminaries
Are you looking for creative home decor ideas for Halloween? Look no further than the Cardboard Haunted House Luminaries. These DIY luminaries will add a spooky and atmospheric touch to your Halloween decorations.

Start by collecting cardboard boxes or sheets of cardboard. Draw and cut out haunted house shapes, including windows and doors. Use craft knives or scissors to create intricate details on the cardboard, such as spooky silhouettes or shingles.

Paint the cardboard in eerie colors like black or dark gray. Place battery-operated tea lights or LED candles inside the luminaries to create an enchanting glow. Arrange them along your walkway, porch, or windowsills for an eerie effect.

The Cardboard Haunted House Luminaries are a budget-friendly and imaginative way to transform your home into a haunted abode.

Let your creativity shine as you craft these unique and captivating luminaries for a truly memorable Halloween experience.
Get it here.
---
3. DIY Ghost Decor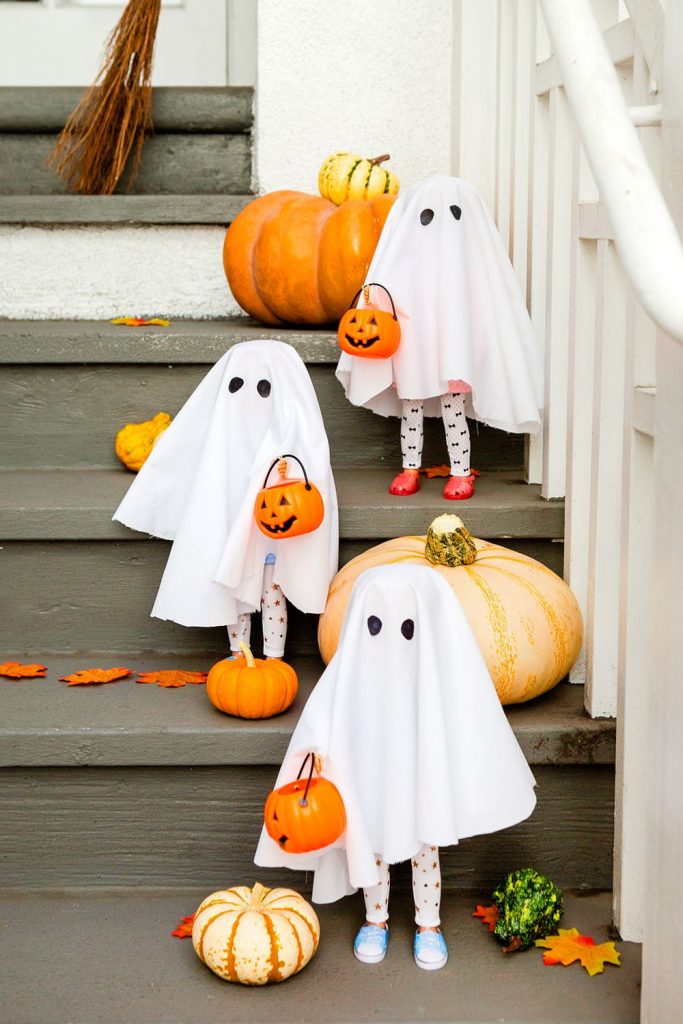 The DIY Ghost Decor is a fantastic addition to your collection of DIY crafts. These charming and easy-to-make ghosts will give your home a spooky and playful vibe. Start by gathering white fabric or cheesecloth and cutting it into ghostly shapes.

Drape the fabric over lightweight wire frames or coat hangers to create the ghostly figures. Secure the fabric in place using string or tape. For added flair, add eyes and mouths using adhesive-backed craft foam or black fabric paint.

Hang the DIY Ghost Decor from ceilings, trees, or light fixtures using fishing line or string. You can also attach them to sticks or dowels to create ghostly garden stakes.

These DIY ghosts are perfect for indoor and outdoor decorations, making them versatile and eye-catching. Unleash your creativity and let these adorable DIY Ghost Decor crafts haunt your home with their playful charm.
Get it here.

To enjoy any party or occasions, these delicious holiday cocktails are the best!
---
2. Halloween Topsy Turvy Pots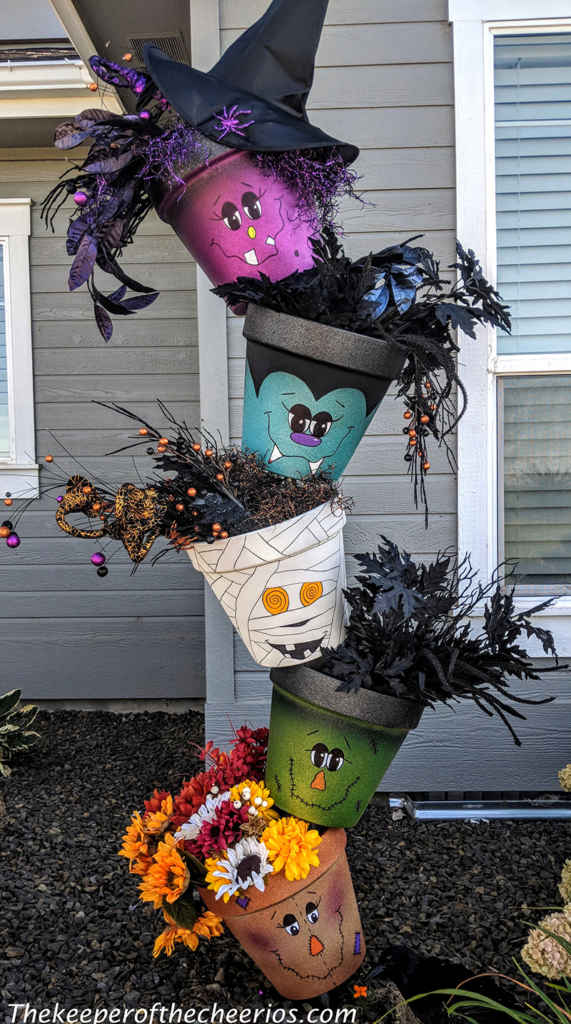 Are you ready to take your DIY Halloween decorations to the next level? Look no further than the Halloween Topsy Turvy Pots. These whimsical and eye-catching decorations will add a touch of enchantment to your home.

Begin by gathering a variety of different-sized flower pots. Apply a base coat of black or dark gray paint to each pot and let it dry. Once dry, turn the pots upside down and stack them in an alternating pattern to create a topsy-turvy effect.

Secure them together using adhesive or glue. Get creative by adding spooky embellishments like faux spiders, spiderwebs, or bats. You can also paint or stencil Halloween-themed designs on the pots for added flair.

Display these Halloween Topsy Turvy Pots on your porch, entryway, or as table centerpieces to create a visually captivating and unique Halloween display.

These DIY decorations are sure to impress and delight both kids and adults alike with their whimsical charm and creativity.
Get it here.
---
1. DIY Solar Powered Halloween Lights made with Pumpkin Pails
If you're looking for creative Halloween ideas that incorporate sustainability, consider DIY Solar Powered Halloween Lights made with Pumpkin Pails. These unique and eco-friendly lights will illuminate your outdoor space in a festive and energy-efficient way.

Start by collecting plastic pumpkin pails typically used for trick-or-treating. Drill or cut small holes in the bottoms of the pails. Insert solar-powered LED string lights through the holes, ensuring the solar panel is exposed to sunlight during the day.

Once night falls, the lights will automatically turn on, casting an enchanting glow. Arrange these solar-powered pumpkin lights along pathways, fences, or hang them from trees to create a captivating and illuminated Halloween display.

This DIY project allows you to repurpose and bring new life to old pumpkin pails while reducing your energy consumption.

Embrace sustainability and creativity with these DIY Solar Powered Halloween Lights, bringing a festive and eco-friendly ambiance to your outdoor Halloween decor.
Get it here.
---
Cheers!
If you like this article about DIY Halloween Decorations, share with your friends or families on Facebook, Twitter, and Pinterest.

Okay, I'm handing the mic over to you now. Come on! Don't be shy now…

Choose your favorite recipe and make it at home, let me know which is your best recipe in the comment. Also, you can subscribe to my blog to get all the latest updates first on your mobile.
---
To make these recipes for later, SAVE this pin on your favourite Pinterest Board