Can you imagine how bleak your holiday will turn without a boozy and refreshing cocktail? Honestly, I can't even think of holidays without cocktails. The fact that we can mix and match our drinks to form our favorite cocktails really fascinates me. I have always been very conscious about my cocktails. I really know what ingredients compliment my drink and what can ruin it. So you can call me your humble bartender lady who's here to divulge her secrets of the most amazing holiday cocktail recipes to you. I'm going to flood my blog with a ton of drink ideas that are going to rock your holiday. Running out of cocktail party ideas? I'm right here to rescue you, pal! This party season, surprise your guests with my astounding drink ideas! So what are you waiting for? Pick your poison, cuz we are gonna kill it!
---
1. White Christmas Mojito Recipe
Since a white Christmas should be the norm. Certainly, that's what I'm thinking. You guys out there who go to warm places for the holidays are just not my type of people, so I'll never completely understand you. The fact that it is snowing as I type this makes me very happy since I am all about the really snowy white Christmas! Yeah! Although the drink for today is highly festive and white, it's actually the most tropical of all the Christmas Drink Saturday beverages thus far. Also, hot chocolate or christmas punch are so good for celebrating christmas with kids.

Say welcome to this creamy white Christmas mojito with coconut for the guys! I adore a good garnish, so this drink is loaded with fresh mint, lime juice, white rum(optional hot buttered rum), coconut rum, coconut milk, sparkling water, and pomegranate arils as a finishing touch. Just to be clear, this drink is quite coconutty, so if you don't like coconut, you probably shouldn't like it. More coconuts are better in my opinion because I love them so much! This beverage is incredibly easy to make and ideal for your holiday events.

I'll give you a little overview of this white Christmas mojito below. This drink is basically my dream beverage because it is creamy, fizzy, and packed with delicious coconut and lime flavors. I also adore how festive and simple it is to make. I'm providing the amounts for both a pitcher and a single drink. Yup! Simply attempting to ease your holiday season—and, it would appear, make it a little boozier as well!
Click here.
---
2. Rudolph's Tipsy Spritzer Cocktails
Look no further if you're looking for holiday cocktail recipes or something different from the standard Cosmo! The flavor combination of RUDOLPH'S TIPSY SPRITZER is flawless and goes beyond just mixing vodka with cranberries. This simple spritzer creates a festive drink that is kid-friendly and excellent for party ideas. Who's prepared to imbibe with Rudolph this holiday season?

It's time to get ready for Santa to visit, and what better way to accomplish that than by holding your drink and wrapping paper in one hand? Rudolph's Tipsy Spritzer will make you feel cheery in no time and is ideal for offering to guests at the yearly Christmas party or sipping as you decorate the tree. I believe this would be the official drink of the North Pole if it had one.

The Santa Red Juice, which combines notes of cranberry, orange juice, ginger ale, and vodka, is the quintessential Christmas beverage. You may make a drink that even the big guy himself can't refuse by adding some cranberries and a sprig of rosemary to the top.
Click here.

Get these delicious vegan finger foods for holidays.
---
3. Blackberry Champagne Mule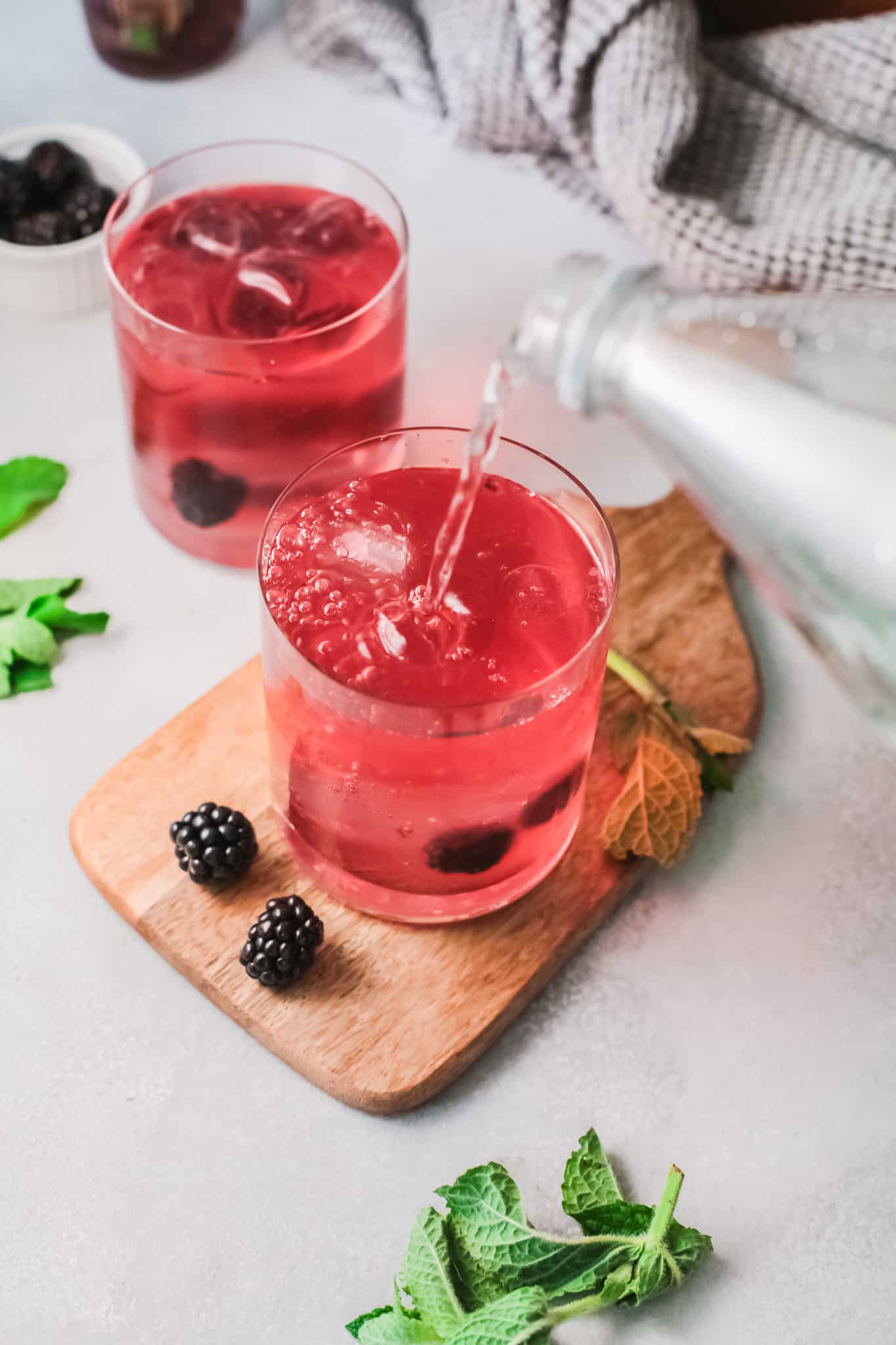 Enjoy this extra bubbly Blackberry Champagne Mule to start the weekend; it's ideal for your spring (and soon, summer) party ideas. Mint, lime, and vodka are combined with fresh blackberries, and the mixture is then topped with ginger beer and effervescent champagne. This is a straightforward and speedy cocktail for spring or summer.

Everyone keeps coming back for more with the fizzy champagne as the finishing touch. I love writing about cocktails, but you know? For the past two months, I've shared a drink post every Saturday. Now, I'm beginning to worry that I'll run out of holiday cocktail recipes. For about a minute, I worry. I then come to the realization that I have a mile-long list of drinks to share for the summer, fall, winter, and spring. To put it mildly, today's beverage is entertaining.

It is a traditional Moscow Mule with bubbly champagne added. Which might seem extravagant, but believe me when I say that it is extravagant in the absolute best way. How about Saturday plans? Because you need to "test" this cocktail before Sunday, I advise cocktail mixing. After some pan-fried Brie, relax anywhere—in the yard, on the fire escape, near the window, etc.—and take in some weekend energy. Cheers to Saturday!
Click here.
---
4. Spiced Cranberry Paloma Cocktail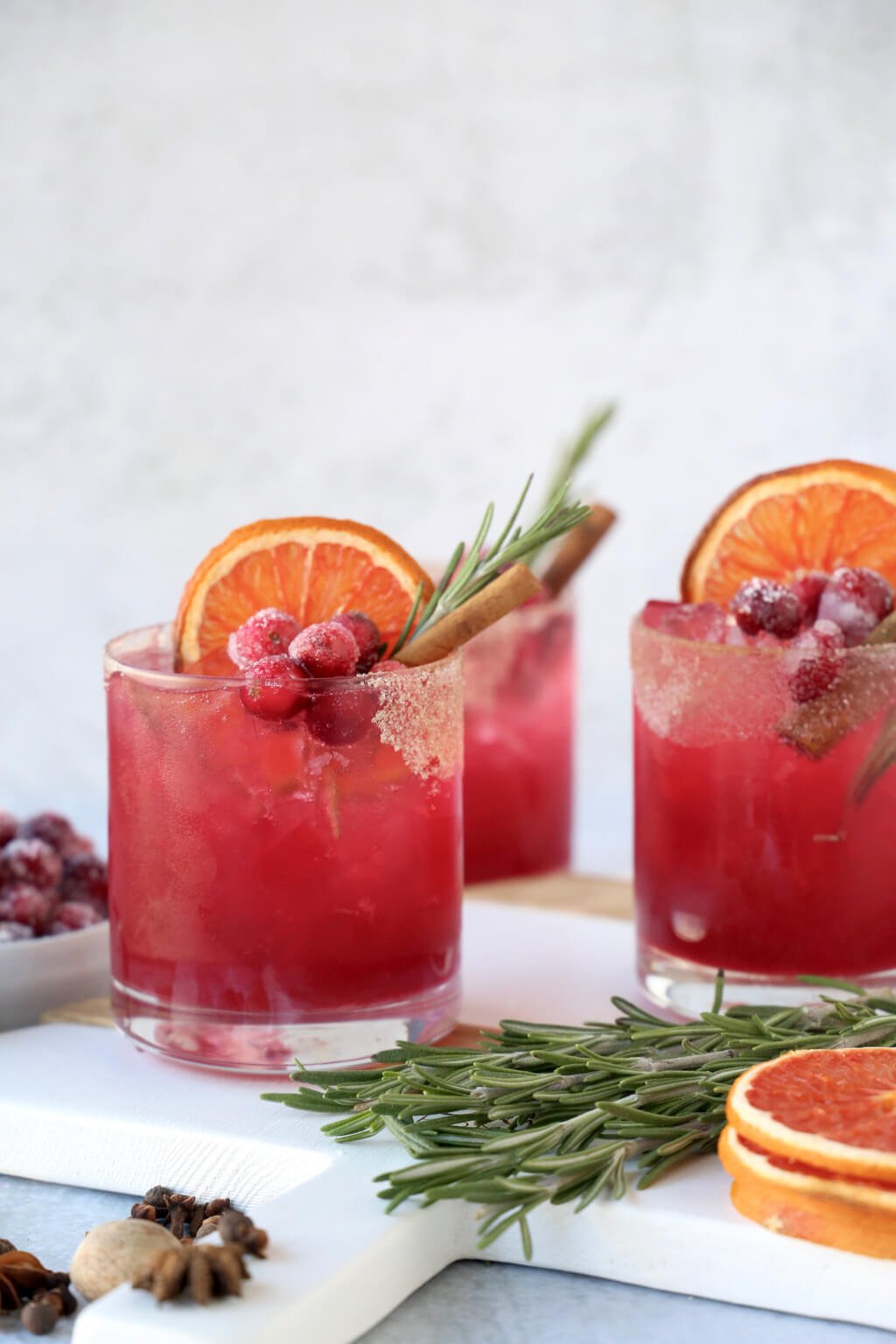 The ultimate festive favorite christmas cocktails are the spiced cranberry Paloma, which is made with tequila, cranberry juice, lime juice, grapefruit juice, and a touch of spiced simple syrup. It is ruby red in color. Oh, what a year! If it tells you anything, the fact that we have four days until Christmas means that drinks are on everyone's mind.

The next best thing is making the ideal cocktail to be savored during the festivities as we prepare our food, whether large or small and set our table. Our go-to drink when we entered quarantine in March was The Perfect Paloma. Why not ring in the new year with a Spiced Cranberry Paloma? It was refreshing, summery, and just so ideal for hot days. The Spiced Cranberry Paloma features many of the same ingredients as a Classic Paloma Cocktail in addition to cranberry juice and spiced simple syrup.

Made with cranberry juice, which gives it a stunning ruby red color and a tart flavor, as well as grapefruit, lime, and tequila. This cocktail is made extra festive and cozier for all the winter vibes by adding a spiced simple syrup. Simple to make and gives this cocktail the ideal flavor punch, spiced simple syrup is made with sugar, water, whole cinnamon, cloves, anise, and vanilla beans.
Click here.
---
5. Holiday Moscow Mule
The Yule Mule, also known as a Holiday Moscow Mule, is ideal for holiday drink ideas to enjoy with loved ones. It's celebratory and energizing, sweet and tangy. Basically, it's a traditional Moscow Mule that has been cheered up for holiday cocktail recipes. If you already enjoy mules, you'll adore this version. Vodka, ginger beer, lime juice, and mint leaves are the main ingredients of a Moscow Mule. Simply add cranberry juice, rosemary sprigs in place of mint, and more fresh cranberries on top to transform it into a festive mule.

I only add one shot of vodka at a time since I find this cocktail to be quite light and refreshing, which makes it very simple to consume. You can experiment with the proportions of each component to make it your own. My favorite way to serve mule is in a chilled copper mug from Sur La Table.
Click here.
---
6. Pomegranate Gin Fizz Cocktail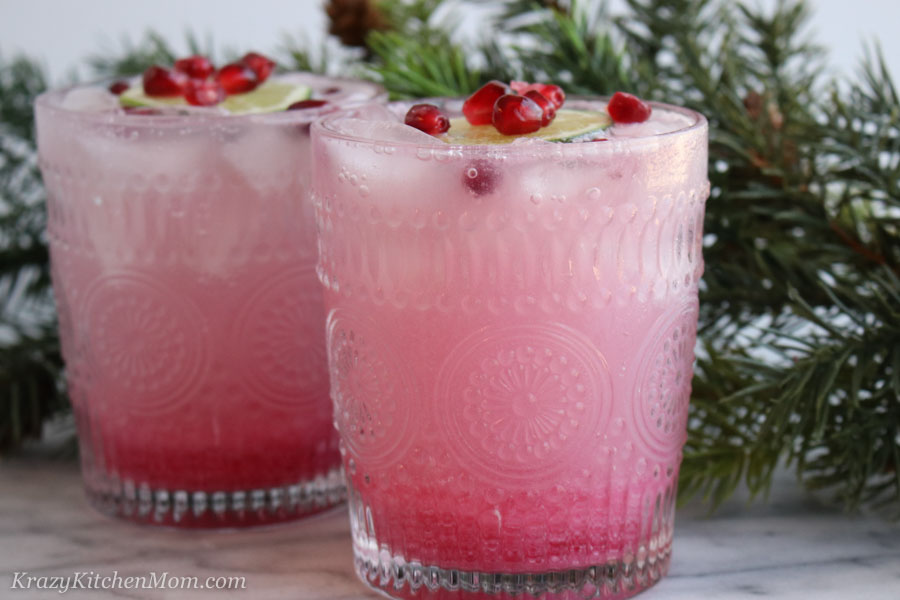 For fall and winter partying, pomegranate juice is perfect for making drinks with jewel-toned hues! This pomegranate gin cocktail is ideal for holiday cocktail recipes or party ideas. This Pomegranate Gin Fizz is a stunning cocktail that, in our opinion, is pretty darn amazing! One of our favorite traditional drinks is the Gin Fizz, which combines festive egg white foam with sweet, tangy, and refreshing flavors. With this pomegranate twist, take it to the next level.

It elevates the sweet-tart flavor and gives the beverage a stunning jewel-toned hue. A delicious beverage with a sweet-tart flavor and frothy topping, the Pomegranate Gin Fizz! Make a great impression on everyone with this drink. The traditional Gin Fizz gets an upgrade with this Pomegranate Gin Fizz cocktail! The pomegranate juice's strong flavor pairs perfectly with the gin and lemon. Even better, it gives the beverage the most stunning ruby red hue. Want a vegan alternative? You may utilize aquafaba, the liquid from chickpea cans! Simply use 2 tablespoons of aquafaba in place of the egg white.
Click here.

Find these amazing Vegan new years eve recipes for celebrating!
---
7. White Christmas Bourbon Smash
I can feel the chills in the air and it makes me crazy to think that Christmas is just about a month away. I can't wait to try my drink ideas for holiday cocktail recipes for Christmas and also share them with you. So presenting you with an ideal holiday cocktail – the White Christmas Bourbon Smash recipe! This recipe, which includes bourbon, lime juice, fresh mint, and rosemary, will make you feel festive! Although Christmas is still more than a month away, is it ever too early to start spreading seasonal cheer? In my opinion, no.

Sincerity is told, I'm not a big fan of dark libations—that is, until I had a bourbon smash. You'll soon be swaying around the Christmas tree if you serve it with fresh cranberries and rosemary sprigs. Why is this Bourbon Smash so tasty? fresh cranberries, lime seltzer, sugar, fresh mint, rosemary, lime juice, and bourbon!
Click here.

Gift these amazing valentine's day cards to your partner in this romantic day.
---
8. Poinsettia Champagne Cocktail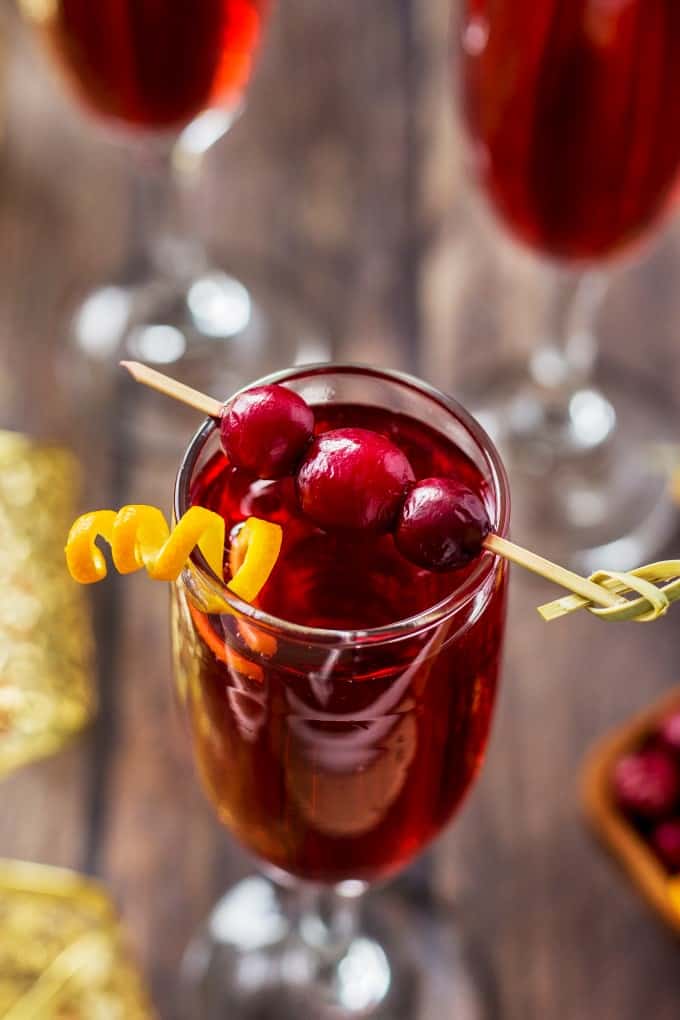 A colorful and energizing Poinsettia drink is a champagne and cranberry cocktail. It's a wonderful winter or holiday beverage and great for entertaining! Are you prepared for the gorgeous, vivid cocktail for entertaining in the cooler months? The Poinsettia, a champagne and cherry cocktail. It's the ideal cocktail for the fall or winter because of its vibrant hue and inviting atmosphere.

From Thanksgiving to holiday gatherings, Christmas to New Year's Eve, it adds joy to any event. Of course, you can serve it throughout the entire year! It merely calls for a few basic components. Let's get going! A festive beverage with only a few ingredients, the poinsettia is ideal for entertaining. You can name it a cranberry champagne drink if you'd like.

What's in this drink of cranberries and champagne? Cranberry juice, Cointreau (or another orange liqueur), and of course, Champagne. I'm done now! You only need some fresh whole cranberries and a couple rosemary branches. In the winter and fall, when cranberries are in season, the poinsettia blooms beautifully. It's excellent for the holidays because of its vivid hue.
Click here.
---
9. Cranberry Orange Prosecco Cocktail
Holiday cocktail recipes that will be a hit at your next event! Made with vodka, liqueur, and fresh cranberries, then topped with champagne or prosecco. I'm preparing a drink in the spirit of the holidays that would be ideal for Christmas party ideas with family or a sizable celebration as the ball drops for the new year. This recipe for prosecco punch uses fresh cranberries, juice, and vodka and is a lot of fun. Basically, all you have to do is combine the vodka and orange liqueur with the orange and cranberry juice in a pitcher.

To let the flavors meld, cover and place in the refrigerator for about 2 hours. Take it out of the refrigerator, cautiously pour in the prosecco to avoid flattening it. Orange slices, fresh cranberries, and a few rosemary sprigs are then added while stirring slowly. An orange slice and a fresh rosemary sprig should be placed in each glass before serving. Christmas cheers!
Click here.
---
10. Cranberry Martini
The cranberry martini is a year-round beverage that has the ideal ratio of sweet to sour. Smooth and energizing, this drink is a combination of vodka, orange liqueur, and cranberry juice. To make it extra special, garnish with a slice of orange and some sugared cranberries. A gorgeous and revitalizing beverage is a cranberry martini or crantini.

It is prepared using vodka, unflavored grain alcohol, orange liqueur, cranberry juice, and simple syrup. The mixture is shaken with ice before being poured into martini glasses. It is simple and ideal throughout the year, but it makes a particularly wonderful cocktail around special occasions like Christmas and New Year's party ideas. This cocktail only requires a few basic ingredients.

An ideal flavor combination includes the neutral taste of the vodka, the sour cranberry juice, and a tinge of orange from the triple sec. If you want to serve a large group of people, you can make this martini in a larger pitcher. It's quick and simple to prepare. When you're ready to serve, all the ingredients can be combined in advance, and all you have to do is shake it with some ice.
Click here.
---
11. Jack Frost Winter Cocktail
These piña colada-inspired holiday cocktail recipes have a delicious flavor! Coconut shreds and blue Curacao combine to give this delectable beverage a blue, icy flair. I'm so happy to share this Jack Frost Cocktail recipe with you today! I've had this cocktail on my "cocktail bucket list" for a very long time. Oh my god. They have a simultaneously sweet, tropical, and Christmas-like flavour. Vodka (mild rum may also be substituted), pineapple juice, cream of coconut, blue curacao, coconut, and corn syrup for the glass rim are the only components in this straightforward cocktail.

Ice and a blender are also required. I've discovered that soaking my glasses in with corn syrup or honey really helps the coconut adhere to the rim. The same components can also be used to make a martini if you don't want an icy cocktail for your drink ideas. Shake the vodka or rum, pineapple juice, cream of coconut, and blue curacao in a shaker with ice before straining it into a martini glass. Happy mixing and cheers!
Click here.
---
12. Frosty Strawberry Mimosas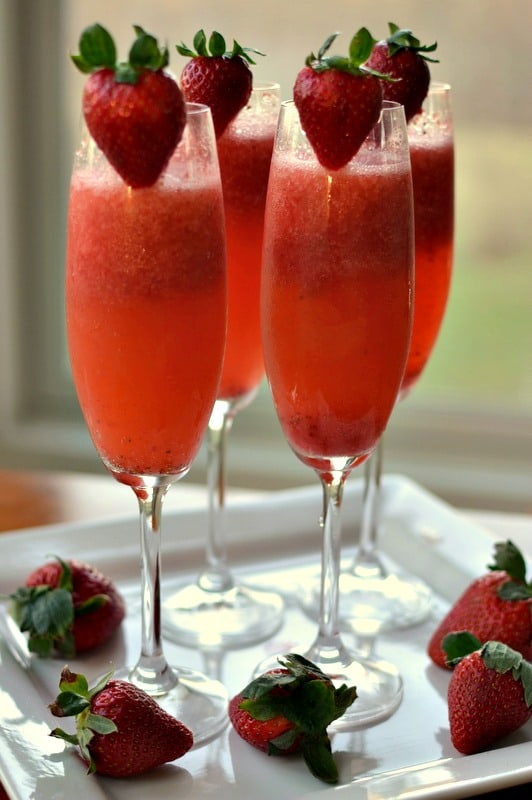 This recipe for strawberry mimosas adds a delectable, summery touch to the traditional mimosa. Delicious holiday cocktail recipes that may be made with fresh or frozen strawberries, champagne, or sparkling mulled wine for special party ideas or whenever you want a light and refreshing drink. When I want a special beverage for drink ideas, I always turn to this strawberry mimosa recipe.

On that list are Mother's Day, Easter, and baby or bridal showers. It is a light and energizing beverage that also has a lovely appearance. Strawberries can be used either frozen or fresh. Who doesn't adore strawberries, after all? They make for an excellent cocktail when combined with champagne. Sparkling wine should be poured halfway up a champagne glass to serve these mimosas.

After that, add a small amount of strawberry juice to the glass. Make sure to add just a tiny amount because adding more sparkling wine will cause it to overflow. The remainder of the glass can be filled with strawberry juice without any problems once the first fizz has subsided. I like to add a strawberry slice as a garnish to the glass.
Click here.

Find these amazing cold appetizers for holidays.
---
13. Amaretto Eggnog Cocktail
Each of us will soon celebrate Christmas. Christmas might be chaotic, but it can also be full of joy and incredible experiences. And this Amaretto Eggnog Cocktail will be yet another excellent beverage to relax with, savor, and share with your loved ones. This eggnog cocktail is wonderful and really simple to make. A flavor combination that is both sweet and spicy and suitable for any occasion. This cocktail can be made in only 4 minutes and is ready in no time.

During the stressful holiday season, you and all the other exhausted grownups will simply fall in love. You don't need to prepare your own handmade eggnog to make this amaretto eggnog cocktail. Nevertheless, homemade eggnog always is superior, just like homemade everything. You have the option of using either handmade or purchased products. Both hot and cold drinks could be made using this cocktail recipe. But in order to make this recipe chilly, you will need to put ice in the glasses. It is advisable to serve this cocktail cold.
Click here.
---
14. Holly Jolly Christmas Citrus Cocktail
Ring in the holiday season with these festive drink ideas. All you need is vodka, elderflower liqueur, and freshly squeezed citrus juice for this recipe. All of this was combined, then sparkling ginger beer and more festive pomegranates were added on top. It's incredibly straightforward, energizing, joyful, and wonderful. This Christmas, serve your friends and family these holiday cocktail recipes in pitcher form. Inspired by the abundance of winter citrus in season.

Freshly squeezed lemon juice dominates this cocktail, which is also sweetened with ginger beer and made alcoholic with a combination of vodka and St. Germain (elderflower liqueur). Simply combine everything in a pitcher or cocktail glass, top with bubbly ginger beer, and garnish with festive pomegranates. Simple and ideal. Although grapefruit or blood orange juice would also be excellent alternatives, I chose to use clementine juice. If you choose blood oranges, the cocktail you create will be quite festive in color.

This is simple to prepare in advance for all of your holiday party ideas. To prevent losing any of its fizz, just add the ginger beer right before serving. Alternately, prepare one cocktail to serve as a late-night nightcap on Christmas Eve. We can all agree that Santa deserves a tasty beverage after all his hard work. Enjoy!
Click here.

Get these amazing Brunch Recipes here.
---
15. Winter White Cosmo Bonefish Recipe
This Winter White Cosmo Bonefish Dish Elderflower imitation recipe is Incredible! For good reason, it's their most well-known signature beverage during the winter. Vodka, orange liqueur, elderflower liqueur syrup, white cranberry juice, lime juice, and cranberries are the main ingredients in my rendition. It tastes EXACTLY THE SAME! I simply had to create a copycat recipe for the Winter Cosmopolitan Cocktail at Bonefish Grill, and this comes really, really close!

Learn how simple it is to make the popular Winter Cosmopolitan, which is great year-round. Elderflower liqueur is used in the original Bonefish Grill Winter Cosmo recipe, but I've switched to Elderflower syrup because it's less expensive and there's still plenty of alcohol in this drink. Believe me! In fact, you could prepare one of these drinks, pour some into shot glasses, and just take a shot.
Click here.
---
16. Blood Orange Champagne Mule
These enjoyable holiday cocktail recipes are mine. This is a Moscow Mule, however instead of regular oranges, blood oranges are used. These are as amazing as they sound, too. Also simple, which is essential on New Year's Eve. I had another beverage in mind for today's column, but my family kept preparing Moscow Mules throughout the holidays.

They adore them since they are simple to make and, of course, delicious. We frequently make these pomegranate mules, but on New Year's Eve, I knew I wanted to add Champagne and blood oranges to the mix. It just feels like a bottle of champagne is required on New Year's Eve. 

The blood orange is the most beautiful citrus fruit out there, which is just about to come into season. Again, a must because of how festive their red color is! Blood orange juice is essential since it adds taste and color, but you can substitute pomegranate juice or even plain orange juice if you can't find it in your grocery store. The rest is as easy as can be; just add champagne, vodka, lime juice, and ginger beer. In one glass, everything is delicious. Let's have holiday parties on New Year's Eve!
Click here.
---
17. Winter Berry Cocktail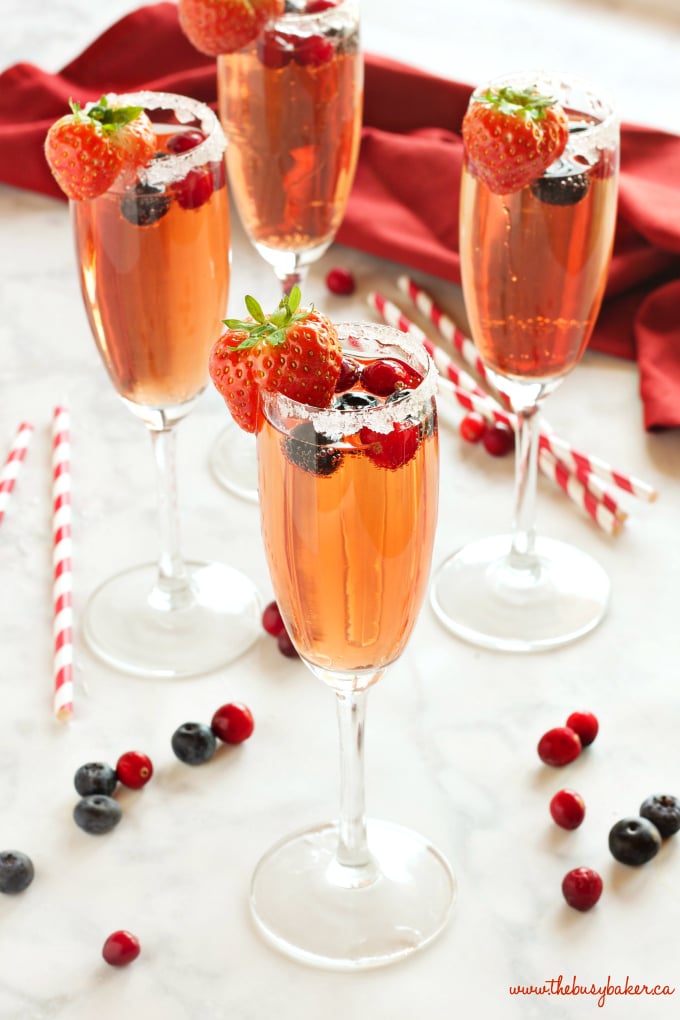 To ring in the holiday season, sip on this sparkling Winter Berry Cocktail. It has a hint of sparkling wine bubbles and is slightly sweet and tangy. Simply combine vodka, apple cider, cranberry juice, and orange liqueur, and then top with some fizz. The ideal choice for your Christmas party ideas. How unique are these holiday cocktail recipes?

Well, it brilliantly balances a small amount of acidic cranberry juice with just the proper amount of fresh, sweet apple cider. The clean, crisp flavor of Wheatley handmade vodka, with its subtle flavor exhibiting traces of vanilla, balances out all that fruitiness. Additionally, the color's bright red tones make it all about Christmas. And the holidays wouldn't be the same without a little champagne, right?

I couldn't resist adding the sparkling champagne because it gives the meal the ideal festive flair. Make a pitcher of this Sparkling Cranberry Apple Cocktail for your next Christmas gathering or enjoy it alone while cuddling up next to the fire. Start the celebrations by adding some sugared cranberries, rosemary sprigs, and curled orange peel to each drink. Merry Christmas to you and yours!
Click here.
---
18. Rosemary Vodka Collins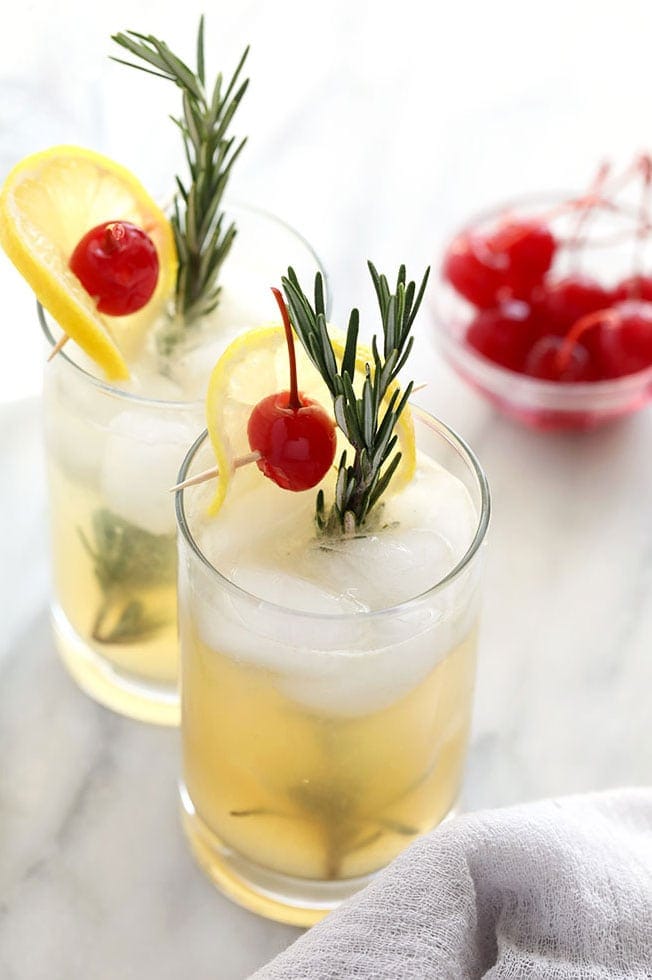 Just in time for the Christmas gatherings, try this unique take on the classic vodka collins: the Rosemary Collins! Even in the winter, these are the ideal refreshing drink ideas thanks to the addition of fresh lemon juice and a rosemary simple syrup. In order to make a Tom Collins cocktail, you'll normally need gin, lemon juice, sugar, and seltzer or carbonated water.

Introducing the rosemary vodka collins, one of our new favorite holiday cocktail recipes. We believe you'll love it just as much as we do. Since we used (you guessed it!) vodka, this recipe is based on a classic vodka Collins recipe. However, gin also works well in this cocktail recipe. In actuality, gin is a must in the original Tom Collins recipe. Any citrus fruit will do for the lemon slice called for in this recipe, so consider an orange, lemon, lime, or grapefruit! To make your orange or lemon slices extra elegant, candy them before garnishing.
Click here.
---
19. Gingerbread Martini Recipe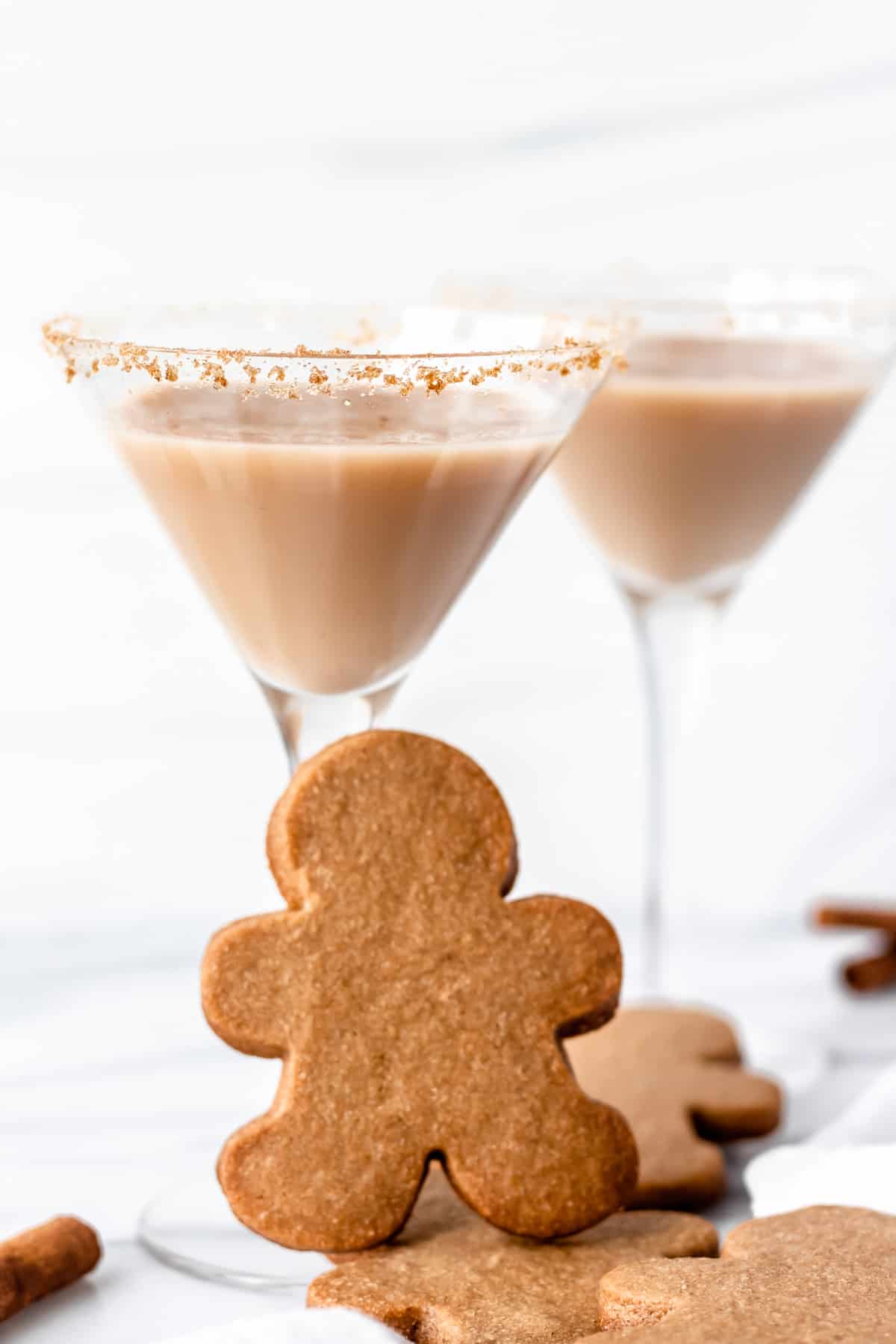 Is this the time of year when you want to sip a delightful Christmas cocktail while curled up by the fire in your pajamas? I concurred! And if you want to indulge in some holiday cocktail recipes, you should surely make a quick batch of my mouth-watering no-bake rum balls. I picture soft gingerbread cookies for the kids and a gingerbread cocktail for the grownups when I think of the holidays.

So grab a cocktail shaker and get ready to make up a delectable Bailey's and vodka holiday drink that will blow your mind with its spicy and gingerbread sweetness. This recipe makes an excellent foundation for a Rumchata Gingerbread Martini or a Gingerbread Espresso Martini. I strongly suggest rimming your martini glass with a gingerbread or graham cracker crust to make this gingerbread cookie cocktail extra spectacular.

Finely crush Graham crackers. Shake the martini glass, then dip the rim in crushed graham crackers and gingerbread syrup. Add whipped cream, a dash of cinnamon and nutmeg, or a gingerbread biscuit as a garnish to complete this gingerbread cocktail.
Click here.
---
20. Whiskey Champagne Cocktail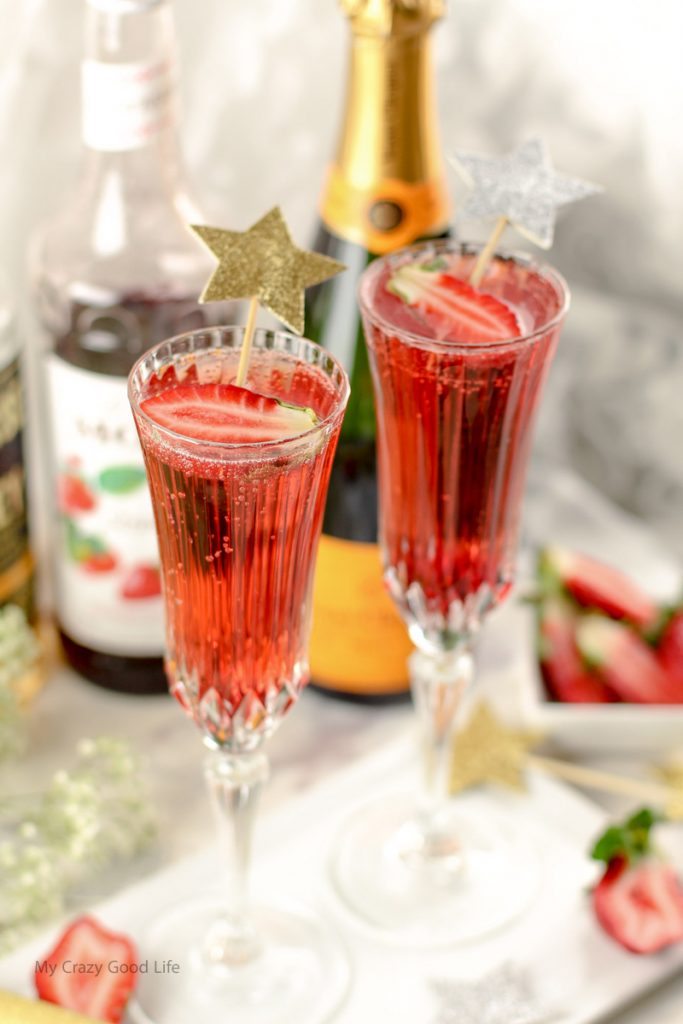 A simple, beautiful drink with only three ingredients—berry liqueur, scotch whisky, and sparkling wine—makes for the ideal effervescent champagne toast on New Year's eve. For those of you who might want to give it a try over the Christmas holiday, I thought I'd share with you what I'll be christmas drinking on New Year's Eve a little early. This whiskey champagne cocktail is as simple to make as counting to three, but it has a pleasant little flavor twist. Seriously. The end product is attractive yet strong—ideal for a party.

The simplicity of this recipe is really where its charm lies. Dry Champagne, strawberries Liqueur, and Whiskey are the only ingredients needed to make this whiskey champagne cocktail. Even though this isn't a brand-new kind of drink, I fell in love with it when I made my first whiskey and champagne cocktail last New Year's Eve and for party ideas. Since then, I've experimented with various ingredients, including bitters, lemonade, etc., and have come up with the recipe you see here. The outcome is flawless.

This drink will get you there quite quickly because it is beyond lit! That's because the drink's three alcoholic components—whiskey, dry champagne, and a dash of strawberry liqueur—are not diluted by a mixer or ice cubes. Add a few fresh strawberries for an instant touch of fanciness. Since there is no ice, frozen strawberries will also work and give the beverage cold.
Click here.

Get these amazing new years eve cocktails to celebrate.
---
21. Orange Creamsicle Cocktail Recipe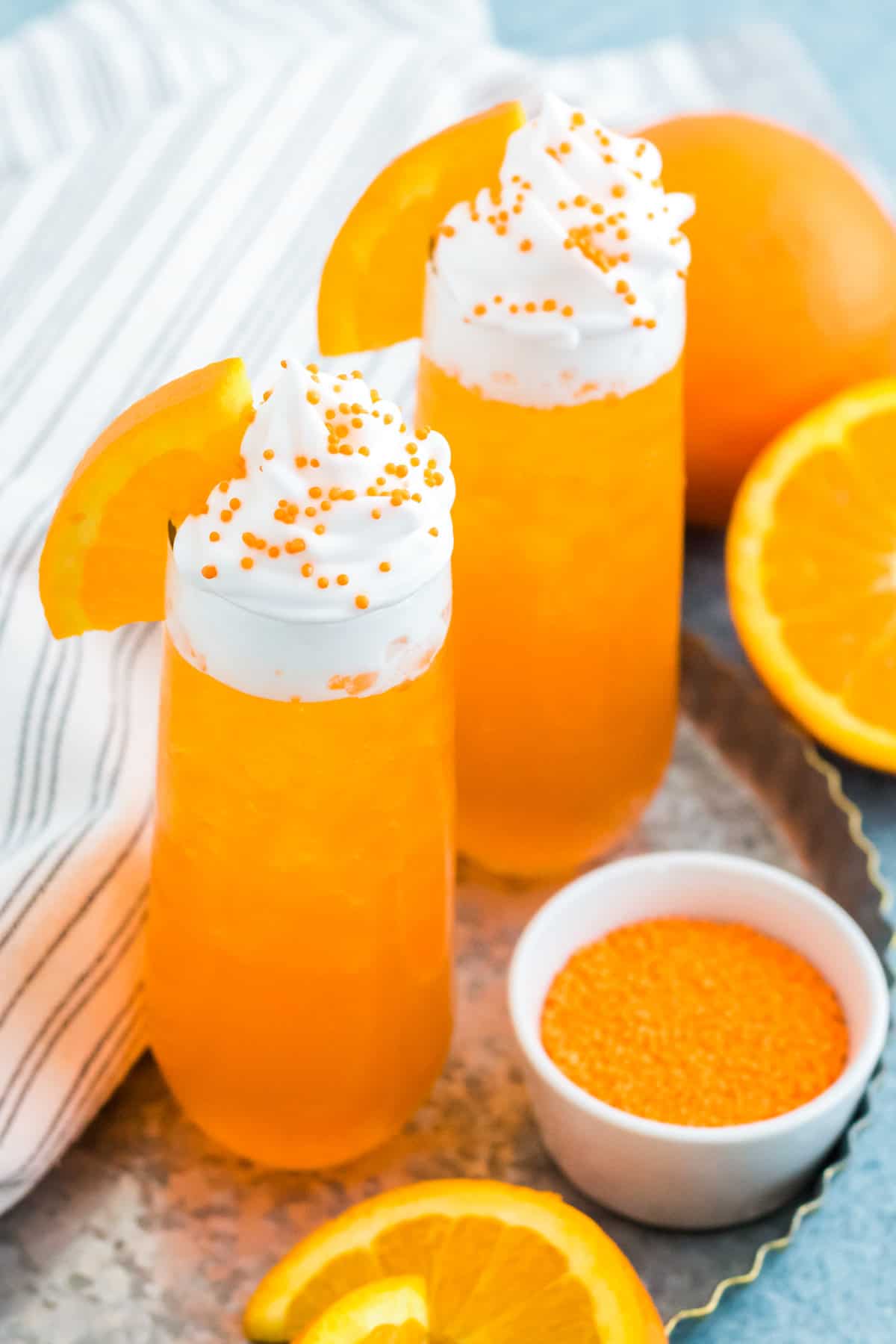 The traditional frozen dessert is now available as an alcoholic beverage called an orange creamsicle. With freshly squeezed orange juice, gin (or vodka), and a dash of vanilla almond milk, it's simple to create. Orange creamsicles or creamsicles were a common sight in our freezer when I was a kid. A cinnamon stick of vanilla ice cream was delivered with an iced orange popsicle topping on top.

The orange creamsicle holiday cocktail recipes offer an adult and vegan spin on the vanilla and orange flavor combination. Gin or vodka is combined with freshly squeezed orange juice in this drink. After that, a dash of vanilla almond milk is added to finish it. The orange juice's tartness on the tongue is mellowed by the creamy aftertaste. Additionally, the faint vanilla flavor enhances it. 

It's a simple, reviving cocktail. Since orange juice is the main component of this alcoholic beverage, using freshly squeezed orange juice as opposed to the boxed type will give the flavor a noticeable boost. The ingredients for an orange creamsicle drink are listed below. Add orange juice and a shot of gin to a small glass. Stir. the ice. Add a Tablespoon of sweetened vanilla almond milk to the top to complete.
Click here.
---
You may Like These Meal Ideas:
Halloween Dinner Ideas
Christmas No Bake Desserts
Brie Cheese Appetizer Recipes
Low Carb High Protein Recipes
Christmas Cake Recipes
Fritter Recipes
One Pot Dinners
Holiday Brunch Recipes
---
If you like this article about Holiday Cocktail Recipes, share with your friends or families on Facebook, Twitter, and Pinterest. Choose your favorite recipe and make it at home, let me know which is your best recipe in the comment. Also, you can subscribe to my blog to get all the latest updates first on your mobile.
---
To make these recipes for later, SAVE this pin on your favourite Pinterest Board