Hi, folks! A very welcome to my blog! As you know, I always swear by vegan diet, this holiday recipes blog is full of vegan Thanksgiving dishes for my vegan folks to enjoy at their Thanksgiving party and make it unbelievably amazing! Who says vegan food can't be delicious and it's too much hassle making them? This is time to answer them! Vegan food can be off the charts delicious and simple to make when you know the techniques of making it. It just takes you to swap some of the ingredients that are non-vegan, with their vegan counterparts and that's it!

Also, these vegan counterparts are very easily available at the stores and some are even lurking in your pantry, waiting for you to discover that they are absolutely vegan! Just don't make things complicated and sit back and read this blog that's full of party ideas for you (vegans) and I'm always ready for you to acknowledge how incredibly scrumptious and easy these vegan Thanksgiving dishes are to make. Scroll down below and get hold of 'em, run!
---
21. Rosemary Roast Potatoes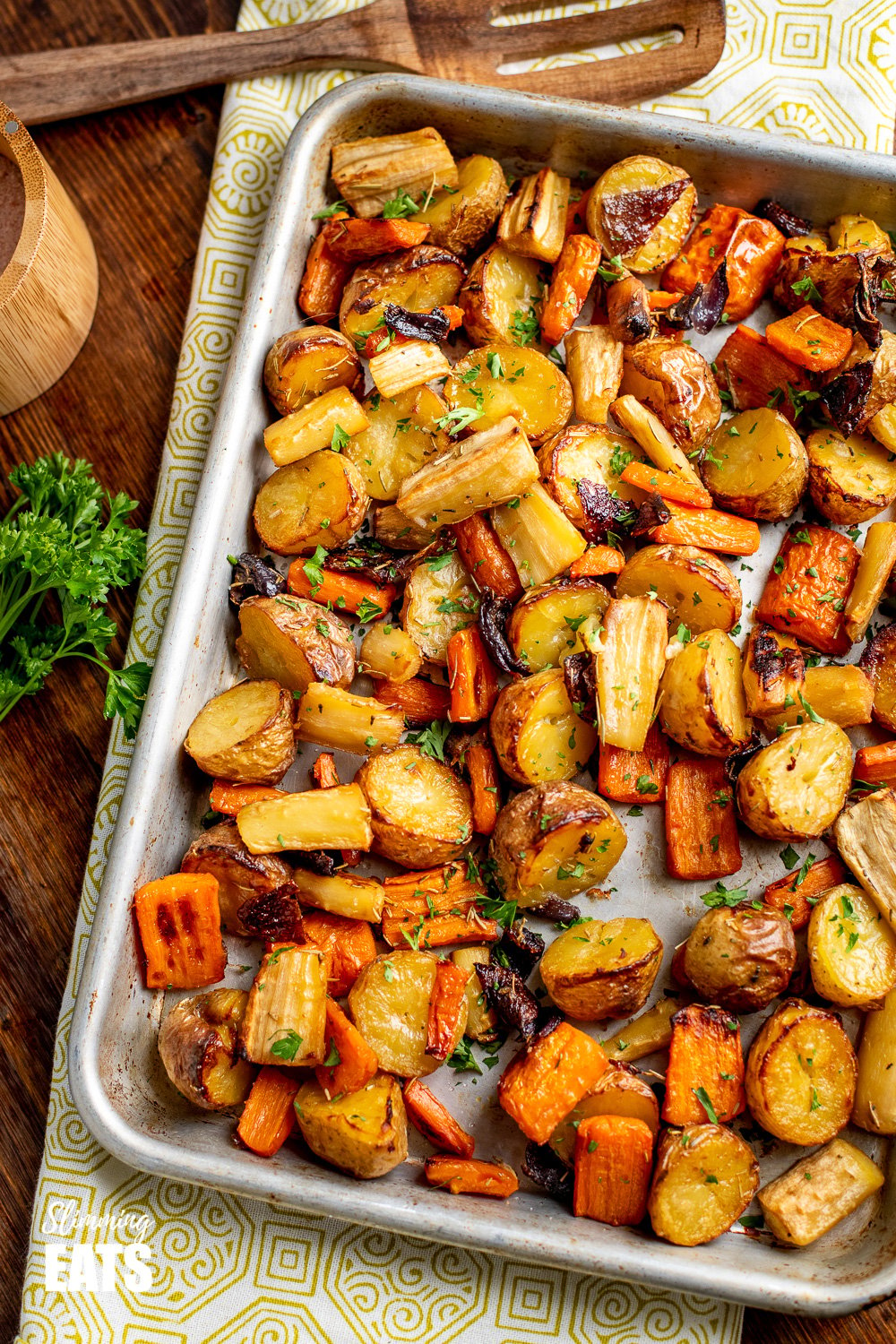 Rosemary roast potatoes! Have you noticed how this simple dish can be so perfect for your party night? If you haven't already, try making them and watch your guests flatter you for your cooking skills! These herb-roasted potatoes are my favorite holiday recipes and I'm surely going to keep them as one of my vegan Thanksgiving dishes. Everyone should learn how to create the traditional recipe for rosemary roasted potatoes.

They're so simple to make that you'll probably remember how to do it the first time, and you can pair them with almost any meal you're cooking because of their adaptability. The flavor and texture that they provide are worth the wait, even though they do take time to properly cook. Feel free to substitute your preferred herb in place of the rosemary if you don't like it or don't have any on hand. You can make any blend you wish with fresh or dried herbs. Additionally, try some Hollandaise Sauce as a topping for those scrumptious, crispy potatoes!
Click here.
---
20. Vegan Cauliflower Cheese Casserole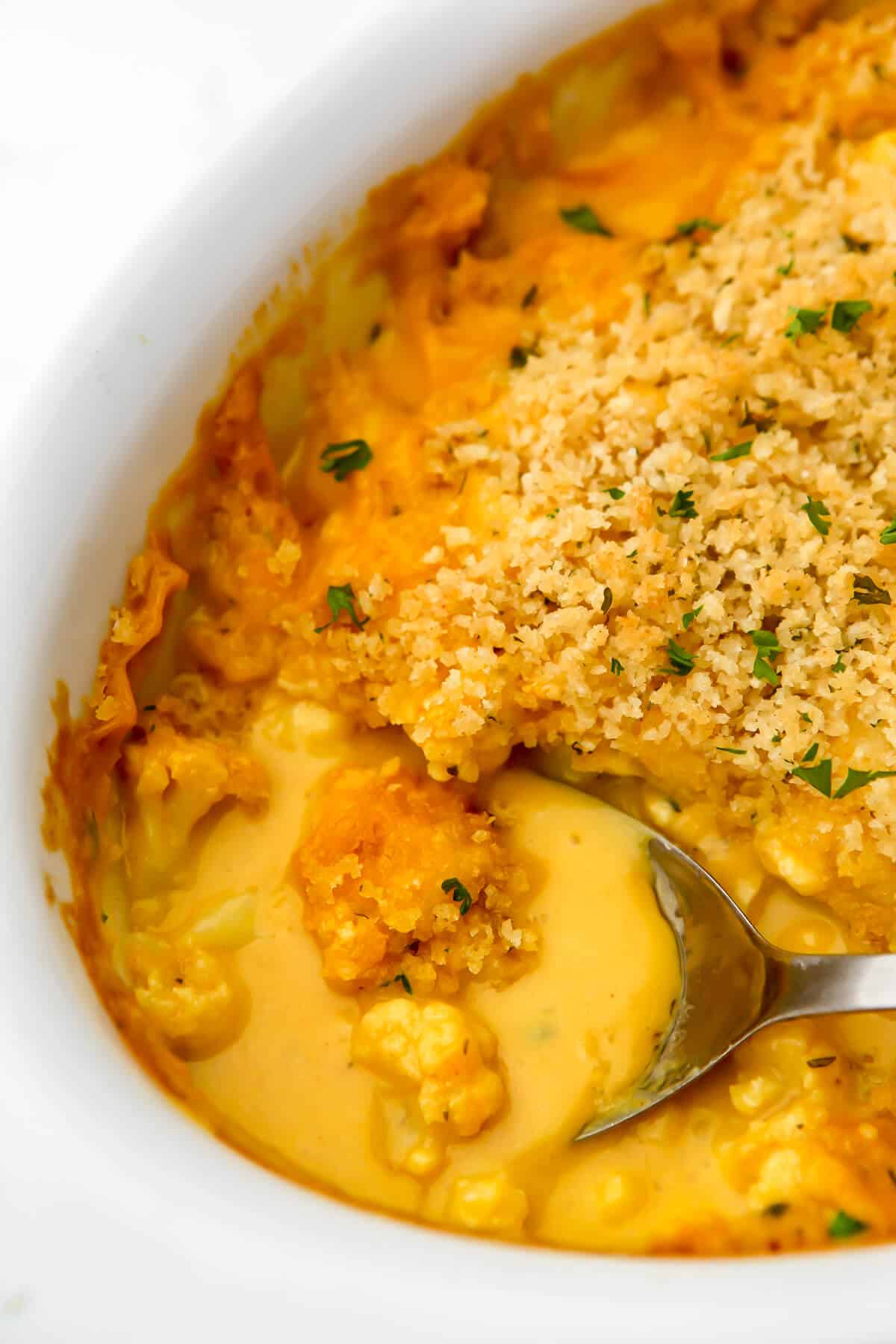 Cauliflower and cheese are one of the most hit combinations according to me. So I'm definitely making these vegan Cauliflower cheese casseroles for my vegan Thanksgiving dishes this year. If you're looking for vegan party ideas for your Thanksgiving party, then look no further, I've got you covered! This easy vegan meal just takes 30 minutes to bake in your oven. This vegan cauliflower casserole, which is laden with vegetables, is baked to perfection with layers of gooey cheese and buttery breadcrumbs on top. It's delectable and simple!

You have to get some basic ingredients like cauliflower, panko breadcrumbs, and vegan butter; for the cheese sauce, you'll need some raw cashews, unsweetened soy milk, vegetable broth, fresh lemon juice, nutritional yeast, dijon mustard, granulated garlic, and granulated onion. When you're done baking it, bring it out of the oven and garnish it with some fresh cut parsley and crushed red pepper flakes and serve hot!
Click here.

Also try thanksgiving charcuterie board ideas for holidays party!
---
19. Gluten-Free Vegan Cheddar Bay Biscuits 
Let's make your party foods amazingly healthy for you! This holiday season, everyone wants to celebrate with good food. But people who are conscious about their health, find it guilty to indulge in party foods.

So why not redefine party foods for them? I've brought to you my vegan Thanksgiving dishes for you to make your holiday recipes a lot healthier. Try these cheddar Bay biscuits that are both vegan and gluten-free!

If we aren't very strongly motivated not to, my mom and I can devour the entire volume of these cheddar bay biscuits by ourselves! They are wonderfully garlicky and cheesy, with a crispy outside and a light, soft interior. And as if that weren't enough, making them is very simple.

I haven't tried this recipe with any of my other GF flour blends; whenever I make biscuits, I either use Freely Vegan flour or my two-ingredient gluten-free flour blend. You'll need the following ingredients: distilled vinegar, soy or other plant-based milk, gluten-free flour blend, baking powder, vegan sugar, salt, grated vegan cheddar cheese, and so on.
Click here.
---
18. Cauliflower Mashed Potatoes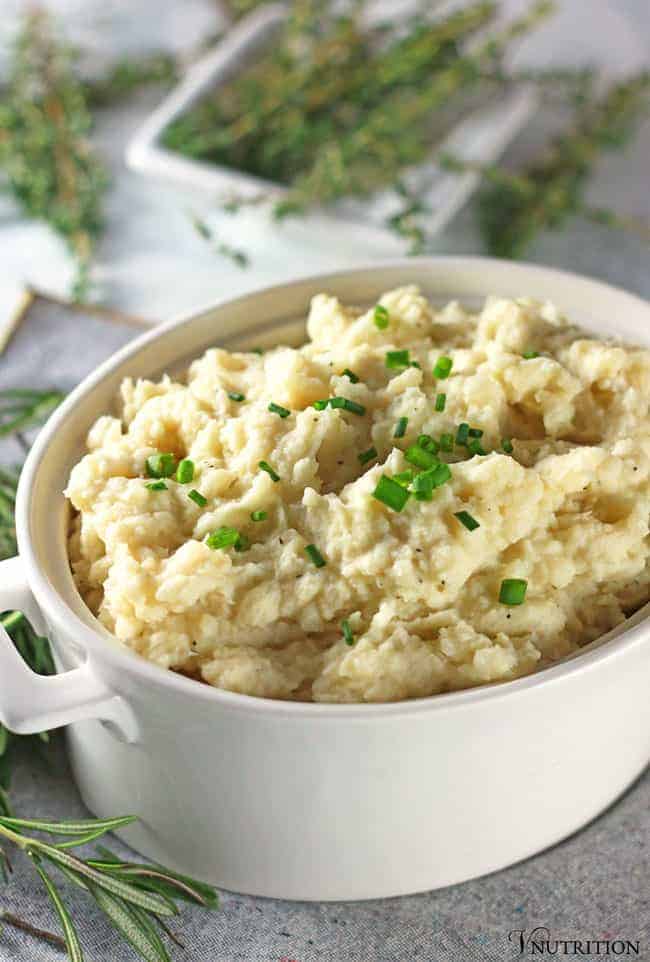 I'm an extreme fan of creamy mashed potatoes for the dip. But when I tried these cauliflower mashed potatoes, I couldn't resist using them for my party ideas! Don't worry friends, they are absolutely vegan.  This cauliflower version of mashed potatoes is revolutionary! They are just as smooth and silky as regular mashed potatoes but contain far fewer carbohydrates.

It's a simple, creamy vegetable side dish, and I'll let you in on a tip for keeping them from being boring and watery. Making this recipe only takes 20 minutes! I have at last discovered a way to make them tasty, creamy, and rich while still making them lighter than normal. In a food processor, combine the cauliflower with the cheese, butter, sour cream, salt, and pepper. Process the mixture until it is smooth. For rich, meaty dishes like Beef Wellington, Roasted Pork Tenderloin, or Prime Rib, this is a great side dish.
Click here.
---
17. Vegan Pumpkin Cheesecake 
Who's up for a dessert? My party ideas are incomplete without desserts, honestly! And when I'm sharing my holiday recipes with you, how can there not be a dessert recipe? So here we go. When I considered making a straightforward yet decadent fall dessert, these pumpkin cheesecakes were the very first thing that popped into my head. Who doesn't like cheesecake, really? And pumpkin? whipped coconut cream, too?

There are only 10 ingredients needed for this recipe, and no special equipment or springform pans are needed. You can make these rich vegan cheesecakes if you have a food processor, blender, parchment paper (or cupcake liners), and ramekins (or muffin tins)! Garnish with a little coconut whipped cream and pecans dusted with brown sugar and see the magic!
Click here.
---
16. Roasted Maple Balsamic Veggies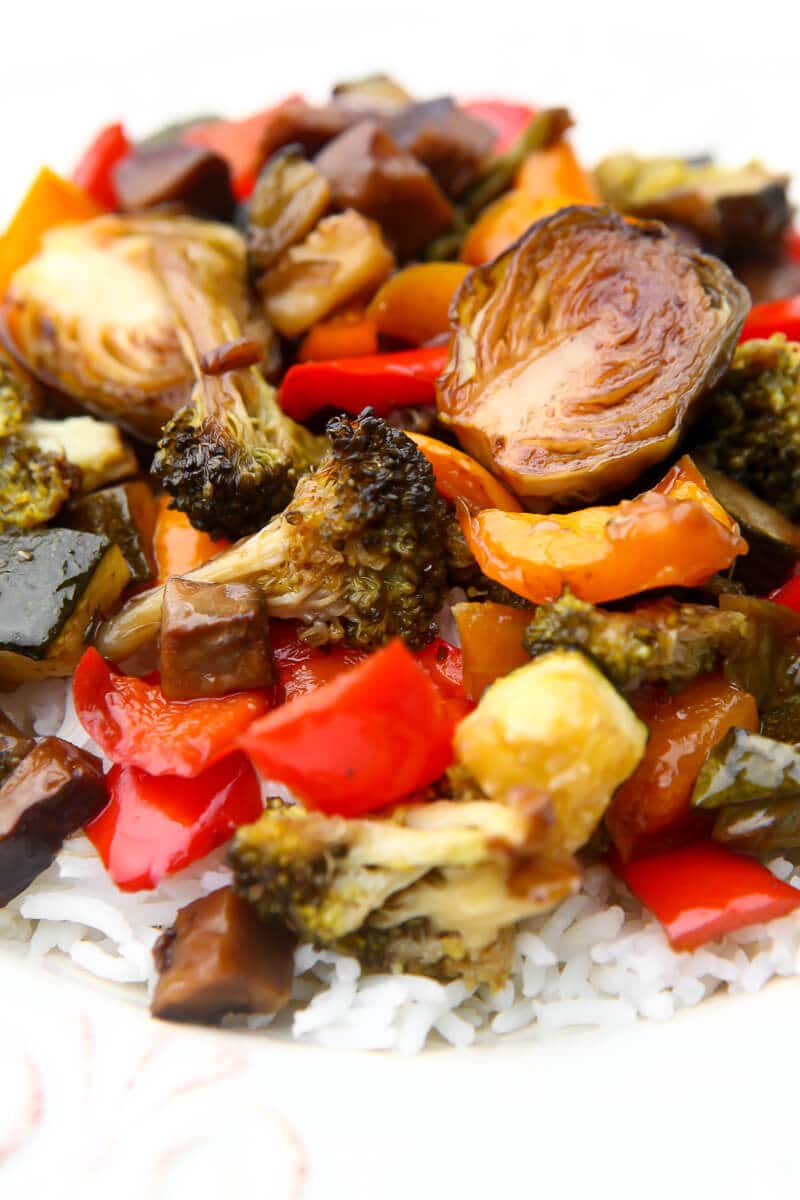 Can you feel the excitement in the air? Yes, it's time for you to quickly arrange the party ideas for this festive season! I'm just wondering if you'd like to add my holiday recipes to your vegan Thanksgiving dishes. How about a mind-boggling dish of roasted veggies? A small amount of maple syrup and balsamic vinegar enhance the apparent richness of roots and Brussels sprouts in this blend of maple-roasted veggies.

Many veggies, especially root vegetables, become naturally sweeter when baked. Sometimes seasonings are superfluous because roasting produces such amazing tastes that it is best to keep things straightforward. This roasted maple balsamic veggie is a great side option for any meal that calls for a cool-weather supper. Serve this recipe as a main course atop a bed of cooked quinoa or lentils, or you can turn it into a scrumptious salad. While the oven is heating up, roast some tofu or tempeh in a teriyaki marinade to go with these delicious roasted vegetables. Any leftovers are also great in wraps.
Click here.
---
15. Crispy Maple Mustard Stuffed Potato Balls
These crispy maple mustard stuffed potato balls will be a showstopper among your vegan Thanksgiving dishes. These savory and entertaining crispy vegan stuffed potato balls can be served as a main, side dish, or appetizer. The recipe can be cooked off in just 35 minutes.

Utilize your leftovers, including dressing, mashed potatoes, and cranberry sauce! The jackfruit filling in this recipe is made with a delicious maple mustard sauce. You have a quick and simple meal you'll want to prepare frequently when you cover everything in a layer of fluffy mashed potatoes then crisp everything up with some panko. Pair with your favorite sauce or dip, such as marinara. Enjoy as a two-bite appetizer or maybe over a salad!
Click here.
---
14. Quinoa Stuffed Squash
You don't like to eat quinoa cause it's boring? Well, then you'll be surprised to know that I added quinoa to my vegan Thanksgiving dishes as my party ideas. Don't trust me? Come check out my amazing holiday recipes. They're vegan, they're gluten-free, and low in calories, yo! Where are my health freak folks at? My vision of a vegan Thanksgiving recipe includes squash that is in season, filled with quinoa and kale that has been spiced up with scallions, tangy feta, sweet currants, and toasted pumpkin seeds.

A vibrant and filling supper that doesn't skimp on taste. A filling, wholesome, vegetarian main dish that is also gluten-free! A sauté of spiced quinoa and kale with pepitas for crunch and feta for zing is stuffed into a squash. Who really needs turkey and mashed potatoes when there are so many delicious vegetables available now?
Click here.

Find these amazing cold appetizers for holidays.
---
Suggested: thanksgiving wreaths & DIY thanksgiving decorations
---
13. Vegan Broccoli Salad with Cranberries
I really don't need to explain how delicious and healthy a bowl of salad can be. When you're from a community that strongly believes in the vegan diet, you've got to add some vegan Thanksgiving dishes to your Thanksgiving party ideas. This vegan broccoli salad with cranberries just speaks for itself when it comes to vegan food. The veganized version of traditional American cuisine is broccoli salad with cranberries. Furthermore, it is gluten-free and vegan.

At picnics and barbecues, it works well as a side dish or for lunch. It's pretty simple to prepare a vegan broccoli salad with cranberries. Not even the stove needs to be turned on. I begin by separating the florets of broccoli. The dried cranberries and sunflower seeds are then added to a salad bowl with the broccoli. Vegan mayo, apple cider vinegar, salt, and pepper are the ingredients for the dressing. It is tasty and easy to make. I put the salad in the refrigerator to cool for at least an hour after combining the dressing. After that, it's time to eat. So you're just 10 minutes away from a refreshing bowl of salad!
Click here.

Also you can try winter comfort foods for healthy eating!
---
12. Vegan Pecan Pie Cheesecake Bars
Another vegan dessert recipe to add to your holiday recipes is this vegan pecan pie cheesecake bar. It just takes 20 minutes to make these hearty and delicious cheesecake bars. So if you've forgotten to make desserts for your guests, don't worry, this last minute vegan Thanksgiving dessert is on its way to save you! It's vegan and no-bake! These healthy eating bars will win you over. No-bake cheesecake filling in a pecan pie crust. served with maple-caramel syrup and toasted nuts on top. A must-have for the holidays, whether it's for Thanksgiving or Christmas!

I wouldn't really judge you if you opt to completely omit the cheesecake filling because the pecan pie base is so scrumptious! Before I finally get around to pushing the filling into the baking pan, I swear I eat approximately half of it. It has the same sweet, salty, and buttery flavors of pecan pie, in my opinion. The filling is a layer of vegan cheesecake made entirely of coconut, cashews, and maple syrup, a powerful trio that ensures no one will miss the dairy. Although it tastes quite similar to classic cheesecake, I like this combination because it lacks the overpowering cheese flavor.
Click here.

Make these amazing valentines day cocktails to celebrate your partner.
---
11. Vegan Lentil, Apple & Pecan Stuffed Butternut Squash 
Stuffed butternut squash is one of my favorite holiday recipes since I decided to go vegan. Whenever I have guests coming over, I make sure to make these stuffed butternut squash and it turns out to be a hit every single time. This Thanksgiving, I'm going to make a vegan lentil, apple and pecan stuffed butternut squash as one of my vegan Thanksgiving side dishes, the recipe for which you'll find in my blog.

A warm and comforting plant-based main course for any winter supper, vegan stuffed butternut squash with lentil & apple filling makes for a spectacular holiday meal! Simple to prepare in advance! Believe me, you'll adore this simple recipe for stuffed butternut squash throughout the fall and winter. A savory stuffing consisting of lentils, apples, onions, and pecans is the star ingredient in this appetizing vegan and vegetarian main dish. It makes a stunning presentation since it is seasoned with a variety of herbs and spices then cooked inside a butternut squash that has been cut in half. This is undoubtedly a fantastic, healthy vegan dish for Thanksgiving, or basically any dinner that requires a show-stopping main course.
Click here.
---
Suggested: Thanksgiving Craft Ideas
---
10. Vegan Pumpkin Bourbon Cupcakes with Maple Frosting 
Holiday recipes are never complete without a recipe for a good batch of cupcakes. Are you looking up the Internet for a vegan cupcake recipe? Well, don't freak out, you're at the right place! I have got an array of recipes for vegan Thanksgiving dishes for you. These vegan pumpkin bourbon cupcakes with maple frosting are going to be your jam this holiday season.

These vegan eggless pumpkin cupcakes are soft and moist, covered with a frosting made from genuine maple syrup, and sprinkled with bourbon pecans! Does it get any better than this? In just about 40 minutes, you'll bake the best batch of vegan cupcakes ever! I sincerely hope you adore these vegan pumpkin bourbon cupcakes as much as I do! They are now a Fall staple, and my taste tester buddies rate them as one of my best cupcake flavors to date. It's simpler than you might think to make vegan cupcakes without eggs, and they taste just as good. Relish!
Click here.
---
9. Roasted Pumpkin Soup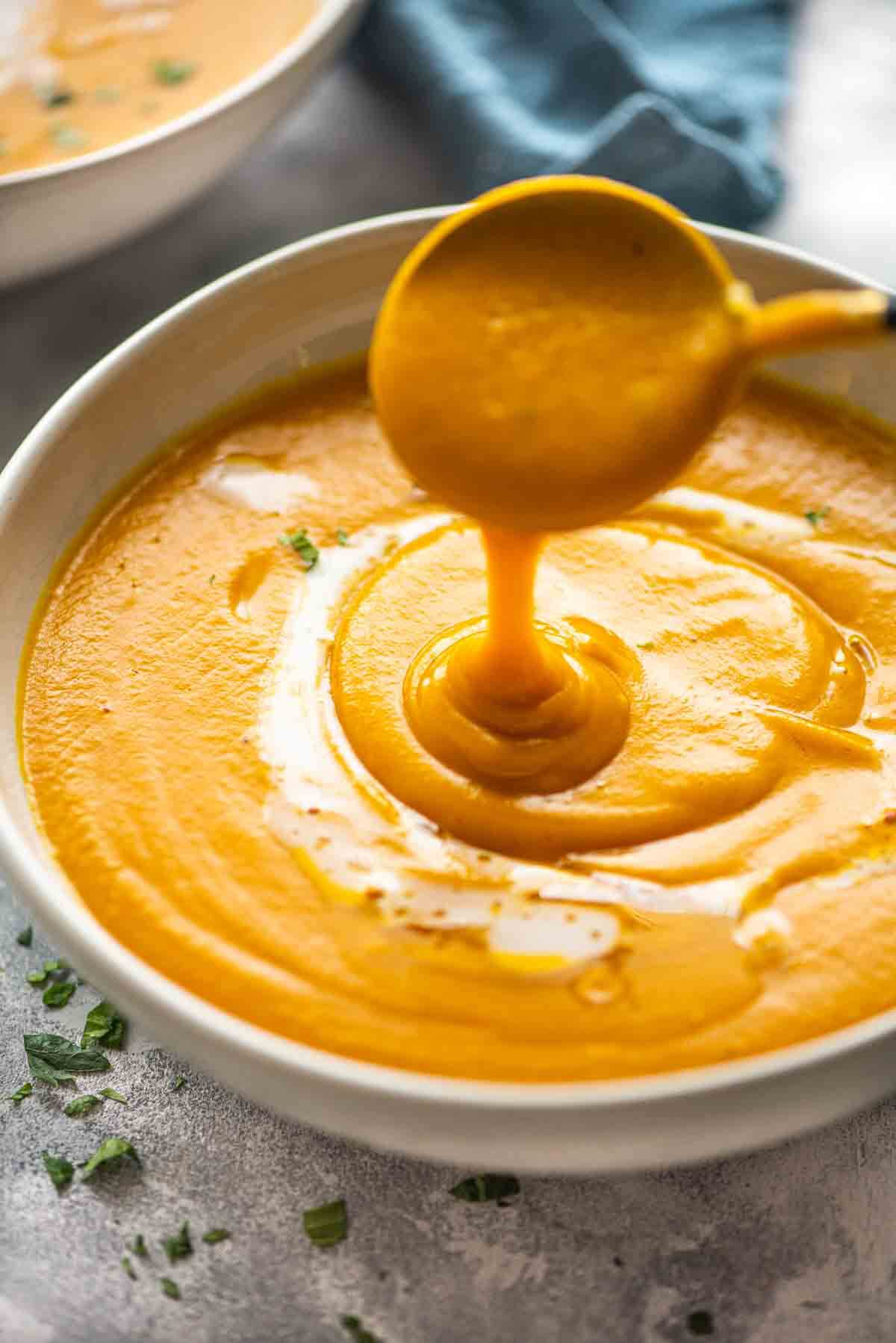 How about a bowl of warm soup in this chilly weather? It's always nice to treat your guests to a warm and delicious bowl of soup when they are coming over for dinner. This roasted pumpkin is rich and creamy and perfect for the fall weather. This vegan pumpkin soup is not only incredibly tasty but also wholesome and nutritious. It's one of my all-time favorite dishes for the fall and winter, and my family adores it just as much.

Only a few basic items are required to make this soup with roasted pumpkin. This hearty soup is mostly made of roasted pumpkin and coconut milk, which makes it incredibly creamy. For some extra flavors that were enticing and comforting, I additionally used a few aromatic spices. Anyhow, if you've previously prepared pumpkin purée in advance, this soup comes together quickly! So, if you're looking for a quick, hearty lunch, dinner, or just an appetizer, this dish is ideal.
Click here.
---
8. Cranberry Pecan Sweet Potato Wild Rice Pilaf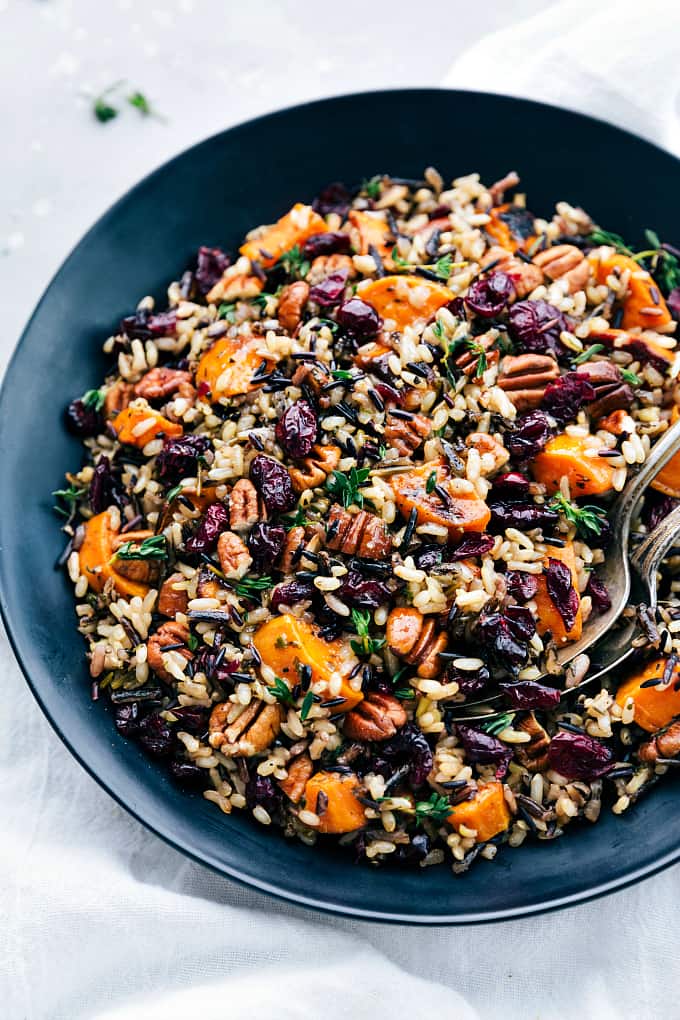 I can't tell you how incredible this cranberry pecan sweet potato white rice pilaf is! It's a stunner. If you're looking for party ideas to treat your guests, you have to include this as a side to your vegan Thanksgiving dishes. I inherited this recipe from my grandma who was an excellent cook. Over my childhood years, she used to cook and feed me numerous scrumptious home-cooked food and I used to help her in the kitchen. When I was in college, I could already cook so many dishes by myself that I had learned from her and this cranberry pecan sweet potato wild rice pilaf is one of them.

My grandma passed away a year ago but I still cook this dish and whenever I do, it reminds me of her and makes me feel that she is still with me, a piece of her is still within me. This year, I cook her favorite dish every Thanksgiving. Because it contains so many fantastic flavors and textures, Cranberry Pecan Sweet Potato Wild Rice Pilaf makes for a wonderful side dish. This mouthwatering recipe combines herbs, wild rice, sweet potatoes, cranberries, and crunchy pecans.
Click here.
---
7. Classic Italian Vegan Stuffed Mushrooms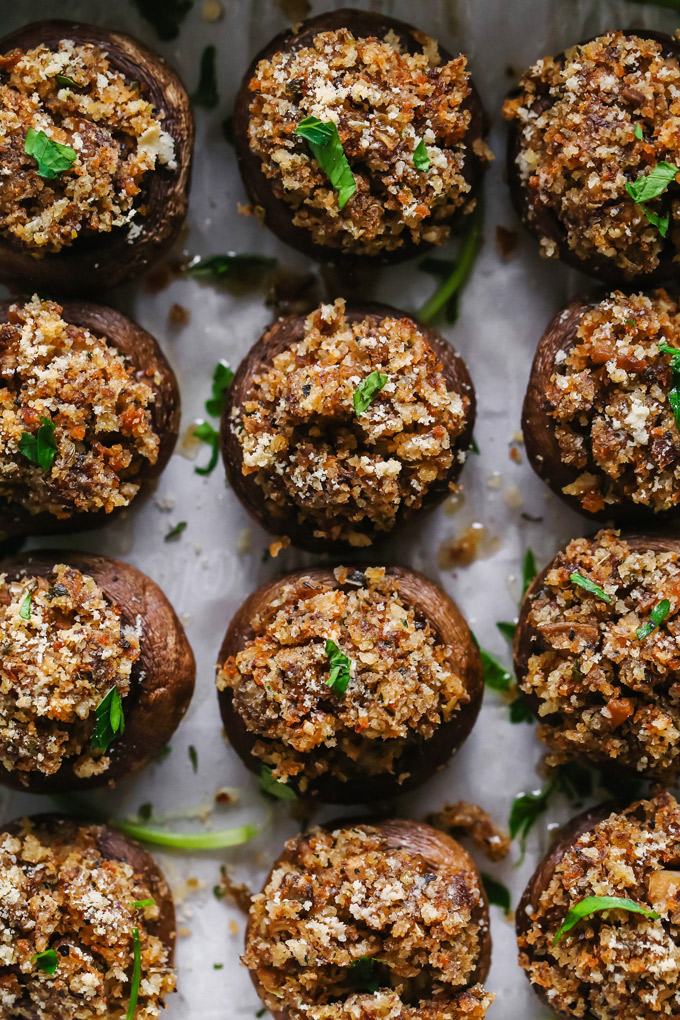 These Traditional Italian Vegan Stuffed Mushrooms must be discussed since they should be on not just your Thanksgiving menu but also your weekly and lifelong eating plan. Absolute bomb, produced with the simplest components, and legit to the dot and com easy. With the correct ingredients, it could be anything even if there isn't any cornbread or anything similar in it. 

And this instantaneous mistake is perhaps one of my favorites. Breadcrumbs, fresh garlic, dried parsley, dried basil, dried oregano, onion powder, garlic powder, salt, pepper, and vegan parmesan cheese are obviously required. Add a little vegan butter to the mixture. Everyone will adore them since they are so flavorful and have a "meaty," juicy texture.
Click here.
---
6. Vegan Cranberry Chili Meatballs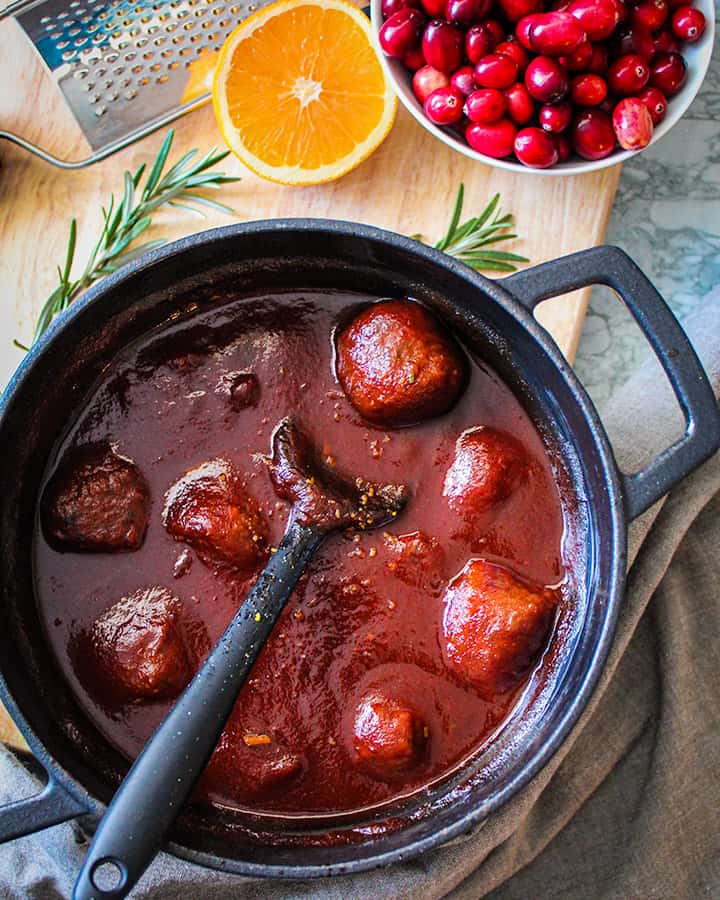 The ideal Thanksgiving appetizers are these vegan cranberry chili meatballs. It only takes 20 minutes to cook this sweet, tangy, and spicy dish!I now look forward to these meatballs more than any other snack at Thanksgiving. It was first motivated by a meal that a friend brought to a Friendsgiving dinner we hosted in the past.

Due to the addition of chiles and earthy spices to the sweet cranberry sauce, it also has a slight kick. This recipe is undoubtedly for you if you enjoy both sweet and savory foods. This meal also serves as the ideal sauce for your main holiday dishes. The key ingredients in this party appetizer are a can of whole cranberry sauce, ketchup, chili powder, cumin, hot sauce, orange juice and zest, vinegar and meatless meatballs.
Click here.
---
5. Quinoa Stuffed Squash with Walnuts and Pomegranate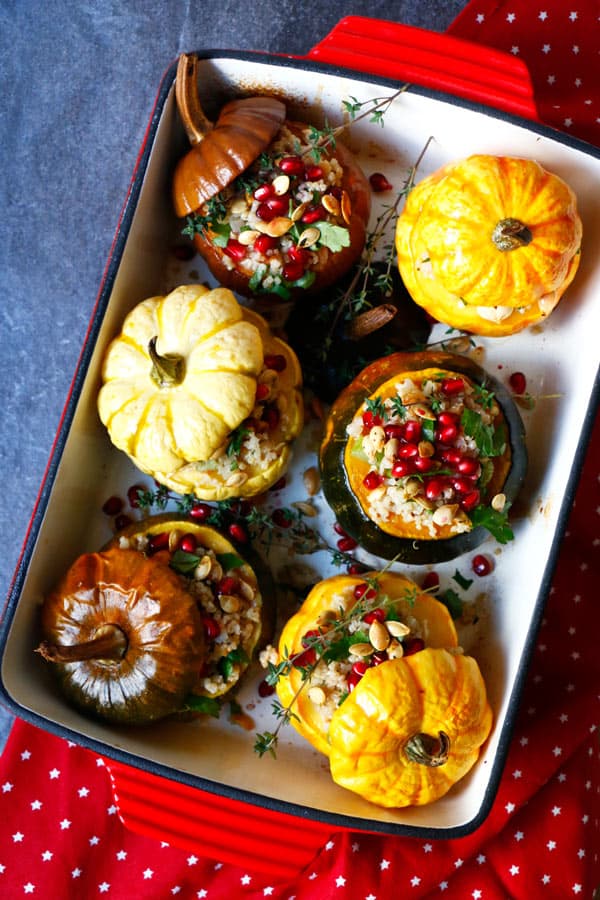 Even the staunchest meat eater will change their mind after trying this vegan quinoa-stuffed squash with walnuts and pomegranate. With delicate, fluffy quinoa that adds all the necessary protein to this dish and harmonizes divinely with the tastes of walnuts and pomegranate.

A filling, substantial, and healthful dinner served to you inside of roasted winter squash shells. Enjoyable on its own for vegetarians and gluten-free as an added bonus. You'll need the following ingredients to prepare Vegan Quinoa Stuffed Squash with Walnuts and Pomegranate: mini winter squashes, quinoa, onion, celery, garlic, fresh thyme, dried oregano, sea salt, black pepper, cooked mung beans, walnuts, fresh parsley, and pomegranate arils.
Click here.
---
4. Easy Vegan Apple Crumble
Warming spices and tender, delicious apples with a buttery, crispy topping! This straightforward vegan apple crumble is the ideal dessert to have in the cooler months and during apple season. It's easy to prepare, can be done in advance, and is always a hit. Save this recipe to your favorites so you can refer to it again and again. The greatest vegan apple crumble has two key ingredients. They also contain extra pumpkin pie spice and crumble.

The greatest vegan apple crisp recipe calls for an abundance of crumble topping. If you're anything like me, the finest part of an apple crumble is a crisp, sweet, oaty crumble. Therefore, I think the ratio of my recipe's apple filling to crumble topping is just right at 50% to 50%. The second finishing touch is to sprinkle the topping with a little pumpkin pie spice. Cinnamon, ginger powder, nutmeg, allspice, and cloves are all ingredients in pumpkin pie spice.

This not only eliminates the need to measure each ingredient individually, but also results in the ideal spice blend. You can either purchase pumpkin pie spice from supermarkets or create your own using this method. This one will revolutionize the game, I promise! I increase the amount of cinnamon and pumpkin pie spice in the crumble.
Click here.
---
3. Vegan and Gluten-Free Thanksgiving Poutine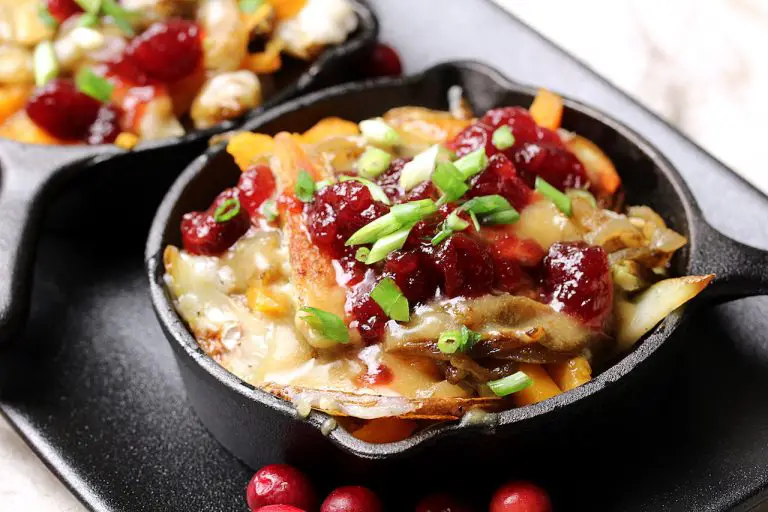 Poutine, ah. Wonderful, wonderful poutine. potatoes, cheese, and gravy. How can it be improved? You pair it with Thanksgiving dinner, the other incredible feast on earth! I give you a Thanksgiving poutine that is both vegan and gluten-free. Thank you very much. Since there is a complete recipe, you can create this from scratch. BUT it also accommodates leftovers! Have any yams remained? Apply them! possess stuffing?

Use that in place of the fried onions (or eat both, of course). Have any leftover turkey tofu? Add it in! Almost anything can be used. This can absolutely be transformed into a Thanksgiving bowl! Instead of fries, use leftover mashed potatoes—it tastes delicious. I sincerely hope you like this Thanksgiving poutine, which is vegan and gluten-free, as much as I do. Everyone had a happy meal!
Click here.
---
2. Vegan Pot Pie 
Put this vegan pot pie on your list if you spend the entire time leading up to the holidays fantasizing about the incredible meals you will whip up with the least bit of work to amaze those you love. What could be more satisfying than cutting into golden, crackly pastry to reveal a bubbling, creamy, delicious stew beneath? With tofu or sausage for a great protein boost, this hearty vegan pot pie contains chunky bits of vegetables in a rich sauce that is herby and herbaceous.

Everyone can do it because it is simple. Additionally, it is nut-free, gluten-free, and soy-free, so anyone may eat it! The best part is that you don't actually have to make the puff pastry; you can just use store-bought puff pastry instead. It has a gorgeous golden crust that makes the most delectable crispy, crackly sounds as you cut into it. Underneath that crunchy sweetness lies a nutritious stew of vegetables seasoned with enticing herbs that you can prepare in just 15 minutes. To make it even more healthy and filling, you can add tofu cubes or vegan sausage.
Click here.
---
1. Pumpkin Pie Smoothie Bow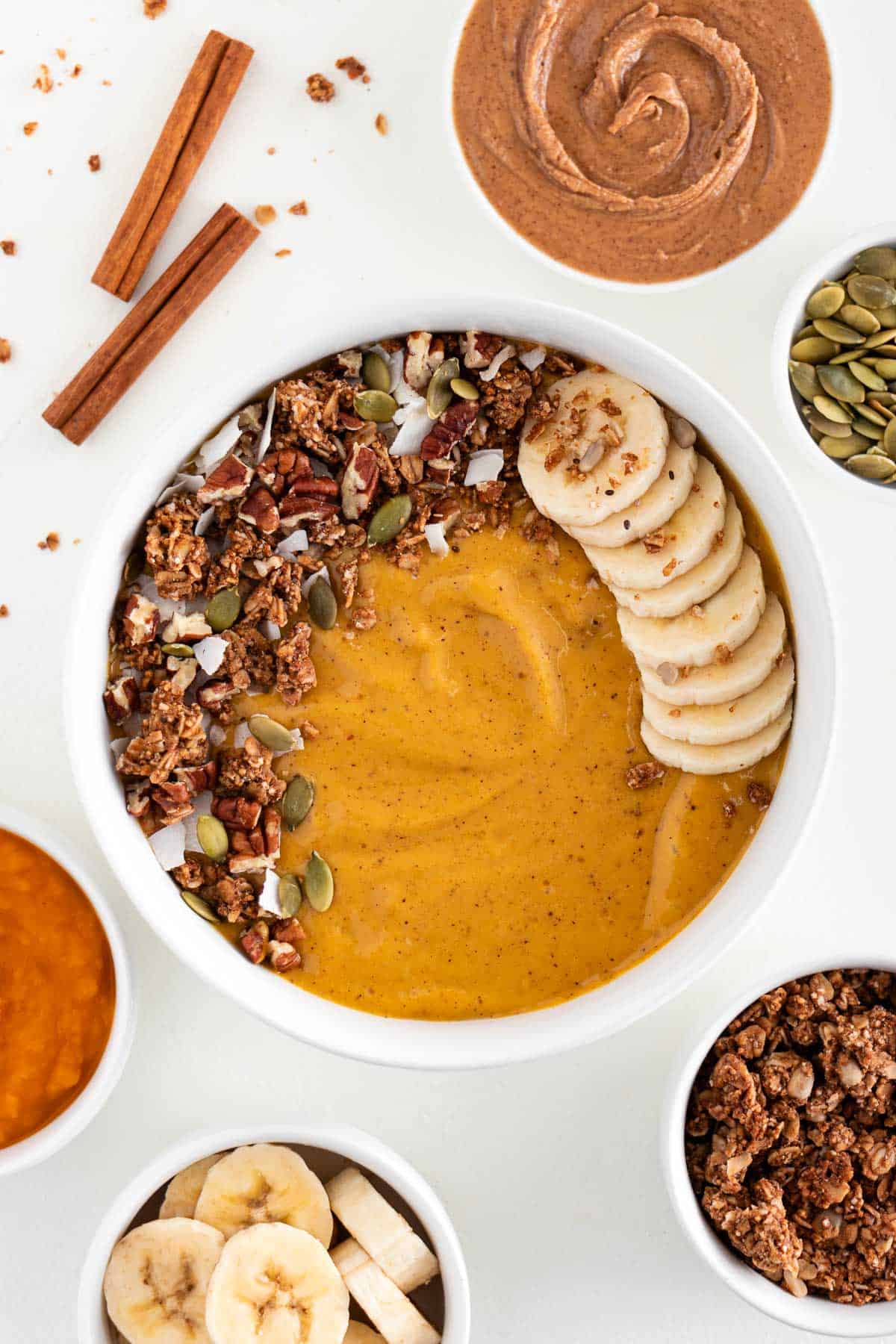 Has anyone mentioned having dessert for breakfast? Today we're turning pumpkin pie, a traditional fall dessert, into a nutritious breakfast bowl. This is my preferred morning routine in the fall because I have a huge sweet tooth, a smoothie bowl obsession, and a strong love for the season. This fall-inspired smoothie bowl with pumpkin pie is wonderful! A nutritious take on the traditional fall treat is made with pumpkin puree, dates, almond butter, and warm fall spices.

It is extremely creamy, naturally sweetened, dairy-free, gluten-free, and vegan. It has the exact same flavor as pumpkin pie, except it's a smoothie. With this nutritious, guilt-free substitute, you can savor pumpkin pie's flavor whenever you want. It has cinnamon, nutmeg, and allspice flavors and is sweet, creamy, thick, and mildly nutty. Add several seasonal toppings, like granola, pecans, and pumpkin seeds, to savor with each bite! In addition to being vegan, dairy-free, gluten-free, soy-free, creamy, nourishing, and mildly spiced, this pumpkin pie smoothie bowl is also created with only 7 healthy ingredients, takes only 5 minutes to prepare, and is the perfect breakfast dish for the fall.
Click here.
---
You may Like These Meal Ideas:
Halloween Appetizers
High Protein Snacks
Halloween Dinner Ideas
Christmas Appetizers
Brie Cheese Appetizer Recipes
 High Protein Meal Prep Recipes
One Pot Dinner Recipes
Low Carb High Protein Recipes
No Bake Christmas Desserts
High Protein Vegan Meals
---
If you like this article about Vegan Thanksgiving Dishes, share with your friends or families on Facebook, Twitter, and Pinterest. Choose your favorite recipe and make it at home, let me know which is your best recipe in the comment. Also, you can subscribe to my blog to get all the latest updates first on your mobile.