To keep their body fresh all the time, everyone wants to eat healthy food. Some of them choose non-vegetarian food, and some choose vegetarian food. For those who are vegetarians, I will talk about their food today.  I have come up with nutritious high protein vegan recipes for those who prefer to eat vegetarian food and eat environmentally friendly plant based meals for healthy eating. A vegan recipe means completely plant based meals or food, excluding any food of animal origin. But how can you get enough protein, vitamins, and good fats from vegan foods? Are you wondering how to make vegetarian food delicious?  Here are some high protein foods for you.
Vegetables, fruits, nuts, seeds, various grains, legumes, etc., contain fatty acids, potassium, vitamins C and 12, calcium, iron, and zinc in vegan foods. Are you not producing enough protein in your body because you are eating a vegetarian vegan diet?  There is a solution to that problem.  Instead of fish and meat, try tofu, tempeh, a variety of grains and beans, and your body will get enough protein. All these foods will help you lose weight. Eat plant-based foods that will help you stay healthy.  Eat healthy food and take care of yourself.
---
1. Crispy Air Fried Tofu
Crispy Air Fried Tofu is a great vegan recipe that will change the taste of your mouth. Crispy Tofu recipe is as tasty as it is packed with high protein. This healthy recipe in the air fryer is ready in just 20 minutes.  And it will take 30 minutes to make it in a pan.  

I use this plant-based dish for dinner at my house and sometimes as a starter. My daughter loves this crispy tofu. That vegan recipe has taken a good place in his mind. He invited his friends and ate this tofu. Trust me if you cook this tofu in the right way in a fun way it will become your favorite too.
Click here.
---
2. White Bean Soup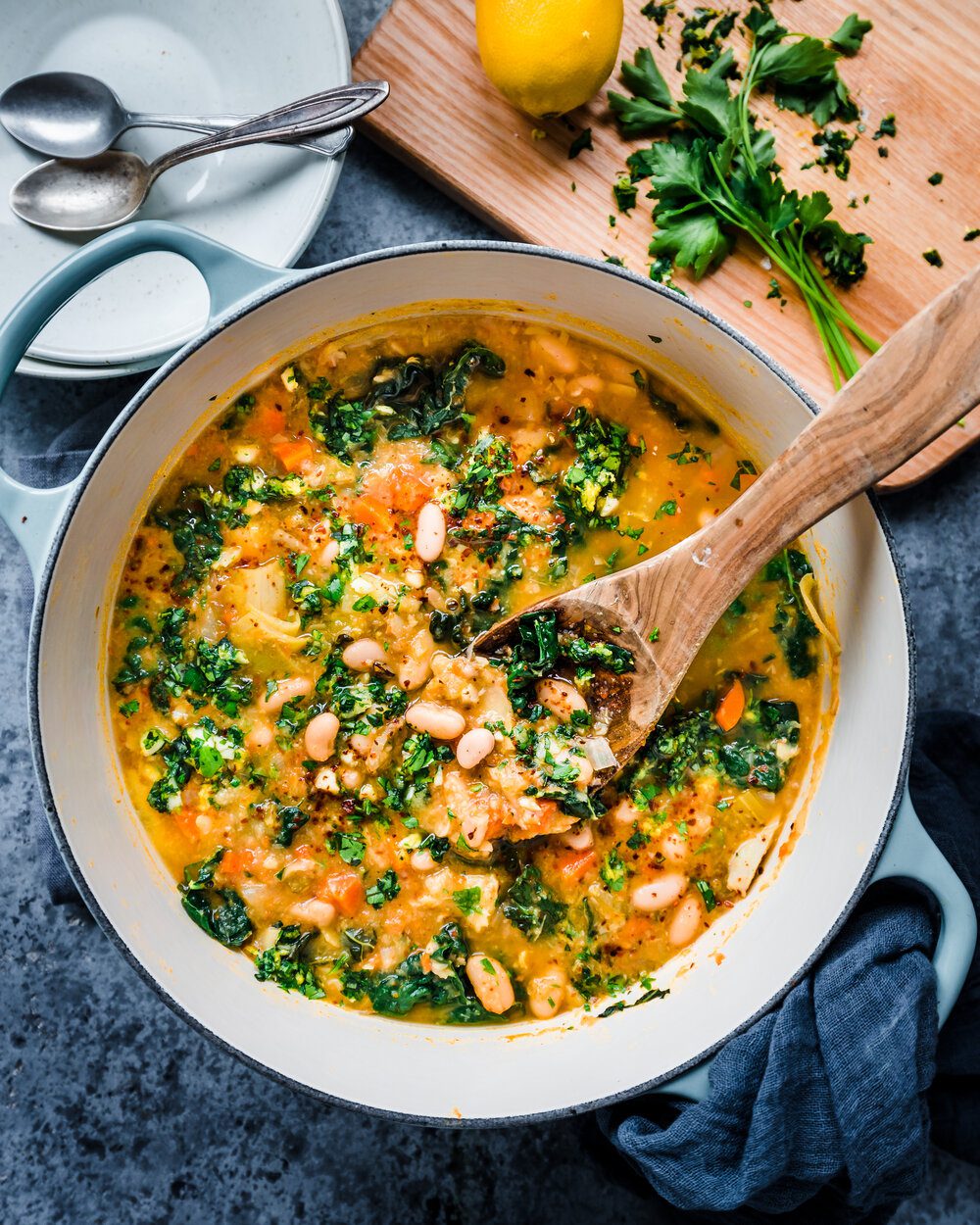 Looking for thick, delicious, and healthy high protein vegan recipes? We've got you covered with white bean soup. All of you will like this dish made with light spices, black salt, black pepper, and white beans.  It is cooked in one pan and in just 15 minutes your soup will be ready and on your dining table.  Enjoy its incredible flavor at any time of your day. Add a little olive oil to the bowl before serving and taste where the flavor goes. 

Who doesn't love to eat such a wonderful healthy meal that takes less time to cook and uses one pot? And these plant based meals are also gluten-free. You went out for a run early in the morning and you are very hungry, now you are wondering what to cook quickly and healthy!  Then cook white bean soup healthy eating and enjoy your food.

Find more Low Carb High Protein Recipes & make these healthy high protein low fat recipes for weight loss.

Click here.
---
3. Savory Vegan Breakfast Toasts 
Crispy and easy vegan breakfast toast is a quick weeknight meal.  Packed with flavor, this creamy sandwich is the most delicious high protein vegan recipes you can make in 15 minutes.

This dish can be made with spinach, chickpeas, mushrooms, and mint.  Everything you need to prepare this healthy dish is present in your kitchen right now.  This can be cooked very easily and cheaply. Spice up your sandwich with chili flakes with ingredients. You can definitely keep the sandwich mixture in the fridge for a few days.  You can also have this plant based meals as a light lunch.  Eat healthily and keep your family healthy.
Click here.
---
4. Chickpea Stir Fry
Crispy and easy chickpea stir fries are a quick weeknight lunch or dinner.  Packed with flavor, these crispy fried chickpeas are the most delicious vegan or vegetarian recipe you can make in 20 minutes.

Stir-fry a variety of greens like spinach, baby corn, mushrooms, beans, lettuce leaves, colorful bell peppers, and broccoli in this chickpea fry.  Then enjoy the food. It's not easy to make the same taste as Asian chickpeas but we can definitely try this delicious dish. You can prepare this recipe the day before, so you don't spend time in the kitchen the next day.  You can do healthy eating without cooking for a day and give yourself time to fry these chickpeas.

Check out more chickpea snack ideas for afternoon break.

Click here.
---
5. Teriyaki Tempeh Lettuce Wraps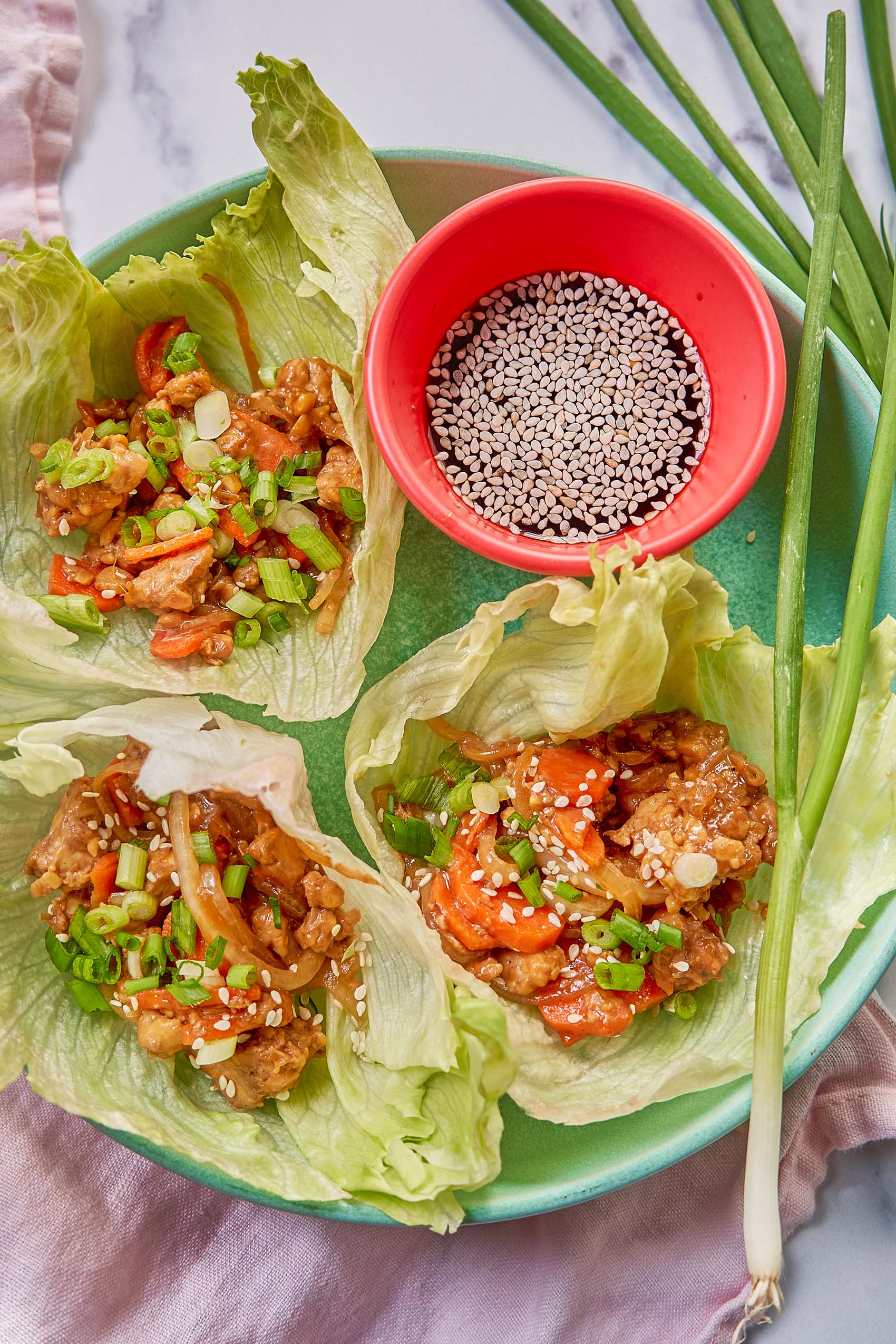 Let's make these amazing Lettuce Wraps stuffed with tasty teriyaki tempeh. These wraps are great plant based meals options, vegan, and absolutely high in protein. These are also damn easy to make and take only 30 minutes. 

Tempeh recipes have always been my favorite. And when a scrumptious tempeh recipe is ready in under 30 minutes, what else can I ask for? These vegan Teriyaki Tempeh Lettuce Wraps have an extremely delicious teriyaki tempeh filling. If healthy eating is a priority for you then these wraps will be perfect for your lunch or dinner or you can take as brunch recipes. Plus, the meal prep for this recipe is so easy. 

There are numerous ways to stuff your lettuce wraps but the flavor and crunch that the saucy teriyaki tempeh adds to your lettuce wraps are totally praiseworthy. You can also add colorful veggies of your choice if you love experimenting with flavors. Veggies also add additional nutrients to the wraps.
Click here.

Try these healthy lettuce salad recipes for meal prep.
---
6. High Protein Vegan Thai Green Curry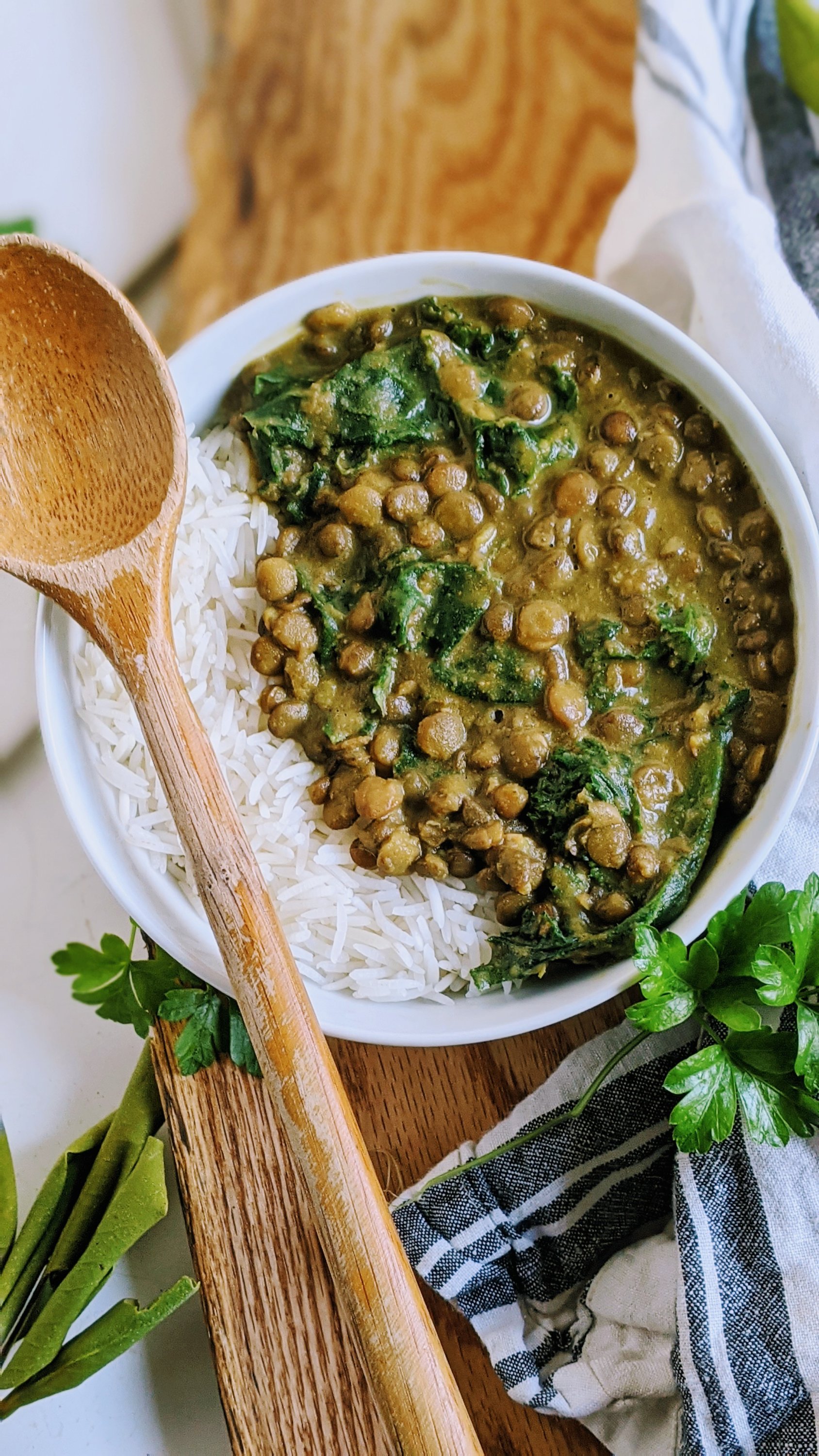 A creamy Thai Green Curry poured over hot basmati rice has my heart. I just love how creamy and deliciously flavourful this dish is. Plus, it's vegan, gluten-free, and rich in plant based meals or protein rich which makes it a superb high protein vegan recipes. 

You start off by preparing the green paste that includes a lot of greens like green lentils or red lentil, kale, parsley, basil, and kaffir lime leaves for its fresh aroma. The Thai Green Curry is essentially a mixture of this green paste and coconut milk that adds a rich taste and a creamy texture to the curry. The best part about this recipe is that it can be made with ingredients that can be easily found on hand if you have a well-stocked pantry. Serve this silky, luscious green curry over hot basmati rice and garlic naan for a delectable, hearty meal.
Click here.

Try these amazing Christmas Appetizers to celebrate this holiday.
---
7. Easy Vegan Yogurt Recipe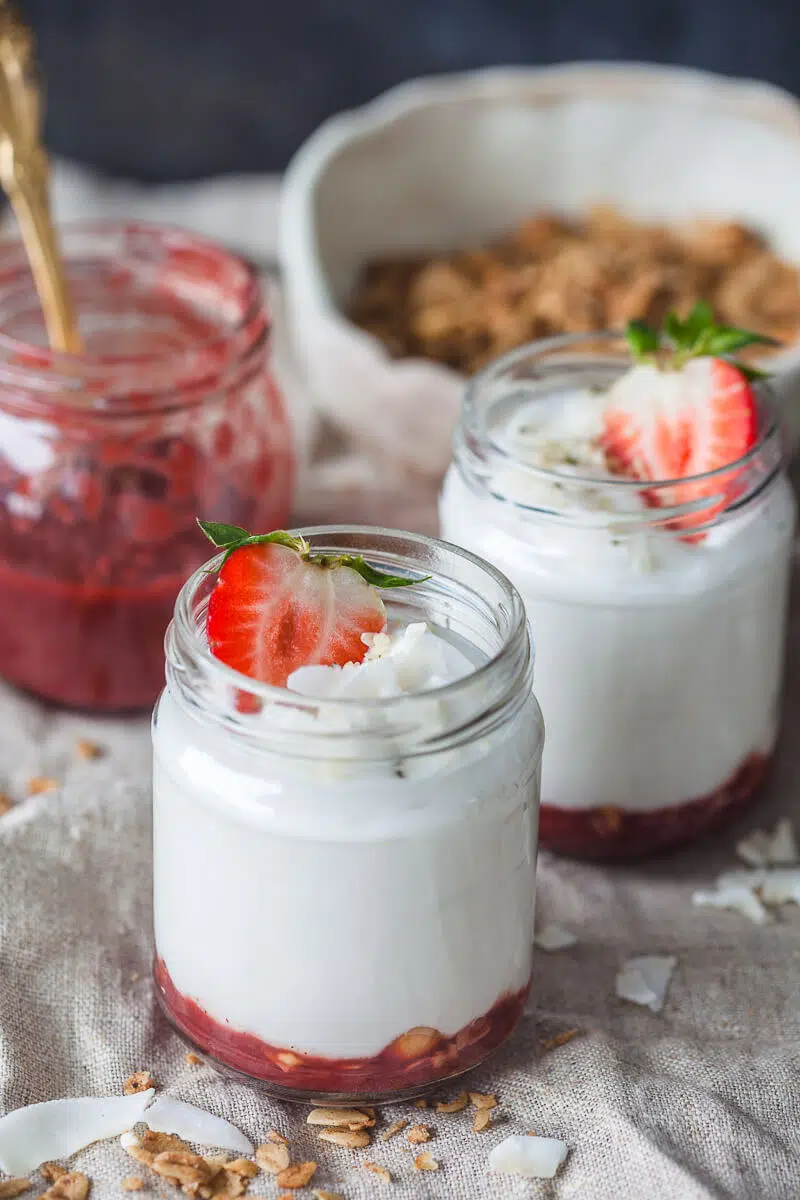 This vegan yogurt recipe is made with only 3 ingredients – tofu, lemon juice, and frozen fruit. And the best part is it takes only 5 minutes to prepare at home for breakfast or meal prep for healthy eating. If you want to add sweetening like dates or maple syrup to the yogurt. Serve this recipe with overnight oats or muesli or others. This yogurt is thick, creamy, and tangy, this high protein dairy-free recipe is perfect for breakfast or snacks.
Click here.

Get these amazing new years eve cocktails to celebrate.
---
8. High Protein Vegan Poke Bowl
There are days when I don't wanna cook at all. On days like these, I opt for this easy vegan poke bowl recipe. Traditionally, most vegan poke bowl recipes have tofu in them but we're gonna skip it. We make ours with a load of colorful veggies to suit our palate that include roasted beets, carrots, and avocados, and drizzle them generously with vegan sriracha mayonnaise. 

For the roasted beets, we first marinade them in tamari which is a gluten-free soy sauce, sesame oil and seeds, rice vinegar, and fresh ginger for 15-20 minutes and then simply roast them.

I like to garnish my beet poke bowls with some fresh cilantro, some more sesame seeds, and thinly sliced jalapenos for a spicy twist. There's no hard and fast rule as to what you should add to your poke bowls but you should definitely try variations with pickled ginger, nori, or scallions.
Click here.
---
9. Chickpea Pancakes
Vegan Pancakes for breakfast? I have got the perfect recipe for high protein vegan meals pancakes. These gluten-free, dairy-free, oil-free and grain-free pancakes are your perfect partners in healthy eating.

These chickpea flour pancakes include no eggs and are made with only 4 ingredients and are super fluffy. All you need is protein-rich chickpea flour, unsweetened vanilla almond milk, baking soda or baking powder, and unrefined sugar.  Each of these pancakes has 3 grams of plant-based protein. This is one of the best high protein vegan recipes that everyone will love.

These pancakes are made with chickpea or garbanzo flour which is different from besan or gram flour. Chickpea flour is actually ground yellow chickpeas whereas besan is made from chana dal or split brown chickpeas. This recipe calls for pure chickpea flour. Using gram flour or besan will not work well for this recipe.
Click here.

These amazing low calorie egg recipes are great for meal prep.
---
10. High Protein Vegan Mac and Cheese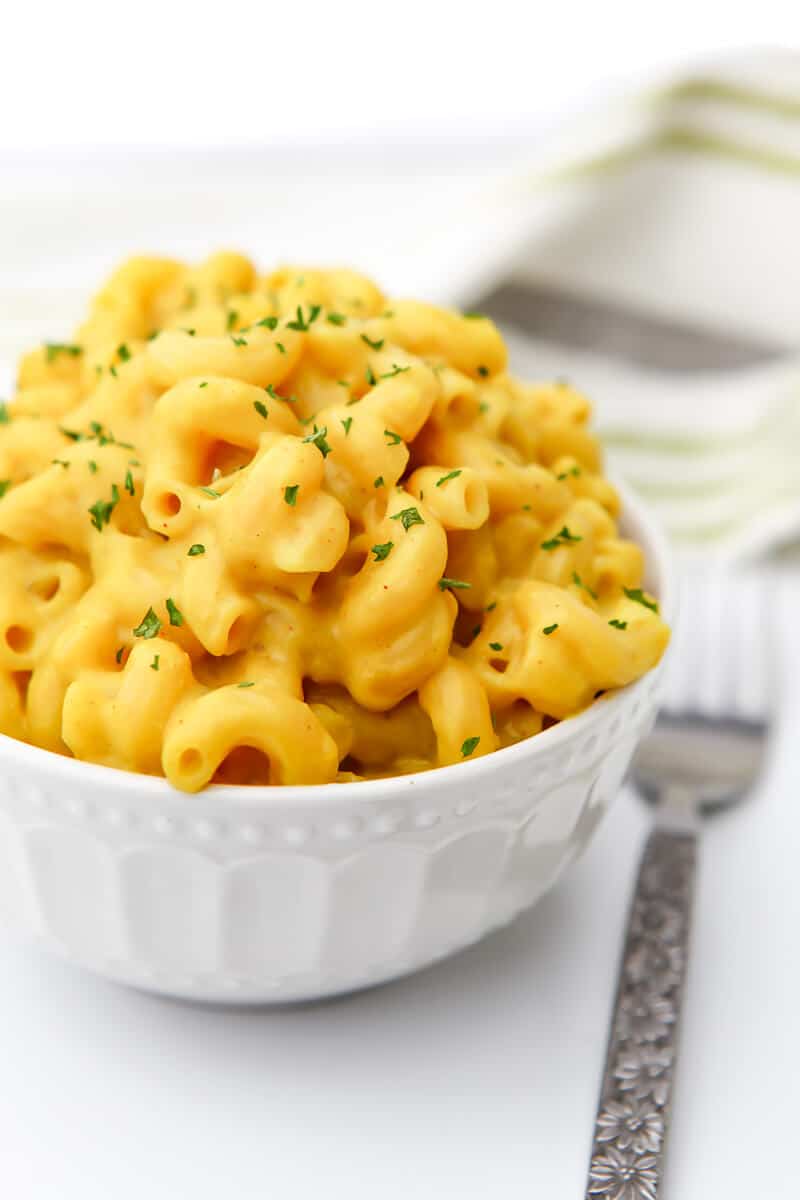 Mac and cheese lovers here's good news for you! If you're vegan and wondering how to make a veganized version of your favorite mac and cheese then you're at the right place, my friend! I have the perfect recipe to turn your mac and cheese into a plant based meals. This dairy-free, gluten-free, and soy-free mac and cheese is super creamy and loaded with cheese. 

Mac and cheese is an absolute crowd-pleaser. I promise you people won't be able to tell the difference if you make them this vegan version of the dish. It's equally creamy, cheesy, and delicious. Also, it's unbelievably easy and fast to make. 

If you like it spicy like me, here's a tip. I use cayenne pepper, red chili flakes, and vegan buffalo sauce to add that spicy flavor to my mac and cheese. You can easily store it in the fridge for about 3-5 days. Just pack it in an airtight container and you're good to go.
Click here.

Get these amazing new years eve cocktails to celebrate.
---
11. High Protein Blueberry Baked Oatmeal 
Bored of eating your regular overnight oats for breakfast? Make this High Protein Blueberry Oatmeal Bake to give your taste buds a twist. This blueberry oatmeal bake is a high protein vegan recipes, rich in fiber, low in calories, and gluten-free. Plus, you can always change the ingredients according to your choice. 

A healthy breakfast should be rich in protein. As we know oatmeal is rich in fiber, it needs to be taken with a protein source to balance it for a healthy meal. Protein satiates hunger and keeps you full for a longer time, keeps you energetic, and helps control frequent cravings. This delicious high protein oatmeal bake is the perfect breakfast recipe because it is a balanced meal.

The ingredients that go in this recipe are gluten-free rolled oats, baking powder, cinnamon, salt, almond milk, unsweetened nonfat greek yogurt, protein powder,  vanilla extract, and frozen blueberries. Mix your dry and wet ingredients and transfer the batter into an 8-inch springform pan. Bake in a preheated oven for 25-30 minutes and your high protein breakfast is ready to serve!
Click here.
---
12. Sweet Potato Kale Hash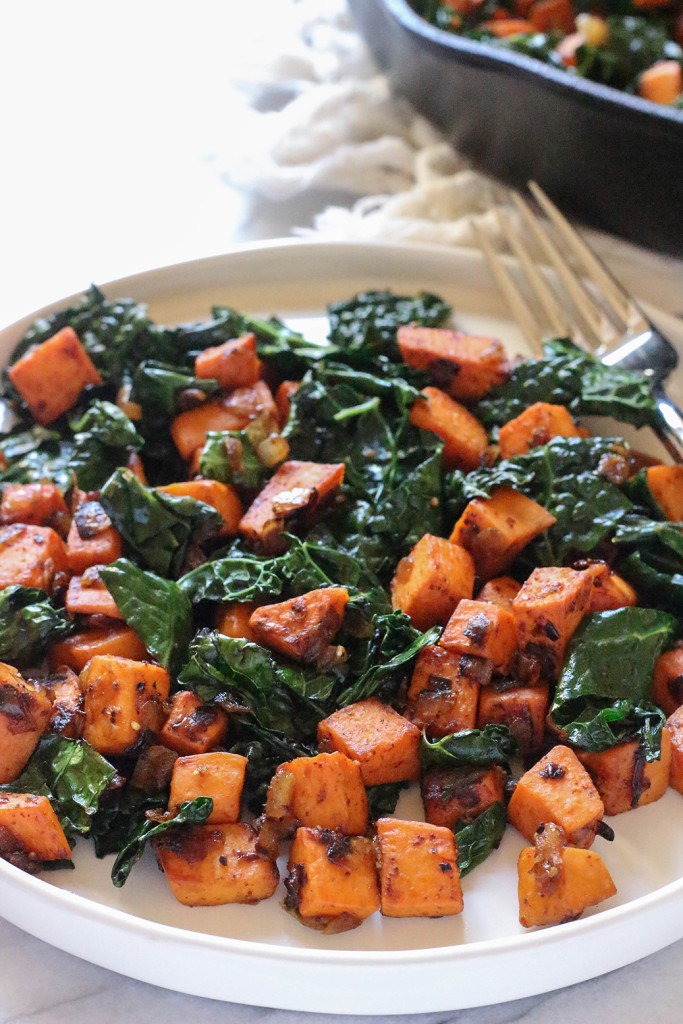 I'm an advocate of healthy eating but I don't believe in gulping bland, tasteless food. So when it comes to choosing healthy plant based meals, I try my best to make them taste good. This sweet and savory veggie mix has my heart. This Sweet Potato and Kale Hash meets all my expectations. It's vegan, gluten-free, and low in calories. The ingredients are pretty basic, all you need is just sweet potatoes, lacinato kale, yellow onions, maple syrup, ground chipotle chili pepper, extra virgin olive oil, and salt and pepper to taste.

Firstly, you steam your sweet potatoes then caramelize them with some maple syrup. Saute the yellow onions in some extra virgin olive oil, then add in the kale and caramelized sweet potatoes and saute them. Add salt and pepper to taste and your healthy and tasty veggie mix is ready to serve! You can have it for breakfast with sticky buns, stuff it in a veggie burger or have it with corn tortillas for a light dinner. Make these another healthy high protein salads for meal prep. If you want to make some green veggies, make these healthy green bean recipes for holiday lunch.
Click here.
---
13. Cajun Style Red Beans and Rice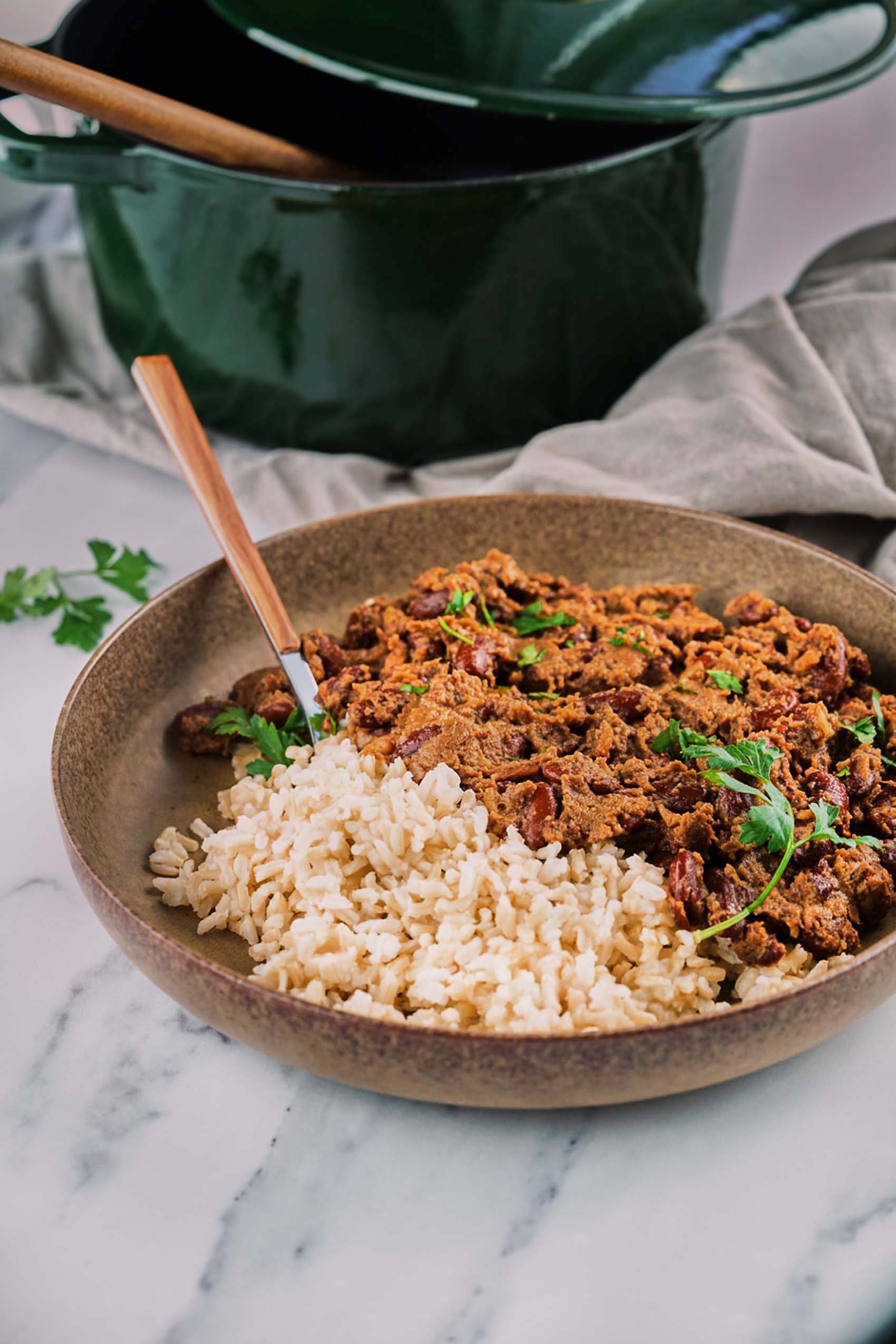 I love Louisiana cuisine but a lot of food from this cuisine is not vegan-friendly. So I'm trying to make a Cajun-Style Healthy vegan version of the  Red Beans and Rice. This vegan version of the recipe is so full of flavors that you won't have to compromise on the traditional Louisiana taste. 

This Cajun-Style Vegan Red Beans with steaming hot brown rice is an amazing combo. The red kidney beans used in this recipe have insanely high nutritional values. It is a high protein vegan recipes loaded with plant based protein coming from red kidney beans. The vegetables add more nutritional value to the dish. The taste of this dish is inspired by flavourful spices, hot sauce, veggie broth, and fresh parsley.
Click here.
---
14. Chickpea Shawarma Stuffed Pita with Hummus
This vegan Chickpea Shawarma Stuffed Pita with Hummus is so flavorsome you'll forget it's vegan. I love making bread and pita is one of the most satisfying bread to bake. The pita I used in this recipe is made with whole wheat flour and hummus. The chickpeas are seasoned with a variety of spices and roasted in the oven. These plant based meals are crazy delicious and high in protein. 

These chickpea shawarma stuffed pitas are great options for a filling lunch or dinner. The roasted chickpeas can be made ahead of time and stored. Making lunch becomes easier when you have half the things already prepped.
Click here.
---
15. Spiced Lentil Stew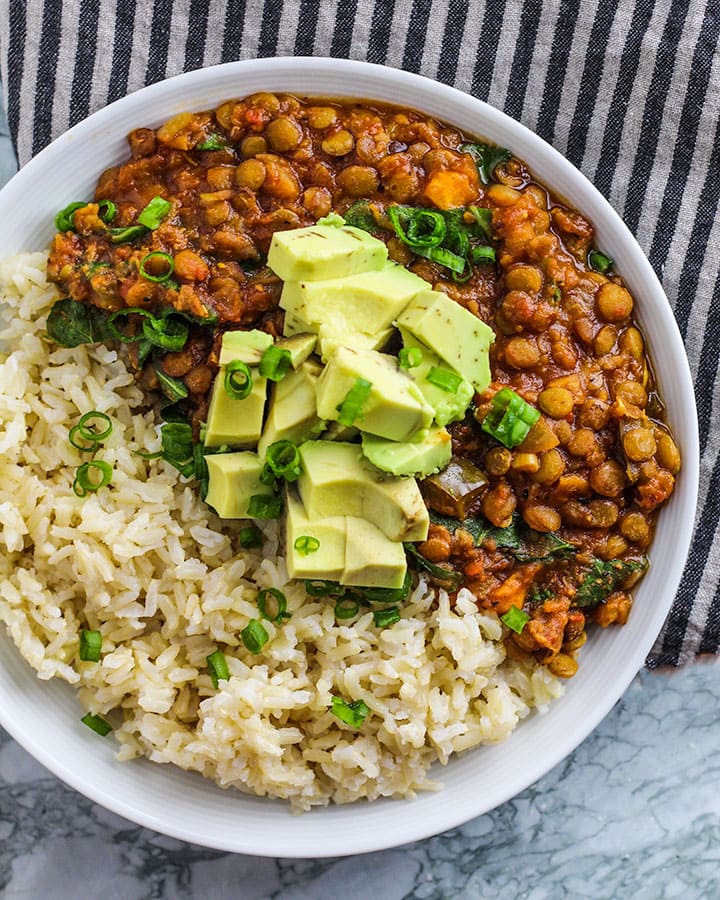 This easy Spiced Lentil Stew is packed with flavourful spices and is rich in nutrients. Legumes are a good source of plant based protein and having them with vegetables and grains increases the nutritional value of your meal.

My mom makes the best lentil dishes in the world. She's the one who encouraged me to use a variety of spices to add flavors to food. This recipe is inspired by my mom's lentil dishes. It is so healthy, tasty, and super easy to make.

The variety of spice that goes in this healthy plant based meals makes it highly delectable and when served with a bowl of rice, it makes the most amazing meal for lunch or dinner.
Click here.
---
16. Vegan Banana Pancakes 
Nothing beats a fluffy pancake for breakfast. Drizzled with maple syrup and a small cube of butter on top makes it the crave-able dish.  Here's my recipe for the most amazing vegan pancakes. They are gluten-free as well. And you can't imagine how easy it is to make these Vegan Banana Pancakes.

For the batter, you need almond milk, vinegar or lemon juice, gluten-free flour, baking soda, salt, melted coconut oil, maple syrup, vanilla, and one mashed ripe banana. You can also use flax eggs instead of bananas. Whip everything up in a blender jar and make the most amazing vegan banana pancakes for breakfast.
Click here.
---
17. Easy Mexican Inspired Three Bean Salad
Salads are my comfort food in summer. They are easy to make and healthy. A good salad with good dressing can be a game changer. This Mexican Inspired Three Bean Salad, packed with Mexican flavors is vegan and gluten-free. 

Ready in just 10 minutes, this Mexican bean salad is just so fascinating, you won't be able to resist it. It's loaded with colorful veggies and flavorful spices. 

The dressing for this salad includes a mix of olive oil, hot sauce, and a variety of other spices. This salad is an amazing combination of grapes, cherries, tomatoes, bell peppers, corn, red onion, cilantro, and avocado. It's simple yet packed with flavors and nutrients.
Click here.

Make more Back To School Lunch Ideas For Kids.
---
18. Quinoa Chickpea Salad
This Quinoa Chickpea salad is a showstopper. It's highly nutritious and easy to make. The quinoa adds fiber and the chickpeas add protein to this flavourful salad. Salads are amazing options as plant based meals or High protein vegan recipes and they can be made tasty with a proper dressing. 

Ready in just 10 minutes, this quinoa chickpea salad is full of ingredients like quinoa, chickpea, kale, red onions, almonds, and golden raisins. The dressing for this salad is so easy but amazingly delicious — a honey lemon dijon dressing. You can add toppings of your choice like feta, and avocado, or have it as is. It tastes totally delicious and is worth all your efforts.
Click here.
---
19. Kale and Lentil Soup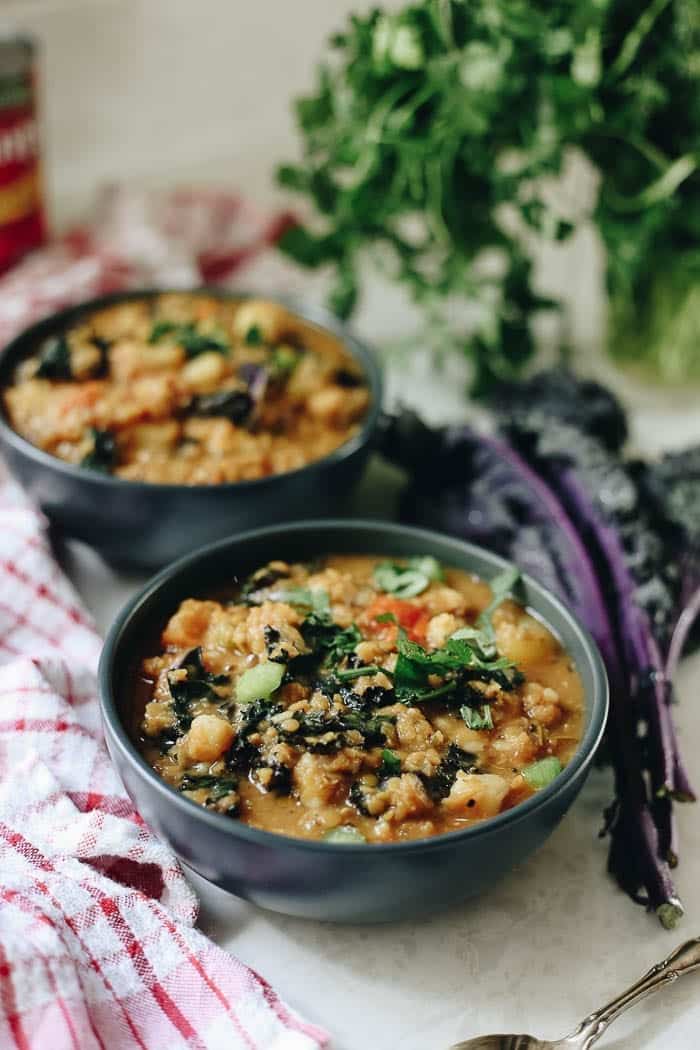 My winter days are never complete without a bowl of warm soup. It's a must-have. They are good options for a healthy dinner. This kale and lentil soup are a high protein vegan recipes. 

This vegetarian Tuscan Kale Lentil Soup is a perfect winter lunch. It's so satiating and keeps you full for hours. This is so easy to make and takes you 30 minutes to prepare. This kale and lentil soup has become one of my favorites for many reasons. Soups are the easiest meals to make and you can store them in the freezer in an airtight container for about 1 week.
Click here.
---
20. High Protein Strawberry Oatmeal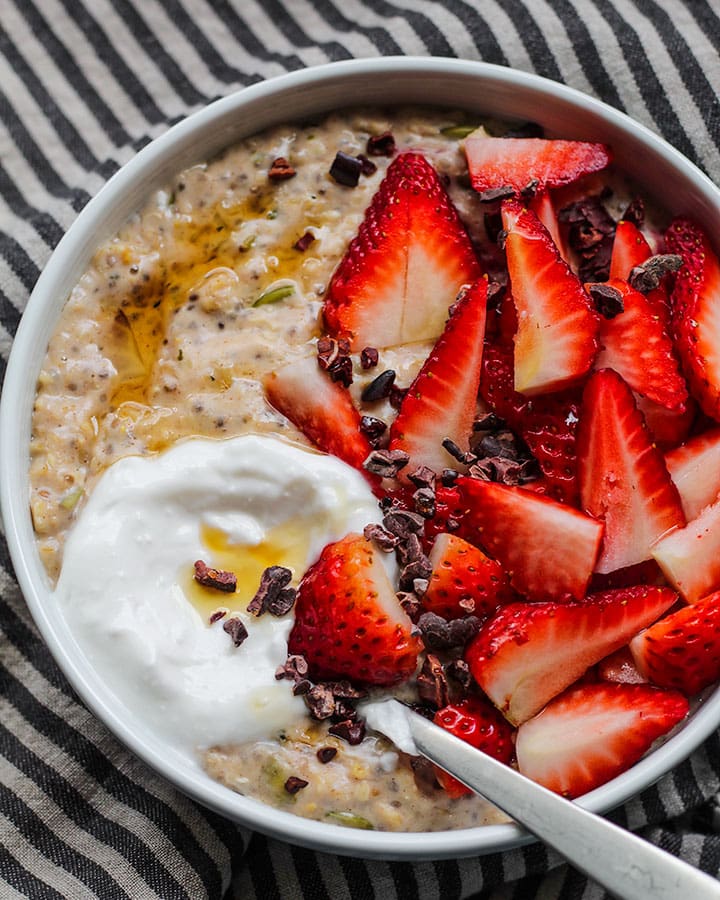 Here's a recipe for delicious and healthy oatmeal. It's high protein vegan recipes and will inspire your healthy eating. This high protein strawberry oatmeal is one of my favorite plant based meal recipes for breakfast. The nuts and seeds add a beautiful crunch to the recipe. It's full of good fats and complex carbohydrates. The ingredients are simple, dairy free, protein packed, and healthy — rolled oats, chia seeds, hemp hearts, soy milk, strawberries, and plant based yogurt. Add the oats, chia seeds, and hemp hearts into the soy milk and bring to a simmer. Serve it with fresh-cut strawberries, yogurt, maple syrup, and cinnamon, and your bowl of delicious oatmeal is ready to dig in! You can make it recipe instant pot too, let's make instant pot recipes for busy days.
Click here.
---
21. Spicy Peanut Pasta Salad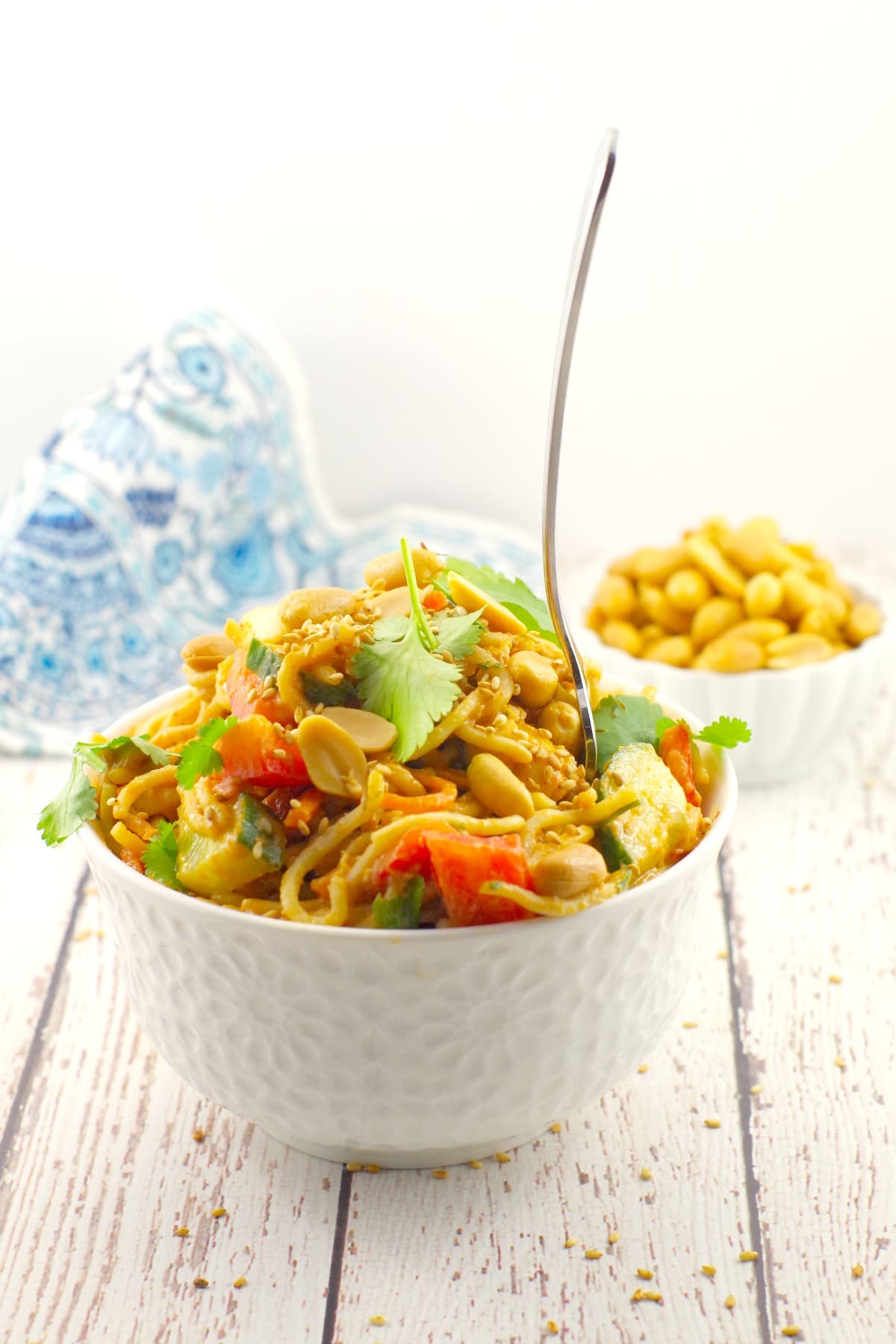 One of my favorite things in the world is leftovers! Is there anything better than cooking once and eating twice? Spicy Vegan Peanut Pasta Salad is made using leftover spaghetti noodles and a variety of fresh vegetables. I prepare this Vegan Pasta Salad the day after I cook spaghetti because I always have too many noodles.

This salad gives my leftover spaghetti noodles a new lease on life. Another great thing about this leftover noodle meal is that you don't have to eat the same item twice. This pasta salad is light, full of vegetables, vegan, and most importantly, quick and simple to prepare! So, if you're wondering what to create with leftover spaghetti, look no further.
Click here.
---
Bonus
White Bean Green Chilli Enchiladas
There's no need to make enchiladas difficult! Each person at the dinner table will be satisfied by these easy vegan green chili enchiladas. This recipe for Green Chili Enchiladas gives traditional enchiladas a little twist. First, we're stuffing them with vegan shredded cheese and white beans or black beans, which are both plant-based ingredients. Corn tortillas, fillings, and sauce make up the three ingredients needed for green chili enchiladas. Enchiladas are quite easy to make, as you can see. Also you can use food processor to make it.

The tendency of corn tortillas to crack and fall apart when you roll them is one of the most frustrating aspects of making enchiladas. Before filling them, steaming your tortillas greatly aids! You only need to microwave the tortillas for 30 seconds after wrapping them in a damp towel. This method will simplify the process of making them.
Click here.
---
Scrambled Tofu Breakfast Burrito
A little bit easier to make is this variant. Without beans, slaw, or rice. All you need is seasoned tofu that has been scrambled, roasted vegetables, ripe avocado, and your preferred sauce. Now that you can see yourself holding a vegan breakfast tortilla, let's get started!

These High protein vegan recipes only take 30 minutes to complete from beginning to end. Additionally, you probably already have the necessary components on hand. The only ingredient I was missing was tortillas, but many other items, including corn tortillas, gluten-free wraps, or collard greens, can be substituted to keep these plant based meals gluten-free for healthy eating. Cook some extra-firm tofu in a skillet with smokey seasonings like cumin, chili powder, and garlic while red peppers and potatoes roast. The addition of hummus and nutritional yeast makes the tofu "umami".
Click here.
---
Pesto Spaghetti with Chickpea Walnut Meatballs 
A delicious pesto spaghetti dish with chickpea-based vegan meatballs. Chickpea and walnut "meatballs," served over pesto spaghetti. Protein content per serving is 24 gm. 40 minutes to be ready. A vegan recipe without soy. Could be gluten-free.

With some preparation, the dinner comes together quickly. Prepare the pesto in advance. The materials for the ball are processed with cooked onion and garlic, formed or scooped, and baked. Prepare the noodles and bake them. Toss, add the warm, toasted balls, garnish, and finish. It's a quicker supper if you use premade pesto or tomato-based sauce. Make two batches of these chickpea balls to serve with dips, add to wraps, or make a quick meatball sub sandwich. Which method do you like to use to serve these delicious chickpea balls?

Wanna lose weight? Check out these healthy meals under 200 calories & meals under 400 calories & meals 500 calories for meal prep.

Click here.
---
Vegan Mushroom Wild Rice Soup 
This vegan rice soup is very tasty and also good for your health. If you want tasty and healthy food at a time, this is perfect for you. This vegan mushroom wild rice soup is very easy to make. This one pot recipe is very time-saving. You only need a few things to make this soup. Also, you need to soak rice for only 15-30 mins before the recipe. This is a completely gluten free recipe. If you love vegetables, you can also add them to this soup to make it tastier. Prepare this and add this to your daily routine for a healthy diet or healthy eating.
Click here.
---
You may Like These Meal Ideas:
Strawberry Desserts
Fritter Recipes
Thanksgiving Desserts
Halloween Appetizers
Smoothie Recipes
Layered Dessert Recipes
Chicken Breast Recipes
High Protein Snack Ideas
---
If you like this article about High Protein Vegan Recipes, share with your friends or families on Facebook, Twitter, and Pinterest. Choose your favorite recipe and make it at home, let me know which is your best recipe in the comment. Also, you can subscribe to my blog to get all the latest updates first on your mobile.
---
To make these recipes for later, SAVE this pin on your favourite Pinterest Board