Brie is one of such ingredients that you can't miss while decorating a cheese board. There has to be a place for this rich and creamy ingredient on the cheese plate. Among a ton of other food items like meats, fruits, and crackers, you can't deny that your hands always want to reach out for that nutty, fruity, buttery, and earthy-flavored piece of cheese. It doesn't only increase the beauty of the platter but adds all the needed flavors to it. These Brie Cheese Appetizer Recipes are one of my favorite party foods for a reason.

This French cheese is so delicious on its own that it goes typically with anything sweet or savory and enhances the flavors in a dish. My love for Brie is endless. I can't put into words how much I fancy it. So I make numerous recipes with this cheese. If you want to explore the wonders of Brie then you have to try these rich, creamy, and cheesy brie cheese appetizer recipes from my holiday recipes blog. I promise you're going to absolutely love them.
---
21. Grilled Brie Cheese with Raspberries
This grilled brie cheese with raspberries is the definition of simply delicious. Within 10 minutes, this recipe will be all set to be devoured. You can substitute the raspberries with any other kind of berries that you have at hand. The raspberry compote simply adds to the flavor of the cheese and also adorns it beautifully. For making the raspberry compote, start by heating sugar and water in a pan and let it come to a boil.

Add in fresh or frozen raspberries and let that cook for a while. You can also add a sprig of thyme for added flavor. Now, with the help of a spatula, gently mash the raspberries and when you're done, take it off the heat. Your raspberry compote is ready. Now, for the grilled cheese, simply unwrap a wheel of Brie cheese and smear it with olive oil. Grill both sides for 2-3 minutes each and your grilled brie is done. With a spoon, spread the raspberry sauce on top of the brie wheel. Garnish with some fresh raspberries and toasted nuts. Serve with your favorite crackers or air-fried pita chips and enjoy!
Click here.
---
20. Quick Bruschetta With Brie And Jam
These bite-size crostini and brie cheese appetizer recipes with jam are going to be your favorite party foods. These are so fast and easy to make, you'll have them made in under 10 minutes with just 3-4 ingredients. All you need is a French baguette, some olive oil, sliced brie cheese, and Smucker's Fruit & Honey Blueberry Lemon Fruit Spread. I highly recommend that you use only and only this spread because – Oh darling! How absolutely amazing it tastes! 

Cut 1/4 inch pieces from the baguette and brush them up with some olive oil. Spread them over a baking sheet and bake in a preheated oven for 3 minutes. Take them out of the oven and place a slice of brie over each crostini and pop the baking sheet again into the oven for  2 minutes. You'll see the cheese melt from the heat. Make sure not to overbake. Now let the crostinis cool a little bit and top each crostini with a spoonful of the Smucker's Fruit & Honey Blueberry Lemon Fruit Spread. Sprinkle mint spring on top and dig in!
Click here.
---
19. Honey Almond Puff Pastry Wrapped Brie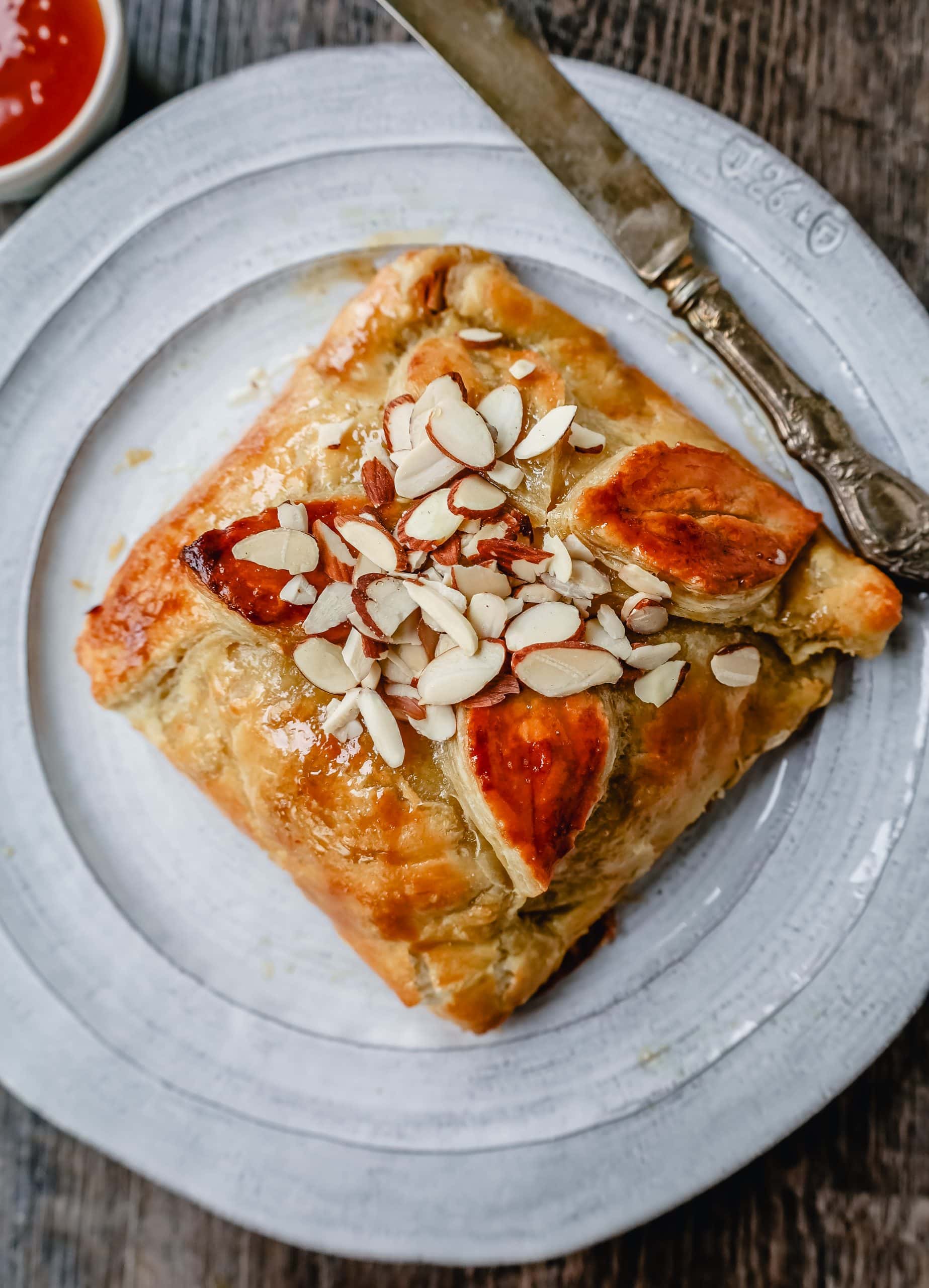 Puff pastries are always my favorite. They are my go-to cafe food with a cup of freshly-brewed coffee. I had this honey almond puff pastry wrapped in brie in a cafe and I literally kissed the hands of the chef and begged him for the recipe. The creamy brie oozing out from the honey-glazed puff pastry was just loved at first bite! 

Thaw your frozen puff pastry sheets and roll them into 12-inch squares. Place a disc of brie in the center and drizzle some honey and almond flakes. Now fold the sides of the pastry sheet around the brie and brush the top and side of the pastry generously with egg wash. Bake for 10 minutes and take them out of the oven. Now drizzle more honey and almond flakes on top and bake again for 8-10 minutes. Serve them warm with a cup of your favorite coffee or sliced apples, just as you like them.
Click here.

Find these amazing cold appetizers for holidays.
---
18. Roasted Brussels Sprouts with Brie and Pecans
This recipe is for your finicky kids who hate greens. This roasted Brussels sprouts with brie and pecans recipe add a twist to the boring greens. Even your picky kids will want to have these. This recipe is made to enhance the taste of the Brussels sprouts thus making it amazing holiday recipes. It is so simple yet satisfying, it's finger-licking-good. If you want to make the cheesiest and most delicious Brussels sprouts then dive right in.

Set your oven to preheat at 400 degrees. Lay a sheet of parchment paper over your baking sheet and get your hands on marinating the Brussels sprouts. Cut the smaller Brussels sprouts in halves and the bigger ones in quarters and throw them into a large bowl. Now drizzle some olive, garlic powder, red chili flakes, and salt and pepper as per your taste. Toss everything well and transfer into the lined baking sheet. Bake for about 10-15 minutes until the sprouts start getting some color then take the baking sheet out. Top it off with brie and roughly chopped pecan nuts. Then bake it for another 10-15 minutes. The cheese has by now been melded and slightly browned. Plate it nicely and gobble it up.
Click here.
---
17. Brie, Apple, and Honey Crostini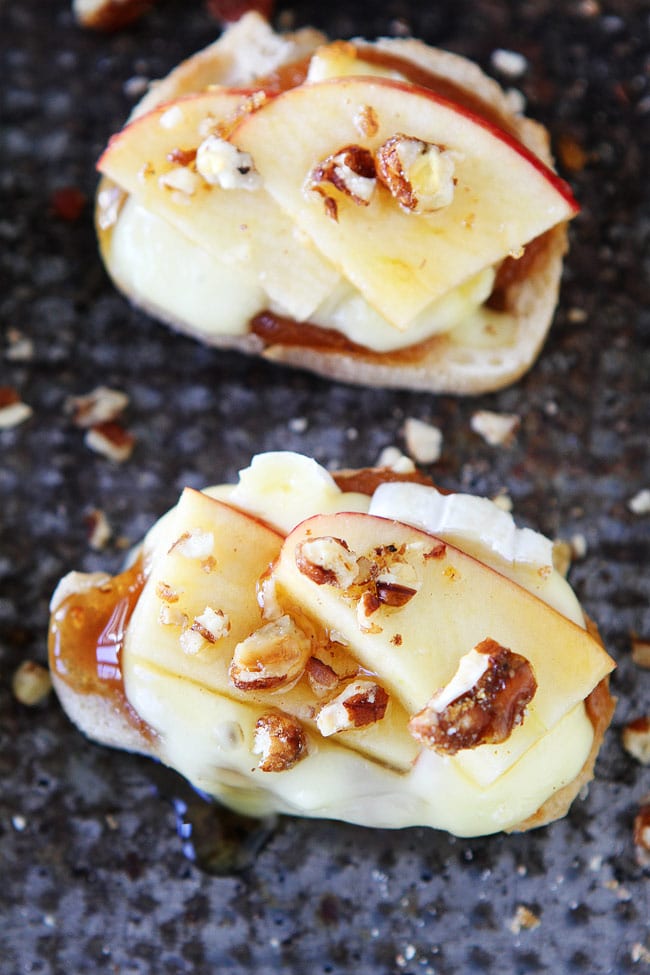 These Brie, Apple, and Honey Crostinis are one of the easiest brie cheese appetizer recipes you will ever make. They are so indulging that everyone at the party will absolutely love them. I have received so much appreciation from the guests for these bite-size party foods. I am so eager to share this secret recipe with all of you.

The ingredients that you'll need for this recipe are – a baguette, some brie cheese, apples, candied walnuts, and honey. Slice the baguette into 1/4 inch crostinis and top them with sliced brie cheese. Bake in a preheated oven for about 5 minutes. Bring them out of the oven and garnish them with sliced apples and candied walnuts. Drizzle some honey and that's it. Just 15 minutes and it's ready. It's that simple to make my showstopper appetizer!
Click here.
---
16. Brie, Apple, and Crostini Appetizer Recipe
If you're planning for a picnic this holiday season, then I have the perfect brie cheese appetizer recipes for you. Crispy crostinis layered with brie cheese, honey and a slice of apple with other ingredients. These delicious bite-size appetizers are just perfect to carry in your picnic basket. 

Firstly you cut your baguette into 1/2-inch slices. Then place them in a bowl and toss them up with some olive oil. In a preheated oven, bake them for 5 minutes for that perfect golden brown edge. Now cut thin slices of brie and place each slice over each crostini. Spread a spoonful of fig jam on top and then place a slice of apple over that. All of the textures and flavors in these crostinis complement each other so nicely that you'll be amazed at each bite of these. Pack them in your picnic basket and snack on them. You can take this recipe as a summer cold appetizers too.

Click here.

Make more Thanksgiving Appetizers here.
---
15. Brie and Blackberry Jam Crescent Roll Appetizer
These 4-ingredient brie cheese appetizer recipes are a gem! The brie and blackberry jam crescent roll appetizers, as I call these, are absolutely delectable. The combination of brie and sage in this dish is a match made in heaven. Your guests will surely love these party foods with sips of wine.

The four ingredients that go in these holiday recipes are store-bought crescent dough, brie, blackberry preserves, and fresh sage. Roll out your crescent dough into a rectangle and spread a generous amount of the blackberry jam on it. Slice the brie into 1/4-inch slices and place them in vertical rows over the blackberry jam.

Now sprinkle chopped fresh sage and roll the dough from the short end into a cylindrical shape. Pop the roll into the freezer for about 30-40 minutes to harden it up. Slice into pinwheels using a sharp knife or thread. Now bake in a preheated oven for 10 minutes or until they're golden brown and let them cool for another 10 minutes. Dig into these cheesy appetizers that are baked to perfection!
Click here.
---
14. Roasted Pear Baked Brie
These holiday recipes are such an amalgamation of different flavors and textures that you'll go crazy over them. Roasted pear with fresh thyme, walnuts, balsamic vinegar, olive oil, and honey placed over hot and creamy baked brie – the description is enough to salivate anyone!

Preheat your oven to 425°. Now slice the pears and remove the seed. In a small bowl, prepare a dressing with balsamic vinegar, Dijon mustard, salt, pepper, a tablespoon of honey, and some fresh thyme. Coat the pear slices well in half of the prepared mixture and bake for about 8 minutes. Now bring the pears out of the oven and spoon each pear with the remaining mixture and sprinkle chopped walnuts. Bake for another 7 minutes and take them off the oven.

Drizzle with honey and your roasted pears are ready. Now, reducing the oven temperature to 350 degrees, place a wheel of brie on a baking sheet lined with parchment paper and bake for 15 minutes. Remove the brie with the parchment from the baking sheet and place it on your charcuterie board. Garnish with roasted pears, walnuts, and the remaining sauce, and enjoy with the bread, crackers, and grapes on the platter.
Click here.

Let's celebrate this day with valentines day desserts.
---
13. Cranberry Brie Puff Pastry Pinwheels 
Here's the recipe for another pinwheel brie cheese appetizer. My brie and blackberry jam crescent roll appetizer recipe got so much attention that I decided to make another flavor of the same recipe. This time I made cranberry brie puff pastry pinwheels. These crispy and flaky pinwheels are loaded with brie cheese, dried cranberries, roasted nuts, and a dash of honey. And the best part about this delicious snack is that it's ready in just 30 minutes.

Lay a sheet of parchment paper over a baking sheet and let the oven preheat to 375°F. Spread out the thawed puff pastry roll and slather a tablespoon of melted butter over it. Now make a mess of chopped brie, cranberries, and nuts over the pastry and drizzle some honey over that. Fold the pastry tightly into a roll and brush it with melted butter. Now, using a sharp knife, carefully cut the pastry roll into pinwheels and place them over the baking sheet lined with parchment paper.

Bake for 18-22 minutes. Your crispy, cheesy, flaky, golden brown pinwheels are ready. Serve them on a plate while still warm and dust off with some icing sugar. Now bite into the crispy pinwheels and get lost in the cheesiness of these!
Click here.

Make these healthy green bean recipes for holiday lunch.
---
12. Brie and Bacon Palmiers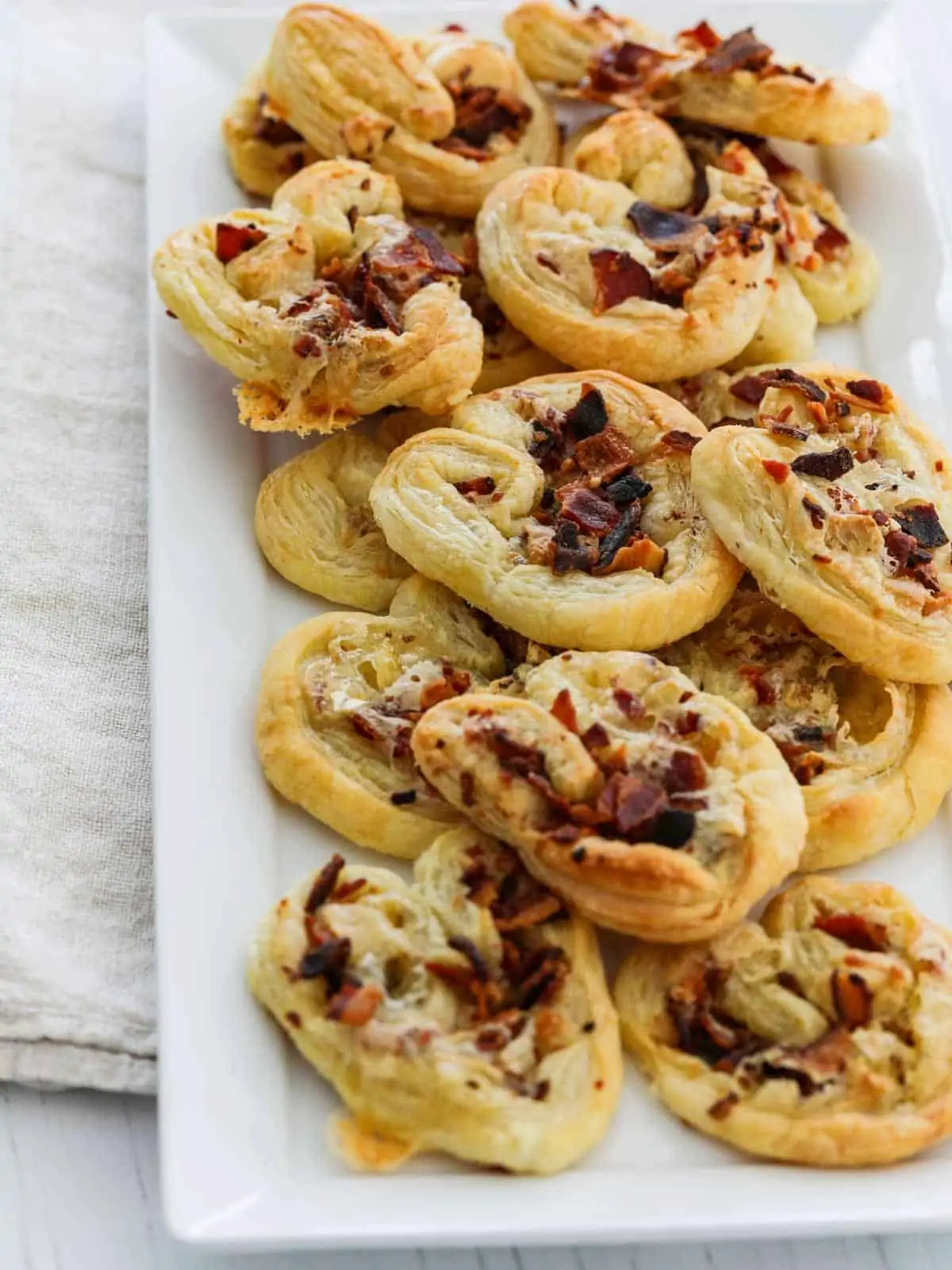 These brie and bacon palmiers are so addictive that you definitely cannot stop at one. It is an amazing party foods for your guests who come uninformed as it bakes in just 15 minutes. And the equipment used in this recipe is just a sheet pan and parchment paper. 

Firstly, thaw your puff pastry sheets on the counter for around 20-30 minutes. Meanwhile, you can prepare the bacon. I used pre-cooked bacon for this recipe and microwaved it to make it crispy. If you can't find that at hand, I have a solution for that. Bake your bacon in the oven. Place the bacon on a rack over a cookie sheet and bake it. Spread over paper towels to drain the excess oil. This also helps the bacon stay crispy.

On a clean surface, sprinkle some flour and spread the puff pastry roll to a 10 × 10 inch square. Put the brie and crumbled bacon on top. Now, keep rolling the pastry sheet 1″ from both sides so that the edges meet at the center. Cover the roll with a cling wrap and refrigerate for a minimum of 15 minutes. Then using a small serrated knife, cut the roll into half and then keep cutting the pieces into halves until you have 16 pieces. Place them on a baking sheet lined with parchment paper and bake for 12-15 minutes. Serve warm with a cup of coffee.
Click here.
---
11. Bruschetta Baked Brie Appetizer
This bruschetta-baked brie tops my list of holiday recipes. Topped with fresh tomatoes and basil and melted brie, these are officially the best bruschettas I've had so far. You can customize the ingredients in this recipe according to your preferences but you have to try this recipe once. This recipe is extremely easy to make and comes together in just 20 minutes!

To bake this delightful bruschetta baked brie, you first need to set your oven at 400 degrees and preheat it. Then in a large bowl toss all the ingredients – roughly chopped tomatoes and basil, minced garlic, olive oil, vinegar, and salt to taste. Pop that in the fridge. Now bake your brie wheel in a baking dish greased with oil for 15 minutes. Top it off with the prepared bruschetta topping and serve it hot!
Click here.

Get more ideas of Back To School Lunch Recipes For Kids.
---
10. Easy Blackberry and Thyme Baked Brie Recipe
You already know how passionate I am when it comes to gourmet food. Recently, I made a baked brie appetizer that includes sweet and sour blackberries and is flavored with thyme. This blackberry and thyme baked brie is so easy to make yet so elegant and tastes so heavenly! You will absolutely fall in love with this baked brie recipe and once you make this recipe at home, there's no turning back. You're never going to order this in a gourmet restaurant!

Usually, you preheat your oven to 400 degrees and while that's happening,  you prepare the brie for baking. Remove the top rind off the brie and spread blackberry jam over it. Top it with blackberries and pecan nuts. Then place some thyme sprigs over it and sprinkle some crushed black pepper on top and bake for about 30-35 minutes. Your homemade gourmet food is ready to dig in!
Click here.
---
9. Asparagus, Prosciutto, Brie Cheese, Egg and Thyme Tarts
These savory puff pastries are crispy on the outside and loaded with the creaminess of brie on the inside. With just a few ingredients, you'll have them made in just half an hour. These flaky pastries with asparagus, prosciutto, free-range egg, thyme and gooey brie cheese are so delicious that they'll disappear in the blink of an eye as soon as you take them off the oven!

We are using store-bought puff pastry square sheets for this recipe. Let your oven preheat at 180 degrees centigrade and lay a sheet of parchment paper over an oven tray. Place the puff pastry squares in a diamond shape over the parchment. Now add in slices of brie to the middle of the pastry and prosciutto and halved asparagus stems on top of that. Place a free-range egg atop and sprinkle with some fresh thyme leaves.

Now fold a corner of the pastry sheet into the center. Repeat with the opposite corner and brush with milk. Pop it in the oven for 15-20 minutes or until the asparagus has softened and you see a golden brown pastry. Take it out of the oven and sprinkle salt and pepper as per your taste. Serve it immediately and dig in!
Click here.
---
8. Baked Brie with Raspberries and Pecans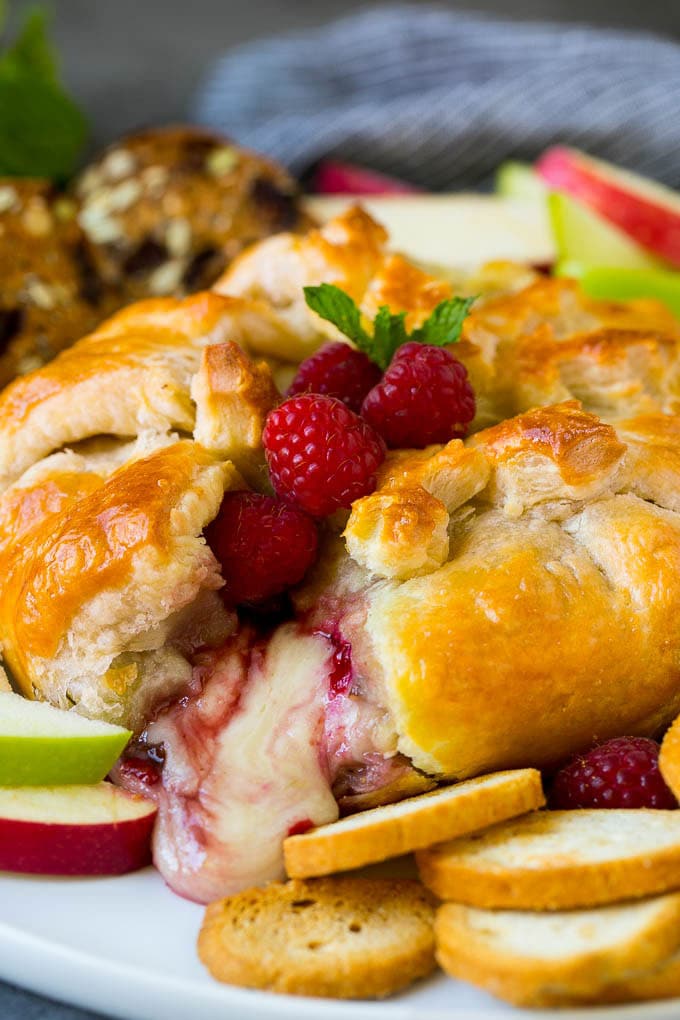 This French-baked brie with raspberry and pecans is an absolute delicacy. Smeared with fresh raspberry jam and topped with fresh raspberries and candied pecans, this baked brie is covered with a crispy and golden puff pastry. The nuts and the pastry shell add texture to this soft cheese and makes it a treat for your food-lover soul! This creamy and crispy dish is unbelievably fast and simple to make. Everything comes together in just 30 minutes!

In a sheet pan lined with foil sprayed with cooking spray, spread a pastry sheet and place the brie over it. Cut the top rind of the brie and spread a generous amount of raspberry jam over it. Top with raspberries and chopped pecan nuts and drape the brie with the puff pastry sheet and pinch the edges to seal it. Now brush the pastry well with egg wash and bake it for 20 minutes till the pasty turns golden and crispy. Let it cool for a while and serve it with your favorite crackers or sliced apples.
Click here.
---
7. Cinnamon Apple Brie Crescent Rolls
This cinnamon, apple, and brie stuffed pastry rolls are the perfect holiday recipes. These sweet bread rolls stuffed with apples, cinnamon and brie are crazily delicious. This recipe is simple yet satisfying. You can whip everything up in just 30 minutes or less.

On a baking sheet, place a silicone mat or line it with parchment paper. This simply makes clean-up easy for you. Now unwrap the pastry and cut the brie into pieces. Then place a piece of cheese over the pastry with a slice of apple on top. Sprinkle some cinnamon over it and roll the dough.

Place these rolls on the baking sheet. When you're done rolling up all the dough and transferring them to the baking sheet, dust them with some more cinnamon on top and bake for 15 minutes. Your golden brown crescent rolls are now baked to perfection. Serve them warm and enjoy!
Click here.
---
6. Pepper Jelly Brie Bites
As fall is just coming to an end and the cold winds have started to blow making the weather chilly, it's time to welcome all the festivities that come with the season. So the preparations are going on for this party season. These bite-size brie cheese appetizer recipes are going to be your favorite party foods this season. Pepper jelly brie bites are crispy phyllo shells stuffed with hot red pepper jelly and gooey brie cheese!

Preheat the oven to 350F. On a rimmed baking sheet, place the phyllo shells. Now slice the brie into 24 pieces. Add 1/4 teaspoon of red pepper jelly into each phyllo shell and place a piece of brie in each pastry cup over the jelly. Bake the pastry in the oven for 7-8 minutes so the cheese melts from the heat. Sprinkle with a pinch of sea salt and some fresh thyme leaves and gobble up!
Click here.
---
5. Caramelized Pear and Walnut Topped Brie with Honey
Bake these easy brie cheese appetizer recipes in just 25 minutes. It is a go-to recipe for your parties. Anyone can make this simple, mouthwatering recipe. A combination of ripe pears and crispy caramelized walnuts is delicious to eat. By using brown sugar, chopped walnuts, brie cheese, water, ripe pears, and honey, you can make this yummy dessert.  

Nowadays baked brie is one of the most trending recipes. The new year is coming. Make this cheesy, tasty party appetizer for your guests and enjoy your holidays. A creamy layer of brie will melt in your mouth and you will get lost in a world full of brie. If you try to make this on your own, I am sure that you will not definitely regret it.
Click here.

Try these healthy nut recipes for snacks or on the go.
---
4. Blackberry & Supreme Brie Crostini Appetizer
Brie is a French regional cheese, made from unpasteurized cow's milk. It is one of the fanciest cheeses. If you bake it on a crostini using blackberry syrup, this will taste unbelievably amazing. Baked brie is nowadays very trending to all.  You have to try making these brie cheese appetizer recipes if you're planning to host a party.

To make this recipe you need the following ingredients. For making blackberry Syrup, you need some fresh blackberries, vanilla extract, brown sugar, and lemon juice.  Then for making Crostini, you need a round sliced baguette and sliced brie cheese. And lastly, if want you can garnish it with fresh mint leaves. It will take 10 minutes to prepare and 25 minutes for making.  Make this wonderful easy-making recipe for your upcoming parties.
Click here.

But try these low calorie egg recipes for meal prep.
---
3. Brie Cheese and Spinach Dip
Are u a cheesy dip lover like me? Then it is a great idea for you to make it on your own. It also goes very well if you make this for a Thanksgiving dessert. This cheesy brie and spinach dip will fly you to the top of the sky. You only need 5 minutes to prepare and  30 minutes for making. 

Brie cheese is very amazing textured cheese, and for this reason, everyone will love it. For making this dip we need some ingredients. Those are – wheel of brie, frozen spinach, thawed and drained, minced garlic, Kosher salt, Freshly ground black pepper, and Crushed red pepper flakes.

Dips are always on my favorite list. We can eat it with bread, crackers, tortilla chips, pita chips, or any type of veggie like carrots, Radishes, Cucumbers, Broccoli, Cauliflower, etc. This dip is very tasty as well as also very healthy for you and your loved ones. Make these brie cheese appetizer recipes for your house parties and no doubt every member of your family will enjoy them very much.
Click here.
---
2. Brie and Jam Fillo Bites
I have curated some of the most delicious and easy-to-make party foods in my list of holiday recipes. If you're looking for easy brie cheese appetizer recipes for your party snack then look no further, you're at the right place! I made these brie and jam-filled bites at a party that I hosted this year for Thanksgiving and my friends absolutely loved these! Therefore I'm sharing this recipe with you so you can make these and impress your party guests as well. Plus you can wrap everything up in just 30 minutes or less!

All you need to do is preheat your oven to 350F and then arrange 15 filo shells on a baking sheet lined with parchment paper. Pour half a teaspoon of fig jam into each shell and top it off with a piece of brie and some finely chopped pieces of walnuts. Bake for 10-11 minutes and remove from the oven when you see the cheese bubbling up. Wait this in room temperature then garnish with some pomegranate arils and orange zest and just pop in your mouth! Also, you can try high protein slow cooker recipes at home for meal prep.
Click here.
---
1. Pineapple Pecan Baked Brie
I have a ton of baked brie recipes in my blog. I just customize the ingredients every now and then and a new baked brie recipe is born! This pineapple pecan baked brie is one of those experimental Brie Cheese Appetizer recipes that turned out to be a hit!

At first, cut into the rind of the brie wheel with the help of a sharp knife. Do not remove it already, we're going to do that after baking the brie wheel. Place the brie wheel on a baking sheet and bake in a preheated oven for 15 minutes so that the cheese melts. Toast the chopped pecans in a sautée pan over medium heat. To enjoy pineapple in this holidays, try these amazing pineapple desserts.

When the pecans turn slightly brown add slices of pineapple, brown sugar, pineapple juice, salt, and ginger onto the pan and stir to coat everything nicely. Let the mixture bubble and thicken and remove it from heat. Now remove the rind from the baked brie and pour the mixture over it. Serve with your choice of crackers or anything for dipping and enjoy!
Click here.
---
You may Like These Meal Ideas:
Halloween Food Ideas
Halloween Appetizers
Smoothie Recipes
High Protein Snack Ideas
Halloween Dinner Ideas
Thanksgiving Desserts
Fritter Recipes
Chicken Breast Recipes
High Protein Vegan Meals
High Protein Meal Prep Recipes
---
If you like this article about Brie Cheese Appetizer Recipes, share with your friends or families on Facebook, Twitter, and Pinterest. Choose your favorite recipe and make it at home, let me know which is your best recipe in the comment. Also, you can subscribe to my blog to get all the latest updates first on your mobile.
---
To make these recipes for later, SAVE this pin on your favourite Pinterest Board