Good morning, darlings!  New Year is almost upon us. Thinking of some new resolutions this New Year! I am going to make a family vow to eat vegan food this New Year. I want animals to live as freely as we live on earth.  May they live in peace. May they have a world without fear. That's why I want to practice plant based food. That's why I have come up with these vegan new years eve recipes for you. These recipes are meatless and these foods are packed with great flavor. These holiday recipes are classic recipes that will make any celebration, including your New Year's party, fun. We all have more or less trouble feeding kids vegetables.

They are so delicious that kids and these vegan recipes.  Everyone will be tempted by. These party ideas are really great. I am sure you will love these 21 best recipes. And they will become your daily friends. So be patient and read all the holiday recipes! And make it fast!
---
21. Gluten Free Baked Artichokes & Smoky Paprika Aioli
Looking for the best vegan new years eve recipes? Your search ends here because you're at the right place, my friend! I know you've longed for one great vegan appetizer for months, so here it is. These gluten free baked artichokes are the crispiest baked vegan appetizers you'll ever eat. And I can say with all confidence that this is the best ever vegan recipe you'll ever try.

The artichokes are coated with gluten free breadcrumbs that give them a beautiful crispy and golden crust. The smoky paprika in the aioli makes it the perfect dip for this kind of snack. You have to admit that these are the perfect party ideas for any occasion. As soon as you plate them, they're going to vanish like ghosts! Yes, they're that good!
Click here.
---
20. Vegan Spinach Artichoke Cups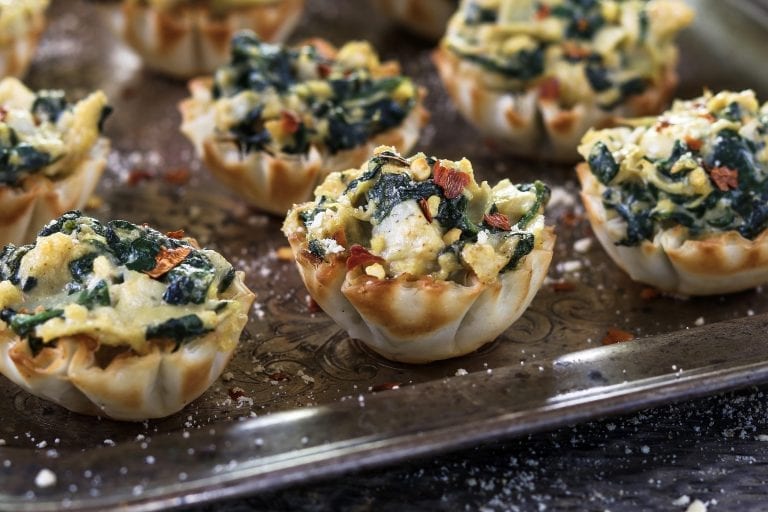 How do you picture your new year's eve parties? I picture them with a houseful of friends, family, and guests, soothing music, endless chattering, good wine, and great food. And my favorite foods are appetizers. They are what makes a party a party. Seriously, I cannot imagine a party without gossip, wine, and appetizers! And as I'm a vegan, I try to find new vegan holiday recipes to make.

These vegan spinach artichoke cups are made with store-bought phyllo shells. A dip is made by combining drained and chopped canned spinach, artichoke, vegan mayonnaise, vegan cream cheese, lemon juice, breadcrumbs, yeast, some spices, salt, and pepper, and the baked phyllo shells are stuffed with this mixture and topped with vegan parmesan or vegan shredded cheese and baked to crispy.
Click here.
---
19. Vegan Mini Shallot Bhajis
If you're a Bengali, you don't need to be introduced to this crispy appetizer. This remains your evening snack on most evenings. On most evenings, you buy it from your "paara r chop er dokaan" and relish it with a cup of hot tea. It's your naturally vegan "piyaji"! Though the emotion of this food or its name cannot be translated, I tried to translate it to vegan mini shallot bhajis to make some sense. The other evening, while it was raining, I made myself some of these bhajis and a cup of hot tea.

That's what you can call comfort food. And that's when the idea of this recipe struck my head. I decided to use mini shallots in this recipe. The shallots are first thinly sliced, and placed in a bowl with salt. Then the chickpea flour, sliced red chili, nigella seeds, and turmeric are added to the shallots with just enough water to make a batter that will coat the shallots. Then you just deep fry them and enjoy. Pair them with mint yogurt and they'll be amazing for party ideas.
Click here.
---
18. Caramelized Onion Mushroom Tart
I always opt for making something special on holidays. These are the days that bring us together. Everyone stays at home and those who stay away from home, come back to celebrate together. And for me, food is the most important part of any celebration. In my family, we are all food lovers and we are great fans of good home-cooked food. So while trying to eat healthily, I have to constantly remind myself to keep the flavors intact.

These vegan caramelized onion, mushroom tarts are a crowd-pleaser! It's vegan, gluten-free, and dairy-free! and tastes insanely delicious! These tartlets are loaded with caramelized onion, mushrooms and others ingredients. They can be served as appetizers at your party. And if you're looking for vegan new years eve recipes then you have to try these. Your guests will be amazed at how wonderful these tartlets taste and I promise you're going to run out of these very soon at your party.
Click here.

Get these amazing new years cocktails to celebrate holidays.
---
17. Vegan Champagne Doughnuts 
Desserts have always occupied a special place in my heart. And when it comes to making festive desserts, I get a little extra excited. My guests are a fan of my dessert recipes and I don't doubt that by now you too have become a fan of these recipes. These vegan champagne doughnuts are dairy free boozy vegan doughnuts having a champagne glaze over them. I also decorated them with gold and silver sprinkles. I made them for the new years eve party at my home and everyone went wow over it. Can you believe you can make these doughnuts in less than half an hour? Yes!!! You can even make them an hour before the party! They can be made so easily and in such a short period of time!
Click here.
---
16. Cranberry Pecan Goat Cheese Truffles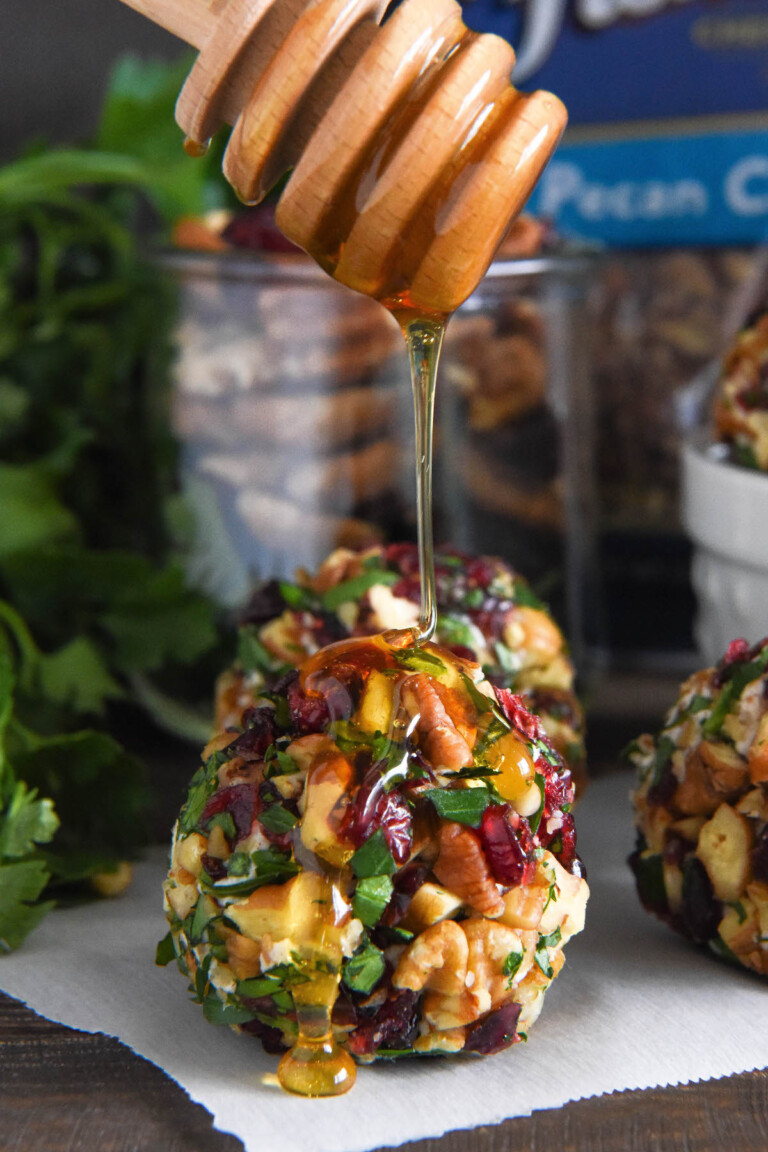 These gorgeous Cranberry Pecan Goat Cheese Truffles are the perfect holiday treat to make ahead of time! One of the first cold appetizers to disappear is always one of these little cheese balls, which are filled with creamy goat cheese, cinnamon, cranberries, and crunchy pecans. Additionally, they may be prepared in just 15 minutes!

The return of the holidays is being celebrated with my favorite Cranberry Pecan Goat Cheese Truffles! Even though the term "truffles" is more frequently used to refer to pricey desserts or mushrooms, I think it describes these foods much better than "small cheese balls" ever could. Each truffle has rich goat cheese, hints of cinnamon, pecans that are crisp, and honey to bring the flavors together. After that, we coat each tiny, bite-sized truffle with a festive medley of walnuts, fresh parsley, and dried cranberries.

Each tiny, bite-sized truffle is then coated in a festive mixture of walnuts, fresh parsley, and dried cranberries. You always put some wonderful golden honey over them, and they always go in a matter of seconds! Making these festive recipes just takes a little more than 15 minutes. They are the perfect holiday appetizers because they can be made the day before a gathering. Before serving, pour some honey if using. Serve the meal with warm crostini or crackers, or just with a toothpick!
Click here.
---
15. Vegan Stuffed Mushrooms with Cranberry Risotto
Have you ever tried these vegan stuffed mushrooms with cranberry risotto? I bet you'll fall in love with these bite-sized appetizers once you try them. I have always loved discovering new recipes by stuffing like these stuffed mushrooms. Remember, I shared recipes of stuffed mushrooms, stuffed squash, and stuffed butternut squash previously in my blog?

There's also a stuffed pumpkin recipe coming up on the blog, so stay tuned for more stuffed recipes. You'll need just 6 major ingredients to make this amazing appetizer dish for your upcoming parties. The mushrooms are stuffed with cooked arborio rice and cranberry mixture and baked to perfection. They are absolutely delectable and a great option for finger foods at a party. And look how easy they are to make!
Click here.

Try these amazing one pot dinners for meal prep.
---
14. Thai Peanut Cauliflower Wings
Since I am myself a vegan, I can feel the struggle of fellow vegans who are finding it hard to replace meat with other vegan options. My friend Dorothy, who recently turned vegan, says she misses chicken wings so much. So I tried to make these Thai peanut cauliflower wings for her. The recipe is very simple and calls for a few simple ingredients.

The cauliflower florets are first dipped in a Thai curry and peanut butter mixture and then coated with panko breadcrumbs and baked to crispy perfection. You have to try these with a soy and agave dip. When Dorothy tried these Thai peanut cauliflower wings, she said I was successful in bringing in the flavors so nicely that she almost forgot she was eating cauliflower wings and not chicken wings. She said I should never stop exploring new recipes and ideas.

Even, she asked me for the recipe because she was looking for some party ideas for her vegan new years eve recipes. Also, she made these for the party and said everyone at the party just loved them and anyone could hardly say that these were vegan!
Click here.

Gift these amazing valentine's day cards to your partner in this romantic day.
---
13. Vegan Buffalo Jackfruit Dip Recipe
You won't even miss the meat with this rich, creamy vegan buffalo dip, which is created using jackfruit for the best flavor and texture. Because they don't contain chicken, these especially vegan dip recipes are perfect for side dishes without meat. Vegan buffalo dip is the finest hot vegan dip you can think of. There is a lot of cheddar, hot sauce, a little ranch dressing, and jackfruit to mimic the flavor and texture of chicken. This was a huge hit when I served it for the Super Bowl and is pretty easy to put together. It's amazing how comparable jackfruit feels to chicken in terms of texture.

I've given it to several meat eaters who wouldn't have known they were eating meat if I hadn't told them. Make sure the cream cheese is creamy and soft so it can be combined with the ranch dressing and spicy sauce. A large spoon and a lot of work can also be used in place of the hand mixer, which is what I prefer to use. After that, incorporate the jackfruit, cheese shavings, and green onions. heat in the oven next. It's that easy! If desired, sprinkle with additional blue cheese and green onions before serving heated with celery and tortilla chips for dipping.
Click here.
---
12. Best Homemade Vegan Brownies
Best homemade vegan brownies! Doesn't it sound like something extremely exciting? Fudgy, healthy chocolate brownies! Do you have a more enticing offer to make? No, right! These decadent, vegan, gluten-free fudgy chocolate brownies are made without flour. These brownies are loaded with nutritious ingredients like our favorite chocolate chips, creamy peanut butter, and gluten-free oat flour! The ideal dessert for weight reduction is this 25-minute fudgy brownie.

This batter of these chocolatey brownies only takes five minutes to prepare in a blender jar. Keep in mind that overbaking will produce a cakey texture rather than the desired fudgy texture. Bake in a preheated oven for 18 to 20 minutes. Allowing it to sit for 30 minutes will aid in its cooling. Bite into a chocolatey delight after cutting into squares!
Click here.
---
11. Coconut Chickpea Curry (30 Minutes, Vegan)
I planned to keep it simple for our new years eve dinner. It's just my son, husband, and me having dinner. So I wanted to keep the menu special by keeping some comforting yet simply delectable recipes on the menu. And most importantly, it's vegan! If you too are searching for some vegan new years eve recipes for a simple and satisfying dinner then this coconut chickpea curry is going to be your ideal new years eve dinner. It's an Indian recipe with flavors that will burst inside your mouth.

This chickpea curry is creamy, spicy, and tangy, all the flavors come together so beautifully in this curry that it will make your taste buds dance. The luscious curry consists of onion, ginger, garlic, tomatoes, and coconut milk. It's best served with naan or basmati rice. Add fresh lime juice because it beautifully enhances the flavor of the curry by adding a bit of zing to it. Pair it with a piece of naan and your dinner will be sorted!
Click here.
---
10. Dairy Free Stuffed Mushrooms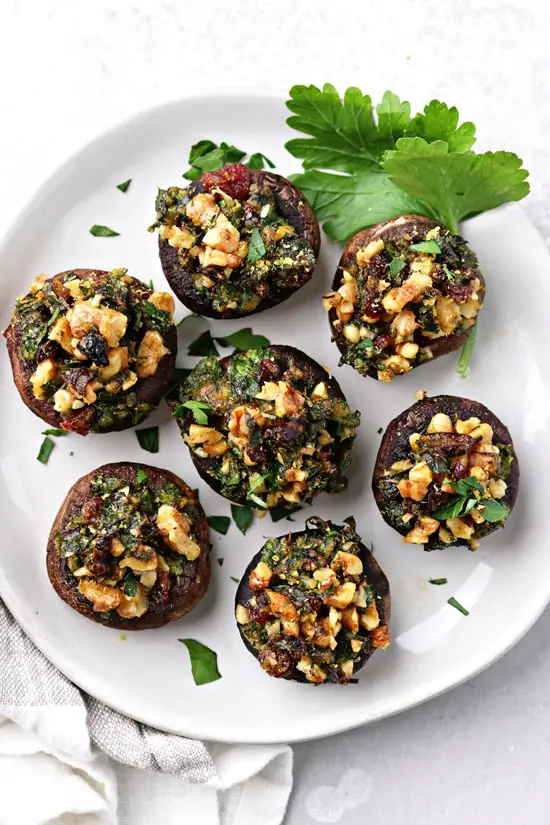 My fellow vegan friends were of the opinion that vegan food can't be as interesting as non-vegan food because non-vegan food uses such a wide range of ingredients. Then I showed them a video where cheese is made from cauliflower. I told them that everything can be done if they know some basic tips and tricks, i.e., the science of cooking. One of my friends asked for some holiday recipes that she could use as party ideas for the upcoming parties she has scheduled at her house. You know how much I love stuffed foods or vegan new years eve recipes.

So I thought nothing could be a better option than these vegan stuffed mushrooms. We used portabella mushroom caps here. The mushroom caps are filled with a whole lot of nuts and veggies. The filling is prepared with chopped walnuts, paprika, onion powder, garlic powder, salt, and ground black pepper and then stuffed inside the cleaned mushroom caps and baked. Do try these because once you do, you too are going to agree with me that this is the best-stuffed mushroom recipe you've ever tried!!
Click here.
---
9. Baked Brie Rolls with Sundried Tomatoes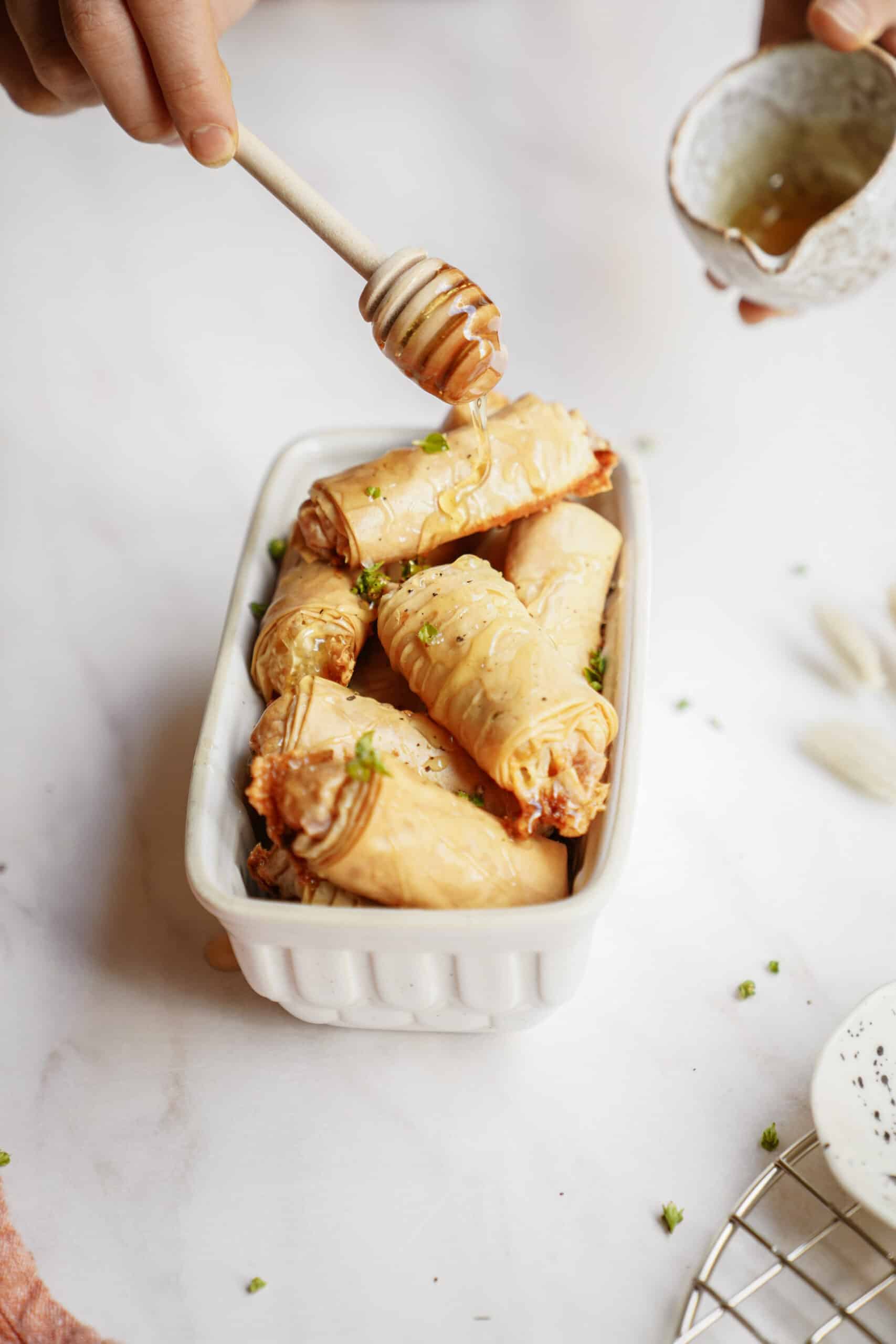 Brie is my favorite cheese! But since I'm vegan, I'm going to use vegan brie in my recipe. Yes! Vegan brie tastes just as good as brie itself. Today we're making baked brie rolls with sundried tomatoes. If you love finger foods then my boy, this is your snack. We're planning to go for a summer potluck where I was expected to carry some appetizers because well, everybody knows that I have the best holiday recipes or vegan new years eve recipes for appetizers.

And these baked brie rolls with sundried tomatoes did make everyone drool! The rolls are made with phyllo dough and stuffed with strips of brie cheese and sundried cherry tomatoes. My husband helped me to make them and we already ate one or two while we were making them. Man, they're so good and crazy simple to make! All you do is just roll the sundried tomatoes and vegan brie with the phyllo dough and it's done.

Also, when you're making it vegan, do keep in mind that you'll have to swap the honey with some other kind of sweetener. I used agave. As we served it at the potluck, I heard everyone say that they were amazing. You too should try these out for your next potluck and everyone will become a fan of you.
Click here.
---
8. Pumpkin Doughnuts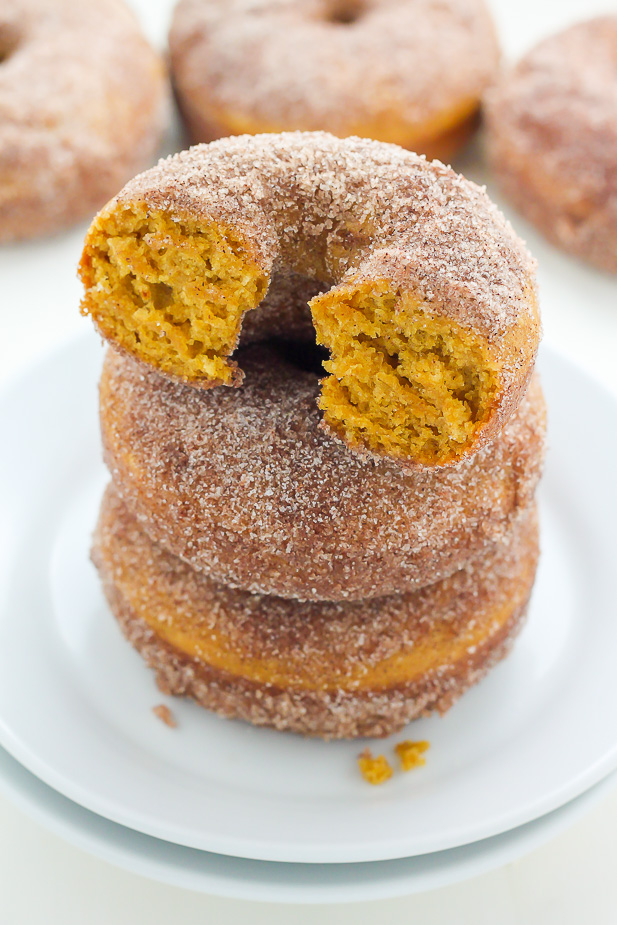 Do you have any leftover pumpkin puree in your fridge? It's time to use that up. And not for making soup or pasta but for these pumpkin doughnuts. Have you ever tried pumpkin doughnuts? Sounds creepy, right? Just like you. I too wasn't impressed by its name when a friend first suggested that I try it. I was really skeptical about how they would taste. But the taste of these doughnuts really changed my mind and I know they will change yours, too.

I had some leftover pumpkin puree in my fridge and I really wanted to use that up for making some holiday recipes. I also have a party to throw tomorrow so these doughnuts would be really amazing party ideas. These pumpkin doughnuts are super moist and spongy and will take only 45 minutes to make. After baking them, I coated them in granulated sugar but you can use your favorite glaze or coating. Try a chocolate glaze and I'm sure they'll taste superb.
Click here.
---
7. Gluten Free Cannoli Recipe
I'm bored of eating the same old cakes, mousses, truffles, and tarts for desserts. So this time I wanted to try something different for my vegan new years eve recipes. I was discussing this with my son and he suddenly said that his school canteen serves this dessert called a cannoli that every kid in their school just loves. I was so delighted with the idea of this dessert that I wanted to taste it. The next day, I went to my son's school with him and had one of these cannolis. They are crispy wafer rolls filled with custard filling.

I really loved them and immediately came home and did a lot of experimentation to develop a vegan, dairy-free, and gluten free cannoli recipe. The custard cream I made for these cannolis is 100% dairy free. I used both almond milk and coconut milk in the recipe. The cannolis are also gluten free and are baked instead of deep frying so it's much healthier. Finally, for garnishing, I used chocolate shavings and powdered freeze-dried fruits to replace the powdered refined sugar. Do I have to tell you how amazing they tasted? Make it yourself and find that out and I promise you'll thank me for the recipe.
Click here.
---
6. Butternut Squash Ravioli
It's been a long time since I've shared any pasta recipes on the blog. So let's try this butternut squash ravioli. Everything from tip to toe in this recipe is homemade so it's a blessing for those who like to make everything from scratch. Firstly we start by making the ravioli with the delicious, mouthwatering, and creamy butternut squash filling. The ingredients of the filling make it amazingly creamy and delicious even when there's no cheese included in the recipe.

You'll need some roasted butternut squash, roasted shallots and garlic, fresh sage, walnuts, apple cider vinegar, a pinch of nutmeg, sea salt, and fresh black pepper. All these ingredients make a rich, creamy, dreamy filling for your ravioli. I like to serve it my way, but there are other options. You can serve it with a sage and white wine sauce just like we did or simply serve it with olive oil, sea salt,  and loads of parmesan cheese on top. This hearty and delicious recipe is what will make your heart full. So make sure you include it in your holiday recipes.
Click here.

Get these New Years Desserts are perfect for celebration.
---
5. Vegan Peppermint Chocolate Truffles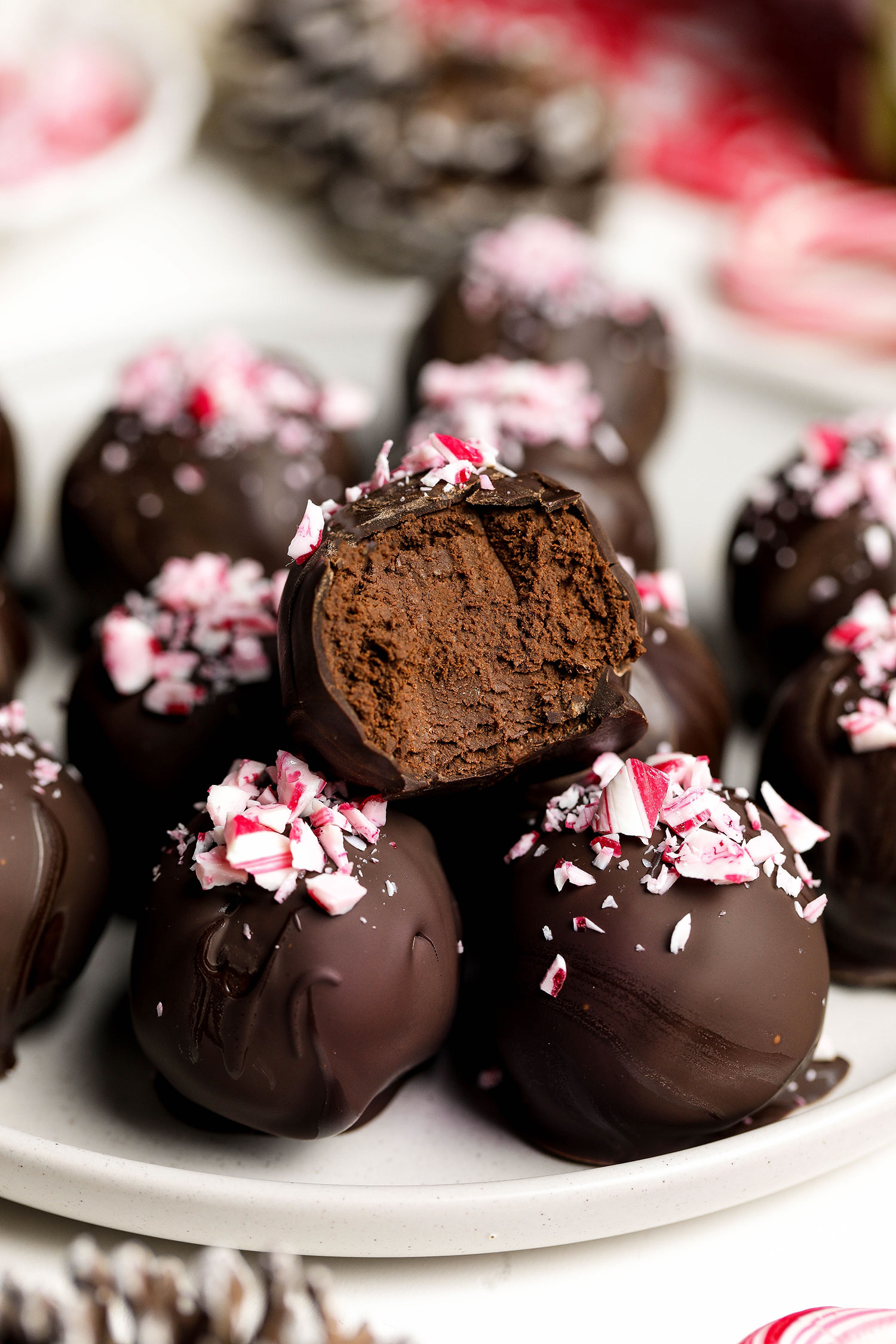 It's that time of the year again when I use peppermint in almost all my dessert recipes. In my childhood, I remember how excited I used to be for buying peppermint candies for Christmas. When I'm all grown up, I'm still obsessed with peppermint. After Christmas this year, I had a lot of peppermint candies left. So I decided to make some vegan peppermint chocolate truffles with them. You'll need only 3 ingredients to prepare these. I used dark chocolate and a coconut chocolate drink to make the truffles.

To bring in the peppermint flavor, I also added some peppermint extracts. Once the truffles are made, coat them in melted dark chocolate and garnish with crushed peppermint candy canes on top. These delicious and decadent vegan chocolate truffles will be one of your best vegan new years eve recipes. I loved them so much that I had almost 6-7 immediately after making them.
Click here.
---
4. Vegan Chocolate Pecan Pies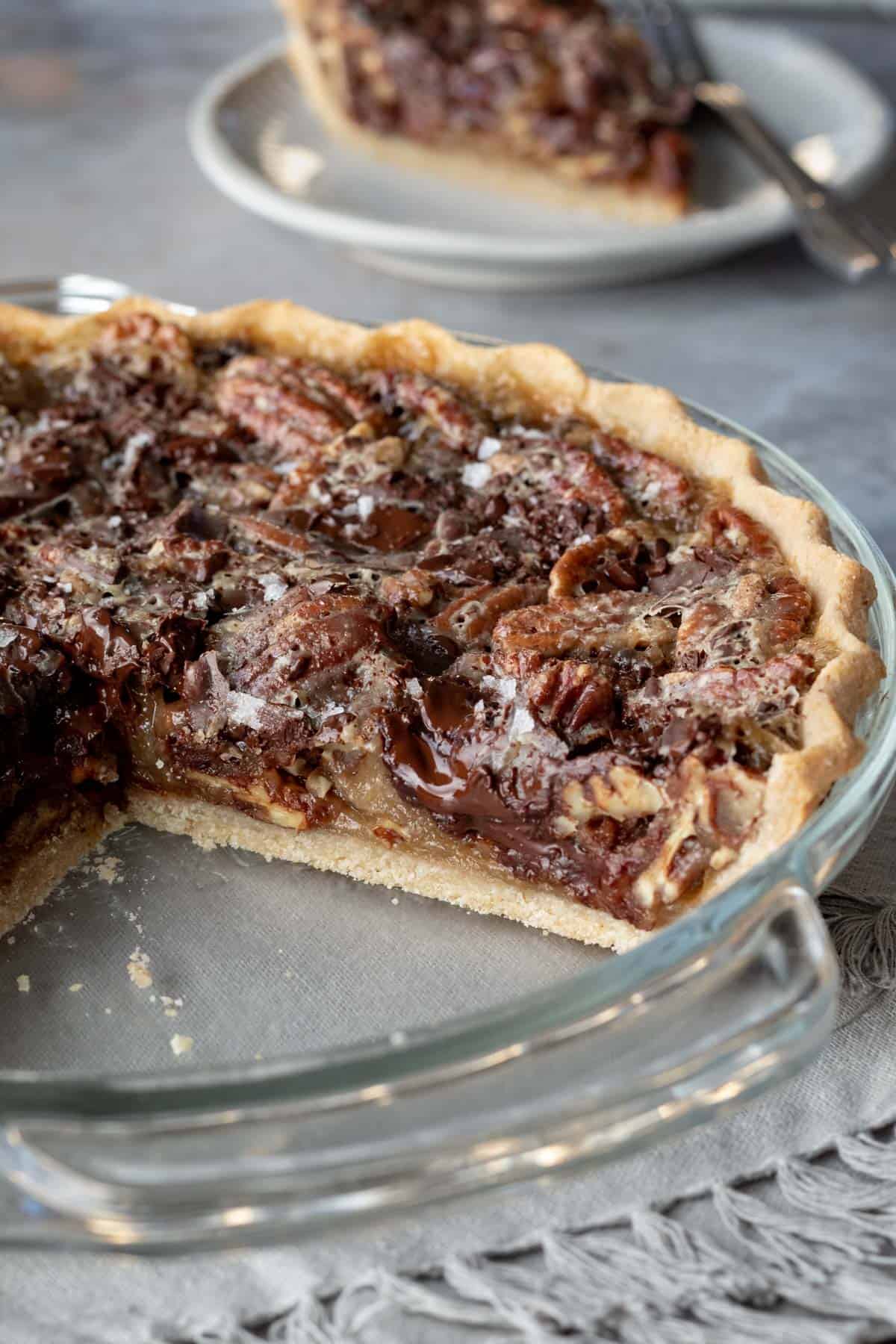 These desserts have always been at the core of my heart. As you already know, everyone in my family has a huge sweet tooth, and they love homemade desserts. My kids love to help me make desserts. I must say, they've learned a lot and that really makes me happy. So to please everyone, I planned to make something special from my vegan new years eve recipes on new years eve. And that's a vegan chocolate pecan pie. Mouthwatering vegan chocolate pecan pies are creamy, chocolatey, and flaky in every bite.

My kids love them in different shapes so we used cookie cutters to cut out the dough into stars and snowmen and covered the top of the pies. The filling is made with pecan halves, plant-based unsalted butter, full-fat coconut milk, cane sugar, maple syrup, ground cinnamon, fine sea salt, pure vanilla extract, cornstarch, and chopped vegan chocolate. It's creamy and luxurious in every sense. This treat is perfect for your party ideas on new years eve.
Click here.
---
3. Vegan Cheese Fondue
You are about to eat the cheesiest vegan cheese fondue ever! I'm here with the best holiday recipes you could have ever asked for. This vegan cheese fondue is so thick, luscious, creamy, and cheesy that it is bound to melt your heart within seconds. I'm sure you're not gonna believe that this cheese fondue is made with ingredients like potatoes, chickpeas, plant-based milk, dry white wine, cashew butter or tahini, garlic, seasonings, onion powder, salt, nutritional yeast flakes, tapioca starch, and olive oil. 

All these ingredients are what give this vegan fondue an insane amount of creaminess and cheesiness. For a quick, comforting, and hearty dinner just serve some croutons alongside this fondue and I promise your heart will be so full. You can also keep it as a side in your party menu because everyone is going to be addicted to it and I bet no one would believe that this cheese fondue is completely vegan.
Click here.
---
2. Balsamic Beet Hummus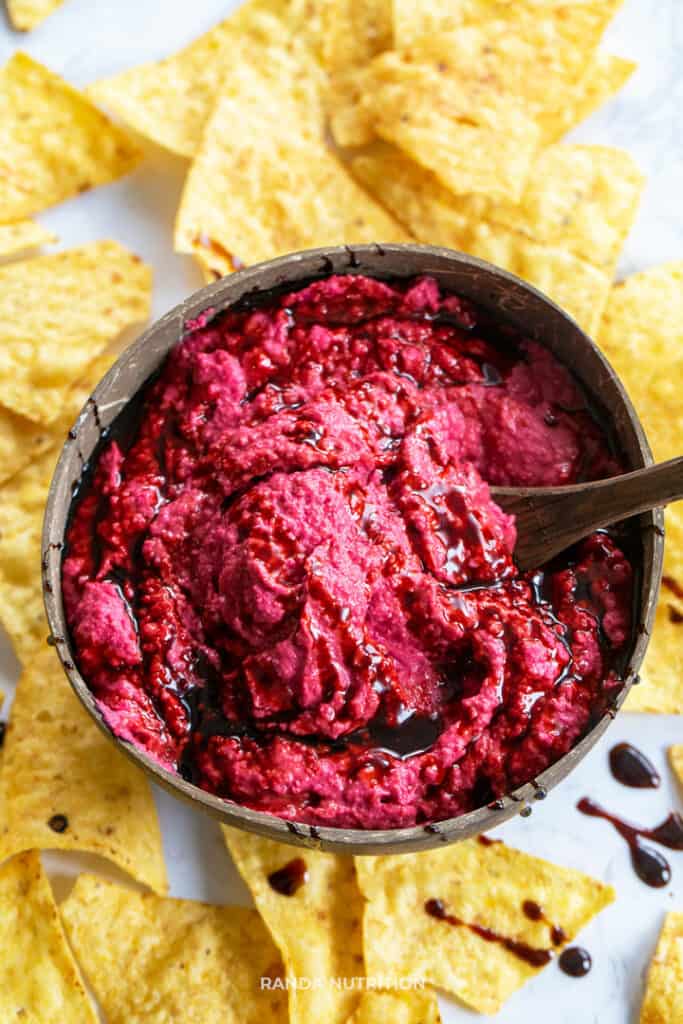 I'm not a great fan of the traditional hummus but I do like it. Also, I love to play around with the flavors for creating new recipes. So here's my take on recreating the traditional hummus recipe. It's a balsamic beet hummus with roasted beet and a balsamic glaze as the key ingredients of this recipe. Get ready with your gluten free pita chips because I'm going to unleash a healthy dip recipe for you.

This balsamic beet hummus uses 7 ingredients without the salt to be precise – roasted beet, canned chickpeas, tahini, fresh lemon juice, olive oil, garlic, and balsamic glaze. I bet you're never going to have the traditional hummus after you try this balsamic beet hummus. If you were looking for a healthy vegan dip for your holiday recipes, then this is the one. Serve it at any party and I'm pretty sure it's going to disappear within a few minutes. It's irresistible!
Click here.

Get these delicious vegan finger foods for holidays.
---
1. Vegan Baked Spring Rolls
My son is a huge fan of chicken spring rolls. Whenever we go out shopping, he convinces me to buy him one chicken spring roll when we return home. As I am a vegan, I'm also trying to encourage my family to eat vegan food. But my son insists that he cannot live without eating chicken. To bust his notion, I challenged myself to make his favorite chicken dish but in a vegan form. And without much ado, I started making these vegan baked spring rolls. Do you want to know the results?

Obviously, they didn't taste like chicken but will I be exaggerating if I say that my son liked them more than the store-bought chicken spring rolls? You might feel that I'm exaggerating but only until you don't try them. And let me tell you, they are unbelievably healthy because they aren't deep fried in tons of oil but simply baked in the oven. The filling is just sautéed cabbage, carrots, shiitake mushrooms, garlic, and ginger. This filling is cooled and wrapped inside spring roll wrappers, rolled, and baked to crispy perfection. Serve with sweet and sour ketchup and dig in! These spring rolls are one of the best vegan new years eve recipes to celebrate.
Click here.
---
You may Like These Meal Ideas:
Halloween Dinner Ideas
Christmas Appetizers
Low Carb High Protein Recipes
Fritter Recipes
Back To School Lunches
Holiday Brunch Recipes
High Protein Meal Prep Recipes
---
If you like this article about Vegan New Years Eve Recipes, share with your friends or families on Facebook, Twitter, and Pinterest. Choose your favorite recipe and make it at home, let me know which is your best recipe in the comment. Also, you can subscribe to my blog to get all the latest updates first on your mobile.