Our one pot dinner recipes are healthy, tasty, easy plus saves you time. We understand how hectic it becomes to handle both work and home simultaneously. Therefore we've curated these one pot dinner recipes just so you can make healthy meal prep within just an hour or so without using a lot of utensils and compromising on taste. Your dinners will be packed with just a few ingredients and will have a perfect balance of taste and nutrition or healthy eating. We promise you that these recipes are gonna be your life-savers and you'll thank us for that. 
---
1. One Pan Mexican Quinoa
This One Pan Mexican Quinoa is not only one of the easiest one pot dinner recipes, that you can make but also gives your taste buds those exotic Mexican flavours. Made with a few simple ingredients. This dish has a variety of flavours coming from the tanginess of lime juice and spiciness of chilli powder and jalapeños.

And you can indulge into this scrumptious dish absolutely guilt-free. This dish is healthy and so easy to make. Just put all your veggies and quinoa into the skillet and let it cook until the quinoa soaks in all the flavours from the veggies and spices and is cooked through. It will take only about 20 minutes and dinner is ready! Serve hot and enjoy!
Get it here.

Also Check out these cast iron skillet recipes for meal prep dinner during summer or busy days.
---
2. One-pot Salmon
Here's a fancy salmon recipe for all my salmon lover friends out there. This Creamy One-Pot Garlicky Salmon & Asparagus is a total feast. But you don't need to worry about your diet at all. This dish is low in carb and fat and will keep your cholesterol in check.

All you need to do is cook the salmon in the pan, keep them aside, make your sauce and throw in the veggies and wait till they are cooked. Add the salmon back to the pan and pour the creamy sauce over it. It's done in only 20 minutes and requires only a few simple ingredients. Your family is bound to love this dish.
Get it here.

Find more Brie Cheese Appetizer Recipes here.
---
3. One-pan Meatball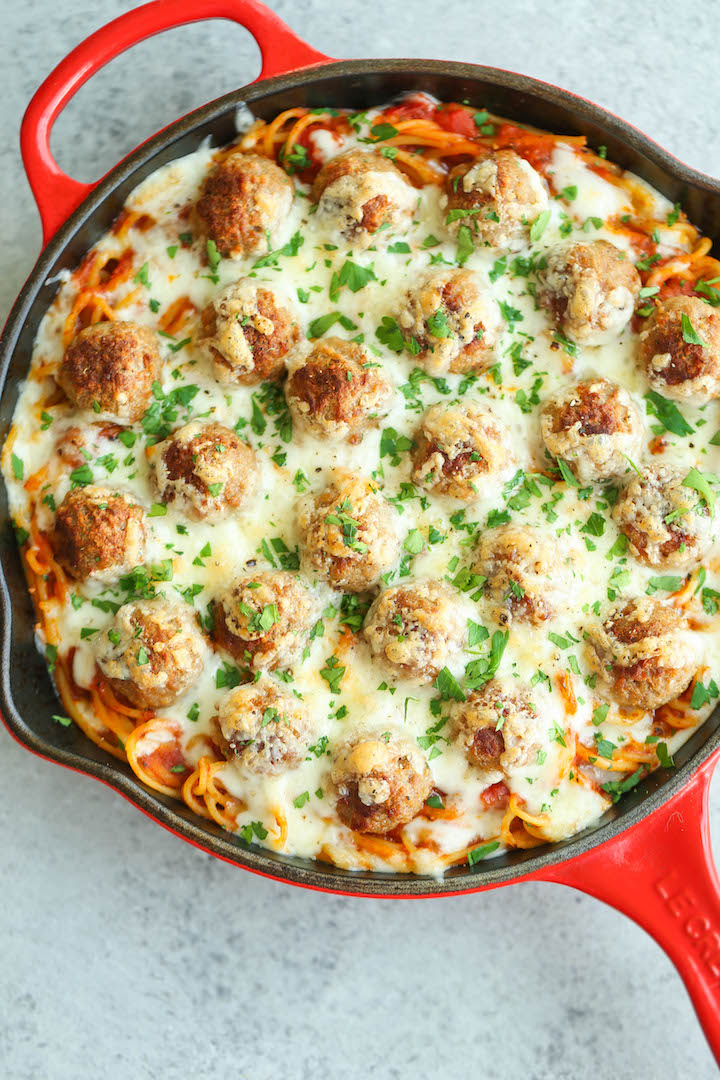 It's time to renovate your traditional spaghetti. This one-pan spaghetti and meatballs is worth all your drooling. This dish is a fusion of spaghetti, meatballs and cheesy lasagna. Just 20 minutes and a few simple ingredients and you'll land with a heavenly delicious bowl of cheesy spaghetti meatballs.

Grab your baking dish and layer it up with spaghetti, homemade marinara sauce and top it up with tasty meatballs and an overload of cheese. Bake in the oven for about 10 minutes and serve steaming hot. This is one of my favorite one pot dinner recipes ever.
Get it here.

Make these amazing summer meals for hot days.
---
4. One Pot Chicken and Rice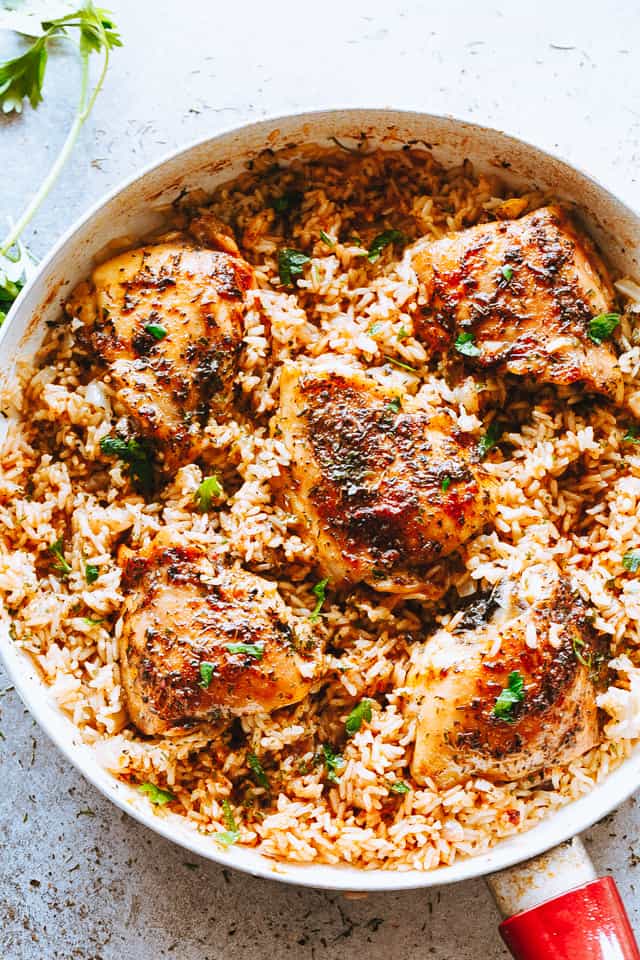 Is chicken and rice your comfort food too? Then you should definitely try this One Pot Garlic Butter Chicken and Rice recipe. The buttery-garlicky flavor of the chicken thighs just melts in your mouth. This recipe comes together easily in less than an hour with just a few simple ingredients in one pot. It's effortless yet so flavourful that your heart just wants more. But want some more chicken ideas – make these air fryer chicken recipes and high protein chicken meals at home.
Get it here.
---
5. One-pan Spring Vegetable Gnocchi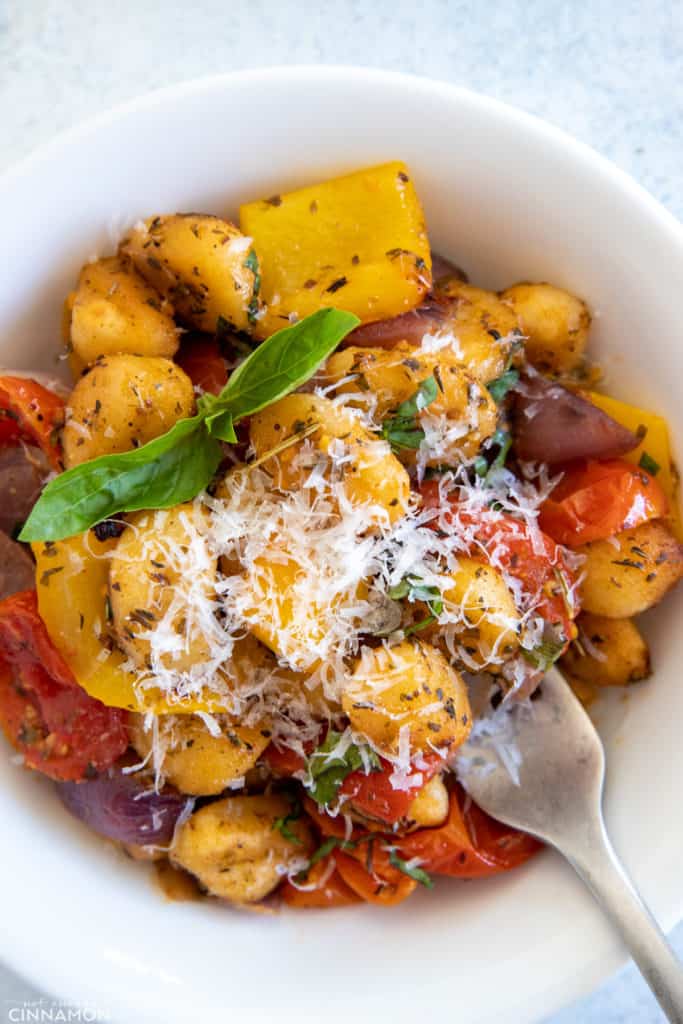 Let's give your boring pasta and sauce a colourful twist. This Crispy Sheet Pan Gnocchi is bound in your family's heart. You can already imagine a bowlful of gnocchi with roasted veggies. The flavours of Italian herbs and parmesan cheese adds a distinguished taste to the dish.

Just heat up some olive oil in a pan and throw in some bell peppers, red onions and sun dried tomatoes and saute them with the gnocchi. Place them in your sheet pan with a good layering of parmesan and sprinkle fresh Italian herbs on top. Roast for 20 minutes and dig in for healthy eating.
Get it here.

Try these vegan finger foods for holidays.
---
6. One Pot Vegan Mushroom Stroganoff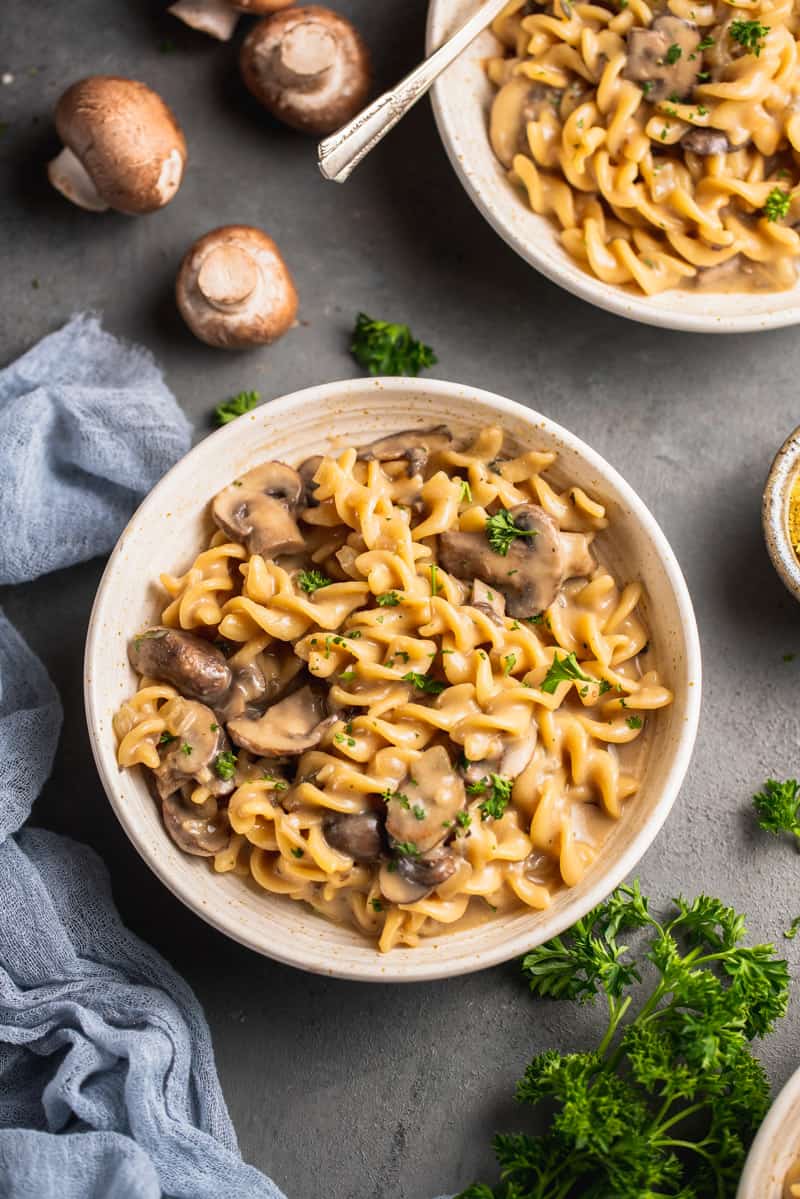 Have mushrooms in your kitchen but don't have hours to cook a delicious dinner? Here's a one pot Vegan Mushroom Stroganoff recipe that will be ready to serve in just 30 minutes and I dare say you'll love it. I altered beef with mushrooms in this recipe and it goes so well with the flavours of butter, garlic, onions and sour cream. Also it's vegan and great for meal prep healthy eating..

You won't believe that this rich and creamy dish can be made using just a few simple ingredients that don't include eggs, meat or even dairy. The Russian Beef Stroganoff is traditionally served with pilaf rice, noodles or mashed potatoes. As I'm making a vegan alternative to this dish, I used mushrooms in place of beef and dairy-free butter and vegan sour cream.
Get it here.

Get these amazing new years eve cocktails to celebrate.
---
7. One-pan Chicken Spinach Artichoke Recipe
Juicy chicken breast and baby spinach simmering in creamy artichoke sauce — can dinner get any better? Packed in protein and flavours, this dish is gluten free and takes just 30 minutes.

The one pot dinner recipes call for just a few simple ingredients like boneless, skinless chicken breast, garlic, fresh baby spinach and cream cheese, parmesan and heavy cream or butter adds all the creaminess to the dish. All these indulgent flavors come together in this one pot recipe and it's healthier than you can imagine.
Get it here.

Make these layered dessert recipes for your upcoming holidays.
---
8. One-Pot Garlic Parmesan Pasta with Spinach and Mushrooms
I have countless pasta one pot dinner recipes in my list and this one's one of my favourites. Cheese and pasta is a match made in heaven. I like my pasta sauce super creamy and silky with loads of cheese. This One-Pot Garlic Parmesan Pasta with spinach and mushroom is the ultimate choice for easy weeknight dinners to save time.

It's easy to make, includes simple ingredients and takes less than 30 minutes to prepare. This pasta dish has such an amazing blend of favours that it reminds you of pasta served in restaurants— the creamy parmesan sauce, sauteed mushrooms, spinach and onions. Also, this quick, healthy and insanely delicious dinner recipe is vegetarian.
Get it here.

Wanna lose weight? Check out these healthy meals under 200 calories & meals under 300 calories & meals 500 calories for meal prep.

---
9. One Pot Cajun Chicken Pasta
This One Pot Cajun Chicken Pasta is the pasta of your dreams. Made under just 45 minutes, this pasta dish is so creamy and luxurious, that all the savoury and cheesy flavours just burst in your mouth.

Chunks of chicken with crunchy veggies and pasta covered in creamy sauce with made parmesan, cream cheese and a cajun seasoning can take your dinner to the next level. This one pot recipe is packed with myriad flavours and textures. Even, you can also make some vegan rainbow meals to impress your family.
Get it here.
---
10. Chicken Bacon Pumpkin Pasta Bake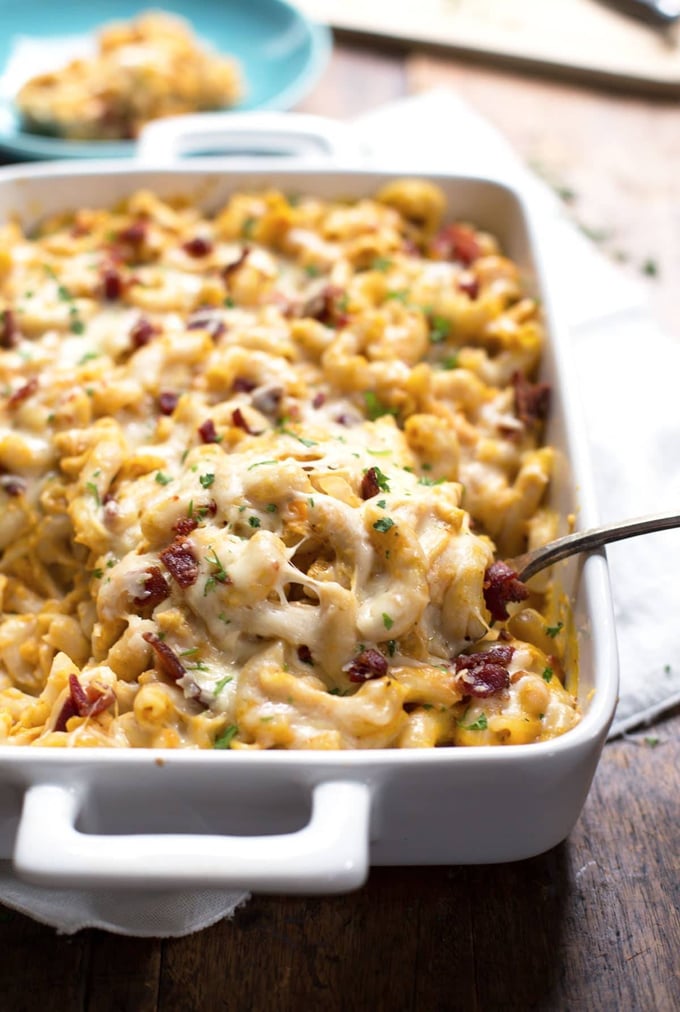 Fall and winter are all about pumpkins and the only way I like to have it is by blending it into a smooth and silky sauce. This time I made this crazy delicious, quick and easy one pot Chicken Bacon Pumpkin Pasta Bake for dinner. For the sauce I used caramelized onions and steamed pumpkin blended together with loads of cheese.

Crispy bacon and shredded chicken all bathed in the cheesy divine pumpkin sauce is like a warm hug in the chilly weather. Bake this delicacy in your oven for 30 minutes or serve hot for dinner.
Get it here.

Enjoy the valentine day with these amazing valentine's day cupcakes.
---
11. One-pan Fish and Tomatoes
This one pan roasted fish with cherry tomatoes is an easy, perfect and delicious summer dish.  This recipe pairs well as a dinner.  This one pan roasted fish with fresh tomatoes, onions, olives, onions, cilantro and white sesame seeds is very convenient and delicious.  Prepare this dish in less than 30 minutes and serve hot as your dinner.

This food is very healthy because you will have fish on your plate as a source of protein, and plenty of vegetables. This isn't hard to do when your main ingredients are fish and vegetables – and it's ready in less than 30 minutes.  This dish is one of the perfect meals or one pot dinner recipes for those days when you are short on time, and this recipe can serve up a healthy meal in less time using just one curry.

Baked fish is not only a great source of protein but also delicious.  Make this quick one pan recipe to dive into the delicious flavor of tomatoes with fish.
Get it here.
---
12. Smoked Sausage and Rice 
These Sausage and Rice Casserole are quick and one pot dinners or high protein meal prep recipes that's more about the results than the preparation. Smoked Sausage Trick! It adds a ton of flavor to the rice. The taste of golden fried rice will compel you to eat this recipe. Add vegetables of your choice to make this recipe even more attractive. Serve up extraordinary recipes in ten minutes with simple ingredients.
Get it here.
---
13. One Pot Gnocchi Chicken Pot Pie
Gnocchi Chicken Pot Pie is a fusion of Chicken & Dumplings and Chicken pie filling. This can be your comfort food on days with hectic work schedules. The recipe can be cooked in one pot within 30 minutes and serves as a perfect dinner. Make this for your family and friends and I promise that they'll kiss your hands after having this creamy dish, full of texture and savour.
Get it here.

Try these tasty mini bundt cake recipes for celebrate any occasions.
---
14. One Pot Lemon Chicken Orzo
This easy recipe for Lemon Chicken Orzo Pasta can be made in less than 35 minutes.  This is the perfect weeknight meal for a busy family.

An easy one pot meals pasta dinner is a great dish on a busy weeknight. The reason why this lemon chicken orzo recipe is one of our favorite weeknight meals is because everything, including the orzo, is cooked in one pan.  If you're looking for an easy orzo recipe with chicken or lemon chicken orzo soup, this is the dish for you!  You'll love this Lemon Chicken Orzo Pasta cook for so many reasons.
Get it here.
---
15. Sausage & Chicken Cajun Jambalaya 
Thinking of making an authentic Louisiana recipe for a busy weeknight dinner? I have the perfect one pot dinner recipes for you that will be done and dusted in just 40-45 minutes. Also you'll not be left with a truckload untensils to clean because this recipe can be prepared in just one pot. This one pot Sausage & Chicken Cajun Jambalaya is also gluten-free if you're a health freak.

The dish includes very few ingredients like cajun jambalaya, andouille sausage and chicken. You can store and relish this dish for as long as 3-4 days provided you're keeping it refrigerated. I also have a vegetarian alternative to this dish. Just swap the chicken and sausage with tofu and some veggie broth or you can even enjoy it without the meat or tofu.
Get it here.
---
16. Pea and Asparagus Risotto with Parmesan
I have the perfect pasta recipes to which you can combine your fresh spring produce. This recipe includes farm fresh ingredients like asparagus and peas with risotto. Add all the ingredients in the pan with some kosher salt and let them cook for 15 minutes and add the cheese. Serve it hot with a lot of grated parmesan on top and dinner is ready!
Get it here.

Make these plant based casserole recipes for meal prep.
---
17. One Pan Healthy Lemon Garlic Shrimp And Zucchini Noodles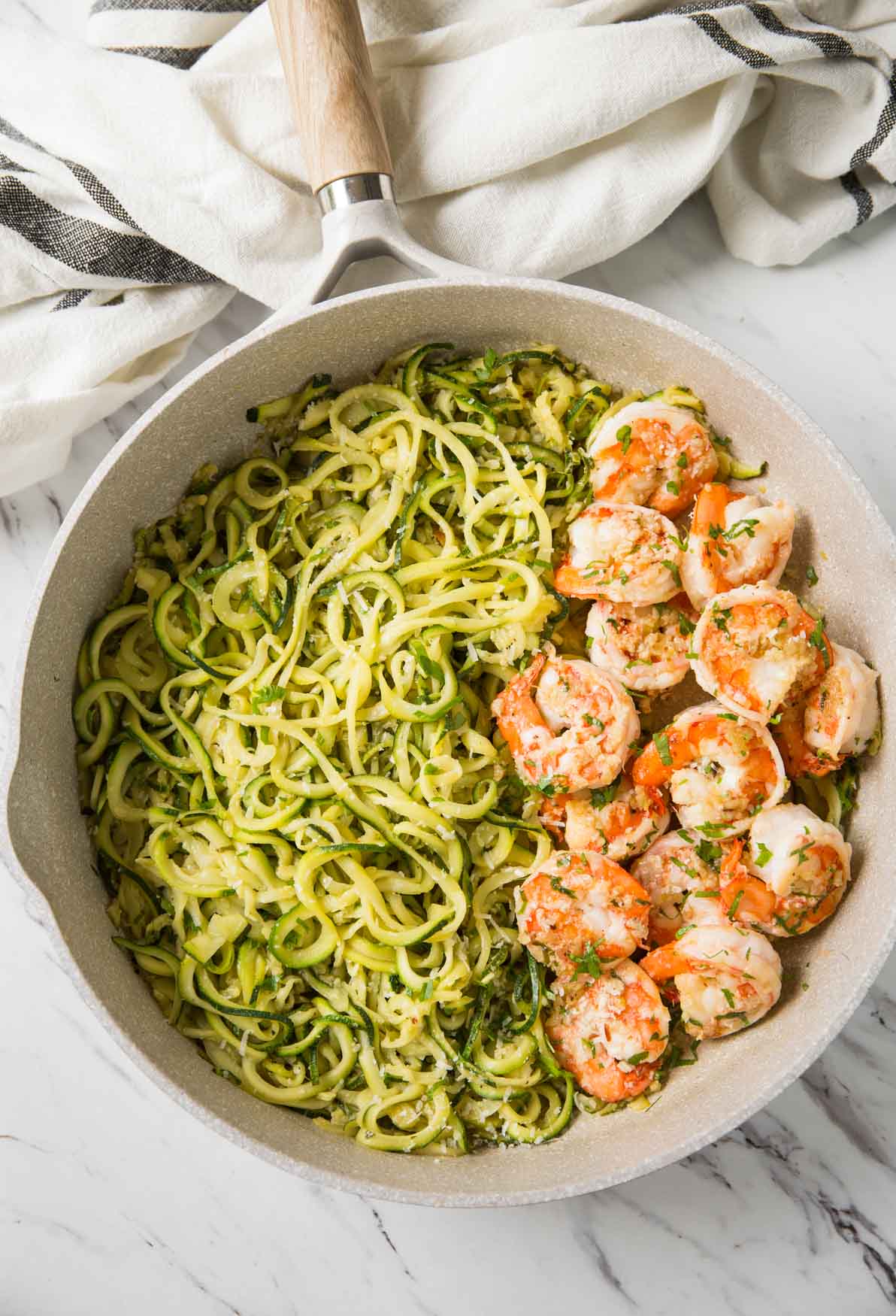 Buckle up! You're going to have the most amazing One-Pan Lemon Garlic Shrimp and Zucchini Noodles served on your plate. This healthy one-pan recipe is going to be your saviour for weeknight dinner or lunch. It requires a minimal meal prep and cooks in just 15 minutes or less. Heat up some olive oil in a large skillet and throw in some garlic and chilli fakes.

Add deveined shrimps into the pan and sprinkle some lemon juice, salt and pepper and cook the shrimps on both sides well. Garnish with some finely chopped fresh parley on top and serve hot. If you're looking for a fulfilling meal, serve it as a side with your favourite pasta.
Get it here.
---
18. One Pan Salmon and Vegetables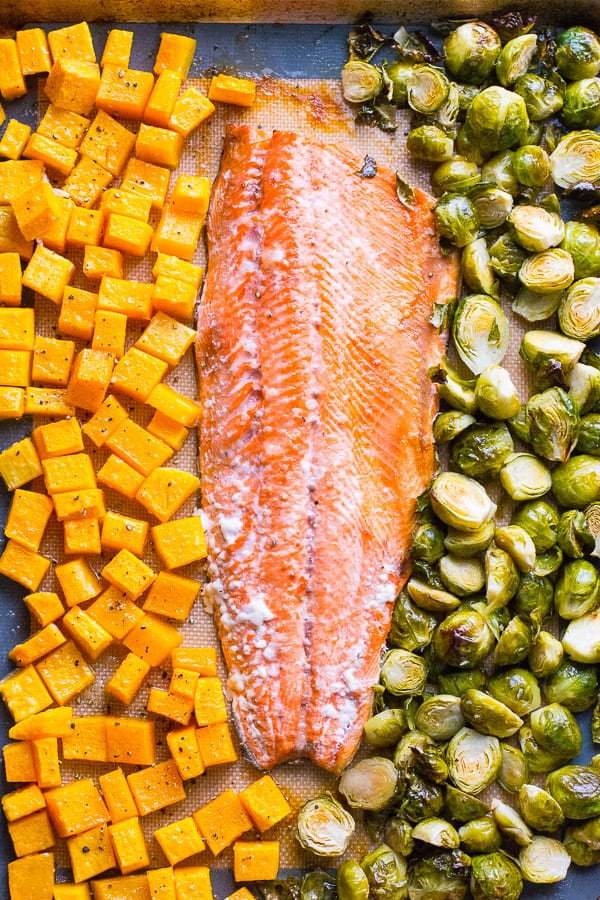 This one-pan salmon and vegetable recipe pairs well.  It is as healthy, simple as it is delicious.  In this meal preparation, salmon, butternut squash and Brussels sprouts are coated in a very easy homemade honey garlic sauce and baked together on a sheet pan for 30 minutes. This one-pan recipe is great as a dinner. Wild salmon is used in this one-pan recipe. 

If you do, you can make food with less fat than farming. Overcooking this dish can dry out the fish. Bake a pan of salmon and vegetables in the oven at 425 degrees for 30 minutes. This dish is a must-try dish and holiday breakfasts too. Even you can add more veggies, carrots and potatoes or whatever you want.
Get it here.

Make these healthy green bean recipes for meal prep.
---
19. Chicken Alfredo Ravioli Bake
This easy 4 ingredient dinner recipe will be your family's new favourite dinner. Pasta and chicken is the real deal. And another good news for you is that it takes only 15-20 minutes to cook. Chicken Alfredo Ravioli is a dreamy tale featuring chicken and ravioli cooked in the most cheesy and creamy alfredo sauce. Boil the ravioli and in the meantime saute your chicken. In a large baking dish add the pasta with chicken, alfredo sauce and top it up with a generous amount of mozzarella. Bake it up in your oven and dig in. Serve this hot its own or with high protein salads, garlic bread, tortilla chips or whatever you want.
Get it here.
---
20. One-pan Creamy Tuscan Salmon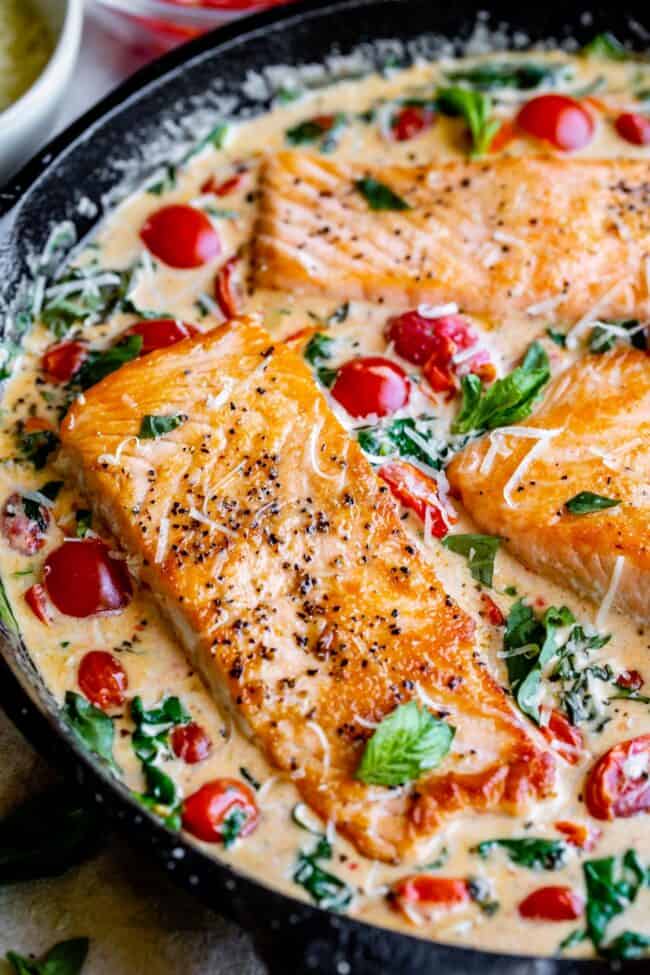 This one-pan creamy Tuscan salmon recipe is totally restaurant quality, but super easy to make!  Serve with perfectly pan-seared salmon, garlic, cherry tomatoes, spinach and fresh basil in a creamy Parmesan sauce. It's the perfect summer meal and ready in 30 minutes.

Buttery soft seared salmon that just melts in the mouth simmering in a creamy cheesy sauce tastes absolutely heavenly.  It's really tastier and healthier than cream sauce because of the cherry tomatoes and the spinach and basil.  I'm telling you, creamy Tuscan salmon is the best way to use up summer produce right from your kitchen garden!
Get it here.

Surprise your partner with these amazing valentine's day cookies and enjoy!
---
21. SUMMER PASTA with Chicken, Basil Pesto, Roasted Tomatoes, Garlic, and Pine Nuts
I love using pesto in my pasta and when I have a container full of homemade basil pesto in my fridge, I don't mind making some pasta with it. You can feel free to use store-bought basil pesto, I'm not judging. This One-Pan Creamy Chicken Pesto Pasta recipe can be your best friend on busy days.

You can use any ingredient that you get at hand. I like to use fresh cherry tomatoes roasted with garlic and olive oil that gives this dish a distinguished flavour. The recipe has an easy meal prep and cooks under 20 minutes. There are a few basic ingredients used here like basil pesto, thinly sliced, seared chicken breasts and pasta. These healthy one pot dinner recipes or options that your family will love.
Get it here.
---
Bonus:
One-Pot Pasta with Spinach and Tomatoes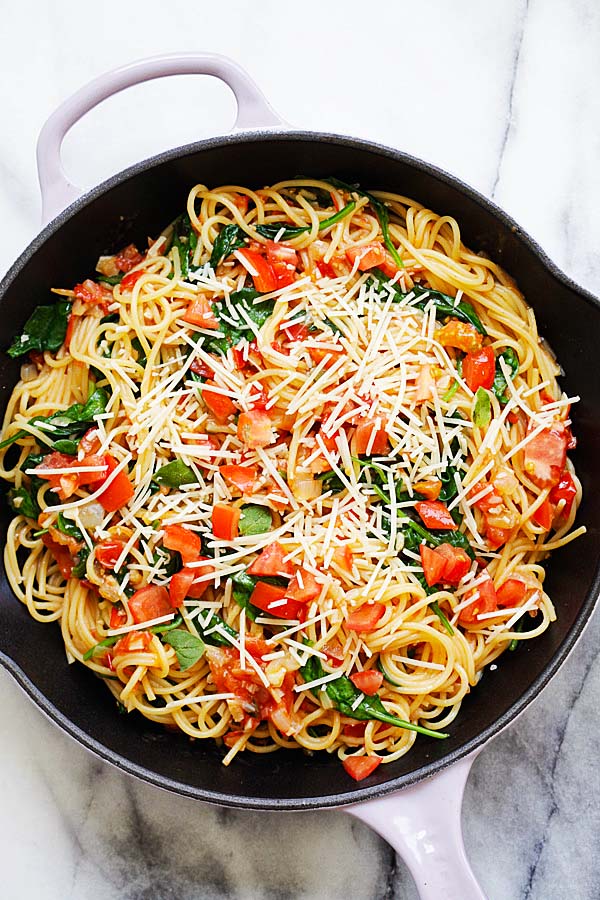 One-pot pasta is my favorite as dinner recipes and I love customizing the recipe according to what I have at hand and what my family is craving for dinner. This recipe calls for spinach and tomato. Can you resist the taste of spaghetti, spinach and tomatoes coated in a delicious garlic and onion-infused sauce? This healthy dish is easy to prepare and cooks in under 20 minutes. Your dinner will be a dish full of savory flavors and textures.
Get it here.
---
Hamburger and Zucchini Skillet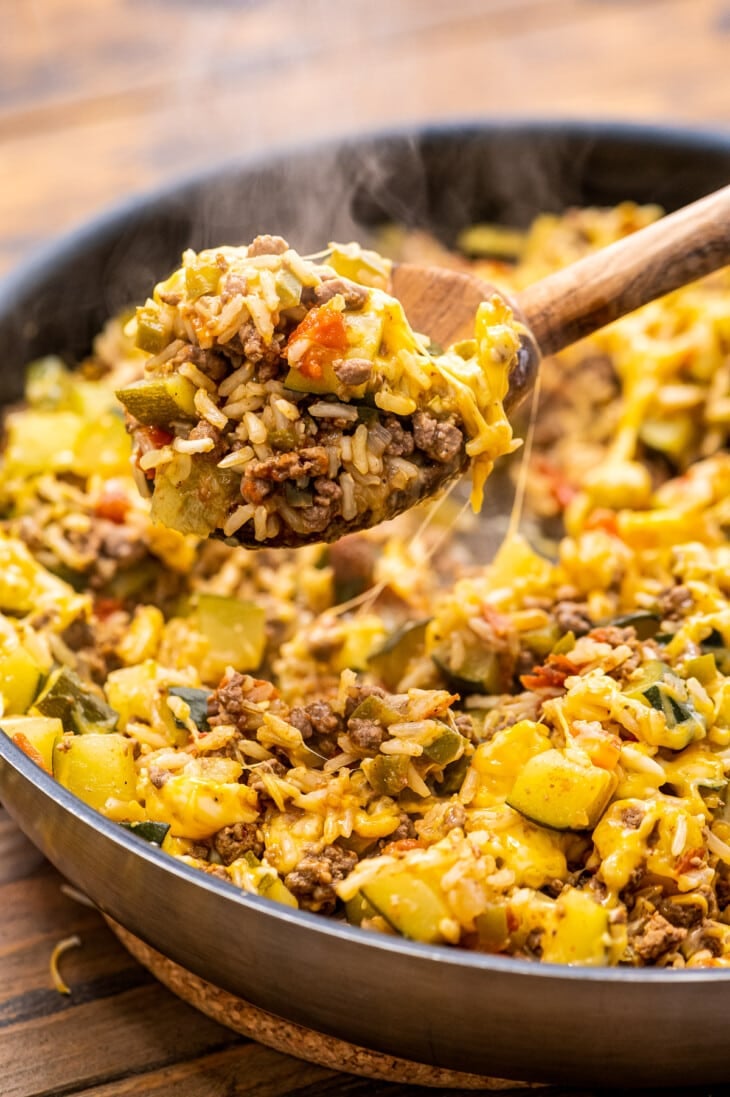 Here's a trick to make your boring veggies craveable and delicious. This easy and healthy dinner can be cooked in one skillet and will be ready to serve in just 30 minutes. This one pot recipe has all things good including brown rice, ground beef, zucchini, tomatoes or tomato sauce and green pepper or red peppers. All the flavours come from chilli powder and other seasonings. My family loved it every time I made this for dinner and the kids even had extra servings.
Get it here.

Get these delicious high protein slow cooker recipes to try.
---
White Chicken Skillet Lasagna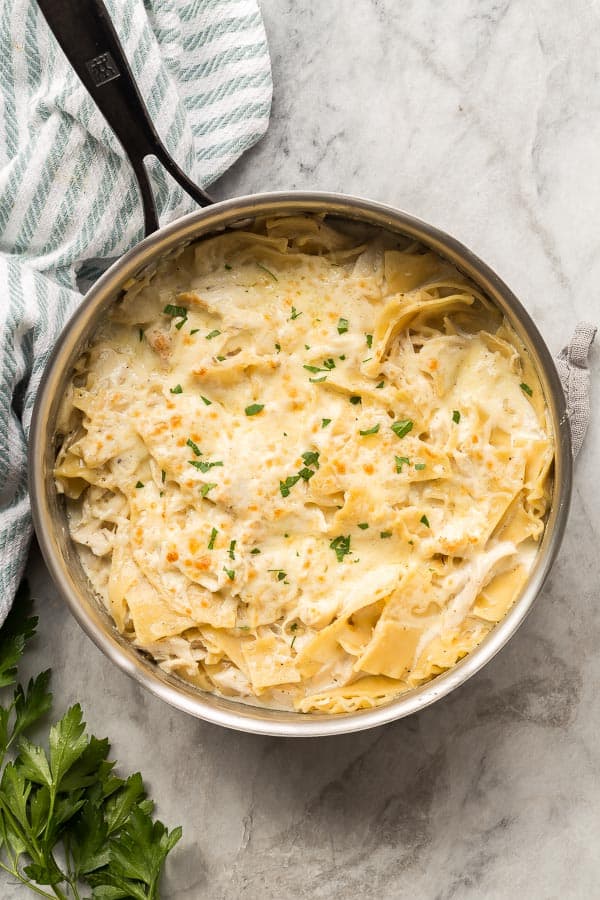 This White Chicken Skillet Lasagna is made with six ingredients in one pot!  It's creamy and hearty and the perfect comfort and healthy meal.  This White Chicken Lasagna is a favorite, creamy and hearty recipe with kids and we love this recipe the most for its many customization options.  Most one-pot pastas are actually highly customizable, as you can monitor the cooking process almost continuously.  This recipe can be prepared in just 30 minutes or less.
Get it here.
---
Crock Pot Lemon Garlic Butter Chicken
Crockpot Chicken Thighs with Lemon-Garlic Butter Sauce is a one-pan recipe that's simple yet delicious.  Looking for crock pot dinner ideas, then this crock pot chicken thighs recipe is for you!  Serve this succulent dish with chicken thighs in a buttery lemon garlic sauce. This chicken recipe is very easy to make in a crock pot and tastes amazing. 

We guarantee that your family will love this Slow Cooker Chicken Thigh recipe and have it on the plate again and again.  Serve rice with chicken thighs (ideal for keto or low-carb diets) or salad in just 30 minutes.
Get it here.

Get more Thanksgiving Desserts for holidays.
---
Ground Turkey Skillet 
What happens when you cook Turkey with your fresh summer produce? Dinner becomes a celebration meal. Inspired by my Santa Fe Stuffed Zucchini recipe this one-pot Ground Turkey Skillet with Zucchini, Corn, Black Beans and Tomato is healthy and soaked in the flavours of summer.

These one pot dinner recipes are so easy to prepare and cook for under 20 minutes. Serve this as is or as a side with your favourite grain and dig in. 
Get it here.
---
You may Like These Meal Ideas:
Low Carb High Protein Recipes
Fritter Recipes
Halloween Food Ideas
Pineapple Dessert Ideas
High Protein Snacks
Shredded Chicken Recipes
Chickpea Snack Ideas
Smoothie Recipes
---
If you like this article about one pot dinner recipes, share with your friends or families on Facebook, Twitter, and Pinterest. Choose your favorite recipe and make it at home, let me know which is your best recipe in the comment. Also, you can subscribe to my blog to get all the latest updates first on your mobile.
---
To make these recipes for later, SAVE this pin on your favourite Pinterest Board