Valentine's day is very close to us. We all love to celebrate it. Valentine's day is not only celebrated with a life partner. It is also celebrated with all the loved ones at home or dear friends. Every day is spent in love but on a special day, it is. I plan many things, and make surprises for dear people. Make a lot of new food. Create a nice pleasant atmosphere to have a good time. And with it some cards and gifts. But this year, so that I don't have to buy cards from the store on Valentine's Day, that's why I have found many of them. I have found some of the best Valentines Day cards for you.

Today I have brought handmade gifts not only for adults but also for children. can make Draw or print with your own hands. You can also make beautiful cards with ribbons. Valentines Day printables will be a favorite of little ones. DIY crafts will win everyone's hearts. If you encourage them, they can make hearts with yarn. Scroll to find out more!  Hurry!
---
1. Yarn Heart Card For Valentine's Day
I love to celebrate Valentine's Day.  Ever since I was a child, I used to make my own cards and give them to my parents on Valentine's Day.  For 4 years, my partner's name has been added to his parent's. Make him a card and give him a gift. Actually, there is a difference between buying a card from a store and making a card yourself. 

You can't add anything extra to the card you like from the store, except for the name and some words. But you can make your own paper, color, and design according to your own wishes in the handmade card. That's why I prefer handmade cards. I made this card with white cover paper. And I designed what my partner means to me or what I think about him. You can design it as you want and give it to your Valentine.
Click here.
---
2. Easy Pop Up Bear Heart Card
I think Valentine's Day is not only celebrated between two partners. You can say Valentine's Day to the people you love in your life. Like a partner, parents, siblings, dear friends and your own children.  Handmade. I love to make my own cards for everyone from home to office. That's why I love to make Valentines Day cards. I don't make Valentine's cards for everyone. Those whom I consider Valentine in my life. I make it for them.

My child will turn five this year. This year I have also made cards for the little ones as well. There will be a bear in it. If you want, you can give this card to the adults too. It is very cute and beautiful. If you can understand the basic technique, this kind of card is the best.  Simple and unique from all.
Click here.

Try these holiday cocktail ideas for entertainment.
---
3. Rainbow Hearts Valentine Card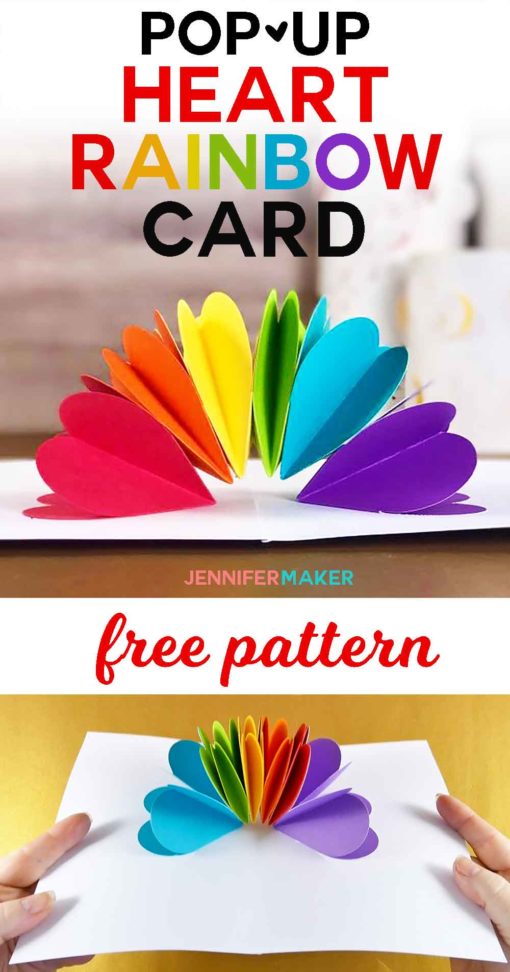 These Rainbow Hearts Valentine Cards are the best handmade gifts. Love is colorful isn't it!  So why not have a rainbow on the card!  So let's spread love in different colors on the card. I want to play with rainbow hearts. Do you agree with me? So without delay get rainbow watercolor and blank paper with it. It affects the heart too.  And who is the heart of the children?
Click here.
---
4. 3D Heart Card – Valentines Day Craft
Let my son's school make 3D Heart Cards. To increase their creativity. Schools make these cards or other handicrafts to make them interested in handicrafts. I love these handcrafts. You can say it's my hobby. It doesn't always happen due to the pressure of work. But the hobby is starting again with the boy. As soon as the boy takes these colorful hearts to school, his classmates run to him. Actually the card was made by the mother and he just helped a little. His friends don't know this. So he comes home from school and tries to make the card alone. Then you understand why the school allows you to make these DIY crafts!
Click here.
---
5. 'Raining Hearts' Card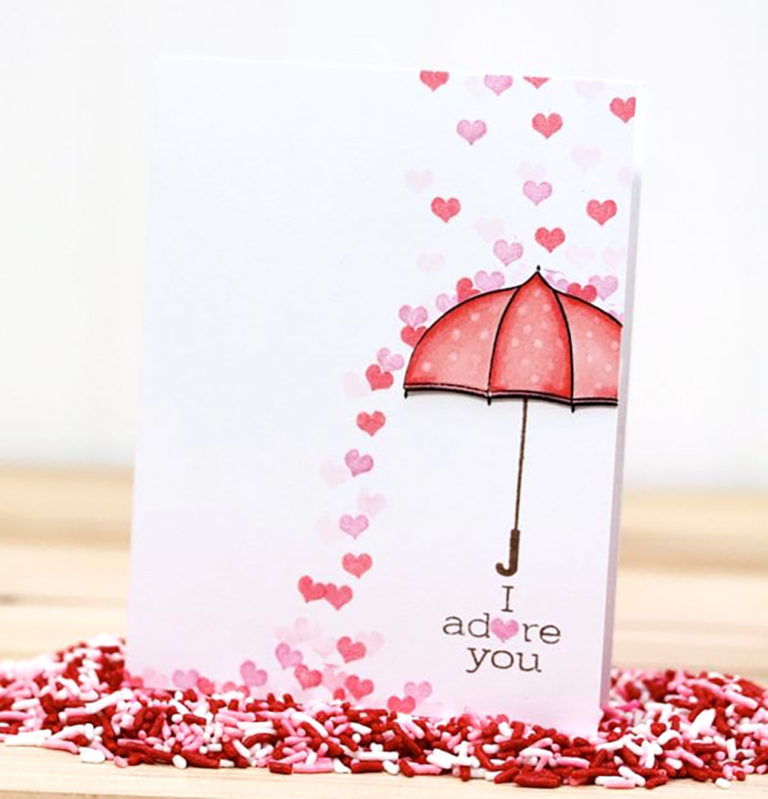 White blank cards and colored paper are needed to make these raining hearts. Separately, draw rain themes like umbrella, cloud, and rain in colored paper, then cut out the design with the help of glue on the blank card.  Stick it. I have cut out an umbrella and a heart shape. Because rain means umbrella and love.  I think you can invite, propose, convince to go somewhere, etc. any loved one with these cards.  How special he is to you. Valentines Day cards are really heartwarming.
Click here.
---
6. Spiral Paper Rose Valentine Heart Card
Spiral Paper Rose Valentine Heart Card – This is a really nice gift as Valentines Day cards. To make it you need colored kraft paper (2 sheets of 3 different colors), scissors, pencil, template etc. It is such a beautiful card that everyone  Mind blowing. 

I invited my boyfriend for lunch on Valentine's Day with this card. Believe me, he walked up to me before noon and was just looking at the card. I realized that he liked the card very much. In fact by himself.  Care, effort, love and creativity, etc. are hidden in the cards made. That is why handmade things are so special.
Click here.

Make these amazing Valentines Day Crafts for your partner.
---
7. Valentine Bear Heart Cards
Who will propose to the lover?  Do not understand how to do it!  It's uncomfortable to say face to face!  Why are you so worried, my friend? I am here.  Make this Valentine bear heart card. Handmade of course, with care, with lots of love. I can guarantee it will be yours. It's actually a kids card. But it's so cute that no one can help but see it. And  Spend a little technique and write in it "I LOVE U BEARY much"! I am sure your boyfriend will say yes to you after seeing this baby cheap card of yours.
Click here.
---
8. Simple Cricut Valentines Day Cards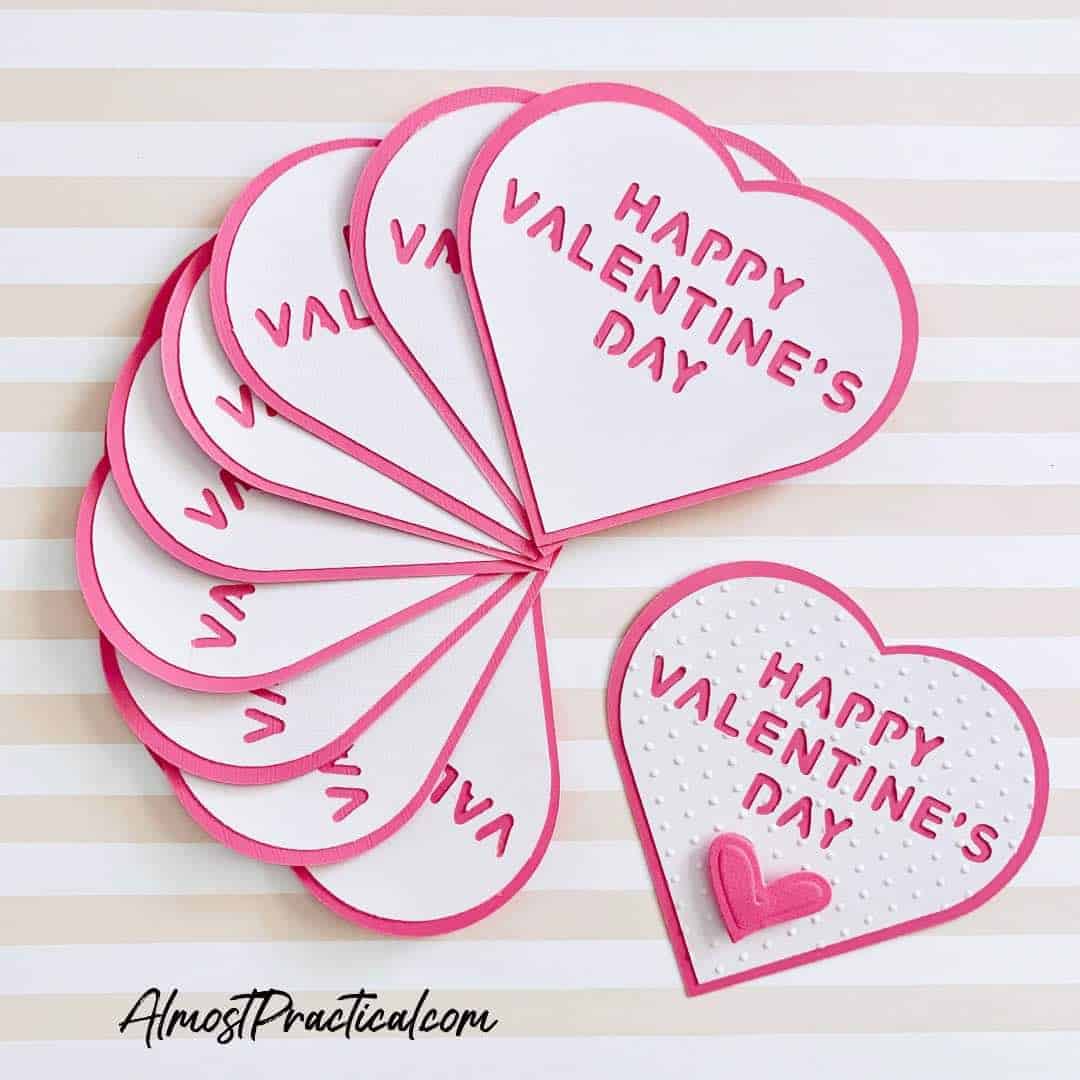 These Simple Cricut Valentines Day Cards are incredibly beautiful. There is a clarity to them. They are perfect as Valentine's Day cards. You can make these very easy. That means suppose you are very busy and your partner is planning a lot of surprises for you. But you can't do anything for him.

You will find them as friends at that very moment. Because they are simple and  Fast card making! And if you have a cricut then it is much easier for you. But nothing is perfect the first time but we will always try. The friendship and love of the person is more important than how beautiful the card is. What cards are you going to make this Valentine's Day! And what handmade gifts are you going to give!
Click here.

Let's celebrate this day with valentines day desserts.
---
9. Wax Resist Valentines Cards
These Wax Resist Valentines Cards are really very creative work for kids. Learning to make it will give them different satisfaction. It is very different from other DIY crafts. This card is very different. I love these school ideas. They engage children in creative activities from a very young age. Even, they are not limited to formal education. Also, they are interested in various creative activities apart from formal education. I feel as a mother how important this is for their bright future.
Click here.

For summer days, let's make amazing summer crafts and enjoy!
---
10. Incredibly Easy 3D Hot Air Balloon Valentine's Day Card
Valentine's Day is just around the corner. I can feel it more and more because my child's school is now teaching how to make Valentine's cards. And I am sure that these Valentines Day cards are for parents. Because after my daughter comes home from school.  He doesn't let me hand over his school bag. He closes the door in his room first and hides everything and then he comes to me. That's why I guessed that the school has started making Valentine's cards.

I still can't imagine what our naughty girl is making for us. But I understand that something special is being prepared for Valentine's Day. And that card is what I guessed. Because I can't find the scissors anywhere. It's all hers.  Hiding it in the house. To tell the truth, I don't want to spoil his surprise. I want to see his happiness. He will be really happy when we surprise him. By tying the family with love.  You live in love. love!
Click here.
---
11. Valentine Jar of Love Card
This Valentine Jar of Love card is heartwarming. Everyone will love it once they see it. Cards really have no age limit. Anyone from young to old can make and receive cards of any design and from others. This is what love is all about.  The day is called. Because love has no age. Everyone can give this Valentine's Day card to everyone.

This is a card that you will want to make. Now that Scrump is used for the heart, you can use melon mambo, real red, sweet sugar palm, etc., whatever you have or will work with.  Die-cut the hearts from Mini Treat Bag Thinlits. Don't worry, these little hearts won't take long to make. You'll be able to spread the love on the card with just two colors. So what are you waiting for! Get started!
Click here.

Try these amazing Valentines Day Breakfasts to celebrate the morning.
---
12. Valentine Balloon Hearts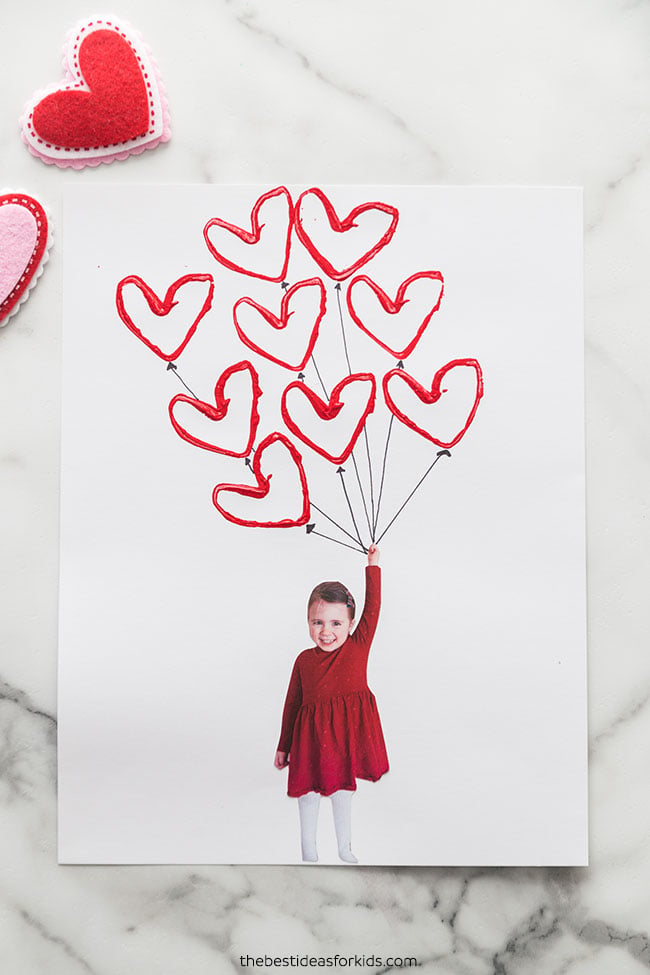 This Valentine Balloon Hearts card is one of the perfect Valentines Day printables. It's the easiest to make. Print the cutest picture of your kids and stick it on a blank white card with glue. Another way to make it is directly blank and Print your child's picture on the white card. One thing to keep in mind is that the picture should be meaningful.

For example, the card I made for my daughter, I took a picture of her holding many balloons. You can make hearts instead of balloons. I made them for Paula's birthday so I used balloons. If you are making it for Valentine's Day, make it a heart. It's quick and easy to make. It's a really cute card. Your child will love it. And  Best of all, it's something your kids can make too, with a little help from you, of course.
Click here.
---
13. Spinning Heart Valentines Day Card
I gifted this Spinning Heart Valentines Day Card to my father.  I give cards to my father every valentine's day. To all girls, their father is their hero. First love. All girls want a life partner like a father in their hearts. To have a life partner like my father and who is very caring, loving, caring. Me and this dream.  I cherished it in my heart. And honestly, my dream has come true. My boyfriend is like my father. But no one can be like a father. No! Do you agree with me? Then definitely tell me.

This card is very easy to make. No hassle.  Separately cut the heart from the red paper. Then stick it with the help of a beautiful thread and glue. Before that, cut your white card round. And stick the designed paper in it and this Valentine's card will be made. Then you can convey love to your father or to your loved ones as you wish.
Click here.

Get these amazing Valentines Day Cupcakes to gift your partner.
---
14. Free Heart Shaped Pokémon Valentine Cards Printable
This Free Heart Shaped Pokémon Valentine Cards Printable is an ideal kids' card. These Valentines Day printables are the best cards for any day. All kids love Pokémon. They love spending time with Pokémon on TV or on the phone. My kids love balls and play with them like pokemon. My husband and I enjoy them a lot. So this year we decided to make pokemon cards for my kid.

But it's not a surprise, because I will make this card with my son. He enjoys it a lot. Then he can make it without my help and give it to friends. You will make this card using white cardstock. It will be easier. First, print the cards in color. Think pokemon ball colors. But not around SHAPE Because it's our Valentine's Day! Punch holes in the hearts so they can be tied to the bags. And fill the bags with three colors of candies to represent the three groups of Pokemon. I think this kind of gift is the best for Valentine's Day.
Click here.
---
15. Handmade Heart Shaped Pizza Cards
Now my kid is making heart shaped pizza cards for her dad. Trust me the card is very cute. Her father will be very happy to get it. Different colored paper is used to make this card. And the white card is used. You can take any color paper of your choice. Make it heart-shaped like a pizza. This pizza card is ready after cutting the popular ingredients in it. The little member of my house is waiting to add some love words for dad in it.
Click here.
---
16. Rustic Charm for a Masculine Valentine's Day Card
Rustic Charm for a Masculine Valentines Day Cards I made for my Valentine. Proposing to my life partner. This card is made for a man and a man who doesn't like anything extra colorful. That's why I made this card.  I used wood. You can say wood grain, not heavy wood. I tried to make it with thin wood. I cut these hearts with a big shot die-cutting machine.

It is very easy and quick to make if you have the right machine and stock the necessary materials.  The reason why it is included in this Valentines Day Cards is that it looks classic among all. It has a very bold look. You can make it as a wedding invitation card as well.  It is also his own wedding card made by himself.  It's really amazing!
Click here.
---
17. Ribbon Striped Valentine's Card
Ribbon Striped Valentine's Card – The style of this card is traditional.  As a child, I saw many different cards given to my mother with such a ribbon.  Mom says that ribbon is not as popular as it should be. Mom's school used to have many cards or DIY crafts with ribbons. Mom learned from school and used to make these kinds of handmade gifts for everyone in the house and friends. I am inspired by mom.  

Let's make a Ribbon Striped Valentine's Card. It's very easy. It's half done by wrapping love-colored ribbons on your white blank card.  If you make it for Valentine's Day, use this type of ribbon and if you make it for any other festival, make it according to the theme. For example, it can be made with red ribbon only.  I know you will have fun making it. So make it without delay and have fun!
Click here.

Make these delicious valentines day cookies for celebration.
---
18. Bouquet of Hearts Card for Valentine's Day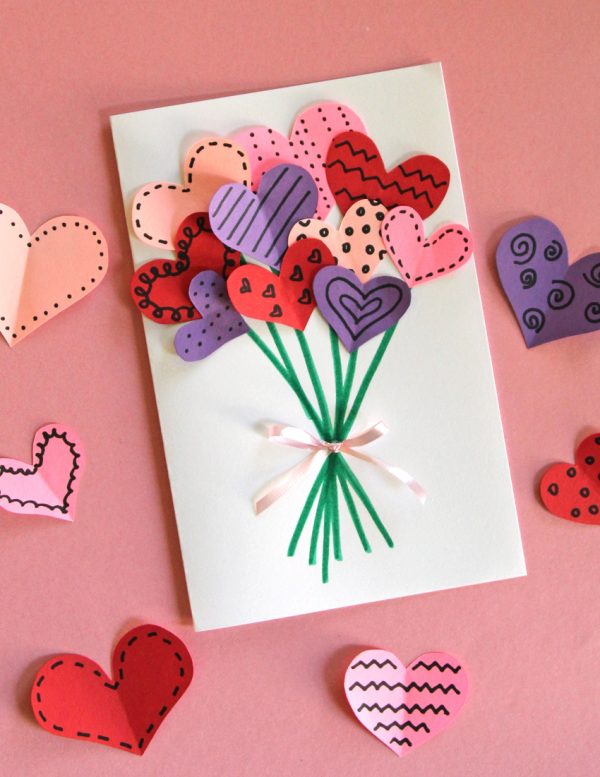 This Bouquet of Hearts Card is really a card full of love. This card can be made by gluing some colored paper hearts between the white blank cards. It is very easy. It is a very beautiful card for children. A bunch of hearts will be a gift to everyone. It is really very sweet. It can be called a heart bouquet.  This beautiful heart bouquet is made by cutting the heart shape in colored paper with markers. Kids make cards to celebrate any day. We all love their practice. These practices are very cute. Made in a school environment. We also practice at home.
Click here.

Try these amazing valentines day appetizers to enjoy the day.
---
19. Heart Shaped Lovebug Cards
I really appreciate these beautiful thoughts of the school. Because they do a lot of things with the children on any given day. And the children enjoy making it. I still remember my daughter from school when she was practicing holding plastic scissors. It is very enjoyable to see children become Big in front of their eyes. Say no!  You must have this feeling!  Don't forget to share these feelings with us because your feelings are valuable to me.

Now that little one is making Heart shaped Love Bug cards for his friends. That too without my help! My kid loves drawing and DIY crafts like this. Looking at the cards, I couldn't believe that my little naughty kid had made these. HE HE!
Click here.
---
20. DIY Folded Valentine Heart Card
This DIY Folded Valentine Heart Card is a huge hit as Valentines Day cards. Because this card can be given to any loved one. This cute heart folded card is really cute for parents, partners, lovers, and kids. 

This heart template Traces it and cuts a sheet of paper and glues it in the middle. Before that, cut the paper into a heart shape. Fold the edges of the heart and tie it with a beautiful red ribbon. Write some messages for your loved ones inside this card. Give a gift. This is a very simple and beautiful card.
Click here.

These amazing valentines day recipes to celebrate.
---
21. String Heart Yarn Cards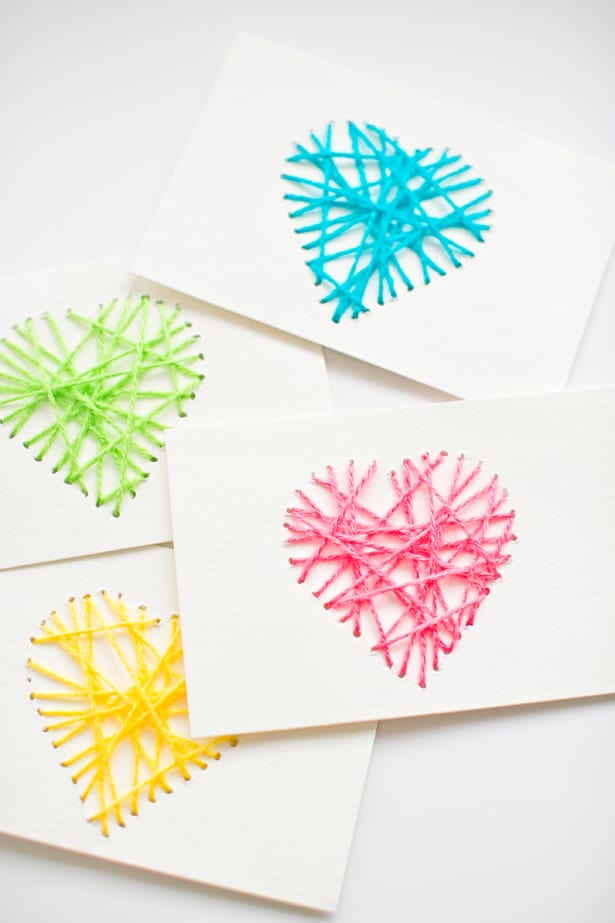 These STRING HEART YARN CARDS are perfect handmade gifts. This card can be made easily by kids at home if we encourage them. They will make hearts with their favorite yarn. It's really cool. I prefer to make it with red yarn.  I like  You can make it with the thread you like. To make it, hold the heart template on a white blank card, first take it easy with a pencil, then make holes according to the shape of the heart with a big needle. This card is a children's handicraft. Make a heart by threading it in the opposite direction according to the hole of the needle or making a heart. Celebrate Valentine's Day with your own creativity.
Click here.
---
You may Like These Meal Ideas:
One Pot Meals
Sheet Pan Meals
Cold Appetizers
Low Carb High Protein Recipes
Fritter Recipes
High Protein Meal Prep Recipes
Mini Bundt Cake Recipes
---
If you like this article about Valentines Day Cards, share with your friends or families on Facebook, Twitter, and Pinterest. Choose your favorite recipe and make it at home, let me know which is your best recipe in the comment. Also, you can subscribe to my blog to get all the latest updates first on your mobile.