Are you worried about Thanksgiving party foods? Thinking that there are so many recipes but you want to put the best recipes in your Thanksgiving appetizer menu. I bring you the best holiday thanksgiving appetizer ideas to clear your mind. The taste of each recipe can challenge one. Today I have brought some recipes that your children can also make. These utterly easy and super delicious recipes are really going to be your best holiday appetizers.

The biggest advantage of these recipes is that they are made with very simple ingredients. I can assure you, through these recipes, at the Thanksgiving party, your guests are going to have the best of the best party foods. And you'll thank me for it later. You can make these recipes with just a handful of ingredients.

These are amazing mouth-watering recipes like Cranberry Pistachio Cheese Logs, cranberry sauce dipping, Baked Caprese Garlic Bread, baked Brie, Apple, sweet potato and Honey Crostini, Pumpkin seeds Crackers, Spinach Dips, Shrimp Appetizers, Stuffing Stuffed Mushrooms, deviled eggs etc. to mention a few.  Be sure to scroll through. I'm sure you'll find these Thanksgiving appetizers perfect as party foods or holiday ideas.
---
21. Cranberry Pistachio Cheese Log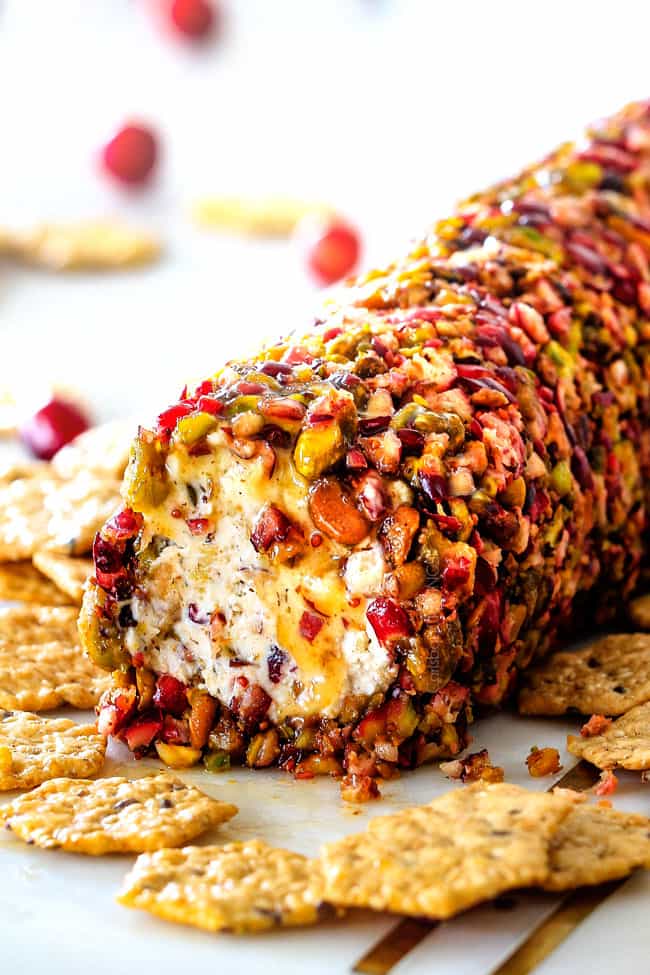 These Cranberry pistachio cheese logs holiday ideas are so heavenly and delicious that you have to make them this festive season. These cheese logs or cheese ball can be amazing party foods. They have a perfectly balanced salty, sweet, tangy, and cheesy taste and the best part is that you can even make them ahead of time.

A creamy cheese log coated with crunchy pistachios and cranberries, drizzled generously with honey. This food is so full of flavors and textures! These logs are a fusion of salty pistachios, tangy cranberries, rich goat and  cheese, sweet honey and imbued with flavors of ginger, cinnamon, thyme and rosemary. 

You'll just need a handful of ingredients and you will have this fancy cheese log ready in just 30 minutes. So what are you waiting for! Go and make these flavor packed cheese logs for your party guests now!
Click here.
---
20. Baked Caprese Garlic Bread Recipe
Thanksgiving day is just around the corner and I can't wait to share a bunch of recipes with you that you can make for your Thanksgiving party. I promise you that your guests will be seeking recipes from you after they taste these party foods. This baked Caprese garlic bread recipe is one of those Thanksgiving appetizer ideas that will make your guests ask for more.

And they are so easy to make and full of flavors,  you'll have them made in just 15 minutes. Crispy bread layered with garlic butter melted Mozzarella cheese, freshly sliced tomatoes, and chopped Basil with a splash of balsamic glaze over it just makes it too much to be just delicious! Just bring it  out of the oven, drizzle that balsamic glaze and sprinkle some fresh ground red pepper over it and serve it hot!
Click here.
---
19. Brie, Apple, and Honey Crostini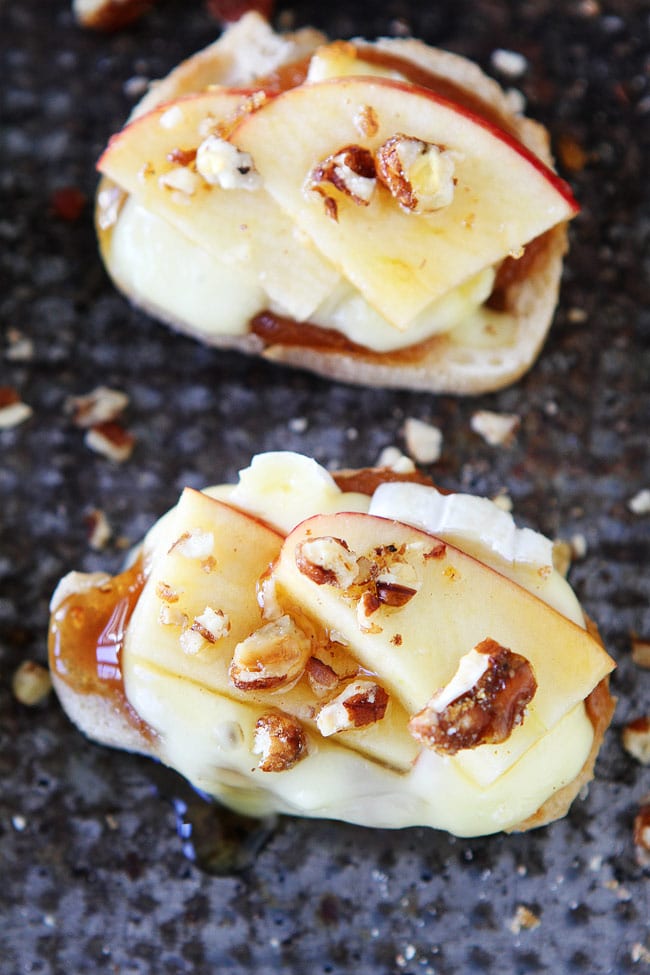 This Brie, Apple and Honey Crostini is one of the easiest appetizers you will ever make. They are so mouthwatering, everyone at the party will love them. I have received a ton of appreciation for these bite-size crostinis and I am so excited to share my secret recipe with you. All you need is a baguette and some brie cheese, apples, candied walnuts and honey.

Just slice your baguette, top it with sliced brie cheese and bake in a preheated oven for just 5 minutes. Bring them out of the oven and top them with sliced apples and candied walnuts and drizzle some honey over them. That's it. Ready in 15 minutes. See! That's how easy it is to make my showstopper appetizer!
Click here.
---
18. Crispy Loaded Hasselback Potato Bites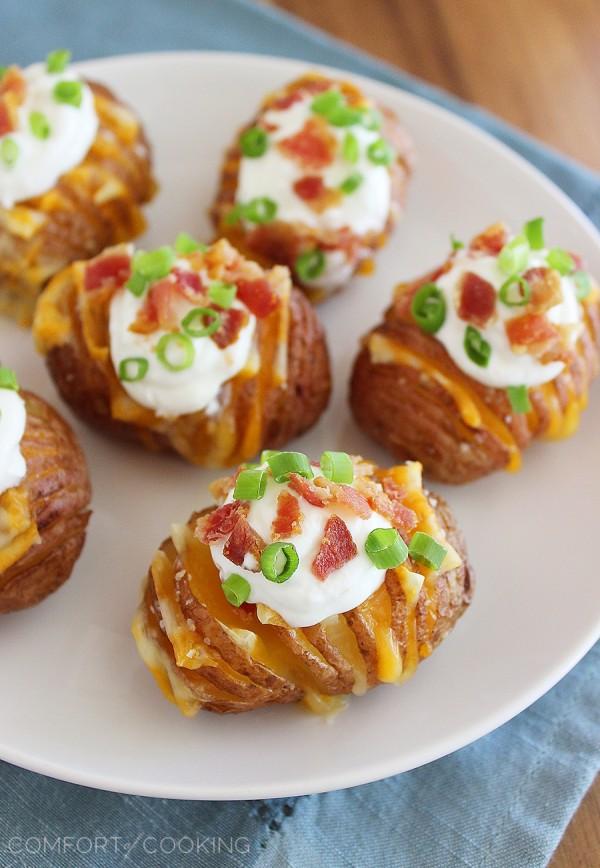 These bite-sized crispy loaded Hasselback potato bites are my absolute favorite thanksgiving appetizer ideas. With winter approaching, I can smell the celebration in the air and celebration is never complete without food. Therefore I have a list of recipes curated for the upcoming parties that I've planned to throw.

This cheesy and crispy, absolutely delicious Hasselback potato bite tops the list. This dish can be made in just 30-40 minutes, effortlessly and all of the ingredients used in this recipe will be easily available in your kitchen. Now let's dive straight into the recipe. Preheat your oven to 400°F. Take the mini potatoes and make several slits on them with the help of a sharp knife. To avoid cutting all the way down, you can place a potato over a pair of chopsticks. Now that you're done with cutting, place them over a baking sheet lined with aluminum foil.

Cover them with a generous amount of olive oil and salt and bake them for about 30 minutes or until the potatoes become soft. Now put cheese cubes inside some of the slits you made on your potatoes and bake them for another 5-10 minutes so that the cheese melts. Remove from the oven and let them cool. I like to top mine with a dollop of sour cream, crumbled bacon, and green onions. You can choose any topping that you like. Serve these finger food hot or cold with thanksgiving dinner or with any side dishes like mac and cheese.
Click here.
---
17. Easy Sausage Cream Cheese Bites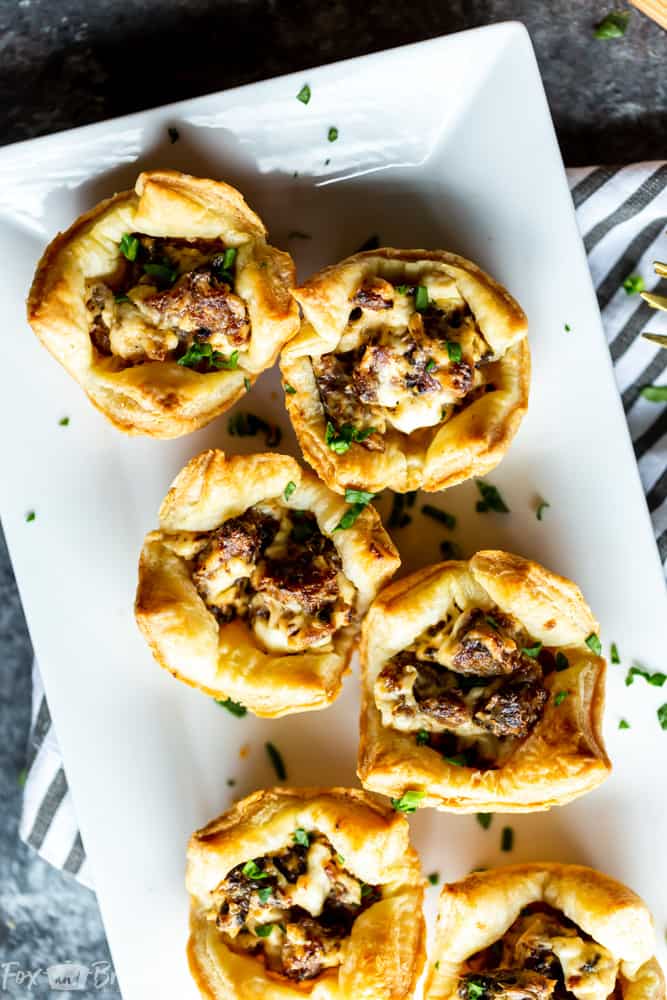 These holiday ideas 30-minute easy sausage cream cheese bites are really going to steal the show. If you are planning for a Thanksgiving party and you're someone who's very conscious about good food then you're at the right place, my dear! I'm going to share absolutely wonderful Thanksgiving appetizer ideas in this blog. This sausage cream cheese bite recipe is time-saving and easy-to-make. It requires only 4 ingredients yet is utterly delicious.

Prepare a mixture with cooked sausage and softened cream cheese.  Roll out your puff pastry dough and cut small squares out of it. Press each of the squares into a muffin tin and brush them generously with egg wash. Now place a good amount of the sausage and cream cheese mixture between those puff pastry squares. Bake for about 10-15 minutes and serve right away. Your guests will love those hot, crispy and flaky bites loaded with sausage and cream cheese.
Click here.
---
16. Goat Cheese Stuffed Bacon Wrapped Dates with Rosemary
Another stunning recipe on the blog is this goat cheese stuffed bacon wrapped dates with rosemary honey. It's so fancy and sweet and salt and moreish! It cooks in the oven in just about 20-25 minutes. All you need to do is mix honey, rosemary, cayenne, a pinch of kosher salt and a pinch of back pepper in a bowl. Keep that aside. Now take your Medjool dates and make a slit on it, don't cut all the way down. Now remove the seeds and stuff goat cheese inside the cavity that is made in the dates after removing the seeds. Wrap each date with a slice of bacon and glaze with the prepared honey mixture. 

Place them on a baking sheet and bake in a preheated oven for about 20-25 minutes. The bacon will be caramelized beautifully. Garnish with some candied walnuts and a drizzle of the honey mixture and serve.
Click here.
---
15. Jalapeno Poppers with Cream Cheese Recipe
A bite sized of these hot poppers will instantly warm you up in the upcoming chilly weather. These jalapeno poppers are one of the best party foods or thanksgiving appetizer ideas. With each bite you unravel crispness, smokiness, saltiness and cheesiness. These poppers are loaded with cheese on the inside with a crispy coating of breadcrumbs on the outside. You can also add bacon inside them if you like. To start off, you first need to cut off the stem from the pepper and remove all the seeds and the white membrane from within the pepper. Then you just need to stuff each pepper with as much cheese as you want to. 

Then whisk some eggs in a bowl and place the peppers on the bowl. Coat well with the eggs. Then place the peppers over a bowl of breadcrumbs and coat the peppers well with the breadcrumbs. Place the peppers on a sheet pan and let them rest for about 15 minutes. After that, you will have to deep fry them for 2-3 minutes and they are ready to serve. Serve them hot with a ranch dressing.
Click here.

Also try thanksgiving charcuterie board ideas for holidays Thanksgiving party!
---
14. Crispy Brussel Sprouts With Dijon Aioli 
Crispy brussel sprouts with dijon aioli dipping is my go-to party snack. This oven baked snack can be made in just a snap of fingers with some of the most flavourful ingredients. To prepare this amazing appetizer, marinate the brussel sprouts with olive oil, garlic powder, chili powder, salt, and pepper. Place them over a baking sheet and bake in a preheated oven for about 18-20 minutes.

Now, while that's happening, you can prepare your dijon aioli dipping. For this simple yet satisfying dipping you'll need some mayo, olive oil, dijon, garlic, salt and pepper. Mix all of that together. Garnish with some fresh or dried parsley. Now look for the brussel sprouts, they might have baked meanwhile. Bring them out of the oven and enjoy that dijon dipping sauce or mashed potato.
Click here.
---
Suggested: DIY thanksgiving decorations
---
13. Pumpkin Pie Cheese And Crackers
Your kids will absolutely fall in love with this 10-minute no-cook appetizer. This pumpkin pie cheese and crackers is one of the easiest snack recipes or Thanksgiving appetizer ideas  you'll ever make. Plus you won't even have to go near the oven or the gas stove or even the air fryer to make it. Only 4 ingredients and this snack or holiday ideas are ready in 10 minutes. We have cheddar cheese, Triscuit thin crisps, Chicken in Biskit crackers, and whipped cream cheese on the ingredient list. Cut the cheese in a triangle to fit on your Triscuit crisps.

Place the cheese over the crisps. Now cut 1/3 part of the Chicken in a Biscuit cracker without breaking it. It's a little difficult, I know. But you'll have to be precise. Now stick it to the cheese with some of the whipped cream cheese. It's time to put the whipped cream cheese in a piping bag and cut the tip of the piping bag for piping the cream out. Then, squeeze out a dollop of cream cheese on the cheddar cheese and there you have it! Refrigerate for an hour or less and serve them. Make them for Thanksgiving this year and everyone will love them!
Click here.
---
12. Spinach Dip Bites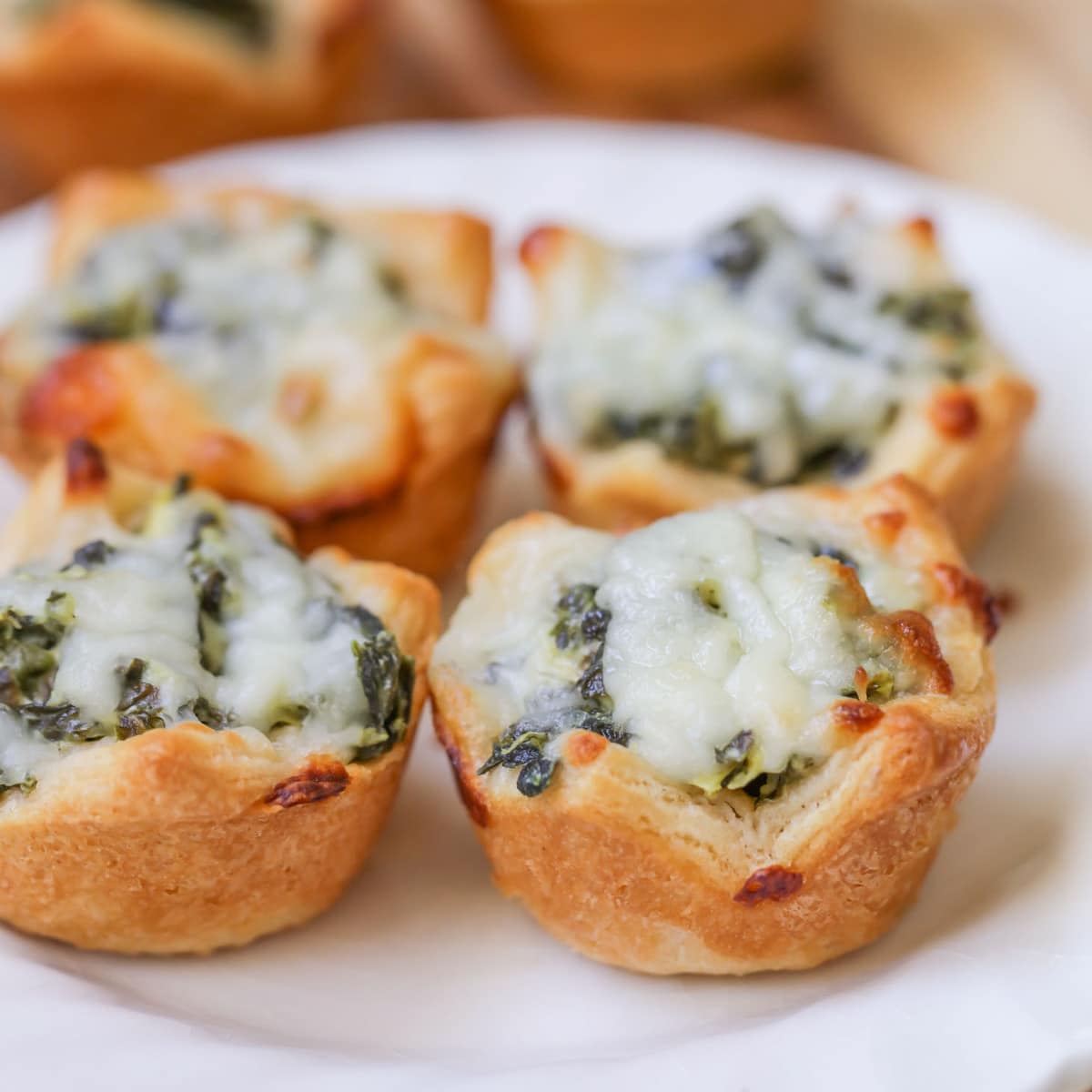 I have the perfect party foods or thanksgiving appetizer ideas which you can make this festive season to please your house guests. Cooking good food doesn't have to be a  time-consuming or herculean task. It's all about knowing about the combination of flavors that goes well together. That mix and match of favors is all that matters.

One such perfectly balanced, cheesy and flavourful recipe is this spinach dip bites recipe. These are mini, crunchy and cheesy snacks that you can make in just 20 minutes. I have always loved baked goods myself and I love to serve my guests with fresh oven baked food.
Click here.
---
Suggested: Thanksgiving Craft Ideas
---
11. Caramel Cheesecake Pumpkin Dip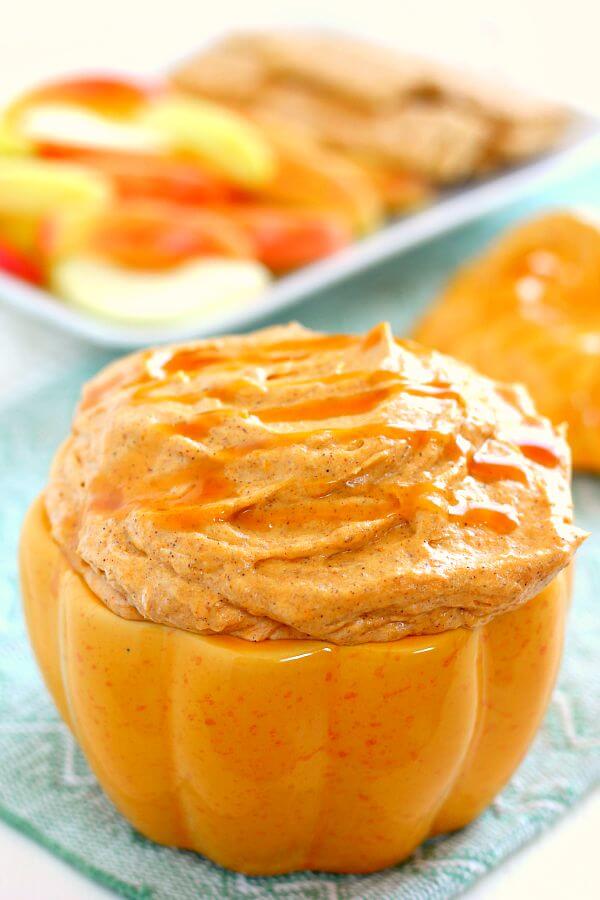 Thanksgiving and Christmas holidays are just knocking at the door and with that happening, I have a lot of holiday ideas in my mind. I have to decorate the house, buy a lot of gifts and… how can I forget about food! I throw parties ritualistically every year and we all sit by the fireplace, sing carols while taking sips of wine and eating good food. 

And who doesn't love a good dessert? So here's a shortcut dessert recipe that I make for Thanksgiving every year. It's a caramel cheesecake pumpkin dip. You just need to combine pumpkin pie mix, cream cheese, cool whip and caramel sauce and refrigerate it for 30 minutes. And it's ready to serve. I like to use homemade caramel sauce but you can use store-bought as well. Make sure, you drizzle a generous amount of that caramel sauce over the dip when you serve it.
Click here.
---
10. Avocado Cucumber Shrimp Appetizers
These holiday ideas bite-sized avocado cucumber shrimp bites are so delectable, they'll make you drool. These are super easy to make and you will have them done in just 15 minutes! First off, cook the shrimp. You'll need large, peeled, and deveined shrimps. The tail needs to be discarded too. Coat the shrimp in olive oil, minced garlic, paprika, cayenne pepper, black pepper, and salt. Now fry them up in a hot skillet for about 5-6 minutes and bring them off the heat. Now peel a large cucumber and slice it. Mash an avocado with the back of a fork and add in salt and lime juice. 

The base of your appetizer is ready. Place a dollop of mashed avocado over each slice of cucumber and top it off with a shrimp. Serve it right away!
Click here.
---
Suggested: thanksgiving wreaths
---
9. Brown Butter Pumpkin Galette with Caramelized Onions, Goat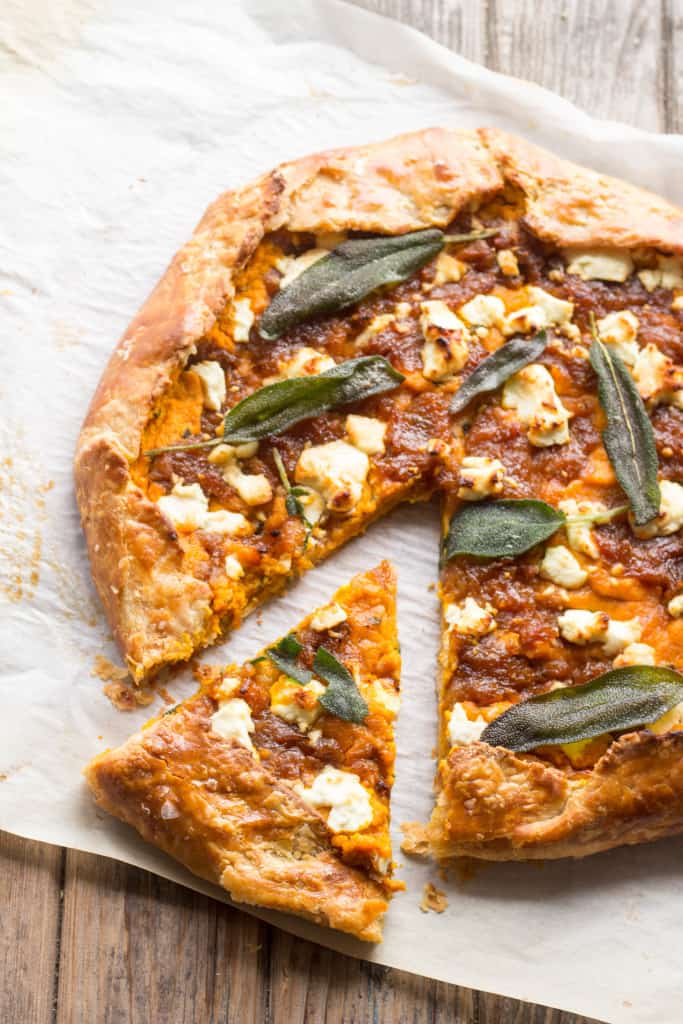 Make this Brown Butter Pumpkin Galette this Thanksgiving day for your family and friends. This recipe is so savory and the brown butter is a total game-changer. It takes an hour to prepare this dish but I promise you it's worth the time and effort. Everyone is gonna appreciate it. For the crust, you need to mix together flour and salt, and with the help of a fork mix in the cold butter with the flour until well combined.

Now whisk an egg and add it to the flour with 2 tablespoons of cold water. Mix all of it up with the help of a fork and keep adding in a small amount of water until a dough ball is formed. You don't need to knead the dough any further. Wrap it in a cling wrap and let it rest in the refrigerator for 30 minutes. Meanwhile, prepare the filling for the galette. Heat butter in a pan and let it turn brown. 

Add in the minced sage and take it off heat. In a bowl, add your pumpkin puree and the brown butter and mix it together. Now add in the egg and salt and whisk until everything is nicely combined. Now roll out the dough into a 12-inch circle and add the filling to it leaving a 2-inch gap around the edges. Then top with caramelized onion, crumbled goat cheese, honey, and sage leaves. Fold the sides of the dough and give the exposed dough a generous egg wash and sprinkle some salt. Bake for 25-30 minutes. It's crispy, golden, and scrumptious! Let it cool for at least 20 minutes before serving.
Click here.

Find more Thanksgiving drinks here for celebration.
---
8. Stuffing Stuffed Mushrooms
I know exactly the right way to use up your Thanksgiving appetizer ideas or leftovers. Make these Stuffing Stuffed Mushrooms. This easy to make appetizer is off the charts delicious and unbelievably easy to make. These are cheesy, savory bite-sized appetizers that you'll absolutely adore. Mix up your leftover stuffing with grated parmesan, olive oil, chopped parsley, and minced garlic. 

The stuffing for your stuffed mushrooms is ready. Stuff the button mushroom caps with the prepared stuffing and drizzle them with more parmesan and olive oil. Bake them in your oven for 20 to 25 minutes at 375 degrees and dig in!
Click here.
---
7. Pesto Zucchini Rosettes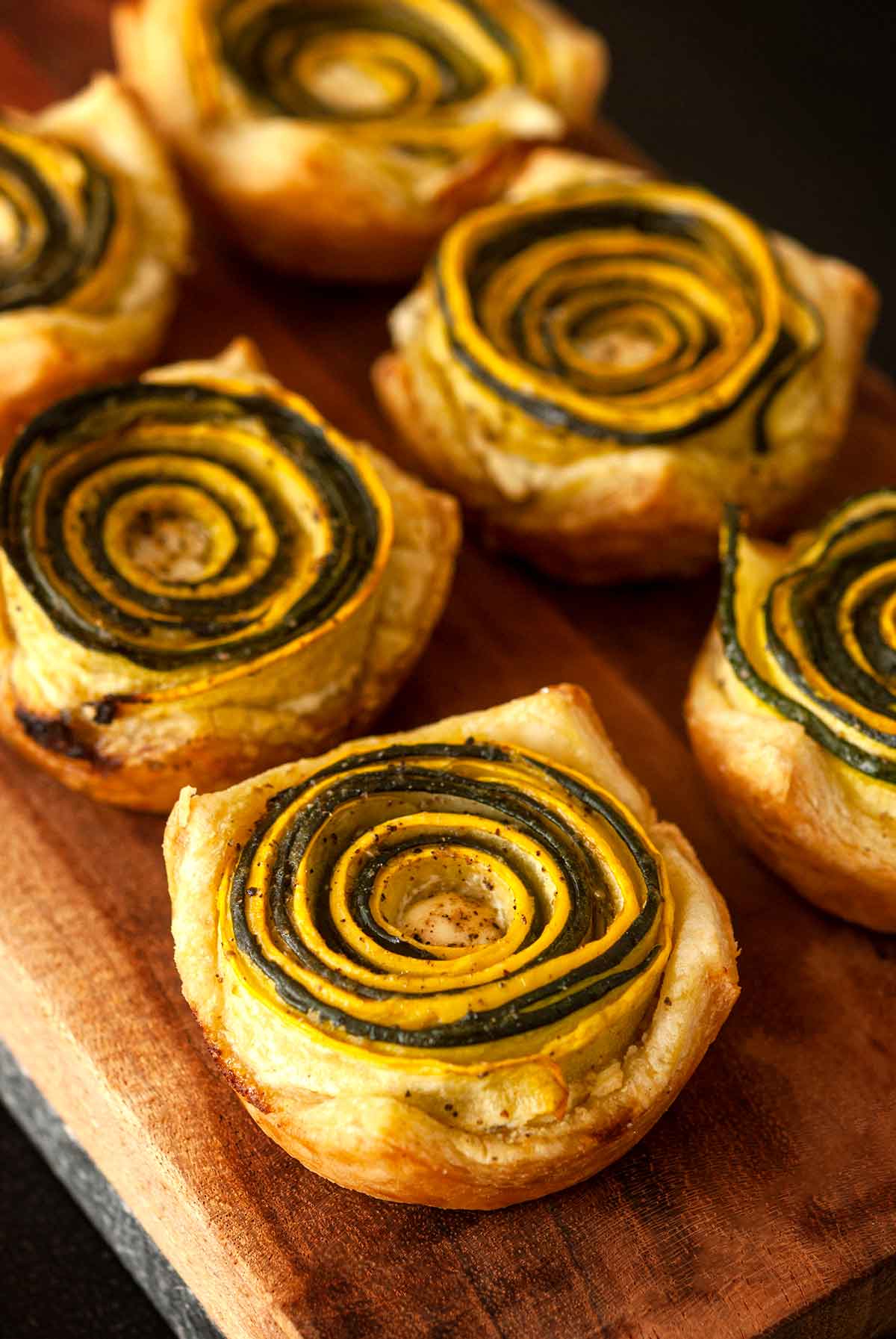 Here's another bite-sized appetizer recipe for Thanksgiving. These holiday ideas are perfectly crispy and savory. Roll out your puff pastry dough and cut small squares out of it. Grease the cupcake tins with olive oil and press the puff pastry squares down into the tins. Now put a teaspoon of Boursin cheese in each square and press it down as well. Take a bowl and prepare a mixture of olive oil, white balsamic vinegar, and pesto.

Sprinkle some garlic powder and mix it well. Then cut thin strips of green and yellow zucchini with the help of a peeler. Cut each slice into half and coat these strips with the prepared pesto dressing on each side. Then you'll have to place a yellow zucchini strip over a green zucchini strip and coil both of them together to form a rosette. Now just put the rosette inside the pastry cup and sprinkle salt and pepper on top. Bake in a preheated oven for 30 minutes and they are done.
Click here.
---
6. Pomegranate Goat Cheese Bites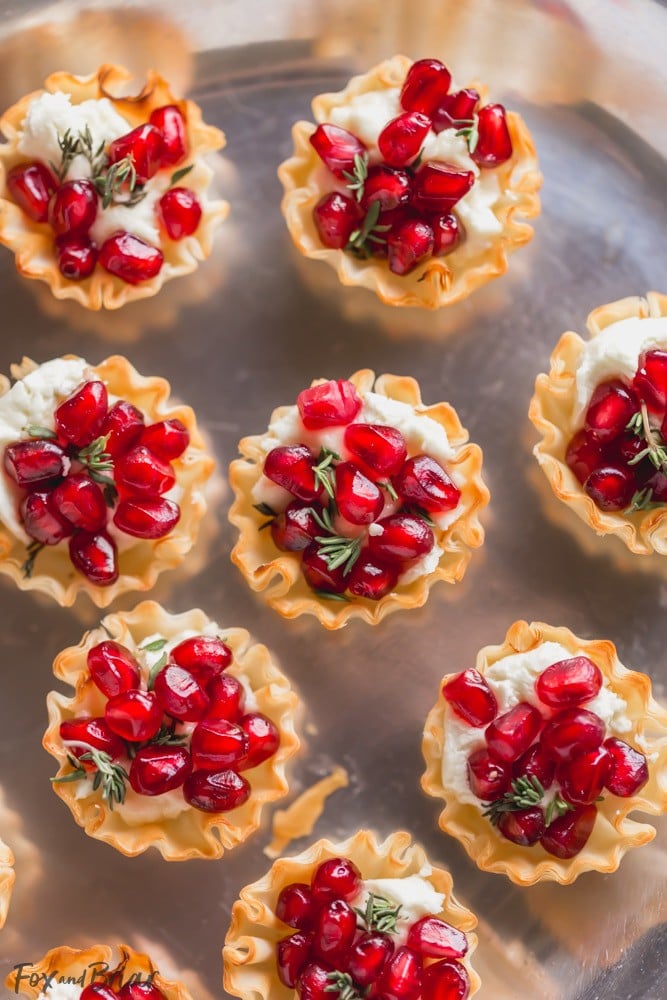 There's a burst of flavors happening inside your mouth when you have these mini pomegranate goat cheese bites. These are absolute crowd-pleasing thanksgiving appetizer ideas, be it on Thanksgiving, Christmas, or New Year's Eve. They'll rock the house! While your oven is preheating at 350°F, fill in your phyllo shells with goat cheese and a pinch of thyme and top it off with a splash of honey. 

Now, these goat cheese filled phyllo shells are ready to be popped inside the preheated oven. Bake for about 5-7 minutes. Then sprinkle each cup with a pinch of thyme again and add some arils of pomegranate in each of them. Viola! Your party snack is ready to be devoured!
Click here.

Get more Trifle Recipes for holiday celebration.
---
5. Savory Goat Cheese and Honey Bites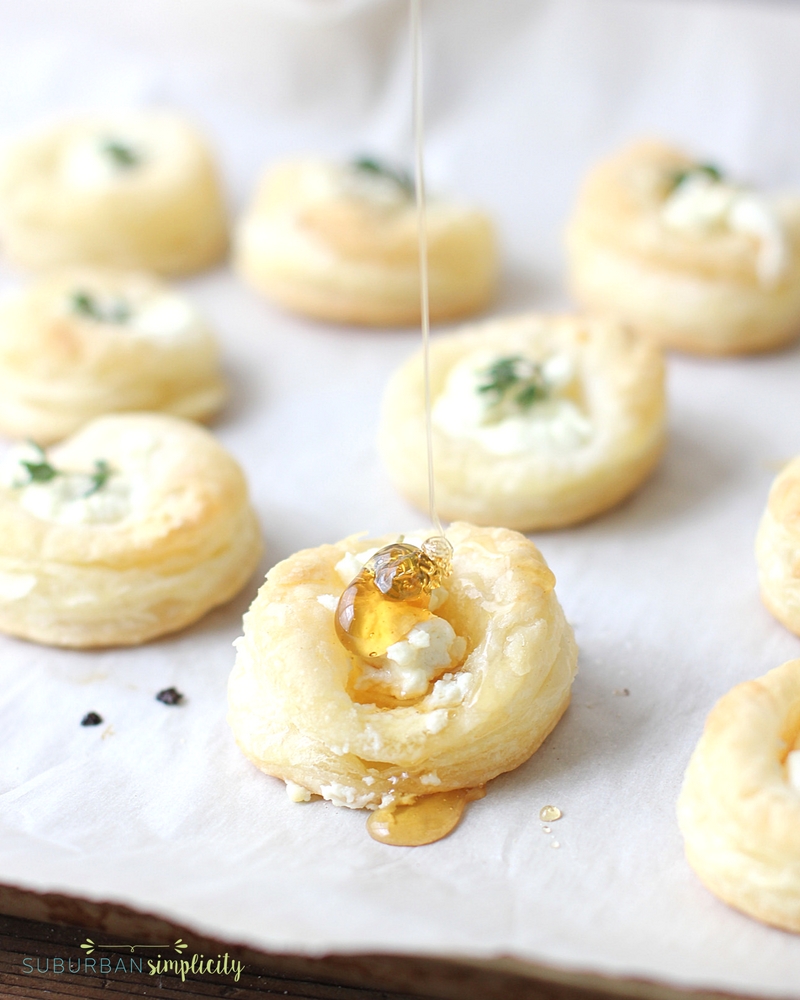 I have a list of bite-sized snack recipes for this festive season and I feel like the list is never-ending. I keep on adding recipes to it every now and then.  Here are another holiday recipes from my list that'll blow your mind and not to mention, your guests' minds as well! Roll out your puff pastry dough and cut small circles out of it. Top each circle with a dollop of creamy goat cheese and place them over a baking sheet lined with parchment paper. 

Bake them in the oven until the dough turns flaky and crispy. Garnish with honey and thyme and dig in! I promise you, these mini savory goat cheese and honey bites will absolutely make your guests crave for more.
Click here.

Find for Thanksgiving Desserts here.
---
4. Spinach Feta Pinwheels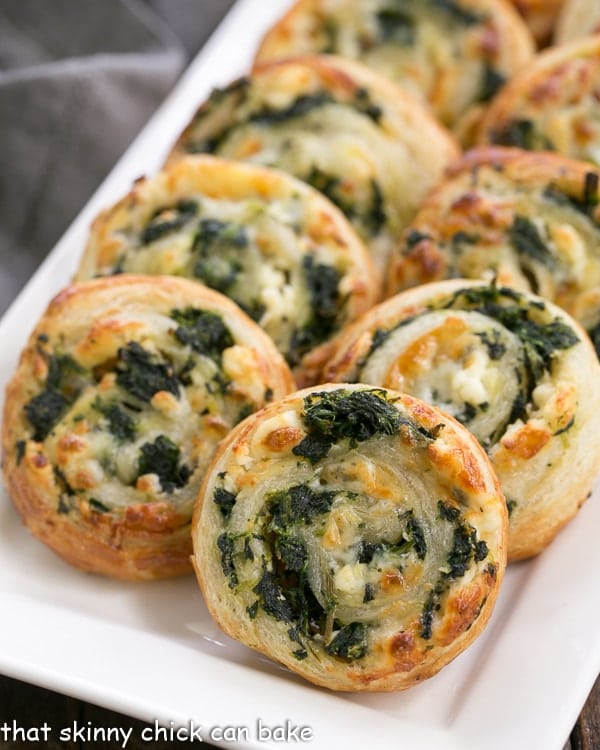 Crispy, flaky, cheesy Spinach Feta Pinwheels are a must on your party menu. Given the short amount of time it can be made in and the savory and cheesy and crispy texture that it offers, this appetizer is a must-have on a party foods menu. This simple appetizer can be put together in just 15 minutes with only a handful of ingredients. Roll out your thawed puff pastry into a large rectangle and brush it generously with egg wash. Make sure to squeeze out all the excess moisture from your spinach before chopping it off. Now top the pastry dough with the cheese mixture and spinach. 

Roll the dough just like you would roll a Swiss roll. Slice it into discs and chill it in the freezer for about 30 minutes. Then bake in a preheated oven for 15 minutes and your party appetizer is ready to serve!
Click here.

Try these amazing Christmas Appetizers to celebrate this holiday.
---
3. Chocolate Acorns
I love all things that have chocolate in them. Everyone in my family and my friends know very well how much I love chocolates and that I'm not giving up on chocolates at any cost. I've even made that clear to my dietitian! Talking about chocolates, it reminded me that Thanksgiving day is just around the corner and I'm going to make mini chocolate treats this year. I've made these Chocolate Acorns earlier and everyone in my family loves them. They're made with hershey kisses, mini vanilla wafers and chocolate chips. Melt some chocolate chips in your microwave or over a double-boiler. 

Now take a table knife and spread a little bit of the melted chocolate on the flat side of the wafer and stick it to the flat side of the hershey kiss. Press them together so that the chocolate sets. Now using a toothpick, apply some melted chocolate on the top side of the wafer and stick the flat side of a chocolate chip on it in the same way that you did with the Hershey kiss. Refrigerate them and mini Chocolate Acorns are ready to dig in! This is one of my best-ever thanksgiving appetizer ideas that you will love too.
Click here.
---
2. Sweet Potato Pie Bites
These holiday recipes of sweet potato pie bites are so addictive! I advise you to save some of these for yourself because once you feed your guests with this amazing mini dessert, they are gonna devour every bit of it. To prepare this amazing dessert, you just need 4 ingredients and half-an-hour of your time. Cut your puff pastry dough in squares and press them down in your greased muffin tins. Fill them up with sweet potato pie filling. Top it off with marshmallows and bake for about 10-12 minutes. 

After taking them out of the oven, place halved pecan nuts over each of them and drizzle them with caramel or maple syrup. You can also just dust them off with some powdered sugar if you'd like to.
Click here.
---
1. Honey Roasted Carrots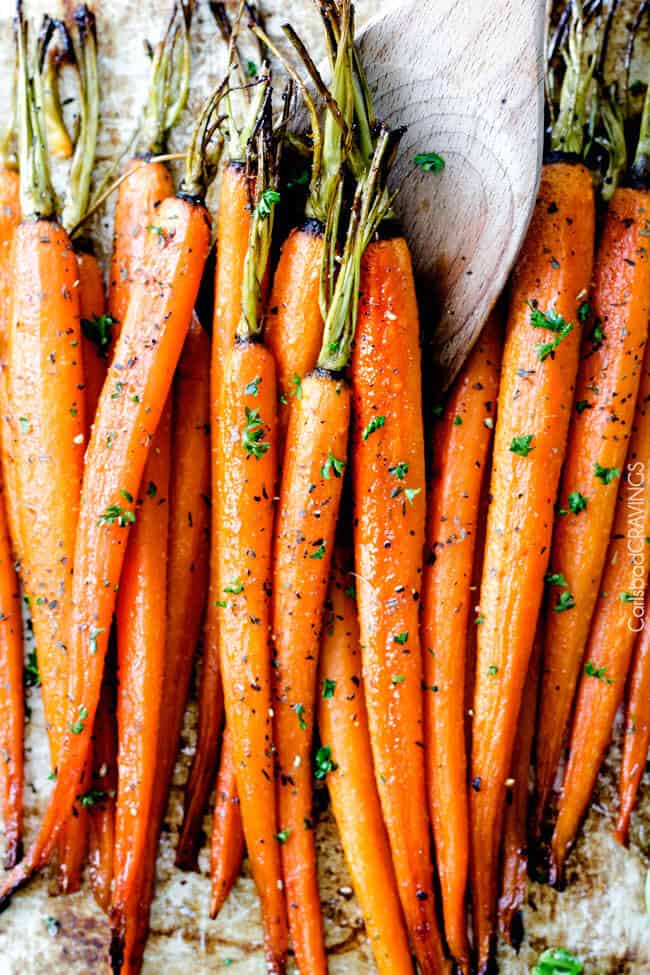 These Thanksgiving appetizer ideas make these Honey Roasted Carrots for your guests. This easy-peasy recipe is literally so easy to make that even your cat will be able to make it! Just kidding! Jokes apart, let's see how this simple yet delicious dish is prepared. First off, peel your carrots. Try to take carrots of similar size so they are cooked evenly. 

Then glaze the carrots with a coating of olive oil, honey, salt, and pepper and place them on a baking tray. Bake for about 30 minutes or until the carrots have become soft. They are amazing as a side dish and pairs really well with any kind of meat or fish.
Click here.
---
You may Like These Meal Ideas:
Halloween Food Ideas
Halloween Appetizers
Smoothie Recipes
Layered Dessert Recipes
High Protein Vegan Recipes
Halloween Dinner Ideas
High Protein Meal Prep Recipes
One Pot Dinner Ideas
---
If you like this article about Thanksgiving Appetizer Ideas, share with your friends or families on Facebook, Twitter, and Pinterest. Choose your favorite recipe and make it at home, let me know which is your best recipe in the comment. Also, you can subscribe to my blog to get all the latest updates first on your mobile.
---
To make these recipes for later, SAVE this pin on your favourite Pinterest Board