There's an array of recipes that you can try using pineapples. Especially because of its sweet and tangy flavours, it can be included in so many dessert ideas. It has also found purpose in a bunch of savoury dishes and goes so well with almost any kind of fish or meat. You will be amazed that this juicy, fleshy and aromatic fruit can be relished in so many ways – roasted, sautéed, grilled, candied or even with a dollop of ice cream on top. Here, in this list, I present to you some of the most interesting and lip-smacking pineapple desserts that will blow your mind. Whether you're looking for breakfast, dinner, lunch or dessert recipes, this list has your back. So get ready to try your hands on these utterly delicious holiday recipes.
---
21. One Bowl Pineapple Muffins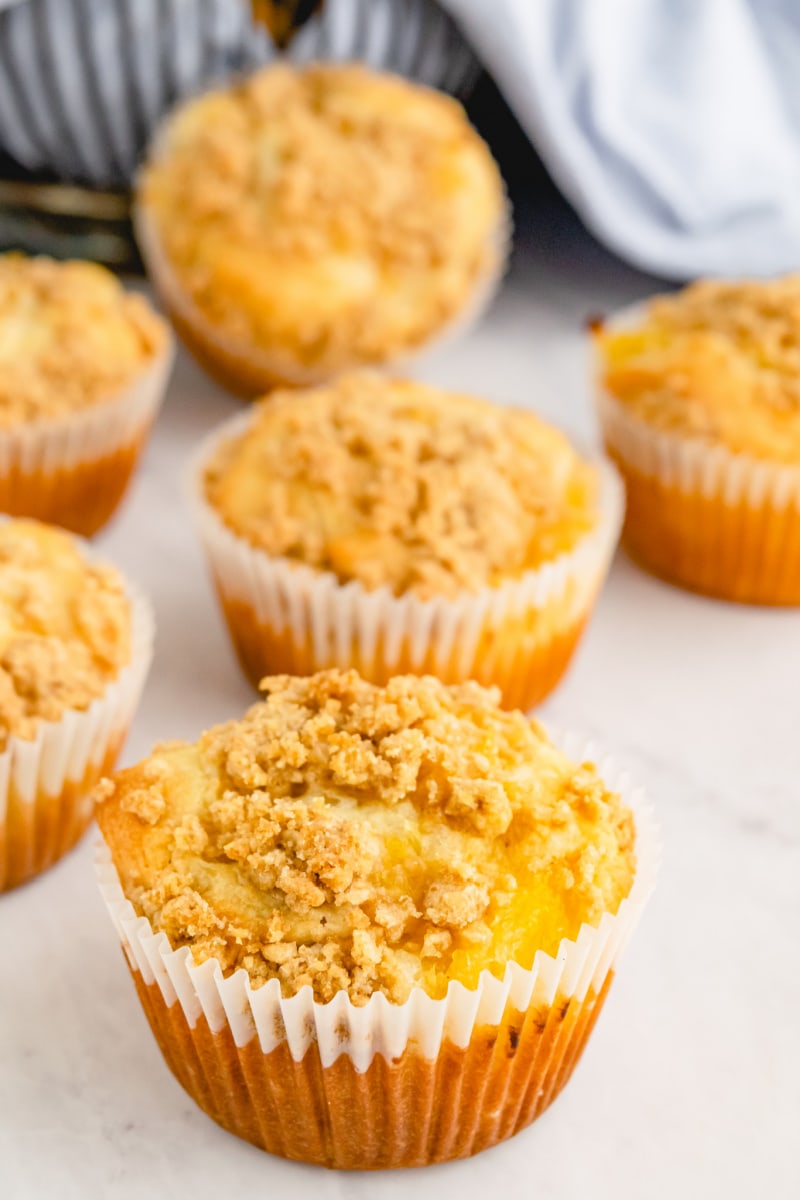 These one-bowl pineapple muffins are hands down one of the best-flavoured muffins you'll ever have. These super moist and spongy muffins are vegan and unbelievably easy to make. With just a handful of ingredients, you'll have these pineapple muffins made in under 30 minutes.

And I promise you, your kitchen is going to smell heavenly while these muffins are baking in your oven. So set your oven to preheat at 350 F and start to accumulate all the ingredients together. Mash one ripe banana using the back of a fork. Then in a large bowl, combine the mashed banana with oil or vegan butter and dairy-free milk. Sift in the flour, sugar, salt and baking powder and add in the vanilla and fresh diced or canned pineapples and mix well.

Now, divide the batter equally in a muffin tin sprayed with nonstick cooking spray and lined with 12 cupcake liners. Bake for approximately 20 minutes and your pillowy-soft muffins are ready. Let them cool down and glaze with your favourite glaze or this muffin even tastes equally delicious as is.
Click here.
---
20. Pineapple Cream Cheese Danish
Danish pastries are always a favorite when it comes to something sweet. This pineapple cream cheese Danish is just the perfect treat for you dessert lovers out there. Soft and fluffy Danish pastry filled with a pineapple cream cheese filling and drizzled with a pineapple drizzle will transport you to a land of dreams as it melts in your mouth.

Trust me, this pineapple desserts recipe is worth a try. Roll the crescent roll dough and layer with a generous amount of the buttery pineapple cream cheese filling. The filling is made up of rich cream cheese, egg yolks, sugar, vanilla, and pineapple juice. Bake the Danish for 20 minutes and let cool. Drizzle with the pineapple drizzle and dig in!
Click here.
---
19. Pineapple Sunshine Cake
Cakes for desserts? Always a YES! As much as I enjoy eating a cake, I enjoy the process of making it even more. I'm a happy baker, found most enthusiastic when it comes to baking. I had always dreamt of making a pineapple sunshine cake and this summer I finally baked my best pineapple desserts.

With a fresh whipped pineapple frosting, this cake tastes divine. For the batter, throw in the yellow cake mix, canned crushed pineapple with the juice of one can, eggs, sugar, vegetable oil, and vanilla into a medium bowl and mix with an electric mixer for 2 minutes. The silky smooth batter is now ready to be poured into a baking dish sprayed with nonstick cooking spray.

Bake in a preheated oven for around 40 minutes or until a skewer inserted in the center of the cake comes out clean. Let the cake cool. Meanwhile, you can start working on the frosting. When you're done layering the cake, you can garnish it with fresh pineapples and/or cherries on top. Now go and have a big slice of that heartwarming dessert!
Click here.
---
18. 2-Ingredient Pineapple Sorbet
Sorbets are my soul food in summer. I have tried making sorbet with almost every type of fruit — coconut, mango, strawberry, blueberry and whatnot. My holiday recipes are full of sorbets. This time I made a pineapple sorbet and I'm so obsessed with it. This 3-ingredient pineapple sorbet is all about deliciousness.

A bowl of this refreshing fruit sorbet can instantly lift your mood. All you need is fresh pineapple chunks, sugar and water. Freeze the fresh pineapple chunks for 2 hours. In a food processor, pulse the pineapple chunks until broken. Now add sugar and water and blend into a puree. Store in a container and freeze for 4 hours. Scoop up and dig in!
Click here.

Try these Brunch Recipes For Holidays.
---
17. Pineapple Coconut Thumbprint Cookies 
These pineapple coconut thumbprint cookies are the best cookies I've baked to date. These cookies are a fusion of tropical flavors that will make you indulge in them. They are absolutely delicious and the best cookies according to me. The pineapple, coconut, and lemon zest bond together to make the best tropical-flavored cookies. 

Preheat the oven to 350° and grease a rimmed baking sheet with butter. Now prepare the pineapple jam by mixing together the pineapple preserve, lemon zest, and lime juice. In a separate bowl, beat the egg and water until well combined and set aside. In another bowl add the shredded sweetened coconut and keep that aside. Beat the butter, sugar, and salt in an electric stand mixer until it's light and airy.

Then add in the coconut extract and flour and mix well. Scoop out a tablespoon of the dough and roll in between your palms. Coat the dough balls with the egg mixture and then with the coconut mixture. Then gently press each ball in between your palms. Press the center of each cookie dough with your thumb and fill in with the prepared pineapple preserve. Refrigerate for 30 minutes and bake 12 cookies at a time for approximately 17-19 minutes, let them cool completely, and enjoy!
Click here.

Find more layered dessert ideas here.
---
16. Pineapple Bread Pudding Recipe
Bread Puddings have always had a special place in my tummy! I've tried so many dessert ideas this year and this pineapple bread pudding is one of the yummiest among all. These pineapple desserts are absolutely easy to make and it's also gluten and dairy free.

It's done in just one baking pan so cleaning up becomes easy. Grease the baking pan and preheat the oven at 350°. Now mix together the butter and sugar directly in the pan. Then add in the egg and mix. Add the crushed pineapples and stir. Then gently stir in the bread cubes. Bake for an hour and it's done!
Click here.
---
15. Hawaiian Pineapple Coconut Lush
This three-layered Hawaiian pineapple coconut lush is a charmer. This pineapple desserts recipe is the ultimate dessert to impress your guests.  The crunchy crust is made with crispy vanilla wafer crumbs, macadamia nuts, white chocolate chips, flaked coconut and melted butter. Then this golden crust is layered with a rich, lustrous pineapple cream cheese whipped topping which is again layered with a pineapple pudding mix. You can use the remaining whipped topping to spread over the top and decorate the lush. Garnish with toasted coconut and maraschino cherries and serve it chilled.
Click here.

Get these amazing new years eve cocktails to celebrate.
---
14. Pineapple Pound Cake with Cream Cheese Glaze
I'm obsessed with pound cakes. A slice of soft, crumbly cake with a cup of latte is to die for. You must have tried pound cakes in so many other flavours but this pineapple pound cake with cream cheese glaze just wins the game! It's so unbelievably and heavenly delicious. 

In a large bowl, combine your butter, sugar, pineapple and vanilla extracts and beat all of that in a stand mixer. Then sift in all-purpose flour, baking powder and salt and mix that at low speed. Alternately mix in the crushed pineapples. Pour your batter into a bundt pan and bake for about 55 minutes.

After that, bring the pan out and cover the top with aluminium foil and bake for another 20 minutes. Let it cool on the counter over a wire rack. Now you can start working on the glaze. Beat the cream cheese and icing sugar and your glaze is prepared. Remove the cake from the bundt pan and drizzle the glaze over it. The cake tastes best when chilled. Slice and dig in!
Click here.

You can try gluten free muffins for snacks on the go.
---
13. Baked Pineapple Custard Recipe
Here's a bunch of dessert ideas for the holiday season. Just when you can feel the chills in the air, you know it's time for making a lot of desserts for your guests. If you have been through my blog, you know my love for pineapple desserts. Christmas is just around the corner so here's my favourite baked pineapple custard recipe for you. 

Set your oven to preheat at 350°. Then in a bowl melt butter. Mix in the flour and the sugar. In a separate bowl, beat eggs until fluffy and add in the butter and flour mixture. Now, fold in the crushed pineapple with a spatula and pour the batter into a pan. Sprinkle some cinnamon on top and bake for about an hour. Light and creamy baked pineapple custard is ready to be devoured!
Click here.

Let's try these mango dessert recipes for hot summer days.
---
12. Easy Pineapple Fluff
This easy pineapple fluff is literally so easy to make that even your little ones will enjoy making this. In this recipe, there's no cooking involved, all you do is just mix and fold and refrigerate. And the best part is, you can customise this recipe with the fruits of your choice — orange, pineapple, mango, strawberry… and the list goes on. 

Start with combining low-fat small curd cottage cheese and gelatin in a bowl. Then throw in the canned pineapples and mix that in as well. Now you just fold in the thawed whipped topping and cover the bowl with a cling wrap. Leave it in the refrigerator to set for about 2-3 hours and it's done. Grab a bowl and spoon and serve!
Click here.
---
11. Pineapple Banana Dessert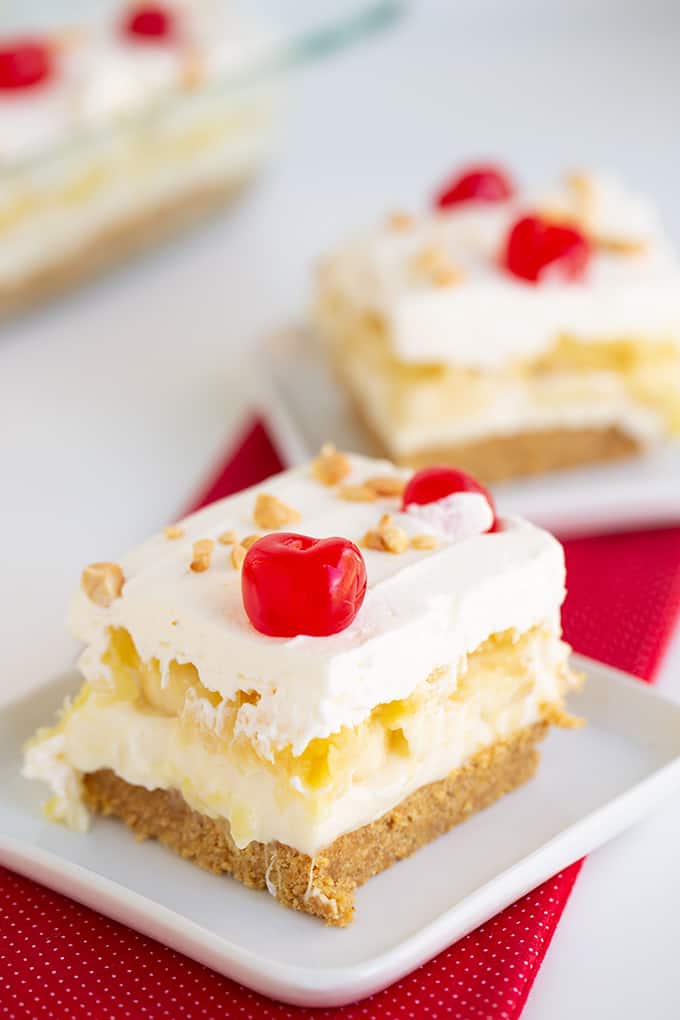 This tropical flavour inspired pineapple banana dessert has only 3 ingredients yet it is so addictive and tastes so divine that you'll always crave for more. Although it has some refined goods in it, this dessert has a good nutritional value as it is rich in potassium, iron and vitamins coming from the fruits. And the combination of pineapple and banana is heavenly. This easy-to-make mouthwatering dessert comes together in just 5 minutes. Oh yes, and you'll need an additional hour to refrigerate it. 

In a bowl, empty a can of crushed pineapple and a packet of instant banana cream pudding and mix everything well. Now fold in the whipped topping and it's ready to go inside the refrigerator. Refrigerate for an hour and serve with some more whipped cream and sliced fresh banana on top.
Click here.

Make these healthy green bean recipes for holiday lunch.
---
10. Easy Pineapple Curd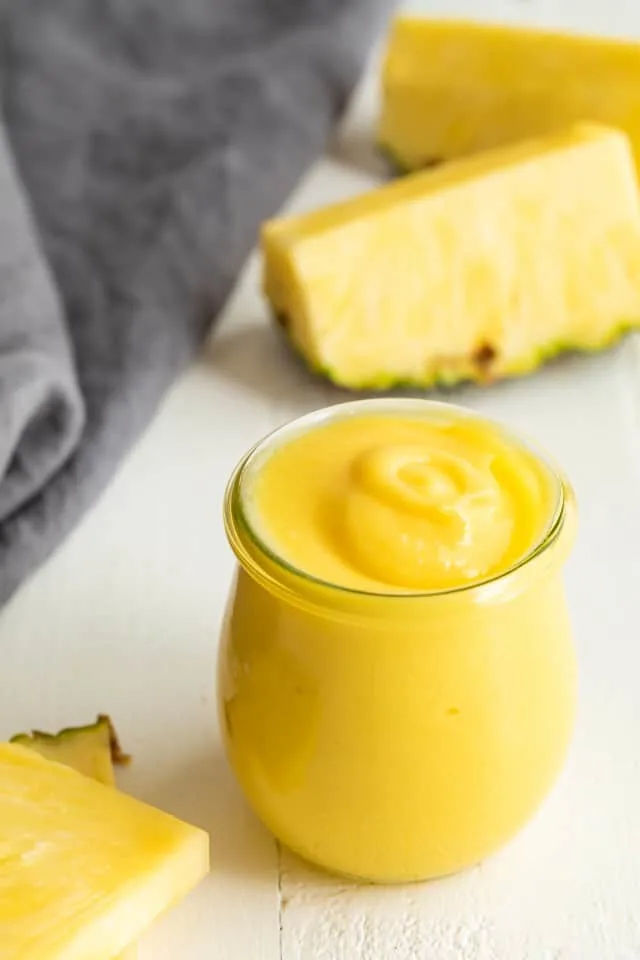 Pineapple is a fruit with which you can make any dish.  From sweet recipes to chicken, fish, all recipes can be prepared.  There are very few fruits with which you can create so many recipes. I have prepared various dishes with pineapple and believe me no one has disappointed me.  Every recipe was full of wonderful flavours.

This pineapple curd dessert recipe was taught to me by my daughter for the first time. Can't believe it?  Trust me it is very easy.  My daughter makes me this pineapple curd for breakfast every now and then before I go to work. It's as simple as it looks and it's even more delicious.

Fresh pineapple juice, white sugar, unsalted butter, lemon juice and eggs make these holiday recipes in 20 minutes.  I have come across very few easy and low time recipes so I would say add it to your dessert ideas. You can use the pineapple desserts for more important things. 

If you want to lose weight and are on a diet then this dessert is really for you, just keep all the ingredients together and leave out the sugar to make this pineapple curd recipe.  Just think of the benefits!  You will lose weight, you will be able to eat so many delicious foods and you will be able to eat everyone. If you have sweet cravings, you will get natural sweetness without sugar from pineapple and your fat-cutting ingredient, sour yoghurt. Tell him how to forget!
Click here.
---
9. Easy Pineapple Coconut Squares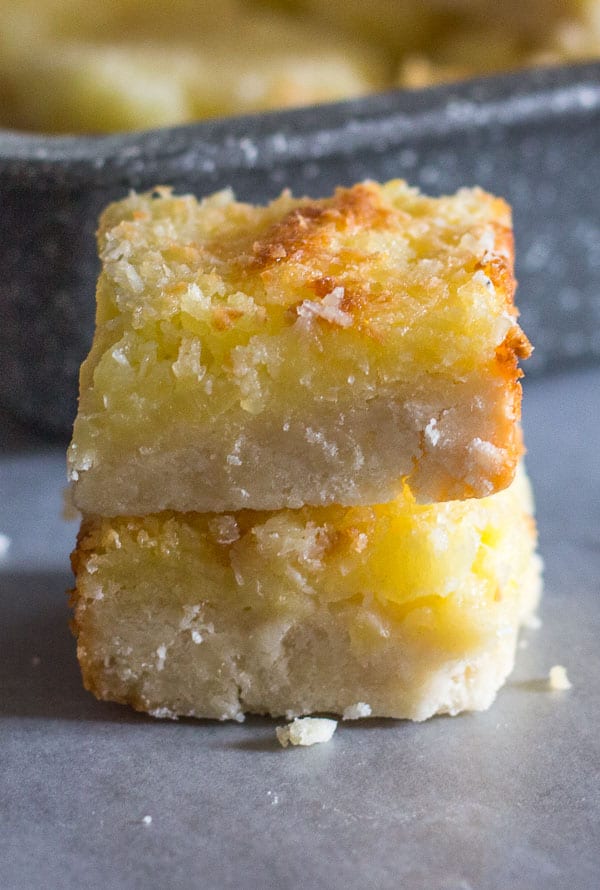 Pineapple is my all time favourite fruit. Eating coconut is also very fun. So I make my favourite pineapple coconut squares in any of my home festive or holiday recipes. For myself and for everyone at home.  My whole family loves these pineapple desserts. The natural flavour that pineapple has in it is really nice and some great ingredients are mixed with it to make this delicious dish. This recipe is as simple as it is delicious.

This recipe is sized just like a mini cake.  Soft and juicy and thick. This recipe takes 15 minutes to prepare and 50 minutes to bake. This pineapple shortbread is a perfect dessert ideas.  Pineapple coconut squares are made with flour, butter, and sugar.  Its topping consists of butter, sugar, eggs and the most important ingredients are crushed pineapple and flaked or shredded coconut. I use shredded coconut. Coconut and pineapple flavour in every bite. It's really delicious.
Click here.
---
8. Pineapple Coconut Crumb Bars Recipe
Pineapple Coconut Crumb Bars are always my favourite. These pineapple desserts look amazing just like a mini cake. And is full of delicious flavour. Every bite is as crunchy as it is soft and juicy. You will want to eat this dessert once and again.  You'll be sure to love any pineapple dish at any party or holiday recipes, thanks to its incredible flavour.

This recipe requires only a few ingredients to make the Crust Crumb Topping.  Magic is made with all-purpose flour, unsweetened and coconut granulated sugar, baking soda, baking powder, salt, butter melted and cooled crushed pineapple granulated sugar and cornstarch. That magic is Pineapple Coconut Crumb Bars. This recipe takes less than 10 minutes to prepare and 20 minutes to complete.  I love this dish and my family and everyone like this dish.
Click here.
---
7. Pineapple Upside Down Dump Cake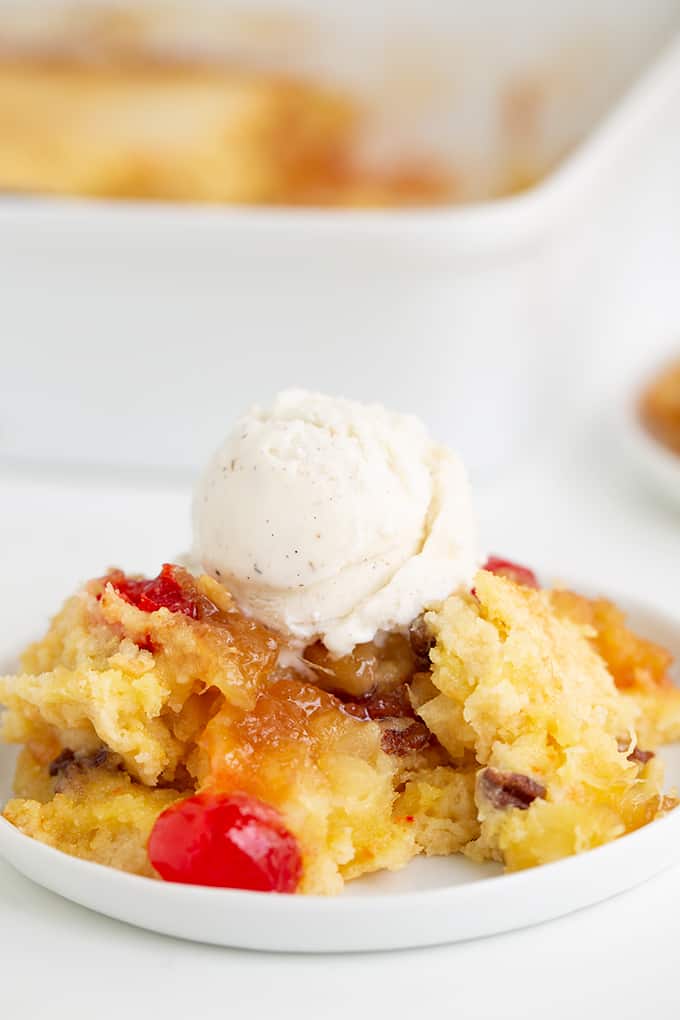 This one pot dessert recipe is going to be delicious.  Pineapple Upside Down Dump Recipe is so soft and juicy that you will become a fan of it once you try it.  My mother forced me to eat pineapple when I was a child but believe me now I am a big fan of pineapple.

What makes this recipe even more delicious are the ingredients in it. This makes for a really buttery recipe thanks to the butter.  Brown sugar and well-mashed fresh pineapple make this dish even sweeter and juicy. The red color of maraschino cherries adds beauty to this recipe as well as flavor. Boxed cake mix makes your cake soft. 

Make great holiday recipes with these magical ingredients. These pineapple desserts are truly delicious. It takes 10 minutes to prepare and 25 minutes to make. You can also use pickiness in between, but I never did.  But I use walnuts. This a recipe you will add to your dessert ideas once you taste it.
Click here.
---
6. Pina Colada Cheesecake Mousse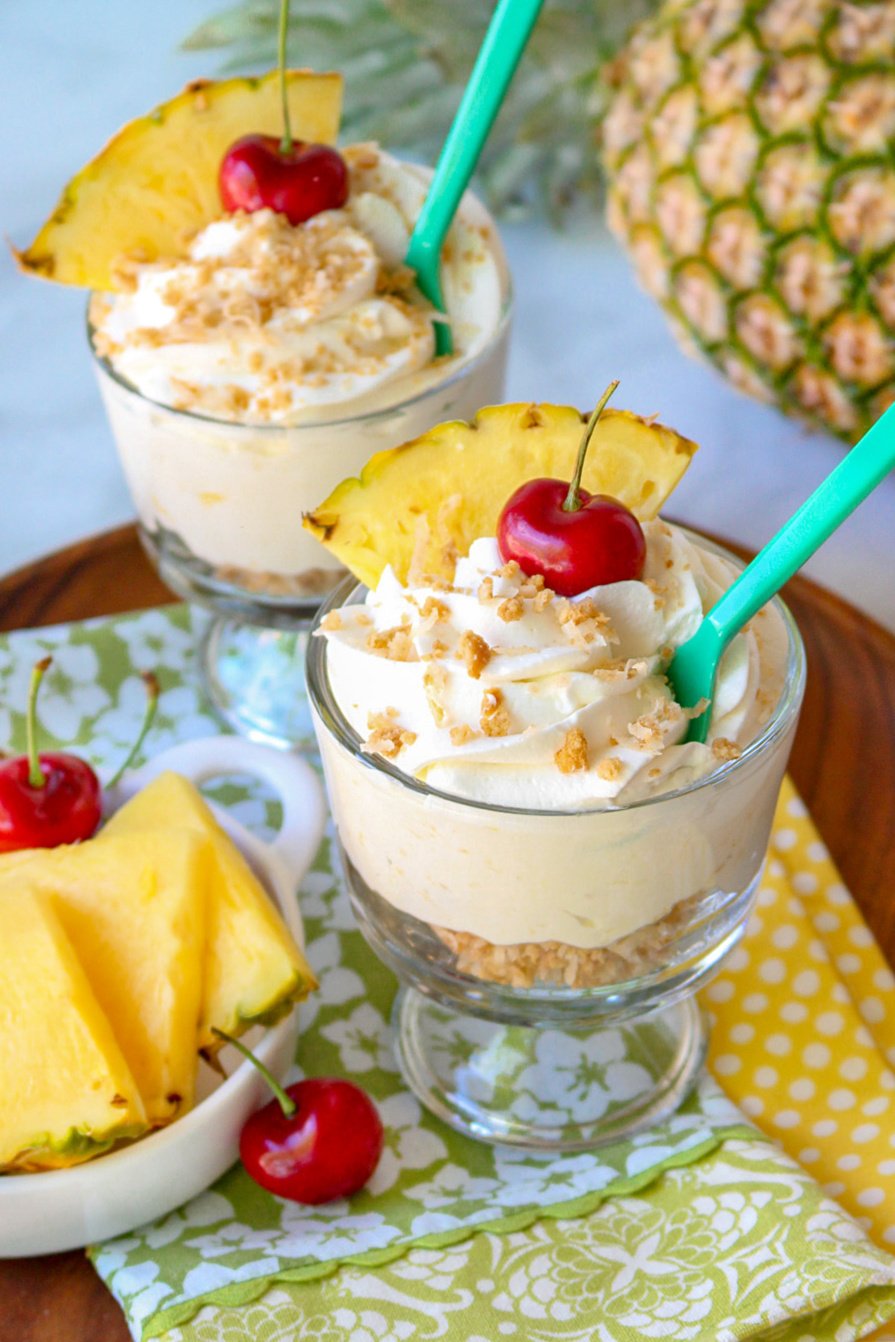 Imagine you're about to taste pineapple desserts that get lost in a mountain of cream. Really this Pina Colada Cheesecake Mousse is so delicious.  And it is very easy to make.  This cheesecake is so beautiful that it will disappear at your party. When I make these pineapple desserts at my house, it disappears within 1 minute.  This cheesecake is a favorite of everyone in my house, especially my husband.

Graham crackers, shredded coconut, sugar, butter melted, heavy cream, powdered sugar, cream cheese, vanilla extract, and finely chopped pineapple are the ingredients used in these holiday recipes. Fresh pineapple and cherries are used for garnishing. I also garnish with some ingredients of my choice.  I love to vary the cooking. This is a no-bake recipe so you can make it without any problem.  It is perfect as dessert ideas.  Within 50 minutes you will reach the mountain of cheese.
Click here.
---
5. Pineapple Coconut Bread
I always love to experiment with cooking.  So I have come up with many gooey pineapple dessert recipes for you.  But don't forget to scroll! Shredded unsweetened coconut, flour, baking soda, salt, sugar, and butter. Make this delicious bread with eggs, sour cream, crushed pineapple, powdered sugar and milk. 

This is a great holiday recipes for everyone.  You can taste this delicious coconut toast within 50 minutes.  And you will drown in the juicy taste of pineapple.  I can assure you that this bread is going to be the best dessert ideas you will ever have.  I know you'll thank me after you eat it.  So why the delay?
Click here.
---
4. Mini Pineapple Cheesecake Trifles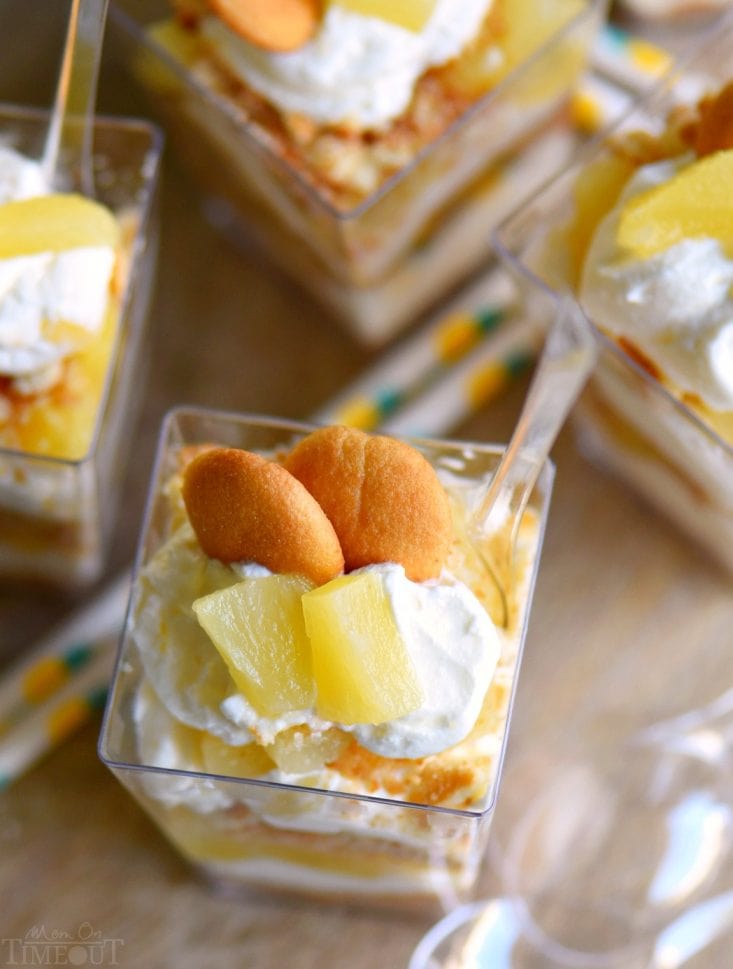 These mini pineapple cheesecake trifles are the kind of layered desserts that your heart will want more of. These trifles are super easy to make and have only 4 ingredients in it and you'll have them made in just 10 minutes. Strain the pineapple juice from the canned pineapple and keep that aside. Now chop the pineapples and set aside. Take cream cheese in a medium bowl and beat until it becomes light and airy.

Then beat in the reserved pineapple juice and 1/2 cup of the pineapple chunks. Then fold in the whipped cream. Now it's time to layer the trifles in small glass jars. Layer one tablespoon of crushed vanilla wafers, top with one to two tablespoons of pineapple cheesecake filling and then one to two tablespoons of pineapple chunks over that and repeat until the jar is filled. Garnish with a mini vanilla wafer and a few chunks of pineapple on top and serve chilled.
Click here.
---
3. Pineapple Bars Recipe
Try my new experimented pineapple desserts once. It is my belief that everyone will love to eat it. We need 20 minutes to prepare it and a maximum of 40 minutes to make it. For it made the whole recipe, first we need some dry ingredients. Those are all-purpose flour, salt, and sugar. Then, for mixing them we want butter and an electrical whisk for mixing all the dry ingredients. The flavor of pineapple make a magical flavour to these bars.

Separate this mixture into two parts. The first one is for topping and the second one is for baking the bars. Fill up the second part with pineapple filling after baking. Then decorate it with the other mixture which was separated for the topping.  Again, bake it in a preheated oven for a minimum of 10-15 minutes. You can store it for some days in an airtight container. Make these easy pineapple bars any day at your home.
Click here.

Make more Thanksgiving Desserts for holiday celebration.
---
2. Pineapple Sugar Cookies 
Cookies are my all-time favourite thing to bake. These cute decorated pineapple cookies are not only very attractive but also very tasty to eat. You only need 20 minutes to prepare and 10 minutes for cooking. This recipe is completely a nice choice for sweet lovers.

First, you have to make sugar cookies. For making them, we want butter, sugar, baking powder, salt, almond extract, flour, and egg. Mix all these ingredients and bake them in a preheated oven for some minutes.

To make the Icing, We need meringue powder, warm water, imitation butter flavour, powdered sugar, light corn syrup, and imitation vanilla powdered sugar. Make yellow and green icing to decorate it as a cute pineapple cookie. Children will love them to eat. And it goes perfectly on any type of house party.
Click here.
---
1. Cinnamon Fried Pineapple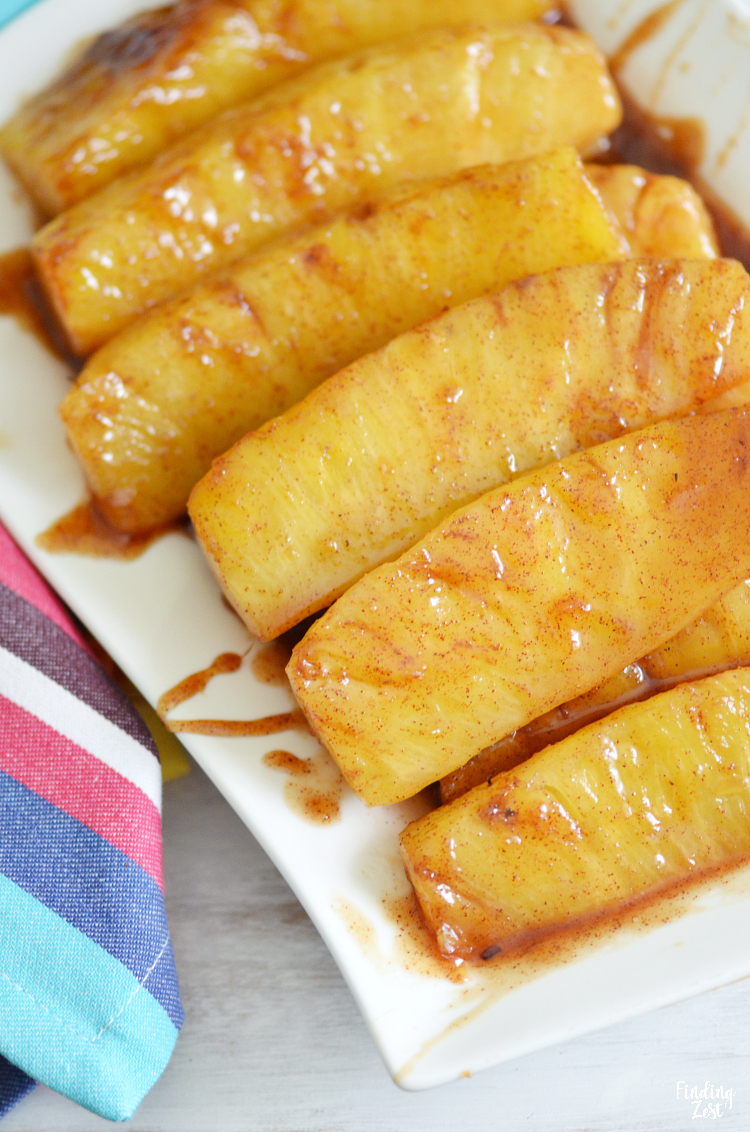 Make this crispy Cinnamon Fried Pineapple recipe for your family parties. It is a perfect idea for making pineapple desserts. I am pretty sure that your family members will love it. You need some ingredients to make this dessert. You can pair this recipe with ice cream or other sides.

It will taste like heaven. Try it at least once. It would help if you had some unripe pineapple for making this recipe. Then, add some sugar(if you want ), and maple syrup and you can also add some dry fruit for decorations. Most people make simple regular smoothies from pineapple. 

But if you make this delicious, easy dessert once. I am pretty sure that you will make it over and over again. This recipe only takes 10 minutes to prepare and 10 minutes to make. Serve these wonderful pineapple desserts to your family on your weekends.
Click here.
---
You may Like These Meal Ideas:
High Protein Low Carb Recipes
Smoothie Recipes
High Protein Vegan Recipes
Fritter Recipes
Summer Punch Recipes
Halloween Dinner Ideas
High Protein Meal Prep Recipes
One Pot Dinner Ideas
Crockpot Recipes
---
If you like this article about Pineapple Desserts, share with your friends or families on Facebook, Twitter, and Pinterest. Choose your favorite recipe and make it at home, let me know which is your best recipe in the comment. Also, you can subscribe to my blog to get all the latest updates first on your mobile.
---
To make these recipes for later, SAVE this pin on your favourite Pinterest Board