Valentine's day is just around the corner. On this day, surprise your life partner. Give a special moment. Express how precious he is in your life. There is no specific day to express love. But there must be a day to celebrate love.  I have come up with 21 best dessert recipes to celebrate Valentine's Day. Valentines Day desserts will be loved by everyone. Five more bonus romantic dessert ideas are listed here to make your surprise even better. I have tried.  So convenient and easy to make. These handmade gifts are perfect. They are ideal for sending gifts anywhere. So make them!
---
21. Valentine's Day Sugar Cookie Bars
These Valentine's Day Sugar Cookie Bars I made. They are so delicious and easy.  These are the best cookie bars for Valentine's Day.  These are cakey, tender, creamy and sweet desserts.  These kinds of dessert ideas are ideal for any festival. They are easy to pack. You might think it is difficult to pack as a gift but believe me it is very easy to pack. I sent it 2 hours from my home.

When my mom received it.  It was exactly the same then.  Packed in a gift box slightly larger than what they will be, they will be exactly the same. Food color has been used in it. For Valentine's Day. Red and Pink are loved by everyone. Especially girls and kids.  I made this for my mother as Valentine's gift. I believe there is no better person to love than a mother.
Click here.

These amazing valentines day recipes to celebrate.
---
20. Valentine Day Charcuterie Board
When have you received or given a gift with this Charcuterie Board!  I received this gift and gave it again. Try it once. It will save your time and with it your pocket. You will be able to win the candy heart of your loved one with this charcuterie board. So many desserts together will make someone happy. I went crazy. So many favorite decadent desserts.  I was crazy to get it together.

My husband gave it to me. He made it again with his own hands. Can you imagine!  She prepared and arranged them while I was at the office. The room was dark and waiting for me. I opened the door to see so many desserts and the prince of my dreams. And, I was really happy. I felt special.
Click here.
---
19. White Chocolate Valentine Fudge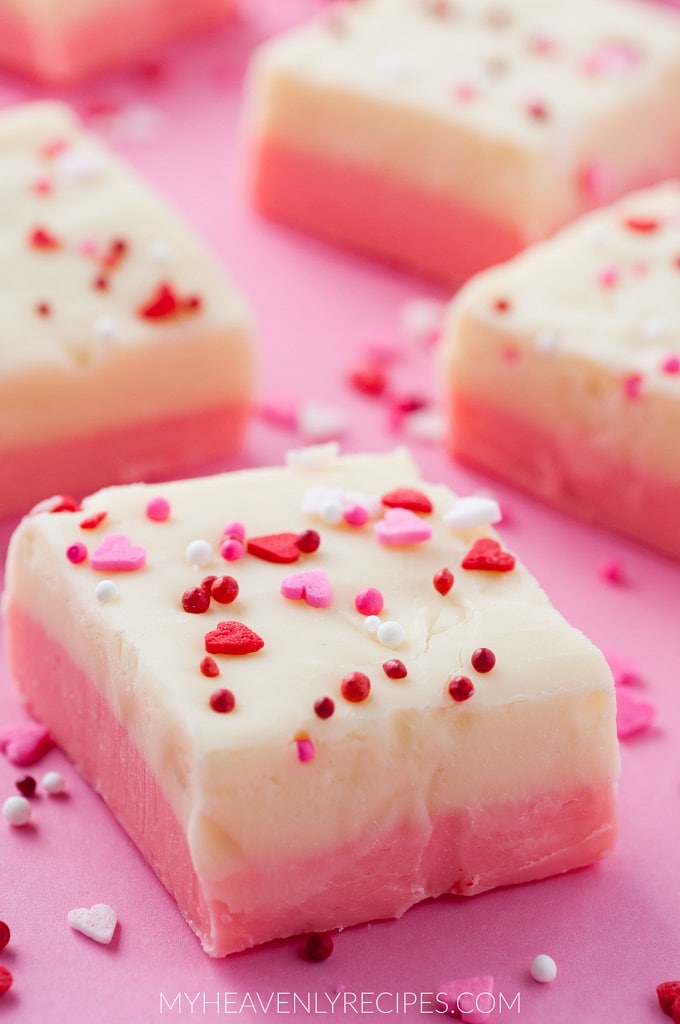 This White Chocolate Valentine Fudge recipe is perfect for handmade gifts. It's an ideal dessert recipe to give to anyone. It's crumbly but not cakey in texture, but very soft. It melts in your mouth. This dessert is full of love.  You will be lost in the taste. This delicious dessert is made by adding white chocolate chips, sweetened condensed milk, red food color, vanilla extract etc. Make it and leave it to cool for 2 hours then cut it into squares.  These valentines day Desserts witness everyone's love moments.
Click here.
---
18. Valentine's Day Chocolate Raspberry Cake
I got familiar with this triple Chocolate Raspberry Cake long ago. My husband made it on my birthday. He is not a professional baker, but he loves to make cakes. My husband makes this cake on all of our birthdays.  She likes to bake.  Her hobby is to experiment by making different types of cakes.

Everyone was amazed by this cake on my birthday. Such a beautiful looking cake. After tasting it, I realized that it tastes as good as it looks. It's creamy and soft. It's made with raspberry, organic chocolate cake mix, chaokoh coconut milk, Taruni signature raspberry syrup, food colors etc. Garnished with raspberries and heart made with dark chocolate. It is a perfect cake to celebrate birthdays or valentines or weddings.
Click here.

Make these delicious valentines day cookies for celebration.
---
17. Raspberry Cheesecake Brownies
These Raspberry Cheesecake Brownies are not just Valentines day desserts or party ideas, they are a showstopper for any celebration. These classic brownies are enough to win everyone's heart.  These brownies are creamy and soft. They are easy to bake. Raspberries, eggs, brownie mix, vanilla extract and cream cheese are added to these delicious brownies. It will make your loved one happy, and their teeth happy. I can guarantee that these brownies will be loved by everyone.
Click here.
---
16. Red Velvet Sandwich Cookies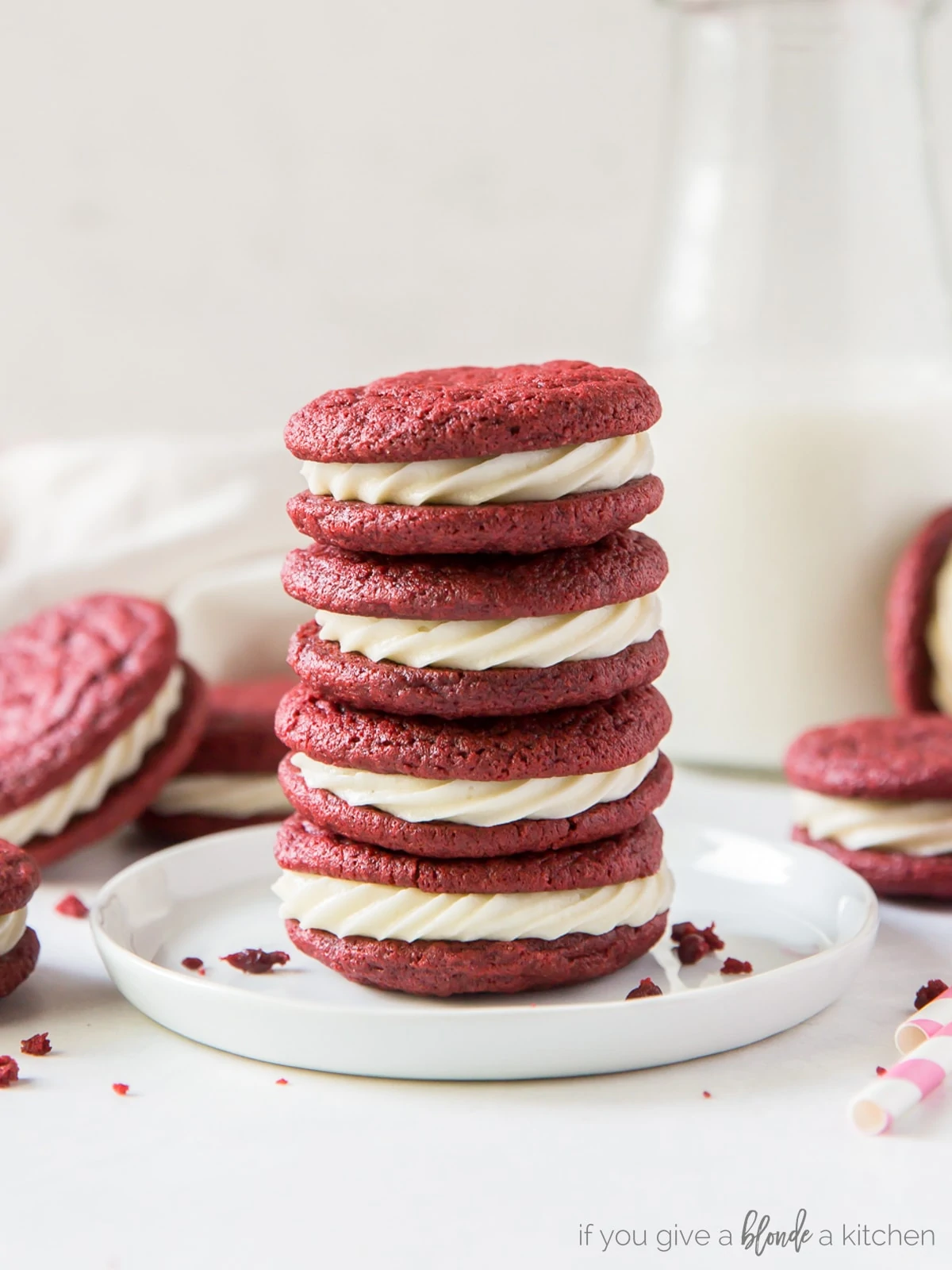 My partner and I decided that we would make a dessert together. Which we have never had before. After a lot of searching and thinking, we planned to make these Red Velvet Rose Sandwich Cookies. On Valentine's Day, we made a dessert together in the kitchen, so beautiful.  Spent moments. We share many things throughout the year. But that day we were just talking to each other. Our past stories, love stories, going on dates. We were drowning in each other's words. Truly cooking together will be a beautiful time of life.  to us

We chose these beautiful Red Velvet Rose Sandwich Cookies because they are beautiful and perfect for celebrating Valentine's Day. Roses are the symbol of love. These types of Valentines Day desserts are made for lovers. This sweet, soft dessert is made with cocoa powder, red food color gel, buttermilk etc.  It takes 18 minutes to make. After making it we were really happy to see it. And so sad to see the kitchen. hehe!  We cleaned the kitchen together.
Click here.
---
15. Valentine's Day Oreo Pops
These Valentine's Day Oreo Pops are a huge hit as handmade gifts. They are a girl's favorite. My sister made them for me on Valentine's Day.  To Raquel, I am her love. We are the best friends of two sisters. We can't live without talking once every day. Even though Raquel is younger than me, I take my life advice from her.  I am very fond of anything pink. So she made these Valentines Day desserts for me.

I opened the gift wrap and saw them and kissed them. Within minutes all the Oreo Pops were gone. The best thing about this dessert is that it is made with Oreos. That's why it's my favorite.  I've had bars but it's really become my favorite. My favorite pairing is the Oreo cookies and assorted love sprinkles. I know my sister is reading this and laughing. I love you so much little sister !
Click here.
---
14. Strawberry White Chocolate Bark
My boyfriend has tried all kinds of desserts. Whenever I see the name or picture of any dessert, he tells me what it's made of or how to eat it. He is actually a real dessert lover.  Which he has never eaten. I did a lot of research and picked this Hearts in Twists Candy Bark dessert recipe. I sure have never eaten it. Because he never told me its name. I will be so happy if I lose the challenge because I will be my partner for the first time. 

Going to make dessert for. I'm keeping my fingers crossed that it turns out delicious. Even, I'm very restless until it's ready. Also, I'm going to add pretzels, candy melts candy, bags of cocoa candy melts, valentines nonpareils sprinkles and heart sprinkles to this delicious cute dessert. And, I've been waiting for an hour to see it. After testing it, I know it's good enough. Ah Ah!  It's really amazing! Hope he likes it.
Click here.
---
13. Peanut Butter Pretzel Hearts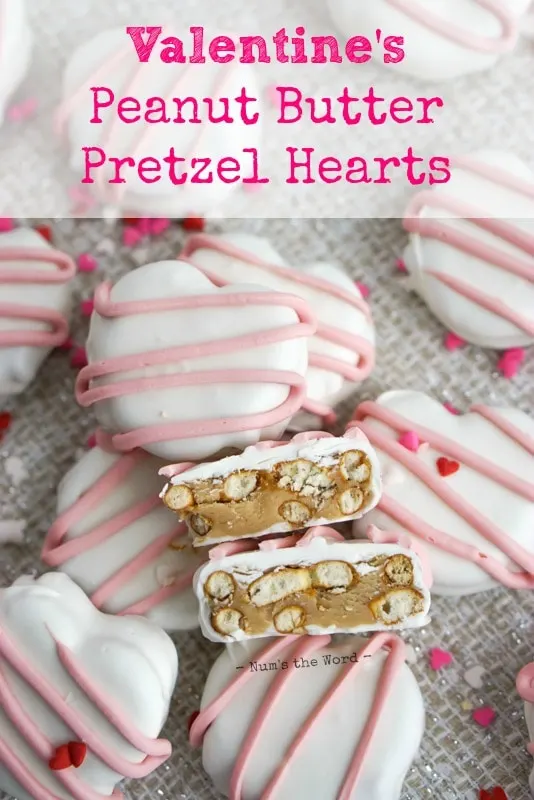 This is a no bake dessert recipe. Very easy and ready in minutes. These are Peanut Butter Pretzel Hearts. The recipe is one of the perfect dessert ideas. I was looking for a dessert with a combination of pretzels and peanut butter.  Because my mom loves this pairing. No need to bake it. Combine pretzels with peanut butter, dip them in white melted chocolate, leave them to dry, then garnish and bite into them. Phew!  They are soft and crunchy!  I am sure my mom will love this dessert. I have packed these for my Valentine.
Click here.

Get these amazing Valentines Day Cupcakes to gift your partner.
---
12. Valentine's Day Mini Apple Pie
Valentine's Day mini apple pies are the perfect sweet dessert ideas to share with a special someone. These apple pies are absolutely tasty, but they are shaped like sweet hearts. This recipe for little apple pies is amazing! They are easily adaptable to various holidays or special occasions, making them perfect for Valentine's Day.

Apples that have been coated in butter, brown sugar, and cinnamon are the main ingredient in a flaky pie that is shaped like a heart. I used these cookie cutters to carve out the heart. You need these delectable tiny apple pies to kick off your Valentine's Day. I prepared these for my fiancé, and he adored them to the fullest. My favorite desserts are apple pies since I love anything with cinnamon in it.
Click here.
---
11. Valentine's Day Cheesecake
I made this Valentine's Day Cheesecake earlier too. But to update it again, I have listed it in this Valentines Day Desserts. I made it as a simple cheesecake. But this time I added pink food coloring to give it a Valentine's Day touch and  I used heart-shaped sprinkles. It is just as delicious as the previous cheesecake.  Oreo cookies, crumbs, cream cheese, heavy cream, etc. have been added to it. Strawberry extract and fresh strawberries have been added to make them more delicious.  This is a very soft fluffy cheesecake. Kids will love it. Also, if you are planning Valentine's party for your partner, it is ideal.
Click here.

Try these amazing Valentines Day Breakfasts to celebrate the morning.
---
10. Red Velvet Cake Balls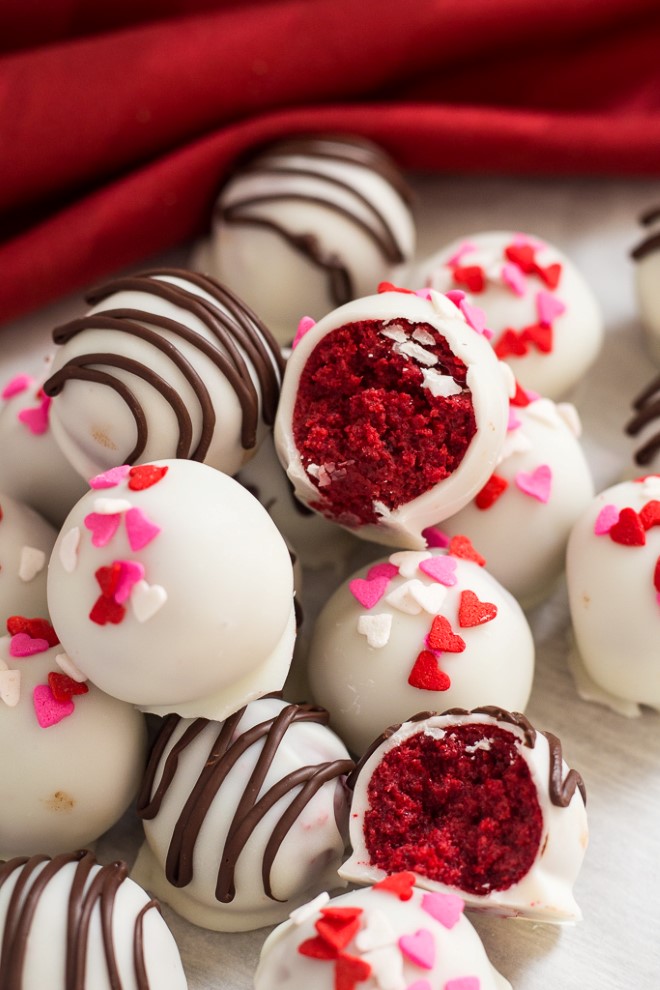 Red velvet is a metaphor for joy and love. Don't you imagine a deep crimson truffle with white chocolate chips on top when you think of confetti falling on a joyful couple? For Valentine's Day, make these red velvet cake balls to express your love to that special person. These balls feature the traditional buttery-sweet, mild cocoa flavor of red velvet cake and are decorated with white or semisweet chocolate chips. For Valentine's Day, it's perfect that covered with white chocolate ganache!

These truffles have an intense flavor that strongly resembles that of the traditional red velvet cake. Whether or not it lives up to the name "chocolate," it tastes beautiful and has a distinct flavor in my mind's eye, despite the fact that it can be challenging to articulate. A trace of cocoa is there, and it is sweet and buttery. I'll admit that baking these red velvet cake balls using semisweet chocolate chips will undoubtedly push the scales in favor of chocolate.
Click here.
---
9. Heart Cutout Cupcakes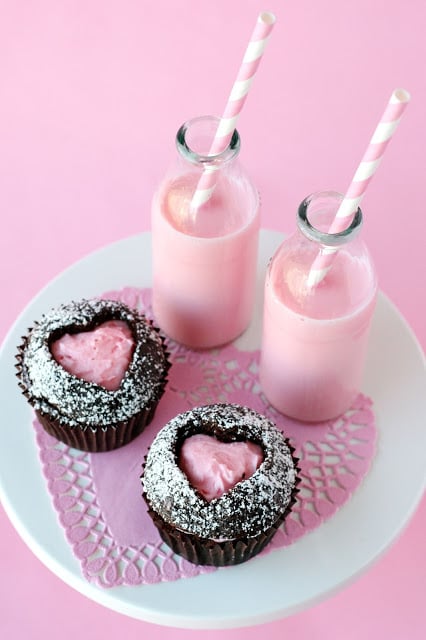 I make dessert for my husband every Valentine's Day.  Some years frosting raspberry cake or some years red velvet truffles. That's what my little girl has learned. So now she'll be making Valentines Day desserts for her daddy.  Again, she told me that she would need some help from me. So I asked her to make Heart Cutout Cupcakes. She liked it as soon as she saw the picture. I chose this cupcake because it is very delicious and very simple. Can make it. And my husband loves to eat cupcakes. He's never tried it for the first time with his little daughter. Victoria doesn't know that she's making it for her dad. All the surprises. Ssshhhh!
Click here.

Make these amazing Valentines Day Crafts for your partner.
---
8. Kewpie Heart Logo T-Shirt
Are you looking for completely different dessert ideas!  What you have never eaten before. Your Valentine's partner has never tasted it!  Then you keep reading this. This Kewpie Heart Logo T-Shirt dessert will surely satisfy you. It is my favorite dessert and unique recipe. You don't need to spend a lot to make it.

This delicious recipe uses Kellogg's® rice krispies®cereal, butter, mini marshmallows, pink candy melts and white candy melts. It's very easy to make.  It is made with rice. Then it is made into a heart shape with a heart shaped cookie cutter. It is being made for Valentine's Day, so it won't have a touch of pink!  Yes of course there will be.  Dip half of it in melted pink candy then garnish with white candy melts. Once dry, gift to your Valentine!
Click here.

Try these amazing valentines day appetizers to enjoy the day.
---
7. Chocolate Valentine's Heart Cupcakes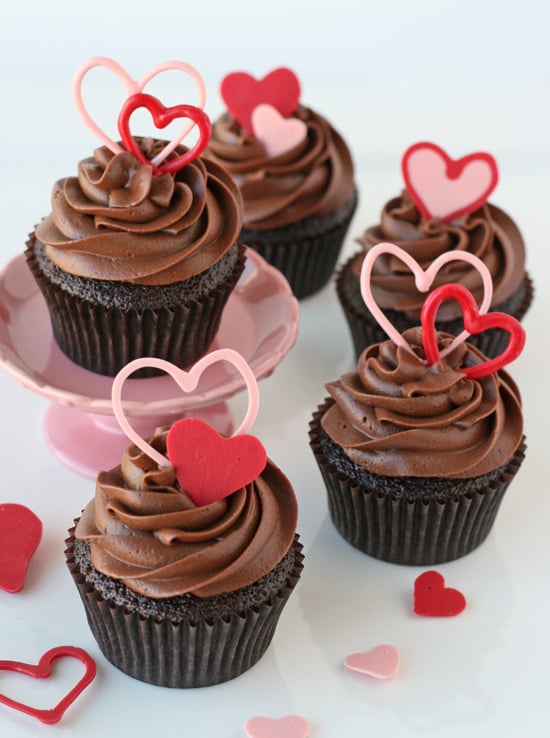 These Valentine's Day heart chocolate dessert cupcakes are perfect for giving anyone you care for. Not just a life partner, parent, sibling, or friend can receive these cupcakes as a present. To us, everyone we care about is a Valentine. Create these amazing Valentine's Day cupcakes and wow everyone. On Valentine's Day last year, I gave this dessert to every employee at my office.

They are simple to create and pack. These moist and delectable traditional cupcakes are created with milk, vanilla, whole milk, butter, cream cheese, etc. and contain cocoa.  It takes only a few minutes to make at home. After that, you spend time decorating it how you see fit for your loved ones. It is quite delicious! Aren't these amazing Valentines Day desserts to enjoy with your loved ones?
Click here.

Try these holiday cocktail ideas for entertainment.
---
6. Valentine's Day Cake Batter Fudge
My sister is a dessert bug. There is no restaurant where she hasn't tried dessert. She eats dessert for lunch and dinner. We call her dessert crazy. We have just opened a new restaurant. I couldn't try the angel dessert there.  Her college exam was going on. My girlfriend and I booked a table there to surprise her. The most special dessert of that restaurant is Valentine's Day Special Cake Batter Fudge. This is what we ordered for her. Sister tried it and went crazy. We also liked it very much. I will be making it on Valentine's Day this year. So I request you to know about this recipe.
Click here.
---
5. Red and White Valentines Cake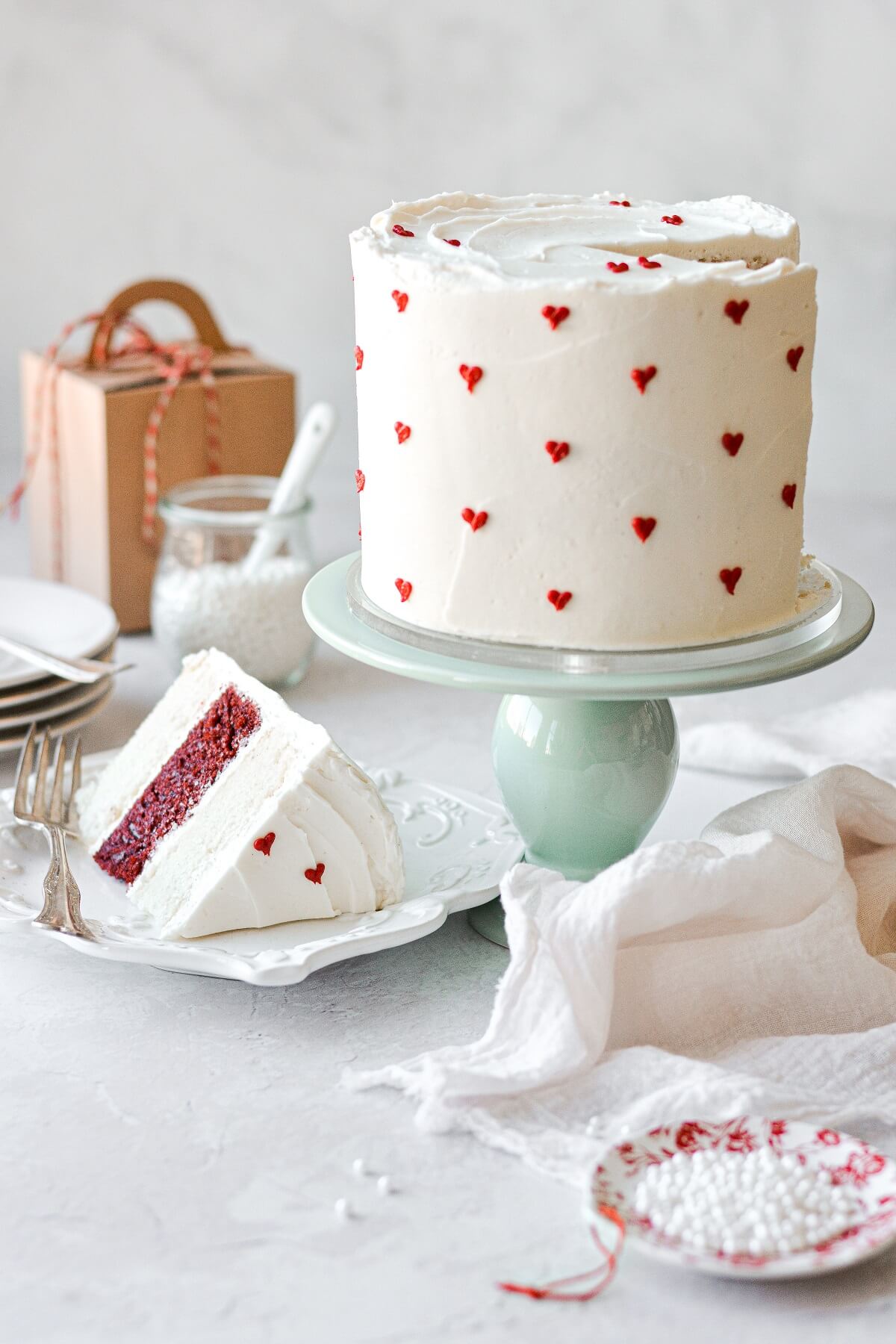 This Red and White Valentines Cake recipe is one of the classic Valentines Day desserts.  It is so beautiful and luxurious that everyone falls in love with it. This is the most ideal cake for a wedding celebration. If you want to propose your Valentine for marriage! Then there is nothing more perfect than this cake. It's just a dessert that will stick to everyone's mouth once you try it. It's a soft fluffy creamy dessert full of flavors. Want to make this delicious cake!  So gather these ingredients, such as: dutch processed cocoa, red gel color, white velvet cake and American buttercream. Lead a perfect Valentine's Day evening with a beautiful cake.
Click here.
---
4. Chocolate Covered Pretzel Tutorial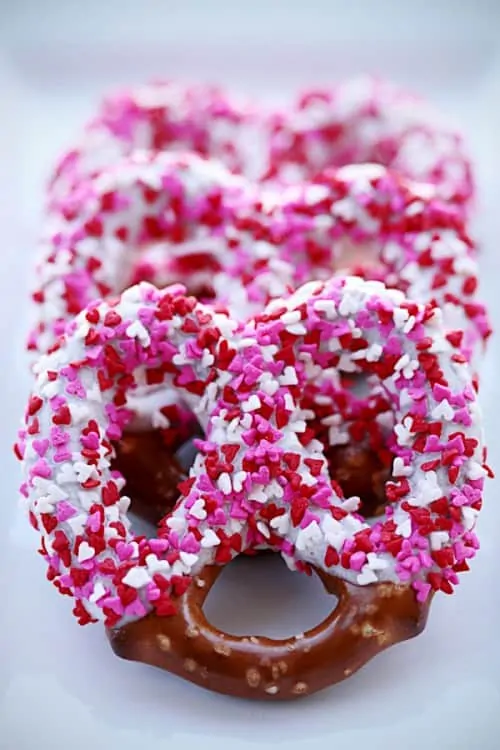 We are newly married.  After marriage we went on honeymoon to Greece. I sponsored our honeymoon. Because I wanted to give my husband something for his wedding. He always took me everywhere. So I sponsored this honeymoon. But Valentine's Day is coming. My pocket is empty. I don't know what to give him after marriage. This is our first Valentines after marriage.

My husband is a real dessert lover. So I thought of giving him a delicious dessert for a small amount of money. Eric any dessert with pretzels.  Love it. Best of all, it's delicious and cheap. Because I have pretzels at home. He he! Add pretzels and chocolate to make this great tasting dessert. It's a sweet crunch recipe that comes together in minutes. Sprinkled with colorful heart sprinkles for a Valentine's Day touch. It's really delectable!
Click here.

Let's celebrate this day with these delicious valentines day dinner ideas.
---
3. Raspberry Sweet Rolls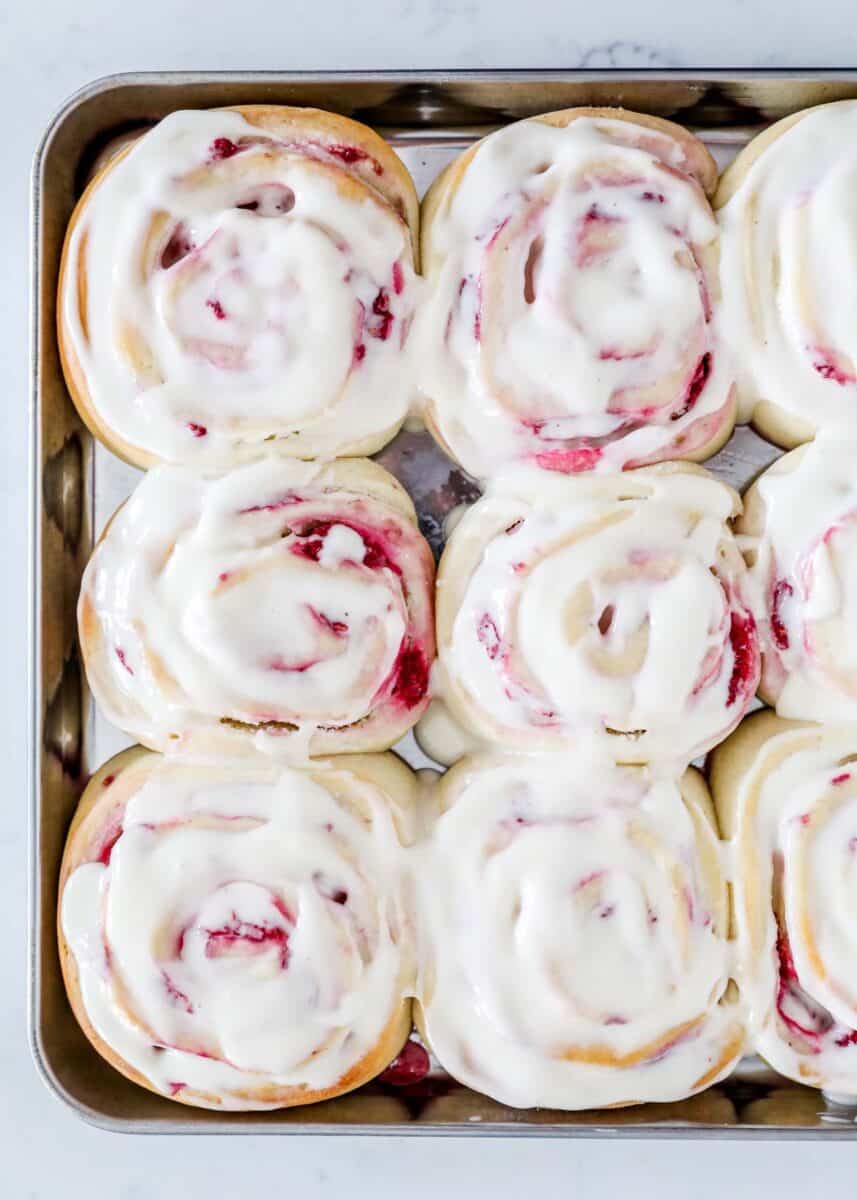 These Raspberry Sweet Rolls are perfect handmade gifts. It's so quick and easy to make. There's no one who doesn't love this dessert. And if anyone does, try Perfect Raspberry Sweet Rolls. I guarantee everyone will be a fan.  It contains yeast which makes it soft and pillowy. It melts in your mouth. Once you taste it, you'll want to eat it again and again. Make these raspberry sweet rolls, decorate the table with flowers and handmade Valentine's cards. Enjoy an evening with your partner with lots of candles. There is no better Valentine's day than this.
Click here.
---
2. Chocolate Strawberry Cheesecake
This Chocolate Strawberry Cheesecake is one of the best Valentines Day desserts recipe. It's a creamy dessert that once you try it, you'll be addicted to it forever. I'm a dessert lover. I want dessert at the end of every meal. I make a new dessert almost every day.  But I didn't make it myself. My mother made it for me.  This chocolate covered strawberry is what my mom made me for Valentine's Day. It's so delicious, you can't feel it until you eat it. It's a layered cake. This delicious cake is made with milk chocolate chips, chocolate graham crackers, butter, cream cheese, heavy cream etc. It is incredibly hearty.
Click here.
---
1. Valentine Brownie Truffles Recipe
Valentine's Day is just around the corner. Looking for the perfect handmade gifts to celebrate this day!  These Valentine Brownie Truffles Recipes are very delicious and easy gifts. You can get lost in pink truffles for your favorite day. Because they are soft balls full of flavor.  It's not only Valentine's Day but can be eaten on any festival or holiday. And you are in it.  You can change the candy coating as you like. Valentine's is just around the corner so I coated it in pink.
Click here.
---
Bonus
Heart Shaped Brownie Bites
I have added these Heart Shaped Brownie Bites to make the list of Valentines Day Desserts more perfect. This year Valentine's Day is very special for me because it has been a dream come true for many years. My husband has helped me a lot to fulfill this dream. I am a confectioner.  Opened its new shop. Where I will make different kinds of desserts by myself. And everyone will celebrate their important festival with my handmade desserts.

I have added Heart Shaped Brownie Bites dessert as a special dessert in this shop. Because it is my father's favorite.  Dessert. This dream helped my father to see me. Today I am going to feed my husband, father and mother a special dessert at my confectionery. I am really excited. I hope my family will like the desert.  Looks very nice. Going to serve many chocolate hearts to everyone. Hope everyone will like it.
Click here.
---
Valentine's Heart Macarons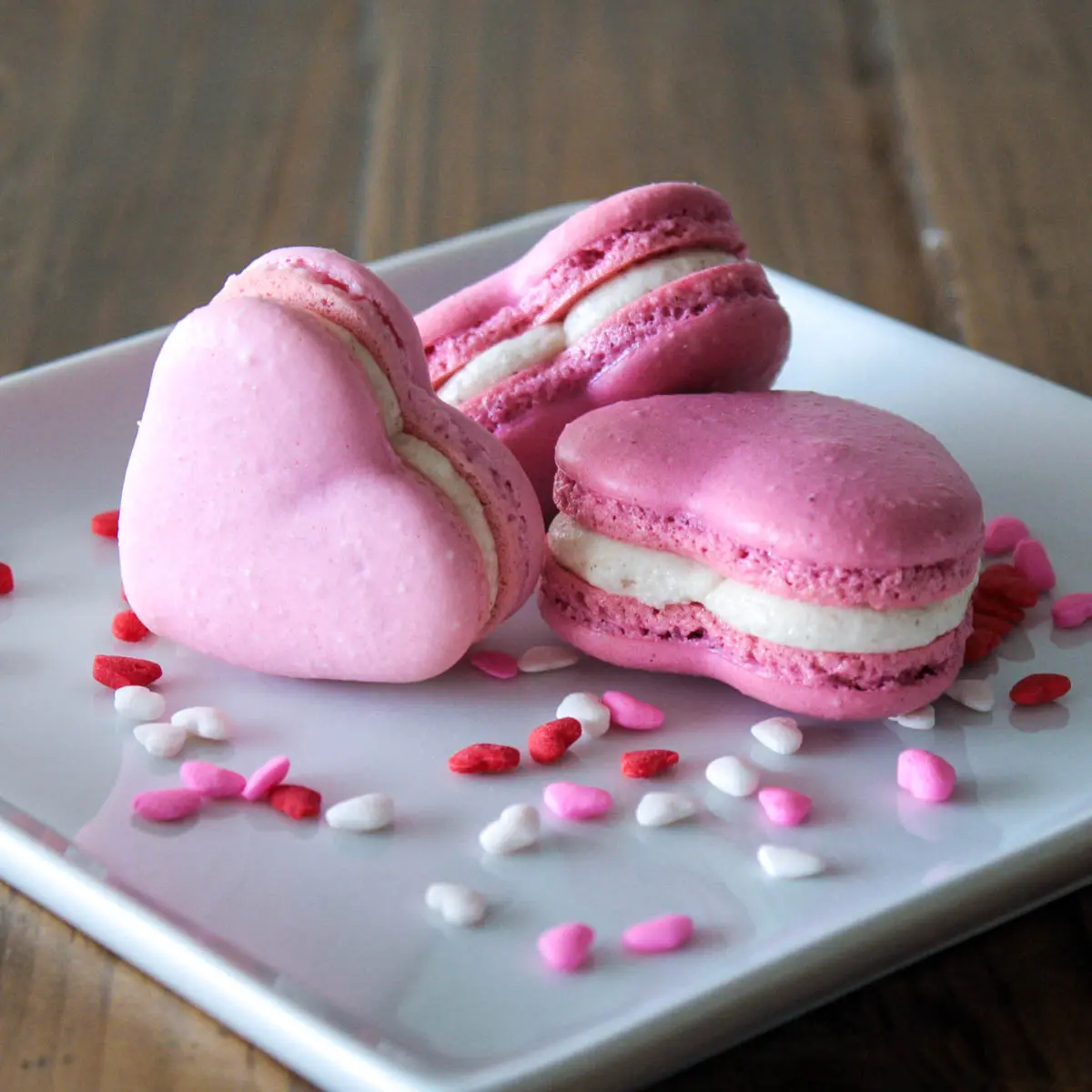 This Valentine's Heart Macarons recipe is the perfect dessert to celebrate Valentine's Day. Valentine's Day is almost upon us. And we all love to celebrate this Valentine's Day. Adults love it and kids love it too. My daughter loves this Valentine's Heart Macarons for my parents.  She is going to make dessert. She can cook a little bit. I taught her. Because they have to leave home after school. If she doesn't learn from now, she won't be able to do anything later. She will get into many problems.

So I teach her housework and  I am making her practice cooking little by little. a 6 year old girl will make dessert for her grandpa. Imagining it makes me happy. My parents will scold me if they find out. So the whole thing is a surprise. Pink colored candy in these hearts.  Coated with. You can make it red if you want. My daughter loves pink so this is the color of the heart.
Click here.
---
Valentine's Day Oreo Cookie Bark
Do you also like to eat desserts with Oreos like my son!  Then it will become your favorite. You will want to eat it almost every day. Because this dessert contains double stuff Oreo cookies. And it is such a beautiful dessert, that everyone will be attracted to it very quickly. It includes chocolate chips, vanilla candy.  coating is added. Sprinkle sprinkles in it according to the festival. It's time to make our Valentines Day desserts, so I've added a touch of love to it.  Red and pink heart sprinkles spread. It's crumbly, sweet, soft and chocolaty.
Click here.
---
Red Wine Chocolate Cake Recipe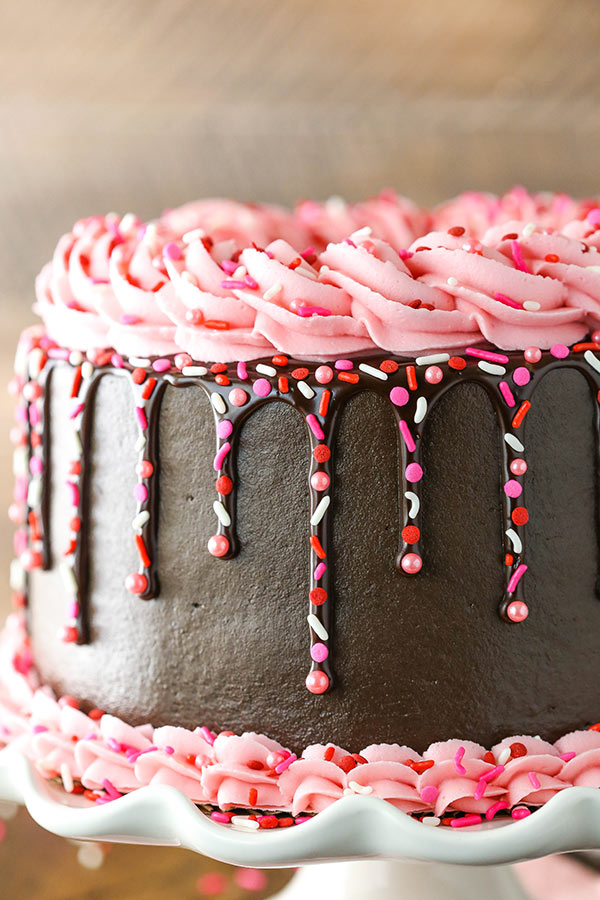 Red Wine Chocolate Cake Recipe – These types of handmade gifts will be loved by everyone. This delicious frosting cake is made by adding raspberries, chocolate chips, dark cocoa powder, sprinkles, butter, buttermilk, heavy whipped cream, red wine etc.  It is very easy and simple. This is made in the same way as any other frosting cake. This recipe takes about 3 hours.

This Red Wine Chocolate Cake Recipe is required for a perfect Valentines Day desserts table decoration. If your partner likes wine, it is the best dessert for them. I love wine. My husband gave me this cake on Valentine's day and we celebrated our Valentine's day with this dessert and wine. It is a really delicious cake.
Click here.
---
Valentine's Day Heart Sugar Cookies
These Valentine's Day Heart Sugar Cookies are a popular dessert among the perfect dessert ideas. I made this dessert once when my husband was my boyfriend. he he!  Lover he will be for life, but now with lover is actually my husband. I tried to write in these heart sugar cookies. I later apologized to Alex for that. Writing with a pen or marker and piping in cookies is a very different tie.

But Alex prefers writing like this because it hides more care and effort. These delicious sugar cookies are made using tea flour, vanilla extract, almond extract, americolor gel paste color. It seems like a very complicated recipe but it is a very simple dessert recipe. This recipe won everyone's heart.
Click here.
---
You may Like These Meal Ideas:
One Pot Meals
Sheet Pan Meals
Cold Appetizers
Low Carb High Protein Recipes
Fritter Recipes
High Protein Meal Prep Recipes
Mini Bundt Cake Recipes
---
If you like this article about Valentines Day Desserts, share with your friends or families on Facebook, Twitter, and Pinterest. Choose your favorite recipe and make it at home, let me know which is your best recipe in the comment. Also, you can subscribe to my blog to get all the latest updates first on your mobile.