What comes to your mind as healthy snack ideas when you are on a diet? Mine are nuts! I love to eat nuts. They are not only delicious but also nutrient-dense and are the easiest, quickest, and healthiest form of snack that you can think of. I always make sure that I have a handful of nuts every day in the morning and whenever those intermeal hunger pangs kick in. I carry nuts with me all the time to avoid indulging in unhealthy snacking. Nuts like cashews, almonds, walnuts, pistachios, macadamia, etc. are a healthy source of good fats and protein. But did you know that you can use nuts to make various healthy recipes that are not only nutritious but also incredibly delectable? With my series of nut recipes, you will discover a whole bunch of recipes that you can make easily at home and store and used for quite some time.

Some of these healthy nut recipes don't even need any cooking, making them unbelievably easy to make in just a matter of minutes. Ranging from crunchy nut bars, fudgy nut balls to crisp granola mixes, and nut spreads, you will find recipes that are portable and will offer healthy snacking options anytime. Here are 21 nut recipes that you can make at home with easily available ingredients for yourself and your loved ones.
---
Nut recipes means –
Nut recipes, as the name suggests, are recipes that include nuts as their main and mandatory ingredient. If you ask me why you should try these recipes, the answer is simple. These recipes make delicious treats and snack ideas and are highly beneficial for your health. Nuts are, as you might already know, a good source of healthy fats and some amount of vital amino acids that make them a nutritious and satiating snack on-the-go. A handful of nuts keep you full for a longer period of time.

So the question here is, why do you need to make these healthy recipes using nuts? They are so delicious and healthy  themselves. Because these healthy nut recipes taste almost like dessert and are even more delicious than the nuts themselves. You'll never have to feel guilty after eating these dessert-like nut recipes. Eat them whenever you feel hungry between meals. You are really going to go nuts about these healthy nut recipes.
---
Here are some tips that you'll find helpful while making, eating, and storing these healthy nut mix recipes.
a) To store – Some of these nut recipes will last you for about three months! Yes, if stored properly in an airtight container in the freezer, these nut and seed bars healthy recipes will last you for three months.
b) About nuts – Always choose good quality nuts. They will not only be more nutritious and delicious but will last you for a longer time.
c) Roasting nuts – I always use either roasted or soaked nuts in my recipes. Nuts that have an outer membrane like almonds are hard to digest. Therefore, they should always either be roasted or soaked before consuming and using in healthy nut mix recipes.
d) Gluten-free baking and cooking – Nuts are a great choice when you're opting for gluten-free baking or cooking. They are a healthy substitute for glutinous flours.
e) Different ways to use nuts – Nuts can be used in a variety of recipes in a number of ways. Eat them as is, make desserts, breads, healthy nut recipes with them, use them in curries or in salads. Nuts are really versatile.
---
1. Chocolate Coconut Protein Balls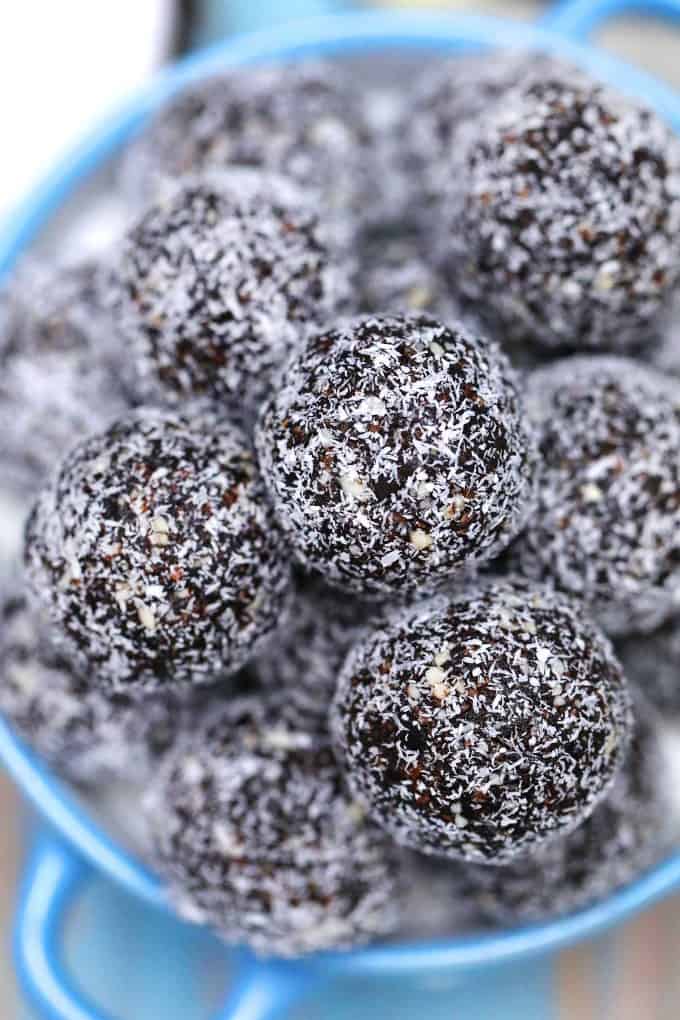 Enjoy these delicious Chocolate Coconut Protein Balls as healthier snack ideas! When you have a chocolate craving, try this easy, no-bake treat. It's naturally sweetened, gluten-free, dairy-free, and guilt-free. You can prepare ahead of time so that you always have a protein-rich snack on hand.

This easy recipe is one of my favorites because it comes together quickly and can be stored for days in the fridge or freezer. Additionally, kids love the taste and will devour these healthy recipes like dessert! These nutritious protein snacks are devoid of dairy, gluten, and refined sugar. This dish is my favorite because it doesn't require baking. They can also be stored in a zip-top freezer bag in the freezer. And if you are looking for healthy weight loss diet, make these protein powder recipes at home.
Get it here.
---
2. Peanut Butter Oatmeal Balls
The simplest energy bites are these three-ingredient peanut butter oatmeal balls. These oat balls just require three healthy ingredients and 15 minutes to prepare. Oatmeal Balls are raw, bite-sized balls made of oats, nut or seed butter, and unrefined sweetener. They are also known as oatmeal energy balls or oatmeal energy bites.

Additionally, some oatmeal nut recipes come with chocolate chips, dried fruit, or tastes like cinnamon and vanilla. The ideal post-workout snack to swiftly replenish carbohydrates and proteins is an oatmeal energy ball. They are also excellent as a morning or afternoon snack and for satisfying a sweet tooth. No-bake peanut butter balls just require three ingredients: peanut butter, quick oats or old-fashioned rolled oats, and maple syrup.
Get it here.

Try these easy mini bundt cake recipes for holidays.
---
3. Superfood Chocolate Quinoa Bars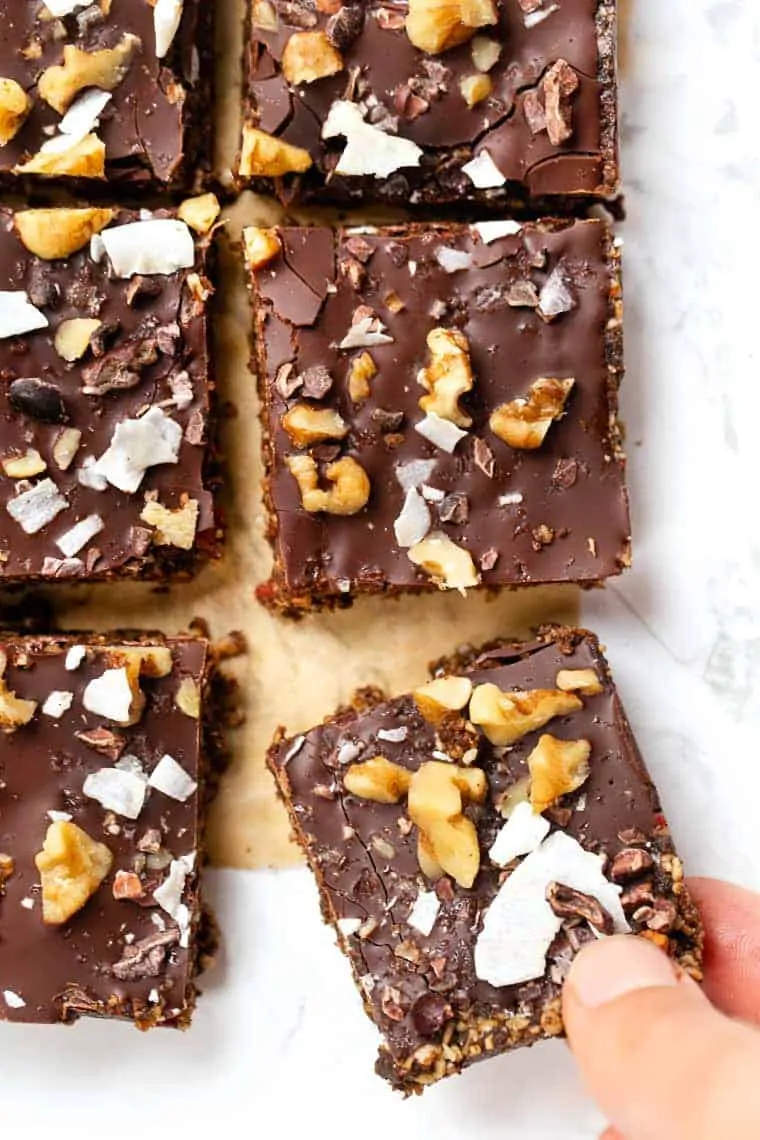 These delightful little nut recipes snacks are a powerhouse of stimulating ingredients: superfood chocolate quinoa bars. Excellent before a workout or when traveling! Does chocolate have any better taste than that? I mean, I adore chocolate at all times of the day, but I especially enjoy it as a snack. I generally always have a chocolate desire in the middle of the day, but lately, instead of going for dark chocolate, I've started reaching for these: Superfood Quinoa Chocolate Bars!

Despite being loaded with healthy nutrients, they taste incredibly delicious. For those who need a bit more convincing, I've even sneaked some melted dark chocolate. Life is all about finding that balance, so when you can eat superfoods and chocolate, you know you're doing it properly. These high protein breakfast recipes are great for weight loss.
Get it here.
---
4. Crunchy Homemade Granola Bars Recipe
These homemade granola bars are crisp and make delicious nut recipes snacks. Make the dried fruits and nuts your own by personalizing them! Today, I am sharing some of our favorite nut mix recipes, along with a brand-new granola bar recipe. These wholesome homemade granola bars completely meet the bill for the simple recipes I adore creating to make basics from scratch that can be found in stores.

While dried fruits offer loads of flavor and energy, whole grains are a great source of fiber. The best thing is that by using your preferred dried fruit and nuts, you can completely adapt this recipe to your preferences. I used pecans and dried mango in this batch. My daughter's favorite treat is a handmade granola bar with a glass of milk.
Get it here.
---
5. Toffee Walnuts
These toffee-flavored walnuts are a tasty complement to salads, light desserts, and party snacks. Plus point: With only 5 ingredients, this recipe is incredibly simple. These sweet toffee walnuts are unbelievably tasty, and as they roast, they fill your home with a wonderful aroma. I like them all on their own, in salads, and cut up on top of ice cream.

I adore this simple candied nut recipe where we just put everything together and bake it. At the same time that the nuts roast, the walnuts' exteriors caramelize. For this recipe for Toffee Walnuts, just FIVE ingredients are required! Halves and pieces of walnut, egg whites, brown sugar, vanilla extract, and salt. Additionally, if you like, you can add spices.
Get it here.
---
6. Homemade Heart Healthy Trail Mix Recipe
With these delicious and easy homemade nut recipes for heart-healthy trail mix, you can power through your day! For a wholesome breakfast or snack on the run, just prepare a large quantity of these healthy nut mix recipes. This fruit and nut trail mix is wholesome, decadent, and tasty because it is made with dark chocolate, unsalted nuts, and strawberries.

This heart-healthy trail mix only requires four basic ingredients, so you can quickly whip up a large amount to have on hand for quick snacks all week. Just divide it into portions and carry it with you! The fact that this homemade trail mix is low in sodium, high in protein and fiber, and packed with antioxidants is what I enjoy about it the most.
Get it here.

Make these easy one pot dinners for your whole family.
---
7. Date Nut Bread
This delectable date nut bread is dark, thick, and moist. It's an old classic that you might not have given much thought to in the past. You should add healthy recipes like this vintage fast bread to your recipe collection if you enjoy both banana bread and zucchini bread. Although the specifics can differ, date nut bread recipes generally follow a similar format.

All involve the use of a very hot or boiling liquid to soften the dates; while this is frequently just plain water, there is still room for flavor to be added by switching up the liquid. For sandwiches, I prefer to use day-old chilled date nut bread because it will be moist and less crumbly. Once it has fully cooled, cover it tightly in plastic and place it in the refrigerator for the night.
Get it here.
---
8. Banana Bread Energy Balls
These energy balls made from banana bread are sweet and tasty yet healthy snack ideas. They are simple to make and packed with ingredients that are healthy and nutritious. Nothing more is required than tossing everything into a food processor and rolling the dough up. Bliss balls, protein balls, energy balls, and so forth are presumably familiar to you. They are all essentially the same little bite-sized nut recipes made with chemicals that give you more energy.

They have everything, including protein, fiber, and healthy fats. Not to mention, they can be made in just 10 minutes. These tiny energetic morsels have a banana bread-like flavor. The basic components you'll need to make them are listed below. Old-fashioned rolled oats, ripe bananas, almonds, pecans, maple syrup, ground cinnamon, vanilla extract, and salt.
Get it here.

Must try these easy low calorie snacks for busy work.
---
9. Pumpkin Spice Trail Mix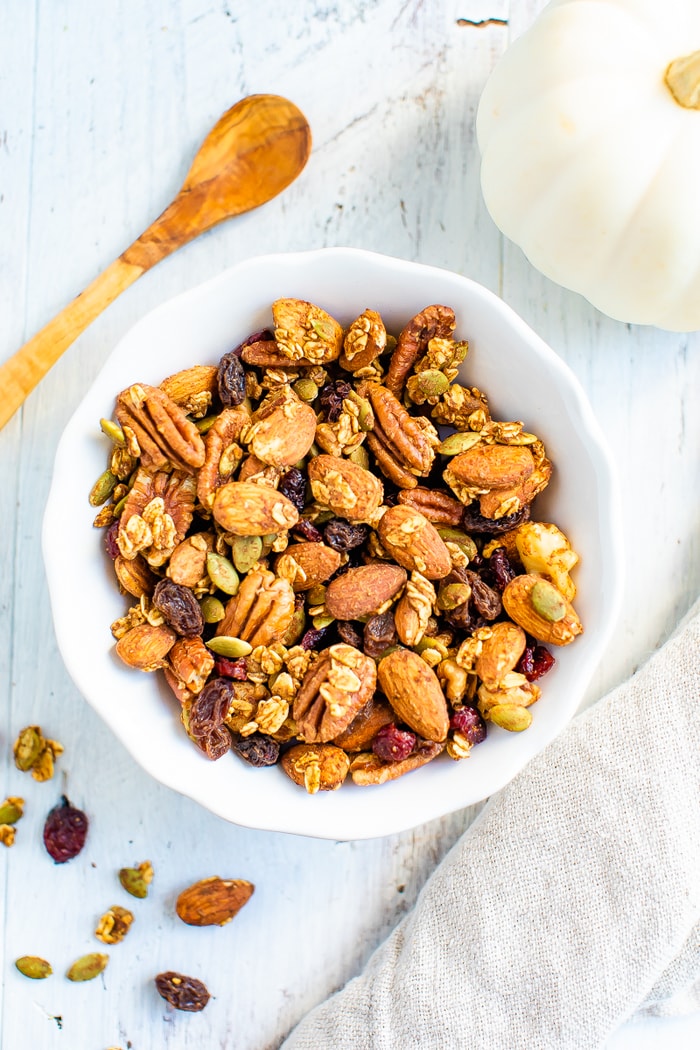 This pumpkin spice trail mix for autumn is bursting with a mix of nuts, dried fruit, and the flavor of pumpkin spice. Snack on a handful at a time or top with yogurt. Since I can't stop baking pumpkin goodies now that fall has arrived, I made a pumpkin spice trail mix as well! The right amount of sweetness and salt is present.

Giving out little holiday gifts of healthy nut mix recipes for Halloween or setting out a dish of this during Thanksgiving would be entertaining. Your choice of nuts, rolled oats, raw pepitas, coconut sugar, seasonings and spices, pumpkin puree, apple juice or apple cider, dried cranberries, and raisins are the items you'll need to prepare this fall pumpkin spice trail mix.
Get it here.
---
10. Apple Crisp Energy Bites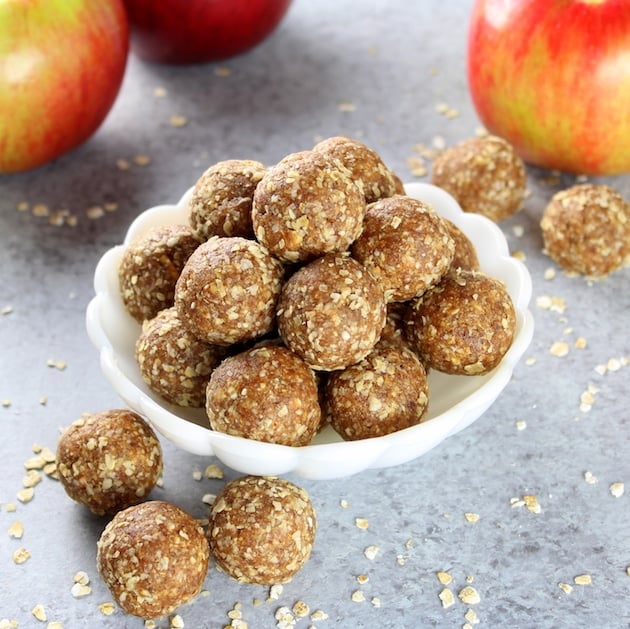 These Apple Crisp Energy Bites are only 33 calories and contain no additional sweeteners. Apple pie spice, applesauce, and dried apples are used to flavor them. The ideal gluten-free, vegan snack ideas for a lunchbox. Currently, I've been somewhat on a quest to develop wholesome, hassle-free, portable snack ideas and breakfasts.

These nutritious energy bites taste like apple crisps thanks to the combination of oats, apples, and apple pie spice! The dried apples, flaxseed meal, and oats in these Apple Crisp Energy Bites are all rich in fiber. These date-free energy bites are really simple to make and don't require baking. Apples offer a little moisture and a milder flavor because dates may be overbearing.
Get it here.

Try these delicious High Protein Salads for lunch.
---
11. Dates Nuts Ladoo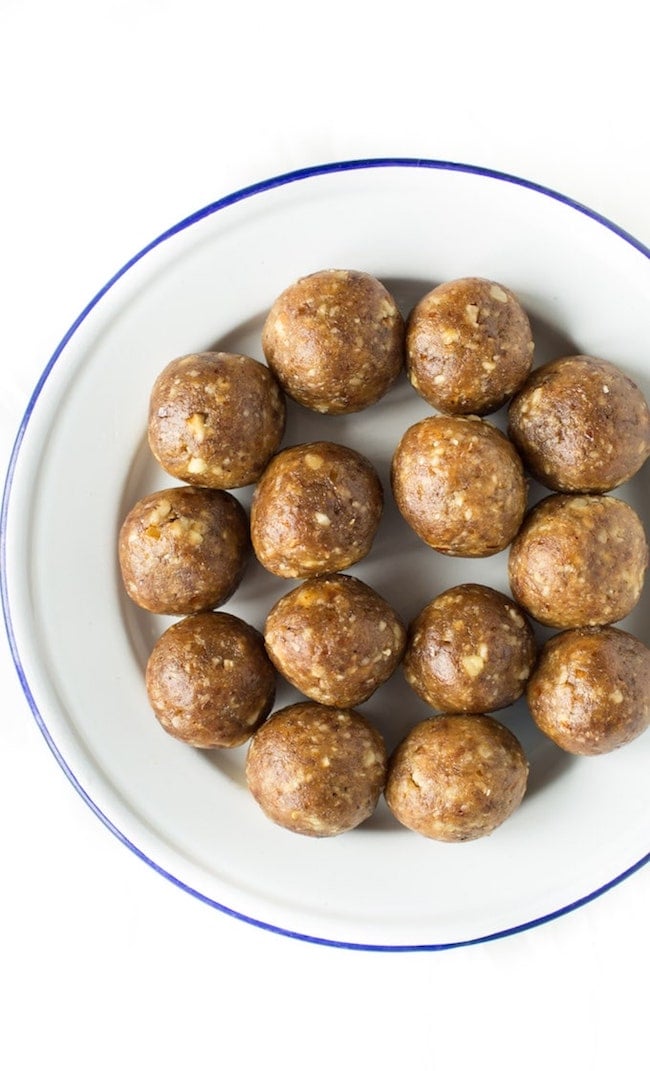 Dates Nuts Balls/Ladoos are a low-sugar, high-protein energy treat prepared from dates and nuts. You can make one of the simplest ladoo/energy balls in a matter of minutes. These are great nut recipes snacks or to bring in your children's lunchbox. To prevent the harmful snacking on packed fried foods, we like to carry this ladoo for lengthy trips, day hikes, or visits to parks.

What else could you possibly need if it keeps you energized and fully satisfies your sweet tooth? I have used cashews, almonds, peanuts, and walnuts in the dish for today. However, you can create them with whichever nuts you have on hand.
Get it here.

Make these healthy green bean recipes in this spring days.
---
12. Honey Nut Cheerios Protein Bites
These Protein Bites with Honey Nut Cheerios will help you feel a little more energized. This wonderful no-bake recipe, which only requires a few basic ingredients, will sate your appetite and improve the taste of your day. Simple to prepare and nutrient-dense! Simple, delectable, and healthy recipes like these satisfy cravings and are made with wholesome ingredients you probably already have on hand! When you need a little energy boost, these Honey Nut Cheerios Protein Bites are ideal anytime.

This snack is fairly easy to make; all you need are a few basic ingredients. Take a sizable bowl and fill it with coconut, protein powder, flax seeds, honey, peanut butter, and honey. Completely combine. Then stir in the chocolate chips and Honey Nut Cheerios.
Get it here.

Let's try these mango dessert recipes for hot summer days.
---
13. Gluten Free White Chocolate Macadamia Nut Cookies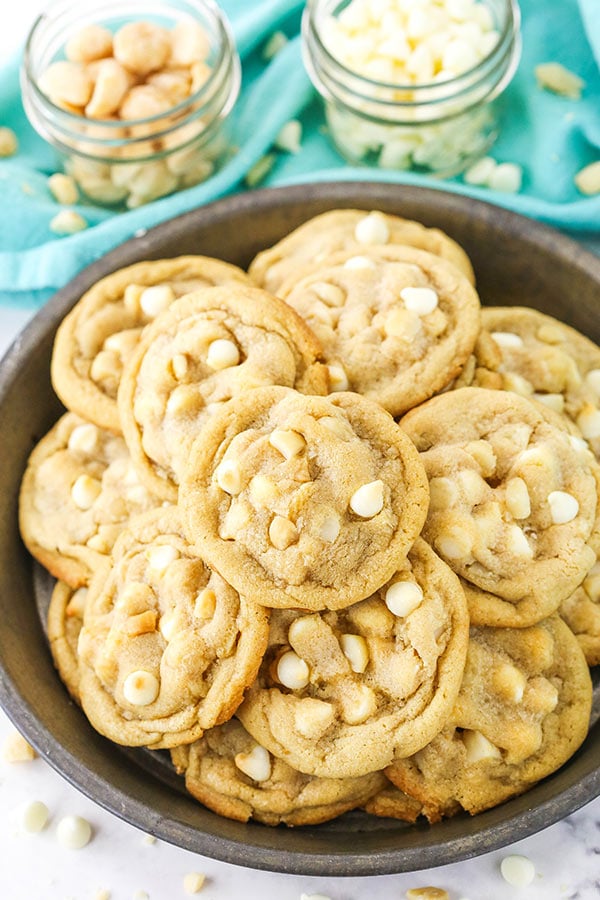 White chocolate macadamia nut cookies that are chewy and crunchy and gluten-free are the ideal snack ideas throughout the year. These simple gluten-free macadamia nut cookies are wonderful presents that will warm the hearts of your loved ones. I've just come to the conclusion that my site lacks adequate cookie recipes. There are simply not enough of my incredible nut recipes after looking over them all.

There is truly no such thing as having too many cookie recipes, yeah? Gluten-free White Chocolate Macadamia Cookies are one of my all-time favorite healthy nut recipes. They have all three chewy, crunchy, and soft textures at once. Seriously. They are the best, too. Making these gluten-free macadamia cookies is quite easy, and the inclusion of ground macadamias inside the biscuits gives them a chewy, delicious texture.
Get it here.

You can try gluten free muffins for snacks on the go.
---
14. Easy Hemp Granola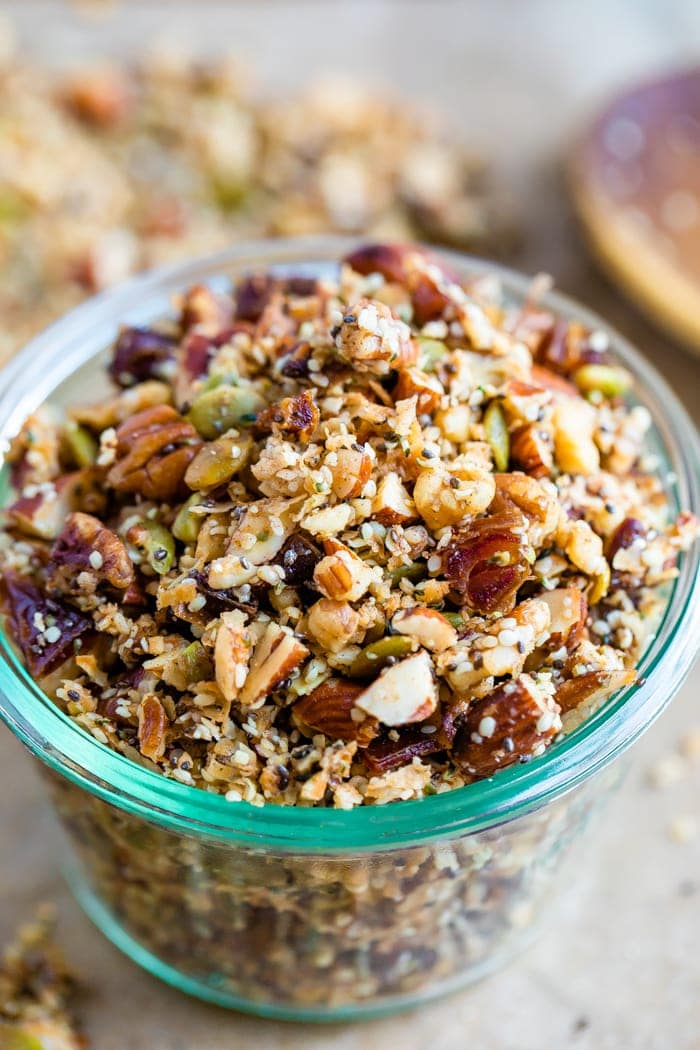 Salted maple pecans, pepitas, and sunflower seeds are tastes included in this recipe for Healthy Hemp Granola. Delightful and ideally nourishing. This is a terrific place to start if you haven't already incorporated the nutritious powerhouse of hemp hearts into your diet. You'll adore how easy and straightforward this homemade granola recipe is! This delicious homemade granola is dairy-free, vegan, gluten-free, and refined sugar-free. It's the ideal recipe for healthy granola!

This tasty recipe for healthy hemp granola includes rolled oats, hemp hearts, pecans, pepitas, and sunflower seeds. It is naturally sweetened with maple syrup and a dash of flaky sea salt. Oats, hemp hearts, pecans, seeds, coconut oil, maple syrup, salt, and other ingredients abound in this granola mixture.
Get it here.
---
15. Lemon Chia Breakfast Cookies
These Lemon Chia Breakfast Cookies are the ideal spring or summer breakfast since they are packed with wholesome ingredients and have a bright lemon flavor. My favorite healthy breakfast is a cookie. Yes, I have a strong affection for breakfast cookies. And the recipes won't stop any time soon either.

My preferred features of breakfast cookies are: Breakfast that is quick, simple, and packed with nutritious components (such as oats, almonds, chia seeds, and nut butter) is also enjoyable to make with children. Particularly soft, thick, and fluffy, these Citrus Chia Breakfast Cookies are filled with a mild lemon flavor and nutritious components. I believe you'll adore these as much as we do. They resemble a muffin top almost.
Get it here.
---
16. Easy Nut Nougat Spread
Are you tired of eating the same old peanut butter toast for breakfast? I'm here to introduce you to an amazing and easy nut spread. Creamy nut butter merges with chocolate indulgence to create this delicious nut nougat spread. It's made with pure and whole elements like hazelnut butter, coconut oil, chocolate, agave syrup, and a tiny bit of vanilla. Melt chocolate in coconut oil after breaking it into chunks. Simply combine the vanilla, honey, and hazelnut butter after that.

Put your chocolate spread in a glass container with a cork lid, then put it in the refrigerator. Relish! You can spread it on toast, use it as a dip, or eat it. Healthy recipes like these make amazing snack ideas. Make sure that you're using good-quality chocolate.
Get it here.
---
17. Caramelized Banana and Nut Butter Oatmeal
Let me introduce you to this incredible tasty oatmeal porridge with caramelized banana and peanut butter. It is almost dessert-like in its excellence. The bananas are caramelized with a tiny bit of butter and brown sugar, while the oatmeal is packed with oats, chia seeds, peanut butter, and vanilla. The most delicious cup of oatmeal has ever been created when you add nuts as the last touch.

Chia seeds, peanut butter, and maple syrup are used in this tasty and filling oatmeal recipe, which is topped with caramelized banana and nuts. If you're looking for healthy recipes to start your morning with, then my nut recipes are a perfect match for you.
Get it here.
---
18. Pistachio Nut Cheese Recipe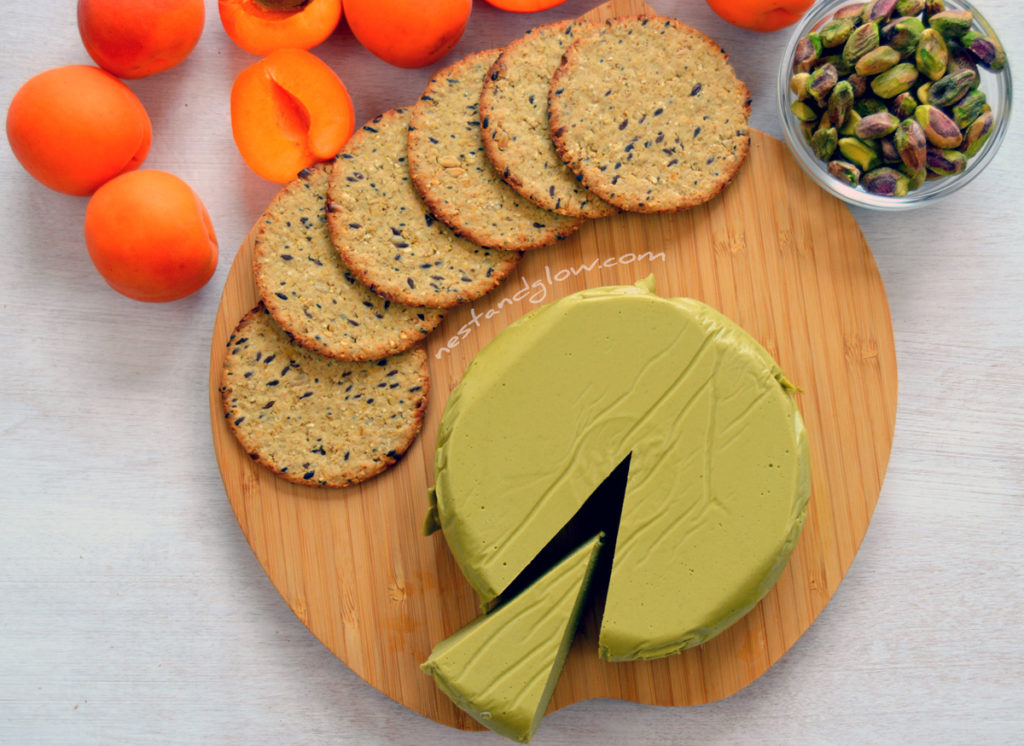 This simple, proven recipe for dairy-free pistachio nut cheese is quick. When grilled, it will slice, grate, and turn golden. The pistachio nuts are only tough to avoid eating raw. Making this vegan cheese is preferable to simply eating the pistachio nuts because they have sprouted, making the richness and nutrition easier for the body to assimilate. The pistachio nuts in the cheese provide heart-healthy fats, and the cheese is free of oil.

The majority of vegan cheeses lack dairy yet are unhealthy due to the addition of emulsifiers, hard oils, and flavorings. This recipe for nut cheese uses only whole-food ingredients, and it tastes just as amazing as it looks. It's likely that this nut cheese will accept different flavors very nicely. This nut cheese recipe is by far my favorite from my healthy nut recipes.
Get it here.

Find these high protein slow cooker meals here.
---
19. Pumpkin Chai Smoothie Recipe
This sweet pumpkin chai smoothie is terrific for snack ideas or a healthy dessert because it has a dash of chai flavor. It is bursting with all the comforting fall tastes. This season, I've been very into smoothies and I'm on a pumpkin kick. Pumpkin smoothie, then? Woah. I am also obsessed with all things chai since it makes me feel warm and content.

I had to make a pumpkin chai smoothie because I adore both pumpkin and chai. It is nourishing, full, flavored with cozy spices, and loaded with pumpkin! This sweet pumpkin chai smoothie is a terrific snack or healthy dessert because it has a dash of chai flavor. It is bursting with all the comforting fall tastes. To get more try these amazing smoothie recipes for meal prep.
Get it here.
---
20. Maple Brown Sugar Pecans
I'm away from home because I'm in college. I, therefore, like to bring homemade gifts, such as cards, paper lanterns, and pastries, whenever I visit my family for the holidays. When I went home for the holidays, I made my own homemade maple brown sugar pecans for my family. Despite seeming sophisticated, they are affordable and easy to make. These crunchy, sweet-salty pecans with maple and brown sugar are delicious. They weren't something I could have developed on my own at home, according to my parents.

When I informed them I had made them myself, they were overjoyed since they believed I had bought them from a store or supermarket. My younger sister loved these maple brown sugar pecans and declared them to be her favorite treat. She also distributed some of these to her friends while assigning credit for their creations to her older sister. She said that all of her friends loved the nuts and wanted more.
Get it here.
---
21. Blueberry Muffin Energy Balls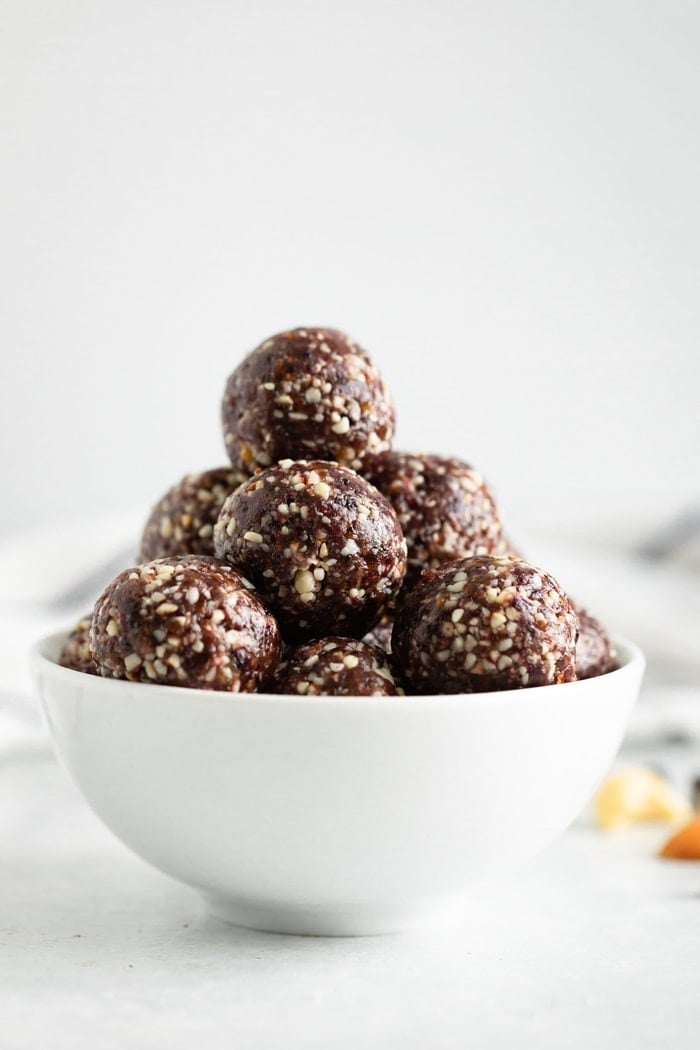 Blueberry muffin energy balls that you make yourself are natural and healthy. They truly have a blueberry muffin flavor! Every bite is filled with taste and healthy ingredients, and they come together quickly without the need for my oven. Want healthy recipes for a small snack-sized ball with the flavor of a sweet and delectable blueberry muffin? Make these Raw Blueberry Muffin Energy Balls for a flavorful, nutrient-dense snack!

There's no need to fiddle with a list of 15 ingredients or the oven. Since this recipe yields a large quantity, it is ideal to prepare them in advance for quick on-the-go breakfasts and snacks. Until you're ready to consume them, keep them in your refrigerator or freezer.
Get it here.
---
You may Like These Meal Ideas:
Sheet Pan Meals
Cold Appetizers
Low Carb High Protein Recipes
Fritter Recipes
High Protein Meal Prep Recipes
Vegan Side Dishes
Chicken Breast Recipes
Vegan Rainbow Meals
---
If you like this article about nut recipes, share with your friends or families on Facebook, Twitter, and Pinterest. Choose your favorite recipe and make it at home, let me know which is your best recipe in the comment. Also, you can subscribe to my blog to get all the latest updates first on your mobile.
---
To make these recipes for later, SAVE this pin on your favourite Pinterest Board