If you're looking to infuse the holiday season with warmth and cheer, nothing does it quite like Christmas drinks. Whether you're hosting a festive gathering or simply cozying up by the fireplace, the world of holiday beverages offers a delightful array of flavors and concoctions to suit every taste. From classic eggnog with a dusting of nutmeg to spiced mulled wine that fills the air with aromatic spices, there's a Christmas drink for everyone.

But it's not just about the party ideas; it's about the experience. We're here to guide you through the enchanting world of holiday mixology, sharing not only delicious drink ideas but also delectable holiday recipes for seasonal treats that pair perfectly. And if you're planning a memorable Christmas party, we've got creative ideas and tips to ensure your gathering sparkles with the magic of the season.

Join us in this festive journey as we sip, savor, and celebrate the most wonderful time of the year with Christmas drinks that are sure to bring joy to your heart and your taste buds.
---
◆ What to do to manage the Christmas drinks party perfectly?
1. Plan Ahead: Start planning your Christmas drinks party well in advance. Determine the date, time, and location, and create a guest list. This will help you manage the logistics smoothly.
2. Invitations: Send out invitations early, whether through traditional cards, emails, or digital platforms. Make it clear that it's a Christmas drinks party, so guests know what to expect.
3. Drink Selection: Curate a selection of drinks that cater to different preferences. Include a variety of alcoholic and non-alcoholic options, such as mulled wine, eggnog, hot cocoa, and festive cocktails.
4. Festive Decorations: Transform your space into a winter wonderland with Christmas decorations. Think fairy lights, garlands, and themed tableware to create a cozy and inviting atmosphere.
5. Food Pairings: Offer a spread of appetizers and snacks that complement the drinks. Miniature quiches, finger sandwiches, cheese platters, and holiday cookies are great choices.
6. Entertainment: Plan some entertainment to keep the party lively. You could have a Christmas music playlist, a holiday movie screening, or even organize a fun gift exchange.
7. Designated Drivers: Encourage responsible drinking by arranging transportation options for guests who may have indulged in alcoholic beverages. Offer to call taxis or provide information on rideshare services.
8. Safety First: Ensure the safety of your guests by having a first aid kit on hand and being prepared for emergencies. Also, monitor alcohol consumption and provide water and non-alcoholic beverages as alternatives.
---
◆ What are some classic Christmas cocktails?
Classic Christmas cocktails evoke the spirit of the holiday season. One beloved option is the "Eggnog," a rich, creamy concoction made from eggs, milk, sugar, and often spiked with rum or brandy. Another favorite is the "Hot Toddy," made with whiskey or rum, honey, lemon juice, and hot water, perfect for warming up on a chilly winter evening. For a festive and colorful choice, consider the "Cranberry Moscow Mule," which combines vodka, ginger beer, cranberry juice, and lime for a tart and refreshing twist. And don't forget the "Mulled Wine," a warm blend of red wine, spices like cinnamon and cloves, citrus zest, and sugar, ideal for gatherings around the fireplace.
---
◆ Are there non-alcoholic Christmas drink options for kids and non-drinkers?
Absolutely! Christmas isn't just for adults, and there are plenty of non-alcoholic options to enjoy. Children and non-drinkers can savor the classic "Hot Chocolate," topped with whipped cream and marshmallows. "Apple Cider" is another favorite, often served warm with cinnamon sticks. For a bit of sparkle, try "Sparkling Cranberry Punch," combining cranberry juice, ginger ale, and fresh cranberries for a festive touch. You can also create "Mocktails" by mixing various fruit juices and soda, garnished with fruit slices and herbs for a colorful and alcohol-free option.
---
◆ What are some unique Christmas drink recipes to impress guests?
To impress your holiday guests, consider trying some unique Christmas drink recipes. "White Christmas Margaritas" bring a tropical twist to the season, blending coconut milk, silver tequila, and triple sec with a rim of coconut flakes and garnished with cranberries. For a cozy option, serve "Irish Coffee," which combines hot coffee, Irish whiskey, sugar, and a dollop of whipped cream. "Candy Cane Martini" is a visually stunning choice, made with vanilla vodka, white chocolate liqueur, and garnished with crushed candy canes. Finally, for a sophisticated option, serve "Champagne Cocktails" with a twist, mixing champagne with flavored liqueurs like elderflower or pomegranate, and adding fresh berries for a touch of elegance.
---
21. Sugar Cookie Martini Christmas Cocktail
The Sugar Cookie Martini, a delightful Christmas cocktail, boasts a taste that embodies the holiday spirit. It offers a harmonious blend of flavors, reminiscent of freshly baked sugar cookies. With each sip, you'll experience a rich and creamy sensation, as if you're indulging in a sweet treat.

The initial notes are a symphony of vanilla and almond, creating a warm and comforting foundation. As you delve deeper, hints of buttery smoothness emerge, resembling the buttercream icing adorning festive cookies.

The cocktail is expertly balanced, ensuring that the sweetness never overwhelms your palate, thanks to a subtle touch of nutmeg and a dash of cinnamon.

This Christmas libation is crowned with a velvety texture, akin to the softness of cookie dough, making each sip feel like a cozy, seasonal embrace. It's a delectable fusion of holiday nostalgia and adult sophistication, offering a unique way to savor the festive spirit.

The Sugar Cookie Martini Christmas cocktail is a true embodiment of yuletide joy in a glass, a perfect addition to your repertoire of Christmas drinks for those special holiday gatherings.

So, raise your glass and toast to the season with this delightful concoction that encapsulates the essence of Christmas in every sip.

Get it here.

Also, try holiday cocktails & margarita cocktails for the party!
---
20. Rudolph's Tipsy Spritzer Cocktail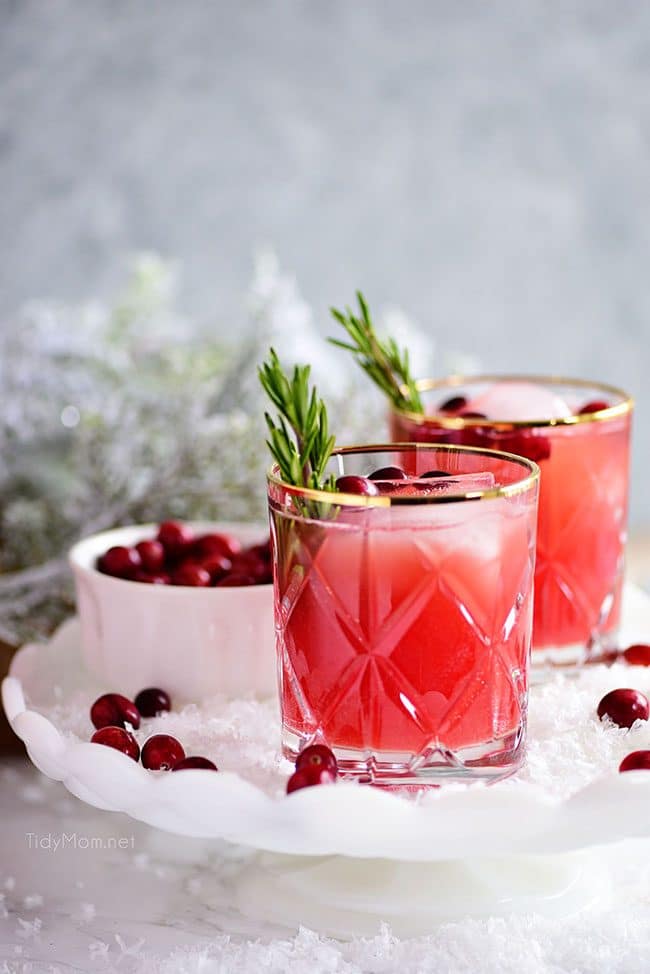 Rudolph's Tipsy Spritzer cocktail is a delightful concoction perfect for holiday festivities, and it even has kid-friendly variations. This festive drink idea boasts a harmonious blend of flavors that will dazzle your taste buds.

Crafted with care, this spirited spritzer combines zesty citrus notes, a hint of cranberry, and a touch of sparkling soda to create a bubbly, effervescent sensation that dances on your palate.

For those seeking a kid-friendly alternative, simply omit the alcohol and substitute it with a splash of fruit juice, making it equally enjoyable for the young ones. The versatility of Rudolph's Tipsy Spritzer ensures that it caters to both adults and children at your gatherings.

These dazzling drink ideas are a must-try for those seeking an exquisite beverage that captures the essence of the season without overpowering the senses. With its vibrant color and refreshing taste. It's bound to become a cherished addition to your holiday traditions.

Rudolph's Tipsy Spritzer offers a harmonious medley of flavors suitable for all ages, making it a perfect choice for holiday celebrations.

Whether enjoyed in its spirited or kid-friendly form, this beverage will add a touch of magic to your festivities. Cheers to a season filled with joy, togetherness, and this sparkling delight!

Get it here.

Also you can try christmas crafts & Christmas mason jar gifts for home decor.
---
19. Boozy Peppermint Mocha Coffee
This holiday masterpiece is a true testament to the magic of seasonal recipes. Each sip is an enchanting journey through the joyous flavors of the holidays. As you savor this enchanting concoction, you'll find yourself transported to a winter wonderland of taste and aroma.

The harmonious medley of flavors dances on your palate, leaving you with a sense of holiday delight.

Indulge in the festively rich, velvety sensation of Boozy Peppermint Mocha Coffee. This delightful brew harmoniously blends the invigorating zing of peppermint with the robust allure of mocha, resulting in a beverage that epitomizes holiday coziness.

The infusion of carefully selected ingredients impeccably unites to create a beverage that is both aromatic and delightful. Immerse yourself in its irresistible notes of chocolatey goodness with a refreshing peppermint twist.

Whether you're gathered around the fireplace or simply seeking solace in the warmth of your home, Boozy Peppermint Mocha Coffee is the perfect companion. Its velvety texture and exquisite taste transform every moment into a festive celebration.

This delightful brew embodies the essence of holiday recipes, encapsulating the spirit of togetherness and indulgence in every cup.

Get it here.
---
18. Cranberry Apple Mocktail Recipe
Craft this Cranberry Apple Mocktail Recipe for your next gathering, and watch your guests revel in delight. The marriage of tart cranberries and crisp apples creates a symphony of flavors that dance on your taste buds.

This refreshing concoction strikes the perfect balance between sweet and tangy, making it an ideal choice for festive party ideas.

Ginger ale or sparkling water introduces a delightful effervescence, giving the mocktail an uplifting and fizzy quality. Finish with a garnish of apple slices and a sprig of mint for a visually appealing presentation that enhances the sensory experience.

Served over ice, this Cranberry Apple Mocktail is not only a treat for the taste buds but also a visually stunning addition to your party ideas. Its balanced flavors and effervescent quality make it a versatile and crowd-pleasing beverage for any occasion.

So, mix up a batch and elevate your next gathering with this delightful and refreshing mocktail.

Get it here.
---
17. Candy Cane Jello Shots
Crafting Christmas-themed drinks is an annual delight. Elevate your holiday gatherings with Candy Cane Jello Shots. This adult treat brilliantly blends festivity and flavor. These merry morsels infuse peppermint schnapps into red and white layers of jiggly delight. They're a whimsical twist on classic candy canes.

To craft these, dissolve cherry and lime Jello in hot water, then add the schnapps. Allow the mixture to cool slightly before pouring into shot glasses.

A sprinkle of crushed candy canes on top adds a delightful crunch. These jovial concoctions boast a sweet and minty profile, reminiscent of seasonal candy canes.

A tray of Candy Cane Jello Shots is a surefire way to spread yuletide cheer. Your guests will savor the spirited burst of flavors in these boozy bites.

Whether you're hosting a spirited soirée or cozying up by the fire, these Christmas drinks add a whimsical touch to your holiday celebration, making it unforgettable.

So, get creative this holiday season and raise a glass to the magic of Christmas with these delightful treats!

Get it here.

Also try christmas party food ideas to celebrate holidays.
---
16. Very Merry Ornaments
Very Merry Ornaments, when paired with festive Christmas drinks, offers a delightful flavor experience. These ornaments provide a unique blend of sweetness and spice, elevating your holiday beverage to a new level of merriment.

The combination of rich, aromatic spices with a touch of citrus zest creates a harmonious symphony of tastes that dances on your palate. 

These delectable decorations impart a subtle, zesty tang to your Christmas drinks, enhancing their overall appeal. As you sip your drink, you'll notice a gentle infusion of warmth and a hint of vanilla that adds a comforting layer of flavor.

The crispness of the ornaments complements the smoothness of your chosen libation, creating a perfect balance. 

The ornament's texture is remarkably crunchy, providing a satisfying contrast to the liquid. This, combined with the aromatic bouquet of the spices, contributes to a memorable sensory experience.

Whether you're enjoying a classic eggnog, a spiced mulled wine, or a creamy hot chocolate, Very Merry Ornaments effortlessly elevates the taste, making every sip a joyful celebration of the season. 

In conclusion, Very Merry Ornaments are an exquisite addition to your Christmas drinks, infusing them with an array of flavors and textures that harmonize beautifully. So, as you raise your glass during the holidays, let these ornaments be the stars that make your festivities truly memorable.

Get it here.
---
15. Winter Wonderland White Hot Chocolate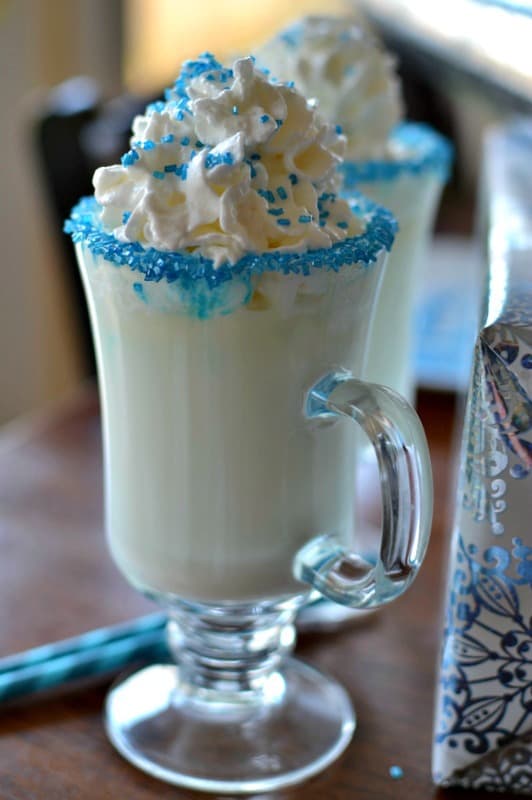 Winter Wonderland White Hot Chocolate boasts a delightful, velvety-smooth flavor that dances on your taste buds like a snowflake's gentle caress.

It's an enchanting blend of rich, creamy cocoa with a whisper of vanilla, creating a luscious, dreamy drink. This divine elixir warmly embraces your senses, offering a cozy escape from the chilly winter winds.

As you take your first sip, you'll experience an opulent symphony of flavors, as if a winter fairy sprinkled powdered sugar over a steaming cup of liquid joy. The sweetness is perfectly balanced, like a delicate snowflake resting on a hot cocoa cloud.

It's a taste that transports you to a serene, snow-covered forest, where you can almost hear the soft crunch of snow beneath your feet.

For a dash of excitement, consider garnishing with a swirl of whipped cream, a sprinkle of white chocolate shavings, or a hint of cinnamon.

Or perhaps add a splash of peppermint liqueur for an adult twist on this winter wonder. It's a versatile beverage that welcomes your creative drink ideas.

Get it here.
---
14. Frosty the Snowman Cocktail Recipe
The Frosty the Snowman Cocktail is a delightful libation that combines the crispness of vodka with the velvety smoothness of vanilla ice cream, resulting in a harmonious blend of flavors.

This delightful concoction is garnished with a snowy dusting of powdered sugar and adorned with a maraschino cherry that adds a delightful burst of fruity sweetness to the mix.

The cocktail presents a tantalizing contrast between the chilly creaminess of the ice cream and the invigorating bite of the vodka. The velvety texture of the ice cream is complemented by the icy chill of the cocktail, making it a truly refreshing treat.

Sipping on this beverage feels like indulging in a winter wonderland, with each sip delivering a satisfying fusion of flavors. The vanilla ice cream adds a luscious creaminess that balances out the vodka's potency, creating a well-rounded and palatable taste.

This cocktail is perfect for those looking to enjoy a festive and flavorful drink during the holiday season or any time they crave a frosty delight.

Get it here.

These christmas breakfast recipes & christmas cake Ideas are the perfect celebrating!
---
13. Homemade Apple Cider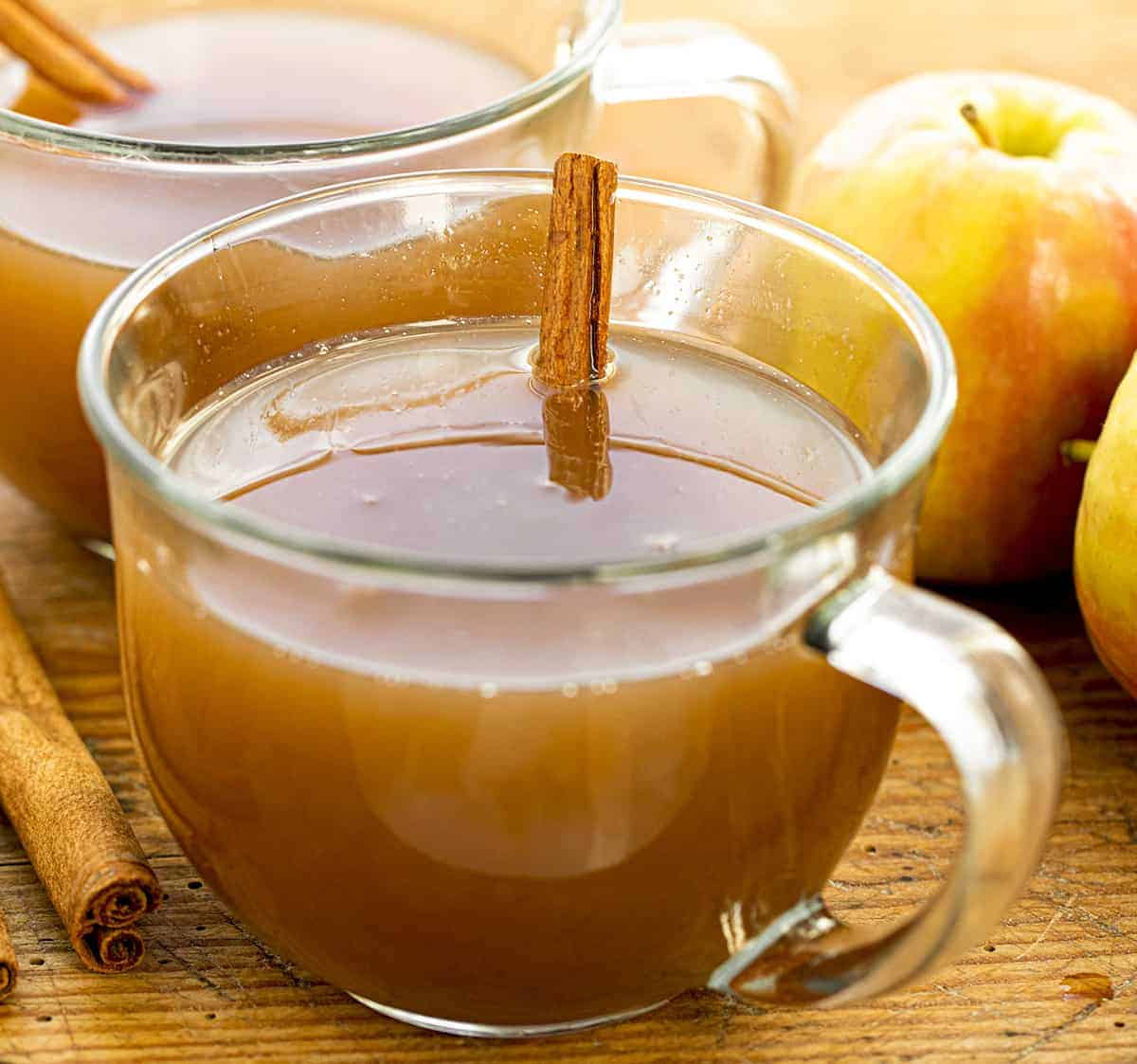 Homemade apple cider offers a delightful fusion of flavors. It embodies a medley of sweet, tart, and earthy notes. The initial sip greets your palate with a burst of crisp apple essence, a lively introduction. This fluid elixir possesses a subtle undercurrent of cinnamon and nutmeg, imbuing a gentle warmth.

The cider boasts a seamless balance between the natural sugars in the apples and a subtle acidity, creating a harmonious taste profile. It exudes a refreshing, yet slightly rustic charm, reminiscent of autumn orchards.

Each mouthful imparts a nuanced experience, showcasing the intricate interplay of apple varieties. From Granny Smith's bright zing to the mellowness of Honeycrisp, this cider embodies a diverse apple spectrum.

Its finish is clean and invigorating, leaving a subtle, lingering sweetness on the tongue. Homemade apple cider is, in essence, a liquid celebration of the fall season, a symphony of apple flavors harmoniously interwoven into a single, sippable masterpiece.

Get it here.
---
12. Creamy White Christmas Punch Recipe 
Creamy White Christmas Punch is a delectable yuletide libation that embodies the spirit of Christmas drinks. This delightful concoction marries the rich, velvety texture of vanilla ice cream with the zesty kick of ginger ale and pineapple juice, resulting in a harmonious symphony of flavors.

Each sip offers a balanced fusion of sweet and tangy notes, creating a delightful sensation on the palate. The hint of almond extract adds a subtle nutty undertone, while grated nutmeg sprinkled atop adds a touch of warm spice.

The white chocolate chips, artfully melted into the mixture, infuse a luxurious creaminess that elevates this Christmas punch to a new level of indulgence. It's a velvety, luscious drink that encapsulates the essence of holiday merriment.

The final touch of fresh cranberries and a sprig of mint garnish imparts a festive visual appeal that mirrors the joyous ambiance of the season. Creamy White Christmas Punch is not merely a drink; it's a sensory celebration of the holiday spirit, offering a taste of Christmas in every sip.

Get it here.

Also make these christmas appetizers for winter nights celebration.
---
11. Gingerbread White Russian
The Gingerbread White Russian cocktail embodies the essence of holiday recipes with its delightful and harmonious flavors. This festive libation seamlessly blends the warmth of gingerbread spices with the rich, creamy notes of a classic White Russian.

The result is a delectable, seasonal concoction that tingles the taste buds.

The aromatic gingerbread spices, like cinnamon, nutmeg, and cloves, infuse this drink with a comforting, winter-like allure. These spices harmonize with the velvety smoothness of vodka and coffee liqueur, creating a symphony of flavors that dance on your palate.

The Gingerbread White Russian is a quintessential holiday indulgence, reminiscent of cozy evenings by the fireplace. It encapsulates the spirit of the season, making it the perfect addition to your repertoire of holiday recipes.

This cocktail is sure to be a delightful companion to your holiday festivities. Cheers to the joyous season!

Get it here.
---
Suggested: Holiday Breakfast Ideas
---
10. The Mistletoe Kiss (Christmas Cocktail)
The Mistletoe Kiss Christmas cocktail embodies festive merriment. This concoction combines harmonious flavors, marrying the invigorating zest of fresh citrus with the comforting warmth of spiced rum.

It unfolds on the palate, a harmonious symphony of sweet and tangy notes, culminating in a crescendo of seasonal spices that dance across the taste buds. The frothy, snow-white foam crowns this libation, evoking the spirit of a winter wonderland.

A hint of nutmeg imparts a subtle, earthy undertone, while a dash of cinnamon awakens the senses with its fiery embrace. The sweetness of honey syrup adds a touch of sophistication, intertwining with the boldness of the rum.

The cocktail's equilibrium is perfected by the crisp bite of cranberry juice, offering a delightful tartness.

Served in a chilled glass garnished with a sprig of fresh mistletoe, it beckons lovers and revelers alike to share an enchanting moment beneath its boughs.

The Mistletoe Kiss is an ode to the season's joy, a libation that captures the essence of the holidays in each sip, leaving a lingering memory of warmth and cheer.

Get it here.
---
9. Gingerbread Martini
A delightful fusion of warm spices dances gracefully on your taste buds, infusing each sip with an inviting embrace. The alluring aroma of ginger, cinnamon, and nutmeg harmonize elegantly, creating a symphony of sensory delight. 

This velvety elixir showcases a seamless blend of creamy vanilla and the subtle sweetness of molasses, lending a luxurious smoothness to every sip. A whisper of caramel adds a touch of sophistication, elevating this libation to a refined indulgence.

The rich, amber hue mirrors the cozy warmth of the holiday season, evoking a sense of nostalgia with every glance.

Impeccably balanced, this martini invites you on a journey of flavor discovery. Its nuanced complexity unfolds with each sip, revealing a harmonious marriage of sweet and spicy notes that linger on the palate.

The Gingerbread Martini is not merely a drink but a delightful embodiment of the festive spirit, a sip of pure enchantment that captures the essence of winter celebrations.

Get it here.

Also make your home wonderful during christmas, prepare these amazing christmas porch decorations & christmas tree ideas to decor your home beautifully.
---
8. Holiday Apple Cranberry Sangria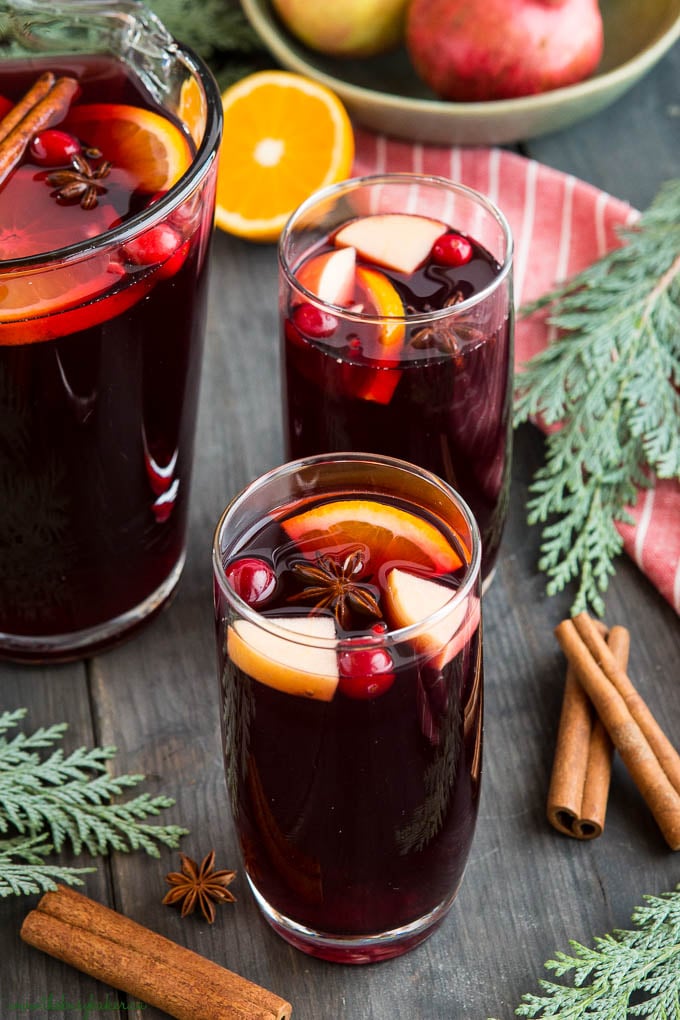 Holiday Apple Cranberry Sangria offers a delightful fusion of flavors. This luscious concoction seamlessly combines the crispness of apples with the tartness of cranberries. Serve these cold appetizers & vegan finger foods with it, just awesome!

It's a harmonious blend where the sweetness of ripe apples marries the tangy allure of cranberries. The resulting taste is vibrant and invigorating, perfect for festive occasions.

This Sangria presents a symphony of sensations. The infusion of cinnamon and cloves adds a warm, aromatic undertone that elevates the overall experience.

The red wine base imparts depth and richness, enhancing the fruity notes. A hint of orange liqueur adds a subtle citrusy kick, balancing the sweetness.

The appearance of this Sangria is equally enchanting. Its deep red hue captures the essence of the holiday season, while slices of fresh apple and plump cranberries float gracefully, creating a visually appealing presentation.

Holiday Apple Cranberry Sangria is the epitome of festive indulgence, a sip of seasonal magic that will leave you craving for more.

Get it here.
---
More: Tasty Apple Recipes
---
7. Apple Cider Mimosas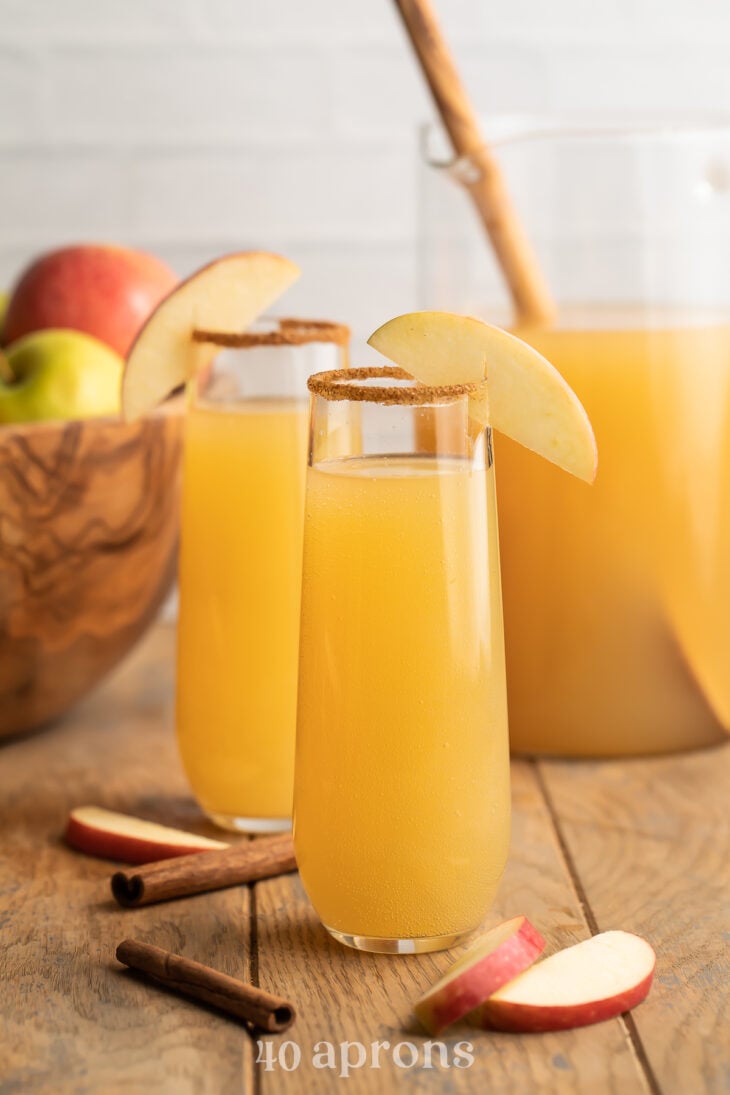 Apple Cider Mimosas epitomize festive Christmas drinks. The taste embodies a harmonious fusion of tart apple cider and sparkling champagne. The zesty effervescence of the champagne melds seamlessly with the fruity apple notes, creating a tantalizing and bubbly concoction.

The flavor profile is simultaneously crisp and refreshing, delivering a delightful contrast to the typical holiday indulgences. These mimosas evoke a sense of celebration, making them an ideal choice for holiday gatherings.

The apple cider imparts a seasonal warmth, reminiscent of cozy fireside moments, while the champagne adds a touch of elegance.

The resulting blend is a symphony of flavors, with a subtle sweetness and a hint of citrus, making it a delightful sip for those seeking a merry and bright taste of Christmas in a glass.

Get it here.
---
Check out: Christmas Treats & Christmas cookies
---
6. Homemade Eggnog Recipe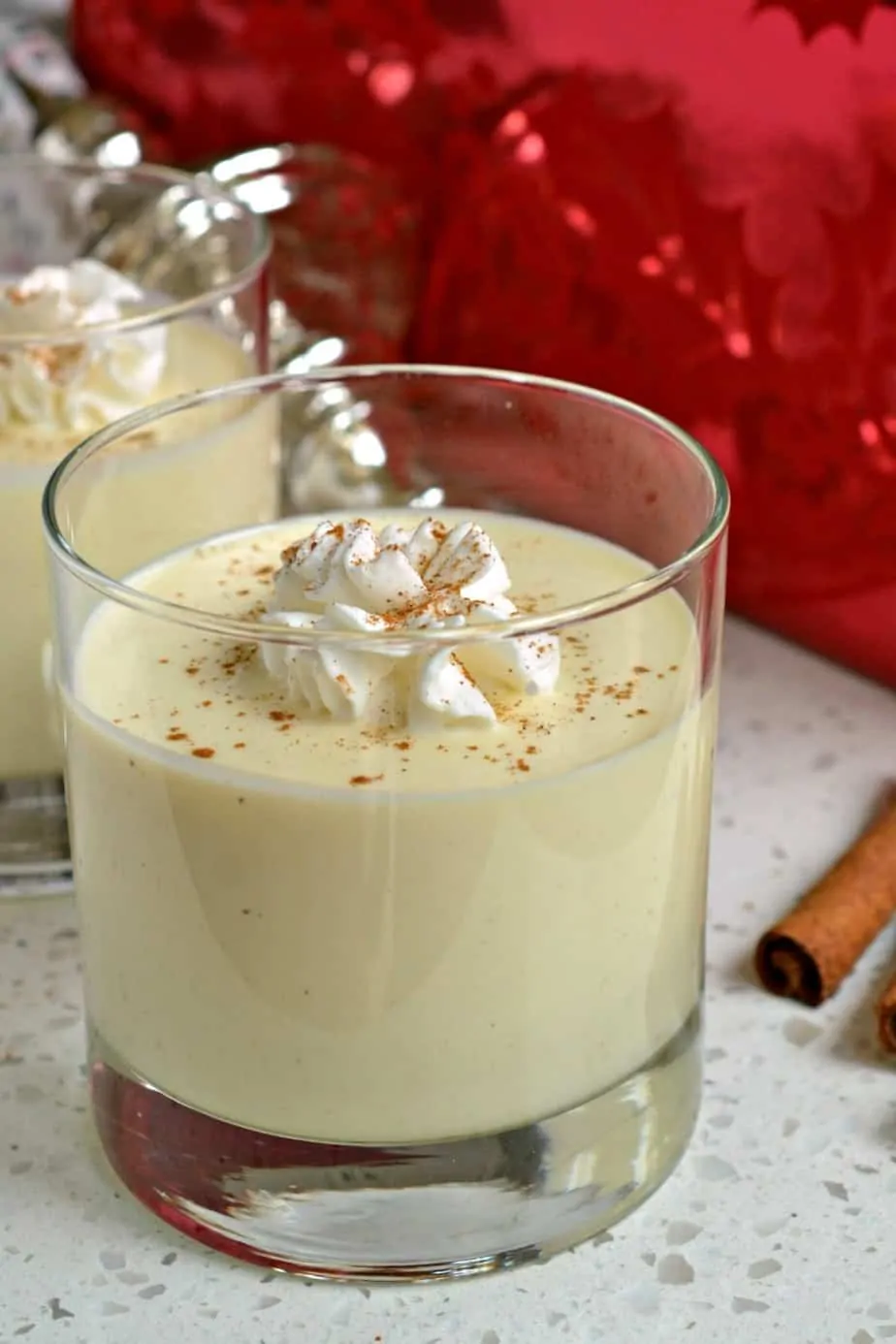 Savor the delectable delight of our Homemade Eggnog Recipe, a creamy, velvety concoction that tantalizes your taste buds. Crafted with finesse, this frothy elixir boasts a harmonious blend of rich egg yolks, luscious cream, and a hint of nutmeg, resulting in a velvety-smooth, opulent indulgence.

Its opulent sweetness is counterbalanced by a subtle, warming spice, making it the perfect embodiment of holiday comfort. Delight in it straight, or explore a plethora of drink ideas: blend with a shot of bourbon for an extra kick, sprinkle with cinnamon for a spicy twist, or garnish with a dollop of whipped cream and a dusting of cocoa for an elegant touch.

With each sip, revel in the symphony of flavors, a harmonious dance of creaminess and spice that is sure to elevate any festive gathering. Homemade Eggnog Recipe is the quintessential embodiment of holiday cheer, an embodiment of opulent indulgence that will leave your guests craving for more.

Get it here.

Make you home front doors decorative with these amazing christmas wreaths and enjoy!
---
5. Christmas Cookie Cocktail Recipe
This holiday elixir is an embodiment of merriment, a liquid embodiment of holiday joy. Savoring it is akin to unwrapping a cherished gift, with each element coming together to create a harmonious, festive melody.

The interplay of flavors transports you to a winter wonderland, where the aroma of cookies lingers in the air, and the twinkling lights of the holiday season illuminate the night.

Indulge in the delightful essence of the Christmas Cookie Cocktail Recipe, a festive libation that encapsulates the spirit of the holiday season. This exquisite concoction harmoniously blends the flavors of yuletide cheer, evoking nostalgia with each sip.

Its taste is a symphony of cinnamon, nutmeg, and vanilla, reminiscent of freshly baked holiday cookies. The velvety cream liqueur caresses the palate, while the hint of almond liqueur adds a delightful nuance.

The subtle warmth of spiced rum offers a comforting embrace, akin to a crackling fireplace on a snowy evening. Must try christmas truffles & christmas candy recipes for sides as treat!

Incorporate this Christmas Cookie Cocktail into your repertoire of holiday recipes or Christmas Drinks, and you'll find yourself in possession of a delightful elixir that encapsulates the essence of the season, making your festive gatherings truly memorable.

Cheers to the holidays, where every sip is a toast to the joy and warmth that this special time of year brings.

Get it here.
---
4. White Christmas Cranberry Margaritas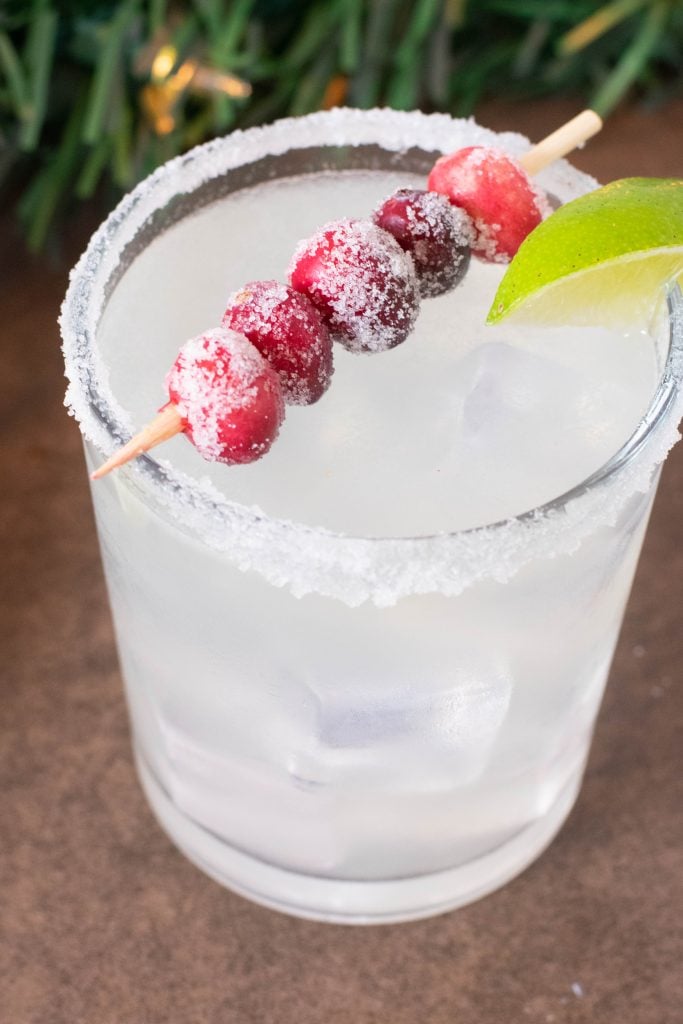 White Christmas Cranberry Margaritas offer a delightful blend of flavors. These frosty cocktails bring together the zesty tang of cranberries with the crispness of white tequila, creating a unique and refreshing taste.

The sweetness of triple sec complements the tartness of cranberry juice, while lime juice adds a zingy twist. Rimmed with salt or sugar, the glasses provide an enticing contrast.

For party ideas, serve these margaritas as a crowd-pleaser. Hosting a winter-themed gathering? These libations make for a perfect addition.

Your guests will savor each sip as they soak in the festive atmosphere. To enhance the presentation, garnish with cranberries and a sprig of rosemary for a touch of elegance.

If you're looking to elevate your holiday party game, these margaritas are a surefire way to impress your guests. The harmonious blend of flavors will tantalize their taste buds, making it a memorable soirée.

So, shake up some White Christmas Cranberry Margaritas and get ready to be the host with the most!

Get it here.

You can try christmas casserole recipes for meal prep lunch.
---
3. Christmas Coffee Punch
This rich concoction marries the robust allure of coffee with the festive charm of Christmas spices, resulting in a warm and invigorating sip. The velvety coffee base swirls harmoniously with hints of cinnamon, nutmeg, and a touch of vanilla, creating a symphony of flavors that dance upon your palate.

It's a velvety, aromatic symphony that harmonizes coffee's boldness with the subtleties of Christmas spices. The enchanting medley evokes the coziness of the season and invites a sense of togetherness.

This beverage encapsulates the holiday spirit in every cup, bringing forth the comforting embrace of a Yuletide gathering. A sprinkle of powdered cocoa adds a dash of sweetness, while a dollop of whipped cream crowns the brew with a cloud-like decadence.

Each sip conjures images of roaring fireplaces and twinkling lights, making it the perfect accompaniment to festive gatherings or moments of solitude by the tree. In a world filled with Christmas drinks, this punch stands as a harmonious fusion of familiar comforts and holiday cheer.

Embrace the warmth and cheer of the season with a cup of Christmas Coffee Punch – it's a festive delight for the senses that will surely become a cherished tradition.

Get it here.
---
2. Creamy Root Beer Rum Cocktail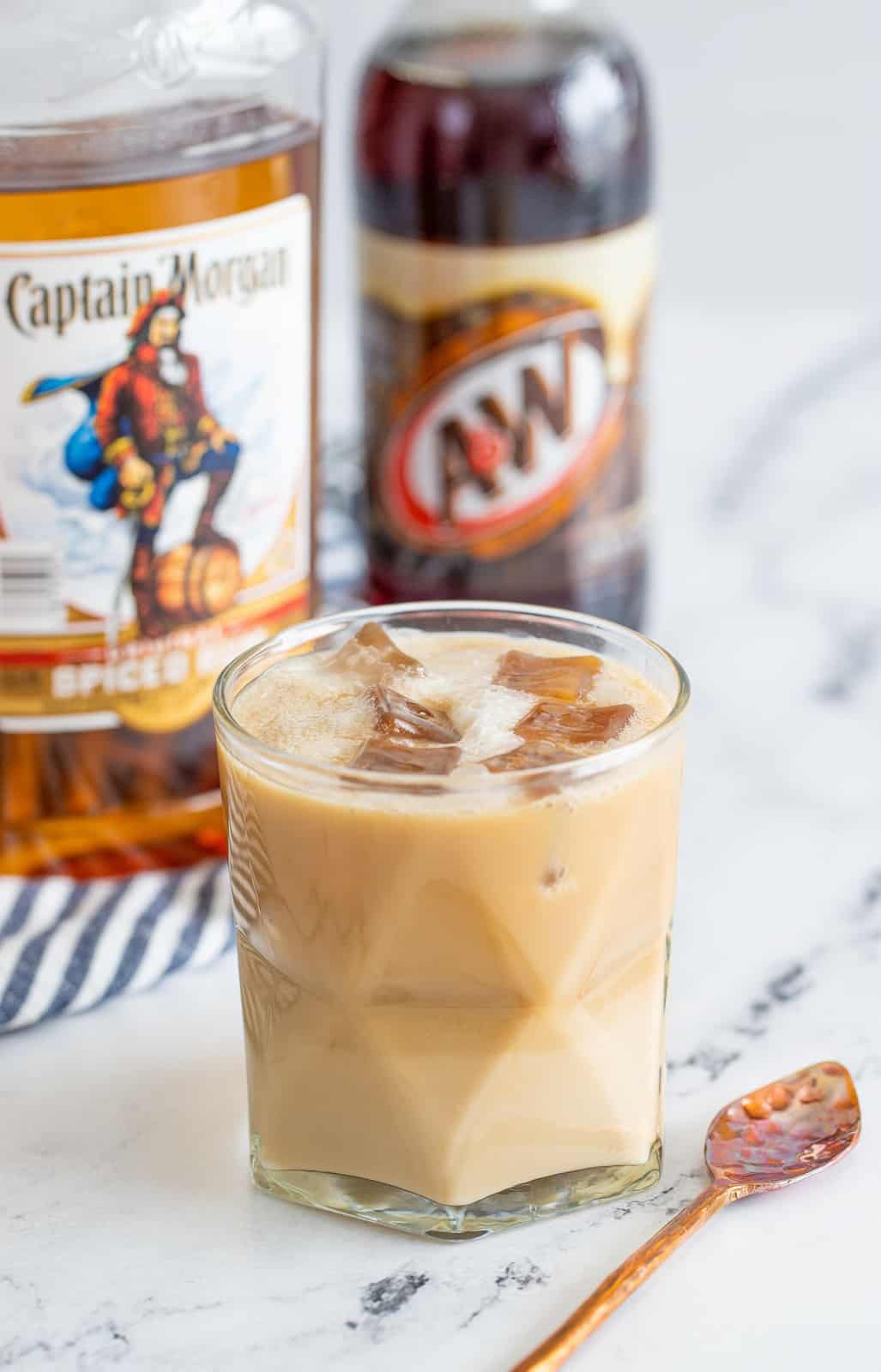 This delightful concoction seamlessly melds the classic charm of root beer with the warming embrace of rum, resulting in a harmonious blend that perfectly encapsulates the holiday spirit. 

The smooth, velvety texture caresses your palate, offering a comforting, creamy sensation that is reminiscent of a cozy winter's eve by the fireplace. The root beer's effervescent effulgence interplays with the rum's robust depth, creating a nuanced taste profile that's nothing short of captivating.

Hints of vanilla and caramel dance elegantly on your taste buds, delivering a sweet symphony that complements the overall experience. It's as if the holidays themselves have been distilled into this glass, creating a liquid embodiment of joy and celebration. 

Whether enjoyed as a prelude to holiday feasts or as the star of your festive gatherings, this Creamy Root Beer Rum Cocktail is a testament to the artistry of holiday recipes or Christmas Drinks.

Get it here.
---
Suggested: Christmas Charcuterie Board Ideas
---
1. Apple Cider Holiday Sangria
Apple Cider Holiday Sangria boasts a delightful blend of seasonal flavors. It melds the crispness of apple cider with the zest of citrus fruits and a hint of warmth from cinnamon.

This concoction creates a harmonious medley that's perfect for your festive gatherings. It pairs exceptionally well with a variety of party ideas.

As the Sangria dances on your taste buds, its fruity notes evoke a sense of merriment, enhancing any celebration. The crisp apple cider provides a refreshing base, while the citrus fruits offer a zesty, tangy twist.

Meanwhile, the cinnamon imparts a cozy, comforting touch, making it an ideal choice for holiday parties.

For party ideas, consider serving this Sangria at a cozy winter gathering, an elegant Christmas soirée, or a New Year's Eve bash. It's versatile enough to complement both casual and upscale affairs.

You can also garnish Christmas Drinks with apple slices, orange wedges, and a cinnamon stick for an eye-catching presentation.

Get it here.
---
Cheers!
If you like this article about Christmas Drinks, share with your friends or families on Facebook, Twitter, and Pinterest.

Okay, I'm handing the mic over to you now. Come on! Don't be shy now…

Choose your favorite recipe and make it at home, let me know which is your best drink in the comment. Also, you can subscribe to my blog to get all the latest updates first on your mobile.
---
To make these recipes for later, SAVE this pin on your favorite Pinterest Board