Santa is on his way to surprise you with his gifts, riding on his "one horse open sleigh". So now you know what time of the year this is? Keep your socks hung. Get your jingle bells, fairy lights, tinsels, garlands, and other ornaments to deck up your Christmas trees and house. Buy or make handmade presents and cook delicious foods for your dear ones. I'm always very excited and enthusiastic about this time of the year. I make scrumptious Christmas appetizers for the parties I host on Christmas and New year's eve. If you love to treat your loved ones and guests with healthy and tasty handmade finger foods then you must try my holiday recipes. I have a ton of party ideas that I'm going to share with you to make your holidays better. Down below are listed some of the recipes for my fun Christmas appetizers that you can easily make for your guests this holiday party season. Scroll through and enjoy!
---
1. Party Sausage Rolls
Add magic to your parties with these party sausage rolls. You'll easily get them at a local store near you, but if you know the value of home-cooked food, you're surely going to make these at home. My recipe for Christmas appetizers are always simple and hassle free. So you can go ahead and follow them without any hesitation.

Crispy, brown sausage rolls take only 10-15 minutes to cook. Just spend a few minutes preparing the recipe and freeze the rolls for another 20 minutes. These sausage rolls get their flavors from some of the choicest spices that include sage, nutmeg, fennel seeds and  wholegrain mustard. These spices will fascinate your guests' into having more and more of these tempting homemade sausage rolls.
Click here.
---
2. Cranberry Brie Pastry Tarts
Crispy mini pastry tarts filled with cheesy brie and fresh cranberries are so indulgent! They'll vanish in just a few seconds. These Christmas appetizers are just what you need to add to your party ideas. I made a batch of these at home just to see how they turn out and asked my family to try these and they didn't even save one for me! I'm so glad that they loved it because now I know it's just the food that's going to impress my party guests.

The puff pastry sheet is first loaded with salted butter, fresh cranberries, brown sugar, ground cinnamon, Brie and fig preserves and then baked into perfection. Bake these for about 15-20 minutes in a preheated oven and then garnish these crispy and cheesy mini pastry tarts with fresh thyme. Serve on a plate and don't forget to save one for yourself cause you know my story, lol!
Click here.

Get more Thanksgiving Side Dishes here.
---
3. Cheesy Christmas Tree Bread from Pizza Dough
Pillowy-soft cheesy pull-apart bread shaped like a Christmas tree! You can use regular pizza dough to make this cheesy Christmas tree bread. This pull-apart bread is filled with Mozzarella and is infused with the flavors of melted garlic butter and fresh herbs and parmesan cheese. This delightful bread goes so well with your favorite dipping, you are bound to treasure this recipe for life. Use store-bought pizza dough, stuff them with Mozzarella cheese cubes and roll into balls.

Place them over a baking tray  lined with parchment in the shape of a Christmas tree, brush with egg wash and bake for 16-18 minutes. Prepare the melted garlic butter with parmesan, grated garlic and finely chopped fresh parsley, basil and rosemary. Brush over the hot bread and sprinkle more parmesan on top. Serve with marinara or pesto dipping and gobble right up!
Click here.
---
4. Red, White & Green Christmas Charcuterie Board
Let's make a beautifully vibrant and colorful charcuterie board with your favorite Christmas appetizers. This Christmas themed charcuterie board has 3 colors in it – red, white and green. It is organized to catch your eyes and tempt your senses with your favorite fruits, vegetables, nuts, crackers, cheese and of course, charcuterie. Your guests will go wow over this rich, abundant and colorful, eye-catching charcuterie board this Christmas. This surprise is worth all your time and effort.

You can add whatever you heart wants to this charcuterie board, maintaining the color code. I added Brie, Manchego, Champagne cheddar, Sage Derby and gouda cheeses; raspberries, strawberries, blood oranges, apples, green bartlett pears, pomegranates, red grapes, green grapes, kiwis as fruits; red and green bell peppers, cherry tomatoes, round red radishes, persian cucumbers, snap peas as vegetables; various type of charcuterie and charcuterie accompaniments to mine.
Click here.

Find more High Protein Snacks for busy days.
---
5. Bacon Jalapeño Popper Cheese Balls
These bacon jalapeño popper balls are one of my quick and easy holiday recipes. Made in just 15 minutes, these mini cheese balls are damn good and moreish! Coated with crispy bacon, these balls are made of creamy cream cheese, cooked and chopped bacon, mayo, chives, pimento peppers, jalapeño, shredded cheddar, shallot and spices.

These cheese bombs are going to blow your mind with it's mouthwatering creaminess, spiciness, savouriness and crispness. They are absolutely irresistible. To get more such delectable Christmas appetizers and party ideas, follow my blog. With a promise to never disappoint you I will share with you my best recipes that you will be forever thankful for!
Click here.
---
6. Bruschetta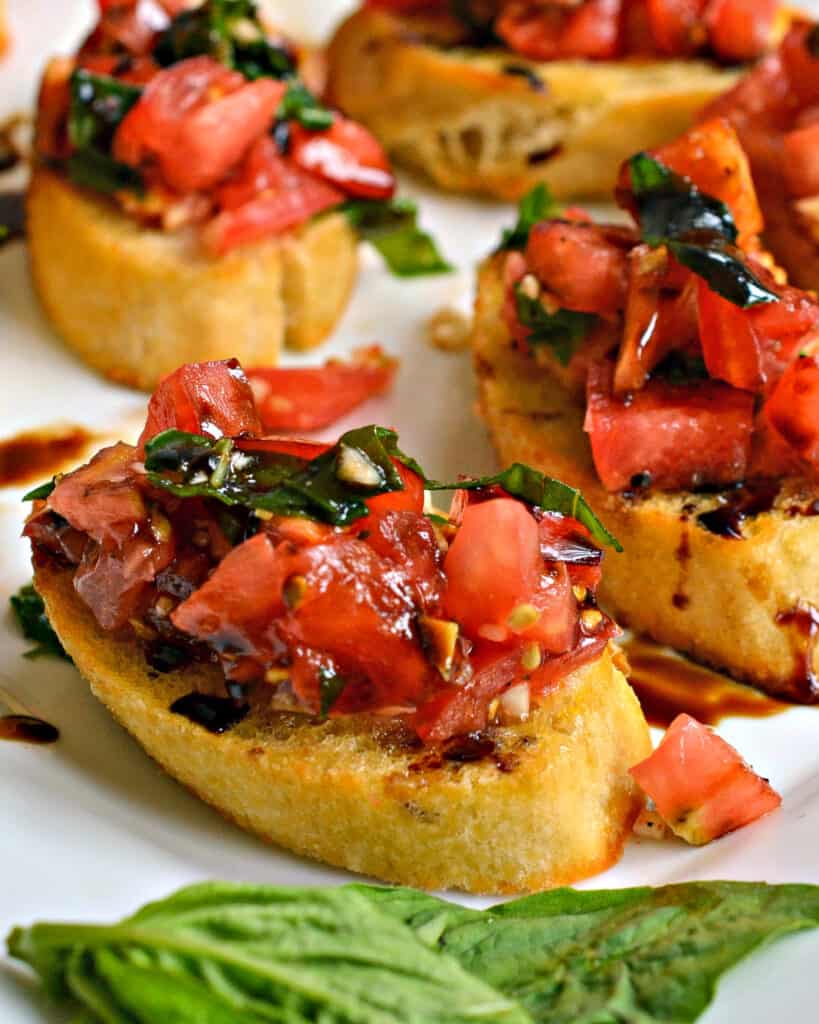 This refreshing party snack will immediately freshen up your guests. Crunchy toasted bread with a hint of garlic topped with marinated fresh tomatoes and basil with olive oil, chopped garlic, balsamic vinegar, kosher salt and red chili flakes. Who wouldn't love these quick and easy, crunchy toasts topped with juicy marinated tomatoes! Keep the tomatoes marinated for 30 minutes and  quickly brush your baguette slices with garlic infused olive oil and toast them for 15 minutes. Rub a garlic clove onto the toasts and top with the chilled marinated tomatoes. Serve them right away!
Click here.

Catch more Vegan Sandwich Recipes here.
---
7. Bacon Wrapped Dates with Goat Cheese
Another stunning recipe on the blog is this goat cheese stuffed bacon wrapped dates with rosemary honey. Add this to your list of party ideas, it's guaranteed to be a hit. It's so fancy and sweet and savory and moreish! It cooks in the oven in just about 20-25 minutes. All you need to do is mix honey, rosemary, cayenne, a pinch of kosher salt and a pinch of back pepper in a bowl. Keep that aside. Now take your Medjool dates and make a slit on it, don't cut all the way down.

But, now remove the seeds. Then, stuff goat cheese inside the cavity that is made in the dates after removing the seeds. Wrap each date with a slice of bacon and glaze with the prepared honey mixture. Place them on a baking sheet and bake in a preheated oven for about 20-25 minutes. The bacon will be caramelized beautifully. Garnish with some candied walnuts and a drizzle of the honey mixture and serve.
Click here.

Try these amazing christmas charcuterie board ideas for christmas days celebration.
---
8. Christmas Cookie Dip
My holiday recipes are incomplete without desserts. I love desserts more than any food. You can pretty well say that I eat my starters and main as soon as possible just so I can jump onto my favorite dish – the dessert! And the joy of eating homemade desserts is inexplicable! This Christmas, I made an amazing Christmas cookie dip for dessert.

I have already shared with you my love for homemade healthy cookies and this dip just takes those cookies to a whole new level. Made with cream cheese, whipping cream, powdered sugar, vanilla, and sprinkles, this dip will sweeten your life. It takes as less as 5 minutes to put together and you can store it in your freezer for upto three days.
Click here.

Get these amazing Christmas No Bake Desserts for celebration.
---
9. Gruyere Mushroom & Caramelized Onion Bites Recipe
My daughter loves homemade party foods. She says that she's blessed to be my daughter as she gets to eat homemade party foods from her MasterChef mother. Well, I'm honored to be that! I try to make delightful treats for her every now and then just to see that glow on her face. She's such a foodie! And its so easy to please her! These gruyere mushroom and caramelized onion bites are yet another Christmas appetizer to enjoy with your party guests. My bite-sized holiday recipes are always a showstopper. Crispy, flakey, puff pastries topped with balsamic caramelized onions, gruyere cheese bomb and sauteéd mushrooms are going to create a burst of flavours inside your mouth.
Click here.
---
10. Bruschetta Cheese Ball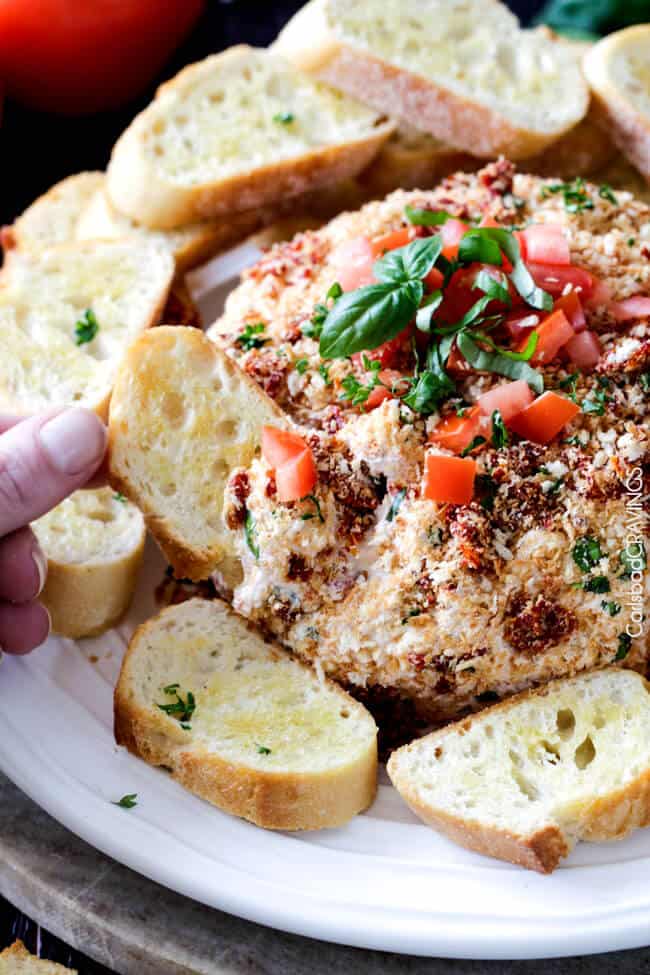 Cheese is a food that I like to eat with anything, and cheese balls made with it are my favorite. On the other hand, bruschetta made with sun-dried tomatoes fills my heart. Both of these are so dear to me that I don't know which one to choose. To get rid of this confusion I made bruschetta cheese balls today. In this recipe, we get the taste of two types of tomatoes. Juicy tomatoes and sun-dried tomatoes combine to create a heavenly taste. 

Ingredients to be given in this cooking mix are -sun-dried tomatoes, Roma tomatoes, garlic cloves, onion cloves, salt, basil, cloves, and Mozzarella cheese. They should be mixed well. And for outer coating bread crumbs, olive oil, and parmesan cheese will be required. Garnishing any food makes it more enjoyable to eat. So if you want to garnish then you can decorate it with a basil leaf and chopped dried tomato. This dish can be made in just 25 minutes and it can become a super hit item at any party. I am saying this from my own experience.
Click here.
---
11. Toasted Ravioli 
Make these easy Christmas appetizer recipes for your guests on weekends on your own. Today I will tell you how to make toasted ravioli at home. To prepare this item you need a minimum of 45 minutes and for cooking it takes 20 minutes approx. To make it, first of all we need ravioli (meat / cheese), you can use both meat and cheese if you want. Then we need – beaten eggs, milk, bread crumbs, chopped parsley, rosemary, parmesan cheese, marinara sauce and some vegetable oil, for frying.

That's it. We need only these ingredients to make this super delicious toasted ravioli. First put the ravioli on the baking sheet and freeze it for about twenty minutes. Then take it out and dip it in the beaten egg and milk mixture. Next, coat it in a mixture of breadcrumbs, rosemary and parsley, then freeze it again in the freezer for 15 minutes until firm. Then deep fry the golden brown raviolis in vegetable oil and serve hot with marinara sauce and enjoy the delicious taste.
Click here.
---
12. Bacon Crackers
How happy my heart is when Christmas comes. There are many kinds of festivals throughout the year but Christmas is different. I used to wait for this day since childhood. Because this time my mother used to cook my favorite dishes. Today I will teach you a recipe made by my mother. Those are bacon crackers. Is your mouth watering? So is mine. I made it for lunch today. Any type of buttery crackers can be used to make this crispy crackers recipe. Add brown sugar and bacon slices on top of the crackers and bake them in the microwave for about an hour. This is one of the best party ideas for Christmas parties ahead. This Christmas appetizer is so delicious that everyone at the party will have to try it. You can also try stuffed mushrooms with bacon to celebrate the holidays.
Click here.
---
13. Baked Brie and Bread Wreath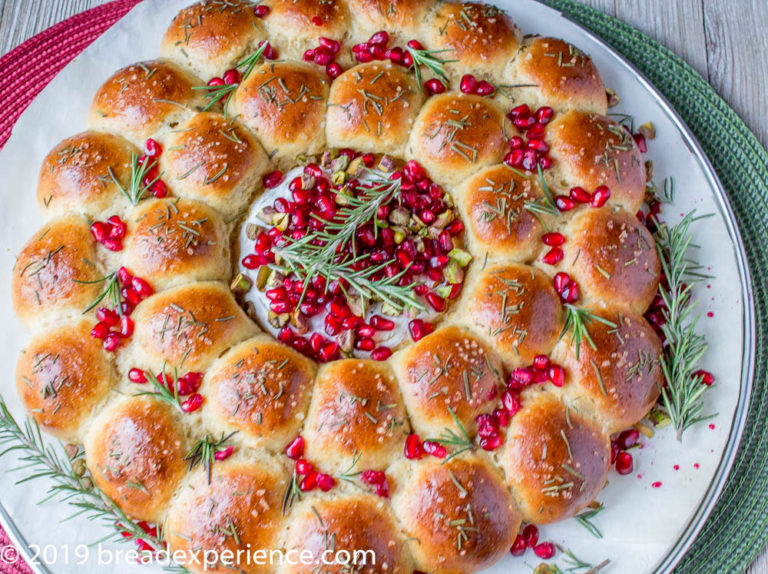 Christmas is coming so we will want to cook something new every day. Today this dish looks so beautiful that you will regret eating it. And if you put it in your mouth, it will seem that there will be a burst of taste in your mouth. The name of this dish is baked brie and bread wreath. Ingredients we need to make it are – flour, milk, sugar, butter, brie cheese, cranberry sauce, salt, and yeast. 

First, we have to make the base in the baking oven. Apply butter well on the dough and leave it for some time. Then garnish it well with the ingredients and bake it in the oven. Remember to garnish with cranberry sauce in the middle. It will take 2-3 hours to make. The taste of this sauce will make your mind happy with every bite. If no one eats this Christmas dish, he will miss a lot. Make these Christmas appetizers or holiday appetizers if you don't want to miss it.
Click here.

Find more Chicken Breast Recipes here.
---
14. Christmas Tree Mini Pizzas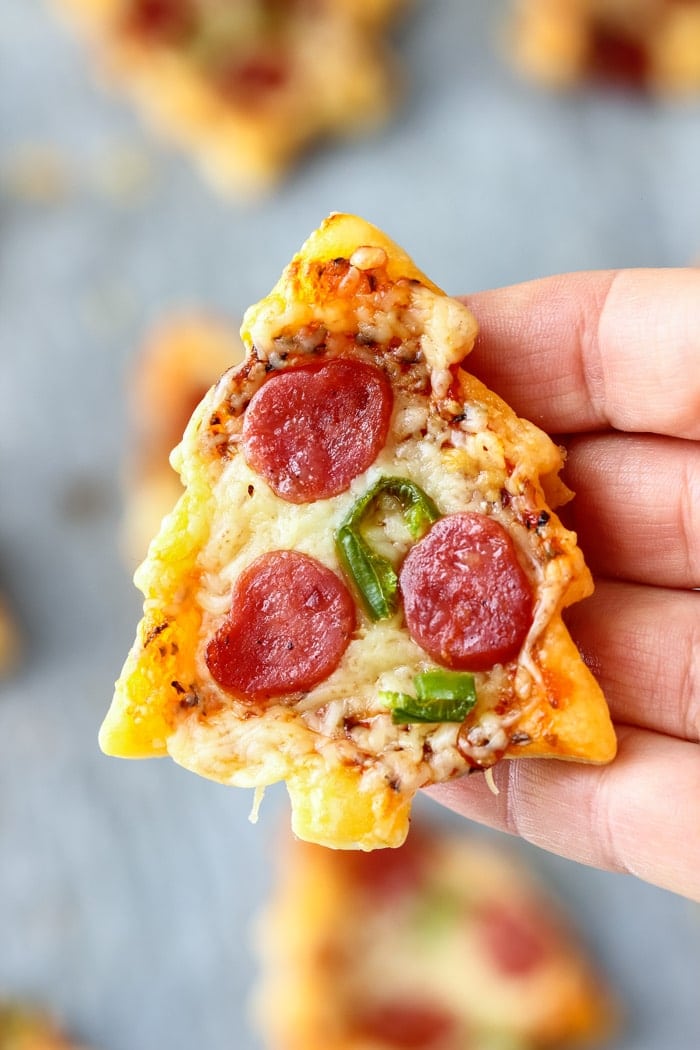 No party can be completed without pizza. This is a dish that is everyone's favorite. Holiday recipes for Pizzas are especially attractive to the little ones. Pizza bites with cheese are delicious. These Christmas tree mini pizzas are a great choice for parties. No one can say no to pizza. Its creamy texture will melt in your mouth. Ingredients needed to make this dish – Puff pastry, green pepper, cheese, and pizza sauce. 

You need a tree cookie cutter to shape these pastries and top these with the above-said ingredients. Now it is ready to bake in the oven. These mini pizza bites will take only 30 minutes to be served. And the smell of these mini pizzas will blow your mind. I swear you will definitely love these mini pizzas. It is one of the tastiest party ideas one can ever have.
Click here.
---
15. Loaded Baked Potato Rounds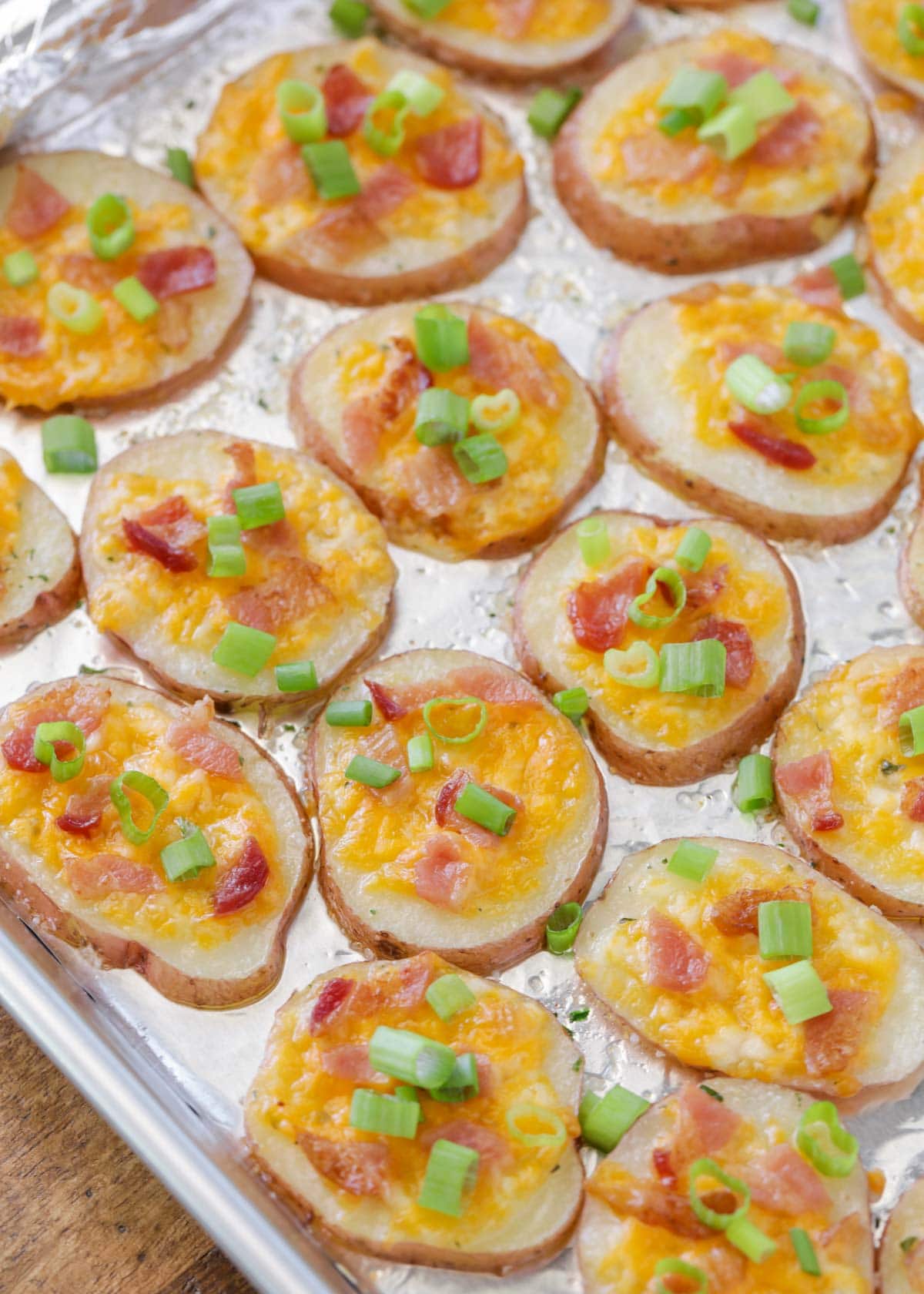 I like to make easy recipes. That's why I try to make this kind of cooking all the time. Today I will make loaded baked potato rounds. To make this we need – sliced ​​potatoes, garlic powder, olive oil, and minced rosemary. And top it with some bacon strips, sliced ​​onion, cheese, and pepper. 

It takes only 15 minutes to prepare and 25 minutes for cooking. Now bake these potato slices in a preheated oven and wait for an amazing view. It will taste yummy and also be a great party idea for Christmas Day. Make your holiday special by cooking these amazing Christmas appetizers.
Click here.
---
16. Pulled Pork Pastry Puffs 
Wanna make some quick recipes? Here it is. Make these amazing Christmas appetizers and pulled pork pastries for your festivals.  Homemade is heart-made. So, let's make this pork recipe on your own for your special ones. Pork has a great taste; if you make a dish using it, its taste doubles. This crispy recipe is mind-blowing and also very time worthy. 

Ingredients are needed – pork, tomato chutney, frozen rolled puff pastries, and eggs. It only needs 20 minutes for preparation and 20 minutes for cooking. Bake this quick easy making party food and serve it to them. It will also be a perfect Thanksgiving dinner for your guests. Try this on your weekend.
Click here.

For celebration make these Brie Cheese Appetizer Recipes.
---
17. Christmas Wreath Antipasto Skewers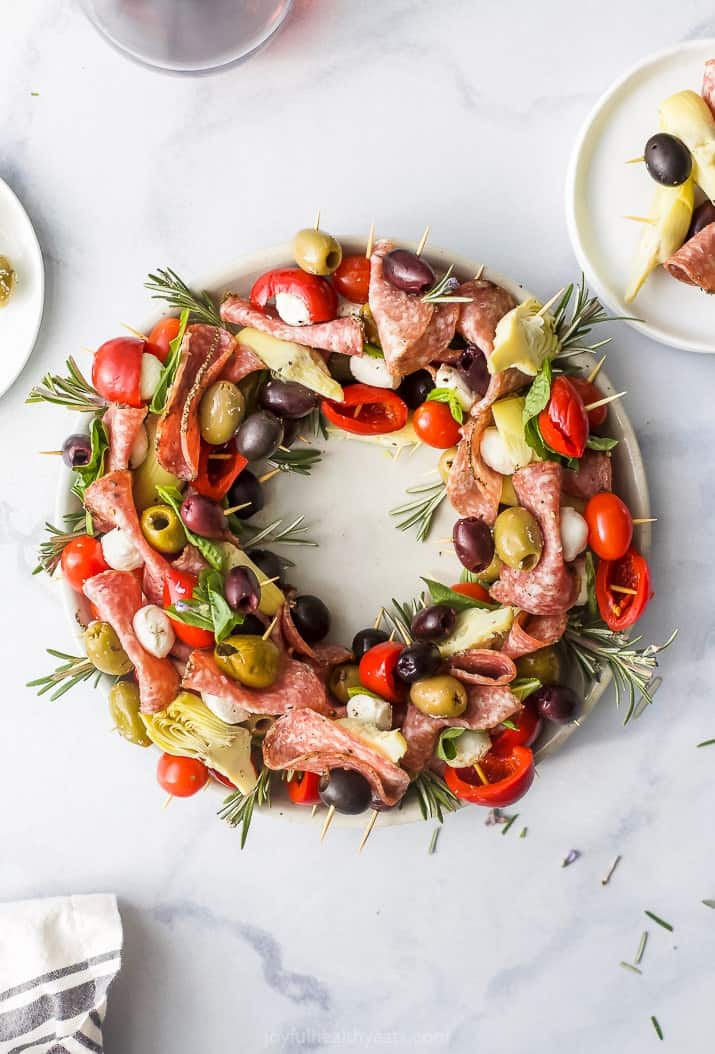 Christmas wreath antipasto skewers are an Italian recipe. That means "before the meal". It consists of some juicy vegetables, cheeseballs, and meat. It is a fancy-looking dish that can be made in a few minutes. We only have some ingredients to make this. Those are – cherry tomatoes, olives, cheese balls, salami, olive oil, balsamic vinegar, salt and pepper, and skewers. This dish will look like the crown of a Christmas party. Make this super easy and tasty dish for your future parties. And let your invitees say "yummmmm". No one can beat this recipe I swear.
Click here.
---
18. Creole Shrimp Toast
Don't have any idea what to do with leftover cooked shrimp? Make this creole shrimp toast using those leftovers. It will taste great I promise. It is a crispy party food recipe that everyone will enjoy for holiday season. Cheesy creamy topping will fill your mouth with taste. These bite sized holiday recipes will take only 20 minutes approximately to be served to your guests before christmas dinner. 

Ingredients we need for making the dish are – cooked shrimp, creole seasoning, mayonnaise, mozzarella cheese, toasted bread rounds, and sour cream. If you try this once you will never forget its amazing taste. People who will be invited to your parties will say "Mmmmmmmmmmmm ", after having one bite of this creole shrimp toast.
Click here.
---
19. Cranberry Cream Cheese Spread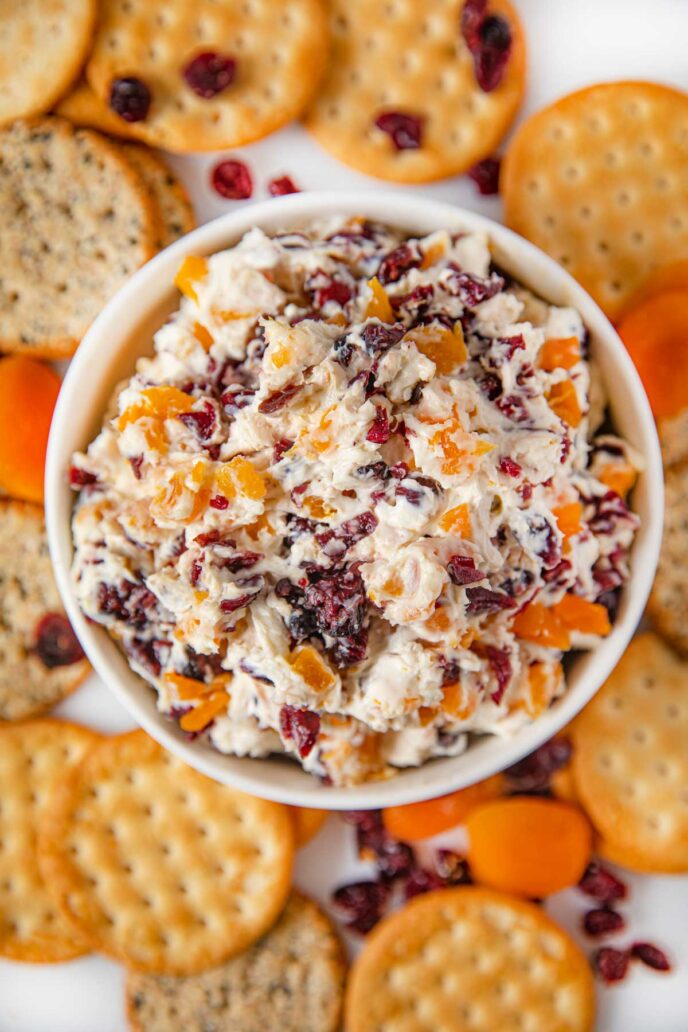 Christmas is just knocking at your door. So let's make some unique Christmas appetizers for this year's end. I hope you will love these recipes of mine. It is one of my favorite party ideas which I am going to make now. This is a cranberry cream cheese spread. This flavor is my all-time favorite. Cranberries are so tasty and juicy. Today we will make a cheese spread using it. This easy-making recipe will take just a few minutes to be ready.

You just have to mix cream cheese, chopped cranberries, chopped apricots and orange very well. Refrigerate it for a minimum of 1 hour and Tadaaaaaaa it is ready to be served with some tasty, crispy crackers.
Click here.
---
20. Blueberry Balsamic Goat Cheese Appetizer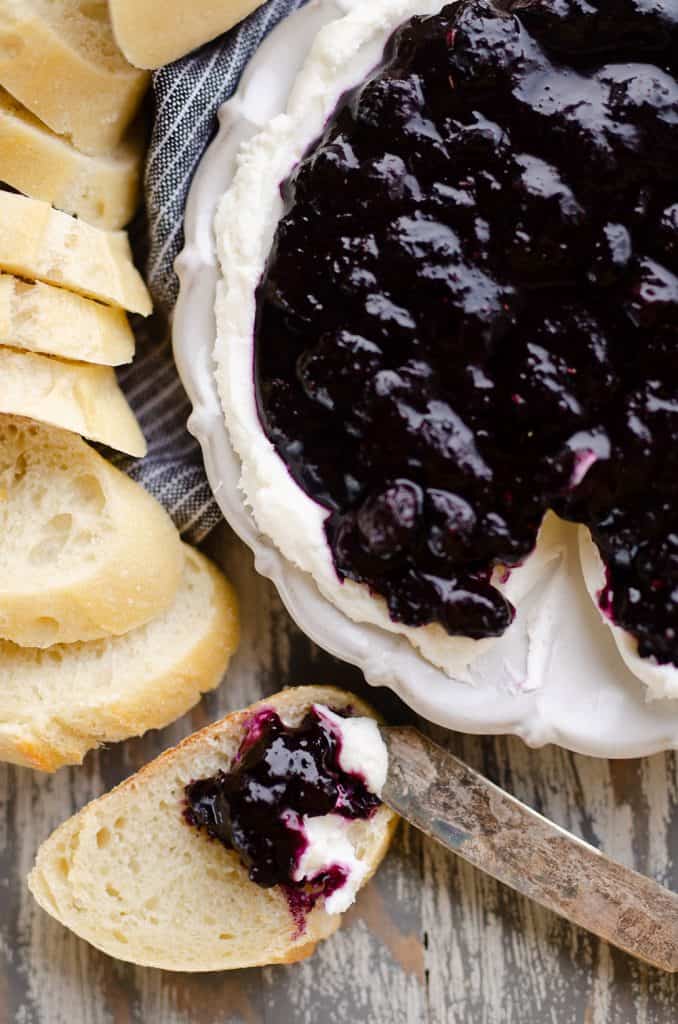 Try to make this 15 minutes easy making blueberry balsamic goat cheese appetizer as Christmas appetizers for the end of December days. Those days are so magical and beautiful. It is a crispy French bread recipe topped with blueberries, rosemary, honey, balsamic vinegar, and whipped goat cheese. Who says that tasty recipes will take more time to make? It is a big noooo. 

Here is proof that you will also make tasty recipes in just a few minutes. Saute those ingredients for about a few minutes and mix both the cream cheese and goat cheese for making whipped goat cheese. After that, serve it on a plate with some bread. Enjoy it at your Christmas parties.
Click here.
---
21. Parmesan Roasted Carrot Fries
Carrots are my favorite winter vegetable. It's high in beta carotene, fiber, vitamin K1, potassium, and antioxidants. And that bright orange color melts my heart every time. Carrot cakes are one of my favorite desserts. One of my Indian friends made me another carrot dessert and that man! I can't ever forget that. It's a creamy and delicious carrot pudding that the Indians call "Gajar ka halwa". I don't know if I spelled that right. But if you have an Indian friend, you have to ask them to make it for you. 

This time I made some easy Christmas appetizers or holiday recipes with carrots. One of them is this easy parmesan roasted carrots. It's ready in just 20-25 minutes with a 20-minute bake time in the oven. Drizzle your carrots with olive oil, salt, pepper, and parmesan, and roast them in your oven. Garnish with chopped Italian parsley and serve right away!
Click here.
---
You may Like These Meal Ideas:
High Protein Low Carb Recipes
Halloween Appetizers
Smoothie Recipes
Halloween Dinner Ideas
Fritter Recipes
One Pot Dinner Ideas
Back To School Lunch Recipes
Trifle Recipes
---
If you like this article about christmas appetizers, share with your friends or families on Facebook, Twitter, and Pinterest. Choose your favorite recipe and make it at home, let me know which is your best recipe in the comment. Also, you can subscribe to my blog to get all the latest updates first on your mobile.