Are you seeking Christmas ideas to infuse your home with winter charm through DIY decorations and home decor? The Christmas porch decorations, often overlooked, are the perfect canvas to showcase your creative flair. This often-underappreciated space can be transformed into a winter wonderland with a dash of inspiration and a sprinkle of DIY magic.

Winter ideas for porch decorations abound, allowing you to craft a unique and inviting entryway that reflects your holiday spirit. Christmas porch decorations provide an opportunity to add a personal touch, creating a warm and welcoming atmosphere for all who visit.

From festive wreaths to handcrafted lanterns, the options for Christmas porch decorations are as vast as your imagination. So, if you're looking to elevate your home's curb appeal and greet your guests with holiday cheer, let's explore some exciting DIY ideas to make your porch a beacon of festive joy this Christmas season.
---
◆ Christmas porch decorations, What are its specialties?
1. Festive Lighting: Christmas porch decorations often feature twinkling lights that illuminate the entrance, creating a magical ambiance after sunset.
2. Wreaths and Garlands: Traditional wreaths made of evergreen branches, berries, and ornaments are a hallmark of Christmas porch decor, adding a touch of elegance.
3. DIY Craftsmanship: Many homeowners opt for DIY decorations, allowing them to personalize their porch with handmade ornaments and unique pieces.
4. Seasonal Planters: Porch planters filled with winter-friendly greenery like pine, holly, and poinsettias provide a burst of color against the snowy backdrop.
5. Doorway Accents: Decorative accents such as ribbons, bows, and bells can be creatively incorporated around the doorway to welcome guests.
6. Cozy Seating: Some Christmas porch setups include cozy seating areas adorned with festive cushions and blankets, encouraging relaxation and outdoor gatherings.
7. Thematic Displays: Specialties may also include thematic displays like Santa Claus figurines, reindeer, or nativity scenes, adding a touch of tradition and storytelling to the decor.
---
◆ How can I create a welcoming Christmas porch decor?
Creating a welcoming Christmas porch begins with choosing a theme or color scheme that suits your style. Consider using wreaths, garlands, and string lights to adorn your front door and railings. Add some cozy elements like lanterns or candles for warmth, and don't forget a festive doormat. Be creative and personalize your decor to make it unique and inviting.
---
◆ What are some safety tips for Christmas porch decorations?
Safety is essential when decorating your porch for Christmas. Ensure your outdoor lights are rated for exterior use and are installed securely. Use outdoor extension cords and avoid overloading electrical outlets. Keep walkways clear of decorations to prevent tripping hazards. If you're using real greenery, water it regularly to prevent drying out, which can be a fire hazard. Lastly, be cautious with open flames, such as candles, and never leave them unattended.
---
◆ How can I make my Christmas porch decor eco-friendly?
To make your Christmas porch decor eco-friendly, consider using natural materials like pinecones, twigs, and branches. Opt for LED lights, which are energy-efficient, and use a timer to limit their usage. Choose decorations that can be reused in future years, reducing waste. You can also support local artisans and buy handmade decor items. Lastly, consider potted evergreen plants that can be replanted after the holidays, minimizing environmental impact.
---
1. Front Porch Christmas Decorations
Front porch Christmas decorations bring forth captivating winter ideas. These adornments transform entryways into enchanting wonderlands. If you seek inspiration, consider these delightful suggestions.

Begin with a charming wreath. Crafted with evergreens, it offers a warm welcome. Drape it with festive baubles and ribbons for added allure. Illuminate the surroundings with luminous lights.

Soft glows evoke a magical ambiance, guiding guests to your door. Amplify the charm with a frosty garland. Adorn it with pinecones, berries, and artificial snow. 

Embrace cozy seating arrangements. Plush cushions and blankets invite you to linger on frosty evenings. Add potted plants to infuse life amid the wintry scene. Evergreen pines or holly bushes infuse color and vitality. Incorporate rustic elements like wooden signs or vintage sleds.

These lend a nostalgic touch. Employ lanterns or candles for a warm, flickering glow. This adds intimacy and charm. A whimsical mailbox dressed as Santa's post station adds a playful element.

They infuse warmth and cheer into your home's exterior, creating a festive atmosphere that beckons visitors with open arms. But you can try more DIY christmas crafts ideas for kids.

Get it here.


More: Christmas Treats & Christmas Cocktails
---
2. Festive and Frugal Porch
A festive and thrifty porch adorned with Christmas ideas exudes charm. It emanates a joyful, economical spirit, creating an inviting atmosphere. A modest budget can still yield a picturesque holiday porch.

Simple yet elegant decor, like wreaths and garlands, adds flair. Repurpose items like mason jars for rustic candle holders. Subdued LED lights create a warm, ambient glow. Poinsettias bring vibrant color.

Handmade ornaments personalize the space. Consider a wooden sled as an eye-catching centerpiece. DIY projects infuse uniqueness, from painted wooden signs to burlap stockings.

A cozy, frugal porch is an ideal backdrop for family photos. Utilize natural elements like pinecones and evergreen branches. A homemade welcome mat adds a personal touch.

Delightful and budget-friendly, this porch captures the essence of the holiday season without breaking the bank. Enjoy the simplicity and warmth it brings to your home.

Get it here.

Check out these amazing christmas cake ideas & christmas dinner ideas for enjoy with family!
---
3. Black and White Rustic Farmhouse Decorations
Black and white rustic farmhouse decorations infuse homes with timeless charm. These classic color schemes effortlessly blend into various home decor styles, creating an inviting ambiance.

The marriage of stark black and crisp white elements strikes a perfect balance, evoking a sense of nostalgia and simplicity. The muted tones create a harmonious contrast that appeals to those seeking understated elegance.

These decor choices are versatile, seamlessly fitting into modern or traditional settings. The minimalist approach makes spaces feel uncluttered, enhancing the overall aesthetic.

Wood, metal, and distressed finishes add texture, giving character to each piece. These elements imbue spaces with warmth and a welcoming atmosphere, transforming any house into a cozy home.

Incorporating black and white rustic farmhouse decorations is an artful way to achieve a chic and inviting home decor style that stands the test of time.

Get it here.

Also try these mason jar christmas crafts for holiday gifts.
---
Suggested: Christmas Tree Ideas
---
4. DIY Holiday Decor Ideas
Crafting your own holiday decor brings festive joy to your space. DIY holiday decor ideas infuse creativity into your celebrations, offering a personalized touch that stands out.

These imaginative projects allow you to customize your decorations to match your unique style and preferences. From handmade ornaments to wreaths crafted from natural materials, DIY ideas provide endless possibilities for holiday adornments.

The process of creating these items fosters a sense of accomplishment, making your home feel even more special during the holiday season. Incorporating recycled or upcycled materials in your DIY projects not only adds an eco-friendly element but also showcases your resourcefulness.

Handcrafted decor pieces serve as conversation starters and cherished keepsakes, adding sentimental value to your home. Embracing DIY ideas for holiday decor not only saves money but also cultivates a deeper connection to the season, making your festivities truly unforgettable.

Get it here.

Also make these christmas appetizers & christmas desserts for winter nights celebration.
---
5. Rustic Winter Front Porch
The rustic winter front porch exudes cozy charm with its DIY decorations. This inviting space captures the essence of the season through a blend of natural elements and handcrafted adornments.

The rustic aesthetic welcomes guests with its warm, earthy tones and weathered textures. Incorporating handmade wreaths, lanterns, and wooden signs, the DIY decorations infuse a sense of personal touch and creativity into the decor.

By repurposing materials like reclaimed wood and vintage items, the porch gains a unique character that stands out. The inclusion of seasonal plants and greenery adds a touch of freshness and life to the wintry scene.

Layering cozy blankets and cushions on outdoor seating areas invites people to linger and enjoy the ambiance. The rustic winter front porch becomes a gathering place for friends and family, fostering a sense of togetherness and comfort during the colder months.

It's a testament to the beauty of simplicity and the joy of crafting your own seasonal decor, creating a memorable and inviting entryway to your home.

Get it here.


But to decorate you home, these christmas wreaths & christmas ornaments are the perfect DIY ideas for christmas!
---
6. Natural Winter Decorating Ideas
Transform your porch into a festive wonderland this holiday season with enchanting Christmas porch decorations. Embrace the magic of winter with these delightful natural decorating ideas that will infuse your outdoor space with seasonal charm.

Start by adorning your porch with rustic wreaths made from fragrant evergreen branches, pinecones. Hang these wreaths on your door and windows to greet visitors with a warm, woodland welcome.

Incorporate cozy elements like plaid blankets and knit pillows to create a snug seating area where you can sip hot cocoa and watch the snowfall. Illuminate the night with lanterns filled with flickering candles, casting a soft and inviting glow.

Add a touch of whimsy with oversized ornaments and playful woodland creatures like reindeer or owls. For a finishing touch, consider a natural garland made of twine and dried citrus slices, which will exude a delightful aroma.

These chic and effortless ideas will transform your porch into a captivating holiday escape, where the spirit of Christmas can be felt in every natural detail.

Get it here.
---
Suggested: Winter Crafts
---
7. How to Hang Outdoor Christmas Garland Around the Front Door
Enhance your home's holiday appeal with charming Christmas ideas for hanging outdoor garland around your front door. Start by selecting a sturdy and weather-resistant garland that suits your decorative vision.

Before hanging, ensure your front door area is clean and dry. To attach the garland, use adhesive hooks or outdoor clips, spacing them evenly along the door frame.

Begin at the top and drape the garland downward, securing it to each hook or clip as you go. This technique maintains a neat and uniform appearance. Incorporate string lights into your design by weaving them through the garland for a luminous touch.

Adorn the garland with ornaments, pinecones, or bows for added festive flair. To keep it secure, fasten these decorations with floral wire or zip ties. Don't forget to step back and assess the arrangement as you progress to ensure symmetry and balance.

Finish by fluffing and adjusting the garland to achieve a full, lush look. For an extra touch of magic, add a festive ribbon or bow to your front door.

With these simple yet creative Christmas ideas, your front porch will radiate holiday cheer and warmly welcome all who approach.

Get it here.
---
8. DIY Hanging Star Lanterns; Christmas Porch Decorating Idea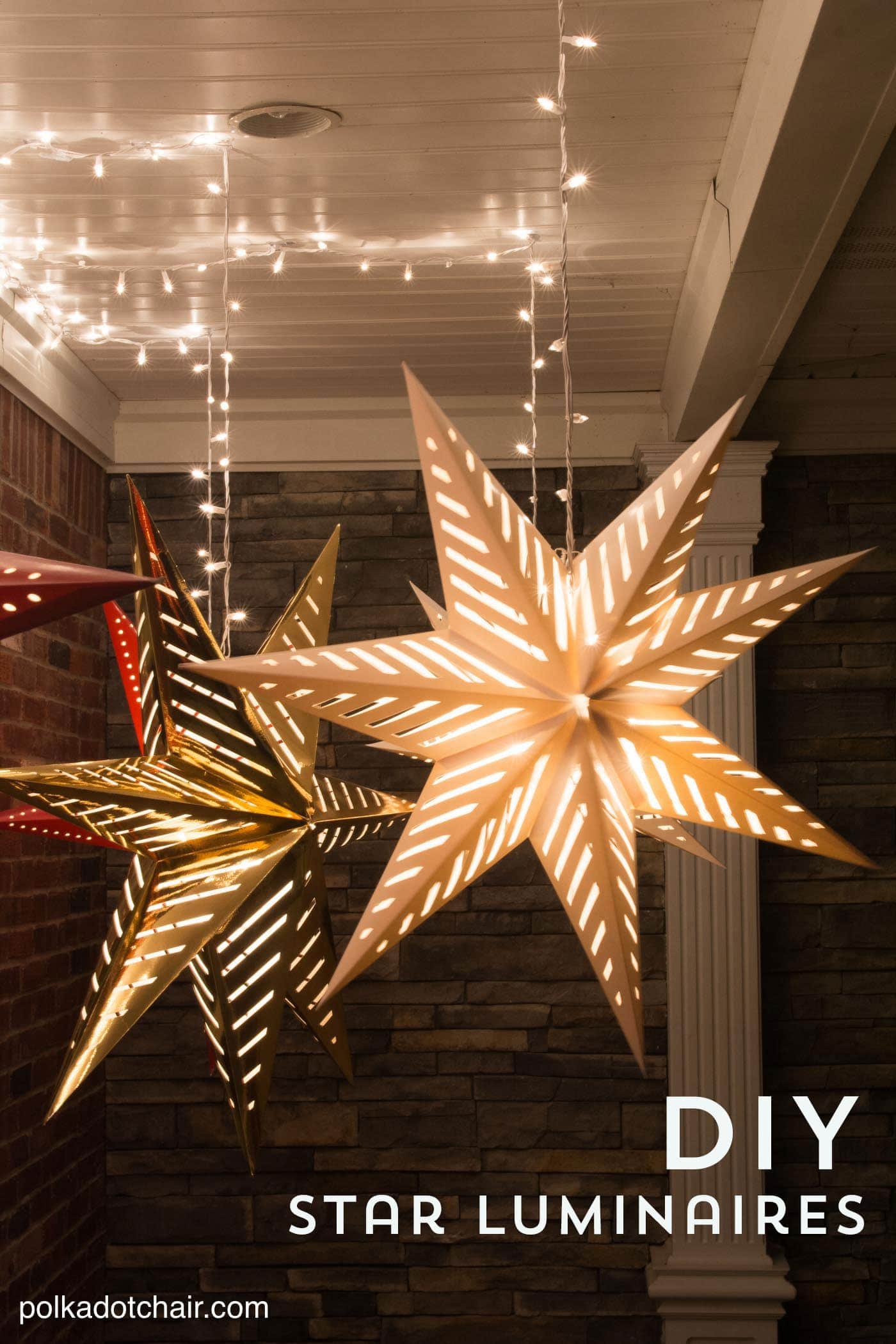 These DIY hanging star lanterns make for a splendid addition to your Christmas porch decor. They exude an enchanting ambiance with their celestial charm, illuminating the night sky with a warm, festive glow.

Crafted with meticulous care, these elegant decorations infuse a touch of holiday magic into your outdoor space. Suspended gracefully, they cast intricate shadows, adding an artistic dimension to your festive setting.

These ornate lanterns showcase your creativity, elevating your porch's appeal during the holiday season.

The twinkling star lanterns captivate onlookers, creating a captivating spectacle that captures the spirit of Christmas. Handcrafted with precision, they emanate a resplendent radiance that lends a captivating allure to your porch.

Their ethereal design evokes a sense of wonder, leaving a lasting impression on all who pass by. The play of light and shadow, orchestrated by these lanterns, paints an enchanting tableau that invites admiration.

Get it here.
---
9. Outdoor Christmas Lantern Planter Idea for your Porch
Outdoor Christmas lantern planters for your porch exude an enchanting holiday charm. These imaginative creations meld the beauty of nature with the festivity of the season, producing a captivating visual spectacle.

Each lantern planter is a harmonious amalgamation of lush greenery, vibrant florals, and festive ornaments, resulting in an exquisite centerpiece that radiates Christmas spirit.

The verdant foliage cascades gracefully, framing the lanterns like a living tapestry. These planters breathe life into your porch, infusing it with a dynamic and festive ambiance that captivates onlookers.

The warm glow of the lanterns nestled amidst the verdure casts a soft, inviting light, creating a cozy and welcoming atmosphere. The intricate details of these planters, from pinecones to berries, evoke a sense of nostalgia and traditional holiday cheer.

Their arrangement showcases a keen eye for design, making your porch a picturesque haven during the festive season. These lantern planters are a testament to your decorative prowess and an invitation for friends and family to share in the joy of the season.

Illuminate your porch with this charming idea and let it be a beacon of holiday warmth and hospitality for all to enjoy. Must try christmas truffles & christmas candy recipes for sides as treat!


Get it here.
---
10. Neutral and Elegant Christmas Porch Decor Ideas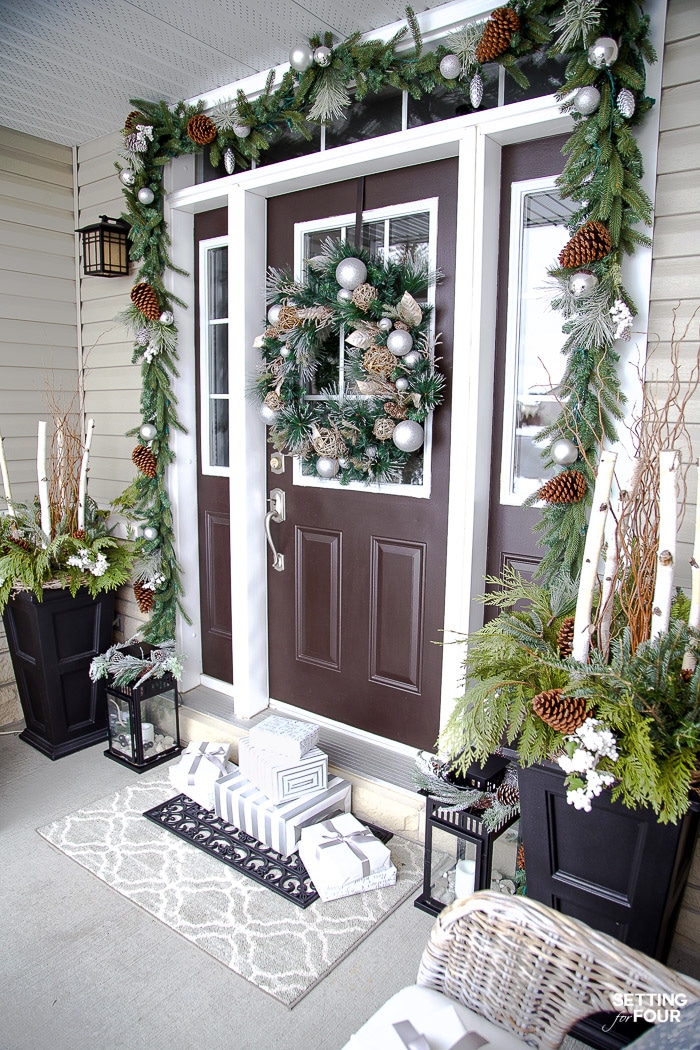 Neutral and Elegant Christmas porch decor exudes sophistication while maintaining a serene ambiance. Subtle color palettes, such as muted grays and soft creams, create a calming atmosphere. These elegant decorations radiate timeless charm, captivating onlookers with their understated beauty.

Graceful wreaths adorned with delicate ornaments hang on the door, adding a touch of allure. Twinkling string lights trace the edges of the porch, illuminating the night with a gentle radiance. An inviting wooden bench, draped in plush, neutral-toned cushions, beckons guests to rest a while.

Pristine white candles nestled in glass hurricanes cast a warm, inviting glow. An elegant garland, embellished with glistening silver accents, drapes gracefully along the porch railing. The decor's minimalist approach fosters a sense of tranquility.

Delicate silver or gold baubles add a dash of glamor to the scene, while a dusting of faux snow imparts a whimsical touch. Cozy blankets, neatly folded, invite you to snuggle up with a cup of hot cocoa. A lush, green wreath on the wall, adorned with white berries, evokes a sense of the holiday spirit.

Incorporating natural elements like pinecones and evergreen branches infuses an organic, earthy feel. This tasteful arrangement marries elegance with simplicity, creating a visually stunning Christmas porch that captivates with its refined charm.

Get it here.
---
11. Christmas Porch Decor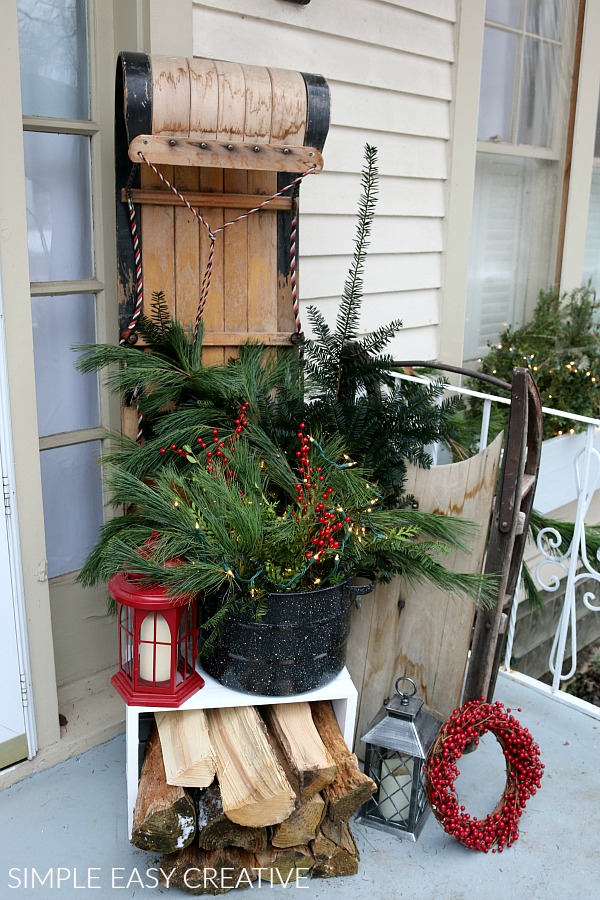 Adorning your porch with festive Christmas porch decorations transforms it into a captivating winter wonderland. These embellishments imbue your outdoor space with an enchanting yuletide charm.

Glistening lights and shimmering ornaments cascade like stars, casting a warm glow. A wreath, adorned with vibrant holly and crimson ribbons, beckons merriment. Snowflakes, tastefully dangling, dance in the crisp, wintry breeze.

Evergreen garlands, laden with aromatic pine cones, evoke nature's splendor. A whimsical touch arrives with charming nutcracker figurines and Santa's joyful elves. Welcome mats, festooned with cheerful greetings, embrace all who approach. Cascading icicle lights enchant, resembling frozen tears of joy.

Elegant reindeer sculptures stand sentinel, symbolizing Christmas's timeless spirit. Rustic wooden signs offer messages of hope and love. Enveloped in this wondrous display, the Christmas porch decorations exude a heartwarming, inviting ambiance, radiating festive cheer to all who cross its threshold.

Get it here.
---
More ideas: Thanksgiving Decoration Ideas & Fall Centerpiece Ideas
---
12. Vintage Christmas Front Porch Decorations
Transform your front porch into a nostalgic holiday wonderland with enchanting Vintage Christmas decor ideas. Embrace the festive spirit by adorning your entrance with timeless ornaments and classic trinkets.

Hang rustic wreaths adorned with festive baubles, twinkle lights, and evergreen garlands. Incorporate antique lanterns or vintage sleds for a charming touch. Arrange a cozy seating area with plaid blankets and cushions for a warm, inviting atmosphere.

Swap out your doormat for a vintage-inspired design, perhaps one with cheerful holiday motifs. Don't forget to place a welcoming vintage Santa figurine or a snow globe on your porch.

For a finishing touch, hang an old-fashioned jingle bell wreath or a wooden sign with a heartwarming holiday message. These Vintage Christmas Front Porch Decorations will evoke a sense of nostalgia and create a picturesque holiday setting that will delight all who visit.

Get it here.

Thinking about lunch, what to do to make for everyone for this christmas? Must try christmas casserole recipes for meal prep and serve with christmas drinks!
---
13. farmhouse Christmas front porch
A rustic Christmas front porch, adorned with nature's charm, exudes cozy yuletide elegance. The doorway, festooned in evergreen wreaths and twinkling lights, warmly beckons guests.

Wooden planks and vintage accents infuse quaint nostalgia, while a generous blanket of snow blankets the scene in serene purity. A quaint pine-scented tree, wrapped in strings of gleaming bulbs, stands proudly in a galvanized bucket, casting a gentle glow.

Cozy knit blankets and plaid cushions adorn wooden rockers, inviting relaxation under the starry night. A vintage sled and antique lanterns grace the entryway, evoking memories of bygone winters.

Icicles shimmer above, like glistening diamonds, in the crisp winter air. The ambiance whispers tales of tradition and togetherness, a charming ode to the season of merriment.

Get it here.
---
14. Red and White Holiday Porch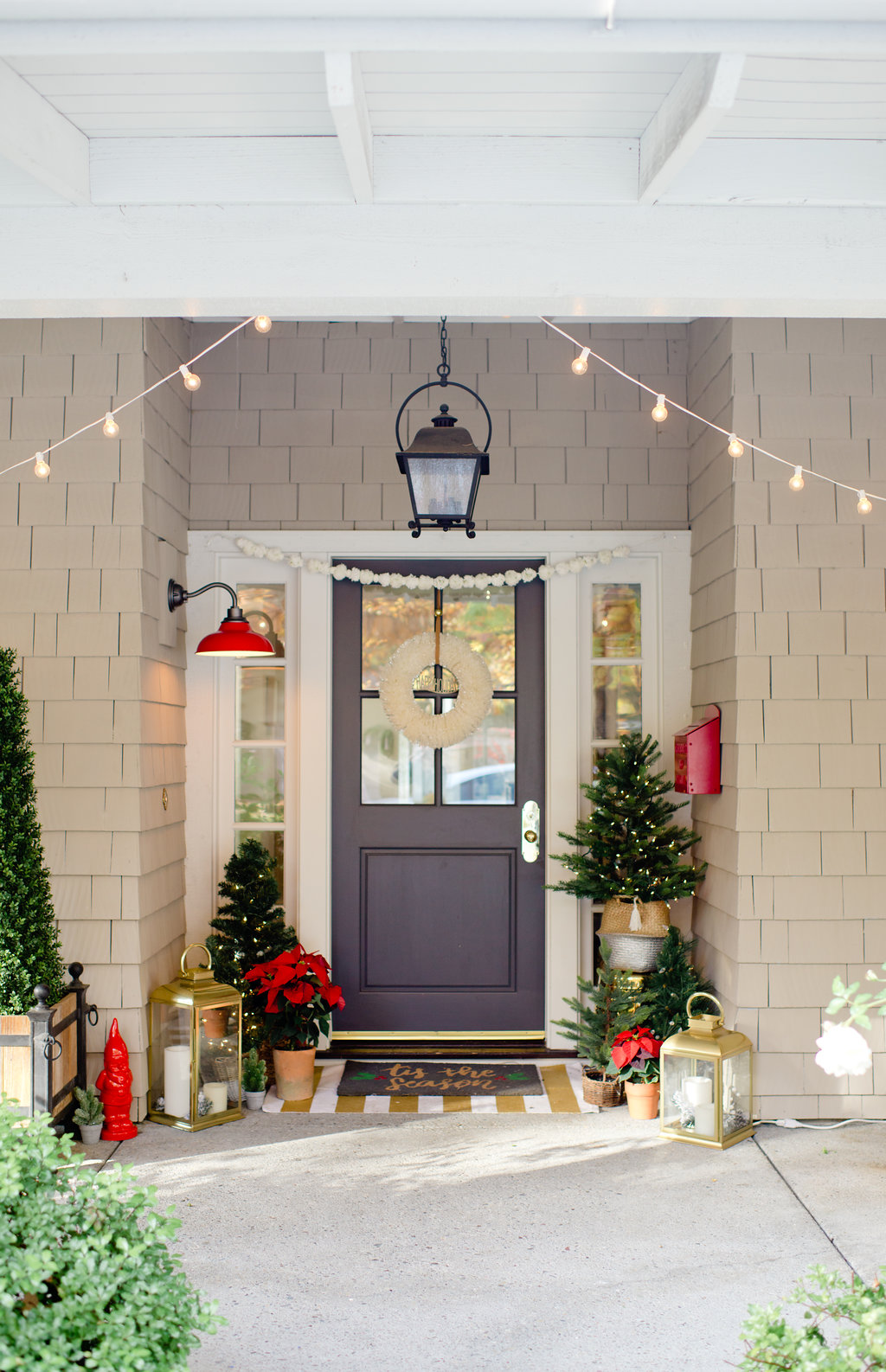 The holiday porch, adorned in vibrant red and pristine white, emanates a festive aura. Crisp and inviting, it exudes a yuletide charm that captivates all who pass by. The crimson hues blend harmoniously with the purity of the snowy white accents, creating a captivating symphony of colors.

The door, resplendent in its ruby-red coat, stands as the centerpiece of this holiday tableau. A wreath, meticulously crafted from scarlet ribbons and ivory petals, adorns it with a touch of elegance. Beneath, a scarlet doormat welcomes guests with warmth and style.

Flanking the entrance, twin pots overflow with seasonal greenery, their leaves adorned with glistening dewdrops. Scarlet bows encircle each pot, lending a touch of merriment to the scene. A white bench, the perfect perch for cozy moments, sits nearby, adorned with plush crimson cushions.

Candles flicker in frosty glass lanterns, casting a soft glow that illuminates the porch's beauty. Snowflakes dance gracefully on the window panes, their delicate patterns mesmerizing all who gaze upon them.

The final touch, a red-and-white bunting drapes gracefully along the porch's eaves, fluttering in the wintry breeze. It ties the entire scene together, completing the picture of a holiday porch that embodies the spirit of the season.

Get it here.

Also try holiday cocktails & margarita cocktails for holiday nights!
---
15. Outdoor Christmas Decor New Lighting
Outdoor Christmas decor new lighting enhances the charm of Christmas porch decorations. These vibrant lights bring a festive glow to your exterior, casting a warm and welcoming ambiance.

The brilliance of these innovative lighting options elevates the overall appeal of your holiday display. These illuminations create a magical aura, captivating all who pass by.

The novel designs and patterns of these lights add a touch of novelty to your Christmas porch decor, making it stand out among the rest. The brilliance of these luminous additions imparts a fresh and dazzling aura to your festive decorations, impressing visitors with their uniqueness.

These innovative lighting elements illuminate your porch in a stunning manner, spreading joy and festivity. The contemporary styles and radiant glows of these lights inject a dose of modernity into your traditional Christmas porch decorations.

These vibrant illuminations amplify the beauty of your outdoor space, illuminating your Christmas porch decorations with a new, enchanting allure. The use of these fresh lighting concepts elevates your porch decor, leaving a lasting impression on all who behold it.

Invest in these new lighting ideas to illuminate your Christmas porch decorations and make this holiday season truly memorable.

Get it here.
---
16. Welcome Home Christmas Porch
Are you seeking fresh, wintry inspiration for your Welcome Home Christmas Porch? Transform your porch into a cozy wonderland with these innovative winter ideas.

First, adorn your entryway with a sparkling array of frosty decorations. Glistening icicle lights, shimmering snowflakes, and silver ornaments will cast a magical spell.

Next, cozy it up with plump, plush pillows and warm, woolen blankets in shades of crisp white . Add a rustic touch with wooden sleighs and antique lanterns for a charming, vintage ambiance.

IF you have a fireplace, make it a focal point with a magnificent wreath of pine branches and pinecones. Use fragrant evergreens to infuse the air with a refreshing winter scent.

Embrace the season with a symphony of carolers singing joyously. To keep things enchanting, scatter twinkling candles or lanterns along the path leading to your porch.

Are you hosting guests? Offer them steaming mugs of hot cocoa or mulled wine to keep warm.

To sum it up, your Welcome Home Christmas Porch can become a picturesque winter wonderland. Embrace the season's charm with frosty decor, cozy textiles, and inviting lighting.

Let the magic of winter transform your porch into a delightful haven for all to enjoy.

Get it here.
---
17. Garland Hang Window Christmas Swag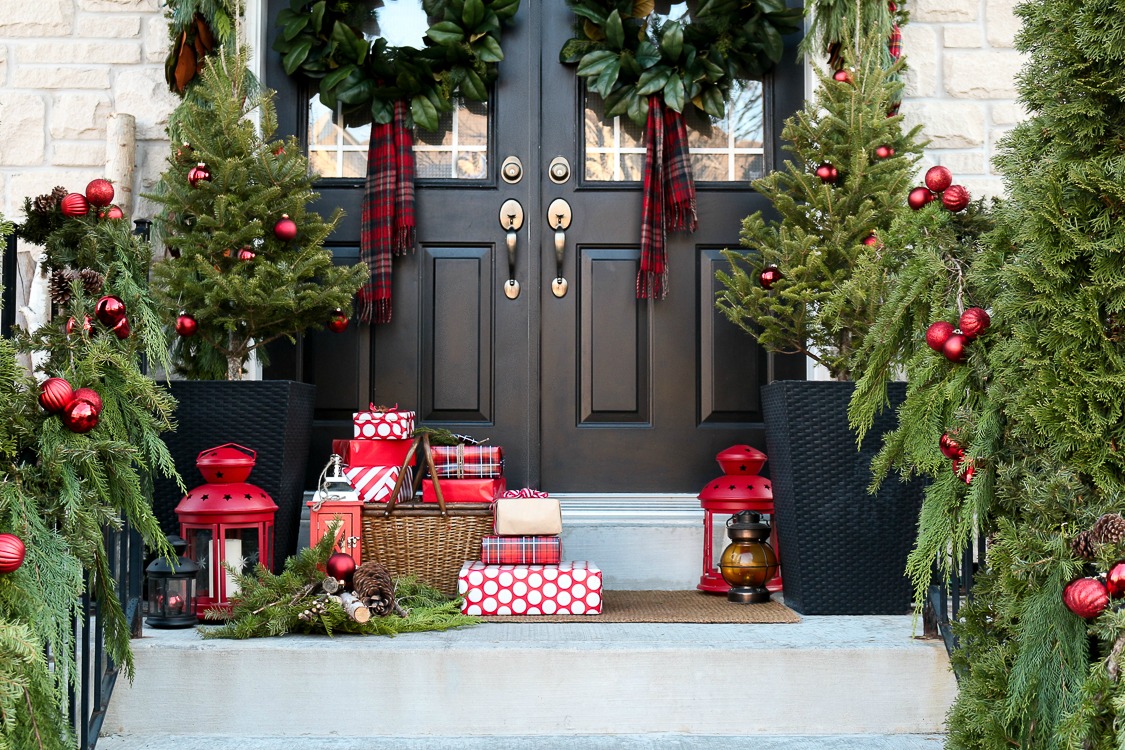 Garland Hang Window Christmas Swag adds charm to home decor effortlessly. Its elegant design elevates DIY decorations with a touch of festive sophistication.

Crafted with care, this swag embodies holiday cheer while enhancing interior aesthetics. Its graceful arrangement, composed of vibrant foliage and delicate ornaments, radiates warmth throughout your space.

Drape it gracefully on windows, mantels, or walls, and watch your home transform into a winter wonderland. Easy to install, this swag simplifies your DIY decorating endeavors.

A splendid blend of greenery and embellishments, it lends a unique, inviting atmosphere to your living area. Incorporate it into your holiday decorating routine for a stylish, eye-catching display.

Whether hanging above a fireplace or framing windows, this Christmas swag exemplifies the essence of seasonal home adornment. Its versatility and classic appeal make it a delightful addition to your festive decor collection.

Bring the holiday spirit into your home with this Garland Hang Window Christmas Swag, and let your imagination run wild with endless DIY decorating possibilities.

Get it here.
---
18. Red White Christmas Porch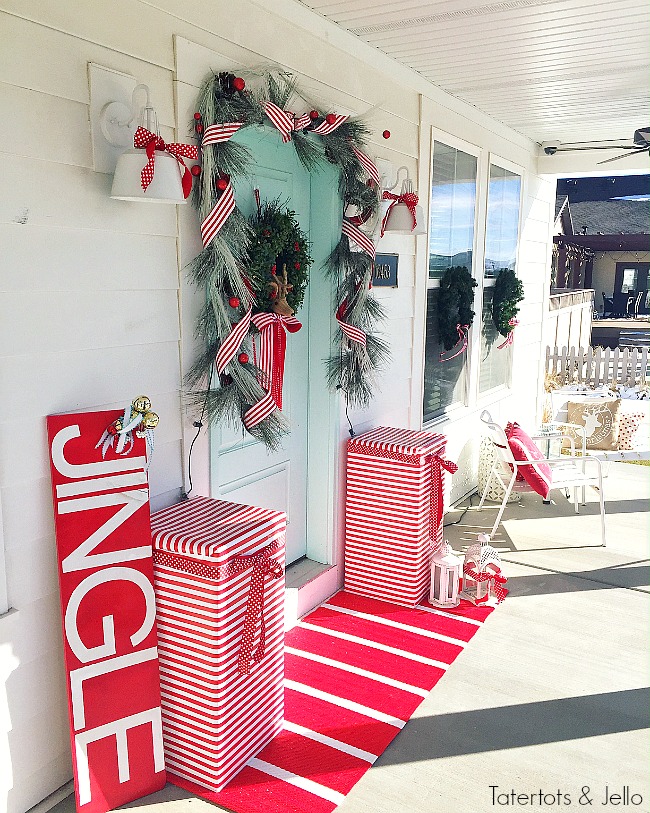 A vibrant, festive Red White Christmas Porch exudes warmth and holiday cheer. It's a visual delight, showcasing an array of creative DIY ideas. The porch is adorned with bright crimson and snowy white decor, which harmonizes splendidly. The result is a captivating visual symphony, evoking a joyful atmosphere.

Simple yet elegant, the porch welcomes you with a radiant wreath, beautifully handcrafted. Festooned with twinkling lights, it casts a magical glow at dusk. A rustic wooden sled stands as a charming centerpiece, embellished with glistening ornaments and pine cones. 

Crisp, snowy-white cushions adorn wicker furniture, offering a cozy spot to sip hot cocoa. Nearby, a hand-painted sign spreads holiday wishes with its charming typography. Above, a garland gracefully drapes, accentuating the eaves with its lush greenery.

DIY ideas extend to wooden crates converted into festive planter boxes, brimming with evergreens and crimson accents. A vintage red wagon overflows with gifts, wrapped with care. To complete the scene, a handmade chalkboard sign greets guests with a heartwarming message.

This Red White Christmas Porch combines ingenuity and classic charm, celebrating the spirit of the season in a delightful, heartwarming display that invites all to share in the holiday joy.

Get it here.

Must try snowman crafts & winter comfort food ideas for cold days.
---
19. Christmas Home Tour Front Porch
Adorned with festive Christmas porch decorations, our home's front porch now exudes a captivating yuletide charm. A profusion of twinkling lights drape gracefully, casting a warm, inviting glow.

Lush, evergreen wreaths adorned with vibrant red ribbons hang upon the door, while an array of crimson poinsettias and glistening ornaments embellish the porch's planters, imparting a touch of vibrant elegance.

A garland of fragrant pine cones and cinnamon sticks winds around the porch railings, infusing the air with a delightful holiday scent. A rustic wooden sign proclaims 'Joy to the World' in whimsical lettering, spreading the season's joy to all who pass by.

Our Christmas porch decorations artfully combine traditional elements with a dash of contemporary flair, creating a picturesque tableau that welcomes all to share in the festive spirit.

Get it here.
---
20. Cozy Christmas Back Porch
The Cozy Christmas Back Porch emanates holiday charm with its enchanting Christmas decor and creative ideas. The porch boasts a warm and inviting atmosphere, adorned with festive lights, plush cushions, and fragrant evergreen wreaths.

A crackling fireplace nestled in the corner provides both warmth and a rustic ambiance, making it the perfect spot to sip hot cocoa.

Amidst the Christmas-inspired color palette of reds and greens, charming DIY decorations add a personal touch. Handcrafted ornaments dangle from the eaves, while a homemade garland drapes gracefully along the railing.

A quaint wooden sleigh, painted with care, rests by the door, evoking nostalgia and childhood wonder.

Cozy Christmas ideas come alive with cozy knit blankets and plump throw pillows, providing a snug retreat for guests. Underneath a soft, starlit canopy, an outdoor dining area beckons for festive gatherings. The table is adorned with seasonal centerpieces, featuring crimson poinsettias and flickering candles.

The final touch, a beautifully decorated Christmas tree twinkling with lights, crowns the porch's festive transformation. This cozy haven provides an ideal setting for memorable moments and cherished holiday gatherings, where cherished traditions and new ideas seamlessly blend, creating a heartwarming Christmas experience.

Get it here.

Check out these amazing christmas cake ideas & christmas dinner ideas for enjoy with family!
---
21. Black and White Christmas Porch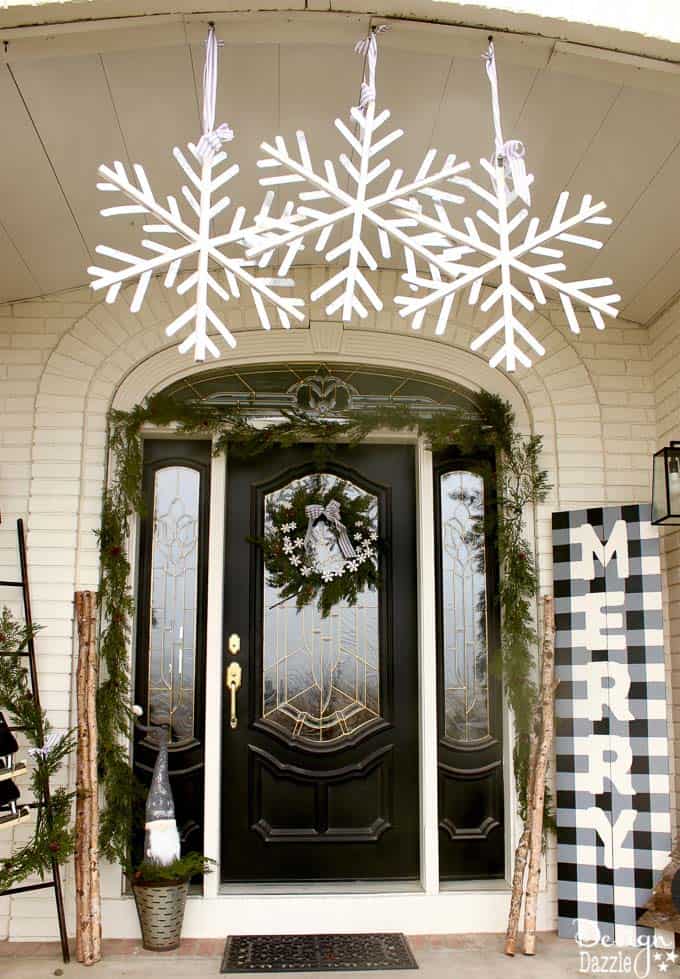 A monochrome Christmas porch exudes timeless elegance, marrying the stark contrast of black and white with the enchantment of winter ideas. This sophisticated palette wraps your entryway in a chic embrace, evoking a sense of understated glamor and serene festivity.

For a cozy twist, introduce plush black-and-white plaid cushions on your outdoor furniture, inviting guests to snuggle up and enjoy the crisp winter air. A black lantern housing a flickering candle adds a warm and inviting glow. Consider a sleek, black welcome mat to ground the space.

To further enhance the ambiance, scatter faux snowflakes or white-painted pinecones strategically across your porch. A minimalistic black-and-white banner, adorned with wintry motifs like snowflakes or reindeer, adds a touch of whimsy.

In conclusion, a Black and White Christmas Porch adorned with winter ideas creates a striking and enchanting entryway. 

Get it here.
---
Cheers!
If you like this article about Christmas Porch Decorations, share with your friends or families on Facebook, Twitter, and Pinterest.

Okay, I'm handing the mic over to you now. Come on! Don't be shy now…

Choose your favorite DIY or home decor and make it at home, let me know which is your best home decor in the comment. Also, you can subscribe to my blog to get all the latest updates first on your mobile.
---
To make these crafts for later, SAVE this pin on your favorite Pinterest Board