If you're looking to infuse your home with the spirit of the season, you've come to the right place. Christmas is a magical time of year, and what better way to celebrate than by exploring a plethora of Christmas tree ideas that encompass winter wonder, home decor, crafty creations, and DIY decorations? Whether you're a seasoned decorator or a holiday novice, this guide is brimming with inspiration to help you transform your living space into a festive wonderland.

From traditional themes to modern twists, we'll explore various Christmas tree ideas that cater to every taste and style. Discover winter ideas that bring the charm of the season indoors, learn how to adorn your tree with DIY ideas crafted with love, and find ingenious home decor solutions that radiate warmth and joy.

Get ready to embark on a journey through the enchanting world of Christmas and unleash your inner creativity with a delightful array of craft ideas and DIY projects. Let's make this holiday season truly special together.
---
◆ Some tips for creating Christmas tree ideas are discussed –
1. Choose a Theme: Start by selecting a theme for your Christmas tree. Whether it's traditional, rustic, modern, or themed around a specific color scheme, a cohesive theme will guide your decorating choices.
2. Proper Lighting: Ensure your tree is well-lit with the right type of Christmas lights. LED lights are energy-efficient and come in various colors, while warm white lights create a cozy ambiance.
3. Ornament Variety: Mix and match ornaments in different shapes, sizes, and textures. Incorporate sentimental ornaments, DIY creations, and store-bought pieces to add depth and personality to your tree.
4. Tree Topper: Crown your tree with a beautiful tree topper that complements your theme. Options range from classic stars and angels to unique handmade creations.
5. Garland and Ribbons: Add garlands or ribbons to your tree for an extra layer of visual interest. They can be draped vertically or horizontally, and they come in various materials like tinsel, ribbon, or even natural elements like pinecones.
6. DIY Decorations: Get creative by crafting your own decorations. This can include personalized ornaments, hand-painted baubles, or even popcorn strings for a nostalgic touch.
7. Tree Skirt and Base: Don't forget to decorate the base of your tree with a festive tree skirt or a decorative basket. It completes the look and hides the tree stand.
---
◆ What are some popular Christmas tree themes for 2023?
Popular Christmas tree themes for 2023 include the classic red and green, rustic farmhouse, winter wonderland with white and silver decorations, and even non-traditional themes like tropical or bohemian. The choice of theme often depends on personal style and trends for the year.
---
◆ How can I make my Christmas tree stand out this year?
 To make your Christmas tree stand out, consider unique elements like personalized ornaments, DIY decorations, and themed tree toppers. You can also experiment with unconventional color schemes or incorporate unexpected materials, such as feathers or succulents, for a fresh and distinctive look.
---
◆ What are some eco-friendly Christmas tree decorating ideas?
To decorate your tree in an eco-friendly manner, opt for reusable and sustainable decorations like wooden ornaments, fabric garlands, and LED lights. Consider DIY decorations made from recycled materials, and when the holiday season is over, recycle or repurpose your decorations to minimize waste.
---
1. DIY Clay Star Ornaments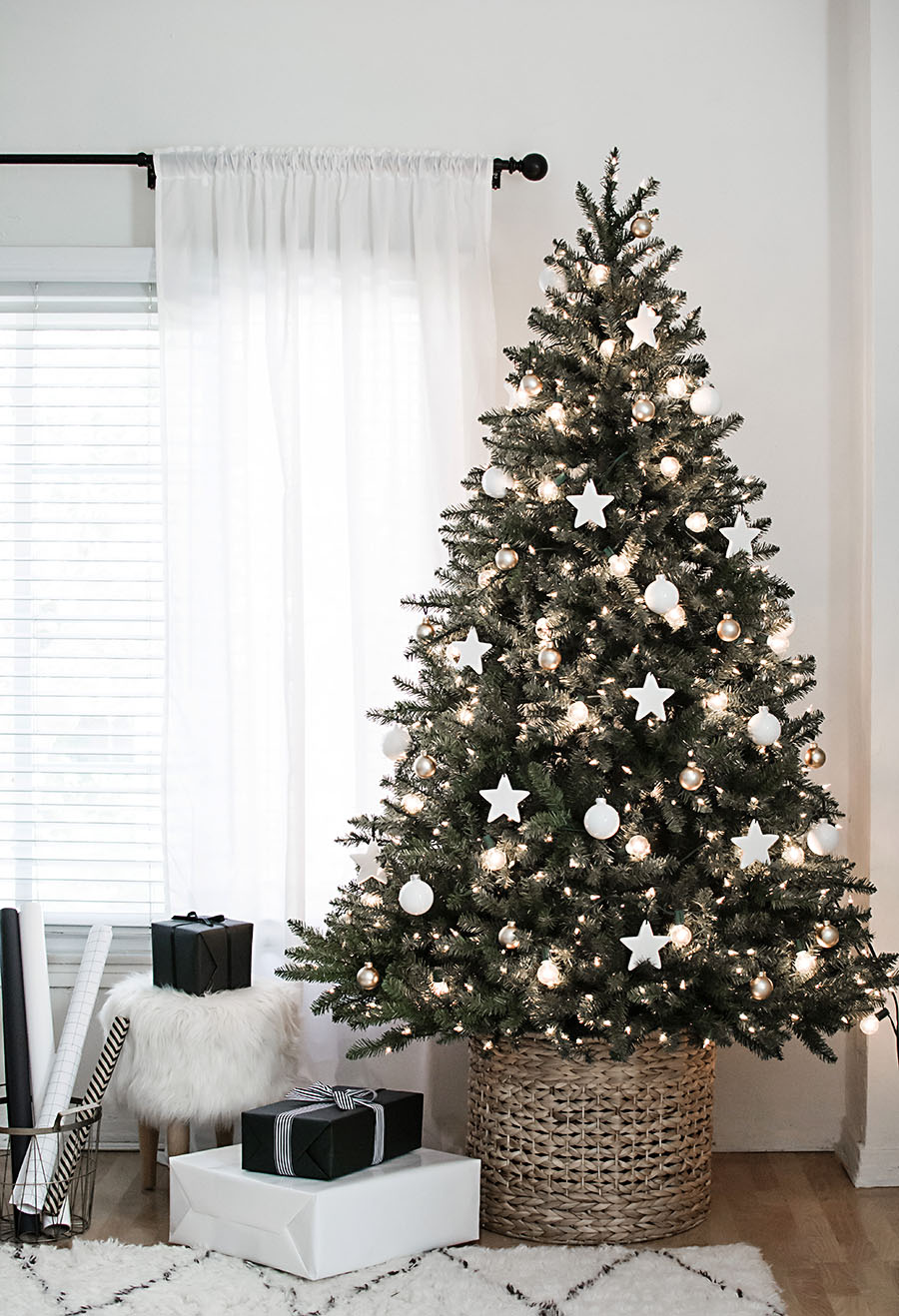 Create exquisite DIY Clay Star Ornaments for your Christmas tree. Crafted with care, these charming decorations add a touch of elegance to your holiday display. Crafted from clay, these star-shaped ornaments exude a rustic charm that complements any tree.

Fashion your own unique designs, allowing your creativity to shine through. The process is enjoyable and straightforward. Roll out the clay, cut star shapes, and bake them until they harden. Once cooled, paint or decorate them as you like, adding a personal touch to your tree.

These ornaments are versatile, blending seamlessly with various Christmas tree ideas. Whether your theme is traditional or contemporary, these clay stars adapt effortlessly. Hang them from branches or use them as garlands, illuminating your tree with a homemade brilliance.

The results are stunning, capturing the spirit of the season. Guests will admire your artistry, and your tree will be a centerpiece of holiday cheer. Create memories and traditions with these DIY Clay Star Ornaments, making your Christmas tree truly special.

Share the joy of crafting with loved ones, and watch as your tree becomes a cherished symbol of the holidays.

Get it here.

Must try snowman crafts & winter comfort food ideas for cold days.
---
2. Whimsical BoHo Christmas Tree
Adorned in delightful, unconventional charm, the Whimsical BoHo Christmas Tree captivates with its unconventional Yuletide aesthetics. This vibrant holiday spectacle showcases an array of novel Christmas ideas. Swapping traditional baubles for eclectic ornaments, this tree brings a fresh, modern twist to holiday decorating.

A tapestry of vibrant, vivid hues replaces the usual red and green palette, infusing the atmosphere with a unique, festive spirit. Pops of teal, coral, and mustard yellow mingle harmoniously, while tassels and fringe drape elegantly, adding a playful, Bohemian flair. 

Ditching the standard star or angel topper, this tree proudly flaunts a handcrafted dreamcatcher, invoking a sense of wonder and mystique. Candles and lanterns twinkle softly amidst the branches, creating an enchanting glow that entices all who behold it.

Rustic wooden ornaments, artisan-crafted ornaments, and an assortment of succulents add a touch of the natural world, grounding the whimsy with earthy elegance. Hand-knitted stockings hang by the fireplace, inviting warmth and coziness into the scene.

Get it here.

Also try these mason jar christmas crafts for holiday gifts.
---
3. Scandinavian Christmas Tree
The Scandinavian Christmas tree exudes wintry charm. Its evergreen branches, resplendent in white, shimmer with a touch of frost, evoking a serene winter wonderland.

The decor is minimalistic, with delicate glass baubles and wooden figurines, lending an elegant simplicity to the scene. Candles nestled amongst sprigs of fragrant pine create a warm, cozy ambiance, reminiscent of crackling hearths on chilly nights. 

Beneath the tree, a trove of wrapped gifts awaits, tied with rustic twine and natural ribbon. Homemade gingerbread cookies hang from the branches, their sweet aroma mingling with the scent of fir. Hand-knit stockings dangle from the mantle, each one patiently crafted with love. 

In this Nordic tradition, winter ideas flourish, centered on togetherness and shared moments rather than opulent excess. It is a celebration of nature's beauty, captured in the simplicity of the Scandinavian Christmas tree, where the true magic of the season lies.

Get it here.

Also try holiday cocktails & margarita cocktails for holiday nights!
---
4. Red Plaid Christmas Tree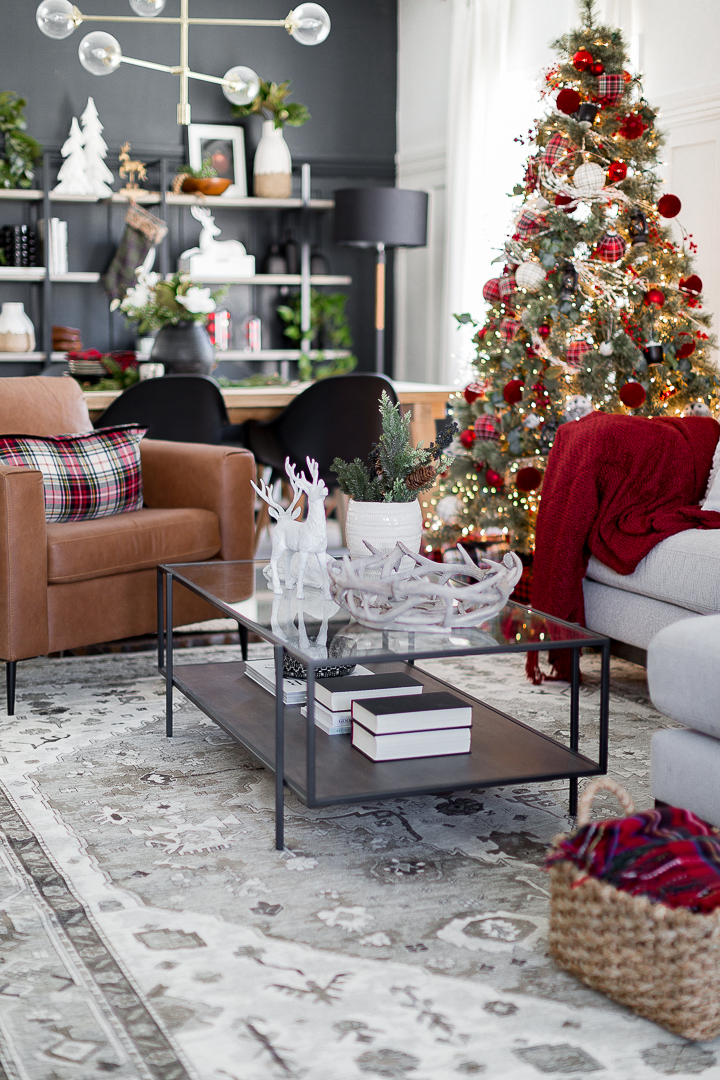 A festive Red Plaid Christmas Tree adds a charming touch to your home decor. Its cozy, rustic allure evokes warmth and merriment, enhancing your living space with a joyful ambiance.

This tree boasts a timeless pattern, blending seamlessly with various design styles. Its scarlet hues radiate holiday cheer, infusing any room with a delightful festive spirit. This striking Christmas tree transforms your home into a winter wonderland, where cherished memories are made. 

Its simple elegance and vibrant color scheme make it an ideal centerpiece for your seasonal gatherings. Embrace the holiday spirit and elevate your home decor with the enchanting Red Plaid Christmas Tree

Get it here.
---
5. Pink Christmas Tree
Pink Christmas Tree dazzles with its unique charm, offering endless craft ideas. The resplendent tree, bathed in a delicate shade of pink, exudes a whimsical allure. Its rosy branches unfurl like a magical canvas, inspiring crafting endeavors aplenty.

This distinctive tree, a radiant beacon of holiday spirit, beckons creative minds to explore its untapped potential. The vibrant pink hue, a deviation from tradition, invites artisans to weave their artistic dreams into reality. Adornments, from glistening baubles to handcrafted ornaments, find an ideal home upon its boughs.

Craft enthusiasts can't resist the temptation to transform this spectacle into a masterpiece of their own. Delicate ribbons and shimmering tinsel dance harmoniously, lending an air of elegance. A symphony of pastel hues harmonizes with the tree's aura, guiding crafters towards unconventional designs.

The pink Christmas tree's unexpected elegance casts a spell of inspiration, welcoming all with open arms. From quaint DIY wreaths to custom tree toppers, the possibilities are boundless. It becomes a haven for those yearning to infuse their holiday traditions with a dash of innovation.

Get it here.
---
More: Christmas Treats & Christmas Cocktails
---
6. Michaels Dream Tree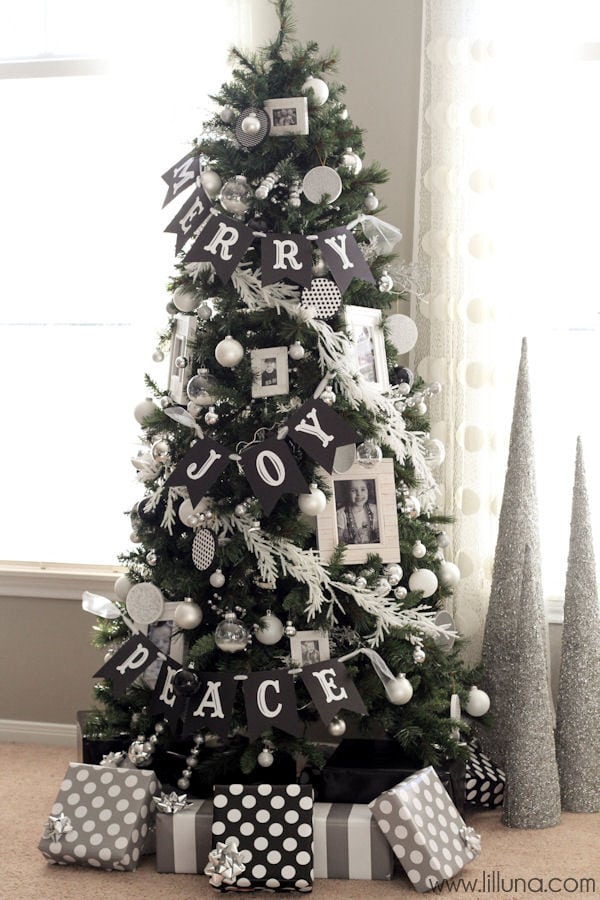 Michael's Dream Tree is a captivating blend of creativity and innovation, brimming with ingenious DIY ideas. The tree stands as a testament to his ingenuity, adorned with an array of inventive decorations.

Each ornament showcases his unique DIY approach, making it a sight to behold. The tree boasts an assortment of handcrafted ornaments, meticulously designed to add a touch of DIY charm to the holiday season.

From homemade wreaths to hand-painted baubles, every element exudes a distinct and imaginative flair. It's a remarkable showcase of his creative prowess, with every decoration reflecting his DIY spirit.

The tree's brilliance lies in its ability to inspire others to embark on their DIY ventures. It beckons admirers to explore their own creative potential and craft their holiday adornments.

In essence, Michael's Dream Tree is a vibrant canvas of DIY possibilities, igniting a passion for crafting and fostering a sense of festive wonder. It encapsulates the essence of DIY ingenuity and serves as a vivid reminder of the joy that can be found in the art of handmade holiday decorations.

Get it here.
---
More ideas: Thanksgiving Decoration Ideas & Fall Centerpiece Ideas
---
7. O Christmas Tree
Decking out an O Christmas Tree with DIY decorations brings a delightful transformation. The green boughs of the tree shimmer with newfound splendor as handmade ornaments dangle gracefully.

Each bauble and trinket, crafted with care, lends a unique charm to the festive centerpiece. The tree's branches play host to an array of imaginative creations, adding a touch of individuality to the traditional symbol of the season.

Strings of garland, knitted with creativity, twine around the tree, imparting a cozy, homemade warmth. Hand-painted wooden ornaments hang alongside paper snowflakes, all uniting to form a harmonious holiday display.

The tree's natural beauty is accentuated, and its presence becomes a testament to the joy of craftsmanship.

Glittering lights, meticulously placed, illuminate the tree's intricate detailing. The juxtaposition of soft, homemade fabrics and sparkling ornaments creates a visually captivating holiday tableau.

DIY decorations foster a sense of togetherness, as family and friends contribute their artistic endeavors to this festive masterpiece.

Get it here.
---
8. Living Room Holiday Christmas Tree Decor
The living room's holiday Christmas tree boasts a captivating aura. Glistening ornaments and shimmering tinsel intertwine, casting a luminous glow. Twinkling lights dance merrily among the branches, creating a captivating spectacle.

Adorned with an array of baubles, each one unique, the tree is a masterpiece of seasonal charm. Cascading ribbons drape gracefully, adding a touch of elegance. A star-topped pinnacle crowns this arboreal masterpiece, shining with a brilliant radiance.

Beneath the tree, a bounty of meticulously wrapped gifts waits in anticipation. The room is filled with the warmth of the season, a festive atmosphere that envelopes all who enter.

The living room's holiday Christmas tree is a resplendent symbol of Yuletide cheer, captivating hearts with its enchanting presence. Must try christmas truffles & christmas candy recipes for sides as treat!


Get it here.


But to decorate you home, these christmas wreaths & christmas ornaments are the perfect DIY ideas for christmas!
---
9. 12 Days Christmas Advent Tree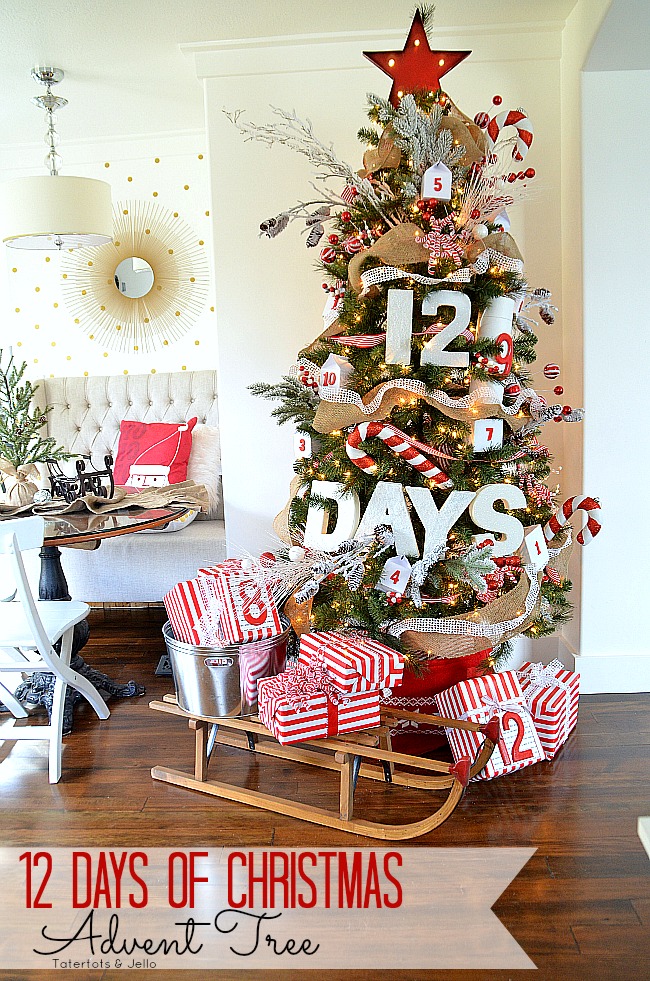 The 12 Days of Christmas Advent Tree appears festive with an array of decorative ornaments. Each day, a new bauble adorns the tree, creating a sense of anticipation.

This tradition instills joy as the tree transforms gradually, culminating in a beautifully adorned spectacle on Christmas Day. It symbolizes the gradual approach of the holiday season, with each ornament representing a different aspect of the holiday spirit.

The colorful baubles hang gracefully, forming a splendid spectacle as they catch the light. Observing this tree is a delight, reminding us of the approaching celebration. It's a heartwarming sight, and a cherished tradition for many families during the holiday season.

Get it here.

Check out these amazing christmas cake ideas & christmas dinner ideas for enjoy with family!
---
---
10. How to Decorate a Christmas Tree Like a Designer 
Create a stunning designer-style Christmas tree by carefully selecting and positioning ornaments and lights. Begin by choosing a color scheme to achieve a cohesive look.

Start with the lights, ensuring even distribution throughout the tree. Next, hang your largest ornaments, spacing them evenly. Add texture with garlands or ribbon, draping them gracefully.

Fill gaps with medium-sized ornaments, varying their placement. Incorporate unique, eye-catching pieces for a touch of elegance. Use small ornaments to accentuate and create balance.

To add depth, hang some ornaments closer to the trunk. Don't forget to include a tree topper that complements your theme. Lastly, step back and make adjustments, ensuring a balanced and harmonious design. By following these steps, you can adorn your Christmas tree like a true designer.

Get it here.
---
11. How to Decorate A Nostalgia-Inspired Christmas Tree
To create a nostalgia-inspired Christmas tree, begin by selecting vintage ornaments, carefully arranging them to evoke memories of holidays past. Incorporate cherished family heirlooms and handcrafted decorations to infuse the tree with sentimental value.

Consider utilizing soft, muted color palettes to exude a timeless ambiance. To add a touch of whimsy, intermingle classic ornaments with unique, antique finds. Weave strands of twinkling fairy lights throughout the branches, creating a warm and inviting glow.

For a rustic, old-world charm, adorn the tree with tinsel, bead garlands, or popcorn strings. Don't forget to include a variety of classic, timeless ornaments such as glass bulbs, wooden figures, and delicate snowflakes.

When selecting a tree topper, opt for a vintage-style star or angel to crown your tree with elegance. To complete the look, place a nostalgic-inspired tree skirt beneath, adding to the overall allure.

By following these steps, you'll craft a Christmas tree that beautifully captures the essence of nostalgia.

Get it here.


Thinking about lunch, what to do to make for everyone for this christmas? Must try christmas casserole recipes for meal prep and serve with christmas drinks!
---
Suggested: Christmas Porch Decorations
---
12. Pink and Gold Christmas Tree
A Pink and Gold Christmas tree exudes opulence and charm. Its vibrant hues shimmer in harmony, creating a dazzling spectacle that captivates onlookers. The blush pink radiates warmth, while the gold accents infuse regal elegance, conjuring a sense of lavish festivity. 

Soft ambient lights, tastefully interwoven, softly illuminate this enchanting masterpiece, casting a gentle, warm glow that beckons all to bask in its luminous embrace. The amalgamation of pink and gold evokes a sense of timeless beauty, forging a bridge between tradition and modernity.

This resplendent tree serves as the focal point of festive gatherings, a symbol of unity and shared merriment. Its allure lies not only in its aesthetic magnificence but also in the emotions it stirs – an ode to the spirit of togetherness, a reminder of the joys of the holiday season.

In its presence, the magic of Christmas is vividly rekindled, a visual symphony that resonates with hearts young and old, inviting all to partake in the spirit of the season.

Get it here.
---
13. Decorated Flocked Christmas Tree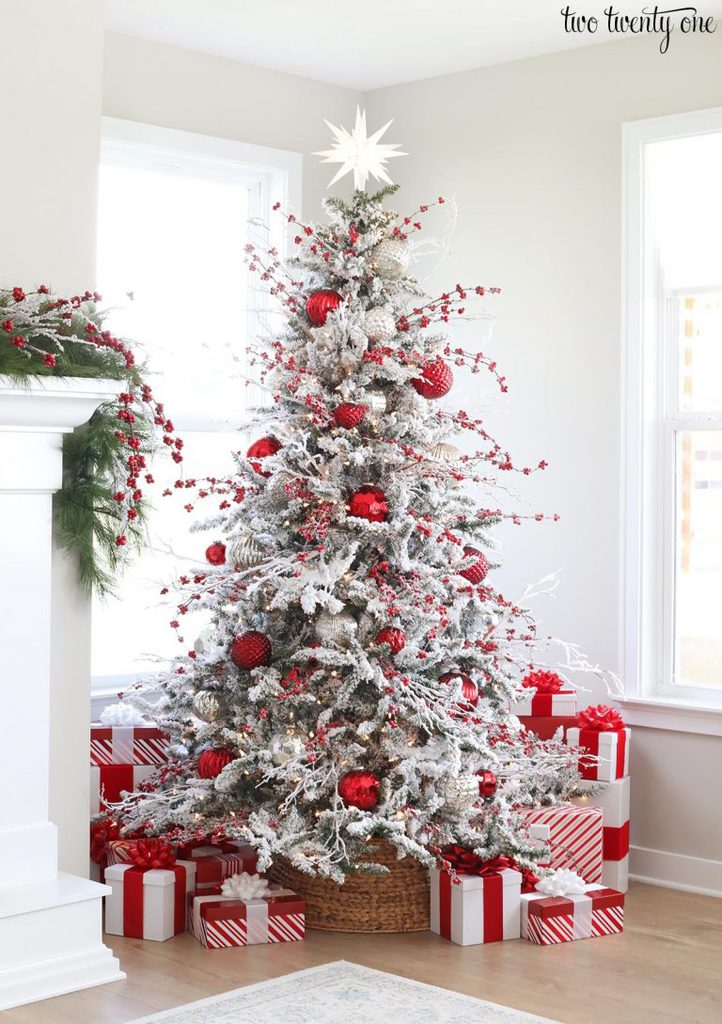 The Decorated Flocked Christmas Tree exudes holiday splendor. This magnificent centerpiece showcases a delightful fusion of Christmas tree ideas, creating a captivating visual spectacle.

Its snowy branches glisten with elegance, bedecked in an opulent tapestry of baubles, tinsel, and trinkets. Radiant strings of LED lights cascade, infusing a warm glow, while delicate angelic toppers crown the tree majestically. 

This resplendent Christmas tree embodies creativity, each decoration carefully curated to evoke joy and wonder. The ornaments, ranging from classic globes to handcrafted keepsakes, imbue a sense of nostalgia.

Boughs are festooned with ribbons and garlands, elevating the tree's allure. A whimsical tableau unfolds beneath, with presents wrapped in vibrant paper, awaiting eager hands.

The fragrance of pine needles further enhances the sensory experience, evoking cherished memories. 

An embodiment of holiday cheer, the Decorated Flocked Christmas Tree stands as a testament to the artistry of Christmas tree ideas, capturing the essence of the season in a resplendent display.

Its harmonious symphony of colors and textures captivates, making it a cherished centerpiece for festive gatherings. This tree, with its festive finery, radiates the timeless magic of Christmas.

Get it here.
---
Suggested: Winter Crafts
---
14. The Best Red and White Christmas Tree Decorations
The Best Red and White Christmas Tree Decorations offer stunning Christmas ideas. These vibrant ornaments radiate festive charm. Their crimson and snowy hues blend seamlessly, creating a captivating yuletide spectacle.

Each bauble and trinket exudes elegance, adorning the tree with a delightful, unified palette. The glimmering lights dance upon these adornments, casting a warm, enchanting glow. This decor choice instills a cozy, heartwarming ambiance in your home. 

These decorations harmonize beautifully, transforming your tree into a visual masterpiece. This pairing symbolizes the joyous spirit of Christmas with a touch of modern flair. The result is a harmonious blend of tradition and contemporary charm. 

With these ornaments, you can create various Christmas ideas. This versatility ensures your tree embodies your personal vision of the holiday season.

In conclusion, The Best Red and White Christmas Tree Decorations are a splendid choice for those seeking to infuse their Christmas festivities with timeless beauty and endless possibilities.

Get it here.
---
15. Snowy Red Barn Christmas Tree
The Snowy Red Barn Christmas Tree embodies quintessential winter ideas. Adorned with glistening ornaments and twinkling lights, it radiates a charming, rustic elegance.

The tree's crimson hue stands out against the snowy backdrop, evoking a sense of warmth amid the cold. The frost-kissed branches gracefully cradle delicate baubles, a testament to the season's magic.

Beneath the tree, a vibrant tapestry of presents in festive wrappings awaits eager hands. The aroma of freshly baked gingerbread cookies mingles with the crisp scent of pine, filling the air with comforting nostalgia.

Cozy blankets and plump cushions invite gatherings by the hearth, where stories are shared, and laughter abounds.

The Snowy Red Barn Christmas Tree captures the essence of winter, offering solace and joy during the coldest months.

Its timeless charm and inviting allure make it the centerpiece of cherished holiday traditions, uniting loved ones in the spirit of celebration and togetherness.

Get it here.
---
16. Plaid Christmas Tree
A Plaid Christmas Tree exudes a warm and cozy vibe, making it a splendid addition to your holiday home decor. Its distinctive pattern, reminiscent of classic tartan, infuses your space with timeless charm.

Crafting a Plaid Christmas Tree can be a delightful project for those seeking unique holiday embellishments. This tree style effortlessly merges tradition with contemporary aesthetics.

By incorporating plaid ornaments and ribbons, your Christmas tree will radiate a sense of unity and homely elegance. The interplay of plaid's rich colors with the lush greenery of the tree creates a harmonious visual symphony. 

Embracing this home decor trend elevates your festive atmosphere, lending it an inviting and festive touch. The crafting possibilities are boundless, from hand-painted plaid ornaments to customized tree skirts.

These crafts are not only enjoyable to create but also provide an excellent opportunity to bond with loved ones. This Plaid Christmas Tree is a beacon of holiday cheer, transforming your space into a cozy winter wonderland.

Explore various craft ideas to curate a one-of-a-kind seasonal masterpiece, brimming with plaid panache. It's an ideal way to infuse your home with warmth, tradition, and creativity during this special time of year.

Get it here.

Also make these christmas appetizers & christmas desserts for winter nights celebration.
---
17. Snowman Christmas Tree
Crafting a Snowman Christmas Tree can be a delightful DIY project. This whimsical holiday decoration combines creativity and festive spirit. Begin by assembling three graduated-sized green foam cones, readily available at craft stores.

Cover each cone with white felt to emulate snow. Next, fix the smaller cone on top of the middle one and the middle one on top of the largest, securing them with glue.

Now, for the snowman's face, use black buttons for eyes and small orange ones for the carrot-like nose. Cut a smile from the red felt and attach it below the nose.

Fashion a cozy scarf from colored fabric and wrap it around the snowman's "neck." Add some flair with a winter hat, and your snowman's personality begins to shine.

Your DIY Snowman Christmas Tree is a fantastic addition to your holiday decor, showcasing your crafty skills and spreading festive cheer throughout your home. Share your creative ideas with friends and family, inspiring them to embark on their own holiday DIY ideas.

Get it here.
---
18. How to Style a Rustic Modern Christmas Tree for Christmas
Create a Rustic Modern Christmas Tree: Elevate your holiday decor with a Rustic Modern Christmas tree! This stylish DIY project combines the charm of rustic elements with a modern twist.

Begin by selecting a tree with a fuller, natural appearance. Opt for neutral-toned ornaments and sleek metallic accents to achieve a modern aesthetic. Incorporate DIY decorations like handcrafted wooden ornaments or minimalist paper snowflakes for a personalized touch.

Use a tree skirt made from burlap or a faux fur material to enhance the rustic vibe. Arrange twinkling fairy lights evenly to add warmth to your tree. Incorporate a mix of matte and metallic baubles in shades of white, silver, and gold.

Hang them sparingly to maintain a minimalist look. For a rustic touch, include DIY wooden garlands or natural pinecones. Finish off with a modern tree topper, such as a geometric star or a sleek metal design.

The key is to strike a balance between rustic charm and contemporary simplicity, creating a unique and inviting Christmas centerpiece for your home. Happy decorating!

Get it here.
---
19. Black and White Woodland Christmas Tree 
A Black and White Woodland Christmas Tree offers unique and captivating holiday decor. This striking color palette infuses a modern twist into the traditional Christmas tree ideas.

The monochrome theme creates a chic and timeless ambiance. The stark contrast between black and white evokes a sense of elegance and sophistication. White twinkling lights cascade like stars in the night sky, adding a touch of magic.

Matte black baubles and ornaments dangle gracefully, adding depth and dimension. Silver and gold accents provide subtle hints of luxury, while pinecones and frosted branches bring a touch of nature to the design.

A white tree skirt complements the overall aesthetic, completing the Black and White Woodland Christmas Tree. This contemporary take on traditional Christmas tree ideas harmoniously blends simplicity and style, making it an exquisite centerpiece for any holiday gathering.

Get it here.

But you can try more DIY christmas crafts ideas for kids.
---
20. Mrs. Claus Tree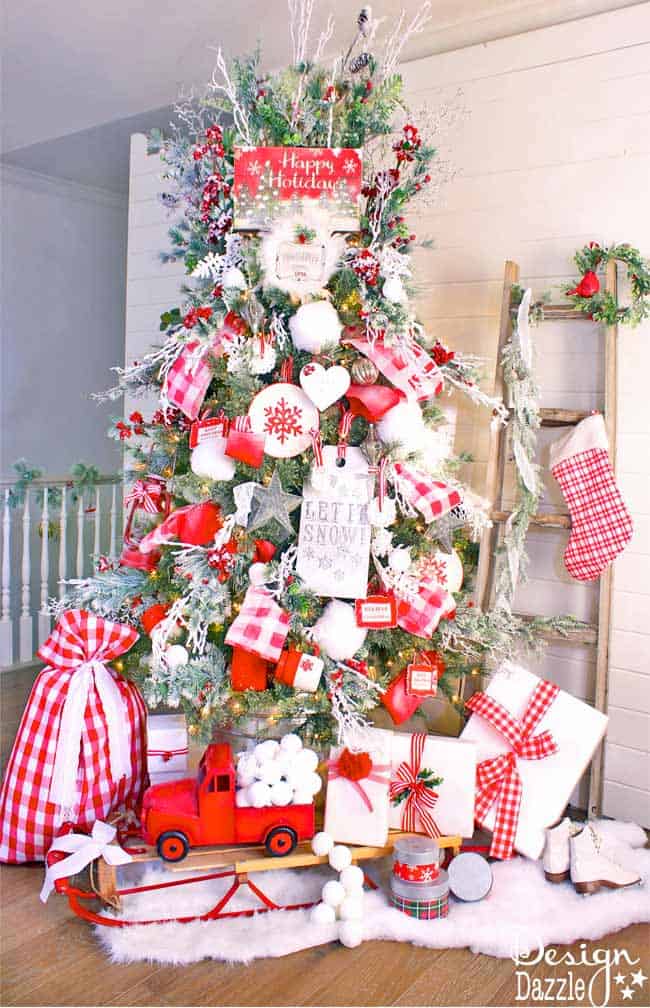 Mrs. Claus's festive tree, adorned with captivating Christmas ideas, radiates seasonal charm. It gleams with radiant ornaments and twinkling lights, a sight that enchants all who behold it. The tree exudes warmth and coziness, embodying the essence of the holiday season. 

A mesmerizing array of carefully chosen decorations adorns each branch, showcasing creativity and thoughtfulness. This tree truly captivates with its tasteful simplicity and tasteful aesthetics. Mrs. Claus has crafted a masterpiece that embodies the spirit of Christmas.

Get it here.
---
21. Baby It's Cold Outside Tree
The Baby It's Cold Outside Tree takes on a captivating transformation. Its branches, once adorned with vibrant leaves, now stand bare, embracing a minimalist elegance. Nature's monochrome palette envelops it, a canvas of frost-kissed wonder. 

The tree's silhouette becomes a symphony of shapes, each branch a delicate calligraphy stroke etched against the pale sky. Snowflakes, like tiny dancers, twirl gracefully upon its outstretched limbs, creating an enchanting tableau.

The tree becomes a beacon, its pure, white form contrasting with the season's darkness.

Winter ideas come alive as the tree becomes a gathering place for families and friends. Strings of warm, twinkling lights are carefully wound around its branches, casting a gentle, golden glow that beckons all to linger beneath its branches.

In daylight, the tree becomes a natural sculpture, an embodiment of serenity. Snow blankets its roots and adorns its limbs, creating a serene tableau of frosty tranquility. 

Get it here.
---
Cheers!
If you like this article about Christmas Tree Ideas, share with your friends or families on Facebook, Twitter, and Pinterest.

Okay, I'm handing the mic over to you now. Come on! Don't be shy now…

Choose your favorite DIY or home decor and make it at home, let me know which is your best home decor in the comment. Also, you can subscribe to my blog to get all the latest updates first on your mobile.
---
To make these crafts for later, SAVE this pin on your favorite Pinterest Board