Easter is just around the corner. It means the beginning of the spring festival. This spring is my favorite season. Easter festival is also my favorite.  And don't make cheesecake this favorite season, ever!  Easter cheesecake recipes are for you. Just for you friends.  Cheesecake is not cheesecake! These dessert ideas are great. Its taste is bound to be overwhelming.  These holiday ideas are hearty and traditional.  Make beautiful easter cheesecakes. Celebrate Easter with mini eggs. Friends, little bunnies are waiting for you and your baby. Hurry up!
---
How many types of cheesecake!  (how many ways you can make your easter cheesecake recipes)  –
Now the point is, how many types of cheesecakes there are, it seems not right to say a certain number. Because there are different types of cheesecakes in different parts of the world. Among them are some very popular cheesecakes. They are New York Style Cheesecake, Chicago Style Cheesecake, Traditional Cheesecake or Classic Cheesecake, Philadelphia Style Cheesecake, No Bake Cheesecake, Vegan Cheesecake, Ricotta Cheesecake etc. There are various types of cheesecakes in other regions. Each one has a favorite type of cheesecake. It depends on the individual.
---
What kind of crust can we use when making cheesecake!
We are always worried about what kind of crust to use to make cheesecake.  I am sharing these crust ideas with you to solve this problem. I have tried to present them to you as much as I have gathered from my experience and understanding.
We can use different types of crust like:
Graham cracker crust – I use this crust mostly to make Easter cheesecake recipes.
Shortbread crust.
Vanilla wafer crust.
Brownie crust.
Almond crust.
Walnut crust.
Pretzel crust.
Gingersnap crust.
Any type of cookie crust.
Besides, there are various other crust options.
---
21. Easter No-Bake Mini Cheesecakes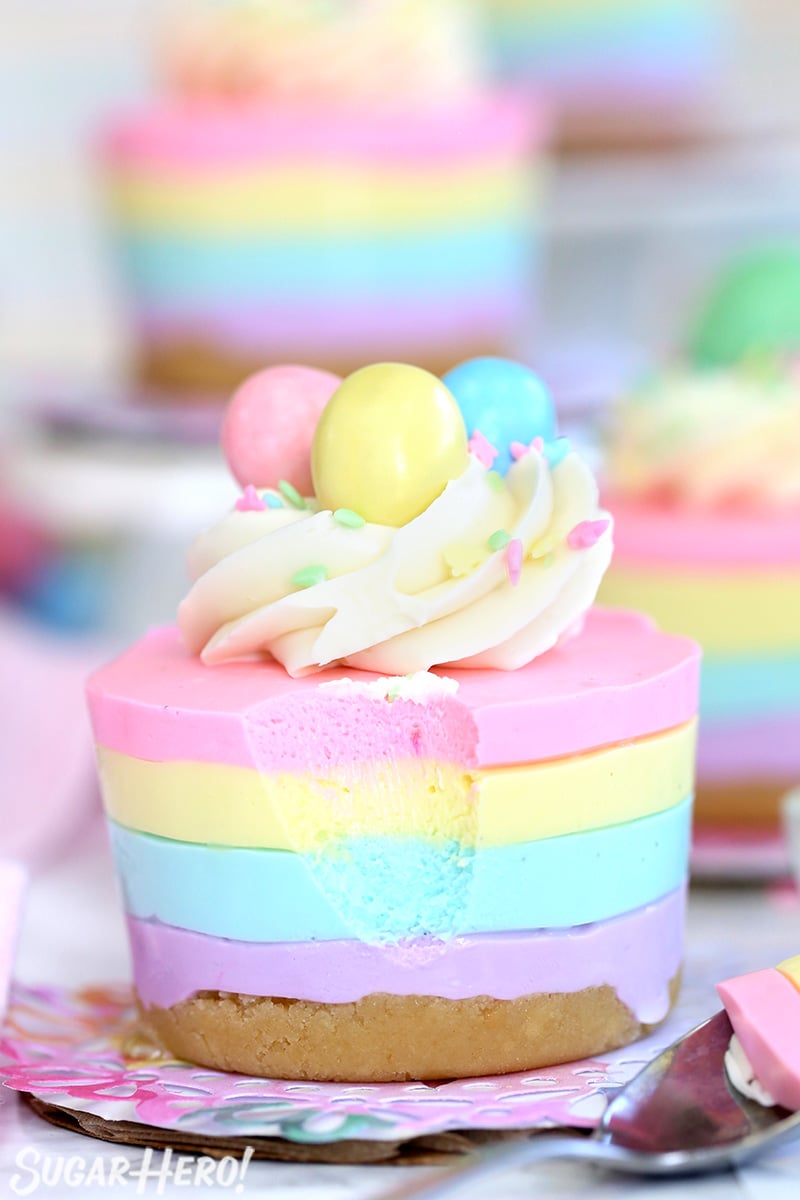 This Easter No-Bake Mini Cheesecakes recipe is one of the best dessert ideas. This beautiful and delicious cheesecake will make you think of an Easter party. These colorful Easter cheesecakes are soft and creamy. They are made with shortbread cookies. You will love it for its versatility. The biggest advantage is that it requires no baking and is very easy to make. It takes 1 hour to make and 2 hours to freeze. Your Easter dessert is ready in 1 hour. It will be done.

Isn't it great! It's small so it's a cute and convenient dessert. It doesn't need to be crushed evenly and served. It can be stored in the fridge for 2 weeks. But 1 to 2 hours before serving this cheesecake. Keep them at normal temperature. Pastel colors are given in it to celebrate easter. Everyone is more attracted to this color. Lemon juice flavor is mixed throughout this cheesecake.
Get it here.
---
20. Cadbury Mini Eggs Cheesecake
This Cadbury Mini Eggs Cheesecake recipe is one of the cutest Easter cheesecake recipes.  Easter will be celebrated but the egg cheesecake will not be made! It's impossible.  Eggs have an ancient association with easter. This cheesecake recipe is hearty and traditional. These Cadbury Mini Eggs Cheesecakes will win everyone's hearts for several reasons. Among these reasons, the most significant reason is its shape. It looks like a bird's nest. This looks like the mother bird has just laid eggs and went looking for food.  

Also, it is very fun and interesting for kids. The small eggs added to it are made of Cadbury. It's more beautiful because they are colorful. The taste doubles when toasted coconut is added to it. Every bite has a touch of coconut. Cream cheese and heavy cream melt in the mouth. OH MY GOD!  It is extremely wonderful!
Get it here.
---
19. Easter Egg Cheesecake
My daughter's birthday is in the spring season.  So I made her birthday cake in an easter theme. Yesterday was my beautiful daughter's birthday. I have been thinking about a special cheesecake for her for a long time. I never thought that I could make this Easter Egg Cheesecake so perfectly. Yay! I have succeeded. I didn't want to make a traditional birthday cake. Spring is just around the corner so I wanted to make something special for Easter. 

My mom showed me the picture of this Easter Egg Cheesecake. I fell in love with the cuteness. My daughter went crazy with joy when she saw the katkat bunny. Her friends were very happy and surprised. My whole family loved it. The shell is crunchy and the inside is full of cream cheese and double cream. The flavors of dark chocolate and cream are mixed together in this large egg. It's amazing, isn't it?
Get it here.
---
18. Heavenly Carrot Cake Cheesecake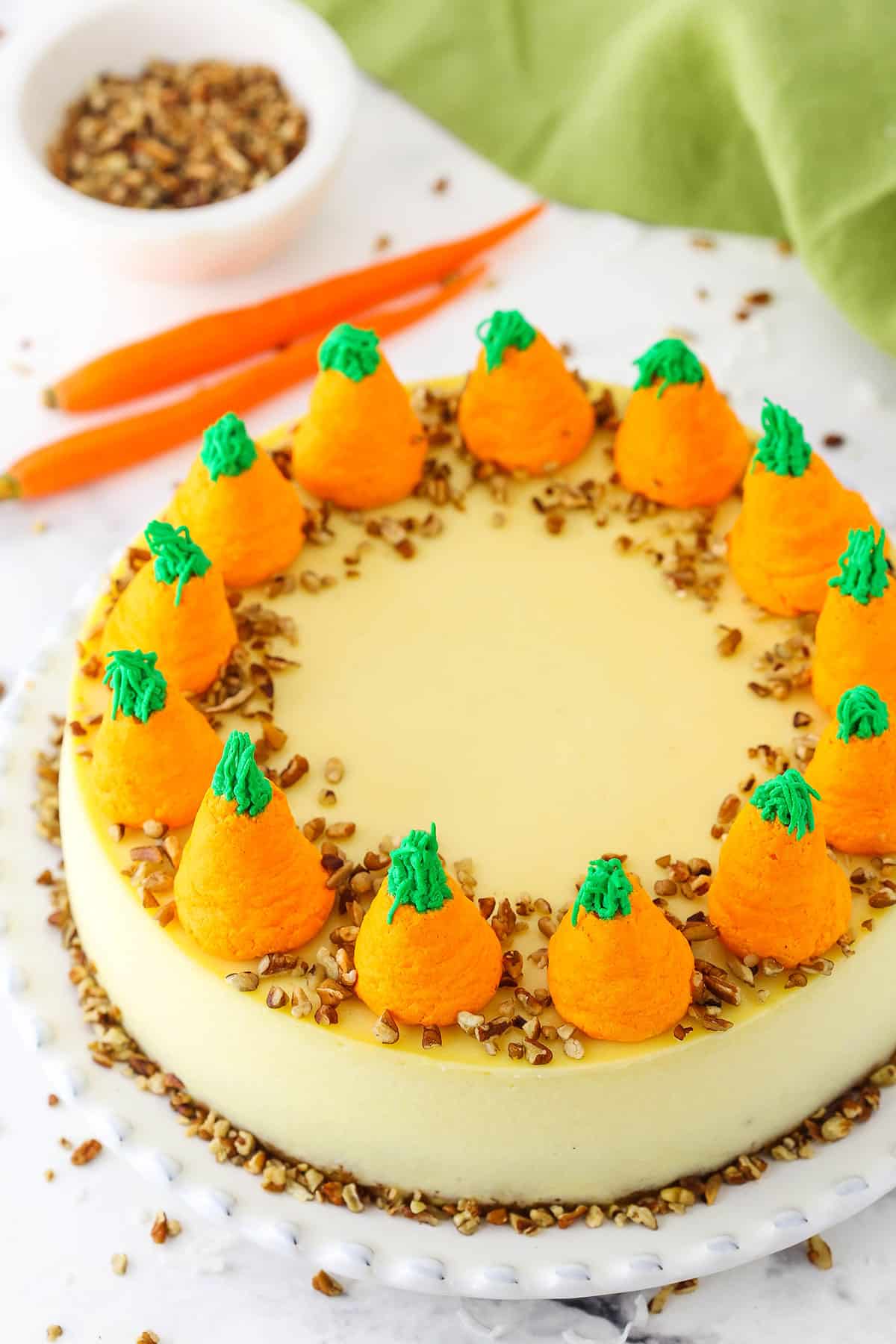 This Heavenly Carrot Cake Cheesecake recipe is one of the hit recipes among holiday ideas.  This recipe is perfect for celebrating Easter events, birthdays, baby showers, mother's day, baby welcome etc. This classic cheesecake recipe can handle a large crowd. This delicious recipe is made with raw ingredients like carrots and pineapple. It contains the best ingredients. Carrots are made with carrot flavor and food coloring in it. Make this creamy and soft fluffy cheesecake and enjoy it at your favorite festival.
Get it here.
---
17. Carrot Cake Cheesecake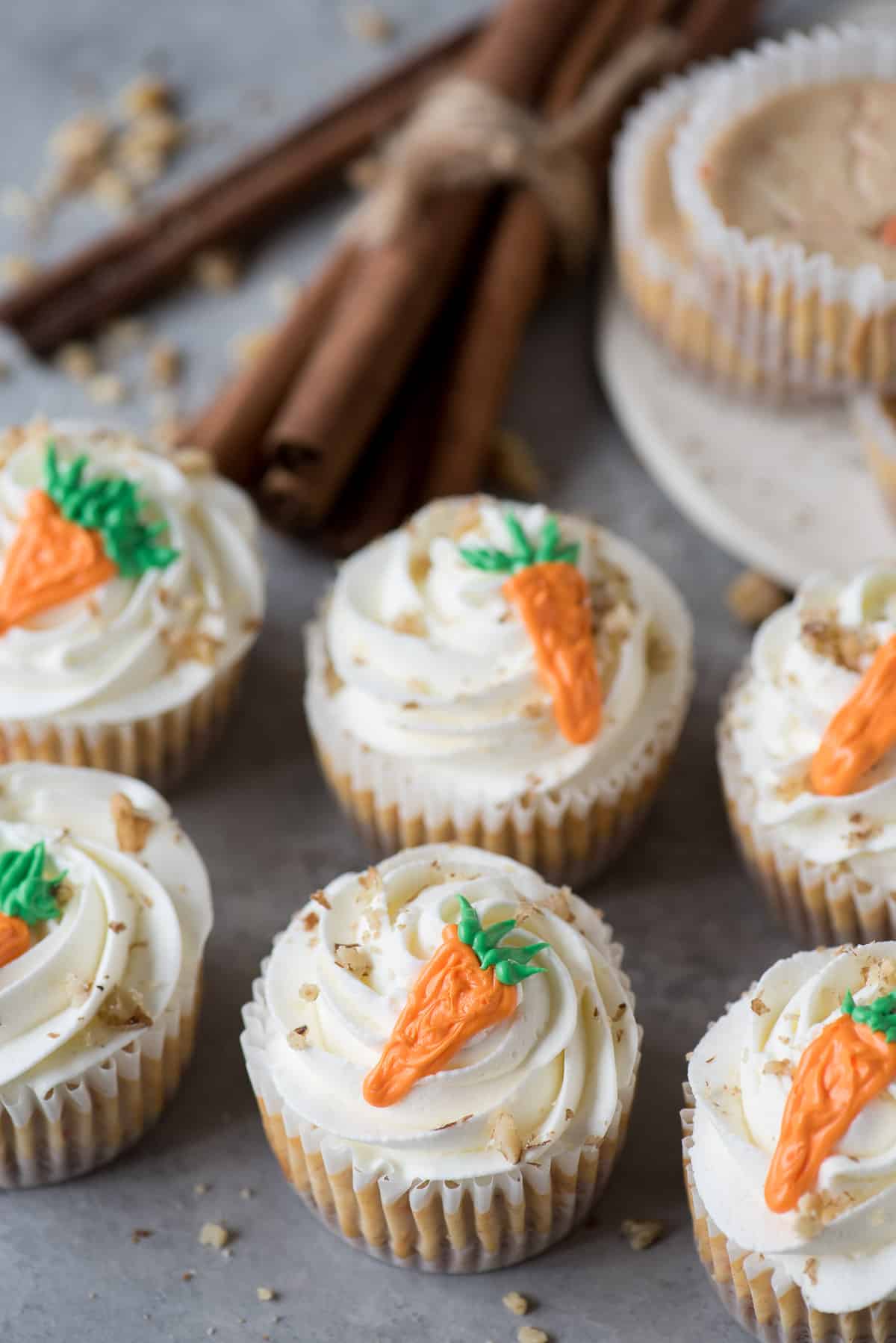 This Carrot Cake Cheesecake recipe is one of the perfect Easter cheesecake recipes if you are asked to choose between cake and cheesecake. What do you do then? I know what your answer will be. That's why I came up with Carrot Cake Cheesecake to celebrate Easter. Believe me whatever cheesecakes are invented. Carrot cheesecake will always be a showstopper. This 30-minute cheesecake is super easy and quick. Thinking about managing a large crowd! Talking about handling the crowd of children! When there is Carrot Cake Cheesecake, why so much thinking? These cheesecakes in a muffin pan are extra delicious and pretty.
Get it here.
---
16. White Chocolate Mini Egg Cheesecake (No-Bake)
This White Chocolate Mini Egg Cheesecake recipe is one of Hughes' hit recipes for holiday ideas. Easter is coming and there's nothing better than this White Chocolate Mini Egg Cheesecake for an Easter event. This includes a mix of cream cheese and mini eggs. Another fun thing about making this is that it is a no-bake cheesecake recipe.

It is a recipe filled with smooth, white chocolate, soft, and filled with Cadbury Mini Eggs. Kids will love this cheesecake recipe. Every bite of this cheesecake has the taste of cream cheese and the taste of mini eggs. And the top is topped with a pile of mini eggs. Easter will be celebrated and there will be no mini eggs! It can't be.
Get it here.
---
15. Coconut Cheesecake Cake For EASTER
COCONUT CHEESECAKE CAKE FOR EASTER – Have you ever baked a coconut-rich cheesecake? I have never made this before. It was my first time too. My first time experience with it is really great. The layer of coconut and the layer of cream cheese filling will win everyone's hearts. Its classic and beautiful look can make anyone swoon. This easter cake will easily tempt everyone at any festival or gathering. 

This coconut cheesecake is the perfect way to celebrate Easter. The best recipe for. You remember that Easter is almost here!  You are ready! I am fully prepared. This is made with coconut cheesecake. It tastes as good as it looks gorgeous. Its decoration will make everyone fall in love. The mini eggs inside will impress everyone.
Get it here.

Must try these amazing easter brunch ideas for holidays.
---
14. Peeps Marshmallow Cheesecake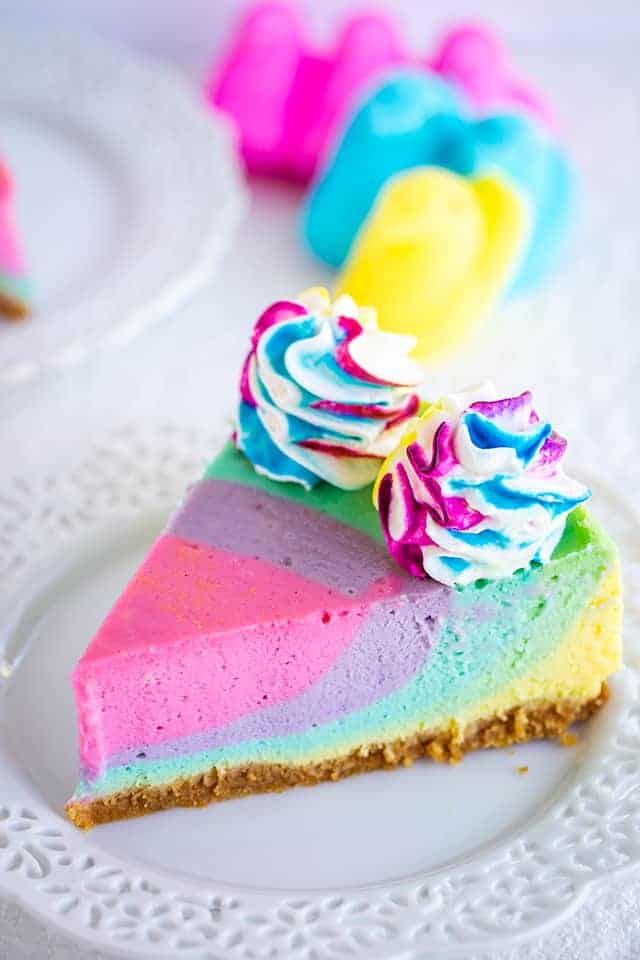 This Peeps Marshmallow Cheesecake recipe is one of the funniest Easter cheesecake recipes.  I have been wanting to make peeps marshmallow cheesecake for a long time. If you want to make cheesecake with sugar-coated marshmallow cream! Then this is a perfect cheesecake recipe for you. Its colorful appearance will impress everyone. This beautiful appearance will make any festival more beautiful and bright.

This delicious recipe is made by combining cream cheese, marshmallow cream, peeps coffee creamer, heavy cream, gel food color, etc. It takes a lot of time to make but time is nothing for this delicious and beautiful recipe.
Get it here.
---
13. Biscoff Easter egg Cheesecake
Biscoff Easter egg Cheesecake – This egg is made with only 4 ingredients and is a completely no bake recipe. It is very easy and hassle-free to make. Do you love Biscoff! Then this cheesecake is definitely for you. If you use plant-based cream in this it will not set so use double cream or whipping cream in this. This is a completely vegetarian little recipe. You can also use dairy-free eggs and you can also use dark chocolate eggs. You will all get lost in the taste of Biscoff Spread and Biscoff Cookies. Refrigerate it immediately after making it. Serve these amazing easter desserts and enjoy their delectable taste.
Get it here.
---
12. Easter Cheesecake Cones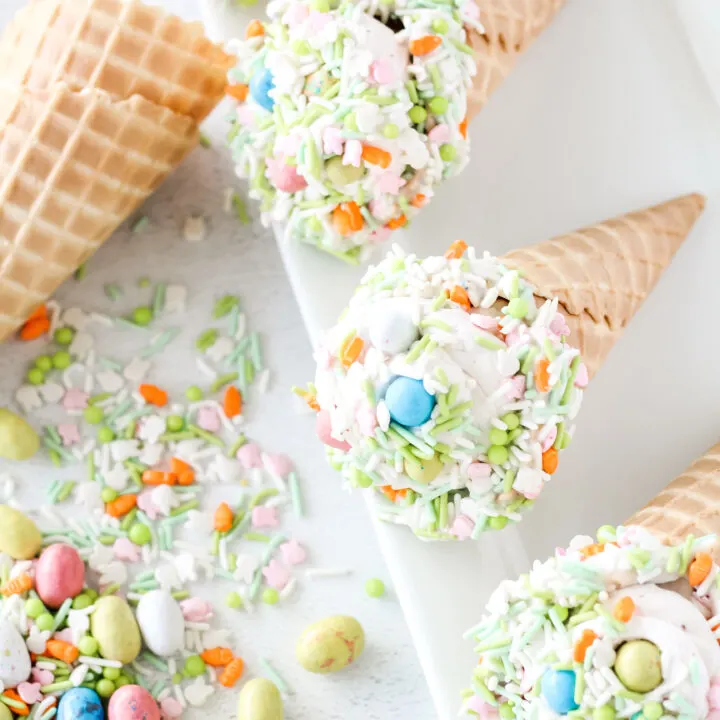 Easter cheesecake cones are cheesecake-filled waffle cones topped with white chocolate, Easter candies, and sprinkles. The cheesecake filling is no-bake. An Easter treat that requires no baking is this straightforward and simple cheesecake cone recipe. Although they can be relished all year round, cheesecake cones are the ideal dessert for the spring and summer. These easy-to-make cheesecake waffle cones only require a few basic components and are oh-so-delicious. Even the sprinkles can be changed to fit the holiday being observed.
Get it here.
---
11. Hummingbird Cheesecake
This Hummingbird Cheesecake recipe is one of the stars of dessert ideas. The ingredients for a traditional hummingbird cake are all combined in this rich cheesecake. A pecan-coconut graham cracker crust holds layers of banana cheesecake, vanilla cheesecake, white chocolate ganache, and pineapple-pecan praline sauce for a show-stopping dessert you won't quickly forget. Despite the common sense of intimidation that accompanies creating cheesecakes at hand, we strongly recommend that you give this one a shot.

In all honesty, making cheesecakes is much simpler than you might imagine. It is undoubtedly easier to make a tiered cheesecake such as this than to bake, assemble, and frost a conventional layer cake. So confidently pull out your springform pan—you've got this.
Get it here.
---
10. Ginger And Lime Cheesecake
How to make a cheesecake with ginger and lime. Merry Friday. Once more, the weekend is almost here. Due to Easter Monday, this week has flown by. Are you searching for a weekend treat to make, too? So, would you like a few slices of this delicious cheesecake? Since I adore cheesecake, I'm actually sharing this delicious cheesecake recipe with you today. Delicious, opulent, and incredibly remarkable. The above recipe is also simple to make and ideal for special gifts and entertaining. How cool is it that this recipe is also fast and simple to prepare?
Get it here.
---
9. Easter Cheesecake Bars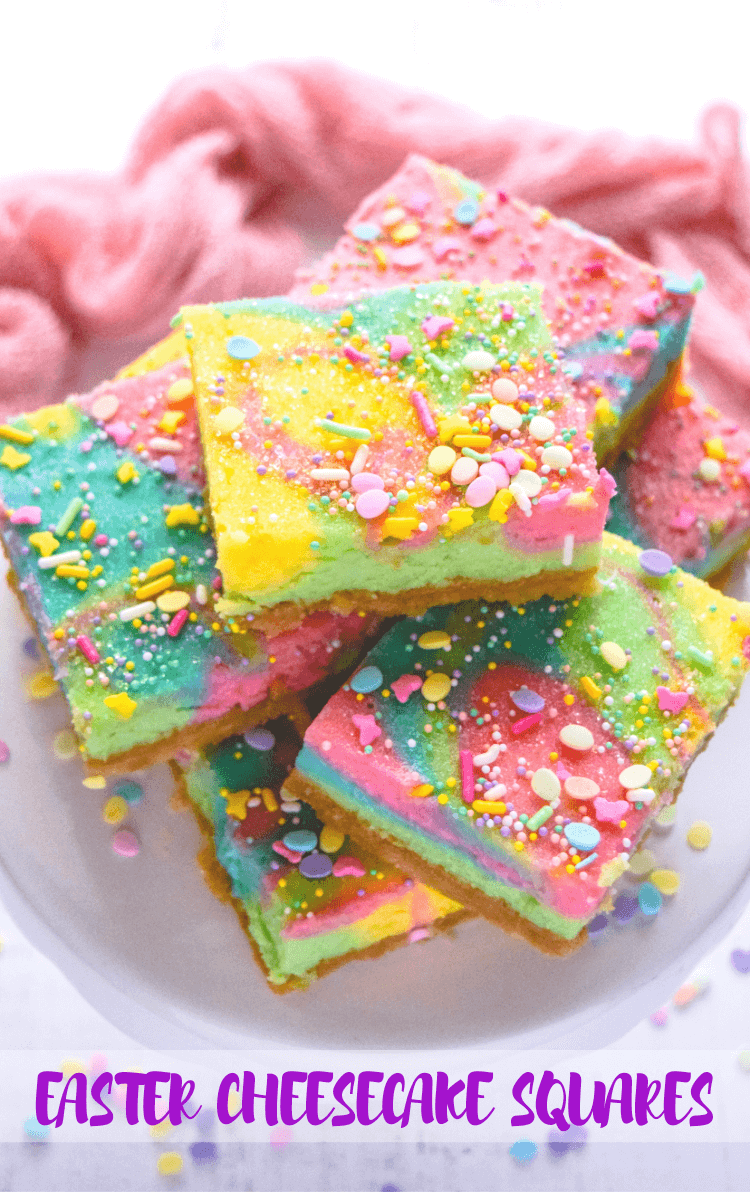 These types of holiday ideas are great hits. For Easter or a small commemoration of the Spring Equinox at home, this cheesecake is ideal. In such a 9 x 13 skillet, it is prepared. Either cut the big bars into about a dozen pieces, or cut the smaller ones into as many as two dozen pieces. As a result of the richness of the delicacy, I love to cut the bars.

Before you start, line the bottom and sides of the 9 x 13 pan with foil to make it easier to lift the cheesecake out of the pan and cut it into pieces. I always make a crust out of OREO cookies for these cheesecake squares. The taste is much better for me than a graham cracker crust. Furthermore, the OREOs' cream center merely holds the crust together.
Get it here.
---
8. Easter Lemon Cheesecake Parfaits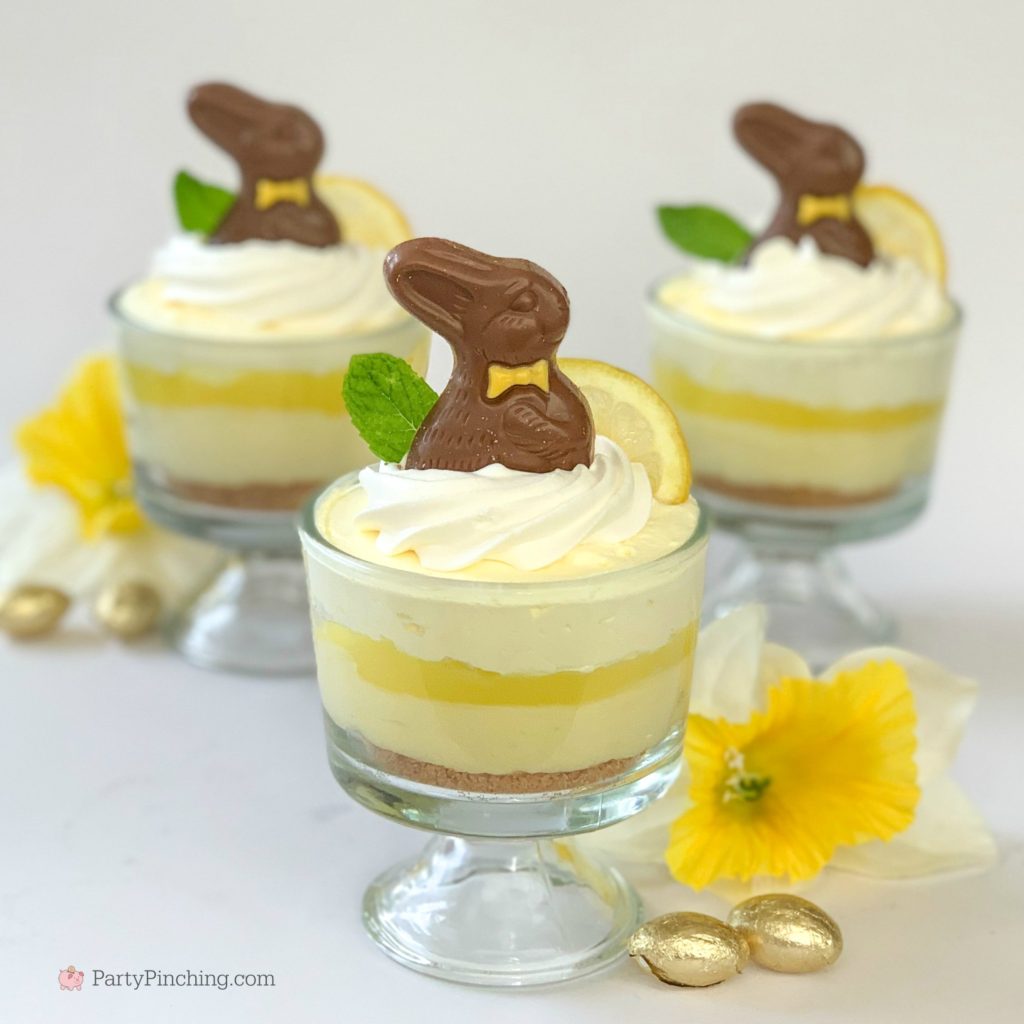 This Easter Lemon Cheesecake Parfaits recipe is one of the perfect Easter cheesecake recipes. Let spring begin with such a beautiful and delicious cheesecake. It is easy and interesting to make. Take a glass of your choice to make it. Then all the ingredients are layered in the container. In this cheesecake, R.M. Palmer's little beauty milk chocolate bunny is served. This is the biggest attraction of this cheesecake. It is a cheesecake filled with cream.

My daughter calls it bunny ice cream instead of cheesecake. Actually, it is creamy like ice cream. It melts in the mouth. Try it once and you will be obsessed with its taste. This is a cheesecake recipe with lemon pie filling. I request you to make this delicious and classic recipe and surprise everyone.
Get it here.
---
7. Malted Easter Egg Milk Chocolate Cheesecake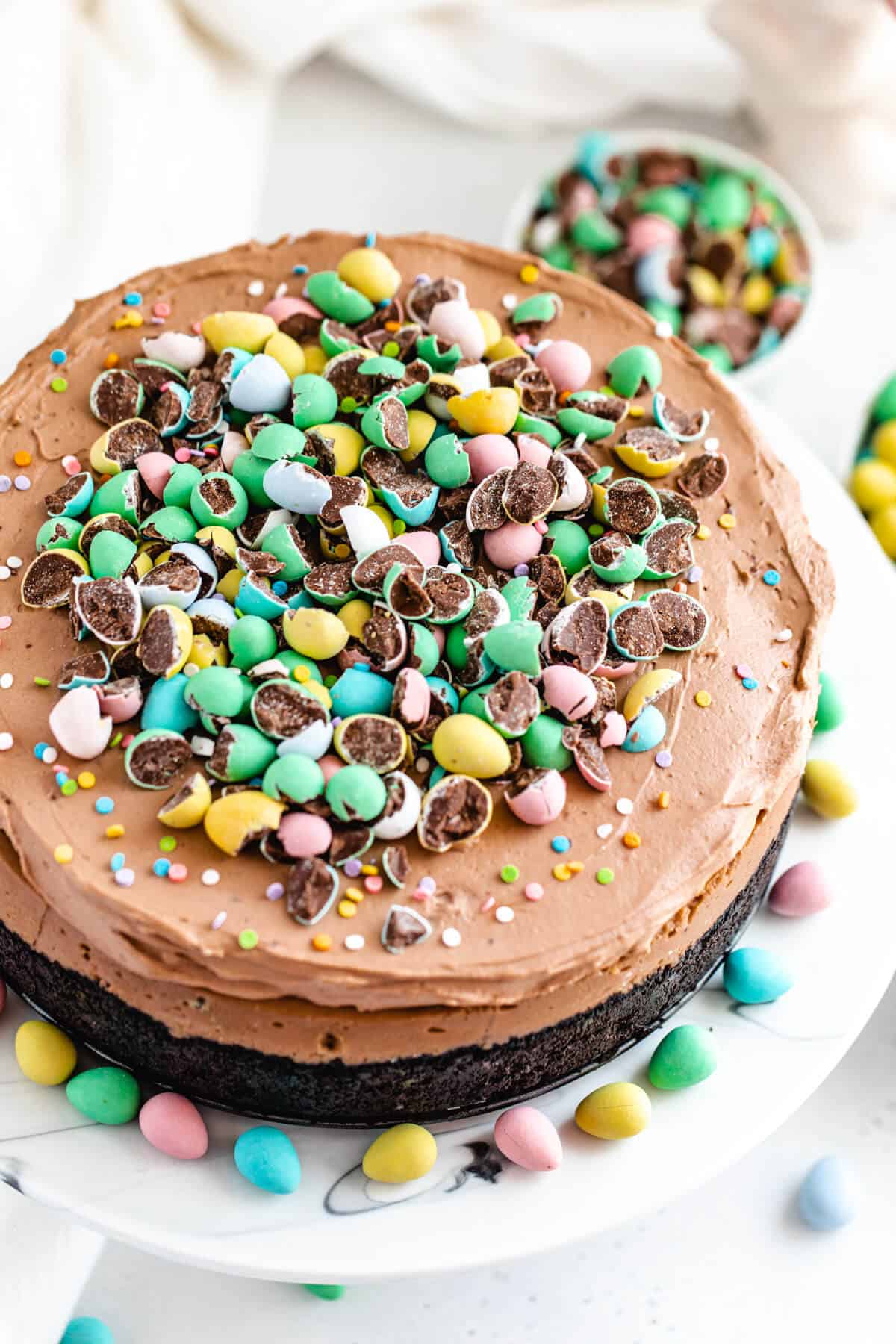 What quantity of tiny chocolate eggs is considered excessive? Sincerely, because after consuming mountains upon hills of rock within and out of a desert, I fear I am about to erupt.

Because I intended to use the tiny chocolate eggs in at least two or three Easter-themed desserts, I purchased a HUGE bag of them. I did, for sure. These types of holiday ideas are an all-time favorite of mine, so I added this recipe to my holiday ideas.

My fellow chocolate lovers, do you ever gaze at something so deliciously chocolatey for a long time before consuming it? That's pretty much how folks respond to this cheesecake, yeah.
Get it here.
---
6. Easter Chocolate Orange Cheesecake
Alright, I gave in. Easter chocolate orange dessert is what I made. Why? I am so in love with it. It is, however, essentially my chocolate orange cheesecake with the addition of the Easter tiny eggs. It is incredible. Since I didn't want to write a small recipe blog post, I chose to make a Video clip for this recipe last year. 

However, since so many of you asked for it, I finally did it! I knew I would purchase a tonne of Terry's chocolate orange-themed mini eggs as soon as they were released because they taste SO GOOD and are rekindling my daily love for Terry's. They appear cute and I adore them.
Get it here.
---
5. No Bake Funfetti Cheesecake
The point of parties is to have joy. There is no joy in a cake that is bland and uninteresting. The highlight of any party will be this no-bake funfetti cheesecake! It tastes wonderful and is incredibly colorful. It is fast and simple because baking is not necessary. Everyone will praise you on this dessert, without exception. It could make the ideal treatment at the conclusion of a typical day and is not limited to celebrations or parties. 

It is a dessert that practically shouts, "Gobble up!" This makes a delicious conclusion to the dish and is refreshing. Picnic season is quickly approaching. These kinds of dessert ideas make any celebration much brighter and fresher.
Get it here.
---
4. No-Bake Mint Aero Cheesecake
Are you looking to make mint oreo cheesecake!  So what are you waiting for?  Easter is just ahead! Make this No-Bake Mint Aero Cheesecake recipe. You will love and your entire family love too. I love to eat and make chocolate cheesecakes. So I am especially tempted by this mint aero cheesecake. Another reason to be tempted by it is that it is a no-bake cheesecake. This recipe is one of the most delicious Easter cheesecake recipes.

It is an easy and hassle-free recipe. It only takes 30 minutes to make it. What are you thinking?  How to make such a classic recipe so quickly!  Friends, it's true. Its base is made with butter, cocoa powder, etc. and its filling is made with full-fat cream cheese, peppermint extract, double cream, mint aero, food coloring, etc. So what are you doing? Make it quick!
Get it here.
---
3. Rainbow Cheesecake Easter Eggs
Would you not just adore Easter time? Winter's gloomy hues give way to happy, vibrant colors. Creating festive rainbow treats such as these cheesecake eggs at this time of year is ideal. Easter egg coloring is a holiday tradition, so this year, after you've finished drenching hard-boiled eggs in colored dyes, take some Betty Crocker® Gel Food Colors, make a batch of decadently creamy cheesecake filling, and get to coloring.

The prettiest Easter egg treats you've ever seen make by filling one's bowls with purple, blue, green, yellow, orange, and pink cheesecake filling, then layering each hue over a crunchy cookie crust. You will require two silicone molds totaling 16 cavities to create these Easter egg-shaped treats.
Get it here.
---
2. Roasted Almond & Salted Caramel Easter "Cheesecake"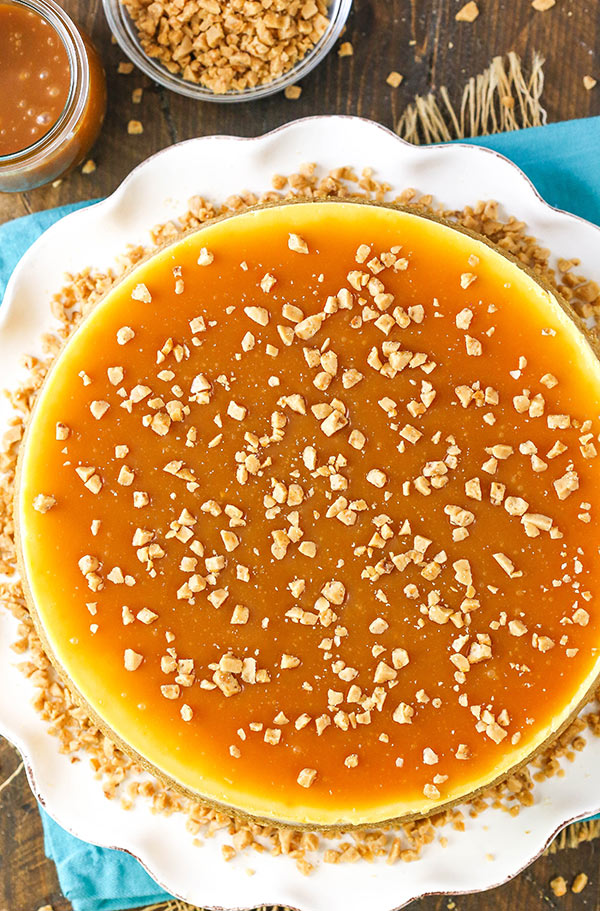 The flavors that characterize traditional Portuguese confections at this time of year are the warmth of cinnamon, the delicacy of caramel, as well as the toasted flavor of roasted almonds (and, in fact, chocolate, but we're reserving that one for some other treats!). However, these treats are utterly unhealthy (or even plant-based, for that matter), and we've had enough of that! Put the dairy, eggs, and crystal-clear artificially coloured sugar away; this baby has everything you could possibly want. The salted medjool date caramel is, well, salted, and the almond cinnamon cashew cream tastes like biscuits. Caramel. Date.
Get it here.
---
1. Cheesecake Filled Easter Eggs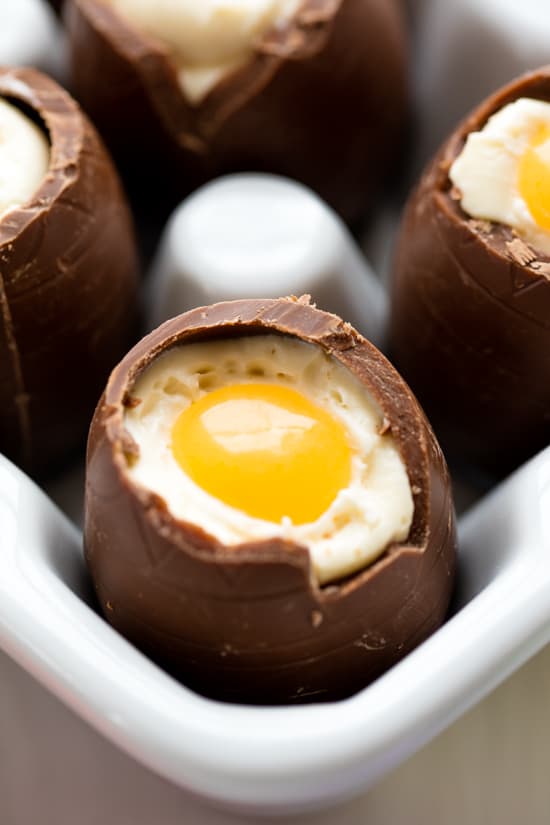 If you use a sharp knife, the chocolate ought to glide right through. If you're in trouble, soften up the knife by running it under hot water; once it's warmed up, it should cut through easily.

Put the whole of your cheesecake mixture into a ziploc bag or a disposable piping bag. Cut the edge off. With a gentle squeeze, insert one end of the backpack into the bottom of a chocolate egg shell that is empty. As the egg slowly needs to fill with the cheesecake filling, slowly pull up the bag.
Get it here.
---
Bonus
Blueberry Lemon Cheesecake Bars with Candied Lemon
Early summer this year, and I'm particularly into making lighter desserts, as you guys have probably observed. After sampling a few desserts, I'm now ready for cheesecake. Every project I work on aims to be unique compared to anything I've previously shared with you folks. Although blueberry cheesecake is not a novel idea, I have never personally prepared it. Additionally, these cheesecake cookies are unlike any other cheesecake you have ever had. These types of holiday ideas are truly gems.
Get it here.
---
Tie Dye Cheesecake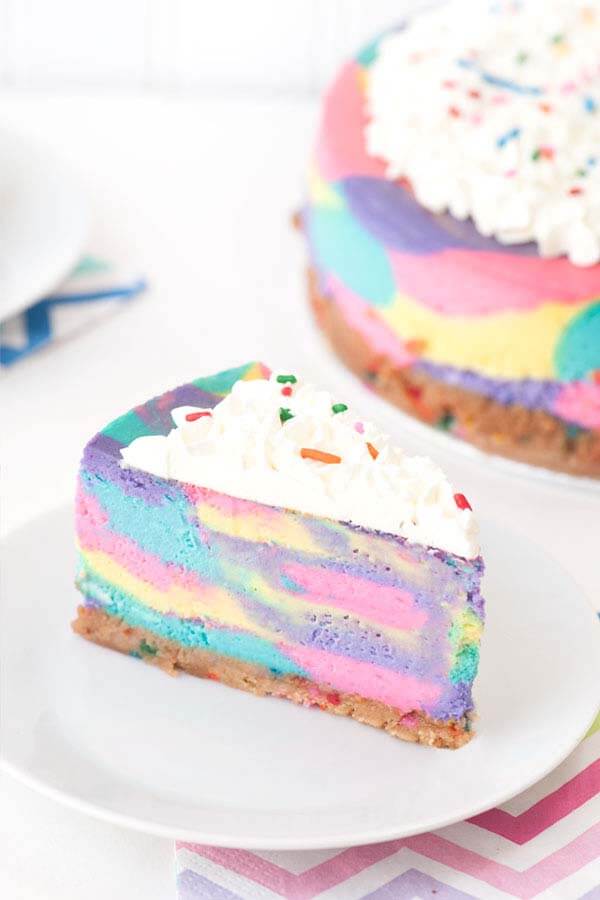 One of those foods that you either adore or hate, in my opinion, is cheesecake. There aren't many individuals in the world who dislike cheesecake. You must agree that this cheesecake is attractive to look at, regardless of how you perceive it. You either adore cheesecake or you hate it, in my opinion. Few individuals would describe cheesecake as having a "blah" flavor. Anyhow, you have to acknowledge that this cheesecake is attractive to look at, regardless of your opinion regarding eating it.
Get it here.
---
Funfetti Cheesecake Recipe with Cake Bottom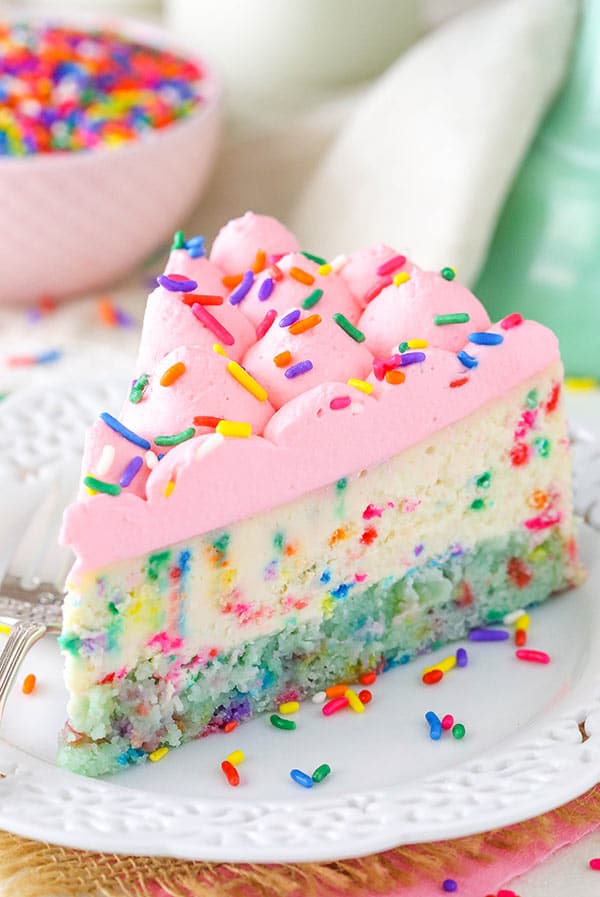 The cake bottom must be made first in order to create this cheesecake. Of course, I added sprinkles and dyed mine blue. In order to bake the cheesecake afterward, you can use the same cheesecake pan. It's time to prepare the cheesecake after the cake baked and cooled. Since preparing the cake layer and then applying the cheesecake filling, I've discovered that the cheesecake bakes best if the springform pan's edges are thoroughly cleaned and resprayed with baking spray.
Get it here.
---
No Bake Fruity Pebbles Cheesecake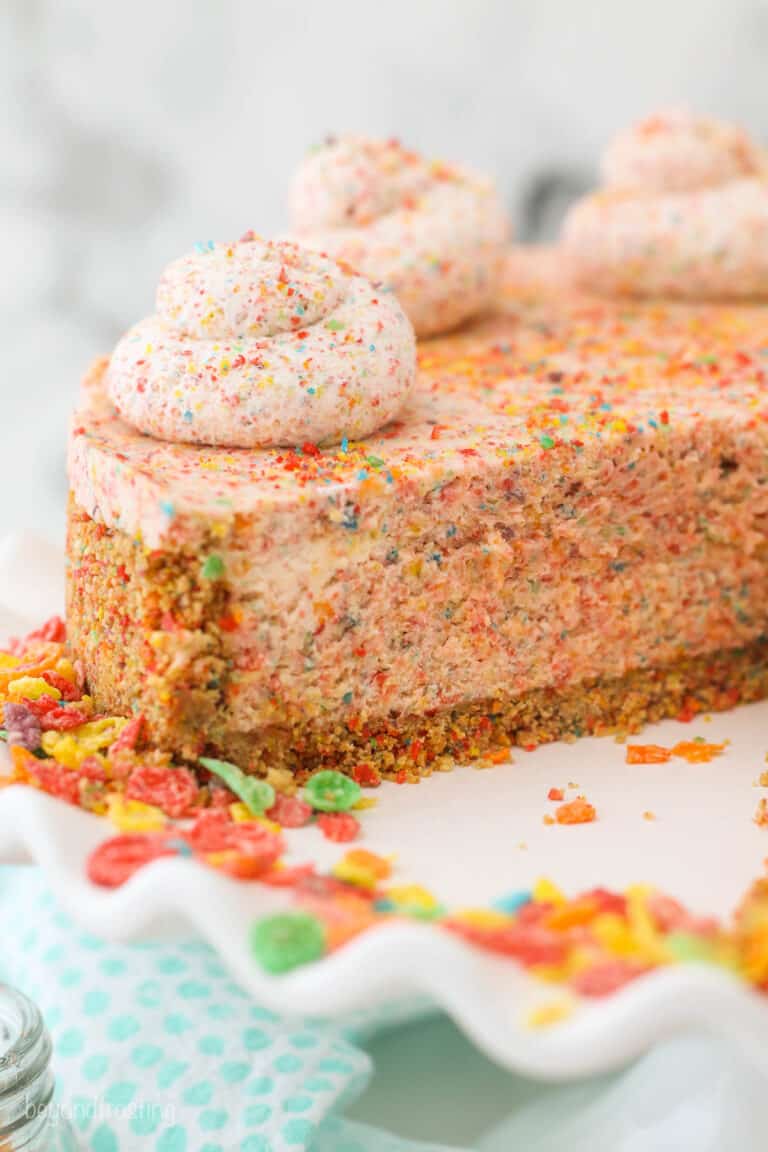 Principally, Wafers, which are slightly sweeter than the standard graham cracker crust, were my choice, and I wanted to ensure Fruity Pebbles were present in every part of the cheesecake. They consist principally wafer crust, a sweet, creamy center, AND the whipped cream covering all contain Fruity Pebbles. The final outcome? Incredible dessert, this! You will love this dessert if you liked Fruity Pebbles as a child. Whenever it refers to this Fruity Pebble Cheesecake, I have no issue eating the entire rainbow!
Get it here.
---
Robins Egg Cheesecake Cake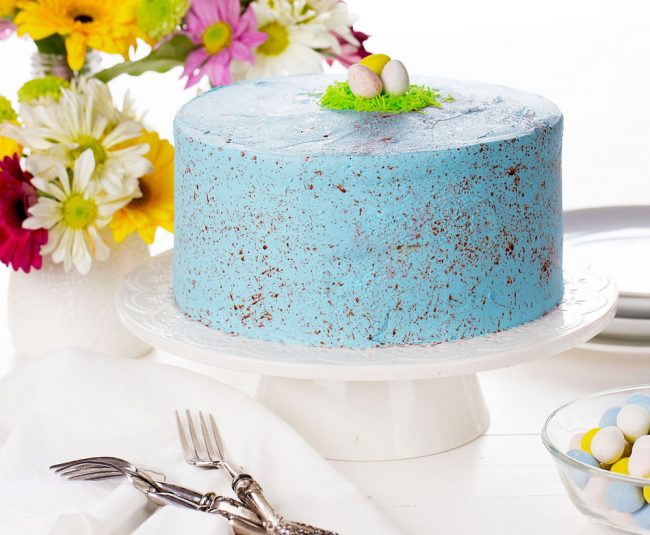 The lemon cheesecake is what you should prepare first. Before putting together the dessert, you must rest for at least 5 different hours. In the bowl of a stand mixer, blend the cream cheese, sugar, lemon juice, and lemon extract to create the cheesecake. A few at a time, add the yolks as well as mix just until combined. In a springform plate that coates to baking parchment and sprayed with nonstick spray, pour the cheesecake mixture. Until the middle is almost set, oven for 20 mins at 350°F (just a bit wiggly).

Allow the cake to rest for three hours minimum. Prepare the white cake in multiple 8-inch round cake pans as directed on the box although the lemon cheesecake cools. The cakes should chill before assembly. These classic Easter cheesecake recipes are enough to handle a large crowd.
Get it here.
---
You may Like These Meal Ideas:
Cold Appetizers
Low Carb High Protein Recipes
Fritter Recipes
One Pot Dinners
High Protein Snacks
High Protein Vegan Meals
Brunch Recipes
Easter Dinner Recipes
---
If you like this article about easter cheesecake recipes, share with your friends or families on Facebook, Twitter, and Pinterest. Choose your favorite recipe and make it at home, let me know which is your best recipe in the comment. Also, you can subscribe to my blog to get all the latest updates first on your mobile.
---
To make these recipes for later, SAVE this pin on your favourite Pinterest Board