I see people going out to eat or ordering their food from online food delivery apps on Valentine's Day. But what I find more romantic is cooking our food and enjoying it together at home. That way, we get to spend more time and some special moments together. I like to do activities together that help us spend more time knowing each other and learning small things about each other. If you too have the same notion as me then my Valentines Day appetizers are for you. I often plan evening movie dates with my partner at my place on weekends.

Because we love to cook and eat together, we make foods from different side dishes and relish their flavors while watching a movie. Since it's Valentine's day, I have planned to make a list of my favorite and delicious recipes and share them with you so that you too can plan movie dates at your place or even make them if you are hosting a Valentine's day party. Enjoy my recipes with your partner and all your loved ones on dis Valentine's Day. I am sure that these recipes will enrich your holiday ideas. So go ahead and get the recipes.
---
21. Cute Bruschetta Recipe
Making heart-shaped recipes is a must for me on Valentine's Day. Therefore, you can find a bunch of heart-shaped recipes going up on my blog before Valentine's day. Whether you want a sweet or savory recipe  you will get it here. My blog has got you covered with cute heart-shaped side dishes for Valentine's Day. I have emulated some of the recipes from my holiday ideas to make these cute heart-shaped Valentines Day appetizers.

These cute bruschettas are one of them. All you need to do to make these bruschettas adorned in Valentine's Day theme, is to cut the baguette in slices and then use a heart-shaped cookie cutter to cut them in heart shapes. When I cook for my loved ones, I try to do my best. This cool party food can instantly make anyone feel better. Fresh tomatoes and basil that have been marinated in olive oil, chopped garlic, balsamic vinegar, kosher salt, and red pepper flakes are topped with crunchy, garlicky bread that has been toasted.

Who wouldn't adore these simple, crispy toasts with luscious marinated tomatoes on top! After the tomatoes have marinated for 30 minutes, toast your heart-shaped baguette slices for 15 minutes while briskly brushing them with garlic-infused olive oil. Toasts should be rubbed with a garlic clove before adding the cold marinated tomatoes. Serve them immediately!
Get it here.
---
20. Valentine's Day Roasted Potato Hearts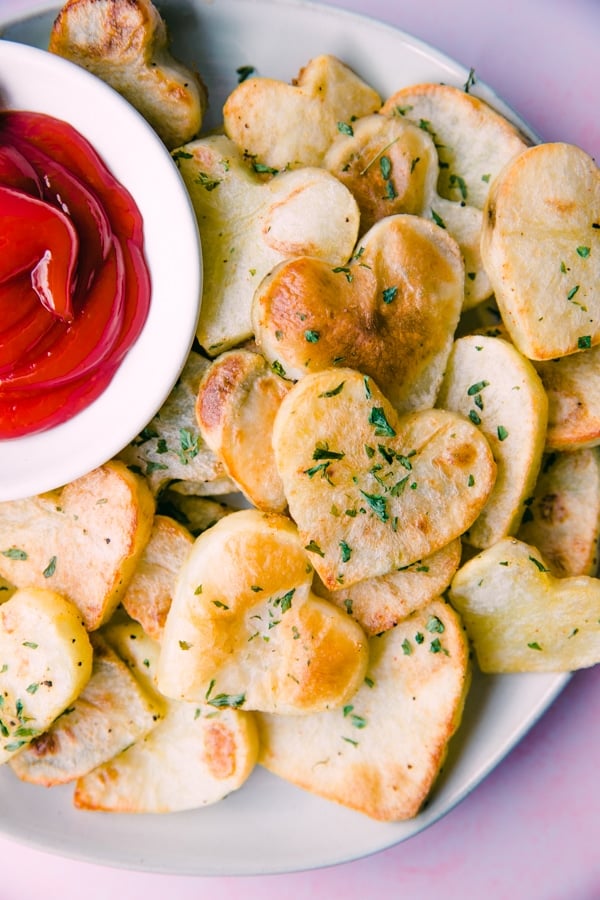 For your Valentine's Day party, are you looking for Valentines Day appetizers? On the blog, I've posted a tonne of dessert and breakfast recipes. It's time to serve some savory party fare to liven up your Valentine's Day celebration. Today I'm going to show you how to roast potatoes that will be the crispiest possible. Their heart-shaped design is also advantageous. For Valentine's Day, the sweet Roasted Heart Potatoes are perfect.

I considered making these crispy roasted potatoes exclusively in heart shapes for the Valentine's Day celebration because my hubby and the little one enjoy them. Oil, salt, black pepper, and caraway seeds are the only simple ingredients used to marinate the potatoes, which are then roasted until perfectly crispy.
Get it here.

These amazing valentines day recipes to celebrate.
---
19. Bruschetta with Mozzarella, Seared Tomatoes & Roasted Garlic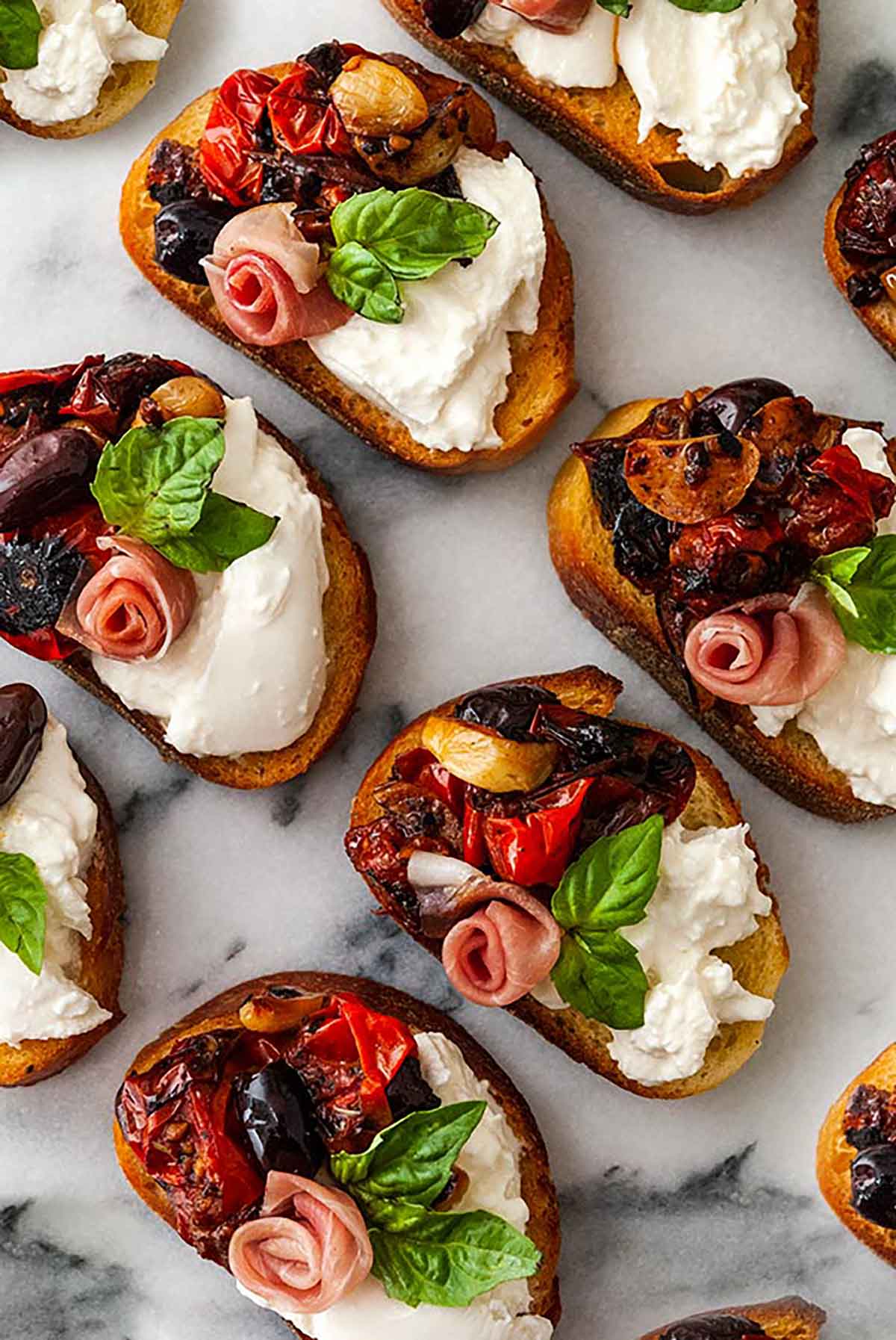 Have you started planning the menus for your next holiday ideas and gatherings, or maybe your Valentine's Day ball parties? If you're looking for Valentines Day appetizers, these bruschettas with Mozzarella, seared tomatoes and roasted garlic would be a great addition to your list. Even though they are really easy to make, these delicious side dishes look attractive and festive enough to be great for holiday ideas.

You're about to learn a little-known fact that genuinely makes these gorgeous bits a starting point that requires no effort. Quite tasty! Considering how much I adore mozzarella, this is right up my alley. This is AMAZING for when guests arrive and you need to serve something quickly. These certainly look amazing. They are gorgeous and festive but really easy to make. My preferred opening!

Toasted crostini slices should simply have a small bit of roasted garlic applied to them before being topped with seared tomatoes and a generous amount of mozzarella. Quite good and easy to make! These types of dishes, which don't require a lot of ingredients or work, are my favorites! Definitely save this recipe to your Pinterest page and get ready to make it for any forthcoming gatherings.
Get it here.
---
18. Pear Caramelized Onion and Brie Bites
 Here are some Valentines Day appetizers for you as we are about to enter Valentine week in less than a week. It's time to welcome the celebrations that go along with the season as the weather is all romantic. Thus, preparations are being made for the upcoming holiday season. This season, these Peer caramelized onion brie nibbles will be ideal for your side dishes.

Crispy phyllo shells filled with melted brie cheese and pear caramelized onions make up these brie bites. Despite the fact that the combination of the ingredients might not look like much, it tastes amazing! These are the best Valentine's Day vacation suggestions! They are so tasty and festive that everyone devours them.
Get it here.
---
17. Mini Baked Crab Cakes with Sriracha Sauce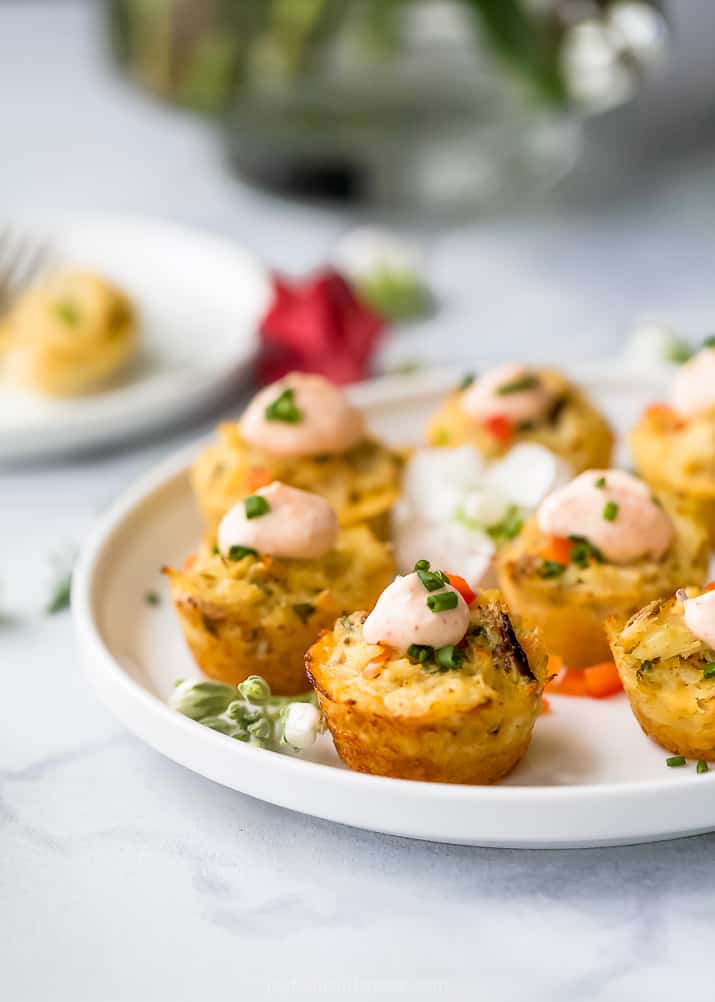 These mini-baked crab cakes, one of my Valentines Day appetizers, make elegant side dishes. This recipe for tasty mini-baked crab cakes is incredibly simple. Contains lump crab meat, yogurt, lemon, gluten-free panko, and sriracha sauce for added heat. These nutritious crab cakes are the ideal party appetizers!

There are hardly any additional ingredients and very little filler to provide flavor. Making this dish requires a little extra money. Crab that is fresh might be pricey. However, the price is reasonable for seafood. In the filling, there are panko crumbs devoid of gluten. The stuffing also includes sautéed bell pepper and onion. Although both red and green bell peppers are delectable, whichever one will do.
Get it here.

Make these delicious valentines day cookies for celebration.
---
16. Gruyere and Prosciutto Puff Pastry Pinwheels
This recipe for a pinwheel-shaped gruyere and prosciutto puff pastry is ideal for your Valentines Day appetizers. These gruyere cheese, prosciutto, lemon zest, and fresh chopped basil-stuffed pinwheels are crispy and flaky. The best part about this delectable snack is that it can be made in under an hour. The puff pastry roll should be spread out and covered with a spoonful of melted butter. Now scatter gruyere, prosciutto, lemon zest, and basil over the platter. The pastry should be securely rolled up before being egg-washed.

Now, gently cut the pastry roll into pinwheels with a sharp knife, and arrange them on the parchment-lined baking sheet. 18 to 22 minutes of baking. Your pinwheels are now golden brown, flaky, cheesy, and crispy. Serve them warm on a dish, bite into the crunchy pinwheels, and lose yourself in the cheesiness of these!
Get it here.

Make these healthy green bean recipes in this spring days.
---
15. Pear Apricot & Gorgonzola Pizza
My husband was completely taken aback by the fascinating nature of this pear, apricot, and gorgonzola pizza. If you know me, you are aware of my enthusiasm for making homemade pizzas and the fact that my cheese pizza recipes are just fantastic. I never imagined that I would eventually make pear and apricot pizzas, but I did! Even your children will enjoy preparing this pizza because it is so simple to make.

It takes less than 30 minutes to prepare and is the ideal side dish for four people. You can prepare your own homemade pizza crust dough, olive oil, salt, shredded mozzarella cheese, crumbled gorgonzola cheese, thinly sliced pear, dried apricots, and some honey for drizzling if you want to make this pizza at home. Shredded Mozzarella and gorgonzola should be piled high on the pizza before baking. Serve warm straight from the oven!
Get it here.
---
14. Beet Napoleon Appetizers with Prosciutto Roses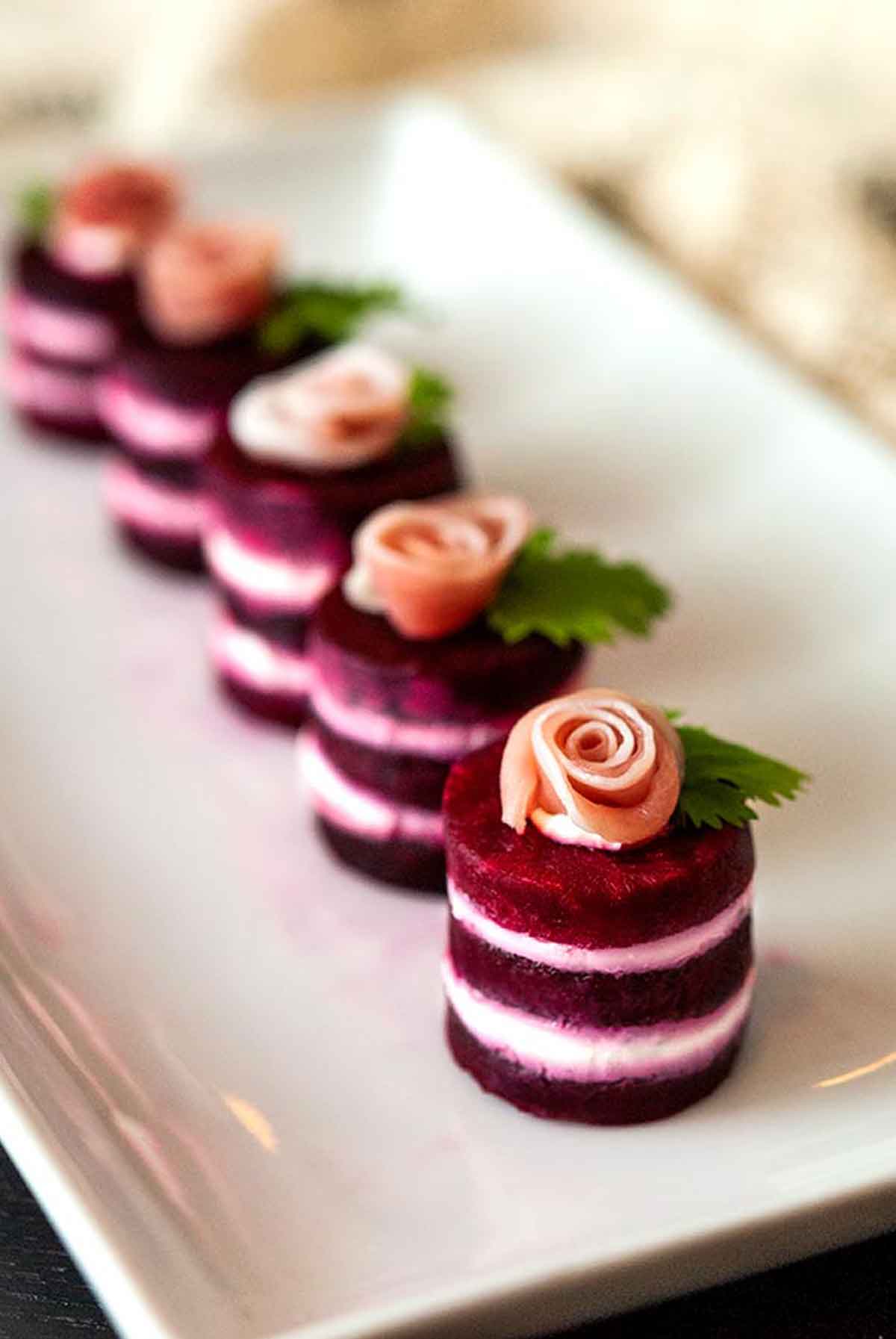 I can't express in words how absolutely fascinating these beet Napoleon appetizers with prosciutto roses look! They are the most romantic and gorgeous Valentines Day Appetizers I have ever seen in my whole life. These are the kind of appetizers that are served in posh gourmet restaurants. They look too fancy to be said that they're easy to make, but surprisingly, they can actually be made pretty easily at home. Impress your Valentine with these mesmerizing side dishes on your Valentine's Day date night.

Despite having a red velvet appearance, these lovely beet napoleons are actually constructed of chive cream cheese, red beets, with prosciutto roses on top. You can make these delicious, adorable, bite-sized canapés for Valentine's Day, Mother's Day, or a gorgeous bridal or baby shower with just four basic ingredients and a little cookie cutter!
Get it here.

Let's celebrate this day with valentines day desserts.
---
13. Chicken Artichoke Bake
Whether you are looking for fancy side dishes or simple Valentines Day appetizers, you get to explore all of them in my blog. I have a bunch of really exciting holiday ideas that you will love to make and feed your loved ones anytime. And especially with the ongoing festive season, these recipes are a shoulder that you will have to lean on. The festive season and parties demand more and more recipes for appetizers, especially bite-sized ones.

My chicken artichoke bake is going to rock at your party. Chicken, artichoke hearts, spinach, cheese, and bacon are the ingredients of chicken artichoke bake. Served in a cup made with flaky phyllo dough. The dish requires merely cooking and shredding the chicken, mixing it with the other ingredients, and baking it in phyllo cups. We even have a time-saving suggestion for you. Simply place the boiling chicken breasts in your mixer's bread hook attachment to shred them. When you turn it on, all of your chicken will be properly shredded in a matter of minutes!
Get it here.
---
12. Pretty Prosciutto Rose Appetizers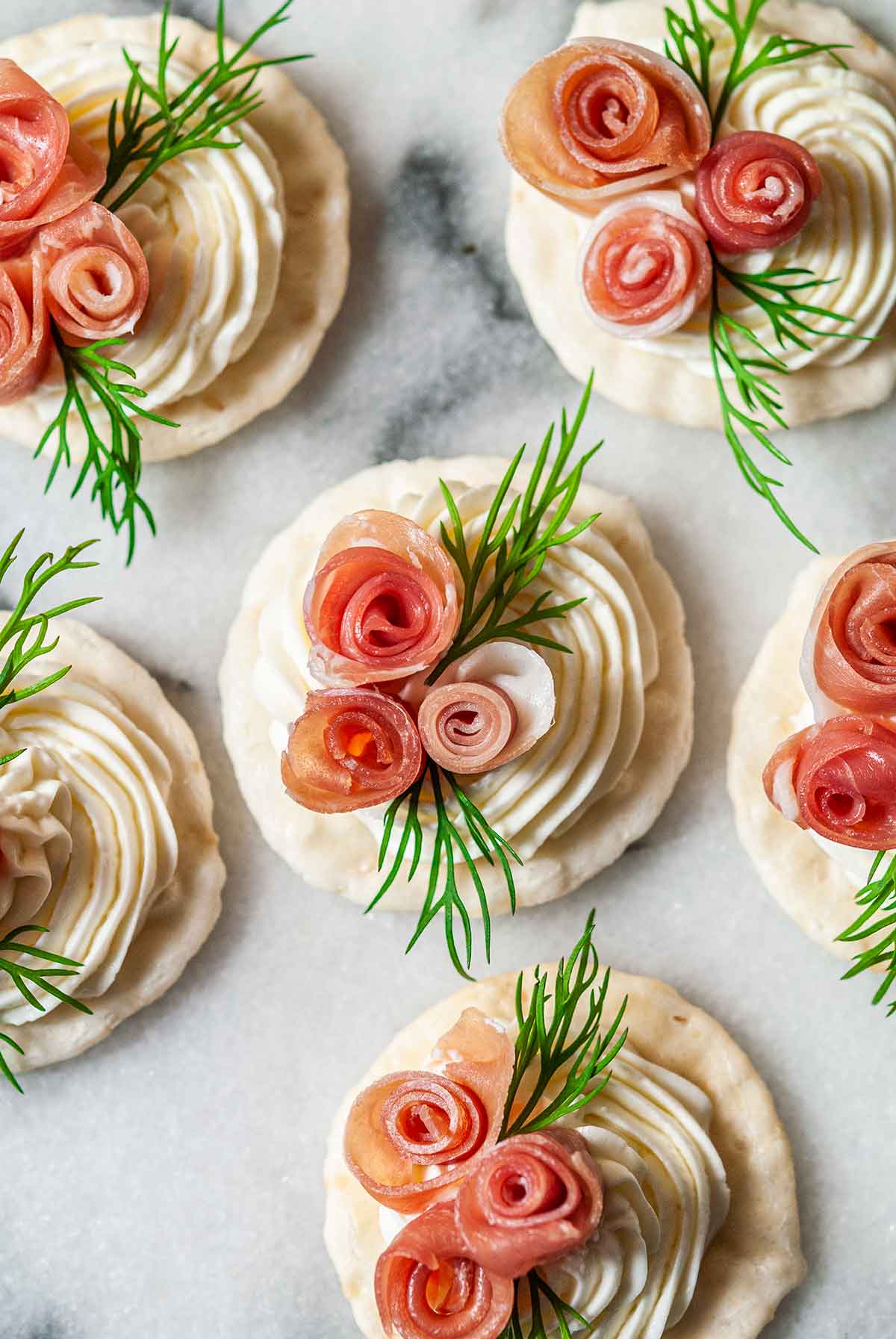 How incredibly amazing these lovely prosciutti rose appetizers look is beyond words. These are the types of appetizers that are offered in upscale, fine-dining establishments. Although they appear too elaborate to be described as simple to produce, they are surprisingly fairly simple to make at home. On your Valentine's Day date night, wow your beloved one with these alluring side dishes. You won't believe that these pretty appetizers can be made with just 4 ingredients and will be made in no time.

All you need is a pack of rice crackers, a pack of good-quality prosciutto, whipped cream cheese, and dill. Create these no-cook side dishes that are easy to put together and I promise everyone will be a fan of yours. These are irresistible and will disappear in no time.
Get it here.

Make these amazing Valentines Day Crafts for your partner.
---
11. Crispy Rice Sushi with Smoked Salmon and Bang Bang Sauce
Ever since my childhood, I have always dreamed about eating Sushi. Throughout my childhood years, I was hooked to Japanese animated series and to be honest, I am still kind of hooked to them. Seeing the characters in those animated series eat Sushi, the little me always wished that she too would be able to eat Sushi someday. Born into a middle-class family, I did not have the privilege to eat Sushi. But the day I started to earn, I decided that I had to make my childhood dream come true. The first time I had Sushi was in a Japanese restaurant in Mumbai.

This recipe of crispy rice Sushi with smoked Salmon and bang bang sauce is sort of inspired by the Sushi that I had in that restaurant. My fiancé is a huge fan of Japanese cuisine too, so to celebrate our first Valentine's Day together, I decided to make him some Sushi. And I have to tell you that not only did he like it but he was actually spellbound by how it tasted.

Therefore, this crispy rice Sushi with smoked Salmon and bang bang sauce recipe is very special to me and I wanted to post it on my blog so that whenever I look at it I can look back to how special our first Valentine's Day together was.
Get it here.
---
10. Heart Shaped Strawberry Hand Pies
Who would like these strawberry hand pies, which would be ideal for Valentine's Day breakfast? At this time, it appears that everyone has raised their hands. You should try this one; it's one of my greatest holiday ideas. Valentine's Day is less than a week away, and these are simple to prepare using puff pastry sheets that are rolled and cut into heart shapes with a cookie cutter.

I still can't believe it's here! These strawberry hand pies each contain a piece of strawberry as well as a jammy strawberry pie filling. Because they aren't overly sweet, these are the ideal Valentines Day appetizers. The dough is egg-washed and dusted with turbinado before being baked to perfection in the oven. Your strawberrylicious hand pies for a delectable Valentine's Day brunch will wow everyone.
Get it here.

Try these holiday cocktail ideas for entertainment.
---
9. Strawberry Cheesecake Bites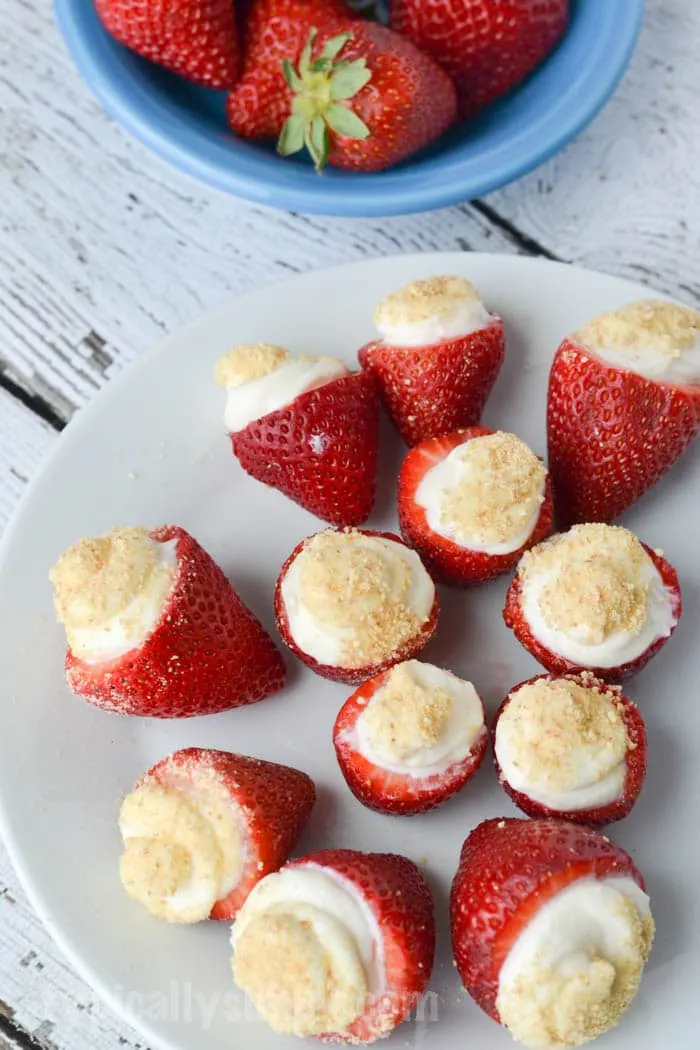 These strawberry cheesecake strawberry bites are made with fresh strawberries and graham crackers for the topping. They are popular with everyone! It's a great day to celebrate and acknowledge all that our relationships have done for us. Even though I am tremendously grateful to have a spouse, I always think I should be doing more.

Every year on Valentine's Day, my partner spoils me. The best part is that he always prepares dinner. Steaks, crab cakes, scalloped potatoes, and strawberry cheesecake strawberry bits! These strawberry cheesecake strawberry bites are truly divine when topped with crushed graham crackers. 
Get it here.
---
8. Buffalo Chicken Pinwheels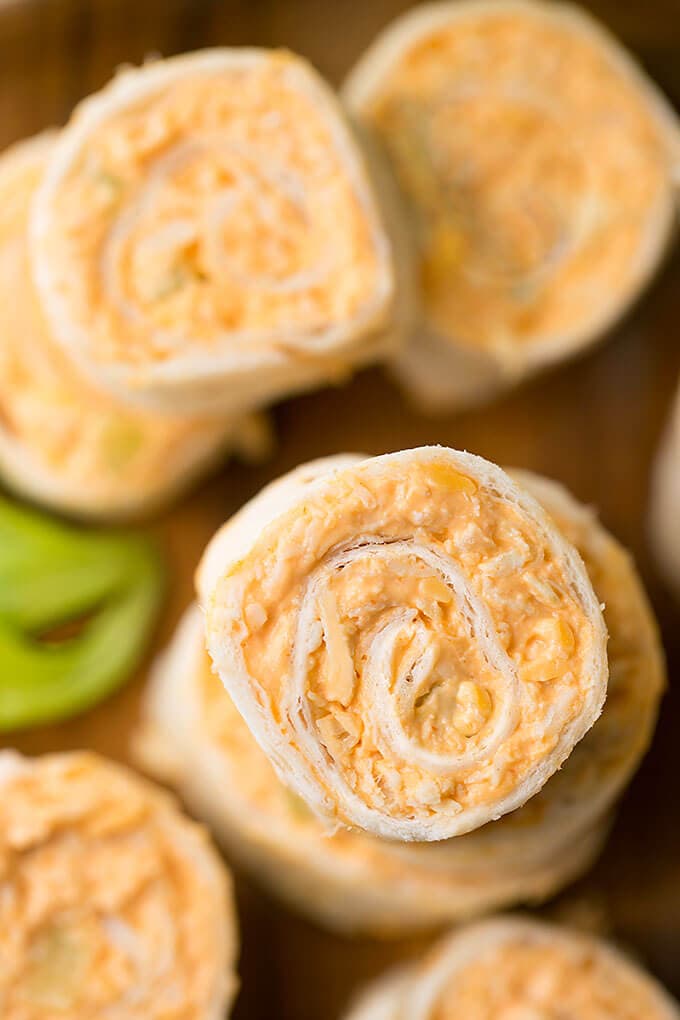 These tortilla-wrapped pinwheels of buffalo chicken are filled with shredded chicken, cream cheese, cheddar, and your fave buffalo sauce. From my holiday recipes, a ridiculously tasty, simple snack! These buffalo chicken pinwheels are a staple of any party I host at my house, especially on Christmas and Valentine's Day. The symphony of flavors in your mouth from these buffalo chicken pinwheels will be a success at your upcoming party.

If you need to carry something, pinwheels are perfect because they are also portable! These perform best after chilling in the refrigerator for at least an hour. The cheese can start to turn brown and the tortillas might get a touch too soggy for my tastes if they are cooked up to 12 hours ahead of time. I sincerely hope you like this delicious and easy dish and try it as one of your valentines day appetizers.
Get it here.
---
7. Chocolate Chip Cheeseball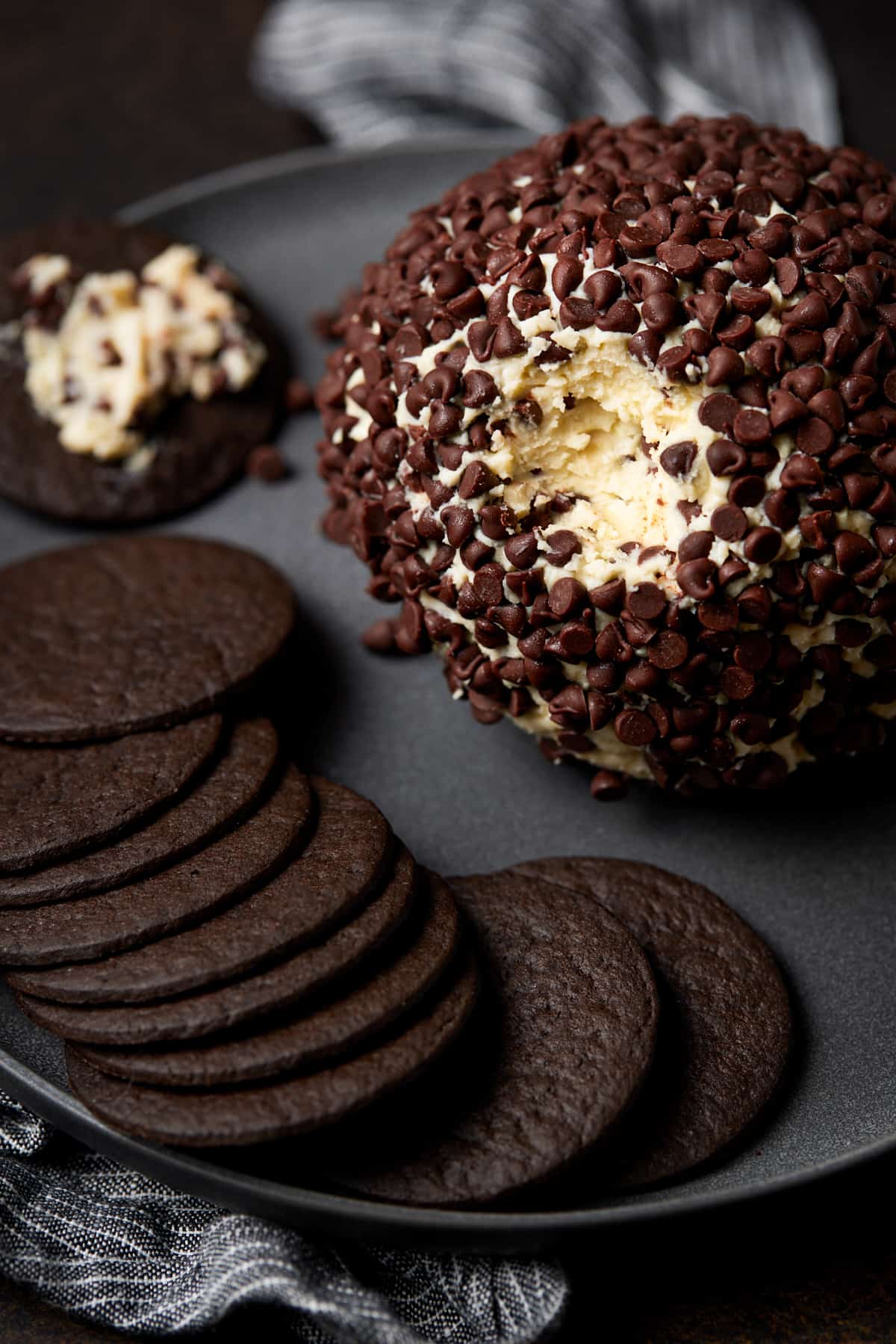 Hello, there! You might have found the most amazing cheese ball recipe to dig in with your apples, churros and pretzels, this Valentine's Day. You are going to really love this recipe with all your heart. The ideal dip to serve on Valentine's Day is this one! It is a cheeseball made of chocolate chips and other simple tasty ingredients that have been coco chips with seasonal decorations. On Valentine's Day, my spouse asked for this dip as his party snack.

Apples are also the ideal dipping element! It was incredibly simple to prepare these toffee chocolate chip Valentine's Day cheeseballs. To allow the cream cheese, butter, and sugars to slightly solidify, place it in the refrigerator for an hour or two. You may then use sprinkles to decorate it and mold it into a large heart shape.
Get it here.

Try these amazing valentines day dinner ideas at home.
---
6. Romantic Valentine's Day Deviled Eggs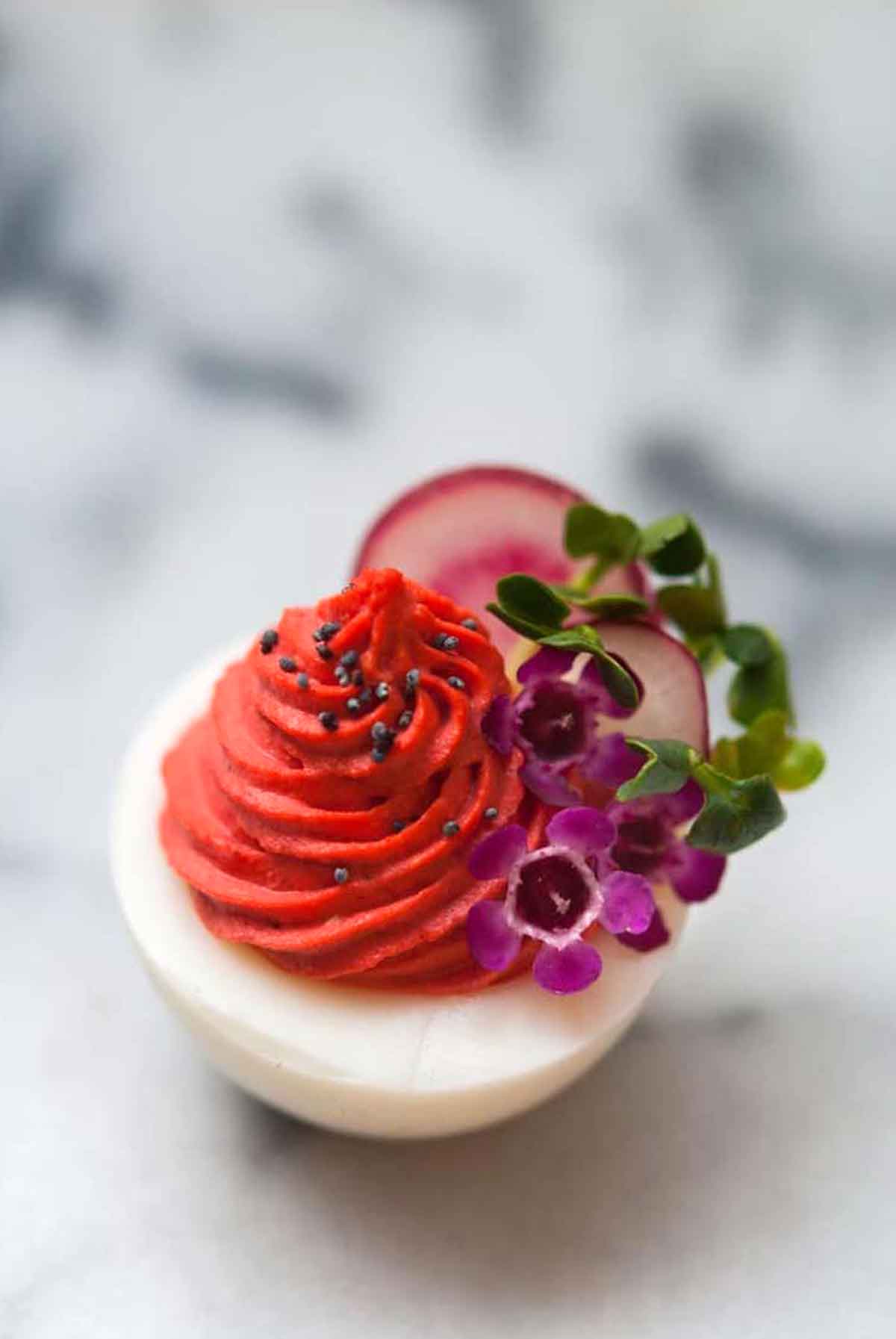 I know eggs are a little underrated when there are chicken and other meat options as side dishes, but this romantic Valentine's Day deviled eggs are really a show-stopper. You are bound to be attracted to these at a party. I first saw and tried them at a friend's Valentine's Day party last year and I was totally fascinated by how these deviled eggs looked and tasted. So this year, I am going to prepare them for my Valentine's Day party with my friend's consent.

The egg yolks are removed from the halved egg whites and filled with a delicious filling made with mustard, mayo, sour cream, and a few drops of red gel coloring. Valentine's Day-themed deviled eggs are my favorite. They are lovely and ideal for a Valentine's Day celebration. While absolutely classic, the flavor contains some intriguing twists.

I also included these wonderful, hot horseradish sprouts! They give the exquisitely tasty egg a tiny bit of horseradish zing. I enjoy decorating my deviled eggs with flowers. I made these with waxflower. To decorate the top, I used poppy seeds.
Get it here.
---
5. Sheet Pan Ricotta-Crab Biscuit Ring Dip
I love seafood. But we only eat them when there's some special occasion. I don't wonder why we don't eat seafood at home more often although everyone in my family enjoys eating it. But I assume that it is because it's the special occasions when we are reminded to have seafood and I won't lie, I really like the relationship that we have established between occasions and seafood.

So, here's another crab recipe for those who want to enjoy seafood with their loved ones at home on Valentine's Day. One of my favorite appetizers is a dip! I make an effort to make my dips healthier whenever I make them at home.

Ricotta can be added to the dips to make them healthier. Ricotta is one of my go-to ingredients, in fact. The Ricotta Crab Dip is flavorful and refreshing. It isn't too cheesy but it is wonderful, and pretty healthy, and you can have a double helping because there isn't any cream cheese and barely any mozzarella.

This dip is made with crab that can be purchased at a low cost, lots of herbs, and lemon to enhance the flavor. It is presented on a stunning dish with colorful veggies roasted on a sheet pan in a lovely biscuit ring! This Ricotta Crab Biscuit Ring Dip is ideal for Valentines Day appetizers.
Get it here.

Find these amazing cold appetizers for holidays.
---
4. Roasted Beet Hummus with Pita Chips
Although I'm not a huge fan, I do appreciate regular hummus. Additionally, I enjoy experimenting with flavors to develop new recipes. So here is my attempt to recreate the classic hummus recipe. The main components of this recipe for roasted beet hummus are roasted beet and a balsamic glaze. Prepare your pita chips for air-frying because I'm about to unleash an incredible dip recipe on you. To be more specific, this roasted beet hummus contains seven ingredients—roasted beet, canned chickpeas, tahini, fresh lemon juice, olive oil, garlic, and balsamic glaze—instead of salt.

After trying this roasted beet hummus, I guarantee you'll never again eat regular hummus. This is the dish you should serve as a refreshing side dish to your Valentines Day appetizers. If you serve it at your Valentine's Day party, it will probably be gone in a matter of minutes. It can't be resisted!
Get it here.
---
3. Buffalo Cauliflower Wing Dip Recipe
With this thick, creamy buffalo dip, made with cauliflower wings for the finest flavor and texture, you won't even miss the meat. These spicy dip recipes are ideal for side dishes without meat as they don't need chicken. The best hot dip is buffalo cauliflower wing dip, in my opinion. In order to replicate the flavor and texture of chicken, there is a lot of cheddar, spicy sauce, a small amount of ranch dressing, and cauliflower.

When I served it for the Super Bowl, it was a tremendous hit and was also quite simple to make. To blend with the ranch dressing and spicy sauce, the cream cheese needs to be soft and creamy. The hand mixer can easily be substituted with a big spoon and a lot of work, which is what I like to do. Add the cheese shavings, green onions, and cauliflower wings next. then heat in the oven. It's that simple! Serve with celery and tortilla chips for dipping, and if preferred, top with more blue cheese and green onions.
Get it here.
---
2. Mozzarella Stuffed Rosemary and Parmesan Soft Pretzels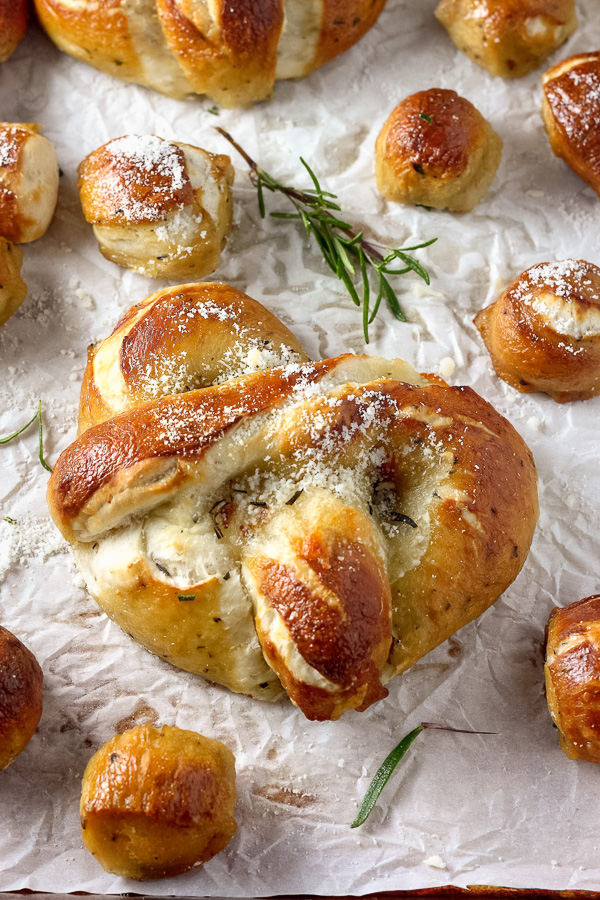 My kids love pretzels. Whenever I go out grocery shopping, they ask me to get them some soft and chewy pretzels. Even my husband loves them. So, I thought to myself, what better way to celebrate this Valentine's day together than to make pretzels at home? And there I was in my kitchen all set to win my kids' and their father's hearts by making the most amazing pretzel. I don't know, I somehow had the belief that I would be able to make the best pretzels ever.

A soft pretzel that is chewy and soft is the best thing ever. But it seems that a cheese-stuffed soft pretzel is the only thing that can compete with an ordinary soft pretzel! And today's new pretzel recipe uses not just one cheese, but two! and is seasoned with sea salt, fresh rosemary, black pepper, and garlic powder.

So you can be sure they'll be tasty and flavorful! Soft Pretzels with Stuffed Mozzarella, Rosemary, and Parmesan! Made with basic soft pretzel dough and stuffed with Italian cheese and fresh herbs. You're going to adore these cheese-filled soft pretzels!
Get it here.
---
1. Air Fryer Appetizers – Buffalo Cauliflower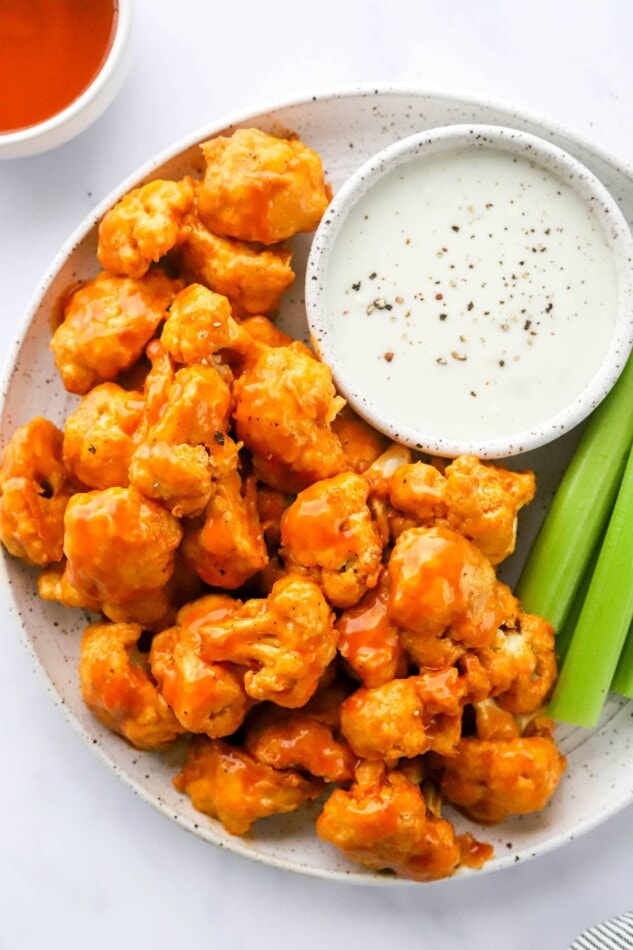 Do you have the same intense yearning for spicy food that I do? The best option for you is this air-fried buffalo cauliflower. They are baked to perfection, featuring a crispy panko coating, and have smoky-sweet buffalo sauce. They make delicious appetizers, snacks, or side dishes. They'll be gone in a flash! Do not include chicken wings!

These buffalo cauliflower wings cooked in the air fryer are as delicious! They taste delicate, tangy, sweet, and crunchy. The right balance of flavors and textures in them will satisfy your taste buds. They'll keep you coming back for more, so you might want to make some more money. Because the demons in my house gobble them up so rapidly, I make a double batch. Oh, and the smoky buffalo sauce takes it to a totally unexpected height and makes it unbelievably delicious once it caramelizes in the oven! You would be blinded by the delectable crunch and forget there was a vegetable inside.

You may make a batch of these Valentines Day Appetizers spicy wings if you're hosting a party. Your visitors will be delighted because they go well with these vegan mozzarella sticks! There are only nine simple components! The components are cauliflower, flour, non-dairy milk, water, panko breadcrumbs, buffalo sauce, granulated garlic, onion, and salt.
Get it here.
---
You may Like These Meal Ideas:
One Pot Meals
Sheet Pan Meals
High Protein Slow Cooker Recipes
Low Carb High Protein Recipes
Fritter Recipes
High Protein Meal Prep Recipes
Mini Bundt Cake Recipes
---
If you like this article about Valentines Day Appetizers, share with your friends or families on Facebook, Twitter, and Pinterest. Choose your favorite recipe and make it at home, let me know which is your best recipe in the comment. Also, you can subscribe to my blog to get all the latest updates first on your mobile.