It's nearly that time of the year when you'll want to offer lots of gifts and treats to your partners and make them feel loved the most. Although it doesn't take any special day or occasion to treat your partner that way, it is necessary to remind your partners that they deserve surprises and even little efforts are enough to make them happy. I personally think that gifts and treats don't always have to be materialistic or the ones that you spend a lot of your money on. But these valentines day recipes are the perfect handmade gifts that your partner will love the most.

Little gestures of love and compassion, like spending a little more time with your partner (as we can't always do that because of our busy schedule) or making something for them entirely by yourselves like cooking them their favorite meal or making them a beautiful montage can serve as outstanding gifts or treats for your loved one. I believe these are worth more than expensive gifts. Cooking food for my partner is one of my favorite love languages.

So this Valentine's Day, I have brought to you treat ideas galore where you can choose your partner's favorite dish and make it for them from my valentines day recipes. I have chosen some of the best holiday recipes and curated a list of recipes for Valentine's Day that are going to brighten up your and your partner's day. So let's get into the recipes without any further ado. You're going to surprise your partner with the best of the best surprises they could ever imagine!
---
21. Chocolate Covered Strawberries
You can always buy a box of chocolate-covered strawberries on your way home back from work for your partner for Valentine's Day. But do you know what will be a more romantic move? Making them for your partner with your own hands. They will be made with love and will indeed be a representation of your love for your partner. Who doesn't love handmade gifts? Everybody does. The time and effort you put into making them speaks a lot more about your feelings than those pricey gifts that you'll buy from a shop.

You can make these chocolate-covered strawberries easily at home, within 15 minutes and without much hassle. And do I have to tell you how they taste? Strawberries taste a zillion times better when covered in chocolate and that doesn't need to be explained any further, I'm sure. These chocolate-covered strawberries are one of the easiest treat ideas that will make your partner all the more surprised because, hey, you made them with your own hands! There are more such valentines day recipes for you. 
Click here.
---
20. Valentine's Day Chocolate & Raspberry Cookies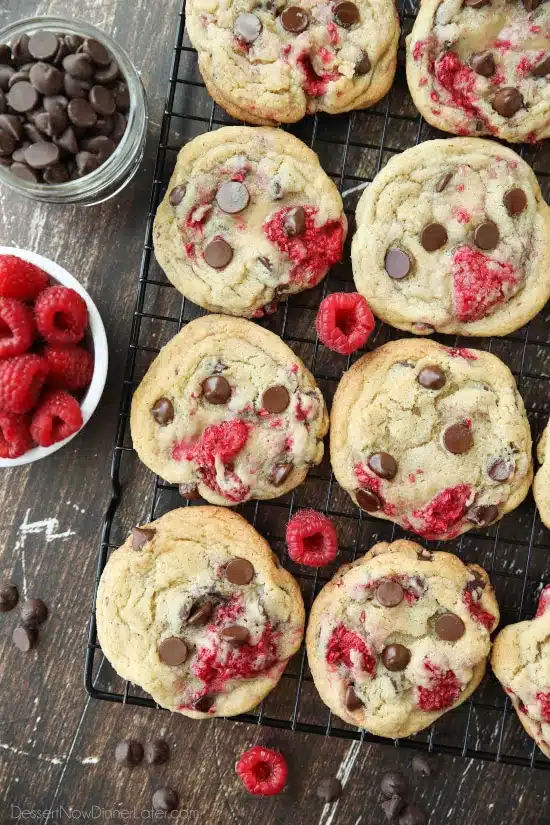 I was having a hard time deciding what to gift my fiancé for Valentine's Day. I started flipping through my holiday recipes and finally gathered some treat ideas for him. My fiancé is a great fan of cookies. So what could be a better gift than a jar of handmade cookies for him? And to take it a notch higher for the valentines day recipes, I decided to make him some Valentine's Day chocolate and raspberry cookies.

Not only do they taste moreish and delicious but they also look amazingly pretty. You'll be surprised to know how easy they are to make and will take 30 minutes to be ready! These chocolate cookies with a raspberry frosting are sure to melt anyone's heart as they melt in the mouth with exuberating flavors of chocolate and raspberries. So make these cookies for your partner this Valentine's Day and win their heart over!
Click here.

Try these valentines day cupcakes for celebrate the day.
---
19. Valentine's Day Sparkling Punch
I'm here to showcase another gem from my valentines day recipes that are going to be a showstopper at your valentine's day party. Honestly, for me, no party is a party without refreshing drinks. And this Valentine's Day sparkling punch is just what you need to turn the game on for your valentines day party. The raspberries and orange juice add a beautiful tang, sweetness, and fruitiness to the drink. The raspberries also give this drink a nice pink color making it ideal for your treat ideas this Valentine's Day. 

You just need 5 amazing ingredients to make this drink and it takes just a few minutes to make it. Fruit punch concentrate, raspberry sorbet, orange juice, ginger ale, and frozen raspberries are all it takes to make this gorgeous pink drink for your Valentine's Day party. Even your kids will love this drink. So I make sure not to add any alcohol to this drink making it safe for kids to consume. My kids also enjoy making and drinking this punch with me.
Click here.
---
18. Valentine's Swirl Cake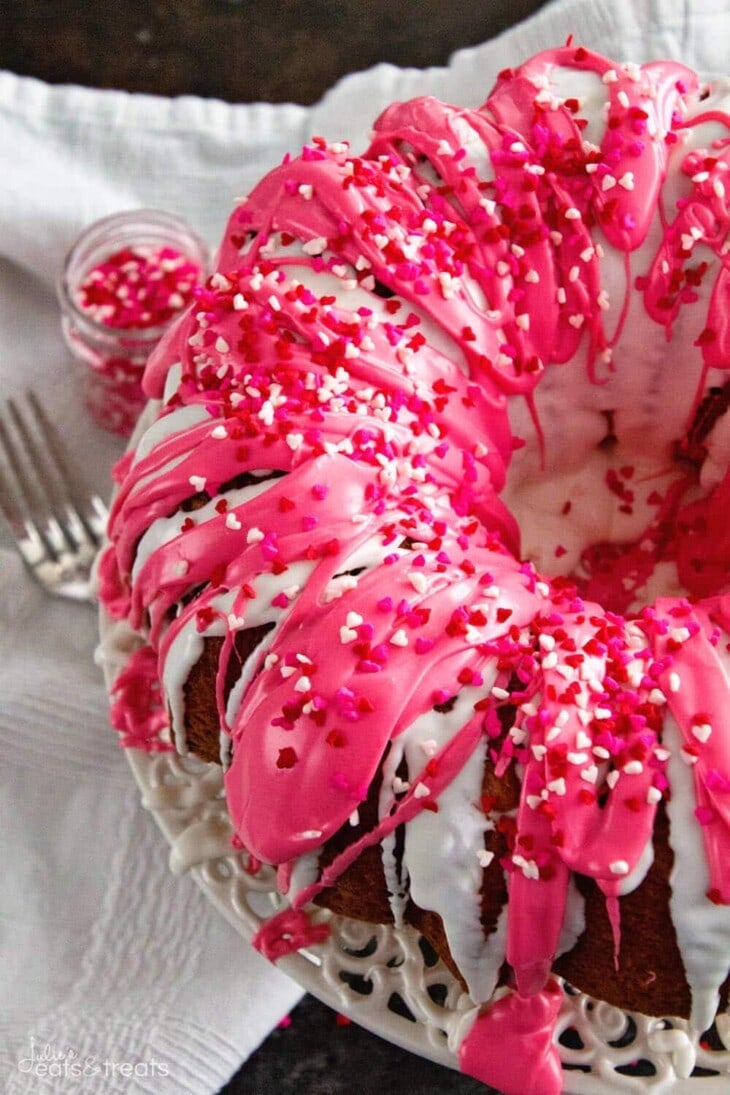 I love to bake cakes for every occasion and Valentine's day is going to be no exception. As I wasn't quite sure what cake to bake for this Valentine's Day, I asked my daughter to give me some suggestions. After some discussion, we decided that we're going to bake Valentine's swirl cake for her papa and she was going to help me with that. Because this cake is made using a box of cake mix and canned frosting is used to frost it, you'll be able to easily bake this cake.

Half the cake mix is dyed pink with strawberry jello to give it the swirl effect. Half of the canned frosting is also dyed pink using pink gel food coloring. I also used valentines sprinkles to decorate the cake and it made the cake look all the more pretty and fun. When my daughter and I finished baking and decorating the cake, we were so proud of ourselves! We surprised her papa with it when he came back from work the other day and the three of us enjoyed the cake together. My husband ate 3 slices in one go and we were so happy!
Click here.
---
17. Easy Heart Doughnuts
I am going to start a bake sale for Valentine's week. So I was listing the things that should be on the menu. These heart doughnuts are one of the coolest desserts on the menu and today I am going to share the recipe for these heart-shaped doughnuts on my blog. These doughnuts are deep-fried, filled with Nutella or chocolate glaze, and rolled over granulated sugar. Every bite of these doughnuts will take you to chocolatey heaven! They are amazing for treating ideas for Valentine's Day.

As soon as I made a batch of these and put them on display,  they were immediately sold out and now I have so many orders that I'm afraid I'll be able to finish them. So here I am, sharing the recipe as one of my valentines day recipes, so that you too can make these doughnuts for your loved ones this Valentine's Day and make them feel special. I assure you, they are going to tightly embrace you once they take a bite of these doughnuts.
Click here.
---
16. Heart Shaped Pizza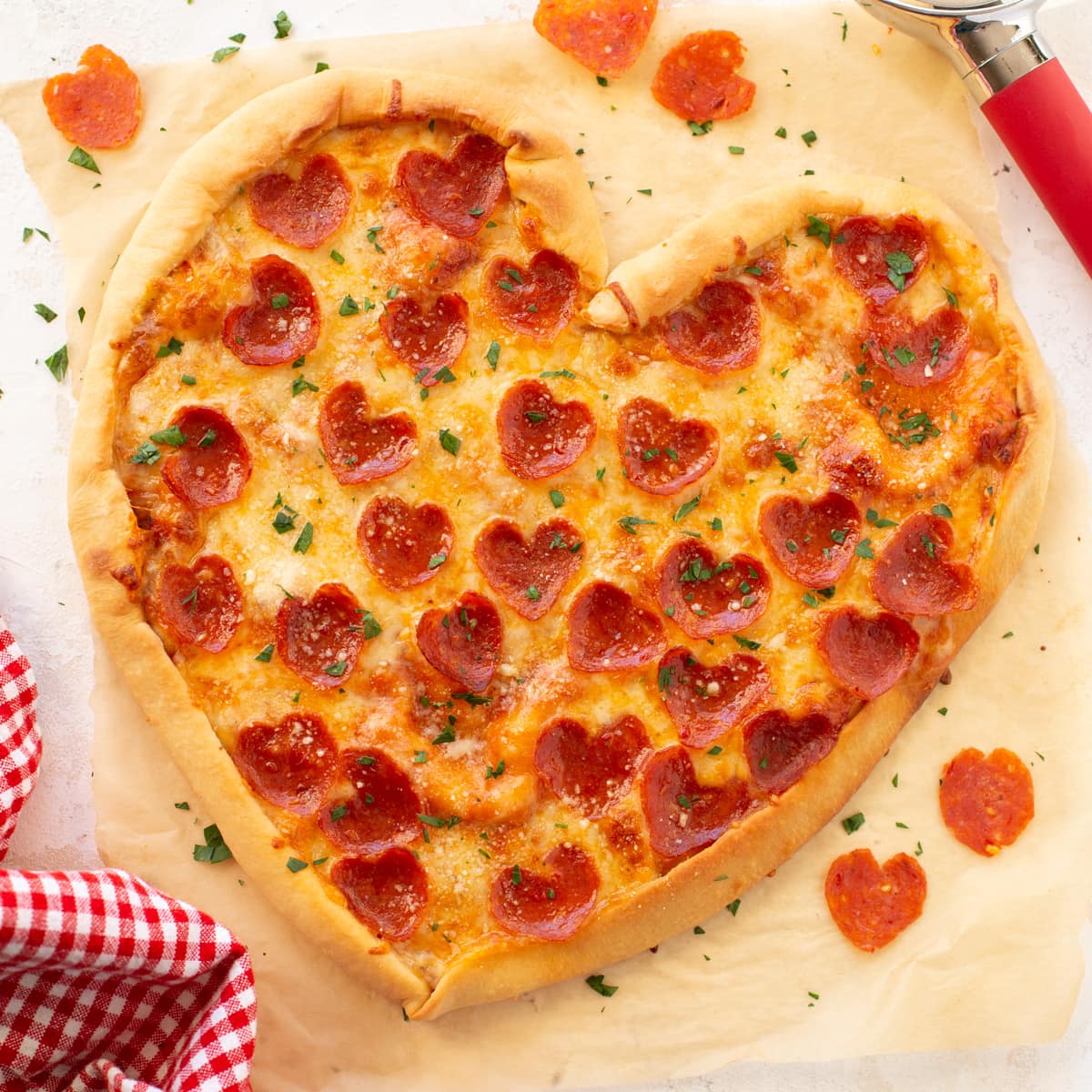 Homemade pizza for Valentine's Day? It's a big YES! We're setting the menu for our Valentine's day party and how can we forget about pizzas? Pizzas are one of my favorite treat ideas for any party. So, this Valentine's Day, we're going to make heart-shaped pizzas. Nothing beats the taste of homemade pizzas so instead of ordering out we are going to make these heart-shaped pizzas at home. The dough of this pizza is really easy to make and my children help me out to top the pizza.

We enjoy making this heart-shaped pizza a lot every year for Valentine's Day. All of us help in making this pizza and relish it on the evening of Valentine's Day. You can find the recipe for the dough in my holiday recipes. I also cut the pepperonis in a heart shape on top of the pizzas with them to make my pizza look more festive for Valentine's Day. Everyone at the party enjoyed the pizza and really loved its shape.
Click here.

Get these amazing and creative valentine's day crafts to gift your partner.
---
15. Beet Pasta Sauce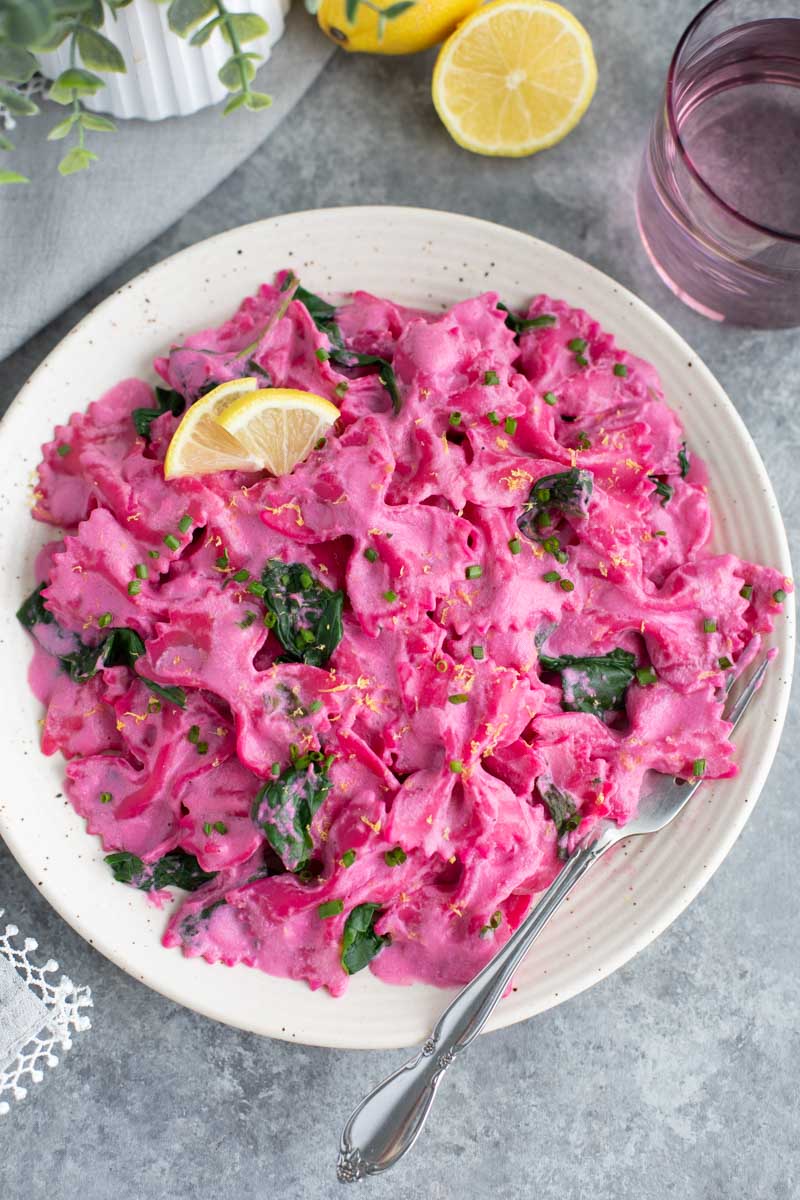 It's the little efforts that draw our loved ones closer to us and makes them feel special. I had a little something in my mind that I wanted to execute to make our Valentine's eve dinner special. I have never had a candlelight dinner ever in my life, so I thought I would surprise my partner by arranging a candlelight romantic dinner at my place. On the menu, there will be his favorite dishes. One of his favorites is this beet pasta sauce that we had in a restaurant a few weeks ago.

So I'm gonna try and make it. I tried the recipe once and it was a grand success. I was astonished that the flavors bloomed in this homemade version even more nicely. To achieve the sauce I blended cashews, beets, coconut milk, garlic, lemon juice, and salt into a smooth paste. Don't add all your beer at once. Add slowly and stop when you achieve a beautiful vibrant pink color. You can add this pink sauce to any pasta you like. I made a pink sauce pasta using this sauce for our date night dinner and my partner loved it.
Click here.

Make these amazing valentines day cocktails to celebrate your partner.
---
14. Heart Shaped Breadsticks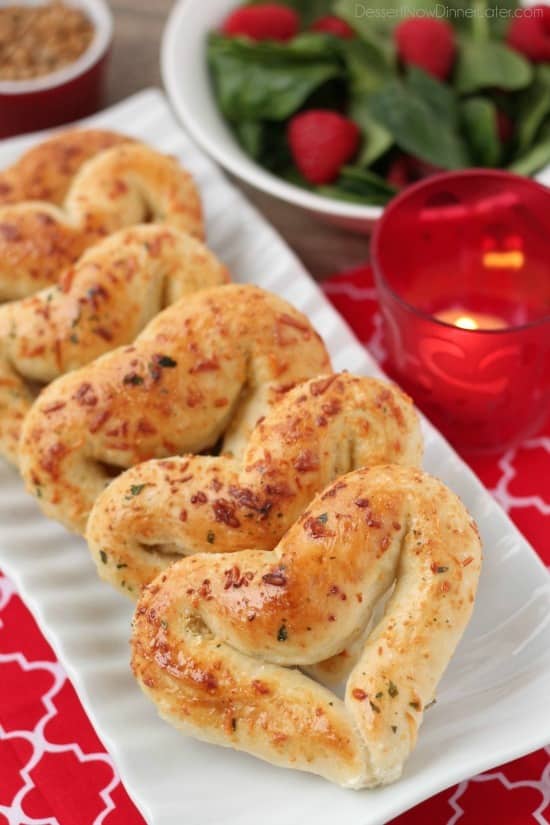 Valentine's day's within a week and I can't wait to make my valentines day recipes and eat with my family. There are several holiday recipes that I have chosen and added to this list to create some amazing treat ideas for this Valentine's Day. These heart-shaped breadsticks are my little one's favorite. These are unbelievably easy to make because they are made using store-bought dinner roll dough and use only 4 more ingredients which are garlic salt, shredded Parmesan cheese, an egg, and butter.

These heart-shaped breadsticks will be ready in just half an hour for you and your loved ones to enjoy. The garlic salt is a star ingredient in this recipe. It is a garlic-infused salt that gives your breadsticks a rich garlicky flavor. What to not love in these breadsticks? They have garlic and parmesan. After baking, these soft breadsticks are brushed with butter. Take one bite and you will be lost in heaven where butter, garlic, and parmesan create a beautiful fairytale in these breadsticks. Make these for Valentine's Day and enjoy!
Click here.

Try these amazing valentines day appetizers to celebrate.
---
13. Strawberry Stuffed French Toast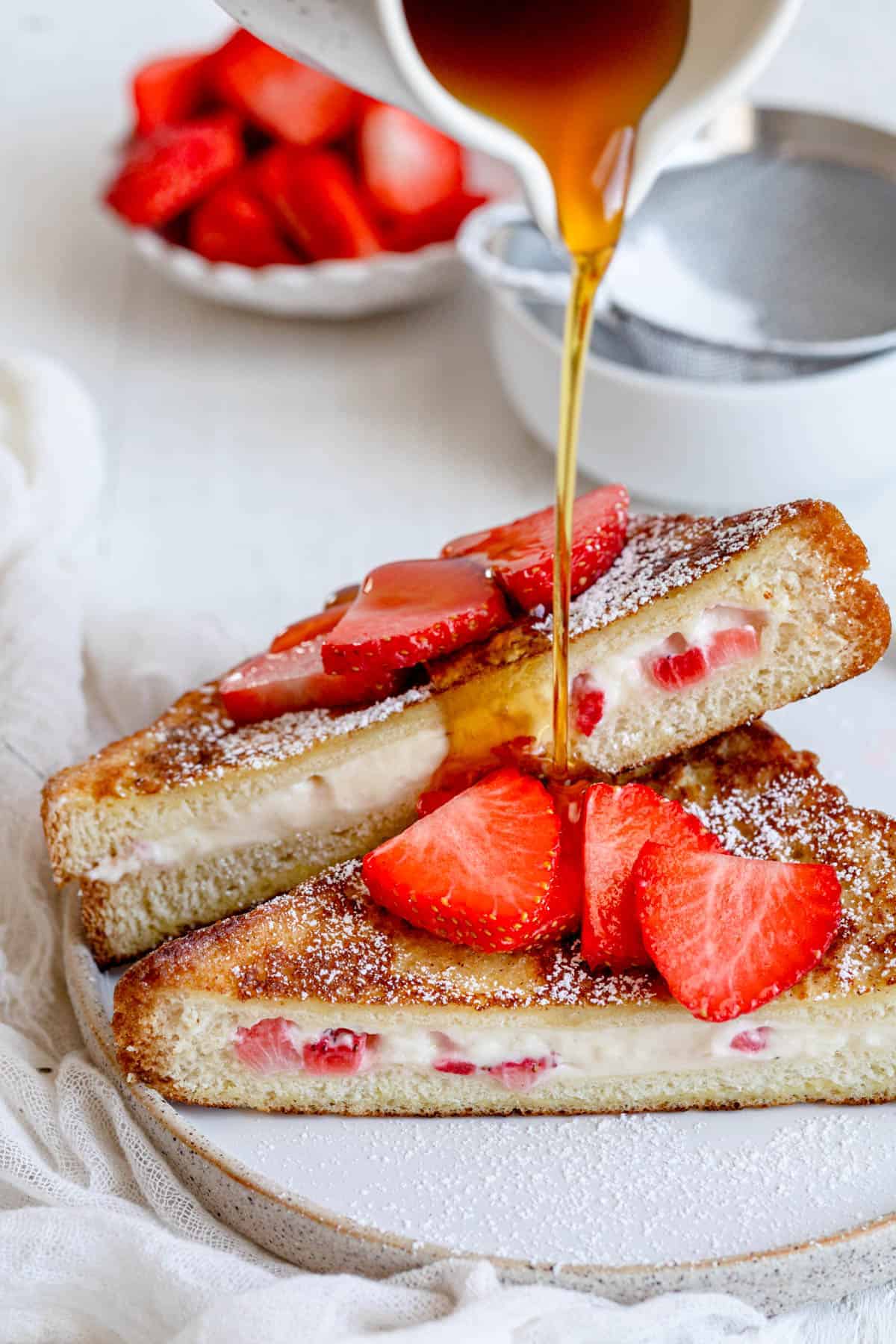 Have you thought about what you are going to have for breakfast on Valentine's Day? Don't you think it should be something special? As I like to cook good food, I always make sure there is something special on the menu on days like this. Everyone at my home loves good French toast for breakfast and there could be nothing more fitting than these strawberry stuffed French toast for breakfast on the morning of Valentine's Day!

These strawberry-stuffed French toasts feature a strawberry cream cheese filling within the French toasts that make these French toast the ideal breakfast for your Valentine's Day morning. The filling is made using cream cheese, chopped strawberries, and a dash of honey for sweetness. You then take slices of white bread and spread the feeling between them.

Then a mixture of milk eggs, vanilla, and cinnamon are prepared and the stuffed bread is drenched in that mixture and cooked in a pan with butter. Drizzle with as much maple syrup as you want and dig in. I can bet that these beautiful strawberry-stuffed French toast on your breakfast plate are going to brighten up your whole day! And this recipe is one of the best valentines day recipes ever.
Click here.

Gift these amazing valentine's day cards to your partner in this romantic day.
---
12. Chocolate Covered Strawberry Martini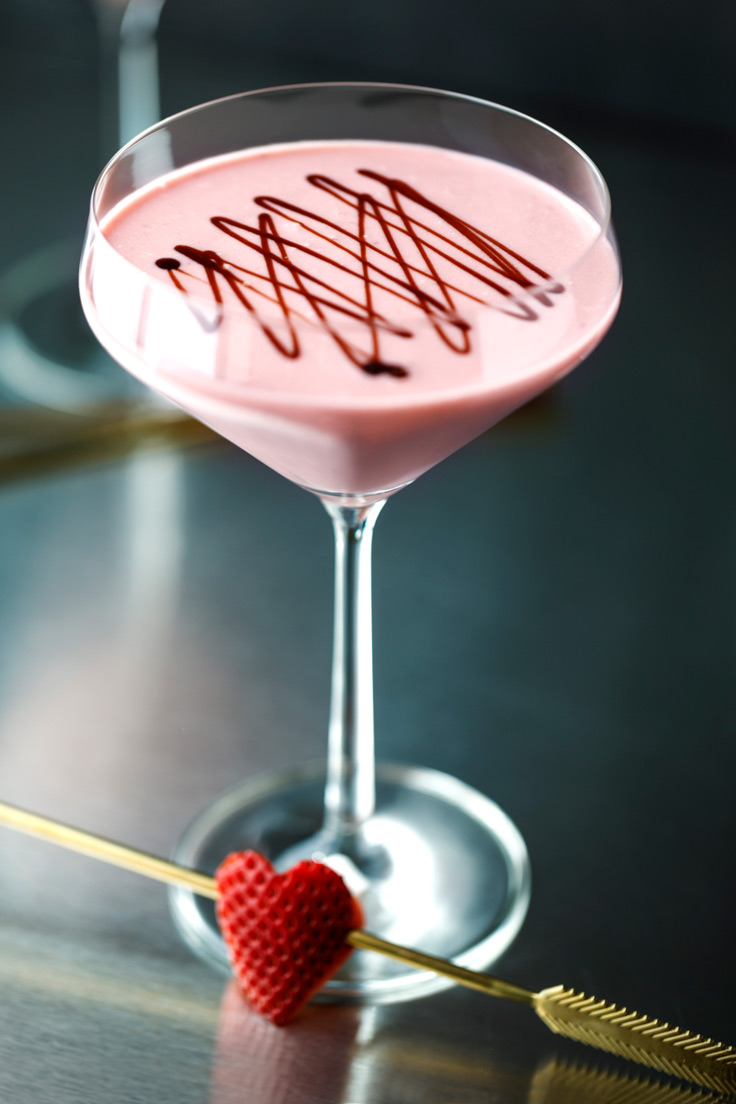 This chocolate-covered strawberry martini is the drink of my dreams. It's the ultimate drink for dessert lovers, it's boozy, it's chocolatey, and also strawberrylicious! What an outstanding combination is that! By now, you must have already made my chocolate-covered strawberries, the recipe which I just shared with you. Now it's time to use them up in this mouthwatering drink.

This drink has all of my favorite ingredients – chocolate syrup, strawberry syrup, chocolate wine, strawberry vodka and finally we garnish the drink with our favorite chocolate-covered strawberries. This fancy drink can be made in the comfort of your home without spending a lot of money on each serving. Stir this up for your Valentine's date night and I promise everyone will be hooked to its taste.
Click here.
---
11. Heart Beet Ravioli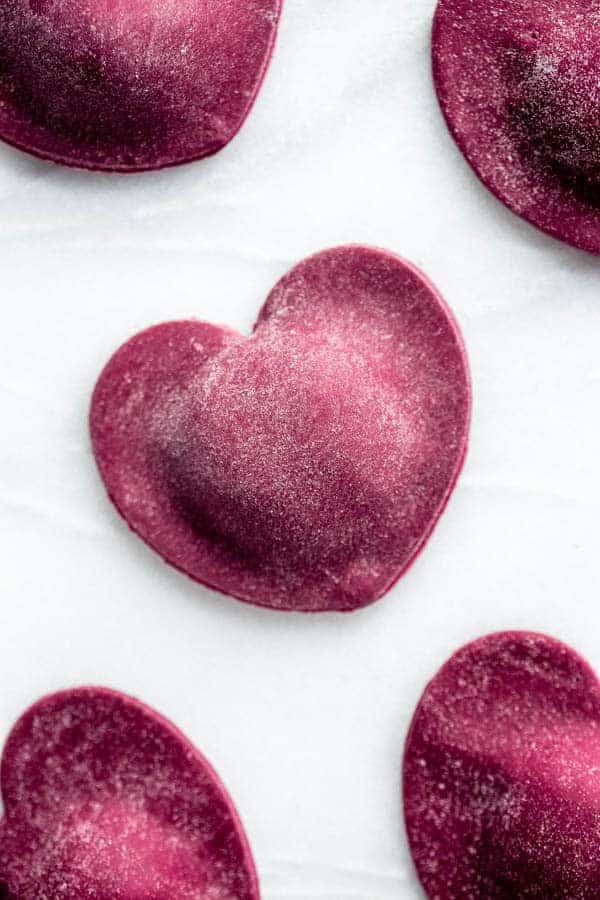 I love to spend time with my partner in calm and quiet places. So, I planned to arrange Valentine's date night dinner at my place because all of the restaurants and cafes will be crowded on that day and I don't like places that are crowded. We will cook together for the night, play soothing music and take sips of wine. I've always wanted to spend our time together like this. I have chosen a dish from my valentines day recipes. It's a pasta dish. After all, what could be a more comforting dinner than a bowl of pasta?

This heart beet ravioli is one of the ultimate valentine's day treat ideas, I swear. You'll love how it tastes and enjoy the process of making it, especially when you're making it with your special one. First, the homemade pasta dough is made using flour, egg, and beet puree which gives the pasta a beautiful red hue. Then the ravioli filling is made. You can use any filling of your choice depending on what mood you're in. I, here, made a ricotta and mint filling. When the pasta is made, stir it in with your favorite pasta sauce and your Valentine's date night dinner is ready!
Click here.

Let's celebrate this day with valentines day desserts.
---
10. Red Velvet Cake Truffles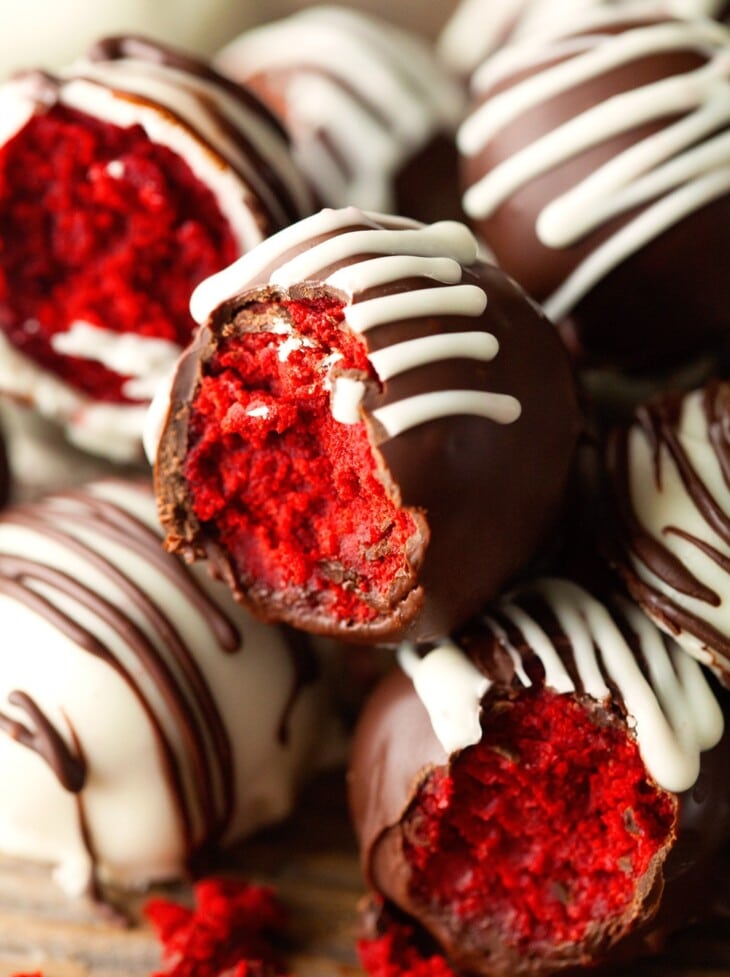 A synonym for celebration and love is red velvet. Doesn't the thought of confetti raining on a happy couple make you picture a dark crimson truffle with touches of white chocolate chip on top? Make these red velvet cake truffles for your special someone on Valentine's Day to show them how much you care.

These truffles, which are adorned with white or semisweet chocolate chips, have the classic buttery-sweet, the mild cocoa flavor of red velvet cake. It's ideal for Valentine's Day! Strongly tasting like the classic red velvet cake, these truffles have a powerful flavor. Although it can be difficult to define, in my mind's eye it tastes lovely and has its own distinct flavor, whether or not it lives up to the label of "chocolate." It is sweet and buttery with a hint of cocoa. I will admit that using semisweet chocolate chips will surely tip the scales in favor of chocolate when making these red velvet cake truffles.
Click here.
---
9. Strip Steak Recipe
This Valentine's Day I planned to celebrate with my partner by watching some good French romantic movies and having a good French dish for dinner. We chose 'In The Mood For Love' as the movie and our dinner must be some classic French creamy bearnaise strip steak with some of your favorite veggies. The creamy sauce derives its slightly tangy taste from the white wine vinegar tarragon, dijon mustard, and sour cream.

Everything, from the sauce to the steak and veggies is cooked in just one pan making it extremely easy for you to clean up, so you can spend more time with your sweetheart on the evening of Valentine's Day and enjoy watching your favorite movie together. I didn't think that I would be able to make such a fancy dinner at home and spend such a special time with my partner. These are really what we treasure even more than expensive gifts. Make these dishes from my valentines day recipes and spend your special time with your special one. Even you can make these valentine day dinner recipes to celebrate the romantic dinner night.
Click here.
---
8. Layered Brownie Heart Dessert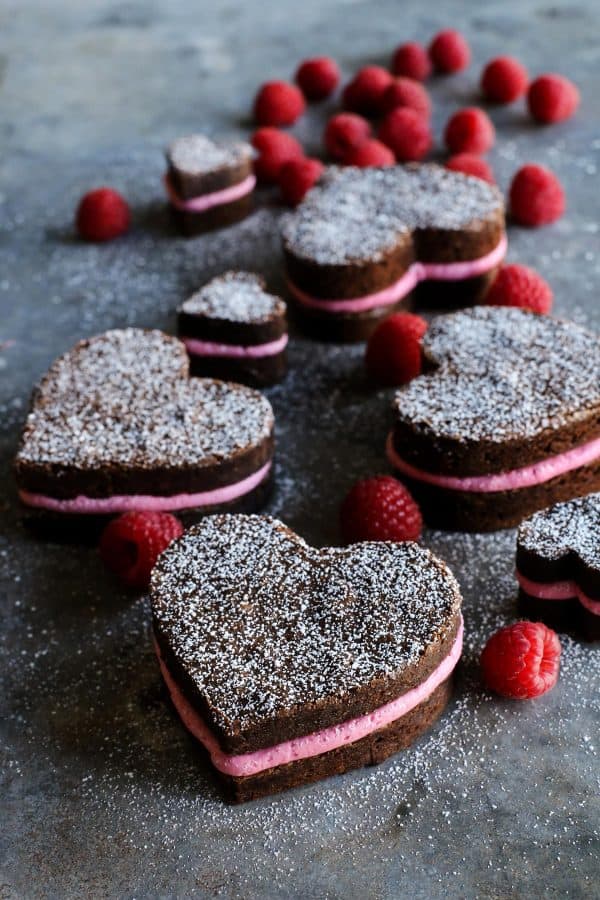 If you and your partner are dessert persons then I have some really amazing treat ideas for you. Both my husband and I love to eat desserts more than anything else so I decided to surprise him with this mouthwateringly amazing layered brownie heart dessert. It has layers of brownie, strawberry cream, and freshly cut strawberries. It's so easy to make that you will have it made in less than an hour. Even if you're planning to surprise your partner today, you can quickly stock up on the ingredients and bake these brownies.

Top your brownies with layers of strawberry cream made from fresh strawberry puree and decorate them with slices of strawberries on top. For the strawberry puree, just blitz fresh strawberries in a blender jar and strain it to remove the seeds. You can now use this puree to make strawberry cream. I baked this cake for my partner on valentines day and when he saw it, he couldn't resist but ate a whole 3 slices in just one go.
Click here.
---
7. White Chocolate Raspberry Cheesecake
As you may know, I adore cheesecakes. And this melt-in-your-mouth white chocolate raspberry cheesecake is the ideal treat. This dessert is the ideal choice for your Valentine's Day treat ideas because of its spectacular love affair between creamy white chocolate cheesecake and raspberry sauce.

The tanginess of the raspberries perfectly balances out the sweetness of the white chocolate in this gorgeous dessert. Instead of a graham cracker crust, I chose to make an oreo crust for this cheesecake and I promise you that every bite of this cheesecake is going to make you fall in love with it all the more. This cheesecake has to be made for Valentine's Day. If you want to impress your partner you can't miss out on this. Trust me, everyone is going to be a fan of yours if you make them this cheesecake.
Click here.
---
6. Fresh Raspberry Mini Cakes
Mini cakes are my absolute favorite. They are so simple to consume, pack, and transport in lunch boxes. And I always bake a small cake for myself anytime I have a sweet tooth. So this Valentine's Day, I'll be making some fresh raspberry mini cakes for myself and my partner. Like me, he too, loves desserts, especially when I make them for him. Here I am, sharing the recipe with you so that you too can bake the cute little cakes and enjoy them with your loved ones.

This cake has a cream cheese frosting but you can also frost it with a raspberry buttercream frosting to get that overwhelming raspberry flavor. These cute mini cakes are amazing treat ideas and valentines day recipes. When you have a yearning for cake in the future, prepare them because you won't want to miss this incredibly delicious tiny cake.
Click here.
---
5. Strawberry Cream Cheese Breakfast Pastries
Who wants these strawberry cream cheese breakfast pastries for breakfast? I'm sure all of you are raising your hands. This recipe is one of the best holiday recipes that you'll ever try. They are easy to make with puff pastry sheets that you roll and cut in heart shapes with a cookie cutter because, hey, valentine's day is within a week! I still can't believe it's here! The pastry is filled with a strawberry cream cheese frosting and topped with freshly chopped strawberries.

Here, I made the strawberry cream cheese frosting with store-bought strawberry jam. You can also use homemade fresh strawberry puree and mix it with cream cheese and a little bit of food coloring. It's not overly sweet and perfect for Valentine's Day breakfast. The pastry is then brushed with egg wash and baked to perfection in the oven. Your strawberrylicious Valentine's Day breakfast is ready to blow minds!
Click here.
---
4. Cupid's Hot Chocolate Recipe
I have the coziest drink that will make your Valentine's date night a whole lot better. It's cold outside and you're spending some quality time with your partner on the evening of Valentine's Day. But something's missing! You need this cupid hot chocolate recipe from my Valentines Day recipes that will make your date night all the more cozy, warm and romantic.

You will just need to mix some sugar, white chocolate, salt, and hot water in a pan over medium heat so everything comes together. Then stir in some strawberry milk, vanilla, and a few drops of pink food coloring in the pan. Serve in glasses and top with whip cream and some sprinkles.
Click here.
---
3. Easy Cream Cheese Danish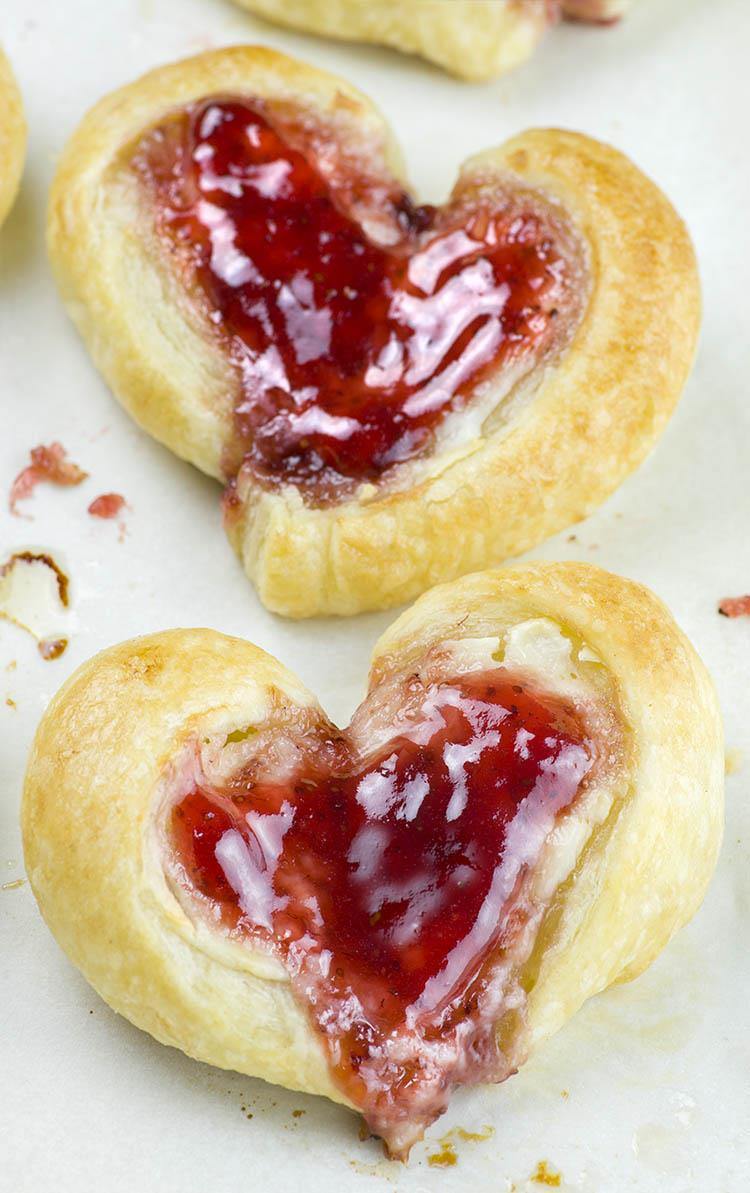 Are you looking for sweet treat ideas for valentines day? This easy cream cheese danish recipe from my holiday recipes is what you are looking for. When it comes to something sweet, Danish pastries are a perennial favorite. For those of you who enjoy dessert, this cream cheese Danish is the ideal treat. As the tender, fluffy Danish pastry melts on your lips, a cream cheese filling and simple icing will whisk you away to a land of dreams.

I promise you that you should try this simple Danish dish. Roll the crescent roll dough, then spread plenty of the rich cream cheese filling on top. Rich cream cheese, sour cream, sugar, vanilla, and lemon juice make up the filling. The Danish should be baked for 20 minutes, then cooled. On top, drizzle extra frosting, then dig in!
Click here.
---
2. Nutella Crepes Recipe 
Who wouldn't love these Nutella crepes for breakfast? These are ideal for your valentines day recipes. If you want to impress your partner with a drool-worthy breakfast dish, these Nutella crepes are what you need to make. And you'll be amazed at how easy these French crepes are to make.

The batter is whipped up in a blender jar and the crepes are cooked and stuffed with Nutella, fresh strawberries, and blueberries. Also, you can choose any stuffing of your choice. My partner loves blueberries and since it's valentine's day, I also made use of some fresh strawberries and they tasted awesome! So what are you waiting for? Go and make these Nutella crepes for home cooked breakfast and see for yourself how indulgent these crepes truly are!
Click here.

Try these valentine's day cookies for celebration.
---
1. Strawberry Bellini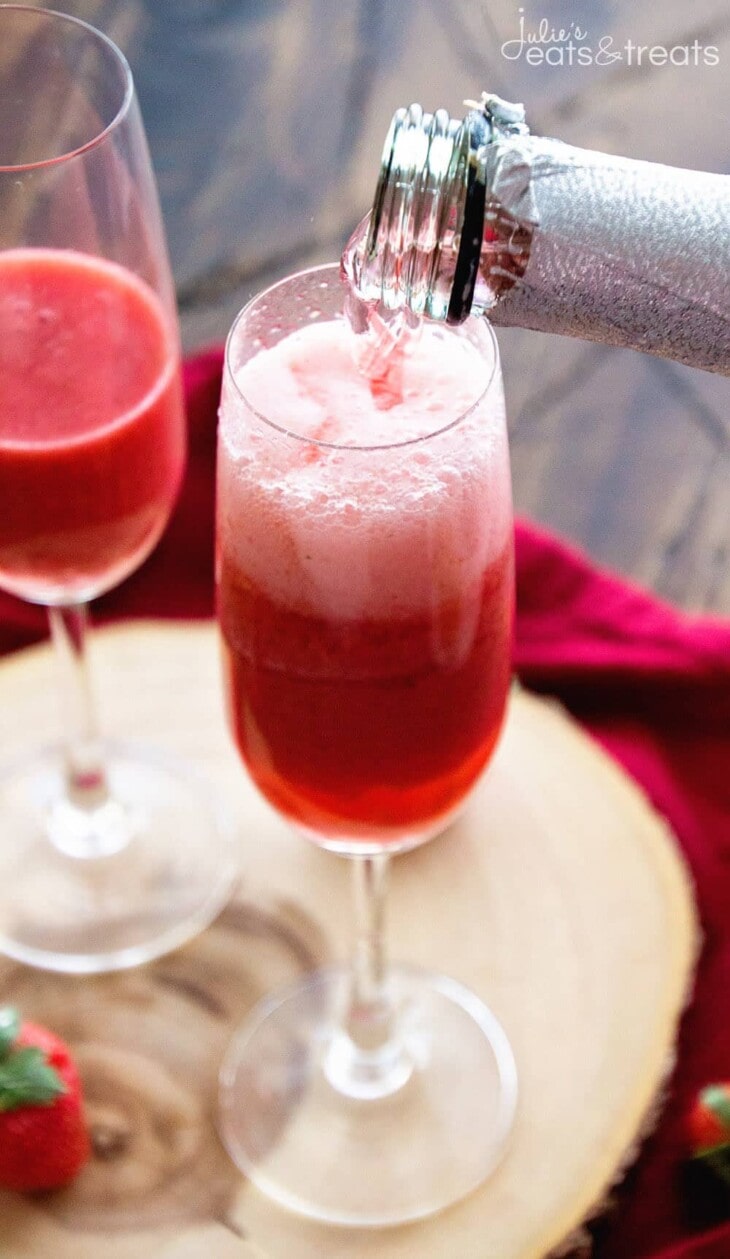 My valentine's day is never complete without a good cocktail. My partner and I are true cocktail lovers and so he bought me a set of cocktail mixers a few days ago. Therefore I'm going to make our Valentine's day cocktail at home! This cocktail is made mainly with strawberry syrup and prosecco.

If you don't have strawberry syrup, you can make some for yourself using fresh strawberries, sugar, and water. Just chill your champagne glasses, the rim is covered with red sanding sugar, and set them in the fridge. You then just pour the strawberry syrup and prosecco into the glass and cheers! Your drink is ready. It's so good, man! You'll keep on licking your glasses. And this recipe is one of the best valentines day recipes to celebrate.
Click here.
---
You may Like These Meal Ideas:
One Pot Meals
Sheet Pan Meals
Cold Appetizers
Low Carb High Protein Recipes
Fritter Recipes
High Protein Meal Prep Recipes
Mini Bundt Cake Recipes
---
If you like this article about valentines day recipes, share with your friends or families on Facebook, Twitter, and Pinterest. Choose your favorite recipe and make it at home, let me know which is your best recipe in the comment. Also, you can subscribe to my blog to get all the latest updates first on your mobile.