With the arrival of December, winter has set in and I'm most excited to celebrate the season in all its glory. It's no surprise that celebration is always associated with decorations, fancy clothing, and most importantly good food. But to me, food is the most important factor in any celebration. You can pretty well imagine that as I'm a food blogger myself. My obsession with food knows no bounds and it's spontaneous. I have a lot of holiday ideas for the season. My mini bundt cake recipes are going to be your absolute favorite. There are starters, the main course, and… tell me, can you even imagine Christmas and New Year without dessert recipes?

And how many desserts are too many desserts? Seriously, for me, there doesn't need to be any end. In today's blog, I'm going to share with you my favorite dessert recipes to rock your celebrations. Each of them is of a distinct flavor and you can choose which one is going to be your jam. And these mini bundt cakes are also great for gifting. So go ahead and check out some of the most amazing dessert recipes for the season.
---
1. Mini Vanilla Pound Cakes
These mini vanilla pound cakes are one of my favorite mini bundt cake recipes. These have a simple yet delightful vanilla flavor. These pound cakes are soft and moist and who doesn't want to have a slice of these utterly delicious vanilla pound cakes while sipping their coffee on a cold winter evening? I like to add a little vanilla to my coffee as well while I'm having these cakes with my coffee.

I bake them in the mini bundt pans that I ordered from amazon about a year ago. These pans are really doing a good job. To give this mini vanilla bundt cake a festive touch, I used raspberry icing to glaze the cakes. This icing is made with fresh raspberries, icing sugar, and heavy cream. It not only gives the cakes a festive look but makes the cakes all the more delicious.
Click here.
---
2. Hummingbird Mini Bundt Cakes
My mother loves these hummingbird mini bundt cakes that I made for her on Mother's Day. So she keeps telling me to make them again and again. Therefore, I decided to make them for Christmas and surprise her. She'd be so happy, I can already see her smiling with joy. As I have received a huge response on my previous mini bundt cake recipes, I'm excited to share more dessert recipes with you. If you love the flavors of banana, pineapple, and pecans together, then this hummingbird mini bundt cake is for you.

And as I'm making them in mini bundt pans, there's no need to slice these cakes, you can serve them after taking them right out of the oven. I like lovely icing on top of my bundt cakes so I made cream cheese icing and drizzled it over my hummingbird bundt cakes and also sprinkled some chopped pecans on top. I promise you, these are also going to be a family favorite in your household.
Click here.

Try these amazing vegan sandwich recipes to try at home for snacks.
---
3. Lemon Berry Mini Bundt Cakes
When life gives you lemons, you have to make these lemon berry mini bundt cakes. While I was trying to brainstorm some holiday ideas for my mini bundt cake recipes, this lemon berry cake instantly popped into my mind and I just couldn't help but make a batch of these immediately. This lemon berry bundt cake is the warmest surprise you'll ever give your family. Soaked in flavors of yogurt, raspberries, blueberries, and lemons, this lemon berry bundt cake is soft, moist, and the carts delectable.

If you're making these for Christmas, I'm alerting you to make loads of these because they are going to vanish from the plates as soon as you serve them. They are so pretty themselves but if you're feeling a little bit extra, you can always sprinkle some powdered sugar on top. They are so irresistible, you're gonna have at least two of them when they are just out of the oven.
Click here.
---
4. Mini Piña Colada Bundt Cakes
What's your favorite drink? Mine is Piña Colada. And do you know what happens when you add a favorite drink to your dessert recipes? Come I'll show you. The other day, while I was thinking about what mini bundt cake recipes to include in my blog and sipping my favorite Piña Colada, it just occurred to me, "Why not make a dessert with my favorite drink? As expected, they turned out so heavenly delicious, I can't even…

Loaded with dark rum, coconut milk, and bits of fresh pineapple, these mini Piña Colada bundt cakes are so boozy and flavourful, you're really going to get addicted to them. I made an icing with coconut milk, pineapple juice, rum, and powdered sugar and poured it over the cakes and see, who's already drooling! If you have a party to arrange, these mini Piña Colada bundt cakes are a must on your menu.
Click here.
---
5. Mini Gingerbread Bundt Cakes
Bundt cake for breakfast? Why not? On winter mornings, I always crave cake for breakfast. And especially after Christmas, there's a whole lot of leftover cake in the fridge, so who's going to spend time making breakfast? This Christmas I tried making these mini gingerbread bundt cakes and I cannot tell you how much of a comfort food these cakes are. They are mini in size so you can just pop them in your mouth and get lost in their amazing flavors.

And I love these all the more because they are coated in my favorite ingredient – cinnamon sugar. These mini gingerbread bundt cakes are made with warm spices like ginger, cinnamon, nutmeg and allspice to warm you up in this chilly weather. So if you're baking them for Christmas too, make sure you bake loads of them to enjoy them as breakfast every morning after Christmas.  Little Ryan loves these mini gingerbread bundt cakes a lot and so I'll add one to his lunchbox every day until there are no more left.
Click here.
---
6. Salted Caramel Mocha Bundt Cake Recipe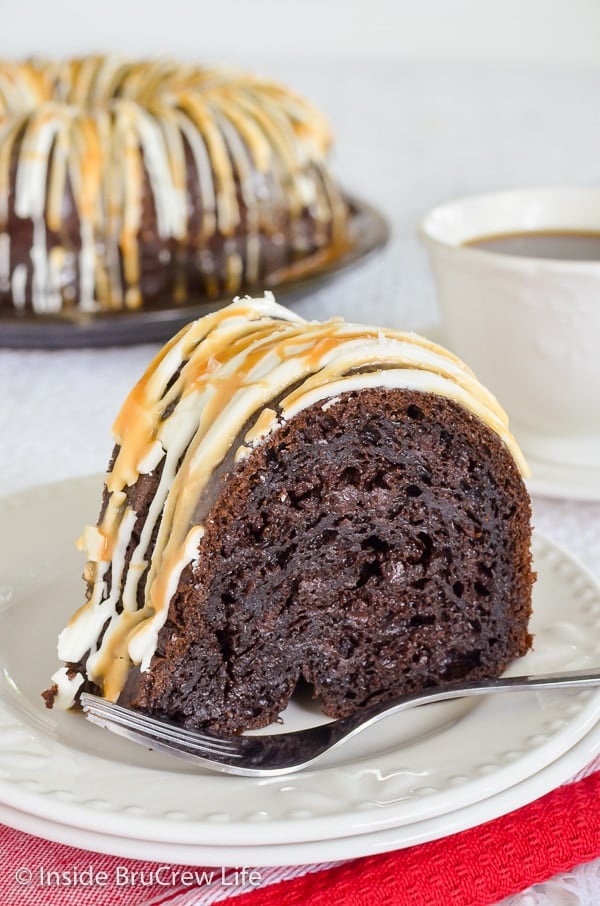 Salted caramel and mocha are two flavors that I die for. And together, they create such an amazing duo, it just melts my heart. So while thinking about more holiday ideas to vamp up my winter celebrations, I made this amazing salted caramel mocha bundt cake recipe for my Christmas party. I added chocolate chips to my cake batter but you can totally skip that. But who really wants to skip chocolate chips? The sponge turned out so moist and soft, the texture is to die for.

Your kitchen will smell like fancy confectionery when this cake is baking in your oven. I made two icings to drizzle on my mocha bundt cake – a white chocolate drizzle and a caramel drizzle. I love the taste of homemade caramel but you can use store-bought ones. Just make sure the caramel is not very thick as you will drizzle it over your cake. This salted caramel mocha cake was so good, everybody at the party devoured it with great joy.
Click here.
---
7. Individual Pineapple Upside-Down Cakes 
I'm a huge fan of mini cakes. They're so easy to eat and pack and carry in lunch boxes. And whenever I'm craving cake, I make a mini one for myself. This individual pineapple upside-down cake has a ring of pineapple and a glacé cherry on top. And it has a beautiful caramel on top as well.

I cooked the caramel with brown sugar and butter and poured it into each muffin tin then placed a ring of pineapple and cherry and then poured the batter and baked the cakes. The vanilla sponge soaked in the caramel and the flavor of pineapple and the cake was so scrumptious and moist, you can't even imagine! You don't want to miss this super delicious mini cake so when you're craving cake the next time, bake these, and I promise you'll be impressed.
Click here.
---
8. Mini Almond Bundt Cakes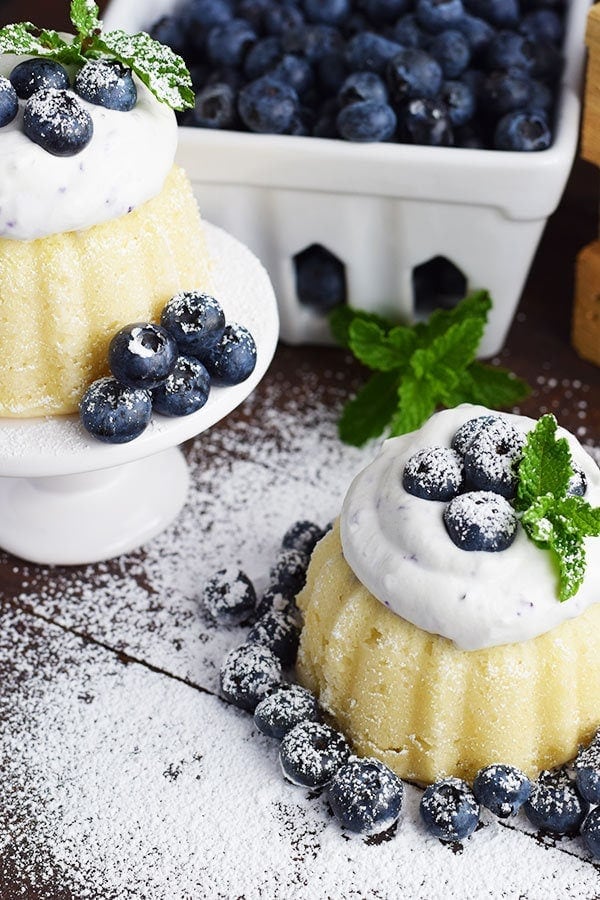 My little son Ryan is very obsessed with bundt cakes just like me. So together, we mother and son bake and eat our favorite desserts. We wanted to celebrate the holidays by spending time together and doing what we love the most. Baking is our favorite pastime. So we baked our favorite dessert recipes and devoured them like pigs.

We're so happy! I'm going to share with you one of our most loved mini bundt cake recipes and that is a mini almond bundt cake. These mini almond bundt cakes are loaded with crunchy almonds so you'll get almonds in every bite. I glazed the top of the cakes with icing made with melted butter, powdered sugar, vanilla and blueberry whipped. I also used toasted almond flakes to decorate the top of the bundt cakes. They were so pretty and tasted so heavenly!
Get the recipe here.
---
9. Vegan Mini Pumpkin Bundt Cakes
Looking for holiday ideas to make your party menu special? These Mini Pumpkin Bundt Cakes are going to be a showstopper at your party. Place them on your table and watch them disappear as your guests pick them up and take bites of these delicious mini bundt cakes. These are such a crowd-pleaser!

These Mini Pumpkin Bundt Cakes are spiced with cinnamon, cloves, and nutmeg and are loaded with chocolate candy stem. The vanilla adds a beautiful flavor and aroma to these cakes making them all the more alluring. I bought some pumpkins from the grocery the other day and I'm so delighted that I'll be making these mini bundt cakes. They can be made for any occasion to make it special. They are going to be a beautiful addition to your list of dessert recipes.
Click here.
---
10. Pistachio Bundt Cake Recipe
You, people, liked my mini bundt recipes so much. There's more and I'm sure you'll want more of them. Today, I'll be sharing my pistachio bundt cake recipe with you. Pistachios have always been my special ingredient while baking. I love this nut for its warm green color and distinct taste. This time, I made these mini pistachio bundt cakes and they are so indulgent and soft, and scrumptious! You know that I love to pair pistachios with rose petals so that's going on top of the glaze of these mini bundt cakes for decoration.

These mini bundt cakes are made with a combination of all-purpose flour and pistachio flour (ground pistachios) that gives these cakes a nice green color. The glaze that goes on top of these cakes is made with milk, sugar, and fragrant orange-flower water. Pour the glaze on top of each cake to create a drip effect and then sprinkle chopped pistachios and rose petals on top. They already look so festive! I bake them whenever there's some special occasion. They are one of my favorite dessert recipes that became a constant in my holiday ideas.
Click here.

Let's celebrate this day with valentines day desserts.
---
11. Vegan Mini Banana Bundt Cake 
I made this Vegan Mini Banana Bundt Cake for my son's birthday and he was so happy that he kissed my hands and gave me a tight hug! He doesn't like those birthday cakes that have a lot of cream frosting on them. He likes simple cakes with just a little frosting and he definitely likes bundt cakes. So I decided to make this banana bundt cake from my dessert recipes for his birthday. This vegan bundt cake has a vanilla marshmallow frosting center but this is optional.

After baking the cake in a bundt pan, simply poke holes in it and pipe the frosting into each hole and turn it around and place it on a plate. Dust the top with powdered sugar and it's done! My son liked it so much, he ate every bit of it. He was so hesitant to share it with anyone but he had to share it with his friends who were invited to the birthday party. It made me so happy to see the children cheerfully eating the bundt cake together. They said they liked it even more than any other birthday cake!
Click here.
---
12. Pecan-Toffee Pound Cakes with Praline Creme Anglaise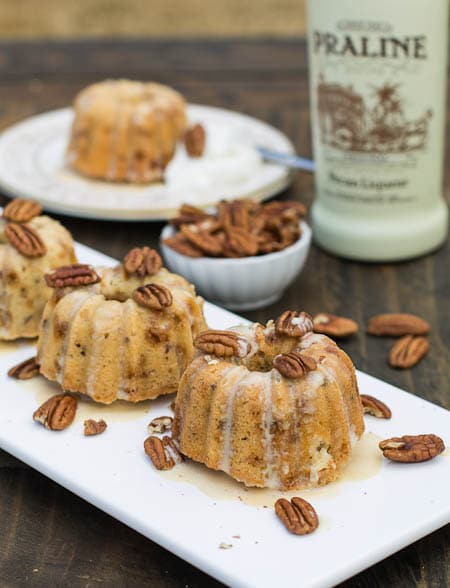 My mini bundt cake recipes have become a favorite with my readers. They are loving the dessert recipes and I'm also delighted to share the recipes with them. I've received huge comments loaded with appreciation and wanting more flavors and I'm so glad that people are liking my holiday ideas. So I tried not to be conventional this time and invent something special for my readers. I made these pecan-toffee pound cakes with a praline creme Anglaise.

Rich praline liquor goes into this praline creme Anglaise making it all the more sweet and delectable. The cake batter has pecan and toffee bits that add crunch and more flavor to the cakes. These mini pecan-toffee bundt cakes are then drizzled with pecan-flavored creme Anglaise and topped with more pecans. Want a bite of these delicious mini beauties? Quickly bake a batch of these cakes and dig in!
Click here.
---
13. Mini Chocolate Glaze Marble Bundt Cakes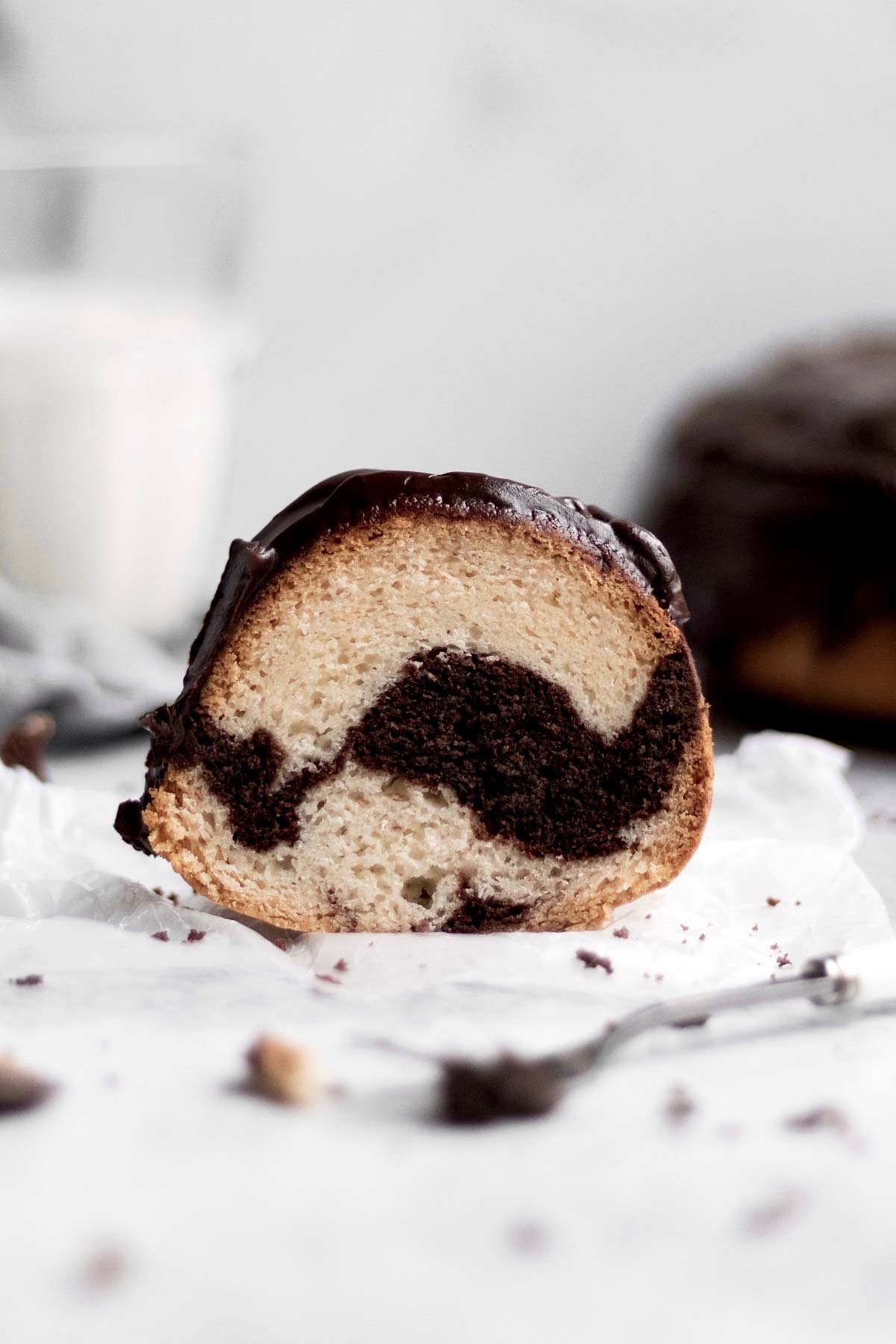 I have already shared a dozen of mini bundt cake recipes with you and this one's similar to a previous one. These mini Chocolate Glaze Marble bundt cakes are similar to my mini pound cakes but this time I made them with a chocolate glaze. If you know me, you know my love for chocolates. I constantly find ways in which I can add chocolate to my recipes and here's an example. You could really decide not to add the chocolate glaze it's completely optional. But I would add it because I love chocolates.

The soft vanilla sponges are drizzled with a silky smooth chocolate glaze. They're so irresistibly addictive and absolutely easy to make with just a few ingredients. Marble cake is one of the easiest cakes to bake yet they are so delicious! Prepare the glaze with semi-sweet chocolate chips, butter, and blue agave and drizzle over the mini Chocolate Glaze Marble bundt cakes and enjoy!
Click here.
---
14. Vegan Orange Poppy Seed Mini Bundt Cakes
These orange poppy seed mini bundt cakes are cute, little, tangy, orange-flavored cakes that are the moistest cakes you'll ever have. These cakes are my friend's favorite and she liked these so much that she insisted I share this recipe on my blog. These cakes are packed with orange zest, orange juice, yogurt (enhances the tangy flavor of the cakes), and poppy seeds.

With the amount of orange that goes into these cakes, you can very well imagine how orange-ey these cakes are going to be. I baked these cakes and my whole family liked them so much that my friend took about a dozen with her to her home so she can pop them in her mouth whenever she wants.
Click here.
---
15. Triple Chocolate Mini Bundt Cakes
My love for homemade chocolate is unwavering. And whenever I make chocolate at home, I'm most excited to use it in my dessert recipes. As I have been working on my mini bundt cake recipes, I decided to make these Triple Chocolate Mini Bundt Cakes. I had homemade chocolate at hand and also some nuts and dates that I purchased at a lower price from the market. I become so happy whenever I save money on any purchase and without comprising on the quality.

The nuts and dates were of high quality and I decided that I definitely had to use these desserts for my holiday ideas. And the result was these caramel apple mini cakes. These cakes are rich in my favorite flavors. I love this trio so freaking much! These Triple Chocolate Mini Bundt Cakes are the perfect holiday dessert. These cakes have gooey chocolates on top that makes these cakes off-the-charts delicious!
Click here.
---
16. Ice Cream Mini Bundt Cakes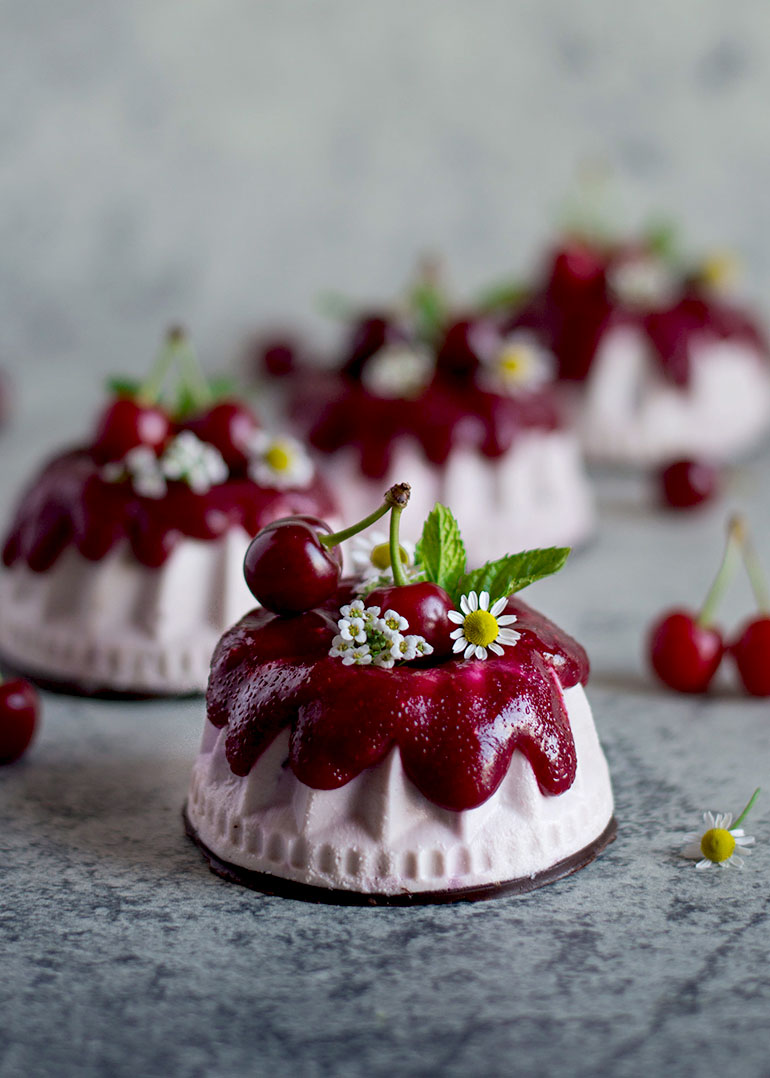 Have you ever tried ice cream mini bundt cakes? If not, I'm sure these are going to blow your mind. These are one of the best holiday ideas that ever occurred to me. My son Ryan is a fan of these no-bake ice cream mini bundt cakes and he has it every day as his after-school snack when I have these made in the fridge.

They are so easy to make, you won't even need to bake them. You just leave them to freeze in the freezer and take out and eat them whenever you want. A perfect treat for your summer cravings! The ice cream is made with cashews, coconut cream, lemon juice, and agave syrup and the base of these bundt cakes are chocolate. And finally, these ice cream cakes are drizzled with a velvety red cherry sauce.
Click here.
---
17. Lemon Honey Bundt Cake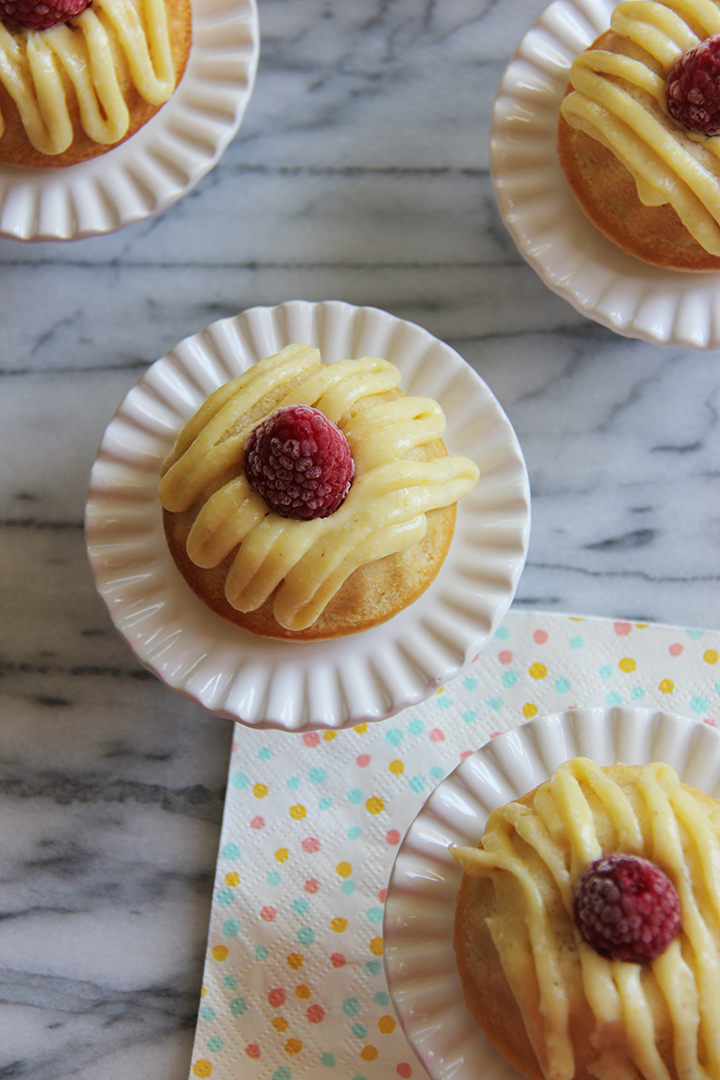 I have previously shared two lemon cake recipes with you on my blog of mini bundt cake recipes. But this lemon honey bundt cake is one of the easiest and most comforting of all of them. My son had a baking day at school where each student had to bake something of their own. So my son wanted an easy recipe that he could bake for the bake day at school.

And the first thing that came to my mind was this honey lemon bundt cake. It's so easy to make yet so scrumptious. I also made him some lemon curd to ice the top of the cakes. This cake is filled with honey and lemon-ey flavors and is soft and moist. You'll see heaven as this cake melts in your mouth and makes you want more of it.
Click here.
---
18. Mini Neapolitan Bundt Cakes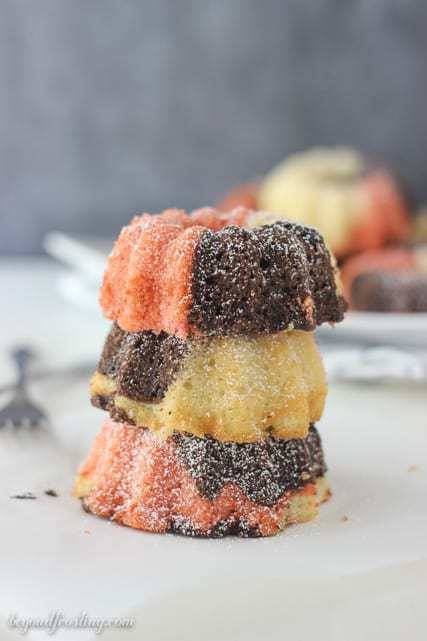 Love the vanilla, chocolate, and strawberry trio? These mini Neapolitan bundt cakes are a dessert lover's paradise. They can be easily packed for lunch and serves as a delicious dessert. The sponge of these mini Neapolitan bundt cakes has a mix of chocolate,  vanilla, and strawberry sponge so when you pop these in your mouth these three flavors melt in your mouth creating a burst of flavors inside.

Make these tricolor mini bundt cakes for any occasion cause they are really eye-catching. The sponge is soft and delicate. I made these for my grandma's 80th birthday and she was so delighted. These little things are what people live for. My dear old grandma loved these cakes so much that she couldn't stop telling me how much she liked them and that they made her feel very special.

She has a sweet tooth but as she is very old, she has been prohibited from eating food that contains excessive sugar in them. So I made these cakes with artificial sweetener but you can use regular sugar as well. Make these for your loved ones and I'm sure these will make them feel special.
Click here.
---
19. Chocolate Espresso Mini Bundt Cake with Salted Caramel
I love anything that has chocolate, coffee, and salted caramel in them. The other day when Ryan and I were discussing my mini bundt cake recipes, he quickly suggested that I should make a mini bundt cake that has all three of my favorite flavors in it. And thus was invented my chocolate espresso mini bundt cake with salted caramel. The coffee in these espresso chocolate mini bundt cakes really intensifies the chocolate flavor of the cakes.

Whenever I make chocolate cake,  I make sure I add brewed coffee in it to get that rich and intense chocolate flavor and it comes out perfect every time. The salted caramel glaze really compliments the espresso chocolate flavor and takes it to a different level. When I baked these beauties, Ryan and I were so impressed at how they turned out and we ate 3-4 in just one go!
Click here.

Let's try these mango dessert recipes for hot summer days.
---
20. Christmas Mini Bundt Cakes
Are you planning to make mini bundt cakes for Christmas? I have an amazing recipe for you. As I have already told you, I have some brilliant holiday ideas for this season. And these Christmas mini bundt cakes are all decked up in Christmasy fashion! Glazed with cinnamon sugar icing and a cherry on top, with the very first look, you'll be so excited about Christmas.

We're going to Anna's Christmas party so I planned to make these Christmas mini bundt cakes and take them to her house for the party. She loves everything that I bake and I'm sure she'll love these too. And she definitely knows that I'll bake something for her and bring it to the party as I do every year. She must be expecting some plum cakes but these mini bundt cakes will surely surprise her!
Click here.

Check out these amazing nut recipes for healthy eating.
---
21. Apple Cider Donut Mini Bundt Cakes
If you ask me what I love to do most, my answer is "baking". Nothing comes as spontaneously and nothing gives me as much joy as I receive from baking something. Especially when I'm baking for my loved ones. Yes, I do baking for a living as well and I think very few people in this world have the privilege of choosing their passion as their profession. I really feel that I'm blessed and privileged to have that opportunity.

You'll see that my blog is flooded with dessert recipes and now you know why. Anyway, here's another of my mini bundt cake recipes for you. It's an apple cider donut mini bundt cake. Yes, you guessed it right, it has apple cider vinegar in it. You'll need really good quality apple cider vinegar for baking these apple cider mini bundt cakes. These cakes have the texture of donuts and they taste wonderful. You have to try these at least once because they not only taste better than donuts but are easier to make than donuts.
Click here.
---
You may Like These Meal Ideas:
One Pot Meals
Sheet Pan Meals
Cold Appetizers
Low Carb High Protein Recipes
Holiday Breakfast Recipes
Fritter Recipes
Macro Friendly Meal Prep Recipes
Holiday Brunch Recipes
High Protein Meal Prep Recipes
---
If you like this article about Mini Bundt Cake Recipes, share with your friends or families on Facebook, Twitter, and Pinterest. Choose your favorite recipe and make it at home, let me know which is your best recipe in the comment. Also, you can subscribe to my blog to get all the latest updates first on your mobile.
---
To make these recipes for later, SAVE this pin on your favourite Pinterest Board