For easy, fruity cocktails that can cool your guests on a hot day, try these finest summer punch recipes. Are you in need of a refreshing punch to start your summer party? We have 21 plus bonus summer holiday recipes that you can whip up quickly, are incredibly fruity, and will keep your guests cool. 

From our best recipe catalog, quench your thirst with even more suggestions for summertime drink ideas. Everyone at your summer soirees, barbecues, and gatherings will be refreshed by these large-batch favorite summer drinks. There is a big batch cocktail for everyone, whether you prefer tequila, wine, or more rum.
---
Here are some tips for making the best summer punch recipes :
a) Always follow bartender-approved recipes – That way, you can be certain that it's gonna taste mind-blowing. 

b) Get all the ingredients – Try to get all the ingredients suggested to be used in your recipe. This makes sure that your drink tastes authentic.

c) Prep your drink last minute – A lot of recipes come with a make ahead option, but according to me, punch recipes taste best when they're prepared just before serving.

d) Garnish your drink beautifully – it's very true that the appearance of food plays a very important role in attracting us towards it. So make sure that you decorate your drinks with beautiful garnishes on top.

e) Some beautiful garnishing ideas – if you are wondering how to garnish your drinks, then here are some ideas. Use orange, lemon, and/or lime slices or slices of pineapple, maraschino cherries, strawberries. Melon balls, small watermelon slices threaded onto a skewer are also pretty ideas to style a drink. I love to use edible flowers to decorate my drinks. They look too gorgeous! Paper umbrellas are also great garnishes and give a nice summer vibe.
---
21. Raspberry Sherbet Party Punch
You must impress your guests the next time you throw a party with this raspberry sherbet party punch. It's similar to the sherbet punch you had as a child, but with fresh fruit added and a tangy lime touch. This punch's colors just make me so joyful. It looked stunning atop a pedestal when we served it in a sizable trifle basin.

With a few preparations the night before, you can put this punch up just before your guests arrive in a matter of minutes. In addition to fresh or canned pineapple, you can also use frozen raspberries. Little pineapple hearts on toothpicks provide a sweet garnish. You may cut out little heart shapes with nothing more than a sharp paring knife. This is one of the most perfect summer punch recipes for a baby or bridal shower.
Get it here.
---
20. Berry Punch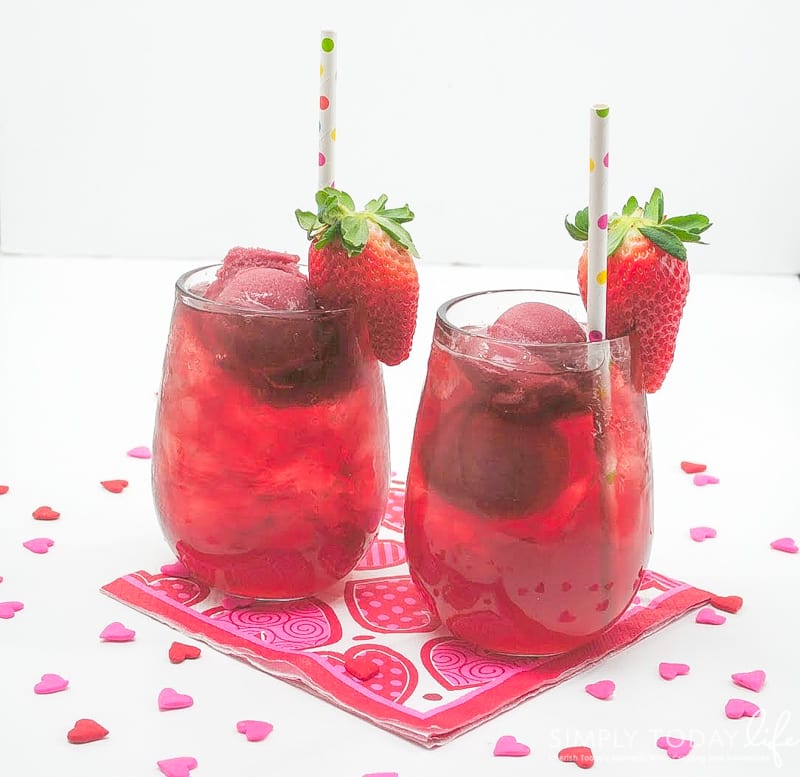 Berry Punch is the ideal beverage for parties, picnics, and barbecues this summer. A delightful concoction of tart lemons, pineapple, strawberries, and ginger ale. The nicest gatherings are outdoor barbecues and parties in the summer. One of my favorite holiday recipes for birthday parties and gatherings around the holidays is this Summer Berry Punch. Everyone may enjoy this drink, and it's simple to prepare in advance of the gathering.

This punch comes ready quickly and uses basic ingredients. Simply multiply by two if you're hosting a large gathering. I used frozen pineapple juice, canned pineapple juice works well too, fresh lemon juice, and ginger ale. It is sweet, energizing, and pretty wonderful when served over ice!
Get it here.
---
19. Champagne Sherbet Punch
I know you're eagerly waiting for my drink ideas for summer, so I'm here with my summer punch recipes to quench your thirst. Every enjoyable gathering needs a signature drink! For any event, this Champagne Sherbet Punch is the best option. This cocktail, which only needs 4 ingredients and requires little preparation yet produces outstanding results, is perfect for the holiday season.

The ideal party punch is made by combining creamy sherbet with effervescent champagne. Add cranberries, raspberries, or strawberries as a garnish! We advise combining all of the ingredients right before serving because this punch is really simple to put together. Due to this, the champagne and sparkling water's carbonation and the punch's ability to maintain its coldness.
Get it here.

Make these delicious summer meals for meal prep.
---
18. Mint Julep Punch
Are you looking for an amazing beach drink this summer? Then this classic mint julep punch is waving you a "hi." Today, I will show you how to make a classic mint julep punch at home, and I can guarantee that you will feel like an adept bartender after trying it out. Yes, it's that good. The recipe that I am going to share with you is one of my favorites, and you are surely going to fall in love with it.

Use this simple recipe to create mint juleps for a large group. Mix sugar and water in a medium pot. To dissolve the sugar, heat, and whisk the mixture over medium heat. Remove from heat, add mint, and stir. After an hour, remove and discard the mint. The syrup should be transferred to a small basin, covered, and chilled for several hours or overnight. Pour the syrup and bourbon into a pitcher and serve. Add sparkling water and stir. Serve with fresh mint sprigs on top of the ice.
Get it here.

Make these delicious margarita cocktails for a crowd.
---
17. Evergreen Punch
For every holiday celebration, this Evergreen Punch is the ideal punch. It tastes fantastic and is ideal for any occasion. Even in the summer, we prepare it for barbecues. Wow, this is no nice that your family and friends with this punch. Because it doesn't contain alcohol, you can serve it with mocktails. Without a lively and festive beverage, a party isn't complete.

This vibrant green punch can be quickly put together and is great for feeding a crowd. The hue is extremely vibrant. This drink is one of our favorite holiday recipes that you will love too. The flavor is fantastic, and the kids adore it. You could offer this drink with anything, at any gathering, because it is so light and refreshing. Even, you can serve this with any avocado desserts, try it, I'm sure you will love it.
Get it here.
---
16. Orange Crush Cocktail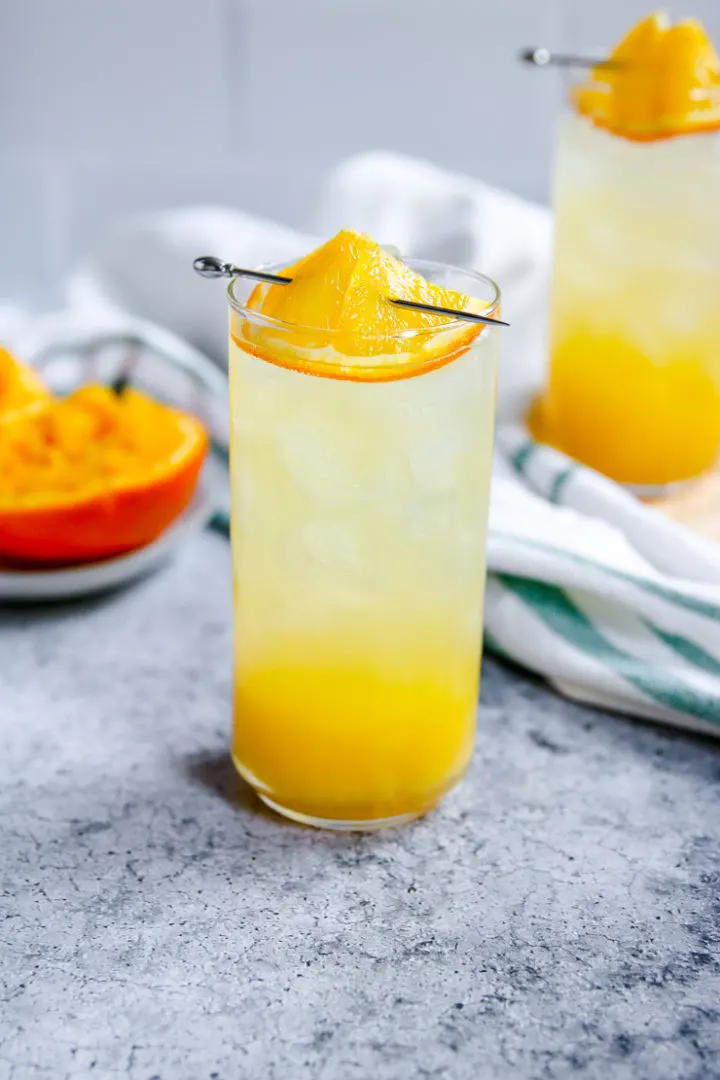 An orange crush is a timeless cocktail that is perfect for a warm day. We're happy to let you know that it's not just a soda but also a very easy drink that can be prepared in a matter of minutes. You're going to adore this orange crush cocktail on the rocks. The fresh oranges that are "crushed" to produce all that sweet, sunny juice give the orange crush cocktail its name. Yet the benefits of citrus don't end there!

Using orange-flavored vodka, orange-flavored liqueur, and lemon-lime or orange soda, this cocktail recipe for orange crush amplifies the citrus flavor three times over. If your liquor cupboard contains standard vodka, you can easily swap it out for orange-flavored vodka. Any liquor with an orange taste will do. Orange-flavored soda can be substituted for lemon lime soda.
Get it here.

Find these delicious holiday breakfast recipes here for morning meal.
---
15. Pina Colada Sangria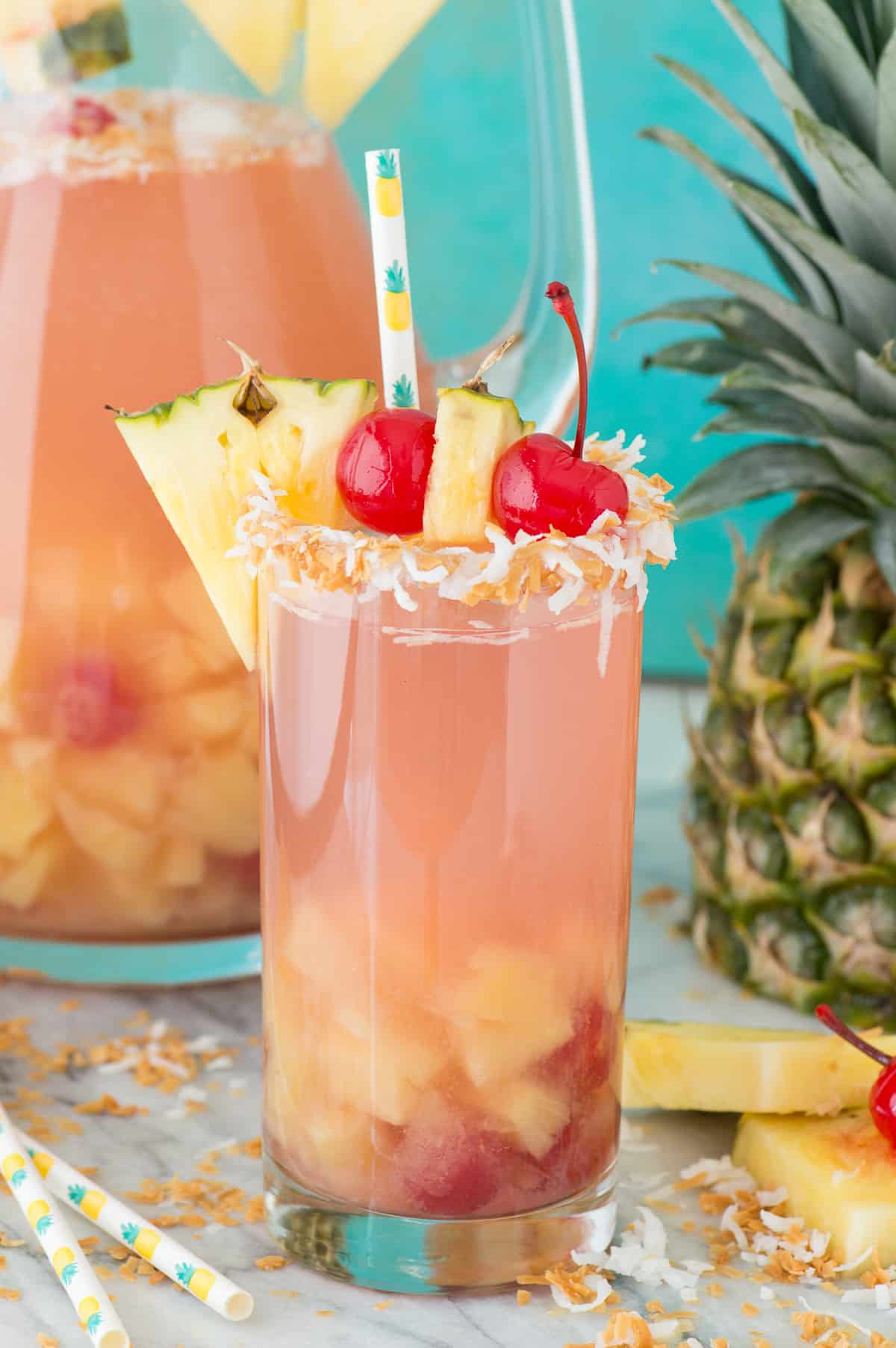 Are you planning to throw poolside parties this summer? Then you must need some cool and boozy drink ideas or Summer Punch Recipes. So let me introduce you to some of my amazing drink ideas. An excellent beverage to provide at large gatherings is sangria, a wine-based beverage with fruit. We decided to use canned pineapple and jarred maraschino cherries, which makes this pina colada sangria simple to prepare.

You can drink tropical sangria whenever you want because they are both available all year round. A cool and easy summer cocktail is the 5-ingredient tropical pina colada sangria! This hearty sangria drink can accommodate a large group. 
Get it here.
---
14. Pineapple Mango Rum Punch
I'm going to share a recipe for a fruity rum drink to start off our new season. In my opinion, rum punch cocktails specifically are kind of the ideal cocktail because they're adorable, taste wonderful, and are incredibly simple to create, making them the ideal drink for gatherings and entertaining. 

This recipe is for a pineapple mango rum punch with gorgeous, entirely edible garnishes. Orange zest and orchids, anyone? The rum punch recipe is mildly sweet without being overly so. And it tastes incredibly fresh, as if it just came from a Caribbean crushed juice bar that has been known to spike a few drinks.
Get it here.

Let's try these mango dessert recipes for hot summer days.
---
13. Sherbet Ginger Ale Punch
I made this sherbet ginger ale punch yesterday and to be honest, I am obsessed. See, this is what I like the most about summers – I get to try my boozy summer punch recipes and lay by the pool, sunbathing and sipping on these all day. What a luxurious life, man! But this particular drink, I'll tell you why you will love it. I mean, it has sherbet and ginger ale in it. How could somebody just not like this drink?

And if you're still in doubt, let me share the recipe with you so you can try it for yourself and see if I am lying. Make it, drink it, and make people drink it! It is so addictive, I promise that once you try it, you're gonna make it every single day. So happy summer, guys. Try this drink and let me know how you liked it.
Get it here.

Make these amazing lettuce salad recipes for lunch.
---
12. Strawberry Lemonade Punch-Non Alcoholic Punch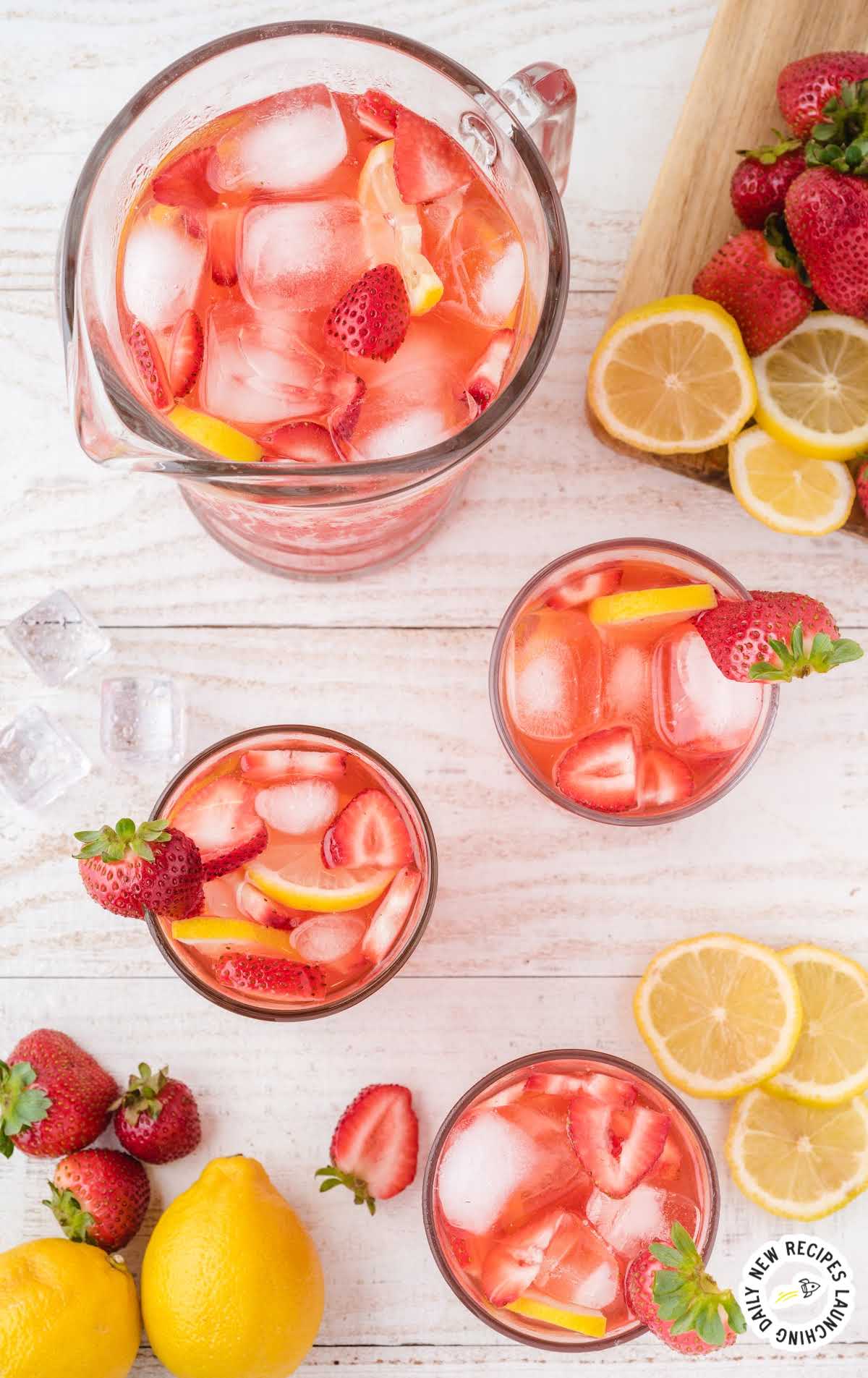 The ideal non-alcoholic punch is this strawberry lemonade punch with only 3 ingredients. It has a tart flavor that is sweet and energizing. Its vivid color creates a lovely appearance. The deliciousness of this strawberry lemonade punch is beyond description. You want to grin with delight when you taste the strawberry lemonade because of how sweet the strawberries are. It's such a wonderful combo!

There are only 3 items required to make this non-alcoholic punch. You'll need lemon-lime soda, frozen lemonade concentrate, and frozen strawberries. Make the punch as directed, leaving out the lemon-lime soda if you want to prepare it ahead of time. Refrigerate. Punch should be poured into a serving basin before the lemon-lime soda is added.
Get it here.
---
11. Tropical Rum Punch
This tropical rum punch is the beverage that most closely resembles island life. Created with rum, a tonne of sweet juices, and just a dash of bitters to finish it off… With taking only one sip, you'll imagine that you're relaxing on the beach!

If you can't be on a beach, at least sip a beverage that will give you the impression that you are. Although garnishes are always optional, they give beverages such a lively, bar, or restaurant-style appearance!
Get it here.

Try these delicious layered dessert recipes at home.
---
10. Sparkling Limeade with Honey Recipe
A glass of ice-cold limeade is the epitome of refreshment. Using honey and lime, this homemade limeade is naturally sweetened and so simple to create! There is no such thing as too many lemonade recipes or Summer Punch Recipes, correct? The summer has me a little obsessed. The only difficult part of making fresh handmade limeade is getting all the juice from those limes. 

But in the end, this cool limeade is worth it! Because lime and honey go so well together, I chose to use a mixture of half honey and half sugar to sweeten this summertime beverage recipe. If you wanted to add some cherry juice, it would also be excellent; I'm going to do it the next time.
Get it here.
---
9. Strawberry Pineapple Wine Punch
A straightforward and tasty party cocktail that is simple to prepare in advance is strawberry pineapple wine punch. A cool party punch made in large batches that will delight everyone! Simple syrup is made by combining 1 part boiling water with 1 part sugar and stirring until the sugar dissolves. Cool down before mixing drinks. Use a food processor or blender to puree strawberries.

Combine strawberry puree, pineapple juice, one bottle of moscato wine, simple syrup, and ginger ale in a serving pitcher. Stir well to combine. Pour over ice cold and top with pineapple wedges and fresh strawberries as garnish. Up to the serving time, chill. You will definitely like the flavorful and energizing combination of this Strawberry Pineapple Wine Punch. Also, you can taste these pineapple desserts with this drink in this summer.
Get it here.
---
8. Fruity Vodka Party Punch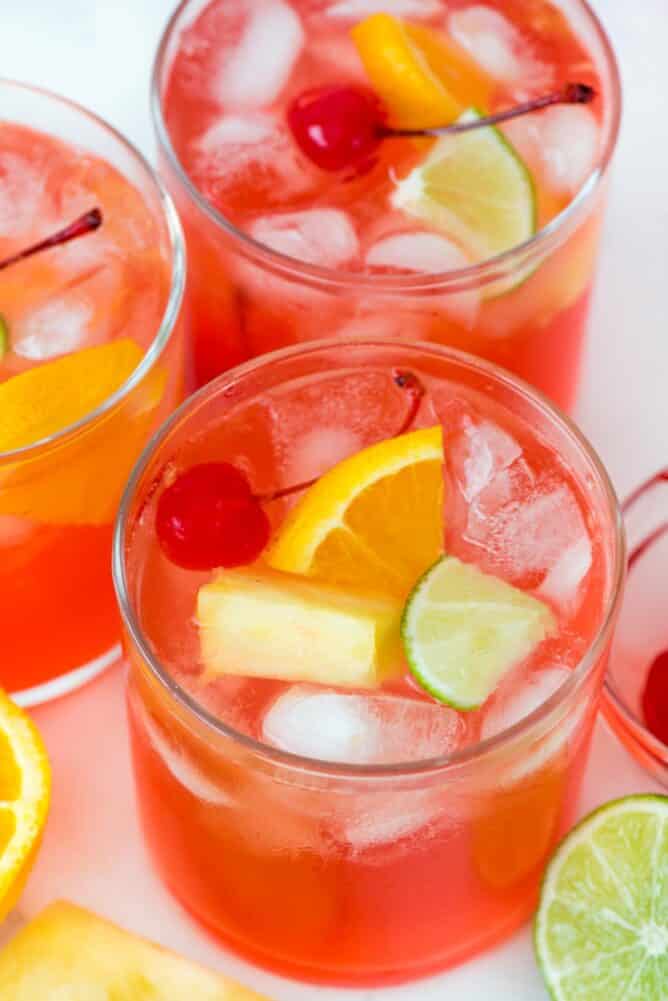 The ideal cocktail for a celebration is Fruity Vodka Party Punch! This is the ideal simple punch recipe because it contains rum, vodka, lemonade, and fruit punch. A red fruit punch drink somehow instantly conjures up images of the Caribbean or pleasure, and it elevates every gathering. This vodka and rum recipe is a simple way to throw a party in your glass. 

I used club soda to add fizz and fruit punch and lemonade as the juice. As I become older, I find that I don't enjoy very sweet beverages as much, so I usually substitute sparkling water for sugary or diet soda. Fruit is a lovely garnish to add to the pitcher.
Get it here.

Do you wanna try summer salad recipes in these hot season for healthy health?
---
7. Fizzy Pineapple Punch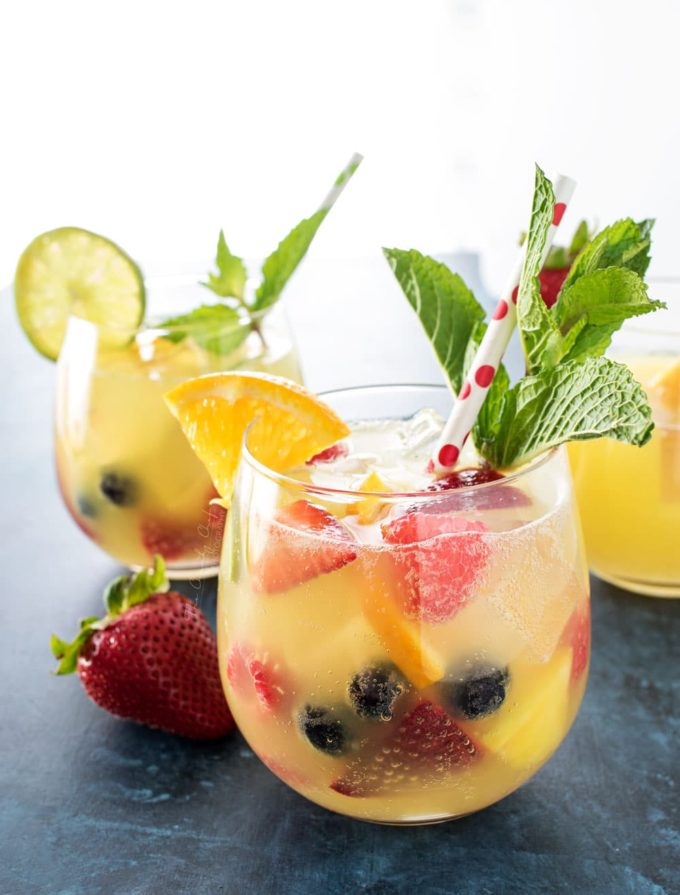 Any party will be the talk of the town with this tasty and simple-to-make pineapple punch! Contains only 4 basic ingredients, fresh fruit, and lovely decorations and your Summer Punch Recipes or drinks are ready to serve! Enjoy a refreshing sip of this lovely and alluring pineapple punch this summer! You'll be eating seconds before you realize it if it's sweet and refreshing! Nothing soothes the soul more than a cold drink when the temperature rises.

This is when a refreshing beverage like this pineapple punch is useful! I adore how easily you can adapt this pineapple punch recipe to suit your preferences! Practically any fruit can be added to the glasses. I selected orange slices, lime slices, pineapple chunks, strawberries, raspberries, and blueberries. In essence, I added every fruit I could find!
Get it here.
---
6. Raspberry Iced Tea Punch
Raspberry Iced Tea Punch: Made with fresh berries, limeade, and raspberry iced tea, this summertime punch is tasty and cool. The only chilled beverage you will ever require is this raspberry iced tea punch, both now and forever. This punch combines the tartness of lime with the sweetness of iced tea and the blast of berry flavor. Add some rum to it as well. The presentation of drinks must be part of their appeal, right?

Plan on having additional lemon slices, lime slices, fresh raspberries, and strawberries because garnishes give the impression that you spent more time and effort making the cocktails. Also, you must use tall, spotless glasses, and don't forget the ice!
Get it here.

Let's try these delicious high protein meal prep recipes for lunch.
---
5. Blue Hawaiian Party Punch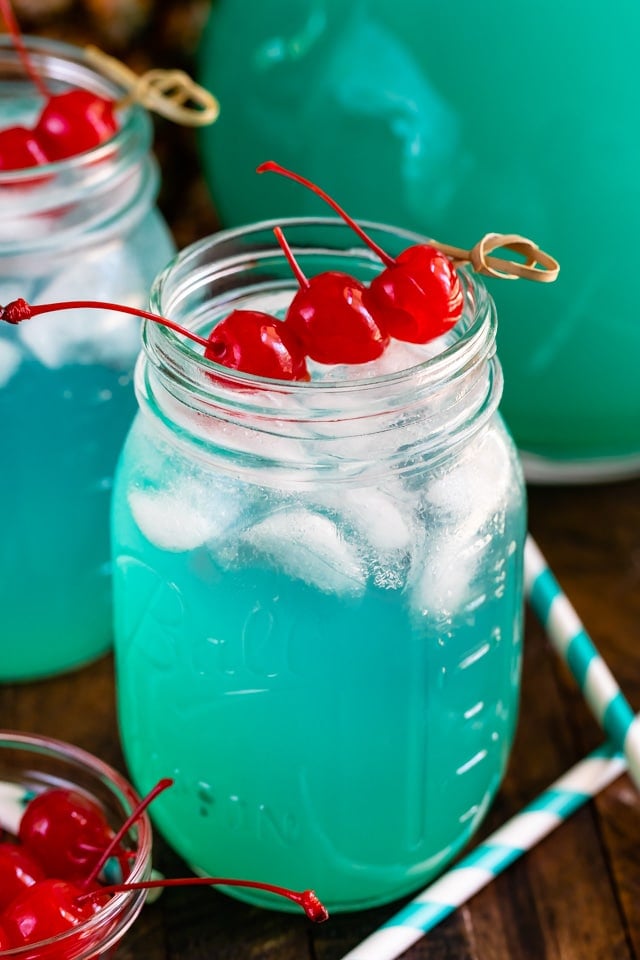 The blue Hawaiian punch cocktail is ideal for summer with its vibrant ocean blue color and tropical flavor. This tasty cocktail is simple to batch-make, making it a great choice for gatherings and barbecues. Blue Hawaiian Punch is perfect for those times when you want to sip on something alcoholic to help you cool off on a hot summer day because it has a delightful coconut and pineapple flavor. Making it is really easy.

This delectable libation will be easy for even amateur home bartenders to perfect. A simple cocktail vodka party punch for the summer: Blue Hawaiian Party Punch! It only requires a few basic ingredients, and everyone likes the nostalgic flavor.
Get it here.
---
4. Lemon Lime Party Punch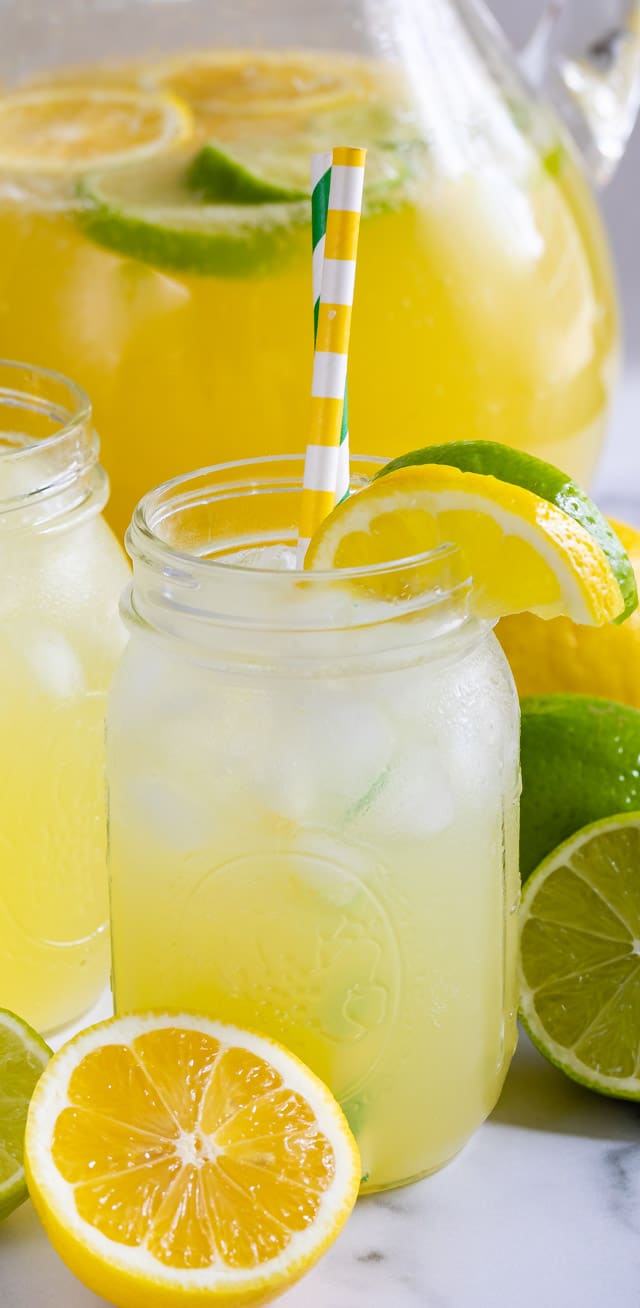 Summer celebrations call for the Lemon Lime Vodka Party Drink. It is one of our many favorite simple party summer punch recipes. My favorites include slush punches, especially in the summer. I adore a slush punch's chilly, slushy sweetness. The lemon-lime vodka is also incredibly cooling. 

The secret to making any slush punch is to start preparing it the day before you intend to serve it. This party punch recipe cannot be prepared five or ten minutes before serving. It is freezing because it is a slush. The fundamental fruit juice mixes are made, and then they are frozen overnight.
Get it here.

These amazing easter cheesecake recipes are perfect for easter celebration.
---
3. Sea Breeze Cocktail Punch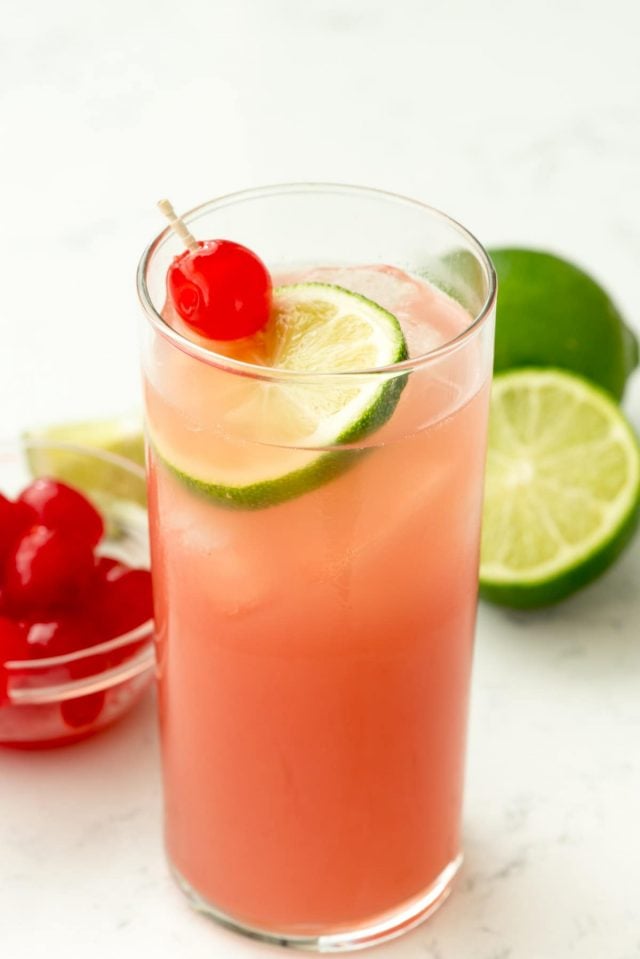 Three simple components make up this Sea Breeze Cocktail Punch: vodka, grapefruit juice, and cranberry juice. Create a party punch with the traditional Seabreeze Cocktail recipe! A traditional vodka recipe with lime and cranberry juice is called a sea breeze. I made it into a punch because it's an easy recipe that makes the ideal summer dish.

A Sea Breeze Cocktail is comparable to a Bay Breeze, but instead of grapefruit juice, it uses pineapple juice. It's really reviving to combine grapefruit juice with cranberries. Although they both have a slight tartness, cranberry juice has an underlying sweetness that greatly enhances the flavor. Since I don't like extremely sweet drinks, this is ideal for me.
Get it here.
---
2. Shirley Temple Party Punch
The traditional Shirley Temple beverage receives a slight update and is turned into a simple and delectable party punch bowl recipe. Excellent for the summer, the holidays, or any time you're hosting a large group. You'll adore this party punch if you enjoy a Shirley Temple. 

It can serve a huge number of people and is created with all the classic ingredients for a Shirley Temple, plus orange juice. Everyone, young and old, loves it and it's quite simple to make! Just a few orange slices and maraschino cherries should be used to garnish this beverage. Pour into glasses or cups, then sip.
Get it here.
---
1. Pink Party Punch with Sherbet
I have been trying to make a pink party punch since last week, and I have finally found a mind-blowing recipe that I am more than excited to share with you. This drink will add colors to your summer party and make everyone go wow over it. This pink party punch is a hit with both kids and adults. It makes a lot, is simple to make, and is energizing.

It makes a terrific non-alcoholic beverage for wedding ceremonies and other special occasions. Enjoy making these Summer Punch Recipes for a summertime gathering. This pink party punch recipe calls for pink lemonade concentrate, water, pineapple juice, diet Sprite, lemons, berry or raspberry sherbet, and ice. It is perfect for a girl's night out.
Get it here.
---
BONUS
Blackberry Lemonade Moscato Punch
Blackberry Lemonade Moscato Punch – A wonderful alcohol-based party punch ideal for celebrations and get-togethers with friends is Blackberry Lemonade Moscato. This simple big batch cocktail only requires a few ingredients. One of my favorite cool drinks, blackberry lemonade, struck me as the perfect party punch for cookouts and get-togethers with friends.

Before a party, making huge batches of cocktails may be very simple. In this approach, guests can help themselves and you won't have to offer drinks for the duration of the party. This Moscato Blackberry Lemonade Drink comes out very stunning. Ideal for enjoying a summer party with your closest friends.
Get it here.
---
Mermaid Rum Punch
A wonderful alcohol-based party punch ideal for celebrations and get-togethers with friends is Blackberry Lemonade Moscato. This simple huge batch cocktail only requires a few ingredients. One of my favorite cool drinks, blackberry lemonade, struck me as the perfect party punch for cookouts and get-togethers with friends. Before a party, making huge batches of cocktails may be very simple. 

In this approach, guests can help themselves and you won't have to offer drinks for the duration of the party. This Moscato Blackberry Lemonade Drink comes out very stunning. Ideal for enjoying a summer party with your closest friends.
Get it here.
---
Watermelon Coconut Rum Punch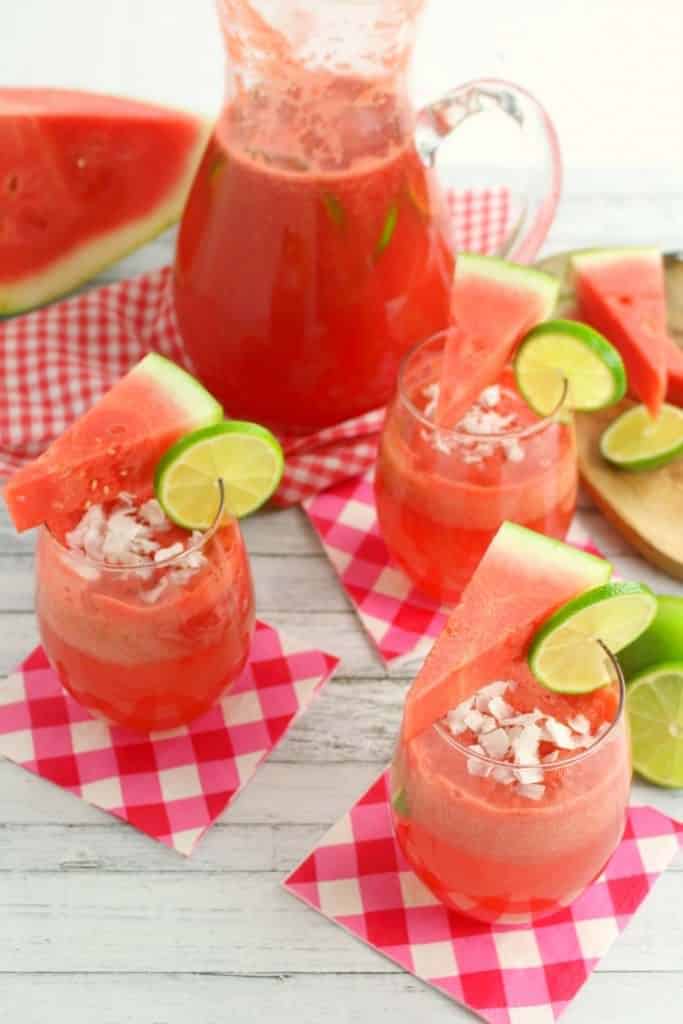 The ideal summer cocktail is this wonderful watermelon coconut rum punch! This quick and easy rum punch cocktail is made with coconut rum and fresh watermelon. Great for serving at your upcoming summer party or drinking poolside! Do you have a go-to summer beverage or Summer Punch Recipes that you enjoy? For many, it's a glass of ice-cold lemonade or a sip of hot iced tea.

But, occasionally a cold, energizing cocktail is called for. On a hot summer day, anything fruity, crisp, and with the addition of a wonderful rum is ideal. That's where my cool, flavorful, and energizing Watermelon Coconut Rum Drink comes in! Anytime you're in the mood for a tasty cocktail, serve up this fantastic coconut rum punch.
Get it here.

Make these cool watermelon recipes for more ideas for summer.
---
Minty Mango Margarita Punch
This Minty Mango Margarita Punch is a light, fruity cocktail with a delicate flavor of mint that you can whip up in the blender in only 15 minutes! This margarita punch is incredibly simple to make. To make this drink, simply combine a mango, mango nectar, tequila, and lime juice in a blender.  Once the simple syrup has reached room temperature, mix it until it is smooth in the blender without straining. Get some cocktail glasses, half-fill them with ice, then pour some delectable drinks! I like to add a large lime wedge and a mint sprig to the rim of each glass.
Get it here.

These smoothie recipes are perfect for healthy eating and for summer refreshment.
---
Hurricane Party Punch Cocktail
I'm thrilled to share one of my go-to, simple party punch recipes with you. With this Hurricane Party Punch Recipe, you can bring a little bit of the tropics to your next gathering! It's the ideal beverage for keeping you cool. A family-friendly get-together would be perfect for this hurricane party punch recipe. Orange juice, lime juice, pineapple juice, and passion fruit syrup are the ingredients for your party punch base.

Until you're ready to serve, keep refrigerated. Pour the punch base into an ice-filled glass. Stir in the silver rum after adding it. Dark rum is then floated on top. To make a non-alcoholic version, substitute grenadine for the rum. Serve with a fruit garnish, then take a sip! Cheers!
Get it here.
---
You may Like These Meal Ideas:
Fritter Recipes
High Protein Slow Cooker Recipes
Easter Dinner Recipes
Green Bean Recipes
One Pot Dinners
High Protein Snacks
Vegan Spring Recipes
High Protein Vegan Meals
---
If you like this article about Summer Punch Recipes, share with your friends or families on Facebook, Twitter, and Pinterest. Choose your favorite recipe and make it at home, let me know which is your best recipe in the comment. Also, you can subscribe to my blog to get all the latest updates first on your mobile.
---
To make these recipes for later, SAVE this pin on your favourite Pinterest Board