I have been putting up a lot of dessert ideas on my blog but till date, most of them were either some sort of cake, brownie, cookie, mousse or pudding. But, I want to look at desserts in a different light now. And, I want to make something other than those recipes that I've already posted on my blog. Let's try some tarts. Now that you have some idea, I'm here to share with you some of my most amazing mini tart recipes.

By now, you must've already known I love miniature foods that can be popped right into your mouth without the need of any cutlery. So I've planned to try out some mini tarts for the new holiday recipes on my blog. If you're wondering what a tart is, then let me simplify it for you. A tart is basically like a pie that has a pastry shell filled with some kind of mousse or custard like sweet filling.

They're tiny and cute and poppable pastry cups filled with dessert that will serve as a beautiful dessert option for any occasion. So let's try these beautiful dessert ideas that you would never believe you could make at home. They just look like desserts that are served at fancy cafes and confectioneries. So without further ado, let's get cooking. Scroll down below to find these sweet, heartwarming delicacies.
---
1. Blueberry Ganache Tar
Blueberries have always been the most used ingredient in my dessert ideas. I love these berries specifically for their color and tangy flavor. But I've never tried making a blueberry ganache. So that is exactly what I'm going to make for my mini tart recipes. I'm going to call this the original blueberry ganache tart.

We are going to fill our mini tart shells with blueberry white chocolate ganache. For the blueberry white chocolate ganache, mash the blueberries in a bowl with the back of a fork and add heavy cream to it. Now bring that to a simmer.

You'll see that the blueberries have bled their beautiful purple color into the cream. Now, in a bowl, put some white chocolate chips and strain the blueberry heavy cream mixture over the chocolate. Let the chocolate melt for a while and mix with the help of a spatula.

Your blueberry white chocolate ganache is ready! Now pour that silky smooth ganache into the mini pastry shells and let that set in the freezer for about 3 hours. These beautiful blueberry ganache tarts are wonderful holiday recipes to make for any of your special days.
Get it here.
---
2. Chocolate Raspberry Mini Tart 
Since the day I've started experimenting recipes for my mini tart recipes, my son has become obsessed with these dessert ideas. He has made me promise that I will have to make him taste each and every tart that I will be making for my blog.

He is especially enjoying the fact that these are so tiny, just like him. This had to happen because just like me, my little son is a fan of mini desserts. The other day, while I was packing lunch for him, I secretly added two of these chocolate raspberry mini tarts that I tried out the other day. After he came back from school, he was so overwhelmed and said that they were the best tarts he ever had in his entire life.

So let's see what these "magic in a tart shell" tarts are like. It's so easy to make them that you'll want to make them everyday. And the taste! God, they taste literally like "magic in a tart shell"! The filling of this tart is a rich, smooth and decadent filling made with just 4 ingredients – dark chocolate, heavy cream, Nutella and rum.

The tangy raspberries compliment the sweetness of the filling so well that you're bound to fall in love with this tart. You can't deny that you already want to make these cute little dreamy mini tarts by now. So what's stopping you? Go make 'em!
Get it here.

For fall days, must try fall desserts & fall cupcakes to enjoy with your family.
---
3. Easy Chocolate Salted Caramel Tarts Recipe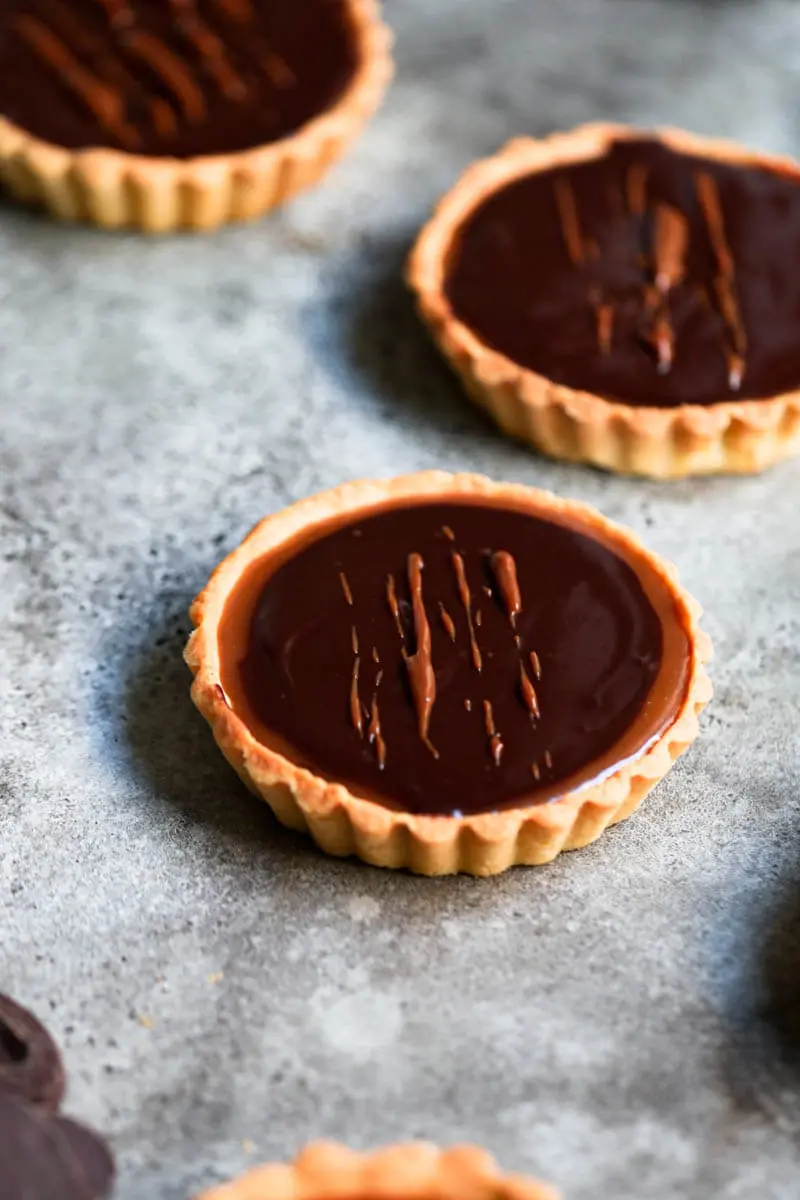 Chocolate and salted caramel is a combination that according to me is a match made in heaven. You know how great of a fan I am of dark chocolate and homemade caramel sauce. So these chocolate salted caramel tarts are one of my favorites.

These easy chocolate salted caramel tarts are just like a copycat version of reese's salted caramel peanut butter cups but we're omitting the peanut butter here. These chocolate tarts have a homemade soft salted caramel center and are topped with creamy chocolate ganache with a sprinkle of flaky sea salt.

As soon as I finished making these, I devoured at least 5 of them instantly! I surprised my husband after dinner with these mini tarts and he said that they were so good that he can have all of them in just one go! I like to surprise him with such little dessert ideas and this one from my mini tart recipes just made it better.

So next time you're planning to make something special for dessert, try these out because they not only taste heavenly but are extremely easy to make.
Get it here.
---
4. Mini Lemon Tarts with Italian Meringue and Strawberries 
I have always been fascinated by the art of making French pastry. They might be a little bit intimidating to make for the first time but once you've developed your skill, you'll just become obsessed with making them. By following some simple steps you can achieve the finest French pastry.

I'll show you how. Do you wanna make this fancy lemon tart with Italian meringue and strawberries? Let's make them. These mini lemon tarts have a lemon curd filling topped with thin slices of strawberries and soft, creamy and fluffy Italian meringue. These mini tarts taste just like summer.

I took these to a potluck I attended last summer and everyone was hooked to its taste. No one believed that I made them all by myself and kept on asking me which confectionery these mini dessert ideas are from.

Everyone became a fan of this dessert and I was called a master of desserts for making these. I won't deny that made me feel extremely proud.
Get it here.
---
5. Raspberry Vanilla Bean Cream Tarts
My sister had her birthday last week and as I've already told you, everyone in our family has a huge sweet-tooth. And I'm the one who can make delicious desserts at home so everyone loves me for that. Every year I usually make my sister a nice birthday cake but this time, I wanted to do something different.

As I was working on my holiday recipes and experimenting with my mini tart recipes, I thought that these raspberry vanilla bean cream tarts would be amazing dessert ideas for my sister's birthday. So I made these for her. Shortbread pastry shells are filled with a luscious vanilla bean pastry cream and topped with fresh raspberries.

The creamy vanilla bean pastry cream, the crispy pastry shell, and the juicy fresh raspberries make these mini tarts the best-ever mini tarts.

I went to her with a little box of these raspberry vanilla bean cream tarts. And as soon as she opened the box and took a bite of these mini tarts she became speechless and ate them all one by one and hugged me insanely. Her reaction made my day and I felt immensely glad for her.
Get it here.
---
6. Strawberry Lemon Mini Tarts
These strawberry lemon mini tarts I made were so sublime that they made me feel like vintage summer afternoons. When I was running out of dessert ideas, I ran to my daughter to get some ideas for the mini tart recipes I have been working on.

My daughter is a huge fan of strawberry desserts and she is the one who insisted me to make these strawberry lemon mini tarts. So without any further thought, I instantly ran into my kitchen and started listing the ingredients that are required for this recipe.

I was so determined to make these because these are the first ever dessert ideas that were recommended by my daughter. So I tried my best to make these strawberry lemon mini tarts as good as possible. The mini tart shells are filled with a lemon custard which is very simple to make.

You'll only need three ingredients to make this lemon custard filling for this recipe – eggs, sugar, and lemon juice. The tart shells with the lemon custard filling are then topped with slices of strawberries.

As soon as these tarts were done, I took them to my daughter for the taste test and she screamed, "MOM, THESE ARE BRILLIANT!" 
Get it here.
---
7. Passionfruit Custard Tarts
This summer my sister sent me a bucket full of passion fruits as I told her that I want to try a passionfruit dessert for my blog. I have been waiting since long and now that I have them at hand, I can't wait to quickly make them incorporate them in my dessert ideas.

Also, I have to admit that these are one of my best summer holiday recipes that you'll try. And, I made simple mini pastry shells and filled them up with a creamy passionfruit custard filling. The ingredients you'll require to make the best passionfruit custard are thickened cream, caster sugar, egg yolks, eggs and strained passionfruit juice.

Just beat the sugar, eggs and egg yolks in a bowl and add boiling cream into the mixture. Add in the passion fruit juice and give everything a good stir. Then strain the mixture and the passionfruit custard filling is ready to be piped into the pastry shells.

After making these, I called my sister over to have them and she said that they tasted so divine that she couldn't help but eat all of them!
Get it here.

These Mini bundt cakes & gluten free cake recipes are perfect holiday desserts for all!
---
8. Chocolate Tartlets with Chocolate Mousse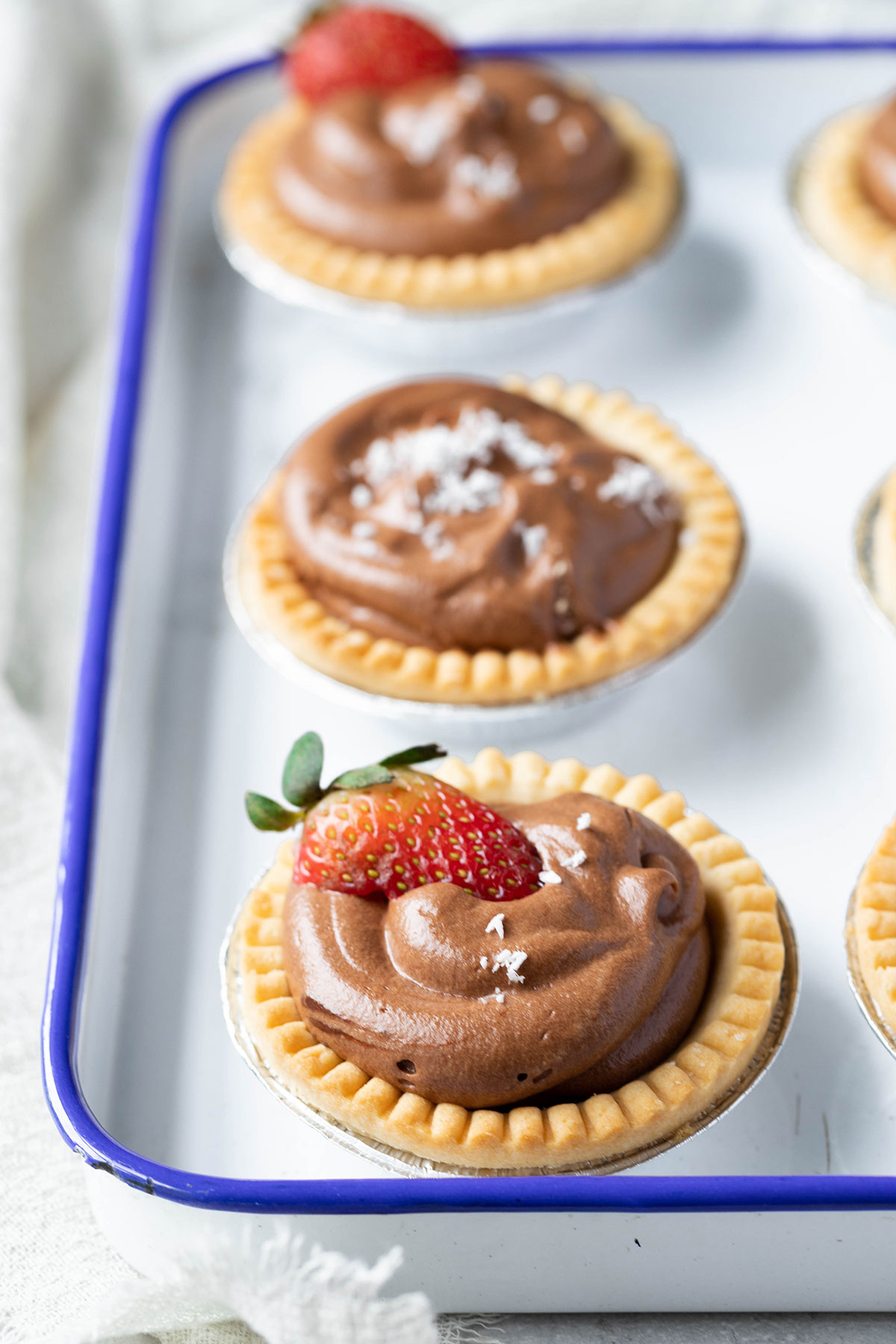 I have a special love for desserts made with chocolate. I wanted to keep it simple this time, but I also wanted the dessert to be simply delicious. So what could have been a better option than chocolate tartlets with chocolate mousse?

Not only that, I'm going to teach you a chocolate mousse recipe that can be made without whipping cream. That means you'll need only chocolate and water (yes you read that right). Don't judge me before you try it out. You'll need 283 grams of dark chocolate and 250 ml of hot water and whisk until the chocolate melts.

Then over an ice bath, whisk the chocolate and water mixture vigorously for about 10 minutes and you'll see how nicely the mousse comes together. The chocolate mousse filling for your chocolate tartlets is ready! Now fill the tartlets and dig in!
Get it here.
---
9. Key Lime Tart Recipe
Lime tarts are one of the simplest and most satisfying desserts according to me.  So I wanted to add this key lime tart recipe to my holiday recipes. My son was having a holiday so we decided to make these tarts together.

He enjoys making desserts with me so whenever he has a holiday and I'm making desserts, he joins me and we have great fun making desserts together. So I let him make one of my mini tart recipes. He made the key lime custard all by himself. He whisked the egg yolks in a large bowl and then added in sweetened condensed milk, lime juice, sugar, and lime zest and whisked together until smooth and blended.

Then he filled the phyllo shells with the custard and baked them for roughly 12 minutes. I garnished these mini tarts with whipped cream and a slice of key lime and they looked so pretty.

Together we tasted them and I felt so proud of my little son! I was in tears and it felt almost unbelievable that he made these little tarts with his little hands. 
Get it here.

Check out these protein powder dessert recipes for more sweet cravings!
---
10. Easy Sugar Cookie Fruit Tarts
My mother was craving some sugar cookies and I instantly knew what my next mini tart recipe would be. She loves anything that has a fruity element in it so I decided to combine the two dessert ideas and created these easy sugar cookie fruit tarts.

These mini tarts feature tart shells made of sugar cookies, and a vanilla cream cheese filling topped with slices of fresh fruits. You can add any fruits as per your choice. I chose to add fresh berries, kiwi, and mandarin oranges that gave a nice summer touch to my tarts.

These tarts are so easy to make as you can see, I've tried to keep them as simple as possible. The filling is a simple vanilla cream cheese filling but you can also swap it with any other (fruity) filling you want. My mother likes them so very much!

Honestly, I already knew that she would like them because I combined all her favorites in this one dessert and this had to be her favorite. There's no way she would hate these. I'm so glad!
Get it here.
---
11. Mini Lemon Tarts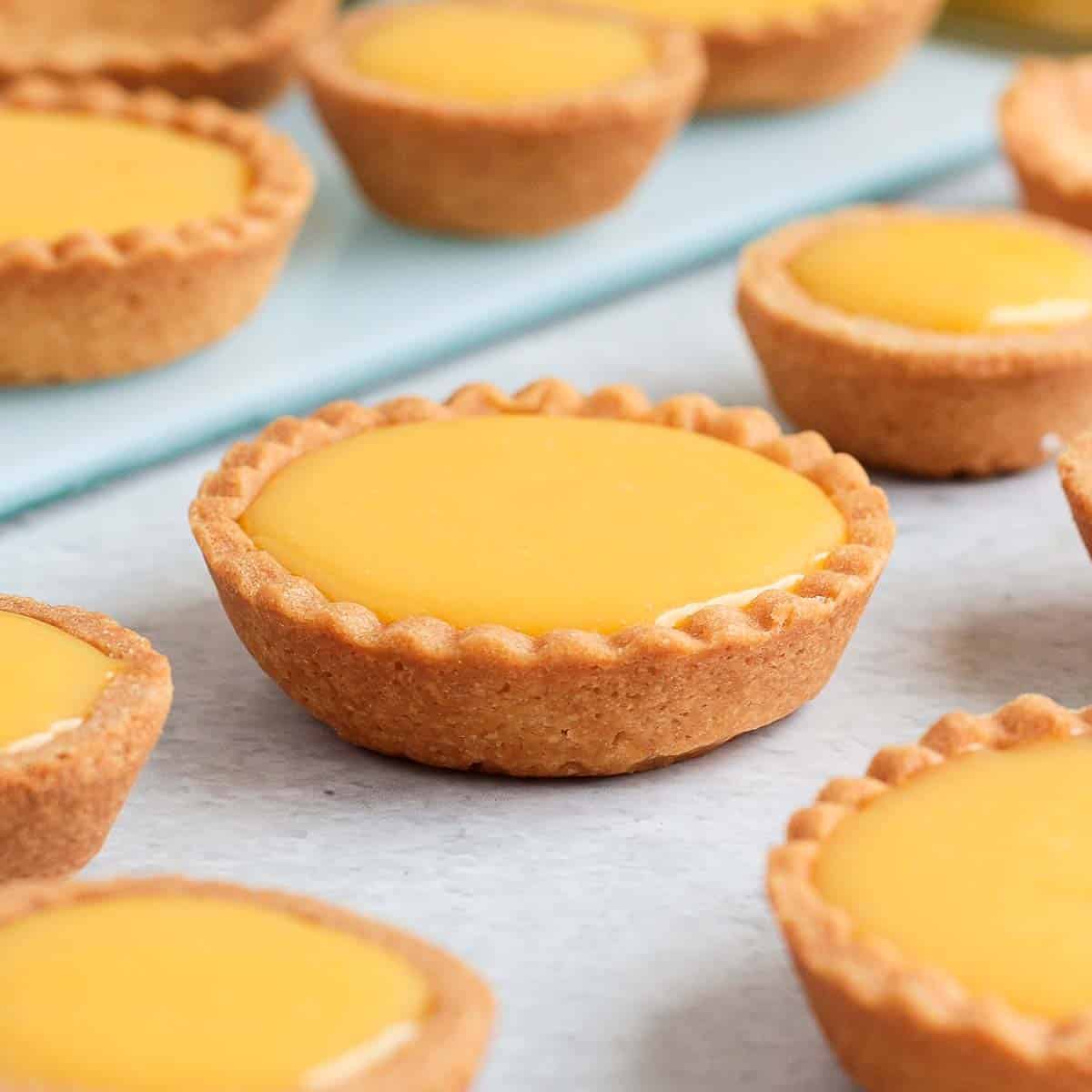 Another mini lemon tart recipe is waiting for you. Lemon tart is one of the easiest tarts to make and always pops into my mind when I'm thinking about dessert ideas to add to my list of holiday recipes. I received a huge response to the mini tart recipes that I've shared on my blog till now.

And the good news is, there's more and I can't wait to share all of them with you. So let's make this quick, simple yet delicious mini lemon tart together. The filling is obviously going to be a lemon curd over a crispy pastry shell. This is the perfect dessert to relish with a cup of peppermint green tea on a sweet summer afternoon.

I enjoy making these mini tart recipes because when I make them at home, I can have them whenever I crave them. These are one of the most soothing and pleasing desserts. Don't you wanna taste them? I know you want to. So don't hesitate. Go ahead and try this recipe at home.
Get it here.

Make these pumpkin desserts for fall day celebration.
---
12. Fig and Honey Mascarpone Tart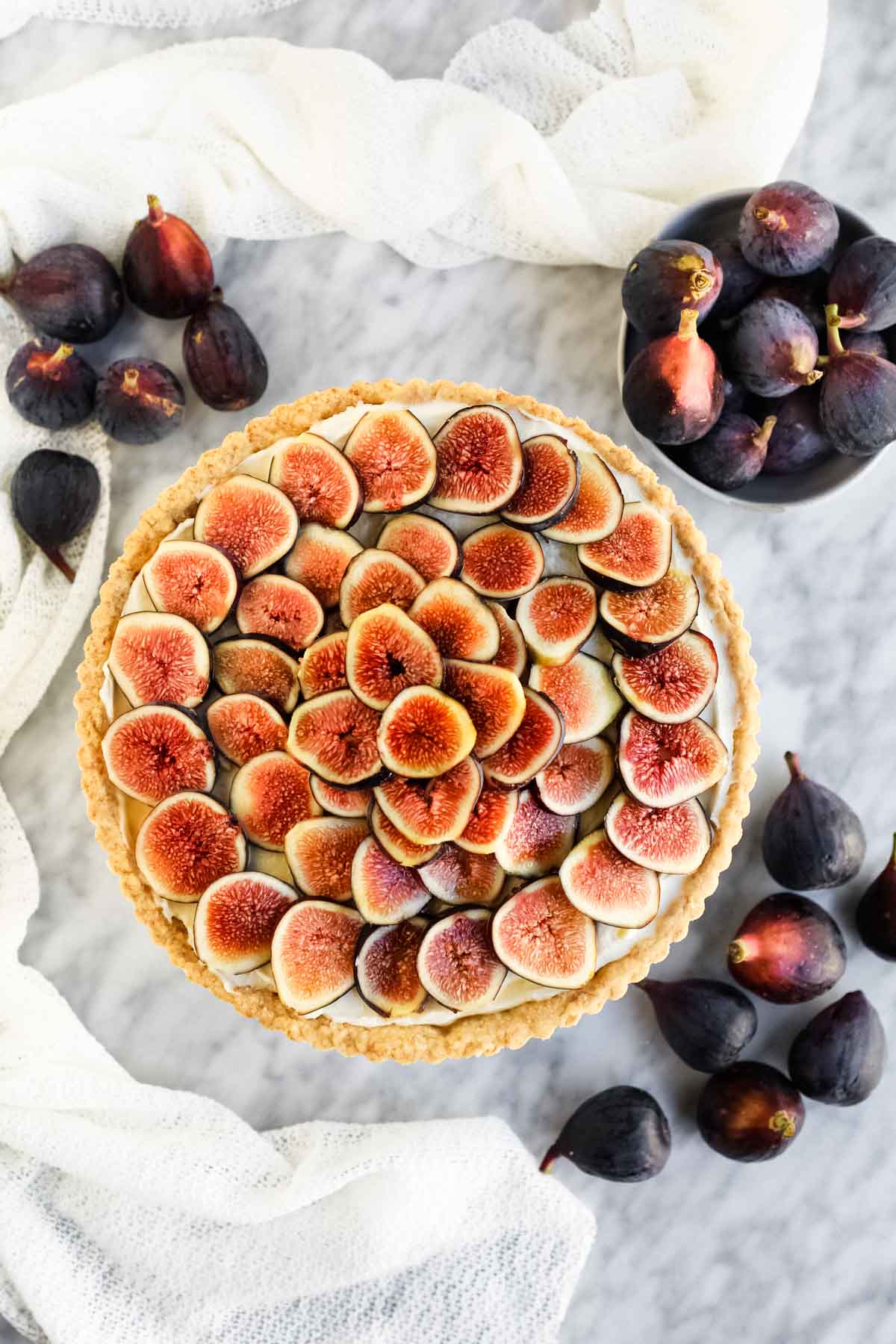 I wanted to make something really unconventional for my holiday recipes. So I experimented a lot. But it was only after I had this fig and honey mascarpone tart at a gourmet restaurant that I decided this is gonna be it.

The mascarpone filling made with mascarpone, sugar and egg yolk is poured onto the frozen pastry sheets, topped with fig and baked to crispy golden. Then the tarts are garnished with chopped pistachios and drizzled with a honey and lemon juice mixture.

These tarts are so divinely delicious that you'll probably eat all of them in just one go. But don't do that, feed these to your loved ones who are angry with you and see their heart melt like wax. I'm sure these are going to impress anyone and everyone. So try them out before you're too late.
Get it here.
---
13. Savoury Mini Tarts
My daughter and I were discussing mini tart recipes on my blog and she suddenly suggested that I should make savory mini tart this time. She said to me, "Think how cool that would be!" I had to add them to my list of holiday recipes. They are the perfect bite-sized party appetizers.

So next time you arrange a party, make sure you have these on your menu. Everyone is going to be a fan of these savory mini tarts and I'm warning you to make them in surplus as they're going to disappear fast! The filling of this tart consists of veggies like zucchini, beans, peas, and corn.

In a bowl, add all the veggies with tomato paste, salt, and pepper, and give everything a mix. You can also throw in some cooked crispy bacon if you'd like to. Then divide the mixture among tart shells and top off with loads of cheese.

Bake these mini tarts for 10 minutes so the tart shells turn crispy and golden, and the cheese melts. Serve them on a plate and see them vanish in fractions of a minute!
Get it here.
---
14. Easy Afternoon Tea Savory Bites
When my daughter gave me the idea for savory tarts, I became very obsessed with them. I knew I had to create at least one more savory tart for my mini tart recipes. While the other was a party appetizer, this one's more like a tea snack. So I named these easy afternoon tea savory bites.

I know you all feel a little bit hungry between the time after lunch and before dinner. While having your afternoon tea, wouldn't you like to have some snacks along with it? I have the perfect snack to accompany your after-tea and quench your afternoon snack cravings.

These asparagus and cheese mini tarts are so indulgent that you'll have to make them for your afternoon tea snack. These mini tarts are first loaded with a cheese custard then trimmed asparagus and cherry tomatoes are arranged on top of the custard and baked to perfection.

To make the cheese custard filling, whisk together milk, cooled melted butter, beaten eggs, salt, pepper, and cheese in a bowl. And it's done!
Get it here.
---
15. Strawberry Tartlets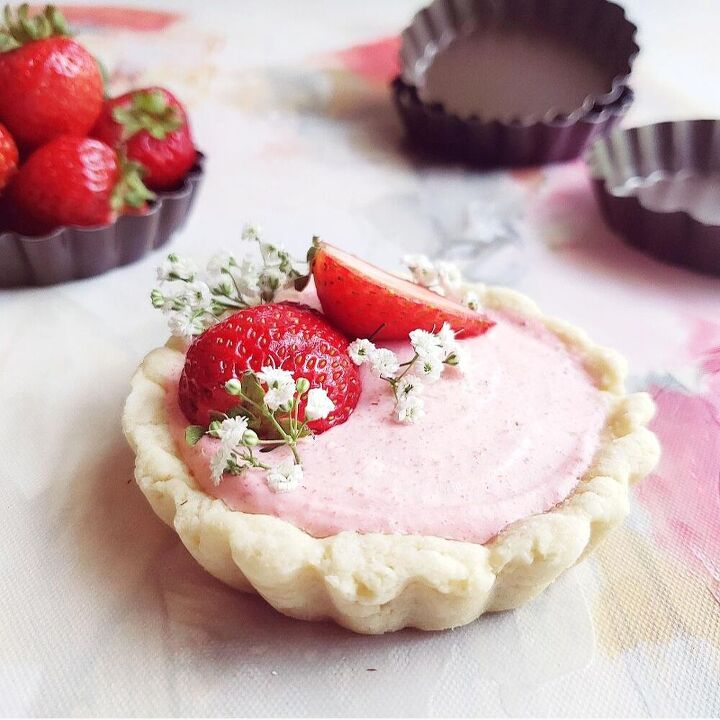 My daughter is a huge fan of strawberries so I had to make these strawberry tartlets for her. She inspires me a lot to create new dessert ideas and I'm so proud of her for that. She's having her exams in a few days so she was very stressed out and has been studying very hard to score better than the previous ones.

And since she loves strawberries and we have grown a surplus of strawberries in our terrace garden, I decided to make her something that would make her feel is better. These strawberry tartlets have a mascarpone filling and the tartlets are topped with slices of strawberries brushed with a redcurrant jelly.

Freeze them for about 10 minutes and they're done. I promise these tarts won't take you more than 20 minutes to make. Mine were made in roughly 15 minutes. When I took them to my daughter's room, she was so overwhelmed and thankful, it really made her feel a lot better. We both hugged each other and had those tarts together.
Get it here.

Also try strawberry desserts for more flavor for any holdiays.
---
16. Gulkand Shrikhand Sweet Tarts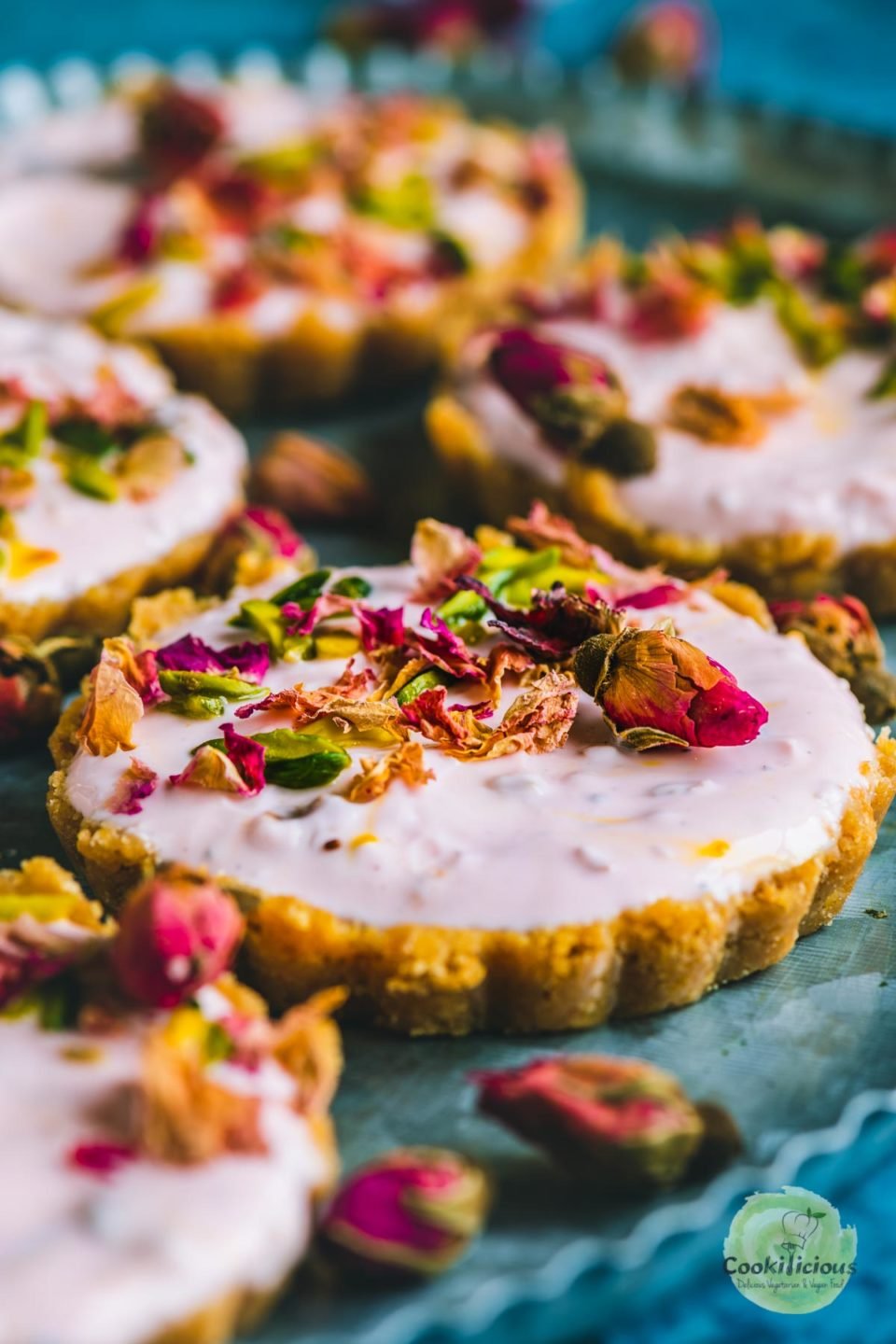 Diwali is just around the corner and I can't wait to go all festive. I want to throw a party for Diwali this year and for that I have listed some of the best recipes that are going to be on the menu. I made these gulkand shrikhand sweet tarts for dessert and my guests couldn't stop talking about it.

Each and every person loved this dessert and that made me feel so good as a host. If you're looking for dessert ideas to add to your Diwali menu then you can't miss out on this one. My love for shrikhand is unwavering. So I made this Indian fusion dessert that's perfect for occasions like this.

Shrikhand is a creamy mousse-like dessert made with hung curd, powdered sugar, cardamom powder and saffron infused milk. My shortcut to this recipe is to use Greek yogurt, it's so thick in itself that it doesn't need to be hung.

I made this gulkand shrikhand using Greek yogurt, powdered sugar, rose syrup, rose water, saffron, cardamom and gulkand. Try this festive dessert at home and impress your family and friends.
Get it here.
---
17. No-Bake Triple Berry Tart 
I have so much love for no-bake desserts. They are absolutely hassle-free and easy to make ahead of time. This No-Bake Triple Berry Tart is one of those dishes that you can make without any oven. You'll need as less as 10 minutes to make this obsessively delectable dessert.

With a no bake oreo crust and creamy berry mousse filling, this dessert is all set to win hearts! Pulse the oreo cookies in a blender and then mix it with melted butter to make the base of the tart.

Then you can move on to make the filling by blending together the berries, cream cheese, sugar and vanilla until smooth. Pour over the oreo crust and chill for 4 hours. Yes, it's done! It is that simple to make this decadent no-bake dessert!
Get it here.

But you can try trifle desserts for more option.
---
18. Chocolate Orange Tarts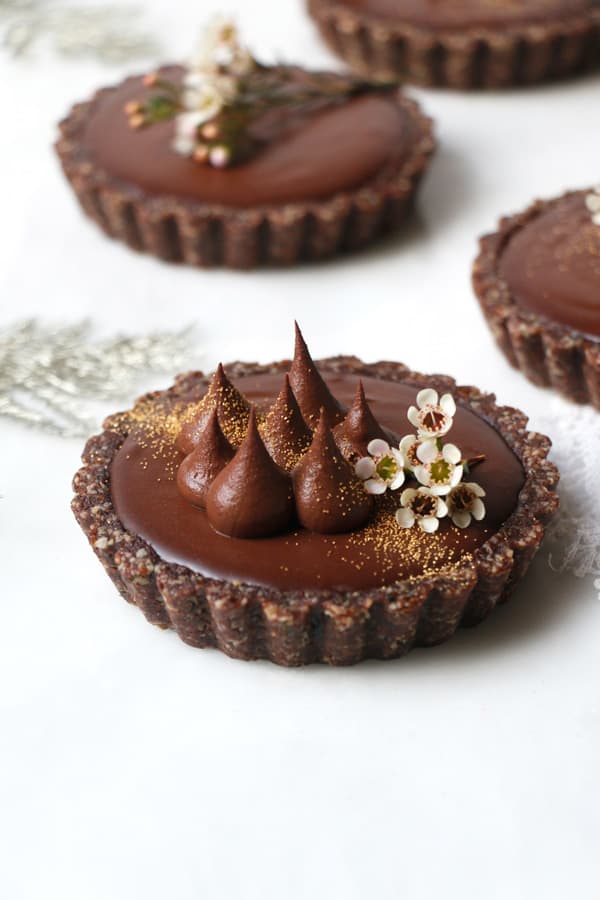 Pair dark chocolate with orange and you'll know that there's no better combination than this. The idea of this dessert popped in my mind when I was delivered a basket full of fresh Mediterranean oranges by my sister who lives in Italy. She sent a note with the basket of oranges that said, "I'll be there in a week.

Make sweet desserts for me." So I went to my kitchen, grabbed the ingredients and started making these chocolate orange tarts for her. The tart shells are filled with creamy orange curd and then layered with a rich dark chocolate ganache on top.

I made the orange curd with fresh Mediterranean orange juice and zest, egg yolk, caster sugar, unsalted butter, and cornstarch and filled the tart shells with the orange curd and then layered them with luscious dark chocolate ganache.

When Martha (my beloved sister) arrived, she asked me whether I have made any dessert for her and I jokingly said that I didn't. She felt a little disheartened and said, "Okay, I'll be staying over for some days and you have to make me some of your best desserts.

" Right then, I brought these chocolate orange tarts in front of her and she leaped with joy and hugged me tightly. She said they were heavenly!
Get it here.
---
19. Mini Chocolate Pistachio Tarts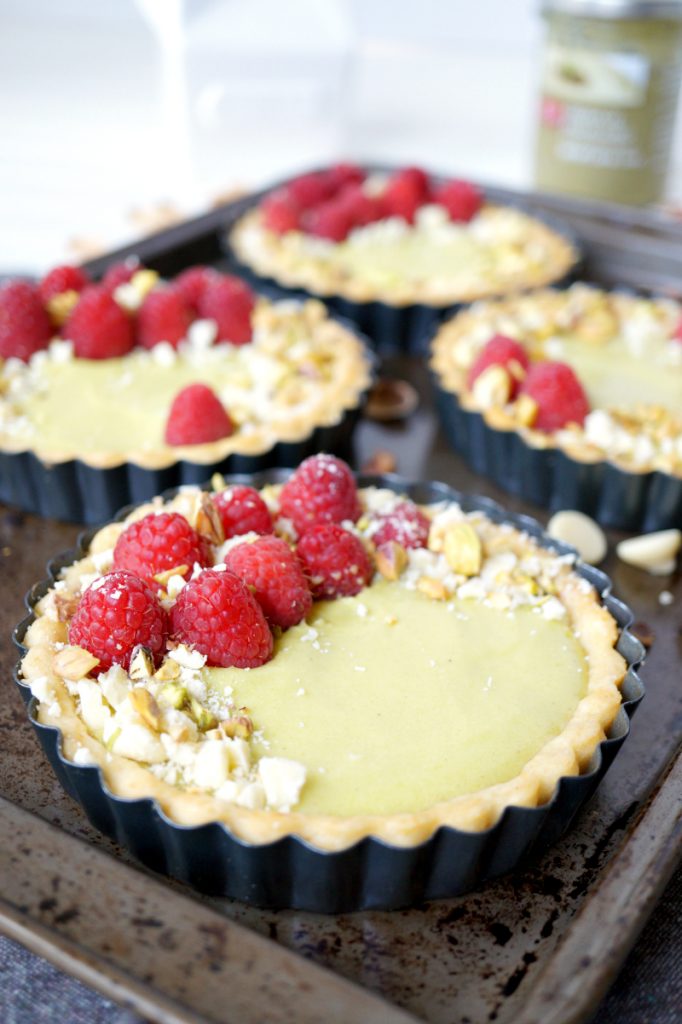 I've always used pistachios as a particular ingredient when baking. This nut's distinctive flavor and lovely green color make me adore it. The mini chocolate pistachio tarts I made this time are so decadent and delicious! Pistachios always make me feel festive.

So this time I made these mini chocolate pistachio tarts for Diwali and my daughter said that I'm a supermom. That's such a heartwarming compliment. It's equal to a thousand compliments from other people. I used unsalted pistachios which is very important for this recipe.

Peel the skin off the pistachios well. This dessert is such a crowd-pleaser, I received appreciation from each and every person I invited for the diwali party for this dessert. I feel so special!

They are among my all-time favorite dessert ideas and a staple in my holiday recipes.
Get it here.
---
20. Raspberry and Pistachio Tart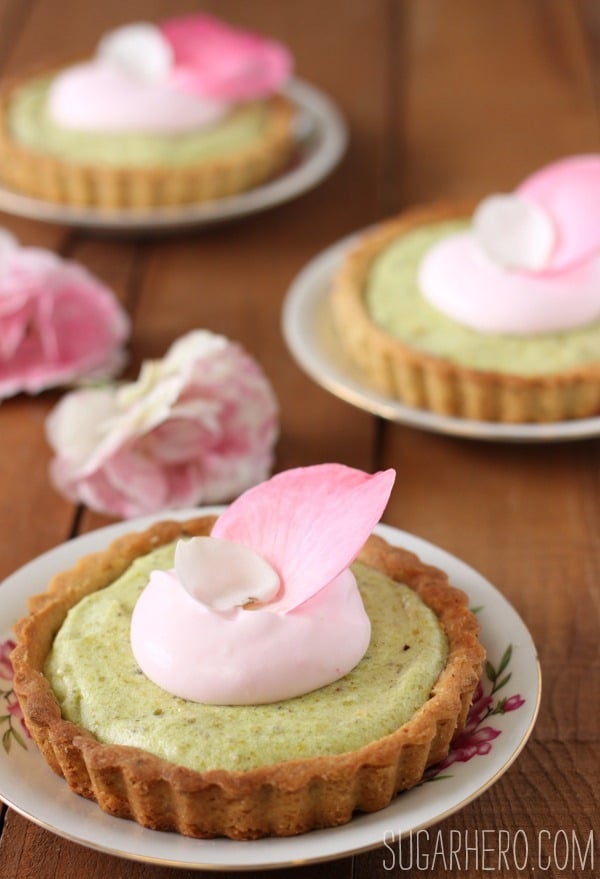 The mini tart recipes that you'll find on my blog are all gems. But I have more such gems for you. This raspberry and pistachio tart is another gem from my holiday recipes. This tart consists of a pistachio paste filling made with whole milk, an egg, 2 large egg yolks, caster sugar, cornflour and pistachio paste.

Then top the tarts with fresh raspberries and chopped pistachios. My husband and I went to a picnic last summer and I made these mini tarts for us. We sat by a lake and enjoyed our meal with a nice drink. And then when it was time for dessert, I took out these raspberry and pistachio tarts and surprised him.

He tasted these and said that I'm the best cook of all time. That compliment really cheered me up! 
Get it here.

Make these amazing DIY fall wreaths as a home decor and enjoy the fall!
---
21. Strawberry Tartlets with Custard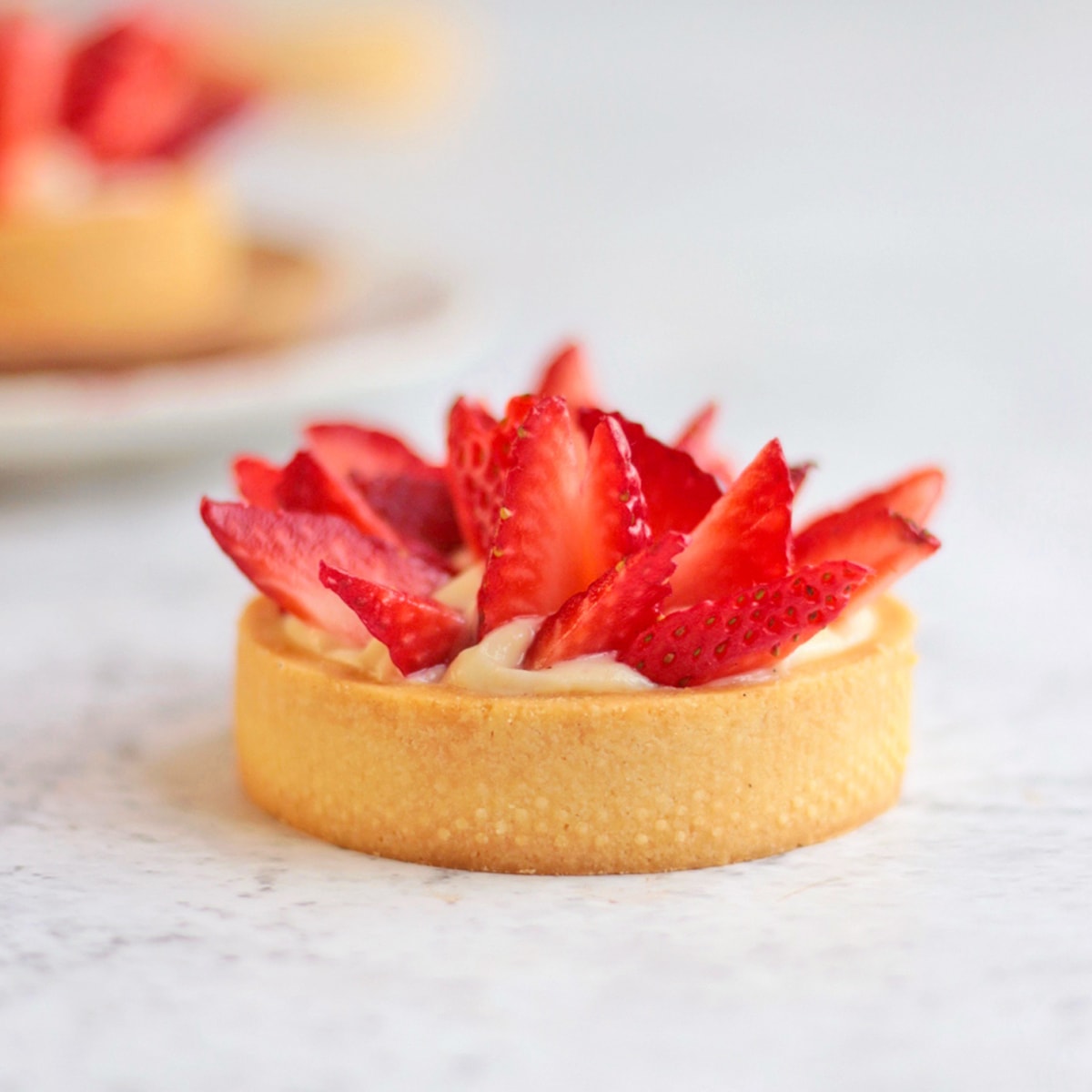 I had to prepare these custard-filled strawberry tartlets for my kid because she loves strawberries so much. She greatly motivates me to develop original dessert concepts, and I am so proud of her for it.

She was anxious since her tests were coming up soon and she had been working really hard to improve on her prior test results. We have an abundance of strawberries in our courtyard garden, and she loves strawberries, so I decided to make her something to cheer her up.

Slices of strawberries are placed on top of the custard mixture in these strawberry tarts. They only need to be frozen for ten minutes to be finished. I guarantee that you won't need more than 20 minutes to create these tarts. Mine took about 15 minutes to make.

My daughter was so delighted and grateful when I carried them to her room; it definitely helped her feel better. We shared those tarts and gave each other hugs.
Get it here.
---
BONUS
Black Sesame Tart
The other day, I was watching a Japanese movie with my daughter. The characters of the movie were having yuzu curd and it suddenly occurred to me that I can use it in my dessert ideas. So I'm going to use it in my mini tart recipes. The black sesame tart with yuzu curd is basically a Japanese-inspired dessert that will melt your heart.

I'm warning you beforehand to make extra yuzu curd because you're going to eat half of it all by yourself with a spoon. Yes, man! It's so mouthwatering! So you have to save the other half for making the dessert. This fruity and citrus yuzu curd is what makes this dessert a showstopper.

It's amazingly easy to make just make it the way you would make lemon curd and it's done in like 10 minutes with just 4 ingredients. The tart shell of this dessert is made with roasted black sesame seeds.

The nutty aroma that the black sesame seeds release upon roasting enhances the flavor of the yuzu curd in this tart making it a mouthwateringly delectable dessert. Don't you already feel like trying this dessert? If you're a fan of Japanese cuisine, you should definitely give this dessert a go.
Get it here.

Check out these layered dessert recipes & summer Dessert recipes for your sweet cravings!
---
Mini Raspberry Almond Tarts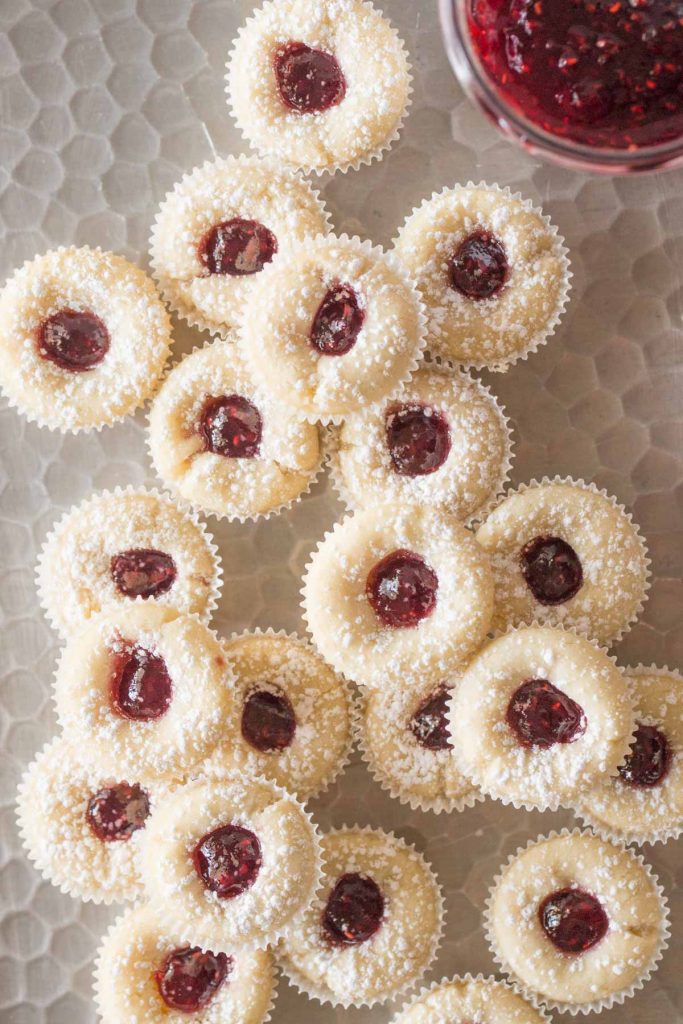 This dessert has two of my favorite fruits and nuts together. Can you guess what they are? I would have given brownie points for the answer but that's too easy a question. I've been obsessing over this summer's produce of raspberries in our garden and developing innumerous dessert ideas that can be made with these fresh raspberries.

So I thought to pair fresh raspberries and crunchy almonds to create one of my favorite mini tart recipes. The tarts are made with almond flour and almond extracts and I also used roasted crunchy almonds to garnish. Does that sound like too much almonds? Who cares? Really! I love almonds!

So there's never too much almonds for me. These mini tarts have a jammy raspberry compote center which I made using the fresh raspberries I had at hand.

They really tasted like heaven! Man! I almost ate 6-7 of them in one go. And I'm not regretting that. THEY ARE SO GOOD! Whip up a batch of these and you'll know I'm not lying.
Get it here.
---
Chocolate Passion Fruit Tart
My sister sent me a bucket of passion fruits last summer after I told her I wanted to experiment with a passion fruit dessert for my blog. I've been waiting for these for a while, and now that I have them, I'm eager to use them right away in my dessert plans.

These are undoubtedly among my greatest summer holiday dishes, I have to admit. I created easy little pastry shells and filled them with decadent passionfruit curd and dark chocolate ganache.

Chocolate and passionfruit make a truly divine duo together and if you've never tried it, then you're missing out on something really worth trying.

When I made these, I invited my sister over to try them, and she raved about how delicious they were and how she couldn't stop eating them all.
Get it here.
---
Coffee Vanilla Tarts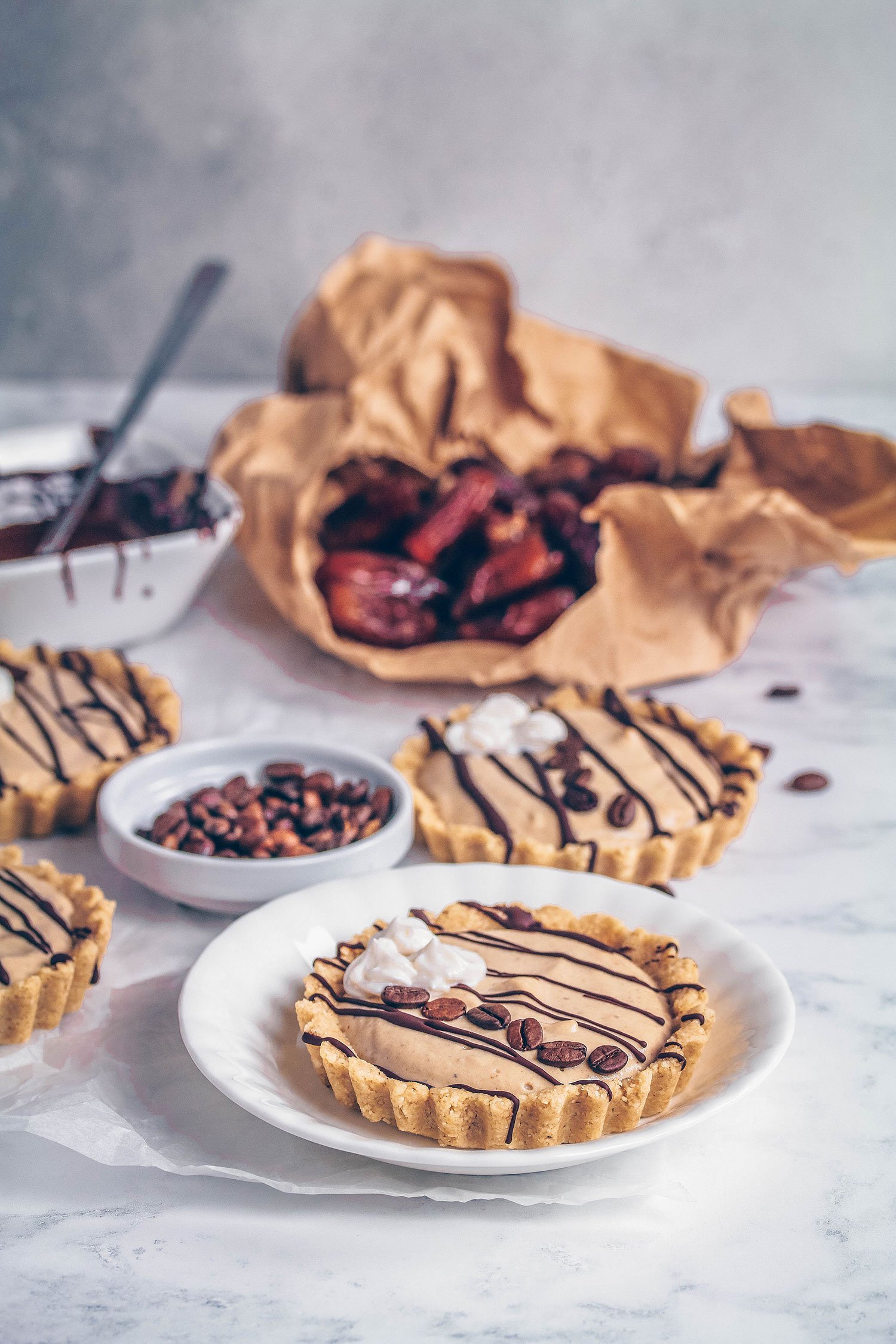 Who loves vanilla in their coffee? Raise your hands! You're all my best friends. Yes, we are best friends cuz we like vanilla in our coffee. Though not always,  I add vanilla to my cup of coffee every once in a while because I love how my coffee smells and tastes with the vanilla.

So I quickly made these coffee vanilla tarts without further ado and now I think I'm a culinary goddess! These coffee vanilla tarts are so addictive! I tell you, they're one of the best combinations of flavors you'll ever have.

Oh, and let me tell you, this dessert is vegan, gluten-free, and doesn't include refined sugar. So you can have it guilt-free! The tart shell of these mini tart recipes is made with a mix of oat flour, almond flour, a splash of coconut oil, and maple syrup.

The filling of this dessert is made of tofu, cashews, whole dates, and freshly brewed coffee which results in a silky smooth coffee vanilla cream. My coffee-lover buddies, you have to try this amazing coffee gluten free dessert treat. Make yourself these indulgent mini tarts and savor them with pleasure.
Get it here.
---
Salted Caramel Chocolate Tartlets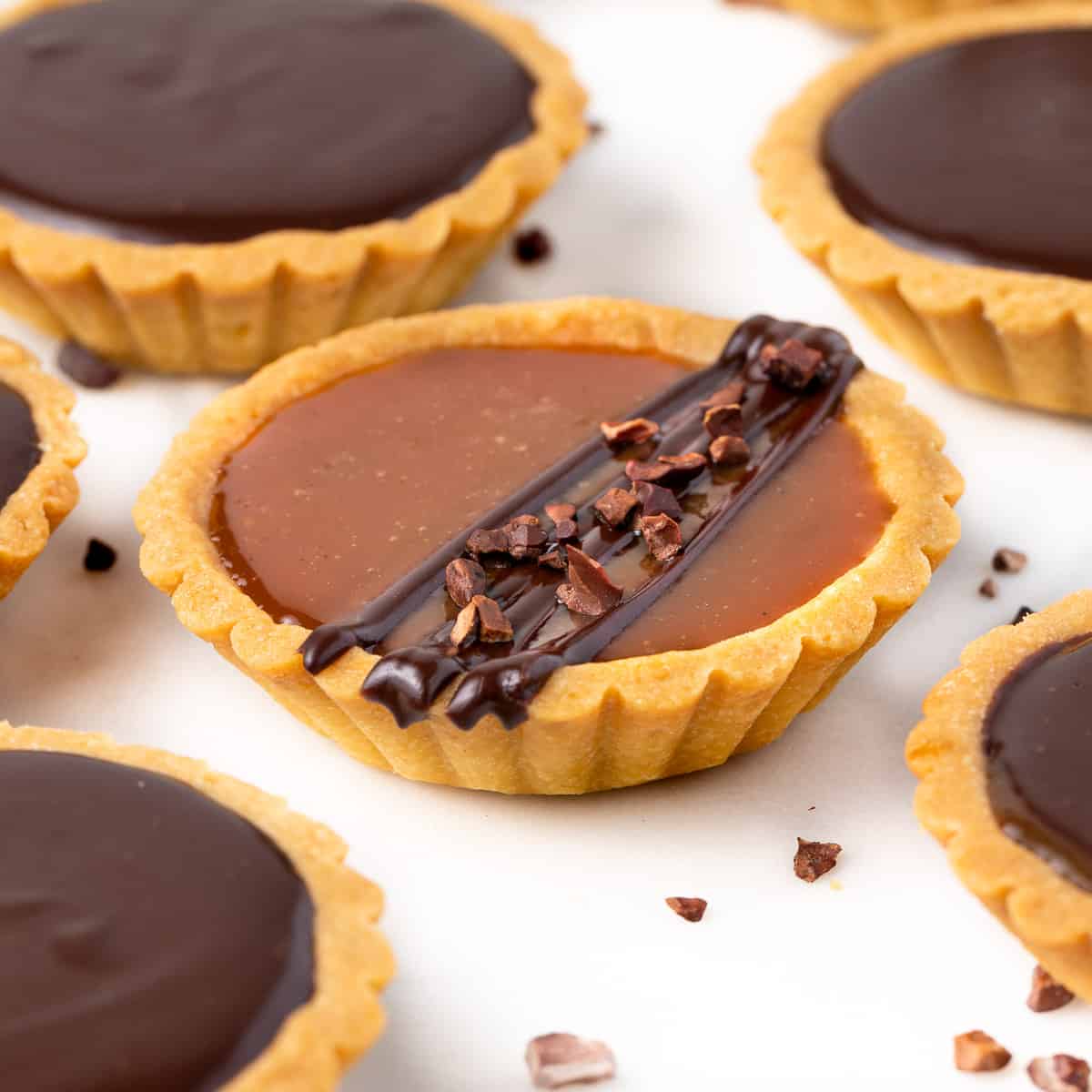 I believe that the combination of chocolate and salted caramel is one that was designed in heaven. You are aware of how much I adore homemade caramel sauce and dark chocolate. So these chocolate tartlets with salted caramel are one of my favorites.

These chocolate tarts feature a homemade soft salted caramel filling in the middle, and a layer of rich chocolate ganache and flaky sea salt are sprinkled on top. I ate at least 5 of these right away when I finished cooking them!

After supper, I surprised my husband with these little tarts, and he declared that they were so tasty that he could eat them all at once! I like to treat him with sweet surprises, and this tiny tart recipe from my collection really made it better.

Try these out the next time you want to prepare a special dessert because they not only taste amazing but are also incredibly simple to make.
Get it here.
---
Cheers!
If you like this article about Mini Tart Recipes, share with your friends or families on Facebook, Twitter, and Pinterest.

Okay, I'm handing the mic over to you now. Come on! Don't be shy now…

Choose your favorite recipe and make it at home, let me know which is your best recipe in the comment. Also, you can subscribe to my blog to get all the latest updates first on your mobile.
---
To make these recipes for later, SAVE this pin on your favourite Pinterest Board