Summer is all about enjoying the warm weather, spending time with loved ones, and hosting outdoor parties. And when it comes to summer entertaining, nothing gets the party started like some delicious and colorful appetizers. From classic party foods to creative and unique holiday ideas. Summer appetizers are a great way to impress your guests and keep them satisfied throughout the event.  Whether you're planning a backyard barbecue, a beachside picnic, or a festive Fourth of July celebration, there are endless possibilities for summer appetizers that will add some excitement and flavor to your menu. So, get ready to spice up your summer parties with some mouthwatering appetizers that will have everyone asking for your recipes!
---
Summer appetizers are light, refreshing, and often served cold or at room temperature, making them perfect for hot weather.
Some examples of summer appetizers include:
Bruschetta: Slices of toasted bread topped with fresh tomatoes, garlic, basil, and olive oil.
Caprese salad: A classic Italian salad made with slices of fresh mozzarella, tomatoes, and basil, drizzled with olive oil.
Ceviche: A Latin American dish made with raw fish or seafood marinated in citrus juice and spices, often served with tortilla chips.
Gazpacho: A chilled soup made with tomatoes, cucumbers, peppers, and other vegetables, often served with croutons or bread.
Watermelon and feta skewers: Cubes of watermelon and feta cheese skewered together, drizzled with balsamic glaze.
Shrimp cocktail: Chilled boiled or grilled shrimp served with a tangy cocktail sauce.
Guacamole: A dip made with mashed avocado, tomatoes, onions, lime juice, and spices, often served with tortilla chips or fresh vegetables.
Hummus: A dip made with mashed chickpeas, tahini, garlic, lemon juice, and olive oil, often served with pita bread or vegetables.
Summer rolls: Fresh rice paper rolls filled with vegetables, herbs, and sometimes shrimp or other protein, served with a dipping sauce.
Grilled vegetables: Sliced zucchini, eggplant, bell peppers, and other vegetables grilled and served with a simple vinaigrette or dipping sauce.
---
21. Hummus Crostini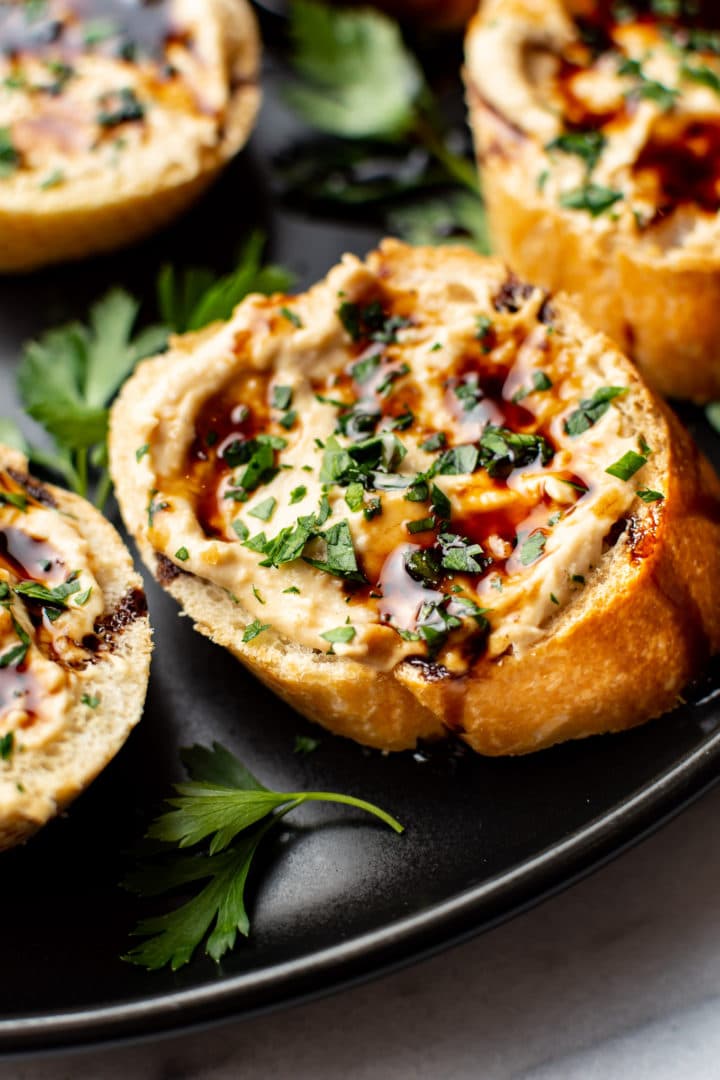 This dish is a perfect combination of crunchy crostini, creamy hummus, and flavorful toppings like olives, cherry tomatoes, and feta cheese. It's a refreshing and light appetizer that's perfect for serving at summer parties or gatherings. 

So, if you want to impress your guests with a crowd-pleasing appetizer that's both healthy and tasty, give Hummus Crostini a try!
Get it here.
---
20. Sun-Dried Tomato and Basil Pinwheels
These bite-sized treats are packed with flavor, thanks to the combination of tangy sun-dried tomatoes, fresh basil, and creamy cheese, all wrapped up in flaky puff pastry. They're easy to make ahead of time, so you can spend more time enjoying your party and less time in the kitchen. 

Plus, their vibrant colors and appetizing appearance will add an extra touch of elegance to your party spread. So, next time you're planning a gathering, consider adding Sun-Dried Tomato and Basil Pinwheels to your list of party foods!
Get it here.
---
19. Southwest Corn Dip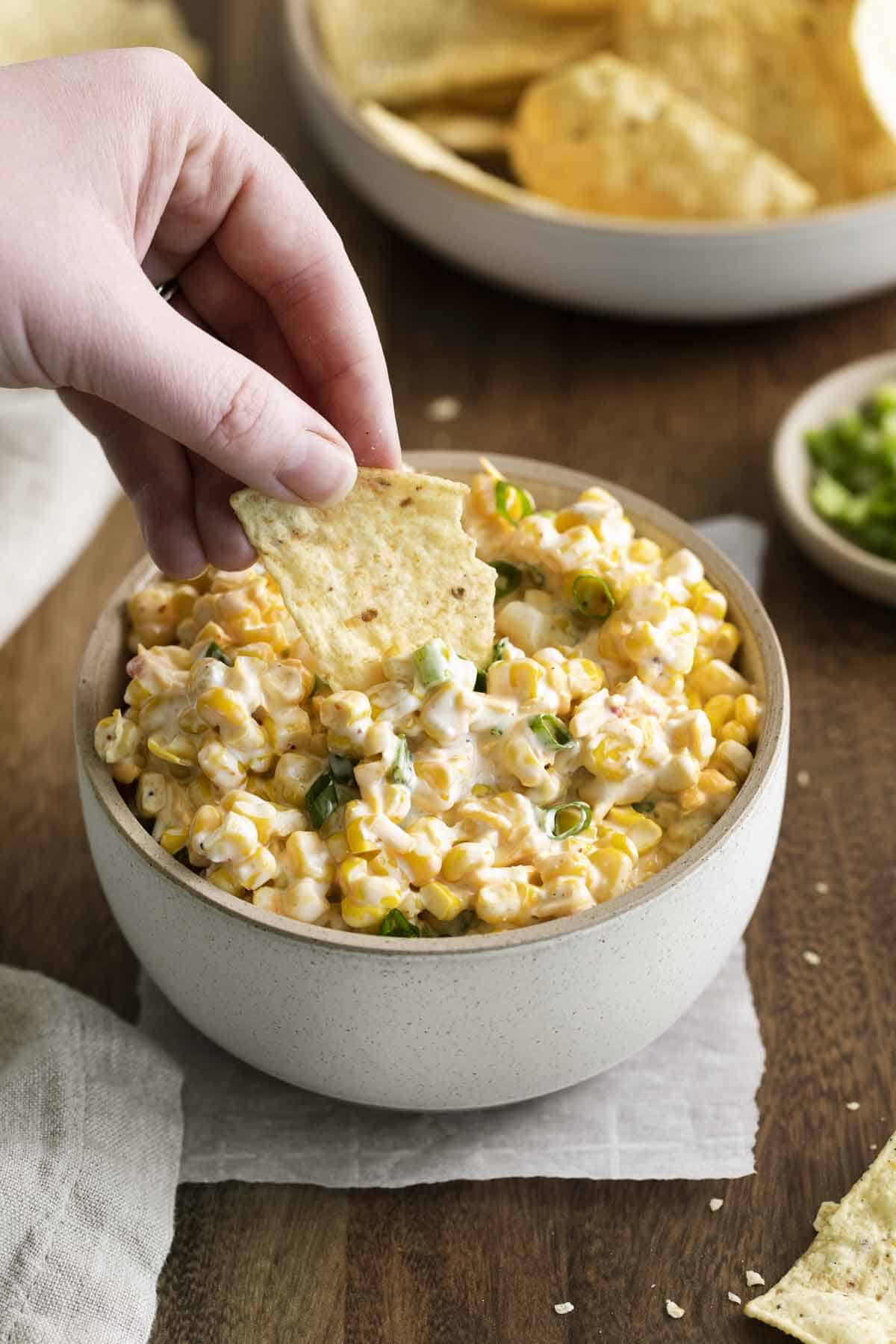 This tasty dip is a crowd-pleaser that is perfect for sharing with friends and family during any holiday occasion.

To make Southwest Corn Dip, you'll need ingredients such as canned corn, black beans, diced tomatoes, and shredded cheese, as well as spices like chili powder, cumin, and garlic powder. Mix everything together in a large bowl and bake until hot and bubbly. Serve with tortilla chips or crackers for dipping.

Not only is Southwest Corn Dip a great appetizer for holiday gatherings. But it's also a versatile dish that can be customized to suit your tastes. Try adding in some diced jalapenos for extra spice, or swapping out the black beans for pinto beans. The possibilities are endless! So next time you're looking for holiday ideas, don't forget about Southwest Corn Dip. Your guests will sure love to take it.
Get it here.

These holiday cocktails are perfect for any celebration.
---
18. Pear & Brie Cheese Salad Skewers
These bite-sized skewers are perfect for entertaining guests or enjoying as a light snack on a warm summer day. The combination of juicy pears, creamy brie cheese, and crunchy greens make for a perfect balance of flavors and textures. Plus, they are easy to assemble and can be made ahead of time for convenience.  So if you're looking for a crowd-pleasing summer appetizers, give Pear & Brie Cheese Salad Skewers a try!
Get it here.
---
17. Hawaiian Chicken Kabobs Recipe
It was a warm summer evening and the sun was just starting to set over the horizon. The air was filled with the sound of birds chirping and the smell of barbecues grilling up delicious food. Alice had invited her friends over for a summer evening barbecue and had planned a menu of tasty summer appetizers. One of the appetizers on the menu was her famous Hawaiian Chicken Kabobs recipe.

She had marinated the chicken overnight in a sweet and tangy pineapple marinade. And had skewered it with juicy pieces of fresh pineapple, red bell peppers, and red onions. As the grill heated up, Alice carefully placed the kabobs on the hot grates and the sizzling sounds of the chicken and vegetables cooking filled the air. The smell of the sweet marinade mingled with the smoky aroma of the grill, making everyone's mouths water with anticipation.
As the kabobs cooked, Alice's friends began to arrive, drawn in by the delicious smell of the cooked food. They chatted and laughed as they watched Alice expertly turn the skewers on the grill. Making sure that everything was cooked to perfection. When the kabobs were finally done, Alice carefully removed them from the grill and arranged them on a platter. The vibrant colors of the chicken and vegetables looked stunning against the green backdrop of the garden. As everyone gathered around the platter, Alice served up the kabobs with a side of sweet and spicy dipping sauce. The chicken was perfectly cooked, tender and juicy, and the sweet pineapple and tangy red peppers provided the perfect contrast.

As they savored the delicious flavors of the Hawaiian Chicken Kabobs, Alice's friends all agreed that this was the perfect summer appetizers. The combination of sweet and savory flavors. It is combined with the smoky flavor from the grill, made it the perfect dish to enjoy on a warm summer evening. But beside this recipe, must try vegan grilling recipes for summer parties.
Get it here.
---
16. Honey Ricotta Peach Crostini with Crispy Pancetta
Once upon a time, there was a group of friends who loved to get together and enjoy delicious party foods. One day, they decided to host a summer soiree. And wanted to impress their guests with a unique and tasty appetizer. After much brainstorming, they stumbled upon a recipe for Honey Ricotta Peach Crostini with Crispy Pancetta. Excited by the possibilities, they quickly got to work gathering all the necessary ingredients. They sliced a baguette into thin rounds and brushed them with olive oil before toasting them in the oven. In the meantime, they mixed ricotta cheese with honey, lemon zest, and a pinch of salt to create a creamy and sweet spread.
Once the crostini was crisp and golden, they added a dollop of the ricotta mixture and topped it with a juicy slice of ripe peach. To finish it off, they added a crispy pancetta slice on top for a savory crunch. As they tasted the finished product, their taste buds explode with delight. The combination of sweet and savory flavors was perfect for a summer party. And the crostini was the perfect size for a small bite that you can serve with peach cocktails.

At the party, the Honey Ricotta Peach Crostini with Crispy Pancetta was a huge hit. Their guests couldn't get enough of the delicious appetizer, and many asked for the recipe. The friends were thrilled to have found such a unique and flavorful dish to add to their party foods repertoire. From that day on, whenever they hosted a party. They knew they could rely on this recipe to impress their guests. And they all lived happily ever after, enjoying many more delicious meals together.
Get it here.
---
15. Tomato and Cheese Tarts
This delicious recipe is perfect for any occasion, whether you're hosting a family gathering, a holiday party. Or just looking for a tasty treat to enjoy with loved ones. To make tomato and cheese tarts, start by preheating your oven to 375°F (190°C) and lining a baking sheet with parchment paper. Next, roll out a sheet of store-bought puff pastry and cut it into circles or squares, depending on your preference. Then, arrange the pastry on the prepared baking sheet and prick each piece all over with a fork.

Now it's time to add the toppings! Start by spreading a layer of creamy ricotta cheese on each pastry piece, followed by a layer of juicy diced tomatoes. Sprinkle with your favorite herbs, such as basil or oregano. And then add a generous amount of shredded mozzarella cheese on top. Bake the tarts in the preheated oven for 15-20 minutes, or until the pastry is golden brown and the cheese is melted and bubbly. Serve hot and enjoy!

These recipes were great holiday ideas because it's easy to make, customizable, and sure to be a crowd-pleaser. You can also make it ahead of time and simply reheat it when your guests arrive. Whether you're hosting a Christmas dinner, a New Year's Eve party, or a Fourth of July barbecue, tomato and cheese tarts are a delicious and festive addition to any menu.
Get it here.

Must try these summer dinner recipes for summer party night.
---
14. Mini Grilled Cheese Sandwich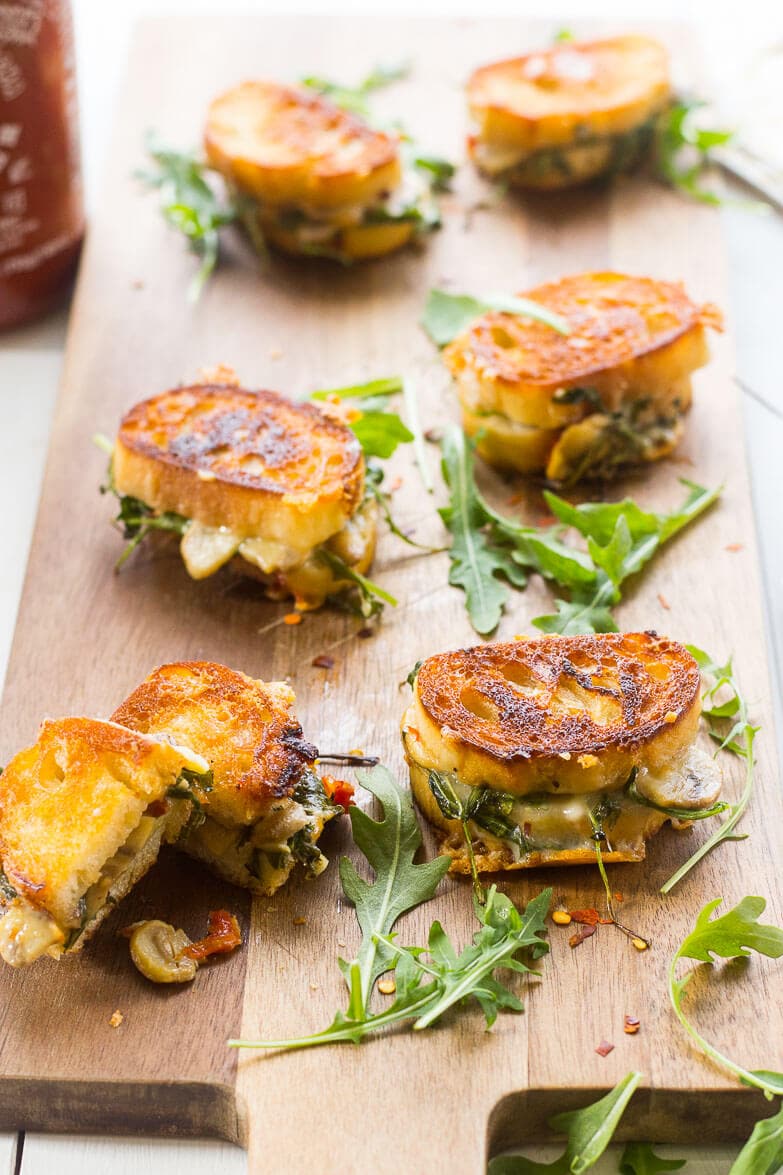 These bite-sized snacks are perfect for serving at backyard barbecues, pool parties, or any summer gathering. 

To make mini grilled cheese sandwiches, simply cut your favorite bread into small squares, top with your preferred cheese. And grill until the cheese is melted and the bread is crispy. You can even add toppings like sliced tomatoes, crispy bacon, or fresh herbs for an extra burst of flavor.

Not only are these mini grilled cheese sandwiches a crowd-pleaser. But they're also a great way to use up leftover bread and cheese. So the next time you're planning a summer get-together, be sure to add mini grilled cheese sandwiches to your list of summer appetizers. Your guests will thank you!
Get it here.
---
13. Grilled Peaches Recipe with Mascarpone & Honey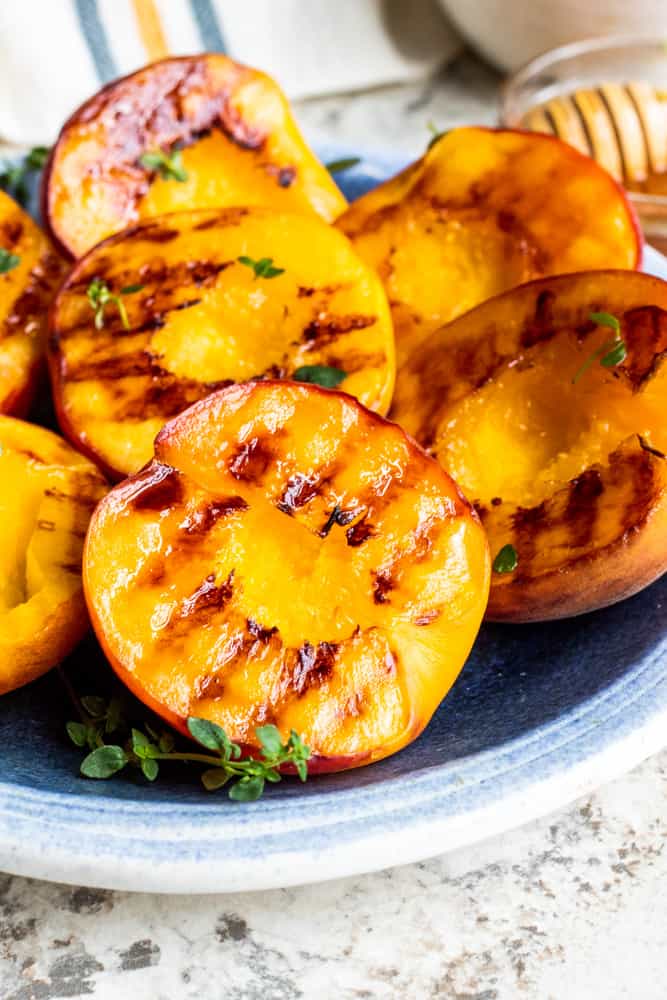 Grilled peaches recipe with mascarpone and honey! To make this tasty dish, simply slice fresh peaches in half and grill them until they're lightly charred. Then, top each peach half with a dollop of creamy mascarpone cheese and a drizzle of sweet honey. The combination of warm, juicy peaches with rich, tangy mascarpone and sweet honey is sure to be a crowd-pleaser. But you can serve this with summer desserts or avocado desserts too.

Not only is this grilled peaches recipe with mascarpone and honey a delicious party food. It's also a great option for a summer barbecue or a casual get-together. So why not give it a try and see how it becomes a new favorite among your party foods?
Get it here.
---
12. Burrata With Balsamic Cherries And Basil
Burrata with balsamic cherries and basil is a delicious and indulgent dish. It combines the creamy goodness of burrata cheese with the sweet and tangy flavor of balsamic cherries and the refreshing taste of basil. This cheese is a fresh Italian cheese and it is made from mozzarella and cream. It has a soft, creamy texture and a mild, slightly tangy flavor that pairs perfectly with the sweet and tart taste of balsamic cherries.

To make the dish, ripe cherries are pitted and cooked in a mixture of balsamic vinegar, sugar, and a pinch of salt until they become tender and syrupy. The cooked cherries are then allowed to cool to room temperature, which helps to concentrate their flavor. To serve, the burrata cheese is placed on a plate. And topped with the balsamic cherries, along with a drizzle of the cherry balsamic sauce. The dish is finished with a sprinkle of freshly chopped basil, which adds a bright, herbaceous note to the rich and creamy burrata.

Burrata with balsamic cherries and basil is a wonderful appetizer or light meal that is perfect for warm-weather dining. The combination of sweet and savory flavors. And creamy and crunchy textures makes it a true crowd-pleaser that is sure to impress guests or satisfy any cheese lover's cravings.
Get it here.
---
11. Chicken Salad Cups
Chicken salad cups are the perfect addition to any summer appetizers menu. These bite-sized delights are easy to make, refreshing, and flavorful. To make chicken salad cups, you will need cooked and shredded chicken breast, mayonnaise, celery, onion, salt, and pepper. Mix all the ingredients together in a bowl and mix them up finely until well combined. Then, scoop the chicken salad mixture into pre-made cups, such as phyllo cups or mini tart shells. Chicken salad cups are not only delicious, but they also offer a refreshing alternative to heavier summer appetizers. 

The light and creamy chicken salad pairs perfectly with the crispness of the cups. Making them a great finger food to serve at a summer party or gathering. These appetizers are also versatile and can be customized to suit different tastes. For example, you can add chopped apples or grapes for a sweet and fruity twist, or sprinkle some chopped nuts for a crunchy texture. Overall, chicken salad cups are crowd-pleasing summer appetizers that is easy to make and perfect for any occasion. Side by side, if you are a salad lover, must make these summer salads, high protein salads, spring salads and lettuce salad recipes as well.
Get it here.
---
10. Mini Cheese Balls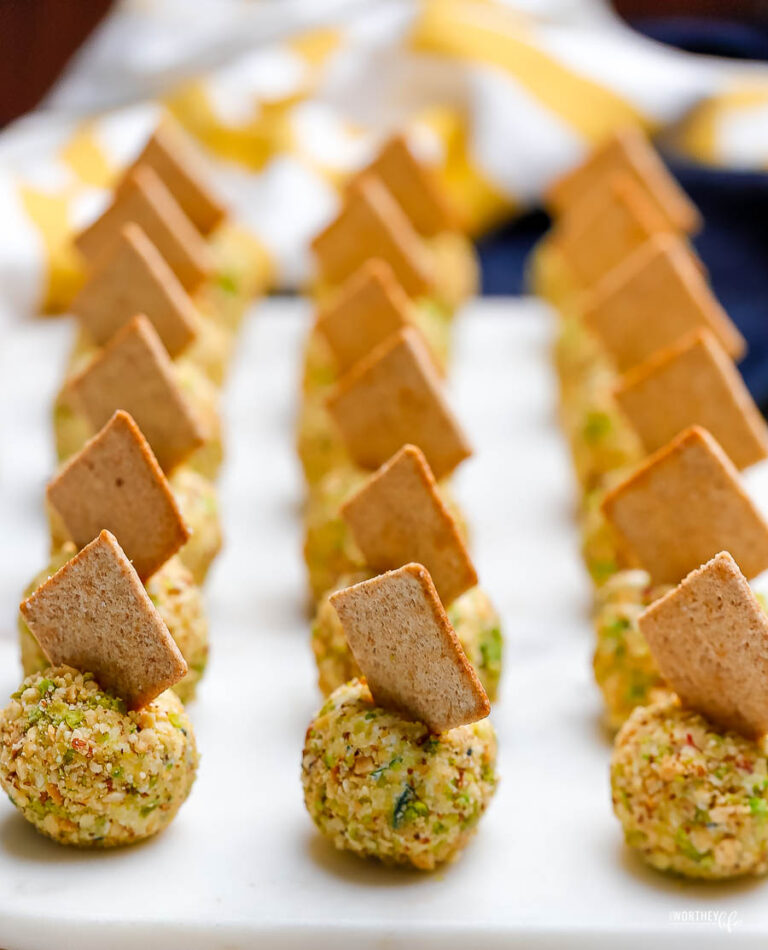 Mini cheese balls are delicious and popular party foods that can be enjoyed by people of all ages. These bite-sized snacks are perfect for any gathering, from casual get-togethers to more formal events. Made with a combination of cream cheese, grated cheese, and various seasonings, mini cheese balls offer a flavorful and creamy texture that is sure to satisfy any taste bud. They can be customized with different ingredients such as herbs, nuts, and dried fruits, making them a versatile option for any party.

One of the best things about mini cheese balls is that they are easy to prepare and serve. They can be made ahead of time and stored in the refrigerator until ready to serve. They can also be served on skewers, toothpicks, or mini cupcake liners, making them a convenient finger food option. Mini cheese balls are also a great party food because they can be easily adapted to different dietary needs. For example, they can be made with vegan cream cheese. And dairy-free cheese for those who are lactose intolerant or vegan. Mini cheese balls are a delicious and versatile party food that is sure to be a hit with guests.
Get it here.
---
9. Caprese Kabobs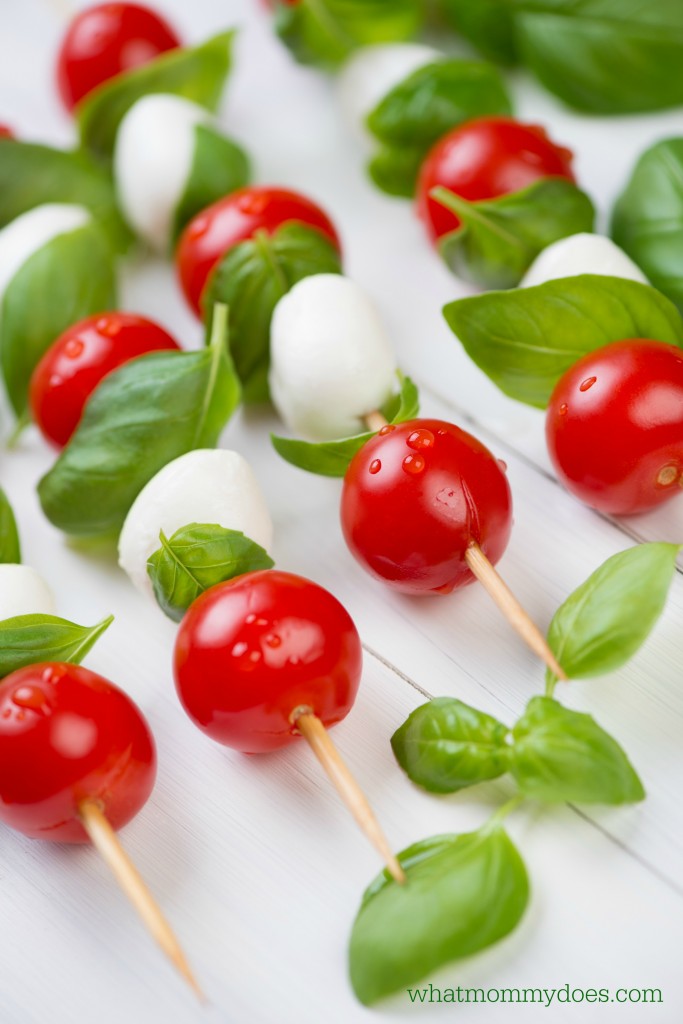 Caprese kabobs are a delicious and visually appealing appetizer that is perfect for any party or gathering. These kabobs are a twist on the classic Caprese salad. And are made with fresh cherry tomatoes, basil leaves, and mini mozzarella balls, all skewered onto a toothpick or small skewer. Not only are Caprese kabobs easy to make, they are also a great way to showcase fresh and seasonal ingredients. The bright colors of the tomatoes and basil, combined with the creamy texture of the mozzarella, make for a beautiful presentation that is sure to impress your guests.

To make Caprese kabobs, start by washing and drying the cherry tomatoes and basil leaves. Next, drain the mini mozzarella balls and pat them dry. Skewer one cherry tomato, one basil leaf, and one mini mozzarella ball onto a toothpick or small skewer. Repeat until all ingredients are used. To add some extra flavor, you can drizzle the kabobs with a balsamic glaze or sprinkle with salt and pepper. You can also serve the kabobs on a bed of greens or with a side of crusty bread.
Get it here.

For any party, let's try these margarita cocktails for your guests.
---
8. Cucumber Tuna Salad Bites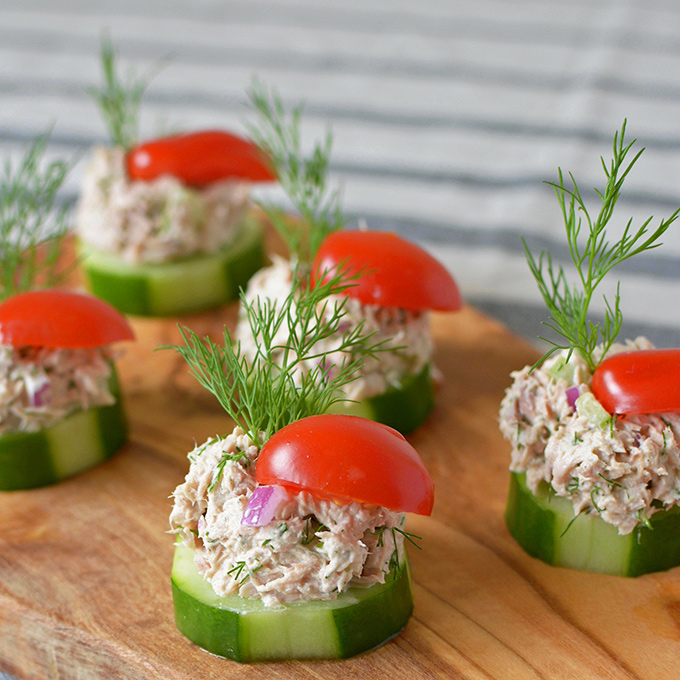 Cucumber Tuna Salad Bites are a healthy and flavorful appetizer or snack. It can be enjoyed any time of the year, including during holidays. They are typically made by combining canned tuna with chopped cucumbers, red onion, and a creamy dressing, and then spooning the mixture onto cucumber slices. The result is a refreshing and satisfying bite-sized snack that is rich in protein, vitamins, and minerals.

As for holiday ideas, there are many ways to celebrate different holidays throughout the year. Some popular holiday ideas include hosting a festive gathering with friends and family, traveling to a new destination to experience different cultures and traditions, or participating in seasonal activities such as pumpkin carving, tree decorating, or fireworks displays. The specific holiday ideas you choose will depend on your personal preferences and the type of holiday you are celebrating.
Get it here.

These easy cucumber appetizers are so healthy and perfect for holiday nights.
---
7. Pineapple Salsa Recipe
Pineapple Salsa Recipe is a popular summer appetizers dish that is commonly enjoyed during the summer months. It typically consists of diced pineapple, onions, peppers, and cilantro, all mixed together with lime juice and salt to create a delicious and refreshing taste. But this recipe will great pair with any pineapple desserts, wanna try?

The sweetness of the pineapple, combined with the tangy lime juice and savory onions and peppers, makes for a flavor explosion in your mouth. It's a perfect accompaniment to tortilla chips or as a topping for grilled meats, seafood, or tacos.

Overall, Pineapple Salsa Recipe is a tasty and refreshing appetizer that is perfect for summertime gatherings and barbecues. Its unique flavor profile and refreshing taste make it a popular choice among many people, and it's sure to be a hit at any summer party or event.
Get it here.
---
6. Watermelon Caprese Bites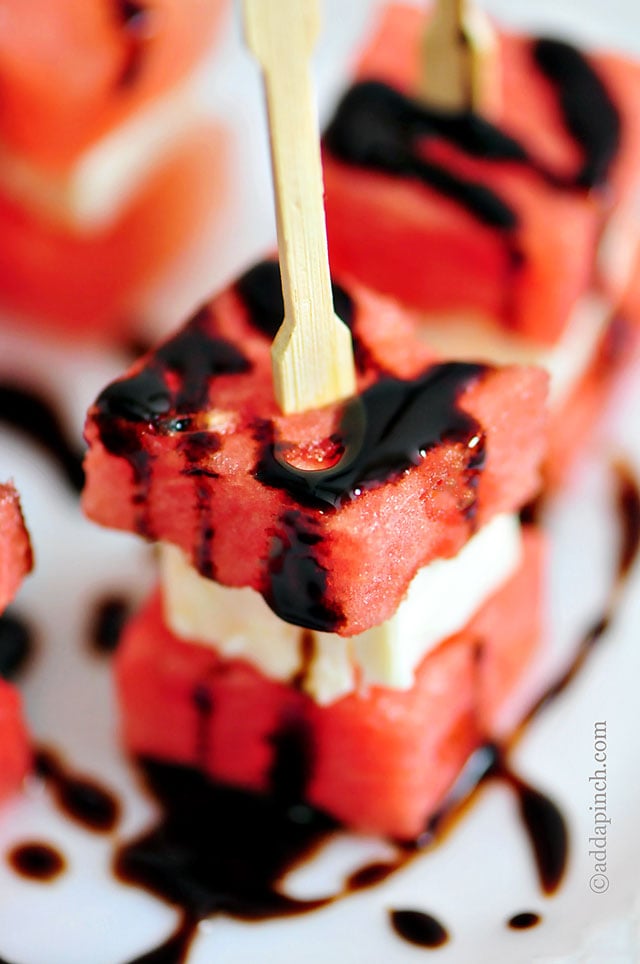 Watermelon Caprese Bites are delicious and refreshing party foods that are sure to impress your guests. These colorful and flavorful bites are perfect for summer gatherings, outdoor BBQs, and any other occasion where you want to serve up something fresh and light. To make Watermelon Caprese Bites, simply cut the watermelon into bite-sized cubes and top each one with a small slice of fresh mozzarella cheese, a cherry tomato, and a basil leaf. Drizzle with balsamic glaze for a touch of sweetness and tangy flavor.

These party foods are not only delicious and easy to make, but they are also healthy and low in calories, making them a great choice for anyone watching their waistline. Plus, the combination of sweet watermelon, creamy mozzarella, and tangy balsamic glaze is sure to be a hit with your guests. So if you're looking for a tasty and refreshing party food that is sure to impress, give Watermelon Caprese Bites a try. Your guests will thank you!
Get it here.

Make these cool watermelon recipes for more ideas for summer.
---
5. Avocado Cucumber Roll with Shrimp and Wasabi Aioli
Avocado Cucumber Roll with Shrimp and Wasabi Aioli is a sushi-inspired dish that combines the creaminess of the avocado, the crunchiness of cucumber, the umami flavor of shrimp, and the spicy kick of wasabi aioli. It is a refreshing and healthy appetizer or light meal option that is perfect for summer. To make this dish, you will need to slice a ripe avocado and a cucumber into thin strips using a mandolin or a sharp knife. Then, you will need to cook and peel some shrimp and cut them into small pieces. To make the wasabi aioli, you can mix some mayonnaise, wasabi paste, soy sauce, and lemon juice in a small bowl.

To assemble the avocado cucumber rolls, lay out a sheet of sushi nori on a flat surface. Place a layer of cucumber strips on top of the nori, leaving a small border at the top. Next, add a layer of avocado slices and shrimp pieces on top of the cucumber. Drizzle some wasabi aioli on top of the filling. Using a bamboo sushi mat, roll the nori tightly into a cylinder, tucking the filling in as you go. Wet the border with some water to seal the roll. Repeat the process of this recipe again with the rest of the ingredients.

Once all the rolls are assembled, slice them into bite-sized pieces using a sharp knife. You can serve them with additional wasabi aioli and soy sauce on the side for dipping. Avocado Cucumber Roll with Shrimp and Wasabi Aioli is a healthy and delicious dish that is low in carbs and high in protein and healthy fats. It is perfect for anyone who is looking for a light and refreshing meal or summer appetizers option.
Get it here.
---
4. Grilled Bruschetta Skewers
Grilled Bruschetta Skewers are a delicious and easy-to-make appetizer that is perfect for entertaining guests or enjoying as a snack. This recipe involves skewering fresh cherry tomatoes, mozzarella cheese, and slices of Italian bread, then grilling them to perfection and topping with a homemade garlic and basil dressing. To make this recipe, start by soaking wooden skewers in water for at least 30 minutes to prevent them from burning on the grill. While the skewers are soaking, prepare the ingredients by slicing the bread and cherry tomatoes, and cutting the mozzarella cheese into bite-sized pieces.

Thread the cherry tomatoes, mozzarella, and bread onto the skewers, alternating between each ingredient. Brush those yummy skewers lightly with olive oil and sprinkle over with salt and pepper.

Next, grill the skewers over medium-high heat for 2-3 minutes on each side until the bread is toasted and the cheese is melted. While the skewers are grilling, mix together minced garlic, chopped fresh basil, olive oil, and balsamic vinegar to make the dressing. Once the skewers are cooked, remove them from the grill and drizzle the garlic and basil dressing over the top. Serve the skewers hot and enjoy!

This recipe is perfect for summertime gatherings, as it is quick, easy, and sure to impress your guests. It is also a great way to use up any leftover bread and tomatoes you may have in your kitchen.
Get it here.
---
3. Spicy Cucumber Mango Skewers
Spicy Cucumber Mango Salad Skewers are fresh and colorful summer appetizers that combines sweet and spicy flavors. The dish features cubed mango, sliced cucumber, and red onion threaded onto skewers and topped with a spicy dressing made from chili paste, lime juice, and honey.

As holiday ideas, these skewers could be a great addition to a summer barbecue or picnic food spread. They are easy to prepare, visually appealing, and can be served as a light and refreshing appetizer. The combination of sweet and spicy flavors could also be a hit with guests who enjoy bold and flavorful dishes. Spicy Cucumber Mango Salad Skewers could be a tasty and unique holiday idea that adds a touch of tropical flair to any gathering. This recipe is a ultimate appetizer for summer days, but want more mango ideas, let's make mango desserts at home.
Get it here.
---
2. Marinated Steak Skewers with Korean BBQ Sauce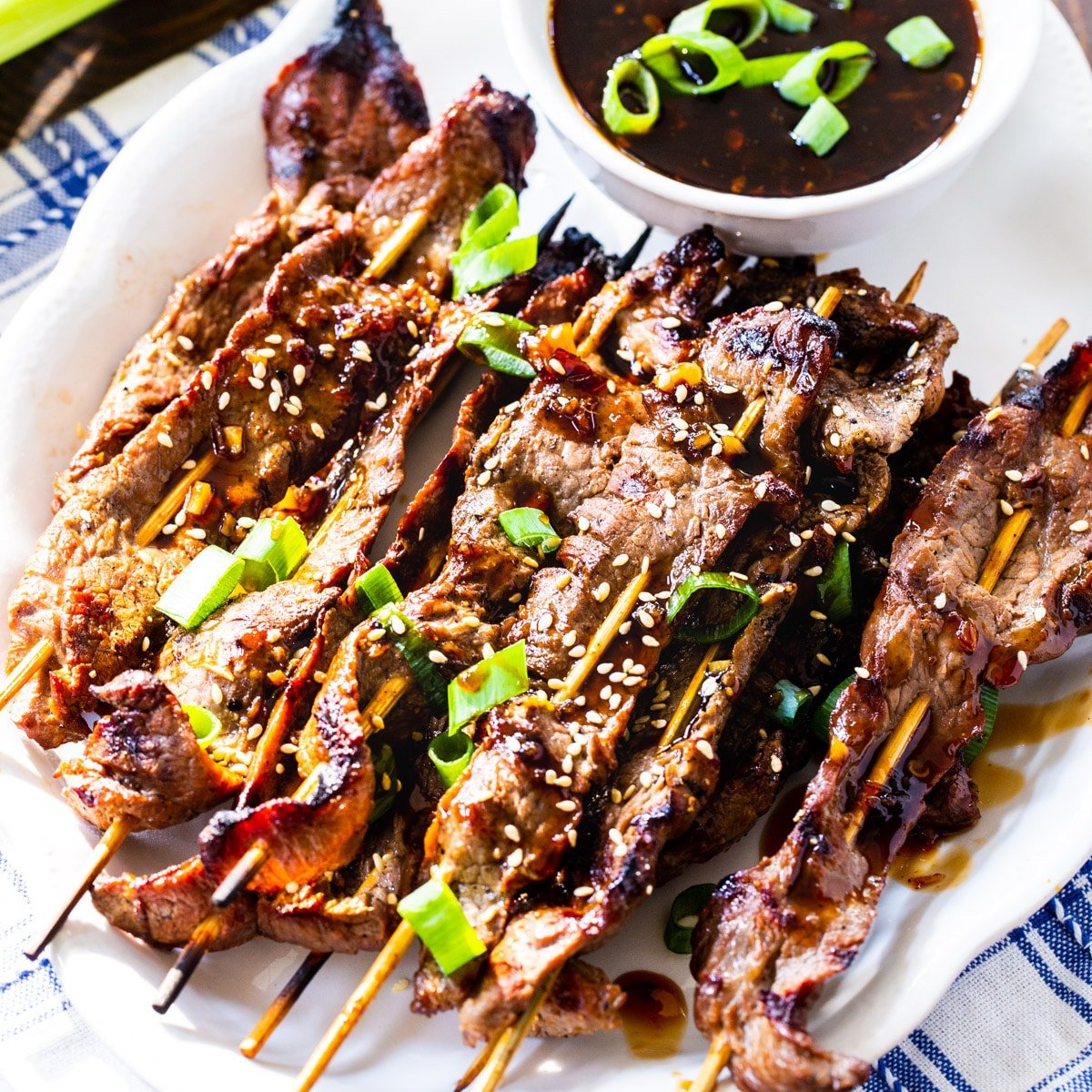 Marinated steak skewers with Korean BBQ sauce! Made with juicy strips of steak marinated in a flavorful blend of soy sauce, garlic, ginger, and sesame oil, these skewers are the perfect combination of savory and sweet. And when paired with a tangy and slightly spicy Korean BBQ sauce made with gochujang, rice vinegar, and honey, these skewers become a standout appetizer that your guests will love. Serve them at your next summer barbecue, pool party, or outdoor gathering and watch as they disappear in seconds.

Not only are these marinated steak skewers with Korean BBQ sauce delicious, but they're also incredibly easy to make. Simply skewer the steak strips, grill them to perfection, and brush on the sauce before serving. So why wait? Add these mouthwatering skewers to your summer appetizers lineup today and get ready to impress!
Get it here.

For BBQ lover, make these memorial day BBQ recipes to celebrate.
---
1. Caprese With Pesto Bites
Alex had always been a foodie and loved to experiment with different flavors and cuisines. One day, while browsing through food blogs, he stumbled upon a recipe for Caprese With Pesto Bites. Intrigued by the combination of fresh tomatoes, creamy mozzarella, and flavorful pesto, he decided to give it a try.

Alex carefully followed the recipe, chopping the tomatoes into bite-sized pieces and slicing the mozzarella into rounds. He then placed a piece of tomato and a slice of mozzarella on top of each other and secured them with a toothpick.

Next, he prepared the pesto paste by blending fresh basil, garlic, pine nuts, and Parmesan cheese in the mixer. He drizzled the pesto over the Caprese bites, letting the flavors meld together. As he took his first bite, Alex was amazed by the explosion of flavors in his mouth. The juicy sweetness of the tomatoes combined with the creamy, tangy mozzarella and the herby, nutty pesto was a perfect balance. Alex decided to share his newfound recipe with his friends and family.

He served the Caprese With Pesto Bites as an summer appetizers at a dinner party, and they were an instant hit. Everyone was impressed by the flavorful and easy-to-make dish, and they asked Alex for the recipe. From that day on, Alex's Caprese With Pesto Bites became a staple at all his gatherings, and he loved seeing the joy it brought to his loved ones' faces. He even began to experiment with different variations, adding grilled chicken or shrimp for a heartier option.
Get it here.
---
You may Like These Meal Ideas:
Valentine's Day Cocktails
High Protein Chicken Meals
Air Fryer Chicken Meals
High Protein Slow Cooker Recipes
One Pot Dinners
Pantry Recipes
Crockpot Recipes
Slow Cooker Chicken Recipes
---
If you like this article about Summer Appetizers, share with your friends or families on Facebook, Twitter, and Pinterest. Choose your favorite recipe and make it at home, let me know which is your best recipe in the comment. Also, you can subscribe to my blog to get all the latest updates first on your mobile.
---
To make these recipes for later, SAVE this pin on your favourite Pinterest Board