Did you ever dream that you would get protein from desserts!  Yes guys it's true!  Your dreams are about to come true, with these protein powder desserts. Now most people buy desserts from the store. We don't even know if they are healthy desserts. No matter how much we look at the ingredients, none of us can guarantee that the desserts bought from the store are healthy desserts. But if we make desserts at home, we are healthy.  Let's discover desserts. In this case, we can guarantee our desserts will be healthy. That's why I bring you 21 protein powder desserts.

They will also help us in our weight loss journey. I never really imagined that I would eat desserts with protein powder.  These 21 healthy desserts include chocolate protein powder desserts. And for those who love vanilla flavor, there are vanilla protein powder desserts. I recommend making these healthy desserts with protein powder and enjoy it with your family.  I beg you all to make these desserts made with protein powder.
---
WHAT ARE PROTEIN POWDER DESSERTS?
Protein powder desserts are your way to eat healthy desserts. These healthy desserts are for those who love to eat sweet desserts but are especially careful about sugar, calories and carbohydrates intake. Take these protein powder desserts and you can maintain your  weight loss schedule. These desserts don't stand in the way of the journey, but rather satisfy your sweet tooth. They are made with ingredients like almond milk, almond flour, oats flour, peanut butter, coconut flour, honey, maple syrup and protein powder etc. The real thing is that you can eat healthy desserts with protein powder.
---
◆ 5 TIPS OR TRICKS TO MAKE PROTEIN POWDER DESSERTS
1. TRY TO USE THE BEST QUALITY PROTEIN POWDER – Choose good quality protein powder to make protein powder desserts. Choose a good brand of protein powder. Desserts will never be healthy desserts without using good quality protein powder. You should always remember that you can only make healthy desserts with protein powder.
2. USE DIFFERENT FLAVORED PROTEIN POWDER ACCORDING TO YOUR REQUIREMENT – Always keep one thing in mind never make these healthy desserts monotonous. Always try to make different flavors. Then these protein powder desserts will be more satisfying to you.  Use different flavors of protein powder of your choice. I have made chocolate protein powder desserts and vanilla protein powder desserts on my blog. Chocolate and vanilla flavored protein powder flavors are amazingly hearty.
3. MIXING ALL THE COMPONENTS WELL IS IMPORTANT – Mix all the ingredients well to make these protein powder desserts delicious and perfect.  Mix all the ingredients by hand or with a good blender. Make a good texture, otherwise you will never make good desserts.
4. PREPARE IN ADVANCE FOR A QUICK PRE OR POST WORKOUT SNACK – I make these healthy desserts all the time. Because I like to eat these desserts before or after my workout.  These protein powder desserts are especially helpful in my weight loss. You can say it will give you energy, because these are healthy desserts with protein powder.
5. TRY NOT TO USE ANY REFINED SUGAR AND FLOUR – Do not use any refined sugar and flour in protein powder desserts, then it will not turn into healthy desserts. The level of protein will be destroyed, because the level of calories and carbohydrates will increase. If you take care of this aspect, you will get the quality of healthy desserts.
---
1. Homemade Protein Bar Recipe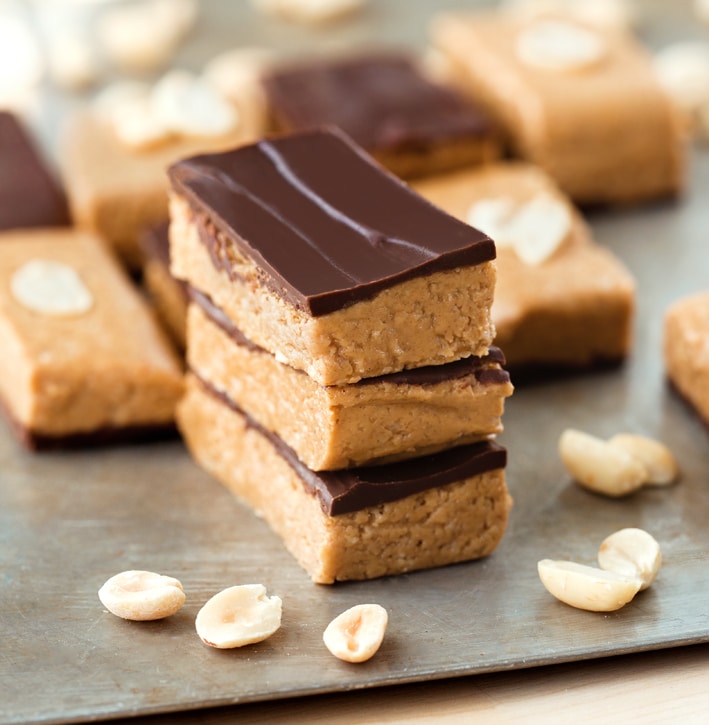 We always buy protein bars now from outside. It costs us extra money. We are left with doubts about how healthy store bought protein bars are. To solve this problem I recommend making these protein bars at home.  Make these types of healthy desserts at home and enjoy these healthy desserts. This Homemade Protein Bar recipe is as healthy as it is delicious. 

This protein bar is made by combining peanut butter, unsweetened protein powder, maple syrup, etc.  Here you can add as much protein powder as you like, but you won't get that benefit if you buy protein bars from the store. Here are ideas for making different types of protein bars.  As you like. Here the cost is also reduced and you can make healthy protein bars with your own hands in front of your eyes. There is no hassle of baking it.  So why one and a half!  Get started now!
Get it here.
---
2. Keto Chocolate Protein Ice Cream Recipe
Just think, you are going to make your own protein packed keto friendly ice cream!  It's really incredible!  Not so!  This Keto Chocolate Protein Ice Cream recipe contains 13g of protein.  Can you imagine how much these protein powder desserts will benefit us!  Your healthy diet is going to be much more interesting. You will lose weight, but by eating ice cream.  OH MY GOD!  It's really amazing! 

Best powdered monk fruit is added to this delicious and healthy dessert. Heavy cream and egg yolks are added to make it creamy. This ice cream contains bulletproof collagen protein powder.  Did you know that this ice cream has only 1g of sugar in it? I am sure you are very tempted by it.  And now running to the kitchen to make it!
Get it here.
---
3. Fudgy Protein Brownies
This Fudgy Protein Brownies recipe is one of the best protein powder desserts. It's as healthy as it is delicious. These desserts are full of protein to satisfy our taste buds and fill our protein deficiency. It takes only 40 minutes to make. This dessert recipe is gluten free.  And vegetarian.  This delicious recipe is made by combining eggs, chocolate protein powder, almond flour, cocoa powder, coconut sugar, semi sweet chocolate chips, vanilla extract etc.  It contains coconut oil which is fully refined. Trust me, it's really amazing.
Get it here.

Try these amazing Holiday Breakfast Recipes for any occasion celebration.
---
4. Protein Hot Chocolate with Protein Powder and 4 Ingredients
Protein Hot Chocolate with Protein Powder – For those of us on the weight loss journey, this dessert recipe is a true gem.  We don't like to eat only protein powder every day.  I eat protein powder after working out. But I feel very bored eating protein powder every day.  I made this arrangement to break the boredom. This arrangement is very delicious. 

My favorite protein powder (chocolate protein powder) added cocoa powder, plant based milk etc. to make hot chocolate dessert.  It keeps me away from boredom. I can take my weight loss journey as a fun journey. It is gluten free and made with plant based ingredients. This dessert recipe is really hearty.
Get it here.
---
5. Chocolate Peanut Butter Protein Fudge
This Chocolate Peanut Butter Protein Fudge recipe is one of the perfect healthy desserts.  Are you looking for a low carb fudge recipe!  Believe me it is really rich and satisfying.  This is a high protein dessert recipe. Once you try it, you won't be able to stop. I want to make my weight loss journey smoother, so I make these protein desserts and enjoy them wholeheartedly. It calms my body and soul. This delicious recipe includes chocolate protein powder, peanut butter, cocoa powder, coconut oil, etc. Maple syrup is used to bring in the sweetness. This protein fudge will win you over in minutes.
Get it here.
---
6. Applesauce Birthday Cake Protein Balls
I know you make great birthday cakes and get them as gifts, but this time you want to spend your birthday in a different way!  Then you must choose these Applesauce Birthday Cake Protein Balls.  Applesauce birthday cake!  Oh!  Really incredible!  Make this amazing dessert once, I guarantee you will be a huge hit with everyone.  Of course you will thank me later for that.  hehe!

These balls are made by combining almond milk, apple sauce, vanilla protein powder, coconut flour, confetti sprinkles etc.  When you feel bored of eating chocolate desserts, these Applesauce Birthday Cake Protein Balls are here to cheer you up. It's a gluten-free, vegan and vegetarian dessert recipe.
Get it here.

You can also try some high protein vegan meals for lunch ideas.
---
7. Healthy Protein Powder Cookie Dough 
I have been deeply infatuated with this bowl for some time. And, I have been introduced to this bowl for some time.  Also, I know you know what bowl I'm talking about.  Really do not understand!  Hey guys!  I am talking about Healthy Protein Powder Cookie Dough.  I haven't made and tested a great tasting healthy dessert for a long time. Then suddenly I saw a picture of this dessert.  I was thrillingly intrigued, then jumped on this bowl. This dessert recipe has about 19g of protein.  I knew you would be surprised to hear this, yes it is true! 

This high protein dessert is incredibly tasty and appealing.  It curbs your massive appetite.  I made the dessert recipe with vanilla protein powder.  Because it's so much tastier with vanilla flavored protein powder.  If you love coconut flour like I do, then this dessert is going to be your favorite.  My favorite thing about this dessert is the applesauce, which is too unsweetened.  Make this dessert by adding butter extract and vanilla almond milk. 
Get it here.
---
8. Banana Protein Muffins
I'm back with the muffins dessert.  This Banana Protein Muffins recipe is one of the gems on the list of healthy desserts.  I have made banana muffins many times. But this is my new version. Again you can say it is an updated version of healthy muffins.  These muffins use all the great ingredients.  For example – banana puree, egg, vanilla protein powder, honey, almond flour, oat flour, chocolate chips or walnuts etc.  These ingredients make you understand how healthy and nutritious this dessert recipe is.

It contains high protein and high fiber. It also contains potassium. This dessert is very good for our taste and body. It takes 30 minutes to make. I  Make it all the time, keep it in the fridge, because I am well aware of its benefits.  I am sure you understand that.  It's delicious, it's paleo friendly, it's gluten free, it's keto friendly, it's vegan, it's ALL IN ONE dessert.
Get it here.

And if you are looking for healthy weight loss diet, make these protein powder recipes at home.
---
9. Protein Cookies (4 Ingredients!)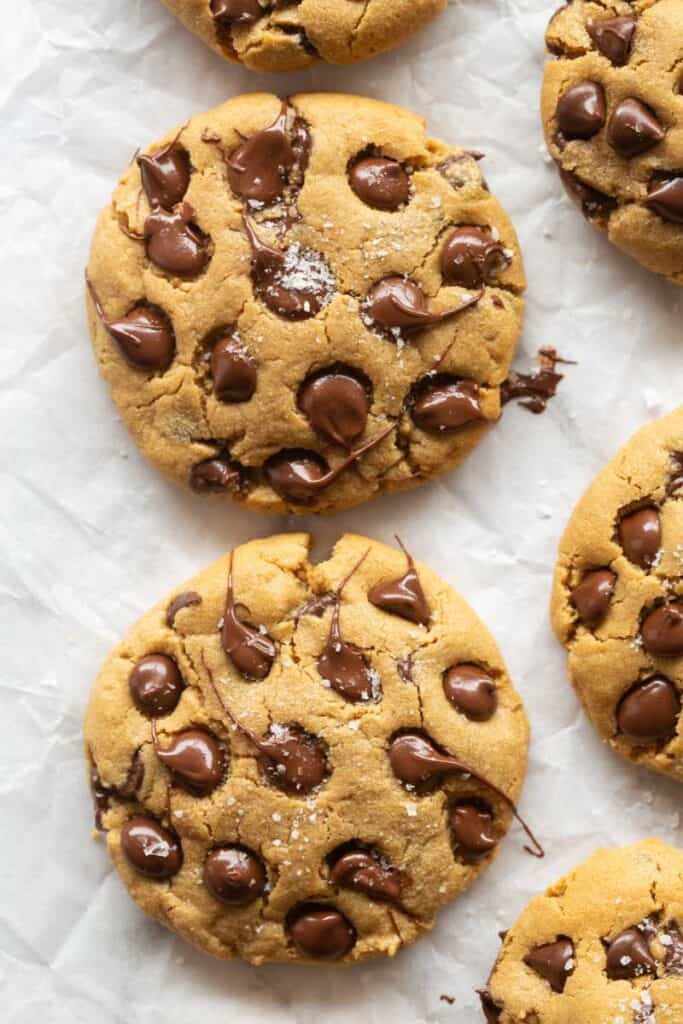 The BEST Protein Cookies (4 Ingredients!) – Most of us eat store-bought cookies. But eating regular store-bought cookies is never good for your health.  If you are a deep cookie lover!  Then eat homemade cookies. It will keep your taste and body both comfortable. These protein cookies are really the best.  

They are packed with 20g of protein and contain 0g of sugar.  I was surprised like you. So don't delay!  Let's start making it. This dessert recipe enhances protein powder desserts.  This dessert recipe is made with peanut butter, brown sugar, eggs and vanilla protein powder. It only takes 16 minutes to make.  No eggs, no dairy, no grains.  Relish!
Get it here.
---
10. Peanut Butter Protein Mousse
Tell me how long it takes to make this Peanut Butter Protein Mousse!  Only 4 minutes!  Yes guys it's true!  These healthy desserts are so amazing.  You have tried many types of mousse recipes, but try this one. You must try it, because the mousse will be ready in such a short time. That too with only 4 ingredients.  This dessert is made by adding these 4 ingredients: vanilla protein powder, peanut butter powder, peanut butter cream and Greek yogurt. It is creamy, gooey and full of great flavor. I will bring you the new version very soon. Until then, enjoy this high protein mousse recipe!
Get it here.

Check out these amazing shredded chicken recipes for meal prep.
---
11. Cinnamon Swirl Protein Cake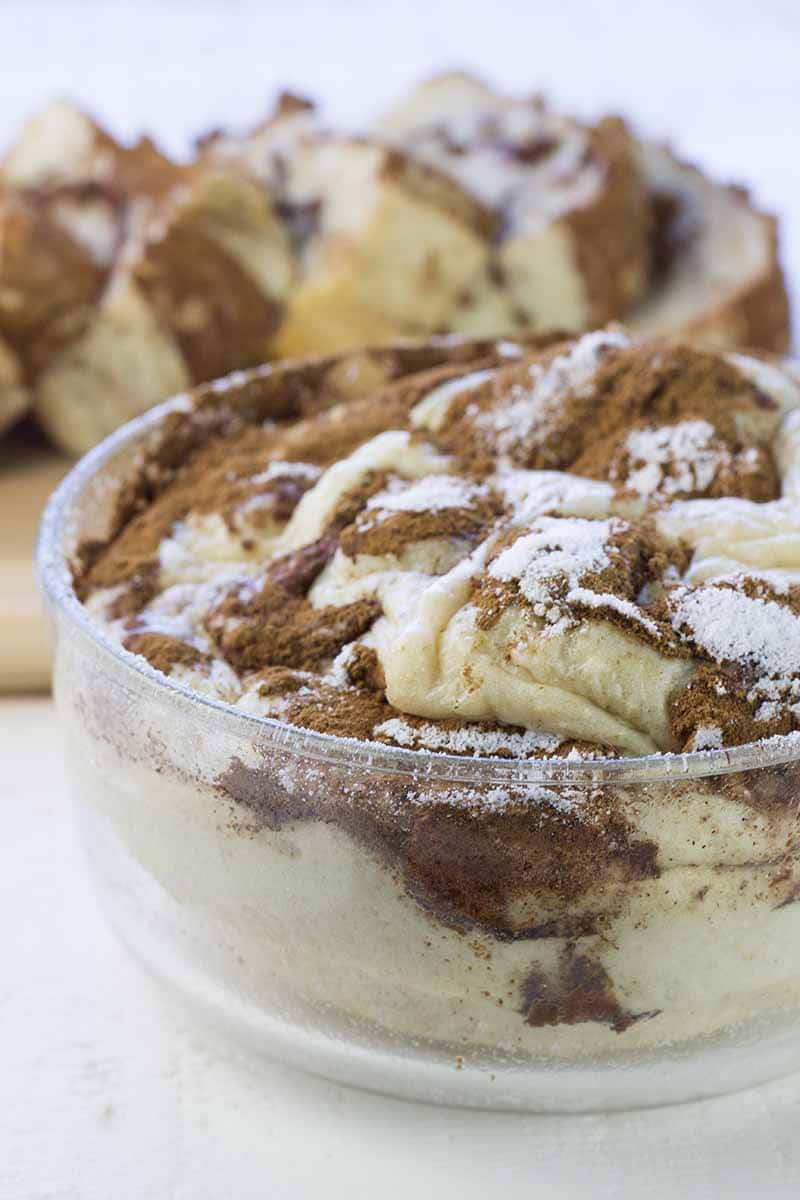 This Cinnamon Swirl Protein Cake recipe is one of the ideal desserts among healthy desserts.  Make dessert with protein powder.  This swirl protein cake recipe is made with cinnamon spice. It looks amazing. This delicious recipe is made with eggs, vanilla protein powder, stevia, oats etc. These vanilla protein powder desserts are healthy and delicious.  Flavors are made. This dessert takes only 30 minutes to make. Make it yourself and enjoy!
Get it here.
---
12. Cheesecake Stuffed Red Velvet Protein Cookie
I gained extra weight when I was a baby. Then my dietician told me about a healthy diet and working out. I immediately got into a healthy diet and worked out and was very scared. I didn't like either dieting or working out.  A healthy diet didn't feel good because I couldn't eat anything I liked. And I couldn't feel enough energy in my body to work out.  Then I started taking protein powder. But even though I liked working out, I didn't like a healthy diet. Because to be honest, I am a dessert lover. Not just a lover, but a crazy lover. Then my mother gave me the idea of ​​making desserts like this. I told my dietician. she was surprised.

Since then I make whatever dessert I want and eat it without guilt.  I made Cheesecake Stuffed Red Velvet Protein Cookie the other day.  This is one of my favorite desserts. A dessert filled with cream cheese. Greek yogurt (non fat), white chocolate and peanut butter make me crazy.  You can add both chocolate protein powder and vanilla protein powder in it. In this way you have to find a way to keep your body healthy. Keep your body healthy all the time.  Eat healthy food. Love !
Get it here.

But you can make macro friendly meal prep recipes for healthy eating.
---
13. Protein Rice Krispie Treats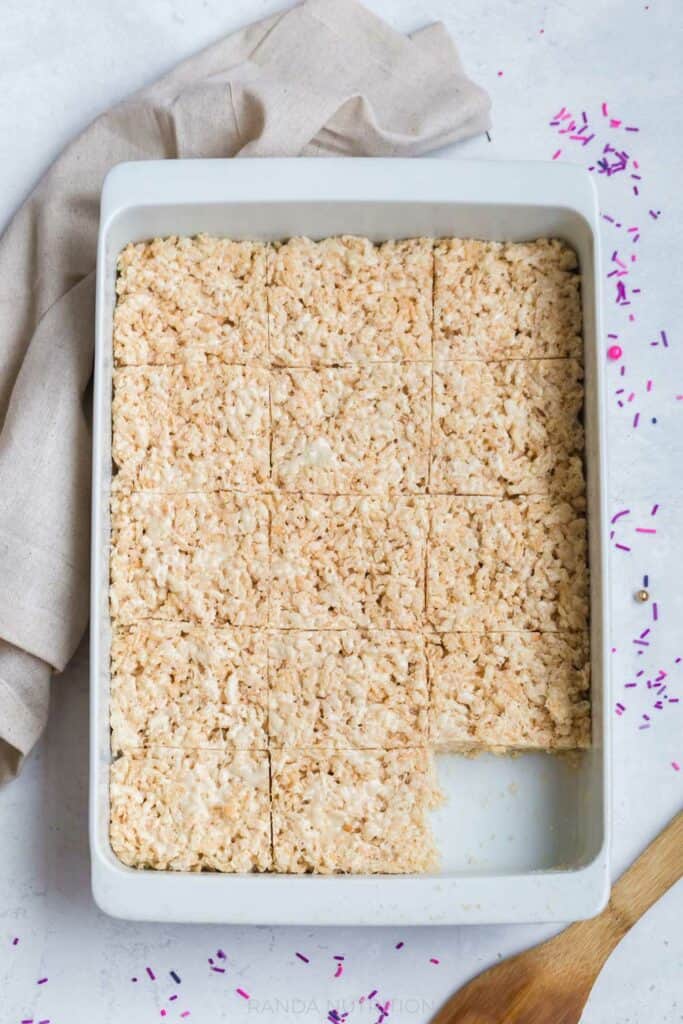 This Protein Rice Krispie Treats recipe is really a great dessert recipe. It's amazingly healthy and delicious. You can make it easily. You can make it and eat it on the way to weight loss.  Because these are healthy desserts with protein powder. I am not a dietician.  

I am telling you from my experience that you must work out after eating any protein powder. Otherwise you may have digestive problems. It may take one and a half hours to digest. This dessert is made in just a few minutes to prepare. Friends, this delicious, soft, chewy and crispy dessert is for everyone. Will be dear to near.
Get it here.
---
14. Oreo Protein Balls (Easy, Cookies & Cream Cheese Energy Bites)
Oreo Protein Balls (Easy, Cookies & Cream Cheese Energy Bites) – I made this a long time ago, but today I want to bring you a new version. It's cakey, soft and creamy.  I am sure it will give you immense satisfaction. This delicious recipe is made with vanilla protein powder, coconut flour, white chocolate chips, Oreo cookies and cream cheese. It's a minute dessert that beats protein powder desserts by a lot.
Get it here.
---
15. Peppermint Protein Brownie 
This Peppermint Protein Brownie recipe is a wonderful recipe that keeps our mouths fresh and helps us lose weight.  It enriches the list of chocolate protein powder desserts. This delicious recipe is made by adding almond milk, liquid egg white, chocolate protein powder, cocoa powder, coconut flour etc. It is helping me a lot in losing weight and changing the taste of my mouth. I am sure you will also enjoy it satisfactorily.
Get it here.
---
16. Low Carb Chocolate Protein Pancakes Recipe
All chocolate addicts, unite! (Is that you, then?) With the help of this recipe for low-carb chocolate protein pancakes, it is a very tasty dessert made with protein powder. we're getting the day started off sweet. Looking for a recipe for protein pancakes? You'll see exactly how I do it. Did I mention that the preparation time is only 10 minutes? You and your family might find that this is your favorite low-carb breakfast! (May I also add that serving mom protein pancakes in bed on Mother's Day is the loveliest gesture? 

Don't you think chocolate protein pancakes sound decadent? However, they are nutritious and a healthy way to start the day. These pancakes are made with an almond flour, protein powder, and 100% cocoa powder base. Delicious and nutritious…
Get it here.
---
17. Protein Powder Mug Cake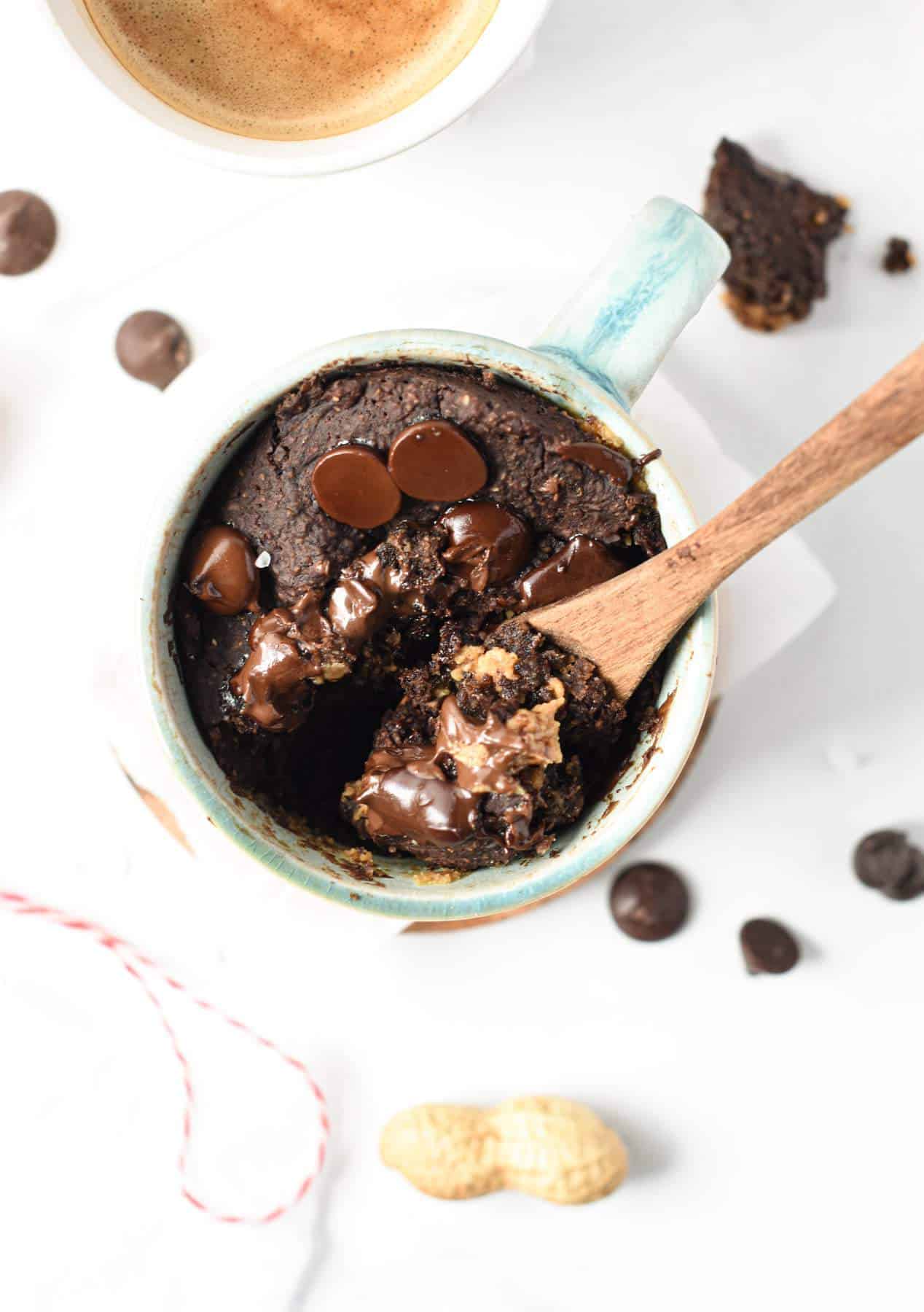 A delicious, fluffy, moist, and protein-rich healthy dessert made with protein powder that only takes a minute to prepare! It has been oven-tested and has only 150 calories, making it a healthy snack you may enjoy whenever you like. Naturally dairy-free, paleo, ketogenic, low-carb, and has a tried-and-true vegan option. I enjoy having a handmade protein bar, a protein muffin, or one of these single-serve cup brownies after a strenuous or intensive workout.

It has more protein and requires less preparation time than a protein shake or "poor brownie. "Since I've never been a fan of consuming protein smoothies after working out, I've been hooked with these protein cakes. Preparing about 5 of these brownies at a time has been quite useful. Making about 5 of the these brownie at once and freezing them has proven to be quite helpful for an instant, high-protein snack after exercise. Naturally low-carb, dairy-free, sugar-free, and keto. Whenever it comes to protein-packed or microwaved cakes, this healthy one-minute brownie is the "ultimate." It whips up in under a minute and is fluffy and moist.
Get it here.
---
18. Microwave Chocolate Protein Mug Cake
Sometimes it seems as though getting enough protein is limited to either meat or smoothies, and those two options might get a little monotonous. Maybe not the shakes, then. This protein smoothie with snickerdoodles is so addicting. It has a cookie-like flavor! Thank goodness I learned about the delights of mug cakes! You simply just microwave the mixture after mixing all the components in a mug. You have a scrumptious dessert! It surpasses dessert in quality.

You can have a piece of chocolate cake in the morning thanks to its high protein and fiber content of it. It only takes a couple of minutes to prepare this gluten-free cupcake. In addition, you likely already possess all the ingredients if you've cooked any other sweets from this blog. You may modify this tiny cake in a variety of ways, so read on for the whole recipe, my best advice, and the answers to some of your most pressing queries. Make these healthy and tasty desserts for your loved ones.
Get it here.
---
19. Vanilla Protein Donuts with Sprinkles
I've always had a serious sweet tooth. But as time went on, I began to appreciate them less frequently because they are typically sugar bombs and typically contain dairy. Even though I'm fine with treating myself occasionally, eating a standard donut never makes me feel good. (Excuse me, Krispy Kremes.) These protein-filled donuts are revolutionary. Be ready because this is a baked donut recipe if you've never tasted baked donuts before. It's incredibly simple and straightforward to make homemade doughnuts, and the results are fantastic.

Perfect for anyone with a sweet taste. They have the ideal cake-like texture, are soft, chewy, light, and fluffy, and are delightfully lovely (but not too sweet). These also covertly contain protein. And, they are thus a fantastic snack. Also if you want to lose weight, then it is a perfect choice for your weight loss. Make these super easy vanilla protein powder desserts in just a few steps in your home. Because of this, they make a delicious afternoon snack (even pre- or post-workout!) or a delightful dessert in the evenings that won't make you feel weird before going to bed. What a lovely sound!
Get it here.
---
20. Homemade Protein Bars
Can't seem to get your hands on the new Perfect Bar flavor? Now you can make it at home! These perfect healthy bars come together in less than 15 minutes, require zero cooking, and use a few simple ingredients! They're perfect for when you want a quick protein-rich snack. If you're anything like me, you're probably obsessed with Perfect Bars. This is going to sound cheesy, but they really are the perfect snack.

They're so delicious, tasty, nutritious, and super-packed amazing bars and thanks to the fat and protein content. I've been dying to get my hands on this year's seasonal flavor, but I haven't been able to find it anywhere. So I decided to make my own! These amazing bars were unbelievably quick to recreate and require just only seven healthy ingredients. Make these heavenly delicious healthy desserts on holidays for your special ones.
Get it here.
---
21. Vanilla Protein Balls with Chia Seeds 
These Vanilla Protein Energy Balls are the ideal simple and healthy on-the-go breakfast, snack, or even dessert. They are incredibly easy to make, full of health, and will satisfy your desires. No cooking is necessary! These vanilla protein balls are ideal if you're searching for something wholesome and filling. They are perfect to keep on contrast for quick and simple breakfast or snack meals because they are so simple to create.

Try my Almond Joy Chia Pudding and No-Bake Energy Balls if you're seeking more quick and healthy breakfast ideas like these chia balls. They are quick to put together, incredibly tasty, and full of nutrients. Try to make these vanilla protein powder desserts on your own for your family.
Get it here.
---
You may Like These Meal Ideas:
Halloween Dinner Ideas
Christmas Appetizers
Brie Cheese Appetizer Recipes
Low Carb High Protein Recipes
Fritter Recipes
One Pot Dinner Ideas
Holiday Brunch Recipes
Valentine's Day Cocktails
---
If you like this article about Protein Powder Desserts, share with your friends or families on Facebook, Twitter, and Pinterest. Choose your favorite recipe and make it at home, let me know which is your best recipe in the comment. Also, you can subscribe to my blog to get all the latest updates first on your mobile.
---
To make these recipes for later, SAVE this pin on your favourite Pinterest Board