Also known by a multitude of names like Bengal gram, Ceci, and garbanzo beans, chickpeas are a favorite among people all around the world. They are nutritiously overloaded with protein and fiber — each 1/2 cup serving (canned or cooked dried chickpeas) provides a nutritional value of 12 percent of our daily intake of fiber, 6 grams of plant-based protein, 10 percent of our daily dose of iron, and some other micronutrients like calcium and potassium. These chickpea snacks are great snack recipes option as well and you can snack on them guilt-free because they are a good source of protein. Air-fried or roasted chickpeas taste equally well as is but we are here to experiment with taste so let's go crazy with a variety of healthy recipes that includes chickpeas. If you have chickpeas in any corner of your pantry it's time to say hello to them, babies!
---
21. Crunchy Cinnamon Chickpeas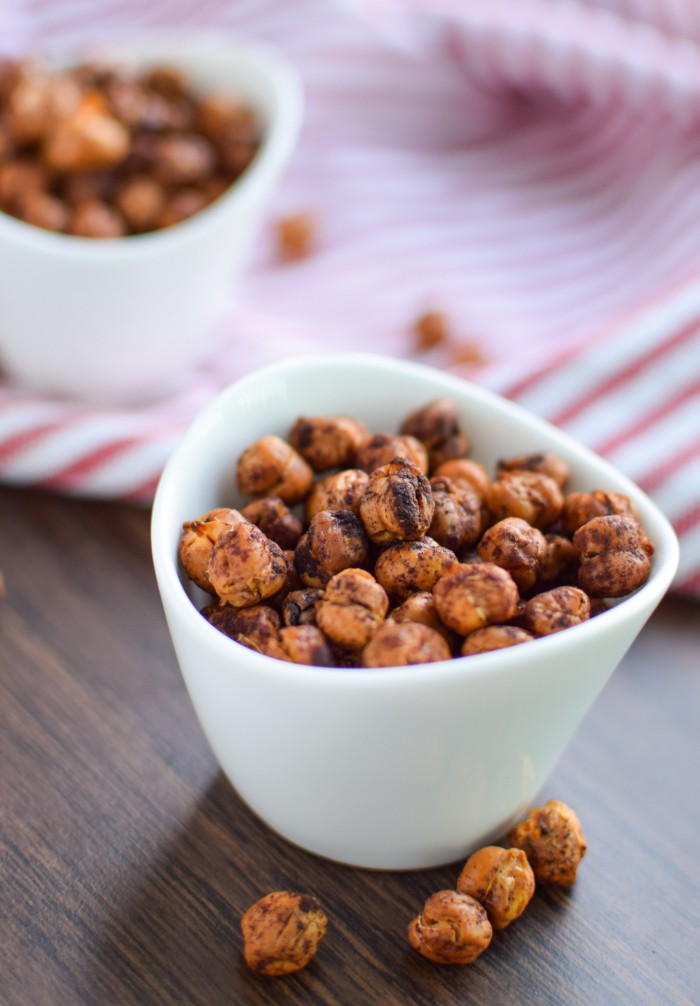 As tempting as it sounds, these Crispy Cinnamon Roasted Chickpeas are the perfect snack recipes or healthy recipes on a winter afternoon paired with your favorite hot coffee. All you need is a can of garbanzo beans and that aromatic cinnamon powder for the flavoring. You can bake it in the lined baking sheet, spread dry the chickpeas in a single layer and preheat the oven and bake. After baked just wait for this at room temperature for cooling and remove them in a paper towel or a bowl!

If you are a health freak and try to avoid all kinds of unhealthy chips and crackers, here's a recipe that will amaze you. This chickpea snack is 100% healthy roasted recipe for chickpea snacks. I had to go through a lot of experimentation and after a lot of trial and error, I finally discovered the recipe for the ultimate crispy cinnamon chickpeas. So here I am to share this recipe with you so you can make yourself a bowlful of these crunchy babies and thank me.
Get it here.
---
20. Chickpea Snack Mix 
I had my first snack mix when I was a child — my aunt had packed a zip-lock bag with roasted peanuts, raisins, and chocolate chips with her while we were visiting the zoo. Even, I had surely fallen in love with the amazingly crunchy and chewy texture with all the sweet and salty flavors bursting in my mouth.

I remember how I had gobbled all of that in no time. Also, I have been obsessed with snack mixes ever since I had that. So here's my version of a healthy chickpea snack mix — sweetly spiced chickpeas, dried cherries, crunchy almonds and pepitas, and sugar-free dark chocolate.
Get it here.

Check these amazing high protein slow cooker recipes for lunch.
---
19. Buffalo Chickpea Dip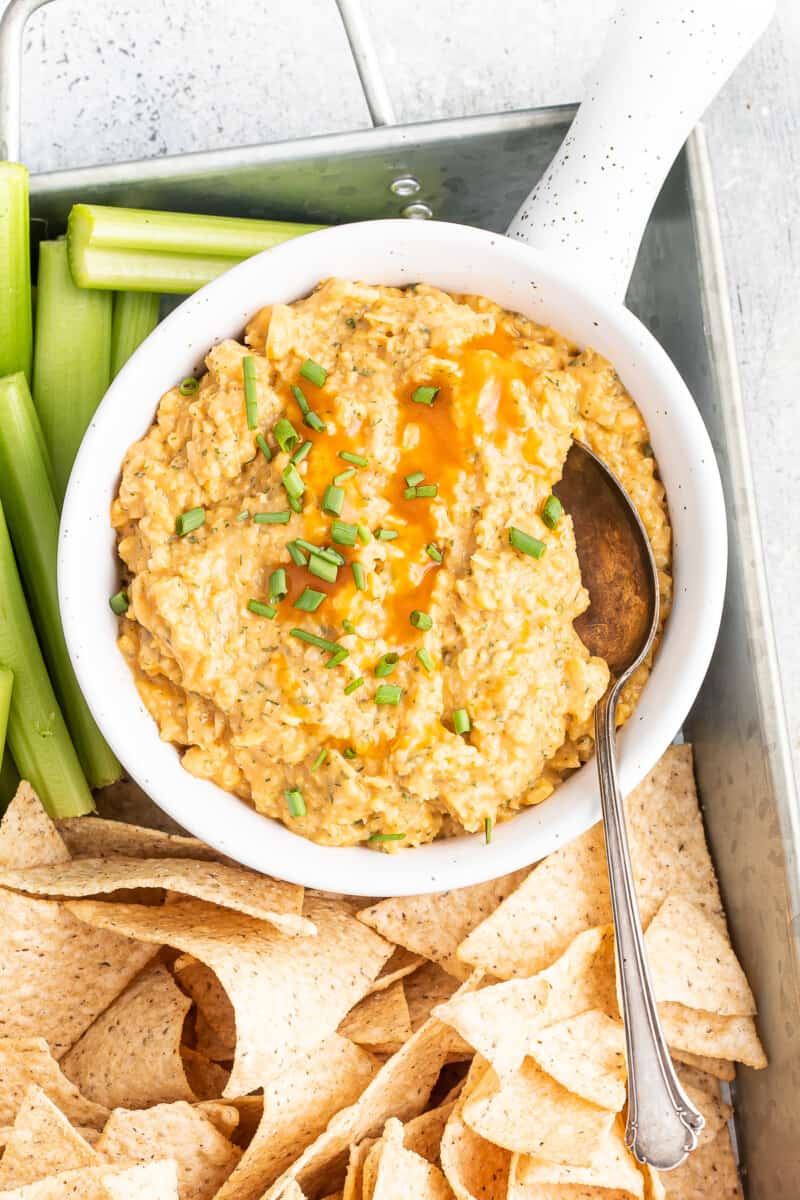 This healthy Buffalo Chickpea Dip recipe is inspired by the Buffalo Chicken Dip. It's vegan and gluten-free and has a blend of spicy and tangy flavors. It's not only super delicious but absolutely easy to make — just whip everything up in a food processor and your creamy, tangy dip is done!

You can enjoy your air-fried tortilla chips with this dip but have you tried carrot or celery sticks? It's unbelievable that healthy snack recipes can get this easy! This chickpea dip is the best example of such a recipe.
Get it here.

Find more Brie Cheese Appetizer Recipes here.
---
18. Easy Garlic & Herb Roasted Chickpeas Recipe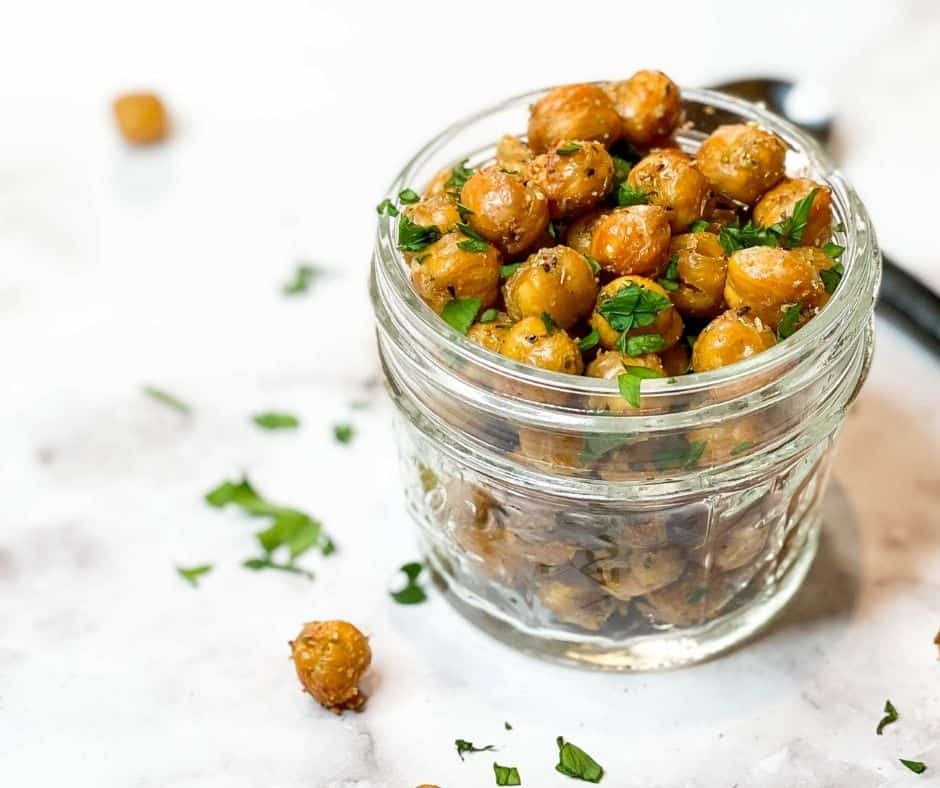 Crispy chickpeas seasoned with roasted garlic and herbs — already drooling over the flavors? Here's a guide to the most amazing, healthy, and crispy chickpea snacks recipe with flavors to die for.

This 15-minute air fryer recipe requires only a few ingredients and is a great choice for tasty and healthy recipes for snacks or take as brunch sides. Add them to your boring salad to bring life to it. I promise you this roasted chickpea snack will not disappoint you and it's a must-try.
Get it here.

Get these amazing new years eve cocktails to celebrate.
---
17. Smashed Chickpea Salad Sandwich
Here's an amazing vegan lunch or lunchbox recipe that you can make using chickpeas. A Smashed Chickpea Salad Sandwich can be a replacement for the traditional hummus in your sandwich any day. It's full of tangy flavors and the spiciness coming from the mustard just makes it more delectable.

Also, do not forget to add fresh dill to it. You can have it as a vegetarian dip already or use it as a spread over your Multigrain Sourdough Bread. The smashed chickpeas soak in all the flavors from the spices and seasonings added to them. This healthy recipe will surely be your go-to lunch on busy weekdays. These amazing vegan snacks & protein powder recipes are great for all those vegetarians.
Get it here.
---
16. 3-ingredient Dark Chocolate Chickpea Bark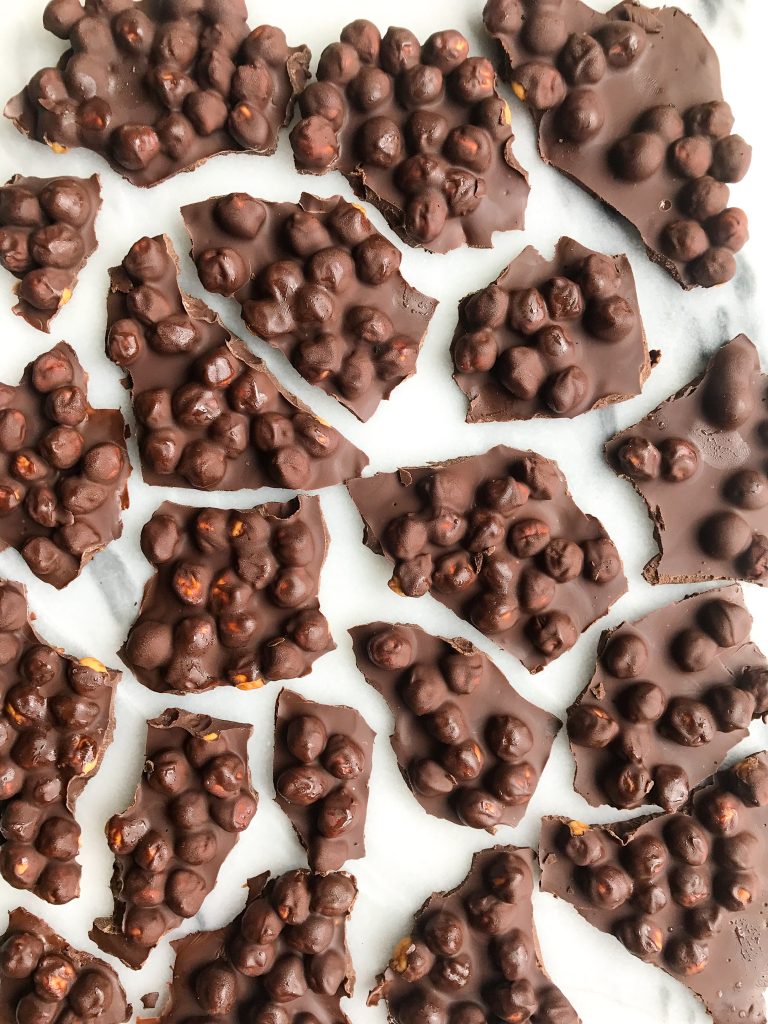 This 3-ingredient Dark Chocolate Chickpea Bark recipe is for my fellow dessert lovers who, like me, just cannot resist having something sweet after lunch or dinner. This is a habit that I cannot ditch because dark chocolate gives the satisfaction and comfort that nothing else can replace and I'm not going to give up on eating dark chocolate. By no means. Therefore I found ways in which I can make my favorite sweet habit into a healthy one.

Implementing roasted chickpeas not only adds nutritional value to your chocolate but also adds flavor and a crunchy texture that you'll just love. Just temper your sugar-free dark chocolate in a bowl and add your roasted chickpea bits to it. Mix and spread over the parchment and freeze it. And there you have it! Easy and healthy recipes of 3-ingredient Dark Chocolate Chickpea Bark! What are you waiting for? Go and take a bite of one of your favorite chickpea snacks dark chocolate – GUILT FREE!
Get it here.

Try these easy Mini Bundt Cake Recipes for holidays.
---
15. Chickpea Meatballs
Chickpeas are versatile. They can be used in so many vegan dishes to replace fish and meat and taste so good! I have tried making vegan tuna from it and it turned out so well! No wonder I'm going to try a vegan meatball recipe next.

These vegan meatballs are so amazingly delicious that you just can't stop at one. At least I devoured all that I made in the blink of an eye. This vegan meatball is so juicy and flavourful that you can have it by itself or dip it in some marinara sauce. Serve it with some spaghetti and vegan dinner is ready!
Get it here.
---
14. Super Crispy Chickpea Nuggets
Chicken nuggets are good but have you tried these Super Crispy Chickpea Nuggets? They are so flavorsome, juicy on the inside, and crispy on the outside. If you're making them gluten-free almond flour works amazingly for the coating but if gluten is not an issue bread crumbs is the best choice.

A mix of both is what I prefer while making mine. My family loves meatballs but when they had these vegan ones they couldn't tell the difference. They even said that these were better than any other meatballs they have ever had. This healthy snack recipe is my savior whenever guests come over all of a sudden.
Get it here.

These amazing low calorie egg recipes are great for meal prep.
---
13. Chocolate Covered Roasted Chickpeas
These Chocolate Covered Roasted Chickpeas are amazing afternoon snack recipes or healthy recipes options. When the kids get home after a long day at school they're really hungry. These delicious Chocolate Covered Roasted Chickpeas will shoo away their hunger pangs and keep them full until dinner.

This is a simple 4-ingredient recipe that comes together in just a few minutes. These are absolutely devoid of refined sugar and are a great source of plant-based protein and chocolate just makes everything better. You can easily store them in an airtight container for as long as you want but I'm pretty sure they won't last long as you'll want to munch on them every now and then.
Get it here.

These amazing Vegan Rainbow Meals are perfect for meal prep.
---
12. Easy Gluten Free Crackers Recipe with Chickpea Flour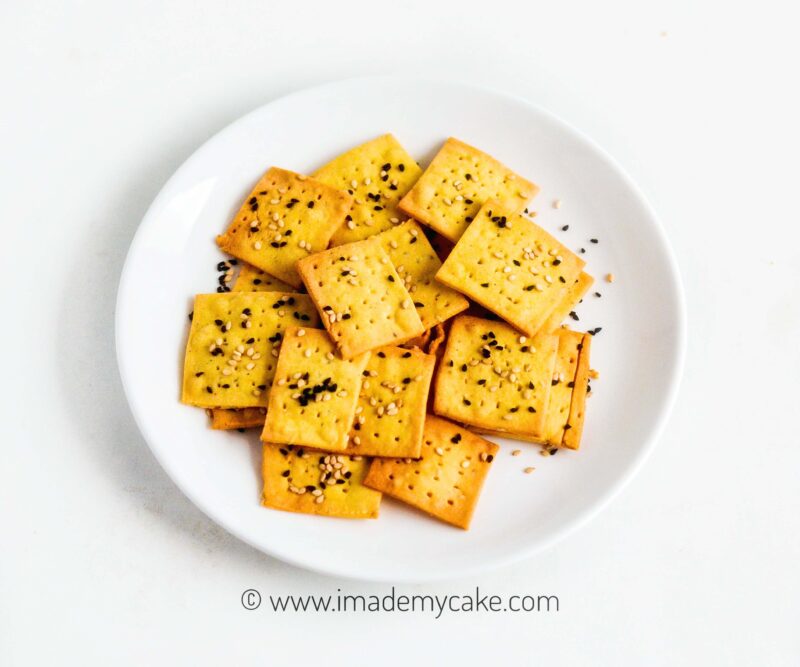 These easy Gluten-Free Split Chickpea Flour Crackers are healthy chickpea snacks baked option for your movie snack or when you're hungry between meals. You can munch on them any time of the day.

This chickpea snack is vegan and gluten free as it contains only split chickpea flour and rice flour. This recipe is so easy to make and can be made in under 30 minutes. Just take Chickpea or Garbanzo Flour in a bowl and knead it with water to make a soft and tight dough. Roll, bake and enjoy!
Get it here.

Get these tasty christmas dinner ideas for celebration.
---
11. Veggie Chickpea Sticks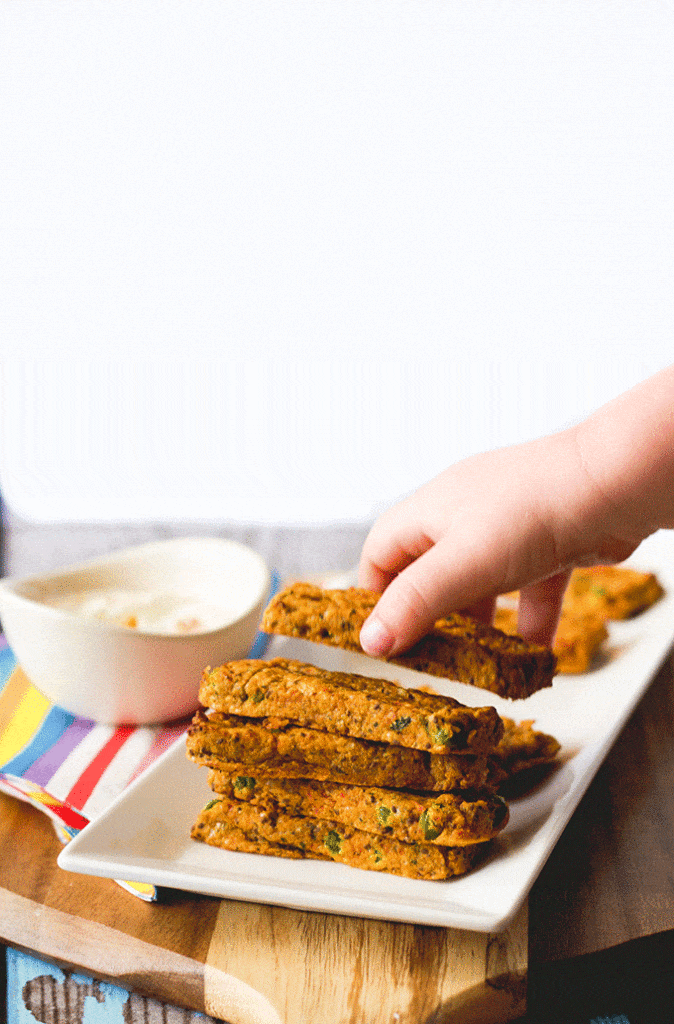 Kids love French fries but they're not healthy. So I made these healthy snack recipes for my kids and you should make these for your younger ones too. Veggie Chickpea Sticks are soft and delicious finger food made from chickpeas, veggies, chia seeds, and cheese.

The inspiration behind this recipe was the recipe of my Fruity Chickpea Cookies that I shared earlier this week. These Veggie Chickpea snacks Sticks or chickpea crunchy snacks are just the savory versions of those cookies. If you're making it for younger babies, adjust the cheese accordingly to reduce the sodium level. I also added some oats before blending just like I did in the fruity cookies. You can try gluten free muffins for snacks on the go.
Get it here.
---
10. Chickpea Veggie Patties 
These vegan, round Chickpea Veggie Patties made from colorful vegetables, chickpeas, and a mix of spices (garlic powder, optional) and herbs are full of protein.  These chickpea snacks are a favorite among kids that they can enjoy as an after-school snack or even on weekends. You can make this simple and healthy snack recipe with your kids.

When kids see and learn how all the colorful vegetables are cooked it increases their liking for healthy food and makes them a more sensible eaters. As a kid, my sister was a picky eater and she gradually developed a healthy relationship with food after we made several interesting dishes like Carrot Pasta, Bread pizza, and Yogurt Fruit Dip. Must try these easy low calorie snacks for busy work.
Get it here.
---
9. Italian Farinata Chickpea Flatbread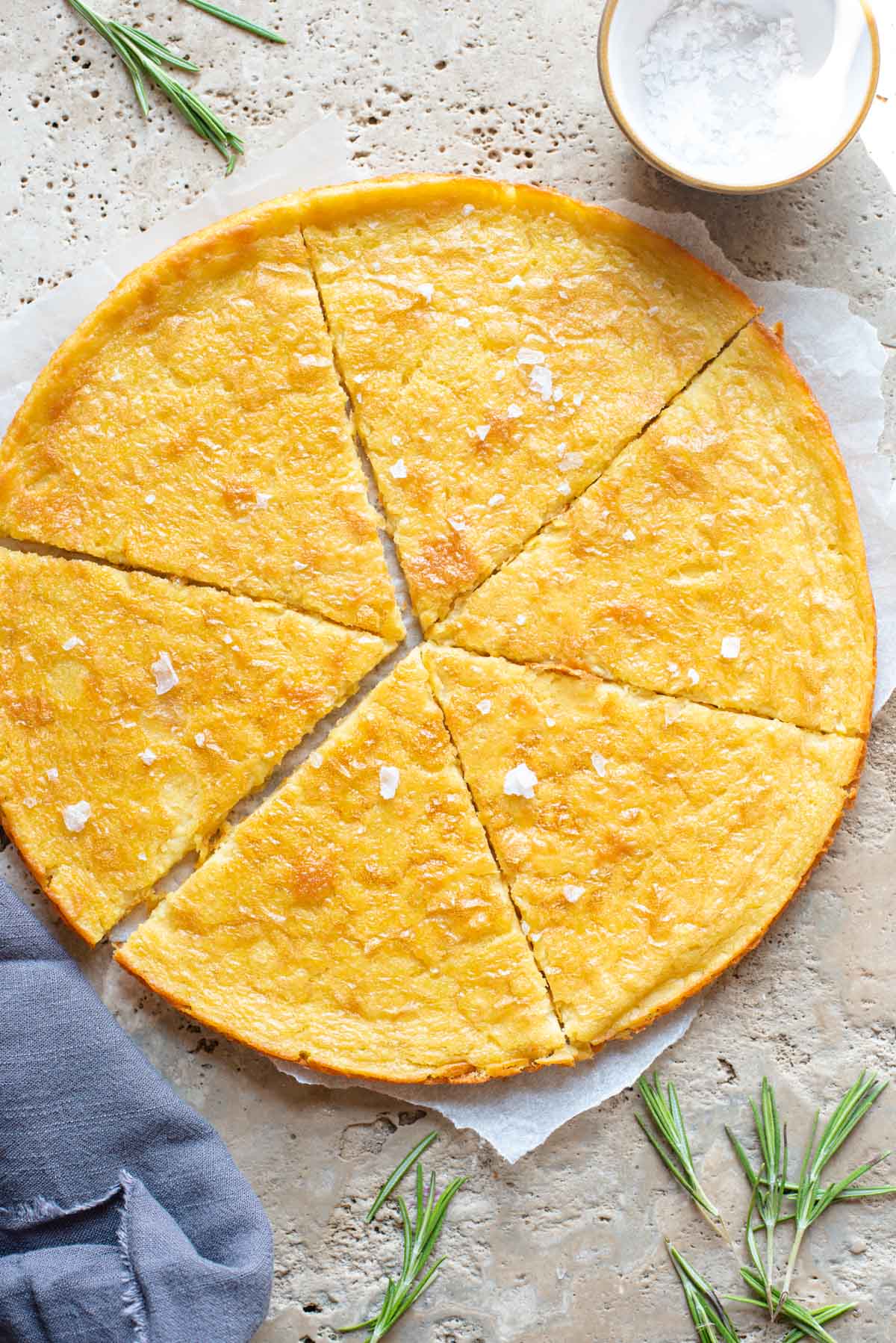 La Cecina Toscana — the Italian Farinata Chickpea Flatbread that has a delicious and crispy outside and the most delicious and creamy interior. This healthy snack recipe comes together in just 30 minutes and calls for only 3 simple ingredients. Since the first time we had it, it became our favourite snack.

For the simple one, just sprinkle some salt on the top or you can also sprinkle some rosemary. The perfect La Farinata is made using chickpea flour, water, olive oil and sea salt. It's easy to make and you can enjoy this simple yet special dish any time of the day.
Get it here.
---
8. Chickpea Protein Bliss Balls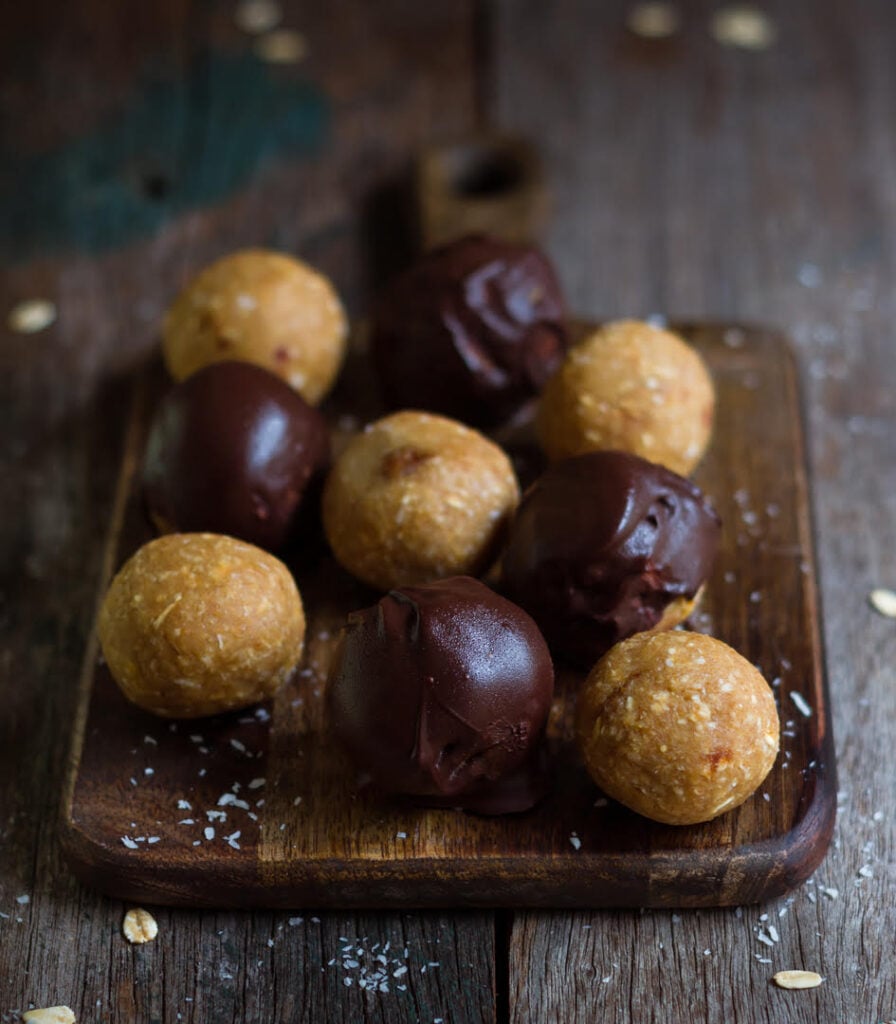 I have the perfect list of healthy recipes for you here. Whether you like exquisite desserts or spicy and savory snacks, I've got you covered. I love experimenting with and renovating my recipes because food is truly my love language. What first comes to our head when we hear the words 'healthy snacks' is Granola bars.

We absolutely love the texture and flavor of these granola bars. So after some experimentation, I invented this Chickpea Protein Bliss Balls recipe. These are extremely delicious snacks packed with good nutritional values. They're so good that you can have them as is. Or who knows, maybe dip them in some melted dark chocolate?
Get it here.
---
7. Curried Chickpea Salad Sandwiches
Salads are my best comfort foods in this scorching hot and humid weather in India. I always opt for refreshing cold meals but munching on boring raw veggies is not my type. These Curried Chickpea Salad Sandwiches are one of my favorite healthy snack recipes or chickpea snacks or chickpea dried snacks that I can carry to work for lunch or enjoy at the beach.

It's so delicious and satisfying, packed with flavors, creaminess, and tanginess. For the dressing, mix lime juice, mayo, curry powder, ginger, agave, and salt into a smooth liquid paste. In a bowl, add your chickpeas, celery, red onion, raisin, and cashew, and generously drizzle the dressing over them. Toss, toss, and toss until everything is well coated with the dressing. Place this salad between slices of bread and lettuce for a scrumptious sandwich and dig in!
Get it here.
---
6. Oil Free Air Fryer Chickpeas 
This Oil-Free Air Fryer Chickpea recipe is a pretty basic chickpea snack that can be made in just a few minutes if you have got an air fryer. This is my favorite chickpea snack because it is the easiest to make. If you have a bagful of these goodies in your fridge you don't really need to worry about those snack cravings.

These fit equally well as a salad topper, in wraps and tacos, and adds a beautiful crunchiness to the dish. These vegan chickpeas are loaded with protein and fiber and satiate hunger for a long duration.
Get it here.

Find out these sheet pan dinners are great for family.
---
5. Chickpea and Oat Crackers
I'm here with a kid-friendly cracker recipe in my blog. This crunchy and crispy cracker recipe is a healthy snack recipe that's made from chickpeas and oats. I have made a lot of homemade crackers before but this is my own recipe.

I developed this recipe while I was making hummus and suddenly it occurred to me that I added oats to it and baked it. And there I was! Really proud of myself! Because I had somehow discovered the healthiest cracker recipe in just one check without any fail!

These high protein breakfast recipes are great for weight loss.
Get it here.
---
4. Chickpea Cookie Dough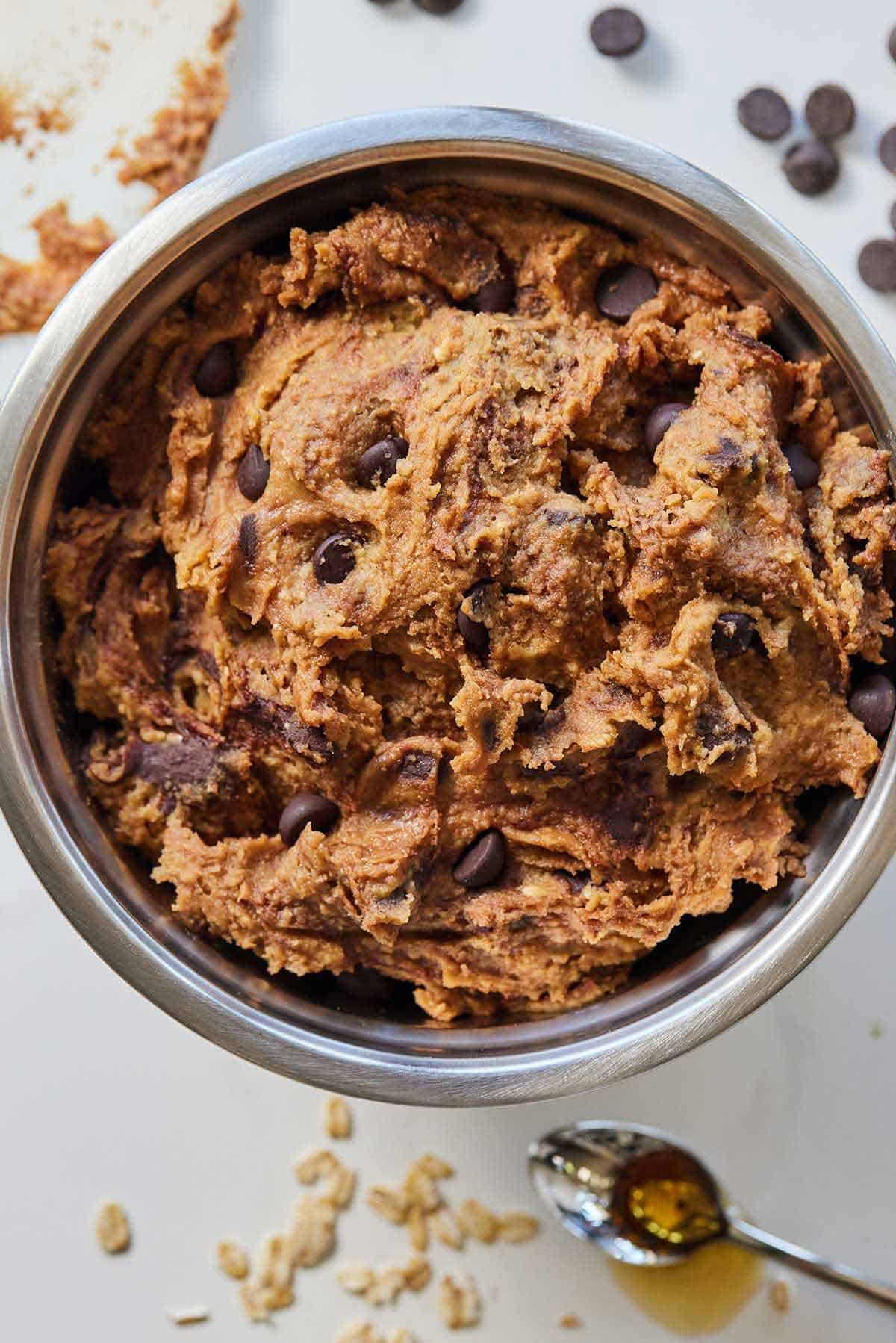 If you are a raw-cookie-dough-eater like me, here's a healthy recipe for you. It's easy to make with less than ten ingredients that you'll easily find in your kitchen and takes only 10 minutes to prepare. Made with garbanzo beans, this cookie dough is naturally gluten-free and vegan.

The silky texture of the dough is due to the chickpeas used in it. Chickpeas have a neutral taste so this edible cookie dough tastes amazing. This healthy cookie dough can also be enjoyed as a dip with some chopped veggies. I like to make my dessert recipes fun and healthy. My decadent Avocado Chocolate Brownie Cupcakes are a must-try if you're looking for healthy dessert recipes.
Get it here.
---
3. Peanut Butter Chickpea Bars
Call it breakfast, an after-school snack, or a lunchbox recipe, these Peanut Butter Chickpea Bars are going to be your kid's favorite healthy chickpea snacks. These bars are loaded with the goodness of protein and fiber and are crazy delicious. They are also vegan, gluten-free and dairy-free.

I love chocolate so dipped some of these in melted chocolate or drizzled some with chocolate but you can definitely have these on their own. Next time I'm surely gonna mix some chocolate chips into the batter. It's so easy to make, just whip everything in a food processor. It takes only a few minutes and just a few ingredients.
Get it here.
---
2. Savory Chickpea Flour Waffles 
These Savoury Chickpea Flour Waffles are a perfect Indian breakfast recipe. Served with a spicy chutney, these waffles taste heavenly. If you're familiar with veggie pakora fritters, these are pakora waffles that you can have as a classic Indian breakfast. These are also gluten-free.

This healthy chickpea recipe is only an updated version of the popular Indian snack. Loaded with the goodness of veggies and a variety of Indian spices, these waffles made with chickpea flour are super light and fluffy. They also have a good amount of protein and other nutrients in them. It will be ready in just 20 minutes or less at home.
Get it here.

Get more Thanksgiving Desserts for holidays.
---
1. Honey Sriracha Roasted Chickpeas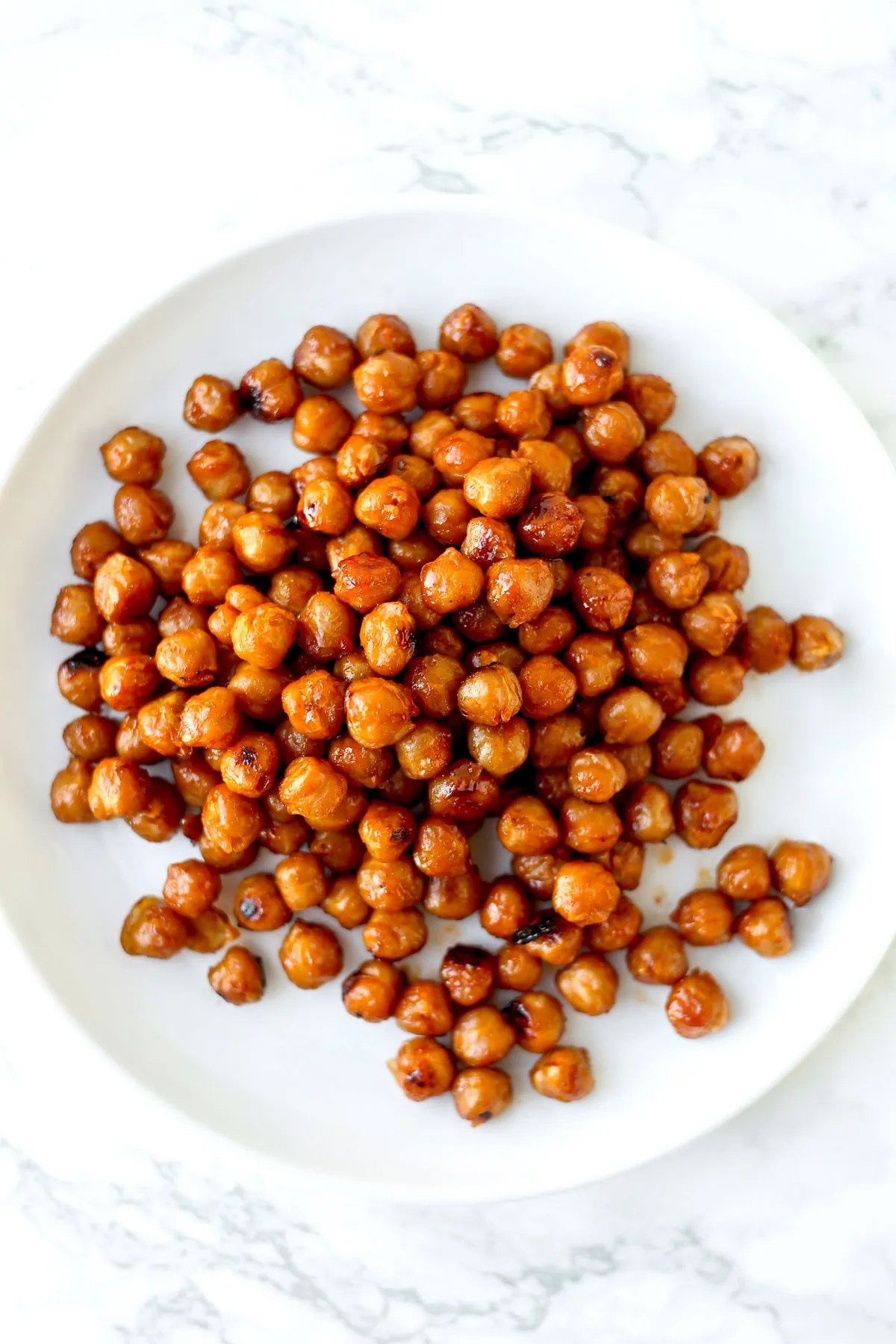 These Honey Sriracha Roasted Chickpeas with a sweet and spicy kick are a great snack option if you're looking for low-fat healthy chickpea snacks. Adding chickpeas to your diet can help you reduce your belly fat. These roasted chickpeas are your best friend. You can munch on them without worrying about weight gain.

They are a zillion times better than store-bought snacks in every sense — you can choose to make them healthier, customize them according to your taste preferences and they are budget-friendly at the same time. They do not take very long to make and taste far better than your store-bought snacks.
Get it here.
---
Bonus
Buffalo Chickpea Salad
Renovate your classic chickpea salad recipe with a spicy and tangy kick and there you have your Buffalo Chickpea Salad. This healthy recipe is crazy delicious and unbelievably easy to make.

This Buffalo Chickpea Salad is highly flavourful and nutritious. It's a combination of spicy buffalo hot sauce with creamy plant-based mayo, crunchy veggies, and chickpeas that are rich in fiber and protein. All of these with a delicious tangy flavor! This salad recipe, as you can see, is packed with a few simple ingredients and can be made in less than 10 minutes.
Get it here.
---
Savory Vegan Chickpea Muffins
These Vegan Chickpea muffins with veggie filling are outstanding for breakfast or chickpea snacks. These savory muffins are made with chickpea flour, also known as gram flour or besan in the Indian household, which is gluten-free.

These muffins made from ground chickpeas or garbanzo flour are absolutely healthy. This recipe requires a few simple ingredients that are easily available in your kitchen. Add all the veggies that you like and customize them according to your taste. These muffins are super scrumptious and take only 30 minutes to prepare.
Get it here.
---
Cheese & Onion Crispy Roasted Chickpeas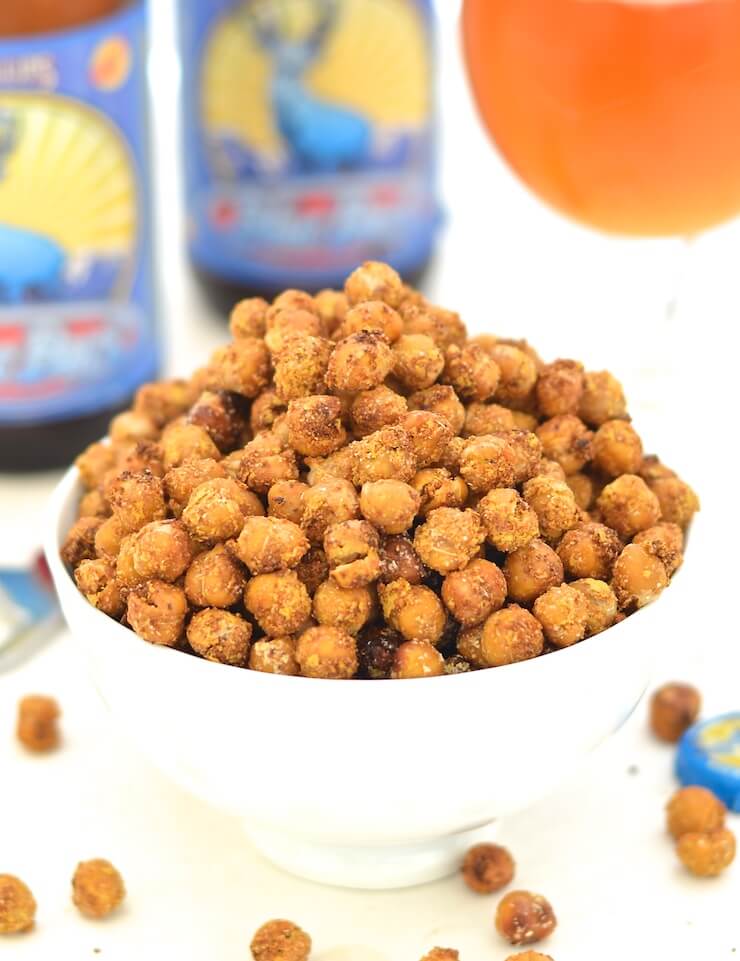 I'm a sucker for cheese and onion chips — they have such a subtle salty, cheesy, oniony flavor in every crunch. Here's a healthier version of these cheese and onion chips! Cheese & Onion Crispy Roasted Chickpeas! This healthy chickpea snack is so insanely crunchy and mind-blowing that you just can't resist having a bowlful of them. Packed with flavors of cheese and onion, toss the chickpeas with other spices, these roasted chickpeas are super crunchy and savory, balanced with subtle saltiness.
Get it here.
---
Mini Chickpea Flour Frittatas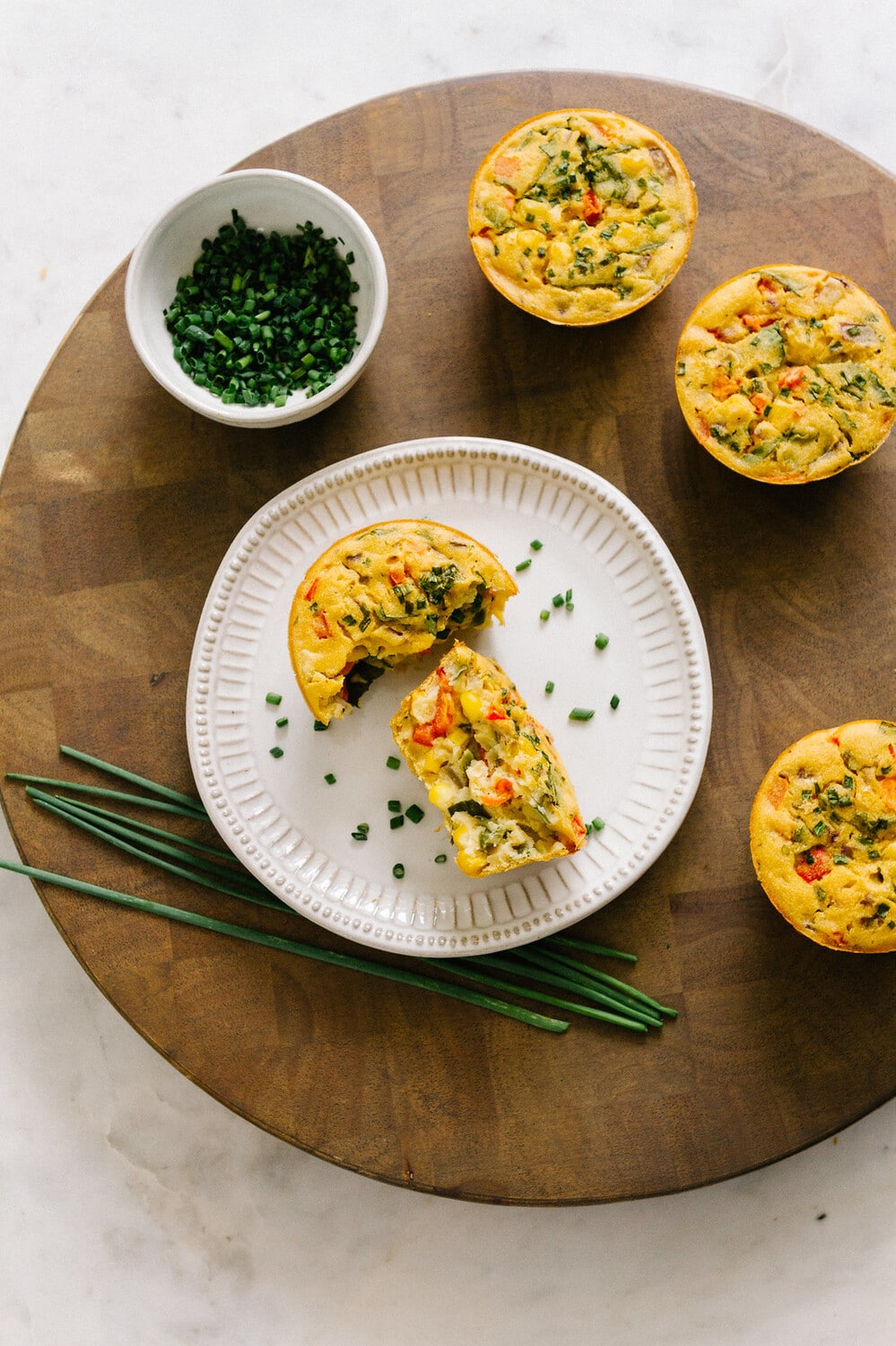 All you need to make these easy, healthy, and delicious Mini Chickpea Flour Frittatas are gluten-free chickpea flour, bell pepper, corn, baby spinach, onion, and fresh herbs. These healthy recipes for vegan frittata muffins can be eaten as breakfast or taken as chickpea snacks.

They have a multitude of names such as mini crustless chickpea quiche, chickpea omelet muffin, vegan egg muffins, savory chickpea flour muffins, et al. Traditionally Frittatas are made with eggs but we are going vegan with this recipe by using chickpea flour as a base. These vegan muffins might taste slightly different from the traditional version of Frittatas but I can promise you they'll turn out light and tender and amazingly tasty. These are ready in just 45 minutes or less.
Get it here.
---
You may Like These Meal Ideas:
One Pot Dinner Recipes
High Protein Meal Prep Recipes
Smoothie Recipes
High Protein Snacks
Chicken Breast Recipes
Valentine's Day Desserts
Easter Dinner Recipes
---
If you like this article about chickpea snacks, share with your friends or families on Facebook, Twitter, and Pinterest. Choose your favorite recipe and make it at home, let me know which is your best recipe in the comment. Also, you can subscribe to my blog to get all the latest updates first on your mobile.
---
To make these recipes for later, SAVE this pin on your favourite Pinterest Board