Good morning friends! I'm back again. With the arrival of summer I am here with cold soup recipes. Made many cold drinks or syrups. Try making cold soup recipes this summer. Don't take my word for it, make it and test it yourself. I'm sure you'll thank me. These summer recipes are stunning and hearty. As simple as this recipe is quick and easy to make. They are so tasty and gorgeous that they will prove to be a hit at any party or gathering. 

I made these summer recipes at my summer parties and wowed the guests time and time again. These are healthy recipes. It will satisfy both the body and mind of both children and adults. These healthy recipes contain various vitamins, minerals, fiber and protein. The most important thing is that the excess water of summer can be absorbed by our body from this soup. Make these cold soup recipes and enjoy the summer.
---
Some simple tips to make perfect cold soup recipes –
1. Include all the materials – Make an effort to obtain all the ingredients called for in your recipe. This guarantees the genuine flavor of your beverage.
2. Blend the ingredients well – Blend the ingredients for a long time. So that all the ingredients are well and perfectly mixed.
3. Use fresh fruits and vegetables – Adding fresh fruits and vegetables to your summer recipes will double the nutritional value and taste of your soup.
4.  Do not overcook – Do not overcook soup recipes that require cooking and turn off the oven at the right time or the ingredients will lose their nutritional value.
5. Don't Use Sugar – Make your favorite soup without sugar.  Add maple syrup, dates, or honey if needed, and make a sugar-free healthy soup.
6. Remodel the soup –  The reality is undeniable that food's look attracts us to it in a significant way. So make sure to add attractive garnishes to your beverages to dress them up.
---
Some of the benefits of cold soup recipes are discussed –
These cold soups give us comfort and peace during summer.  This soup is very healthy and necessary for the body.
These healthy recipes provide vitamins and nutrients.
Enriches our body with minerals.
Soups rehydrate our body.  Eliminates water from our bodies.
Protects our body from the scorching summer heat, and keeps us fresh and energetic.
These soup recipes are quick and easy, so you don't have to spend a lot of time in the kitchen.  No-cook soup recipes avoid cooking over an overheated fire.
Cold soup recipes are good for our skin.
These soup recipes are very effective in preventing diseases.
For those on a weight loss mission, these healthy recipes curb hunger pangs and provide essential protein, good fats, vitamins, fiber, etc.  Helps to keep the stomach full for a long time.
These soup recipes keep our tummies healthy, comfortable and peaceful in the scorching heat.
---
1. Lemon Asparagus Soup With Parmesan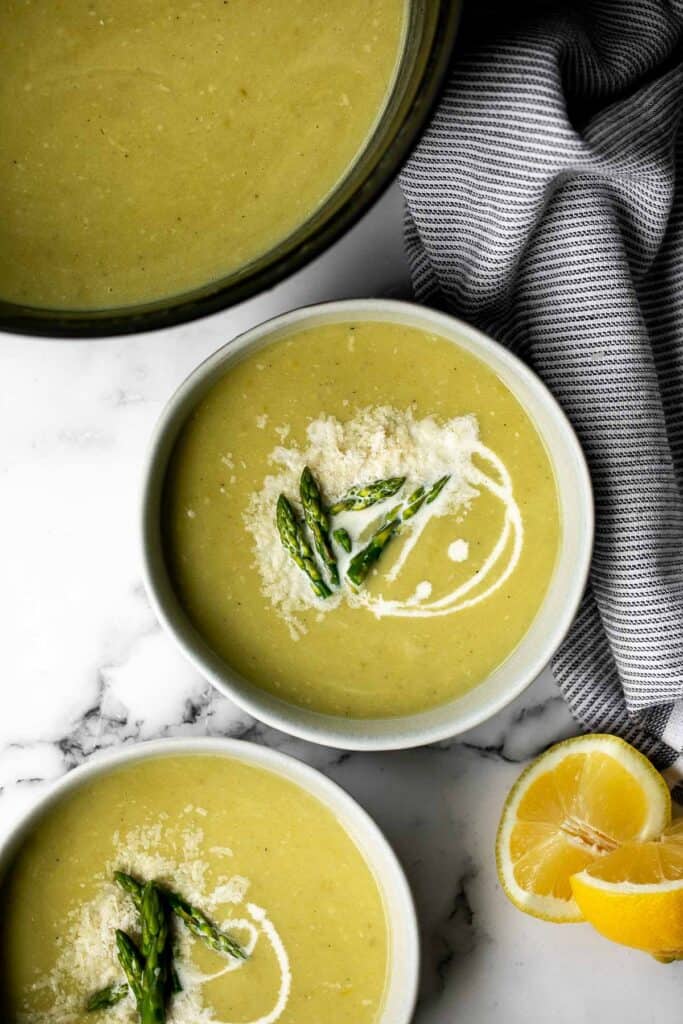 This Lemon Asparagus Soup With Parmesan recipe is one of the comforting cold soup recipes.  It is very easy and quick to make. This soup is light but has many qualities. It is a soup full of nutrients, including vitamins and fiber. Best of all, the lemon juice, asparagus and parmesan in it combine to create a heavenly flavor and healthy dish. 

This is a complete gluten free soup. It can be eaten in winter as well, but is served hot. Serve it cold in summer and enjoy its coolness. I am sure this cooling soup will give you peace and comfort in the hot summer.
Get it here.
---
2. Tomato Peach Gazpacho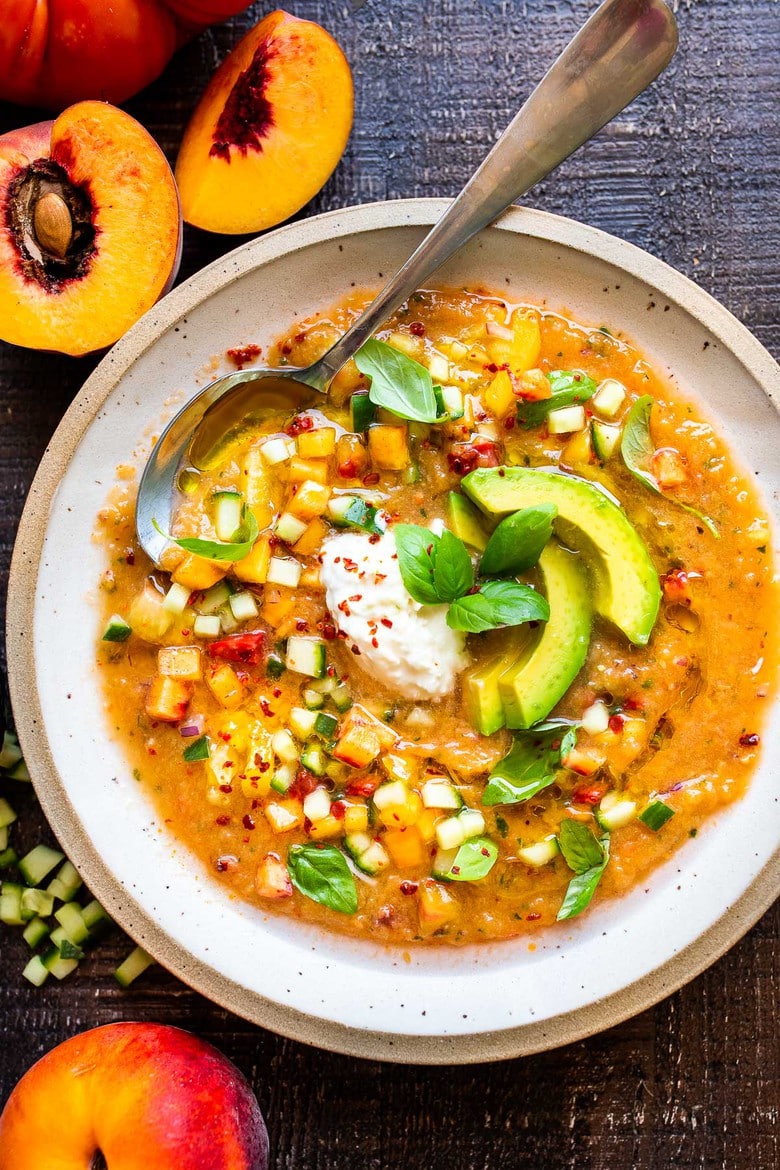 Tomato Peach Gazpacho – These summer recipes are full of incredible flavors and textures. This great-tasting recipe is vegan – gluten-free – paleo-friendly. It is very easy to make. I like this recipe the most because of its color. My kids are very attracted to its colors. 

Healthy ingredients are used in this delicious recipe. For example, cucumber, peaches, red onion, tomato, red wine, etc. are combined to make this cool and healthy soup. This soup provides nutrients to your body. This soup is best for dieters.
Get it here.

Find out these amazing summer punch recipes for hot days. But also try chicken sheet pan dinners & chicken mushroom recipes & low calorie chicken recipes for weeknight dinners for family.
---
3. Cold Cucumber Soup
This Cold Cucumber Soup recipe is one of the best cold soup recipes. It takes 10 minutes to make and refrigerate this dish for 1 hour before serving. This recipe is going to be your favorite in the hot summer. My whole family loves this cold cucumber soup. This recipe is made almost every day in my house during summer. My husband loves this cucumber soup the most. It is a no-carb cold soup.

Which contains the highest amount of water which fulfills the need for extra water in our body. Add good fat to this no-carb soup. Make this cucumber soup with Greek yogurt. This soup is a vegetarian, gluten-free, and healthy soup recipe. This soup can be eaten satisfactorily both during lunch and dinner. So what are you waiting for?
Get it here.
---
4. Summer Watermelon Gazpacho Recipe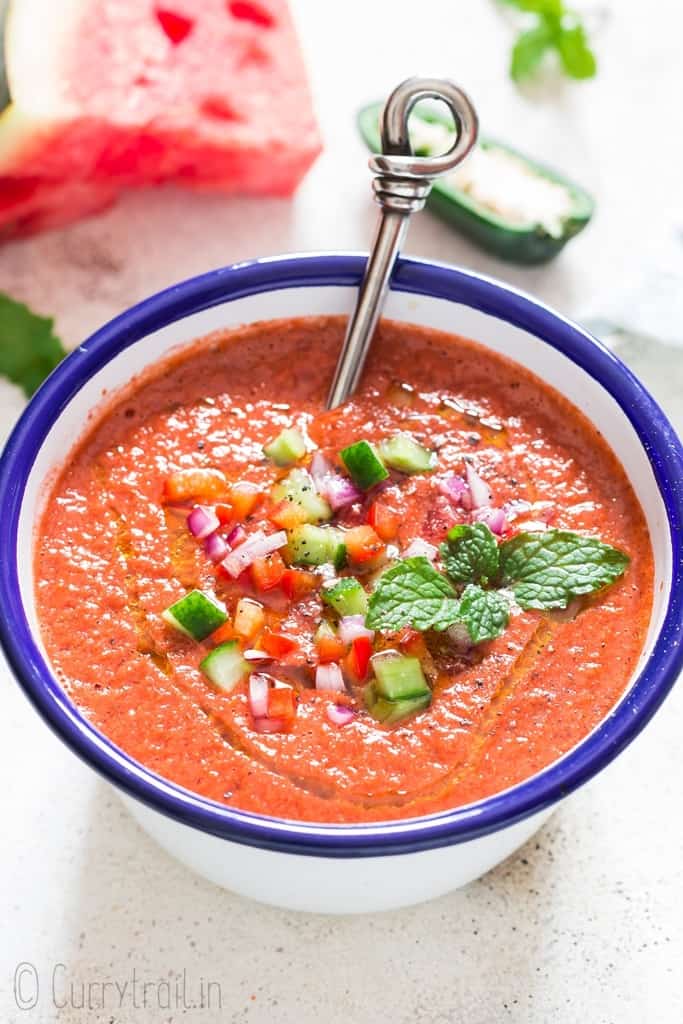 You'll never prepare a soup as fast and easy as this one.  A no-cook cold soup that is ideal for sweltering summer days. All components only need to be chopped, then combined in a blender, and finished! A flavorful, nourishing soup that is refreshing and full of minerals and nutrients.

The ideal way to enjoy gazpacho is chilled. The only challenging aspect is standing over the soup to cool. The soup tastes the finest after chilling in the refrigerator as all the flavors meld together. On days that you want to prepare dinner quickly rather than working hard in the kitchen, gazpacho is ideal. Indeed, this icy summer soup can stand alone as a healthy summer dinner. even though an appetizer is typically provided with it.
Get it here.
---
5. Chilled Pineapple Soup
This Chilled Pineapple Soup recipe is one of the most delicious healthy recipes. My daughter loves to eat pineapple. Everyone in our family loves to eat this Chilled Pineapple Soup. I first ate this soup on a beach. It has become my favorite since that day.  Since then it is also made in my house and everyone likes it very much. It will give you peace and comfort during summer. This soup takes only 10 minutes to make.

It is so easy that my kid can make it too but with my help. Buy ripe juicy pineapples to make it. I would recommend buying it ripe and juicy then it becomes more delicious. This cold and healthy soup contains a variety of healthy ingredients. Like – pineapple, lemon juice, guava juice, dates, coconut cream, banana, basil etc. Each of these elements is a shining gem that keeps our body healthy in various ways.
Get it here.
---
6. Strawberry Soup
Are you a strawberry lover!  Then this super tasty strawberry soup recipe is just for you.  This soup is rich in nutrients as well as great taste. It keeps both your body and soul healthy.  It is very easy to make. The funniest thing about this soup is that I made this strawberry soup with strawberries from my own garden. I have had an abundance of dark red strawberries in the garden.

These red strawberries are the result of a lot of hard work and love. The soup is more delicious because I made it with fresh strawberries. This strawberry soup is perfect for any gathering or party. This is also the best recipe among healthy recipes.  You can serve this soup with various garnishes, I served it with mint leaves.
Get it here.
---
7. Chilled Watermelon Lime Soup
This Chilled Watermelon Lime Soup recipe is surprisingly hearty. It is so satisfying that you will want to eat this soup again and again in the hot summer. It takes only 5 minutes to make. I was first introduced to this soup by my gym trainer. The peace of sipping this cold fruit soup after a long gym session is different.  Don't take my word for it, drink it and feel it yourself. I am sure it will relax both your soul and your body. Its color attracts everyone.

My kids love watermelon and make this soup and they gobble it up in no time. Adults and children alike love this soup. This delicious recipe is made with fresh watermelon, coconut cream, mint leaves, ice etc. Before serving, drizzle olive oil with lemon juice over it and serve. I know you will love this Gluten Free Cold Watermelon Soup.
Get it here.

Here are some easy layered desserts for holidays.
---
8. Cold Corn Soup
You've made hot corn soups many times but made cold summer soups with corn! If you haven't done it, make this Cold Corn Soup quickly!  This cold corn soup recipe is one of the most amazing summer recipes. Once you eat this recipe, you will never forget its taste.

A variety of healthy ingredients are added to this delicious soup. It is a nutrient packed high fiber soup. It is enough to satisfy our hunger.  This soup is bad for those who are losing weight. It will help you lose weight and keep your stomach full for longer. Yellow corn, garlic, green onion, leek, bay leaf, peppercorns, butter etc. are combined in this soup. Bay leaf, thyme and cloves mix in it and create a different aroma. This is a thick cold corn soup that is a great recipe for any occasion.
Get it here.
---
9. Cold Busting Soup
Cold Busting Soup – This soup recipe can be identified as a show stopper among healthy recipes. This soup is the most nutritious cold soup recipe. It prevents various diseases in our body. This soup contains folic acid, vitamin C, potassium etc.

This meal contains phytochemicals which boost our immune system. It is especially helpful in curing various diseases in our body. Also, this soup recipe combines sweet potato, cauliflower, parsley, lemon juice, kale, etc. You can also use spinach replace of kale. Avocado oil is used to make this soup.
Get it here.

Let's try these mango dessert recipes for hot summer days.
---
10. Beet Gazpacho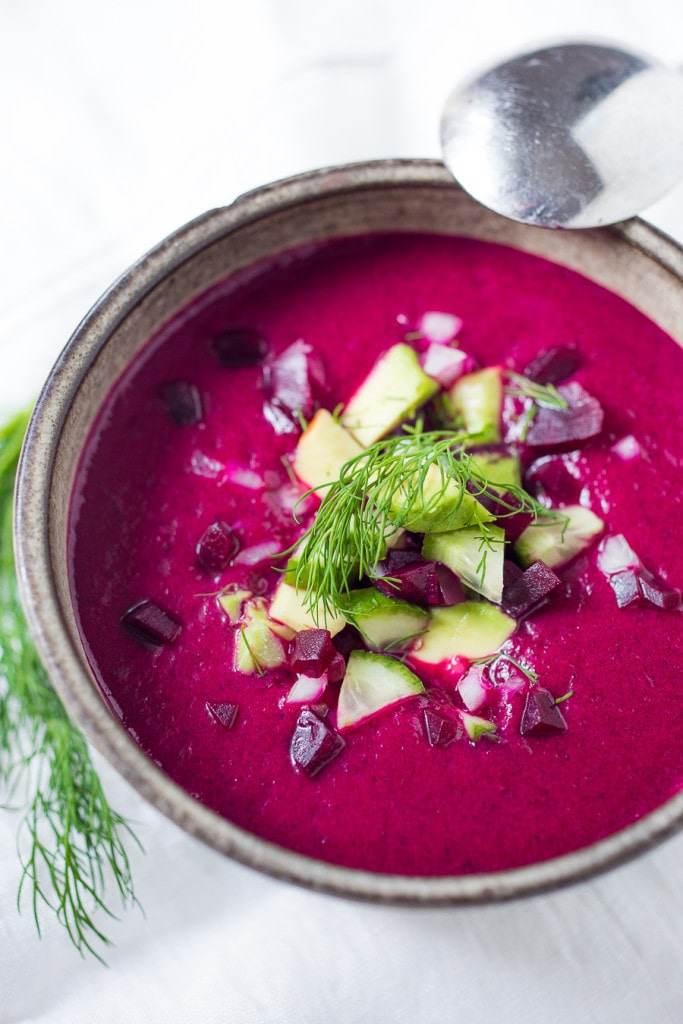 This Beet Gazpacho recipe is one of the super duper hit cold soup recipes. Its color is so strong that it attracts everyone specially.  My kids don't want to eat beets at all. I make this Beet Gazpacho for them and they eat it with great pleasure. They love it very much. Food colors always attract people of any age and this is one such food. Its nutritional value is infinite.

It contains a lot of vitamins and this recipe is the best food for weight loss. In summer it will keep your stomach and calm you while curbing your hunger. These healthy recipes are very easy to digest. This recipe is also very easy to prepare. Use fresh beets to make this recipe double the flavor and quality. Healthy ingredients like fresh beets, fresh dill, garlic, cucumber, fresh pepper, and sherry vinegar are used to make this delicious recipe.  Gluten-free and vegan recipes. Trust me, this is the perfect recipe for any occasion or gathering. So what are you waiting for?
Get it here.
---
11. Thai Sweet Potato Carrot Soup
This Thai Sweet Potato Carrot Soup recipe is a great dish for both hot and cold seasons. This type of recipe is great as a summer recipe. It's really heartwarming for parties or events. I 100% guarantee it will impress your guests at any event. This soup is one of my dad's favorite dishes. When my father came to me, he asked me to make this soup. This sweet potato recipe is an impressive tasting and healthy dish.

Kids don't want to eat vegetables at all but if you make this soup they will eat it very happily. I speak from my experience that your child will love it too. Start eating and preparing such nutritious food. It is very beneficial for our body. Healthy ingredients like carrot, garlic, ginger, sweet potato, coconut milk, vegetable broth, cashew etc. provide many benefits to our body. This delicious soup also has health benefits coming from the healthy ingredients in it. Garnish it nicely and serve. Enjoy!
Get it here.
---
12. Thai Cauliflower Soup
Only takes 20 minutes to prepare, and everything is done in one pot! Only a small number of straightforward components, such as onion, garlic, lime, and chili paste, can produce smooth tart, and peppery flavors. can be extremely hot or not! 

Using my main suggestions, you can modify the level of heat in this recipe to suit your preferences. It makes just enough for four people, making it the ideal small batch for a family dinner or just one dish with leftovers for some days. This dish is inherently vegan!
Get it here.
---
13. Easy Tomato Gazpacho Soup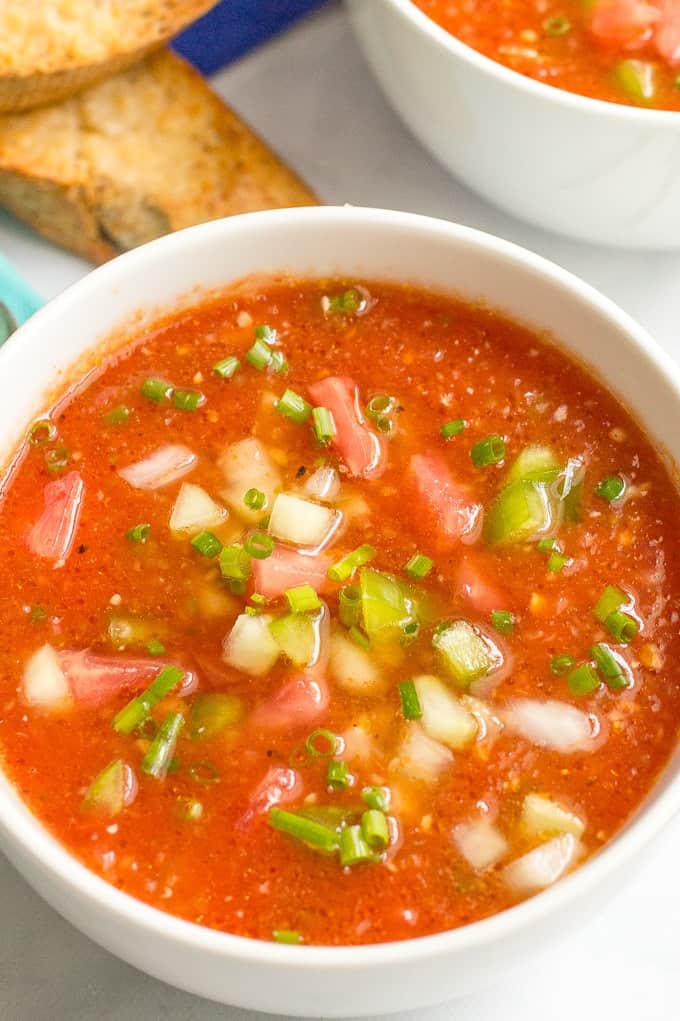 This Easy tomato gazpacho soup recipe is one of the best tasting cold soup recipes. This is a very cheap and nutritious soup recipe. The ingredients required to make this soup are always stocked in our kitchen. For example – big size tomatoes, bell pepper, cucumber, clove garlic, onion, olive oil, tomato juice etc.

I loved this tomato gazpacho soup during my pregnancy. The doctor told me to eat it as it is healthy. My mother used to make it and feed it to me. It is very easy to make and this cooling soup will keep both your mind and body cool during summer. This soup is also loved by kids for its color and mild sweet and mild tangy taste. It is spiced with hot sauce to double the taste.
Get it here.

make these amazing one pot dinners for your whole family.
---
14. Cold Carrot Soup with Jalapeno Coconut Milk
The foundation of this soup also includes unsweetened coconut milk and chicken broth in addition to carrots. In the Asian section of the market, coconut milk is frequently available in cans.  The 15-ounce can is immediately added to the soup, about half of it. The diced jalapeno should be combined with the leftover coconut milk, which should then be refrigerated. This jalapeno-coconut milk combination will make a fantastic garnish for the Cold Carrot Soup because chilled coconut milk thickens up considerably. Everyone will be very tempted by this bowl of soup. This bowl of soup looks like an egg. This is my favorite.
Get it here.
---
15. Cold Avocado Soup 
Avocado soup is loved by us more or less and there are many reasons to love it. This chilled avocado soup recipe is one of the best summer recipes. It is very easy to make. Because it does not require cooking to make it. None of us like to turn on the oven in the hot summer. Do not want to go in front of the fire. For that you will love this soup more. It is a very useful and necessary food in our body. Also, avocado desserts are perfect for summer days, wanna try?

You can make this soup recipe when you just don't feel like eating avocado all the time. It is a very quick recipe which is rich in nutrients. This is an incredible soup recipe for those who are losing weight or are health conscious. It contains minerals, fiber, protein and good fats. You will thank this soup for having so many benefits together. To make this soup, mix cucumber, ripe avocado, plain yogurt, lemon juice, cilantro etc well together and this soup recipe is ready. Yes, friends, it's that easy! Make it quick!
Get it here.
---
16. Chilled Blueberry Soup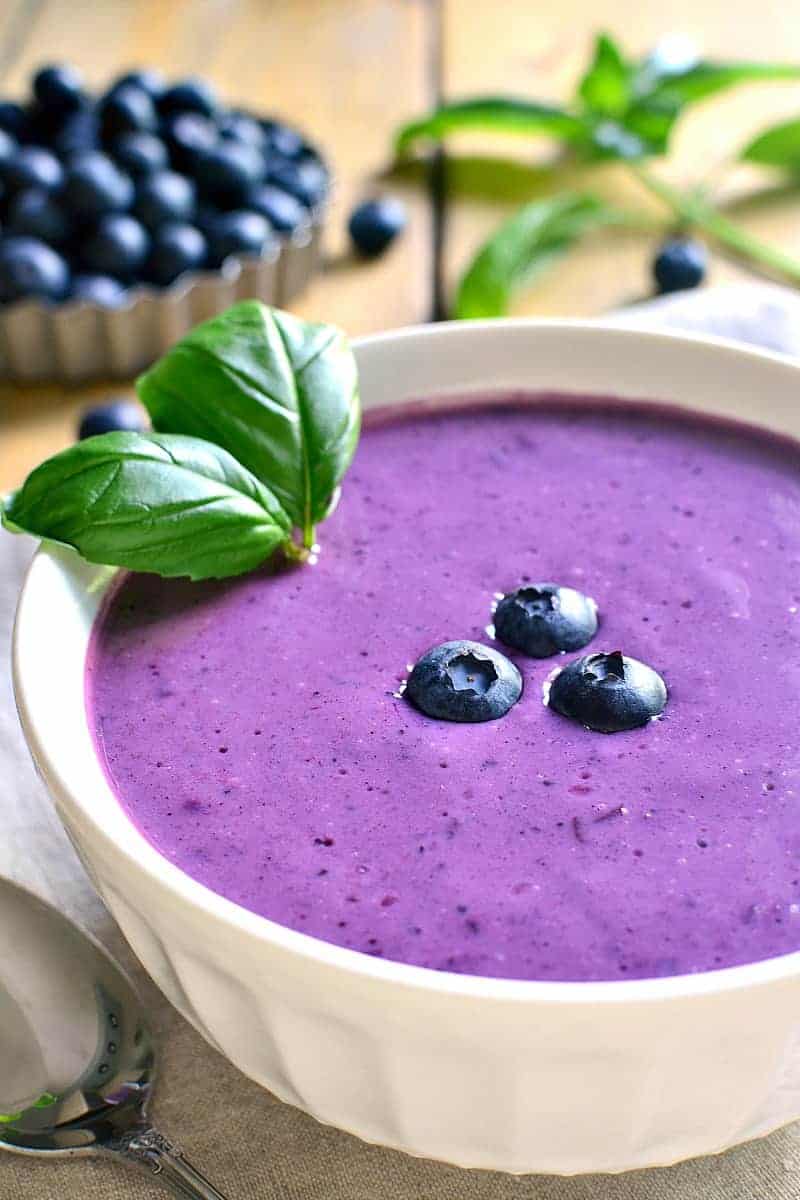 This Chilled Blueberry Soup recipe is one of the most gorgeous cold soup recipes. It is also a tempting recipe. This recipe is my mom's favorite. I made this on my mother's birthday. I bought blueberries from the farm to make it taste better. Because even if it costs a little more at the farm, you can see and choose with your own hands. It's also great made with store-bought blueberries.

This delicious recipe is made by combining fresh blueberries, ginger, cinnamon, yogurt etc.  This recipe is quick to make at home. This is included in the no cook recipe. You will be impressed once you try this vegan, paleo and nutritious soup. This is a super duper hot soup recipe for summer.
Get it here.
---
17. Chilled Peach Soup Recipe
This Chilled Peach Soup recipe is one of the hit summer recipes. It's like a restaurant, now make it at home. Have you ever made the coolest peach soup recipe!  If not, make it soon! This hearty soup recipe will win over you and your family in no time. Garnish with homemade basil oil and serve. This is the perfect soup recipe for any occasion.

Its taste and nutritional value will satisfy everyone. It is very easy and quick to prepare. This cool soup in just 20 minutes will comfort and soothe you in the hot summer. This delicious recipe requires healthy ingredients like basil leaves, seedless cucumber, honey, champagne vinegar, Greek yogurt. It is served with beautiful garnishes.
Get it here.
---
18. Okroshka – Cold Summer Soup
Every summer, we are blessed with fresh produce to commemorate the soups and salads, and this are frequently the foundation of my daily cooking. I consider eating cucumbers to be one of those veggies that should always be available. The abundance of crunchy cucumbers in my yard this year has been a blessing.

They create a soup that tastes like a mouthful of summer when combined with other flavorful veggies and herbs. The name of this broth is okroshka. A chilly Russian soup known as okroshka can be prepared with any fresh, crunchy summer vegetables, herbs, and eggs. Each dish is accompanied by a hearty splash of lemon juice and buttercream or kefir.  On a scorching sweltering day, it is the ideal dish for lunch. Try it out to understand what I'm saying. mean!
Get it here.

These vegan rainbow meals are perfect for summer meals.
---
19. Mixed Fruit Custard Soup
This Mixed Fruit custard Soup recipe is one of my favorite healthy recipes. This mixed fruit soup is my weekly breakfast during the summer.  This flavor packed breakfast will be loved by everyone. This is a completely vegan recipe.  This mixed fruit custard is made with plant based milk. You will feel much fresher by having this recipe as breakfast. Energize yourself from summer fatigue.

This mixed fruit soup is a delicious energizing recipe full of nutrients.  During summer our body needs extra water this soup recipe will add extra water to our body. You can make this recipe with fruits of your choice. This delicious recipe is made with apple, banana, blueberry, dragon fruit, grape, kiwi, pear, orange, maple syrup etc. This soup recipe does not have any specific ingredients, you can add whatever ingredients you like and enjoy its sweetness. It is vegan, gluten free and paleo friendly soup recipe. This soup is perfect for weight loss. Create and enjoy!
Get it here.
---
20. Chilled Kiwi Mango Soup Recipe
Cold summer soup recipes will never have a mango recipe!  Friends I am here with your favorite fresh mango soup.  Make this Chilled Kiwi Mango Soup recipe with fresh mango, kiwi and honey. This is one of the stars of Summer Recipes. Use mint in between to whip up this super tasty and fresh soup recipe. 

Blend long enough to double the flavor and serve. This is a healthy and delectable recipe.  Sip on a great cool homemade fruit soup without ice cream in the scorching heat.  AHHHHH!  It's really cool!
Get it here.
---
21. Chilled Cranberry Soup
I made a holiday soup which was the ideal starter for your holiday dinner as a result of my decision. Given the spring-like temperatures, I had some really fantastic notions, but when it came down to it, none of them were working for me. I couldn't stop picturing myself chowing down on a quart of the strawberry soup I had made early in the year. 

It's cold, hydrating, creamy, and sweet, but since strawberries aren't in season right now, I went with cranberries as a substitute. My local grocery store's entrance to the produce area is still completely covered in cranberries, so I thought, "What is this, cold cranberry soup for the holidays." It functions, is joyful, and can be prepared in preparation.
Get it here.
---
You may Like These Meal Ideas:
Fritter Recipes
High Protein Slow Cooker Recipes
Easter Dinner Recipes
Green Bean Recipes
High Protein Snacks
High Protein Meal Prep Recipes
---
If you like this article about cold soup recipes, share with your friends or families on Facebook, Twitter, and Pinterest. Choose your favorite recipe and make it at home, let me know which is your best recipe in the comment. Also, you can subscribe to my blog to get all the latest updates first on your mobile.
---
To make these recipes for later, SAVE this pin on your favourite Pinterest Board