Make the New Year more colorful. Call it Christmas or New Year this year, and celebrate both in a new way. Let the old people and the new people bond. Festival, light winter night, and feasting with it. Any festival without feasting is futile. So in this blog, I bring colors with food. Don't you understand! Hey, I'm talking about vegan rainbow meals. This meal has an assembly of colors. It's fun to make and fun to eat. Just imagine All the colorful food served at a home festival. Imagine it on a white plate once served. Oh my god! It's so beautiful! These meal prep recipes add layers of color.

They are very tasty, so not unhealthy food. These colorful healthy recipes take care of your mind as well as your body. These dishes are vegan recipes. I made a New Year's resolution last year to eat vegan food. Let's all think a little about animals. Think of their freedom and peace. Read these vegan recipes quickly! Hurry up!
---
1. Vegan Rainbow Lasagne
This is Vegan Rainbow Lasagna, truly an amazingly beautiful dish. I absolutely love lasagna. I have made so many types of lasagna. You could say lasagna is one of my favorite foods. These vegan rainbow meals are even more favorite because they have such beautiful layers of color that are just as mind-blowing.  It's mind-boggling, to be honest. This recipe is made with healthy ingredients. It's just a little careful layering that makes it great. I think these meal prep recipes are a great addition to any party.

This is awesome.  The savory dish is loaded with a pumpkin layer, vegan tofu "ricotta" and kale layer, beetroot layer, tomato sauce, and dairy-free béchamel sauce. Each layer uses wholemeal lasagna sheets. You can also alternate layers. You can also load it with ingredients like lentils, chickpeas, carrots, cauliflower, etc. Create the perfect combination so that you get lost in the world of flavors with every bite. Reach for a true rainbow of flavors. Make it and eat colorful food!
Click here.
---
2. Rainbow Salad
This rainbow salad recipe can be called the king of healthy recipes. I don't know what to name it. Every time I think about its name, I always get confused. Sometimes it is called super duper salad, and sometimes it is called healthy salad.  Sometimes I have "bleeding nutrition salad". Then I thought that new year needs a new name, so "rainbow salad".

Add this salad to your daily routine. It will change your body a lot. It contains a lot of micronutrients.  Your body will be really fresh, you can say you will stay away from many diseases. There is no rule of ingredients in making it, you can make it with your favorite ingredients. I made it with spinach, red pepper, red cabbage, roasted sweet potato and sunflower seeds.  I did. You combine all your favorite ingredients and create superpowers in your body. Make these another healthy high protein salads for meal prep.
Click here.
---
3. Vegan Rainbow Summer Rolls with Two Sauces
This Vegan Rainbow Summer Rolls with Two Sauces recipe is a very classic recipe. These meal prep recipes are scrumptious. This recipe is very interesting. It is a dish made with two types of sauces. Magic sauce. This sauce can make any dish great.  It only takes 30 minutes to cook. Peanut sauce and hoisin sauce are used to make it.

Summer rolls of vegan rainbow recipes are stuffed with red bell pepper, orange bell pepper, yellow bell pepper, English cucumber, etc.  The peanut sauce combines peanut butter, soy sauce, agave nectar, etc., and the hoisin sauce is loaded with sriracha sauce. This dish is a combination of colors and the color of the rainbow. The white rice paper is filled with colorful vegetables and sauce. Every bite makes you crazy.  Going to be. I know you've already gone to the kitchen!
Click here.
---
4. Veggie Rainbow Pinwheels
My daughter complains about school tiffin every day. Two days ago she became very serious about this matter. She won't take pasta, noodles, and sandwiches to school. She is bored and tired of taking the same two or three dishes for tiffin! As I was being late for my office, I scolded her and sent her to school with pasta.  Since then, I  have been feeling bad. I used to annoy my parents in the same way when I was a child! But how calmly my mother used to handle the whole thing.

Being a mother involves being as much responsible as it gives joy. That's why I decided to make something new and interesting for her school tiffin the very next day. I cut various colorful vegetables and prepared them the night before. To break the girl's anger and give her some new tiffin, I put bell pepper, baby spinach, purple cabbage, and carrot together. I filled whole wheat tortillas with vegetable stuffing inside. I actually tried to make Veggie Rainbow Pinwheels.
As soon as my little daughter returned from school, she ran to me and gave me a tight hug. I realized how successful I am. She doesn't let me down, saying she had become the champion for today's tiffin. Her friends just kept on praising me and said that they will go and ask their mother, why they don't give them such tiffin!

Today I realized how my mother has become the best mother in the world and in this way with a little intelligence and hard work, I can also become the best mother to my daughter.  I want to be. These healthy recipes will bring colors to your life as they did to mine. Believe me, I really want to be a good mother just like my mother and I know you want the same!
Click here.

Try these amazing one pot dinners are perfect for meal prep.
---
5. Raw Rainbow Veggie Noodle Salad with Peanut Dressing
This Raw Rainbow Veggie Noodle Salad with Peanut Dressing recipe is very tasty. It is a hit dish at any festival. Vegan rainbow meals are as tasty as they are hearty. This salad recipe makes you want to eat healthy food. More and more to eat.  You will be attracted when you have so many colorful foods together on your plate. I make this salad most days, you can say it has become my family salad now.

The sauce spread in this salad is inspired by Thai flavors. It includes peanuts, cashews, tamarind, garlic, and red pepper flakes are added. The flavor is peaked by adding maple syrup or coconut and lemon juice. This sauce is so tempting that you will be tempted to eat 3 to 5 spoonfuls without the salad. That's why I make more sauces. To eat with salads and just to eat. LOL! Honestly, it's really tempting!
Click here.
---
6. Rainbow Chia Pudding Parfaits
I can guarantee that once you try this Rainbow Chia Pudding Parfaits recipe, you won't be able to stop eating healthy food, you will become a fan of healthy eating. It looks so beautiful and classic that I fell in love the first time. On busy days, I prepare it the night before. I love to eat it anytime in the morning or at night. It utilizes the aroma and taste of fresh fruit very beautifully.

It has a variety of colors and flavors.  The incredible recipe combines blueberries, blackberries, raspberries, yellow oranges, mangoes, chia seeds, etc. I enjoy it more with lemon juice. If made the night before, all the fruit and chia seeds and dairy-free milk blend well. It takes 15 minutes to prepare. With such easy healthy recipes, everyone is bound to eat healthy food. I know you will love chia seeds too after eating this dish. I don't like chia seeds very much, but after eating this recipe. Oh please Oh please!
Click here.
---
7. 15-Minute Vegan Chili Garlic Noodles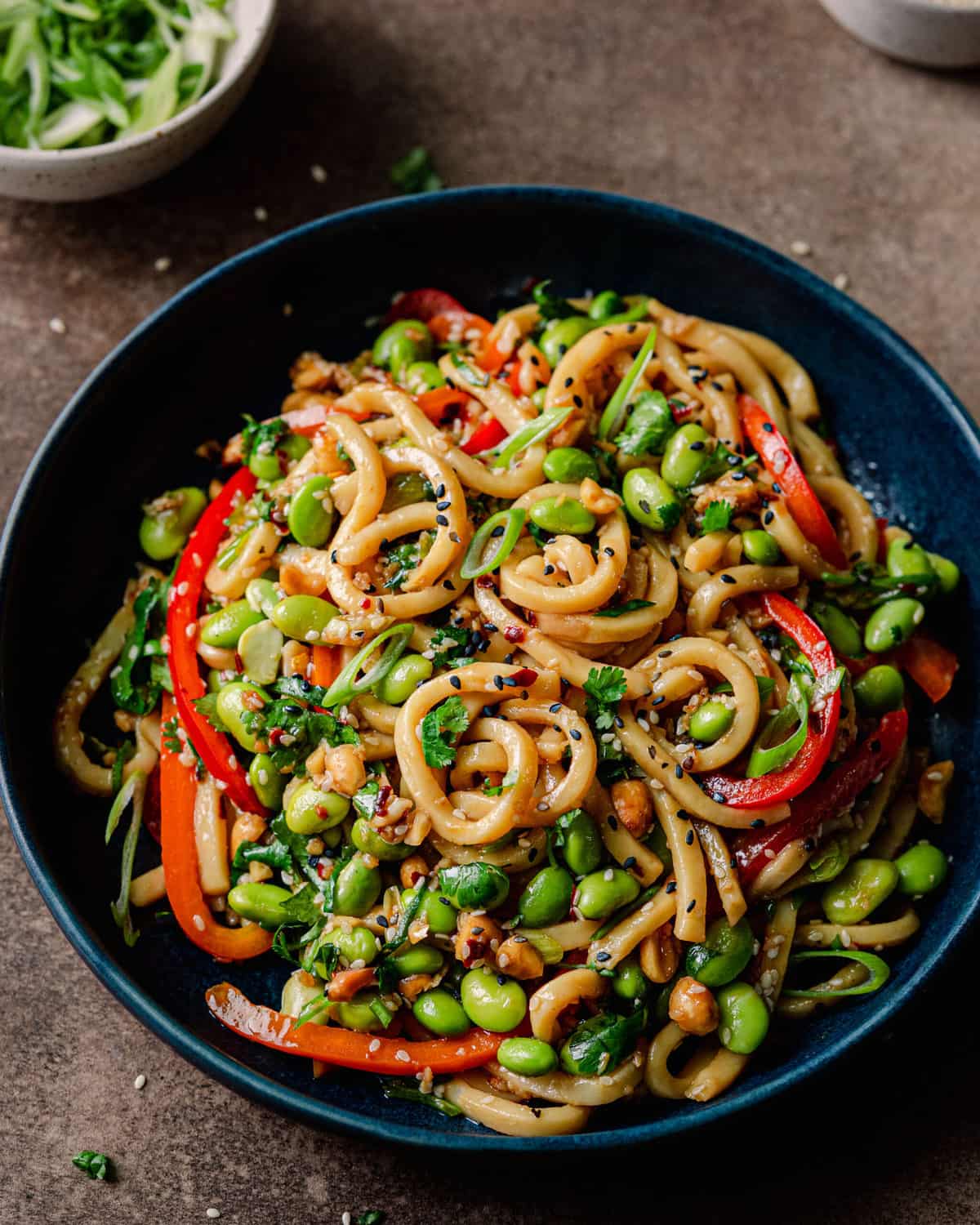 Do you love vegan chili garlic noodles? If so, then this 15-Minute Vegan Chili Garlic Noodles recipe is for you. These vegan rainbow meals add color to your dinner table. They're a traditional addition to any party.  Bell pepper, cilantro, edamame, scallions, and Chinese black vinegar are combined in it. 

It is ready in just 15 minutes. I have taken it many times as my office lunch. Sadly every time I have taken it I have not eaten my lunch before.  The Guys finished it. It's really fun!
Click here.
---
8. Rainbow Smoothie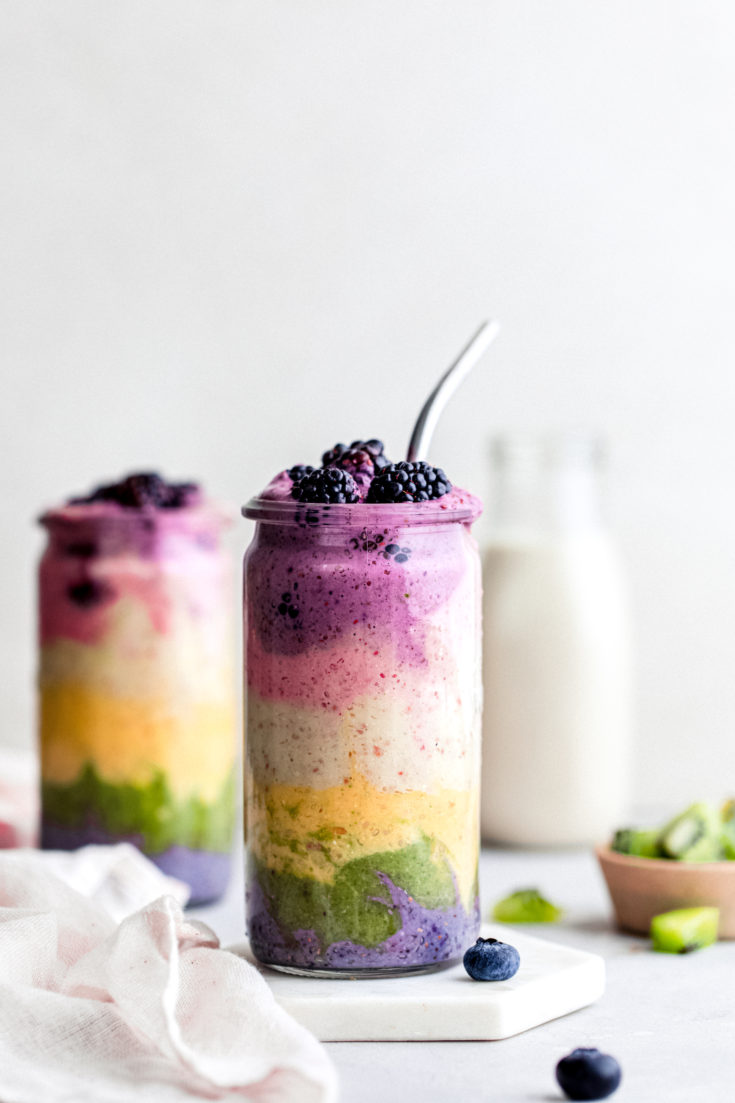 Smoothies can be consumed at any time, but it is more useful in hot weather. This food keeps the body cool. I like to eat any kind of smoothie as a morning meal every day in hot weather. After I exercise, take a little rest and eat this Rainbow.  Eat Smoothies. Many times I eat Banana Smoothie, and sometimes I start the morning with healthy food like Blueberry Smoothie, Mango Smoothie, etc.

When I start the morning with healthy food, I feel really bright like sunshine. I always feel fresh. This rainbow smoothie is chia. Loaded with seeds, flax seeds, almond milk, frozen blueberries, etc. This smoothie recipe is loaded with fiber and protein. It's as colorful as it is healthy. It's just a 20-minute smoothie. Careful preparation makes this smoothie.
Click here.

Get these amazing smoothie recipes for breakfast.
---
9. Vegan Rainbow Salad with Orange-Tahini Sauce
This Vegan Rainbow Salad recipe is fresh and great tasting. It is loaded with lots of vegetables. These vegan rainbow meals have a wealth of vegetables. These healthy recipes allow you to eat vegetables every day. 

These delicious meals include avocado, cabbage, chickpeas, English cucumber, and lettuce, loaded with apple cider vinegar. These colorful ingredients create a beauty that makes everyone hungry. You can use bell pepper or quinoa in this salad.  Make K more and more colorful.
Click here.
---
10. Vegan Falafel Wrap Recipe with Hummus 
I have colorful memories of this Vegan Falafel Wrap Recipe with Hummus recipe. My husband does not eat any vegetables. He gets sick when he sees vegetables. He only likes meat, fish, and various types of pizza. One day I gave him this Vegan Falafel without telling him anything.  Wrap the Recipe with Hummus Pack the food in his lunch box.

My husband came home from the office, hugging me and kissing me. He has never eaten such delicious food with such vegetables. This special moment happened two days after our wedding.  So when I cook this recipe, my husband kisses me and says, "I have rainbow-colored food!" This delicious dish is stuffed with carrots, beets, falafel, and hummus. It's a really delectable tasty dish.
Click here.
---
11. Cleansing Rainbow Detox Salad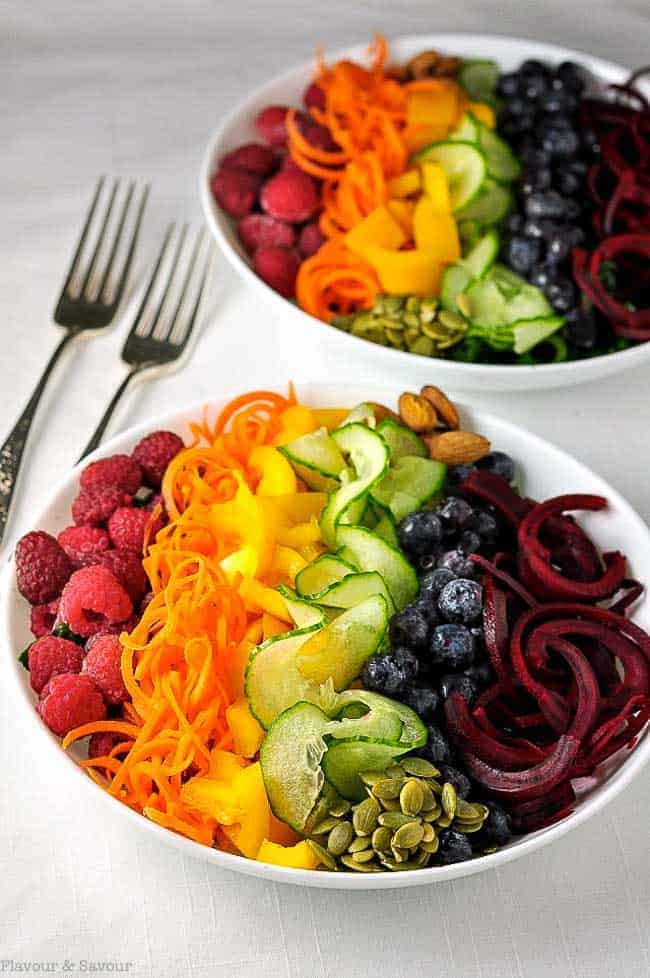 What first comes to my mind when I think of a refreshing healthy meal is a salad. I'm sure everyone can agree on that. The raw veggies that we eat in our salads help detox our body and unlike other meals, don't make us feel heavy and bloated. This cleansing rainbow detox salad is another of my vegan rainbow meals that not only looks colorful but helps nourish our body and skin from within.

This is one of those minimum meal prep recipes where you just chop and throw everything in one dish. Our main focus in this dish is to create beautiful colors with healthy raw veggies, nuts, and seeds. We chose veggies of different vibrant colors to make our dish look irresistibly colorful and delicious.

We added kale for its bright green color, raspberries for its deep red color, carrots for the orange color, yellow bell pepper for yellow, cucumber for green, blueberries for the blue, beets for purple, and pumpkin seeds and almonds to add crunch to our dish. All the veggies and berries and nuts and seeds add colors, crunch, and juiciness to our salad dish thus making it eye-catching and amazingly crave-able!
Click here.
---
12. Rainbow Cauliflower Pizza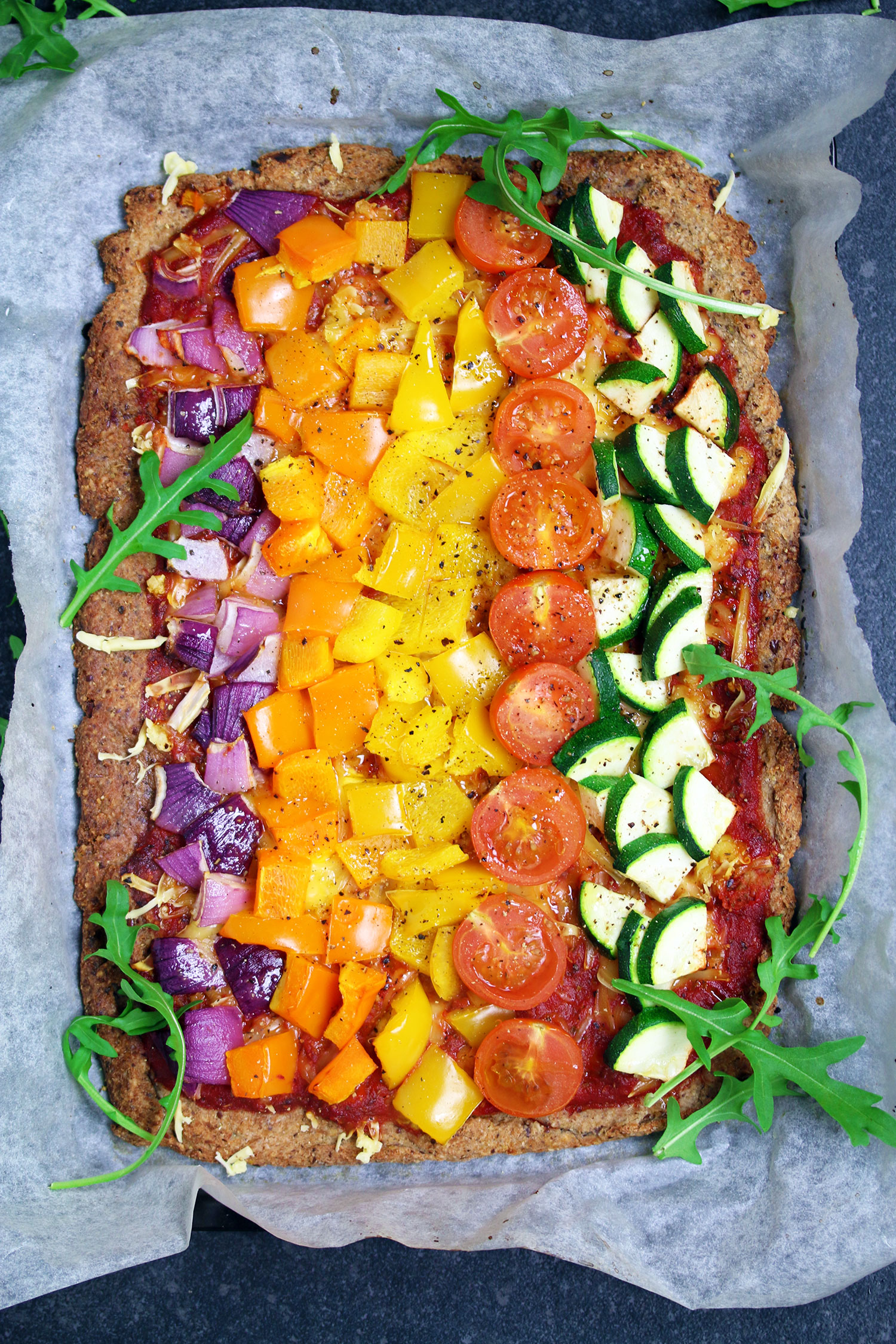 You don't need to sacrifice your favorite food in order to try healthy recipes. What I think is important is to eliminate the unhealthy ingredients and indulge in your favorite dish by using healthy ingredients in it. Although I agree that the unhealthy ingredients in your food are what makes it ultra delicious, that may not always be the case. The key is to make a choice and choose wisely. If you want to indulge in your favorite pizza but still want it to be healthy, here's a hack. Try this rainbow cauliflower pizza.

This rainbow cauliflower pizza has a cauliflower crust (look how we swapped out the unhealthy crust with a healthy ingredient, which here is the cauliflower crust) and is loaded with rainbow veggies (you can choose to add any colorful veggie of your choice) and vegan cheese. This is called choosing wisely. The pizza we made with these nutritious ingredients turned out super delicious, satisfying, and light on the stomach. Now you can indulge in your favorite pizza guilt-free!
Click here.
---
13. Chop't Chickpea Salad with Green Cilantro Tahini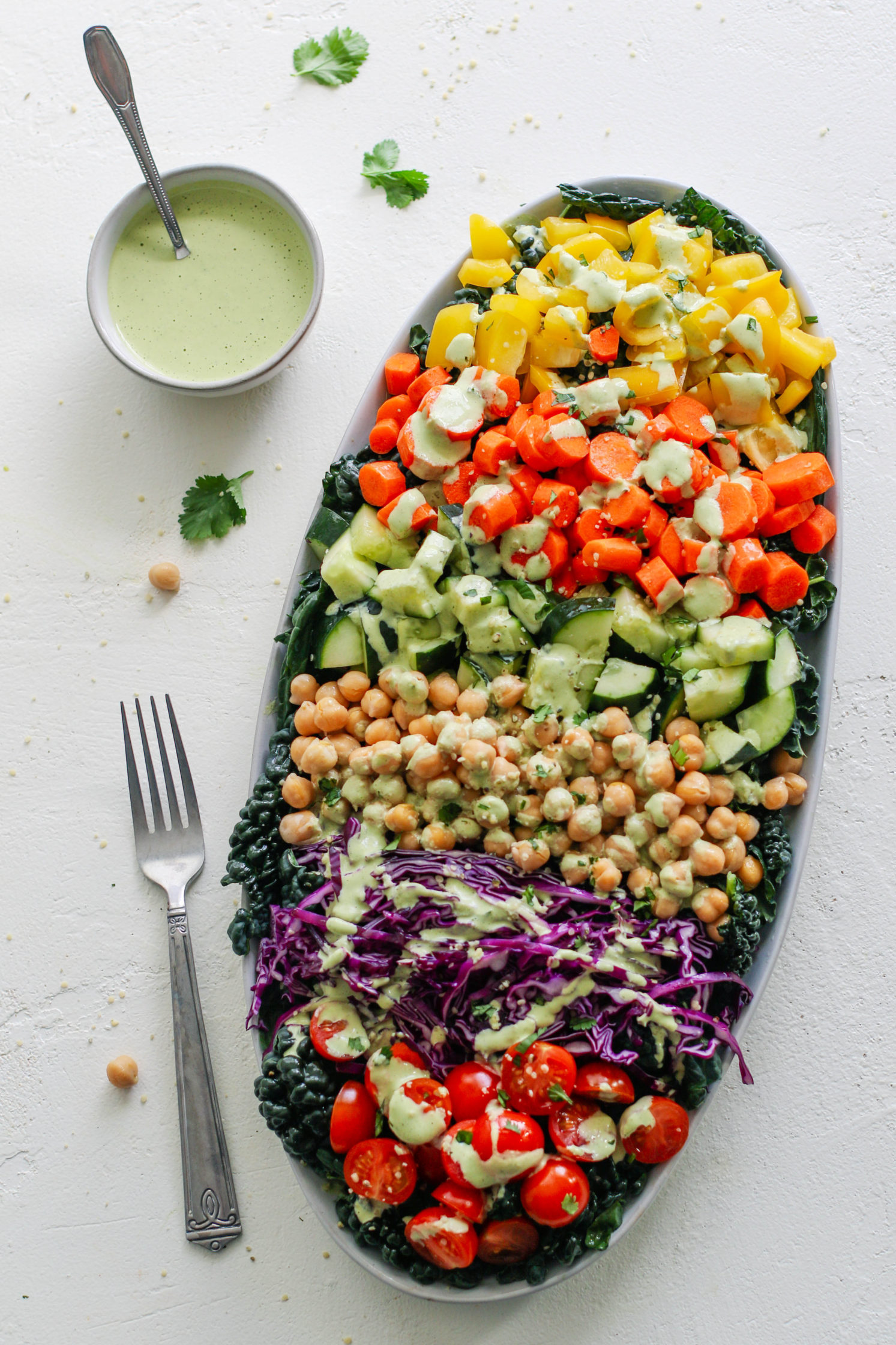 Being a vegan over the years, I've learned that one dish is my best friend. And that's a salad. It's easy to make, yet is overflowing with nutrition. It depends on you, how you want your salad. Salads can be boring and bland but also refreshing and utterly delectable. I like my salads to bleed nutrition yet be colorful, scrumptious, and satisfying. I don't want to stuff bland veggies into my mouth all for the sake of eating healthy. So I make my salads interesting by adding healthy and interesting ingredients to them.

This chop't chickpea salad with green cilantro tahini is a bomb. The green cilantro tahini is a star ingredient in this dish. It adds lots of flavors and a tangy kick to the dish. The chickpeas and raw rainbow veggies make for a refreshing, filling, and healthy meal, perfect for a summer lunch. We used kale, yellow bell pepper, carrots, cucumber, chickpeas, red cabbage, and cherry tomatoes which added a bright and beautiful hue to our dish. Who wouldn't want to eat such alluring vegan rainbow meals?
Click here.
---
14. Vegan Sausage Stuffed Butternut Squash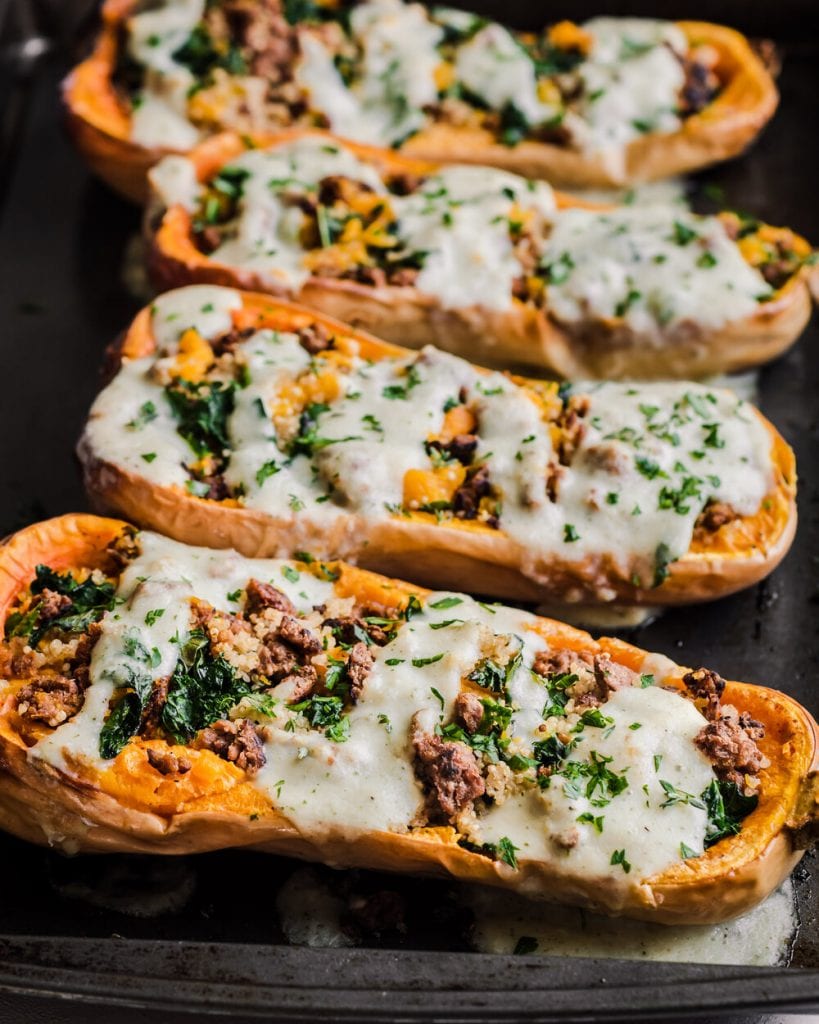 Enough of eating salads! As vegans, we are always taunted for being in love with our salads. Do they even know that our skill lies in making delicious food using only a limited variety of ingredients? We are extremely proud of our culinary skills! Let's prove how we can make our healthy recipes extremely scrumptious. Try this vegan sausage stuffed butternut squash.

I bet everyone will fall in love with this dish from the very first look. The rich vibrant colors in this dish are so attractive that you will immediately want to taste it. If you have guests coming over, then you have to make this vegan sausage stuffed butternut squash because it can be easily prepared in advance and is one of those meal prep recipes that require very minimum effort. Your guests will be overwhelmed by how wonderful this dish tastes.

Roasted butternut squash is stuffed with vegan meatballs, cooked quinoa, and kale and then finally the creamy garlic white sauce is poured over the stuffed squash which is a total game changer. The whole dish is cooked with avocado oil which is known to be healthier than other refined oils. Equally nourishing and over-the-top delicious. Isn't that what you don't expect from my vegan rainbow meals?
Click here.
---
15. Rainbow Veggie Burger
Rainbow veggie burger! Who would have thought that vegan bloggers could post things other than salads on their blogs? Days are gone when vegans would only make salads for their healthy recipes. We love to eat our burgers and pizzas just as non-vegans do. So we made vegan alternatives. This rainbow veggie burger is one of those vegan rainbow meals that will not only keep vegans hooked to its taste but I bet that even non-vegans will go wow over it. 

And it's incredibly easy to make! All you just do is mix and scoop and bake! Our rainbow veggie burger has all clean and healthy ingredients. There is cooked brown rice, kidney beans, cornmeal, barley flour, onion, garlic, cumin, hot sauce (optional), salt, and pepper. We mix all these ingredients in a bowl and then scoop them out and place them on a baking sheet, giving them the shape of a burger with our hands. Then we add frozen corn kernels, finely diced tomato, and chopped fresh broccoli florets on top and bake. See, that's how easy it is to make our rainbow veggie burger. Place these burgers between whole wheat buns and dig in!
Click here.
---
16. Raw Pad Thai Salad with Kelp Noodles & Spicy Peanut sauce
Have you ever tried salad with noodles and sauce? This Thai-style red pad Thai salad with kelp noodles and spicy peanut sauce will blow your mind. We just keep our veggies raw in this dish and kelp noodles are also meant to be eaten raw so no cooking is required in this dish. So we're confused about what to call this dish – a salad or a noodle! You tell us. This is one of my best vegan rainbow recipes ever.

The raw veggies add lots of nutrients and crunchiness to this noodle dish and the spicy peanut sauce takes it to another level. Kelp noodles are low in calories so it is a good ingredient for our diet. All we do in this dish is just coat the raw veggies like edamame, purple cabbage, carrots, yellow and red pepper, bean sprouts, cucumber, fresh cilantro and mint, peanuts, and the kelp noodle in the spicy peanut dressing and serve. Such no-fuss healthy recipes are what I bet my life on.
Click here.
---
17. Vegan Rainbow Bowl with Maple Almond Butter Dressing
Do you know what makes your salads interesting and mouthwatering? How silly of me! Everyone knows the answer. It's the dressing that adds life to your boring veggie salads. The dressing elevates the taste of your salads and makes your healthy salads immensely delectable. This vegan rainbow bowl with a maple almond dressing is seriously one of the best vegan rainbow meals. To create this epic salad, I went to the market and picked up all the veggies and fruits that I wanted to add to this veggie rainbow bowl.

The Yukon gold potatoes, romaine lettuce, grape tomatoes, carrots, avocado, blueberries, purple cabbage, radishes, and black and white sesame seeds really create a rainbow of veggies in a bowl. The maple almond butter dressing just enhances and compliments the taste of the veggies making them all the more attractive and desirable.
Click here.
---
18. All-Natural Homemade Rainbow Pasta
Everyone loves a satisfying pasta meal. But have you ever tried rainbow pasta? Don't worry, this is made without any artificial food coloring. We extracted colors from veggies to create this all-natural homemade rainbow pasta like red color from boiled beetroot, orange color from roasted red pepper boiled carrot, yellow color from roasted yellow pepper or turmeric powder or fresh turmeric roots, green color spinach leaves or parsley and purple color from boiled red cabbage half a teaspoon baking powder.

All these natural colors are used to make this colorful rainbow pasta. You, kids, will become a fan of this rainbow pasta because of its appearance. Cook it with their choice of veggies and add them to their lunchbox and you'll always see empty lunch boxes after school. It keeps both their heart and tummy happy!
Click here.
---
19. 20-Minute Chickpea Tacos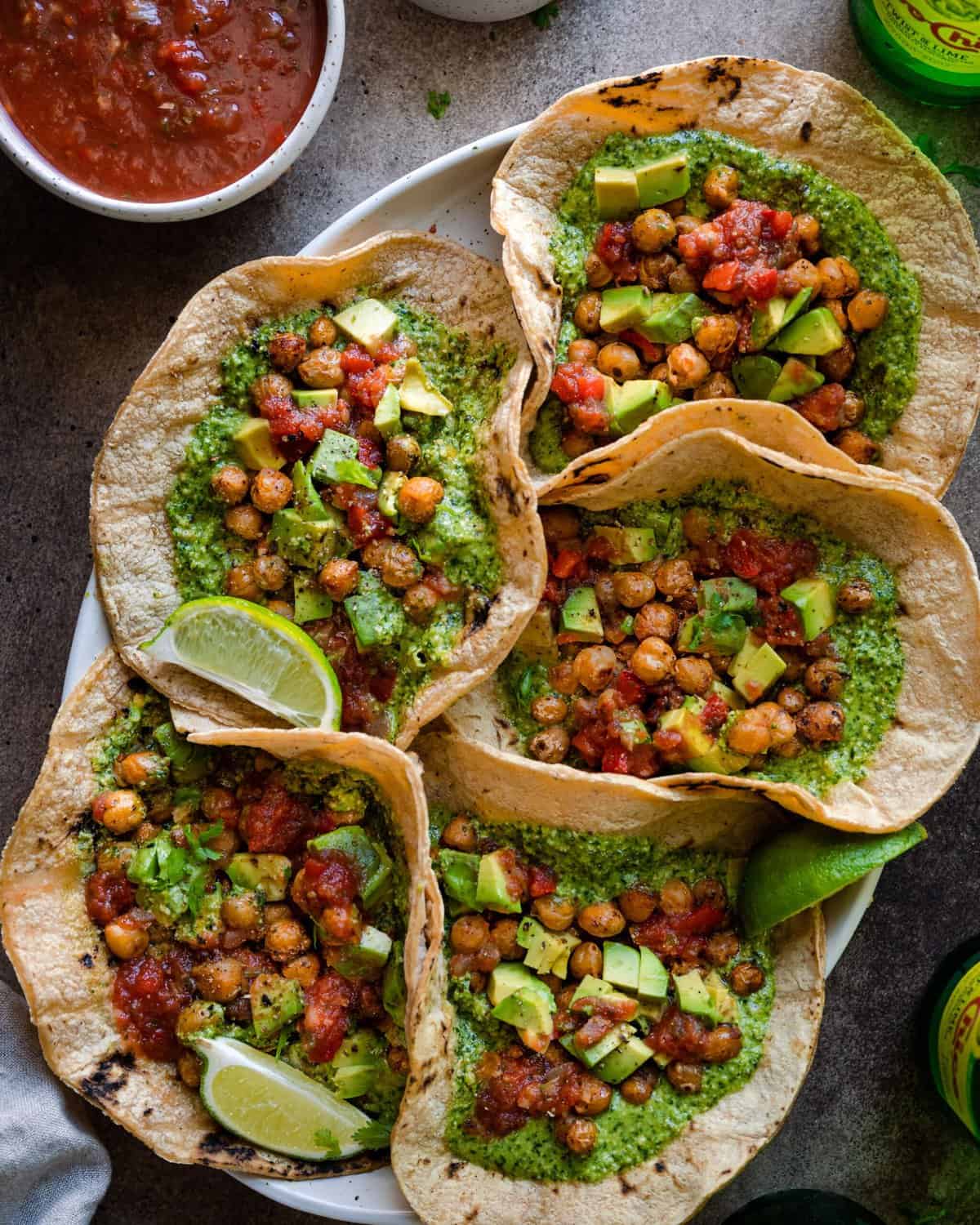 Craving for some Mexican tacos? But do you want them vegan? My friend Sally has been asking me to make vegan tacos for her since she is a big fan of Mexican tacos. So I asked her to come over for dinner this weekend and decided to surprise her by serving these chickpea tacos on her plate. Her reaction made me so emotional!

This chickpea taco is extremely easy to make and you won't believe it but it will be ready in just 20 minutes. This chickpea taco features spicy pan-fried chickpeas and a tangy and hot cilantro pesto topped with salsa and avocado. You will taste heaven in a dish! This mouthwatering taco will make you forget that it's vegan. It's so immensely scrumptious! When Sally had her first bite, she was speechless. She wanted to express herself by all means, so she just pulled me closer and kissed my hands, and hugged me really tight! I was so happy to have been successful in creating her favorite dish. She said it meant the world to her!
Click here.
---
20. Carrot Sesame Salad (Easy Vegan Recipe)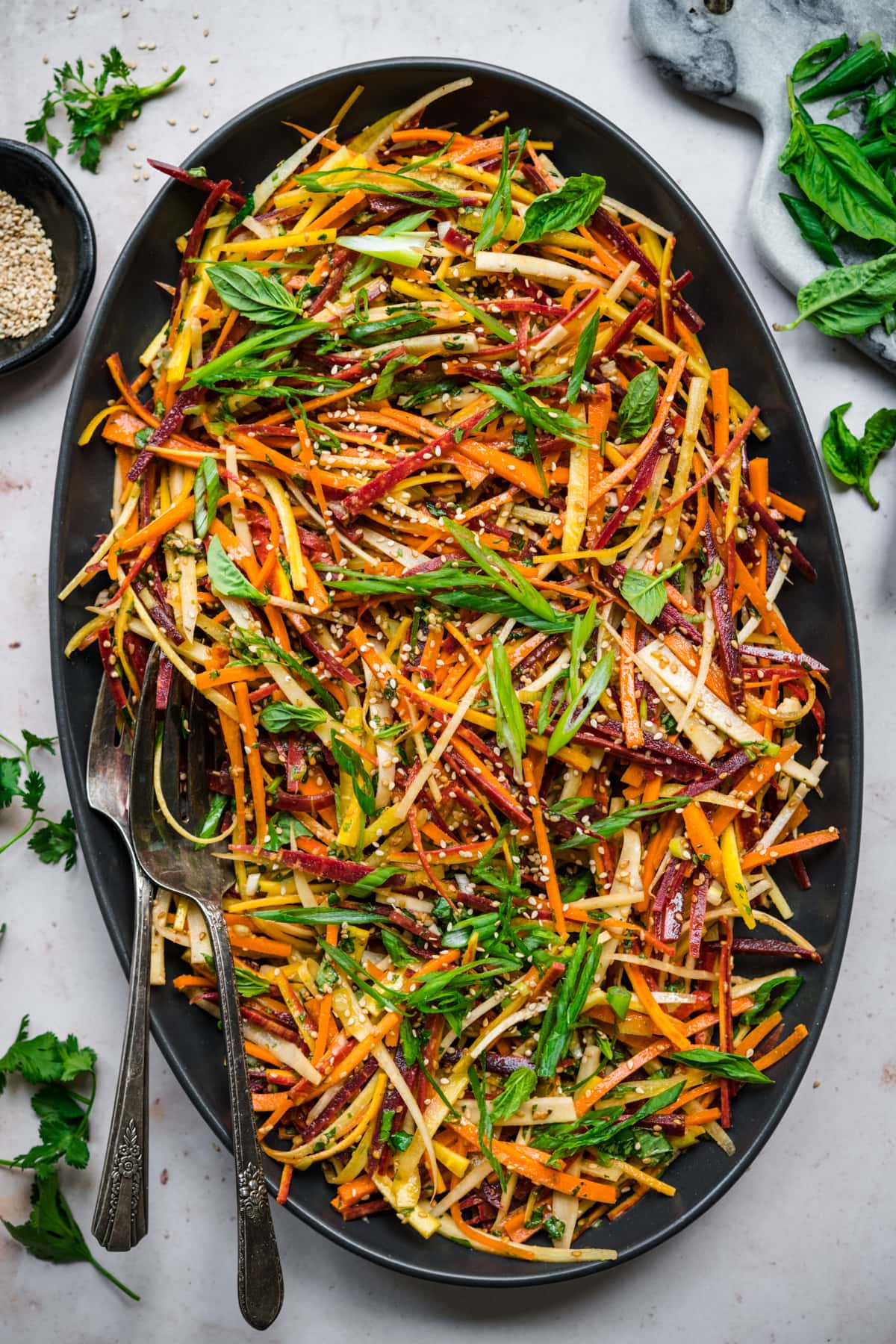 This lovely plant based carrot sesame salad is a lovely and satisfying salad with crunchy rainbow carrots, toasted sesame seeds, basil, scallions, cilantro, and a generous drizzle of sesame miso dressing. Salads are always easy meal prep recipes and this one is also really easy to prep. When my kids fuss about eating salad, I make them these colorful salads or vegan rainbow recipes with rainbow veggies.

The other day I made this salad and packed it for my daughter's lunch. She said that she now has another favorite salad and it's this carrot sesame salad that she ate for lunch that day. My mom used to say that the appearance of food is what makes it more desirable. We not only eat food, but we also inhale food through all of our senses. So how our food looks and smells is equally as important as how it tastes.

Don't make healthy eating a forceful habit. It should come spontaneously. Prepare the sesame miso dressing in rice vinegar, sesame oil, low sodium Tamari, mild white miso, sriracha, coconut sugar, finely minced fresh garlic, and freshly grated ginger, and drizzle over the rainbow carrots, basil, scallions, cilantro, and toasted sesame seeds and it's done!
Click here.
---
21. Vegan Rainbow Veggie Pizza
Another vegan pizza recipe on the blog! Who doesn't love pizza? And what excites me even more is making it at home. We celebrate pizza day thrice a month in our family and we all make and eat pizza together. Last week, we made a vegan rainbow veggie pizza with a cornmeal crust. I have already told you that in order to indulge in your favorite pizza guilt-free, you just need to swap the ingredients with their healthy alternatives. And that's exactly what we did with this vegan rainbow veggie pizza with a cornmeal crust.

This homemade pizza has a crispy, cornmeal crust which is spread with tomato marinara, sprinkled with cashew cheese, and topped with colorful rainbow veggies like zucchini, yellow summer squash, orange bell peppers, and red onions and sprinkled with a handful of fresh herbs and pine nuts. When this pizza came out of the oven, we literally jumped into this pizza and ate like pigs. It was really amazingly scrumptious and one of my best ever Vegan Rainbow Meals for holidays!
Click here.
---
You may Like These Meal Ideas:
Sheet Pan Meals
Holiday Breakfast Recipes
Cold Appetizers
Low Carb High Protein Recipes
Fritter Recipes
Holiday Brunch Recipes
High Protein Meal Prep Recipes
Vegan Spring Recipes
Crockpot Recipes
---
If you like this article about Vegan Rainbow Meals, share with your friends or families on Facebook, Twitter, and Pinterest. Choose your favorite recipe and make it at home, let me know which is your best recipe in the comment. Also, you can subscribe to my blog to get all the latest updates first on your mobile.
---
To make these recipes for later, SAVE this pin on your favourite Pinterest Board