You can prepare a pork, fish, or chicken supper along with all of your favorite veggie side dishes with just one baking sheet and these sheet pan dinner recipes. Take Ree's sheet-pan Cajun chicken, for example, which combines chicken, peppers, and corn. Or try Maple Dijon Glazed Salmon on a sheet pan, which is accompanied by a filling bread salad. Additionally, there's a brilliant new way to prepare gnocchi on a sheet pan with sausage and peppers. You'll notice that the flavors melt together deliciously in these healthy meals because everything is cooked in one pan and great for weight loss.

These sheet dinner meals will not only satisfy your family's hunger but also make washing the dishes a joy! Just can't really go wrong with a delicious sheet cake recipe for dessert if you're seeking extra uses for your sheet pan. From Sheet-Pan Maple-Dijon Sausage and Fall Veggies recipes to BBQ Chicken & Roasted Sweet Potato Bowls, sheet pan chicken fajitas all the recipes are easy and healthy meals. They are so easy that even the little ones in your house can prepare these delicious meals with your help.  Make these meal prep recipes quickly to test them out.  Enjoy it yourself and serve it with fried rice or whatever you like to the whole family. You will see that these dishes will become a daily friend of your family dinner on the table.
---
21. Sheet-Pan Maple-Dijon Sausage and Fall Veggies
Fall favorite vegetables and Sheet-Pan Maple-Dijon Sausage – A quick sheet pan dinner that's simple to prepare and is bursting with autumnal flavors! Dump everything on a sheet pan and roast for 30 minutes to make this sheet pan sausage recipe with sweet potato and Brussels sprouts. Ideal for a warm and comforting family dinner. Love! This recipe is one of the most popular sheets pan dinner recipes. Which will give you lots of vitamins and nutrients.

It's healthy and tastes great. Juicy, soft, and full of spicy flavor. You can use turkey sausage or sliced ​​pork, beef, or chicken in this great dish.  Serve with your choice of meat, sweet potatoes, brussels sprouts, diced red onion and garlic, Italian seasoning or herbs, and Dijon mustard, and cook in a sheet pan for 30 minutes. Sprinkle it with parsley to make it even more delicious. Now think how delicious and easy these sheet pan dinner recipes are.  What are you thinking? Start cooking!
Click here.
---
20. Ranch Pork Chops and Potatoes Sheet Pan Dinner
Dinner on a sheet pan with ranch-flavored pork chops and potatoes is quick and flavorful. To make stunning ranch pork chops and flawlessly roasted potatoes, all you require is one sheet pan! These meal prep recipes save us a lot of time. The Ranch Pork Chops dish is a staple both at home and on the blog. Dinner is quick to prepare, flavorful, and only requires one sheet pan. This recipe's nice feature is that it doesn't call for a lot of materials or a visit to the market to pick up specialty items.

It's likely that you already have all you require. Simple sheet pan dinners only require seasoning the meat and potatoes, setting them, and forgetting about them. You are all aware of my fondness for sheet pan meals as well as one pot meals. With this dish, we want to show you how much flavor you can create by simultaneously cooking both these ingredients in the same pan. With these chops, dinner has never been simpler, guys.
Click here.
---
19. Sheet Pan Maple Dijon Glazed Salmon 
Towel Pan Cherry Dijon The ideal weeknight meal is glazed sheet pan salmon with roasted asparagus and tender potatoes that have been seasoned. It only takes 30 minutes to prepare everything in one pan. This recipe for sheet pan maple dijon glazed salmon with roasted asparagus and seasoned potatoes is the best there is, hands down. The ideal weeknight dinner has SO much flavor, is really full, and is prepared in JUST ONE PAN in roughly 30 minutes.

One of my favorite supper preparation methods is using a sheet pan because cleanup is usually so simple and I always have enough for everyone. In addition to being a fantastic source of protein, salmon too is generally low in saturated fats & packed with vitamins, potassium, and iron, making it the ideal healthy dinner. These healthy meals are a storehouse of nutrients and vitamins. Meal preparation is also quite convenient with sheet pan dinners!

They're not only a huge time saver, but also a lifesaver, I should add, and you can easily modify them however you like. You may substitute green beans, broccoli, or brussels sprouts for the asparagus, and you could even use carrots, squash, sweet potatoes, or bell peppers for the potatoes. With maple dijon glaze, this specific meal tastes very fantastic, making it one of our favorite ones.
Click here.
---
18. Balsamic Pork Tenderloin in Oven with Fall Veggies
Balsamic Pork Tenderloin in the Oven – This sheet pan dinner is bursting with flavor and loaded with nutritious vegetables like butternut squash and Brussels sprouts. The pork tenderloin is sticky and encased in a thumb rosemary balsamic sauce. In 35 minutes, the perfect family sheet pan dinner recipes were on the table. Olive oil, balsamic vinegar, garlic cloves, rosemary leaves, Italian spice, honey, spicy sauce, crushed bouillon cube, and pepper are all combined in a food processor.

Pulse the marinade until it has an emulsified, syrupy consistency. Put your sauce in a dish or jar after stirring. Slice the pork tenderloin into 1/2-inch thick slices, and then serve it with the remaining balsamic sauce on top. Parmesan should be added to the roasted Brussels sprouts. Add freshly chopped parsley as a garnish to the entire dish. Love!
Click here.
---
17. Sheet Pan Chicken Thighs Dinner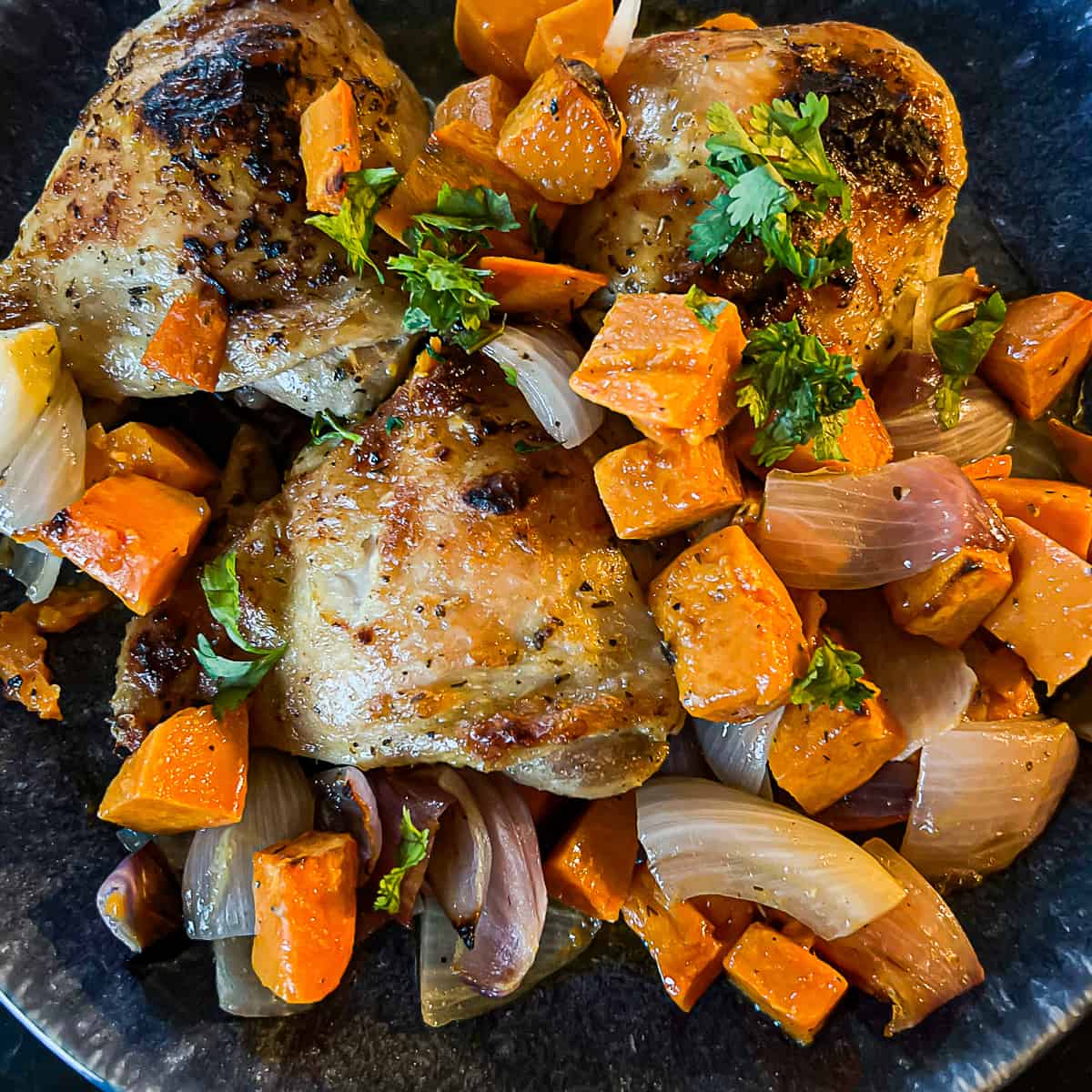 Among these sheet pan dinner recipes, this Sheet Pan Chicken Thighs Dinner recipe is truly unique. It makes any party luxurious. Try this wonderful, straightforward dinner on a baking sheet pan with chicken thighs, sweet potatoes, and red onions. 

It's a quick family dinner that can be put together during the weeknight and is also fairly healthy. It takes about 30 minutes to prepare. This recipe uses only one sheet pan and is completely lazy but healthy for a chicken dinner. My family adores this relatively healthy chicken thighs meal suggestion. Simple to prepare meals in advance and bake them at dinnertime.
Click here.
---
16. Chicken and Asparagus Sheet Pan Dinner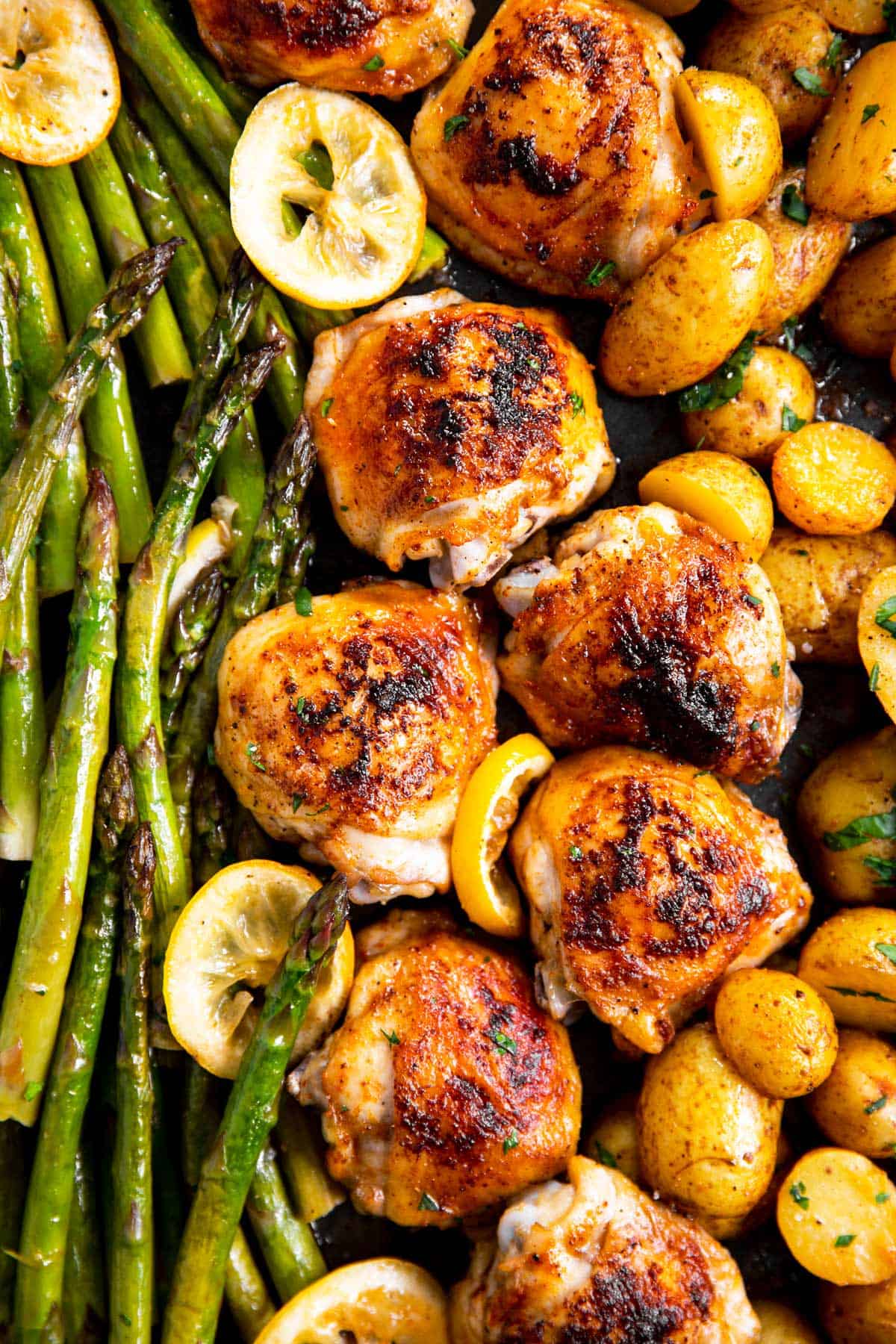 Everything cooks on the same sheet pan in the oven for this family-friendly chicken and asparagus sheet pan dinner. Sheet pan dinner recipes are a good way for me to reduce the amount of dishwashing required for supper preparation. You know, when you cook everything in one pan, including potatoes, asparagus, and chicken!

It's quite simple to clean up after cooking with just one sheet pan to wash! It takes very little time to cook the potatoes and vegetables and roasting everything in the oven only takes a few minutes. This is especially true if you use baby potatoes. The asparagus will only be added during the final 10-15 minutes of baking, preventing any overcooking or undercooking.

Chicken thighs, potatoes, asparagus, lemon, olive oil, onion and garlic powder, ground paprika, salt, and pepper are the ingredients for the chicken and asparagus sheet pan dinner. Scroll patiently to see these delicious and easy meal prep recipes.
Click here.
---
15. Honey Mustard Sheet Pan Chicken and Vegetables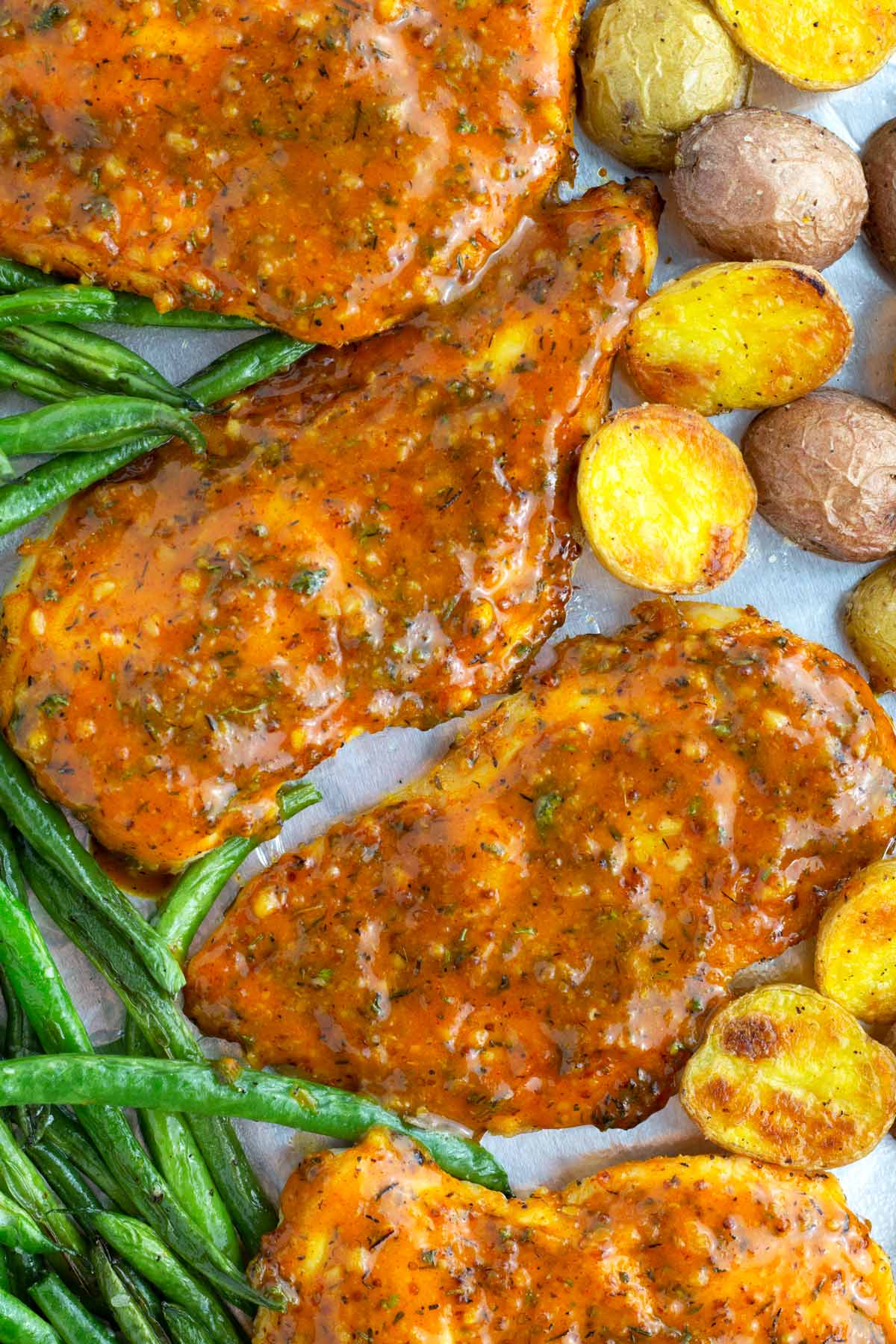 On a busy weeknight, this Honey Mustard Sheet Pan Chicken with Vegetables is ideal! The sauce is flavorful and makes for a delicious and sweet meal that just happens to be healthy. Additionally, we offer advice on how to roast potatoes and green beans to perfection and preserve chicken breasts moist.

The potatoes and green beans that go with this tasty sheet pan chicken recipe are also delicious! Anyone who is tasked with providing for their family is always looking for quick and simple weekday sheet pan dinner recipes. It gets extra points if it's easy to make, full of nutritious vegetables, and uses materials from the freezer and pantry. For a quicker weeknight dinner, you can prepare the sauce and the chicken in advance.
Click here.
---
14. Sheet Pan Gnocchi and Sausage
For days when I'm busy, I love a nice supper shortcut, yet we never would like to skimp on flavor. You would never suspect that the sheet pan gnocchi recipe I'm presenting today is a straightforward one-pan meal because it's SO wonderful. This recipe for sausage gnocchi takes about 30 minutes to prepare, yet it still has a restaurant-quality appearance and flavor.

Don't you adore such recipes? You'll want to preserve this one, I promise! You may scroll down to the bottom of this post for the entire Sheet Pan Gnocchi and Sausage recipe or continue reading for some cooking advice for this gnocchi and sausage dish. Start by bringing the heat to 400 degrees Fahrenheit in order to prepare the gnocchi and sausage dish (200 degrees C). Use parchment paper to cover a large sheet pan or gelatin roll pan.

Diced baby Bella mushrooms, minced garlic, and a box of ready-made, shelf-stable potato gnocchi should all be combined in a big bowl. Use salt, pepper, and dried thyme to season all of it. This gnocchi meal in a sheet pan is SO delicious. and completed in roughly 30 minutes! Here is the full recipe for Sheet Pan Gnocchi with Sausage. Adore!
Click here.
---
13. Sheet Pan Roasted Chicken, Sweet Potatoes, & Broccoli + Meal Prep
Healthy broccoli, sweet potatoes, and chicken baked to perfection in one pan! This flavorful, simple one-pan dinner is excellent for meal planning and comes together quickly. This easy one-pan recipe for roasted chicken, broccoli, and sweet potatoes yields a delicious meal the whole family will love. It's amazing how incredibly simple this recipe for oven-roasted chicken is.

So even during the busiest weeknights, if you've been yearning for home cooking, this is excellent. After baking, the chicken and veggies in this simple roast chicken recipe are broiler-cooked to seal in the luscious flavors. In addition, the broccoli and sweet potatoes are superbly seasoned and delightfully tender.

One dish can be used to prepare a whole dinner, and it can also be prepared in advance and stored for later use. While it comes to dining well when you're pressed for time, having meals prepared in advance is crucial. If you do have healthy meals prepared to heat and consume, you are much less likely to use the drive-through.
Click here.

Get these amazing Holiday Breakfast Recipes for morning meal.
---
12. Incredible Sheet Pan Cashew Chicken Recipe
The ideal weeknight dinner is delectable sheet pan cashew chicken packed with a variety of vegetables! The perfect dinner preparation for hectic weekdays is this quick, healthy cashew chicken recipe, which tastes great with a serving of rice or cauliflower rice. You are in for a real treat if you haven't tried a dish from dear buddy Alison of How Sweet Eats.

The best seasonal dishes and scrumptious comfort cuisine recipes come from Alison. I could spend the entire day scrolling through her Instagram. True Meals to Set Your Parents Up for a Successful Week Success, her latest publication, is filled with fantastic sheet pan dinner recipes that can be prepared for one or two people or the entire family.

It was difficult to decide which recipe to share from the book, but after making this sheet pan cashew chicken, I was confident I had a good one. With this filling supper meal, get a taste of the book, and make sure to get a book of healthy meals here!
Click here.

These amazing low calorie egg recipes are great for meal prep.
---
11. Ham Steaks Sheet Pan Dinner with Green Beans and Potatoes
Dinner recipe for ham steaks on a sheet pan with potatoes and green beans – Our new go-to recipe for quick weekday meals or sheet pan breakfast is baked ham steak with green beans and potatoes. Simply prepare the vegetables in advance, combine everything on a single sheet pan, top the ham steaks with a delicious honey-mustard sauce, and bake everything for 20 minutes. These savory-sweet pieces of ham steak and vegetables, which bake up quickly and are as adaptable as protein gets, are great for game day meals, quick holiday dinners, and hearty brunch entrees. 

All people will adore it. Celebrate! When there aren't enough people to warrant cooking a complete roast of ham but still have a serious ham desire, ham steaks are the finest thing ever! You can make one of the best meals ever in just one sheet pan and 30 mins from start to finish! These ham steaks, green beans, and potatoes are just the best for a no-fuss weekday supper, a real Easter brunch, or a quick game day fix. For a healthy balance, feel free to add other vegetables like Brussel sprouts or asparagus.

The sauce is the element that really sets the ham steaks apart. Before it goes into the oven, the honey mustard sauce might taste overpowering. But after the ham steaks start to sweat, the honey mustard sauce transforms into delectable savory-sweet pan juices!
Click here.

Try these valentines day cupcakes for celebrate the day.
---
10. Sheet Pan Chicken Nachos
For a party or game day, you must create sheet pan chicken nachos! Tortilla chips are topped with shredded chicken that has been spiced up, black beans, cheese, and more. My latest food passion is several Sheet Pan Chicken Nachos, my friends. These nachos are flavorful and dangerously delicious!

I made the chicken using this amazing SLOW COOKER MEXICAN SHREDDED CHICKEN recipe, and then I added everything else that I believe is essential for nachos. Although Mexican Shredded Chicken will enhance the flavor by 100 levels, you can use any standard shredded chicken you choose. These chicken nachos are made to die for with black beans, loads of green onion, and crumbled Colby jack cheese. They were delicious when I served them with sour cream, salsa, and guacamole.

I continued looking for more! I adore how easy and straightforward these delicious sheet pan nachos are. especially when using the Mexican Shredded Chicken from the Slow Cooker. Once it has finished cooking, you can quickly make these nachos. A nice big quantity of this dish could serve approximately 6 people. You may have to create additional food after everyone has devoured the good, though.
Click here.
---
9. Hawaiian Chicken Sheet Pan Meal
These sheet pan dinner recipes are made with a combination of ingredients that you're bound to love. Despite the fact that I don't like fruit on my pizza, I love Hawaiian chicken! This Hawaiian Chicken Sheet Pan is incredibly flavorful and delicious. It is nutritious and loaded with vegetables. Cauliflower rice can be used to serve this dish and keep it low-carb, paleo, and Whole30 compliant.

Alternatively, start serving that to brown or white rice for a balanced, gluten-free meal that is excellent for meal prepping. Set up a baking sheet by lining it with parchment paper and spraying it with avocado oil spray as the oven is preheated to 350 degrees. Add the chicken breast to a mixing bowl after seasoning with salt, pepper, and avocado oil. Afterward, combine chicken with finely sliced bell peppers, red onion, and Hawaiian BBQ sauce. Utilize your fingers to coat completely.

After 20 minutes, remove the sheet pan from the oven, add the pineapple chunks, and bake for an additional 10 to 20 minutes, or until the chicken achieves a core temperature of 165 degrees. The sheet pan should be taken out of the oven and given a lime juice coating. As a garnish, include sesame seeds and cilantro. Serve with white rice for a gluten-free option or cauliflower rice for a lower carb and paleo/Whole30 option.
Click here.
---
8. Sheet Pan Steak and Vegetables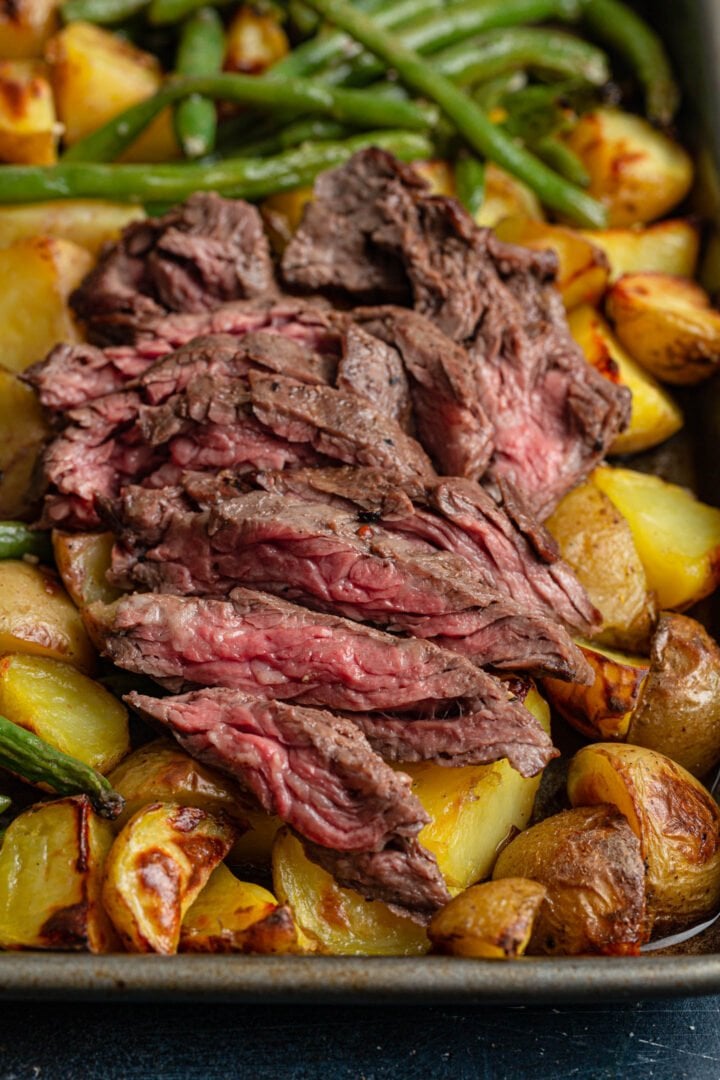 The preparation and cleanup of Sheet Pan Steak and Veggies are very simple. Juicy skirt steak, potatoes, mushrooms, green beans, and onions make a perfect steak meal. On a busy weeknight, nothing beats the delightful simplicity of this dish!

These sheet pan dinner recipes were perfect if you enjoy a fantastic steakhouse dinner but prefer not to deal with all the cleanup! Every January, I make an effort to eat healthier, only to give up by the end of the month. The truth is that preparing wholesome food is challenging. Particularly if you're supporting a family of four or more, it takes a lot of time, planning, and money.
Click here.

Find these amazing cold appetizers for holidays.
---
7. Pesto Salmon Sheet Pan Dinner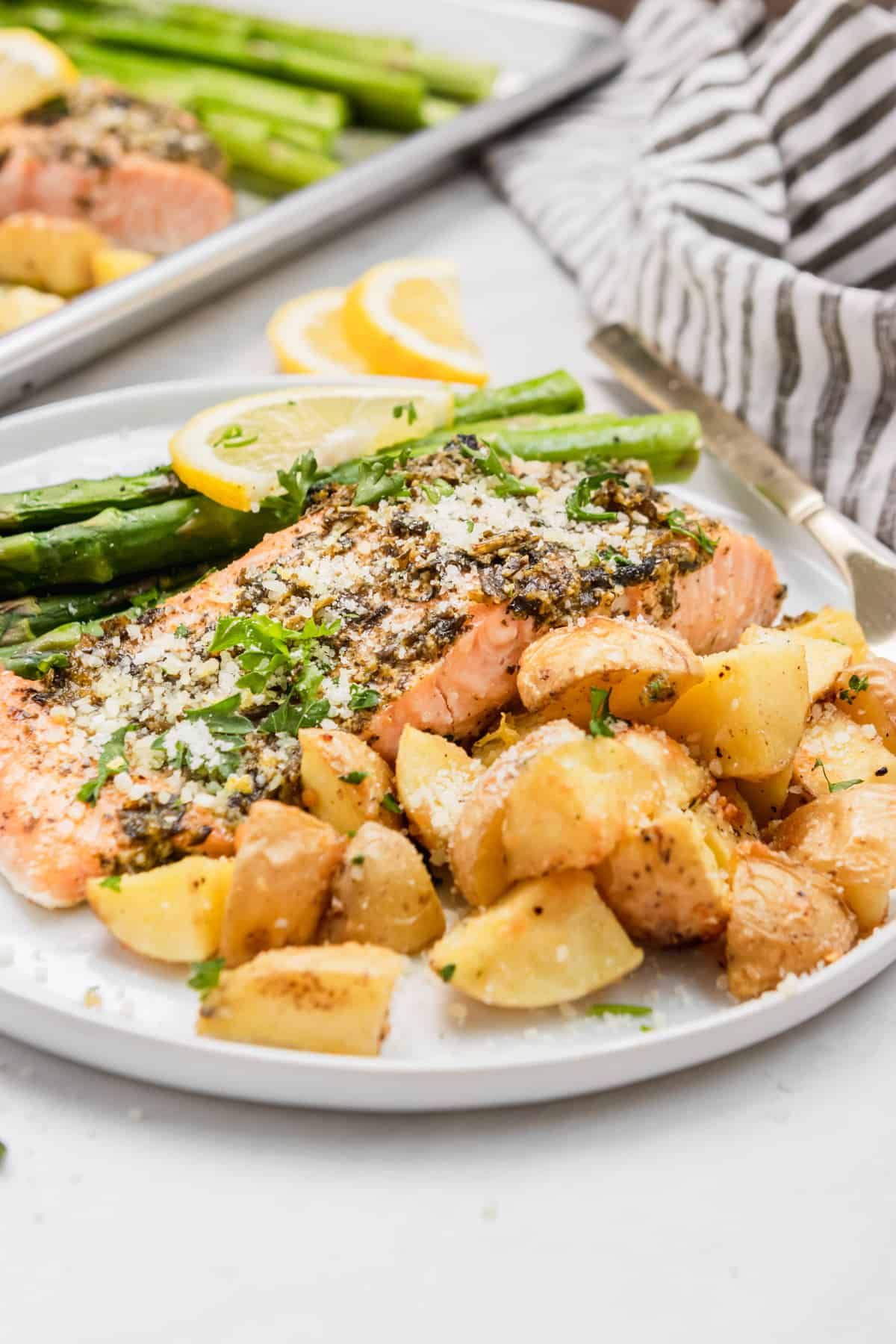 Dinner on a sheet pan with salmon and pesto is incredibly quick to make and tasty. Less mess if the entire dinner was prepared in one dish! Asparagus and parmesan-crusted potatoes go well with delicate, flaky fish. Use pre-made pesto or your preferred recipe! This meal of salmon in pesto requires very little preparation. To make this recipe less messy, I chose to use ready-made pesto. There's no need to include any other meal prep recipes. However, feel free to prepare your own pesto if you so choose.

Fresh pesto is Just much PRETTIER, to start. Although it was challenging to photograph store-bought pesto attractively, the flavor is still really mouth-watering! It helps you include fish in your diet. Although my family doesn't consume a lot of seafood, we do enjoy salmon. When it is heavily discounted during Lent, I love to load up. This sheet pan supper is a simple method to obtain the nutrients we require.
Click here.
---
6. Sheet Pan Everything Bagel Chicken and Veggies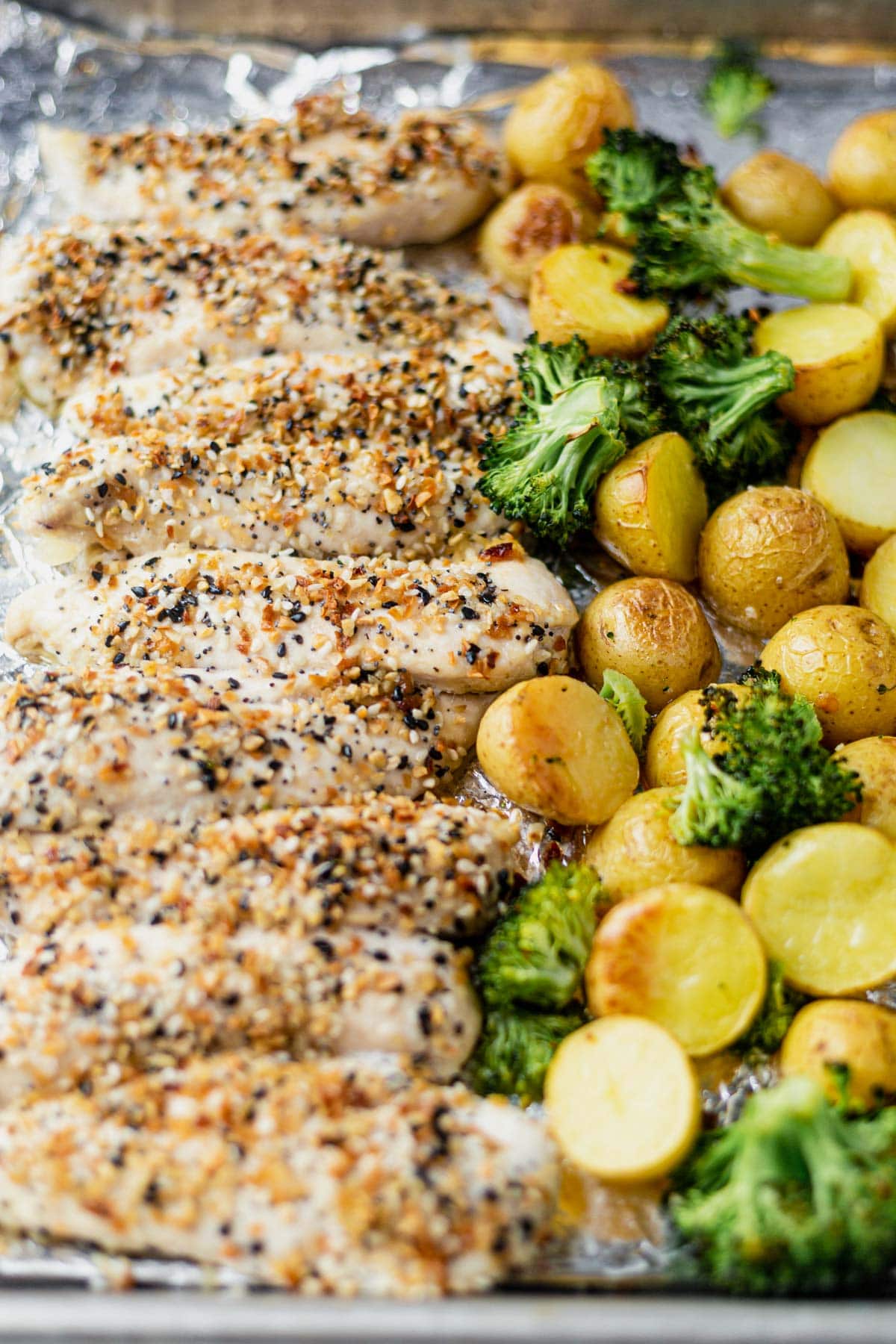 Crispy vegetables are grilled with everything bagel chicken strips until the chicken and vegetables are perfectly seasoned and fork-tender. The whole family will enjoy this simple dinner, which will quickly become a new favorite dish. It's no secret that we adore sheet pan meals here. I'm not joking; we often have a couple of those each week. The nicest part about them is how simple and healthful they are to prepare.

I used a premade seasoning, but you could also use kosher salt, poppy seeds, white sesame seeds, black sesame seeds, and flakes of garlic and onion. Instead of chicken strips, you might use boneless, skinless chicken breasts or thighs. Just make sure they weigh around 4 ounces each; if they're really enormous, you may have to split them in half lengthwise. Cook everything, including the chicken, for 20 to 25 minutes while cutting the cooking time for the potatoes to 8 to 10 minutes. These healthy meals are so quick to prepare, that your busy life becomes easy and convenient.
Click here.
---
5. Sheet-Pan Mediterranean Shrimp
Easy, quick, and uncomplicated, our 10-minute Sheet Pan Mediterranean Shrimp meal is ideal for a weekday meal or a weekend get-together. This dish is colorful, tasty, and nutritious. Sheet pan dinners are indeed the cat's meow, in my opinion. It is real! I can prepare a protein source and a variety of vegetables all at once in a single skillet in the oven. This makes dinner simple to prepare, cutting down on my time in the kitchen and the number of items I have to wash.

Seafood is one of my preferred protein sources to prepare on a sheet pan. This is due to the fact that seafood cooks very quickly—pretty much at the same rate as most vegetables—making it possible to make a simple sheet pan recipes entrée that cooks everything at the same time! This delicious dish is filled with shrimp, fresh asparagus, garlic, onion, and feta cheese. 

The flavor is topped off with black olives and parsley. You can use cilantro in place of the parsley or combine the two and spread them.  In fact, these healthy recipes are hearty and made with all the ingredients.  And if there is sea sheet pan shrimp in it, there is nothing to think about its taste. These delicious dishes double the family fun. Enjoy it together!
Click here.
---
4. Sheet Pan Sticky Ginger Sesame Chicken and Crispy Brussels
Your next go-to dinner is about to be this easy Sheet Pan Sticky Ginger Sesame Chicken with Crispy Brussels Sprouts. Simple chicken prepared at home with an Asian flair and tossed in a gingery, sweet, hot, and exceptionally gooey soy pomegranate sauce. For the simplest sheet pan recipes, serve this dish over roasted brussels sprouts that were prepared simultaneously with the chicken. Then include a serving of steaming rice that is liberally sprinkled with sesame seeds.

The best part is that this sticky chicken can be prepared faster than any takeout and is also much healthier. Whatever time of the week, a delicious, entertaining, and healthful dinner! Make your dinners more healthy and classic with these sheet pan dinner recipes. You have no idea how much I enjoy a good recipe with an Asian flair. Any dish that resembles takeout food tends to become a family favorite. We also enjoy pizza and pasta. For this reason, I make an effort to offer a variety of dishes on HBH to suit your current culinary mood. I had determined to create this chicken this week, but there was snow in the forecast.

I decided to make a cozier rosemary chicken and rice pilaf because of the weather. And this week, the sun is shining, and the local climate has returned to that of fall. Enter this chicken, the ideal fall supper that showcases delicious pomegranates and in-season brussels sprouts. For the sprouts, I kept it simple only with sesame oil, salt, and pepper. The true secret, though? In the oven, make them very crispy. The high cooking temperature of the chicken allows the sprouts to roast, soften, turn crisp, and faintly sear on the outside. Delish!
Click here.
---
3. Sheet-Pan Baked Feta With Broccolini, Tomatoes and Lemon Recipe
Recipe for Baked Feta on a Sheet Pan with Broccolini, Tomatoes, And lemon. I adore including feta cheese in unconventional dishes, like this sheet pan meal! Feta cheese is a versatile cheese that may give any dish you're preparing a strong flavor. This vegetarian recipe includes roasted broccolini, tomatoes, red onion, and chickpeas along with chunks of Athenos feta cheese. In order to bring you this delectable dish utilizing their feta chunk, I collaborated with Athenos feta cheese.

Because it has been legitimately produced in the same manner for more than 20 years, I adore their feta chunk. It has the ideal creamy and tangy flavor and is made with fresh, straightforward elements. These meal prep recipes are mostly put together with straightforward elements. Sheet pan meals are my favorite since they are so simple. This one-pan meal may be put together quickly and cooked for thirty minutes.
Click here.
---
2. Vegan Tandoori Sheet Pan Dinner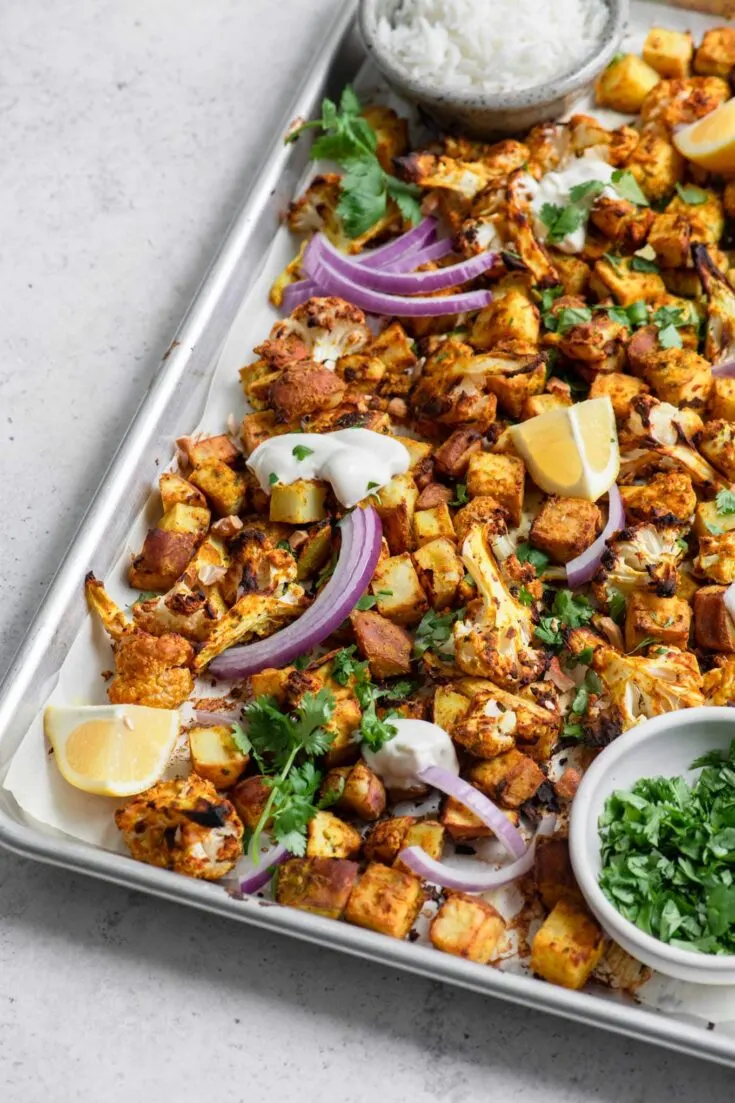 With cauliflower, tofu, and potatoes coated in a spicy yogurt sauce and baked till steaming and soft, this vegan tandoori sheet pan meal is bursting with flavor. In addition to being healthy, it also happens to be gluten-free! These gluten-free healthy recipes not only provide nutrition to the body but also help in weight loss in particular. Sheet-pan meals! Just whatever is made in an oven, they are enjoyable and hands-free, and very delicious.

In one wonderful dish, you get your greens, protein, and even carbs. However, I will advise you to serve your sheet pan meal with a side of Basmati rice if you like Indian food. Do you mind if one pot becomes dirty?

This dish combines potatoes, cauliflower, and tofu from the tandoori oven. Indian cuisine prepares on a basic sheet pan. I'm going to reveal the genuine secret when everyone has met because it's so simple to produce!
Click here.
---
1. BBQ Chicken & Roasted Sweet Potato Bowls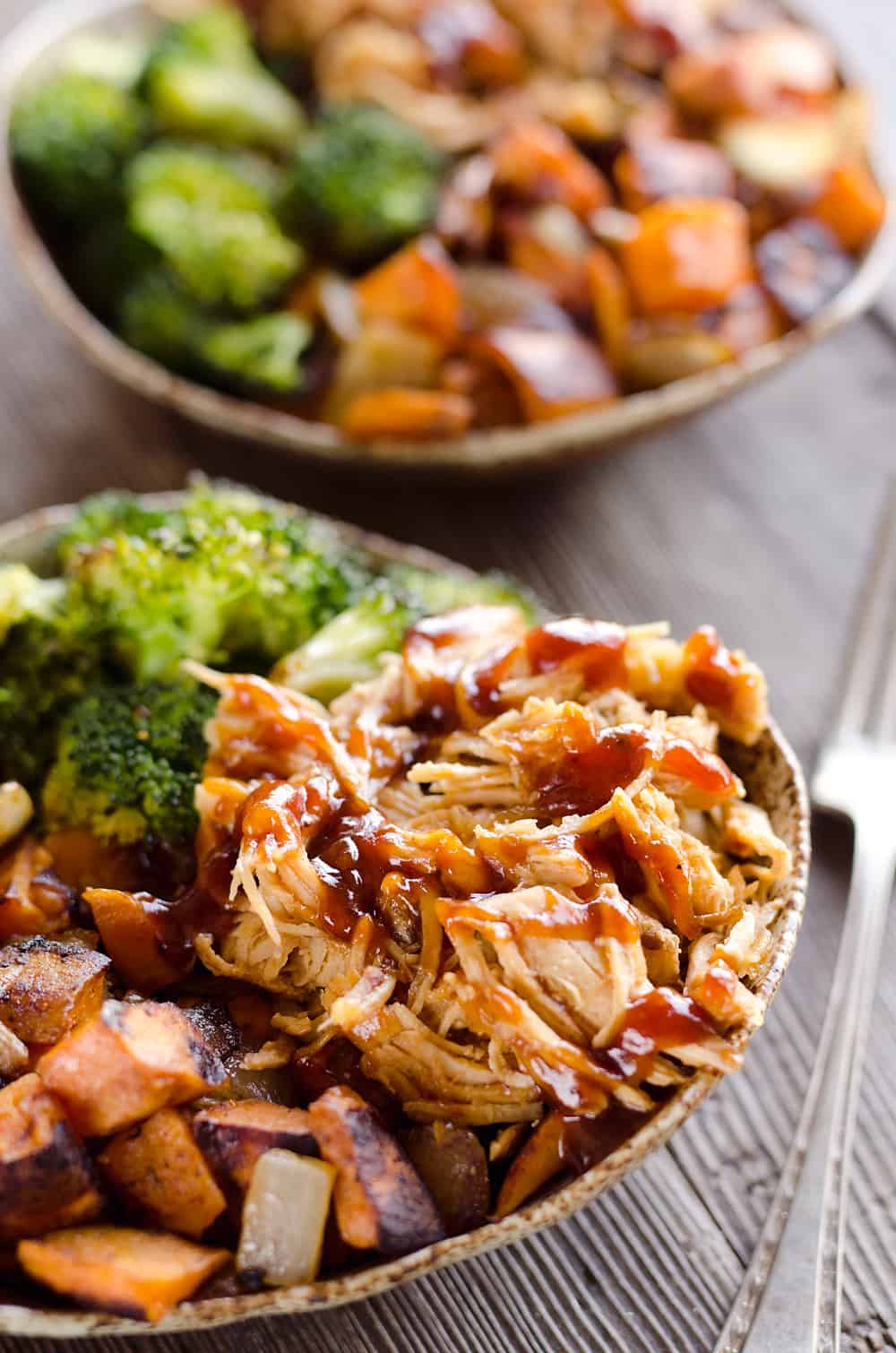 A filling and healthful meal recipe, BBQ Chicken & Roasted Sweet Potato Bowls are brimming with flavor and healthy vegetables. This simple sheet pan meal is ideal for quick weeknight meals or meal-packing lunches for work. Anyone who is bored with their dinner options should try chicken bowls. Even the greatest of us experience it. Making the same straightforward dinners repetitively, I'm sure I'm there more frequently than not. Despite my desire for something new, I only sometimes feel overambitious to try it.

While being really straightforward and uncomplicated, our BBQ Chicken & Roasted Sweet Potato Bowls are the ideal change from your typical supper routine. Loads of these sheet pan dinner recipes break the monotony of the typical routine. The broccoli and chicken breasts should be added to the pan once the potatoes and onions have roasted for 20 minutes in the oven. To ensure that the chicken is thoroughly done, roast it for an extra 15 minutes after brushing it with some BBQ sauce.

These nutritious bowls are really easy to make and only need one sheet pan! Start by placing the sweet potatoes and onions on a baking pan and sprinkling them with chipotle powder, garlic, and olive oil. Depending on your taste in spices, you might use chili powder or paprika in place of chipotle powder. They are an excellent option for a nutritious dinner. Because they loads with vegetables and lean protein.
Click here.

Get these amazing new years eve cocktails to celebrate.
---
You may Like These Meal Ideas:
Halloween Dinner Ideas
Christmas Appetizers
Brie Cheese Appetizer Recipes
Low Carb High Protein Recipes
Christmas Cake Recipes
Fritter Recipes
Holiday Brunch Recipes
High Protein Salads
Sheet Pan Breakfasts
---
If you like this article about Sheet Pan Dinner Recipes, share with your friends or families on Facebook, Twitter, and Pinterest. Choose your favorite recipe and make it at home, let me know which is your best recipe in the comment. Also, you can subscribe to my blog to get all the latest updates first on your mobile.
---
To make these recipes for later, SAVE this pin on your favourite Pinterest Board