Alright, who else is over winter and simply unable to tolerate the cold? I'm eagerly anticipating the arrival of spring this year! I enjoy the cold, sunny days of winter, but I am currently looking forward to the return of spring and the appearance of blossoms. Without a doubt, spring is my best season. And can you imagine Easter is only three weeks away? So, in my opinion, now is the ideal moment to get in the springtime mood. For this reason, I collaborated with some skilled culinary bloggers to compile this collection of vegan spring recipes. Time to make these healthy recipes. Let's start the greetings of spring with these easy meals.
---
What are vegan spring recipes?
Easter is just ahead. Easter is celebrated with vegan food and in a great way. Spring means a lot of vegetables. This spring season is an eternal favorite for those who love to eat vegetables. Plant based foods are as healthy as they are tasty and they are also cheaper.  There is another advantage to eating a vegan diet.  Save the lives of animals. Allowing animals to live without fear. Vegan spring recipes can be made with whole plant-based foods or whatever plant-based products are available during spring.
---
How to make vegetarian food interesting and satisfying!
1. Add plant-based protein to your diet.
2. Serve your food with a little decoration. Any food with decoration becomes more acceptable.
3. Never skip plant-based good fats.
4. Add plenty of fiber to the diet.
5. Eat foods rich in protein, good fats and fiber.
6. Eat healthy recipes with fun, not forcefully or unwillingly. Eat more from your heart.
7. Make delicious vegan spring recipes. Update your cooking style.
8.  Eat with fullness and satisfaction, so that you don't have to eat unhealthy food later.
---
1. Vegan Spring Rolls with Peanut Sauce
Simple fresh spring rolls that are vegan with peanut sauce. A rice paper Fresh roll with peanut dipping sauce and marinated tofu. A recipe without gluten. Sun-butter or sweet chili sauce may be nut-free. The warm weather is ideal for these cool, fresh rolls. The rice paper wrappers are put together, the tofu is marinated in a straightforward marinade, the noodles are boiled and mixed with some peanut sauce, the vegetables are sliced or julienned, the fresh herbs, such mint, and cilantro are cut up, and then the filling is rolled up.

Mix it up by switching the marinade, adding some fruit, and using my sweet chili sauce as the dipping sauce. Employ fresh herbs. The rolls have a fantastic fresh flavor that includes mint, cilantro, Thai basil, or basil.
Get it here.
---
2. Vegan Fresh Sushi Spring Rolls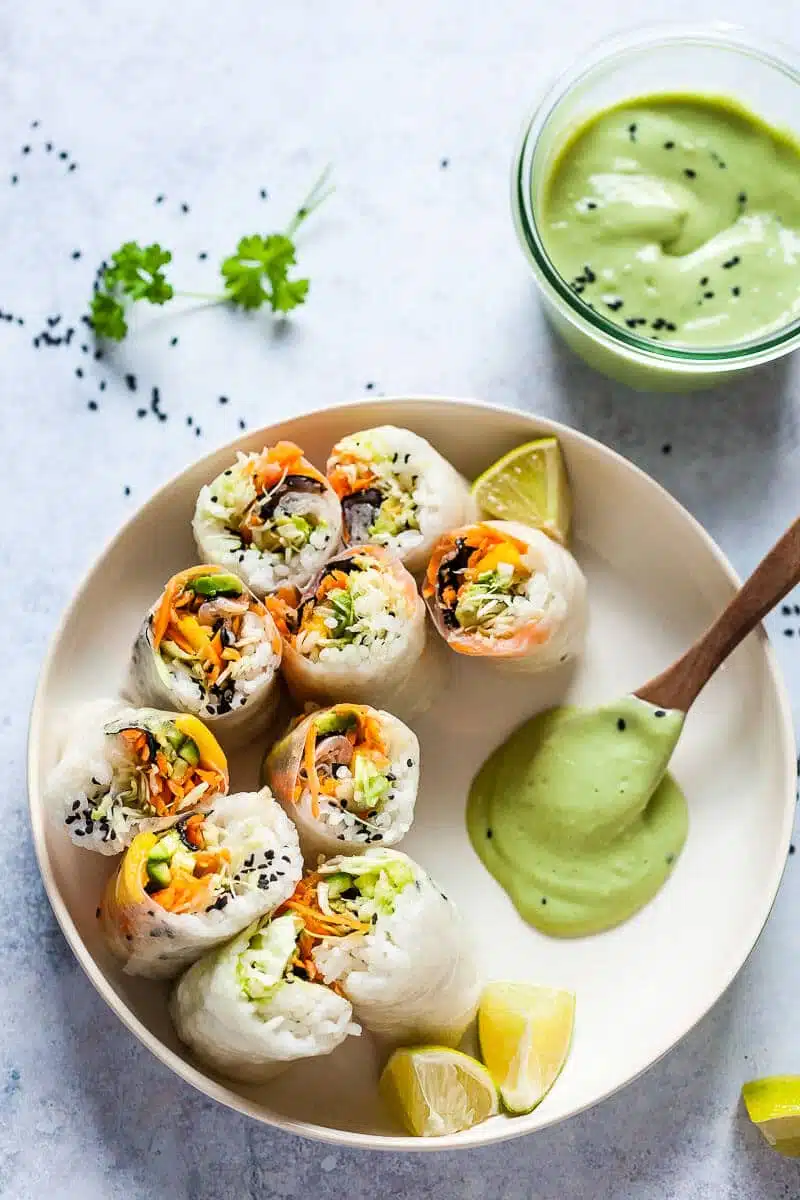 Wonderful vegan fresh sushi spring rolls with a delectable green avocado dipping sauce. Within 30 minutes, it will be ready, colorful, and light. Vietnamese fresh spring rolls with nori algae as a secret ingredient are these vegan fresh sushi spring rolls. These spring rolls have a faint, subtle flavor of the sea and sushi thanks to the nori seaweed. Also, we served them with sushi rice dressed in rice vinegar. Also, this adorable and colorful hybrid is loaded with vegetables, making it a healthy lunch that you can even take to work. But be careful to store the rice paper somewhere moist, like in a damp paper towel, as it has a tendency to dry up and get chewier with time.
Get it here.

Make these amazing Spring Salad Recipes at home.
---
3. Edible Flower Spring Rolls
The most attractive and fun way to taste the rainbow, these Edible Flower Spring Rolls will cool you off and rejuvenate you. One of those delicacies, vegan spring recipes, are tasty in part because they're attractive and colorful. They always have a rainbow of vegetables, taste excellent, and are always created! What if, though, there was a method to make them even more attractive?

The solution is edible flowers! Spring rolls are significantly improved by the addition of tiny edible flowers. To make the spring rolls even more colorful, I like to layer them with flowers toward the outside. Flowers, radishes, green onion, red and yellow bell pepper, avocado, and cucumbers are used to make these special rolls.
Get it here.
---
4. Vegan Asparagus Risotto with Spring Vegetables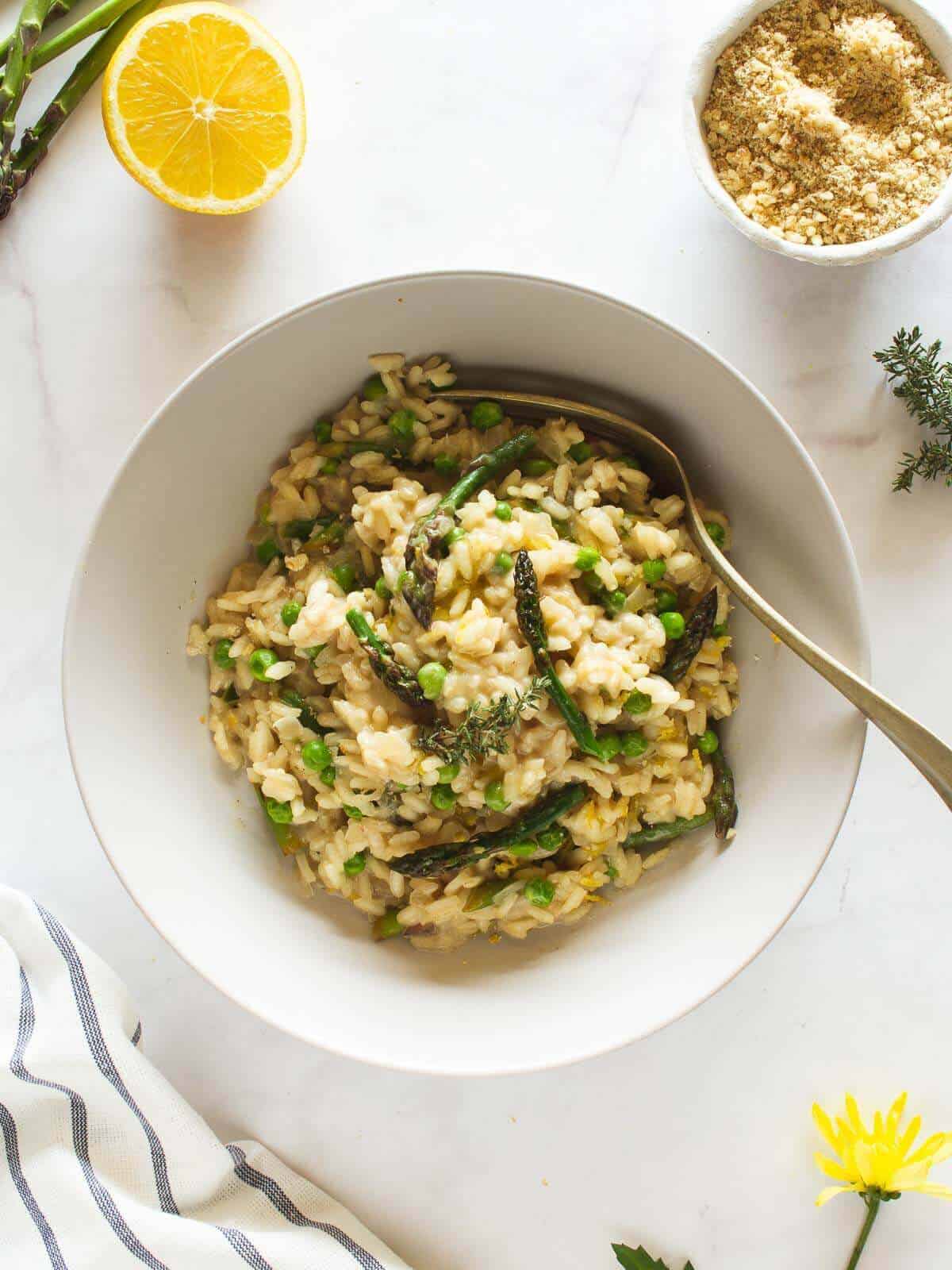 Finally, asparagus season has begun, and we are there! The ideal springtime dish is this vegan asparagus risotto. It is light and nutritious but still filling and fulfilling because it is loaded with fresh vegetables. With only a few basic components needed, easy meals like this are also simple to prepare. Making this delicious lemon asparagus risotto takes less than 30 minutes, making it the ideal springtime treat.

It only calls for a few seasonal ingredients, and it is inexpensive. Simply by adding more rice and vegetables, you can simply change for however many guests you require. We love risotto healthy dishes, and this meal is by far one of our favorites.
Get it here.
---
5. Crispy Vegetable and Mushroom Spring Rolls
I adore the entire spring roll creation process, from the filling to the wrapping to the frying to the eating! Spring rolls are a wonderful finger food as well. They can be eaten with rice, noodles, or even just by themselves. The organic vegetables and oyster mushrooms that I sautéed and seasoned before wrapping them into some flour "lumpia" or spring roll wrappers make these spring rolls incredibly crisp.
Get it here.

Try these healthy high protein slow cooker recipes for lunch.
---
6. Raw Vegan Vanilla Cheesecake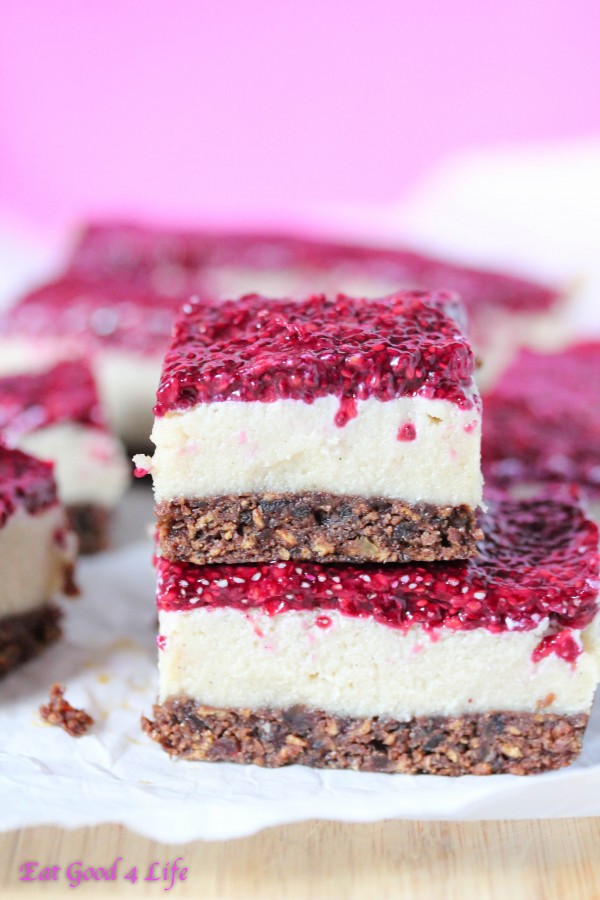 This white chocolate and raspberry cheesecake is raw vegan. Just INCREDIBLE, I tell you! They said it was the nicest raw cake they'd ever had, and they get to eat a lot of raw cakes around here when I offered it to some visiting friends last weekend. Really though, it's excellent. I hope you get a chance to use it at some point.

The combination of white chocolate and raspberries in these straightforward and healthy recipes is, in my opinion, just wonderfully delicious. In this raw vegan cake, white chocolate and raspberries work astonishingly well together. Easy and healthy dessert that is created without dairy or gluten. Really excellent!
Get it here.
---
7. Vegan Pasta Primavera
A plant-based version of the traditional Italian-American pasta dish, vegan spaghetti primavera features colorful vegetables swirled in a delicious and vibrant lemon cream sauce. Asparagus, peas, red bell pepper, zucchini, and cherry tomatoes are all included into this vegan version of spaghetti primavera for added visual appeal.

The vegan sauce is produced with basic oat milk rather than milk or cream made from dairy products. To create these quick vegan healthy recipes for weekday supper in less than 30 minutes, combine everything with al dente rigatoni pasta (or any other noodles of your choice) and top with crunchy walnuts, fresh herbs, and fiery crushed red pepper. The leftovers are also wonderful the next day for lunch!
Get it here.

These healthy plant based casserole recipes are perfect for meal prep.
---
8. Spring Roll Bowls with Crispy Tofu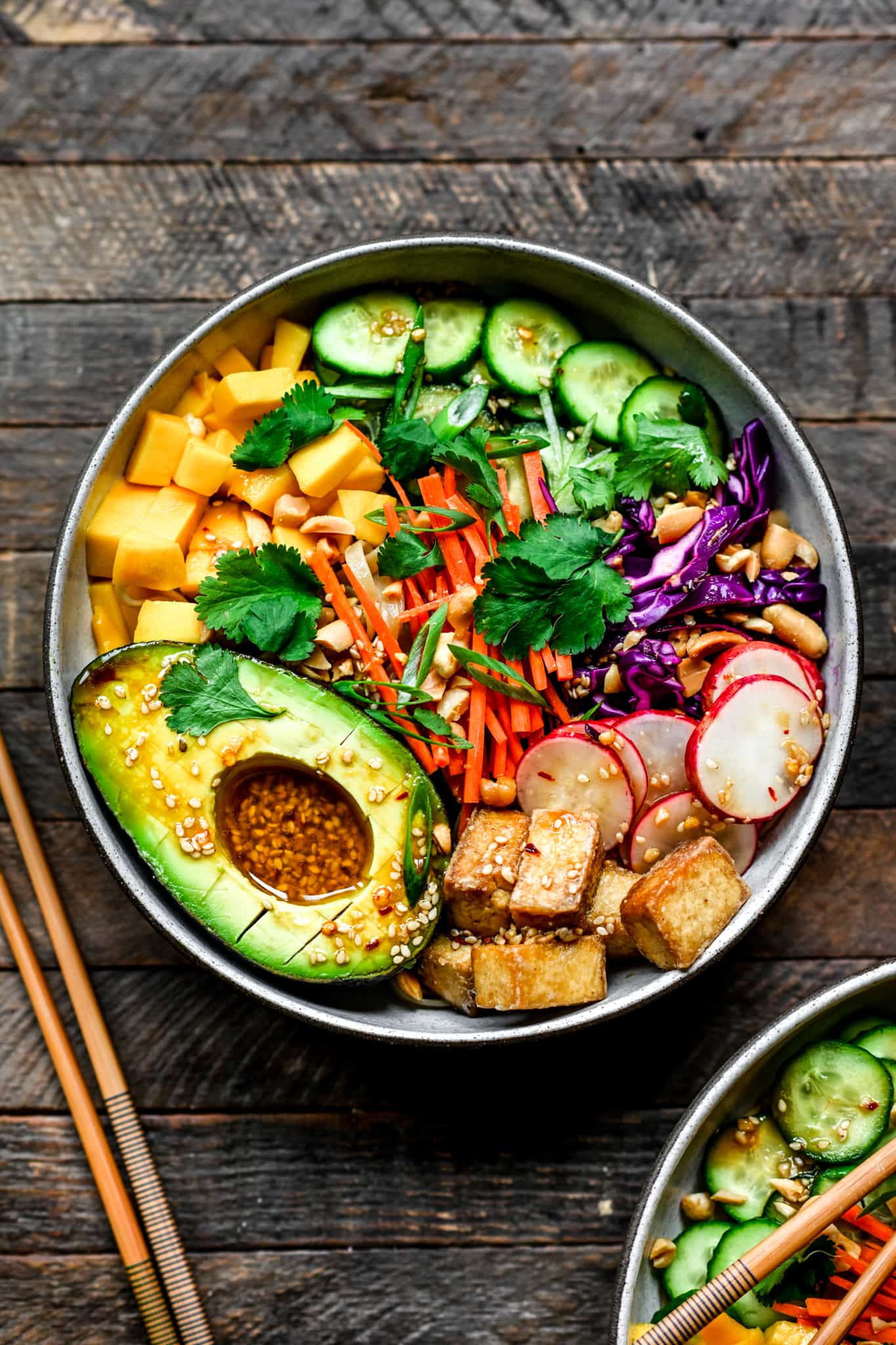 Searching for a recipe for quick, wholesome, flavorful, healthy recipes and easy meals for dinner or meal prep? Try these simple vegan spring roll bowls with sesame miso sauce, crispy tofu, and avocado! Weeknights that are busy demand for quick and simple dinners, but flavor shouldn't be sacrificed. Dinners in bowls are simple to put together. Also, we can make use of cupboard goods and leftover produce.

In essence, all you require is a grain or carbohydrate, a protein, a healthy fat, and as many vegetables as you can fit. Your dinner will become more colorful, filling, and nutritious as you add more vegetables. The fact that the vegetables in these vegan spring roll bowls are raw also makes it possible to prepare dinner in less than 30 minutes.
Get it here.
---
9. Mango Avocado Spring Rolls with Peanut Dipping Sauce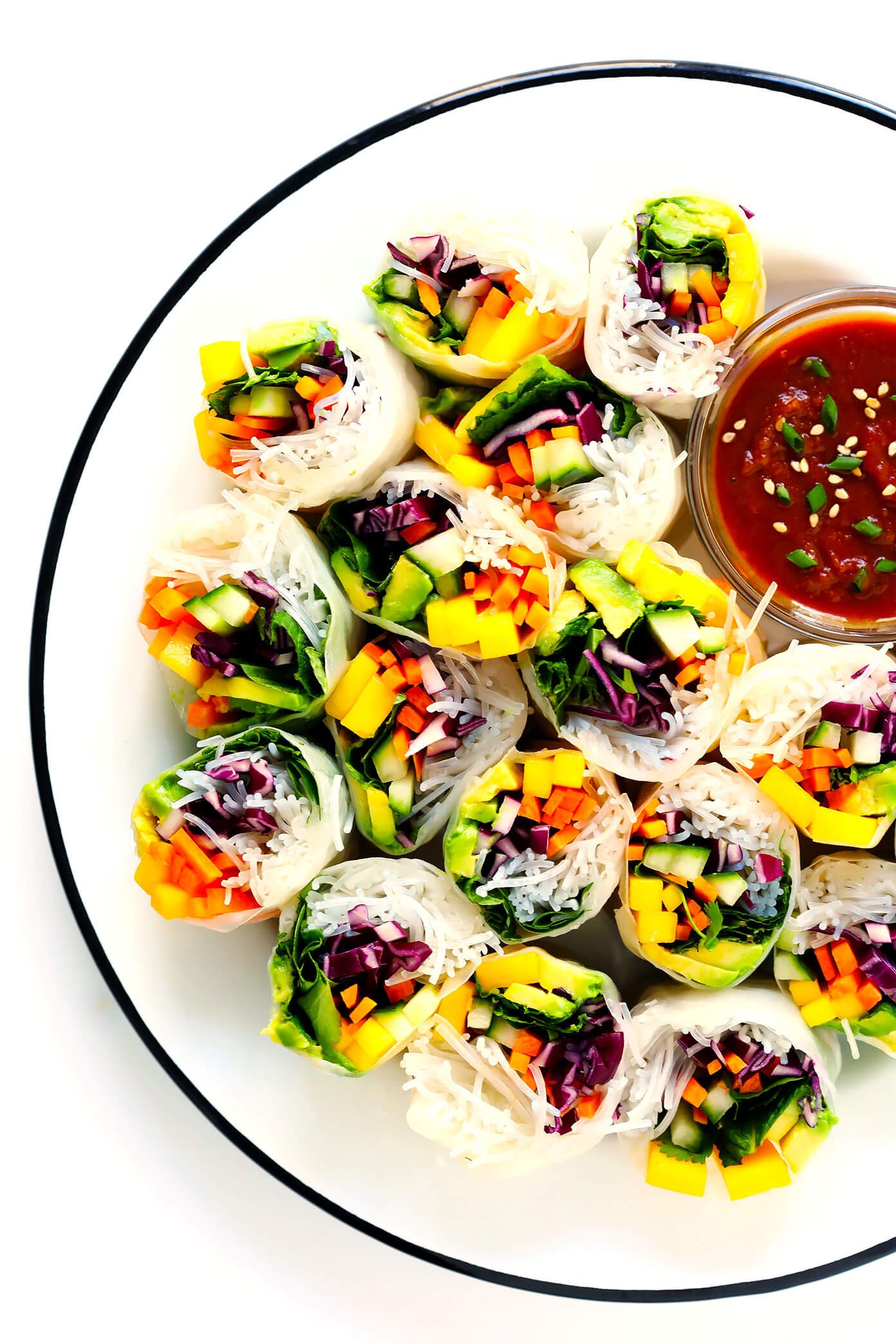 These Mango Avocado Spring Rolls are naturally gluten-free and vegan, packed with a rainbow of flavorful fresh ingredients, and come with the most wonderful peanut dipping sauce. Recently, the mangoes and avocados at our local fruit stand were absolutely ripe, so they deserved to take center stage in these rolls.

But as always, feel free to fill your spring rolls with whatever currently appears ripe, gorgeous, and delectable. With whatever fresh ingredients you might have on hand, spring rolls are completely adaptable. This recipe's base of soft and creamy avocado, sweet and juicy mango, plus a few crunchy vegetables and herbs is one of my favorites.
Get it here.

Just try some healthy lettuce salad recipes for busy days.
---
10. Vegan Vegetable Tart
This vegan vegetable tart is incredibly simple to make and to stun to look at. This recipe yields two sizable rectangular tarts with puff pastry containing asparagus, mushrooms, bell peppers, and red onion. You don't have to wait for a holiday to create this savory tart, however, it makes a festive main dish for a vegan Easter dinner, Mother's Day, or another springtime special event.

Although puff pastry isn't the healthiest food in the world, it makes simple ingredients into something delicious and exciting for special occasions. You are free to change the vegetables to suit your tastes, the available produce, and the season. You should consider zucchini, summer squash, broccoli, tomatoes, and leafy greens.
Get it here.
---
11. Roasted Mixed Potatoes with Spring Herbs and Burrata
All you need right now is these Roasted Mixed Potatoes with Spring Herbs and Burrata. We all know that potatoes are arguably one of the best foods available, making the dramatic but accurate statement all the more poignant. In particular when roasted… and in particular when combined with burrata cheese. I was certain that I needed a potato recipe for the impending vegan spring recipes and Easter.

And, I knew I wanted to utilize a lot of herbs and that it needed to be basic. But, I was also aware that my refrigerator had two fresh burrata cheese balls. They suddenly appeared along with a huge serving of fresh burrata cheese, mixed potatoes, a tonne of lemon, fresh herbs, and loads of fresh herbs. I doubt that we can be friends if that doesn't sound agreeable to you.
Get it here.
---
12. Hearty Herbed Chickpea Pancakes
These pancakes made with chickpea flour are a direct homage to the Gujarati delicacy pudla. They make a satisfying, tasty, and simple plant-based supper. These vegan pancakes are easy to make and good for breakfast, lunch, or dinner. This dish/recipe is modeled by the Gujarati and Marwari dish/recipe known as pudla, which is a savory chickpea pancake. We pack the batter full of herbs, resulting in a pancake that is tie-dyed green and yellow.

This follows established culinary practices. We add some spices and a generous amount of salt along with the herbs. Making the pancake itself simply takes ten minutes. You should expect to cook the vegetables and sauce for a total of about 45 minutes. Make more chickpea snacks for healthy eating.
Get it here.
---
13. Lemon-dijon Asparagus And Pea Macaroni Salad
Texture, flavor, creamy, and convenient make-ahead Pea and Asparagus with Lemon-Dijon A delightful summer and spring pasta salad for picnics, barbecues, and potlucks, macaroni salad is stuffed with spring vegetables. This dish is easily gluten-free, vegan, and vegetarian. A perennial favorite is macaroni salad with peas. But to add a twist to the tradition, I also add spring and early summer vegetables along with a tonne of fresh herbs from my modest herb garden.

Peas and asparagus go incredibly well with macaroni noodles. This macaroni salad with peas and asparagus is the best I've ever made! Add sun-dried tomatoes for a burst of flavor and texture, along with a super creamy lemony dressing. In just 30 minutes, you can put together this springtime pasta salad.
Get it here.
---
14. Asparagus Quiche
Tender asparagus, tangy feta cheese, and mozzarella cheese are all abundant in this asparagus quiche. flawlessly baked in a flaky pie crust! You have a bunch of asparagus in your refrigerator; what might you create with it that would be interesting for brunch on Sunday? This fast asparagus quiche tastes even better than it looks like it came from the neighborhood bakery.

It's also excellent for those of you who prefer to prepare easy meals in advance and want to eat quick breakfasts on the go. In order to avoid the eggs from going bad, you can keep the quiche in the refrigerator for up to 5 days.
Get it here.
---
15. Peanut Noodle Vegetable Spring Rolls 
Soba noodles wrapped in rice paper with vegetables on top and covered in a peanut sauce! These spring rolls with vegetables are delicious! Put some additional peanut sauce on them just to be safe. See how simple it is to prepare vegan spring recipes like this wholesome meal, even if you've never made spring rolls before! GREAT for lunch or dinner, spring rolls are a fantastic no-cook choice.

It's a simple way to transport all your protein, vegetables, and carbohydrates in one small (or large) roll. You can plan meals for days because they are so simple to prepare ahead of time. You'll have more time to enjoy the nicer weather as a result!
Get it here.
---
16. Strawberry Rhubarb Pie Recipe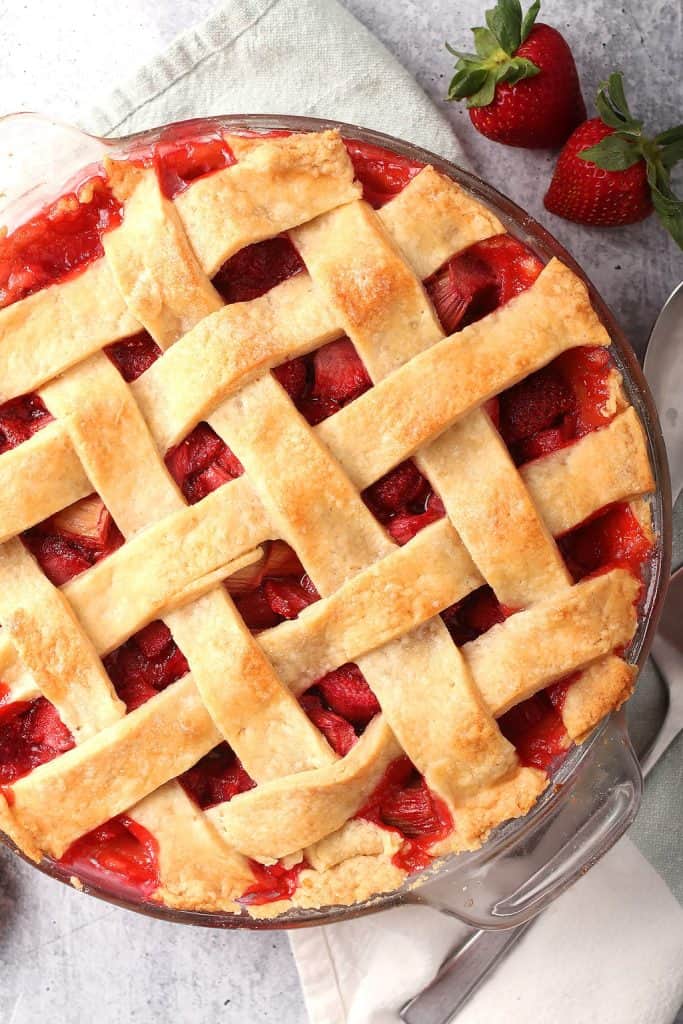 This handmade strawberry-rhubarb pie recipe is the BEST! A simple, handmade crust is baked with fresh, sweet strawberries, tangy rhubarb, and a hint of orange zest. Which pie is your favorite? Without a doubt, strawberry rhubarb is my favorite. It's the one pie we have to prepare when the season comes around (often in the middle to late spring) and both strawberries and rhubarb are in season.

Are you a rhubarb cook? It resembles pinkish-red celery or extremely thick Swiss chard stems. In a pie, strawberries and rhubarb make the best of friends. The strawberry's delicious flavor is only enhanced by the rhubarb's acidity. The overall flavor is just right—neither it's too sweet nor too sour.
Get it here.

Try these amazing layered desserts for holidays.
---
17. Vegan Risotto with Asparagus and Mushrooms
The ideal comfort dish is this vegan risotto with asparagus and mushrooms! It's incredibly flavorful, cheesy, creamy, and loaded with wine taste. A serious comfort meal in Italy is synonymous with risotto. What could be more comfortable than these healthy recipes that are something cheesy and creamy, am I right? But hold on. Cheesy? How can something that is vegan be cheesy?

Certainly no issue! While butter and Parmesan cheese are typically used to flavor risotto, they may easily be replaced with white miso paste and nutritional yeast to make risotto vegan. The fact that this springtime risotto is so simple to make is the best part. All you need is risotto rice, nutritional yeast, white wine, miso paste, green asparagus, mushrooms, cherry tomatoes, and garlic. Salt and pepper are also necessary.
Get it here.
---
18. Cucumber, Dill, Feta and Pistachio Salad
One of your new favorite light vegan spring recipes will be the cucumber, dill, feta, and pistachio salad. Crisp cucumbers, fresh dill, salty feta, and crunchy pistachios make up the ideal flavor combo. Simple to make and perfect for the impending warm months is cucumber salad. A simple vinaigrette is used to bind the salad elements of cucumber, feta, and pistachios.

In the vinaigrette, heated apple cider vinegar is combined with red onion and salt before being removed from the heat to rest for a few minutes. After the mixture has been uniformly dispersed over the cucumbers and fresh dill, a little black pepper, and olive oil are added. Just before serving, include the feta and pistachios.
Get it here.
---
19. Vegan Lumpiang Shanghai
These Vegan Lumpiang Shanghai are my vegan interpretation of Filipino spring rolls. They are crispy on the outside with a meaty filling. Delicious healthy recipes like these are ideal for sharing. They are best served with your favorite sauce, whether it's banana ketchup, sweet chili sauce, or another. This lumpiang shanghai recipe substitutes plant-based ground beef.

If you want to make one using a combination of vegetables and tofu. Pork crushed up is usually used to make lumpiang Shanghai. Naturally, since this is vegan, I made it without the typical ground pork. I created two different versions: one that had some tofu mince to pair with mixed vegetables and another that included a plant-based ground "pork" substitute.
Get it here.
---
20. Spring Minestrone Soup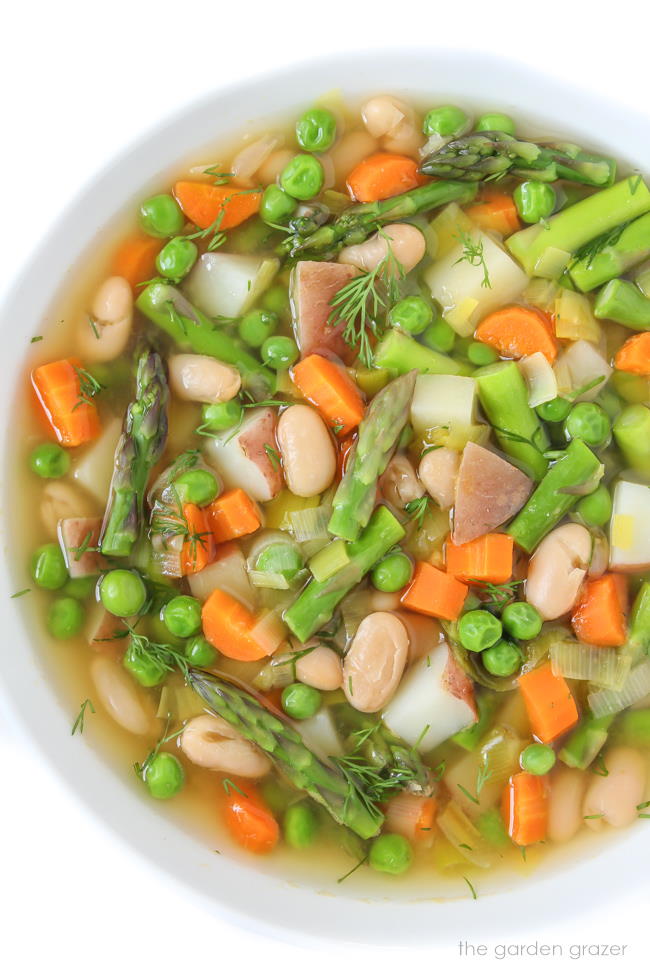 Minestrone for vegan spring recipes! The traditional Italian minestrone dish is updated for spring with peas, new potatoes, artichoke hearts, asparagus, and spring greens. One of my favorite soups is minestrone, which is incredibly adaptable to the changing seasons. This version honors the arrival of fresh, new vegetables in the market in the spring.

When I can get asparagus, artichokes, and peas together, I know how to prepare this soup. The foundation of the soup is made up of these vegetables. Another benefit of making this minestrone is that, including prep time, the entire process only takes approximately an hour. Making a traditional minestrone takes at least a few hours. There is merit in having a brief version. You can also pair this soup with vegan side dishes or any high protein salads tor whatever you like.
Get it here.
---
21. Zucchini Involtini Rolls with Cashew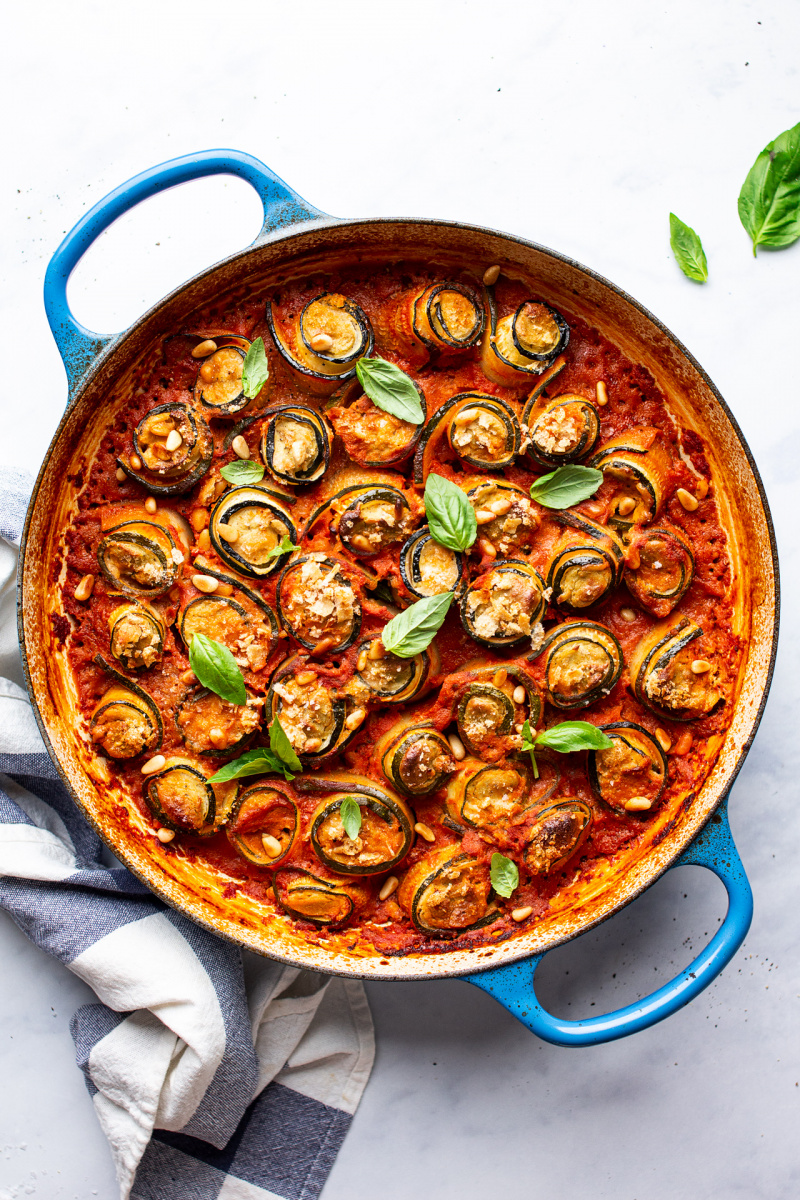 This recipe for vegan zucchini involtini with cashew ricotta is a straightforward, low-carb alternative to classic lasagna rolls that is also delicious, healthful, and gluten-free. So, this Mediterranean dish with rich tomato sauce is ideal if you're seeking for a quick zucchini meal. The fact that this zucchini involtini appears elegant yet is incredibly easy to make is one of my favorite things about it.

These lasagna rolls made with zucchini are both elegant enough to offer to guests and simple enough to prepare at home for easy meals on a typical weeknight. Although they taste flavorful, rich, and delicious, these zucchini lasagna rolls are actually surprisingly light and have fewer calories than classic involtini.
Get it here.
---
Bonus
Vegan Garlic Lemon Spring Pasta
Spring is here which means that some wonderful vegetables will come to our house. Making various healthy recipes with these wonderful vegetables will always turn heads.  Healthy food with a great season and delicious taste, oops what more do you want? This Vegan Garlic Lemon Spring Pasta recipe is also made with stuffed vegetables. It is completely vegan, paleo, and gluten-free.  Maybe you want to eat pasta but can't order at this store because of the weight. Not upset at all. I am here! 

Make at home this restaurant pasta recipe that tastes even better. This recipe is made with healthy ingredients like arugula, basil, garlic, radishes, zucchini, and coconut milk, one of the most popular spring season ingredients. It only takes 35 minutes to make. I'm sure you will love this vegetable-filled pasta.
Get it here.
---
Fruit Salad with Honey Lime Dressing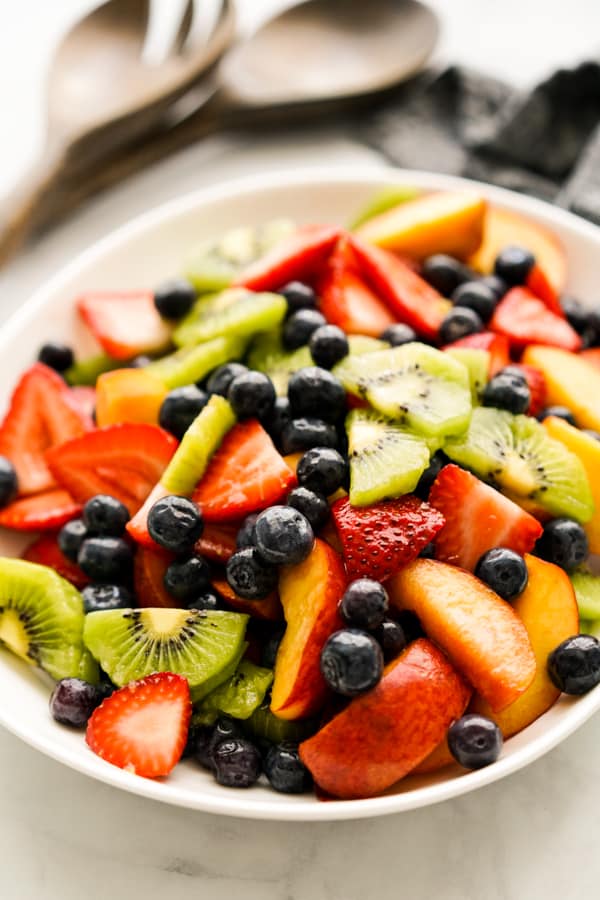 I consume a lot of vegetables in the summer. My kitchen's fruit dish is always too full after I return from the supermarket. Fruits, particularly summer fruits, are celebrated in this recipe. A fruit salad is a delicious and incredibly simple side dish for any meal, and I enjoy making this traditional version. That's where the magical properties of honey lime dressing work. Since there is no cheese or heavy dressing used, the lime and honey serve to highlight the fruits. Pure, uncomplicated, and entirely focused on the fruits.
Get it here.

Find these some easy mini bundt cake recipes here.
---
Roasted Carrot & Arugula Salad with Lemon Tahini Dressing
It's almost spring! Additionally, I have a delectable spring dish that you can eat this weekend. If you possess the components, that is. Easter will be observed differently this year, and it is undoubtedly an awkward moment to honor anything, but at least we can relax in our kitchens preparing scrumptious meals. For Festivities or any other event, this salad would be a wonderful side dish.

Carrots and beans only need to be roasted. Not much cutting is required! Prepare a straightforward lemon-tahini dressing while these are cooking. Simply combine the arugula and tahini dressing in a dish, add your roasted carrots and chickpeas, and toss to combine. All done! The simplest spring-inspired lettuce recipe is the perfect for summer and spring days.
Get it here.
---
Vegan Spring Vegetable Quiche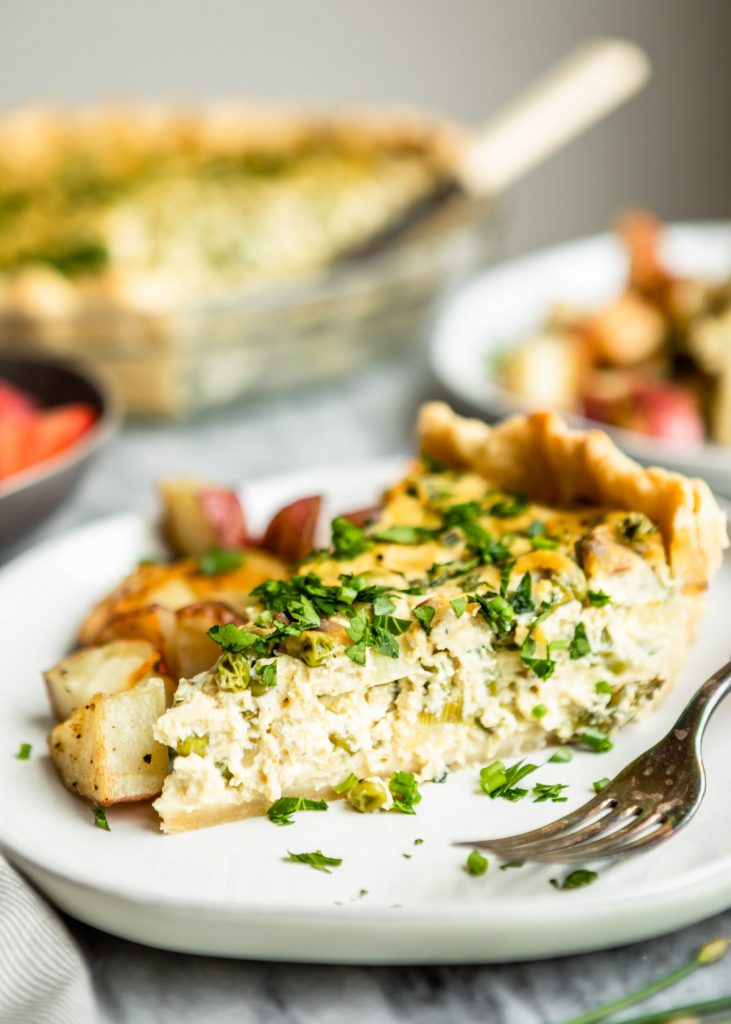 The ideal brunch dish is undoubtedly quiche. It is offered on special occasions, particularly in the spring. Veggies, seasonings, and herbs can all be experimented with in quiche because it is so flexible. Quiche can also be prepared without milk or eggs. Crazy, huh? This vegan quiche with spring vegetables is exceptional. These vegan spring recipes are perfect for any festival. These easter foods make spring even brighter.
Get it here.
---
Very Green Vegan Flatbread Pizza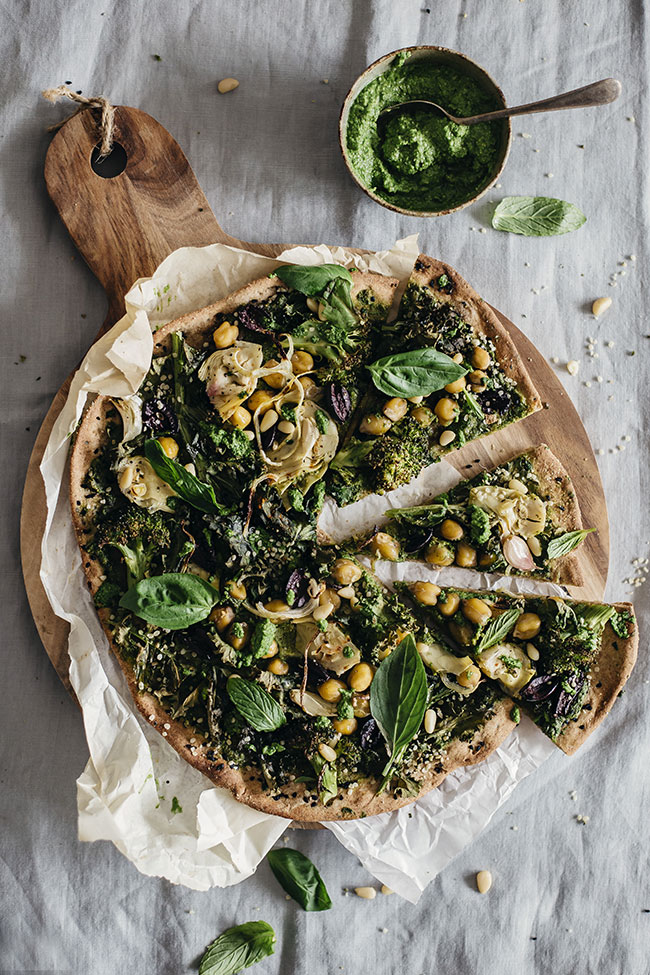 Creating a healthy diet means creating tasteless food, which is a misconception.  The perfect cooking style is key to making delicious food with healthy ingredients. Are you craving healthy pizza?  What are you thinking?  Impossible! absolutely possible  Don't think that pizza is just unhealthy. Make this Very Green Vegan Flatbread Pizza at home.

This green pizza will tempt you so much. Its classic look and taste will soothe you. Once you make this pizza, you will want to eat it again and again. This healthy green pizza is loaded with a variety of green vegetables. It doesn't have mountains of mozzarella, it has mountains of green vegetables and it's flavor heaven.
Get it here.
---
You may Like These Meal Ideas:
Cold Appetizers
Low Carb High Protein Recipes
Fritter Recipes
One Pot Dinners
High Protein Snacks
High Protein Vegan Meals
Brunch Recipes
---
If you like this article about Vegan Spring Recipes, share with your friends or families on Facebook, Twitter, and Pinterest. Choose your favorite recipe and make it at home, let me know which is your best recipe in the comment. Also, you can subscribe to my blog to get all the latest updates first on your mobile.
---
To make these recipes for later, SAVE this pin on your favourite Pinterest Board