Are you looking for creative Christmas ideas to infuse your home decor with festive charm? If so, Christmas wreaths offer an array of crafty DIY opportunities. These iconic ornaments serve as much more than just door adornments; they're a canvas for your imagination. From classic evergreen arrangements to unique, themed designs, DIY ideas provide an outlet for your creative flair.

Whether you're a seasoned crafter or new to DIY projects, crafting your own wreath can be an enjoyable holiday activity that adds a personal touch to your home. Explore various materials, colors, and styles to tailor your wreath to match your holiday theme. This year, elevate your Christmas decoration game with captivating craft ideas that showcase your unique style and bring the joyous spirit of the season to your doorstep.
---
◆ What is a Christmas wreath?
A Christmas wreath is a decorative circular arrangement made from various materials like evergreen branches, flowers, ornaments, and ribbons. It's typically hung on doors or walls during the holiday season as a symbol of welcome and celebration.
---
◆ How do I hang a Christmas wreath on my door?
To hang a Christmas wreath on your door, you can use a wreath hanger that fits over the top of your door. Alternatively, you can attach a ribbon or hook to the back of the wreath and hang it from a nail or hook on your door. Make sure the wreath is centered and at a comfortable eye level.
---
◆ Can I make my own Christmas wreath?
Absolutely! Making your own Christmas wreath can be a fun and creative activity. You can start with a wire or foam wreath base and add elements like evergreen branches, pinecones, berries, ornaments, and ribbon. There are many tutorials or vedios available online to guide you or you can teach from them through the process.
---
◆ How long can I keep a Christmas wreath displayed?
The longevity of a Christmas wreath depends on the materials used and the environment it's placed in. Fresh evergreen wreaths typically last around 4-6 weeks. Artificial wreaths can be stored and reused for multiple seasons. To extend the life of your wreath, keep it away from direct sunlight and moisture.
---
◆ Here are some characteristics of Christmas wreaths:
1. Circular Shape: Christmas wreaths are typically round in shape, symbolizing eternity and the cyclical nature of life.
2. Evergreen Foliage: They are often made from evergreen branches like pine, cedar, and holly, representing everlasting life.
3. Decorative Elements: Wreaths are adorned with various decorations such as ribbons, bows, ornaments, pinecones, berries, and sometimes even lights.
4. Seasonal Symbolism: The wreath is a symbol of the holiday season, representing warmth, welcome, and unity.
5. Hangable: Wreaths are designed to be hung on doors, walls, or used as centerpieces on tables.
6. Tradition: They are a traditional decoration during the Christmas season, dating back centuries in various cultures.
7. Cultural Variations: Different cultures may incorporate specific elements or styles into their Christmas wreaths, reflecting their traditions and beliefs.
8. Handmade or Store-Bought: Wreaths can be handmade using natural materials or purchased pre-made from stores.
9. Aroma: The use of evergreen foliage in wreaths fills the air with a pleasant and distinct Christmassy aroma.
---
21. DIY Light-up Snowy Village Wreath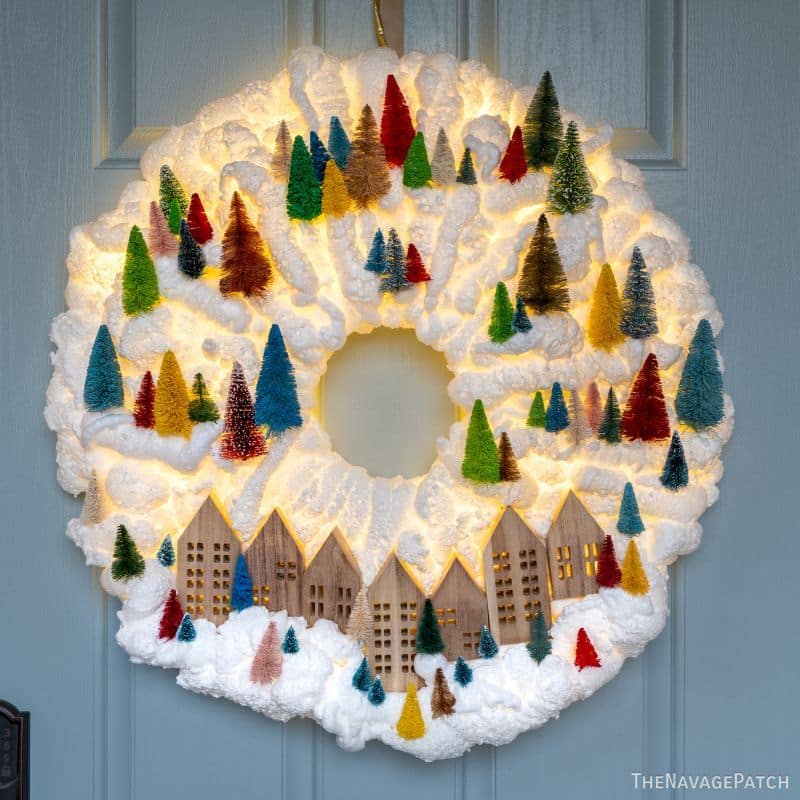 The DIY Light-up Snowy Village Wreath, adorned with charming Christmas wreaths, is a delightful decoration. The wreath showcases a picturesque snowy village scene illuminated by soft lights, creating a cozy and festive atmosphere.

Crafted with care, this wreath combines creativity and holiday spirit effortlessly. The mini houses, trees, and tiny details evoke a sense of wonder, transporting you to a winter wonderland.

The gentle glow of the lights casts a warm and inviting glow, making it a perfect addition to your holiday décor. Placed on your front door or hung indoors, it becomes a focal point, capturing the essence of the season.

The DIY aspect adds a personal touch, allowing you to express your artistic flair. Celebrate Christmas with this enchanting wreath that embodies the magic of the holidays and spreads joy to all who behold it.

Get it here.

Also make christmas ornament DIY Ideas & christmas drinks to enjoy your christmas eve!
---
Suggested: Christmas Charcuterie Board Ideas
---
20. How to Make a DIY Christmas Wreath 
The DIY Christmas wreaths craft ideas are a wonderful way to infuse the holiday spirit into your home. The process is simple and enjoyable. First, gather your materials – a wreath frame, greenery, ribbons, and ornaments.

Begin by attaching the greenery to the frame, ensuring a full appearance. Then, weave in colorful ribbons for a festive touch. Craft ideas like using natural elements like pinecones and berries add charm. Additionally, incorporating ornaments brings a personalized feel.

Moreover, crafters can customize their wreaths with bells, bows, or even small figurines. As a result, each wreath becomes a unique masterpiece. The best part is that these craft ideas suit all skill levels, making it a delightful family activity.

In conclusion, crafting a DIY Christmas wreath is a joyful and creative way to decorate your space for the holiday season.

Get it here.
---
19. Simple & Elegant Winter Wreath
The Simple & Elegant Winter Wreath boasts a charming appeal. Crafted with a DIY approach in mind, it's an embodiment of DIY ideas. The wreath's minimalistic design radiates elegance, capturing the essence of the season.

The combination of natural elements, like pinecones, holly, and dried oranges, showcases a rustic yet refined aesthetic. The neutral color palette enhances its versatility, ensuring it complements any decor style.

As a focal point of winter decoration, this wreath brings warmth and sophistication to any space. With its step-by-step DIY instructions, you can easily recreate this masterpiece.

From gathering materials to assembling the wreath, the process is enjoyable and rewarding. Elevate your winter decor with this Simple & Elegant Winter Wreath, infusing your home with a touch of nature's beauty and your creative prowess.

Get it here.

Must try christmas truffles & christmas candy recipes for sides as treat!
---
18. Elements of a European Christmas
The Elements of a European Christmas offer charming Christmas ideas. The festive season in Europe is a blend of tradition and merriment. The streets transform with dazzling lights.

Christmas markets brim with unique crafts and delectable treats. The aroma of mulled wine fills the air, creating a cozy atmosphere. Decorated trees stand tall in town squares, accompanied by carolers spreading cheer.

Families come together to exchange gifts and share festive meals. In some regions, snow blankets the landscape, enhancing the holiday magic. The sound of church bells ringing resonates through the crisp air, adding a touch of serenity.

The European Christmas Wreaths idea is a time for unity, joy, and making cherished memories with loved ones.

Get it here.
---
Check out: Christmas Treats & Christmas cookies
---
17. Dried Orange Wreath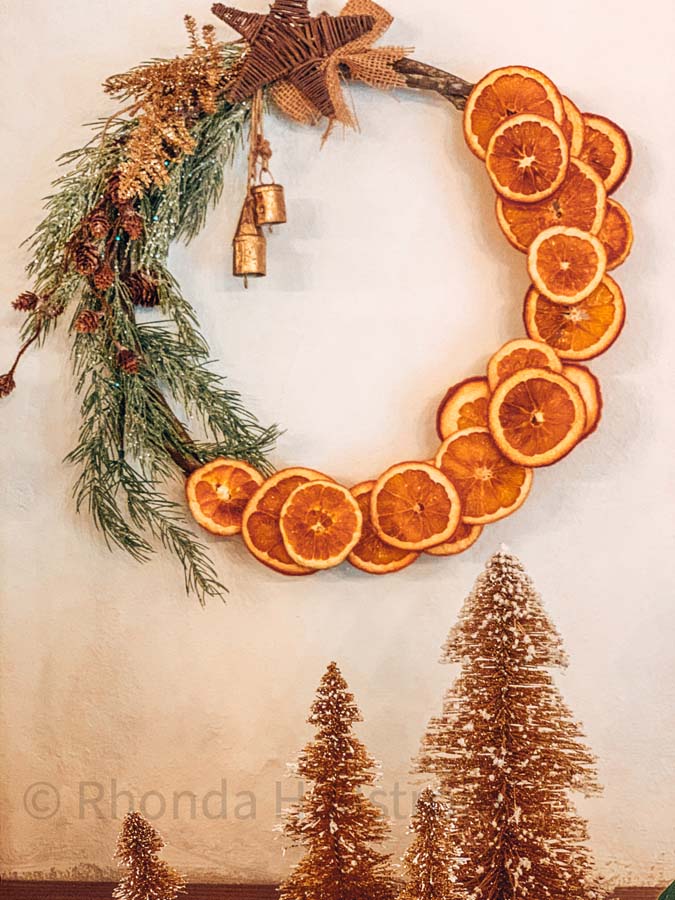 The Dried Orange Wreath, a delightful home decor piece, emanates a rustic charm. Crafted from dried orange slices meticulously arranged in a circular pattern, it exudes warmth.

Adorned with a twine bow, it adds a touch of simplicity and elegance. The earthy tones of the oranges blend seamlessly with various interior styles, making it a versatile choice.

Hang it on your front door, above the fireplace, or as a centerpiece on a wall, instantly infusing your space with a cozy atmosphere. Its natural textures and warm hues evoke a feeling of comfort and tranquility, perfect for creating a welcoming ambiance.

This wreath effortlessly transitions between seasons, from the vibrant days of summer to the cozy nights of winter. Embrace the inviting aura of the Dried Orange Wreath and elevate your home decor with its understated beauty.

Get it here.

More: Tasty Apple Recipes & Apple Desserts
---
16. Winter Pom Pom Wreath DIY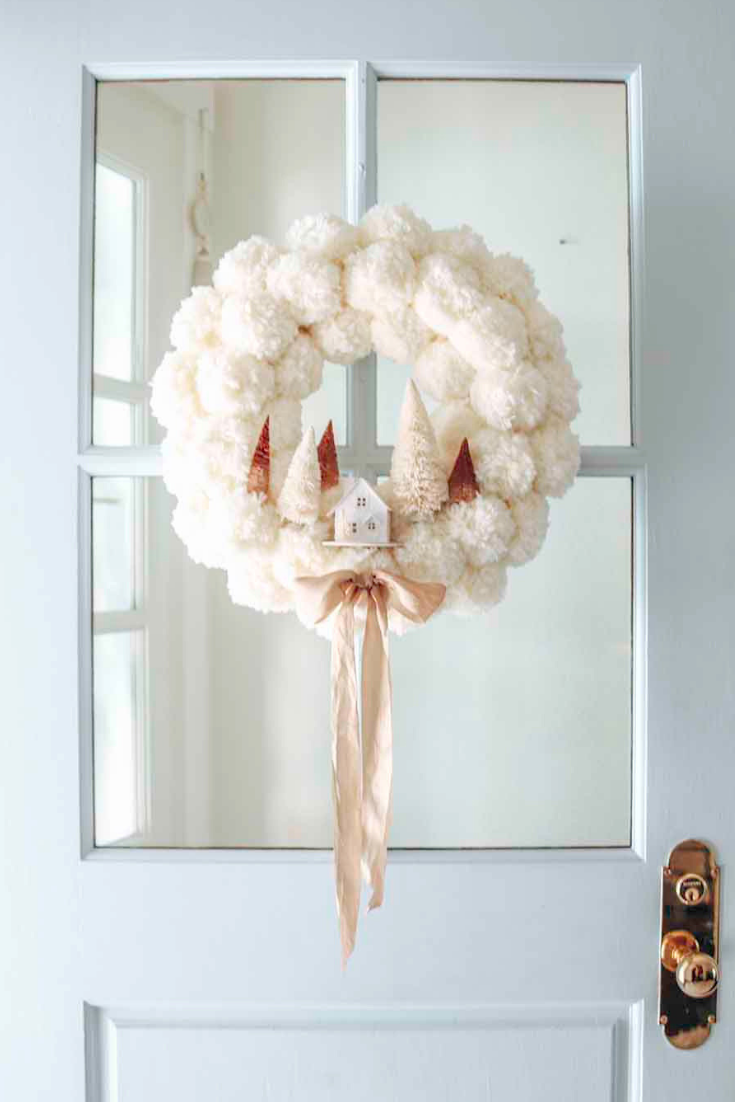 The Winter Pom Pom Wreath DIY exudes festive charm, making it an excellent addition to your holiday decor. Crafted with care, this wreath showcases a delightful combination of winter elements and Christmas cheer.

Its fluffy pom poms, rich green foliage, and twinkling ornaments create an inviting visual appeal. The white pom poms evoke a snowy feel, while the red and green accents infuse a classic Christmas palette. 

The christmas wreaths unique design is not only eye-catching but also easy to create. Following simple steps, you can assemble this stunning decoration in no time.

Hang it on your front door to greet guests with warmth, or display it indoors to spread holiday spirit throughout your home. The Winter Pom Pom Wreath DIY lets you embrace the magic of Christmas with style, and its handmade essence adds a personal touch to your festive surroundings.

Get it here.
---
15. Fluffy, Snowball Wreath
Are you seeking craft ideas? If so, consider making a Fluffy Snowball Wreath. This charming decoration is easy to create and looks stunning. To craft it, you'll need a foam wreath form, white yarn, and glue. Begin by wrapping the yarn around the wreath form until it's fully covered.

Use glue to secure the ends. Then, make small yarn pom-poms and glue them onto the wreath, creating the appearance of fluffy snowballs. You can vary the sizes and cluster them for a more dynamic look.

This craft is ideal for winter or holiday decor. It's a fun and budget-friendly project that yields impressive results. The Fluffy Snowball Wreath will undoubtedly add a touch of warmth and festive spirit to any space.

Get it here.


Also make your home wonderful during christmas, prepare these amazing christmas porch decorations & christmas tree ideas to decor your home beautifully.
---
14. Buffalo Check Wreath with Personal Message
The Buffalo Check Wreath with a Personal Message offers a charming appeal. The word embedded within adds a heartfelt touch. The wreath's classic Buffalo Check pattern provides a rustic vibe.

The personalized message elevates its uniqueness, making it a thoughtful gift choice. The contrasting colors create a striking visual impact. Placed on a door or wall, it exudes warmth.

The woven fabric exudes quality and durability. In essence, this Christmas Wreaths blends tradition and customization seamlessly. The word nestled within becomes a focal point, evoking emotions.

Ideal for various occasions, it conveys sentiments uniquely. Celebrate moments with this Buffalo Check Wreath, where pattern and personalization unite effortlessly.

Get it here.

Thinking about lunch, what to do to make for everyone for this christmas? Must try christmas casserole recipes for meal prep.
---
13. Festive Berry Wreath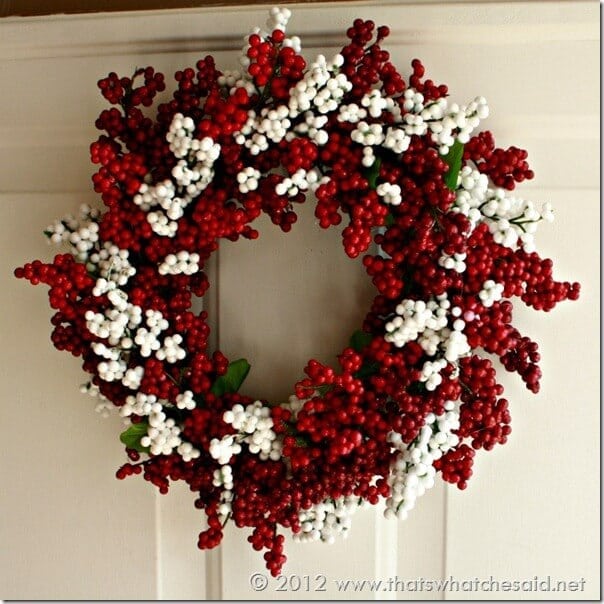 Are you seeking craft ideas? If so, let's talk about the Festive Berry Wreath. This charming wreath, adorned with vibrant red and green berries, emanates a joyful holiday vibe.

Craft enthusiasts can explore various ways to enhance this wreath. To begin, consider adding glittering ornaments, shimmering ribbons, or twinkling fairy lights.

Moreover, personal touches like miniature figurines or handcrafted bows can infuse uniqueness into the design. The wreath's versatile size makes it suitable for doors, walls, or mantels.

Craft ideas are endless: experiment with different color combinations, incorporate dried flowers, or intertwine rustic twine. This project is an ideal canvas for expressing your creativity during the festive season.

Get it here.
---
12. Peppermint Candy Wreath
The Peppermint Candy Wreath is one of the most delightful DIY ideas for the holidays. The wreath features a charming arrangement of red and white peppermint candies, creating a festive and inviting look.

Crafters can easily assemble this wreath by gluing the candies in a circular pattern on a foam or cardboard base. Additionally, this eye-catching decoration can be enhanced further with a bright ribbon or bow.

The best part? It's a cost-effective project that requires minimal materials, making it perfect for those seeking a simple and budget-friendly holiday craft.

In just a few steps, you'll have a stunning Peppermint Candy Wreath that adds a touch of sweetness to your seasonal decor.

Get it here.
---
Suggested: Holiday Breakfast Ideas
---
11. Felt Ruffle Wreath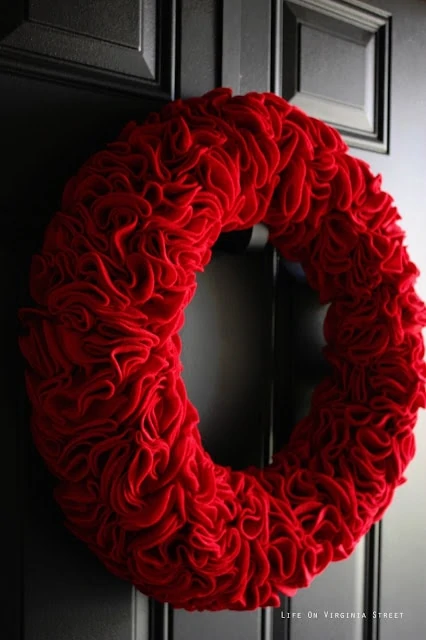 The Felt Ruffle Wreath exudes a charming appearance with its delicate ruffled texture. The word "enchanting" aptly describes how this wreath transforms any space.

The wreath boasts a delightful combination of colors, making it a perfect accent for various occasions. Its unique design adds a touch of elegance, catching the eye with its intricate layers.

The word "captivating" truly encapsulates the wreath's ability to draw attention. Crafted with precision, each ruffle adds depth and dimension, creating a visually pleasing effect.

Its soft and inviting feel makes it an ideal decorative piece. The word "charming" encompasses the wreath's aura, making it a lovely addition to both modern and traditional settings.

In summary, the Felt Ruffle Christmas Wreaths, with its enchanting, captivating, and charming attributes, is a must-have décor item that instantly elevates any space.

Get it here.

Also make these christmas appetizers for winter nights celebration.
---
10. How to Dry Orange Slices
Are you curious about drying orange slices? If so, let me provide you with a quick overview. Drying orange slices is a simple and charming way to create decorative pieces.

The process involves slicing oranges and then drying them out. The resulting dried orange slices take on a rustic and appealing appearance. They can be used in various craft projects, such as wreaths, potpourri, and garlands.

The dried slices also release a pleasant citrus aroma, adding a touch of natural fragrance to your space. Additionally, dried orange slices are versatile and can be used year-round for different occasions, from holiday decorations to summer-themed crafts.

The beauty of this DIY project lies in its ease and the lovely visual and aromatic results it produces. So, if you're looking for a creative and aromatic way to enhance your decor, consider trying your hand at drying orange slices.

Get it here.
---
9. Easy DIY Snowman Wreath
The Easy DIY Snowman Wreath is a charming addition to your home decor. Crafted with simplicity in mind, this delightful wreath brings a touch of winter magic to any space.

The snowman's jolly face and the frosty details instantly capture attention. It's a fun project that requires minimal effort and basic materials. Plus, it's a great way to bond with family or friends during the holiday season.

The wreath effortlessly blends into your existing decor, spreading warmth and festive cheer. Whether hung on your front door or displayed indoors, its whimsical appeal creates an inviting atmosphere.

Crafted with love, this wreath adds a homemade touch to your surroundings. Embrace the holiday spirit and let this Easy DIY Snowman Wreath elevate your home's ambiance with its endearing simplicity. And also try snowman crafts for winter home decor.

Get it here.

These christmas breakfast recipes & christmas cake Ideas are the perfect celebrating!
---
8. Christmas/Winter Cardinal Wreath
Are you curious about the Christmas/Winter Cardinal Wreath? Picture this: a charming wreath adorned with vibrant red cardinals, nestled amidst lush evergreen foliage.

The cardinals pop against the greenery, creating a striking contrast that instantly captures attention. If you gaze closer, you'll notice delicate accents of snow, carefully placed on the branches, creating a sense of winter magic.

The wreath exudes warmth and festivity, perfect for adorning your front door or interior spaces. Each cardinal is meticulously crafted, adding a touch of nature's beauty to your holiday décor.

The arrangement evokes a feeling of coziness, as if the spirit of winter has come alive in your home. So, if you're seeking a festive ornament that seamlessly blends the joy of Christmas with the serenity of winter, the Christmas/Winter Cardinal Wreath is an exquisite choice.

Get it here.
---
7. How to Make a Christmas Wreath
Are you interested in creating charming Christmas wreaths? This resource offers step-by-step instructions for crafting beautiful wreaths, perfect for adorning your home during the festive season.

The guide covers a wide array of techniques, ensuring you can customize your wreath to match your personal style. From classic designs to modern twists, you'll find inspiration to create wreaths that stand out.

Moreover, the guide provides a list of materials you'll need, making it easy to gather everything required. Whether you're a seasoned DIY enthusiast or just beginning, this guide simplifies the process and enhances your home's holiday ambiance.

So, if you want to add a touch of Christmas magic to your decor, "How to Make a Christmas Wreath" has you covered.

Get it here.

Also try christmas party food ideas to celebrate holidays.
---
6. Red and Green Christmas Ornaments Wreath
The Red and Green Christmas Ornaments are a delightful sight, bringing a festive vibe to any space. The vibrant hues of red and green infuse the decorations with a lively energy.

The glossy surface of these ornaments catches the light beautifully, creating a mesmerizing shimmer. When hung on the tree, they effortlessly catch the eye, spreading joy and warmth.

The traditional colors symbolize love, joy, and renewal. The ornaments' intricate patterns and shapes add depth and texture to the overall décor. In addition, the contrast between the red and green enhances the visual appeal.

These ornaments are the embodiment of holiday cheer, evoking memories of cozy gatherings and cherished moments. In summary, the Red and Green Christmas Ornaments bring tradition and vibrancy together, making them a cherished part of the festive season.

Get it here.
---
5. Evergreen Wreath for Christmas 
If you're seeking craft ideas for Christmas decorating, here's how to make a fresh evergreen wreath. Gather various evergreen branches like pine, cedar, and fir. Next, form a circular frame using a wire or a premade wreath base.

Begin attaching the branches, overlapping them as you go. Secure with floral wire or hot glue. Incorporate pinecones, berries, and ornaments for added flair. Moreover, intertwine a festive ribbon for hanging.

Crafting this wreath is straightforward and enjoyable. As you create, the natural scents of the evergreens will infuse your space with a delightful aroma. This project offers a chance to express your creativity and bring a touch of nature indoors.

Once completed, hang the wreath on your door, wall, or above the fireplace. This easy and charming Christmas Wreaths craft idea enhances your home's holiday atmosphere and showcases your artistic skills.

Get it here.
---
4. Rustic Burlap Wreath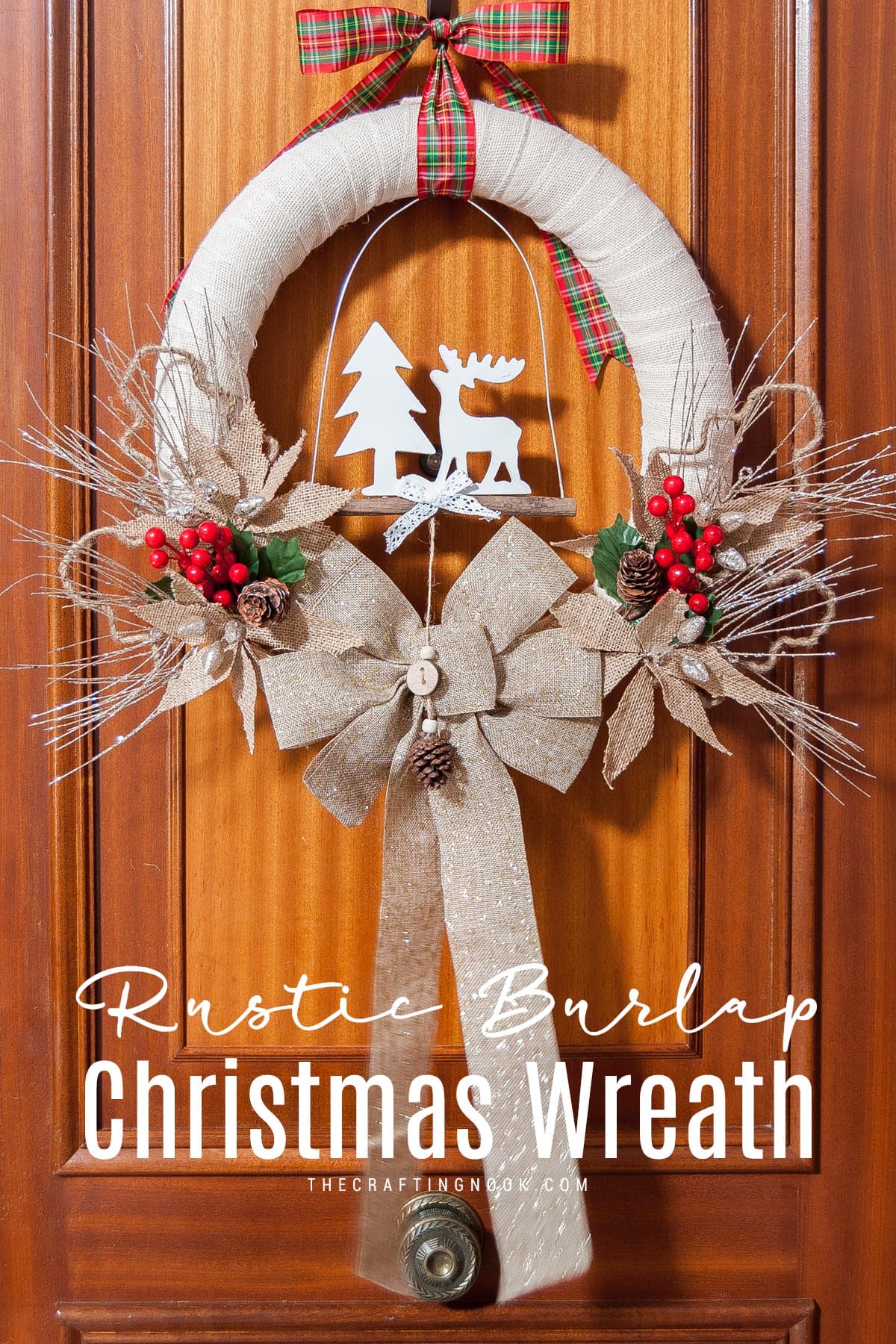 The Rustic Burlap Wreath exudes charming simplicity. The natural texture of burlap brings a cozy, rustic vibe to any space. Looking to infuse creativity? Try some DIY ideas to elevate its appeal.

Begin by adorning it with faux flowers, transforming it into a vibrant focal point. Alternatively, add a monogram for a personalized touch. For an enchanting touch, weave in LED lights, making it a captivating decor piece during evenings.

Another idea is to incorporate seasonal ornaments for festive flair. Moreover, crafting mini burlap wreaths offers a delightful table setting idea. The best part? These DIY ideas are budget-friendly and require minimal effort.

Whether adorning your front door or enhancing indoor ambiance, the Rustic Burlap Wreath offers limitless DIY opportunities to spruce up your space with natural elegance.

Get it here.

Also, try holiday cocktails & margarita cocktails for the party!
---
3. Burlap Candy Cane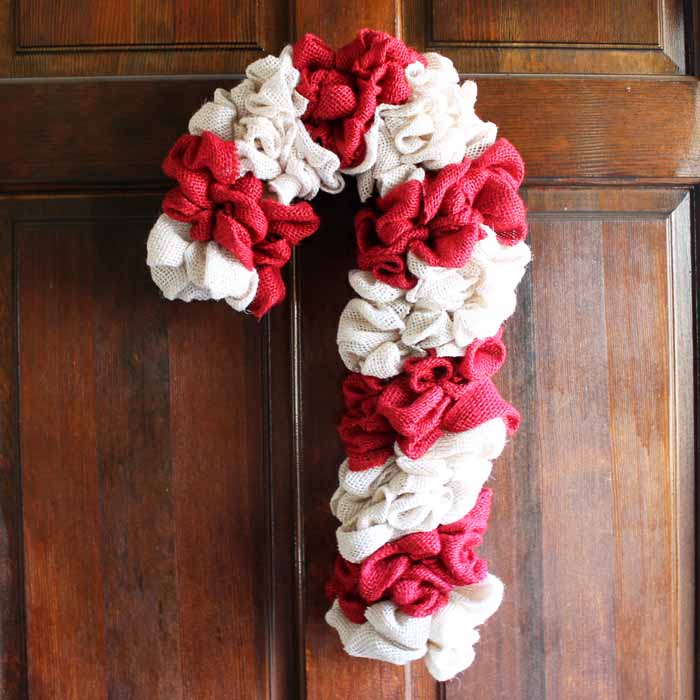 The Burlap Candy Cane embodies festive charm. Crafted with care, it radiates the spirit of Christmas. Adorned with rustic burlap, its texture adds warmth. Hanging it on doors or walls brings instant Yuletide flair.

Its simplicity seamlessly blends with various Christmas wreaths ideas. Gracefully intertwine it with evergreen garlands for a harmonious look. Alternatively, pair with vintage ornaments for a nostalgic touch.

Moreover, it serves as a versatile DIY element. Wrap it with twinkling lights to cast a cozy glow. Consider attaching personalized tags for heartfelt gifting. The Burlap Candy Cane's timeless design echoes the holiday's essence.

Its inviting presence spreads joy effortlessly. In conclusion, this decor piece encapsulates the festive season's essence while enhancing various Christmas themes.

Get it here.
---
2. Santa Wreath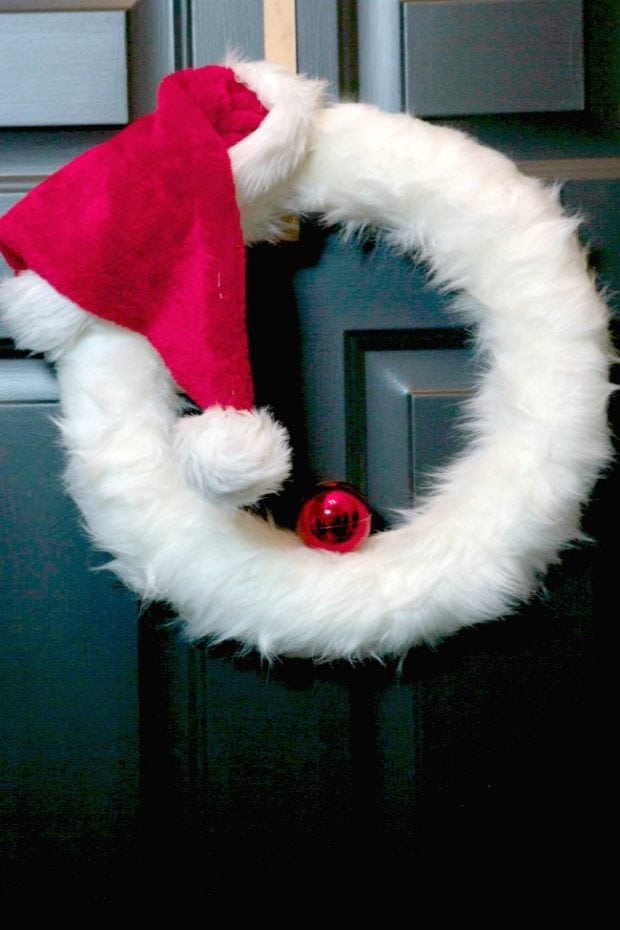 The Santa Wreath, a charming home decor piece, exudes a rustic appeal. Crafted from textured cotton, this Santa figurine brings a cozy and nostalgic vibe to your living space.

Its earthy tones and natural texture blend seamlessly with various interior styles. Placed on a mantel or nestled amidst other decorations, it adds warmth to your home during the festive season.

The intricately designed cotton material an artisanal touch, while the Santa motif maintains a classic holiday sentiment. Furthermore, the Christmas Wreaths can be easily integrated into your existing decor due to its versatile appearance.

In conclusion, this delightful decoration piece enhances your home with its understated yet impactful presence, making it a must-have for those seeking a touch of seasonal charm.

Get it here.

Also you can try christmas crafts & Christmas mason jar gifts for home decor.
---
1. Lighted Grapevine Snowman
Are you curious about how the Lighted Grapevine Snowman complements Christmas wreaths? This delightful decoration harmoniously combines with festive wreaths, creating a charming seasonal display.

Adorned with twinkling lights, the snowman and wreaths illuminate the surroundings with a warm glow. The snowman's rustic appearance and the wreaths' traditional appeal form a picturesque scene that embodies the holiday spirit.

Positioned together, they offer a harmonious blend of textures and colors, resulting in an eye-catching arrangement. The snowman's wooden features contrast beautifully with the wreaths' lush foliage, producing an inviting atmosphere.

Whether placed by the front door or in the living room, this combination evokes a cozy ambiance that captivates the essence of Christmas.

Get it here.
---
Cheers!
If you like this article about Christmas Wreaths, share with your friends or families on Facebook, Twitter, and Pinterest.

Okay, I'm handing the mic over to you now. Come on! Don't be shy now…

Choose your favorite DIY and make it at home, let me know which is your best DIY Craft in the comment. Also, you can subscribe to my blog to get all the latest updates first on your mobile.
---
To make these recipes for later, SAVE this pin on your favorite Pinterest Board