If you're looking to infuse the holiday season with a touch of personal flair and creativity, Christmas ornaments are the perfect canvas for your DIY ideas and crafty endeavors. These small, decorative treasures play a pivotal role in transforming your home decor into a festive wonderland. Whether you are a seasoned DIY enthusiast or just starting out, Christmas ornaments offer a world of possibilities to explore.

Craft ideas abound when it comes to these holiday gems. From traditional designs to modern and quirky concepts, you can craft ornaments that reflect your unique style and personality. The joy of crafting your own Christmas ornaments lies not only in the creative process but also in the satisfaction of seeing your handmade creations adorning your tree.

In this guide, we will delve into an array of Christmas ideas, offering inspiration and step-by-step instructions to help you craft beautiful ornaments that will become cherished keepsakes in your holiday tradition. So, are you ready to embark on a journey of festive creativity and home decor magic? Let's dive into the world of DIY Christmas ornaments together!
---
◆ What are the benefits of Christmas ornaments?
1. Festive Ambiance: Christmas ornaments instantly set a festive mood, making your home feel warm and joyful during the holiday season.
2. Tradition and Nostalgia: Many ornaments hold sentimental value, representing cherished memories and family traditions.
3. Personalization: DIY ornaments allow you to personalize your holiday decor, expressing your unique style and creativity.
4. Family Bonding: Crafting ornaments together can strengthen family bonds and create lasting memories.
5. Economical Decor: Ornaments are an affordable way to transform your home into a winter wonderland without breaking the bank.
6. Versatility: They can be used in various ways, from decorating Christmas trees to enhancing table settings and wreaths.
7. Reflection of Interests: Ornaments can reflect your hobbies, interests, or cultural heritage, adding a personal touch to your decorations.
8. Seasonal Keepsakes: Many ornaments become treasured keepsakes, passed down through generations, reminding you of past holidays and loved ones.
---
◆ How Do I Care for and Store Christmas Ornaments?
When it comes to cleaning, avoid using harsh chemicals or abrasive materials on delicate ornaments. Instead, use a soft, dry cloth to gently wipe away dust and dirt. For more stubborn stains, a damp cloth should suffice.

When storing ornaments, opt for a sturdy container with dividers to prevent them from bumping into each other. Wrap fragile ornaments in tissue paper or bubble wrap for added protection. Store the container in a cool, dry place away from direct sunlight or extreme temperatures, which can damage ornaments over time.
---
◆ Are There DIY Ideas for Making Christmas Ornaments with Kids?
Absolutely! Crafting Christmas ornaments with kids can be a delightful and memorable holiday activity. Here are some kid-friendly DIY ideas:
1. Salt Dough Ornaments: Create a simple salt dough using flour, salt, and water. Roll it out, cut festive shapes, and let the kids decorate them with paint, glitter, and markers.
2. Pinecone Ornaments: Gather pinecones and let the kids paint them in festive colors, adding a ribbon for hanging.
3. Paper Ornaments: Origami or paper cutting can result in beautiful, intricate ornaments. Kids can fold and cut paper into snowflakes, stars, or other holiday shapes.
4. Handprint/Footprint Ornaments: Trace the child's hand or foot onto clay or salt dough, bake it, and let them paint the imprint as a special keepsake.
---
◆ What Are Some Unique Christmas Ornament Ideas for Gifting?
Choosing unique Christmas ornaments as gifts can be a thoughtful gesture. Here are some ideas:
1. Custom Photo Ornaments: Create personalized ornaments with photos of loved ones, capturing precious memories.
2. Handmade Glass Ornaments: Hand-blown or hand-painted glass ornaments often feature intricate designs and make for exquisite gifts.
3. Ornaments with Initials or Names: Look for ornaments that can be customized with the recipient's initials, name, or a special message.
4. Nature-Inspired Ornaments: Unique ornaments made from natural materials like wood, pinecones, or dried flowers add a rustic touch to holiday decor.
---
21. Pom Pom Gnome Ornaments
Pom Pom Gnome Ornaments, delightful Christmas decorations, possess a charming allure. Their small stature, adorned with vibrant colors, evokes a festive atmosphere. Crafted with care, these miniature figurines boast intricate details, enhancing their appeal.

These diminutive gnomes, with their whimsical appearance, contribute merriment to holiday decor. Their plush pom-pom bodies, resembling winter attire, exude coziness. Tiny wooden noses and felted hats add a touch of rustic charm, while felted beards lend a whimsical touch.

These Christmas ornaments offer versatility in decorating; they can adorn Christmas trees, christmas wreaths, or garlands. Their dainty size allows for creative placement throughout the home. Whether hung on branches or nestled in festive displays, they infuse warmth into the holiday ambiance.

The Pom Pom Gnome Ornaments, with their distinctive design, enrich the Christmas spirit. Each one, unique in its own way, embodies the essence of holiday cheer. Crafted for the season of giving, these charming ornaments are bound to be cherished by all who behold them.

Get it here.
---
Suggested: Christmas Charcuterie Board Ideas
---
20. Felt Christmas Gnome Ornament Craft
Crafting DIY Felt Christmas gnome ornaments offers a delightful and imaginative way to decorate your holiday tree. These charming creations are visually appealing, bringing a touch of whimsy to your festive décor. 

Begin with a set of basic supplies: felt sheets, sewing materials, stuffing, and assorted embellishments. Next, brainstorm innovative DIY concepts, such as different gnome sizes, color schemes, or distinctive facial expressions.

Experiment with unique textures, fabric patterns, and decorative accents to make each gnome truly one-of-a-kind. Consider incorporating miniature accessories like tiny scarves or hats for added flair.

To assemble your gnome, employ straightforward sewing techniques, constructing the body, hat, and beard. Stuff the gnome with cotton or batting to achieve a plush finish. Tailor the gnome's appearance according to your chosen DIY ideas, ensuring it aligns with your holiday aesthetic.

Once complete, these handcrafted ornaments will serve as eye-catching additions to your holiday decorations. Display them on your tree, mantle, or even as table centerpieces.

With a dash of creativity and a touch of DIY magic, these Felt Christmas gnome ornaments can infuse your home with festive cheer.

Get it here.
---
19. The Best Way to Make Glitter Ornaments 
Craft enthusiasts can create dazzling glitter ornaments with ease. These stunning craft ideas involve a straightforward process. First, gather clear glass ornaments, glitter, and floor wax.

Carefully remove the ornament top, then pour a small amount of floor wax inside. Swirl the ornament gently to coat its interior evenly. Next, pour excess wax out and sprinkle glitter inside.

Swirl again to coat the ornament's interior with a sparkling layer. Allow it to dry, then reattach the top. Voila! You've crafted a beautiful glitter ornament.

These craft ideas offer endless possibilities. Experiment with various colors and sizes of glitter for unique effects. Consider using stencils or painter's tape to create patterns before adding glitter.

These ornaments make fantastic gifts or decorations for holidays and special occasions. Crafters can also personalize them with names or messages.

Enjoy the simple pleasure of crafting and bring sparkle to your festivities with these glitter ornaments.

Get it here.

Also try these christmas cocktails & christmas non alcoholic drinks for big batch party!
---
18. No-Sew DIY Gnome Christmas Ornaments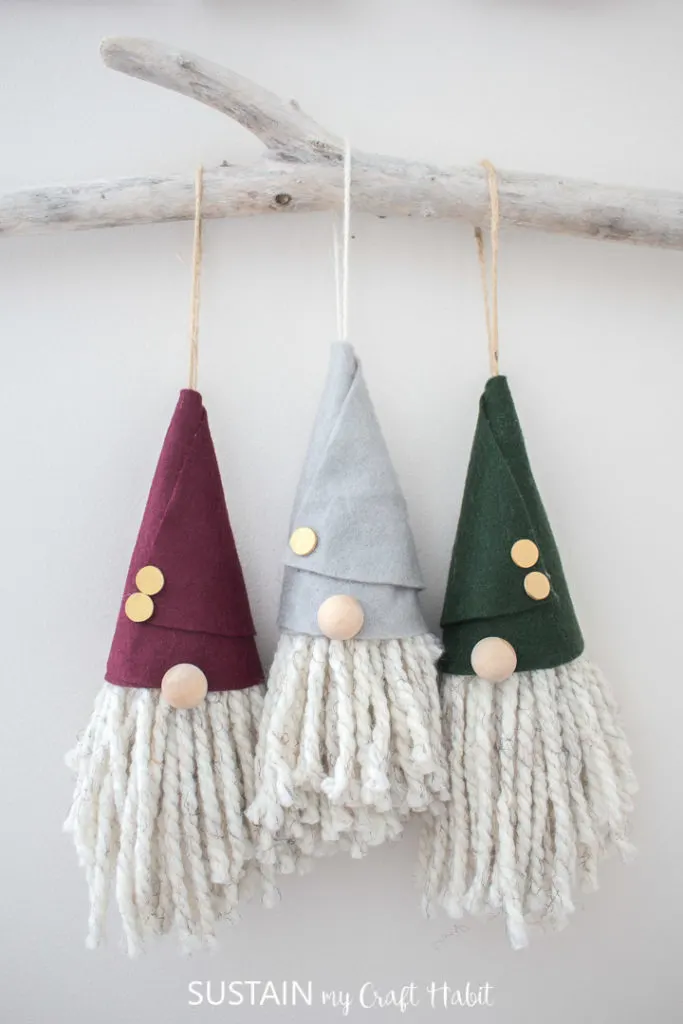 No-Sew DIY Gnome Christmas Ornaments make charming additions to your home decor. Crafted with a variety of materials, these adorable gnomes add a whimsical touch to your holiday setting.

Their unique, handmade appeal elevates your festive ambiance effortlessly. Handpick different fabrics, textures, and colors to create a diverse array of these miniature decorations.

Unleash your creativity, and fashion gnomes that suit your decor theme. These ornaments instantly infuse your space with a festive spirit and warmth. Hang them on your Christmas tree, dangle them from doorknobs, or place them on shelves.

Their versatility lends itself to various home decor ideas. Embrace the joy of crafting as you design these no-sew gnomes that seamlessly integrate with your overall interior aesthetic.

Brighten up your living space with these delightful, miniature companions, offering a festive, cozy atmosphere in your home during the holiday season.

Get it here.

To get more, must try strawberry dessert recipes for any holidays.
---
17. How to Make Wood Bead Christmas Ornaments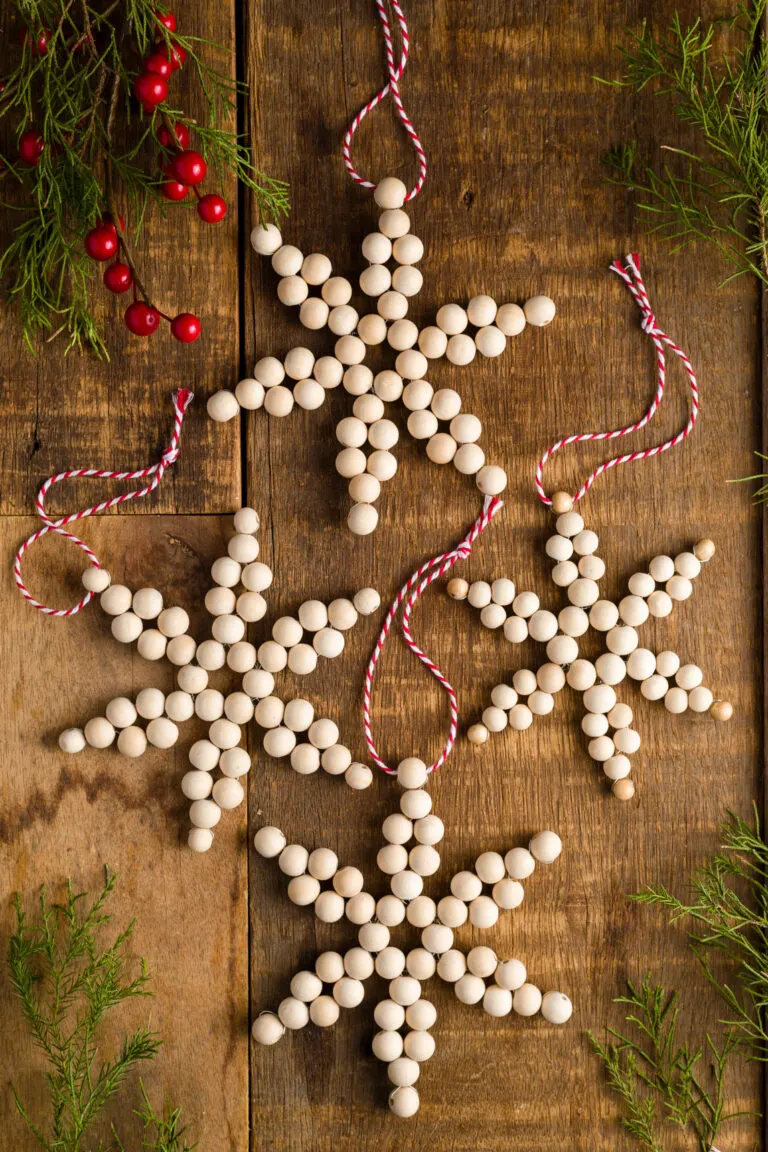 Create festive holiday décor with these charming wood bead Christmas ornaments. Begin by gathering your materials: wood beads in various sizes, craft wire, pliers, and a selection of colorful ribbons.

First, thread a length of wire through the beads, mixing sizes and colors for a playful look. Bend the wire into a loop to secure the beads, leaving extra wire for hanging.

Next, form unique shapes by bending the wire into stars, hearts, or snowflakes. Add a loop or hook at the top for hanging for home decor. Now, the fun part – decorating!

Wrap your ornaments with sparkly ribbon, tinsel, or paint them with cheerful holiday colors. To add a personal touch, glue tiny ornaments, bells, or mini bows. Once your Christmas ideas come to life, hang them on your tree, wreath, or around the house for a whimsical touch.

These wood bead Christmas ornaments bring a touch of homemade charm to your festive décor, making your holiday season even more magical. Enjoy crafting and sharing these delightful ornaments with friends and family!

Get it here.
---
16. How To Make A Wood Slice Portrait Christmas Ornament
Crafting a Wood Slice Portrait Christmas Ornament yields a charming holiday adornment. This delightful ornament embellishes Christmas trees with rustic allure.

To create it, select a wood slice, preferably with a smooth surface. Then, sketch a portrait or image onto this slice. Next, deftly wield a small drill to create a hole for stringing.

Painting or staining the wood slice enhances its aesthetic appeal. After, apply a sealant for durability. Attach a ribbon or string through the hole to hang it.

This ornament exudes an artisanal charm, fusing natural wood elements with personalized artistry. When displayed alongside traditional Christmas ornaments, it adds a unique touch to holiday decor.

Its tactile qualities and individualized design amplify the festive ambiance. This crafting endeavor fosters creativity, inviting both beginners and experienced artisans to partake. Must try christmas truffles & christmas candy recipes for sides as treat!

It exemplifies a harmonious blend of simplicity and elegance, suitable for gifting or personal use. With a touch of ingenuity and a dash of holiday spirit, crafting a Wood Slice Portrait Christmas Ornament transforms into a gratifying yuletide project.

Get it here.
---
15. DIY Glitter Ornaments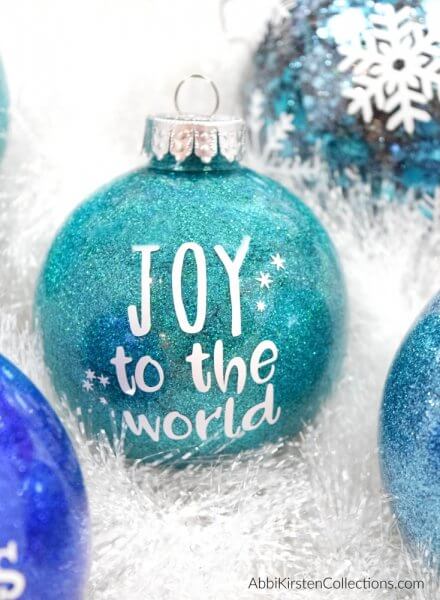 Crafting DIY glitter ornaments can bring a sparkle to your holiday decor. These homemade baubles radiate charm with their dazzling allure. By embarking on these DIY projects, you will discover endless creative ideas that inspire your inner artisan.

Creating your glittery ornaments allows you to infuse personal flair into your decorations. You can explore diverse designs, adding an artistic touch to your festive display. Each ornament becomes a unique masterpiece, reflecting your individuality.

Gathering the necessary materials, like clear glass or plastic ornaments, glitter, and adhesive, sets the stage for your crafty endeavor. Start by removing the tournament's top, ensuring easy access for the glitter application.
chris
Next, apply adhesive evenly across the ornament's surface, providing a sturdy foundation for the glitter. Sprinkle the glitter gently, ensuring full coverage and avoiding clumps. Experiment with various colors and types of glitter to achieve the desired effect.

Get it here.

Thinking about lunch, what to do to make for everyone for this christmas? Must try christmas casserole recipes for meal prep.
---
14. Rustic Pinecone Star Christmas Ornament
The Rustic Pinecone Star Christmas Ornament exudes a charming, woodland aesthetic. Its appearance captures the essence of nature with its rustic appeal. Crafted with care, it displays a delicate balance of form and function.

The pinecone's intricate details are meticulously carved, lending it an authentic look. Aesthetically pleasing, this ornament complements various decorating styles. Its earthy hues evoke warmth, making it a versatile choice for holiday décor.

When hung on a Christmas tree, it casts enchanting shadows, infusing a cozy ambiance. Its rustic charm appeals to those seeking a touch of nostalgia during the festive season.

This ornament blends seamlessly with traditional or contemporary themes. Whether displayed alone or in a group, it elevates the overall holiday atmosphere. Its uniqueness lies in its ability to transport one to a serene forest, even in the heart of bustling festivities.

In essence, the Rustic Pinecone Star Christmas Ornament is a delightful addition to any holiday décor, offering a harmonious blend of nature-inspired beauty and festive allure.

Get it here.
---
More: Christmas Treats & Christmas cookies
---
13. Scrap Ribbon Tree ornaments
Scrap Ribbon Tree ornaments exude charm, enhancing festive decor with their vibrant hues and playful allure. Crafted from leftover ribbons, these ornaments impart a whimsical touch to holiday adornments.

Their unique appearance stems from a blend of colors and textures, creating a captivating visual spectacle. These ornaments not only embody eco-consciousness but also evoke sentiments of joy and creativity, making them a delightful addition to any festive setting.

The intricate weaving of ribbons forms miniature Christmas trees, each boasting a distinct personality. The dynamic interplay of colors and patterns adds depth to their design, evoking a sense of wonder.

Also make your home wonderful during christmas, prepare these amazing christmas porch decorations & christmas tree ideas to decor your home beautifully.

These ornaments epitomize resourcefulness, repurposing materials to create something beautiful. Their DIY nature fosters a sense of accomplishment, making them a popular choice for craft enthusiasts.

Hanging them on a tree or using them as table centerpieces infuses spaces with a festive atmosphere. The delicate balance of shades and textures harmonizes with other decorations, enhancing overall aesthetics.

Scrap Ribbon Tree ornaments radiate a jovial spirit and serve as a testament to the power of imagination in transforming the ordinary into the extraordinary, offering a joyful and eco-friendly way to celebrate the holiday season.

Get it here.
---
12. 10 Minute Photo Keepsake Ornaments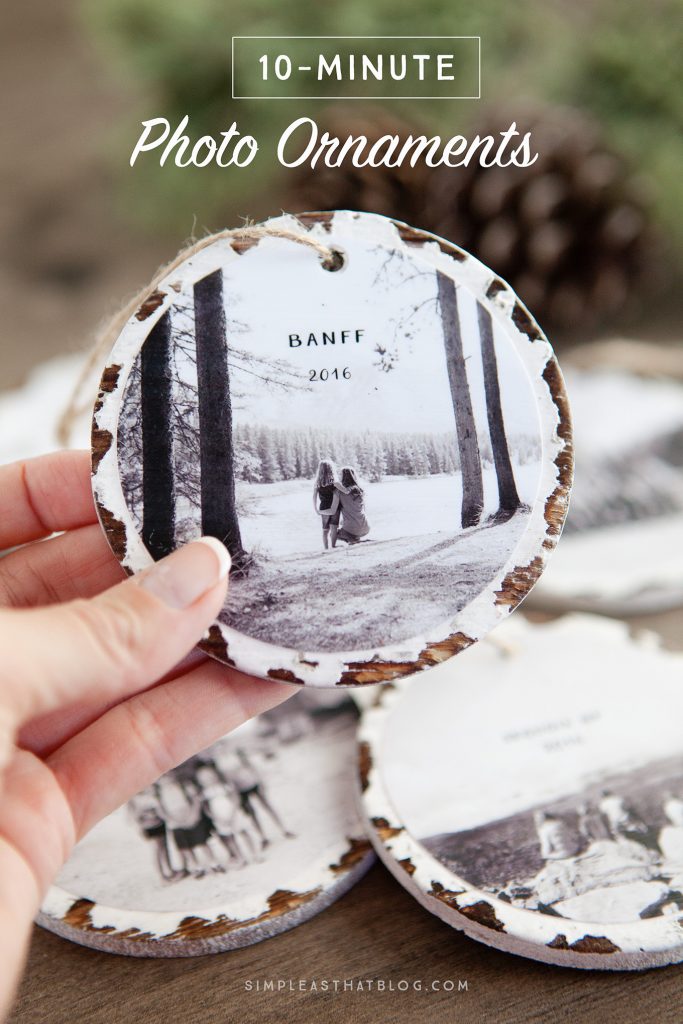 Crafted with utmost precision and designed to encapsulate cherished memories, the 10 Minute Photo Keepsake Ornaments exude a timeless charm. These exquisite ornaments effortlessly merge style and sentimentality, making them a perfect addition to any festive decor.

The ornaments' impeccable craftsmanship ensures their enduring appeal. Each piece is meticulously assembled with a keen eye for detail, resulting in a flawless presentation that captures the essence of your special moments.

The simplicity of the design conceals the ease with which these ornaments can be personalized. In just ten minutes, you can effortlessly create a unique keepsake by inserting a treasured photograph into the designated slot.

This process is so straightforward that anyone can achieve stunning results with minimal effort.

The final product is a testament to the harmonious fusion of tradition and innovation. The ornaments harmonize seamlessly with your holiday decorations, offering a touch of nostalgia while also embracing the modern concept of DIY personalization.

Whether adorning your own tree or gifted to loved ones, these ornaments are guaranteed to elicit smiles and heartfelt appreciation.

In summary, the 10 Minute Photo Keepsake Ornaments epitomize the convergence of craftsmanship, simplicity, and sentiment, making them an indispensable addition to your holiday traditions.

Get it here.

Also, try holiday cocktails & margarita cocktails for the party!
---
11. DIY Paper Christmas Ornaments
DIY Paper Christmas ornaments exude charm with their quaint allure. Crafted from the simplest materials, they emanate a unique, homemade charm. These ornaments boast a myriad of intricate designs and textures, elevating the holiday ambiance.

Their artistry lies in their ability to transform humble paper into elegant, festive creations. Adorned with festive motifs, these ornaments provide a cost-effective alternative to store-bought decorations.

By employing creative techniques, one can fashion delicate snowflakes, graceful angels, or whimsical reindeer. Their versatility allows for a seamless integration into any holiday décor scheme.

Moreover, crafting these ornaments instills a sense of accomplishment, nurturing one's creative spirit. Displayed on a tree or hung from windows, their presence adds a touch of personalized festivity.

In essence, DIY paper Christmas ornaments epitomize the joy of crafting, encapsulating the essence of the holiday season in each unique piece.

Get it here.
---
10. Pom Poms And Pinecones Christmas Ornaments
Pom Poms And Pinecones Christmas Ornaments offer a delightful festive charm. These charming decorations exude a unique blend of warmth and coziness. Crafted with skill, they boast intricate detailing and vibrant colors.

The softness of pom poms complements the rustic allure of pinecones. This harmonious fusion results in an exquisite holiday adornment. 

Pom poms, with their plush texture, evoke a sense of comfort. They adorn the ornaments with a tactile appeal. Pinecones, on the other hand, introduce a touch of nature's elegance. Their earthy tones bring a rustic twist to the festive ambiance. Together, these elements create a visual treat.

The dexterity involved in crafting these ornaments is evident. Meticulous workmanship showcases the artistry. Vibrant hues are chosen with precision to ignite a sense of merriment.

These ornaments encapsulate the spirit of the season effortlessly. They enhance the holiday aesthetic with their unique charm.

Pom Poms And Pinecones Christmas Ornaments seamlessly blend tradition and contemporary design, resulting in an eye-catching decoration that captures the essence of joy during the holiday season.

Get it here.

Must try Leftover Chicken Recipes & sweet potato recipes for meal prep.
---
Suggested: Holiday Breakfast Ideas
---
9. Super Easy to Make Coffee Cup Ornaments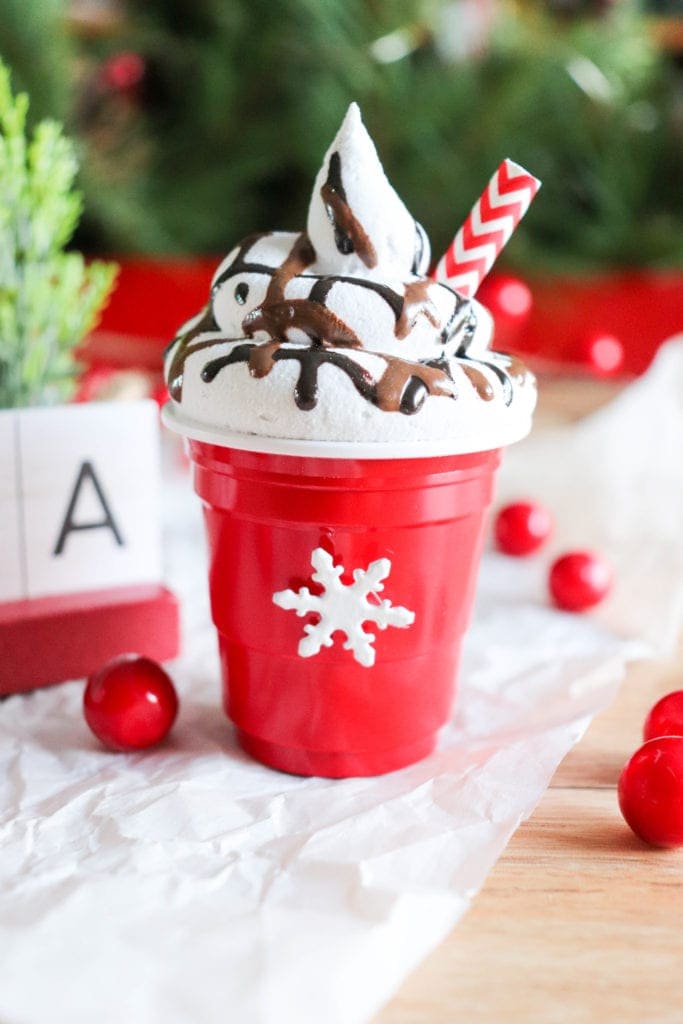 Crafting coffee cup ornaments is a breeze, showcasing effortless elegance. These charming creations flaunt an enticing simplicity that captivates. With minimal fuss, one can craft these dainty ornaments, a delightful addition to any holiday decor.

Begin by gathering supplies – empty coffee cups, string, paint, and adornments. Firstly, paint the cups, employing vibrant hues to infuse vivacity. Next, after drying, embellish with glitter or sequins, adding a shimmering touch. String loops for hanging – easy and quick.

The outcome is coffee cup ornaments that radiate a chic and chic ambiance, perfect for any festive setting. Their graceful appearance belies the minimal effort invested, making them a popular choice among DIY enthusiasts.

In conclusion, crafting these coffee cup ornaments is an uncomplicated and gratifying endeavor. The results, a testament to simplicity's beauty, will undoubtedly captivate and charm anyone who beholds them.

Get it here.
---
8. DIY Dollar Store Blue & White Chinoiserie Ornaments
Craft your own elegant Dollar Store Blue & White Chinoiserie Ornaments and witness their exquisite allure. These DIY creations exude charm with a fusion of cobalt and ivory hues, evoking a sense of timeless sophistication.

These budget-friendly ornaments effortlessly transform your décor, lending an air of opulence to any space. Crafted with minimal expenditure, these embellishments captivate with their intricate patterns and delicate aesthetics.

Assembled with ease, these handcrafted ornaments exemplify the harmony of low-cost ingenuity and high-end elegance. Elevate your interior design with these affordable masterpieces, a testament to your creativity and resourcefulness.

Discover how artistry transcends the confines of a budget, leaving a lasting impression on admirers. Bring forth an aura of luxury through the fusion of simple materials and creativity, and let your DIY skills shine brightly this holiday season.

Get it here.

Also make these christmas appetizers for winter nights celebration.
---
7. Bottle Cap Snowman Ornaments
Craft your own captivating Dollar Store Blue & White Chinoiserie Ornaments and witness their exquisite charm. These delightful ornaments adorn your space with an air of sophistication, blending seamlessly with your decor.

They emanate an aura of elegance that transforms your surroundings, elevating your aesthetic effortlessly.

Dabble in the art of Chinoiserie, an intricate yet gratifying technique, using a plethora of delicate strokes. Marry the serene blue and pristine white hues, effortlessly merging them into an enchanting tapestry. Each stroke breathes life into your creation, bringing forth a masterpiece in the making.

Inexpensive yet elegant, these DIY Chinoiserie ornaments encapsulate the essence of affordable sophistication. Revel in the satisfaction of crafting something truly exquisite with your own hands, turning a humble dollar store find into a work of art.

Get it here.
---
6. How to Make Fabric Kimekomi Christmas Ornaments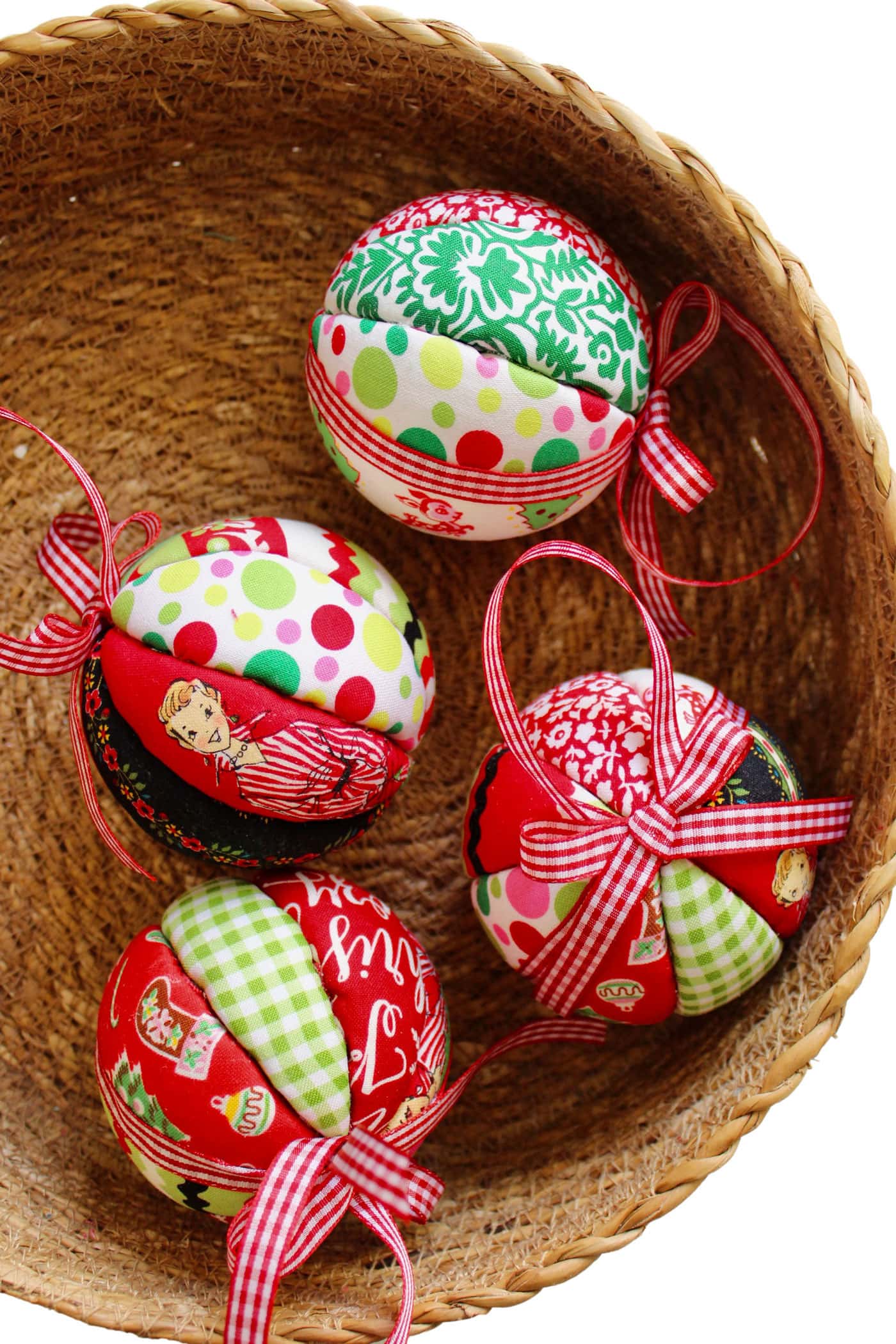 Crafting Fabric KimeKomi Christmas Ornaments yields exquisite holiday decor. These unique baubles radiate festive charm. They feature intricate patterns, showcasing your creativity.

The process begins with selecting vibrant fabric scraps. These are meticulously layered and stitched. This yields captivating textures and hues. Precise needlework ensures seamless, stunning results.

The addition of embellishments, like sequins and beads, adds a touch of elegance. These ornaments epitomize yuletide splendor. They exude a handmade allure. Their tactile quality invites touch and admiration. A symphony of colors and patterns adorns your tree.

Their versatility extends beyond Christmas. These ornaments beautify any occasion. Personalize them with monograms or motifs. Share them as heartfelt gifts. Crafting these delights fosters a sense of accomplishment.

Unleash your imagination and create timeless treasures. Their vibrant colors and intricate patterns showcase your artistic flair. They embody the essence of the holiday season and offer endless creative possibilities.

Get it here.

These christmas breakfast recipes & christmas cake Ideas are the perfect celebrating!
---
5. Christmas Heart Ornament 
Crafting a delightful Christmas Heart Ornament can be an enjoyable and fulfilling DIY project. These ornaments, adorned with intricate patterns and shimmering colors, can bring festive charm to your holiday decor.

There are myriad creative diy ideas to explore when fashioning these charming adornments. From using recycled materials to incorporating natural elements, the possibilities are vast. Also try christmas party food ideas to celebrate holidays.

Crafting a personalized Christmas Heart Ornament is an opportunity to infuse your own style and sentiment into your festive decorations. By employing basic crafting supplies and a touch of imagination, you can fashion unique and eye-catching ornaments that reflect the warmth and spirit of the season.

So, this holiday season, embrace the DIY spirit and transform simple materials into beautiful Christmas Heart Ornaments that will adorn your tree with a touch of handmade elegance.

Get it here.
---
4. Crochet Christmas Baubles
Craft ideas for Crochet Christmas Baubles create delightful ornaments that enhance holiday decor. These baubles exhibit intricate patterns and vibrant colors, elevating festive aesthetics.

Crafting enthusiasts adore these charming ornaments, making them an ideal project for holiday gatherings. Crocheting baubles fosters creativity and provides an opportunity to personalize your decorations.

With their handmade charm, these ornaments add a unique touch to your Christmas tree. Crafting them can be an enjoyable family activity, fostering a sense of togetherness during the holiday season.

You can explore various crochet techniques to craft baubles, from simple stitches to complex designs. The end result is a collection of exquisite ornaments that showcase your crafting prowess and artistic flair.

So, this Christmas, embark on a crochet adventure and craft stunning baubles that capture the spirit of the season, infusing your home with warmth and festive cheer.

Get it here.

Also try christmas side dish recipes & christmas no bake desserts for christmas dinner nights!
---
3. Macrame Christmas Ornaments
Macrame Christmas ornaments add a charming touch to home decor. These handcrafted creations boast intricate knots and elegant designs, making them eye-catching additions to any festive setting.

Their intricate craftsmanship exudes a sense of artistry, enhancing the overall ambiance of your home during the holiday season. Macrame ornaments are versatile and can complement various decor styles, from rustic to bohemian, and even modern aesthetics.

Their natural, earthy textures create a cozy and inviting atmosphere, perfect for family gatherings and celebrations. Moreover, they provide a unique and personal touch to your decorations, elevating your home's holiday spirit.

The delicate beauty of these ornaments truly shines, creating a warm and welcoming environment that captures the essence of the season.

So, when considering ways to embellish your home for the holidays, don't forget the elegance and charm that macrame Christmas ornaments bring to your decor scheme.

Get it here.
---
More: Snowman Craft Ideas
---
2. Gold Leaf Christmas Ornaments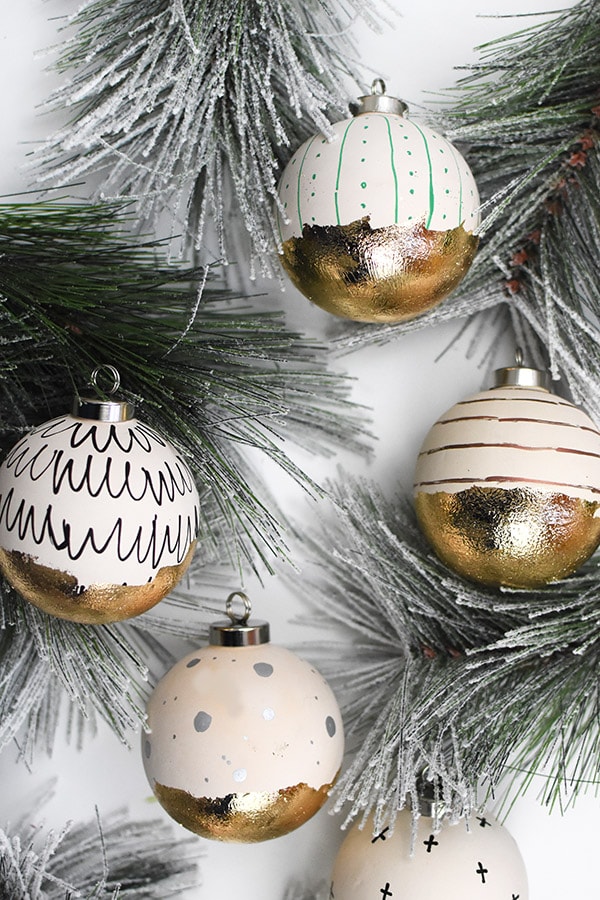 Gold Leaf Christmas Ornaments exude elegance and charm, making them perfect for festive Christmas ideas. These exquisite ornaments boast a resplendent gleam that captures the holiday spirit effortlessly. Their shimmering allure brings a touch of opulence to any Christmas décor scheme.\

Crafted meticulously, Gold Leaf Christmas Ornaments showcase intricate detailing and intricate craftsmanship. Each piece embodies the essence of the holiday season with its lustrous golden hue.

These ornaments effortlessly elevate your Christmas tree, adding a touch of sophistication and refinement to your festive celebrations.

Their timeless appeal ensures they are cherished heirlooms, passed down through generations. Gold Leaf Christmas Ornaments infuse your holiday decor with a sense of tradition, blending seamlessly with both classic and contemporary Christmas themes.

Incorporating Gold Leaf Christmas Ornaments into your Christmas ideas promises to transform your holiday space into a radiant and enchanting wonderland, where elegance meets the magic of Christmas.

Get it here.

Also you can try christmas crafts & Christmas mason jar gifts for home decor.
---
1. DIY Jadeite Christmas Ornaments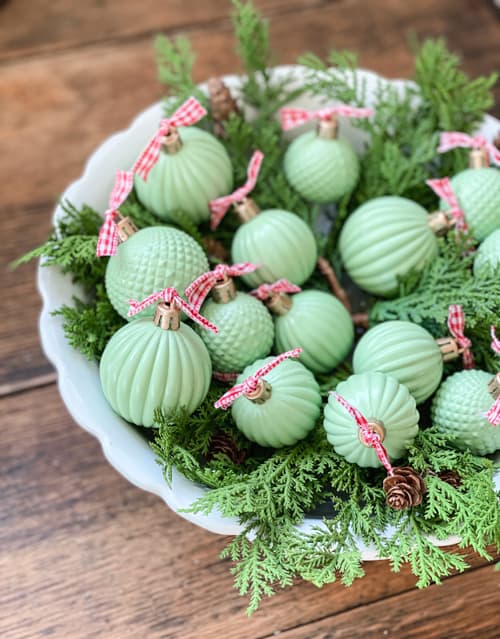 Crafting your very own Jadeite Christmas ornaments brings a touch of elegance and uniqueness to your holiday decor. These DIY creations exude charm and sophistication, making your tree stand out amidst the festivities.

Handcrafting these dazzling ornaments not only adds a personal touch to your decorations but also allows you to tailor them to your preferred aesthetic. The vibrant green hues of jadeite infuse a sense of natural beauty into your Christmas setup.

These homemade treasures are a delightful departure from mass-produced ornaments, enhancing the holiday ambiance with a touch of authenticity.

Engaging in DIY ornament crafting brings joy and fulfillment to the holiday season, fostering a sense of accomplishment while you adorn your tree with these sparkling gems.

Jadeite's radiant beauty ensures that your Christmas tree is a stunning centerpiece, radiating an air of festivity and elegance throughout the holiday season.

Get it here.
---
Cheers!
If you like this article about Christmas Ornaments, share with your friends or families on Facebook, Twitter, and Pinterest.

Okay, I'm handing the mic over to you now. Come on! Don't be shy now…

Choose your favorite recipe and make it at home, let me know which is your best recipe in the comment. Also, you can subscribe to my blog to get all the latest updates first on your mobile.
---
To make these recipes for later, SAVE this pin on your favorite Pinterest Board