Friends, these holiday months of ours are truly filled with joy. We celebrate various parties, festivals, Halloween parties, and Thanksgiving parties with great fun during this time. Our Christmas is coming very soon. The main point of any party is food and drink.  Any party you have can fail if this food is not delicious.  Again, we all spend our days busy, and from that busy life, we get the opportunity to eat with family, and friends, share stories and play sports with children on these holidays. Today I'm here with some of the best recipes that taste great so you can easily whip up delicious meals in this busy life. I'm going to talk to you today about Thanksgiving side dishes.

We always put more emphasis on the main course, but I think  Main courses are important having side dishes gives guests variety and compliments your arrangement.  And the biggest reason to have side dishes is that when you are a little hungry, you can't eat the main course, then these side dishes do their job.

Today I am bringing you all the best thanksgiving side dishes or side recipes.  Which you can make as holiday recipes at home or as party foods. From Sweet Onion Galette, Roasted Carrots with Candied Pecans, and Goat Cheese, Butternut Squash, Crispy Roasted Cauliflower, Asparagus Casserole, Ham and Cheese Asparagus, etc. More such best side dish recipes are just for you.
---
1. Sweet Onion Galette
This Sweet Onion Galette is the perfect side dish to complete your Thanksgiving party. You can enjoy this delicious Thanksgiving side dish on its own, but you can also serve it with bread.  But this alone will make your party a hit. I went to one of my office colleague's parties and there were so many amazing Thanksgiving side dishes that I just devoured them. None of us can forget that friend's delicious Thanksgiving party.  I want you to arrange such a party so that everyone remembers the delicious food of your party.

Salted butter, flour, a pinch of salt, a pinch of sugar, and water will be used to make the dough.  And salted butter, Yellow onion (large onion), minced garlic, fresh thyme, sea salt, coarse black pepper (to taste), all-purpose flour, heavy cream, and fontina cheese, prepare the filling of beaten eggs with these ingredients.  That's it, your party food is ready.  This holiday recipe takes 10 minutes to prepare and 15 minutes to bake. Try making this delicious creamy onion galette side dish in your own kitchen, and you will have this recipe as a side dish at all your parties.
Click here.
---
2. Roasted Carrots with Candied Pecans and Goat Cheese
Carrots are one vegetable that will make any recipe you use. Carrots are delicious when eaten raw.  Then imagine how the side dish will be with carrots! And again if there are pecans and whole cheese is spread in it.   Are you wondering what recipe I'm talking about?  Roasted Carrots with Candied Pecans and Goat Cheese Talking about these Thanksgiving side dishes.  It really tastes great. 

Surprise the whole family by making a wonderful holiday recipe with fresh carrots, fresh goat cheese, brown sugar, unsalted butter, salt, pepper, cinnamon, maple syrup, chopped pecans and sea salt.  I don't make it as a party food but sometimes I make it on holidays.  I pack the child's lunch box and my lunch box.  This recipe takes 10 minutes to prepare and 1 hour to cook.  You can prepare this recipe before the party.  Just warm it up before serving.  So how about this delicious cute carrot recipe for your Thanksgiving party?
Click here.
---
Suggested: thanksgiving wreaths
---
3. Creamy Garlic Parmesan Brussels Sprouts With Bacon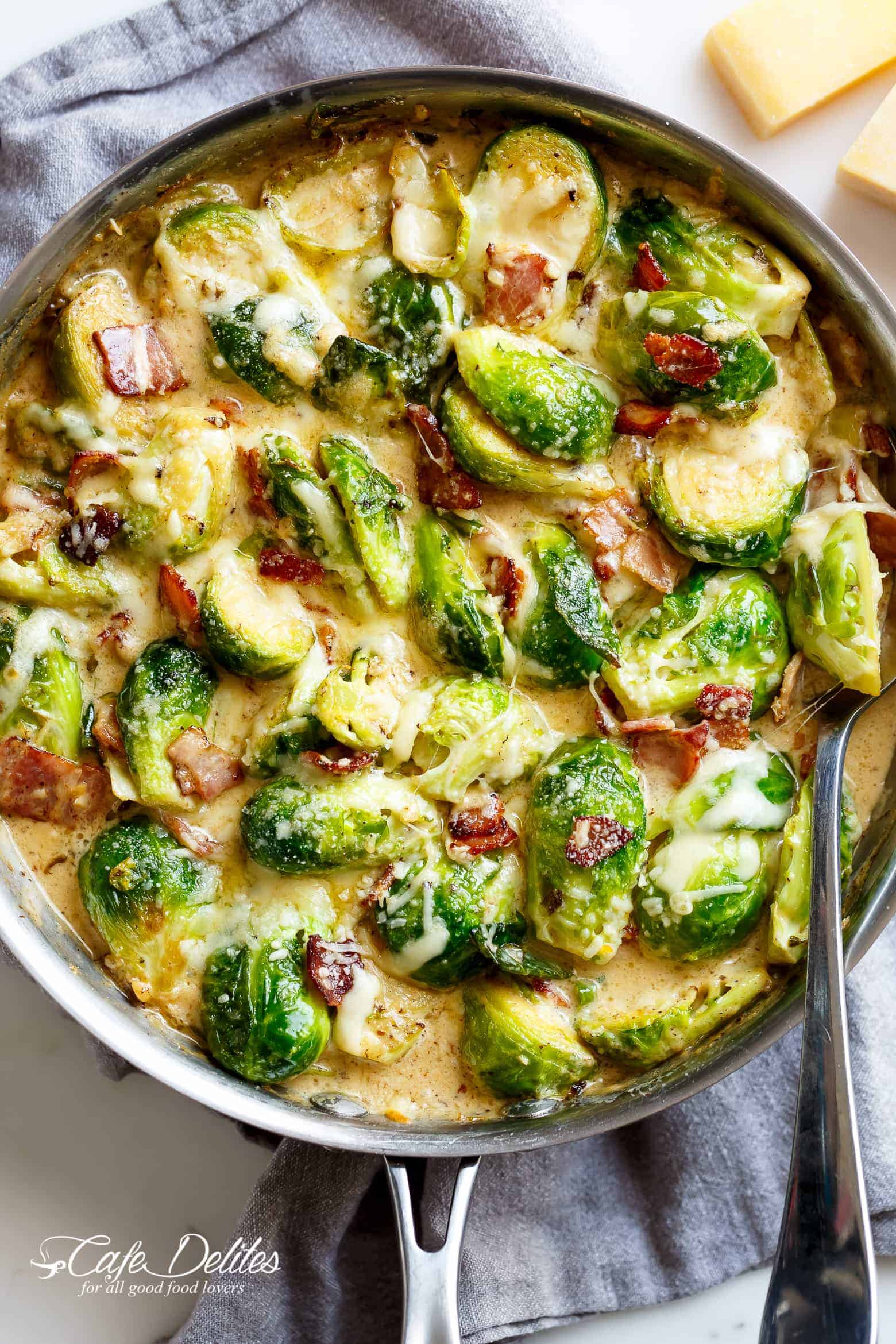 Want a creamy, tasty, delicious side dish?  Creamy Garlic Parmesan Brussels Sprouts With Bacon Then this recipe is for you. This recipe is my favorite Thanksgiving side dish recipe at home. This recipe will give you a chance to eat vegetables.  Which will provide nutrition to your body.  Keep the body fresh.  I love to eat vegetables but my kids don't like to eat vegetables at all, but these holiday recipes make my kids gobble them up in seconds. 

This recipe is made with bacon, butter, Brussels sprouts, salt, pepper, minced garlic, heavy cream, cornstarch mixed with water, freshly shredded mozzarella, and grated parmesan cheese. These ingredients are rich in excellent taste.  Vegetable recipes can be so tasty, I would not have believed it if I had not tried this holiday recipe.  I love to eat spicy food so I added chili flakes and black pepper in it. It has the same taste, just a little spicy. It takes 35 minutes to prepare this side dish.  Such easy and delicious party foods I always add to my party recipe list.
Click here.

Try these amazing Christmas Appetizers to celebrate this holiday.
---
4. Slow Cooker Maple Glazed Carrots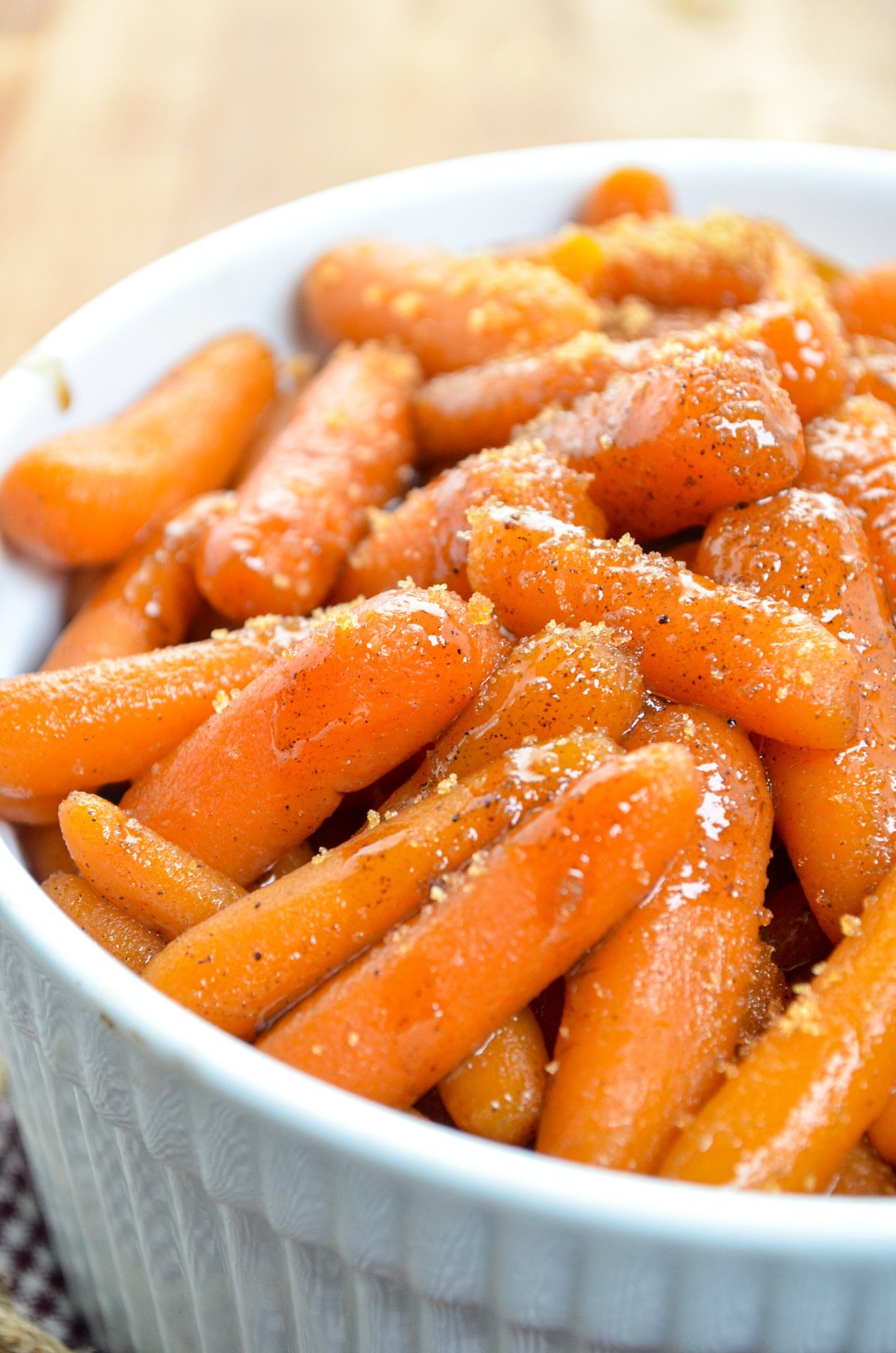 Are you bored of eating carrot vegetables like me?  Want to eat a sweet recipe with carrots?  Then make a Slow Cooker Maple Glazed Carrots recipe without delay.  This recipe looks so enticing that anyone will fall in love with it.  As we all know that now our festival month is going on, you can have this recipe as a side dish for any of your festivals.  It's perfect as Thanksgiving side dishes for celebration.  These are perfect party foods for those who love to eat sweet food or carrot sweet food. I try to make special recipes for any of my holidays.  When I'm craving something sweet or the kids are fussy, I make these holiday recipes and it's gone in the blink of an eye.

Baby carrots are perfect for this recipe, along with Maple syrup, Brown sugar, Cinnamon, Salt, and Butter, these are the best ingredients. The recipe is completely ready in just 2 hours. This recipe can be made in advance.  You can cook this food and keep it in an airtight container in the fridge for a few days.
Click here.
---
5. Roasted Fall Vegetables Recipe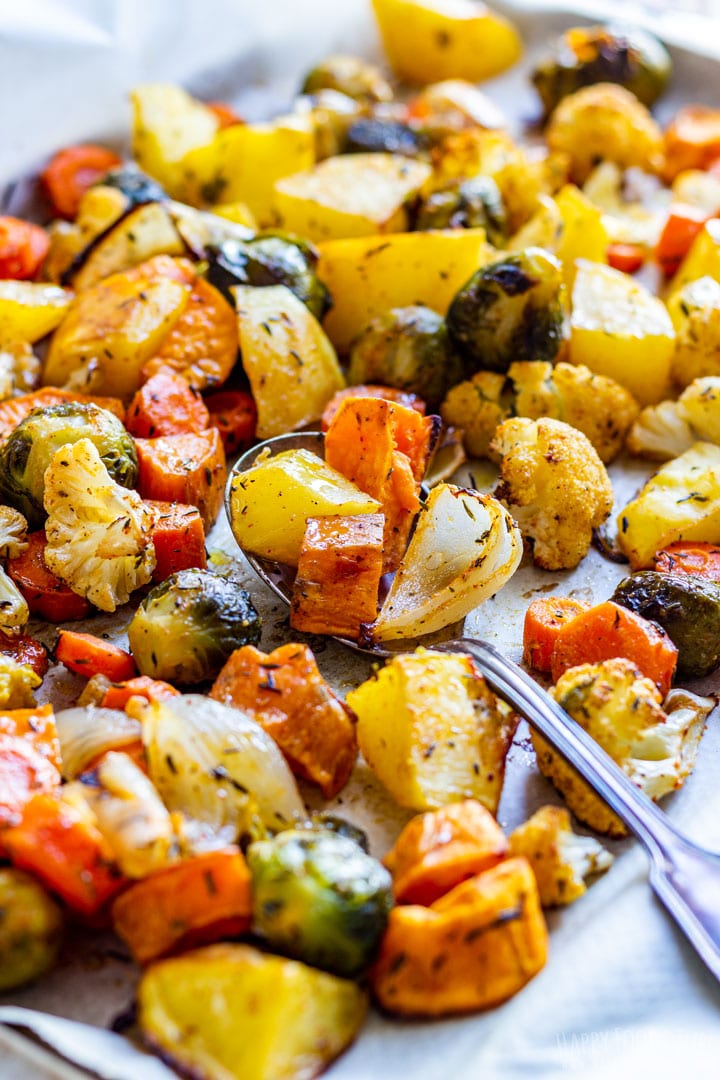 This recipe is a magical recipe.  It has the same qualities as the test and is easy to cook.  You can call it a cheap recipe, but its functions are comparable to many expensive medicines. This recipe is a very favorite recipe of mine.  This dish makes me feel more fresh and energetic throughout the day. You can say that this is not my daily meal. I choose this dish as my dinner most days. It tastes delicious and is made with simple ingredients that are always stocked in your kitchen.  The recipe is created. 

For example, fresh carrots, sweet potatoes, potatoes, cauliflower and brussels sprouts, rub these vegetables well with garlic powder, salt, black pepper powder, dress them with a little olive oil in your baking dish, then bake them well for 40 minutes.  do  Then enjoy this wonderful meal together. If you want, you can add your favorite vegetables and herbs and bake with whole garlic and vegetables instead of garlic powder.  But I prefer to cook by changing the ingredients and methods.  Now tell me, who wouldn't want to put such a healthy, easy, delicious recipe on their Thanksgiving side dishes?  Tell me party foods or holiday recipes that I like very much.
Click here.

Get these Back To School Lunch Ideas To Make for kids.
---
6. Candied Sweet Potatoes 
We all know that sweet potatoes are a very healthy vegetable. And this vegetable is cooked in a way that makes it sweet and creamy. I'm sharing with you holiday recipes that you can definitely put on your Thanksgiving side dishes. I can assure you that this sweet potato recipe is perfect as a Thanksgiving side dish.

Peel the sweet potatoes well and cut them into large rounds, then cook them well with brown sugar, maple syrup, vanilla extract, and a little salt to make a sauce. Add this sauce to your sweet potatoes.  Pour and spread well and bake for 50 minutes. Makes your party foods for celebration.  Think of it as simple and creamy and soft yet sweet and salty. Who doesn't love a dish?
Click here.
---
7. Roasted Beets and Sweet Potatoes with Orange and Ginger
Do you like to eat vegetables like me?  Then make this Roasted Beets and Sweet Potatoes with Orange and Ginger recipe quickly.  With just a few ingredients in your kitchen, this recipe will turn out delicious.  Your kids will never stop eating vegetables, because the colors of this recipe are so attractive that everyone is attracted.

Beets from your kitchen, Take carrots, then take garlic, ginger, potato, zest, orange, and balsamic vinegar. Honey or maple syrup, vegan Cook with olive oil and salt.  Then your Color Full Thanksgiving Side Dish Recipe is ready. If you want, you can mince garlic and ginger or add their juice and pepper powder or other spices.  You can put your favorite vegetables in it, but you have to use vegetables that match it.  This party idea cooks in 40 minutes. I added this dish to my list of holiday recipes long ago. And you?
Click here.
---
8. Roasted Parmesan Zucchini
One of the easiest Thanksgiving side dishes or holiday recipes is this Roasted Parmesan Zucchini. A very healthy and very easy recipe. Garnish your baked goods with fresh or frozen zucchini.  And put a little olive oil, chili flakes, salt, and black pepper powder in the zucchini.  Then top the zucchini with our all-time favorite, delicious Parmesan cheese. 

Bake for 35 minutes and serve hot with your Roasted Parmesan Zucchini. This is a very easy and cheap recipe to make. I made this recipe on holiday this week. Its taste is juicy, creamy, and juicy.  Absolutely delicious. I'd give this amazing recipe a 10 out of 10 for taste, ingredients, prep time, and budget for any festive party foods.
Click here.
---
9. Roasted Parmesan Green Beans
I love eating these green beans, everyone in my family loves green bean vegetable recipes, so I made this recipe as a Thanksgiving side dish at my house.  Try making these Roasted Parmesan Green Beans and I can say for sure that you will love these party foods.  First of all, it is a very healthy recipe. 

This recipe is also best for those who are very careful about their weight.  Garlic powder in fresh green beans, Rub it well with salt, vinegar, olive oil, and pepper powder if you like. Panko bread crumbs and Parmesan cheese and bake it well for 30 minutes.  Then this side dish is ready for you. I prepare many other recipes during our festive months, so I have made these side dishes. You too can make this healthy recipe without delay and enjoy its wonderful taste.
Click here.

Find these amazing cold appetizers for holidays.
---
10. Make-Ahead Mashed Potatoes with Garlic & Herbs
Looking for simple yet delicious Thanksgiving sides?  So I have come to you with the Make-Ahead Mashed Potatoes with Garlic & Herbs recipe.  This delicious recipe is so simple, and made with so few ingredients, that it really surprised me. Potatoes and garlic are two ingredients that will be a hit in any recipe you use.  Just try cooking these two and they will prove to be the best.

Boil the potatoes and then mash the potatoes with minced garlic or juice and spread the magic of herbs.  Your delicious side dish will be ready in 30 minutes. This party recipe is very tasty and creamy.  You can eat this side dish alone or with bread or rice.  I have cooked this recipe many times in my home and served it to the whole family.  They are now fans of the Make-Ahead Mashed Potatoes with Garlic & Herbs recipe.
Click here.

Also try thanksgiving charcuterie board ideas for holidays party!
---
11. Jalapeno Popper Stuffed Mushrooms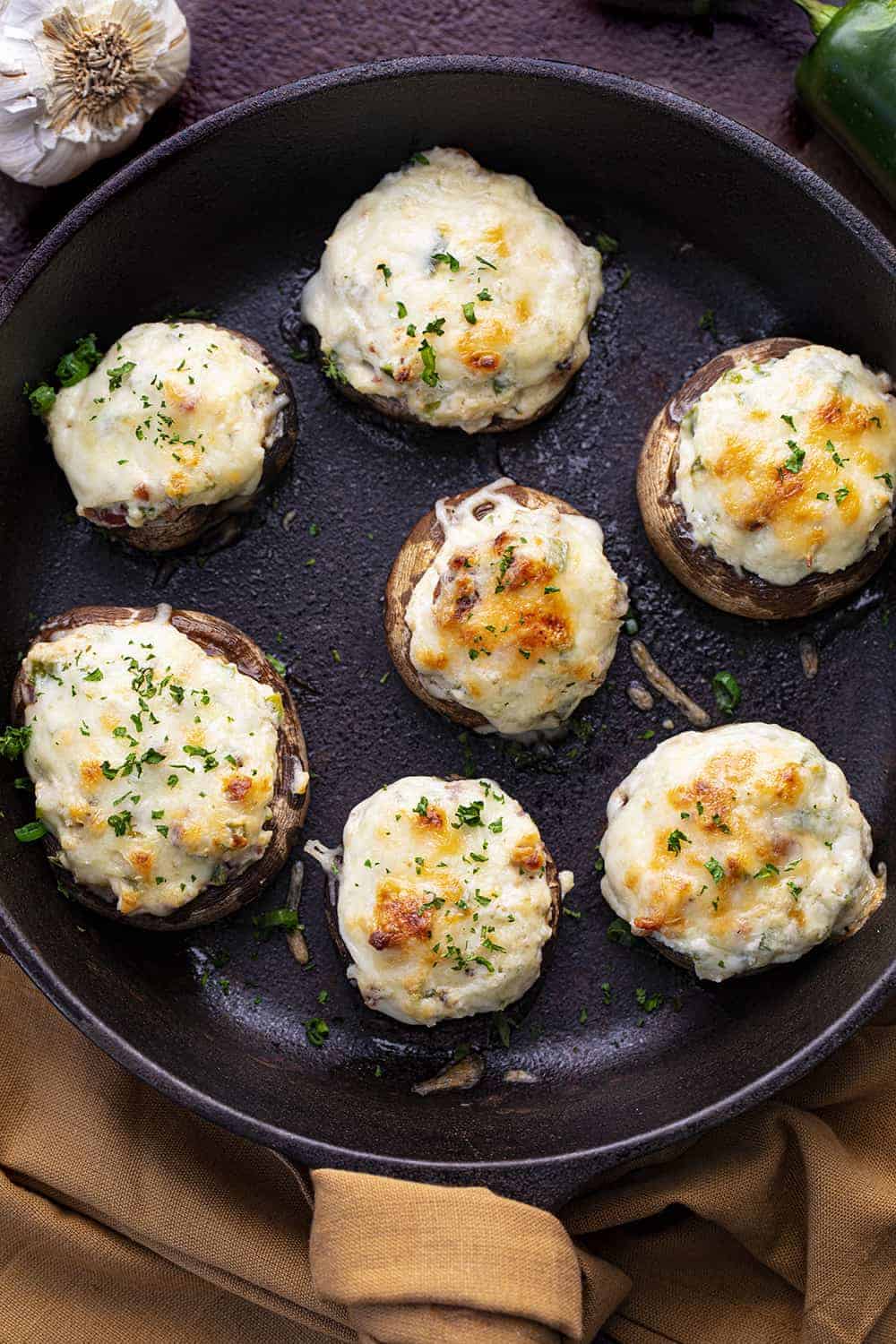 Gluten-Free Thanksgiving Side Dishes Jalapeno popper stuffed mushrooms taste different and look beautiful.  It is best as a delicious and creamy side dish.

Bacon, thick-cut cooked and crumbled, mushrooms, garlic, and jalapeno peppers (medium) stuff the inside of baby bella whole mushrooms, then top the stuffing with cream cheese and the super-flavorful and popular Monterey jack cheese.  Then bake these party foods for 40 minutes.  It is full of flavor as it bakes. Then serve hot. This recipe is my favorite and yours?
Click here.
---
Suggested: Thanksgiving Craft Ideas & DIY thanksgiving decorations
---
12. Chipotle Gouda Scalloped Sweet Potatoes
Chipotle Gouda Scalloped Sweet Potatoes This Thanksgiving sides is the sweetest. It is the perfect party foods for those who love to eat sweets. I couldn't have imagined that so many wonderful recipes can be made with simple ingredients. I respect cooking, so give this Chipotle Gouda Scalloped Sweet Potatoes recipe a try.  You will be overwhelmed by its juicy and crispy taste.

Cloves garlic, parsley, Sweet potatoes, sauce, Flour (whole wheat), Salt, pepper (freshly ground), Butter (salted), Gouda cheese sharp cheddar cheese, and this recipe is made with skim milk. The cooking time for this recipe depends on how many sweet potatoes you use. I added this as the first side dish to the holiday ideas list.
Click here.

Find more delicious Low Carb High Protein Recipes here.
---
13. California Blend Vegetables with Parmesan Bread Crumbs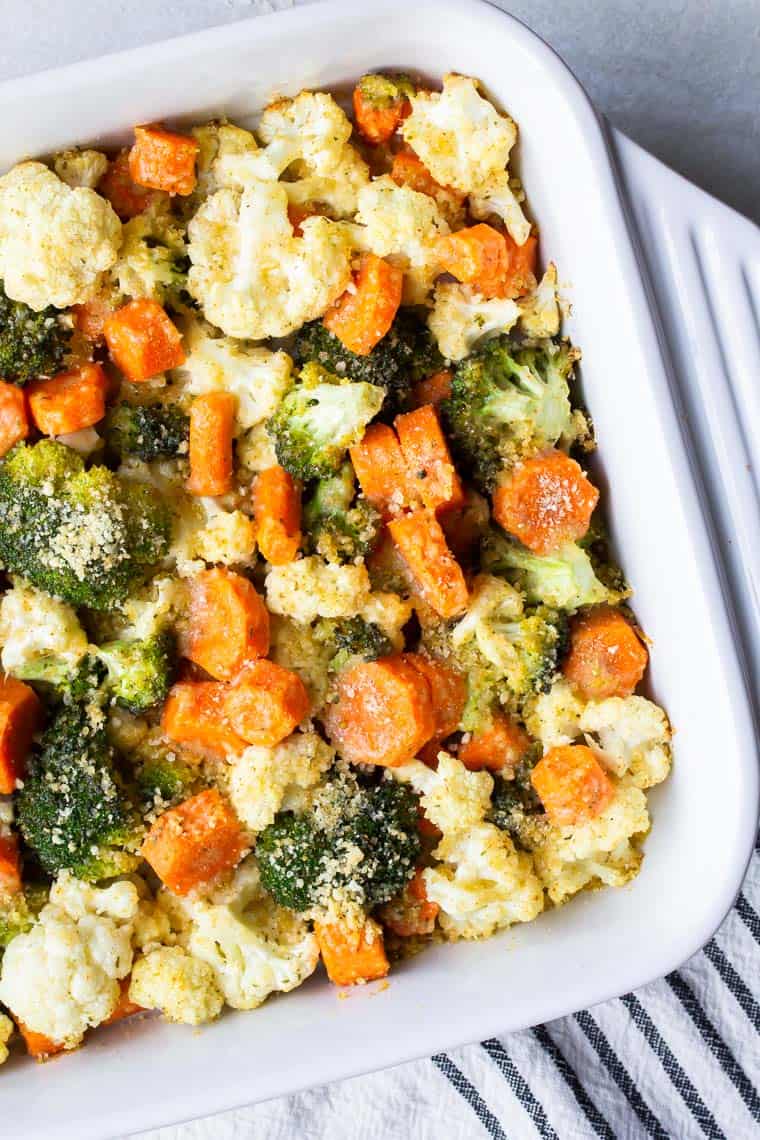 Are you looking for opportunities to eat vegetables?  This California Blend Vegetables with Parmesan Bread Crumbs recipe is for you. This recipe is a very tasty and healthy recipe. A super flavor recipe full of nutrition.

Fresh carrots, fresh cauliflower, fresh broccoli, potatoes, sweet potatoes, garlic powder, salt, and pepper powder, and bake for 40 minutes to make this delicious recipe.  This recipe has become my holiday companion.  You can say these holiday recipes are my very favorite or favorite recipe.

This is a weight loss recipe too. You will get full nutrition from this food. These are also perfect Thanksgiving side dishes recipes. Also take a look into these holiday charcuterie board ideas for parties.


Click here.
---
14. Butternut Squash Orzo with Feta and Sage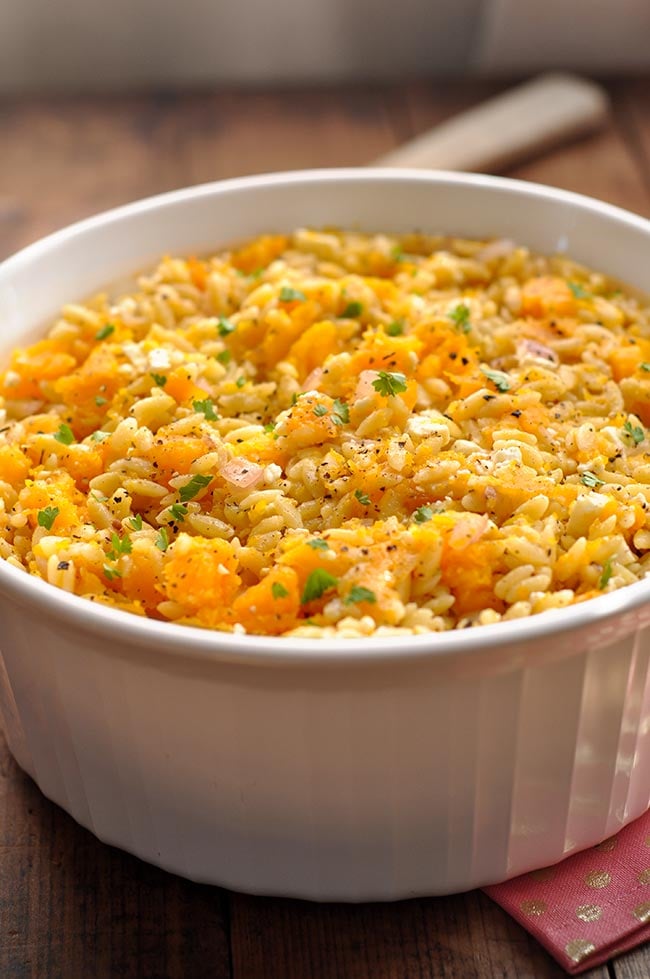 This is the recipe for Butternut Squash Orzo with Feta and Sage. A restaurant-style recipe.  This Thanksgiving side dish recipe is a great-tasting dish.  Which you can make at home now.  You don't have to go to a restaurant to eat this food.  The family is sitting at home now.  Enjoy the Butternut Squash Orzo with Feta and Sage recipe.

Butternut squash, Chicken or vegetable bouillon cubes, sage, shallot, large pasta, and grains, make this party idea with orzo, salt, pepper, butter, and feta cheese. After 35 minutes of cooking, it is completely ready. It is a completely vegetarian dish. Make this delicious, creamy, soft food quickly, and let everyone eat it.
Click here.
---
15. Crispy Roasted Cauliflower with Cheddar & Parmesan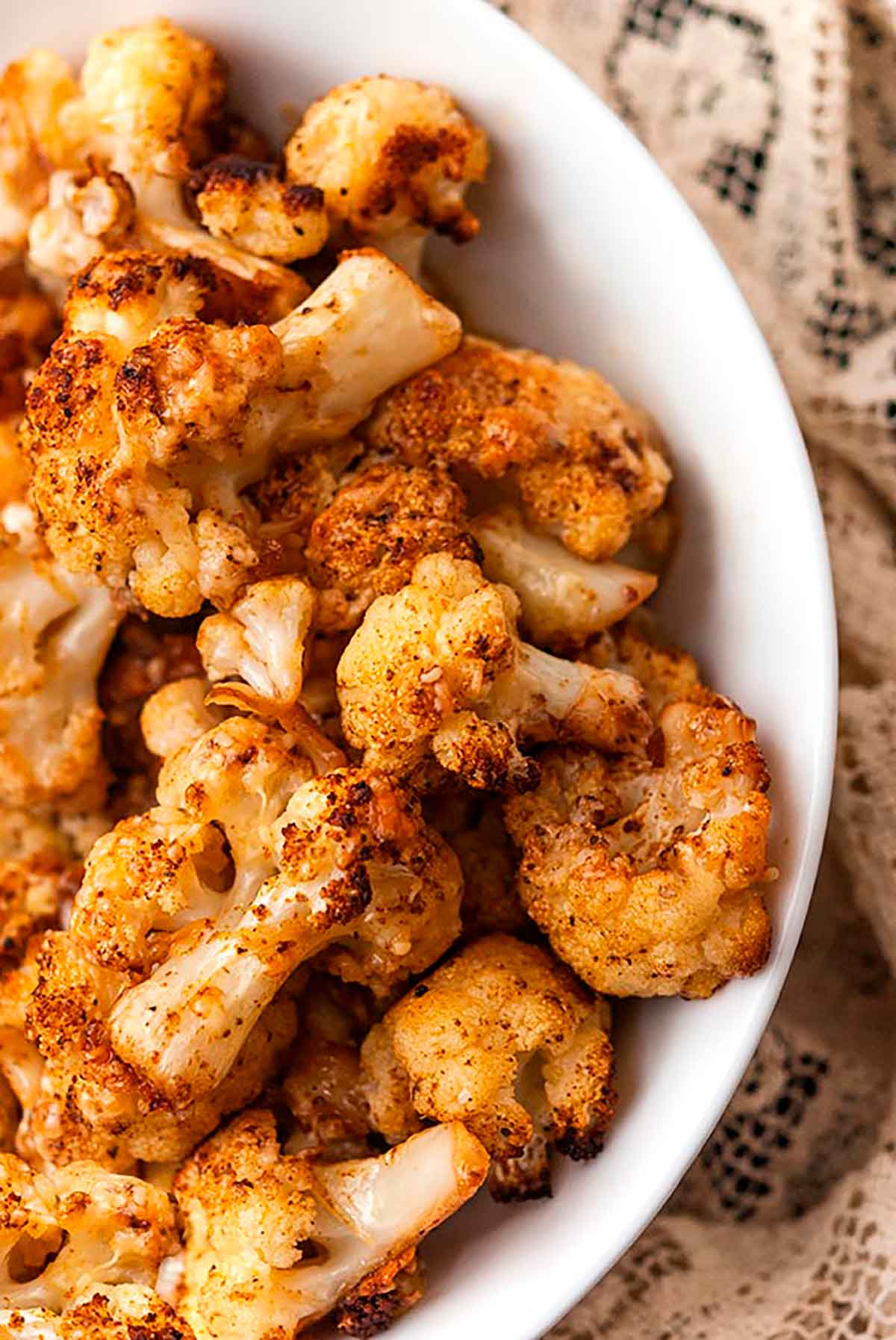 This is a super duper tasty Thanksgiving side dishes.  This recipe is crispy and tasty.  This dish can be served with any rice, it can also be eaten alone.  This recipe is delicious in every way.  Roast fresh cauliflower with salt, spices, thyme, and olive oil until golden brown for 25 minutes, then this party recipe is ready.

Cooking time will depend on the size and quantity of cauliflower. Cook this recipe until golden brown in color. I made this recipe at a party for my neighbors, they just wanted this creamy, crispy cauliflower roast.  Then you can understand how wonderful this recipe is.
Click here.
---
16. Cranberry Brie Bites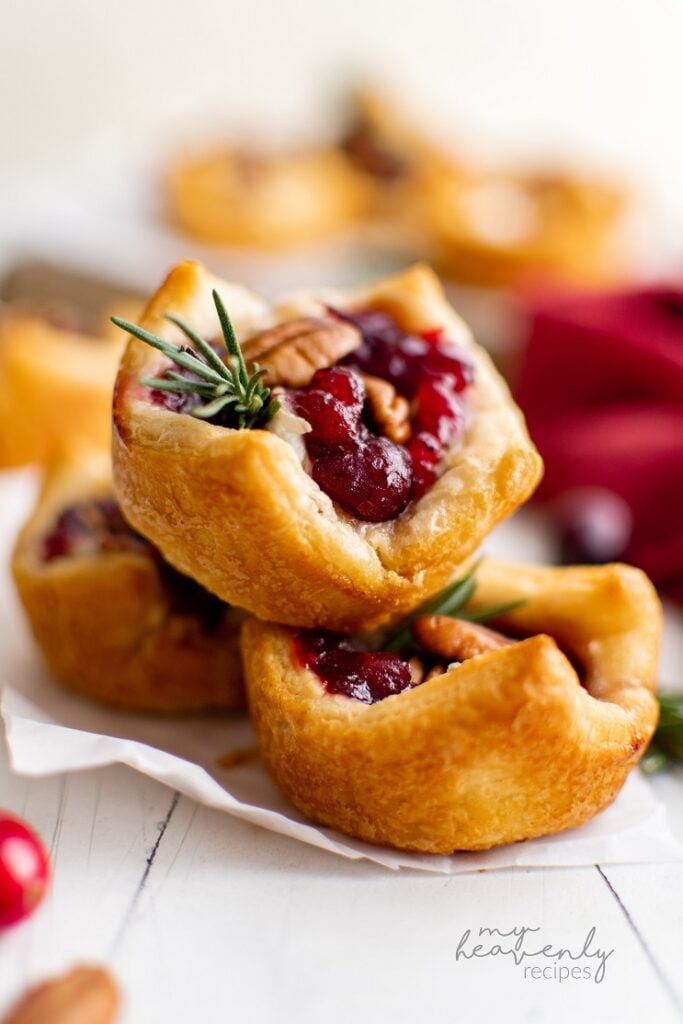 Tube crescent dough, Cooking spray, flour, for the surface, wheel of brie, whole berry cranberry sauce, chopped pecans, and rosemary are the ingredients needed to make this Cranberry Brie Bites Thanksgiving Side Dishes. These party foods are very tasty and look amazing, just like the restaurant.  You are going to make recipes like professional chefs.  Making this recipe perfect depends on a proper technique.

Preheat your oven to 375° and lightly butter the dough muffins with cooking spray, then mix the above ingredients and stuff the muffins.  Bake with cranberry sauce and chopped pecans, topped with rosemary.  This recipe takes 30 minutes to complete.  These holiday recipes will be golden crispy on the outside and red and white on the inside with a creamy, smooth flavor.  Try this delicious dish with your family and enjoy it yourself.  Try the recipe that looks so different and full of taste!
Click here.

These amazing Chickpea Snacks are perfect for parties.
---
17. Roasted Garlic Butter Parmesan Potatoes
Do you love to eat sweet potatoes like me?  Have tried many sweet potato recipes, but haven't tried anything crispy yet?  Then try this Roasted Garlic Butter Parmesan Potatoes side dish once. I can definitely say that you will become a fan of this dish.

Clean and wash the fresh baby red potatoes and cut them into rounds and then rub them with olive oil, cloves, garlic, and black pepper powder. After that, rub them with Italian seasoning, fresh grated Parmesan cheese, and unsalted butter and bake well until the potatoes are cooked well.  It is not crispy anymore. Garnish it with chopped parsley.  This process takes just 30 minutes and your party idea is ready to enjoy.
Click here.
---
18. Autumn Pear Salad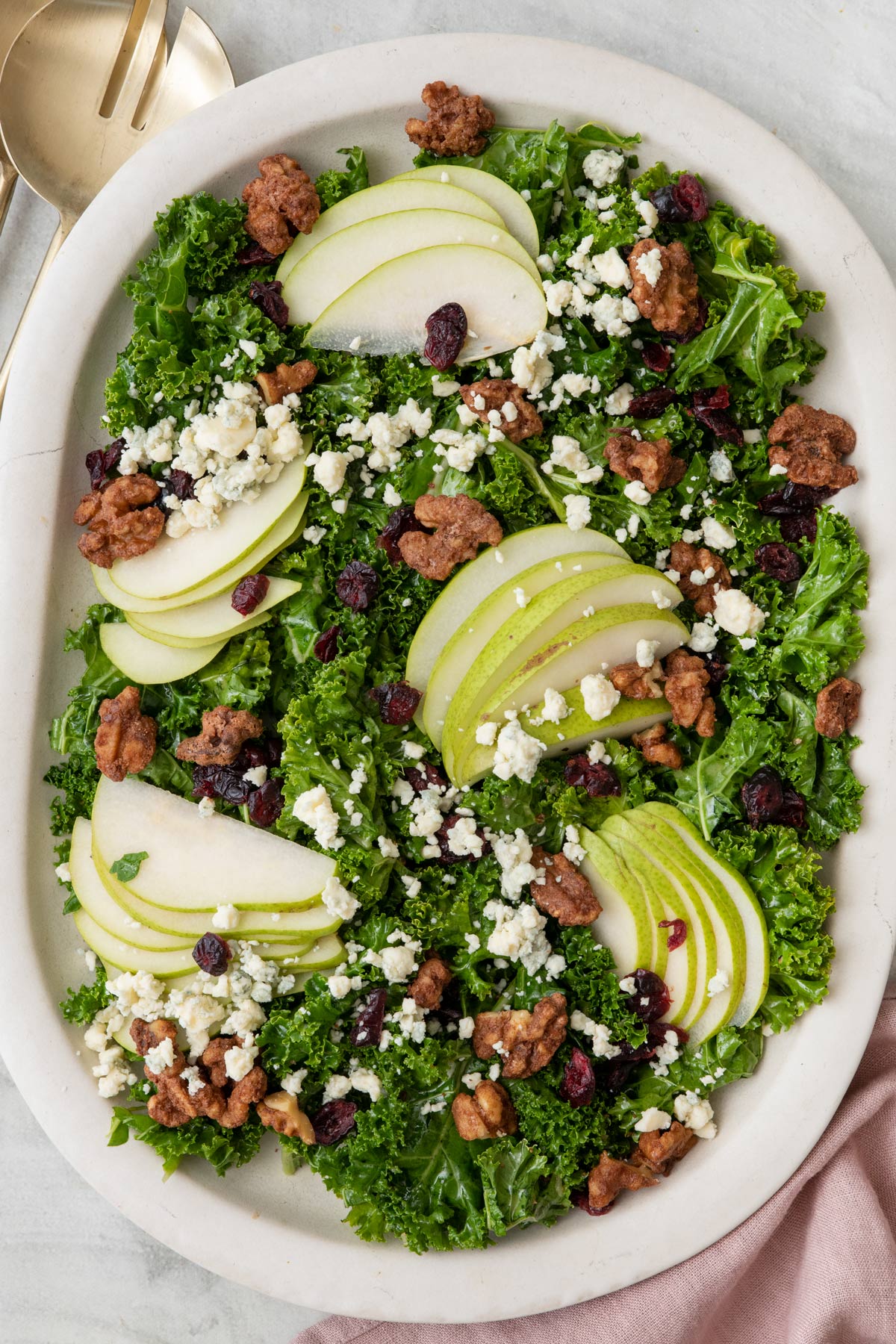 Don't Make Seasonal Salad Recipes This Fall So When?  So I have come up with an Autumn Pear Salad Thanksgiving side dishes for you. This side recipe is a really nutritious and healthy dish. You can eat this salad alone or with everything. This salad can be eaten with all the main dishes.

Slice the fresh pears well, according to your desire, then mix them well with spinach, cranberries, walnuts, butter, balsamic vinegar, honey, extra virgin oil, shallot, Dijon mustard, brown sugar, parmesan, then cook for 10 minutes.  This delicious salad is ready.  These holiday recipes are no-cooking party foods.  You don't need to cook for this holiday. 

This is a very healthy and healthy recipe.  This recipe is why honey and brown sugar are used in it. It is the best recipe for those who are losing weight.  Going to the party, you may have seen all the healthy foods with fat and your fat is increasing a lot, then you can eat this salad.  Its juicy, salty, sweet, and mild taste will satisfy your stomach and mind in the morning.
Click here.
---
19. Maple Walnut Sweet Potato Skins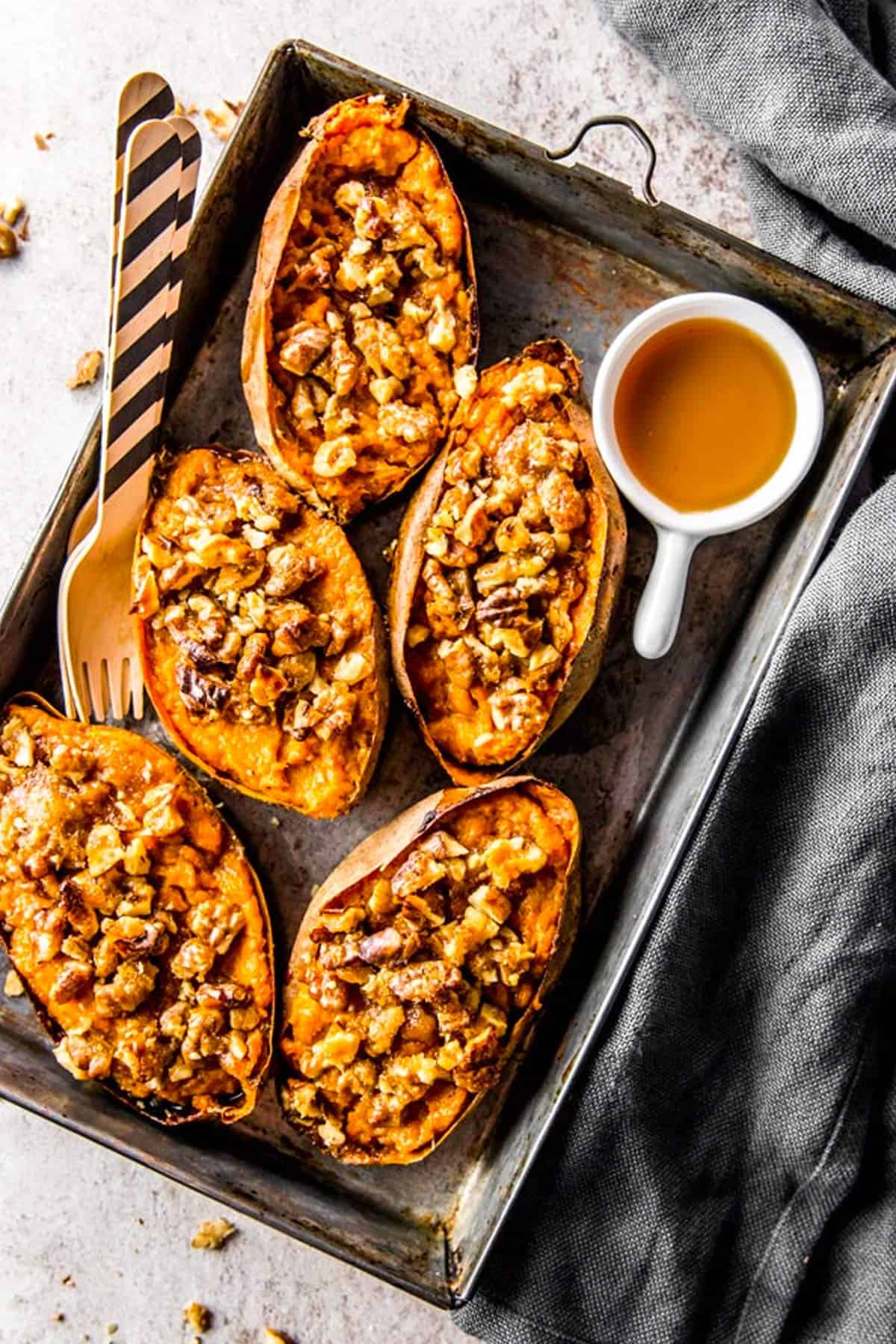 Maple Walnut Sweet Potato Skins Thanksgiving Side Dishes Recipe is a wonderful recipe.  My father likes this dis.  I make this recipe for her on my holidays.  This dish is so juicy, creamy, and full of sweet.  It is a portion of healthy food and also holiday recipes too.  For those who are trying to lose weight or those who are very conscious about their diet, I have one thing to say, it is never completely lean food but one day we all can eat all kinds of food, can't we?

With sweet potatoes, cream cheese, sour cream, brown sugar, cinnamon, nutmeg, ground cloves, butter (melted), walnuts, and Maple syrup make this recipe is amazing and delicious. These ingredients are essential ingredients in this recipe.  This dish can be prepared in just 30 minutes.
Click here.

Get these Cheap Vegetarian Recipes for weeknight dinner for your whole family.
---
20. Roasted Butternut Squash Quinoa Salad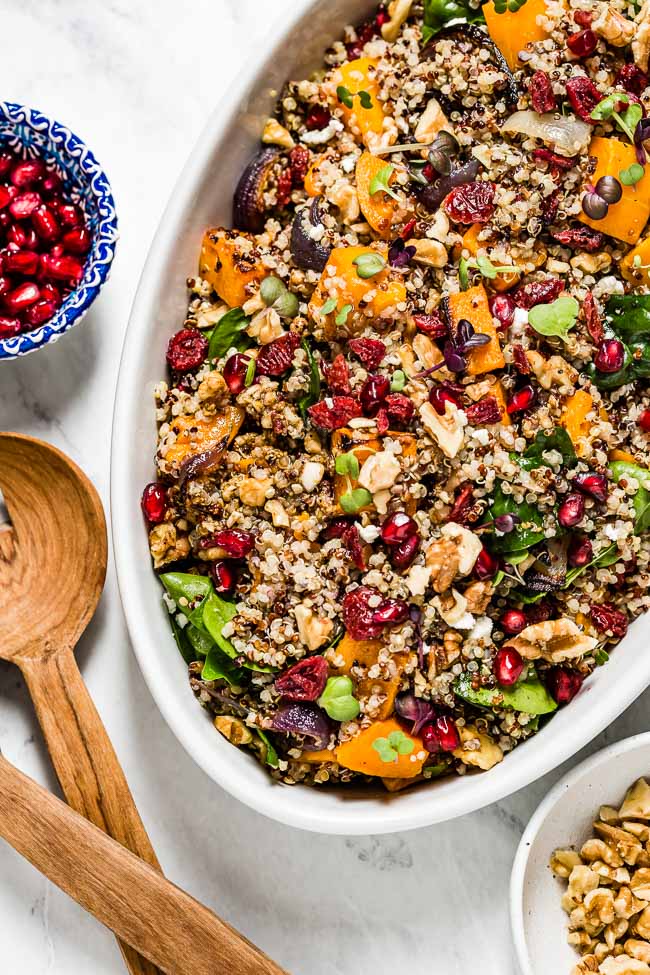 Butternut squash, Cranberries, Garlic, and Pomegranate are the main ingredients and adding Red onion, Balsamic vinegar, Dijon mustard, Maple syrup, Quinoa (cooked), Black pepper, ground, Black pepper Kosher salt, Salt, Olive oil, extra virgin With vegetable oil, walnuts, baby spinach, and dry raisins make the salad so healthy. This recipe is ready in 25 minutes. These party foods are very colorful and perfect as a side dish. I enjoy these holiday recipes during my holidays.
Click here.

Find more Thanksgiving drinks here for celebration.
---
21. Asparagus Casserole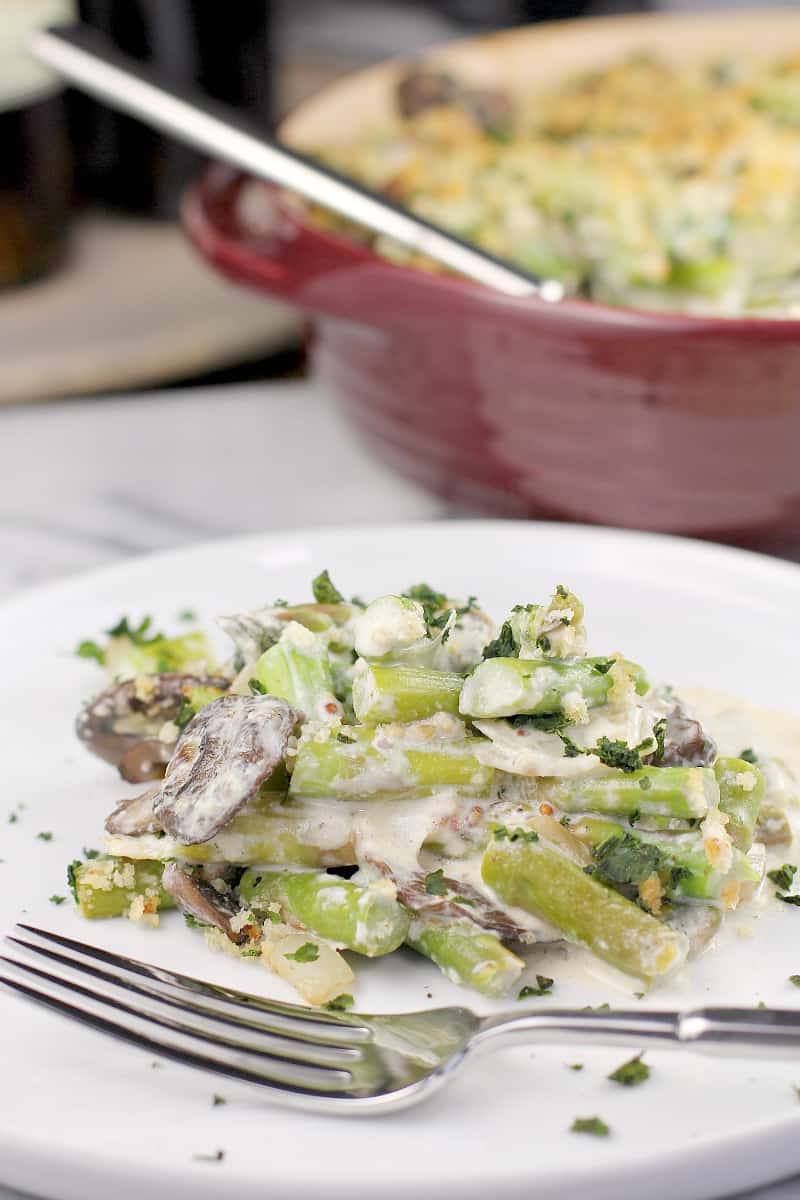 Asparagus Casserole this Thanksgiving side dishes is a completely different dish.  These Asparagus spears, fresh Baby portobello mushrooms, White onion, medium Condiments, Dijon mustard, mustard, whole grain, kosher salt, good pinch pepper, fresh cracked, olive oil extra virgin, and others are made with all these magical ingredients in this wonderful recipe.  These party foods are a healthy recipe, it is a healthy vegetarian recipe. I used to make this recipe when I wanted to eat something good during my weight loss.  
Click here.
---
Bonus
Creamed Corn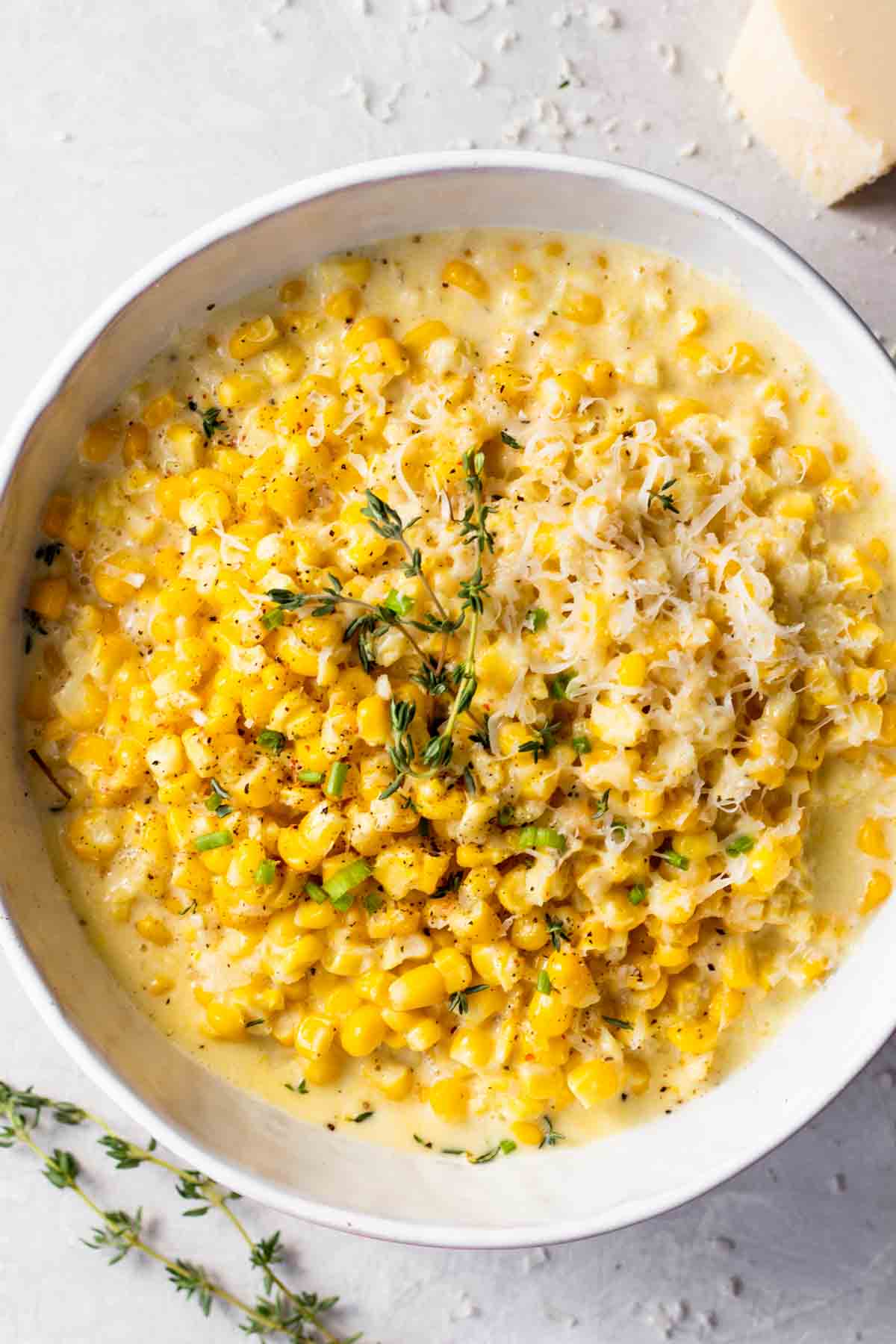 Do you like to eat corn?  Is any food offered by corn your favorite party foods?  Then enjoy making this Creamed Corn Thanksgiving Side Dishes recipe this fall, and feed your guests too. Corn, cloves, garlic, white onion, salt, pepper, Butter (unsalted), and Parmesan – are the main ingredients to make it. This corn recipe is made in just 30 minutes with only these few ingredients.

These holiday recipes are so tasty,  full, and thick with creamy ness.  And corn will have a separate test.  The smell that comes out while cooking this recipe, oh my god!  It seems unequal. I had a picnic this autumn in the garden of a friend's house, where I cooked this recipe and fed it to everyone, everyone was overwhelmed by its taste.  This side dish is a hit with any bread or noodles.
Click here.

Make more  Vegan Sandwich Recipes here.
---
Parmesan-Butternut Squash Gratin
Coated in crispy breadcrumbs and infused with the flavors of parmesan and garlic butter, these are the best way you're going to eat butternut squash. Make this for Thanksgiving and surprise your guests. How a boring veggie can get so much savory and flavoury? Also, it's extremely easy to make.

Arrange the butternut squash slices over a greased baking dish. In a pan, heat butter over medium heat and add garlic. Turn the heat to low and let the garlic release all its flavor into the butter. In a bowl, add the breadcrumbs and cheese and toss with salt and pepper. Add about a tablespoon of the garlic-butter mixture and mix well. Now drizzle the squash with the butter-garlic mixture and add in the breadcrumbs and salt and pepper. Bake for 30-40 minutes and garnish with fresh parsley on top. Serve it hot.
Click here.
---
Spinach Stuffing Balls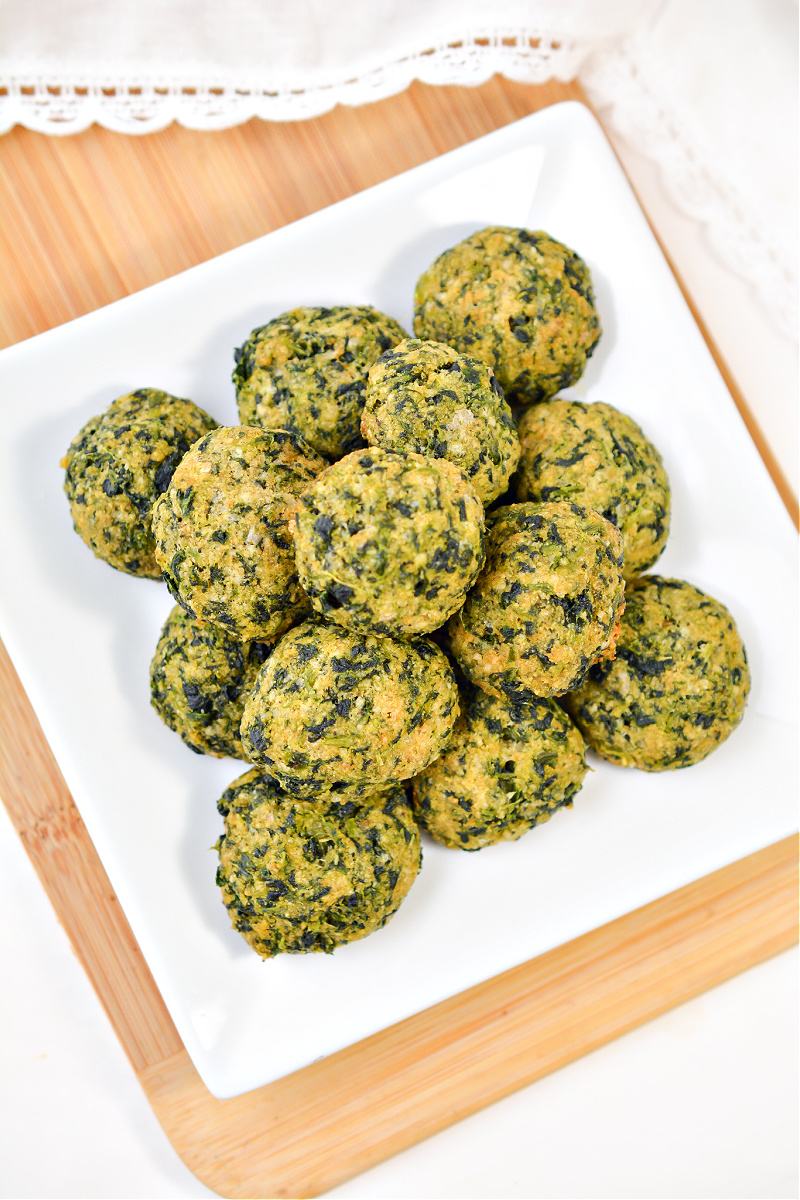 Crunchy spinach stuffing balls are best served with your favorite dipping sauce. It's such a fun way to eat your boring greens. Don't blame them because these are going to disappear as soon as you make them! It's a warning! These are so irresistibly good! Also, these are extremely easy to make. All you do is just mix and bake! Ready in just 20 minutes! Such a hassle-free yet scrumptious snack!

Crack eggs in a bowl and add in stuffing mix, butter, Parmesan cheese, salt, and pepper. Throw in the spinach and whisk together well. Your base for the spinach stuffing balls is ready. Now shape it into 1-1/2 inch round balls and put those balls in an ungreased baking pan. Bake at 350° for 12-15 minutes so that they turn golden browned. Serve these crunchy balls hot and enjoy them with your favorite dipping sauce!
Click here.
---
Ham and Cheese Asparagus
If you look at this dish, you'll see happy asparagus all dressed up at a party and dancing, throwing their hands up in the air. Oh, my imagination! They're horrible! However, you too are going to dance in joy after having this ham and cheese asparagus. The classic ham and cheese combo has always been well received. So I gave them a chance to the asparagus to make a better deal with the classic ham and cheese combo and the result is roasted, cheesy ham and cheese asparagus. How does that sound? Tempting, isn't it? Also, this recipe just needs 30 minutes to be ready to serve.

Set your oven to preheat the oven at 400 F. Meanwhile, trim the ends of the asparagus. Arrange them on a baking sheet and drizzle them with olive oil, salt, and pepper, and mix everything well. Roast in the preheated oven for 10 minutes. Bring it out of the oven and spread the Mozzarella cheese all over the asparagus. Put thinly sliced and chopped ham evenly over the asparagus and then top it off with the Parmesan cheese. Put it back in the oven and roast for another 10 minutes and there you have it! Roasted cheesy ham and cheese asparagus on your plates!
Click here.

Find more High Protein Vegan Meals here for meal prep.
---
Creamy Pearl Onions
This dish is the definition of simply delicious! Creamy pearl onions is literally a supremely creamy dish made with pearl onions. There's no way anyone is actually gonna hate this. It tastes sublime. The simplicity of this dish and the honesty explicitly stated in the recipe's name make it all the more crave-able. With a handful of ingredients, this recipe can be quickly cooked in under 30 minutes. The ingredients that you'll need for these holiday recipes are pearl onions, butter, all-purpose flour, ground nutmeg, light cream, salt, ground black pepper, and chopped fresh parsley. 

Firstly, in a large pot, add the pearl onions with salt and water and let the onions cook until they turn soft. Drain the water and keep the onions aside. Then start to prepare the white sauce. Place a pan over medium heat and add melt butter to the pan. Add the flour and nutmeg and stir vigorously to mix everything well and until there are no lumps of flour visible. Cook the flour and add in the cream. Cook the white sauce, stirring continuously.

Then add the cooked onions and chopped parsley into the creamy sauce and stir well. Cook for 2-3 minutes more and the dish of your dreams is ready. This rich, creamy sauce compliments the onions so well that you're going to get lost with each bite you take! It's heavenly! Also, this is one of my favorite thanksgiving side dishes or party foods that everyone.
Click here.
---
You may Like These Meal Ideas:
Halloween Food Ideas
Thanksgiving Appetizer Ideas
Halloween Appetizers
Smoothie Recipes
High Protein Snack Ideas
Halloween Dinner Ideas
Thanksgiving Desserts
Fritter Recipes
Thanksgiving Dinner Ideas
---
Cheers!
If you like this article about Thanksgiving Side Dishes, share with your friends or families on Facebook, Twitter, and Pinterest.

Okay, I'm handing the mic over to you now. Come on! Don't be shy now…

Choose your favorite recipe and make it at home, let me know which is your best recipe in the comment. Also, you can subscribe to my blog to get all the latest updates first on your mobile.
---
To make these recipes for later, SAVE this pin on your favourite Pinterest Board