Good morning friends, today I have a lot to talk with my friends, let's start!  Are you trying to lose weight, friend? You're eating your fill but you're hungry when you go out!  Your food cravings are not decreasing?  To save you from feeling guilty, I'm sharing these high protein lunch ideas today.  This will keep your stomach full for a long time, which will keep you away from eating outside food.  These healthy protein lunch meal preps will especially help you lose weight.  They are full of great taste as much as they are good for keeping the body healthy. 

All meals are simple for meal plan.  In fact, everyone thinks that preparing healthy food is a hassle and tastes bad.  It's not true. The taste of all dishes depends on your cooking technique. These healthy recipes are as simple as they are full of great taste.  Make your weight loss journey smoother.  And quickly follow these recipes and prepare your delicious quick lunches on time.

Do you starve and want some eat healthy recipes for meal prep? Lunchtime is a main meal for a day. But for your busy work, do not prepare healthy midday meals on a daily basis. But you can make these amazing high protein lunch ideas or healthy high protein lunches for meal prep. Carbs give you sugar high, then after a few hours your sugar goes low, that time you need more food for your body. But to maintain your diet and lose weight, you need protein. That is super satisfying and you feel full for a long time. Here I share some easy high protein meal prep healthy recipes that are quick to make and delicious too.
---
1. Honey Garlic Chicken Meal Prep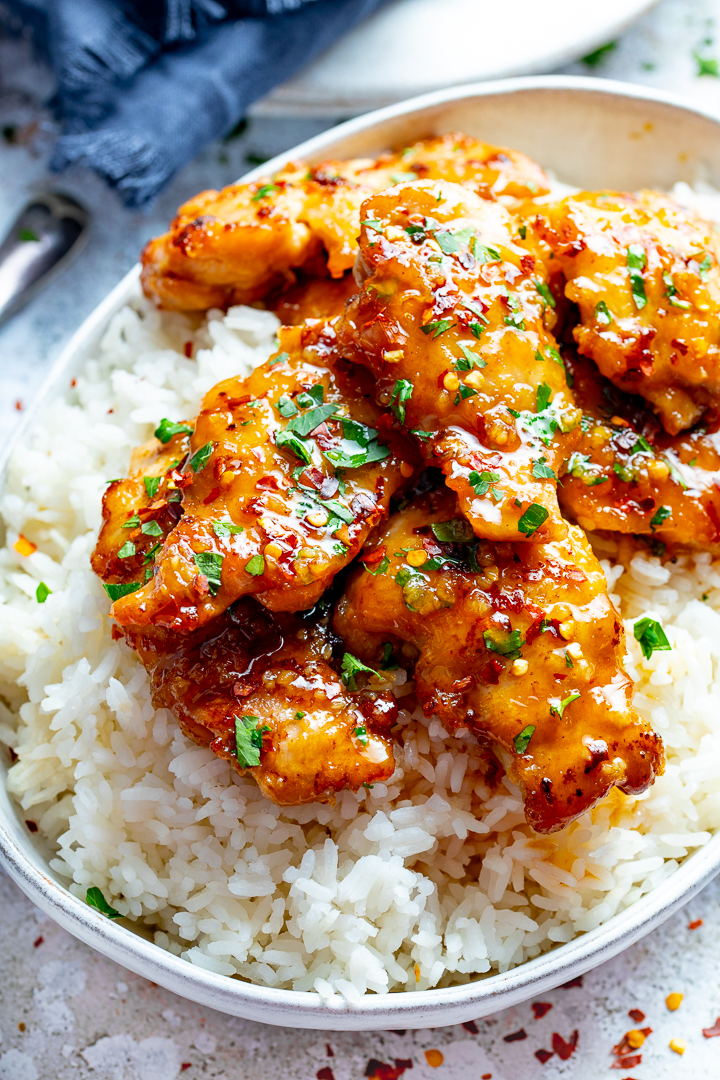 This honey garlic chicken meal prep recipe is made with few ingredients and ready in just 20 minutes. But the combination of honey, soy sauce and garlic make this recipe so amazing. The sauce is sticky, sweet and a little bit tangy that is tossed with golden tender chicken pieces. Serve this with white hot rice or noodles or whatever you want. 

To prepare this recipe you need boneless, sticky-tender chicken thighs and marinade in a honey, soy, and garlic sauce. It only takes 20 minutes to make this chicken recipe with honey and garlic and other spices. Serve alongside rice for a simple Saturday meal Prep. A traditional mixture of honey, soy sauce, and garlic creates a sticky, sweet sauce that chicken pieces are coated in to become golden and soft. This is one of my favorite dishes to prepare and serve for supper with boiled rice or as a quick add to a prepared Chinese banquet.

Because they are more difficult to work with and typically require more cutting to reduce the fatty than chicken breasts, I occasionally avoid utilizing chicken thighs in healthy recipes. However, since the chicken is fried more than a high heat and will crisp up wonderfully, you may keep a portion of the fat on for this dish. Additionally, the thigh meat is more sensitive than the breast meat and can withstand the brief exposure to elevated heat before burning out. Then plate the dish atop cooked rice. Look at that chicken, it's golden brown and crispy. Ugh! It's really tempting!
Calories: 472kcal
Carbohydrates: 29g
Protein: 45g
Fat: 19g
Fiber: 1g
Click here.

Also try chicken sheet pan dinners & chicken mushroom recipes & low calorie chicken recipes for weeknight dinners for family.
---
2. Zucchini Noodles with Turkey Meatballs
Garlic Butter Turkey Meatballs Recipe is so delicious and covered with zucchini noodles make this recipe so healthy. This skillet meal keeps carbs low and high in protein for dinner or lunch. It can be prepared in just 30 minutes or less. Turkey meatballs are so delicious, soft, tender, and great for meal prep. This recipe is one of my all time favorite high protein lunch ideas that makes me full for a long day. It is also Gluten-free, paleo, low-carb, keto-friendly that your whole family will enjoy!

These high protein lunch ideas can be eaten anytime be it lunch or dinner.  It is a simple and delicious dish for all times. For a quick and filling skillet dinner that keeps carbs to a minimum and spirits high, try these turkey meatballs! Turkey meatballs are easier to prepare for meals because they are lighter than ordinary meatballs.

Zucchini Noodles with Garlic Butter Turkey Meatballs Recipe – This quick and filling skillet dish featuring zucchini and turkey meatballs is amazing in every way. Low-carb zucchini and cheesy turkey and pork meatballs simply melt in your mouth. The entire family loves this quick and healthy turkey meatballs dinner since it is gluten-free, paleo, low-carb, and keto-friendly. Celebrate!
Calorie: 367.81kcal
Carbohydrates: 3.07 g
Protein: 25.65 g
Fat: 27.66 g
Fiber: 0.19 g
Click here.
---
3. Honey Sriracha Chicken Recipe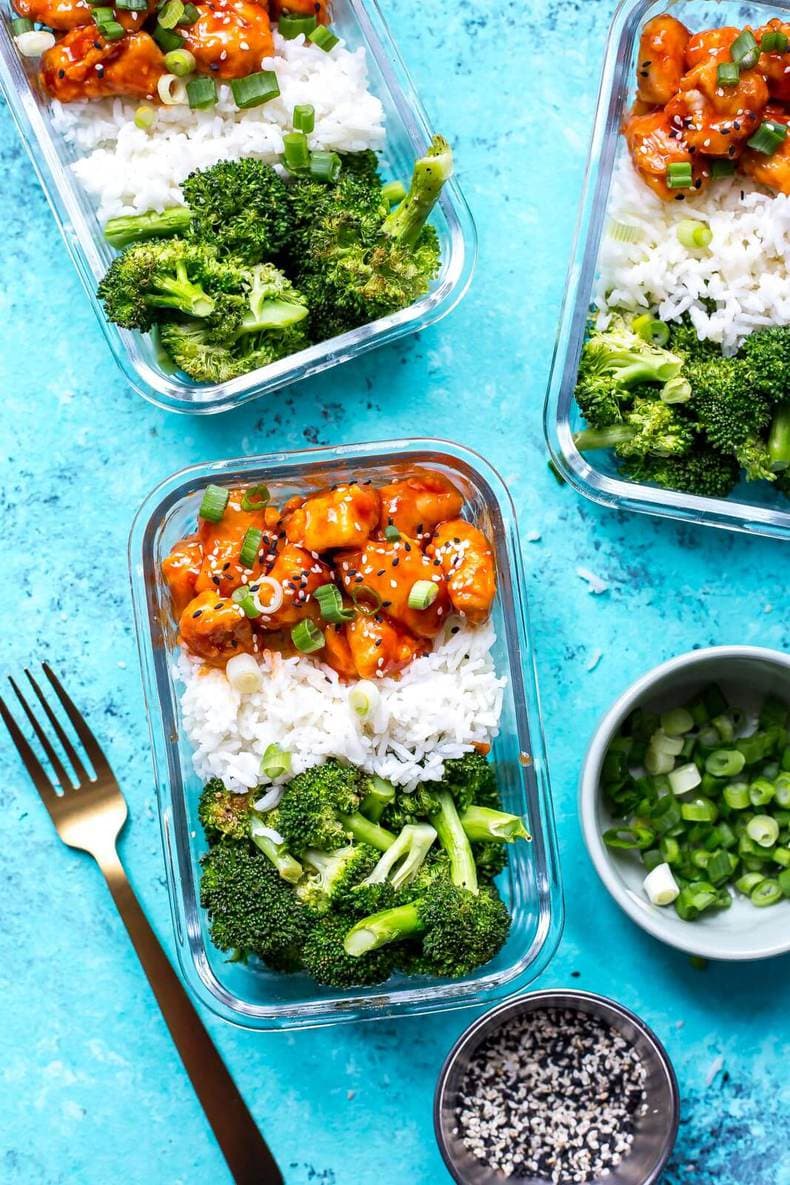 These Honey Sriracha Chicken Meal Prep Bowls are so healthy, delicious, perfect high protein meal prep recipes for lunch. With only 3 ingredients this bowl meal is ready in just 20 minutes. Serve these chicken recipes with broccoli and jasmine rice or other favorite sides. During the holidays, you can prepare healthy protein lunch ideas that can be prepped ahead on one pan. It is super quick to make and versatile meal that everyone will love. 

Delicious Honey Sriracha Chicken Meal Prep Bowls with broccoli and jasmine rice was a great lunch option that can be prepared ahead of time on one skillet, and the sauce comes together so easily with just 3 ingredients! The coating for homemade honey sriracha chicken will just require flour and an egg, and the sauce will only require three simple components. It takes only 20 minutes to prepare this meal.  Which makes our busy life much smoother. 

Imagine making your lunch in 20 minutes, using only 3 ingredients!  OH MY GOD! This is wonderful! After coating the crispy chicken in sauce, serve it with rice, broccoli, or any other sides you choose. Other than the mandatory addition of sesame seeds and scallions for the topping, this recipe's ingredients are as basic as they get. Additionally, you may change it up because of how flexible it is.
Calories: 455kcal
Carbohydrates: 67g
Protein: 24g
Fat: 10g
Fiber: 2g
Click here.
---
4. Chicken Fajitas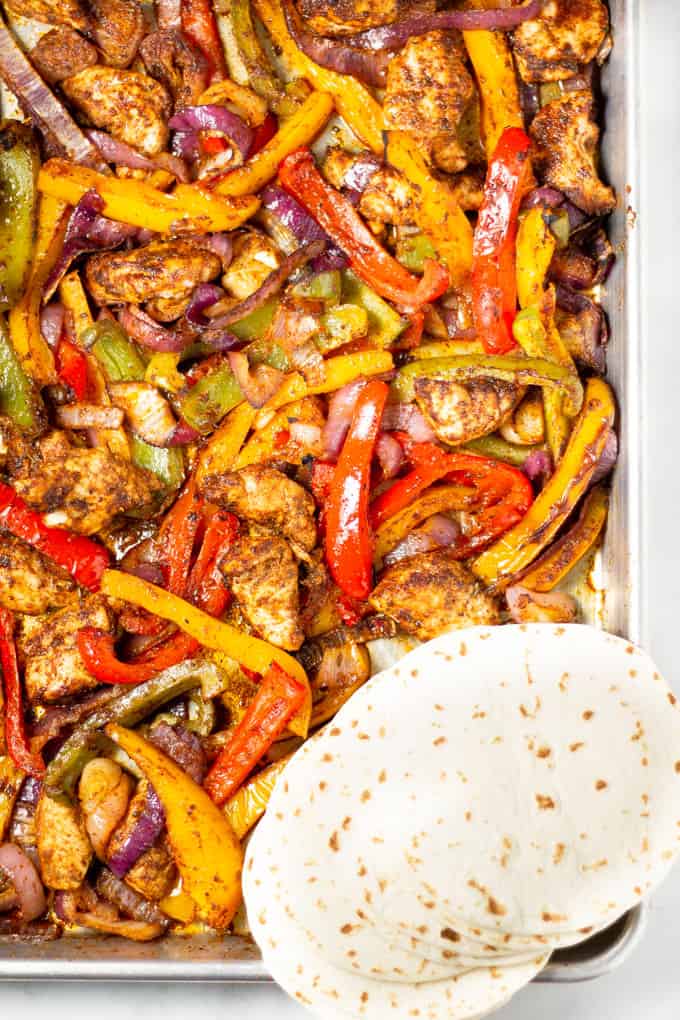 Chicken fajitas recipe is packed with tender chicken, crisp-tender veggies and other delicious flavors. These easiest high protein lunch ideas are a perfect lunch meal or hearty dinner on the table in less than 30 minutes. Use any vegetables added in this recipe to get more flavor in every bite. It is a great meal prep for holidays or Sunday big batch lunch or dinner. You can prepare it  into a salad or burrito bowl and enjoy!

The preparation and baking time for these flavorful sheet pan chicken fajitas is only a few minutes. With this simple recipe, a hearty supper will be ready in much less than 30 minutes! The seasonings used to make the spice blend are traditional pantry staples. Have you studied the ingredient label on those taco or fajita seasonings you got at the store? It is a lengthy list that contains numerous preservatives. By using the seasonings you already have in your cupboard, you can quickly produce a fajita seasoning that is just as tasty, if not more so! Create your own seasoning to save money and preservatives.

But if you may use a package of fajita seasoning, please know that I am not criticizing you. I already have, and I will do it once again. However, I enjoy seasoning in my own blend when I have the time! Additionally, this flavor is fantastic over vegan chickpea fajitas. These high protein lunch ideas are very simple and quick. We're talking about chopping your vegetables, which can totally be done the night before or whenever you have a few spare minutes. After that, bake everything together for an additional 15-20 minutes, and presto! Chicken fajitas of restaurant quality that require no preparation or work! But you can also try sheet pan meals for meal prep.
Calories: 174kcal
Carbohydrates: 9.2 g
Protein: 18.6 g
Fat: 7.3 g
Fiber: 2.6 g
Click here.
---
5. Lentil Salad
Lentil salad is a healthy meal prep for a busy lunch or take as a brunch recipes. These healthy recipes are packed with cooked lentils and diced carrots, celery, bell pepper, onion, parsley, and lemon juice. These dishes are an amazing healthy protein packed low carb meals that makes you full for a long day. You can store leftover salad in the fridge for three days too.

Making this nutritious lentil salad ahead of time for lunch is ideal because the flavors only improve better the next day. It includes cooked lentils, sliced carrots, celery, bell pepper, onion, parsley, and lemon juice. Although I'm a finicky eater of legumes, I adore warm lentil dishes like this Chicken and Lentil Soup and Lentils and Rice with Bacon and Eggs. although I've never been a big fan of lentils in salads. However, everything changed a few years back when I purchased a cold lentil salad at a health food retailer.

The only thing I didn't like about it was how expensive it was. Since cooking lentils at home is so inexpensive, I was intent on trying to make the salad from scratch. Save your money and make this salad right away because my prepared version was far less expensive than the store-bought one. Additionally, it is low in calories per serving, vegan, and high in fiber and protein. These healthy recipes keep your body completely healthy and give you lots of energy.  Eliminates your weight worries.  As a result, you will feel fresh all the time. 
Calories: 181kcal 
Carbohydrates: 29.5g 
Protein: 10g
Fat: 0.5g
Fiber: 5.5g
Click here.
---
6. High Protein Caprese Pasta Salad
High Protein Caprese Pasta Salad is a delicious and amazing light meal for lunch or summer dinner. Get a gluten free dish full of protein and fiber, vegan and perfectly protein packed lunch healthy recipes that everyone will love. This salad is loaded with pasta, fresh tomatoes, basil, vegan or dairy mozzarella, and homemade pesto, a great meal prep for the lunch menu. It comes together in just 20 minutes or less. 

Protein-packed Caprese Pasta Salad is a fresh, light, gluten-free dish that is packed with protein and fiber. It is ideal for healthy recipes. It's ideal for lunch or a quick dinner this summer. Additionally, it is veganisable! Sweet, juicy fresh tomatoes and fragrant basil are the epitomai of summer. It's a time-tested combo that will always be appealing.

These delicious tastes have been combined for this dish to provide a satisfying, satiating, and protein-rich Caprese pasta salad. It's a delicious addition to your summer lunch menu because it's created using fresh tomatoes, basil, vegan or dairy mozzarella, & handmade pesto. Most supermarkets carry vegan mozzarella, but you can also create their homemade mozzarella!
Calories: 300kcal
Carbohydrates: 29g
Protein: 19g
Fat: 12g
Fiber: 5g
Click here.
---
7. Salmon Meal Prep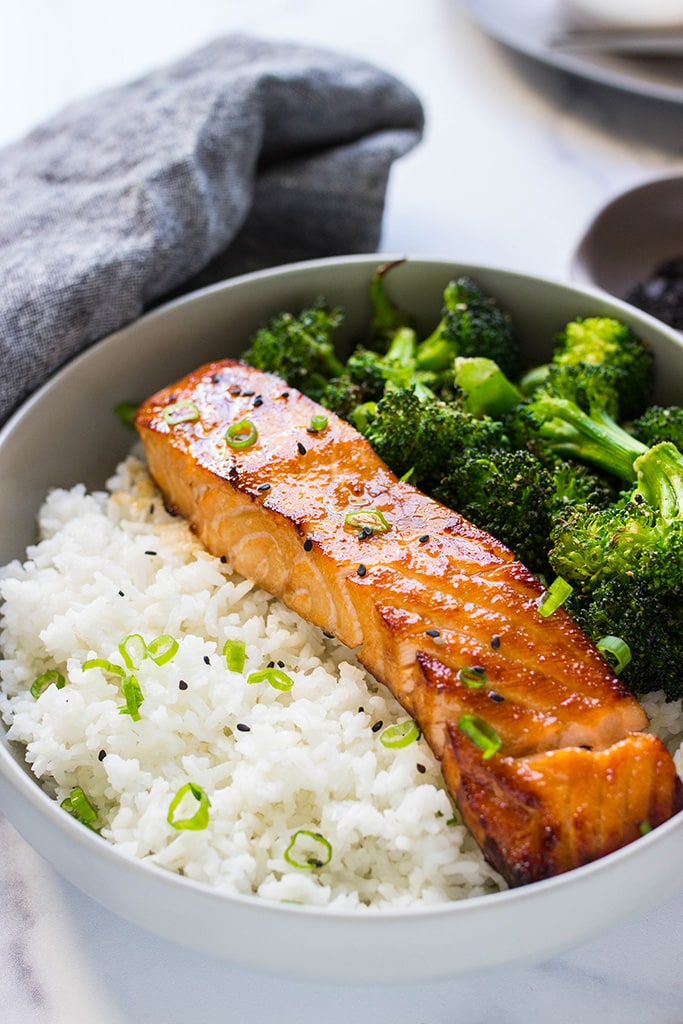 Salmon lover? Try this amazing healthy salmon meal prep for lunch or dinner. With only 4 ingredients these high protein lunch ideas are ready in just 10 minutes. But you have to marinate the salmon with spices for 30 minutes. Serve this spicy salmon bowls with a side of rice or quinoa for a balanced meal or protein, or with veggies like broccoli, zucchini, green beans, asparagus, or brussels sprouts, etc. this meal is a perfect weeknight dinner for busy people, and make it also for a couple of times a week too.

The 4-ingredient, nutritious honey garlic air fryer salmon has a sweet, gooey glaze and cooks in about 10 to 12 minutes. It is tasty and wonderfully caramelized. Currently, we're creating air fryer honey garlic salmon, which takes less than 10 minutes to cook and tastes great with brussels sprouts, zucchini, green beans, asparagus, and other air fryer vegetables. And for a well-balanced supper of protein, vegetables, and carbs, you may add a side of rice or quinoa.

Although it is simple to prepare and employs common cupboard ingredients, the flavor is not compromised. We never grow tired of this because I make it a few times a week. My meals often take 10 minutes to prepare from beginning to end due to how simple it is to combine the sauce, marinate it for 30 minutes, and let it do its work in the air fryer. It's the ideal solution for those hurried (or lazy) weekday dinners. This meal prep is really easy.  It is an ideal dish for a lazy person. Must get going.
Calories: 255kcal
Carbohydrate: 19.2g
Protein: 30.1g
Fat: 6.3g
Fiber: 0.1g
Click here.
---
8. Chicken Burrito Bowls Meal Prep
This Chicken Burrito Bowls plant based protein Meal Prep recipe is one of my favorite high protein lunch ideas that make you full for a long time. The meal is loaded with full of nutrition, flavorful, and packed with shredded chicken, sweet corn, creamy black beans, juicy tomatoes, fresh arugula, and spicy rice. All topped with a creamy Caesar dressing that makes this meal so tasty and amazing with healthy fats and plenty of protein! These healthy recipes are gluten-free, refreshing, and best for meal prep.

These nutritious chicken burrito bowls have a delicious flavor. They are simple to prepare and can serve as meals for several days. It is a light lunch that is also high in protein and free of gluten. Comfort reigns supreme when it comes to eating a healthy lunch. We all lead busy lives, after all. Therefore, hamburgers and vegetables are frequently our go-to lunch options. But then, they can become somewhat monotonous. And when things become monotonous, we already know what happens. Instead of sticking to our healthy recipes, we order takeout. Additionally, takeout, while delectable, is frequently unhealthy.

Additionally, it can get quite pricey. The meal prep bowl with chicken burrito has a takeaway flavor. Furthermore, it is much better for you. Spicy rice and tender, shredded chicken are offered. Sweet corn, creamy black beans, luscious tomatoes, and fresh arugula are served with each dish. As well as a creamy Caesar topping on top of everything. Additionally, preparing them won't take a lot of your time in the kitchen. You can prepare them in only 30 minutes, and you'll have enough for a few days' worths of lunches (or meals). Just make sure to store these chicken burrito bowls in sealed food storage boxes to keep them fresher for longer.
Calories: 520 kcal 
Carbohydrates: 54.5g
Protein: 37g
Fat: 13g
Fiber: 9.5g
Click here.

Find more shredded chicken recipes here.
---
9. Orange Chicken Meal Prep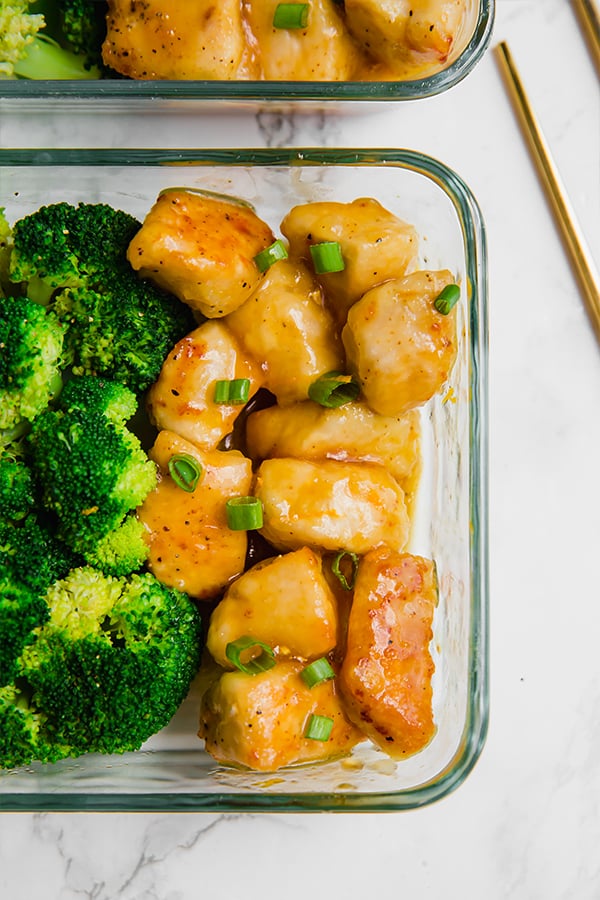 This Orange Chicken Meal Prep recipe is one of my favorite high protein lunch ideas. For weekday lunches, the orange chicken meal prep is ideal for preparing on the weekend. It can be made gluten-free, paleo, whole30-compliant, or AIP. Orange chicken is a beloved takeout dish! Who doesn't want some fake takeaway inside the heat of the workday, for real? This lunchtime comfort cuisine with orange chicken won't leave you feeling drained and unpleasant afterward!

It can easily be made gluten-free, paleo, AIP, and whole30 compliant. In this recipe, I strongly advise using arrowroot starch rather than tapioca starch. A fantastic alternative to soy sauce is coconut aminos!In the refrigerator, this orange chicken should keep for three to four days. It's ideal to prepare on a Saturday and carry for a usually easy lunch during the week. It should be kept in glass Tupperware, if possible.
Calories: 376 kcal
Carbohydrates: 23.6g
Protein: 40g
Fat: 14.1g
Fiber: 4.9g

Click here.
---
Suggested: chicken thigh recipes & high protein instant pot recipes
---
10. High Protein Caribbean Bowl
Quinoa, peppers, pineapple, and honey lime dressing are combined with spicy Caribbean Jerk Chicken to make a tasty, nutritious, and tropical bowl meal! Authentic jerk marinated lean chicken breasts are grilled and then put in containers with cilantro lime quinoa, fruit, and vegetables. A sweet & tangy honey lime marinade tops off the bowl and nicely counteracts the jerk chicken's heat.

After sampling this Jamaican-inspired recipe, you'll want a touch of the Caribbean each week! Good day, flavor-town! Sweet to spicy, these all combine to provide a nutritious bowl that's also enjoyable, interesting, and completely unrelated to regular quinoa bowls! I've always loved jerk chicken, however after traveling to Jamaica, I got completely devoted to it. When I questioned the locals about what makes jerk chicken unique, they consistently cited the scotch bonnet pepper.

The actual jerk flavor I used to create the marinade for this recipe contains this hot pepper. In America, it's unlikely that you'll find it at your neighborhood store, but you can get ground scotch bonnet peppers online (like I did!). or you may substitute cayenne pepper. These high protein lunch ideas are really my favorite.  I got a lot of help from these meal preps in my daily life.  They are as hearty as they are full of flavor and yet so simple.
Calories: 728 kcal
Carbohydrates: 61g
Protein: 61g 
Fat: 28g
Fiber: 13g

Click here.
---
11. BLT Avocado Chicken Salad Wraps
Without the hefty bread, chicken salad has all the flavors of a bacon, lettuce, tomato, and avocado sandwich. Especially carb fans will adore this recipe for lettuce wraps with chicken salad since it is so tasty and filling. Although I haven't recently published a lettuce wrap recipe, I still like to include them occasionally in our supper menu. If you like, you may use light mayonnaise to keep this a bit healthier than I did. I wished it would retain more of that authentic, full-fat blt flavor.

In addition, you can use only part of the avocado & 4 of the Five slices of bacon to reduce fat even further. On the other hand, this is also incredibly good to put in bread to make a sandwich if you don't mind the extra carbs (just add lettuce as well).In addition to being tasty and simple high protein lunch ideas, these will be ideal for a summer lunch throughout the upcoming warm months. For a convenient shortcut, take rotisserie chicken breasts from a bigger rotisserie chicken.
Calories: 330 kcal
Carbohydrates: 5g
Protein: 27g
Fat: 21g
Fiber: 2g

Click here.
---
12. Spicy Chicken And Asparagus Meal Prep Bowl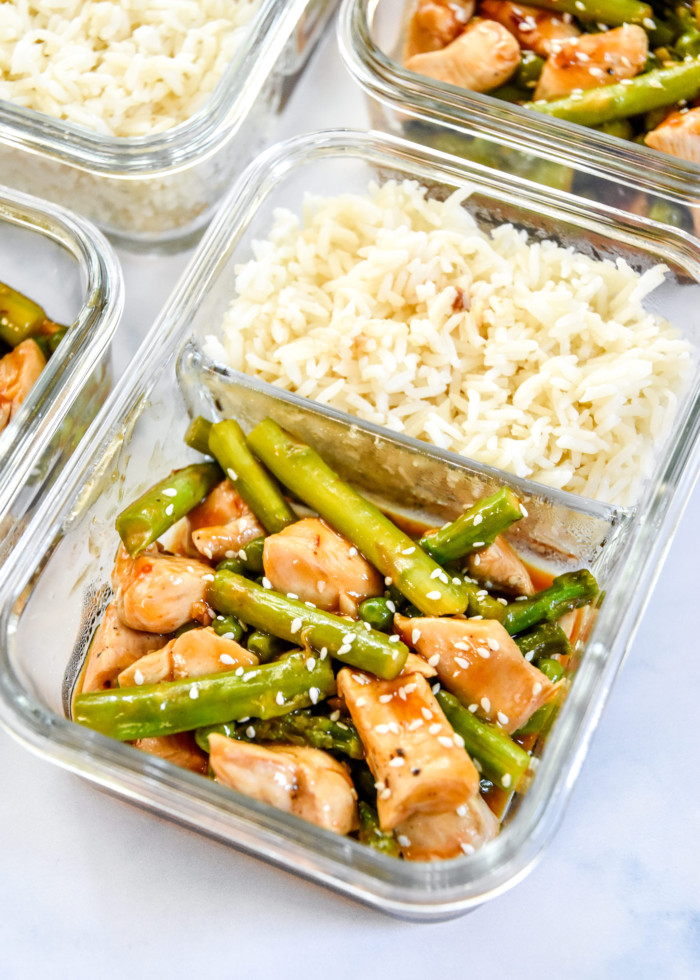 A straightforward recipe for quick and easy chicken and vegetable stir-fry is all these Meal Prep Spicy Chicken and Asparagus Rice Bowls. For the ideal lunch, you may prepare it ahead of time, and serve it over white or brown rice! The ingredients of these foods are such that they combine to give you healthy recipes. Despite the fact that this is interesting and helpful information, I believe it has no place in this piece regarding meal prep spicy chicken.

Start cooking your rice inside a slow cooker or Instant Pot first. Once your main dish has finished chilling, do it! Very simple to microwave at home or at the office. Not very dirty, rotten, or juicy. The brown rice is cooked in a rice cooker by me, and it's by far the simplest step in just this process (if you can remember the rice the liquid ratio which I really suck at). I am using this Aroma rice cooker, which not only fixes my quinoa problems but also my rice problems! Although I'm not a huge fan of asparagus by itself, what about when combined with tender chicken and a hot sauce? Oh please oh please.
Calories: 514 kcal
Carbohydrates: 70g
Fat: 13g
Protein: 39g

Click here.
---
13. Hawaiian BBQ Chicken Bowls
Best Hawaiian BBQ Chicken Recipe: With these simple and delectable grilled Hawaiian BBQ chicken thighs, you may transport yourself to paradise. The beef is marinated in soy sauce and ginger, adding layers of flavor, and it tastes well with rice, salad, or grilled pineapple. Welcome to this tantalizing supper of tropical chicken!

Who would have thought making the Best Hawaiian BBQ Chicken Recipe might be so simple? This dish begins with marinating tender chicken thighs in a sweet and flavorful sauce for an entire night. You'll grill them the next day to create chicken thighs that are moist and soft on the inside and have an appealing caramelized crust on the exterior. At your next party or family BBQ, every morsel will be gobbled up. It's a recipe that will always be a hit with the party!
Calories: 426kcal 
Carbohydrates: 41g 
Protein: 52g 
Fat: 6g 
Fiber: 5g

Click here.
---
14. Low-Carb Shrimp Fajita Meal-Prep Bowls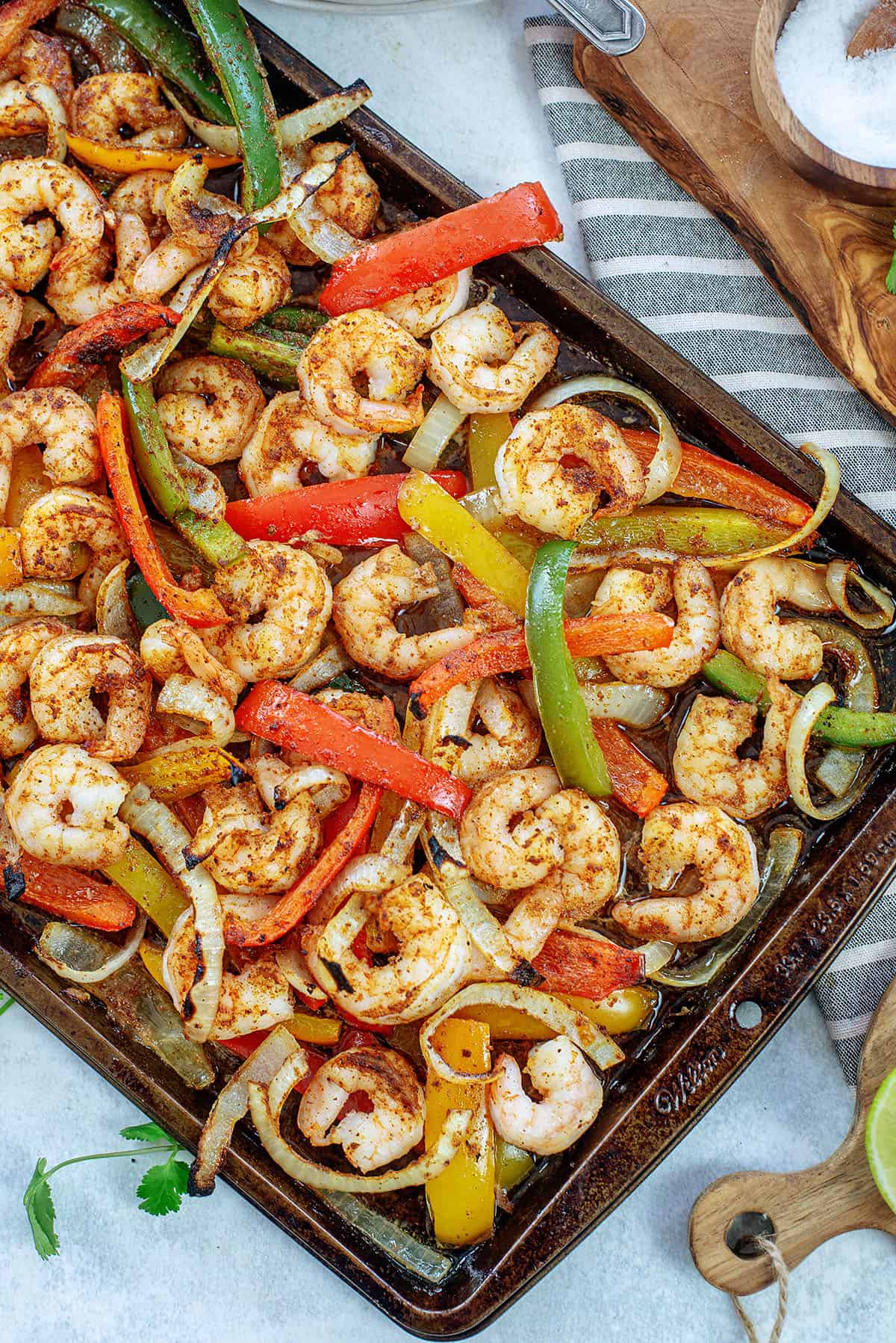 The perfect low-carb weekday dinner, these sheet pan shrimp fajitas are prepared with our (EASY) homemade fajita spice, blasted with a twist of fresh lime, and served over cauliflower rice. My house becomes a little busy on weeknights, and I assume that is true of your home. Dinner must be prepared quickly, and I make sure that it is low in carbohydrates, packed with vegetables, and nutritious for my family. Sheet pan dinners can help in this situation. Our family enjoys creating custom seasoning mixtures.

Almost as simple to open a packet as our keto taco seasoning, our fajita seasoning is fresh smelling, ultra-simple, and sugar-free. All you'll need is a mixture of salt, paprika, garlic powder, onion powder, cumin, and chili powder. These high protein lunch ideas are packed with really nutritious ingredients which maintains the balance of our body. These healthy recipes are especially suitable for the keto diet. These meal preps will come in handy when you get bored of eating a boring diet meal. Trust me once you test them you will be really crazy.
Calories: 204 kcal
Carbohydrates: 7g
Protein: 27g
Fat: 7g
Fiber: 1g

Click here.

But try these low calorie egg recipes for meal prep.
---
15. Chicken Wrap with Peanut Sauce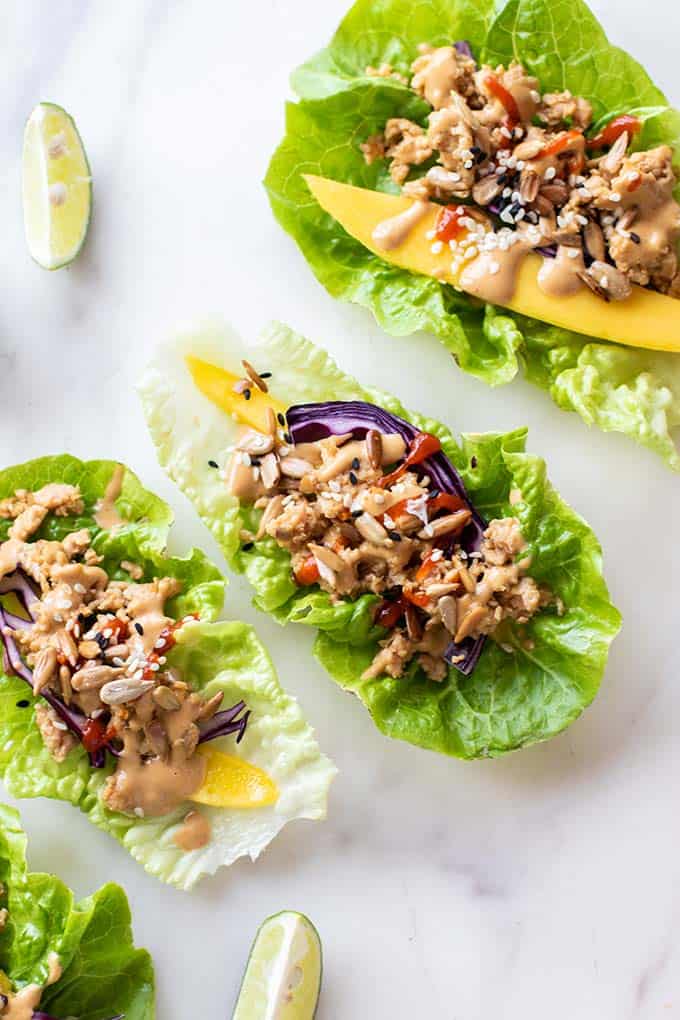 Even though they're a quick and healthy lunch fare, these chicken wraps with sun butter sauce(similar to a peanut sauce) are delectable any time of day. With a handmade, mildly spicy sauce, seasoned chicken, crunchy coleslaw, and peanuts are wrapped in soft flour tortillas. To make them even simpler, feel free to substitute store-bought sauce.6 to 7 chicken wraps are produced. When I was working at this Green Bay restaurant a few years back, they added these incredible peanut chicken wraps to the menu.

They had a fantastic sauce that tasted like peanuts and was just hot enough to burn. And since they contain a lot of cilantro, I have to like them. When I worked, I consumed them every day for lunch and occasionally before I went for the evening. It turned out that they no longer even offer it on their menu, but happily, I can still make them at home whenever I want because they are so simple to make.
Calories: 497kcal
Carbohydrates: 26g 
Protein: 28g 
Fat: 33g 
Fiber: 6g
Click here.

Get these amazing Vegan Side Dishes for holidays.
---
16. Fish Taco Bowls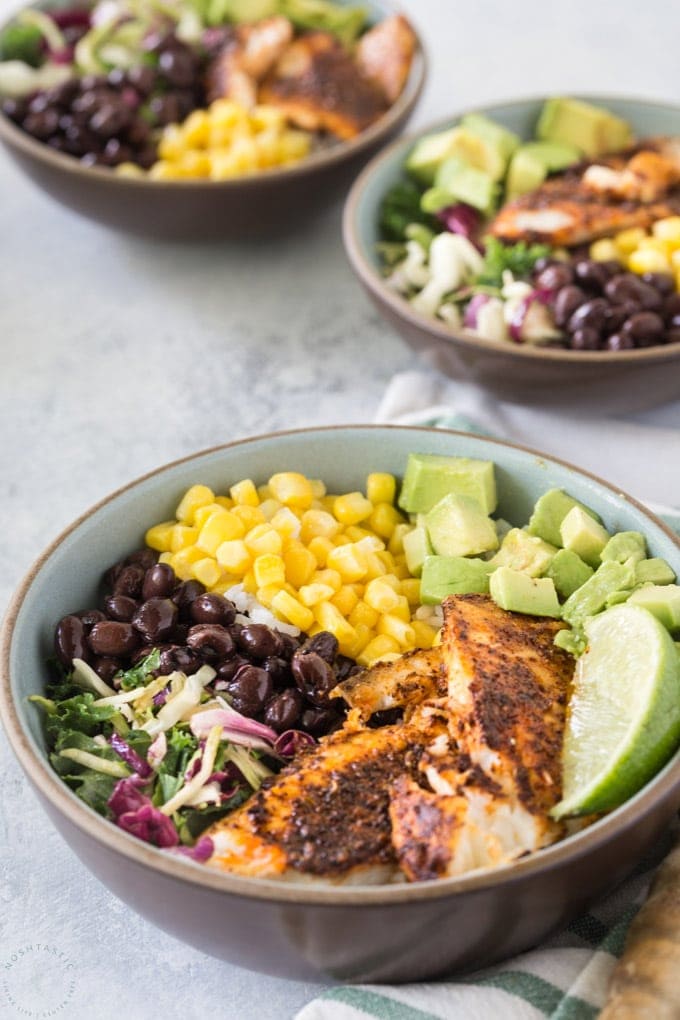 This recipe is one of the most beautiful and unique high protein lunch ideas. By testing you will feel a different softness. A favorite among the family, especially over spring break while we visit the beaches, is the fish taco bowl. There are many fish eateries in the neighborhood, and blackened fish taco bowls are among my preferred meals there. The cooking method of blackening fish was invented by Louisianan chef Paul Prudhomme.

Food items like chicken or fish are dredged in a combination of herbs and spices before being cooked in butter, typically in a warm cast iron skillet. You may achieve the same result by baking it on the stove or grilling it, as I did with olive oil in a pan. It creates a gorgeous seared texture on the food's surface, which is not the same as burnt food, despite appearances to the contrary. You can use white bean salad also.
Calories: 489 kcal
Carbohydrates: 43g
Protein: 42g
Fat: 18g
Fiber: 11g

Click here.
---
17. Sheet Pan Sausage and Veggies
Sheet Pan Sausage and Veggies – This sheet pan sausage dish can be prepared in under an hour using your preferred pre-cooked sausage. Additionally, this recipe is quite adaptable! This is the dish to make if you want a quick dinner and a change from your typical chicken and vegetables on a sheet pan. If the pan is lined with foil, cleanup is as simple as dumping a foil piece in the trash. adore that portion. Due to the use of pre-cooked sausage, this sheet pan dish for sausage and vegetables takes only around 45 minutes to complete.

Cleaning out your vegetable drawer will be a breeze with this sheet pan sausage dinner, which you can customize to your family's preferences. The vegetables are seasoned with smoked paprika, oregano, dried parsley, onion flakes, salt, and pepper, which gives the vegetables a fantastic flavor. If you want, we can add garlic powder. Cook the vegetables for the desired length of time and amount of color. You will understand how easy this meal prep is if you try it. Its juicy, mild, and spicy taste will make you fall in love. And your exercise will become even easier, thanks to these healthy recipes. I am ready to diet every day if there is food with such delicious taste and color.
Calories: 699 kcal 
Carbohydrates: 13g
Protein: 23g
Fat: 62g
Fiber: 2g

Click here.

Get these amazing Holiday Breakfast Recipes for morning meal.
---
18. Peanut Butter Banana Overnight Oats
Another stunning lunch recipe from my list of high protein lunch ideas is this peanut butter banana overnight oats made with gluten-free oats, mashed banana, peanut butter, and non-dairy milk. It neither has refined flour, sugar nor any dairy products such as milk or butter. Make your own oat by dry rolling oats in a food processor.

Adding cinnamon to this recipe brings a whole new flavor and a beautiful aroma to your bread. Once you've prepared your wet and dry ingredients, simply add the wet to the dry and combine well. It is ready in 10  minutes . Refrigerate it for at least a couple of hours or at best overnight. It's a tough task to resist yourself eating it right away but trusts me, the wait is worth it. This is a perfect healthy vegetarian recipes ever for healthy eating.
Calories: 406 kcal
Carbohydrates: 55.3g
Protein: 19.4g
Fat: 14.6g
Fiber: 10.7g

Click here.

Find more Smoothie Recipes for breakfast.
---
19. Chickpea Salad Recipe
I fell in love with this high fiber snack recipe with vitamins and protein. Who gives up the opportunity to eat a lot of vegetables in chickpea salad?  I make this healthy recipe for lunch and sometimes. On days when I don't feel like eating anything, I remember this good weight-loss recipe. It takes 15 minutes to prepare this meal. But if you want to increase the taste of it, it is best to make it the day before.  It can be stored in the fridge and you can easily cook it one day and eat it the next day.

This is going to be your best choice for those days when you are most busy or you don't feel like cooking. You will be most attracted to the color of this recipe. This salad is made with rainbow-colored ingredients. The color of chickpeas, various vegetables and a handful of seeds, and light spices and salt. Who does not like healthy recipes with such colors?
Calories: 302 kcal
Carbohydrates: 27g
Protein: 10g
Fat: 17g
Fiber: 8g

Click here.
---
20. Chipotle Chicken Zoodle Bowl with Avocado Salsa
Looking for the ideal high protein lunch ideas? You should definitely try this Chipotle Chicken Bowl! This gluten-free bowl is a delightful supplement to a balanced diet, containing only 16 carbohydrates and 53 grams of protein per serving. In this recipe, grilled chicken is marinated in a Honey Vinaigrette Dressing that is a Chipotle knockoff and then topped with a delectable Chunky Avocado Salsa. These Bruschetta Grilled Chicken Zoodle Bowls served as the blog's initial source of inspiration.

It's actually fairly easy to make this extremely popular recipe. Grilled chicken over on it zucchini noodles with fresh tomatoes on top. I'm all about simple components coming together to make powerful flavors! That's why I was motivated to develop this new dish with these well-liked zoodle bowls! These bowls' chicken was marinated in a ripoff of Chipotle's renowned Honey Chipotle Vinaigrette sauce. I couldn't just throw the vinaigrette with this Veggie Fajita Salad and forget about it since it is so good! I had to think of as many uses for it as I could, and marinated chicken in the clothing worked out great! Also you can add ham and cheese too.
Calories: 550kcal 
Carbohydrates: 16g 
Protein: 53g 
Fat: 32g
Fiber: 5g

Click here.
---
21. 15-Minute High-Protein Spicy Chicken & Chickpeas Recipe
It's time for a new non-boring, nutritious chicken dinner—forget about chicken with broccoli. This high-protein, spicy chicken and chickpea meal recipe that just takes 15 minutes! This recipe tasty, made in one skillet, and tastes best when accompanied by a small salad and hummus or other preferred sauce on the side. If you enjoy meal prepping, this recipe is also excellent.

You have a lot of easy cooking in your life if you try these healthy recipes. You have to agree, though, that this is fairly brilliant. How much more appetizing is this dish than, say, a chicken breast that is pale with some mushy broccoli on the corner? I'll explain. It is considered superior. like a lot better. It also contains a lot of protein. That's correct I only need one pan, a lot of garlic, and 15 minutes to prepare this amazing chicken. How? Read on.
Calories: 273 kcal
Carbohydrates: 14g
Protein: 35g
Fat: 8g
Fiber: 4g

Click here.
---
Bonus
High-Protein Vegan Avocado Toast
This High-Protein Vegan Avocado Toast recipe is one of the best high protein lunch ideas.  Be it lunch or breakfast, this meal prep is easy and delicious anytime. Slices of toasted Ezekiel bread, a creamy mashed avocado, everything bagel spice, pumpkin seeds, hemp seeds, and chia seeds are all ingredients in this vegan avocado toast recipe. You'll feel satisfied till lunch thanks to this breakfast's high protein content.

In my home, avocado toast is a regular dinner. In the morning, I frequently alternate between porridge, tofu scramble, and this high-protein avocado toast. It takes about five minutes to prepare, is incredibly filling, and always keeps me full until lunch. The freshest form of this vegan avocado toast is undoubtedly preferred. I never prepare it in advance and keep it in the refrigerator till I'm able to eat it. The bread tastes best when it is warm and crunchy! If you are using Ezekiel bread, I advise keeping it in the refrigerator or freezer to extend its shelf life.
Click here.
---
Healthy One Pot Spinach Rice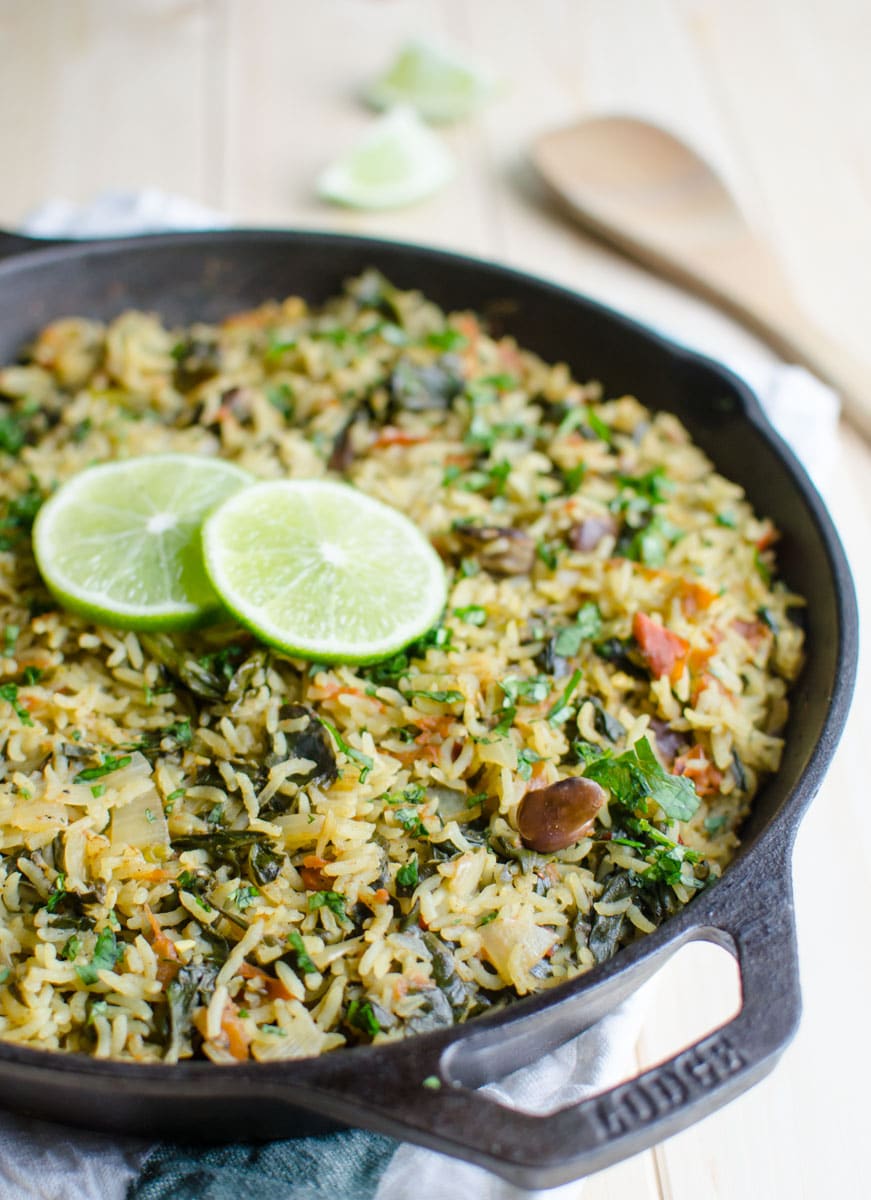 Spinach rice recipe in one pot, loaded with vegetables, beans, and carbohydrates. It is nutritious and rich in vitamins, fiber, and proteins. How simple is it to cook one-pot meals? The dish is ready when all the ingredients are added and the timer is set. It's also less messy! Also, a one-pot dish is this fresh spinach rice recipe. Initial preparation only takes around 10 minutes, and cooking itself takes about 15-20 minutes. When we are exhausted or don't have time to cook, this is our preferred option.

One dish does it all with this recipe for spinach rice. This is the ideal meal because it includes both greens and beans as well as carbohydrates. For this dish, use vegetable stock in place of chicken stock if you're vegan or vegetarian. By looking at the ingredients, you can guess how healthy and nutritious this recipe is! Not only this recipe, but all the recipes here are also healthy recipes that keep your body healthy.  Maybe if you practice these foods, you will get rid of the habit of taking medicine!
Click here.
---
10 Minute Quinoa Egg Scramble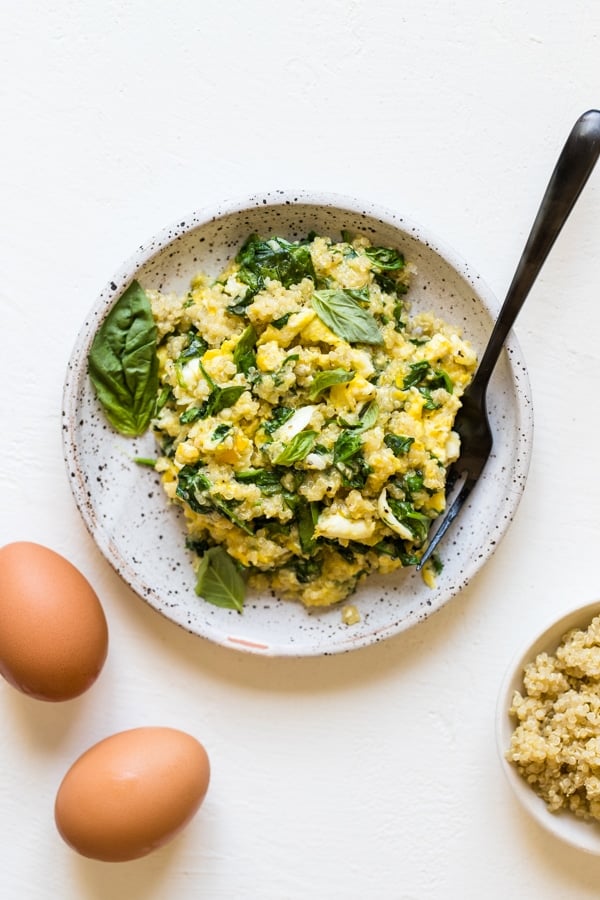 This 10-Minute Quinoa Egg Scramble recipe is one of my favorite high protein lunch ideas.  You may never even think that your weight loss journey is going to be so interesting. That too through meal prep with extraordinary taste.  This deliciously juicy, creamy dish is loaded with quinoa, eggs, spinach, fresh basil, garlic, and mozzarella.  

These healthy recipes are mostly made with olive oil or butter. You can also use microgreens instead of fresh basil. This nutritious meal can be prepared in just 10 minutes. Now you tell me whether you will start exercising if you get such a wonderful dish! I am ready! Also, you can try high protein slow cooker recipes at home for meal prep.
Click here.
---
Mushroom-Spinach Scrambled Eggs
One of my go-to quick and simple vegetarian breakfast recipes with a high protein content is mushroom-spinach scrambled eggs. This simple breakfast scramble is low in carbohydrates and high in protein for one person. After working out, I want to consume at least 20 grams of protein, so this scramble is a tasty way to do so without resorting to protein supplements.

You might also include cheese if you like. There are 24 grams of protein in these nutritious mushrooms in scrambled eggs. The yolk contains the majority of an egg's nutritional value, therefore you shouldn't avoid eating it. Scroll to know this essential information.  And run to make these high protein lunch ideas! Also you can make these healthy keto meals under 5 carbs for weight loss.
Click here.
---
Tuna Egg Salad
Hard-boiled eggs, flaky tuna, crunchy dill pickles, sharp red onions, and celery are all combined with a light, acidic, creamy vinaigrette to make tuna egg salad. Perfect for healthy salads and wraps that are full of protein and low in carbs! When I don't feel like putting on the oven in the summer, these are extremely helpful.

I enjoy adding an egg and a can of tuna to an already fantastic salad or sandwich filling to provide even more protein. It is the ideal light, fresh, and tasty creamy tangy dressing. This meal prep takes 15 minutes to prepare.  So imagine having your great-tasting recipe ready and on your plate in 15 minutes.
Click here.
---
You may Like These Meal Ideas:
High Protein Snacks
Christmas Appetizers
Brie Cheese Appetizer Recipes
No Bake Christmas Desserts
High Protein Vegan Meals
Christmas Dinner Ideas
Fritter Recipes
Meals Under 200 Calories
---
If you like this article about High Protein Lunch Ideas, share with your friends or families on Facebook, Twitter, and Pinterest. Choose your favorite recipe and make it at home, let me know which is your best recipe in the comment. Also, you can subscribe to my blog to get all the latest updates first on your mobile.
---
To make these recipes for later, SAVE this pin on your favourite Pinterest Board