Breakfast is my favorite meal of the day. I just can't do without it, and I have always been very punctual about my morning breakfasts. Also, I like to have something healthy and nourishing for breakfast that will keep me fuelled throughout the day. And, I strongly believe that breakfast is the most important meal of the day because it provides us energy to work for the whole day. Therefore, we need to eat healthy meals for breakfast. So, I am presenting my recipes for sheet pan breakfasts for those who don't like to eat the same boring bowl of oatmeal for breakfast every single day.

Another day, another new breakfast – that's my rule. I am not one of those people who eat the same breakfast every single day of the week. Most people are in a rush in the morning, so they mostly skip breakfast. But that shouldn't be done. There are a variety of recipes that you can choose from to make your morning breakfasts interesting, healthy, and delicious, at the same time. I promise that eating these recipes for breakfast will make you feel good for the rest of the day.
---
21. Sheet Pan Egg In A Hole
Looking for quick, easy, and healthy morning breakfasts? My sheet pan breakfasts are on their way to find you! This sheet pan egg in a hole is one of the easiest and quickest healthy meals that you can have for breakfast, especially if you are making breakfast for the whole family. This sheet pan recipe helps to cook for all the members all at once. You don't have to make breakfast individually for every single person.

All you do is put everything in a sheet pan and bake, and breakfast will be ready in less than 20 minutes. Eggs, bread, salt, and pepper are all the ingredients that you need. You can also add your favorite toppings on your egg for a whole breakfast. I like to add some crispy bacon crumbles on top. My husband likes some goat cheese along with the bacon, and my daughter suggests adding some sriracha.
Get it here.

Make these amazing Vegan grilling recipes at home for hot days.
---
20. Easy Sheet Pan Breakfast Potato Hash with Eggs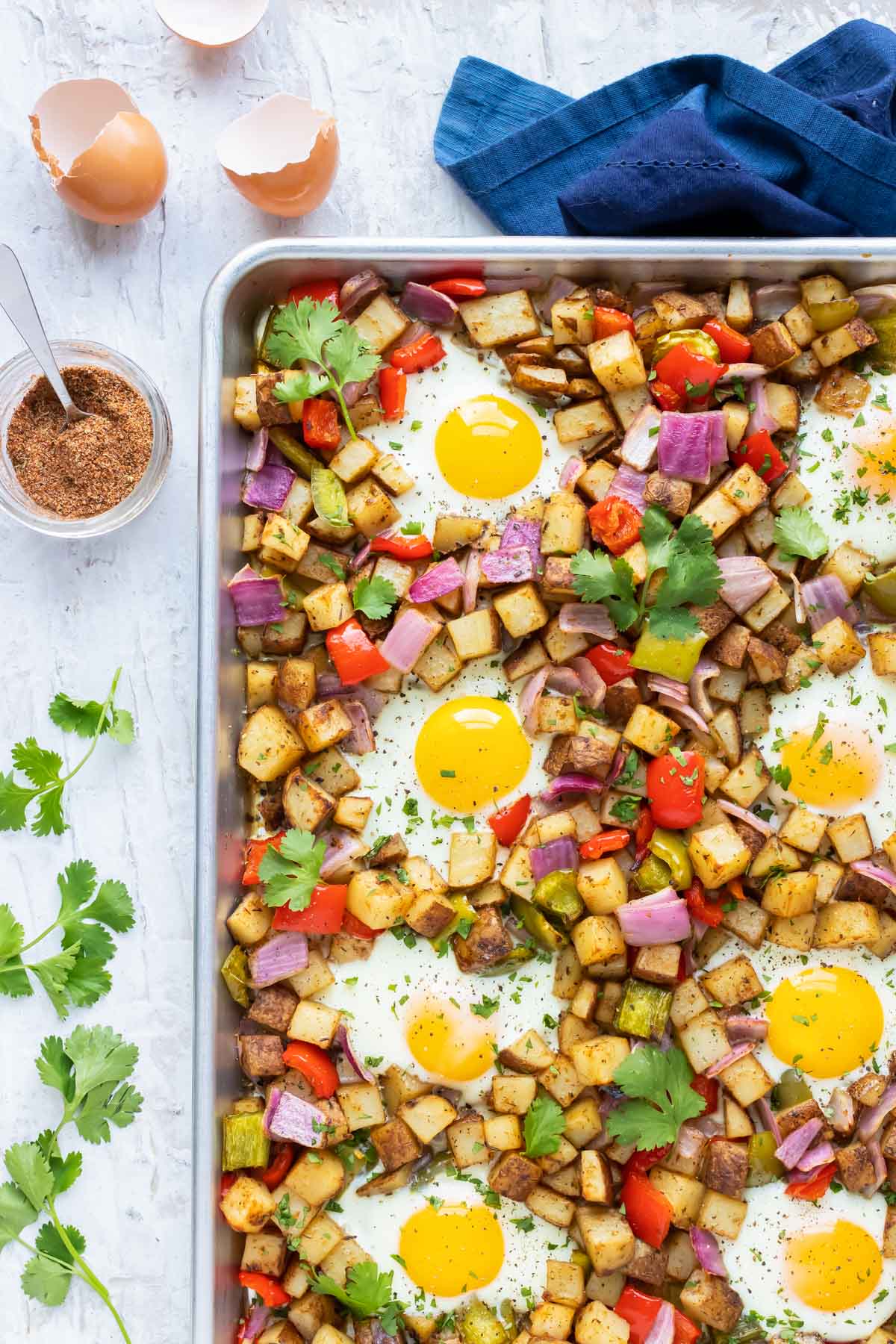 Yesterday, some guests came over for breakfast. I was very tired the previous night and did not have enough sleep, so when I woke up, I was feeling very weak. Even, I had no idea how and what I would serve for breakfast to my guests. And, I became very anxious. While having my coffee, I was contemplating what to cook, and I suddenly had an idea to cook up a batch of this sheet pan breakfast potato hash with eggs.

Nothing could be better than this. I quickly chopped up some potatoes, bell peppers, and onions and arranged them in a sheet pan, and baked them with the eggs. And breakfast was ready within an hour. I was really relieved. Everyone enjoyed breakfast. If you are looking for healthy meals and quick and easy morning breakfasts, then you should definitely try my sheet pan breakfasts.
Get it here.
---
19. Birthday Cake Sheet Pan Pancakes
In our home, birthdays are a huge thing, so we prefer to celebrate all day. My sister Sarah would ask for funfetti pancakes every year for her birthday, so we came up with these birthday cake sheet pan pancakes. I discovered a way to quickly make extra pancakes so everyone could eat them before we both had to rush off to work. 

These funfetti sheet pan pancakes only require a few basic ingredients. I always top the batter with more sprinkles, but that is entirely optional! Funfetti cake pancakes can be easily made because they are baked on a sheet pan. The ideal way to commemorate any birthday or special occasion is with these birthday cake sheet pan pancakes.
Get it here.

Must try these holiday breakfast recipes for any occasions.
---
18. Strawberry Sheet Pan Pancakes
What are your go-to morning breakfasts on weekends? It's always been pancakes for me. They had a butter and syrup topping and were light and fluffy. My opinion is that pancakes must have maple syrup on them, period. I enjoy eating pancakes, but I don't always enjoy cooking them as my family eats while I'm cooking.

Everyone can enjoy hot pancakes at the same time in under 30 minutes because these Strawberry Sheet Pan Pancakes cook up so quickly!   To allow everyone to simultaneously tuck into their warm stack, pancakes are soft, fluffy, berry-licious pancakes made immediately in the oven. They have the same flavor as regular pancakes, but you don't have to wait around to flip them as other people eat!
Get it here.
---
17. Sweet Potato & Eggs Sheet Pan Breakfast
Consider this easy sheet pan shakshuka as your call to eat dinner for breakfast or even the other way around! With eggs, shakshuka sauce, flat leaf parsley, grated sweet potatoes, and avocados, this breakfast on a sheet pan comes together quickly. It's one of those tasty, easy and healthy meals! Poached eggs are poached in a delicately seasoned vegetarian stew of tomatoes and bell peppers atop a bed of garlicky roasted sweet potatoes.

I'm swooning; someone please grab me. This feeling sheet pan breakfast recipe cooks quickly while maintaining authentic Middle Eastern tastes. This gloriousness can be prepared on a sheet pan so that everything can be served hot and with only one dish. The best hassle-free breakfast for the entire family is made possible by cooking everything on a single sheet pan!
Get it here.

These healthy high protein breakfasts no eggs are so tasty and great for busy morning.
---
16. Sheet Pan Breakfast Pizza with Sausage & Potatoes
My aunt used to make delicious sheet pan breakfasts for any holiday or special occasion. The only variation was the crust, which was made with crescent rolls. I just substituted a higher-protein, healthier version without the crescent rolls. This is one of my best ever high protein meal prep recipes for healthy eating. To make portion control simpler, I also baked it on a sheet pan, which allowed me to make the pieces thinner than they would have been in a conventional casserole dish.

Again, this Sheet Pan Breakfast Pizza is insanely wonderful, making it easier said than done. breakfast pizza on a sheet pan! Your preferred breakfast pizza has become nutritious. This morning pizza has a tonne of taste for fewer calories and is layered with nutritious ingredients. baked on a baking sheet to make cleaning simple! Your sheet pan breakfast pizza is also gluten-free and low in calories.
Get it here.
---
15. Sheet Pan Breakfast with Sweet Potatoes and Bacon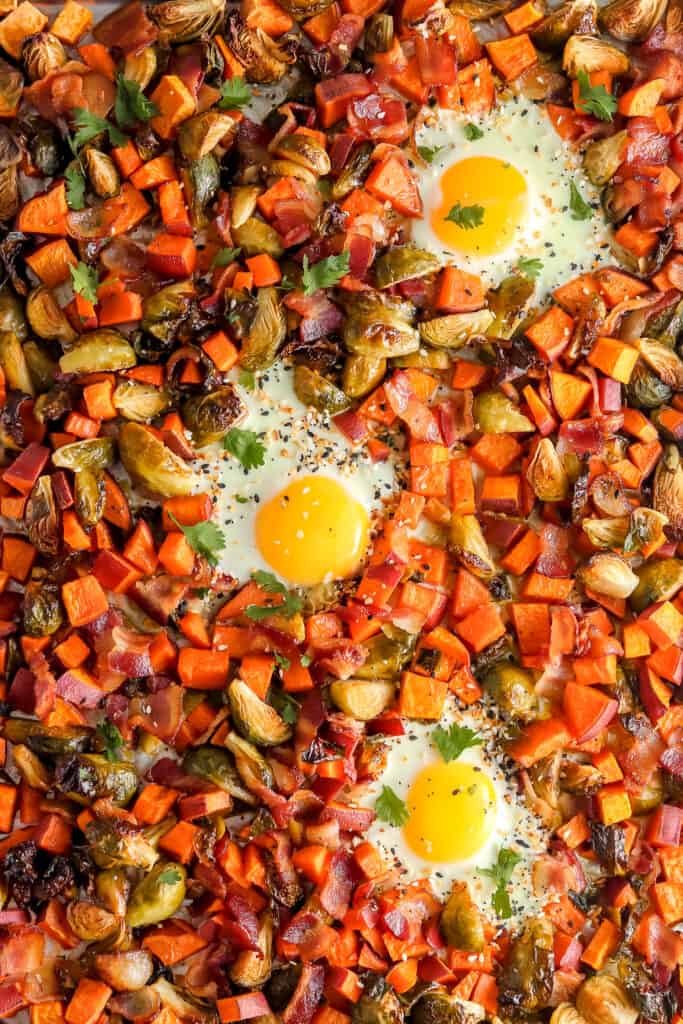 I'm a content woman if you give me some sweet potato hash. I'll also have a coffee. A good novel, too. Maybe take a nap. Since I'm already asking for things, I suppose I should just say everything out loud. This Sheet Pan Breakfast with Sweet Potatoes and Bacon recipe is for you if you want to streamline breakfast preparation and make a healthy, full meal that will feed the entire family.

With chopped sweet potatoes, bacon, onions, parsley, eggs, and Tex-Mex seasonings on one sheet pan, sheet pan breakfasts come together quickly. Breakfast is prepared by baking everything until the egg whites are just set. Additionally, cleanup is simple because you only need to wash one sheet pan and one mixing dish. That is the best thing ever!
Get it here.

Wanna try healthy muffin tin recipes for busy morning meal?
---
14. Sheet Pan Breakfast Casserole
If you enjoy breakfast, you will enjoy this. Even if you're not a fan of breakfast, you should still try this. This sheet pan breakfast pizza can be prepared for morning breakfasts or lunch or even dinner. I used to enjoy it when my spouse cooked breakfast pizza for dinner; give it a shot! I sincerely hope that you and your families appreciate this dish as much as I did preparing it. 

What could be better than only having to wash one pan after eating? Simple Greek yogurt, self-rising flour, and Italian seasoning are the only ingredients used to make the pizza dough. There are countless options for topping pizza. I included salt, pepper, eggs, milk, parmesan cheese, hash browns, ham steak, and a Mexican cheese blend.
Get it here.

For vegan food, try these plant based casserole recipes make at home.
---
13. Sheet Pan French Toast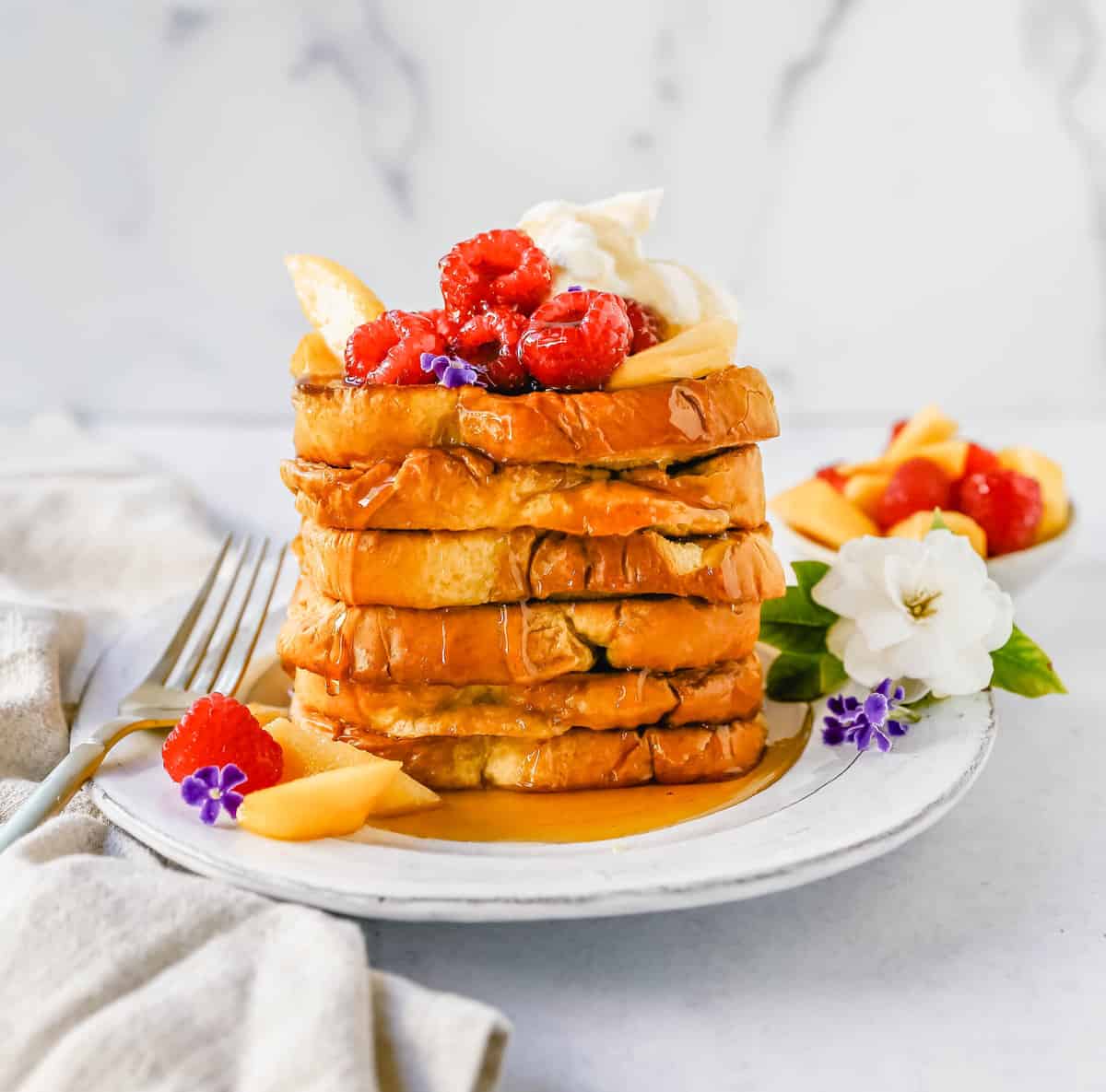 With this recipe for sheet pan french toast, early morning breakfasts are becoming much simpler. This is a brilliant way to pass the time while preparing breakfast for the family or having visitors over. You're going to adore this recipe for French toast since it's so easy! Bread is dipped in a custard mixture and baked on a sheet pan in the oven to make Easy Sheet Pan French Toast. You can take as brunch recipes for any morning or busy day.

Making homemade French toast has never been simpler! Add some sweet Mascarpone Cream and fresh fruit that has been sweetened to this oven-baked French toast. You'll need some brioche bread slices, whole milk, eggs, melted butter, vanilla extract, brown sugar, and cinnamon to make a traditional sheet pan French toast for breakfast.
Get it here.
---
12. Sheet Pan Full English Breakfast
A full English breakfast is waiting for you on ONE SHEET PAN! As usual, I'm really looking forward to a one pan recipe with a quick and simple cleanup. What exactly does the traditional dish consist of? Eggs, potatoes, roasted tomatoes, baked beans, sausage, and bacon. It's incredibly special to start the day with a traditional English breakfast.

It's the kind of healthy meal that will keep you satisfied until the early afternoon, when you might want a quick snack or a cup of tea to tide you over until supper. It also works wonders as a recovery from a night of overeating! It's a sizable plate of food all in all! It's a filling, scrumptious breakfast.
Get it here.
---
11. Sheet Pan Eggs
Sheet pan meals are my favorite since they are quick to prepare, simple to clean up, and fantastic for feeding a crowd. I enjoy making eggs for visitors the following morning when they stay the night. This Sheet Pan Eggs dish is a quick, simple, and tasty method to prepare breakfast for a sizable group of people using only your oven. 

You've found it, my friends, if you're seeking a quick way to serve eggs to a crowd. I enjoy toasting some bread, spreading some avocado slices with butter, and then adding the eggs on top. The sheet pan eggs have a texture more akin to a frittata than scrambled eggs, but they're still fluffy, flavorful, and quick for a crowd!
Get it here.
---
10. Sheet Pan Full Breakfast With Garlic Butter Mushrooms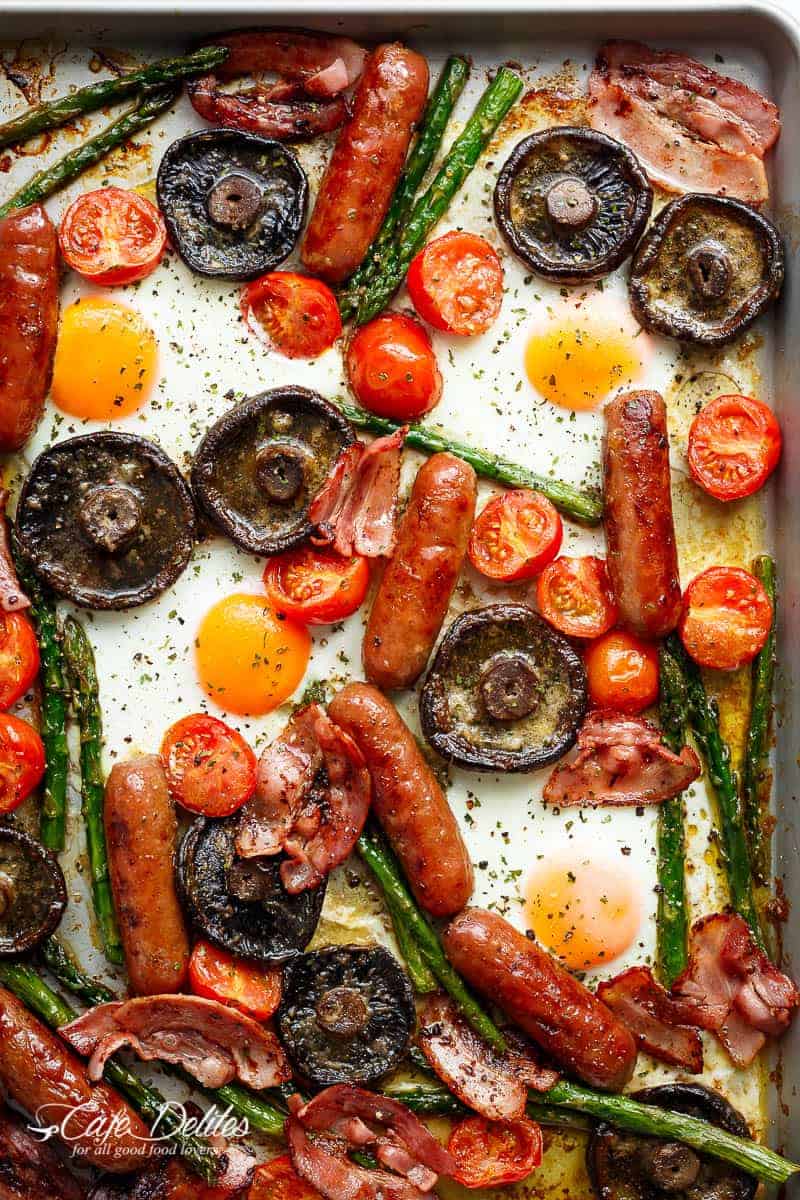 Eggs, bacon, sausages, tomatoes, asparagus, and garlic butter mushrooms round out the whole breakfast on a sheet pan. There is only one pan to clean! What could be more perfect than a Sheet Pan Full Breakfast this morning as most of us celebrate the Fourth of July? Furthermore, when I say it is full, I don't only mean in terms of ingredients. I mean bursting with FLAVOR! This breakfast in a pan is complete!

The options are insanely boundless, and you could even add more: additional eggs, baked beans, onion rings, pepper strips, jalapenos, etc. Although this dish can't possibly go wrong, the garlic butter mushrooms come out on top. I'm not sure about your kitchens and family favorites, but garlic butter mushrooms are pretty much a must-have side dish with our healthy meals.
Get it here.
---
9. Sheet Pan Breakfast Bake
How about a breakfast bake on a sheet pan? Not another pan needs to be soiled! On one pan, you'll have a full breakfast that includes eggs, bacon, and crisp, cheesy hash browns! What could be better than cheese, bacon, and potatoes? This sheet pan breakfast bake includes eggs, asparagus, mushrooms, bacon, and tomatoes for complete morning breakfasts. If you like a spicy kick in your breakfast, drizzle Sriracha on top for a flavorful combination.  

If you're staying with family over for the holidays or are just in the mood for a hearty breakfast, try this recipe! With minimal mess and little cleaning, your sheet pan breakfasts are ready in only 30 minutes!
Get it here.
---
8. Sheet Pan Breakfast Pizza with Crescent Rolls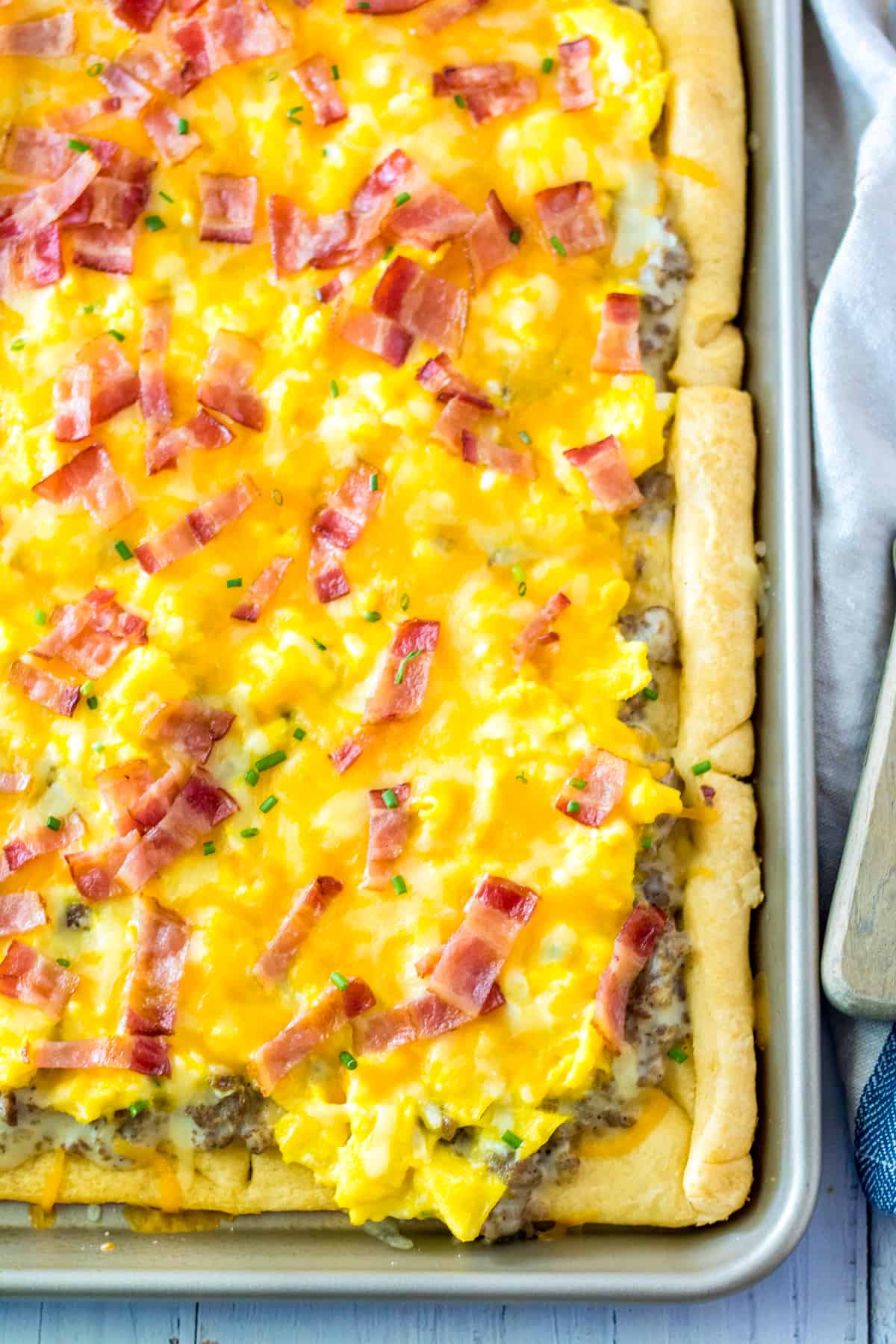 The greatest sheet pan breakfast pizza dish that uses crescent rolls, sausage gravy, eggs, cheese, and bacon is tasty and simple to prepare. This breakfast pizza with sausage gravy may be baked, cut into slices, and served for dinner or brunch. A favorite in our home is breakfast for dinner! For a breakfast pizza on a sheet pan that is ready more quickly, use crescent rolls in a can.

A buttery, pillowy crust on crescent rolls does wonders. If you prepare your own pizza crust, you won't need to wait for the dough to rise. You can choose any toppings you want for your sheet pan breakfast. I like to add sausage and bacon, as well as scrambled eggs with cheese and chives. They greatly enhance the flavor of this Sheet Pan Breakfast Pizza.
Get it here.
---
7. Yogurt Sheet Pan Pancakes with Mixed Berries
Yogurt Sheet Pan Pancakes with Mixed Berries is a perfect and quick morning breakfasts or brunch for any time of the year and any holiday season. Allow your family to help themselves by setting out all the toppings. With all the ingredients on a sizable platter or board, I like to serve my sheet pan pancakes sliced into squares so that guests may help themselves. 

They are wonderful for feeding a large group in addition to being excellent for meal preparation. Simply place them in the oven; there's no need to stand over a stove. Then spread out all the toppings for everyone to use. Bananas and nut butter are my go-to pancake topping, but feel free to experiment.
Get it here.

To get more new ideas of spring, get them here.
---
6. Sheet Pan Cinnamon Rolls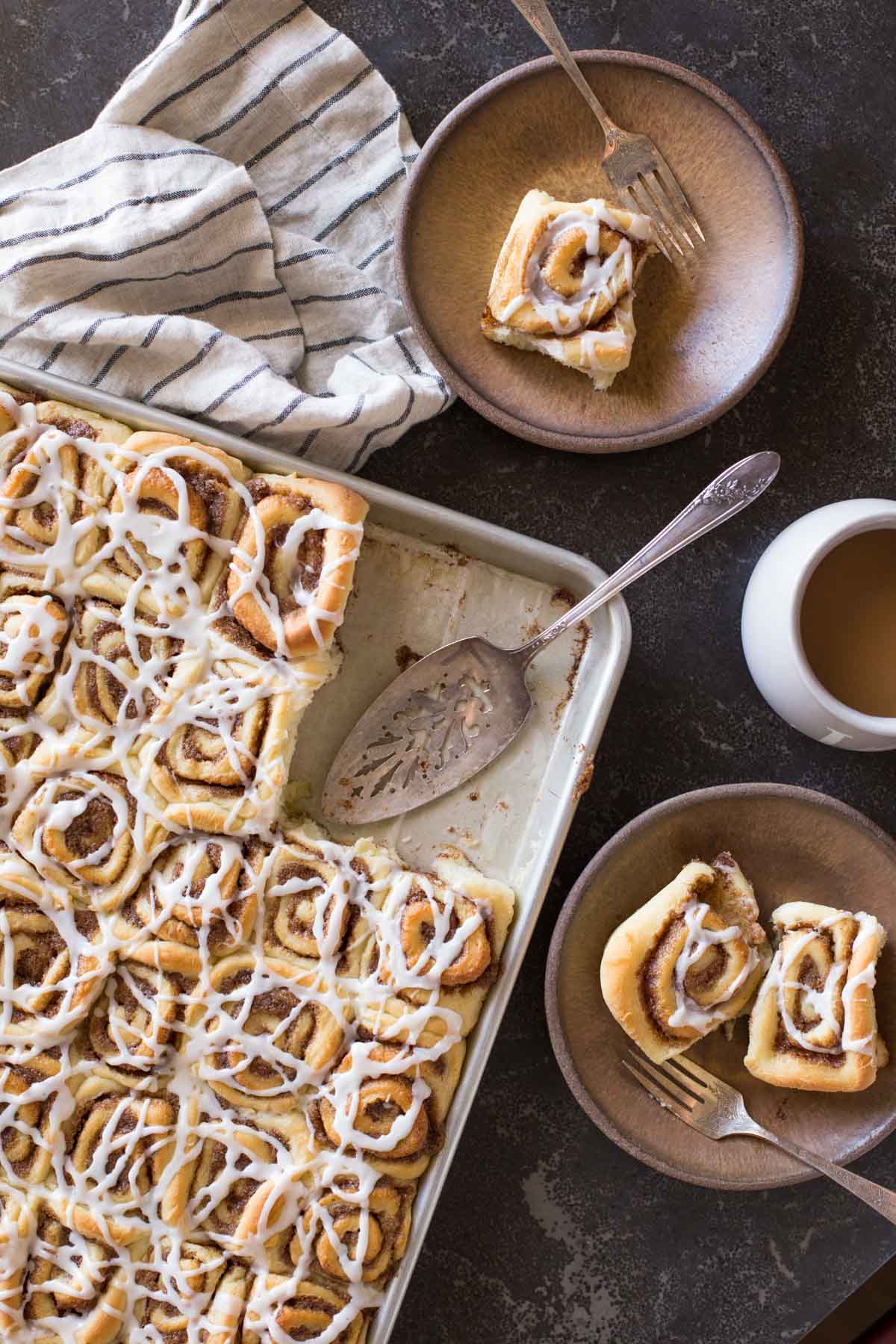 These Sheet Pan Cinnamon Rolls are so much fun to make. Working with the dough, rolling it up, and watching those spirals line up in the pan like fat little soldiers is incredibly therapeutic for me. When a pan of warm, freshly cooked cinnamon buns is cooling on your kitchen counter, it must be difficult to feel depressed. 

This is ideal for feeding a large group of people or if you simply enjoy having a large pan of cinnamon rolls around for your family to enjoy for a few days. The hand-kneaded dough will rise in the bowl for about an hour after being mixed. Look at how puffy it becomes! Magic. These will be loved by you and your family just like we do!
Get it here.
---
5. Vegetarian Sheet Pan Mexican Breakfast
Hmmm. Time for a one pan recipe, then! Introducing the Mexican breakfast on a sheet pan. You know how much I adore one pot/one pan recipes, and it's been a while since I shared a sheet pan breakfast. Are you craving breakfast? Or how about making dinner your breakfast? I've got you covered in either case. Mexican tastes are the main focus of this version!

Along with the usual egg and potato morning meal, Mexican cuisine features a tonne of spices, peppers, black beans, and garnishes. The entire baking process takes 50 minutes. Pan should be taken out of the oven. Add fresh cilantro, jalapenos, pico de gallo, chopped avocado, and cotija cheese as garnishes, then season with salt and pepper to taste. Serve right away.
Get it here.
---
4. Sheet Pan Spinach Tomato Ricotta Frittata
For breakfast feeding a crowd or meal prepping, try this sheet pan spinach tomato ricotta frittata. Italian cuisine is delicious for breakfast, lunch, and dinner. Do you typically have breakfast or do you prefer to simply grab a cup of coffee before leaving the house? I absolutely prefer healthy meals for breakfast. Even, I can't imagine skipping breakfast, which is essential for my body to absorb after all the exercise. 

Also, I believe that eating breakfast is one of the finest strategies to fend off hunger throughout the day. The Sheet Pan Spinach Tomato Ricotta Frittata is a delicious way to start the day because it is flavorful and high in protein. Also, you can try more fritter recipes for more ideas.
Get it here.
---
3. Sheet Pan Sesame Chicken and Veggies
This recipe for Sheet Pan Sesame Chicken and Veggies is simple and quick to prepare. There are plenty of ingredients, including chicken breast, broccoli, red bell peppers, sweet chili sauce, and others. I hope everyone will appreciate this straightforward dish. Its flavor will be enhanced by fresh ginger, honey, and garlic.  These protein-rich recipes would be perfect for any midweek supper. It takes 20 minutes to cook. It is a tasty and nutritious dish. I'm sure you're thinking about it right now. Don't waste any more time! Start right away!
Get it here.
---
2. Sheet Pan Banana Chocolate Chip Pancakes Recipe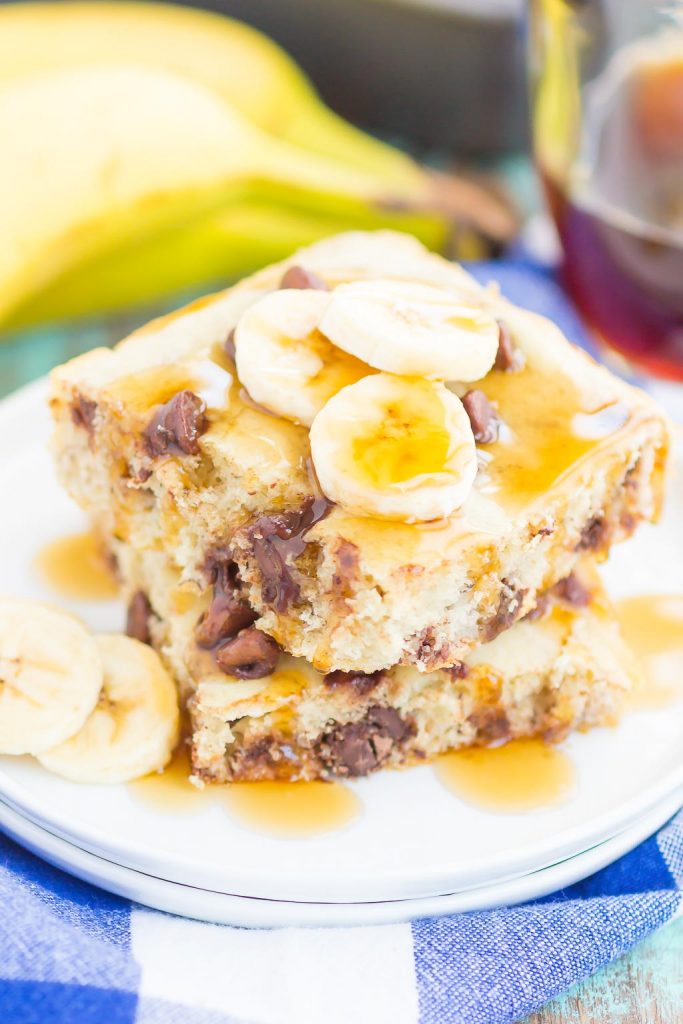 You won't make breakfast for the family again unless you make these banana chocolate chip pancakes on a sheet pan! With sheet pan pancakes, you can feed a large group of people without spending hours flipping them. You can enjoy fluffy, delectable pancakes without all the hassle with this recipe. 

With fresh banana slices, chocolate chips, and a drizzle of maple syrup on top, it's the easiest way to serve a lot and makes a lovely breakfast or brunch centerpiece. I enjoy making a big batch on Sunday and giving the kids a quick breakfast during the week with the leftovers. They can also be kept in the refrigerator for up to two days. Slice into squares, then serve and relish!
Get it here.

Try these delicious layered desserts for any holidays.
---
1. Apple Pie Sheet Pan Pancakes
These Apple Pie Sheet Pan Pancakes are incredibly easy to make and delicious! This recipe, which features apple and cinnamon flavors, is a must-try during the autumn. The easiest way to serve pancakes is on a sheet pan. There is no longer a need to flip multiple batches of pancakes; everything is available to you in a single pan. 

Simple and delectable. I'm so excited to share with you the delightful results of our recent experimentation with several sheet pan pancake flavor combinations! We are particularly loving how simple this frying technique is, which enables us to all eat our pancake breakfast at once. One complete breakfast is prepared on one sheet pan.
Get it here.
---
You may Like These Meal Ideas:
Mini Desserts
Mini Bundt Cake Recipes
Valentine's Day Cocktails
High Protein Snacks
Holiday Cocktail Ideas
Summer Punch Recipes
Pantry Recipes
Spring Vegan Meals
High Protein Chicken Meals
---
If you like this article about Sheet Pan Breakfasts, share with your friends or families on Facebook, Twitter, and Pinterest. Choose your favorite recipe and make it at home, let me know which is your best recipe in the comment. Also, you can subscribe to my blog to get all the latest updates first on your mobile.
---
To make these recipes for later, SAVE this pin on your favourite Pinterest Board