Hey guys I'm back again to celebrate a special day. Mother's Day is coming up. Don't DIY this Mother's Day!  Make Mothers Day crafts with your kids. Make them more creative. They will learn and delight in discovering their own creations. These unexpected joys are sweeter than honey. These holiday ideas are best to celebrate any day, not just mother's day.  There is no age to make something with your own hands. You can make these DIY ideas for you and your mom. Make them on any day for your loved ones in the family. You can teach kids to paint, and learn about colors. These Mothers Day crafts are really cute and educational.
---
Let's see the benefits of making Mothers Day crafts yourself.
Children will be more creative. Their interest in creating something will increase.
Very young children can learn to hold scissors.  Recognize colors, learn to hold a pencil or marker.
Interest in going to school will increase. Good relations will be established with everyone in the school.
Mothers will learn to speak their hearts out. Love and respect for mothers will increase.
You will want to discover with your own hands.  Interest in drawing and handicrafts will increase.
Will learn various handicrafts. That will make them and you feel better.
---
1. Paper Flower Bouquets For May Day & Mother's Day
These Paper Flower Bouquets are one of the simplest and sweetest Mothers Day crafts.  In my busy schedule, I don't forget to make my own gifts this Mother's Day. I made this wonderful gift for my mother. My mother loves flowers and I wanted to make something simple that has a childlike attitude. To my mother, I am now. She wants to remain a little girl. After giving this gift to my mother, my mother was very happy.

I think all children should make their own handmade gifts this mother's day. It includes our love for mother, care and  There is respect. I want to convey to my mother through this gift that my mother is as beautiful as a flower, fragrant and soothing. Make your own DIY ideas and make your mother feel special.
Get it here.
---
2. Mother's Day Dandelion Card Craft
Start by cutting a card by splitting this same yellow cardstock in two. Draw a stem and a center for the dandelion using the black marker. Then, all around the center, create dandelion lines with the fine-point black Sharpie.  Q-tips are used to color the extremities of the flower lines after placing a small amount of the chosen color onto a platter. These dandelions are adorable and special because they alternate among various hues!
Get it here.

Make these spring DIY wreaths are perfect for celebrate.
---
3. Mother's Day Card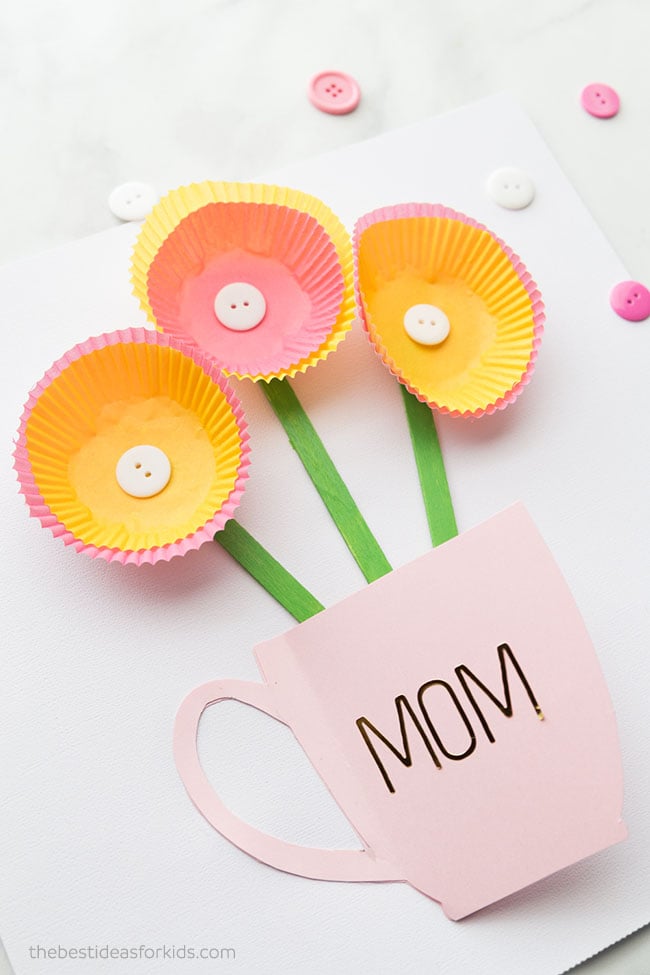 Mother's Day Card – Mother's day is coming. This day is a very beautiful day. Of course, mothers have a certain day. Our whole life is Mother's Day or donation. Yet on a particular day, we celebrate Mother's Day. It is to make mothers feel special. I always surprise my mother on this day. Following that path, my daughter also surprises me. Isn't it wonderful?  My son gifted me a Mother's Day Card with cupcake liners. 

It is a memorable moment for me. My mom felt the same way when I gave my mom a present. My daughter had been hiding from me for a week and made something out of wooden spoons, buttons, cupcake liners, etc. Now I understand what made it. Sometimes it's nice to get a surprise, isn't it?
Get it here.

Must try these mothers day cake ideas for your mother.
---
4. Pop Up Flower Card
All enjoy making crafts, particularly girls. When an acquaintance had a celebration, we used to purchase greeting cards from stores. Making birthday cards by hand takes less time and is definitely a more cost-effective option than purchasing them from stores.  Now, I'm going to show you how to create a pop-up flower card in this tutorial. supplies needed to make pop-up cards –  a graph, coloring page, Sparkles, Drop of sticky, Scissor, Decals for use in embellishing.
Get it here.
---
5. Mother's Day Coffee Card Template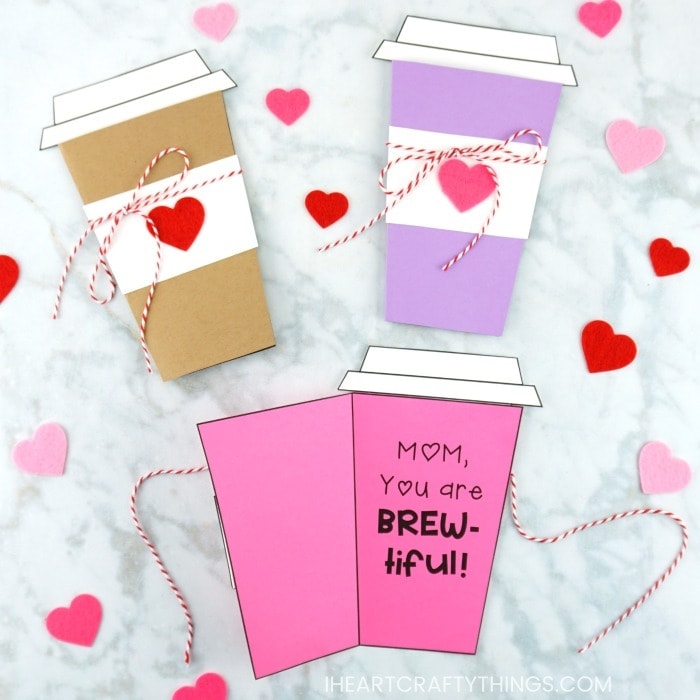 Is your mother a caffeine lover? Does she anticipate having a cup of newly drip coffee each day? I am sure I will! Or does she frequent coffee shops like Starbucks and have a tonne of membership cards? If so, you should use this coffee card design to make her the ideal Mother's Day present this year. 

This paper card's innocence cannot be matched. Print the templates on paper, cut out the components, and then put your coffee cup decoration around each other. These holiday ideas are the best and most special of all.
Get it here.

Find out these Valentines Day Cards for your partner.
---
6. Mother's Day Shrinky Dink Keychain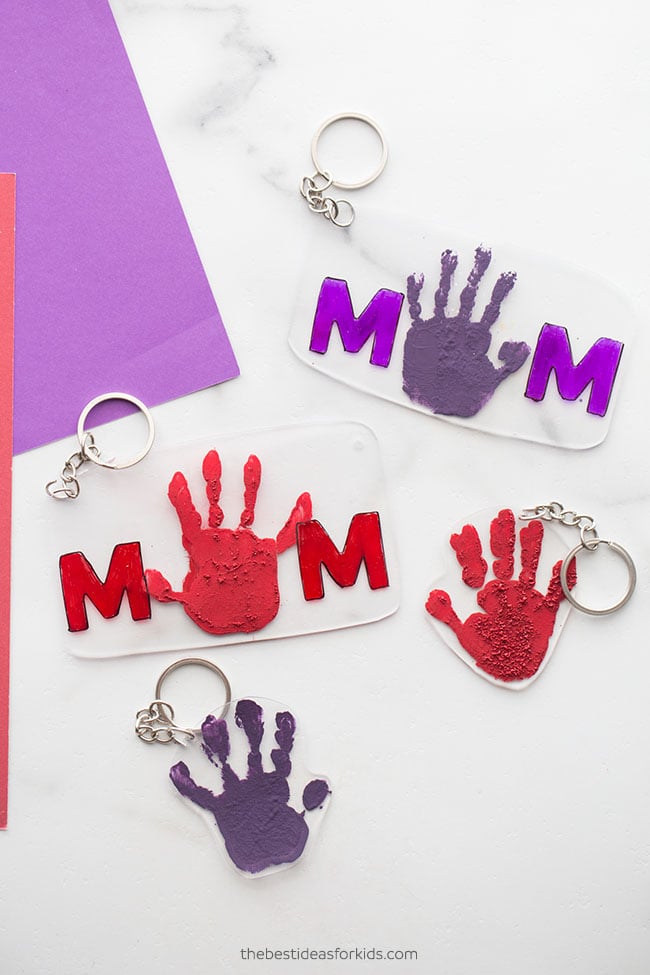 These Mother's Day Shrinky Dink Keychains are one of the best Mothers Day crafts. There is no more memorable gift for Mom. My kids were taught to make these Mother's Day Shrinky Dink Keychains at school. Children gave their mothers handprints and made them as gifts. I was thinking the school teachers for making Mother's Day so cute. Kids have a lot of fun while making it. They love to make things or play with colors so it is fun and interesting for them.
Get it here.
---
7. The Cutest Rickrack Picture Frames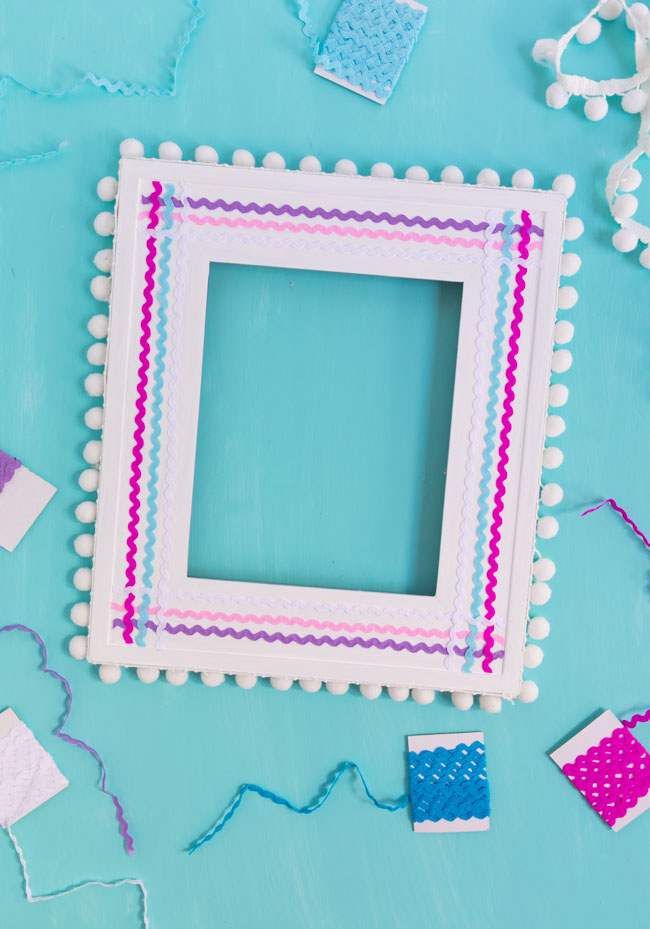 The Cutest Rickrack Picture Frames!  – These are very cute and beautiful picture frames. These are great for gifting or hanging in your home anytime, not just for Mother's Day. I repurpose my old picture frames. Then hung them in my kids room. They are really sweet and cute. Make your own.  

Paint or make them with your kids and color them as they like.  You will see your child's creativity grow while making them. They are eager to discover something new. These types of DIY ideas are easy and interesting. These picture frames require very simple materials to make.  For example – wood picture frames, white craft paint, glue, rickrack trim, pom-pom trim, and scissors.
Get it here.

Make these amazing mother's day dinner ideas for celebration.
---
8. Pretty Heart Wreaths
These Pretty Heart Wreaths are super heartwarming Mothers Day crafts. Mother's Day is the best day to express your heartfelt love to your mother.  Mothers look forward to this day for their children's handmade gifts. It can also be made for mother's birthday.  Any loved one can decorate the house by making these wreaths. Kids love to make them. I was addicted to making them in my childhood.

I made these wreaths without any special day. My own room used to go early in the morning. All children love to give gifts to mom and dad. I have grown up and give them handmade gifts on their special days. They require very few things to make, which are mostly stocked in our homes.
Get it here.

Get these amazing spring crafts for celebration.
---
9. Mother's Day Award Ribbon
Making handmade gifts is taught in all schools on the occasion of Mother's Day. This is a very unique idea among those DIY ideas. Mother does many things for us throughout the day or life.  So mothers should give this award ribbon. My son gifted it to me. I made one for my mom after seeing my son's. My mom and I wore it together on Mother's Day. These handmade gifts hide our feelings, that's why there are so many special gifts.
Get it here.

These patriotic crafts are perfect for any holiday celebration.
---
10. Handprint Flower Bouquet
They have been creating so many beautiful crafts with our children all academic year, so I thought now might be a good time for us to all create something for them. Something to convey our gratitude for their efforts and outcomes. But most significantly, things are made especially for them by their kids. Request that the guardians of your child's peers take a handprint of each of their kiddos and send it to you via mail or have their little one give it to your child. In either case, request that they put a sheet of paper in the package with the footprint to prevent it from bending.
Get it here.
---
11. Butterfly Card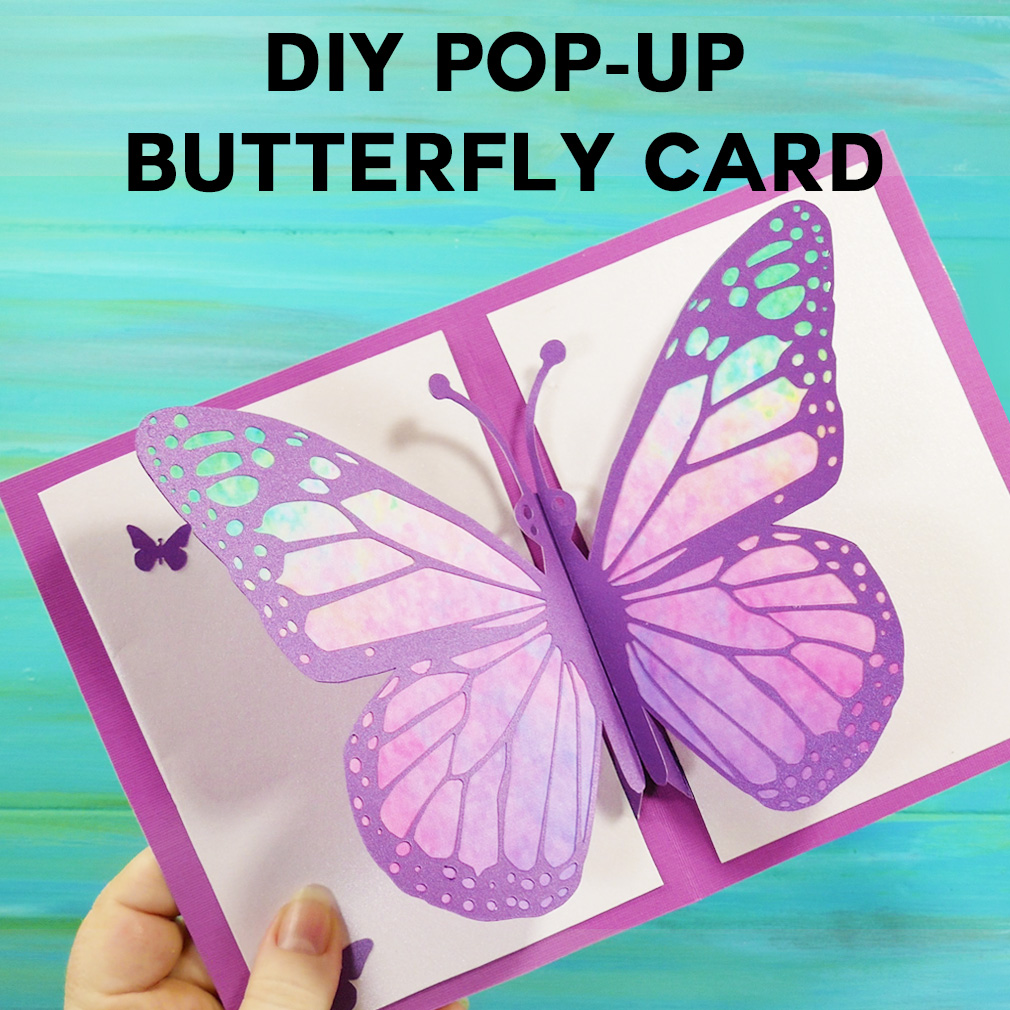 Get the butterfly card design and download it. On colored cardstock or craft paper, print the template. You will need to cut the page with the butterfly body template in half and give one to each kid so they can use one just for their butterfly card. The printable butterfly wings template sheet should be folded in half, with the card message and wings on the outside.

Your paper should be placed with the plain side facing up and the fold opened. A few tempera paint dots should be placed in the paper's center crease and a few more should be placed on the paper's left-hand side. Repeatedly bend the folded card in half all along the crease, then gently mash the paint among the two halves of paper to cover your paper with it. Check your paper by opening it up to see if more crushing is necessary.
Get it here.

Try these amazing Holiday Breakfast Recipes for any occasions.
---
12. Printable Mother's Day Cards
These Printable Mother's Day Cards are one of the cutest Mothers Day crafts.  Making something for mom with your own hands is sentimental for any age. It is very heartwarming for all of us to make mom happy unexpectedly.  I have been making my mom feel special for so long and now my kids are making me feel special. We get really emotional when our kids follow us.

These cards are even more special because they contain the baby's tiny handprints or fingerprints, which are very special to any mother. These colorful Printable Mother's Day Cards are very special.
Get it here.

For summer days, let's make amazing summer crafts and enjoy!
---
13. Egg Carton Tea Cup Cards for Mother's Day
Does your mother like to eat tea?  A time of the day is like spending alone quiet tea time! Then you have to make these Egg Carton Tea Cup Cards. Both kids and adults can make these cards. I think these cards are one of the most popular holiday ideas. 

They are very simple and easily available because they are made of egg cartons. These can be made with just a handful of items. I am sure this cute and beautiful card will be loved by every mother.
Get it here.

These Delicious easter cheesecake recipes are great for easter ceelbration.
---
14. Cardboard Roll Flower Bracelet Craft
It's additionally valuable because it was made by little hands specifically for mom on Mother's Day. These colorful bracelets make excellent Mother's Day presents for mom and are a lot of fun. It only needs to be cut and slipped around her wrist; surprisingly, it holds in position well. 

However, you could always punch holes in the bracelet's sides and attach a thread for added security. By adding I adore you, Happy Mother's Day, and flowers along the bracelet itself, you can further spruce up the piece. You'll require cardboard rolls, cardstock, acrylic, gems, scissors, and a glue stick to create our cardboard roll flower bracelet craft.
Get it here.
---
15. Simple Mothers Day Card Idea
This Simple Mothers' Day Card Idea is very simple, cute, and beautiful as Mothers Day crafts. Making cards for moms with your own hands is fun and joyful for people of all ages.  On Mother's Day, all children want to make their mothers feel special and happy.  In Kindergarten, children are taught to make various gifts on the occasion of Mother's Day. My daughter went to school today and remembered her childhood.

We also at this age used to make our own gifts for our mother or on any special day.  How many praises I used to get from teachers and schoolmistresses and when I came home, I would also get praise from Mom and dad and from the whole family. Childhood gives unexpected joy. These types of DIY ideas are really impressive.
Get it here.
---
16. Tulip Card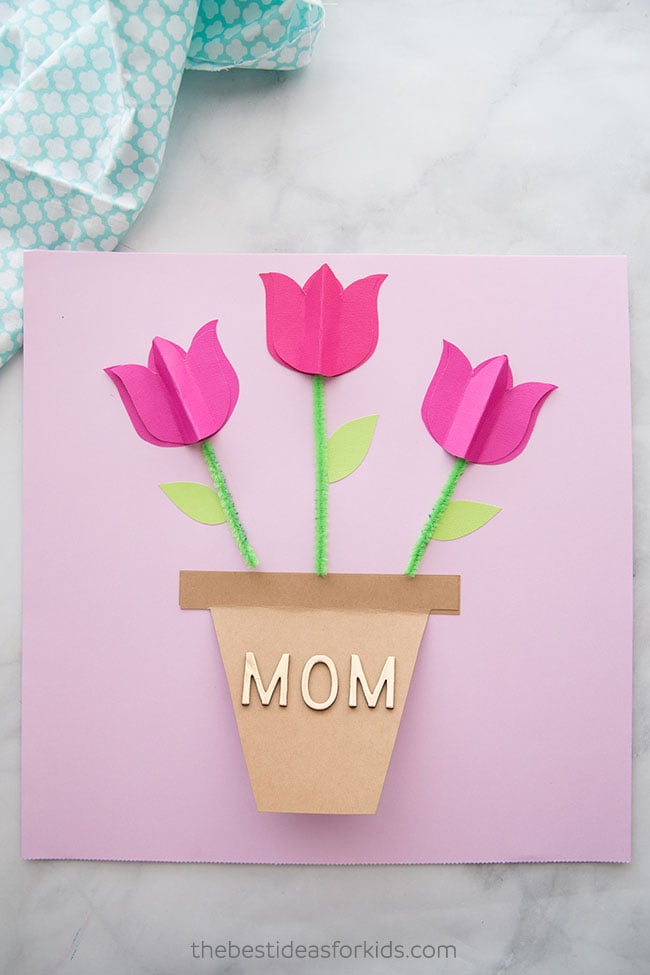 It's one of those crafts that can be completed without the use of a template, but because we are frequently asked for them, we thought it would be ideal to have one and also provide instructions on how to create one without one. It's incredibly easy. Just the right amount of space is available on this card for you to write your own unique greeting. Warm and friendly remarks for a friend. 

For the hidden crush, funny and adorable. For Mother's Day, use kind and sincere remarks. There is a tonne of choices, and these tulip pop-up cards are sure to be appreciated for any event.
Get it here.
---
17. Mom Flower Card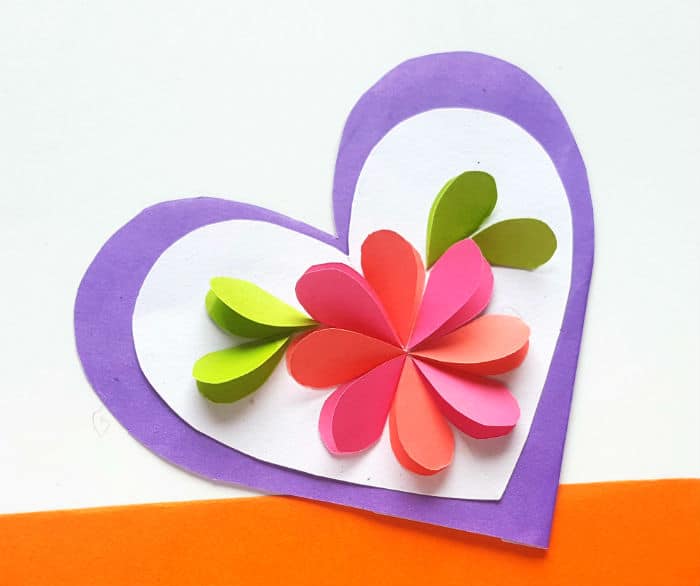 These Mom Flower Cards are one of the cutest cards for holiday ideas. These are very easy for your kids. Kids love to color so they will be more interested in making these flower coloring cards. They will feel attracted to make it.  Have them write some of their own heart words for mothers in colorful flower petals. They will become more creative when they make these DIY ideas with their own hands. You will be interested in discovering something on your own.
Get it here.

Make these spring salad recipes are so tasty and great for meal prep.
---
18. Handprint Cactus DIY Mother's Day Card
Make your mother a handprint cactus Mother's Day present to remind her how very much you value her for the year! Children will enjoy this exercise, and the best part is that no paint is required. Construction paper in green color, scissors, and adhesive are all you need. The children will have a lovely card when they are done to give to Mommy or Gramma on Jennifer's special day. Additionally, they'll practice their fine motor abilities.
Get it here.
---
19. Mother's Day Flower Card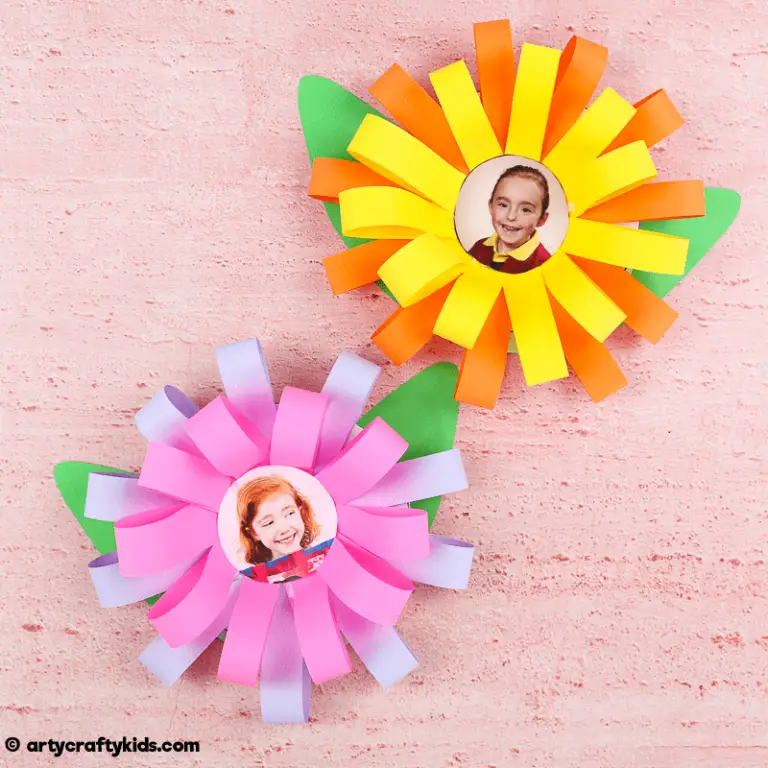 My son made this Mother's Day Flower Card at his aunt's baby shower. This Mother's Day Flower Card won my sister's heart among so many bought gifts. My sister cried when my son gave her this gift to my sister. I didn't ask my son to make it, he made it himself for his aunt.  He was taught how to make this card in school.  I was thinking the school teachers for teaching the children this creative work. They are very easy to make these Mothers Day Crafts. And it looks really nice when gifted with pictures of kids.
Get it here.
---
20. 3D Paper Flower Card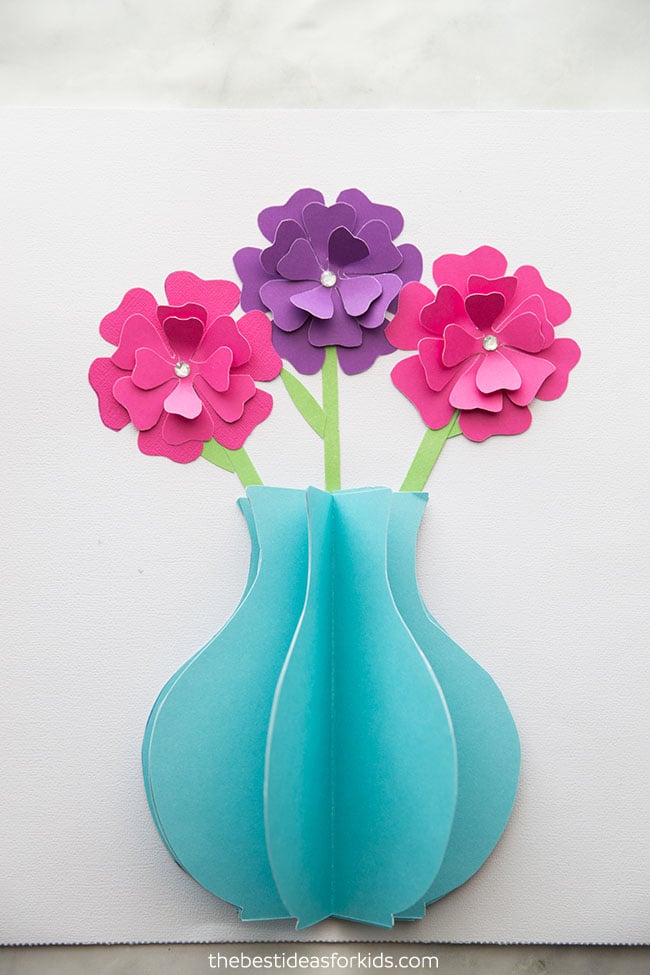 These 3D PAPER FLOWER CARDS are one of the coolest holiday ideas. They look very nice and attract attention very easily. Children can easily make these cards with the help of teachers or parents. My daughter gifted me this card. I never thought that Mother's Day would be so special. When Pola handed me this card I got really emotional. My husband was very happy and jealous. hehe!

Kids learn a lot of handworks to make them.  They learn to recognize and do colors. One thing you'll notice is that after a while your kids don't need to be taught anything, they can do it all by themselves. Creative spirit develops in them. They learn and do this craft with love.
Get it here.
---
21. Mom Photo Card Craft
We adore how the blossom in the center of MOM on the card's front serves as a frame. The card is even designed to be used and exhibited throughout the year, with the photo being simply changed on it as the weather changes. An easy concept that mom will adore! As far as I can tell, any mom would be delighted to receive this card. She would hug her baby and cry.

Everyone wants to feel special in this way.  Especially to your child. These Mothers Day Crafts bring unexpected love to all mothers. You'll have to have the Mom Template, cardboard in brown and other colors, pictures that fit the frame, scissors, and glue to create this mom photo card craft.
Get it here.
---
You may Like These Meal Ideas:
Easter Desserts
Brie Cheese Appetizer Recipes
Low Carb High Protein Recipes
High Protein Meal Prep Recipes
Fritter Recipes
One Pot Dinner Ideas
Valentine's Day Cocktails
Sheet pan Dinners
---
If you like this article about Mothers Day Crafts, share with your friends or families on Facebook, Twitter, and Pinterest. Choose your favorite recipe and make it at home, let me know which is your best recipe in the comment. Also, you can subscribe to my blog to get all the latest updates first on your mobile.
---
To make these recipes for later, SAVE this pin on your favourite Pinterest Board