Good morning friends! A special day is coming up. There will be no peace of mind without making special recipes on this special Mother's day. Honestly, there is no special day for mothers because every day is special for mothers. But any day can be celebrated for mothers. For this Mother's Day, I have come up with special Mothers Day Dinner Ideas. They are very tasty and festive. 

Make a beautiful night for mothers on this special day and gift her. Pour your heart with respect – love – affection. Make them feel that every day is special for mothers and this day is more special. These treat ideas are easy and delicious. I am sure all mothers will love these holiday ideas. These holiday ideas are perfect for Mother's Day celebrations. Surprise your mom with these 21 best Mothers Day dinner ideas. I'm ready for Mother's Day and so are you!
---
To celebrate a perfect Mother's Day, keep the following points in mind –
Wake up before your mom to make Mother's Day special.  Give your mother a warm greeting and give her morning drinks in bed.
Prepare her favorite breakfast and invite her to the table and serve it beautifully.
Give mom the whole day off on Mother's Day.  Tell me to spend the day as you are.
Prepare mom's favorite lunch and sit down to eat with the whole family.
Organize a surprise party for Mom, and invite your mom's favorite people to this party. Spend beautiful moments with Mom.
Talk to your mother a lot about your childhood.  Pour out affection, love, respect, and gratitude.
Pamper Mom on Mother's Day.
---
1. Prosciutto Asparagus Puff Pastry Bundles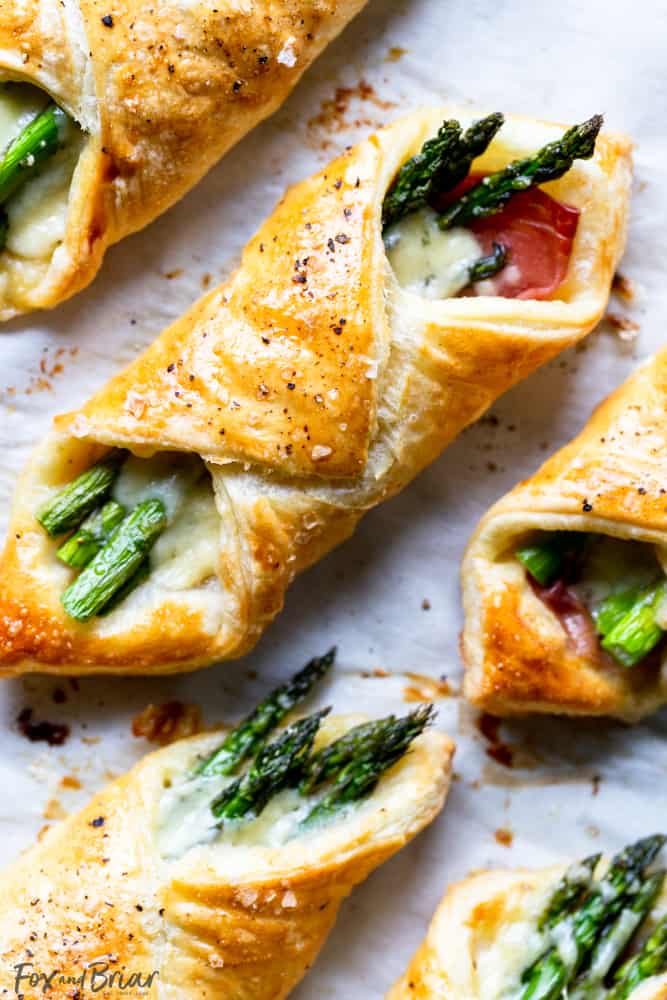 This Prosciutto Asparagus Puff Pastry Bundles recipe is one of the best Mothers Day dinner ideas. This simple recipe is packed with amazing flavor. It is very interesting to make.  This amazing recipe is ready in just 30 minutes. It is a very light dish and looks very classic. It is very easy and hassle-free to make.  This delicious recipe is made with prosciutto, asparagus, eggs, puff pastry, gruyere, etc.  

It's pillowy soft and there's a wealth of cheese in every bite. Also, it's accompanied by the taste of asparagus. They are crunchy on top and cheesy on the inside. This recipe is perfect for any party. Make it and surprise Mom, decorate her room, decorate the table. I am sure it will be loved by all mothers.
Get it here.

Get these amazing cold appetizers for hot days.
---
2. White Wine Pasta With Brussels Sprouts
My mom loves pasta recipes.  So I thought I'd treat myself to a special pasta recipe this year on Mother's Day. I decided to make the White Wine Pasta With Brussels Sprouts recipe. I know my mom will love it. It is very tasty, easy, and quick to prepare. Any recipe made with white wine is delicious, especially pasta recipes. It is a scrumptious recipe made with 10 ingredients.

Recipes like this are incredibly hearty as holiday ideas. This recipe is one of the perfect Mothers Day dinner ideas in every way. Garlic, white wine, and roasted Brussels sprouts are great, along with creamy pasta. Oh, it's really amazing! This garlicky recipe is loaded with cheese that will make your mouth water. It is precisely for these qualities that I thought of making this recipe on Mother's Day.  I am in love with this recipe and it will impress my mom too.
Get it here.
---
3. Green Beans Almondine
This Green Beans Almondine recipe is full of amazing flavor. It is a delicious and healthy recipe. This nutritious and delicious recipe is perfect for anyone. You will need some fresh green beans to make it. I look forward to making this recipe. Even, I have many vegetable plants in my garden. But, I also planted a bean plant, which produced lots of green beans.  Seeing this green form of the garden reminded me of this recipe. And without wasting time, I made this dish. 

It's like looking at the phrase as if it will please your mind and stomach. Packed with variety and full of flavor, this recipe is very easy and quick to make. Green beans, garlic, shallots, almond slices, butter etc. are combined to make this wonderful recipe. It takes only 20 minutes to make. This healthy recipe is great to eat anytime. Also, try these other and different kinds of green bean recipes for meal prep.
Get it here.
---
4. Spiral Sweet Potato Tart with Whipped Maple Ricotta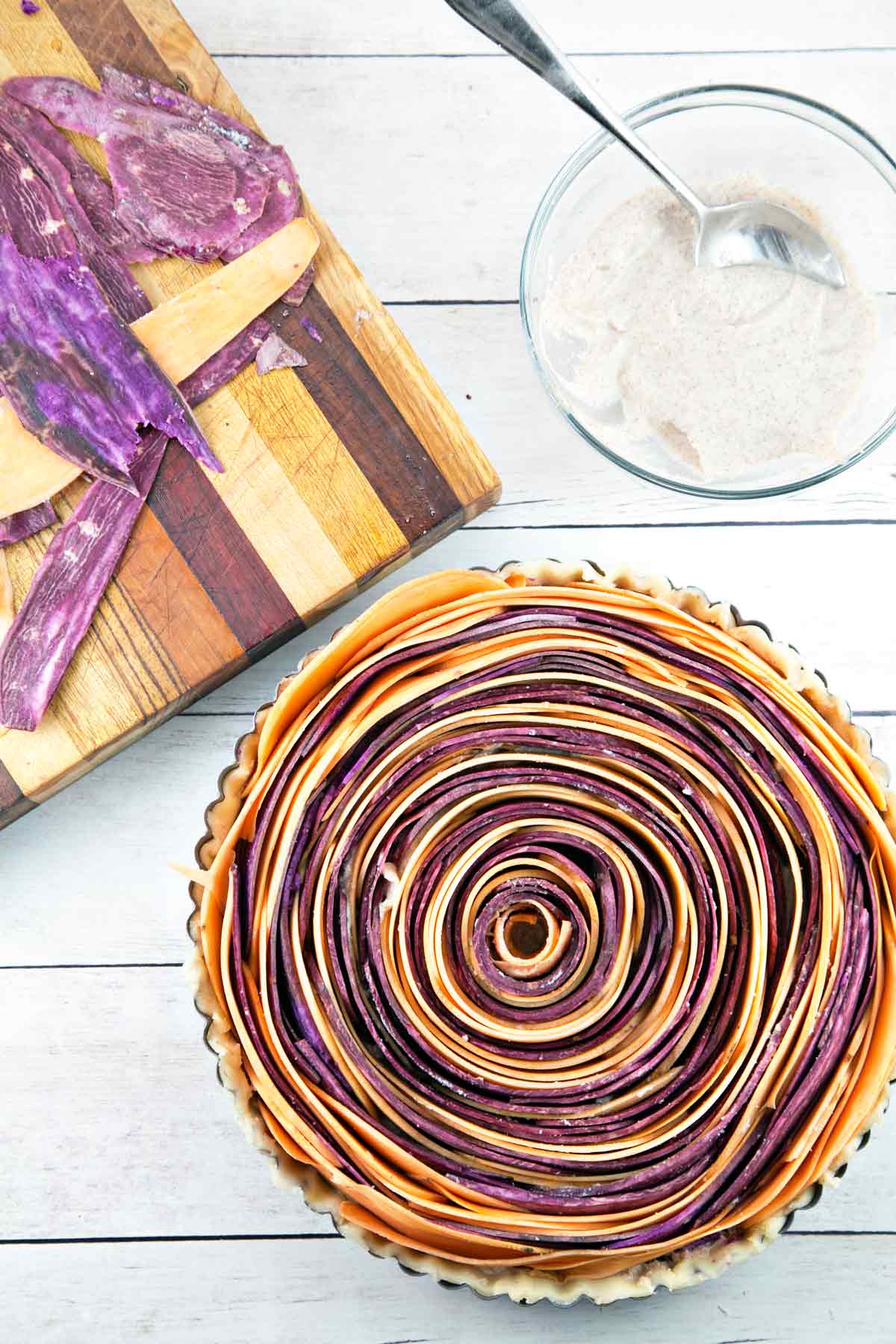 Are you looking for sweet potato recipes! If so, then this Spiral Sweet Potato Tart with Whipped Maple Ricotta recipe is for you. This recipe is one of the best Mothers Day dinner ideas. This recipe is made with very simple ingredients but packed with great texture and flavor. It can be added to the menu of any event or party. It's great as a side dish or snack. It does not harm health as it is healthy food. 

So you can safely feed your parents and children. To make it we will need large-size sweet potatoes, maple syrup, cinnamon, olive oil, pie crust, whole milk ricotta, etc. This nutrient-packed recipe is both tempting and delicious. It's a colorful flower and a unique recipe that everyone will fall in love with. This is my mother's favorite recipe and your mother's!
Get it here.

Make these mother's day crafts for your mom for this day to celebrate.
---
5. Baked Apple Cranberry Stuffing Recipe
This Baked Apple Cranberry Stuffing recipe my grandmother used to make for my mother.  I heard from my grandmother that this recipe is very favorite of my mother's.  Besides, there are many other dishes that are my mother's favorites, but this is what I wanted to make.  Last year on Mother's Day I made this Baked Apple Cranberry Stuffing recipe.  The entire recipe is mine and includes some of my newer versions. This recipe is very comforting and hearty.  I love to make this, I don't know why but because I make it for Mom, I don't take any effort to make it. But it's a very easy and quick recipe.

This delicious recipe is made with cranberries, celery, apples, onions, eggs, cinnamon, pepperidge farm herb-cubed stuffing mix, etc.  Apple slices are mixed with honey and added.  Trust me and arrange a beautiful day for your mother very soon, have a beautiful moment.  Which our mothers deserve every day.
Get it here.
---
6. Honey Roasted Butternut Squash with Cranberries
This Honey Roasted Butternut Squash with Cranberries + Feta recipe is the perfect recipe for treat ideas. I know kids at home don't like to eat vegetables at all. We didn't like to eat vegetables when we were kids either. Our mothers used to cook boring vegetables and feed them with delicious taste. This is how my kids and I make this butternut squash.  Children eat it with great joy. Try making butternut squash this way, I am sure everyone in your house will enjoy eating it too.

My mother loves to eat vegetables. So I try to make different recipes Mothers Day Dinner ideas with vegetables. I used to make this Honey Roasted Butternut Squash with Cranberries + Feta recipe for my mother once.  Mom ate it with great pleasure.  Mother's Day is coming soon. I want to do something special for my mom. This special recipe is just for Mom and me. The mind is filled with joy when you think about it. Mom and I don't get to spend special moments every day of the year, but on Mother's Day, I want to spend only with Mom.

This recipe is packed with flavors to impress everyone.  In between, I combine butternut squash, cranberries, fresh parsley, honey, cinnamon, feta, etc. You can also use herbs in it if you want. This meal takes only 35 to 40 minutes to make. The best part about it is that it is a completely vegetarian and gluten free recipe. But you can check cheap vegetarian recipes & High Protein vegan meals on my blog.
Get it here.
---
7. Cauliflower Alfredo Baked Penne Carbonara
This Cauliflower Alfredo Baked Penne Carbonara recipe is an incredible and impressive recipe among holiday ideas. It is a very healthy and nutritious recipe.  People of any age can eat this food.  This is a vegan – gluten free – paleo – dairy free – low fat – egg-free recipe. You are surprised! I was also surprised by its quality at first. In short, this recipe is wonderful recipe. 

It is perfect for any time and the perfect recipe for our body. Did you know that there are many vegetables hidden in this baked recipe?  Yes, vegetables are hidden.  It's quite funny. While eating this recipe you will feel it is a magical recipe. It's whipped up with cauliflower alfredo sauce. I highly recommend making this incredible flavor and texture recipe once. I know you will thank me after testing it.
Get it here.

Must try these mothers day cake ideas for your mother.
---
8. Roasted Rack of Lamb Recipe with Butter Sauce 
Roasted Rack of Lamb Recipe with Butter Sauce recipe is packed with endless flavors. Once you taste it, you will never forget its taste. You will be deeply tempted by this recipe. It is quite easy and fun to make. The combination of garlic and butter in it creates an incomparable taste. Garlic in butter and lamb in it. Oh, it's heaven indeed! I can't forget its taste, it makes my tongue water when I remember its taste. 

This recipe is absolutely perfect in terms of taste. You can add this recipe to any party or event. I can 100% guarantee this recipe is a huge hit for any occasion. Fresh thyme, black pepper, and onion powder are added to this recipe to take it to the peak taste.  Make this Tender Juicy, Garlicky, Buttery Roasted Lamb recipe quickly, and let the family get lost in flavor heaven.  ENJOY!
Get it here.

For any holidays, prepare these easy shredded chicken recipes at home.
---
9. Chicken Quinoa Casserole
This Chicken Quinoa Casserole recipe is one of the perfect Mothers Day dinner ideas.  Recipes using this casserole are really convenient and delicious. My mother tried this recipe for the first time at a party. Ever since then, she has been telling me about this recipe.  I also planned to make this recipe for Mother's Day. That day is coming. I am very excited and a little scared.  How mom will like this recipe made by me. I am really trying to make this recipe for Mom. When will Mother's Day come?  Can't wait anymore!

To make this delicious recipe you will need – chicken, cream of celery soup, Greek yogurt, milk, onions, quinoa etc. Make this super tasty recipe with these simple and healthy ingredients and gift your mom a beautiful moment.  LOVE! But also try these plant based casserole recipes for your family.
Get it here.
---
10. Baked Cranberry Chicken Recipe with Rosemary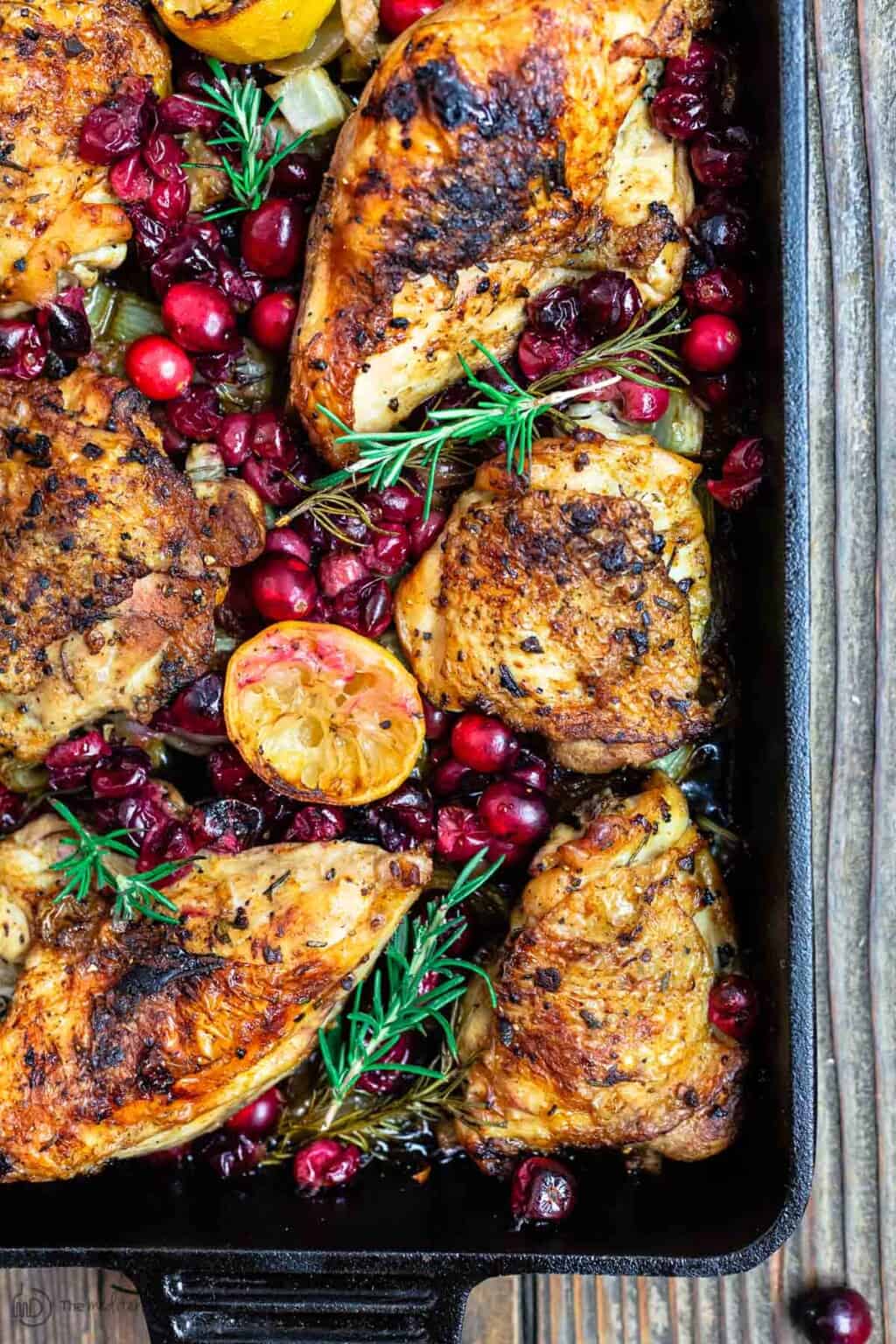 You may have a hearty, joyful dinner that requires little work by following this simple recipe for baked cranberry chicken! You'll adore the robust flavors of citrus, juicy cranberries, tangy-sweet rosemary, and freshly minced garlic in one skillet.

A hearty baked chicken supper is always a good choice, especially when rosemary is used as the seasoning. But if you want to up the ante and provide your chicken with a little bit of a holiday flair, add cranberries! The wow factor is delivered by delicious baked cranberry chicken with barely any effort! It's not too difficult to put a delicious baked chicken recipe altogether.

The chicken is first seasoned, then the cranberries are macerated in a solution of brown sugar and white wine vinegar. After that, the chicken is roasted with cranberries, onion, and celery bits before the chicken is well cooked and is easily crumble-apart delicate.
Get it here.
---
11. Creamy Turkey Chowder
Creamy Turkey Chowder is a great way to utilise up extra turkey or chicken as you warm up. Simplicity. If it comes to cooking, I live by that adage. I don't have a lot of expensive ingredients in my pantry. I think that when simple elements are blended properly, they can produce wonderful outcomes. This dish is the ideal illustration of that.

The basics would be onions, celery, and carrots, which are the basis for many delectable recipes. In my refrigerator, I have creamer potatoes as well; they cook quickly and stay well for a long time. You could be lucky enough to have some leftover turkey as the holiday's approach. You could substitute leftover chicken if you don't have any leftover turkey. There are no leftovers? The turkey or chicken breast can be quickly poached in water using salt, full peppercorns, and a divided shallot.
Get it here.

Find these delicious cold soup recipes for any hot days.
---
12. Cheesy Scalloped Potatoes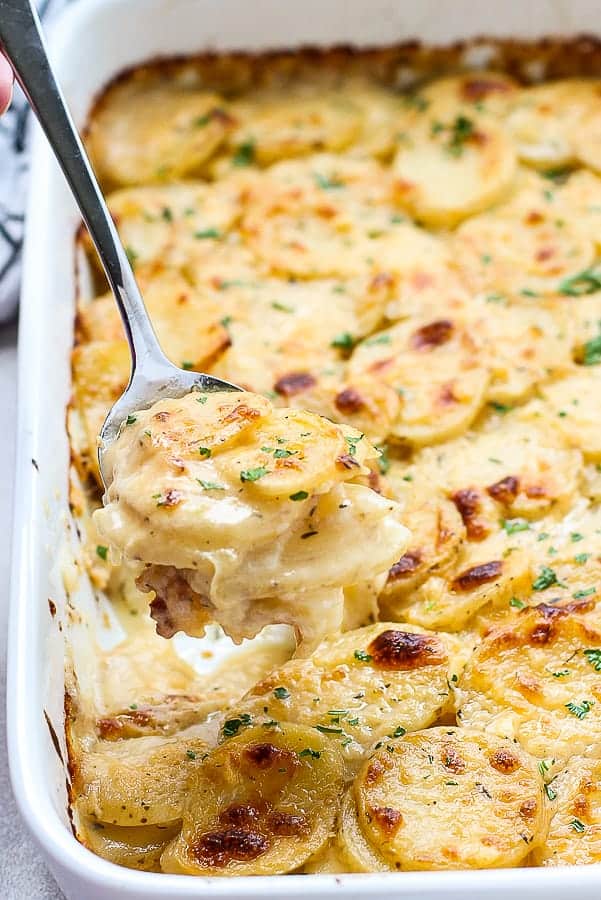 These Cheesy Scalloped Potatoes are a huge hit for holiday ideas.  Do you love to bake?  Then you will love this recipe. This cheesy and creamy potato recipe is very tasty and healthy.  It can be eaten by people of any age at any time. It is also very easy to digest. This delicious and healthy recipe is perfect for any season. It takes 1 hour to make.

It is the easiest to make because it is baked. It's so cheesy and creamy that it melts in your mouth.  Delectable potato recipes are always a hit with me. This delicious recipe uses Yukon potatoes, all-purpose flour, butter, cheddar, thyme, garlic, etc. This creamy potato recipe will prove to be the best for any gathering.
Get it here.
---
13. Brown Sugar Dijon Glazed Pork Loin
Pork loin with brown sugar and dijon glaze has a crusty outside and a succulent interior. Along with the pork, we also roasted some carrots and sweet potatoes. These delicious Mothers Day Dinner ideas are great for a Sunday meal or holiday dinner. Even though it's simple to prepare, this delectable pork roast is stylish and sufficient for the first day of Easter supper. 

Caramelized brown sugar and Dijon mustard are spread over the top of the pork loin to create the ideal side dish. Your visitors will believe the lunch was difficult to prepare, but it was actually very simple thanks to a mix of the pork roast and veggies. This is a rich, delectable supper that cooks up delicately that is certain to impress.
Get it here.
---
14. Maple Glazed Roasted Rainbow Carrots
I think cooking should be where great flavors can be created with few ingredients, while boring ingredients can be used to create interesting flavors and recipes. For example, making recipes with extraordinary flavors from simple carrots. One such recipe is Maple Glazed Roasted Rainbow Carrots. This is a simple carrot recipe.  After making it i.e. after serving it you will not recognize that it is made with normal carrots.  A master cook is one who can create extraordinary meals with minimal ingredients. 

This recipe is very interesting.  In this recipe, the carrots are glazed with maple syrup. This doubles its beauty. You won't believe how attractive this carrot-filled plate looks. Garlic, mustard, soy sauce, etc. are added to this recipe. Don't forget to garnish this beautiful recipe. I served this recipe garnished with feta, cilantro, pistachio, and pomegranate. Make this beautiful recipe and enjoy it with an open mind.
Get it here.
---
15. Chicken Enchilada Casserole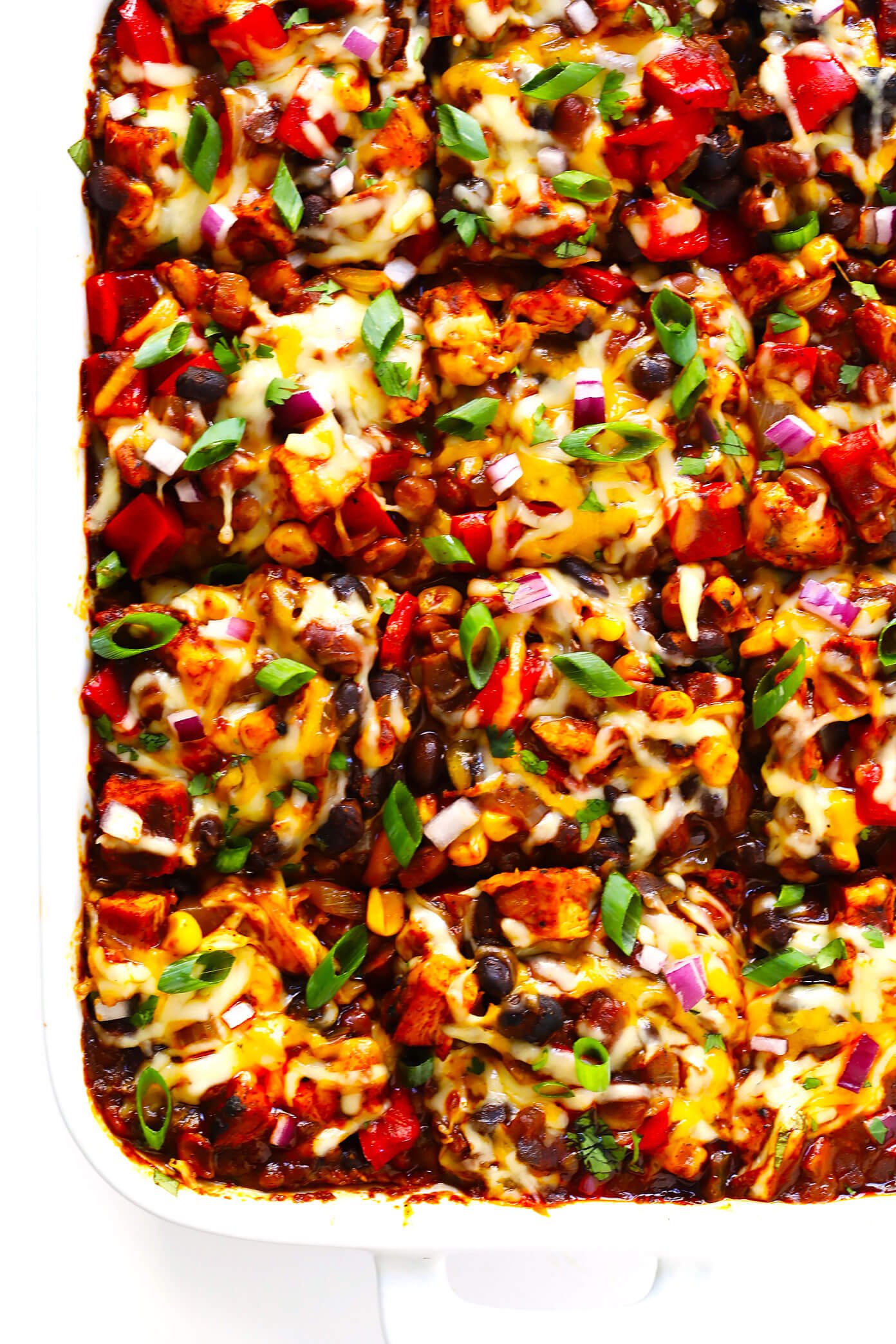 All people adore chicken enchiladas in this recipe for Chicken Enchilada Casserole. Instead of being rolled up, wonderful layers are layered. Always excellent and simple to customize! Okay, let's talk briefly regarding the made-at-home enchilada sauce that is called for in the recipe until we go to the complete list of ingredients. It is cooked in the Modern Mexican way and is utterly excellent.

It requires a short list of straightforward ingredients that you probably possess in your pantry. And the additional five minutes of preparation time are totally worthwhile. It's a definite keeper, according to thousands of readers who have succeeded. However, if time is of the essence, you can substitute some pre-made green or red enchilada sauce. But if you can, I strongly advise going homemade. In this recipe, the sauce serves as the primary seasoning and is crucial.
Get it here.

But you also need to make these chicken breast recipes for any holiday weekend.
---
16. Parmesan Zucchini Corn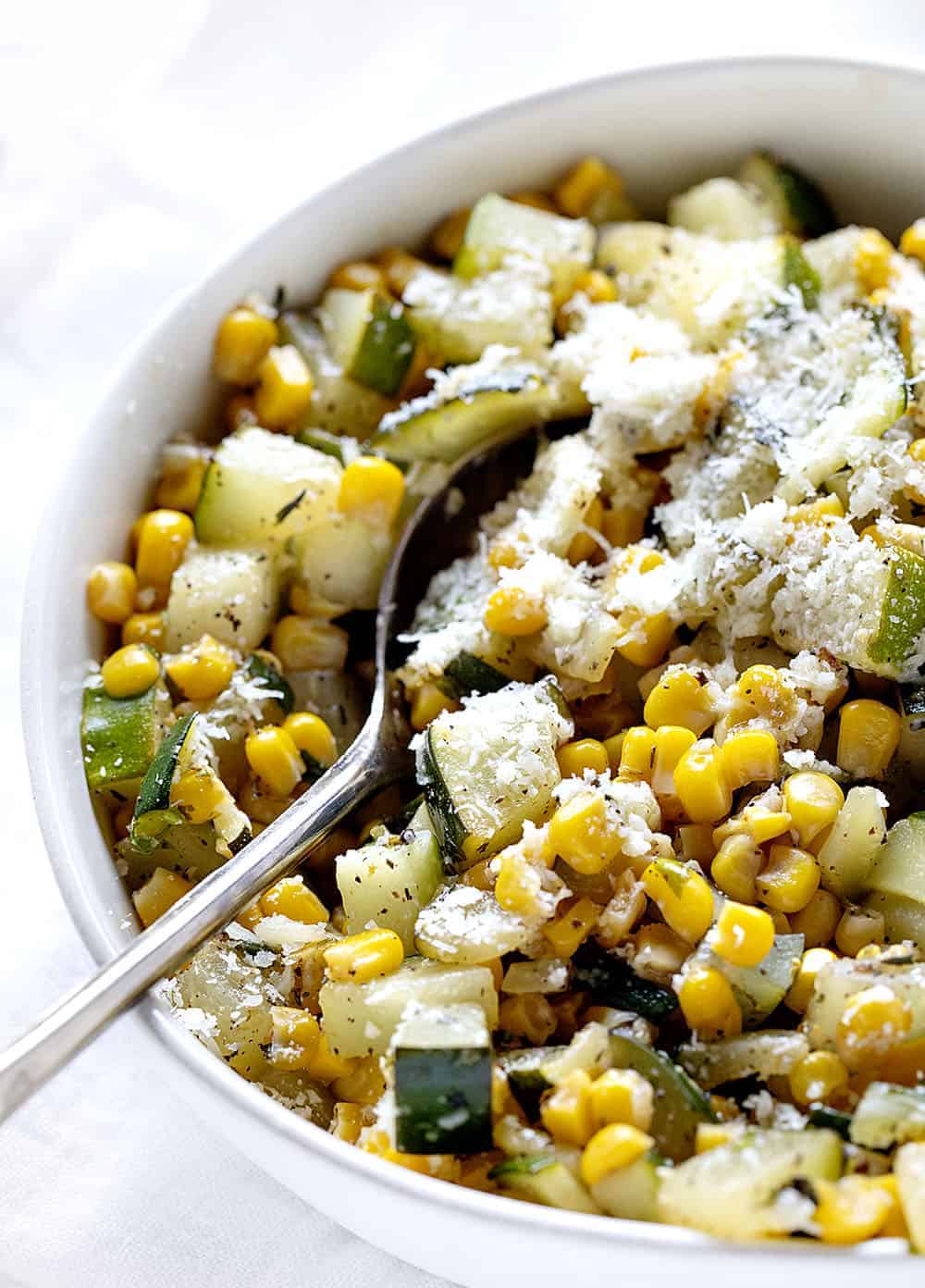 This Parmesan Zucchini Corn recipe is one of the comforting recipes for Mothers Day dinner ideas. This is a cheesy yet creamy recipe. It will awaken your taste buds. It takes only 10 minutes to make. Which is very quick and easy for us.

My mother is very picky about food.  Mother loves any recipe with vegetables. Mother does not like fish or meat. So I try to make interesting recipes for mom with vegetables. Instead of eating boring boiled vegetables, I want to feed Mom interesting food.  Mother is happy and appreciates any food I cook. I am also very motivated. I am looking forward to surprising Mom by making this Parmesan Zucchini Corn recipe. The best part of this recipe is that it is vegan and gluten-free.  So what are you waiting for? Get started!
Get it here.
---
17. Pesto Zucchini Noodles With Tomato Bursts
How is the summer?  Now is the time of prolonged sweating which no one likes. I spend days imagining winter now. Eat healthy to keep yourself and your family healthy this summer.  And, eat home-cooked fresh and light meals or Mothers Day Dinner ideas that your mother will love to eat. Serve these light meals in fun or new ways. It will be good for both your stomach and mind. Among today's treat ideas, this Pesto Zucchini Noodles With Tomato Bursts recipe is one of the most delicious and healthy dishes. 

Although this recipe is made with zucchini, it will become a favorite with kids because it is a zucchini noodles recipe.  Yes, you got it right.  It's zucchini noodles.  It is so healthy and nutritious that it is perfect for weight loss.  Many people are health and weight conscious so they can't eat noodles and pasta guilt free. For them, today's Pesto Zucchini Noodles With Tomato Bursts recipe is a super duper hit recipe. It's really amazing hearty food.
Get it here.
---
18. Slow Cooker Cranberry Brisket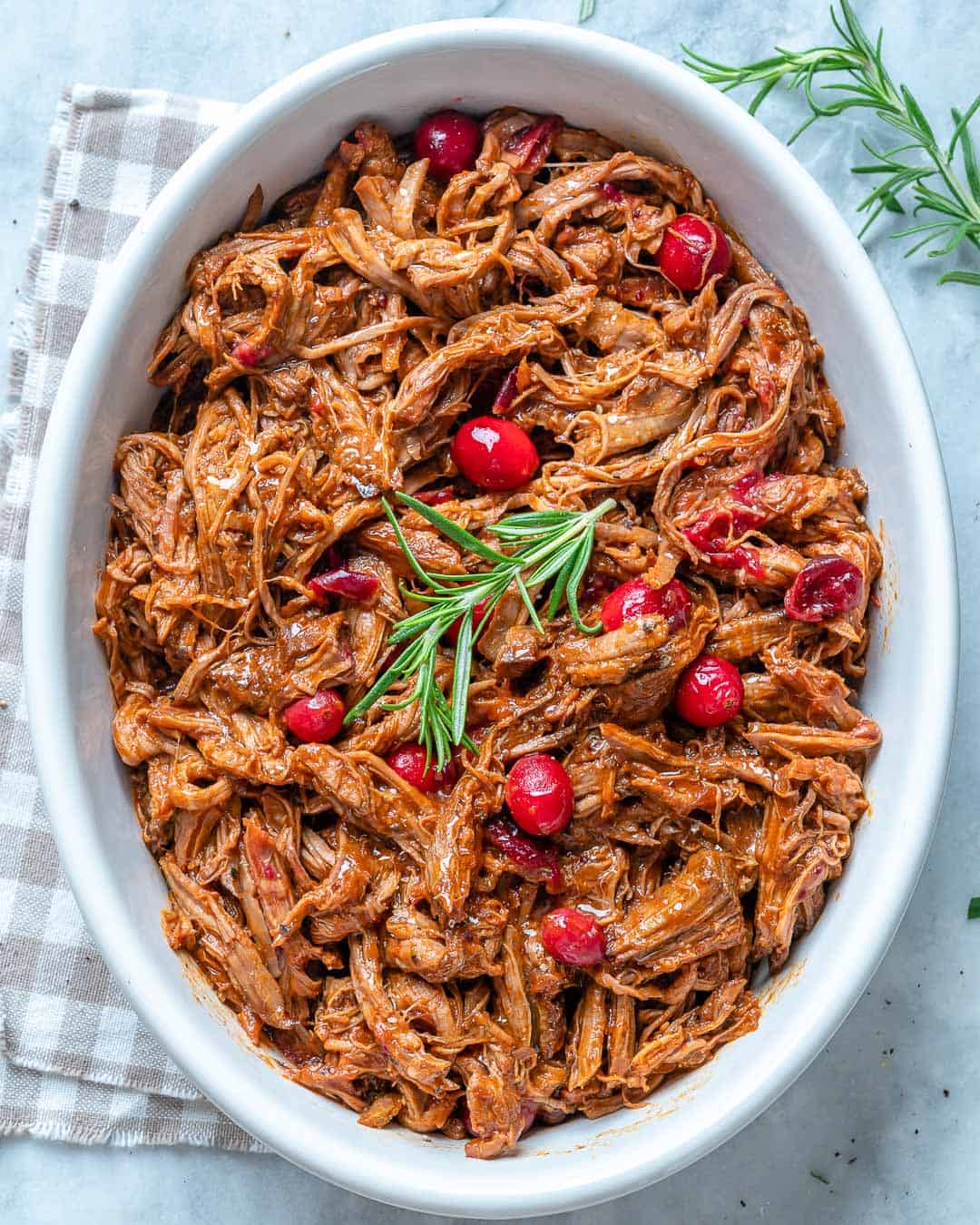 Do you want to give your mom a great surprise this Mother's Day!  So make a good plan. You spend beautiful moments with your mother. I have planned to decorate our garden with Mom's favorite flowers and decorate the table with Mom's favorite recipes, Mom's favorite Evergreen Punch, and gifts. What did you plan?

This Slow Cooker Cranberry Brisket recipe is great for holiday ideas. So I make this type of recipe only on holidays. My mother likes this type of recipe very much. However, she has not yet tried this Slow Cooker Cranberry Brisket recipe. So I want to make this recipe myself and feed it to her. This is a wonderful-tasting dish, I am sure my mom will love it.  This delicious recipe is made with cranberries, onion soup, cranberry sauce, beef brisket, etc. It looks luxurious and is a dish full of flavor.
Get it here.

Have you ever try high protein slow cooker meals for meal prep?
---
19. Winter Pear, Pomegranate & Swiss Salad with Poppy Seed Dressing
This Winter Pear, Pomegranate & Swiss Salad with Poppy Seed Dressing recipe is one of the gems of treat ideas. This is a healthy, nutritious,, and flavorful salad recipe.  We try different salad recipes, they are very simple, but this is amazing, unique and modern. It will wake up your taste buds by overcoming the monotony of your taste buds. It's a showstopper for any party.  

I had it for the first time at a friend's birthday party.  This is a great tasting salad and really unique in taste. This recipe is very easy and quick to make and this gluten free salad is ready in just 20 minutes. The healthy ingredients used in it are also great especially pomegranate, lettuce, mustard, apple cider vinegar, swiss cheese etc.
Get it here.
---
20. Roasted Herb Butter Chicken and Orzo 
Roasted Herb Butter Chicken and Orzo in one skillet make the ideal cozy meal. Seasoned chicken that has been pan-seared in a herbs buttery gravy-like sauce. Using just ONE skillet, prepare the chicken and orzo noodles for a complete meal. Here, a little curry powder is key.

This chicken and the orzo supper gets a really great, deep flavor boost from it. One of those Mothers Day Dinner ideas that all individuals at the dinner table will genuinely enjoy. Excellent for weeknights but yet elegant enough to serve at your upcoming holiday meal. With this hearty skillet dinner, you can't go wrong. Oh, and don't forget to provide crusty bread for slathering on the additional sauce.

It is as healthy as it is scrumptious. This recipe can be consumed by people of any kind of age. I learned this recipe from my aunt. It is my mother's favorite dish so I learned it. I will surprise my mother.  Mom loves anything I make, especially this roasted herb butter chicken and orzo.
Get it here.
---
21. Finger-licking delicious roast turkey breast
You can immediately begin bidding dry turkey meat farewell with the help of this recipe. Despite trying to cook a full bird, roasting the breast of a turkey is a simple method to savor the meat. There is more than enough turkey breast for a group of 6 to 8 persons. These amazing tasty Mothers Day Dinner ideas are the perfect meal to celebrate this day.

The roasted breast of turkey is covered in a mouthwatering spicy rubbing and a marinade of garlic, lemon, and butter to produce the most ideal, luscious breast that has a golden brown exterior. But let's not forget that bringing is the quickest and surest approach to acquiring juicy turkey meat. Yes, the spices, butter, juice, and garlic enhance the flavor, but without the water, the meat will never be truly moist and seldom dry.
Get it here.
---
You may Like These Meal Ideas:
Mini Desserts
Mini Bundt Cake Recipes
Valentine's Day Cocktails
High Protein Snacks
Holiday Cocktail Ideas
Pantry Recipes
Spring Vegan Meals
---
If you like this article about Mothers Day Dinner Ideas, share with your friends or families on Facebook, Twitter, and Pinterest. Choose your favorite recipe and make it at home, let me know which is your best recipe in the comment. Also, you can subscribe to my blog to get all the latest updates first on your mobile.
---
To make these recipes for later, SAVE this pin on your favourite Pinterest Board