Since childhood, I have been obsessed with cookies as a form of snack, it goes so well with any kind of hot beverage and even with some cold ones. I remember how much I used to adore sandwich cookies that are perfectly layered with a spread of cream in between the cookies; how much I used to love jimjams, bourbons, Oreos, and so many other cookies. But growing up, I decided to ditch the store bought cookies and make my own cookie recipes instead.

I need at least 5-6 jars of different flavors of cookies in my pantry that I can snack on for at least a week. Today I'm going to share with you some of my hit snack ideas that you can make for the upcoming Thanksgiving and Christmas as well! Some of them are pistachio pudding cookies, cookies & cream cookies, brownie cookies, sea salt butterscotch pretzel cookies, white chocolate oatmeal cranberry cookies, lemon shortbread cookies, cookie monster cookies, red velvet chocolate chip cookies, 5-ingredient raspberry cheesecake thumbprint cookies….. Head to my blog and grab 'em all!
---
21. Easy Sugar Cookie Recipe
The best and simplest form of cookie is a sugar cookie. These cookies are perfect snack ideas for Christmas. You can mold these cookies to any shape and bake them. They come out perfect every time! I used icing to make beautiful designs over my sugar cookies that are shaped like Christmas trees, stars, snowflakes, and candy canes. 

For the cookie dough, you have to mix together Butter, Sugar, Egg, Flour, Baking powder, and Salt. The icing that we'll be using for our sugar cookies includes Powdered sugar, Milk, Vanilla extract, and Food Coloring. The food coloring is absolutely optional but we used it to make our cookies look prettier as we were opting to make Christmas-themed cookies.
Click here.
---
20. Pistachio Pudding Cookies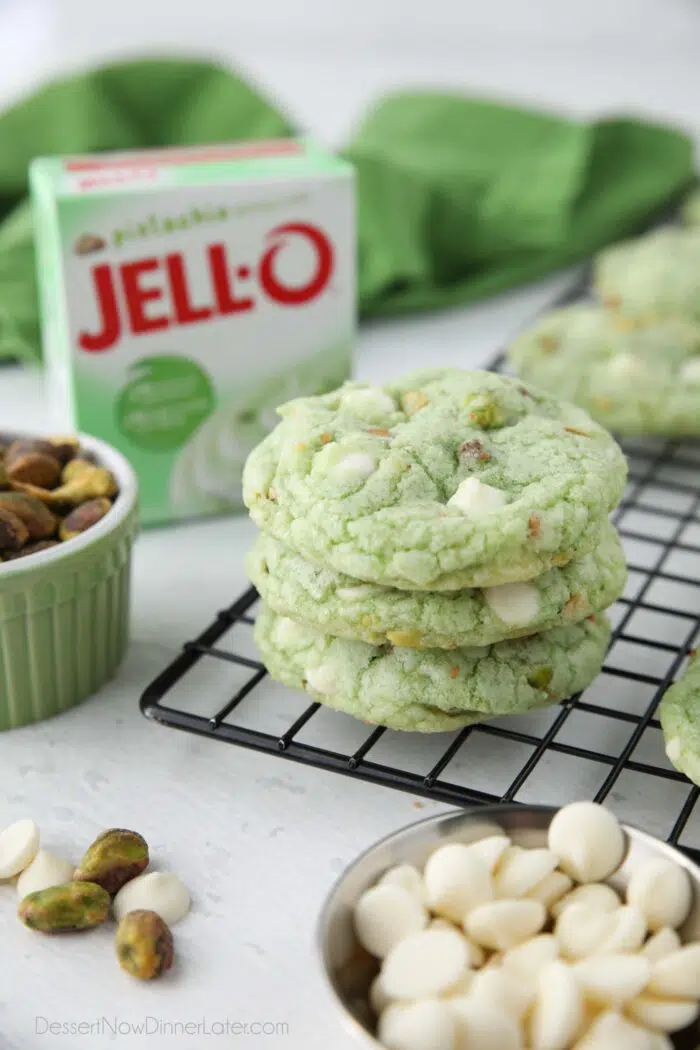 My overflowing love for pistachio cookies landed me baking these absolutely scrumptious pistachio pudding cookies. As I was going through my cookie recipes to choose snack ideas for Thanksgiving while having a bowl of pistachio pudding, it suddenly occurred to me, why not make a cookie out of my favorite dessert?

And there I was, trying and testing all the ingredients for my all-new cookie recipe! These cookies are absolutely adorable and are made in just 20 minutes! The combination of softened salted butter, Pistachio Instant Pudding, white chocolate chips, and crushed pistachios make these cookies a super hit. Bake these awesome pistachio pudding cookies for your Thanksgiving and these will leave your guests in awe!
Click here.
---
19. Cookies & Cream Cookies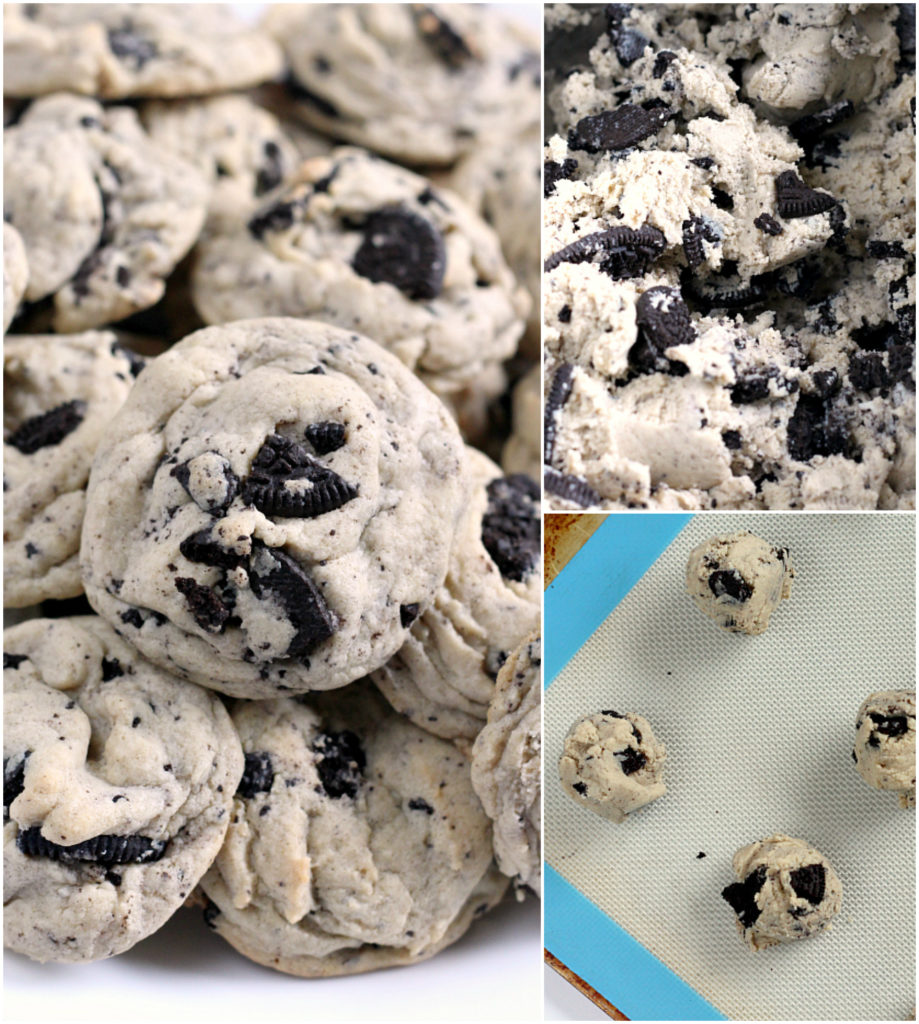 When I was in college, I took my grandma to a cafe. She had never been to a cafe before but longed to go to one someday. And as she shared her desire of going to a cafe with me, I instantly decided that I'm going to give her a treat from my pocket money. So I used to save my lunch money every day. Finally, I took her to a cafe where we had a cappuccino and cookies and cream cookies. These cookies were huge and my grandma and I totally fell for them. So this Christmas, when she hangs her socks for Santa to ask for a gift, I'm going to fill it up with my handmade cookies and cream cookies. I'm certain that she'll be so surprised and glad.

So let's quickly see how to make these amazing cookie recipes. These cookies are loaded with white chocolate chips and chunks of Oreo cookies. These thick, chewy, and creamy cookies are what dreams are made of! We will be using both light brown sugar and white sugar for this recipe. Butter, Cream cheese, Oreo chunks, and White Chocolate chips make these cookies amazing snack ideas for Christmas.
Click here.

Get these easy Shredded Chicken recipes here.
---
18. Brownie Cookie Recipe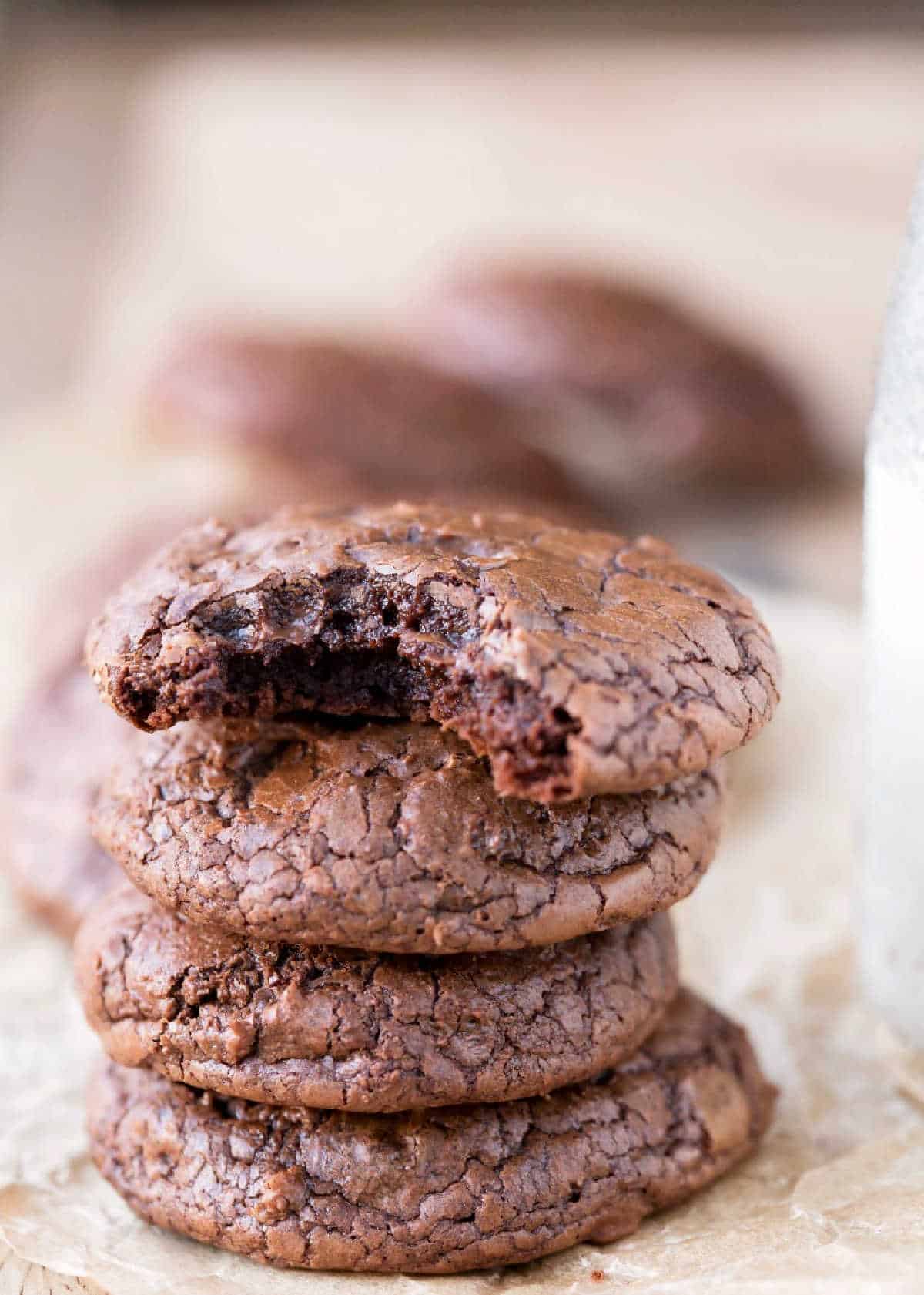 When I started my home bakery, the first thing I sold were these amazingly chocolatey, fudgy, and chewy brownie cookies. I am a huge brownie lover and if you too are a brownie lover like me, you gotta try these brownie cookies. You'll absolutely adore them. Craving for something chocolatey? Make these soft and fudgy chocolate brownie cookies that will take you just 20 minutes. It can be whipped up in just one bowl, then you just freeze and bake!

All that goes into these fudgy brownie cookies are all-purpose flour, salt, baking powder, melted unsalted butter, cocoa powder, coffee or espresso powder, granulated sugar, brown sugar lightly packed, room temperature, and semisweet chocolate chips. Whip, bake, and indulge in chocolate heaven! Follow my blog to get more cookie recipes and snack ideas that will leave you flabbergasted!
Click here.
---
17. Best Peppermint Oreo Crunch Cookies Recipe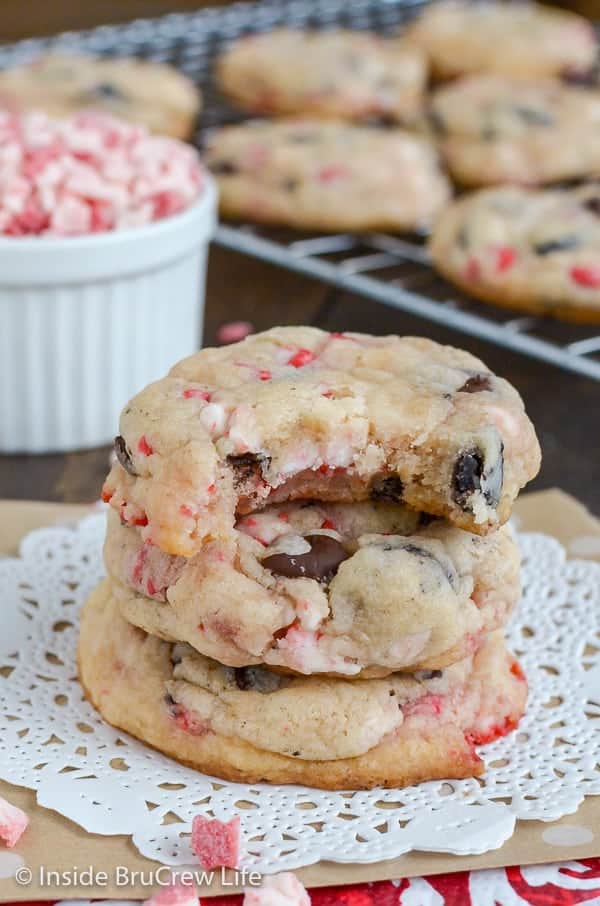 This Christmas, treat your dear ones with the best peppermint oreo crunch cookies that will melt their hearts. I love to add peppermint to my desserts. They taste delicious as well as give a sweet decoration to your desserts. These cookies are really the sweetest snack ideas for Christmas. 

If you saw the cookies and cream cookies recipe on my blog, then there'll be no issues with making these cookies. This cookie can be made just like the cookies and cream cookies, just replace the white chocolate chips with peppermint chips and ditch the cream cheese and follow the entire recipe to the cookies and cream cookies. In just about half an hour, these cookies will be all set to boggle your mind!
Click here.
---
16. Coffee Cake Cookies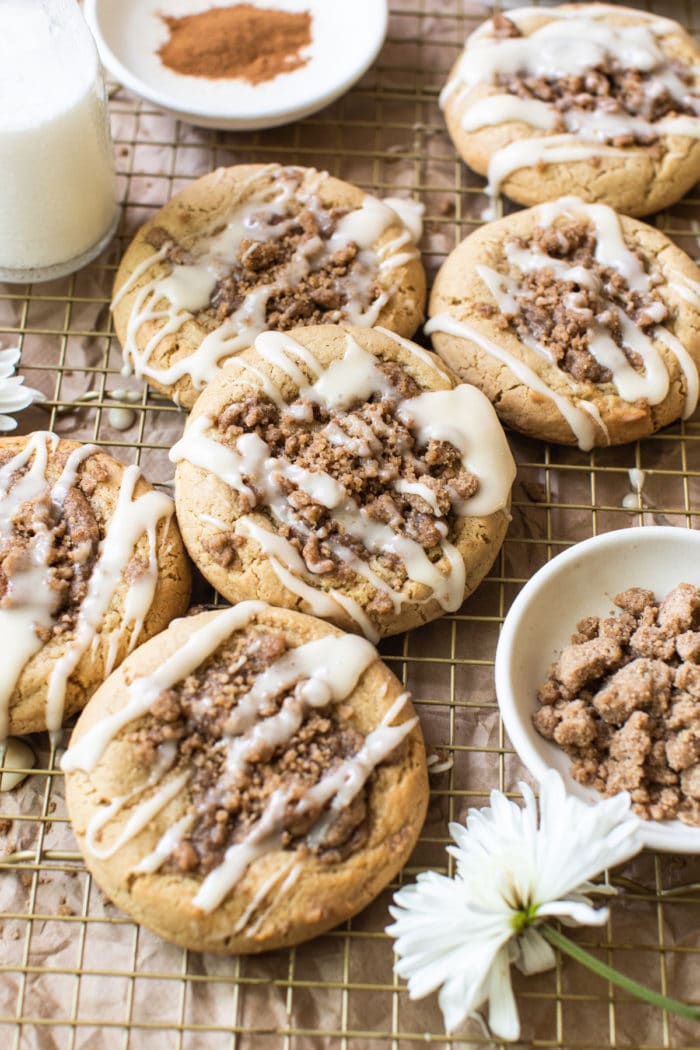 Knock knock! Who's this? Thanksgiving snack recipes! Welcome to the world of cookie recipes! Here's another cookie recipe that will be an absolute favorite with coffee lovers. These heavenly coffee cake cookies are a mashup of two of my favorite sweets. These cookies are created with a cinnamon sugar base, a buttery streusel filling, and a dusting of powdered sugar frosting on top.

Prepare to fall in love with your new favorite cookie as you enjoy it with a cup of hot coffee. The total time required for making these cook delicious cookies is just 25 minutes.  The Cinnamon, Brown Sugar, and Vanilla intensify the coffee flavor in these cookies and makes these cookies an out-of-the-world delicacy! Make these cookies for Thanksgiving and feed your guests with love!
Click here.
---
15. Sea Salt Butterscotch Pretzel Cookies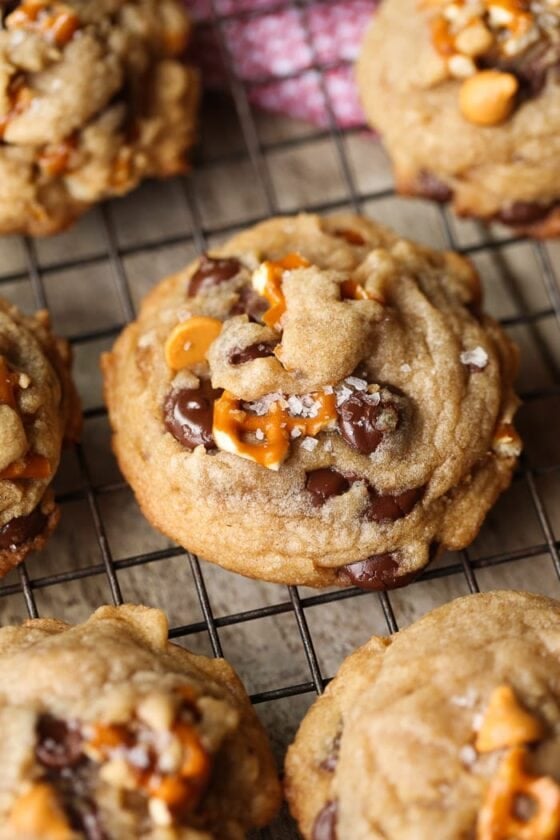 My newest salty-sweet passion is sea salt butterscotch pretzel cookies! The taste of these cookies is deepened by the brown butter, while the sweetness is maintained to perfection by the butterscotch and chocolate chips. This simple cookie recipe has remained one of the most popular cookie recipes. Yes, this simple cookie recipe is jam-packed with flavor, I realize.

You have cookie dough made with browned butter, chocolate chips, butterscotch chips, salty pretzels, and a bit more sea salt flakes. You don't even need to chill the cookie dough. Within 40 minutes, these cookies will glow on your counter. Share them with your loved ones and enjoy a hearty treat! And I welcome you in advance cause you are going to thank me for these amazing snack ideas I keep on providing you through my cookie recipes!
Click here.
---
14. Turtle Cookies
We are here to make the best turtle cookies from scratch for Christmas gifting and snack ideas. Speaking about turtle cookies sounds just as adorable as eating them. Chocolate, caramel, and pecans work so well together because they are simultaneously crunchy, rich, buttery, sweet, and nutty. The essential tastes of Turtle Cookies are baked into a melt-in-your-mouth brown sugar dough, making them even more opulent and decadent. Whatever your holiday customs, including Turtle Cookies will make them much more joyful!

It gives me so much pleasure and joy when I make handmade treats for my family and friends. So I never miss any occasion to feed my loved ones with treats that are handmade with love.
Click here.
---
13. White Chocolate Oatmeal Cranberry Cookies
I'll keep on showering you with my cookie recipes this festive season so you don't fall short of snacks to treat your guests for Christmas and Thanksgiving. So buckle up because you are going to have an exciting journey with me – a tour to the cookie town! White chocolate chips and dried cranberries are added to these simple, soft, and chewy oatmeal cookies. For the holidays, try these White Chocolate Oatmeal Cranberry Cookies!

These cookies are not only quick and simple to make, but they are also loaded with delicious ingredients. Even some chopped pecans may be added to these cookies for a little additional flavor. I'm telling you, you'll want to have this cookie recipe on hand for the holidays. You probably already have the ingredients for these oatmeal cranberry white chocolate chip cookies in your cupboard. What you'll need to create this recipe for oatmeal cookies is listed below: Butter, sugar, egg, all-purpose flour, baking soda, cinnamon, salt, and vanilla essence.
Click here.

You can try gluten free muffins for snacks on the go.
---
12. Lemon Shortbread Cookies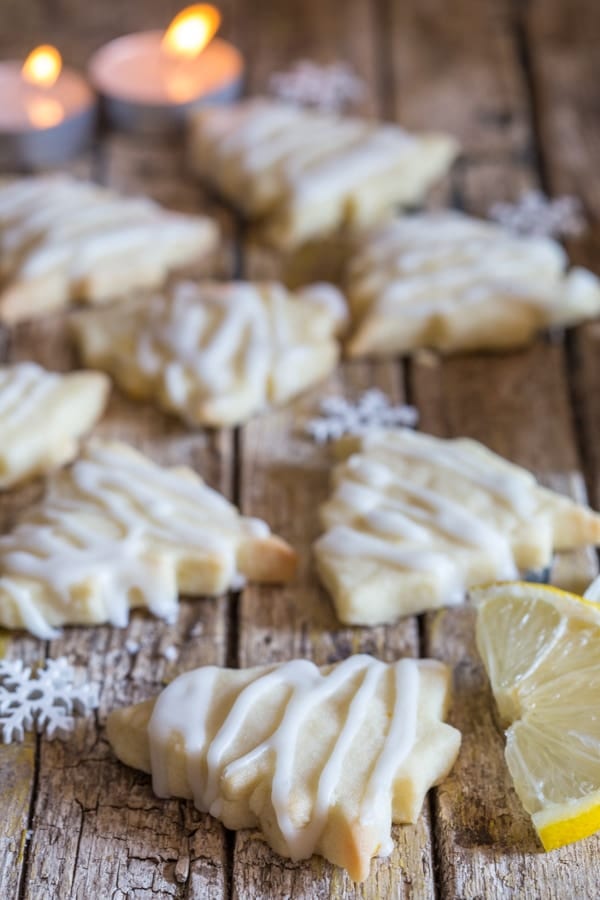 When life gives you lemons, make these lemon shortbread cookies! These lemon shortbread cookies are so worth your Thanksgiving snack ideas! Out of the zillion cookie recipes that I shared with you, these are the cookies that are so simple yet satisfying! These simple shortbread cookies, which are based on my traditional shortbread cookie recipe, just require a few basic ingredients that you probably already have in your cupboard.

When properly kept, the cookies last for weeks, and the dough may be made well in advance for instant treats. Additionally, they are fantastic all year round and go well with a cup of tea or coffee at any time. These buttery Lemon Shortbread Cookies are perfect for lemon lovers. These buttery cookies are the ideal melt-in-your-mouth treat when you're craving something somewhat sweet. The fresh lemon zest gives them a mild lemon taste.
Click here.

Find out these easy Back To School Lunch Ideas To Make here.
---
11. Cranberry Orange Cookies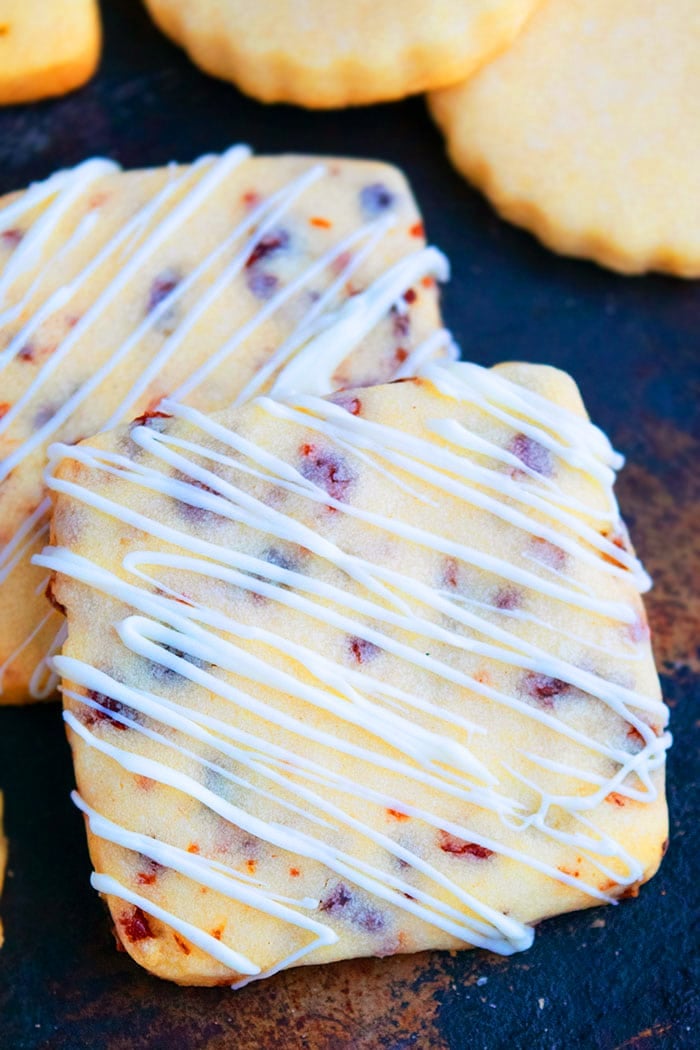 Get ready to be mesmerized by the fusion of cranberry and orange flavors in the form of these cookies. These Cranberry orange cookies are made with a fresh batch of oranges from my garden and dried cranberries. These cookies are perfect to adorn your trays at this Christmas Eve party. These cookies are really really close to being ideal. They have the ideal combination of softness and chewiness for a cookie. Additionally, the Christmas taste combination of orange and cranberry is fantastic. Both my family and the people we shared them with couldn't quit gushing over these cookies. And I adore how simple they are to create.
Click here.
---
10. Strawberry Butter Cookies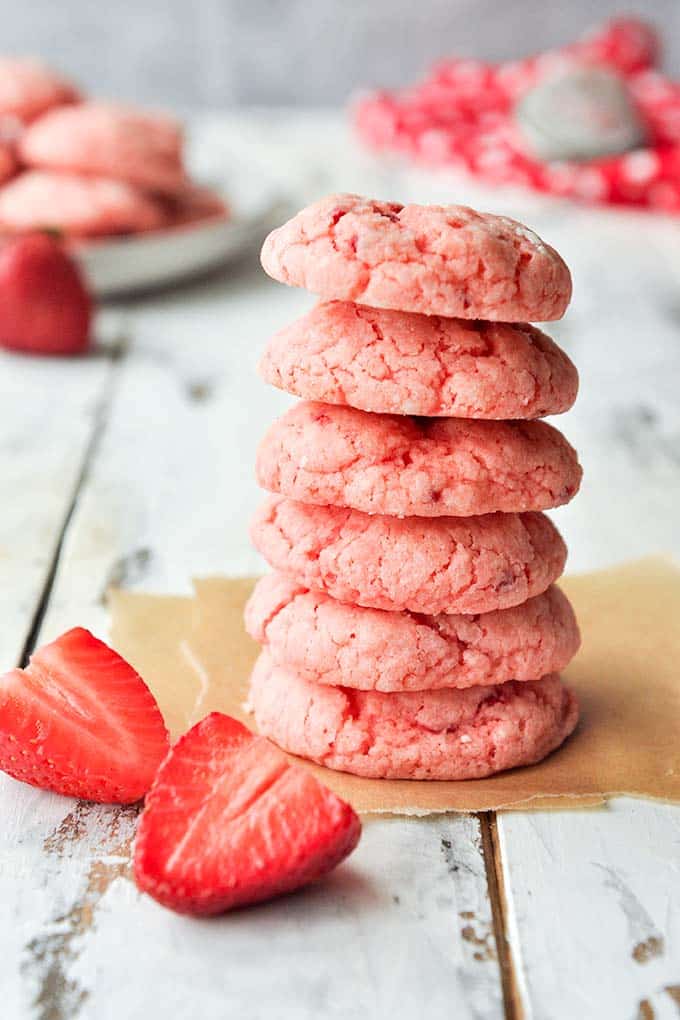 Remember I told you jimjam was one of my favorite cookies when I was a little girl? That love never seems to have faded along the years. The only thing that has changed is that now I bake my own jimjams! And that's such a proud and pleasing thing for me! My cookie recipes have never disappointed you, and neither will this one do. 

Here's my version of the Jim Jam – Strawberry Butter Cookies. They are quite simple to create, crisp, and light. Buttercream and jam are sandwiched between the cookies to create an incredibly stunning batch.  All the ingredients that you'll need to make these heavenly sandwiched cookies are – butter, sugar and flour. The frosting of these cookies is made with butter, icing sugar, jam, and cornflour.
Click here.
---
9. Cookie Monster Cookies
Here's a 25-minute cookie monster cookie recipe for the cookie monster inside you! These are amazing snack ideas for any occasion. They look extremely festive and are fun to make and eat! So why not make these cookie monster cookies for your Halloween or Thanksgiving party?

These Oreo-filled blue cookie monster cookies are crammed with chocolate chips, cookie bits, and other goodies. Making them enjoyable for both adults and children. Oreos, chocolate chip cookies, white chocolate chips, and chocolate chip chips are all combined in these cookie monster cookies, which are baked in soft and gooey cookie dough.
Click here.
---
8. Red Velvet Chocolate Chip Cookies
Red velvet is the other name for love and celebration. Imagine a dark red cookie with hints of white chocolate chip on top – doesn't it match the image of confetti falling on a couple in love? Celebrate this Christmas with love and make these red velvet chocolate chip cookies for your loved ones. The traditional buttery-sweet, the mild cocoa flavor of red velvet cake is present in these cookies, which are decorated with white or semisweet chocolate chips. Perfect for Christmas, the Fourth of July, Valentine's Day, or just because! These cookies have a strong taste reminiscent of the traditional red velvet cake. 

It can be hard to describe, but I picture it as sweet and buttery with a hint of cocoa that is delightful and uniquely its own flavor regardless of whether it lives up to the reputation of "chocolate." I will concede that adding semisweet chocolate chips to these red velvet cookies will unquestionably tilt the scales in favor of chocolate.
Click here.
---
7. 5-Ingredient Raspberry Cheesecake Thumbprint Cookies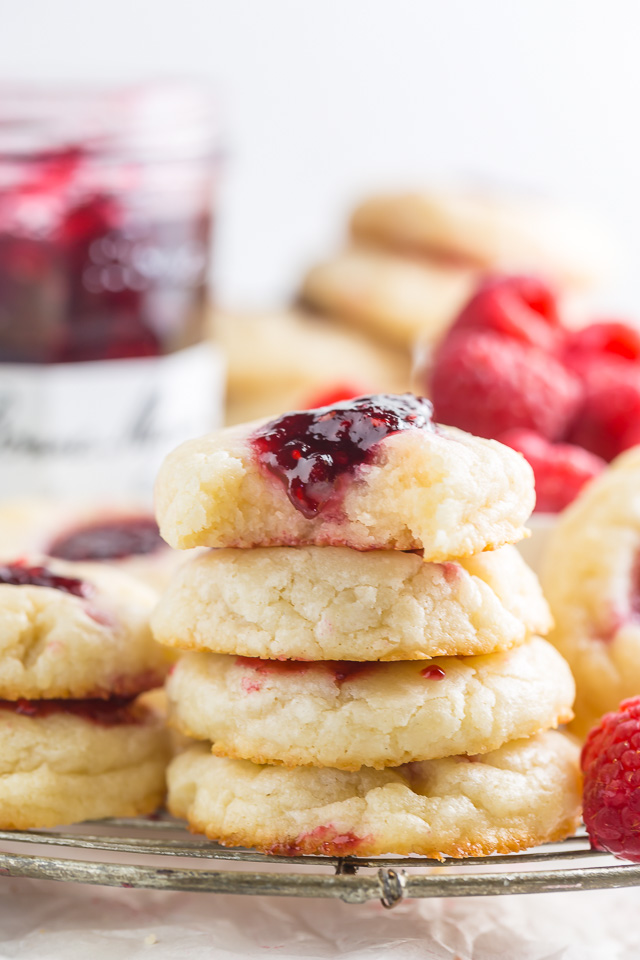 Up your festive season snack game with my amazing cookie recipes. Whether you are looking for snack ideas for Thanksgiving or Christmas, I've got it covered! These 5-ingredient raspberry cheesecake thumbprint cookies create magic in every bite! Cheesecake is one of my favorite sweets since it's lovely, rich, and creamy.

This cookie is like a simpler, lighter, and BETTER version of our traditional cake (and deliciously). To obtain the flavor and feeling of cheesecake, you don't have to consume an entire slice. Although that is also incredible. Basically, all you need for this recipe is cream cheese, butter, sugar, flour, and raspberry jam. All you need is a little time in your schedule if you have a few items. However, because the batter mixing takes only five minutes, the time is mainly idle. You next roll out the cookie balls and press your thumb down on each one. Bake them, then devour them!
Click here.

Get these tasty  Vegan Sandwich Recipes here for busy morning.
---
6. Chocolate Dipped Churro Shortbread Cookies
Chocolate and churros are a match made in heaven. I love snacking on churros with chocolate sauce whenever I'm reading or doing Netflix and chill! But then I thought of innovating this combination to make my cookie recipes for Thanksgiving and Christmas. And here they are… This simple cinnamon cookie recipe for Chocolate Dipped Churro Shortbread Cookies contains all the characteristics of traditional churros, including the luscious chocolate dip!

Include it in your selection of Christmas cookies this year. I adore how the crunchy sugar, creamy chocolate, and flaky, crisp cookies go together! These biscuits are perfect for you if you enjoy churros with chocolate dipping. These cookies are made using a straightforward shortbread recipe that contains two full tablespoons of ground cinnamon. Turbinado sugar, which I like for its flavor and texture, serves as the sparkling sweet coating. You may also substitute any form of raw, larger-crystal sugar or, in a pinch, ordinary sugar if you don't have any.
Click here.
---
5. Shortbread Blossoms
These shortbread blossoms are not only amazing snack ideas but they will deck up your plates on Christmas and give you a gentle reminder that it's Christmas! Melt-in-your-mouth, delicate These shortbread blossoms are created by topping shortbread with a Hershey's kiss. 6 ingredients total! The ideal Christmas cookie may very well be shortbread blossoms!

They just have six ingredients and are really simple to make, but the end product is amazing. Shortbread that is soft and flaky dissolves in your tongue, and a sweet Hershey's kiss completes the dish. Your children will adore helping you create this cookie since they will love adding the kisses to the top! I rolled the dough balls in sprinkles and coloured sugar before baking to give these cookies a more festive appearance.
Click here.
---
4. Chocolate Almond Biscotti
Make your Thanksgiving snack ideas better with my cookie recipes. Make this chocolate almond biscotti as a hearty holiday treat for your family and friends. This classic Italian chocolate biscuit is made with whole roasted almonds and is often referred to as a biscotti or cantucci in Italy. A real treat for the holidays.

Did you realize that the crunchiness that makes these Cantucci so renowned comes from honey? More honey means more crunch. However, I believe that you just need a teaspoon or a teaspoon and a half. These cookies, which are originally from Prato in Tuscany, are typically eaten with Vin Santo, an Italian dessert wine. However, we like them dipped in plain wine or strong espresso. Alternatively, why not double their chocolates by dipping them in melted chocolate?
Click here.
---
3. Orange Creamsicle Cookies with White Chocolate Chips
I spent one year's Christmas trekking up the mountain on a winter morning.  I missed a lot of people, but I had a very different Christmas.  Mountains, winter mornings, and some loved ones.  The story of roasting food by lighting a fire on many winter nights.  I want a few more holidays like this.  The mountains are my favorite place.  Earlier, whenever I got college left, I used to go to the mountains, I used to go trekking.  Whether mother packs anything else or not. 

Mom never forgot to pack her homemade cookies.  Orange Creamsicle Cookies with White Chocolate Chips I have eaten these cookies sitting on the mountain, but I have to thank my mother for this.  Mom also takes care of my diet now. These cookies are soft and cheesy and chocolaty. Orange cake mix, cream cheese, white chocolate chips, and orange extract are added. These cookies are moist, and soft like cakes but do not crumble.  Each bite of these cookies has a hidden treasure of flavor.
Click here.

Make these amazing Christmas Breakfast Recipes for celebrating.
---
2. Perfect Apple Pie Cookies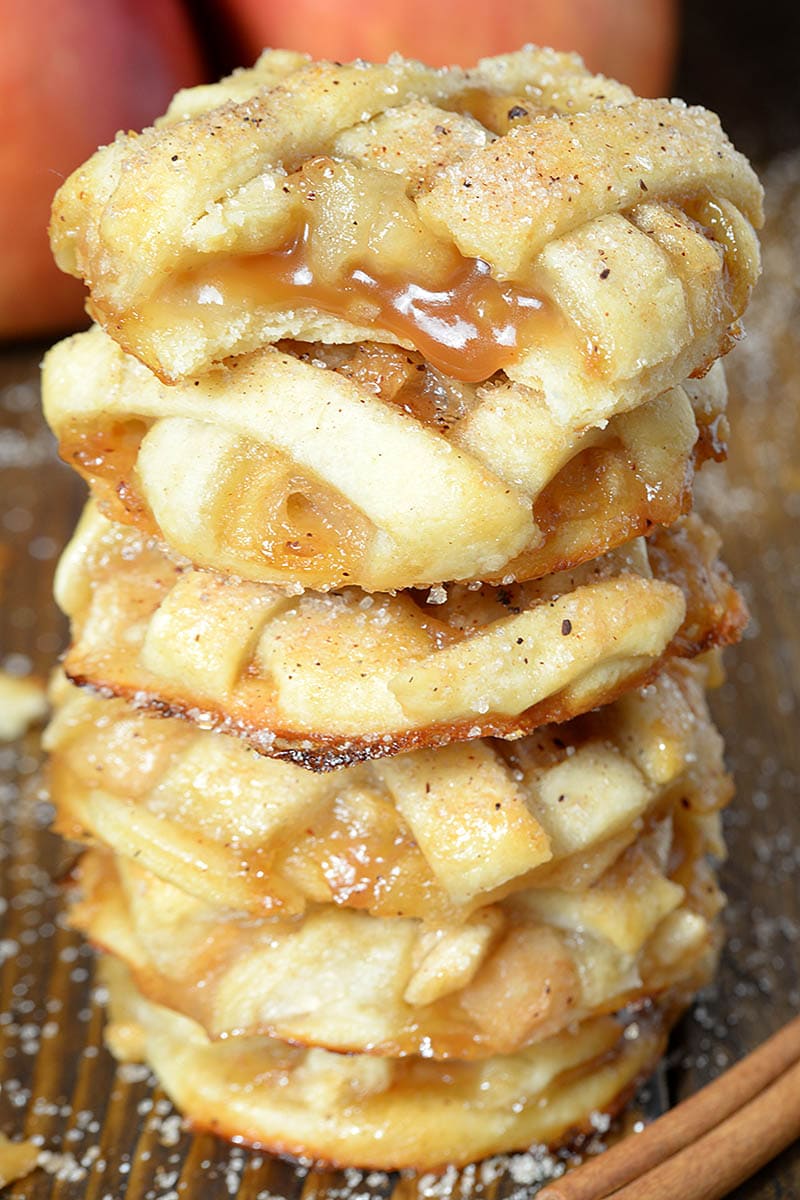 Perfect Apple Pie Cookies are truly your Christmas party favors. When you have them on your plate, you will know that Christmas is here.  But these cookies are not made like that on a daily basis. Cookies are rarely made without a celebration. So, when many kinds of cookies are prepared at home, it seems that the festival has really arrived.

These cookies are very soft and crunchy on the outside. You can enjoy the juicy taste inside by taking a bite of it. The sticky texture of apples and brown sugar makes for a wonderful taste, which you can tell when you bite into these cookies. It wouldn't be an ideal Thanksgiving party without one of these cookies on Thanksgiving, would it?  The combination of caramel sauce and lemon juice will make you crave more. I am sure these cookies will add sweetness to your Christmas party or any festive occasion.
Click here.
---
1. Cinnamon Roll Cookies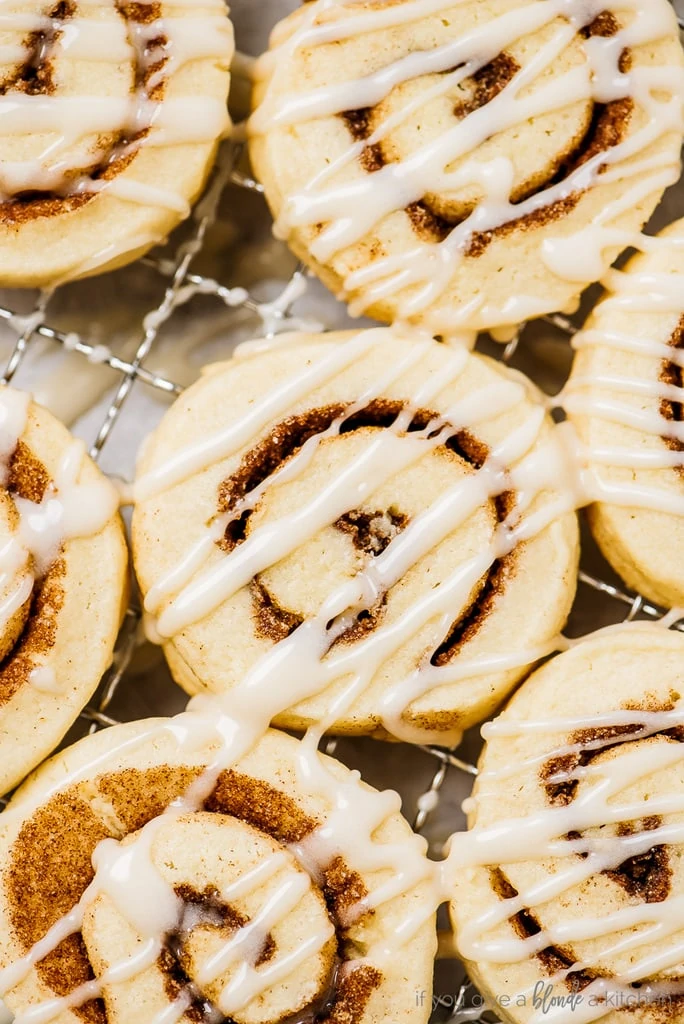 How can you not make cinnamon roll cookies for Christmas or any other holiday? But it is unfair! Yes, it will be unfair to yourself and the guests too. And I know you will never do this injustice. And when it comes to making cookies with cinnamon rolls, you don't miss this opportunity yourself.  Because this recipe is exciting.

The flavors of cinnamon and vanilla permeate the entire recipe. It's very thin, chewy, and soft but the funny thing is, despite being thin and soft, it doesn't lose its shape. It stays in the same shape until you put your appetizing bite into it. These Thanksgiving cookies are ready in 10 minutes, just  Leave them to cool for 2 hours. You can prepare this food in advance.  And enjoy the Christmas party without any worries.
Click here.
---
Bonus
White Chocolate Cranberry Pistachio Cookies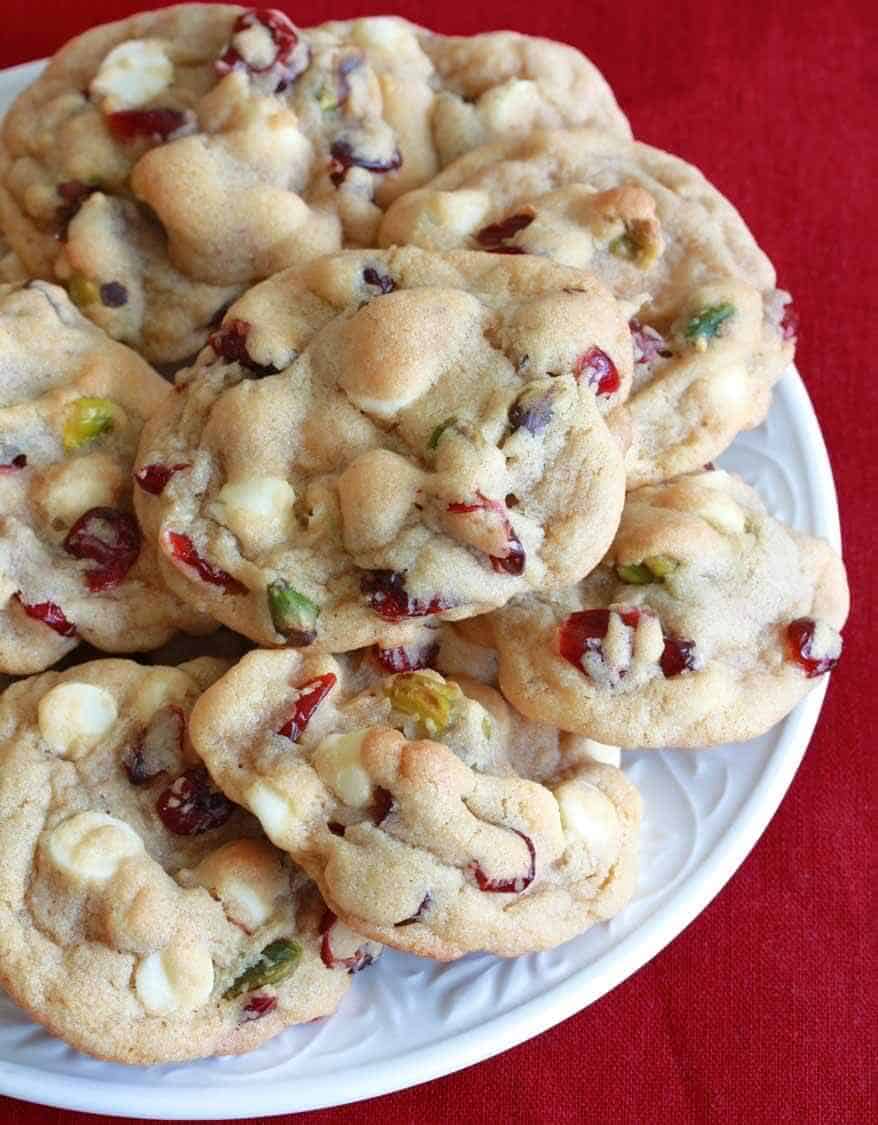 Cookie recipes made with pistachios, Christmas won't be on Thanksgiving it can't be. And again cookies made with white chocolate chips, brown sugar, dried cranberries, and pistachio nuts. These American cookies are ready in 20 minutes. These cookies are very colorful mixed cookies. Soft, brittle but not brittle. It is chewy in nature.  

Imagine the classic cookies that are on everyone's plate at Thanksgiving. It's really nice and comfortable. These cookies taste and look like standard cookies. You will get compliments from your guests for these cookies. I can say that for sure.
Click here.

Find out these Christmas Dinner Ideas here.
---
Frosted Fruity Pebbles Cookies
Are you a cookie lover like me? If so, then this Frosted Fruity Pebbles Cookies recipe is going to be your favorite. This Thanksgiving treat is a colorful cookie. Marshmallow cream, cream cheese, pebbles cereal and fruity make these cookies delicious. These 40-minute cookies or snack ideas are crumbly, and tender, but won't lose their shape before biting into.  They're the shining star of your Christmas.  Which wins everyone's heart.  You will be prompted for this cookie, as it will disappear very soon.
Click here.
---
Mint Chocolate Chip Cookies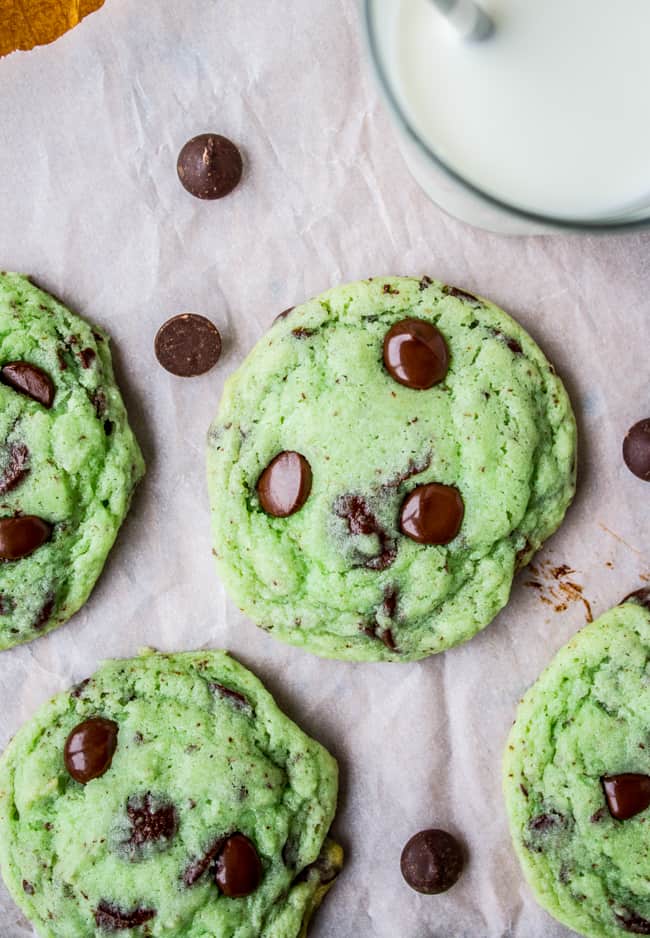 Mint chocolate pudding cookies are an incredible dessert that can be made very easily. By using pudding mix, mint extract, and chocolate chips. Make these awesome cookies in just a few steps. Ingredients we need for this recipe – 1 cup sugar, butter, egg, sour cream, vanilla pudding mix, salt, baking soda, extract, mint, flour, and some chocolate chips. It is very delicious to eat and your kids will also eat it very happily. To make children happy, this food is a suitable recipe. You need just 20 minutes to make it. It is the same cookie recipe and also will be baked in the same way. First, we have to make the dough for the cookies and then place it in the baking oven, it will need just 10 minutes to be made. Make these buttery yummy cookies and enjoy them with your family.
Click here.
---
Banana Oatmeal Chocolate Chip Cookies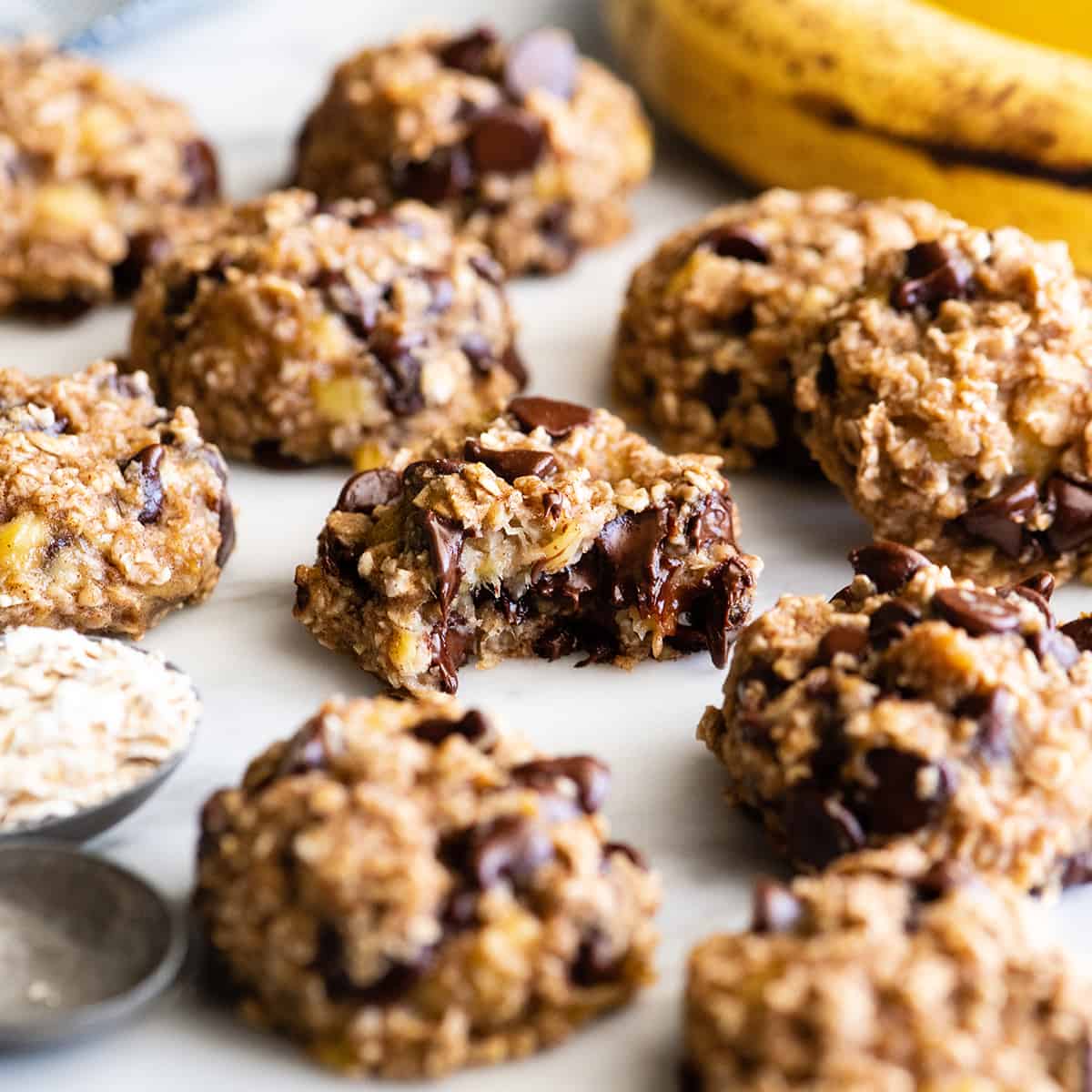 The doctor told my husband to eat oats. It is said to have high fiber to increase digestion power. I went after him almost every day with oatmeal, but he failed me every time. Then one of my neighbors told me this idea. Angel told me about its entire procedure and materials.  Then one day I made these Banana Oatmeal Chocolate Chip Cookies and served them to my husband. I didn't expect to get this result, his plate was completely empty. They were very delicious.

I was surprised. Then I said it's made with oats, chocolate chips, brown sugar, and bananas. He told me with a smile that I really didn't think it was made with oats and bananas.  It was amazingly delicious. My husband is now sitting in one place eating oats cookies, and oats cake every day, and believe me he is having fun eating it.  That's why I put these amazing cookie recipes on Christmas and Thanksgiving.  Because it is delicious and healthy cookies.
Click here.
---
Chilled Crumble Chocolate Strawberry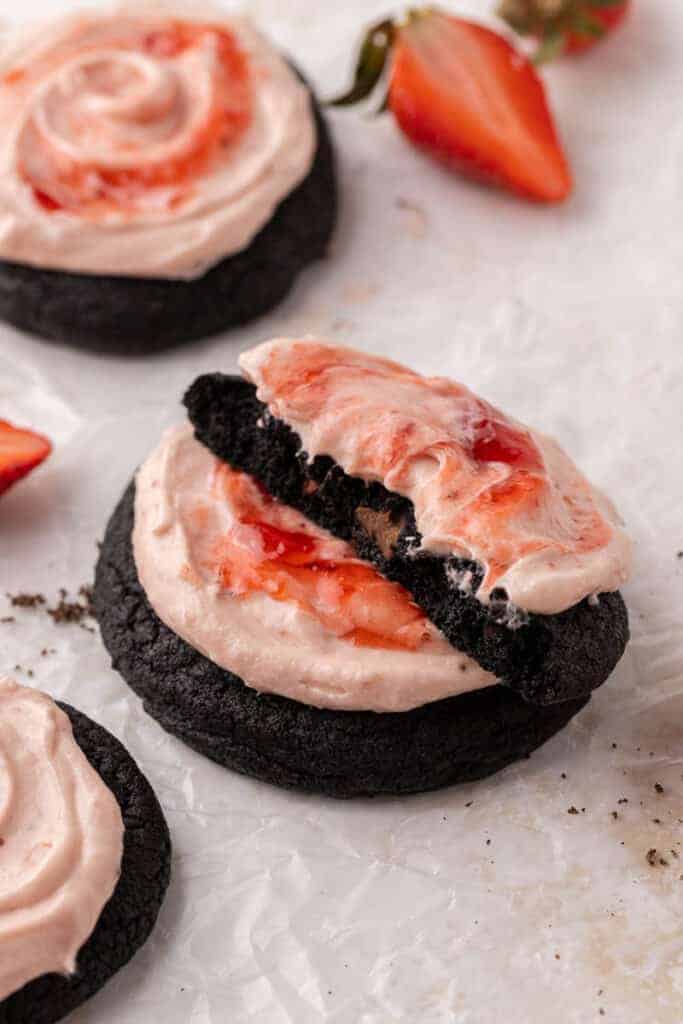 I added this recipe to Thanksgiving for myself.  Its classic look impressed me.  Its taste is different.  It's moist, tart, soft, and creamy. Strawberry jam, cocoa, chocolate chips and Oreo crumbs combine to make these cookies even more delicious. It's cheesy for cream cheese. The top is filled with jelly flavor.  This is one of your Thanksgiving treats.  It's going to be pretty dissed. I'm sure your guests will want to know your cooking secrets. I can imagine these beautiful cookies arranged on a white plate, I know it will be the first thing all the guests will notice on that plate.
Click here.

These Christmas Cake Ideas are best for celebrate Christmas.
---
Cheesecake Cookies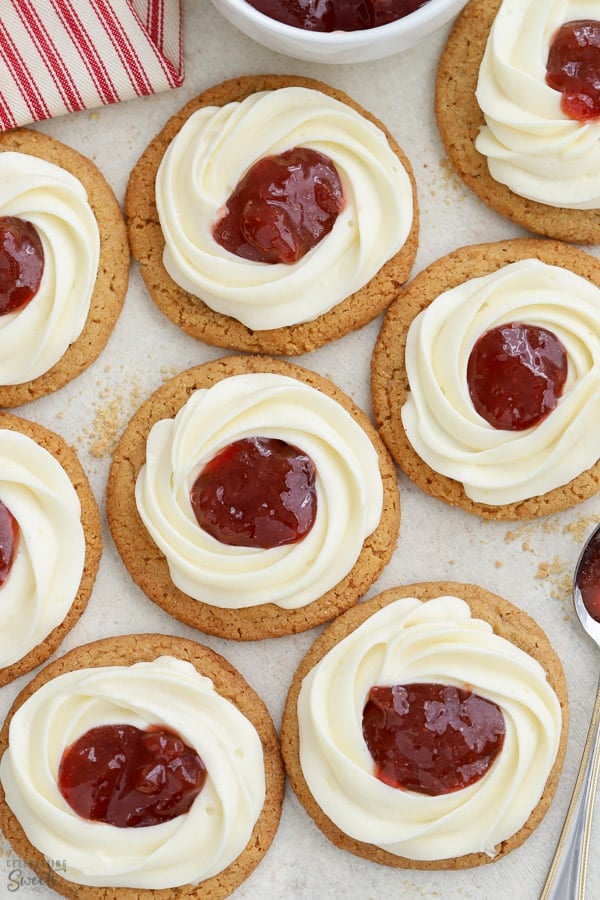 Nowadays cheesecakes are one of the latest trending desserts. And its amazingly delicious taste won everyone's hearts. So, I thought of making something new and different using cheesecake. After thinking a lot about it, I made cheesecake cookies. And trust me, this was a super hit recipe. After having one bite of it, I was amazed very much. Do you wanna taste those cookies?

Let's go to your kitchen and begin. Ingredients for making the recipe are full-fat cream cheese, butter, granulated sugar, eggs, vanilla extract, all-purpose flour, baking powder, and powdered Sugar. This recipe needs 10 minutes for preparation and 10 minutes for baking. After finishing the baking process, garnish it with some powdered sugar. Now, your creamy and tasty cheesecake cookies are ready to eat. Grab it fast and feel a magical taste in your mouth. Make these easy cookie recipes on your weekend for your friends and family.
Click here.
---
You may Like These Meal Ideas:
Halloween Appetizers
High Protein Snacks
Halloween Dinner Ideas
Christmas Appetizers
Brie Cheese Appetizer Recipes
 High Protein Meal Prep Recipes
One Pot Dinner Recipes
Low Carb High Protein Recipes
No Bake Christmas Desserts
High Protein Vegan Meals
---
If you like this article about cookie recipes, share with your friends or families on Facebook, Twitter, and Pinterest. Choose your favorite recipe and make it at home, let me know which is your best recipe in the comment. Also, you can subscribe to my blog to get all the latest updates first on your mobile.
---
To make these recipes for later, SAVE this pin on your favourite Pinterest Board