As we heat up in summer, start eating only foods rich in high protein, fiber, good fat etc.  Our body needs a sufficient amount of protein and fiber, good fat as well as a lot of vitamins, calcium etc. That is why it is very important to add salad to our dining table every day. It is very important to eat this salad not only in summer but in all seasons or in all weathers.  Salads are very important for our good health.  Salad contains vitamin A, vitamin C, fiber, beta-carotene, phytonutrients. That's why I've brought you some of the best summer salad recipes. 

These salad recipes are cholesterol free, fat free, loaded with vitamins and provide extra hydration. Apart from this, these healthy recipes are very tasty and versatile. Along with that, meal prep is also very easy. There are no set rules for making these summer salad recipes. You can add whatever ingredients you like. Complete a nutritious salad for lunch or dinner with a variety of fruits, green vegetables and some dressing of your choice. These healthy recipes are discussed for you. I am sure you will soon realize their BENEFITS.
---
Benefits of summer salad recipes are discussed –
The benefits of summer salad recipes are so many that it is impossible to say or explain at once. Make them and be aware of the benefits yourself. Some of the benefits are discussed…
Salad contains a lot of vitamin A, carotenoids, and lutein which protect the health of our eyes. Helps to improve eyesight.
Salad with fruits and green vegetables keeps the heart healthy and protects it from various diseases. Keeps blood pressure under control.
This salad is also great for keeping the skin healthy. The collagen present in the body is regulated by the nutrients in vegetables.  These salads keep the skin fresh, clean, and smooth. One of the most important reasons to eat your salad is to remove dark spots and brighten your skin.
These summer salad recipes are a great source of fiber. Also, they contain various vitamins and nutrients. Salad helps our body develop a healthy gut.
Green leafy vegetables and fruits contain nutrients or properties that protect us from bad bacteria.
Salads control the level of cholesterol in your body.  The importance of these salad recipes in lowering blood sugar levels and helping us lose weight cannot be overstated.
---
1. Thai Mango Salad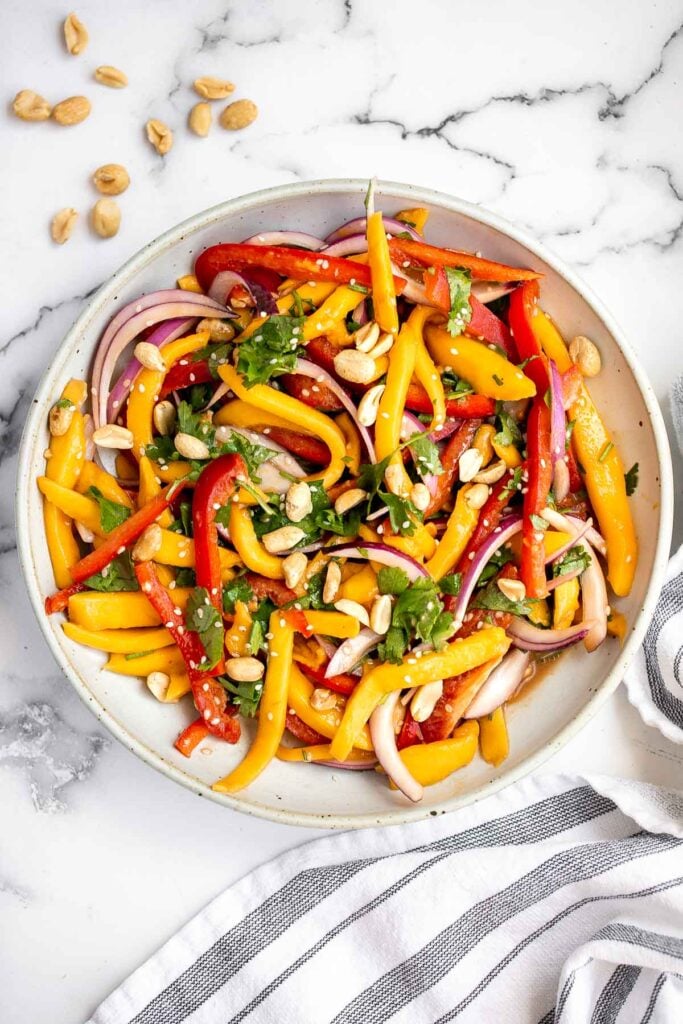 This Thai Mango Salad recipe is one of the best summer salad recipes. This super tasty nutritious salad recipe will work as an antidote for the body. What's better than this in the summer! My brother loves this salad recipe. I love to eat this salad in my brother's hands. Alex makes the salad perfectly. After checking everything according to the right amount and the benefits of the ingredients, then prepare the salad.

I learned from him to check the calories, carbs and fat, protein fiber etc. My brother is very health conscious, especially about weight.  He has no extra fat on his body and is so careful. I can't like Alex but I try to lose weight or keep it in balance. This salad recipe contains ingredients like mango, peanuts, bell pepper etc. which keep our body healthy all the time. It takes only 10 minutes to make this recipe. It is very easy to make. You can make this salad your daily friend. Take it. And enjoy its good qualities.
Get it here.

Must try these lettuce salads and spring salad recipes for meal prep.
---
2. Cucumber Tomato Avocado Salad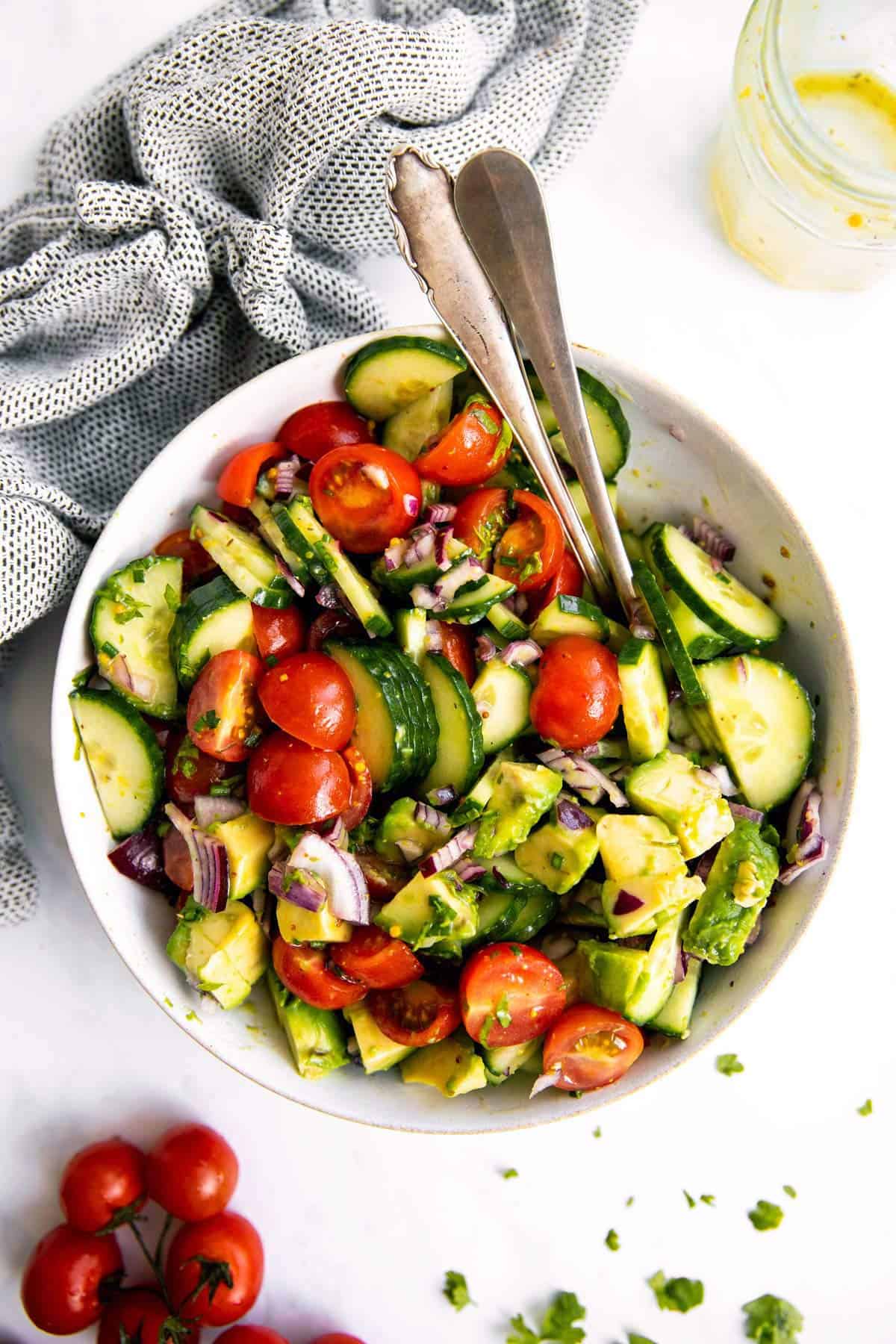 The summertime side dish of this cucumber, tomato, and avocado salad is easy and cooling. This salad is one of the best summer salad recipes ever thanks to the simple prepared vinaigrette and beautiful herbs! Regarding this dish, there isn't much I can say. Come on, people. This is a salad. The objects are chopped. You combine the mixture of ingredients. You mix everything up. Done. However, haven't we all had a nasty salad before? I undoubtedly have. Therefore, perhaps it IS worthwhile to record the dish for a very excellent salad after all?
Get it here.
---
3. Pineapple Cucumber Salad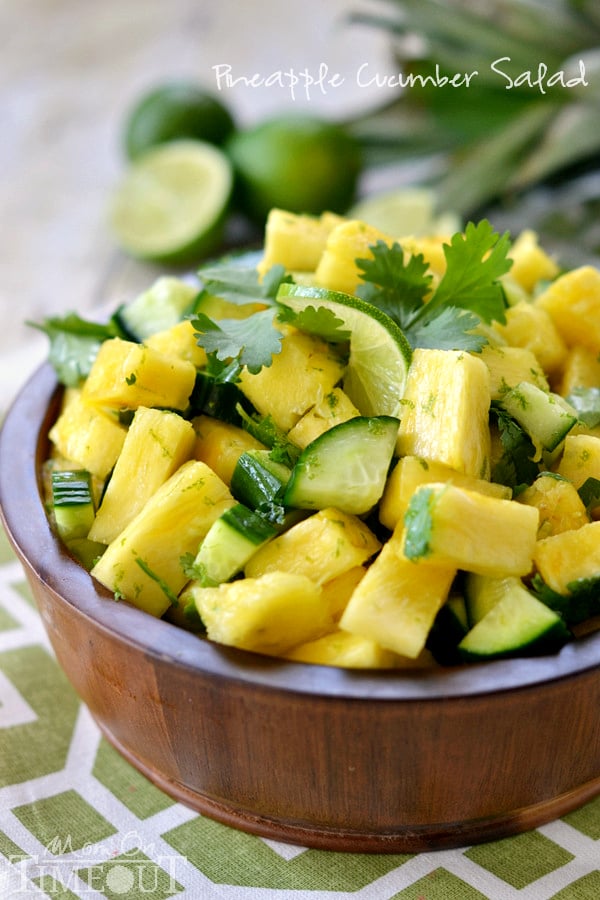 The best time to visit the beach is during the summer. This time of year is all about pool parties, backyard barbecues, and simply enjoying the lovely breeze! How I like the summer! We must maintain our bodies hydrated despite having pleasure in the hot weather. Consuming hydrating foods and beverages during this season includes watermelon, citrus fruits, cucumber, pineapple, and a variety of other fruits and vegetables. These meal preps are easy, quick and convenient. If you've observed, I occasionally try to incorporate and match those fruits. Thus, this straightforward yet hydrating salad was created. You'll undoubtedly enjoy the pineapple and cucumber combination, I believe!
Get it here.

Wanna try pineapple desserts for these summer days?
---
4. Summer Salad With Corn, Strawberries, Feta & Basil
This salad would taste like summer if the flavor were a thing! Corn, strawberries, avocado, tomatoes, cucumbers, feta, and basil are the main ingredients in this salad for the summer. Simple, nutritious, and so reviving! Fresh produce including strawberries, corn, tomatoes, cucumbers, and cucumbers are abundant in this summer salad. 

All of the healthy recipes are bursting with flavor and nutritional value because the majority of the components are fresh. Fresh produce, such as maize, tomatoes, cucumbers, and strawberries, are abundant in these summer salad recipes. Since the majority of the components are seasonally (and ideally locally farmed), anything just screams with flavor and nutritive deliciousness.
Get it here.
---
5. Fresh Watermelon Arugula Salad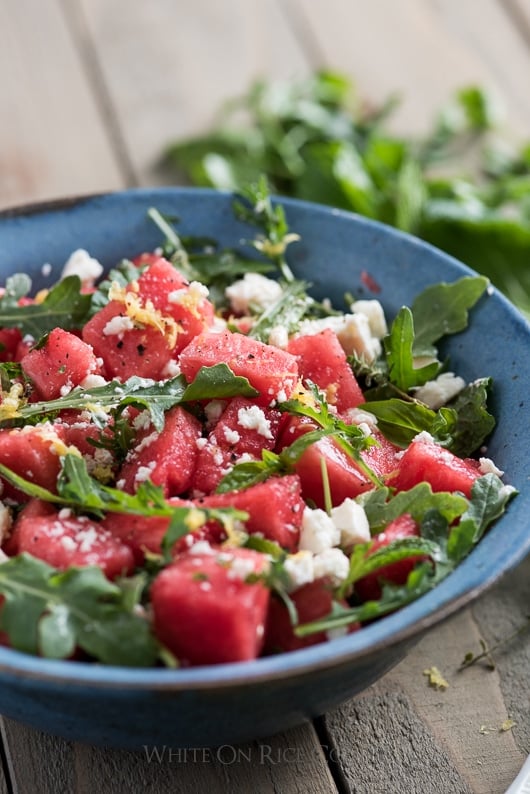 This rocket watermelon salad dish is excellent for summers and all of your outdoor gatherings. This makes an excellent display on the lunch table in a large dish. Do any members of your loved ones or company dislike mint? We are aware of a few, and it's always a good idea to have backup herbs on hand for unforeseen emergencies.

Arugula watermelon mint and other feta salad is a mainstay at many summer potlucks and barbeque celebrations now that Summer is in full swing. Our watermelon salad variation is adjustable to everyone's palate because we are also extremely aware of our friends who get sick after eating fresh mint. Since you know who will be arriving, there is no cause why we shouldn't be preparing this salad. Seriously, there are so many additional variations of this traditional watermelon feta salad to create because fresh herbs are thriving right now.
Get it here.

To refresh yourself in summer days, must try summer punch recipes! Make these cool watermelon recipes for more ideas for summer.
---
6. Summer Peach Salad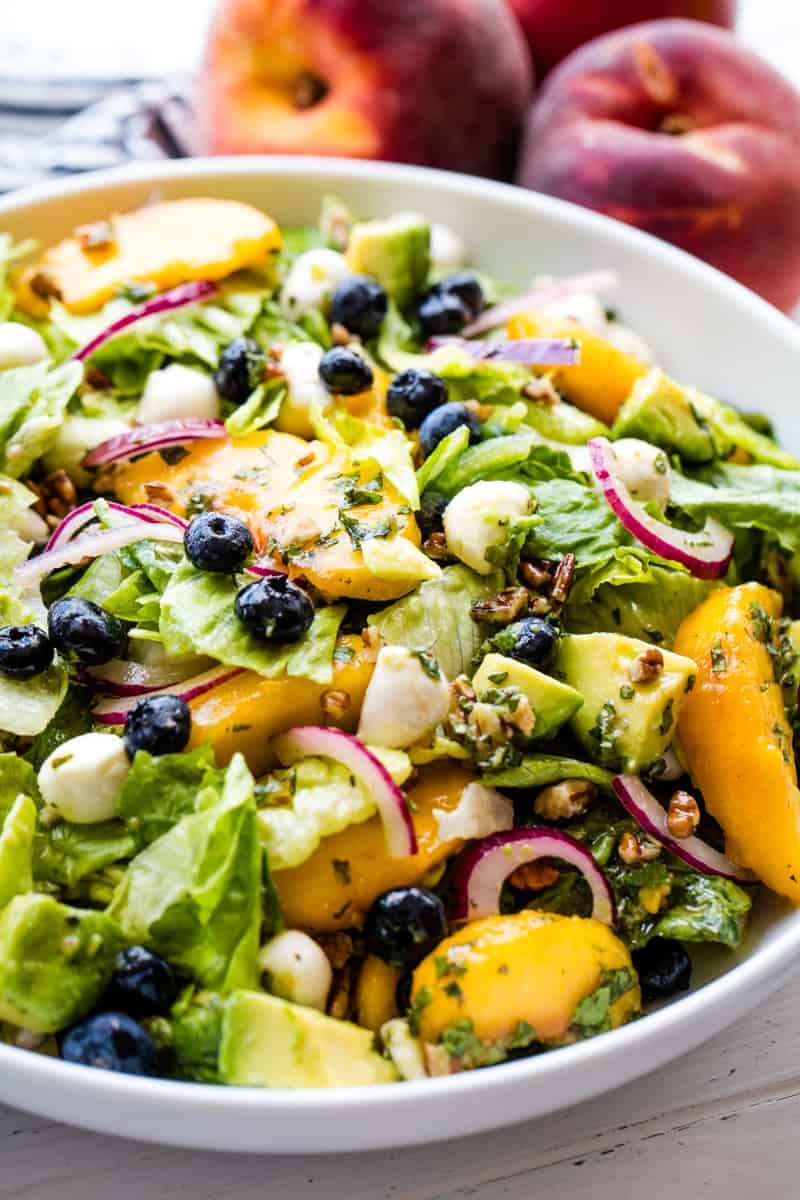 To determine whether a piece of peach is juicy and juicy, check for these three primary indicators: The peach's yellows should have a lovely, deep golden appearance to them. The peach should have a more golden appearance. These summer salad recipes are surprisingly hearty.

Squeeze the peach just a little bit before releasing it. The peach cannot be nearly ready to eat if there is only a slight give to it. When you squeeze your peaches, you want them to be really soft. It may sound strange, but you should check the peach's steam for wrinkles. The presence of wrinkles indicates that the peach has lost water, enhancing its peach flavor.
Get it here.
---
7. Tomato Cucumber Salad with Avocado, Mozzarella, and Basil Pesto
The tomato, cucumber, avocado, mozzarella, and pesto salad is a nutritious dish made with a tonne of fresh ingredients.  Ideal salad for the spring and summer!  Use it as a main course or a side dish!  This recipe is ideal for gatherings, excursions, block events, and other summertime gatherings because it is simple to prepare in advance. 

This simple salad also includes cucumbers, red onions, red and yellow cherry tomatoes, tiny raw mozzarella cheese balls, and red and yellow cherry tomatoes. This tomato, cucumber, and avocado salad's dressing is made by simply combining fresh basil pesto and lemon juice.  Since basil pesto contains a lot of olive oil, it is ideal as a salad dressing.
Get it here.
---
8. Strawberry Poppy Seed Salad with Grilled Chicken
This Strawberry Poppy Seed Salad with Grilled Chicken from Panera is a delicious and simple substitute for the original. made with juicy, succulent chicken, toasted walnuts, and fresh summer fruits. To season this salad, sprinkle a sweet and wonderful poppy seed vinaigrette over it. This Strawberry Poppy Seed Salad with Grilled Chicken from Panera is a delicious and simple substitute for the original. Made with juicy, succulent chicken, toasted walnuts, and fresh summer fruits. To season this salad, sprinkle a sweet and wonderful poppy seed vinaigrette over it. Toss the salad quickly. Over the mixed salad, place the cut chicken. Give the salad one more spin after adding the covering. Serve right away. Enjoy!
Get it here.

But for dinner in the hot days, make these summer dinner recipes for your whole family. Wanna try kabob recipes during summer days?
---
9. Honey Mustard Chicken Salad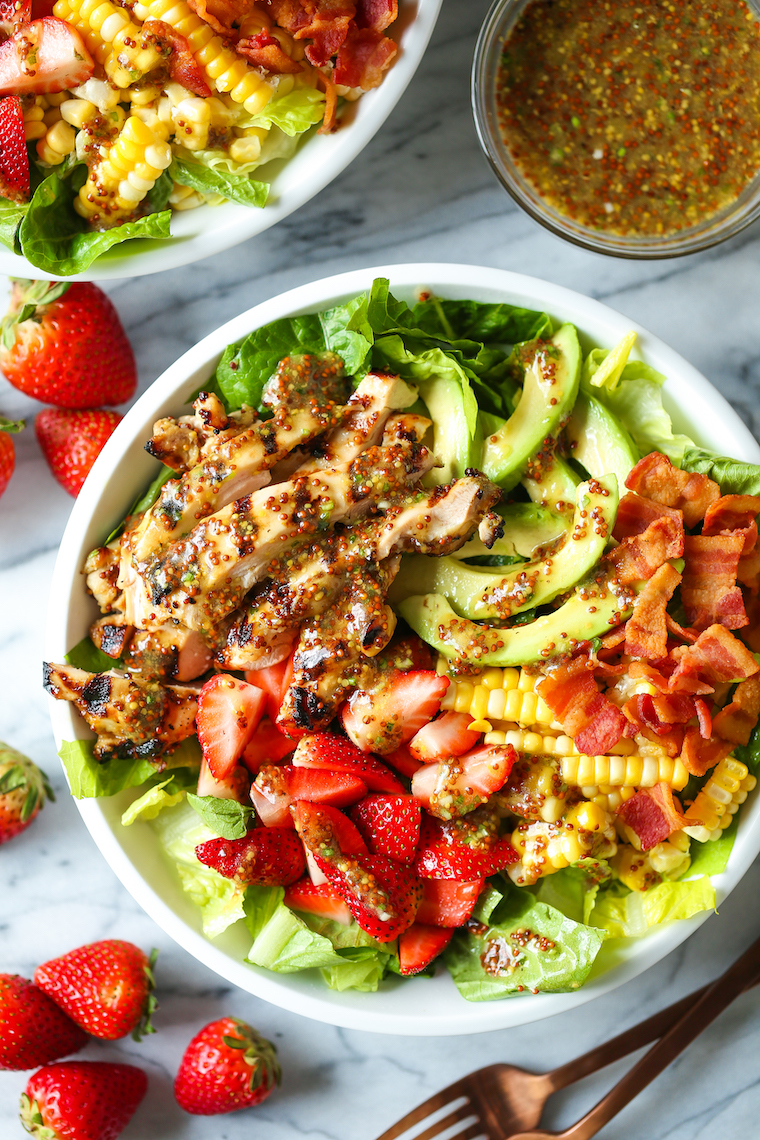 Served with romaine, strawberries, avocado, corn, and the most succulent, delicate honey mustard chicken. The covering is flawless, too! The city will see a 63 F temperature on Sunday. I know; I also had trouble believing it. Even the eateries are cleaning up and preparing their outdoor seating areas for the next warm weekend. And if you've been enduring the Midwest winter, it's safe to assume that we all wish we could stuff our hats, gloves, and parkas into an archive and not see them anymore until the end of November or December.
Get it here.
---
10. Pea Salad with Red Onions
With its creamy texture and flavor, pea salad with red onions and cheese is a classic meal for spring and summer. And what a simple and eye-catching salad recipe! Whatever you can blend, you can make, so you can finish this traditional pea salad quickly and get ready for some summertime fun. With a creamy consistency and flavor, pea salad with red onions and cheese is a classic meal for spring and summer. 

And what a simple and eye-catching salad recipe! Whatever you can blend, you can make, so you can finish this traditional pea salad quickly and get ready for some summertime fun. The others will want more since it is so tasty and the ideal mixture of bacon, red onions, and cheese. This tasty and simple to prepare salad recipe is one that you likely grew up with and is a staple on southern tables.
Get it here.

These vegan high protein meals are perfect for lunch meal.
---
11. Grilled Pineapple Salad With Creamy Citrus Dressing
These sweet and delectable summer salad recipes with grilled pineapple salad and creamy citrus dressing! I'm so happy to share with you guys this refreshing and delectable Grilled Pineapple Salad! Of course, the dressing is the pièce de résistance of this salad. It couldn't be much simpler!

Olive oil can be used to delicately brush your pineapple. Ensure that your grates are clean, then cook each side for just two minutes on high heat. Awaiting your creation of this one, people! This delicious recipe takes only 15 minutes to make. It's so easy, it's the best recipe especially for a lazy person. This recipe is one of the wonderful healthy recipes.
Get it here.
---
12. Cucumber Tomato Salad Recipe
Crisp cucumber, juicy tomatoes, and red onion are combined in this cucumber tomato salad along with a zesty dressing. The best recipe for a cool summer salad! Want to spice up your daily salad routine? This cool cucumber-tomato salad is certain to become a quick favorite! I've been preparing this salad all summer long. It has been my primary side salad to provide when we have dinner friends around for an outdoor cookout. I serve it whenever I have the chance. 

The cucumber tomato salad is a perfect example of how sometimes the simplest pairings of fresh ingredients turn out to be the greatest. A delicious combination of crisp cucumber and juicy, sweet tomatoes. A salad that will make you swoon with red onions that are sweet and spicy with a tangy vinegar-based dressing. The ideal finishing touch is a spray of fresh herbs!
Get it here.
---
13. Refreshing Watermelon Salad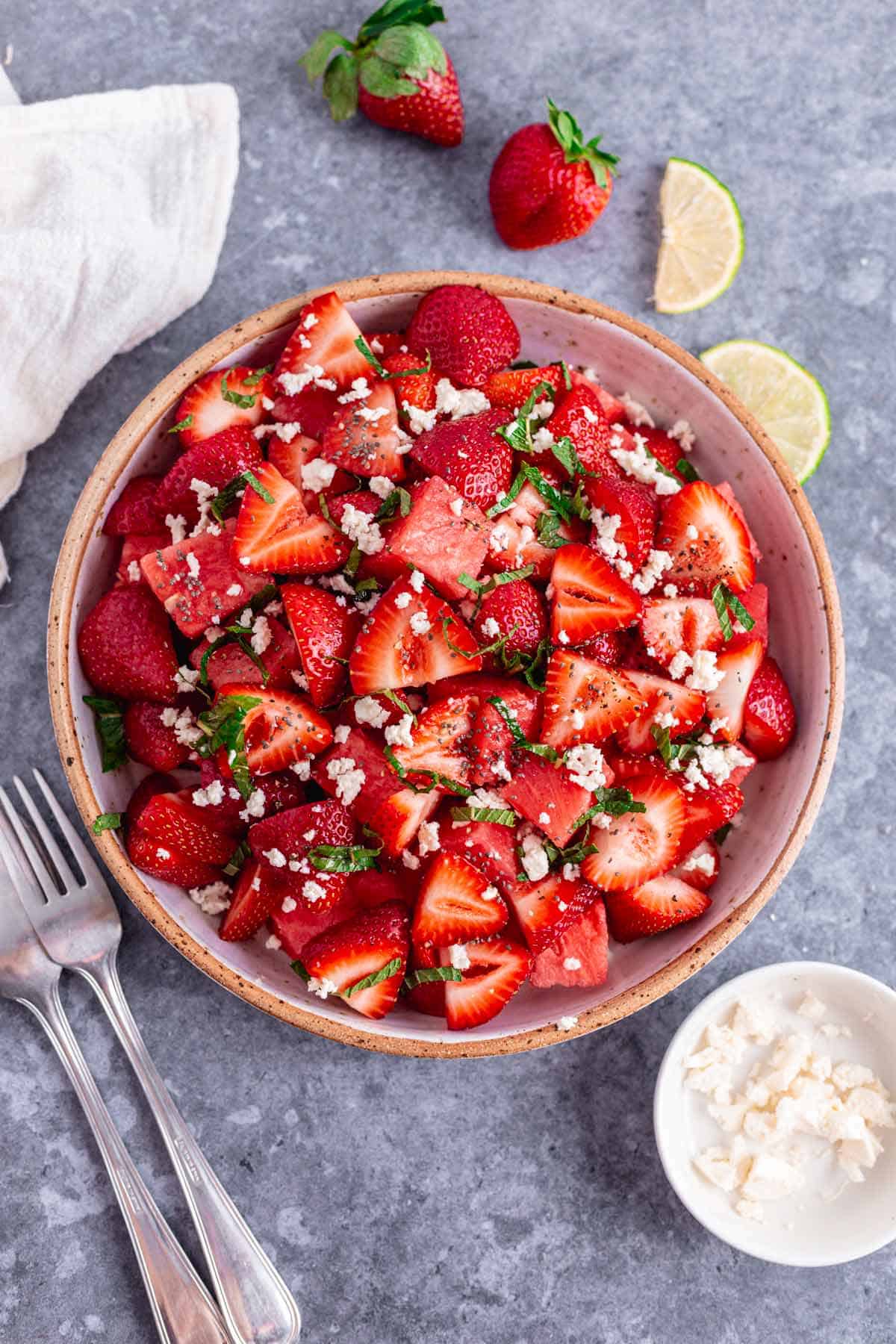 The cucumber tomato salad is a perfect example of how sometimes the simplest pairings of fresh products turn out to be the greatest. A delicious combination of crisp cucumber and juicy, sweet tomatoes. A salad that will make you swoon with red onions that are sweet and spicy with a tangy vinegar-based dressing. 
The ideal concluding touch is a spray of newly harvested herbs!

This salad is made with watermelon, summer berries, cherries, and a zesty dressing to load freshness into every bite. A garnish of chopped fresh mint pulls all of the flavors together while chia seeds make it a touch more filling. The typical watermelon season runs from July to September. It's a fantastic time to visit your neighborhood agricultural market and choose a juicy, delectable melon. While purchasing, seek out a melon that sounds hollow when you tap it, feels weighty for its dimension, and appears ripe and polished.
Get it here.

But you can prepare these vegan summer recipes for all those vegetarians.
---
14. Chinese Chicken Salad With Sesame Dressing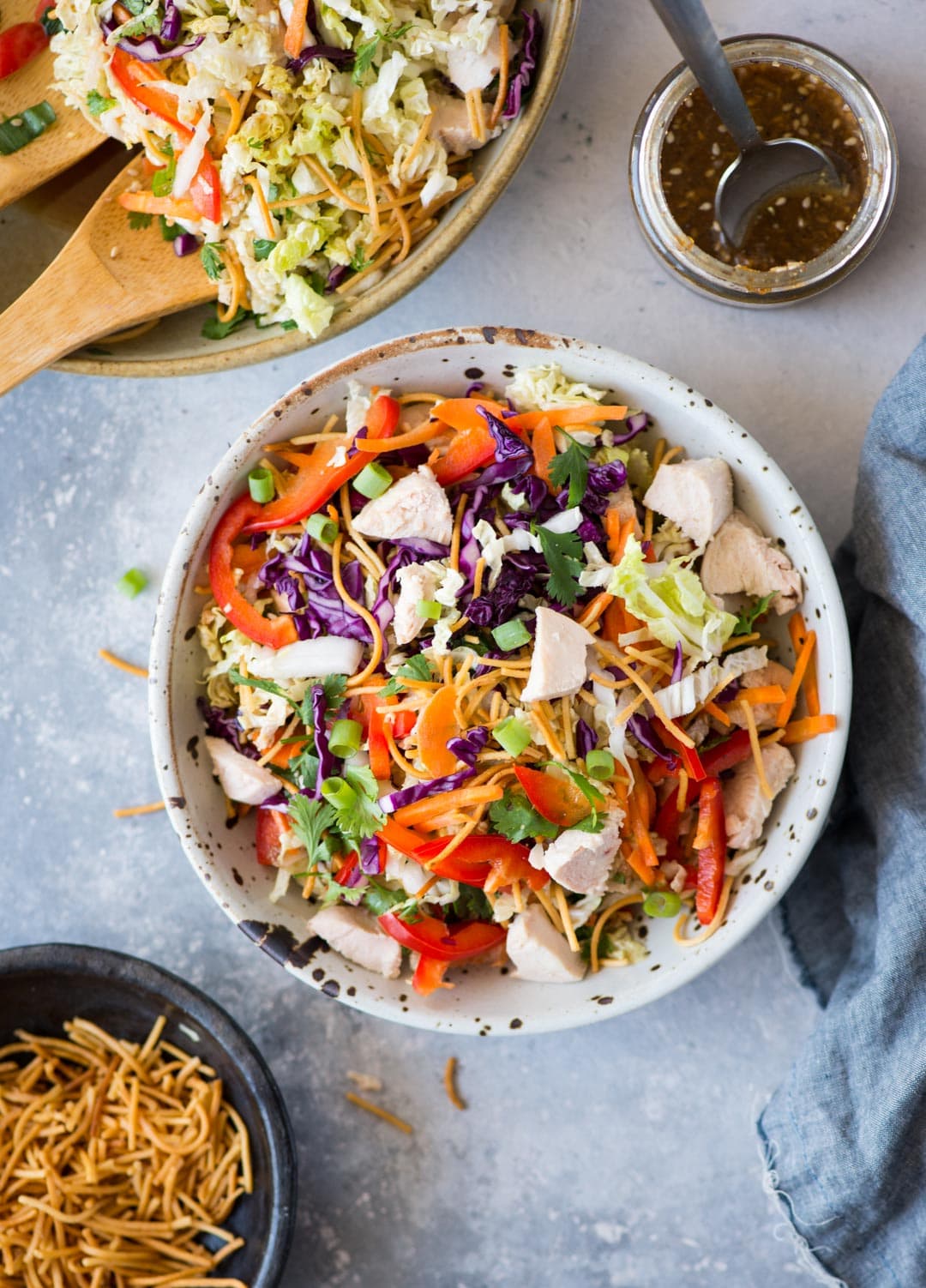 My current favorite salad is a healthy, lightweight Chinese chicken salad with Asian sesame dressing. This salad has a crispness through the noodle dishes and a sweet and savory dressing that makes it feel reviving. A larger group of people can be served this simple salad recipe. In my region of the world, summertime is in full force and it is unbearably hot. Making dinner in the kitchen has turned into a nightmare.

Every other day, I test out a new salad dish that requires little to no preparation. Unlike similar chicken salad recipes from the Chinese mainland, Chinese chicken salad has lettuce that is of western origin. The recipe can be found at most restaurants, including several in your area. Asian chicken salad and Oriental chicken salad are other names for Chinese chicken salad. But beside, if you are chicken lover, must try air fryer chicken recipes or high protein chicken recipes or slow cooker chicken recipes at home for busy days.
Get it here.
---
15. Broccoli Salad Recipe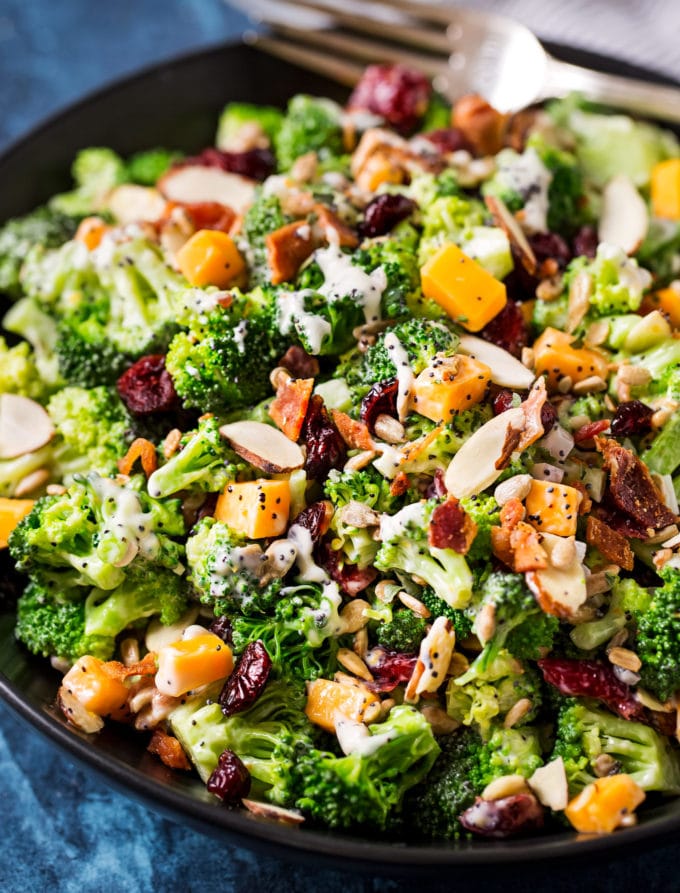 Everyone has their own preferred method of preparing broccoli salad, which is a fairly common side dish during the Spring and Summer. In my version, strong cheddar cheese cubes are used in place of shredded cheese, along with dried cranberries, sliced almonds, roasted sunflower seeds and a softened-up creamy lemon poppy seed sauce. This broccoli salad will have wonderful flavors and textures in every bite that delightfully complement one another. 

One of my favorite side dishes summer salad recipes whenever we got together was my aunt's amazing broccoli salad, which she always made. Although not her recipe, it is based on her and has a lemony dressing and some extra crunch.
Get it here.
---
16. Lemon Quinoa & Chickpea Salad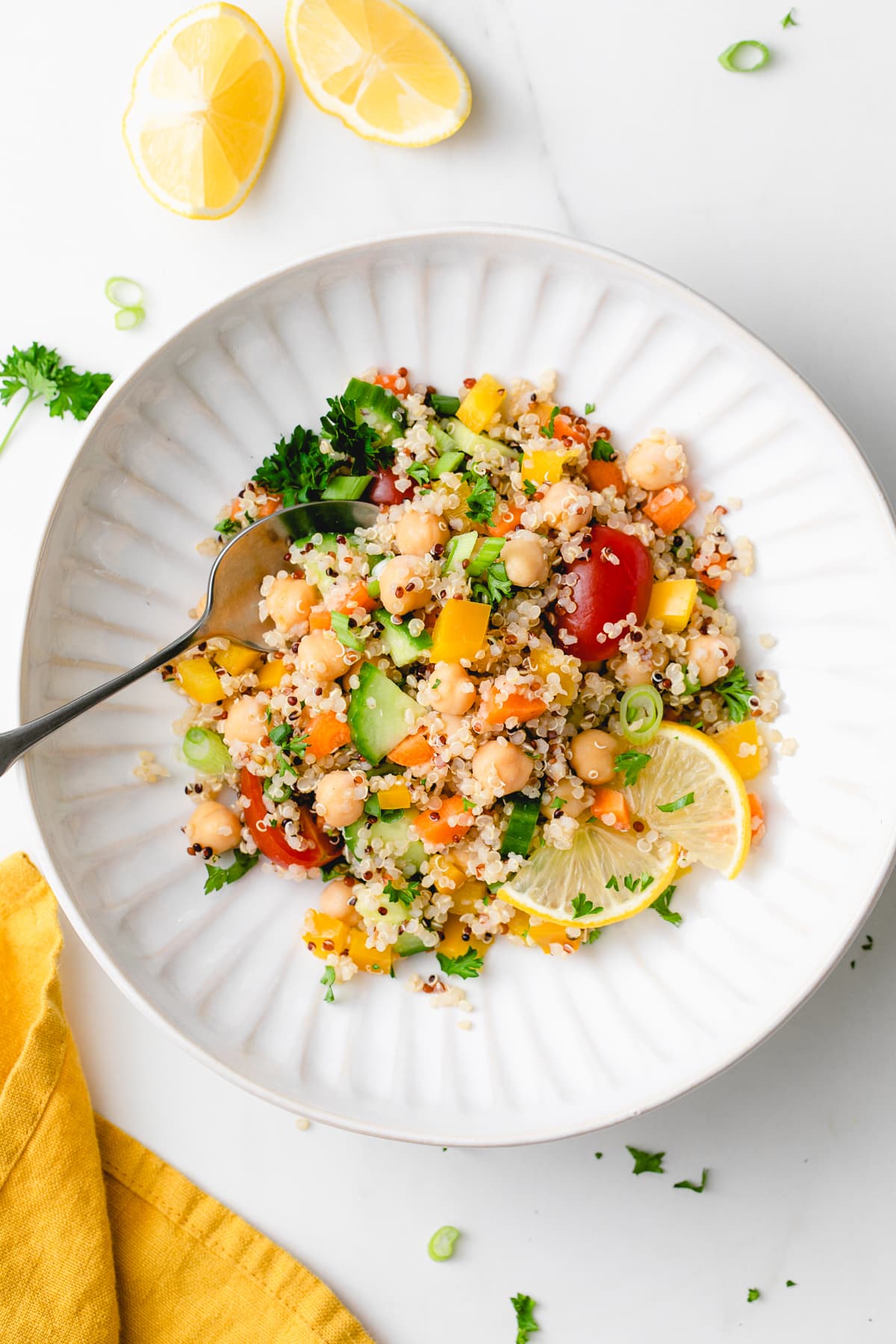 I tossed together this lemon quinoa and chickpea salad because I had some stuff in the freezer that wanted to be used up. As always, it was delicious! I prepared this lemon quinoa and chickpea salad because I had some stuff in the freezer that wanted to be used up. As always, it was delicious! Among my favorite meals to cook beforehand is a quinoa salad.

The quinoa chickpea salad is a low-fat, oil-free recipe that is rich in protein, fiber, and vitamins and is made up entirely of whole food plant-based components.  See the dietary information below. Simple to customize. With this salad, you can easily use whatever vegetables that you've on hand or have to cook up! It is prepared in one pot. Single pot recipes make preparation and cleaning simple!
Get it here.
---
17. Grilled Zucchini Salad with Corn & Tomatoes
This salad is beckoning you now that courgette season has arrived! The best method for obtaining juicy, soft-crisp zucchini is grilling, and it pairs incredibly well with other vegetables. This tasty vegetarian dish features perfectly roasted vegetables throughout. The fresh lemon garlic vinaigrette makes this salad for the summer perfect. It may be made quite quickly and simply. If you want to make your salad vegan, skip the cheese or top it with crumbled cheese.

Making the greatest grilled zucchini simply takes a few minutes. Spray the surface of the grill with olive oil prior grilling to prevent your zucchini from sticking to the grill. Warm, at room temperature, or even cold, this salad is delicious! Simply store it in a closed container in the refrigerator until you're ready to eat if you'd like to eat it cold. To ensure you are happy with the level of seasoning, taste test your courgette before adding it to the salad.
Get it here.
---
18. Fruit Salad with Honey Lime Dressing
Various sweet fruit dressing for salads and a variety of fruits are used in this dish. This recipe's ingredient mix results in a tasty and eye-catching salad. You can substitute your preferred fruits and modify this recipe to incorporate seasonal ingredients. We use just enough of the light and refreshing honey lime dressing to give our fresh fruit an extra kick of flavor.

This fruit salad is so delicious, we can't get enough. The recipe yields a large dish, and that's an excellent thing as it is typically devoured quickly! This colourful salad is dressed simply with lime juice, lime zest, and honey. This salad is suitable for a special event because of the dressing, which brings out the fruit's delicious flavour.
Get it here.
---
19. Chickpea Salad
I've previously shared this recipe for chickpea salad with you. I want to give it to you each time I create it.  This recipe for a nutritious salad is very delightful. It takes only five to seven minutes to prepare this high protein salad meal.  The best way to avoid the kitchen in the summer is to prepare these kinds of side dishes.  I make this delectable chickpea salad with the entire family on sweltering summer days. 

Whenever this chickpea salad is still edible, I make and consume sandwiches. If you do not feel inclined to cook at all, this dish is going to be your best buddy.  The lazy person will love this recipe. There aren't any required ingredients or preparation guidelines. On a daily basis, I try it. Create it yourself, create new iterations, and add fresh flavors.  Please let me know what you think of the chickpea salad recipe; I value your feedback greatly.
Get it here.
---
20. Shrimp Cobb Salad
Luscious cajun shrimp along with the greatest summer flavors are COMPLETE into this shrimp cobb salad. Anyone who gives it a go adores it. If you need more of this shredded salad with prawns, go quickly. It always sells out quickly. Cobb salads can be filled with a variety of proteins to produce full meals, but the Cobb Salad with Shrimp is among the simplest. Cooking time for the cajun prawns is about four minutes. 

I agree, 4 minutes! The cajun seasonings on the prawns are a must-have for an extra mouth-watering party, creating these summer salad recipes absolutely unique. This prawn salad could sustain me happily! Once you've seen the little film, you'll be buying ingredients in the supermarket. Romaine lettuce that has been cleaned and cut serves as the foundation of the shrimp cobb salad.
Get it here.

You need to try these spring desserts for spring or summer days.
---
21. Blackberry, Avocado and Arugula Salad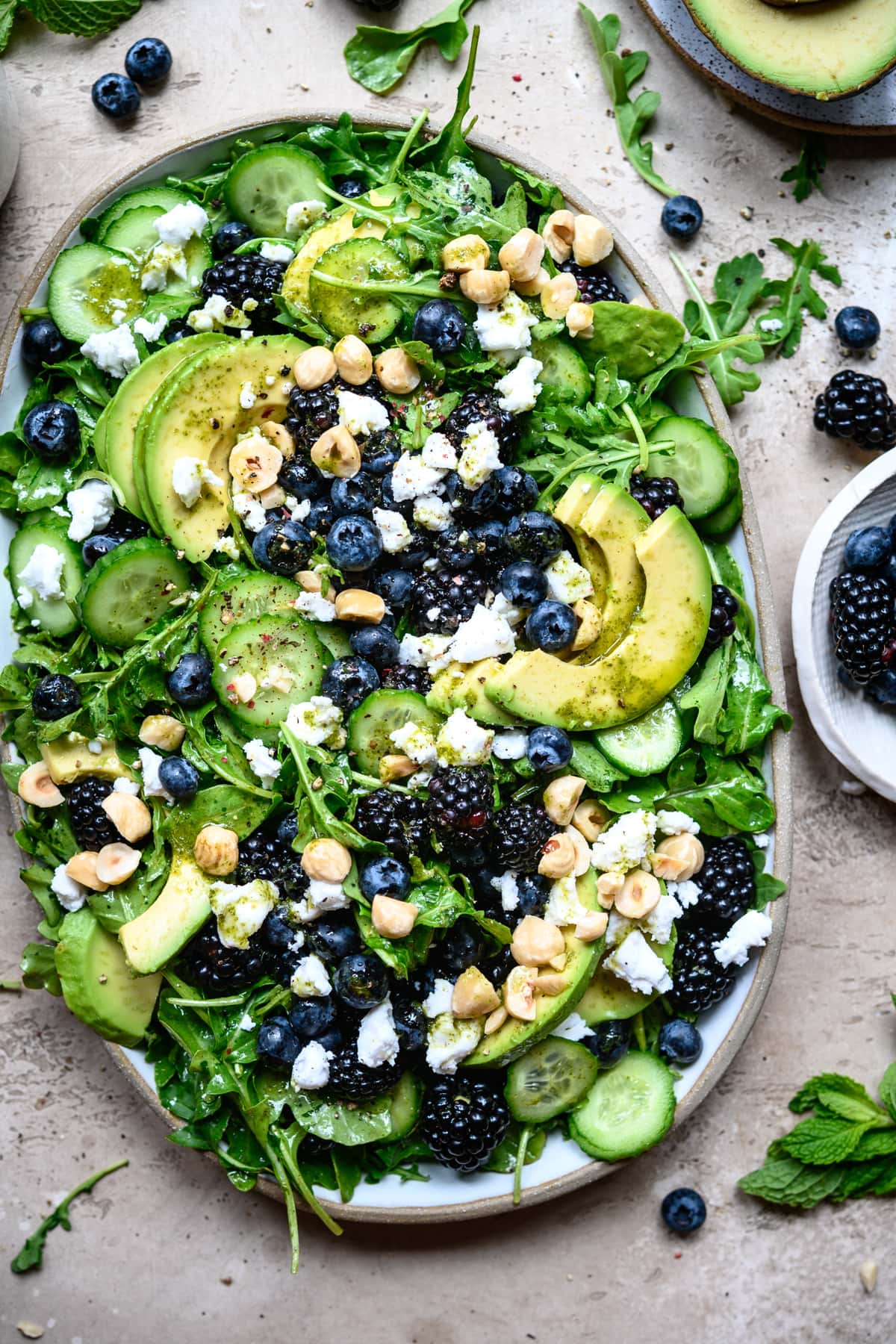 With a rocket base, natural blackberries, blueberries, cucumber, avocado, hazelnuts, vegan cheese and a lime mint vinaigrette, this salad is perfect for the summer because it makes the most of seasonal ingredients. We're starting with summer recipes even though it isn't quite summer yet because it has been warm and 80 degrees or more each day for the past two weeks.

I've been eating a lot of salads this month, possibly because I didn't want to turn on my oven or grill. I enjoy a tasty salad with lots of ingredients. It's no different with this blackberry, avocado and rocket salad. You're truly missing out if you've never tried adding berries to a salad. The ideal quantity of sweetness and texture are added by them.
Get it here.
---
Bonus
Roasted Sweet Potato, Spinach & Quinoa Summer Salad
With grilled sweet potatoes, spinach, quinoa, and avocado in a light lemony vinaigrette, this summer side dish is a power house of nutrition. Eat more spinach if you're hoping to reduce weight, develop muscle, fight inflammatory processes, reverse the effects of aging, enhance your alkaline level, increase your energy, and improve your body's defenses.

Every single day, I include spinach in protein in my body smoothie since I adore it so much.  It is quite adaptable and, unlike kale, has hardly any flavor.  It will reduce inflammation across your body when added to straightforward salads like one like it.
Get it here.
---
Tomato and Onion Salad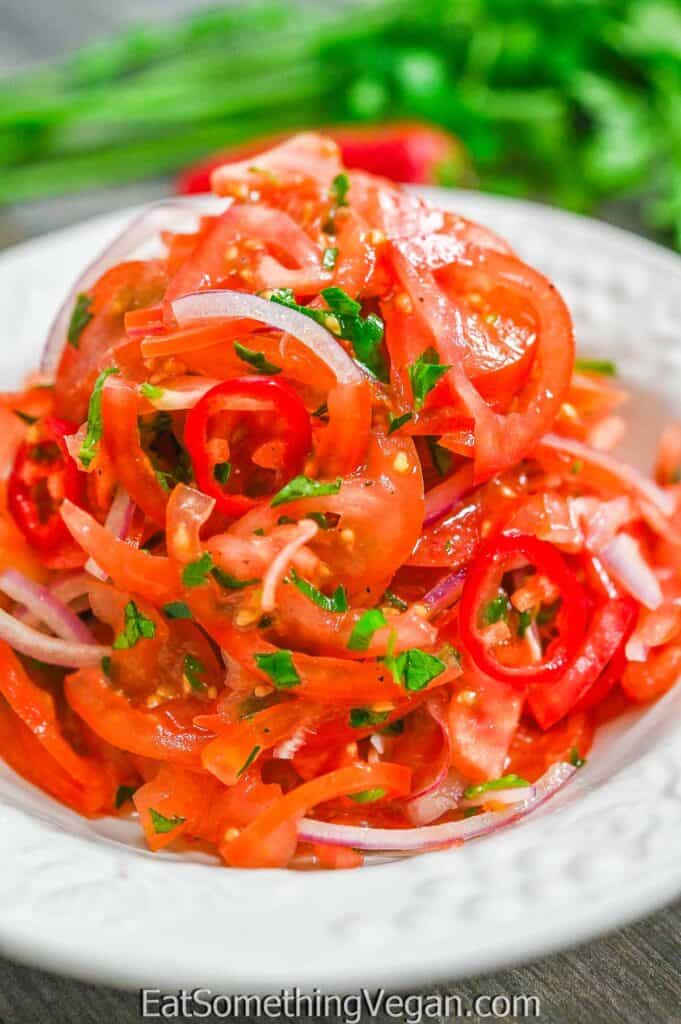 A simple method to add a cool side dish to hot curries is with this juicy, crisp, and flavorful tomato and onion salad. These summer salad recipes simply requires four ingredients and may be prepared in advance to give something special to curry night. Another of our favorite family activities is to have a wonderful curry then watch a movie or play some games on the weekends.

Presenting it with poppadoms with chapati and a few easy sides, like this tomato, onion, and cilantro salad along with a creamy raita, is one of my favorite ways to make curry night feel a little bit more special. It just takes five minutes to put it together, and you can prepare it up to two hours in advance. This way, you can just get it out from the freezer whenever it's time to serve the meal.
Get it here.
---
Mediterranean Orzo Salad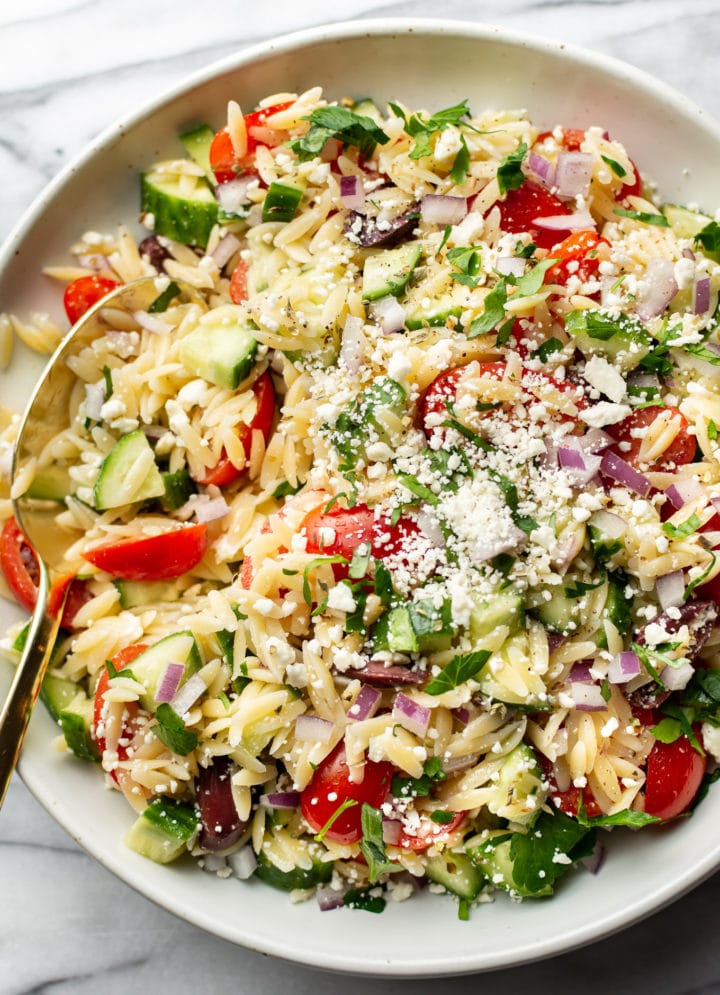 With feta, a tonne of crisp veggies, new herbs, and a zesty Greek vinaigrette, this simple orzo salad recipe from the Mediterranean is delicious. During your next picnics or meal in advance, create this nutritious pasta salad! A day later, it's even better. Orzo is a little noodle that resembles rice; it's one of my go-to cupboard staples because it cooks up quickly and can be eaten warm or cold! In all honesty, it's among my top choices for pasta. 

When I want something cozy, I toss it in a lemony soup or roast it with Greek-style chicken after toasting it with some sun-dried tomatoes. Orzo salad wins when it comes to favorite dish for a summer picnic. With feta, a tonne of crunchy vegetables, and a tangy Greek-style dressing, this recipe for Mediterranean orzo salad is full of flavor and goes well with almost any protein you choose.
Get it here.
---
Chicken Caesar Pasta Salad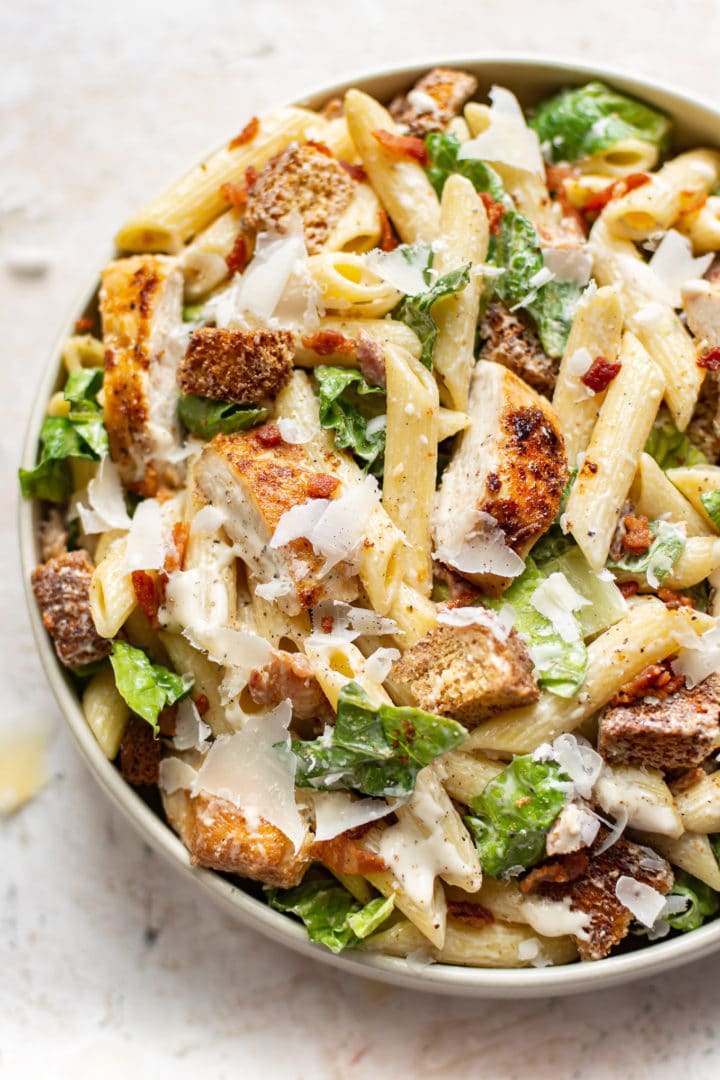 The Chicken Caesar Pasta Salad recipe includes ingredients like chicken, pasta, lettuce, tomatoes, croutons, parmesan cheese, and a creamy Caesar dressing. Serve this chilled salad with pasta as a side dish or a quick weeknight meal! Other pasta salad recipes are available? I adore this Teriyaki Pasta Salad, Italian Pasta Salad, and Creamy Pesto Tortellini! In about 30 minutes, everything will be finished and ready for eating! This simple pasta salad is packed with flavorful, fresh ingredients, and I adore the crunch provided by the croutons and lettuce.

I like making this for BBQs, picnics, and to pack in my kids' lunches because it doesn't require heating and makes no mess. Cut the chicken breasts from the grill into small pieces. Combine the chicken, cooked penne pasta, lettuce, carrot, cucumber, green onions, cherry tomatoes, Parmesan cheese, and croutons in a large bowl. as much Caesar salad dressing as you like, drizzle over the salad, then toss to coat. Serve. All of the components can be prepared in advance, including the chicken, which can be cooked. Add the dressing after the dish is ready to be served.
Get it here.
---
Shaved Zucchini Salad With Lemon Vinaigrette
you've never tasted this salad or a salad with raw, shaved zucchini, you're in for a treat. The simplest and most adaptable salad must be one made with paper-thin shaved raw zucchini, a squeeze of lemon, some salty cheese and earthy almonds. Additionally, it complements almost any summertime dish. The best part is that everyone I've prepared for really adores it since it is so wonderful. One of those dishes that can be made in a variety of forms, especially when using courgette.

The courgette in this salad has been spiralized, peeled into paper-thin ribbons or sliced into thicker-sized coins, according to several of the versions I've seen. Yes, I'm that person who doesn't like anything, including spiralized zucchini. Therefore, don't expect to observe me spiralizing anything very soon. This recipe has also been seen with a variety of cheeses, including Asiago, Pecorino, and Parmesan. Additionally, I've cooked it with feta. Any of those cheeses go well with it. The same applies to nuts. While I made this recipe using toasted almonds, I have also enjoyed it with fried pine nuts along with walnuts. To give mine more substance, I included baby kale, but doing so is entirely optional. 
Get it here.
---
You may Like These Meal Ideas:
Fritter Recipes
Green Bean Recipes
High Protein Slow Cooker Recipes
Vegan Rainbow Meals
Peach Cocktails
Popsicle Recipes
Low Calorie Egg Recipes
---
If you like this article about summer salad recipes, share with your friends or families on Facebook, Twitter, and Pinterest. Choose your favorite recipe and make it at home, let me know which is your best recipe in the comment. Also, you can subscribe to my blog to get all the latest updates first on your mobile.
---
To make these recipes for later, SAVE this pin on your favourite Pinterest Board