Good morning friends, I am back again with some amazing recipes. These are healthy, high fiber, and high protein foods. These high protein dinner recipes will give our body nutritious food. It will keep us away from junk food as they contain high protein which keeps the stomach full for a long time. These protein meals are as convenient as they are delicious.  Each of these healthy recipes is easy, convenient, and quick to prepare. Each of these recipes will guide you and your family to a healthy lifestyle. These high protein dinner recipes will help you reach your goal of being well. They are healthy and nutritious yet taste great. These 26 recipes are delicious, hearty, satisfying, and enjoyable.
---
Some of the benefits of these high protein dinner recipes are discussed –
High protein rich food – We can get the much-needed protein in our body from these healthy recipes.  These recipes will help us reach the source of nutrition.
Gluten-free foods – Most of these protein meals are gluten-free, which protects us from weight gain to allergy-related diseases.
Gives energy – protein rich food keeps our body energetic all the time.
Sufficient power and energy to exercise – These recipes help us work out for longer and stay energetic.
They are easy and quick to prepare – these recipes are very easy and quick to prepare which is very important in our busy life.
Foods with fiber – through these recipes we get a lot of fiber which is very important for our body.
---
1. Crazy Good Beef And Broccoli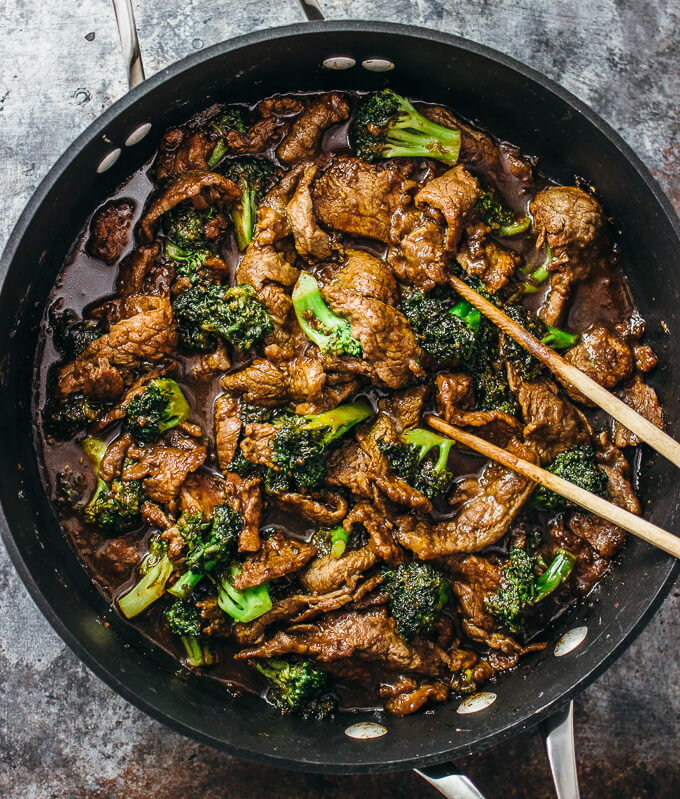 This Crazy Good Beef And Broccoli recipe is one of the best high protein dinner recipes.  This delicious recipe is a healthy and nutritious recipe. This one-pan beef stir fry recipe is really easy and full of flavor. It takes only 25 to 30 minutes to make and is very convenient to make as it can be made using one pot. This results in no extra dishes or dirty kitchen. Broccoli is added to it. If you love broccoli with beef, this is going to be one of your favorite dishes.

This delicious recipe is made by combining 1 pound of flank steak, broccoli, beef broth, garlic, etc. It is whipped with a kind of sauce. No fear!  Not an unfamiliar sauce, but our very familiar sauce. Low-sodium soy sauce, brown sugar, and cornstarch are mixed together and served on the beef. This delicious beef recipe will really make you crazy with its amazing taste. It goes very well with rice. You can serve it with your favorite food.
Get it here.
---
2. High Protein Caprese Pasta Salad
High protein caprese pasta salad is a healthy, protein and fiber-rich summery lunch or light dinner option. It is light and fresh and gluten-free. Additionally, it is veganisable! Sweet, juicy fresh tomatoes and fragrant basil are the epitome of summer. It's a time-tested combo. These types of healthy recipes are traditional recipes. No matter how old or similar, it is still delicious and effective.

These delicious flavors were blended to produce a hearty, satiating, and protein-rich Caprese pasta salad for this recipe. It's a delicious addition to your summer lunch menu because it's created with fresh tomatoes, basil, vegan or dairy mozzarella, and handmade pesto. Most supermarkets carry vegan mozzarella, but you can create one from scratch!
Get it here.

Wanna try vegan high protein meals for lunch?
---
3. Protein Packed Avocado Chickpea Salad (vegan)
This avocado and chickpea salad is high in protein and made with tofu that has been marinated in a wonderful, tangy garlic sauce. a quick meal that can be prepared in advance of a meal. This week, I'll be providing some quick, scrumptious, and filling lunch ideas to keep you energized all week. The initial dish in the collection will undoubtedly assist if you require a pick-me-up meals can occasionally appear monotonous or uninteresting.

A few ingredients are simply combined to help create the flavors and textures we desire. Additionally, there is little chopping, which is usually a plus. Garlic, lemon, and apple cider vinegar are used in plenty in the marinade, which also serves as the dressing, providing our tofu and salad a great acidic savory flavor.
Get it here.

Also you can prepare healthy chickpea snacks for busy days.
---
4. Summer Roll Bowl Meal Prep
Construct your tofu. The liquid will come out of your tofu if you press the purpose for at least 30 minutes. Another of the keys to making wonderful tofu is to do this, which can assist the protein to crisp up and absorb flavor. You can use a tofu press to press your tofu, or you can wrap it in a kitchen towel, and set it on top of something heavy like a stack of books or a big pot filled with cans. Slice, dice, and grate your vegetables to achieve the correct form.

Noodles should be cooked as directed on the package before being rinsed in cold water. The brown rice and millet noodles from Lotus are my absolute favorite. It's the initial noodles I've used that don't separate when cooking and don't even cling to one another! They have such a rich flavor and are created with whole grains, making them even more filling!
Get it here.
---
5. Rice Paper Rolls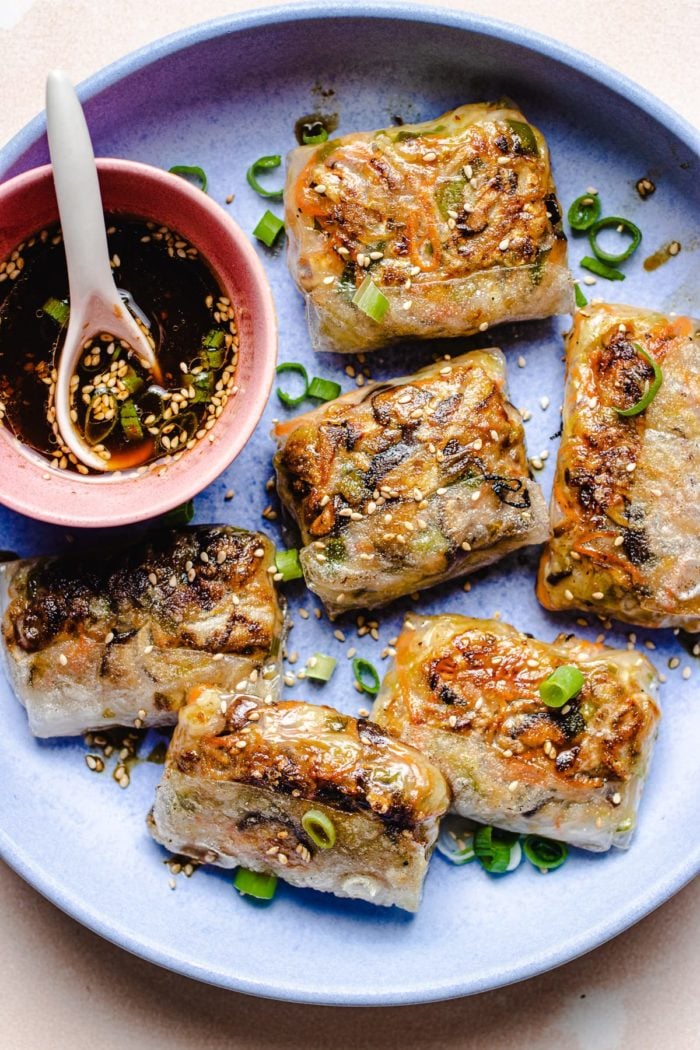 Make use of an even baking sheet to allow heat to spread out to the rice paper rolls' outer edges. It took much longer than usual when I used a cookie sheet pan the one time I employed a 9×13″ baking pan. Brushing them liberally with olive oil is a healthier alternative to "frying" that will make them crispy on the outside yet tender on the inside. Avoid letting the grain of rice paper rolls get too soft after soaking in water.

They ought to retain their form without breaking and be just a little bit stiff. Use a flat sheet of parchment so that the rice paper rolls' edges may be heated evenly. When soaking in water, avoid letting the rice paper sheets get too soft. They should maintain their original form without any shattering while remaining slightly stiff.
Get it here.

But you can try high protein lunch recipes for meal prep.
---
6. Asian Inspired Edamame Peanut Crunch Salad
The ideal dinner prep recipe is this easy Asian crunch edamame salad, which is crunchy, savory, and wonderfully seasoned. This recipe is naturally gluten-free, vegetarian by nature, simple and easy to prepare, and topped with a killer peanut dressing. Before you assume a tasteless mound of soybeans when you hear the name "edamame salad," permit me to tell you a little bit about this particular recipe. 

It begins with an edamame foundation, as you would have imagined. Then this recipe is combined with a variety of raw vegetables carrots, kale, and cabbage, which quickly lose their typical vegetable flavor. A quick and amazing 30-second peanut dressing recipe is creamy, acidic, mildly sweet, and healthy too. Take pride in making these kinds of Asian protein meals at home. I want us Radhunis to be proud of ourselves. But I must say, if you are salad lover, must try high protein salads, lettuce salad recipes too.
Get it here.
---
7. Baked Spinach-Stuffed Chicken Breast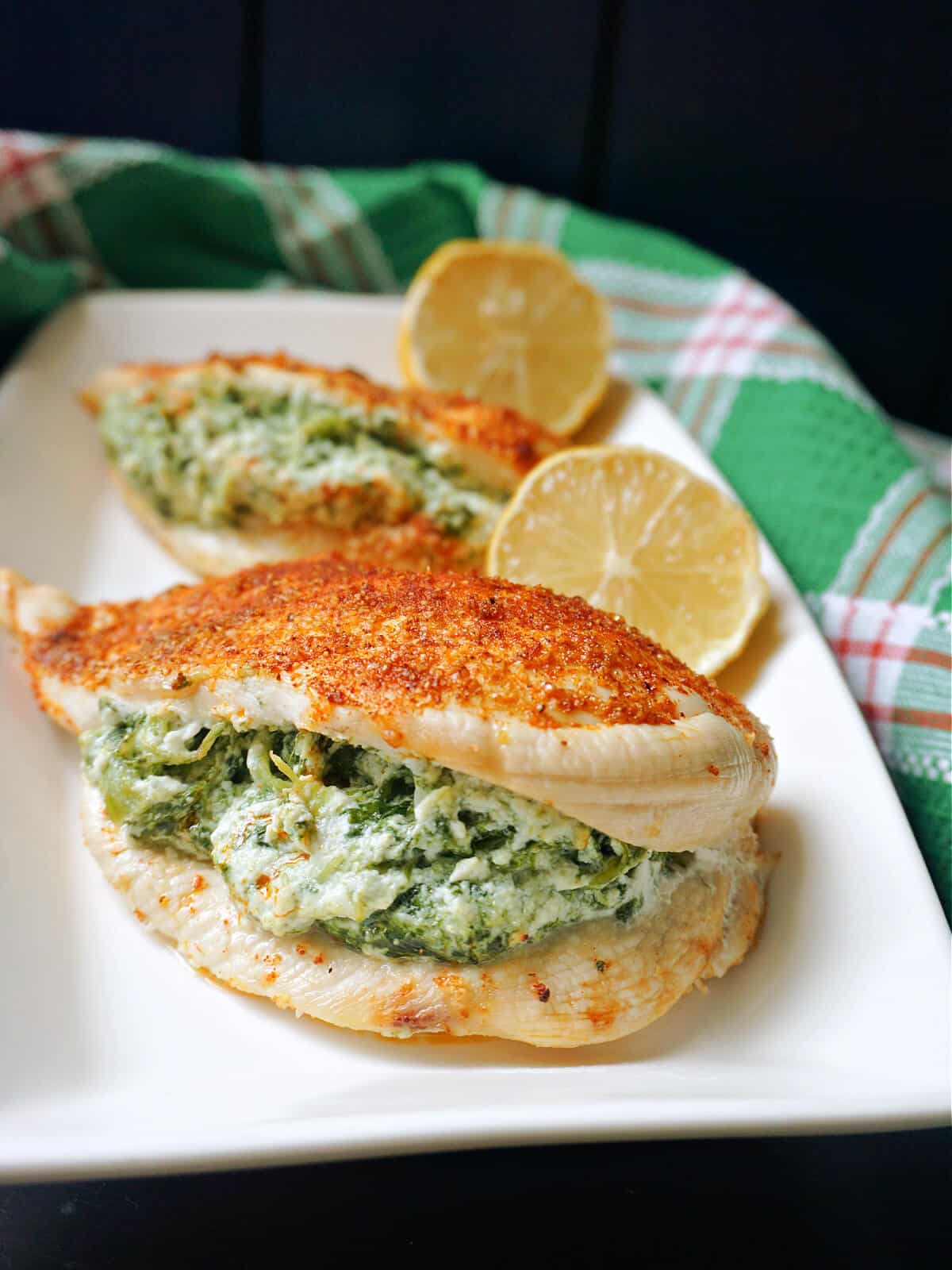 This recipe is one of the most popular high protein dinner recipes.  It is best for any party.  This recipe is great for those weight-conscious guests. An excellent decrease-carb, strong-protein, healthful, and really simple-to-prepare recipe is baked stuffed chicken breast with ricotta and spinach. My go-to chicken dinner recipe, which the whole family enjoys. So when it comes to a traditional chicken supper meal, chicken breasts remain my initial preference. 

No matter the way they're cooked or the meal, these are additionally lean, low in fat, and calories, however, they also roast rapidly. If it comes to a traditional chicken supper meal, chicken breasts were my initial preference. No preparation or the meal, these foods are not just healthy, minimal in fat, and calorie intake, but they additionally cook quickly.
Get it here.

But these high protein chicken recipes are best for dinner.
---
8. Healthy Chipotle Chicken Zoodle Bowl with Avocado Salsa
Looking for the ideal high-protein, low-carb meal? If so then make this chipotle chicken bowl recipe. This gluten free recipe is one of the best protein meal recipes. This recipe is great for weight loss. This healthy recipe is low carb and high protein. Which is very useful in our bodies. Making this hearty recipe is hassle-free and so convenient.

Grilled chicken over abomination zucchini noodles with fresh tomatoes on top. I have used very simple and healthy ingredients, and this recipe is the magic of those delicious ingredients. That's why I was motivated to develop this new dish with these well-liked zoodle bowls! boom! You can expect delicious, nutritious chipotle chicken bowls!
Get it here.
---
9. Cuban Chicken & Black Bean Rice Bowls
Those Cuban Chicken & Black Bean Rice Bowls were the subject of some cooking magic this morning. This delicious recipe is made with chicken, lemon juice, garlic, oregano, cumin, smoky paprika, etc. The plates are then garnished with mango salsa with a few delicious fried plantain on the side, which is the icing on the cake. The bowls can be topped any way you wish. I choose fried plantains with mango salsa, of course! Additionally, please have in the box below if you would like a lesson on how to make fried plantains, and I will try to offer one.
Get it here.
---
10. Low Carb Taco Casserole Recipe
Those attempting a low-carb or Keto diet will find that Low Carb Taco Casserole Recipe to be the ideal dinner option. This recipe is an incredible recipe among protein meals. A filling supper that is quick, simple, and healthy. This midweek dinner will become a favorite in the family if you prepare rice to go along with it! What person doesn't enjoy an excellent taco at the end of the day Everyone can enjoy taco night with our Low Carb Taco Casserole! Serve this as-is if everyone in the household is following a low-carb diet.  Some require carbohydrates. Serve the rice separately. You may eat this taco casserole by itself, over tortilla chips, over salad, with rice, or wrapped in a tortilla. So simple, filled with choices, and excellent!
Get it here.
---
11. Easy Shrimp Burrito Bowls
Searching for a tasty, wholesome, and simple supper suggestion? You can't go wrong using such shrimp burrito bowls! The burrito bowls are stuffed with rice, maize, black beans, and spicy shrimp for a well-balanced lunch that is also strong in protein and fiber. And the greatest part is that you can make these bowls in only thirty minutes, making them a convenient weeknight dinner that is satisfying, wholesome, and household-friendly. This recipe is great among healthy recipes. This recipe is a versatile recipe.

There are a lot of different items that could be put in a burrito bowl, even though this recipe for a shrimp burrito bowl calls for certain ingredients to pair with the spicy shrimp. In fact, you can almost likely add a component for a burrito bowl because you can add the item to a burrito. These shrimp burrito bowls make a fantastic meal prep option because they can be prepared in advance and served right away or kept in the refrigerator for up to 4 days. Not to mention that you can eat these bowls either warm or cold and they are suitable for both lunch and dinner.
Get it here.

These amazing shrimp appetizers are perfect for parties. But wanna lose your weight, make these weight watchers lunch ideas for meal prep.
---
12. Spiced Lentil Stew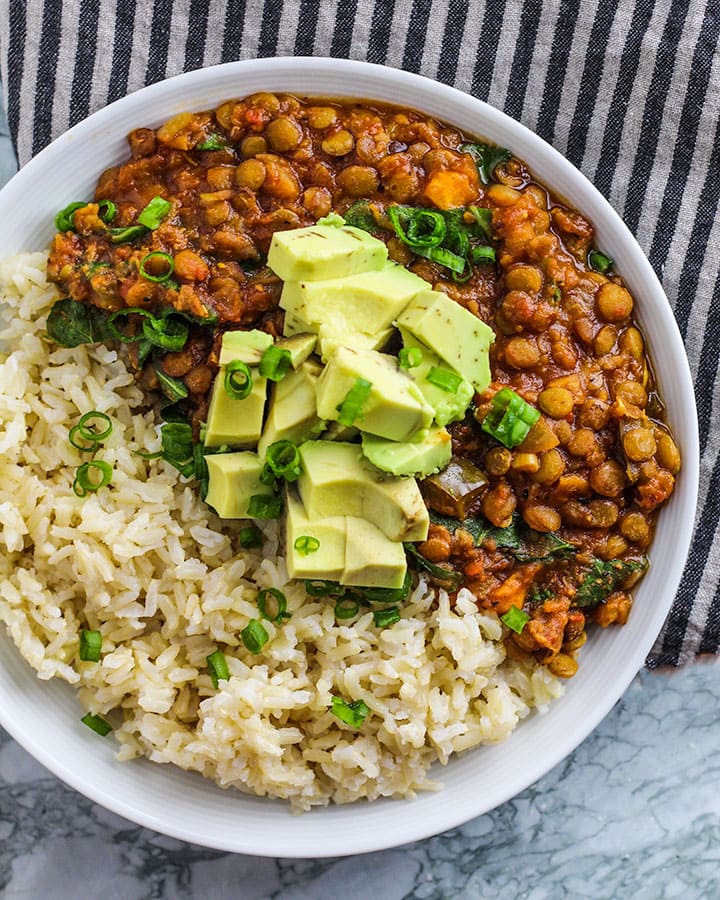 I frequently request lentils whenever I see my mother. She truly produces the finest type. wholesome and bursting with flavor. She is a flavor master in my eyes. I've been greatly inspired by the way she has flavored food throughout my life. That is why my dishes frequently contain a variety of spices. Essentially, this is another tribute to my mom and the lessons she has taught me about flavorful cuisine. This filling Spicy Lentils Stew is a quick, tasty meal loaded with lentils' high protein content. I'm paying further honor to my mother and the culinary lessons she imparted to me. Meal preparation and freezing are also simple.
Get it here.
---
13. High-Protein Scrambled Eggs with Cottage Cheese
This scrambled eggs recipe is one of the easiest and most popular breakfasts on the list of high protein dinner recipes. Scrambled eggs with cottage cheese for a quick, high-protein breakfast. Fluffy eggs with more than 17 grams containing protein per plate are the end outcome! Searching for a non-protein bar or a shaky way to increase the protein in your breakfast? Try these Cottage Cheese and High-Protein Scrambled Eggs. 

It only takes approximately six minutes to prepare the eggs, and they turn out fluffy and tasty. It almost seems too simple, but adding cottage cheese to my scrambled eggs is definitely worth mentioning. This is a terrific recipe if you don't like the flavor of cottage cheese but still want to include it in the food you consume because you won't be able to tell it's there. But you can try these low calorie egg recipes if you are egg lover.
Get it here.
---
14. High Protein Sweet Pea Tuna Salad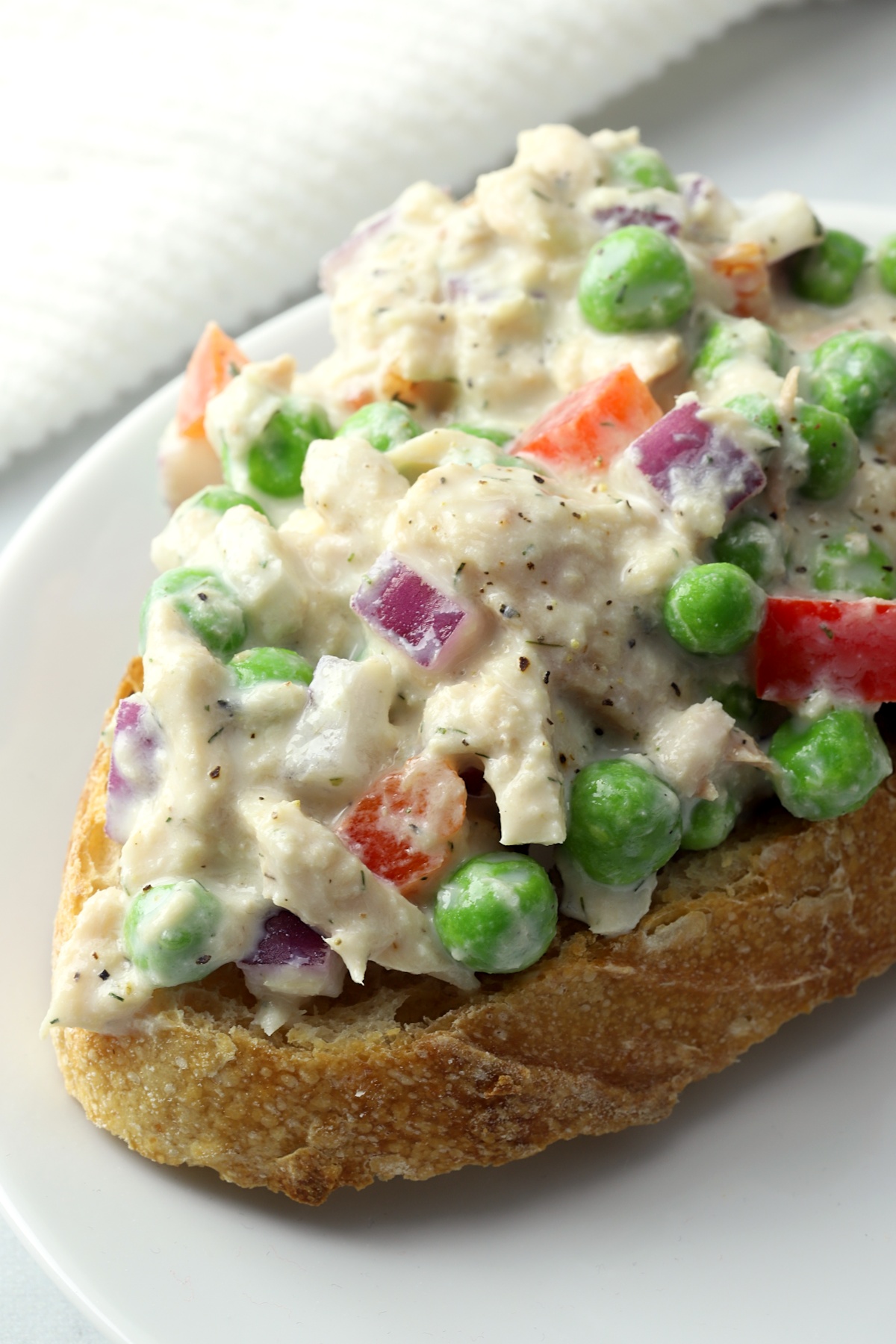 This recipe is one of the most incredible protein meal recipes. Sweet pea tuna salad with high protein is loaded with vegetables and protein-rich components. This salad tastes fantastic when served cold as a post-workout meal or summery lunch. You'll enjoy this recipe since it only takes ten minutes to prepare and is packed with nutritious, protein-rich components like tuna from Albacore and Greek yogurt. Using red bell pepper, red onion, and sweet peas, that all add crunch and flavor, you'll also get a healthy serving of vegetables. 

You may have this tuna salad by itself, as a wrap, or as a salad over lush greens. When you want to reduce the number of calories in your diet, Greek yogurt is a perfect alternative to mayonnaise or sour cream. It includes the same viscosity as the higher calorie choices and is velvety and sour. The change won't even be noticeable. Beside, make these sweet potato recipes for more healthy eating.
Get it here.
---
Suggested: chicken thigh recipes & high protein instant pot recipes
---
15. Honey Glazed Ginger Garlic Salmon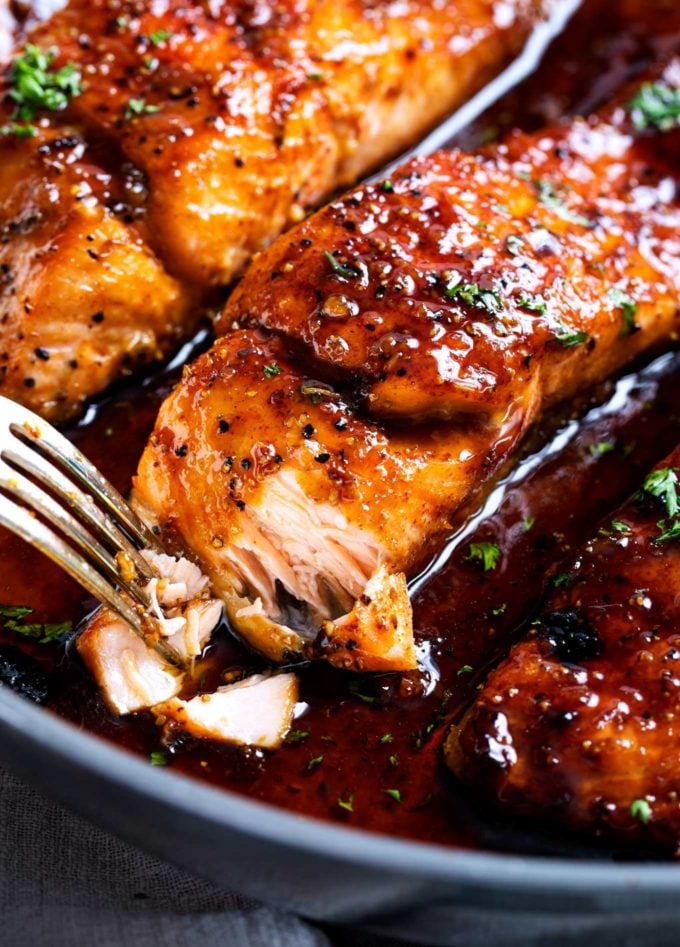 Asian Honey Glazed Ginger Garlic Salmon is a delightful dish that will break down in your mouth since it is light and flavorful. My husband's favorite recipe is this honey-glazed salmon with ginger, garlic, and spices. John was eating it weekly for a while whilst I attempted to improve the recipe. Asian salmon dish that is perfectly baked in the oven after being coated in honey, ginger, garlic, soy sauce, lime juice, and Sriracha marinade. The flavors are salty, hot, and sweet. This excellent light, quick, simple salmon recipe is the ideal weekday dinner.
Get it here.
---
16. High Protein Chicken Pasta Bake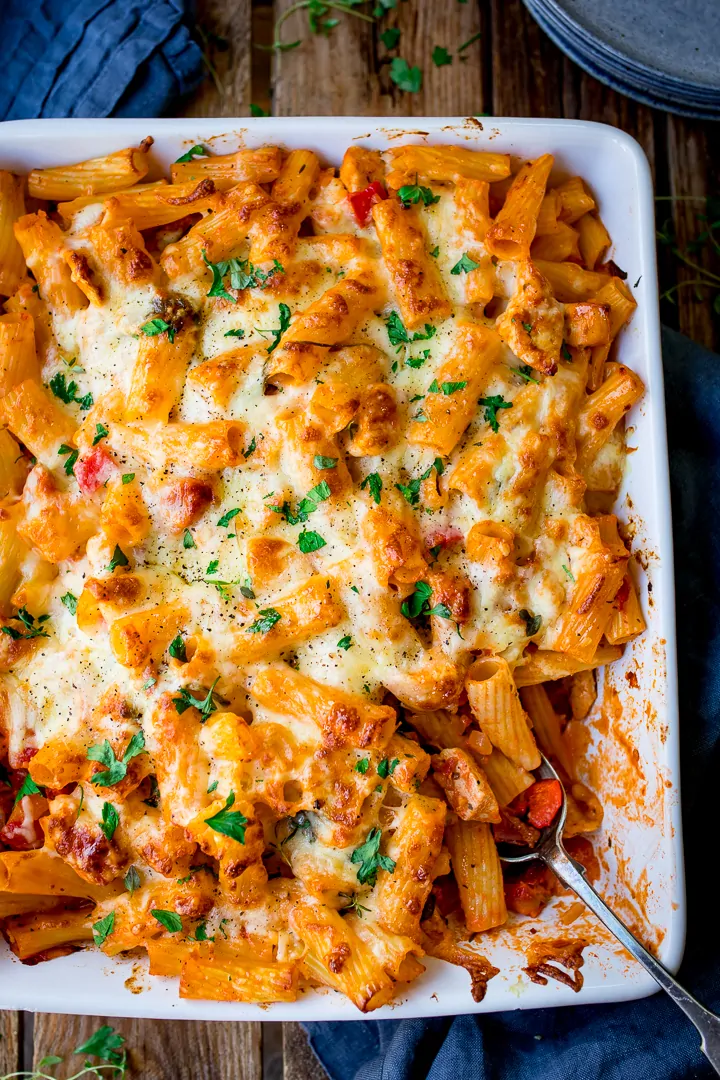 This High Protein Chicken Pasta Bake recipe is surprisingly hearty among high protein dinner recipes.  Before discussing this recipe, it is best to discuss its tastiest ingredients. The cheese sauce is first. Before moving to the classic base of mac and cheese – flour, butter (up from the onions – no additional is needed), milk, and cheese – onions are cooked in butter, followed by baby portobello mushrooms and garlic. Using some chicken broth, we're also lightening up that mixture.

When the protein pasta is nearly done, add broccoli to the other pot and rapidly blanch it before separating the mixture. Three kilograms of chicken and the mixture of the two are added before baking, more cheese is added on top, and baking is continued.
Get it here.
---
17. High Protein Vegan Mac and Cheese 
Macaroni and cheese is my ultimate favorite. I'm even happier that I'm not forced to provide it because I'm vegan. The potato, cashew, and carrot approach, which is very tasty, has grown to be one of the most well-liked vegan mac and cheese recipes. The vegan cheese sauce for the Crunchwraps is made using a similar technique by me! We're going to use red lentils in this one. Red lentils are one of my favorite foods since they add a lovely color to cheese sauces and are nutrient-dense tiny giants.

This High Protein Vegan Mac and Cheese recipe is one of those protein meal recipes that no one will be allergic to. Even though my site isn't specifically designed to be allergic reaction-friendly, I do my best to provide alternatives or offer assistance when readers ask for suggestions in the comments. I'm happy to report that the dish is nut, for example, soy, and gluten-free, though! I genuinely believe that it is ideal for all ages as it is one of those meals that anyone can enjoy. Non-vegans who I served this raved about it and begged for more. At first, one didn't even realize it was vegan. So this particular one is for all of my allergy-suffering friends.
Get it here.

Find out these vegan casserole recipes for meal prep.
---
18. Sheet Pan Pork Chops Dinner
Are you looking for gluten free and paleo friendly recipes with high protein?  If so then this Sheet Pan Pork Chops Dinner recipe is just for you. This protein-packed recipe is not only paleo-friendly it also helps in gaining muscle. This great-tasting recipe is healthy and packed with nutrients. Once you taste it, you will never forget it. This recipe takes 40 minutes to make. Making this dish is nothing for a lazy person. Because it is a very simple recipe. This recipe is one of the perfect high protein dinner recipes.

This delicious recipe is made with pork chops, asparagus, garlic, oregano, bell pepper, honey, etc. The combination of pork, garlic, and honey is truly an incredible combination. One gives aroma and one gives caramelized and sticky texture. This recipe is a breakthrough creation not only at home but also for any party.
Get it here.
---
19. High Protein Mushroom Pasta Bake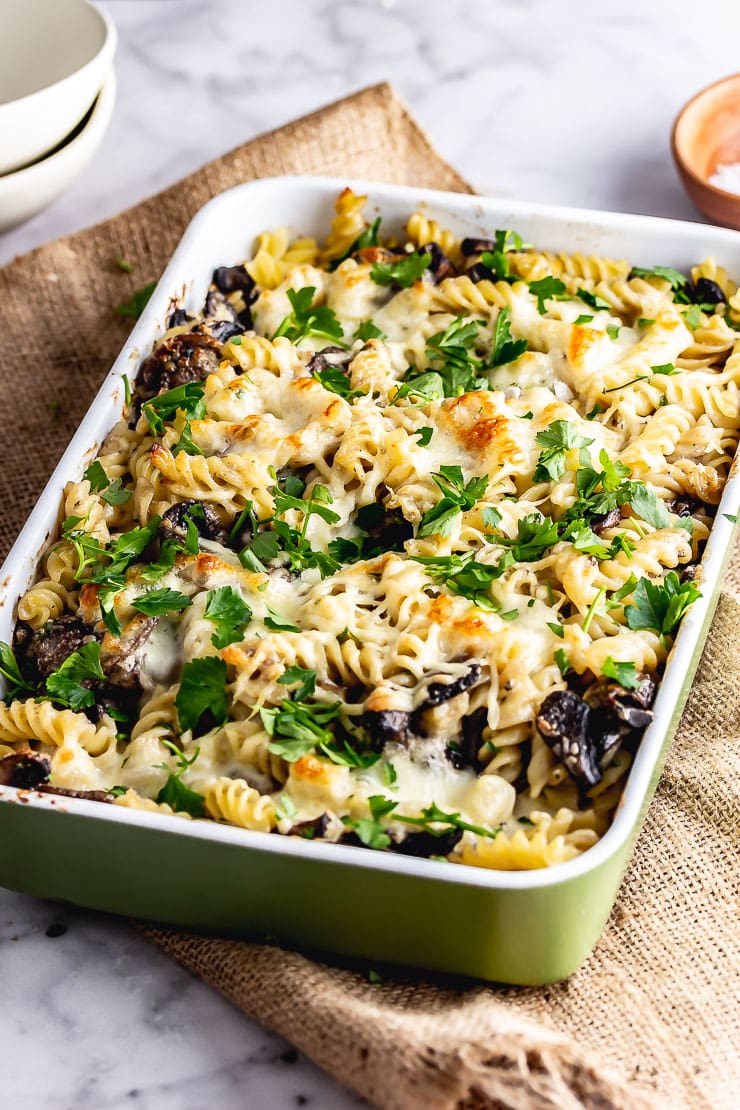 I usually wouldn't prepare a meal like this for dinner. All you get is pasta, vegetables, and cheese. There isn't a particular source of protein that I need because I like exercising out and am ninety percent a vegan. Chickpea pasta is a fantastic substitute for traditional pasta because it is strong in protein and fiber.  If avoiding gluten is crucial to your diet, it is additionally grain free. Chickpea pasta has a somewhat garnier texture compared to wheat pasta.  The pasta dish is my favorite use since the smooth mushroom sauce completely masks the gritty aspect!
Get it here.
---
20. Instant Pot Chicken Taco Soup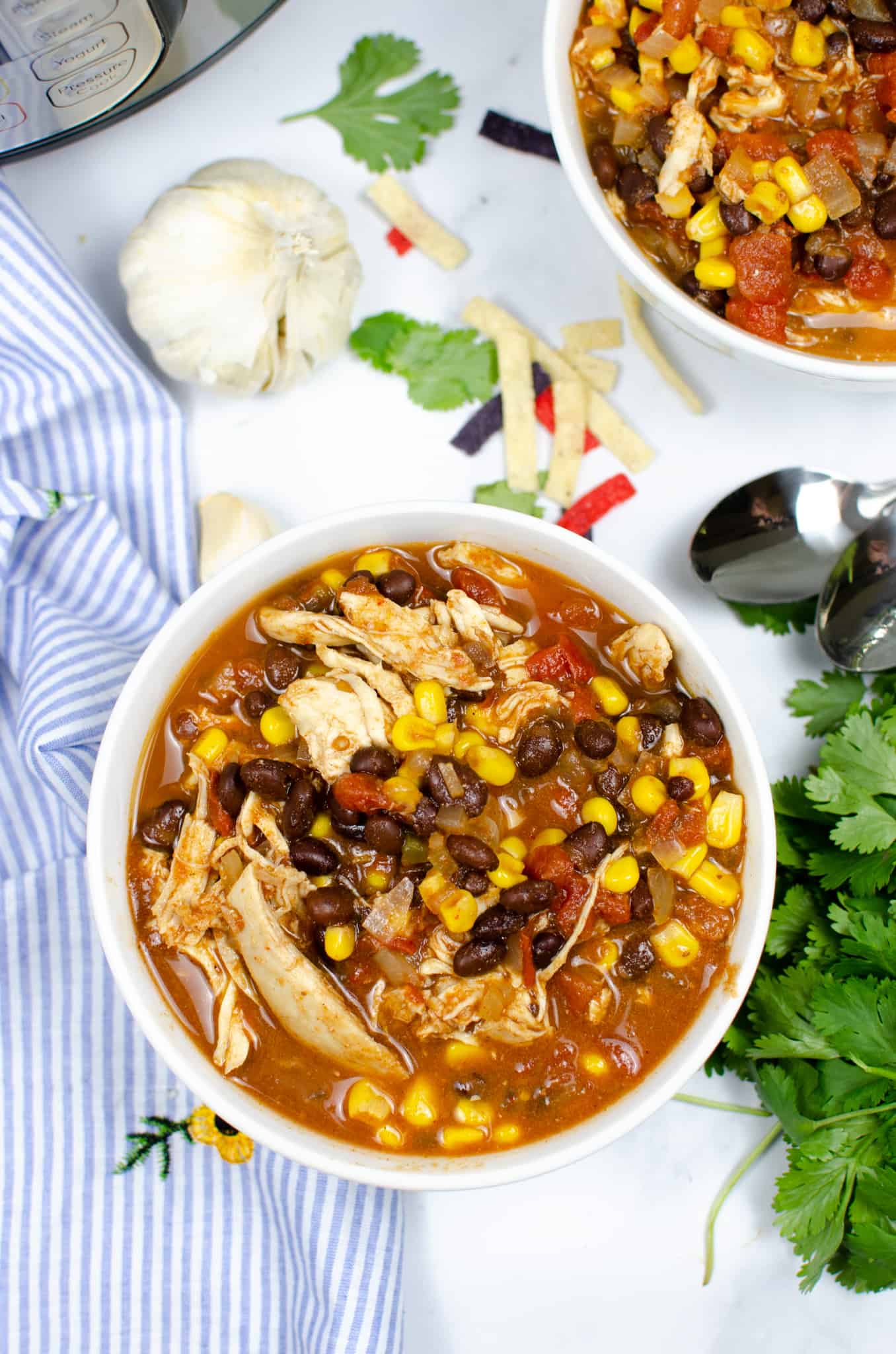 According to the instantaneous pot, this delectable one-pot dinner can be prepared from scratch in a very short amount of time. This chicken taco soup may be prepared quickly and easily in an instant pot. It simply needs six ingredients, a few popular spices, and little time and work.

This soup with chicken tacos is very adaptable. It may be made low carb by leaving out the beans, dairy-free by omitting the sour cream and cheese and replacing them with avocado, and as spicy or mild as you choose. The variations for this recipe are virtually unlimited. This Instant Pot Chicken Taco Soup recipe is one of the most versatile recipes among healthy recipes. It doesn't need any specific rules to make. You can make it as you wish and experiment.
Get it here.

Make these healthy high protein low fat recipes for weight loss.
---
21. High Protein Beef Chili
When the weather turns cool, the first thing I want is the High Protein Beef Chilli, which won a chili cook-off. When we were kids, my grandfather always made goulash, oyster stew and pudding made from rice in addition to chili. I adore his rendition, but Wendy's Chili is also fantastic! Therefore, this recipe is a hybrid of the two, adding more protein, less sodium, and more vegetables. I utilized nearly ninety- pure grazing ground beef for this recipe for High Protein Chilli. In place of ground beef, users can substitute ground turkey, roast chicken, ground chicken, or beef stew meat in this dish. Use vegetarian crumbles or two additional cans of beans to make a vegan version.
Get it here.

These summer dinner recipes are perfect for summer nights.
---
Bonus
Cajun Chicken and Sausage Skillet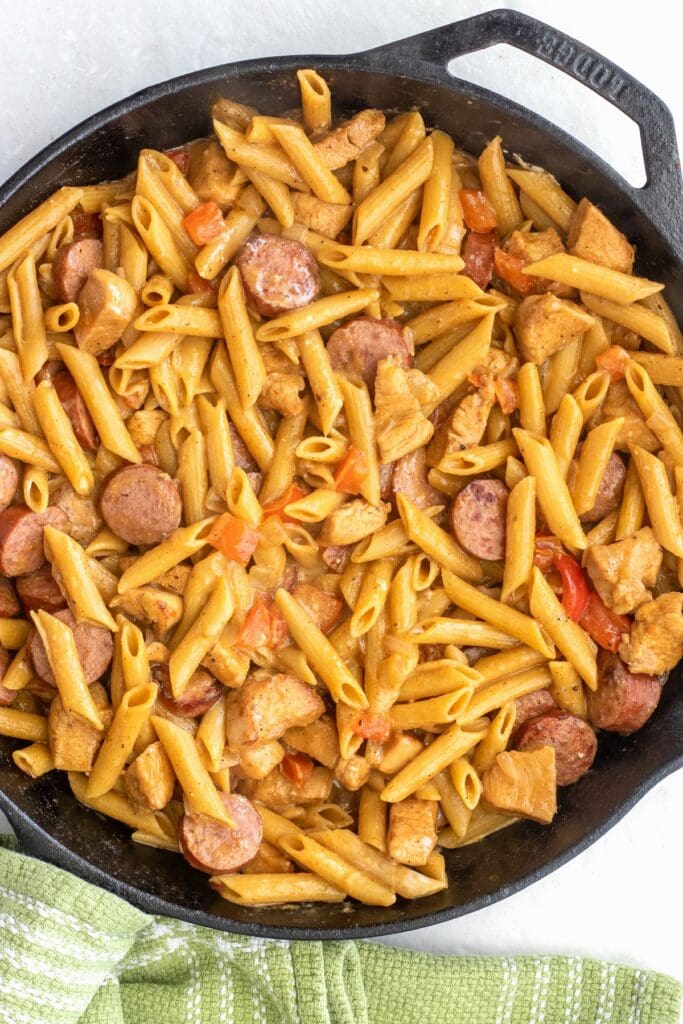 With chicken, andouille sausage, and fresh vegetables, this 20-minute dish for Cajun Chicken and Sausage is quick and simple. This dish is ideal for meal preparation and weeknight meals. The ideal quick dinner is this dish! Just cut the vegetables. Put everything in a skillet similar to stir-fries after drizzling it with olive oil and seasonings! This dish can be frozen for up to three months if well-wrapped and sealed. Refrigerator overnight defrost. One skillet meal with reduced carbs needs little cleanup as well! Currently, amid the hectic holiday season, this is a tremendous plus. Make these kinds of healthy recipes for yourself and your family now to lead a healthy lifestyle.
Get it here.
---
Vegan Poke Bowl With Chickpeas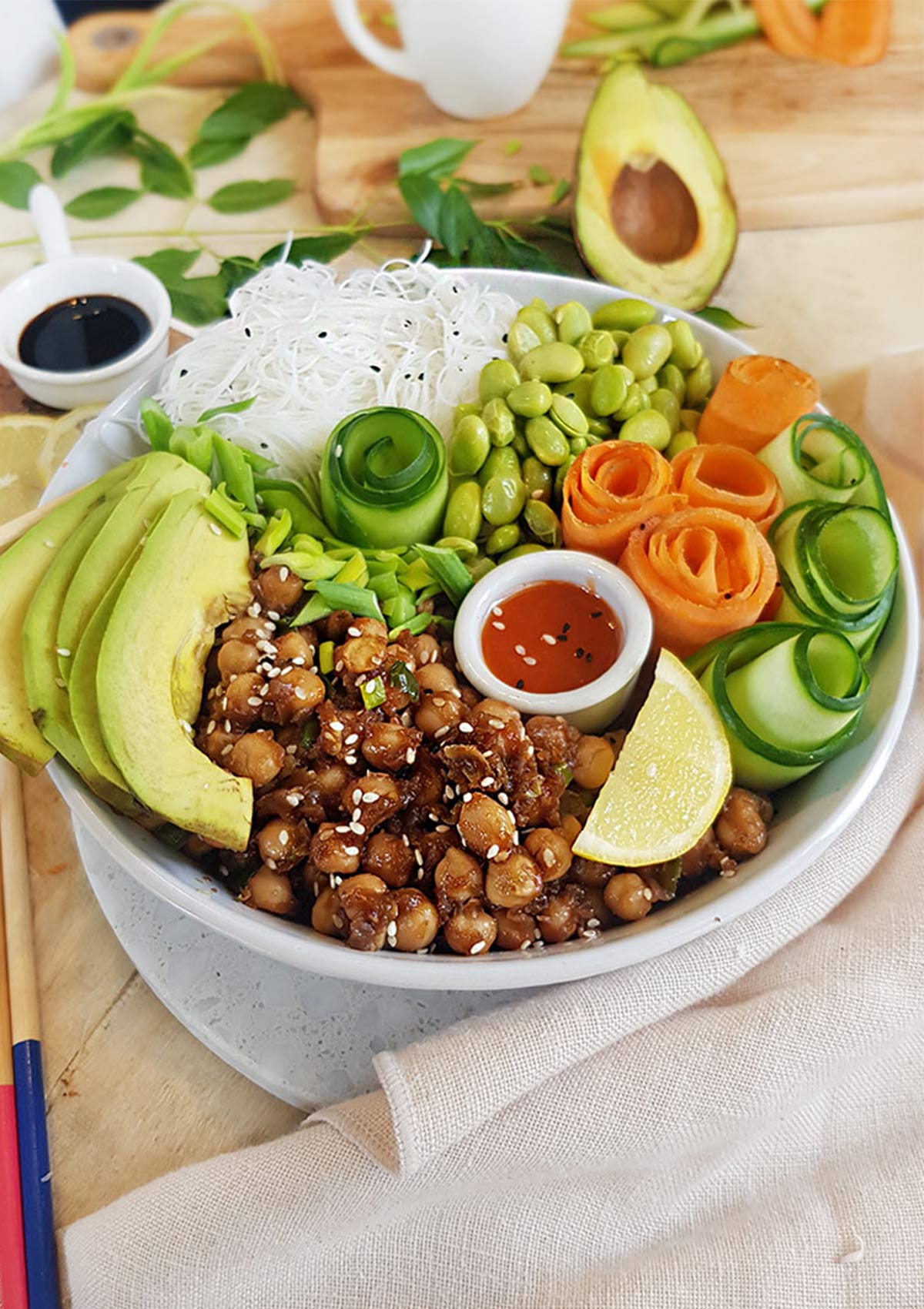 This incredible tasting recipe is made with roasted chickpeas and chicken. Here chicken and chickpeas are dressed with lemon and honey. You won't believe how wonderful the combination of lemon and honey tastes. With the freshest ingredients from a traditional Greek Salad, including cucumber, red onion, and tomato, puffy yellow rice is garnished with poke chicken and chickpeas that have been marinated in a vinaigrette with Greek influences. Together, these ingredients make a bowl that is vibrant with flavor, color, and taste.

This recipe is also one of my husband's go-to high protein dinner recipes. Let's start cooking right away, what are we waiting for? A quick baked chicken supper that you can plate up or serve straight from the pan in a bowl. Personally, I prefer eating rice, quinoa, or potatoes in bowls. Additionally, it produces a tasty meal. The next day, it also makes a nice meal prep bowl. Everything is simply seasoned and roasted in one dish to make the chicken bowls. Feel well about this nutritious one-pan supper.
Get it here.
---
Honey Sriracha Chicken Recipe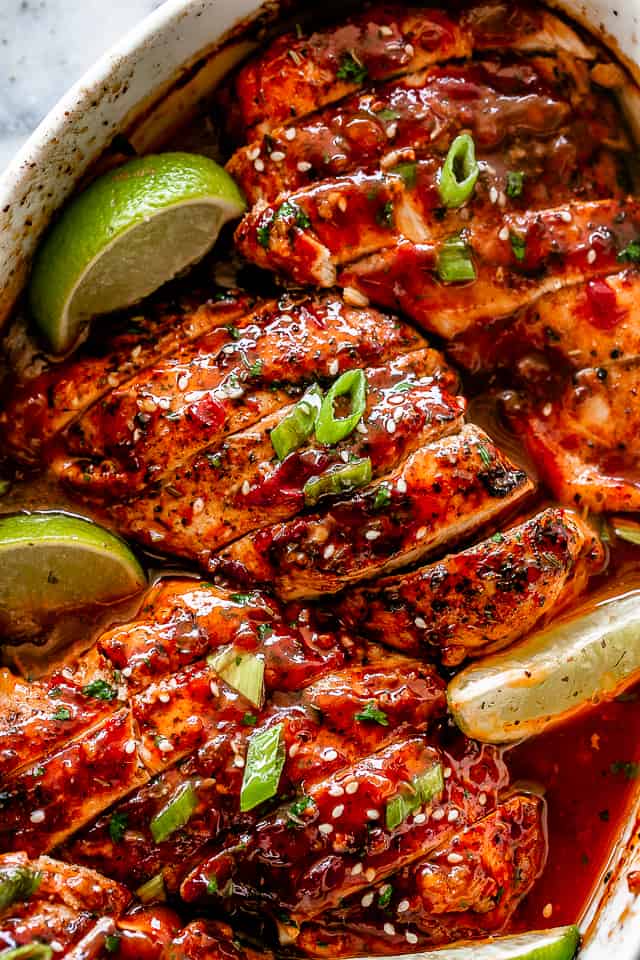 A delectable spicy, sweet, and sour sauce is swirled with delicate chicken drumsticks in this simple homemade dish for Asian-inspired chicken. It's a quick and simple recipe that tastes much like a takeaway but is healthier. This sour and sweet honey sriracha chicken is gooey and mouthwatering. It's easy to make and more nutritious than takeaway because the chicken is soft, juicy, and covered in a sweet and sour sauce. 

For a quick weeknight meal that everyone will like, pair it with steamed rice and your preferred veggie side. Sriracha can be increased or decreased to alter the level of heat, and any leftover sauce can be eaten with cooked chicken. In just 45 minutes, most of which is hands-off, it is finished. Sriracha can be increased or decreased to alter the level of heat, and any leftover sauce can be eaten with cooked chicken. It is not only delicious but also among the best healthy recipes that are simple to prepare.
Get it here.

Love chicken? Must try slow cooker chicken meals for busy nights.
---
Sirloin Steak Fajita Roll-Ups Recipe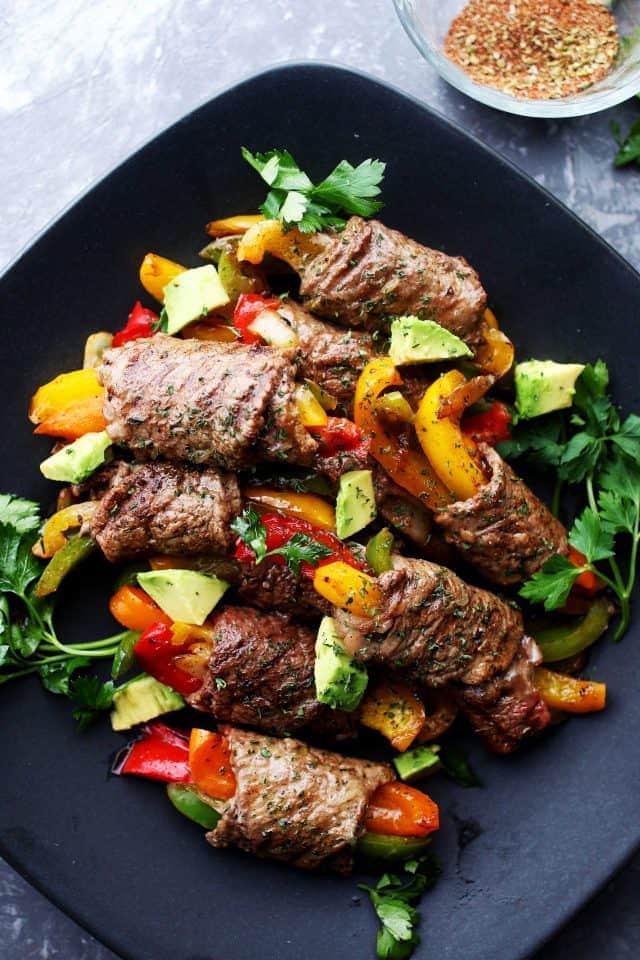 A simple and delectable dish for sirloin steak with a handmade fajitas flavor blend! Rolling up delectable bell pepper strips, onions, and thin pieces of sirloin tip steak that have been grilled to exquisite perfection! One bite of these Steak Fajita Roll-Ups will make you remember that the flour tortillas are missing because they are so tasty and fresh. A delightful dinner-time favorite is steak fajita roll-ups! This mouthful of juicy marinated beef, grilled vegetables, and melted cheese will improve your steak fajita game. Everyone will enjoy devouring these little delectable packages of steak fajita buns.

The ideal mix for a tasty Mexican lunch is steak fajitas. Moreover, what about eating a nutritious meal? Then these roll-ups will become one of your go-to quick high protein dinner recipes. I adore how simple these are to make and how quickly they come together on a hectic night. Seriously, they finish in under 20 minutes! The best part is that this dinner is so flavor-packed. Given how easy this dish is, I wouldn't be shocked if it became one of your new favorites! With some white or Mexican rice, these fajita roll-ups make the ideal meal. These will be a huge hit with you and your family, who will clamor for more.
Get it here.
---
Mushroom-Spinach Scrambled Eggs
A breakfast high in protein is scrambled eggs with spinach and mushrooms. By using spinach and mushrooms, you may make it more nutrient-dense. When it comes to vitamin richness, spinach tops the list. It is a great intake of zinc, vitamin B1, phosphorus, and dietary fiber.  Although they are not technically vegetables, mushrooms are members of the fungus kingdom and offer a number of vital elements. Foods that are naturally cultivated, such as mushrooms, reduce the risk of diabetes, heart disease, obesity, and other illnesses and support good skin and hair. 

Serve your family a nutrient-rich breakfast with this straightforward recipe. These kinds of delicious and healthful High Protein Dinner Recipes are my favorite to prepare for my kids. Because kids are notoriously resistant to eating healthy foods, I make them delicious. For this, they are unable to ignore even a single bite. And that's why my husband refers to me as a mastermind. Haha! Everything is fair when the health of my family is the main topic.
Get it here.
---
You may Like These Meal Ideas:
Fritter Recipes
Green Bean Recipes
High Protein Slow Cooker Recipes
Vegan Rainbow Meals
Spring Desserts
Peach Cocktails
Summer Punch Recipes
Popsicle Recipes
---
If you like this article about High Protein Dinner Recipes, share with your friends or families on Facebook, Twitter, and Pinterest. Choose your favorite recipe and make it at home, let me know which is your best recipe in the comment. Also, you can subscribe to my blog to get all the latest updates first on your mobile.
---
To make these recipes for later, SAVE this pin on your favourite Pinterest Board