Thinking about perfect summer dinners!  Don't worry. I am back. This time I have come up with some amazing summer dinner recipes. These recipes make summer fun. These are very convenient recipes. Quick and easy to prepare. These are very low-effort recipes that won't make you tired in summer. These healthy recipes are packed with nutrients.  These healthy recipes are high in protein and high in vitamins. Each of these meal prep ideas is a gem. These recipes are perfect not only for dinner but also for lunch. Start making fresh summer dinner recipes as soon as summer arrives. If you don't try these recipes, you're missing out. Hurry up!
---
Some things to consider before selecting Summer Dinner Recipes –
Prepare food depending on the heat level of summer – our body can accept food according to the temperature of summer.  So it is important to note that.
Eating healthy and nutritious food is important in summer – Healthy food in summer will keep you hydrated and healthy.
Try to include vegetables in your meals every day – during summer prepare recipes that contain lots of vegetables.  You can get essential vitamins, minerals etc. from vegetables and will also provide extra water during hot season or hot kitchen days.
Eat easily digestible food – Summer food should be that which is easily digested.  It is very important to keep your the stomach cool and refresh and healthy during summer days.
Choose recipes that are easy and quick to prepare – In summer, prepare recipes that are easy and quick to prepare so that you don't have to stand in the heat of the fire for long.
Choose Salad Recipes – Have a salad every day during summer.
---
1. Bruschetta Grilled Chicken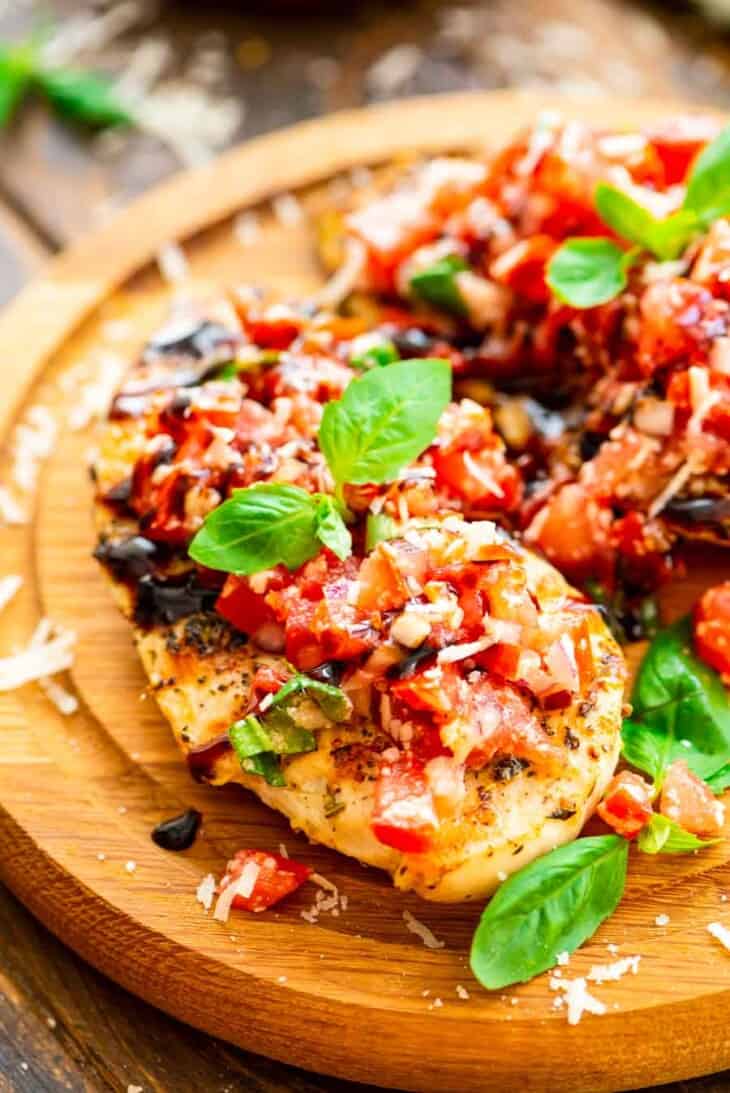 This Bruschetta Grilled Chicken recipe is one of the best summer dinner recipes. This recipe is very quick and fun to make. This tender grilled chicken with a balsamic glaze is delicious. To make this, thinly slice chicken breasts. Make sure the chicken breasts are wide. Brush the chicken breasts with olive oil and grill. This recipe is whipped with Italian seasoning. 

The flavor reaches its peak after adding Italian seasoning to the chicken breasts. Combine red tomatoes with your choice of pepper and parmesan cheese. Serve this delicious combination over grilled chicken breasts. It looks a lot like toast, tomato salad on toast. It's really fun.  Tender chicken grilled with Italian seasoning and juicy-cheesy tomatoes and balsamic glaze. Ah! Tastes like heaven and great for busy weeknights.
Get it here.
---
2. Hawaiian Chicken with Grilled Pineapple and Coconut Rice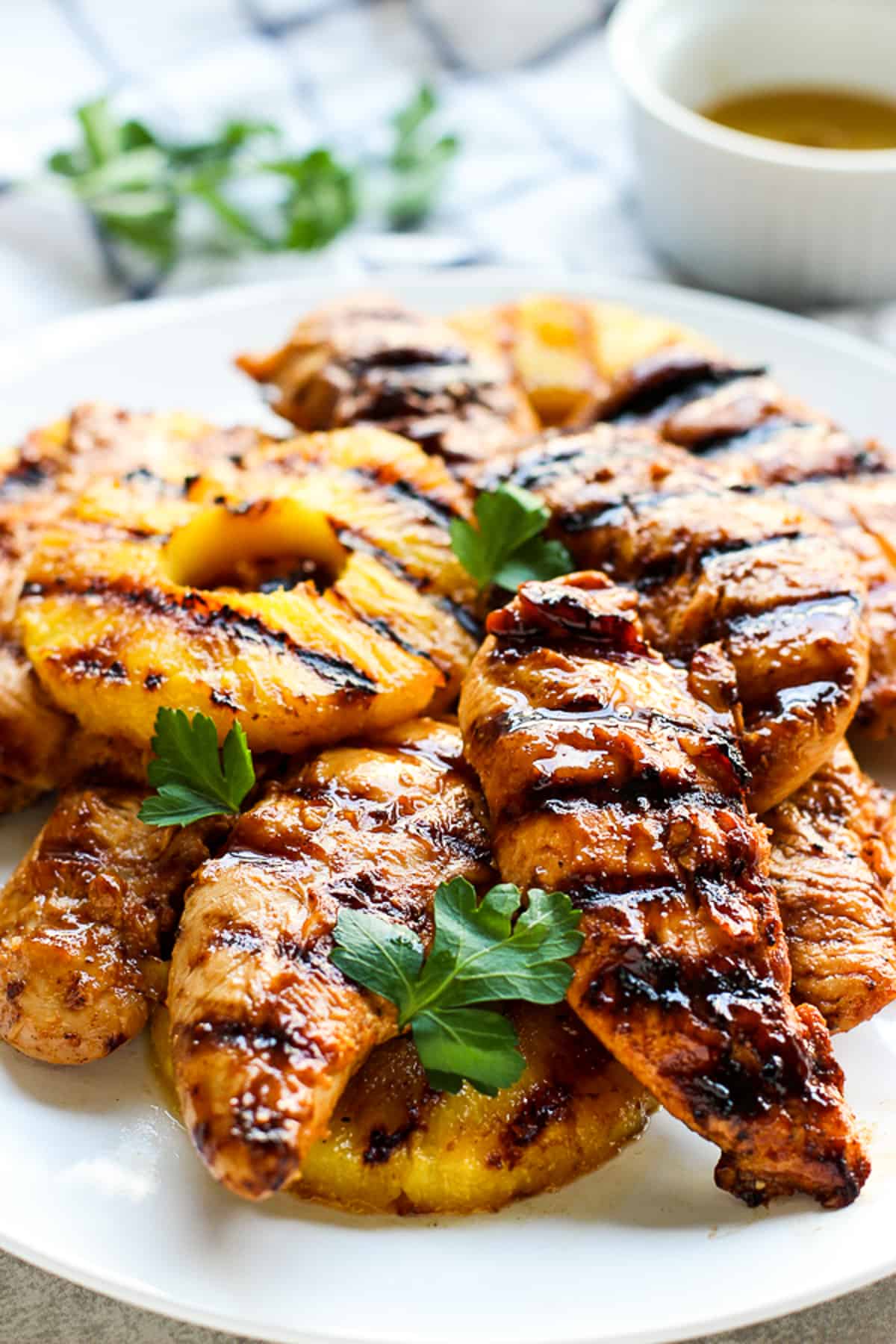 Pineapple and chicken pairing is always a HUJE hit and if accompanied by coconut rice it really makes a great dinner. Not only for dinner but also for lunch and it's a great recipe. You know what recipe I'm talking about!  Yes, I am talking about the Hawaiian Chicken with Grilled Pineapple and Coconut Rice recipe. I am always weak on this plate. My husband loves this recipe so much that I have to make it at home 2 days a week.  After making this dish, my husband cleans the plate silently in minutes. I too am so in love with this plate. This recipe is one of the best tasting healthy recipes.

This food contains high protein, vitamins, magnesium, and antioxidants. Which acts as an antidote in our body. It is very easy and quick to make. It takes me 44 minutes to make it by myself and 30 minutes with my husband's help. This gluten free recipe is great for weight loss and muscle gain. The taste of this recipe will tantalize your taste buds and satisfy you. It has its own flavor of chicken along with the tangy taste of pineapple and the sweetness and natural flavor of coconut rice. This combination makes for an incredible recipe. So what are you waiting for!  Make it and have delicious easy summer dinner ideas. ENJOY!
Get it here.

These amazing pineapple desserts are perfect for holidays. But Wanna try kabob recipes during summer days?
---
3. Tortellini with Roasted Veggies and Basil Vinaigrette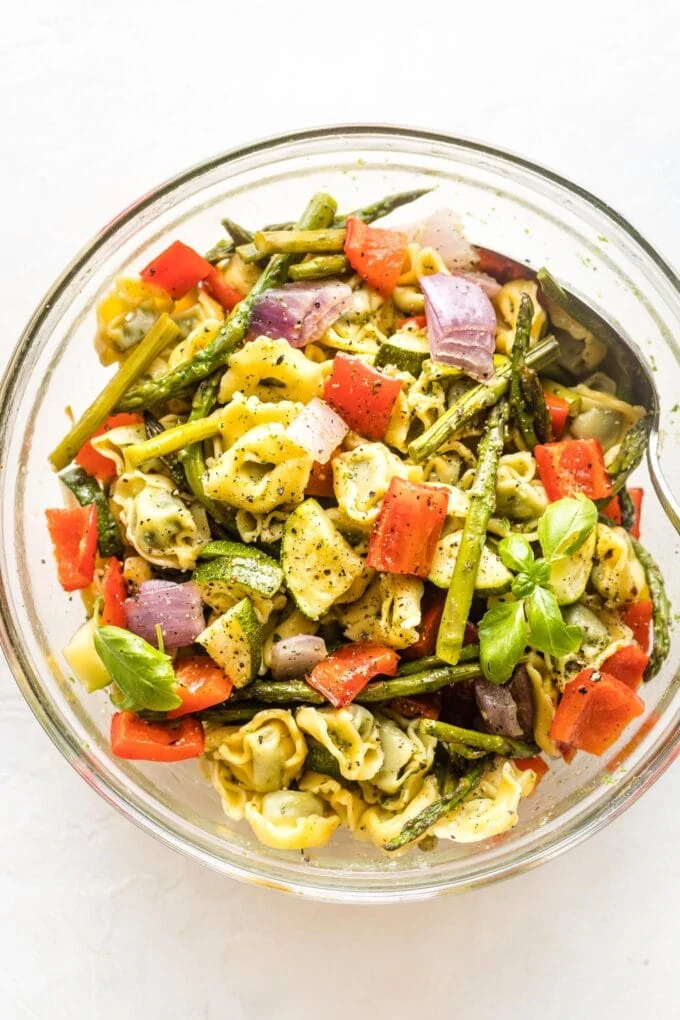 Are you looking for great tortellini recipes!  Try it once. Trust me, you won't be disappointed. This basil vinaigrette tortellini with roasted vegetables recipe is surprisingly hearty.  You must have eaten a lot of boiled vegetables or vegetable curry or vegetable broth, now try roasted vegetables. I can one hundred percent guarantee that you will love the roasted vegetables more with the soft tortellini flavor.  

This combination is really going to be the best. This cheesy tortellini and cheesy roasted vegetables will stay in your memory for a lifetime. It only takes 30 to 35 minutes to make. It's a lot of fun to make.
Get it here.
---
4. Summer Corn, Green Beans with Herb Butter
How is the summer! Humidity and warmth have arrived. It sure doesn't feel good. The body is feeling unwell, you don't know what to eat. So!  Don't worry at all. I have the antidote for you.  Yes antidote, you heard that right. I am talking about Summer Corn + Green Beans with Herb Butter recipe. This recipe is one of the best meal prep ideas. This green recipe will give you comfort and peace during summer. It will eliminate various ailments or ailments in your body.

This delicious recipe is made by combining fresh corn, green beans, various fresh herbs, butter etc. This green combination is really wonderful. It is easy and quick to make. It takes only 30 minutes to make. This recipe with buttery herbs is yours. Will overcome boredom.
Get it here.

But you can try summer vegan recipes for meal prep.
---
5. Vegetable Spring Rolls With Peanut Sauce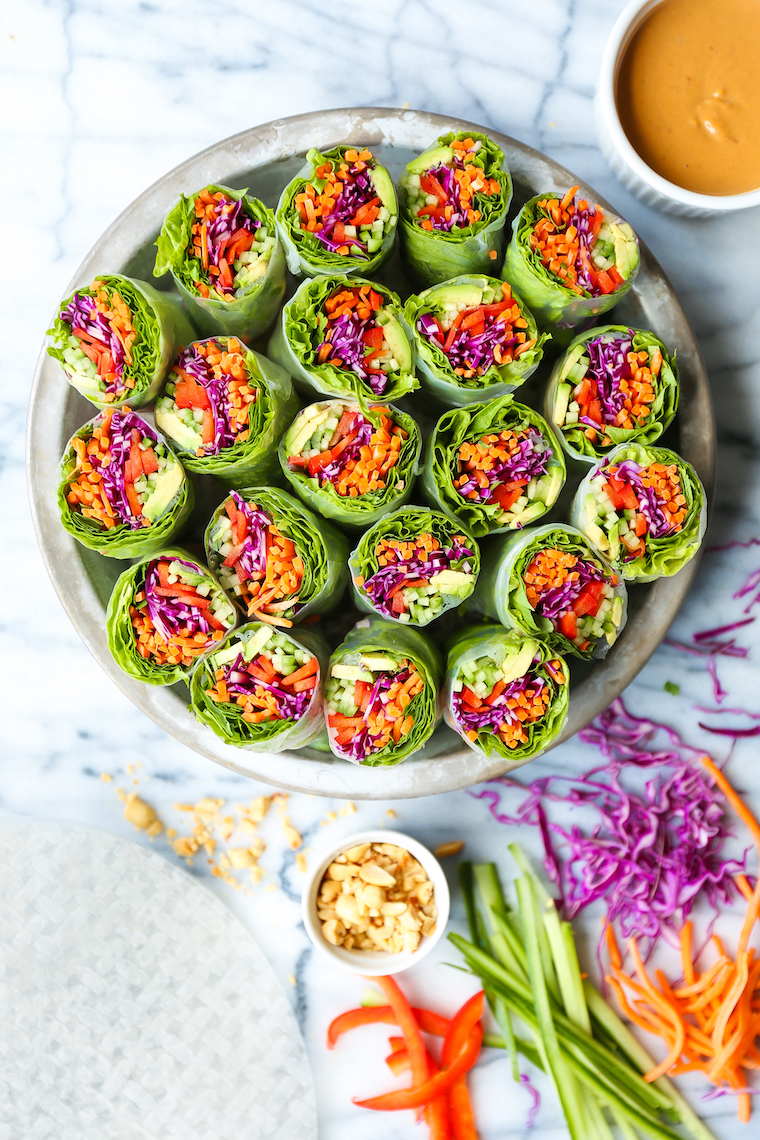 Featuring the creamiest peanut sauce ever, it's straightforward, wholesome, and fresh. Prepare ahead of time and finish up leftover vegetables! For days, I couldn't stop eating these. That can't possibly be the most awful item in the world, can it? I believe I could eat this until the day of my marriage because of the abundance of greens, carrots, cabbage, bell pepper, cucumber, and avocado. Just give me a huge plate of that peanut sauce, please. This peanut sauce could make the material of shoes taste like nirvana, as I believe we've already said. Beside, make these vegan spring recipes for lunch meal.
Get it here.
---
6. Southwest Chicken Wraps
This Southwest Chicken Wraps recipe is one of the most convenient summer dinner recipes. It's my busy day companion. It takes only 25 minutes to make. It's a healthy recipe that can be eaten by people of any age.

I made this recipe yesterday. Yesterday my son had a football match at his school. I had a sandwich to eat in the morning. But when I came home, I didn't have the energy to cook anything. Neither my son nor I wanted to eat a sandwich. That's when I remembered these delicious Southwest Chicken Wraps. We rolled the tortillas and started making our favorite recipe. It's low-effort cooking. My son also learned by watching and said that he will make it and feed it to me.

I had some extra chicken in the fridge and I made these Southwest Chicken Wraps with whatever vegetables or ingredients I had at home. And, I love to eat lettuce leaves. I also added lettuce leaves in between. My son is very good at eating cheese and I always have a stock in my fridge. There was no more worry. I made Southwest Chicken Wraps with cheddar cheese filling and enjoyed it. The moment was truly joyful and fun.
Get it here.
---
7. Seared Scallops on Corn Salad
This summer meal Seared Scallops on Corn Salad recipe is one of the best healthy recipes. My father loves this recipe very much. My dad loves my homemade Seared Scallops on Corn Salad recipe. When I go to e baba or baba comes to me e baba asks to make it. I go crazy with joy when Dad makes various satisfying noises from his mouth after eating it. The enthusiasm to cook doubles. Children get really emotional and motivated when fathers praise them. It's not the other way around in my case.

This recipe is super easy to make and you won't even think it only takes 15 minutes to make. My dad is very allergic to gluten.  After being diagnosed with allergies, my father was afraid to eat. Overcoming that fear, mom and I made dad a variety of gluten-free recipes. This recipe is also completely gluten free. Sea scallops, cilantro and garlic will make a variety of satisfying mouth sounds when you put them in your mouth. If you don't believe it, try it!
Get it here.

You can try shrimp appetizers for any parties.
---
8. Peach & Basil Naan Bread Pizza or Flatbread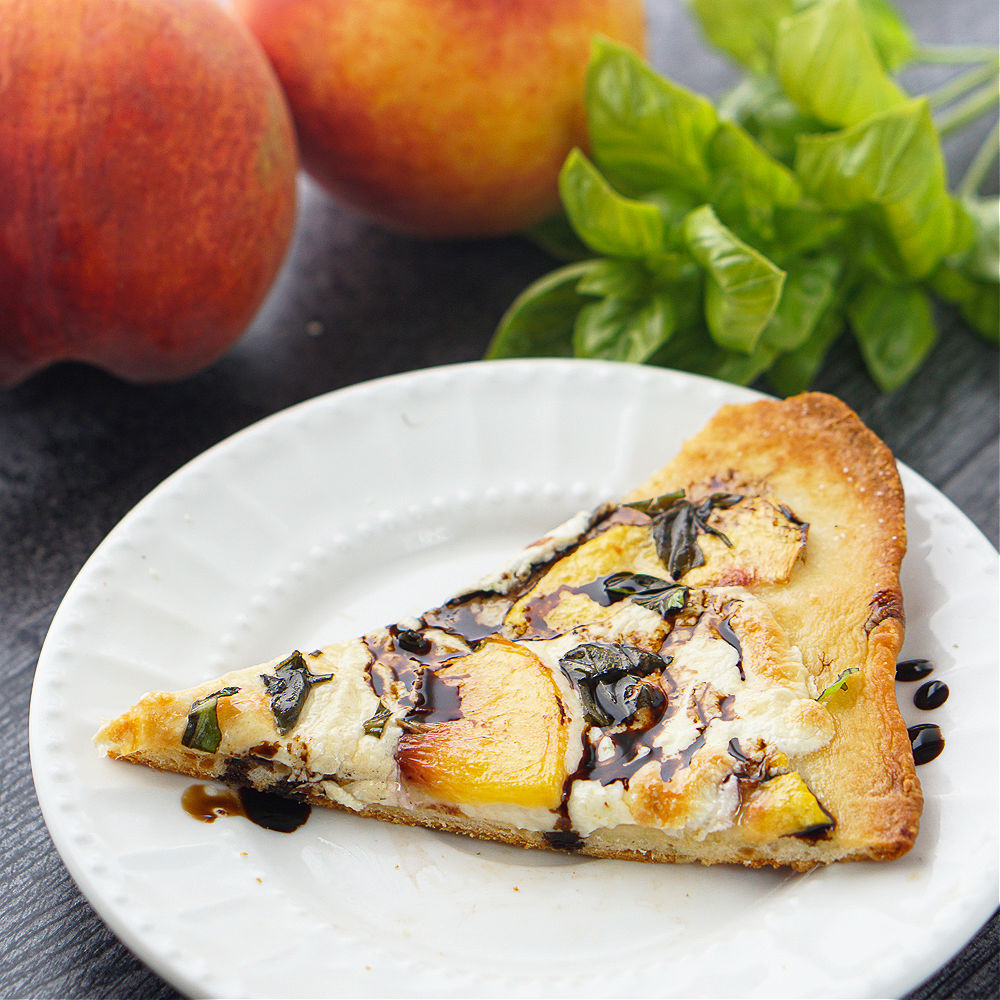 Have you ever eaten pizza or flatbread filled with peaches!  If not, try this Peach & Basil Naan Bread Pizza or Flatbread recipe. This recipe will be ready in only 30 minutes to make. Kids can also make it with your help as it is a very easy recipe. Make this recipe with fresh peaches, basil, naan bread and mozzarella. I'm sure your kids and your whole family will love it. 

Big kids will love it too. This vegetarian recipe can be made with very simple ingredients, making it a budget friendly meal. Add balsamic vinegar to top off the flavor. This cheesy, soft and creamy pizza recipe can be eaten anytime. It's my go-to at midnight when my office work is stressful. Become a partner. That's why I added this recipe to my meal prep ideas. Jump while there is fresh pitch season guys!  Hurry up!
Get it here.

Make these cool watermelon recipes for more ideas for summer.
---
9. Mango Chicken Salad Recipe with Homemade Dressing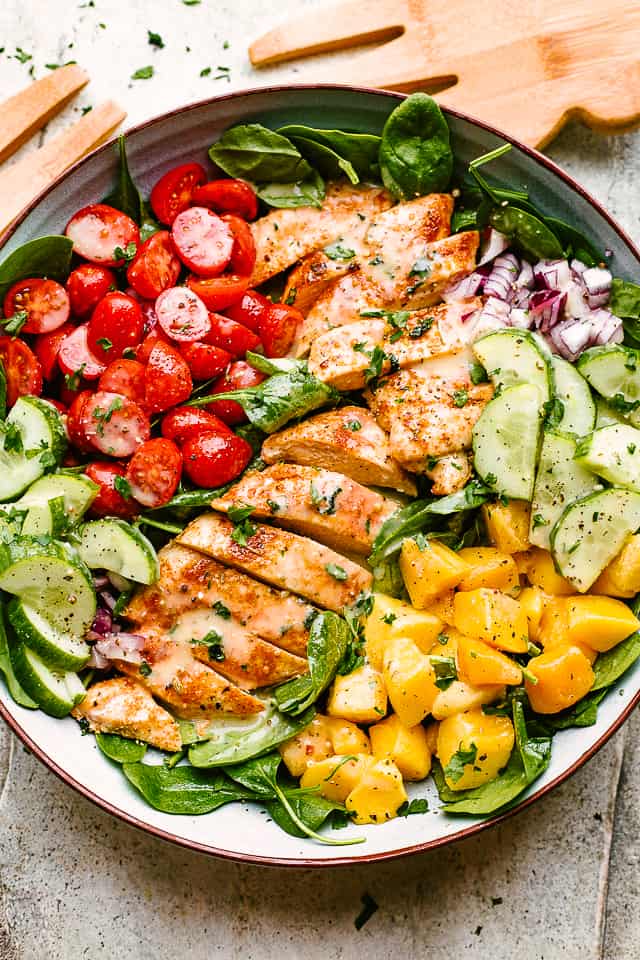 Ever tried Mango Chicken Salad Recipe with Homemade Dressing!  I know what you're thinking. Chicken with mango!  The pairing is strange but it is one of the best pairings among hit pairings. Trust me and make this odd pairing recipe once. I swear you'll be inviting me to eat it.  It's super healthy and nutritious. This recipe will take us to the source of the nutrients.  This scrumptious recipe is made by combining chicken with mango, cucumber, onion, tomatoes etc. What could be better in summer!  This is why I added this recipe to my list of summer dinner recipes. Trust me, and build it. Enjoy!
Get it here.

To get more salad, prepare these high protein salads, spring salads, lettuce salad recipes for healthy eating.
---
10. Garlic Steak and Potato Foil Packs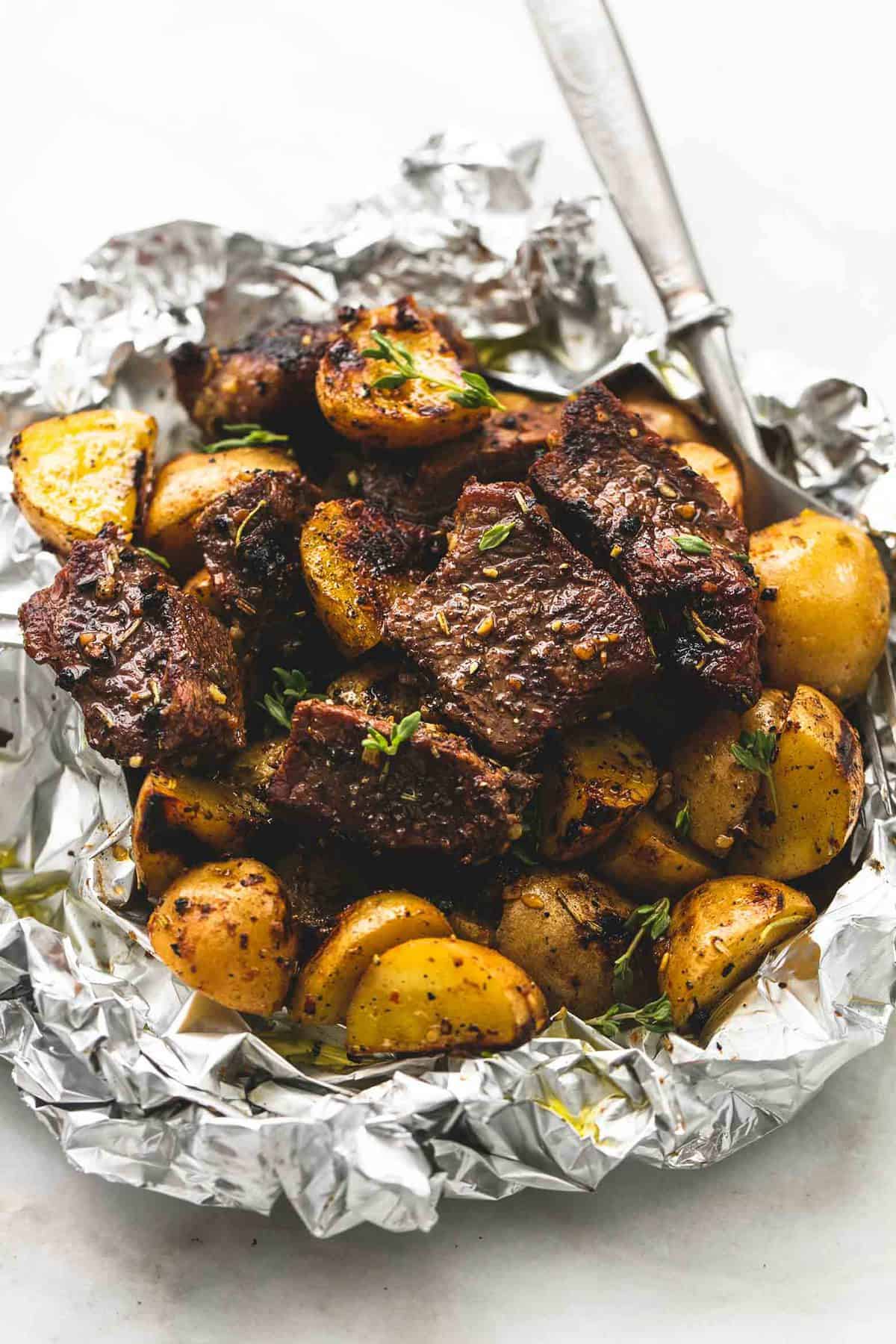 The most ideal bake or easy grilling hearty, healthy meal is simply seasoned, juicy Garlic Steak and Potato Foil Packs, and it only takes 30 minutes! There are some dishes, in my opinion, that go together naturally. For instance, ketchup and french fries. Nutella and Oreo cookies. salsa with chips.  Cherry syrup and diet soda. Of all, steak and potatoes are the greatest of all, as well as those who could ever forget that? I've always loved potatoes, whether they're mashed, split open and stuffed with sour cream, cheddar, and bacon, or deep-fried and salted, so I'm on onboard.
Get it here.
---
11. Coconut-Rum Grilled Shrimp Recipe
This Coconut-Rum Grilled Shrimp recipe is one of the most beautiful heroines among healthy recipes. Where are the shrimp lovers!  Here is Coconut-Rum Grilled Shrimp for you. Build and test. I tried this recipe for the first time on our honeymoon.  We went on our honeymoon at the amazing and awesome beach. To say that my sea is very dear, this sea is more dear to both of us. There is a restaurant that serves only seafood.

The restaurant is popular for seafood. My husband ordered this recipe for us at that restaurant.  My husband and I love any kind of seafood but we are weak to prawns. Then again the recipe is made with coconut milk. Phew!  It's really amazing. Coconut milk and shrimp pairing is an incredible pairing and spiced rum on top of that. In short, if you don't try this recipe once, you are missing out .
Get it here.
---
12. Jalapeno Honey Lime Grilled Chicken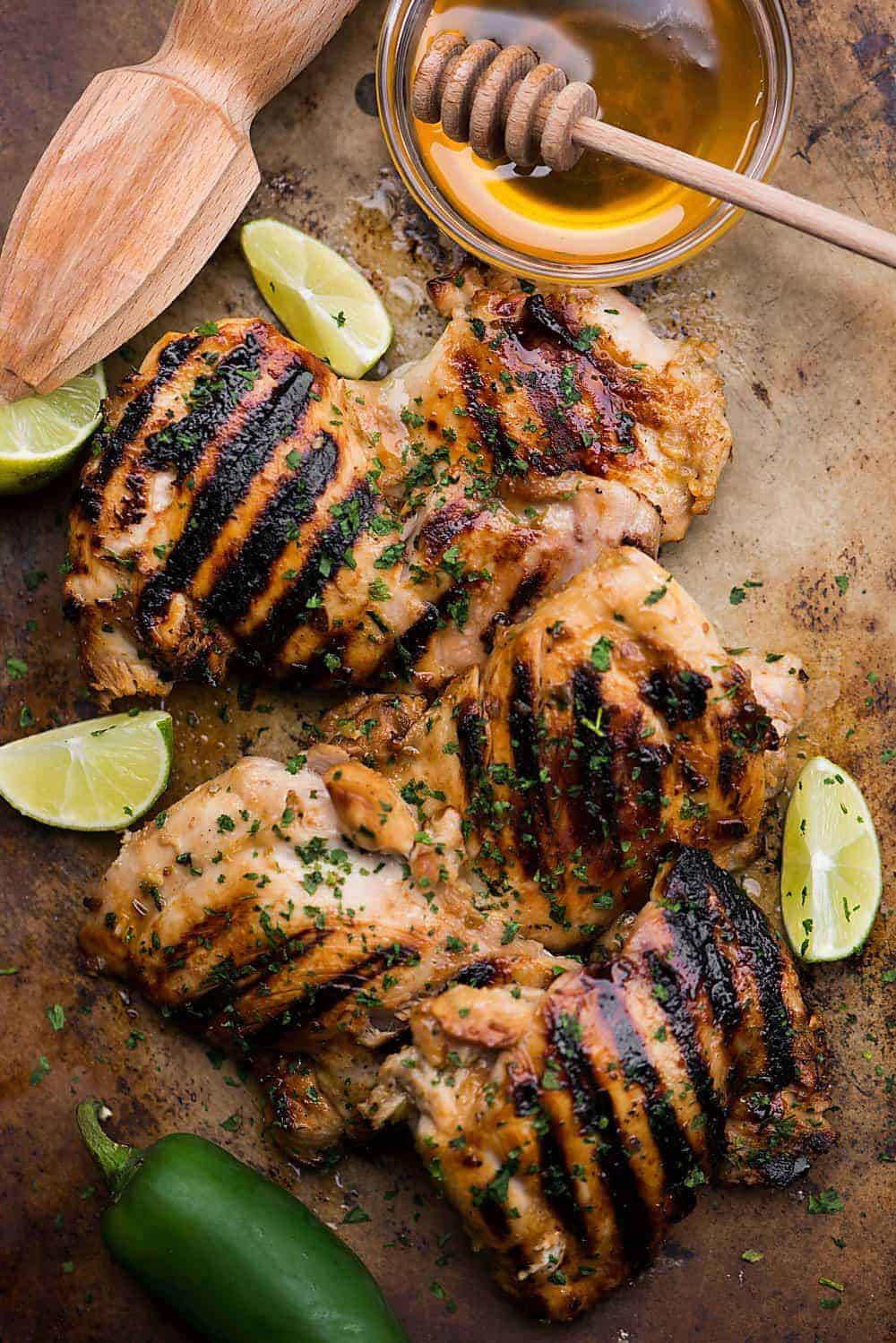 These amazing JALAPENO HONEY LIME GRILLED CHICKEN are perfect as summer dinner recipes. You can make this recipe for any holiday or any parties or occasion. From my experience, this recipe will be a hit at any occasion like: Summer Gathering, Wedding, Get Together Party, Valentine's Day etc. It is so easy and quick to prepare at home. This recipe has a combined taste which is its main specialty. But it has the sourness of lemon, the sweetness of honey and the spicy taste of jalapeño. These three flavors make any dish perfect.

This recipe is made with marinade. Combine the olive oil, honey, lemon juice, salt, jalapeño and your own pepper or herbs of choice. Test the marinade once to see if everything has adjusted properly. The reason for saying this is that adding any ingredient after grilling will not make it perfect and you will lose the original taste.
Get it here.
---
13. Mediterranean Salmon
Healthy Mediterranean meals are incredibly delicious and simple.  Check out how simple this recipe for Mediterranean salmon is! Making it merely requires a few minutes. It is packed with goodness and requires less time to prepare. It contains healthy fats and a lot of protein. It's a fantastic place to acquire vegetables. I enjoy salmon.  I do. I'm really impressed by its smooth skin.

I cherish them. What more could you ask for with sosa, tomatoes, onions, and olives? I'll be on a diet all the time if you had a recipe like this. It is real! If you could prepare a salad this amazing at home. The entire family will then develop a dependence on nutritious food. When I place fresh olives in these dishes like salads, that is when I enjoy them the most.

There are numerous methods to prepare this salad recipe. Just the appropriate marinade will do. The appropriate seasoning is what makes them so delicious. if you enjoy eating eggs or chicken! By producing the appropriate dressing for this salad, you may then substitute chicken or eggs for the salmon. They are truly breathtakingly lovely. But I love these amazing Summer Dinner Recipes for meal prep.
Get it here.

Do you wanna try summer salad recipes in these hot season for healthy health?
---
14. Balsamic Steak Gorgonzola Salad with Grilled Corn
This Balsamic grilled Steak Gorgonzola Salad with Grilled Corn recipe completes the list of meal prep ideas. This is a very tasty and healthy recipe. If you want to eat a lot of nutritious, protein-rich and vitamin-rich food, you can choose this recipe. It takes only 30 minutes to prepare this recipe. Any recipe with gorgonzola cheese is my personal favorite. Its cheesy and creamy ness drives me crazy. This delicious recipe is made by combining sirloin steak, basil leaves, cherry tomatoes, corn, mixed spring etc. I added another ingredient of my choice which is endive lettuce. This dish is whipped with worcestershire sauce. All in all, this nutritious recipe is delicious to eat.
Get it here.
---
15. Creamy Coconut Lime Chicken
A delightful midweek dish that only requires one skillet and takes less than 30 minutes to prepare is baked coconut lime chicken. After being pan-seared, the chicken is covered in a rich milk from coconuts sauce and baked until tender. How shall I put it? I've been really into chicken lately. As opposed to my usual preference for salmon or even tofu, I've been very into chicken recently, especially with creamy coconut lime chicken. You observe, this recipe is quite simple to prepare and tastes little savory and slightly sweet. I promise that chicken and coconut and lime go great with it!
Get it here.
---
16. Bacon Avocado Chicken Salad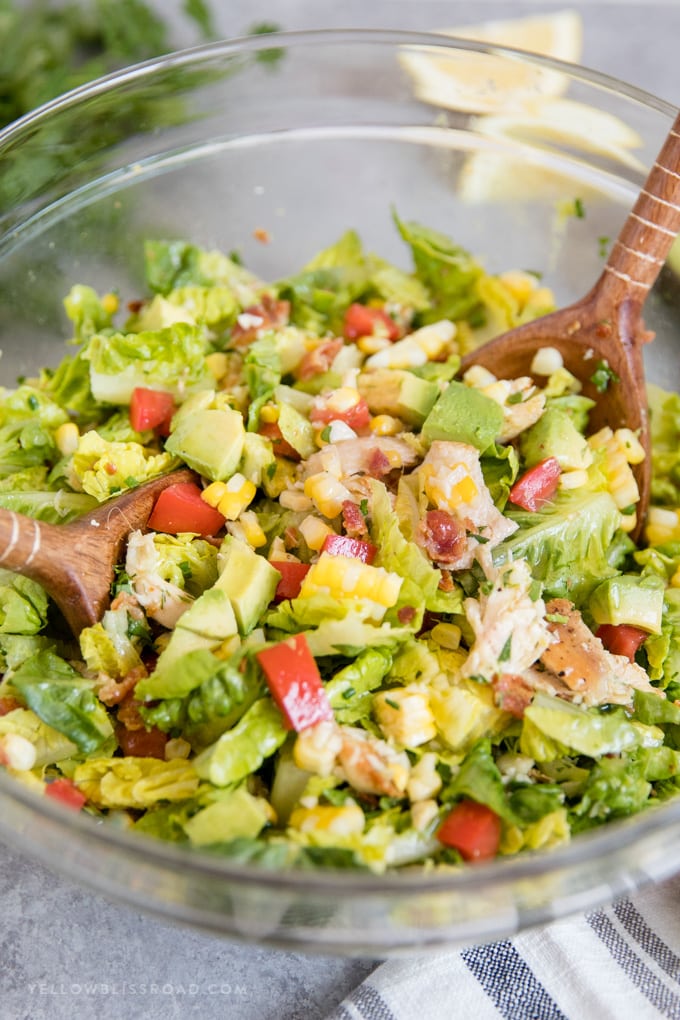 This Bacon Avocado Chicken summer salads recipe is one of the best recipes among healthy recipes. Make it by combining healthy ingredients like chicken breast, bacon, chives, lettuce, honey, avocado etc. It takes 20 minutes to make. It's a very easy recipe. Make this nutritious recipe during summers, it's going to be a perfect treat for you. This recipe is especially helpful in weight loss. If you are looking to have a light lunch or dinner full of protein and vitamin A then this is the perfect recipe for you. I gained a lot of weight after pregnancy, this meal helped me a lot.  It is delicious but healthy and nutritious. Of course it is a low fat and low calorie recipe.
Get it here.
---
17. Grilled Hasselback Fajita Stuffed Chicken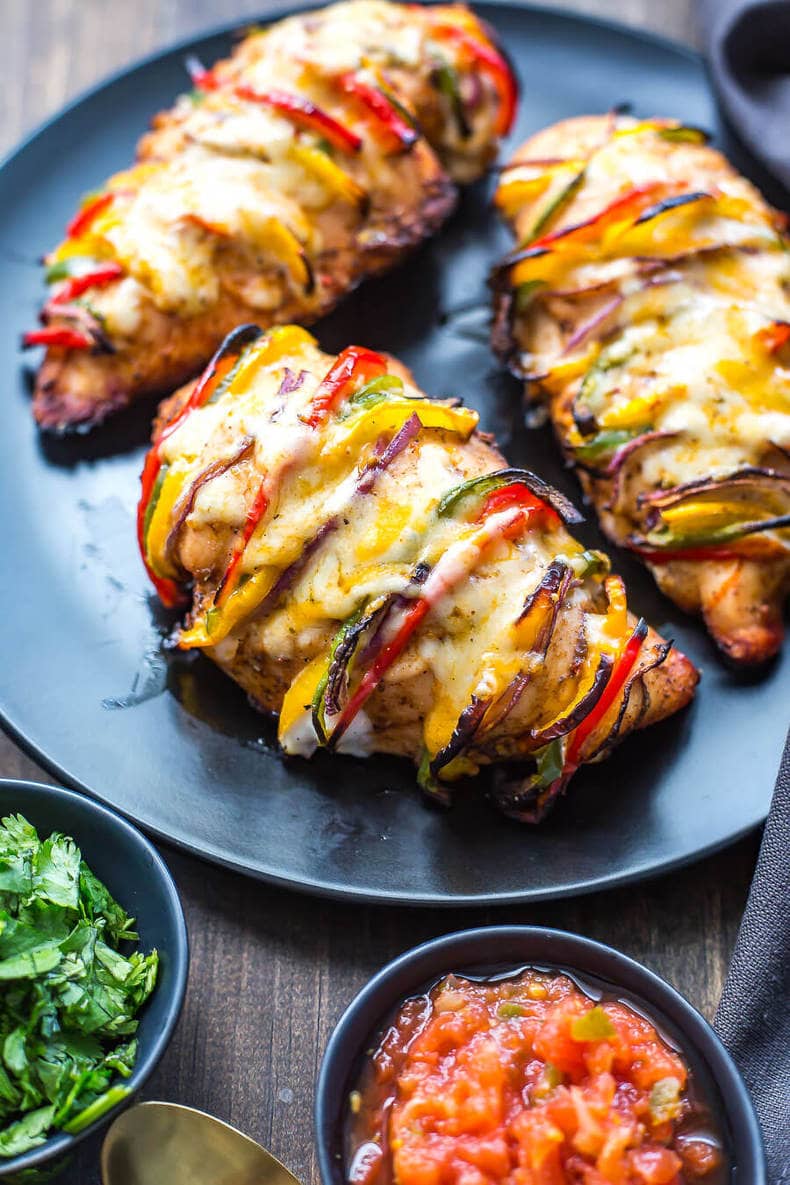 This recipe for Hasselback Fajita Stuffed Chicken contains bell peppers, taco spice, and Tex Mex cheese; it is a nutritious supper choice. For Hasselback Summer Dinner recipes, boneless, skinless chicken breasts work best. Since it would be difficult to fill chicken thighs, I strongly advise sticking with chicken breasts. The simplest taco or seasoning for f to create at home is with spices already in the cabinets. You are welcome to substitute your preferred shredded cheese for the Tex Mex shredded cheese mixture that I use. An excellent substitute for garlic powder is garlic salt.
Get it here.

Chicken lovers? Must try these air fryer chicken recipes & high protein chicken recipes at home.
---
18. Cilantro-Lime Chicken with Corn and Feta Cheese
Summer Weeknight dinners meals can be made quickly and easily with this 30-minute recipe for cilantro-lime chicken and corn, which is full of flavor.  This delectable chicken dinner's brilliant colors and strong flavors will please the entire family!

A meal that mixes corn and protein is cilantro lime chicken and corn. This meal is gluten-free and packed with protein. This recipe is one of the best summer dinner recipes. It's incredibly simple to prepare, making it ideal for meal prepping, making ahead, cooking on a hectic weekday, or freezing for later! The entire process simply requires a few items and takes 35 minutes.
Get it here.
---
19. Skillet Lemon Parmesan Chicken with Zucchini 
A wholesome meal for chicken! Everyone in the family will adore the skillet lemon parmesan chicken with zucchini and squash recipe since it's so simple, tasty and only requires one pan! It's a filling, zesty, and lemony supper that freezes well. You probably have a lot of zucchini and summer squash that need to be used up right now if you have a garden or live near someone who does. 

The ideal application for it is in this nutritious chicken meal! The easiest recipe there is is for lemon parmesan chicken. Just a fast dicing for preparation, then the chicken boils in approximately 7 minutes, and you set it aside while sautéing the zucchini and squash over about 6 minutes in the same skillet.
Get it here.
---
20. Creamy Beef and Shells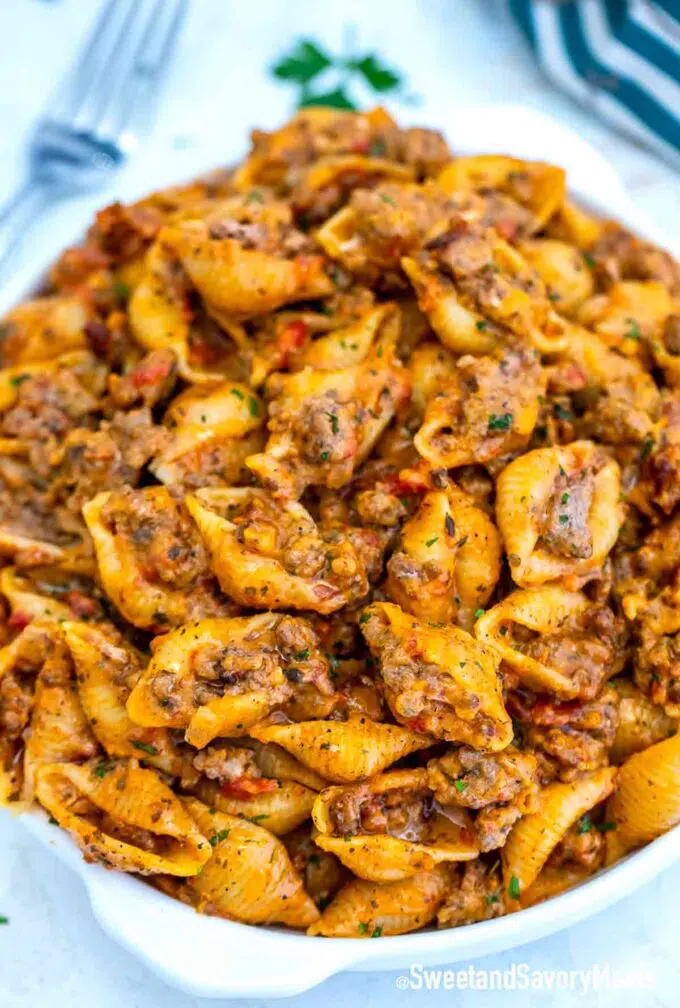 Shells stuffed beef recipe I want to eat!  Then try this Creamy Beef and Shells recipe. This Creamy Beef and Shells recipe is one of the best summer dinner recipes. I guarantee this dish will make everyone's mouth water. This cute pasta dish recipe is very tasty and easy. It takes only 30 minutes to make.

You can use the previous day's beef to cook this dish. Combine ingredients like garlic, parsley, all purpose flour, Italian seasoning, cheddar cheese, pasta shells, marinara sauce etc. to make it. This delicious combination creates magic. This recipe is loved by everyone, especially kids. It is a very interesting recipe which is amazing as dinner.
Get it here.
---
21. Linguine with Tomatoes Basil and Brie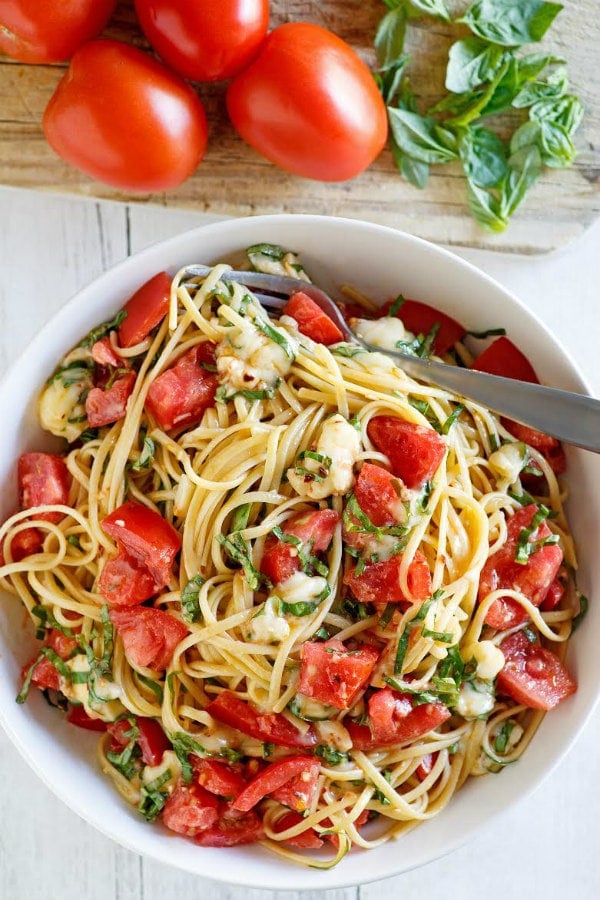 This summer recipe is one of the tastiest meal prep ideas. The tastiest pasta recipe for summer is this one: linguine with tomatoes, basil, and brie!  Here, heated linguine is tossed with fresh basil, tomatoes, and melted brie. In the summer, when you can easily find super-fresh tomatoes that are ripe and basil that is still green, this is a great dinner meal to try.

Simple is best.  And it simply functions. Room temperature brie melts into the heated spaghetti, leaves small pieces of brie behind when you add it to it. To achieve that creamy and soft texture, the brie must be nearly at room temperature. You'll taste a bit of that rich brie flavor in each bite of this spaghetti.  And if you love brie as much as I do, you'll enjoy this spaghetti dish more than anything.
Get it here.
---
Bonus
Sweet and Spicy Grilled Chicken and Pineapple Skewers
You'll eat grilled chicken and pineapple on sweet and spicy skewers all summer long! These gluten-free, paleo, and protein-packed chicken skewers are flavored with chili garlic sauce and flavored with honey. Summertime has arrived at last! Even so, it seems that summer just got going a few weeks ago. I find it difficult to recall that it's still spring after Memorial Day.

Here in the United States of America summer is without a doubt my favorite season. Running, hiking, and biking are all excellent outdoor activities in the early hours and occasionally in the afternoon. This year, I've done them all and taken full use of the opportunity. Of course, I like to run by a wide margin. If I have an extended run the following day, wholesome dinners like those Hot and Chilli Chicken and Pineapple Skewers were my go-to. They contain a tonne of protein, and when paired with rice, the dish is wonderfully matched.
Get it here.

Do you wanna try summer punch ideas for parties?
---
SUMMER PASTA with Prosciutto, Peas and Parmesan Cheese
This recipe is healthy as well as a convenient recipe among healthy recipes. Prosciutto Pasta with Peas and Parmesan Cheese is an easy recipe that takes just 30 minutes to prepare. This quick, delectable, and authentically Italian spaghetti is ideal for a weeknight meal! There is no cream used in the prosciutto pasta sauce; it is made only with butter and shredded Parmesan cheese. To let go of some of the prosciutto's juices and saltiness, first sauté it briefly in butter. 

Pepper is optional. Add the cooked, rinsed penne pasta and green peas after that. On medium heat, add the shredded Parmesan cheese and swirl to incorporate.  Around the butter, the cheese melts well and covers the pasta.  In the event you find the pasta and sauce to be too dry, simply add a small bit of the conserved pasta water—only about 1/4 cup—on medium heat. The cheese ought to combine perfectly with all the butter. However, you probably will not require it. Those who are die hearted fan of pasta, these Summer Dinner Recipes for them, enjoy!
Get it here.
---
Lemon Chicken Pasta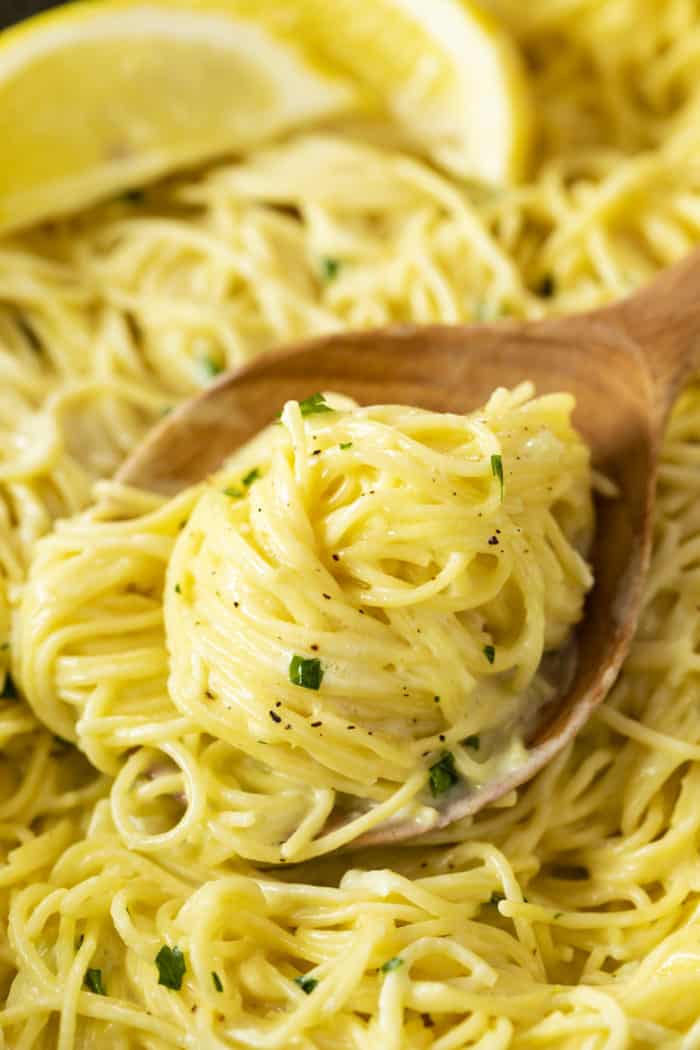 This lemon chicken pasta recipe is a very popular recipe on the list of meal prep ideas. Delicious Creamy Lemon Pasta may be on your table in about 20 minutes if you only need one pot! Every mouthful of the buttery lemon sauce will make you happy! It goes well with chicken, prawns or just by itself. In our home, we are absolute lovers to accomplish this creamy lemon pasta. The savory Parmesan cheese and cream sauce counteract the lemon's tangy, citrus flavor. Each component precisely balances the others.
Get it here.
---
Bang Bang Shrimp Tacos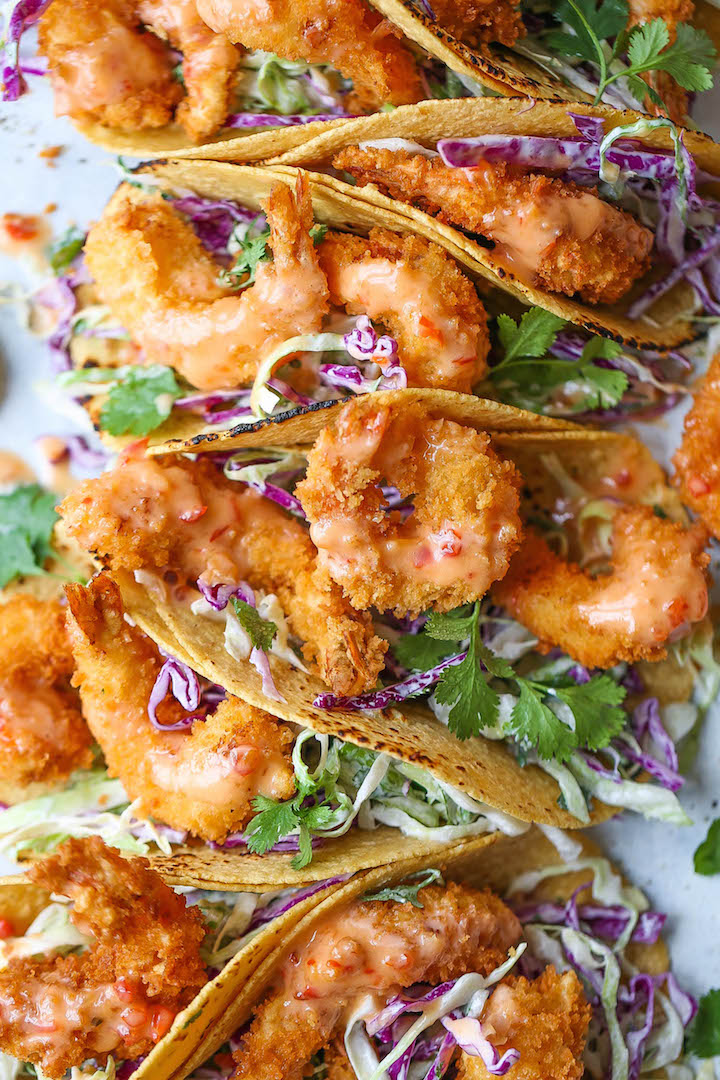 Tacos with incredibly crisp prawns covered in the most incredible and enormous creamy velvety chili sauce. It'll be challenging to stop at just one or ten! So I essentially recreated that, replaced the chicken with prawns, and put it inside some tacos. I know. This is genius.3 prawns can now be placed inside each taco. Alternately, you might aim for the celestial body and stuff 4-6. Not to mention the sweet chili sauce. It is meant to drizzle, dip, or spread as required.
Get it here.
---
Honey Garlic Asian Chicken Kabobs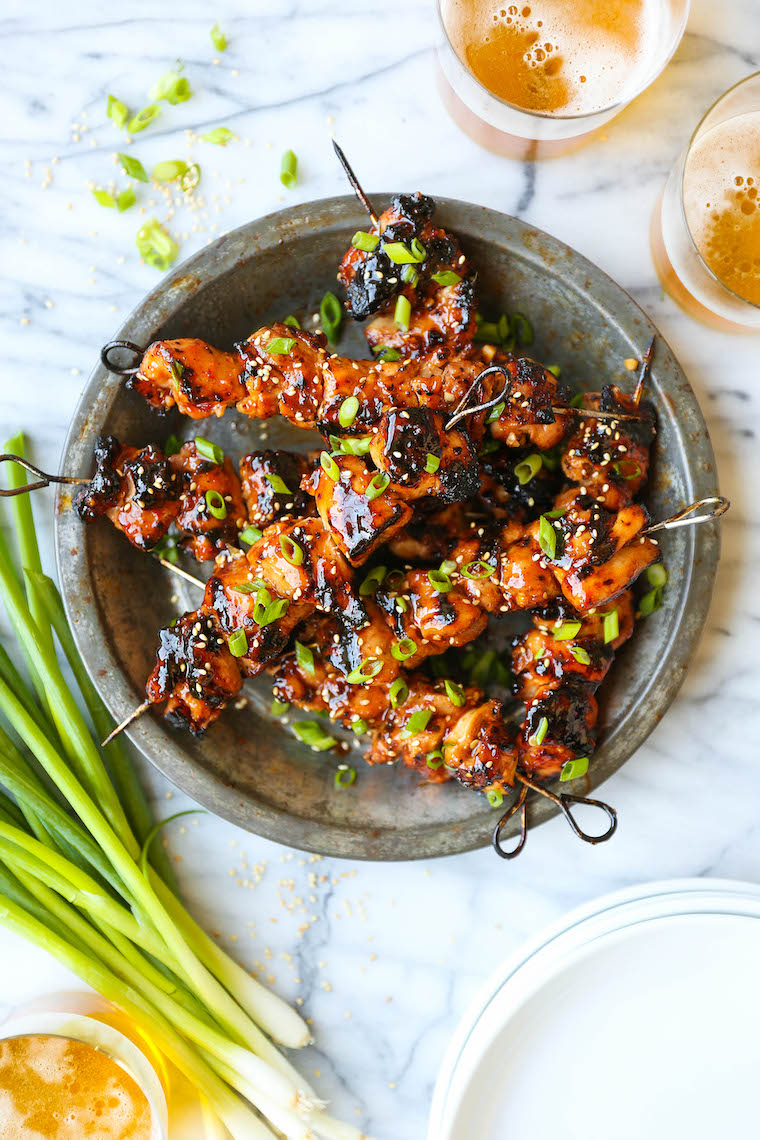 One of the best things about summer dinner recipes was these. The answer is no hold on. the two highlights of summer. Asian chicken kabobs that are quite saucy and sticky. and cool beer. In essence, that is what we have been doing during this scorching summer, which is a vast improvement over the days when we had to wear parkas, gloves, and beanies and travel to Siberia.

The answer is no we never at all remember those times. Instead, I spend the entire summer in charge of the sauce, allowing the chicken to absorb all the delectable dressings, including oyster sauce, ketchup, honey, chili garlic sauce, Dijon, garlic, and ginger. Feel free to increase the amount of Sriracha or chili garlic sauce for more heat.
Get it here.
---
You may Like These Meal Ideas:
Fritter Recipes
Green Bean Recipes
Sheet Pan Dinners
High Protein Slow Cooker Recipes
High Protein Lunch Ideas
Vegan Rainbow Meals
Spring Desserts
Peach Cocktails
---
If you like this article about Peach Cocktails, share with your friends or families on Facebook, Twitter, and Pinterest. Choose your favorite recipe and make it at home, let me know which is your best recipe in the comment. Also, you can subscribe to my blog to get all the latest updates first on your mobile.
---
To make these recipes for later, SAVE this pin on your favourite Pinterest Board