As summer approaches, I am sharing many summer recipes with you. I like to think about cooking, I like to experiment. I love to share with you the experience of making them. Apart from these interesting summer desserts, I have presented some other recipes to you. No one likes to cook monotonous recipes during summer. We also don't like to cook by standing in the heat of the fire for a long time. So here are these interesting and different popsicle recipes for you. Today I am sharing these dessert ideas especially for kids. They are healthy and ideal for kids and adults alike. These summer recipes are shared to prevent kids from fussy eating. These popsicle recipes are made with various fruits, coconut, yogurt etc. and are made with healthy ingredients. These summer recipes are very easy and convenient. Just combine the ingredients and your work is done then leave the rest on top of your refrigerator. Beat this summer hit with these recipes. Enjoy your beloved summer.
---
Some Tips for Making Popsicle Recipes –
Wrap in plastic wrap – To keep these popsicles fresh for longer, wrap them individually in plastic wrap and store in an airtight container or bag in the fridge.
Add cornstarch – If you want your popsicles to be creamy, add cornstarch to them.
Keep the temperature close to 0°F – To make or store popsicles perfectly, set the freezer to the coldest setting. Set the temperature to 0°F. This will allow your ingredient mixture to freeze.
Reduce the amount of water in popsicles – Reduce the amount of water to keep your popsicles hard. That means adding the right amount of water substitutes, not just water.
---
1. 4-Ingredient Fruit & Yogurt Popsicles
This 4-Ingredient Fruit & Yogurt Popsicles recipe is one of the best popsicle recipes out there. Children love to eat ice cream or popsicles during summer. They often buy ice from the store and eat it. And then cold, stomach ache, and various body ailments are affected. That's why I make these convenient and delicious summer recipes at home.  Honestly, not only kids but also adults love to eat frozen popsicles this summer.

These fruit popsicles bring peace, satisfaction, comfort, and satisfaction to all of us during summer. This delicious recipe is made by combining fruits, honey, whole milk Greek yogurt, and heavy cream. These popsicles should be made with fruits which provide extra water to our bodies in summer. But the fun of eating popsicles with your favorite fruit is different. Most importantly, this recipe is a healthy recipe. Not as unhealthy or sugary as the popsicles out there. Make this recipe with honey instead of sugar.
Get it here.

But you can try summer punch recipes for hot days.
---
2. Homemade Coconut Mango Popsicles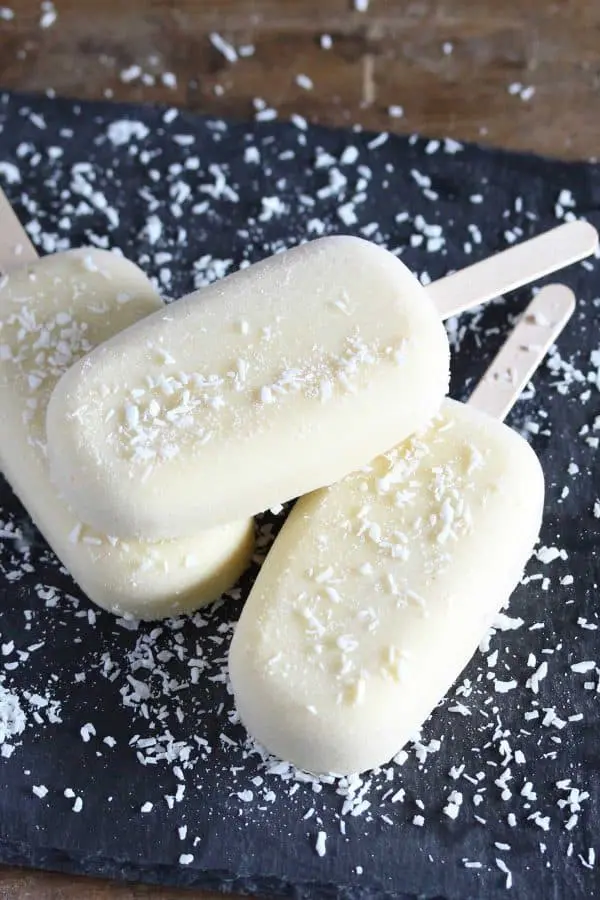 Do you want to make delicious popsicles at home and give them to everyone in the house?  Then make this Homemade Coconut Mango Popsicles recipe. Your family members will appreciate you and ask you to make it again. This delicious recipe is a gluten free and vegan recipe.

This delicious recipe is made by combining fresh or frozen mango, almond milk, coconut milk, honey, coconut, etc. Refrigerate this delicious mixture for 6 hours. This recipe is one of the most amazing dessert ideas. They are so convenient that you can make it anytime, especially at night. Make the mixture within 10 minutes then let the mixture freeze overnight.  No need to give extra time. Serve everyone at noon the next day.
Get it here.
---
3. Ripe Peach Popsicles
This is a continuation of a series about making frozen popsicles out of delicious summer fruit. Only the fruit that has a little sugar, and a splash of lemon are present in them. They are just too delicious and too much fun. Peeling those peaches would be foolish because the vitamins, flavor, and vibrant colors are all found in the skin. Put the ingredients in a processor or blender, chop them, and purée. But you can try protein powder desserts for healthy dessert.

Although the idea is quite clear, you won't come across this kind of stuff at your neighborhood store. You must create it from scratch. I sometimes add a little honey along with some lemon juice depending on the fruit, however, this is it. Add some liquor if serving it to grownups. Anything is more pleasant on a warm evening.
Get it here.
---
4. 3 Ingredient Banana Popsicles
The easiest and healthiest popsicles ever made!  Definitely want to create! Here is the 3 Ingredient Banana Popsicles recipe for you. It is a very easy, simple, and healthy recipe. This banana popsicle recipe is best for kids. I have made this many times for my kids. Trust me it will appeal to people of all ages. I am very tempted by this banana popsicle. These types of summer recipes will keep your kid away from food addiction.

I made this banana popsicle recipe with my son. It increases his interest and creates a creative spirit. Enthusiasm to work or learn something new increases. This combination of banana, honey, and milk is as traditional as it is popular. These three gems are always present in all of our homes. It is so convenient that you can make it anytime and is definitely pocket friendly. I don't think there is anything better than this.
Get it here.
---
5. Vegan Papaya & Lime Popsicles
This Vegan Papaya & Lime Popsicles recipe is one of the most gorgeous popsicle recipes. If you love ripe papaya then you will love this popsicle recipe.  This is a very cute-looking popsicle that will appeal to people of all ages. I couldn't wait for this creamy coconut-filled and ripe papaya popsicle.  So it's enjoyed by the whole family this summer.  

I speak from my experience that everyone will like this delicious recipe, there is no one who will not like it.  And those who don't like papaya can make it with any summer fruit. Everyone in my house loves papaya but I still made it with different fruits. Apart from papaya, I made it with fruits such as kiwi, watermelon, mango, etc. This vegan popsicle will help you enjoy the summer season with comfort and great taste. The fun of making this dairy free papaya popsicle at home is different.
Get it here.
---
6. Coffee Popsicles
The thought of extreme summer temperatures scares me.  But now there is no need to be afraid, I am not afraid now.  Because I have Coffee and Coconut Milk Popsicles to beat the summer heat. Yay!  Friends, I am feeling cool in this summer heat.  I'm sure you will feel as cool and smooth as me after tasting it. This delicious recipe is made with coconut milk.

The real magic is in the coffee. I made it with espresso powder. You can add vanilla extract to give it a little extra flavor but it's optional.  This popsicle recipe is not of icy texture, it is of creamy texture.  I love to eat creamy popsicles so I have added these types of popsicles to summer recipes.  Feel free to decorate these popsicles, decorate them as you like, and enjoy them with the whole family. I know all of you are feeling cold now in this extreme heat. he he!
Get it here.

These amazing gluten free muffins are perfect for snacks.
---
7. Cherry Pineapple Popsicles
This Cherry Pineapple Popsicles recipe is a showstopper among popsicle recipes. It looks very attractive and bright. Just looking at these popsicles makes me feel refreshed. This pair of pineapple and cherry is very beautiful, the color is the same, the smell is the same and the taste is the same. One with a light yellow color and another with its amazing red-purple mixed color will make you crazy. It's a really amazing pairing.

I would suggest you to definitely add these cherry pineapple pipsicles if you are hosting a summer gathering. This popsicle will brighten up any party. This pairing of cherry and pineapple conveys a heavenly taste and texture.  Cherries and pineapples combine to create incredible recipes. It must be admitted that this Cherry Pineapple Popsicles recipe not only cools the stomach or the soul, it also cools the eyes, its beautiful appearance makes the eyes feel calm. Beside, must try these pineapple desserts for any parties.
Get it here.
---
8. Perfect Strawberry Popsicles Recipe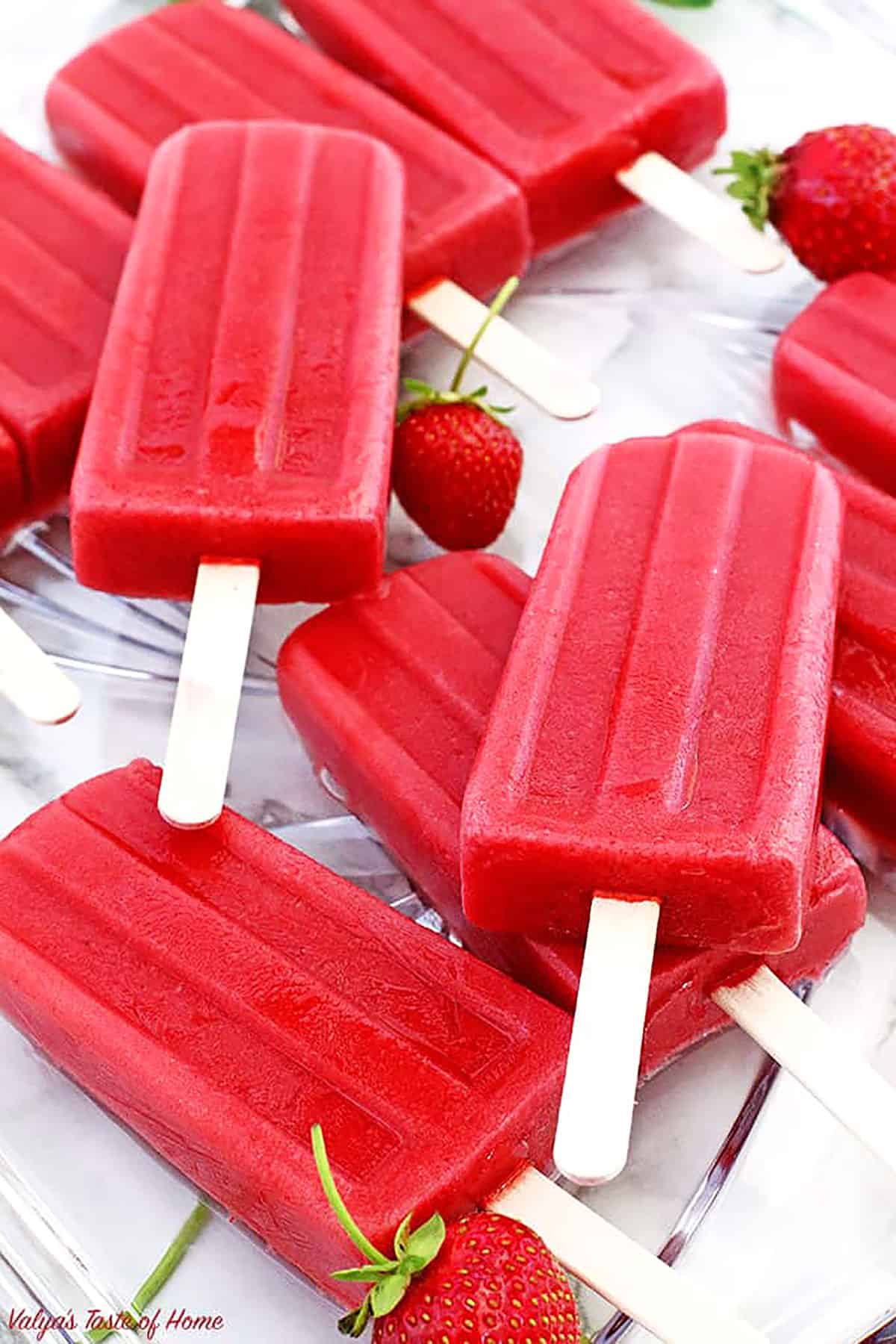 Are you a strawberry lover?  Then this recipe is going to be your favorite among dessert ideas.  Because this is the Perfect Strawberry Popsicles recipe. Make it with me if you want to dive into a strawberry metropolis. This dark red popsicle recipe awakens the kid in me. I still remember as a kid grabbing colorful popsicles, especially red popsicles. 

Red popsicles are very appealing to all of us. When I first made them at home, my daughter would sit in front of the fridge all day because she wouldn't let anyone eat her strawberry popsicles. This recipe is made of three main ingredients. It's easy to make. Frozen strawberries. Blend the maple syrup and nut milk together well and refrigerate for 6 hours. Sticky red popsicles keep us fresher in summer too. Having these popsicles at home makes me feel so much calmer and less afraid of summer. And you! You can also try these delicious strawberry desserts for any occasion.
Get it here.
---
9. Rainbow Popsicles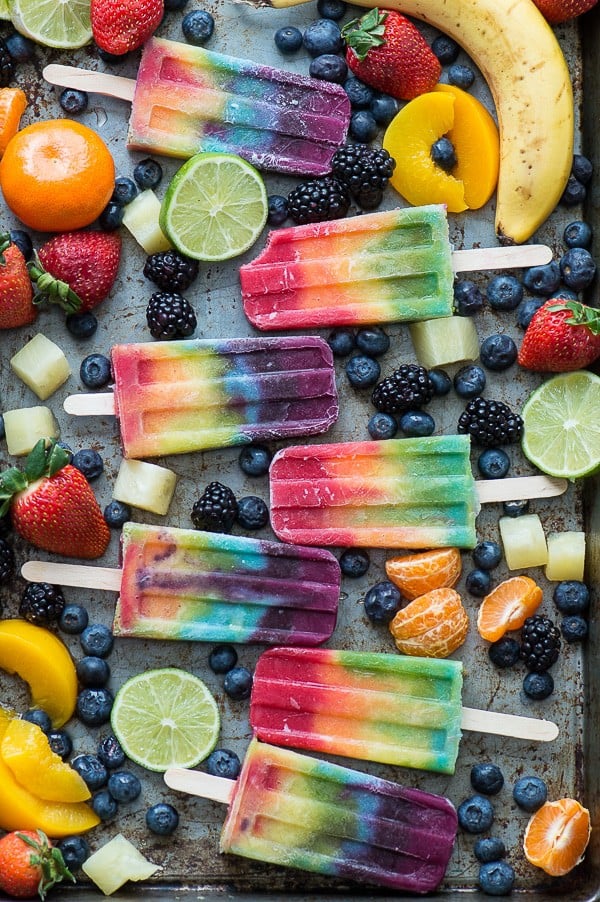 It's simple to layer the fruit smoothies in the mold. Scoop the fruit drink mixture into the mold using a spoon or tablespoon. Although it's normal for all of the layers to muddle slightly, I've found that placing liquids into the mold rather than dumping them in out a glass yields superior results. After filling the molds, overnight freeze the popsicles.

This Rainbow popsicle recipe is one of Hughes's hit popsicle recipes. This is one of the best popsicle recipes for kids. It's a vegan popsicle with an icy texture. Just imagine what it would be like to enjoy this colorful popsicle in the summer season!
Get it here.
---
10. Strawberry Cheesecake Greek Yogurt Popsicle Recipe
Strawberry Cheesecake Greek Yogurt Popsicle Recipe Made!  The summer season has never been better than making this strawberrylicious recipe!  To see how to make it. I am sure, you will like this recipe very much. This recipe is a very easy and healthy recipe. People of all ages can enjoy it.  

Best of all, this is the perfect recipe for those who are trying to lose weight and can't eat popsicles with added fat or sugar.  This popsicle recipe made with fresh or frozen strawberries will transport you to strawberry heaven. Greek yogurt, vanilla extract, honey, and cream cheese combine with the pure aroma and taste of strawberries. Let this delicious combination freeze in the popsicle mold for 4 to 6 hours. Finally, enjoy these light pink popsicles!
Get it here.
---
11. Blueberry Cheesecake Popsicle
This delicious frozen treat is a fun frozen delicacy that is ideal for a summer day: these creamy, delectable Blueberry Cheesecake Ice Pops! These can be placed in the freezer after under twenty minutes of work. They truly have a cheesecake-like texture thanks to the graham cracker crumbs.

We love no-bake desserts in the summer when the temperatures are soaring. In the summer, my kids adore popsicles. We frequently indulge in it because: It's so simple to create them! They are always available in the freezer! Using fresh fruit to switch up the flavours is enjoyable. For Easter celebration, make these easter cheesecake recipes for whole family.
Get it here.
---
12. Pina Colada Popsicles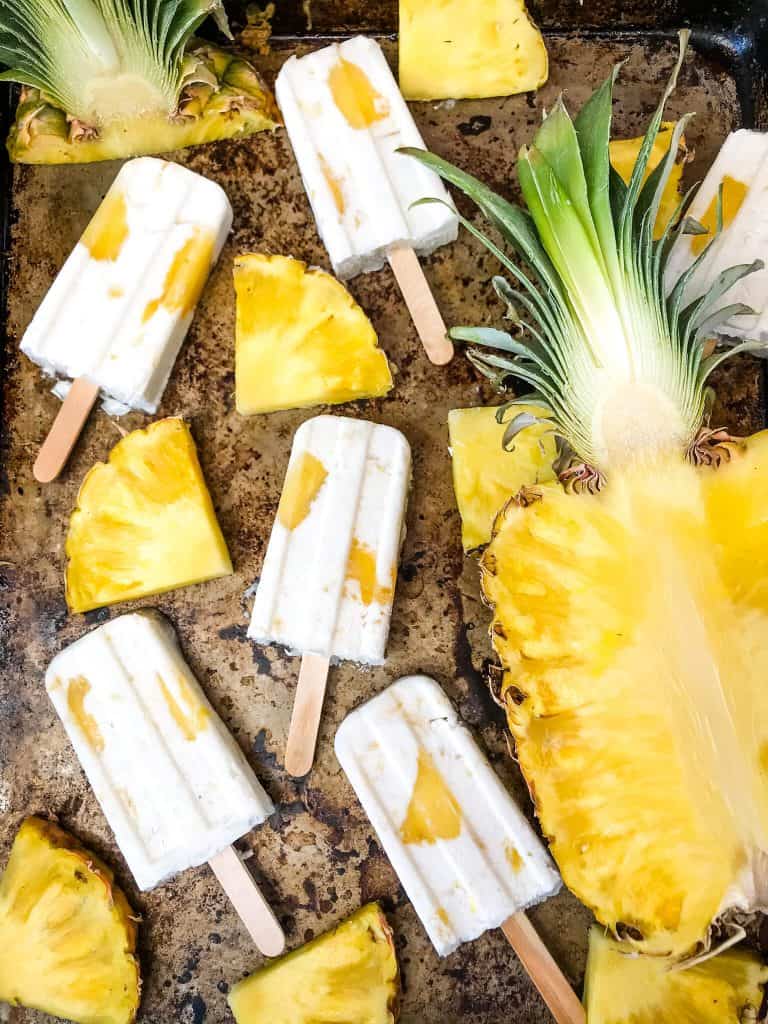 These Pina Colada Popsicles are the ideal summertime treat from the islands! A coconut poptail is made with pineapple and coconut milk with the option of rum! These coconut pineapple popsicles are the ideal tropical treat. I just enjoy creating homemade popsicles in the summer. These are low in calories, reasonably healthful, and delectable thanks to the coconut milk base. 

Add some rum to the recipe for a Pina Colada Poptail (such as an alcohol popsicle); coconut rum works great for this. To prevent freezing problems, you should limit the alcohol content at 20%, or around 1/2 ounce of each poptail. But just omit the rum to make a child-friendly or alcohol-free popsicle. Nothing else needs to be changed.
Get it here.

Find out these amazing mango dessert recipes for summer hot days.
---
13. Easy Jell-O Popsicles
There is simply nothing like a popsicle on a hot summer day, I don't know what it is! In the summer, kids adore creating their own popsicles, and I love doing it with them. These Jell-O Popsicles for kids were a big hit!  They are quite simple to make and have a delicious flavor. These homemade jelly popsicles need relatively little effort to create, but they also have one extra feature that makes them ideal. They are drip-free.
Get it here.
---
14. Pineapple Orange Banana Popsicles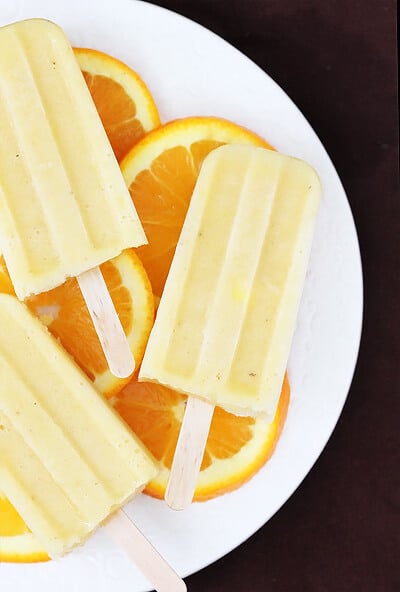 This Pineapple Orange Banana Popsicles recipe is one of the best summer recipes. This is a refreshing popsicle recipe. One of my favorite combinations is pineapple, orange, and banana. This simple pineapple, orange, and banana popsicle recipe is a crowd-pleaser. Who doesn't love this delicious colorful summer treat?

The ingredients used in this recipe are healthy as well as nutritious. Popsicles rich in vitamin C, manganese, and potassium keep our body healthy and acts as an antidote to protect us from various diseases. From these popsicles, we get a lot of antioxidants which are very necessary for our bodies. We are always amazed by the benefits of bananas because bananas are a versatile fruit. Bananas protect our kidneys, liver, nervous system, etc. in many ways. Make these healthy delicious and yellow-colored beautiful popsicles at home and spend the summer peacefully.
Get it here.
---
15. Strawberry Blueberry Yogurt Popsicles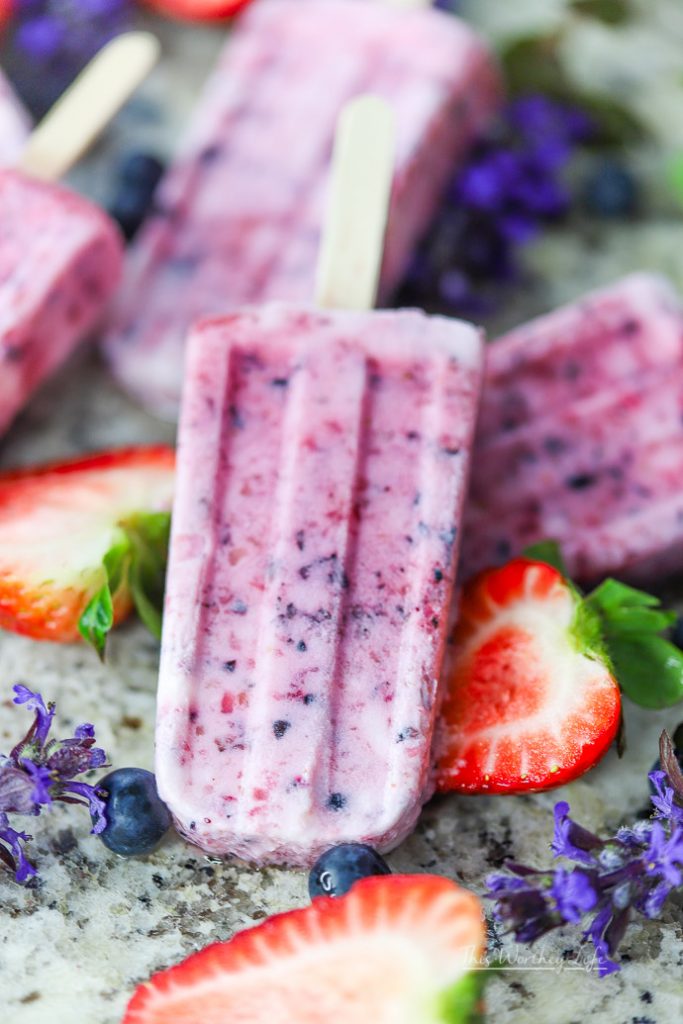 These Strawberry Blueberry Yoghurt Pops are incredibly simple to make and are ideal for the summer. They combine easily with only three ingredients to create a tasty and healthful summer treat. Making homemade popsicles at home is a simple method to involve kids in food preparation and cooking. Even our two-year-old enjoys helping to load the blender with ingredients and turn it on.

Simply combine fruit, yogurt, and a small amount of sugar in a blender, and then add the prepared smoothie blend into your popsicle mold. For this recipe, we layered the fruits, but you could also combine them or modify it to make strawberry or blueberry popsicles. These dessert recipes are ideal for sunny evenings.
Get it here.
---
16. Coconut Lime Popsicles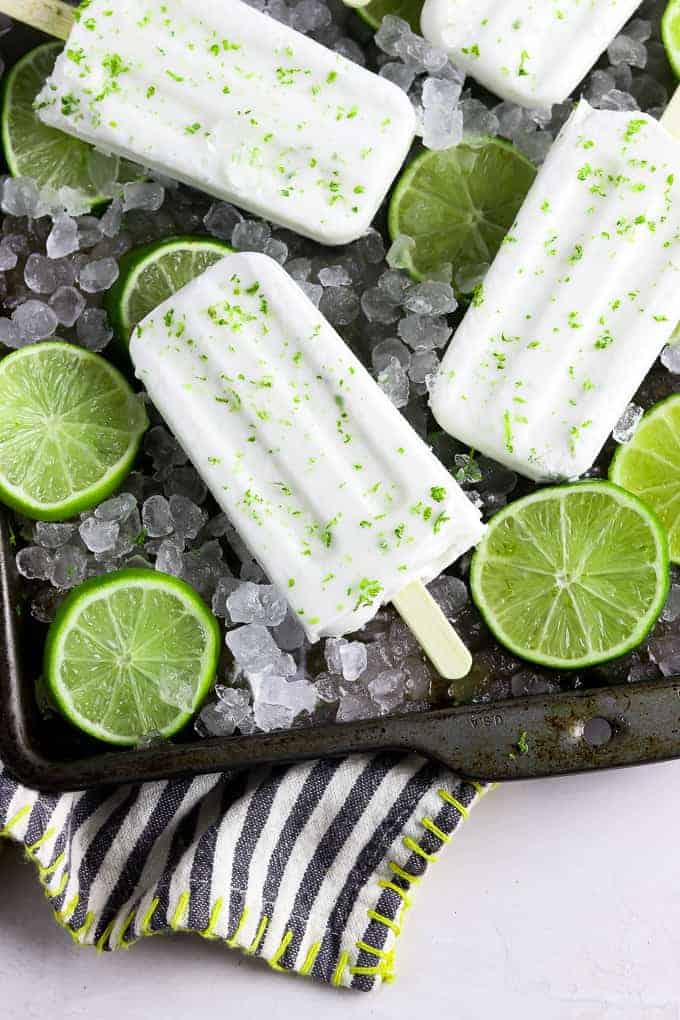 I have a complete weakness for lime popsicles. I'm done once you add coconut! All summer long, you'll be devouring these coconut lime popsicles. Only three ingredients are needed to make this refreshing drink, which is ideal for hot days. This particular popsicle is unmistakably a dessert popsicle, even though some of our other smoothie pops and popsicles are healthy and entirely suitable for breakfast.

But you can't dispute that it contains some top-notch components. Fresh ones have far more flavor than store-bought bottled ones. Owning a juicer is very simple! This is the sweet flavor to balance the sharpness of the lime, and it is wonderful. You might enjoy it by the spoonful, in fact! Although the ingredient list is brief, trust me. And this recipe is one of my favorite popsicle recipes. They are so delicious! And you can make them in a matter of minutes. And I love making popsicles. So, prepare these popsicles to cool off your summer.
Get it here.
---
17. Super Easy Mango Lassi Popsicles
Simply put, homemade mango lassi popsicles are made with real, healthy ingredients and are straightforward. These Mango Lassi Popsicles are a fantastic fit for summer desserts, and if you enjoy mango, you will also adore them. But now that they are all gone, I fantasize about tasting them once more. My romance with my favorite mangoes just came to an abrupt end. Fruit-based popsicles have always been an all-time favorite of mine. One of my go-to fruits for ice cream is mango, which is acidic, thick, and resistant to freezing. In order to give it a little natural creaminess, I also knew I wanted a base made of yogurt of some kind yogurt with mango. Indian mango lassi, a creamy beverage made with fresh mango, milk, and yogurt, came to mind right away.
Get it here.
---
18. Mango Spinach Popsicles
These creamy, naturally sweet, and nutritious Spinach Mango Popsicles are made of fruit and vegetables. They're the ideal dessert ideas for sunny days and are simple and enjoyable to create with the kids! It's undoubtedly the ideal nutritious treat for the spring and summer. It only needs a few simple materials, some cheap popsicle molds, and persistence. As I have full control over the ingredients, I adore making my own popsicles.

Popsicles from the store are frequently made solely of sugar water by adding sugar, artificial coloring, and preservatives. When I prepare this vegan dessert at home, I also include some frozen fruit, dairy-free milk, a little bit of natural sweetener, and even some vegetables! These popsicles have a naturally sweet flavor thanks to the frozen banana, mango, and maple syrup. The spinach offers additional nutrition and a lovely shade of green.

They are velvety because of the coconut yogurt and almond milk! You'll love these as one of your go-to summertime sweets! These vibrantly green popsicles have a tropical flavor and are made with lots of spinach. They are a fantastic way to sneak extra vegetables into your diet without anyone noticing, and they are never spinach popsicles! They simply only have a few ingredients and are both vegan and paleo!
Get it here.
---
19. Dragon Fruit Yogurt Popsicle
This yogurt and dragon fruit recipe is as simple and delectable as they come! The beverage is thick and creamy, stunning in color, and perfect for adding your favorite ingredients to the top. This dragon fruit and yogurt delivers delicious tropical flavors and is ideal for a summery morning or a healthy snack. Due to its high nutritional value, which includes fiber, antioxidants, minerals, and vitamins, dragon fruit is good for your health.

The fruit is rich in vitamin C, which is necessary for healthy skin. Dragon fruit contains vitamin C, which reduces the severity of sunburn and helps to keep the region infected. The high fiber content of dragon fruit is one of the fruit's most significant health benefits. The consumption of dragon fruit will help you meet your daily fiber needs and encourage regular bowel movements. One of the healthiest summer recipes for your body is this. Produce this and revitalize your healthcare system.
Get it here.
---
20. 3-Ingredient Keto Raspberry Lemon Popsicles
Are you looking to make keto-friendly popsicle recipes?  If so then I am sharing this best Keto Raspberry Lemon Popsicles recipe for you. I know you will love this popsicle recipe.  Also, I fell in love with it the first time I saw its picture myself.  But, I had no idea keto friendly popsicle recipes could be so cute and delicious. This gluten-free and vegan recipe is also keto-friendly.  Good news for those who are losing weight or are very conscious of their body weight. 

These popsicle recipes are all for you and are healthy and full of nutrients. But this is the best recipe among them. In summer you can enjoy this popsicle recipe guilt-free. This delicious recipe is made with a combination of frozen raspberries, docks of stevia, lemon juice, and water. Make this mixture in just 10 minutes and from 5  Allow the mixture to set for 6 hours. This recipe is very easy and requires no extra work.  Just be aware of your fridge temperature. So what are you waiting for?
Get it here.
---
21. Green Machine Popsicles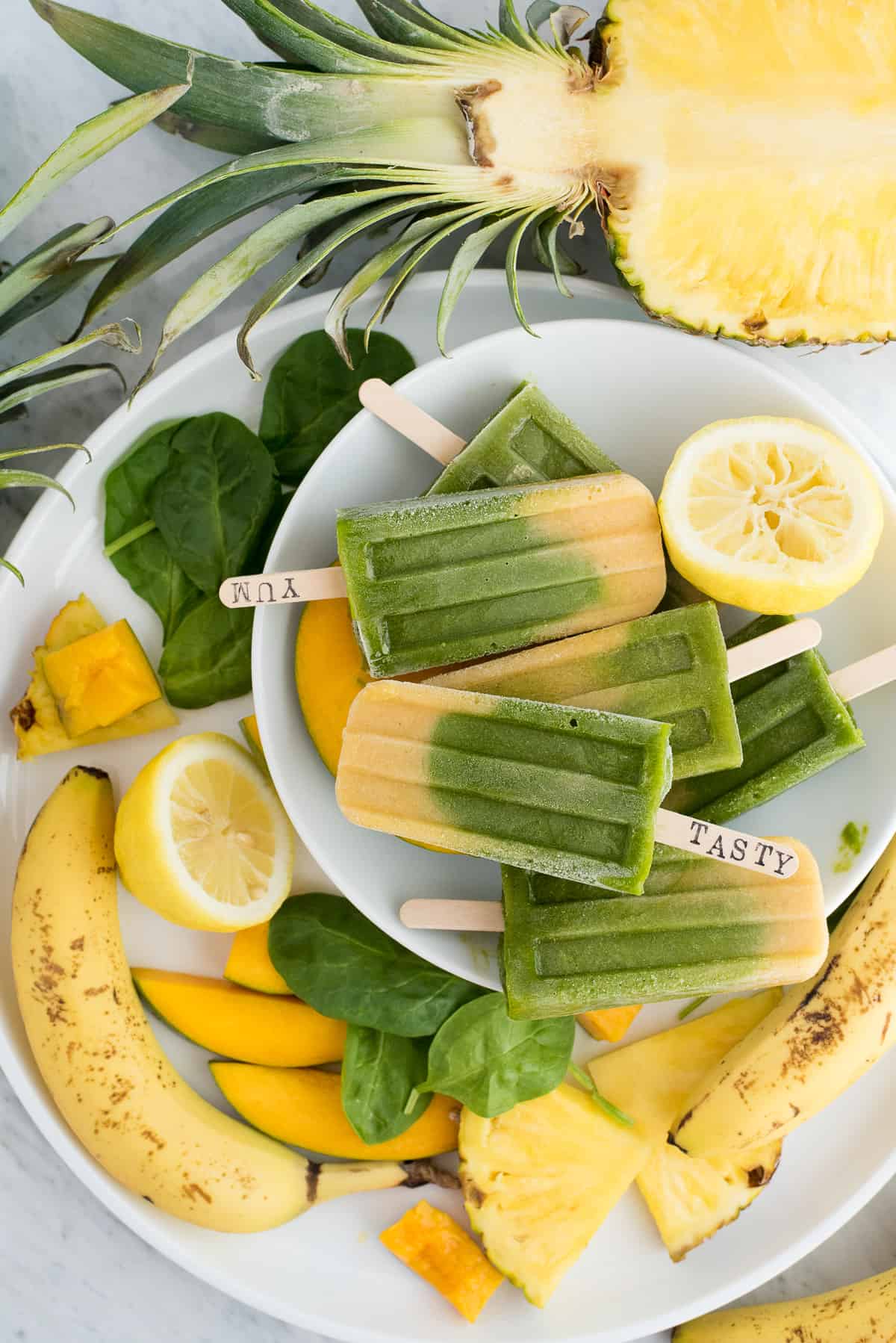 These dairy-free Green Machine Popsicles come in a variety of fruit flavors. healthy recipe for popsicles. A number of the popsicles had humorous sayings written on them if you look attentively. I used a tiny letter stamp set and standard popsicle sticks to add phrases to the sticks. It came out adorable, and decorating popsicle sticks during summer events would be so much fun! Fruit is my favorite ingredient for popsicle bases because it is inherently sweet, so I do not require to add any extra sweets.
Get it here.
---
Bonus
Lava Flow Popsicles
The fresh strawberry puree was incorporated into a layer of creamy pineapple. This recipe for a simple fruit popsicle will win you over. In essence, it's a really fantastic strawberry-swirl-layered pineapple-coconut drink. It's incredible. All at once, it's crisp, creamy, airy, and delightfully sweet. Yes, it's a great drink, but in my perspective, Lava Flow Popsicles are much better. I adore how the vibrant, fresh strawberry layer is mixed with the creamy pineapple coconut layer.

One among those popsicle recipes that appears difficult but is very simple is this lava flow recipe. They are as simple as it gets! Really, all you have to do is alternate two batches of blended smoothie in your popsicle mold. Kids can easily assist with these, and I appreciate that they are naturally sweetened. They are a treat I can enjoy at any time of the day with confidence.
Get it here.

These healthy smoothie recipes for weight loss.
---
Creamy Peach & Honey Popsicles
The best-frozen snack for health is these homemade Creamy Peach and Honey Popsicles! These popsicles are easy to make and comprise ripe peaches, vanilla yogurt, almond milk, and honey. Ideal for a hot summer day!Ah, summertime. Those sunny, pleasant days are the best! The warmer weather also brings with it delectable, light treats that can keep you cool. similar to these delicious Creamy Peach and Honey Popsicles!

Simply combine everything in a mixer, put it into a popsicle mold, and freeze to make them. They contain coconut milk as I adore how silky it is when combined with delicious peaches. Greek yogurt or milk gains a decadence from it that they don't always have, and as an added plus, they become dairy-free. So these popsicles are definitely one of the best dessert ideas for you if you're seeking some sweetened popsicles in the warm evenings. Additionally, you won't gain any calories from it.
Get it here.
---
Healthy Chocolate Peanut Butter Popsicles
My recipe for Chocolate and Peanut Butter Popsicles is a luscious frozen treat that is ideal for the summer. Enjoy rich chocolate combined with creamy peanut butter! I have no doubt that you all share my enjoyment of the flavor mixture of chocolate and peanut butter. Whenever I can, I like to get creative with these ingredients. I made my Chocolate & Peanut Butter Popsicles as a consequence for you and everyone to enjoy! This Chocolate and Peanut Butter Popsicles is a no-brainer in popsicle recipes.

They are easy to create and produce the ideal fusion of creamy peanut butter and rich chocolate in just minutes. This recipe's foundation is a tart Greek yogurt, which works beautifully with the texture of my handmade peanut butter. This peanut butter concoction is first lightly sweetened with sugar, and then it is molded into a popsicle mould. They taste sweet and have a bit of salt from the peanut butter, so they are rich, creamy, and crunchy to eat. These popsicles are genuinely compulsive!
Get it here.
---
Chocolate Dipped Strawberry Red Wine Popsicles
Dark chocolate-dipped strawberry and red wine popsicles that are sweet and delightful! The ideal treat for summer! Everything is in these popsicles! Red wine, sweet strawberries, and a decadent dark chocolate shell are the ingredients. They are the ideal treat for the summer! On Spoonful of Flavour today, I'm posting the recipe for these alcoholic chocolate-covered popsicles.

These simple homemade popsicle recipes, which are essential during the hotter months, are created using fresh strawberries and other components. It's a strawberry recipe that everyone will adore. Every summer recipe should include simple homemade popsicles. It's a wonderful recipe that includes strawberries and chocolate. These strawberry popsicles with chocolate coating are really delicious! The kids will adore this recipe for dipping fruit popsicles.
Get it here.

To celebrate mother's day, prepare these mother's day desserts for your mom.
---
Yogurt Parfait Popsicles
A simple and delectable morning option is these yogurt parfait breakfast popsicles, which only require three ingredients. These vegan and gluten-free popsicles are simple to make. Popsicles produced with homemade yogurt are incredibly creamy and have a higher protein content than those made with most commercial yogurts.

When cooked with this yogurt, the Yogurt Parfait Breakfast Popsicles are so creamy that they resemble ice cream bars rather than popsicles. Ice cream for breakfast also consistently wins. Don't allow the fact that you don't have time to create some homemade yogurt to stop you from loving these healthy popsicle recipes, though. Use your preferred brand of dairy-free yogurt from the shop. In addition to being tasty, these simple morning yogurt popsicles are loaded with summer fruits and topped with yogurt.

Use your preferred brand of dairy-free yogurt from the shop. These delicious and simple yogurt popsicles for breakfast are covered with crunchy granola and are loaded with summertime fruits. These morning popsicles look stunning and taste wonderful, which makes me very happy. Additionally, they may be made in just 5 minutes. They are ideal for whenever you want a small treat and make mornings so quick and simple. 
Get it here.
---
You may Like These Meal Ideas:
Fritter Recipes
Green Bean Recipes
Sheet Pan Dinners
High Protein Slow Cooker Recipes
High Protein Lunch Ideas
Vegan Rainbow Meals
Vegan Grilling Recipes
---
If you like this article about Popsicle Recipes, share with your friends or families on Facebook, Twitter, and Pinterest. Choose your favorite recipe and make it at home, let me know which is your best recipe in the comment. Also, you can subscribe to my blog to get all the latest updates first on your mobile.
---
To make these recipes for later, SAVE this pin on your favourite Pinterest Board