Thinking about what to cook this summer!  Don't worry, I'm here. Today's vegan summer recipes are perfect for the hot season. These vegan summer recipes will allow you to eat plenty of vegetables. These recipes are perfect for those days when we want to stay out of the kitchen. These meal prep ideas are very easy and quick. These side dishes are also great for our health. We love light meals during summer days, so you will love these recipes. They are very comforting dishes. From Vegan Buffalo Chickpea Salad Pinwheels to Chickpea Salad, Vegan Refried Bean Dip, Grilled Peaches with Blackberry Coconut Cream (Vegan) etc. Apart from that many more great recipes are waiting for you. Hurry up!
---
Let's talk about the vegetables that are good for the body to eat during summer as vegan food –
Vegan food will always be plant based.
Eating plant-based foods instead of animal products is good for the body in the scorching heat of summer.
Add protein-rich foods to your list of summer recipes that are vegan.
Eat a variety of vegetables that are rich in vitamins and minerals.
We should eat a variety of fruits to meet the requirement of extra water in our body during summer.
Eat vegan protein sources such as nuts, beans, chickpeas, etc.
---
1. Vegan Buffalo Chickpea Salad Pinwheels
This Vegan Buffalo Chickpea Salad Pinwheels recipe is one of the best-tasting vegan summer recipes. It is creamy and full of vegetables. Those who love to eat vegan will love it. And those who don't like to eat vegan should try it once and fall in love. It takes only 50 minutes to complete completely.  Nothing comes close to its great taste during this time. 

I also make this recipe during summer. It is very dear to me and my family and it is very dear food. This delicious recipe is whipped up with buffalo sauce and vegan mayo.  You can add more and more vegetables of your choice to this recipe.  I have added avocado, baby spinach, red cabbage, green onion etc. These Vegetable Stuffing Tortillas will give you great flavor in every bite. So make it quick and grab a bite.
Get it here.

These amazing vegan spring recipes are great for meal prep.
---
2. Chickpea Salad Recipe
I have shared this Chickpea Salad recipe with you before. Every time I make it, I want to share it with you. This healthy salad recipe is as nutritious as it is delicious. This high-protein salad recipe is ready in just 5 to 7 minutes.  These types of side dishes are the perfect recipe to stay out of the kitchen during summer. On hot summer days, I make this delicious chickpea salad for the whole family. 

I make and eat sandwiches when this chickpea salad survives. This recipe will become your best friend when you don't feel like cooking at all. This recipe is perfect for a lazy person. There are no specific ingredients or rules to make it. I experiment with it every day. Make it your own way, make new versions, and fill it with new flavors. Do let me know how you like the chickpea salad recipe as your comments are very valuable to me.
Get it here.

Try these chickpea snacks for healthy eating.
---
3. Rice Paper Rolls with Mango and Mint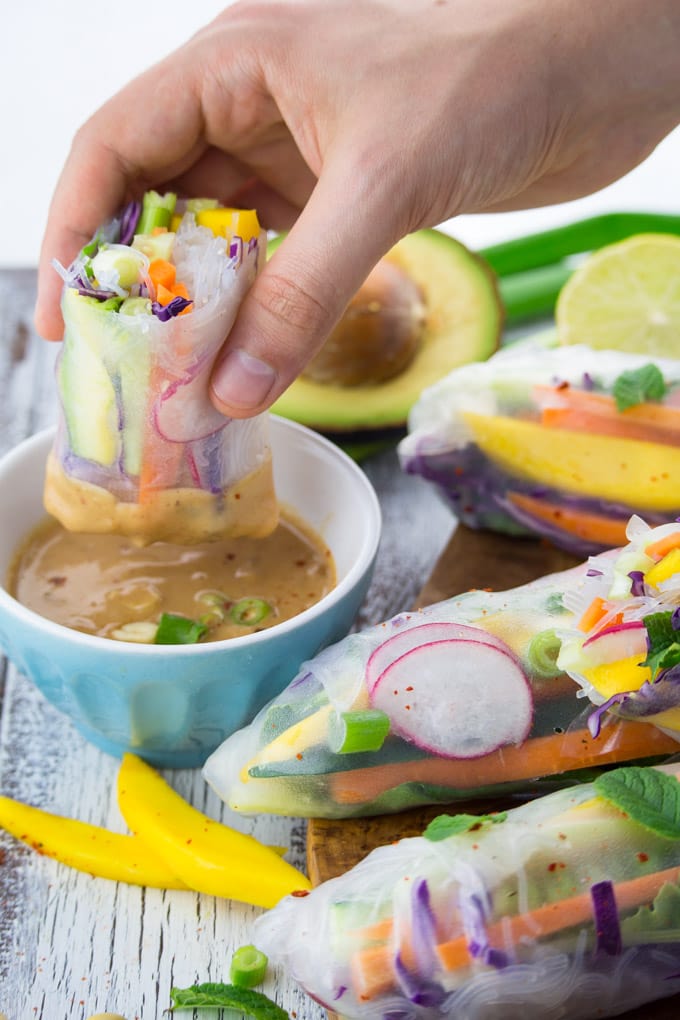 Are you looking for a super tasty summer recipe? This is your delicious and light summer recipe. It is the best day but you can eat it anytime. I serve it all year round. This rice paper is very easy to make at home. I have made it many times at home and bought it from the store and eaten it. But homemade rice paper is better. Many people think this recipe is difficult. But believe me, it is a very easy and quick recipe.  

To make a perfect rice paper roll you can cut all the vegetables and grind them lightly (as per your preference) then soak the rice paper roll in warm water and roll it with all the vegetables.  Make it in a very simple way. Like we make normal tortillas, rolls, or burritos. There are no rules about what vegetables you will serve here. You can use whatever vegetables you like. After wrapping the rice paper roll with vegetables, dip it in peanut butter and take a bite. It is extremely yummy!
Get it here.

Looking for healthy meal prep? Try these vegan rainbow meals.
---
4. Vegan Strawberry Pie
This Vegan Strawberry Pie recipe is one of the most gorgeous vegan summer recipes. This recipe is as beautiful as it is delicious everyone will love it. It will be a super duper hit at any summer party. Making it is not difficult at all, very simple. 

This strawberrylicious recipe will appeal to anyone. Such a beautiful recipe yet easy and pocket friendly yet packed with great flavor. It's crunchy yet juicy and creamy. All three flavors will blend together in your mouth. Mmmmmm! I surprised my mom by making this vegan strawberry pie recipe. I made this recipe and gave it to my mother on Mother's Day. Mom was very happy and after testing it, she hugged me and cuddled me. I am sure it will win you over too.
Get it here.

To celebrate mother's day, let's make these mother's day dinners, mother's day desserts for your mother.
---
5. Roasted Garlic Tomato Spaghettini with Garlic Parmesan Bread Crumbs 
Asking for a great spaghettini recipe. I didn't know much about it myself. A close friend of mine shared and taught me this Roasted Garlic Tomato Spaghettini with Garlic Parmesan Bread Crumbs recipe. This is a really nice recipe. These types of meal prep ideas are perfect for any festival or picnic. It only takes 25 minutes to prepare and is very easy to prepare.  

This vegan recipe is made with roasted garlic, basil, cherry tomatoes, garlic powder, fresh rosemary, bread crumbs, vegan parmesan, etc.  This is the best recipe for the summer season. But this meal can be eaten all year round. This recipe gives peace and comfort to our souls and body in extreme heat.
Get it here.
---
6. Green Goddess Pasta Salad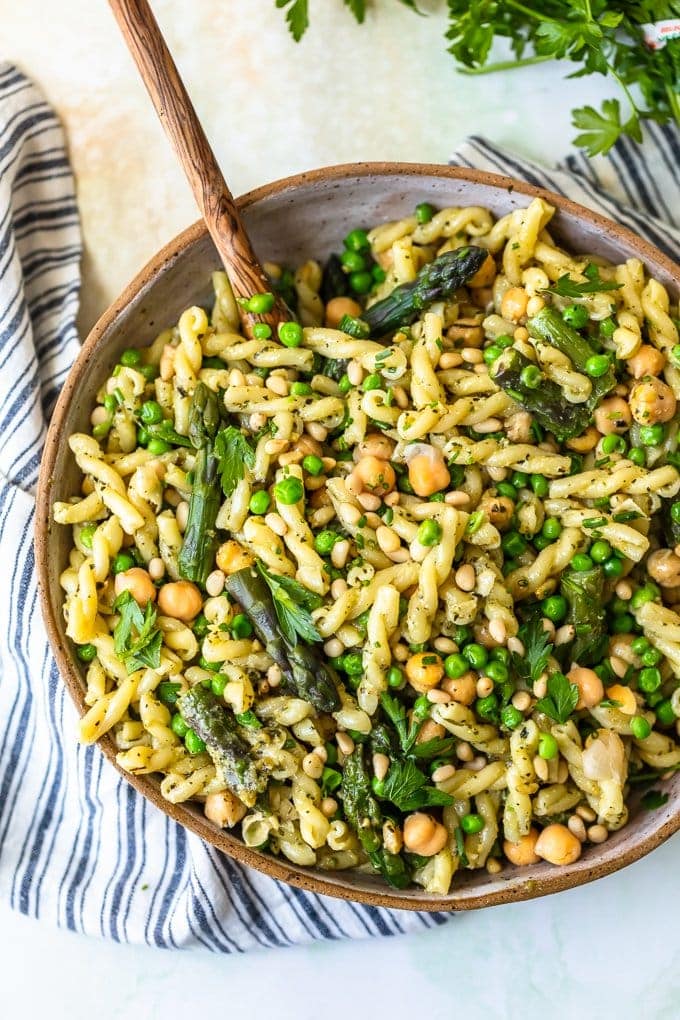 Ever tried the Green Goddess Pasta Salad recipe before? If not then make it once. Once you test it, you will become a fan.  This is a healthy and nutritious recipe. This green goddess will save you time as well as taste. Make this recipe if you want to have a showstopper in your home. It takes 20 to 25 minutes to prepare.   This is a very easy pasta recipe. Believe me, seeing this food makes me feel peaceful. This green pasta salad is perfect for hot weather.  You can quickly prepare food for the family and leave for the office. Prepare this protein-rich healthy meal quickly and enjoy it with your family.
Get it here.

Let's try these mango dessert recipes for hot summer days.
---
7. Grilled Peaches with Vanilla Ice Cream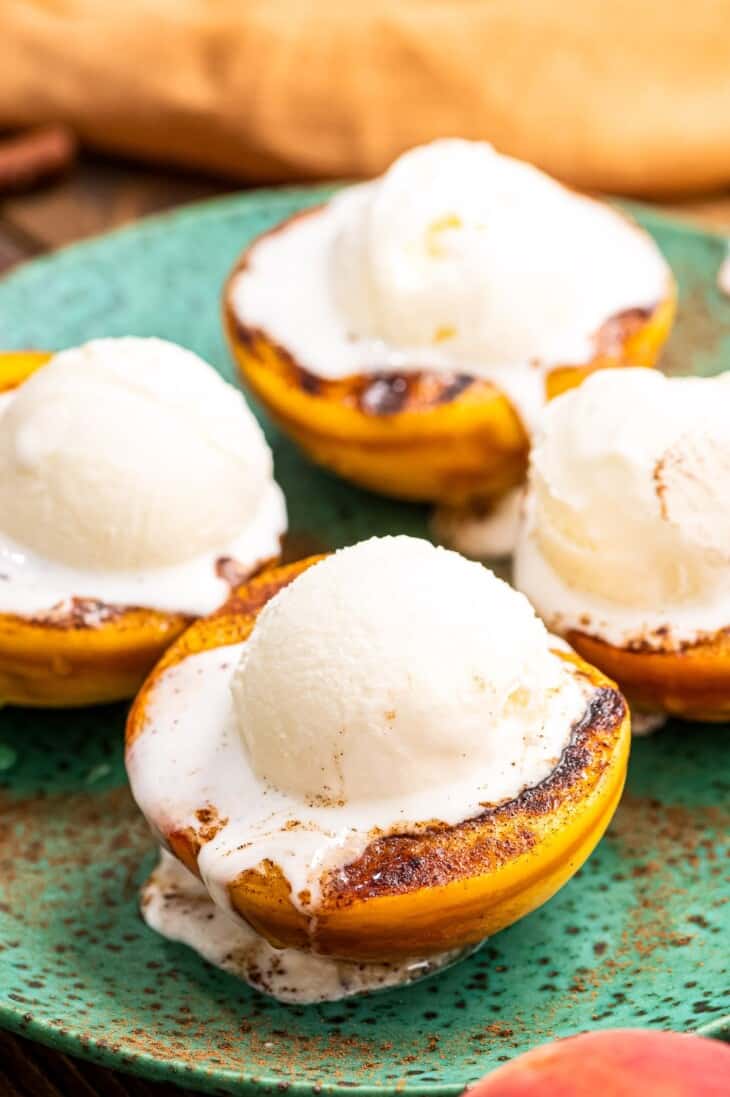 This Grilled Peaches with Vanilla Ice Cream recipe is one of the most amazing vegan summer recipes ever. I never thought I could make or think of it. It is very easy to make but it is really incredible to think about it. I have made grilled apples for my daughter many times before. But this is the first time I made grilled peaches. Serve between these grilled peaches with vanilla ice cream. This recipe can take any of your celebrations to another level. This is a very simple but very classic recipe.

Learn how to pick peaches to make this recipe.  Do not buy peaches that are bruised or too soft. Buy fragrant fresh peaches. If necessary, buy half-ripe peaches and arrange to ripen them at home. Cut the peaches carefully just like the avocado. It can be grilled using a normal grilled sheet. Just remember to grill the peaches on medium heat. Serve over grilled peaches topped with vanilla ice cream.  Enjoy!
Get it here.

Let's try these amazing margarita cocktails for celebration.
---
8. Mediterranean Grilled Tofu Kebabs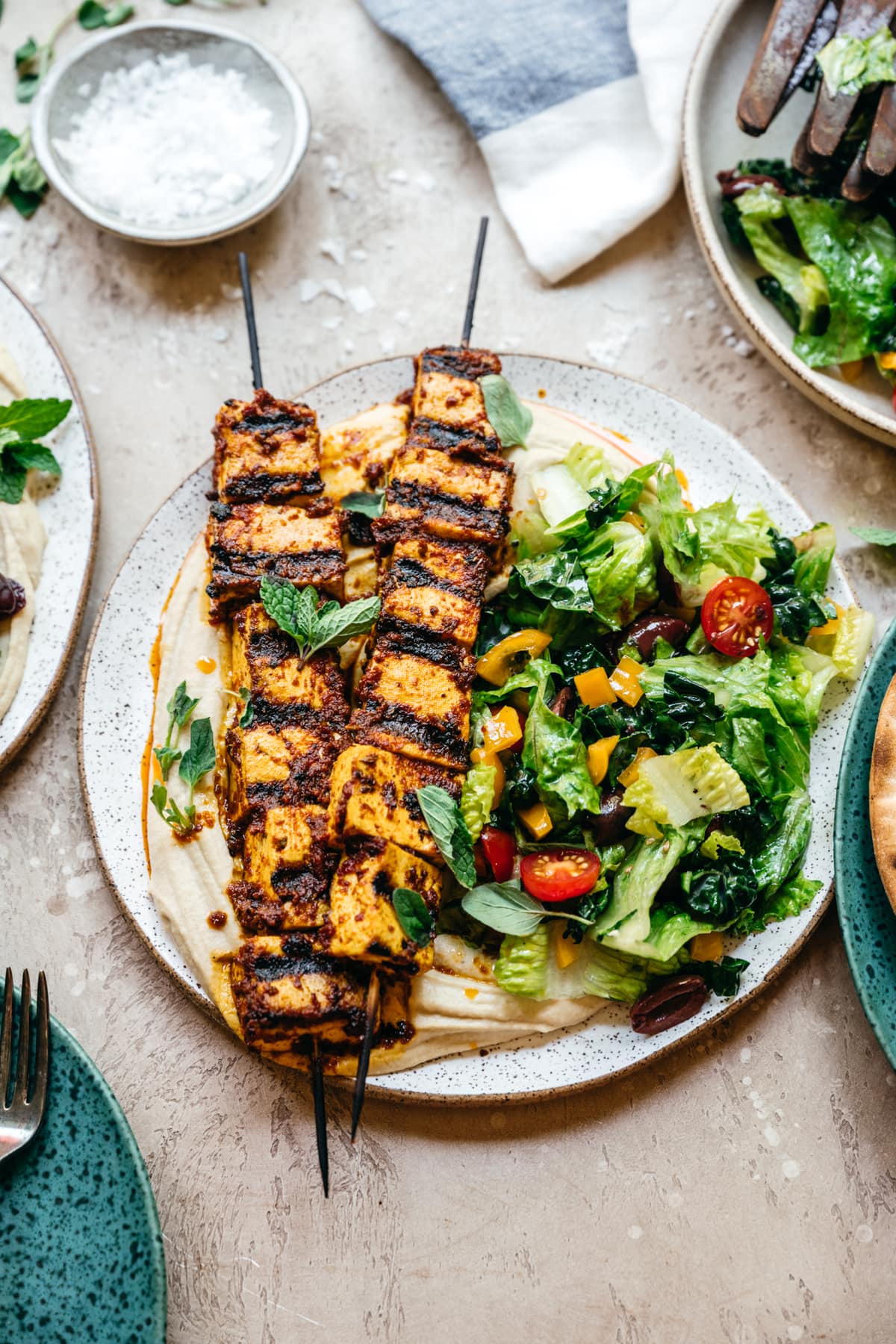 This Mediterranean Grilled Tofu Kebabs recipe is a gem as a side dish. It's the perfect holiday meal. A picnic, potluck, gathering, etc. will satisfy your hunger and awaken your taste buds. This recipe takes 45 minutes to prepare. This recipe is so simple and easy and fun to cook.  

Tofu is grilled with garlic powder, oregano, tomato paste, paprika, turmeric, etc. This grilled tofu is extra tasty and soft yet healthy.  Serve with tofu and a variety of vegetables (of your choice). This vegan and gluten-free recipe will satisfy anyone. Cook it with light ingredients like tofu in hot weather and your body will feel better and fresher. To get more flavor try these vegan grilling recipes.
Get it here.
---
9. Asparagus Pasta Salad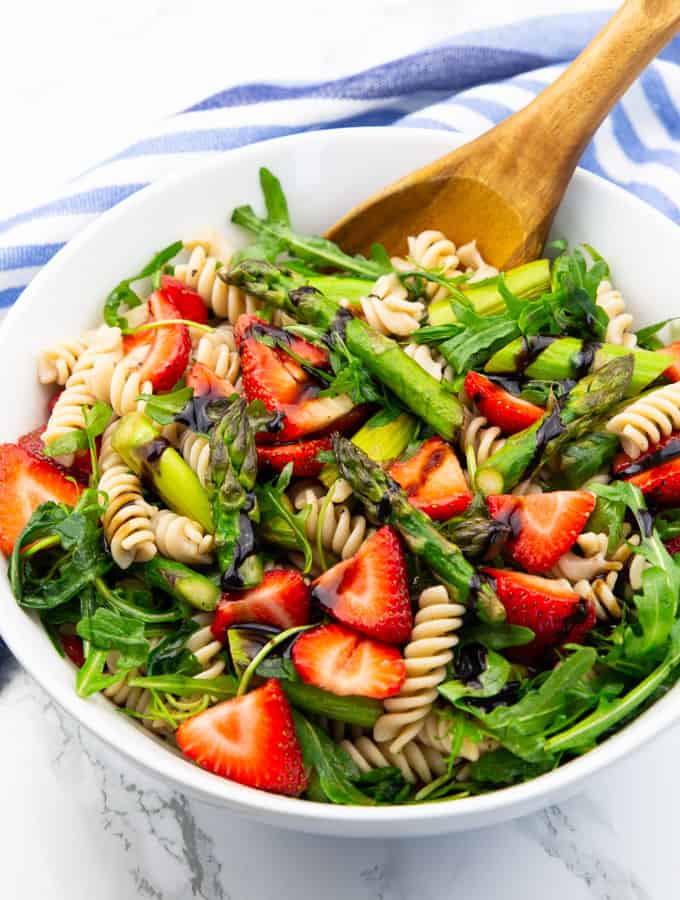 The ideal meal for the warmer months is a delicious green pasta salad with berries and vinaigrette dressing! I adore preparing it for parties, picnics, and potlucks. It just takes 20 minutes to prepare and is vegan and healthy. Both pasta salad and asparagus are two of my favorite foods. 

Why not combine the two to create an asparagus pasta salad? Also, don't forget to include the strawberries! It's the ideal springtime dish, finished off with a simple balsamic dressing. Very tasty! Strawberries should be cleaned and sliced. Mix the cooked asparagus, strawberries, pasta, rocket, or baby spinach in a big bowl. drop the flavoring and thoroughly whisk.
Get it here.

These summer salad recipes are perfect for meal prep.
---
10. Healthy Zucchini and Squash Casserole Recipe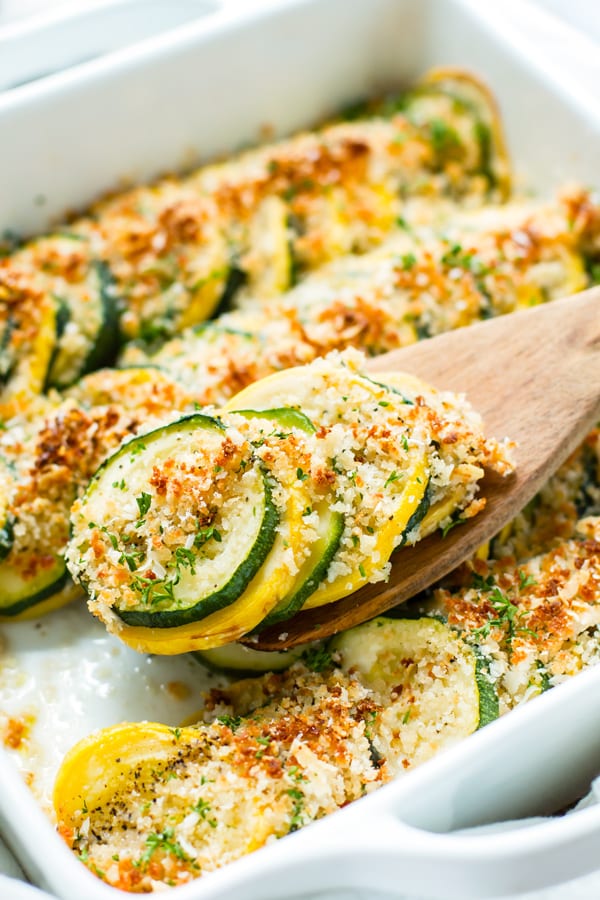 Are you looking for healthy vegetarian recipes for summer?  Your search is over for this Healthy Zucchini and Squash Casserole recipe. It is a healthy and nutritious recipe.  Light food should be eaten during summer because our body is deficient in water during summer. These types of meal prep ideas provide this extra water to our bodies and keep us healthy. Spicy foods harm us in many ways during summer and these light foods protect our bodies from various harms. This recipe takes 40 to 45 minutes to prepare at home.

This delicious recipe is made by combining zucchini, summer squash, garlic, parmesan cheese, bread crumbs, etc. You can also prepare other vegetables in this same way. This recipe is vegetable but very tasty. This light recipe turns boringness into a fun meal. This cheesy healthy zucchini and squash recipe is comfort food and easy to cook because it's a casserole dish.
Get it here.
---
11. Vegan Summer Rolls with Miso Tofu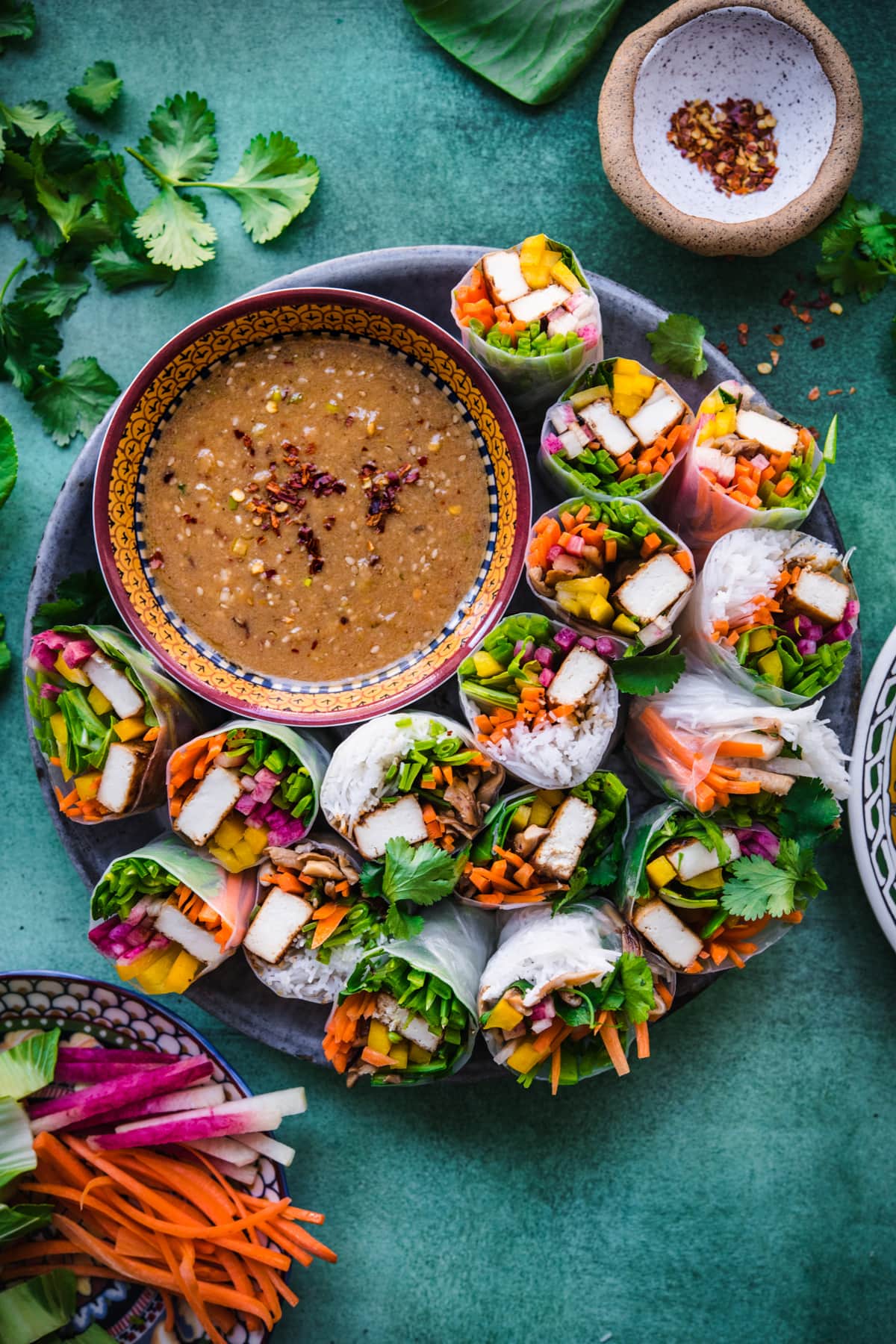 This Vegan Summer Rolls with Miso Tofu recipe is surprisingly hearty among vegan summer recipes. When you feel bored of eating ordinary food at home, these delicious dishes will bring back the taste in your mouth.  Side dishes will remove the aversion to our food due to excessive heat during summer with their incredible taste. These are the perfect party recipes that make any summer gathering perfect. This 50-minute recipe is completely vegan and gluten-free.

Many people think that making summer rolls is very difficult but trust me it is easy to make.  Summer rolls are delicious with fresh tofu and a variety of vegetables. These rolls are perfect to pack in the office or kids' tiffin. Make summer rolls at home and enjoy summer with an open heart!
Get it here.

You can also try these delicious strawberry desserts for any occasion.
---
12. Creamy Garlic Butter Tuscan Mushrooms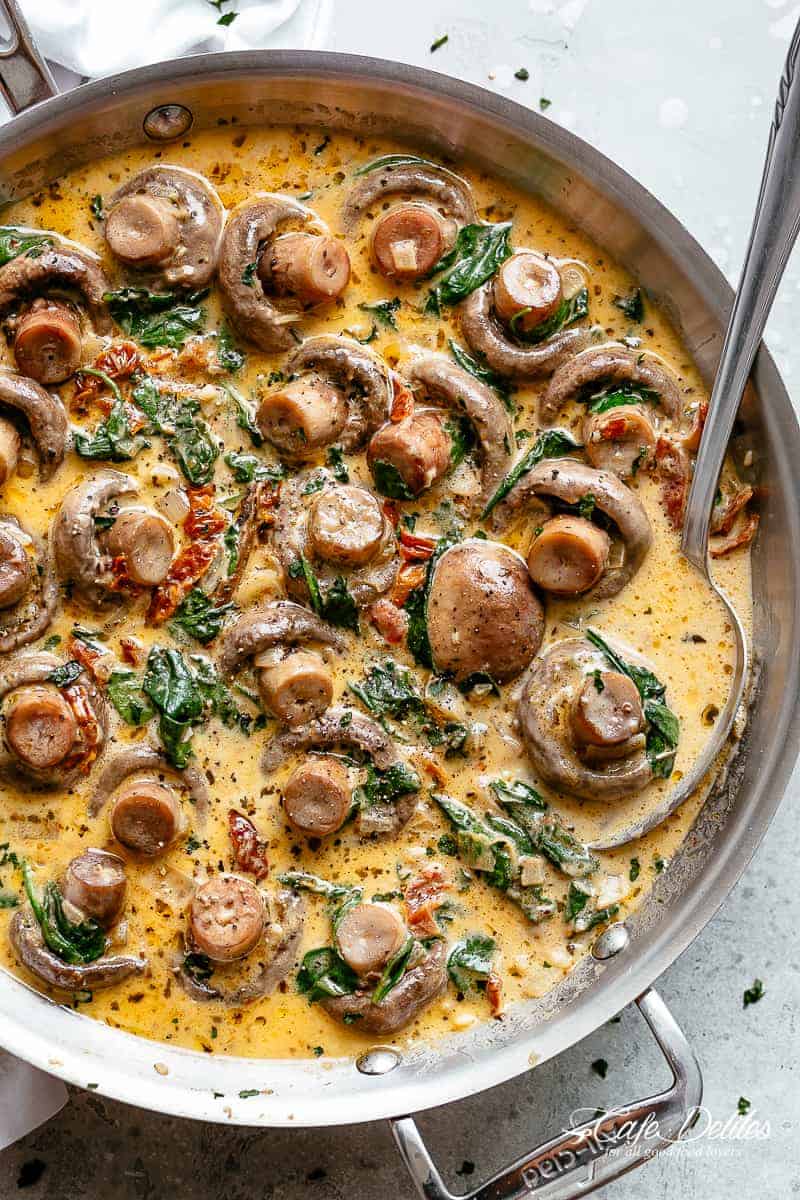 Vegan with limited CARB! Before being cooked in the Finest sauces containing parmesan cheese, herbs, and spinach, mushrooms are first sauteed in garlic butter that has been flavored with sun dried tomatoes. Make ordinary mushrooms into a delicious dinner!

Melted butter should be used to cook onion and garlic until aromatic. your clean mushrooms in a pan. They may be included whole, half, or sliced. If using, add dry white wine and simmer until reduced. Use a Sauv Blanc, Chardonnay, or Pinot Grigio of high caliber. (Instead of chicken stock or broth, use wine.) Sun-dried tomatoes should be added and cooked well to release flavor. Spinach, parmesan cheese, herbs, and heavy cream are simmered. Taste your tuscan mushrooms!
Get it here.
---
13. Summer Vegetable Curry
Make the perfect Summer Vegetable Curry very easily. This vegan recipe is completely ready in just 40 minutes. This healthy and nutritious low-carb recipe is a great meal for people of all ages. These types of meal prep ideas are great.  Perfect for any festive occasion. If you love rice then this summer vegetable curry is perfect for you. It is the best dish for a summer afternoon. This delicious recipe is made by combining carrots, fresh corn, mango, onion, bell pepper, yellow squash, zucchini, coconut milk, fish sauce, etc. Serve this super tasty recipe with white rice.
Get it here.

Wanna try kabob recipes during summer days?
---
14. Marinated Tomatoes Recipe with Mozzarella
These nutritious tomatoes are steeped in olive oil, balsamic vinegar, and fresh herbs before being offered with descending slices of fresh mozzarella. These vegan summer recipes are full of summery flavors. 

My love is hidden in this recipe. I am a gardener. I like to plant different kinds of flowers and vegetables. My hobby is planting different kinds of trees. I first wanted to make this recipe after seeing the red scene in my garden. And, I go to the garden every day. Even, I didn't go to the garden for two days due to the pressure of the office. After two days, I was crazy to see the view of the garden. Red tomatoes are all over my garden. Seeing this scene, I started making this Marinated Tomatoes Recipe with Mozzarella.
Get it here.
---
15. Creamy Roasted Vegan Cauliflower Soup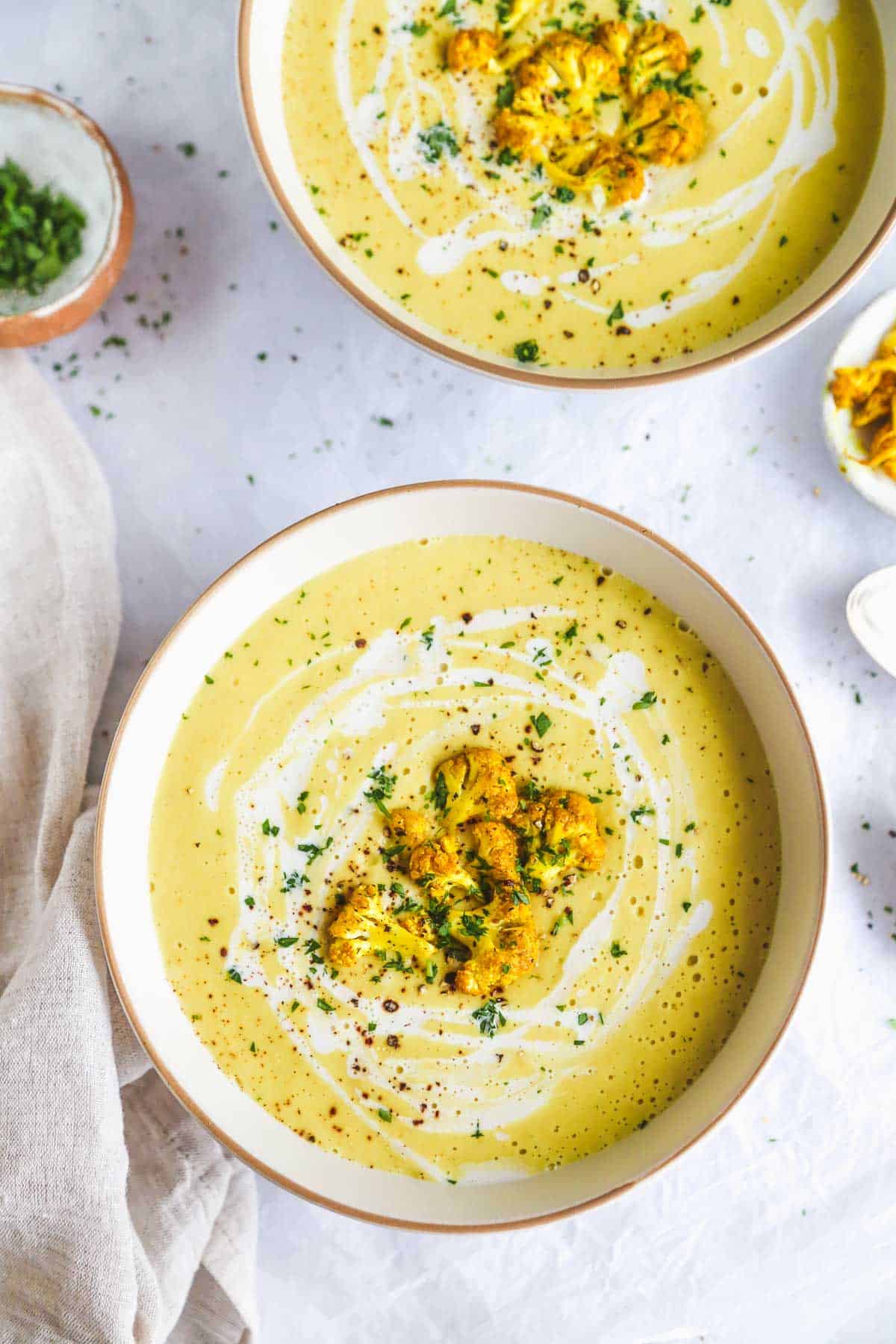 Delicious cauliflower soup is vegan! Simple cauliflower becomes delicately caramelized, nutty, and wonderful by roasting just some salt and oil. This will make the creamiest, thickest, and most delectable roasted cauliflower soup when combined with thickening, buttery white beans, and optional buttery cashews.

Since this healthful cauliflower soup is made with just a few basic, wholesome plant-based ingredients, it is difficult to realize that it is completely dairy-free and decadently creamy. We actually cram this soup full of plant-based protein, fiber, and heart-healthy fats thanks to the inclusion of beans and cashews! The ideal way to keep you full before the next time you eat.
Get it here.

To get more flavor, make these cold soup recipes for hot days.
---
16. Rainbow Salad with Hummus 
Right here, in this flavor vortex, is it. The extra-creamy, no-oil hummus with dark, acidic balsamic vinegar spread upon a bed of vegetables is enticing. If you haven't already, it's about time you hopped on this hummus-balsamic bandwagon with me because it's the stuff that nutritarian fantasies are made of! I'll also share a video and recipe for a super-easy rainbow salad with you.  Let's do this thing, then. This demands attention. Because there is a lot of bad balsamic out there, but there are also some real jewels that really ignite the hummus-balsamic movement!
Get it here.
---
17. Tofu Kebabs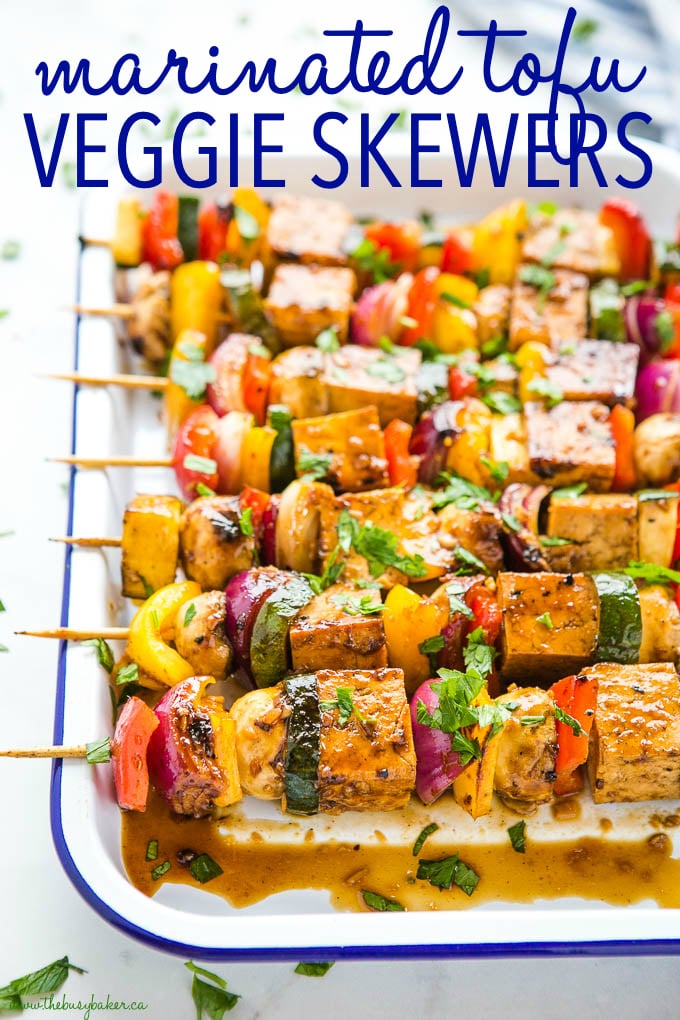 I think this tofu recipe might be my favorite so far, you guys. It's also vital to note that tofu ranks very poorly on my dietary index. If the texture is poor, disregard it. Every wager is off. But this kebab is a different matter. The tofu had somewhat crunchy edges and a meat-like aroma. These vegan summer recipes are flavorful due to descending seasonings like cumin and smoky paprika. Because they're so simple to make, tofu kebabs have really been a recurring culprit in my dietary regimen for years. In order to save time, I often squeeze and slice the tofu one day and so beforehand.
Get it here.
---
18. Sweet Potato Black Bean Buddha Bowls with Mango Tahini Sauce
With roasted vegetables and the most incredible creamy tahini sauce, this sweet potato bowl is a complete vegan Buddha bowl. The flavors of the broccoli and sweet potatoes are particularly brought out when they are roasted. These vegetables are incredible when roasted, if you've never tried them. Sweet potatoes develop a rich caramelized flavor with the ideal balance of sweetness and savoriness. 

And broccoli acquires an absurd level of crispness that makes it an enticing snack when dipped in tahini sauce. The creamy tahini dressing, which unites the vegetables with its sweet and savory richness, is a crucial component of this roasted sweet potato bowl. This is definitely a dish you clear out the fridge for. Since I needed to use a red pepper and didn't have any green onions, I substituted a sautéed shallot for them in these photographs. You are welcome to change it up whatever you like. Make these kinds of super yummy and tasty vegan summer recipes for your family and refresh them with your cooking.
Get it here.
---
19. Summer Fruit Salad
Summer fruit salad is the ideal quick, healthy breakfast with yogurt or dessert with whipped cream. It is loaded with juicy and colorful fruit and gets dressed in a sweet tangy lime-mint vinaigrette. Nothing is more lovely than a fruit salad in the summer, and it is ideal on these hot Summer days.  The eye-catching hues and sweet flavors are a wonderful complement to any meal. In addition to berries, watermelon is one of our favorite fruits at this time of year.  The foundation of this magnificent fruit salad is its pink and green color, sweet, watery material, refreshing taste, and incredible fun to eat. 

For this gorgeous summer fruit salad with a lime mint dressing, we've mixed our favorite summer fruits. A delicious approach to adding a range of nutrients to your diet is by making a fruit salad.  For even more crunch and protein, you could even garnish it with some almonds. Be inventive when preparing a fruit salad.  For a more eye-catching appearance, cut some fruit into circles, some into squares, and others into rectangles. I hope you have fun with this simple and entertaining lemon mint fruit salad.
Get it here.

Make these cool watermelon recipes for more ideas for summer.
---
20. No Bake Vegan Mango Coconut Cheesecake
The ingredients for this vegan mango coconut cheesecake, which doesn't require baking, are readily available. You'll be keeping track of the seconds until it's ready to eat since it is so delectably rich, tasty, and fresh. This super-creamy No-Bake Mango Cheesecake's two mango layers are created with fresh mangoes and no gelatin. This mango season, give this healthy treat! This mango cheesecake has a layer of velvety creamy and silky mango cheesecake on top of an almond and coconut flakes crust.

A soft, jelly-like mango layer that is added as the final layer offers a great touch of contrast and more mango flavor. Loaded with fresh lime juice, dates, mango, and maple syrup, this refreshing summer treat is just the right amount of sweet and zingy. The cheesecake is prepared from raw cashews combined with mango and coconut milk, while the crust is created from almonds, dates, and coconut, making it sugar- and gluten-free. A flavorful, creamy vegan dessert that you will adore is the end product! But this is one of my best ever vegan summer recipes for hot days.
Get it here.
---
21. Vegan Refried Bean Dip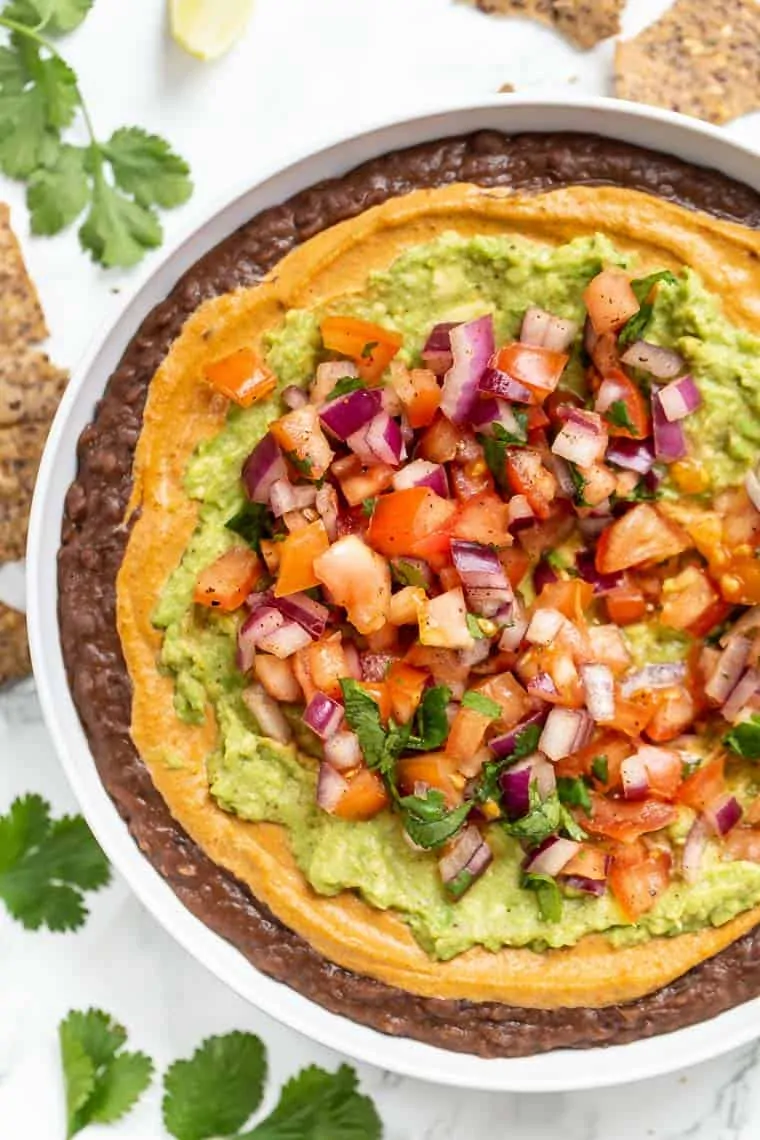 Refried bean dip is incredibly simple to make and healthful. Fresh cilantro and pico de gallo are placed on top and it is served warm. It is already dairy-free because there is no cream cheese, but you can make it vegan by using refried beans instead. It has the ideal consistency for dipping, is creamy and cheesy, and can be made as spicy as you like.

Made with your choice of handmade or pre-made vegan cheese, salsa, non-dairy yogurt or sour cream, chili powder, and cumin. 30 minutes to prepare and gluten-free! Additionally, since so many people these days avoid dairy, you'll be the one to serve with the sassiest by presenting a starter that everyone will love. Watch it go when you serve this vegan bean dip with tortilla chips and your preferred toppings! But since refried beans are already so delectably creamy, they feel like they need to take center stage.

Bean dip's absolute adaptability is another fantastic feature. You may add extra heat by adding hot sauce or diced jalapenos, experiment with other salsas, swap out the yogurt with vegan cream cheese or sour cream, or both, and serve it hot or cold. It is one of my favorite summertime side dishes. And I can guarantee that all of your visitors will adore it.
Get it here.

Must try these pantry recipes for busy days.
---
Bonus
Strawberry Mango Popsicles Recipe
This Strawberry Mango Popsicles recipe is one of the most comforting and delicious vegan summer recipes. I am sure, no one needs to ask to make this recipe during summer. A great summertime treat is a popsicle. Instead of favoring store-bought popsicles, we decide to make our own. Honey, coconut milk, and a little fresh fruit go a long way in creating a thing everyone will adore. No exception applies to these fresh Strawberries and Mango Popsicles. They appear to be delightful, elegant, and cheery. 

The best part is how easy these are to create! Although I adore fresh fruit, I advise using frozen fruit when making layered popsicles such as the Strawberry Mango Popsicle. The texture of the pureed frozen fruit is similar to that of a smoothie. Simply put, it keeps its shape better, which makes it simpler to put together the entertaining layers.
Get it here.
---
Summer Corn Chowder
Since nobody needs to consume an entire pie in a week, I sometimes share the meals I prepare for this site with friends. However, some recipes are simply too delicious to share. One of those occasions was with our Creamy Summer Corn Chowder—it was just too amazing! This Corn Chowder is not only vegan, dairy-free, and created with only 10 ingredients—it also tastes fantastic!

Along this method, you can speak and recognize each one of them without difficulty. I'll admit that this is less of a 'typical' corn chowder as well as a summer version. I don't mind eating soup all year long, but I do prefer their drop-weather soups to include new components. This chowder has a 'Tex-Mex' flavor profile and begins with a base of seared corn (for added sweetness) along with red bell pepper, red onion, jalapenos, and cilantro to truly enhance the flavor.
Get it here.
---
Summer Split Pea Salad Recipe (Vegan)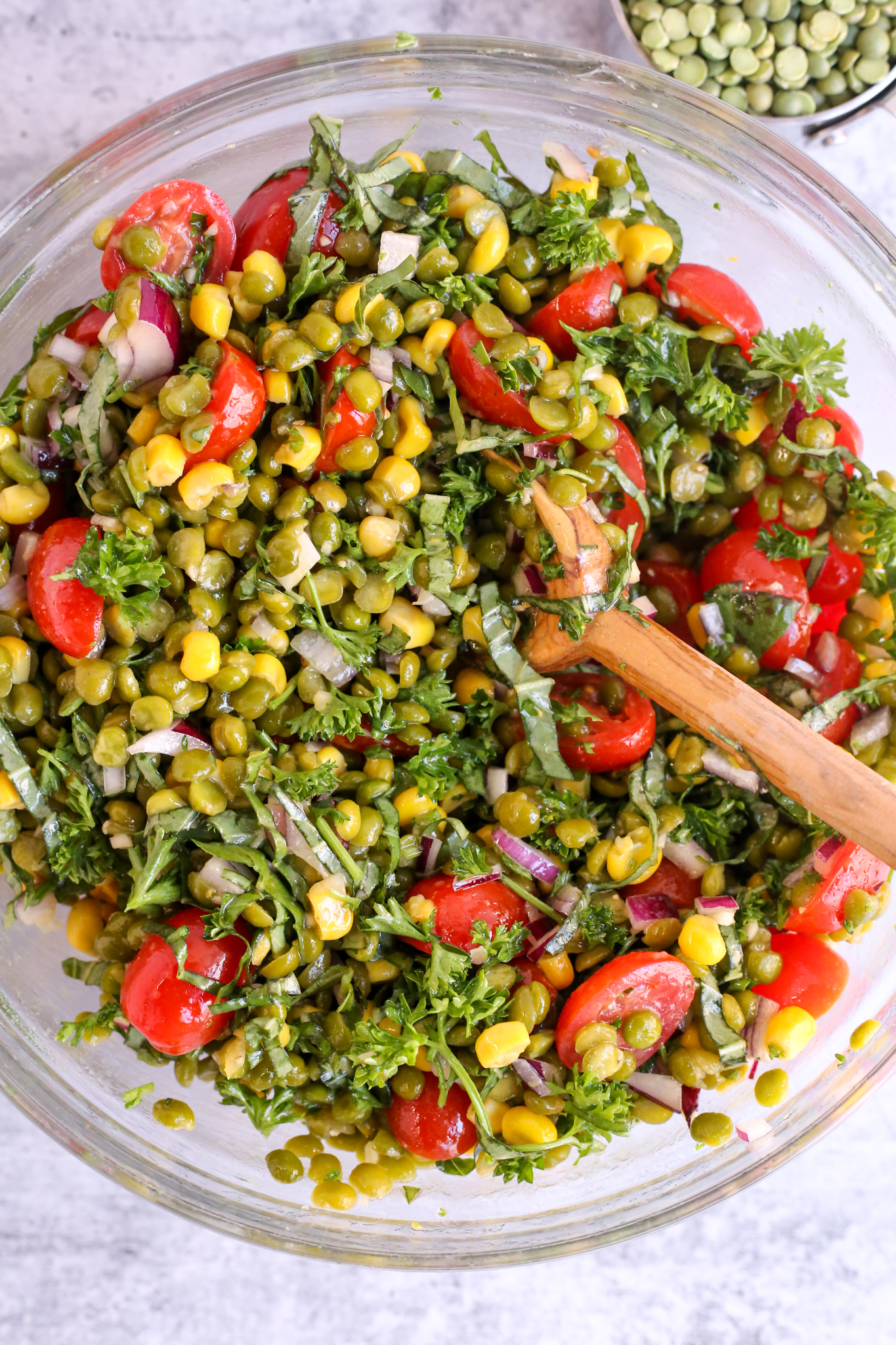 This Summer Split Pea Salad Recipe (Vegan) is one of the best side dishes. This recipe is perfect for those days when you don't feel like spending any time in the kitchen, especially during summer.  This recipe is so easy and quick to make at home.  It takes only 35 minutes to make.  This vegan and gluten-free recipe is light and comforting.  

These plant based recipes or vegan summer recipes are very quick-digesting and healthy food.  This recipe is great for weight loss during the hot season. This delicious recipe is made by combining cherry tomatoes, basil, chives, corn, lemon juice and lemon zest, oregano, parsley, Dijon mustard, maple syrup etc. Each of these healthy ingredients is a gem. So what are you waiting for?
Get it here.
---
Fresh Summer Roll Rice Noodle Salad
With crunchy herbs, vegetables, and a spicy, tangy-sweet almond butter and lime sauce, this light, healthful rice noodle salad feels like a Vietnamese summer roll in a bowl. Make this filling summer roll noodle bowl, a cool summer salad that is packed with bright flavor and fresh, lively veggies. For all the crunchy vegetables and savory peanut sauce, gluten-free rice noodles are the ideal foundation.

With its abundance of crisp veggies and fresh, cooling herbs, this salad resembles a reconstructed summer or Vietnamese spring roll. I think it's challenging to describe one method of eating as clean. Food enjoyment has become and ought to be a daily delight, especially during the holidays when it can serve as the centerpiece of celebrations.
Get it here.
---
Grilled Peaches with Blackberry Coconut Cream (Vegan)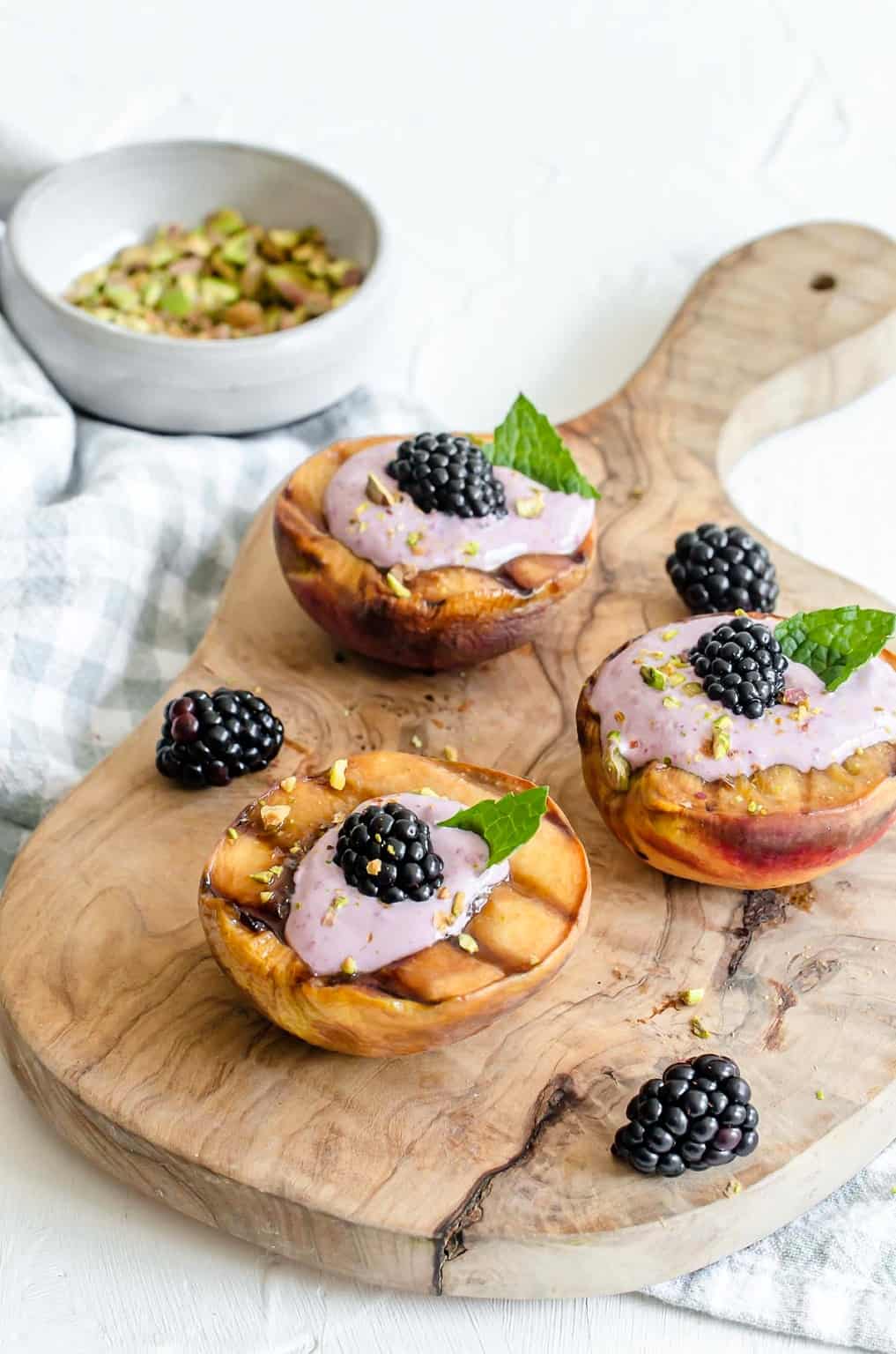 The organic, gluten free, healthful dessert you'll want to prepare all summer long is delicious vegan grilled peaches with blackberry coconut cream with pistachios. I am totally focused on lighting the grill. I always try to make the most of our (short) summer by leaving the smoker cooking as long as I can.  These wonderful grilled peaches are among my favorite dishes for the grill and are available throughout May by means of late September. These vegan summer recipes taste amazing, plus the blackberry coconut cream feels like a kiss from the chef! Therefore, as the peaches go in the ninth month, our summertime effectively finishes.
Get it here.
---
You may Like These Meal Ideas:
Mini Bundt Cake Recipes
Valentine's Day Cocktails
High Protein Snacks
Holiday Cocktail Ideas
High Protein Chicken Meals
Air Fryer Chicken Meals
High Protein Slow Cooker Recipes
One Pot Dinners
---
If you like this article about Sweet Potato Recipes, share with your friends or families on Facebook, Twitter, and Pinterest. Choose your favorite recipe and make it at home, let me know which is your best recipe in the comment. Also, you can subscribe to my blog to get all the latest updates first on your mobile.
---
To make these recipes for later, SAVE this pin on your favourite Pinterest Board