I know you and I get bored of eating only protein powder. So I have brought you some very interesting protein powder drinks or high protein drinks. These 21 drink recipes are awesome. Just like the taste. Our body needs a lot of protein every day, especially those who work out. Which is not supplied by our daily food. Then it becomes necessary for us to eat protein powder or protein drinks. Healthy recipes are our endless energy. It will give, keep fresh and keep active. Protein powder makes our body grow, and helps to form new cells.

The body takes care of various types of decay and damage. Not only that, protein helps us lose weight and gives us energy. It is because of protein that we can lose fat. Protein also works for good digestion in our body. That's why I bring these gems to you. Make them. Practice healthy living. 
---
Let's go to know about high protein drinks:
We all know about the high requirement of protein in our body. So we try to take extra protein along with meals. Especially eating a bunch of protein at breakfast is very important. It makes us feel energetic and fresh throughout the day. We just don't like to eat protein powder or feel bored. However, we like it very easily if we make drinks or smoothies with protein powder and delicious and healthy ingredients such as various fruits or nuts. These high protein drinks are made by blending various healthy ingredients with protein powder.
Benefits of protein!
Protein builds new cells in our body.
Keeps us much more energetic and increases work capacity.
Develops the body.
Helps build muscle by reducing excess body fat
Improves digestion.
Increases antioxidants.
Take care of hair health.
Handles various damages to the body.
---
1. Coconut Chocolate Zucchini Smoothie
This Coconut Chocolate Zucchini Smoothie recipe is one of the best smoothie recipes for high protein drinks. You will be shocked to hear the ingredients of this smoothie but believe me it is a very healthy recipe and a recipe full of high protein. These protein drinks work great in our bodies. This healthy drink is made with zucchini, cacao powder, cauliflower, Medjool dates, almond butter, vanilla extract, etc. This recipe can be prepared in very little time. This is the fastest breakfast to make. This protein drink keeps our stomachs full for a long time. Make it and stay healthy.
Get it here.
---
2. Healthy Banana Protein Shake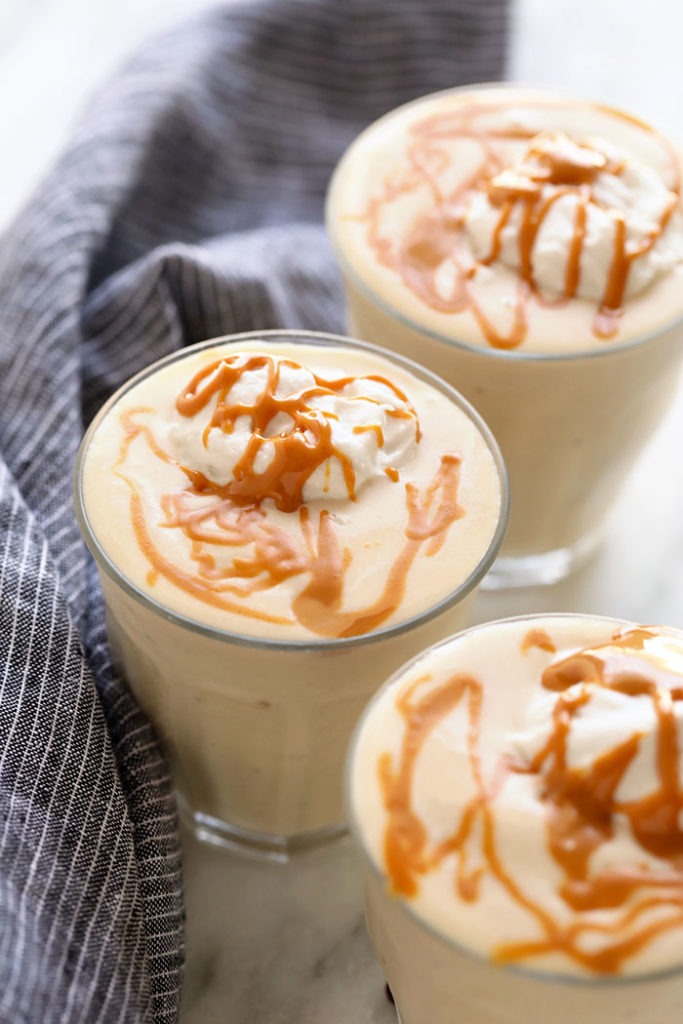 This Healthy Banana Protein Shake recipe is a great recipe for weight loss. It is a concentrated protein drink. Because it contains bananas. The importance of bananas in making a perfect protein smoothie is undeniable. This Healthy Banana Protein Shake recipe is a very popular recipe among healthy recipes. Drinking it in the morning is very beneficial.

This delicious recipe is made with nonfat Greek yogurt cubes. This is a gluten free recipe. You won't realize how delicious a protein powder drink is until you drink it. It is very easy to make. It is ready in just 10 minutes. This drink is made by mixing the healthy ingredients well with a hand blender or blender. Add your favorite protein powder to it. I have added my favorite vanilla protein powder here. But you can serve this drink with any protein powder desserts for great taste.
Get it here.

These high protein breakfast recipes are great for weight loss.
---
3. Peanut Butter Coffee Latte
Meet the pairing of peanut butter and coffee. I hope it will be a super duper hit for you. This Peanut Butter Coffee Latte recipe is a unique recipe among high protein drinks. I had this for the first time from the cafe in front of my office. Trust me it's so tasty and healthy. I'm especially tempted by it. Every bite has the combined flavors of coffee and peanuts.  It contains high protein. Protein is required in large quantities in our bodies. If you drink this drink, your body will be rich in protein.

This delicious recipe is very easy to make at home. Scroll on and see the recipe. It is made by adding peanut butter, granulated sugar, espresso, and milk. Made with only a handful of healthy ingredients, this drink is truly hearty.
Get it here.

But beside that, high protein salads, high protein meal prep recipes, high protein vegan meals are also important for healthy eating for your diet.
---
4. Cocoa Almond Protein Smoothie
This Cocoa Almond Protein Smoothie recipe is one of the best options for weight loss. I slice and freeze bananas before making any drink or smoothie. It saves me a lot of time. And frozen sliced ​​bananas add great flavor to drinks or smoothies. This fancy recipe is made with almond butter, Greek yogurt, cocoa powder, and banana. This drink is ready in minutes if done well. Don't miss this easy breakfasts recipe!
Get it here.
---
5. Peanut Butter Milkshake
This Peanut Butter Milkshake recipe is one of the stars among the high protein drinks recipes. It can be called a drink recipe and also a dessert recipe. It is a healthy dessert that will give peace to your soul. Take a sip of its impressive taste in the hot summer and I am sure you will remember me. This is a delicious recipe in just 5 minutes. You can imagine that your morning breakfast can be ready in just 5 minutes. It requires only 3 ingredients. Peanut butter, milk, and ice cream of your choice. You have a variety of toppings.

This drink recipe is versatile recipe. You can add anything whatever you wan. Yes, it's true!  You can add your favorite drizzled peanut butter toppings to it. You can decorate it more beautifully. For example, you can add peanut butter or peanut powder to the rim of the glass before serving. I would like to give a small tip, although this is my personal experience. Place the glass of this drink in the refrigerator for a few minutes before serving, then serve. Create your perfect summer dessert!  Enjoy!
Get it here.
---
6. Protein Berry Workout Smoothie
This Healthy Protein Berry Workout Smoothie recipe is incredible as far as healthy recipes go. Both the color and texture are amazing. My gym buddy made me eat this first. Trust me, one sip of this will take you to taste heaven. After eating it, both your stomach and soul will be happy. One thing you won't believe is that it is made with only 3 ingredients. This light red colored drink recipe is an easy hit. This is a very easy and quick drink recipe that is rich in high protein. Combine frozen strawberries, frozen bananas, milk and your protein powder of choice and sip on the peaceful drink.  AHHHHHHHHHH!
Get it here.

Wanna try these tasty strawberry desserts for sweet tooth?
---
7. Mango and Spinach Smoothie
Have you ever had a smoothie with mango and spinach?  If not, try this Mango and Spinach Smoothie recipe. It will give you great taste.  You have to play with it for a few minutes to make it. It's a thick smoothie recipe. It's so filling that you don't need to eat anything else for a long time. I know it sounds a bit strange to hear about the pairing of mango and spinach. But feel free to make it and give it a try. I guarantee you will be a fan. This high protein smoothie will give you flavor and nutrition. I made it a habit in my weekly smoothie after trying it for the first time. This fresh and comfortable smoothie recipe will satisfy both your mind and your palate. This recipe has two flavor, so wanna try mango dessert recipes and spinach recipes for more ideas?
Get it here.
---
8. Protein Iced Coffee
This protein-iced coffee recipe is best for weight loss. This classic drink recipe is surprisingly hearty. If you are a coffee lover, then this Protein Iced Coffee recipe will become your favorite recipe. Start your morning with Protein Iced Coffee. Make the morning very energetic and fresh. If you work out by drinking this drink recipe, you will realize how much energy you have increased. Your activeness will increase much more than before. It will satisfy your tongue in terms of taste. This recipe makes a chocolate syrup.  The syrup is made with cocoa powder and granulated sugar and protein iced coffee is made with coffee, chocolate protein powder, chocolate syrup, and milk. It's only a 10 minute game. This super tasty drink recipe is truly the star of any show.
Get it here.
---
9. Chocolate Peanut Butter Protein Smoothie
This Chocolate Peanut Butter Protein Smoothie recipe is the perfect recipe for high protein drinks. It also helps us lose weight. This recipe is a great option for those who just don't like protein powder. This delicious recipe is made by combining banana, vanilla soy milk, chocolate protein powder, peanut butter etc. It only takes 5 minutes to make. Make this gluten free and vegan recipe and enjoy!
Get it here.

Must try these easy low calorie snacks for busy work.
---
10. Strawberry Protein Shake with Vanilla Whipped Cream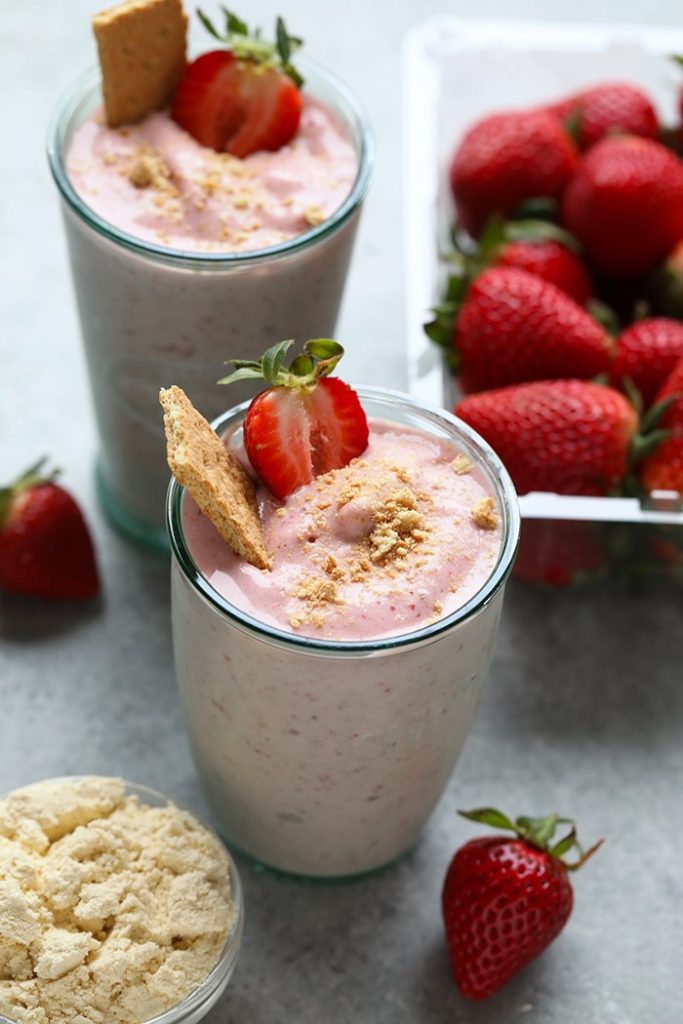 Strawberry Protein Shake with Vanilla Whipped Cream – This strawberry luscious protein shake recipe is delicious in taste and texture and this drink has many qualities. It is made by mixing healthy ingredients like strawberry, vanilla extract, heavy cream, protein strawberry, vanilla yogurt, etc. This light Ronaf drink recipe has many qualities.
Get it here.
---
11. Orange Creamsicle Smoothie
This Orange Creamsicle Smoothie recipe is one of the gems of Healthy Recipes. If you are an orange lover like me! Then you will love this Orange Creamsicle Smoothie recipe. This simple recipe is easy to win everyone's hearts. It is just a 10-minute recipe. No extra sugar is added to it. It is sweetened with natural sweetness by ingredients like Medjool dates, orange juice, coconut milk, etc. The taste is really amazing. Cauliflower is added in. You are surprised!  Trust me it tastes great and the quality is incredible. Add another favorite ingredient, vanilla Greek yogurt. It's a perfect smoothie recipe in every way.
Get it here.

These amazing vegan snacks are great for all those vegetarians.
---
12. Cafe Mocha Protein Shake
This Cafe Mocha Protein Shake recipe is very suitable for weight loss. I will be a coffee lover forever.  However, excess coffee harms our body and if we drink milk or sugar in coffee, the properties of coffee are destroyed. Coffee contains a lot of antioxidants which are very necessary for us. So it is good to eat coffee but in limited quantities and sugar and milk (cream).

If you are a morning workout person then this Cafe Mocha Protein Shake is for you. Start your all with a burst of protein and energy. This shake recipe is made with only 5 ingredients. Like: Chocolate Protein Powder, Vanilla Protein Powder, brewed cold coffee, unsweetened almond milk, and ice are prepared together. It satisfies our health and soul. It keeps our body energetic after the tiredness of the day. Try it once I am sure you will like it.
Get it here.

Let's make some healthy high protein low carb recipes for meal.
---
13. Strawberry Vanilla Smoothie
Making a strawberry vanilla smoothie is incredibly simple. In much less than five min, you can prepare this delectable smoothie dish. Because of its hue, children adore this smoothie. I remember being repeatedly attracted to it as a child because of its color and flavor. Phrases Banana, strawberries in season, vanilla protein powder, honey, oats (Old Fashioned), Almonds, and water are the components of this smoothie recipe.

This drink can be made in 6 minutes. What could be more delicious for losing weight than this? Continue drinking this beverage to determine its efficacy. The importance of this drink will then become clear to you. You'll neglect sickness if you learn to make anti-inflammatory foods your everyday companion. You'll still be capable of leading a long, robust, illness existence.
Get it here.
---
14. Almond Breakfast Smoothie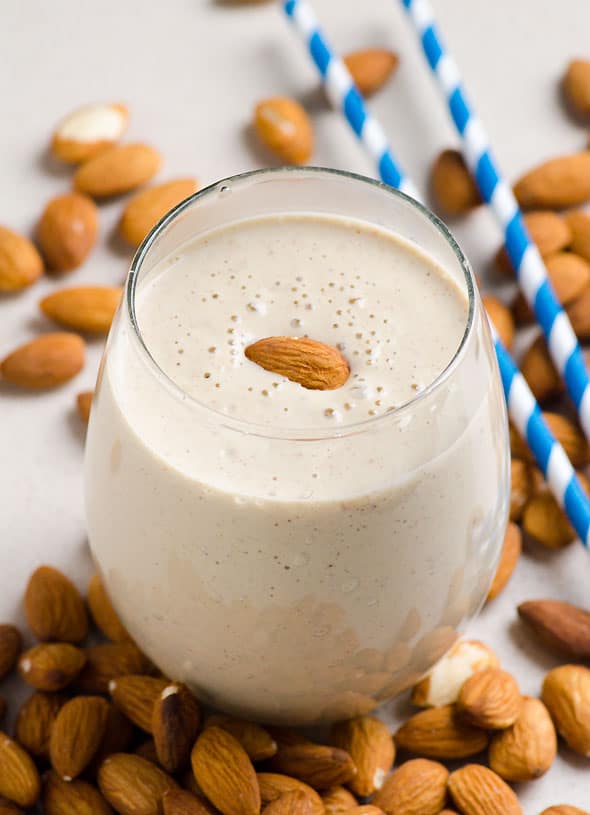 This Almond Breakfast Smoothie recipe is incredible for weight loss. My gym trainer told me about this recipe. This smoothie recipe is as versatile as it tastes. It is a high protein recipe that helps keep the body healthy, while also taking care of skin and hair health.  It is ready in just 3 minutes. Imagine!  I couldn't believe my trainer at first. Then I realized the day I made it myself. It's a very quick and easy recipe. My daughter can also make it very easily. My daughter makes my breakfast now. Because my morning smoothie recipe is so easy.
Get it here.

For any holiday, let's make holiday breakfast recipes for everyone.
---
15. Vanilla Proffee Latte (Protein Coffee)
This Vanilla Proffee Latte (Protein Coffee) recipe is hearty and incredible.  Do you know what proffee is?  I say Coffee with protein is called Proffee. By adding protein to coffee, it is much improved. This recipe also includes coffee with this protein. Protein keeps our body good in many ways. Protein is required in our body for body growth. Which we do not get from normal food.  This is why we need to take extra protein separately. This recipe is very easy to make. My husband loves to eat it. Both of us drink it when we have late-night office work. It has a different energy that you can feel when you drink it daily.
Get it here.
---
16. Eggnog Milkshake
This Eggnog Milkshake recipe is one of the hit recipes among high protein drinks. This recipe combines unsweetened almond milk, frozen bananas, vanilla extract, pumpkin pie spice and vanilla protein powder.  It takes 7 minutes to make. It's a super healthy milkshake. The main ingredients are milk and eggs. This milkshake contains a bunch of protein, calcium, magnesium, vitamin A, vitamin D, fiber, and phosphorus. It is packed with both flavor and count.
Get it here.
---
17. Almond Milk Protein Shake
This Almond Milk Protein Shake recipe is a super duper hit recipe among healthy recipes.  My husband loves this shake. Jack is very health conscious. He takes me to work out with him every day. And, he is very attentive to the family's diet. But, he likes to increase his muscle. I have a healthy husband. hehe! I learned from her how to make this recipe and what its benefits are. You will realize its benefits only when you make and eat it. This delicious recipe is made with almond milk, indigo nutritions flaxseed, protein powder etc. Blend these healthy ingredients well to make this recipe. This great recipe is ready in just 10 minutes.
Get it here.
---
18. Mint Chocolate Smoothie
Have you ever had a smoothie with mint, chocolate, and spinach?  Sounds weird!  As weird as it sounds, it's great. This Mint Chocolate Smoothie recipe is an incredible recipe. I fell in love with the color, taste, and texture. This delicious recipe is made with your choice of milk, spinach, fresh mint, frozen banana, etc. This recipe takes 10 minutes to prepare at home, it's so quick and easy.  Greenie Smoothie Tea will satisfy anyone.  Along with that, it is very useful for weight loss.
Get it here.
---
19. Chocolate Cherry Smoothie
Where are the chocolate lovers?  Those who think that weight loss doesn't involve eating delicious smoothies are wrong. We can make all meals healthy with a few healthy ingredients if we want to. This delicious smoothie will make your mouth water.  Made by combining frozen cherries, vanilla unsweetened almond milk, chocolate protein powder. I learned this from my mom.  This is the best my mother makes. It contains a bunch of protein and antioxidants. It is very suitable for our body structure. This recipe will take about 10 minutes to prepare. You will need a good blender to make it perfect.
Get it here.

Find out these easy trifle desserts recipes for parties.
---
20. Lemon Blueberry Avocado Smoothie
This Lemon Blueberry Avocado Smoothie recipe is great as high protein drinks recipe. This drink recipe has many qualities as it contains blueberries, avocado, lemon, and protein. This smoothie recipe with almond milk is really incredible. It looks as good as it is healthy. Its color will attract you. It is good for both kids and adults. This dark smoothie will satisfy many of your hunger pangs. It contains cinnamon, chia seeds, Greek yogurt, etc. It only takes 10 minutes to make. This gluten-free and vegan smoothie energizes and refreshes all our tiredness.
Get it here.
---
21. Pineapple Avocado Smoothie Recipe 
This Pineapple Avocado Smoothie recipe is a show-stopper among healthy recipes. It's so delicious and healthy. Made with ripe frozen pineapple and ripe frozen avocado. It's a very creamy smoothie recipe. I want to feed my family a healthy smoothie so I made it. It is the best choice as a morning meal. Make this smoothie for a fresh morning. Coconut milk, greek yogurt, frozen cauliflower rice, etc are combined and added. This smoothie is mildly sweet. It has a natural sweetness to it. It takes 10 minutes to make. This smoothie recipe is quick and easy to make. Serve it. You can give toasted coconut and ice.  Garnish it as you like and serve.
Get it here.
---
You may Like These Meal Ideas:
Mini Bundt Cake Recipes
Valentine's Day Cocktails
Holiday Cocktail Ideas
Pantry Recipes
Spring Vegan Meals
High Protein Slow Cooker Recipes
Crockpot Recipes
One Pot Dinners
High Protein Lunch Ideas
---
If you like this article about High Protein Drinks, share with your friends or families on Facebook, Twitter, and Pinterest. Choose your favorite recipe and make it at home, let me know which is your best recipe in the comment. Also, you can subscribe to my blog to get all the latest updates first on your mobile.
---
To make these recipes for later, SAVE this pin on your favourite Pinterest Board