We all can make more or less diet recipes. But there are different types of diet food in different parts of the world or in different countries. Many people prepare these healthy meals according to their own mind. But today I will talk about some Mediterranean diet recipes.  I don't know, many people make it but they don't know that it is Mediterranean food. There is no limit to this food. You can add any ingredients by checking the quality of the ingredients. You can make this food with the ingredients you like.  The question may come, what is so special about them! Firstly, these meals will keep you healthy and give you comfort food. Secondly, these meal prep recipes are very easy and quick. These Mediterranean diet recipes do not compromise on taste.

Foods that taste great and don't take any health risks with your body. These healthy and balanced foods will include: green fresh vegetables, colorful nutritious vegetables, fruits, whole grains, nuts, lemons, fish and lean meats. Also It will contain olive oil (which is low in fat), some good dairy products, avocado oil etc. These healthy meals will provide protein, fiber, vitamins, good fat, potassium, calcium etc. which the body needs very much.  They are perfect for breakfast, lunch or dinner. You have to read all the recipes to know the complete list of Mediterranean Diet Recipes. I know then you can't wait…
---
1. Mediterranean Avocado Salmon Salad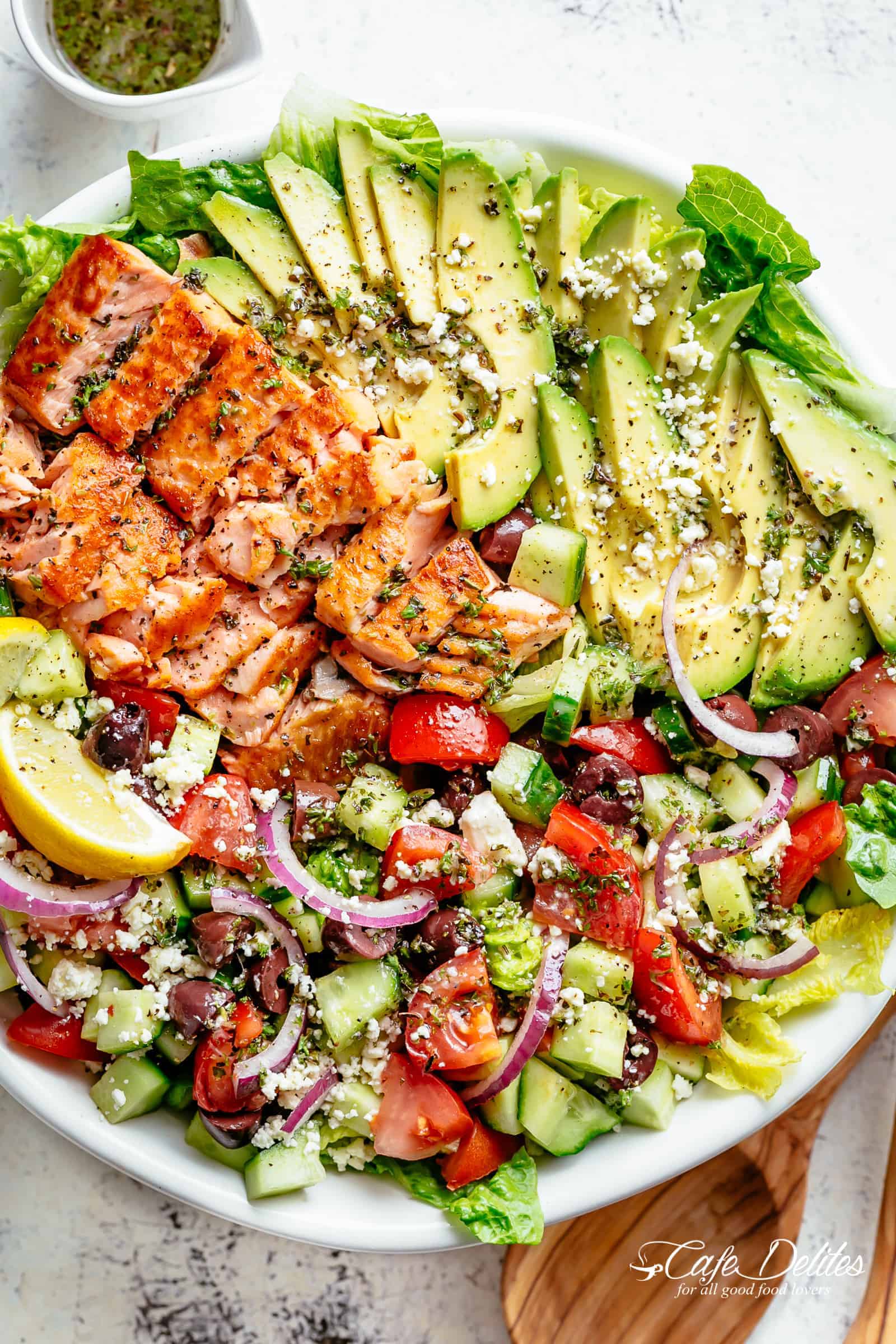 Mediterranean Diet recipes are really great and easy. Check out this Mediterranean Avocado Salmon Salad recipe, how easy it is! It's just a few-minute recipe. It takes less time to make and it's not less nutritious. It's a high-protein meal with good fats. Lots of it.  There is a wealth of vegetables. I love eating salmon. The soft skin impresses me. I love them. It is loaded with cucumber, tomatoes, onion, avocado, and feta cheese. What more do you want? 

If there are salad recipes like this, I will always go on a diet.  Really! If you can make such a delicious salad at home, your whole family will be addicted to healthy food. My favorite part of this salad is when I put the green olives in my mouth. They are really amazing. You can make greek salad recipe in many ways with these ingredients.  Just the right marinade is needed. The reason salmon tastes so good is the right dressing. If you are a chicken lover or an egg lover! Then you can add chicken or egg instead of salmon with the right dressing in this same salad. They are really amazing and beautiful.
Get it here.

To get more ideas of salad, make these amazing high protein salad recipes at home.
---
2. Mediterranean Chickpea Salad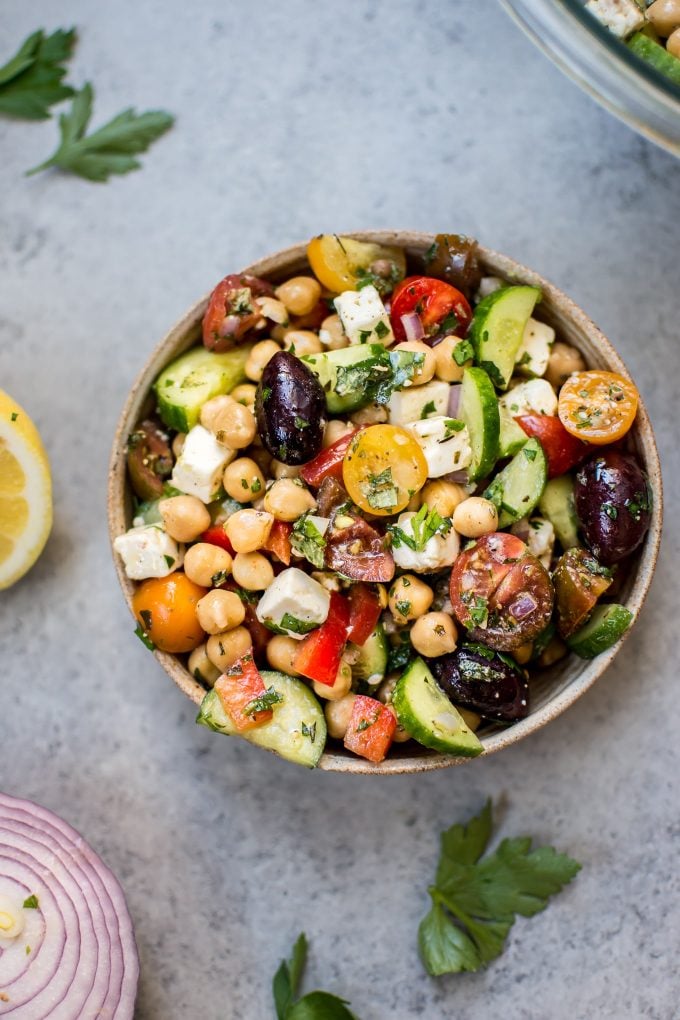 This chickpea salad recipe is one of the easiest and fastest healthy meals. It is a vegan and gluten free salad recipe. This Mediterranean salad recipe plays an important role in losing excess weight. I love this type of salad all year round. On those days when you don't feel like it, you can complete your lunch with this salad. This salad is a high-protein salad. It is loaded with chickpeas, cucumber, cherry tomatoes, feta cheese, etc. Olives are included to make it low-fat. 

Oil is added. This makes our body produce less fat and olive oil makes the skin very bright. I love the combination of lemon and olives in this salad. I add fresh oregano leaves and chopped parsley leaves from my garden to this salad.  Let me add. This is a very sentimental event for me. This salad recipe will make your mouth water with these vegetables whole grains and chickpeas as well as garlic cloves and onions. I am sure this will become your family salad.
Get it here.
---
3. Mediterranean Turkey Meatloaf
Are you looking for a healthy turkey meatloaf recipe? This delicious turkey meatloaf recipe will become your family's all-time favorite. This glazed turkey recipe is topped with a tender and juicy sauce. These meal prep recipes are very quick and hassle-free meals. This Mediterranean recipe is made with ground turkey. If you like beef, you can make this same recipe with beef.

But make sure the beef is lean.  More likes and a body glaze. This glaze is made with homemade sauce. In fact, I keep these types of sauces in my pantry all the time. This sauce is made with some fresh tomato paste, water, good-quality honey, and salt.  There is no sugar glaze in this Mediterranean healthy recipe. Because it is a complete diet food. Avoid white sugar. Such a perfect diet recipe keeps our body disease-free.
Get it here.
---
4. Creamy Mediterranean Chicken Dinner (in a Skillet)
I love to eat and cook skillet meals. It's so easy and beautiful. This is one of those Mediterranean diet recipes that I really like. You know I don't like to cook according to rules or rules.  But I try to make something new with those bullets on busy days. But I try to cook healthy food. I follow the rules. This recipe is one such food. The day I made it, I used whatever I had in stock. This is what I made. I always have chicken in my fridge.

And, I made this recipe with boneless chicken. Also, I saute the chicken in butter.  Light brown should be seen. Frying chicken in butter gives a different aroma. Trust me I go crazy for this smell. I had bell paper of different colors and added them. I used cream cheese, spinach, and parsley in this recipe.  The chicken turned out to be delicious with butter, cream cheese, and pasta. It tasted so good that I ate more of this skillet recipe.
Get it here.

Make these easy shredded chicken recipes for meal prep.
---
5. Mediterranean Couscous Cakes
I had these Mediterranean Couscous Cakes in a restaurant long ago. It's so delicious that once you try it, you'll want to eat it a thousand times. I made it at home after testing it once. Believe me, it took me less than 15 minutes to make.  I loaded this delicious dish with baby spinach, red onions, cooked couscous, fat-free feta cheese, etc. I added egg whites to give it double the flavor and texture. It turned out really crispy and cheesy. It's olives.  Cook in oil. Most of these healthy recipes are made with olive oil. It is a vegetarian food. It balances your weight.
Get it here.
---
6. Easy Mediterranean Flatbread Pizza
Hey pizza lovers! I will bring you Mediterranean pizza. That is too healthy pizza. Have you ever heard that pizza can also help your diet? I bring you magic to make the impossible possible. You can tell if you are on a diet or on a diet just by looking at the food.  These meal prep recipes will solve all these annoying problems. Including our favorite pizza. This delicious pizza is loaded with ingredients like artichoke hearts, arugula, grape tomatoes, spinach paste, feta, mozzarella, homemade flatbread or crusty bread, and more.  It is more delicious than the store. And easy peasy cheese like the store!
Get it here.
---
7. Garlic Lemon Herb Mediterranean Chicken + Potatoes (One Pan)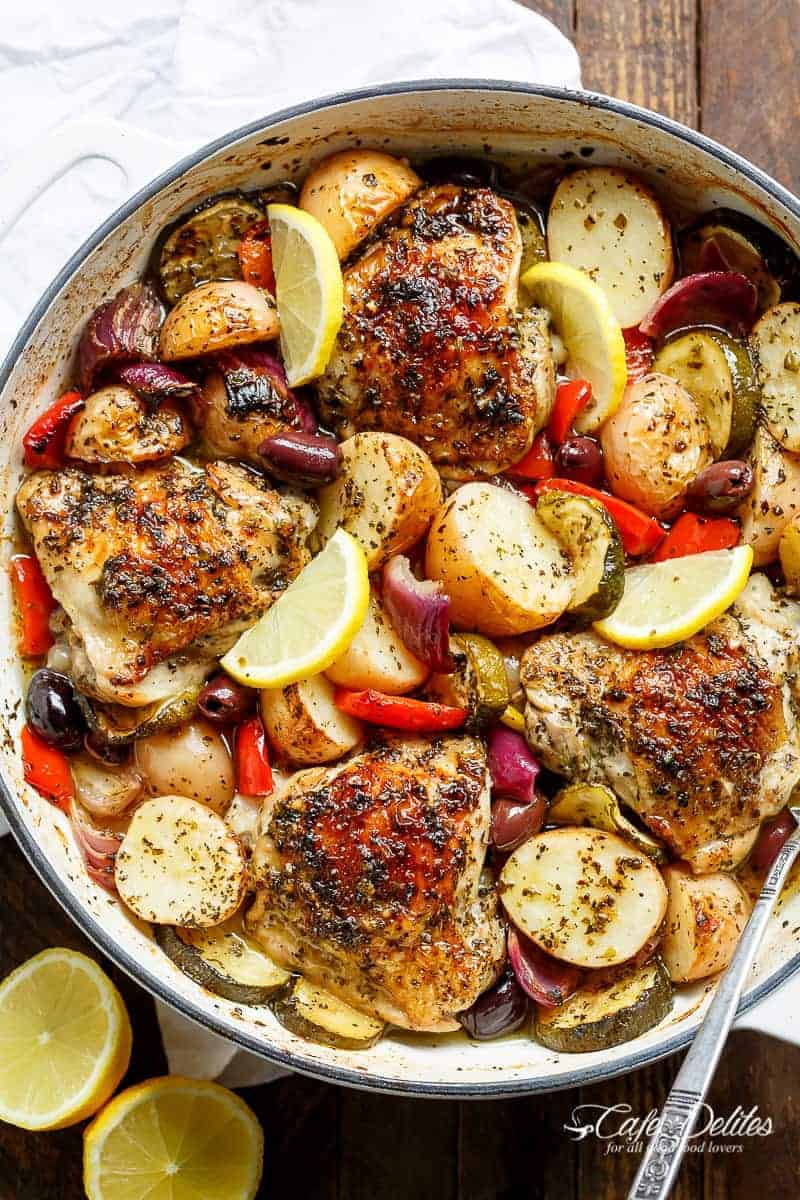 Are you fed up with dieting with tasteless food like me? Do you almost feel like you can't continue the diet? Both of you and I are going to have anxieties. These healthy Mediterranean diet recipes are enough to take our worries away. This Garlic Lemon Herb Mediterranean Chicken + Potatoes recipe is just such a dish. This dish is amazingly easy and hearty. It can be cooked in one pot. Just think friends! 

After making this recipe your kitchen will be clean as well because only one dish will be dirty to prepare it. There is nothing more easy and delicious in your busy life. Then again this is a healthy recipe. Such a recipe is perfect for your family meals. For another dinner party, make these delicious chicken breast recipes.
Get it here.
---
8. Mediterranean Chicken with Sun Dried Tomatoes, Artichokes, and Capers
This Mediterranean Chicken with Sun-Dried Tomatoes, Artichokes, and Capers recipe is a favorite of my family. It's a dish that can add a lot of favorite ingredients. When all the favorite ingredients are in one place, this recipe becomes a family recipe. This is a perfectly healthy dinner recipe for all of you. It takes about 10 minutes to prepare (it depends on one's hand speed). This dish takes 20 minutes to cook. 

This delicious dish consists of thinly sliced ​​chicken breast, black pepper, chilies, gluten-free flour, artichokes, capers, etc. My favorite part of this dish is that it is made with olive oil which is good for our body and lemon juice is added to this dish which is one of my favorite foods.
Get it here.
---
9. Mediterranean Chickpea Wraps
This Mediterranean Chickpea Wraps recipe is a wonderful recipe. It is tender and full of flavor. It is loaded with chickpeas, garlic cloves, mint, spinach, hummus, tortillas, etc. They are eaten with tomato, cucumber, and avocado salad. It takes 20 minutes to make it. I had this recipe at a friend's house. Her mother was from the Mediterranean. From there my friend also learned this recipe.

I came to know about this delicious and amazing dish from her. Then I made it my own way by changing some ingredients. You will feel full all day after eating. And these plant based protein chickpea wraps are very easy to digest. They are high protein and fiber-rich foods.  So what are you waiting for? Create a Mediterranean feeling in your home!
Get it here.

Wanna some easy chickpea snacks for healthy eating?
---
10. Smoked Salmon and Avocado Rolls
Our friends have a party every Saturday. One Saturday this party is conducted at one person's house. This time we decided to eat all kinds of Mediterranean food with beer.  You can call it our hobby or our preference. Just one such Saturday I made this Smoked Salmon and Avocado Summer Rolls recipe. Everyone helped me to make this recipe. We had a lot of fun that day. 

The fun part of this recipe is folding it.  When folded, it is loaded with avocado, smoked salmon, cucumber, noodles, etc. (your choice of ingredients). Dip these rice paper wrappers in sesame dressing, spicy vinegar, or fish sauce vinaigrette and stuff your mouth. Mmmmm!
Get it here.
---
11. Greek Omelette Casserole
I always say that having eggs for breakfast is the best idea because it makes up for a big part of your nutrition which is protein. And, I am always eager to try out new recipes with eggs. But, I recently came across this Greek omelet casserole recipe. It has stolen my heart and I'm sure it's going to steal yours too. This Greek omelet casserole is extremely light and fluffy. It's a great option for breakfast.

The Greek Omelette Casserole is one of those Mediterranean diet recipes that is loaded with lots of flavors of sun-dried tomatoes, peppers, artichokes, feta cheese, spinach, garlic, and herbs. Eggs are whisked with milk, garlic, dill, oregano, salt, and lemon pepper. And this recipe is also low in carbs! Healthy meals like these have my heart. Beside, wanna try plant based casserole recipes for lunch?
Get it here.
---
12. Mediterranean Tuna Salad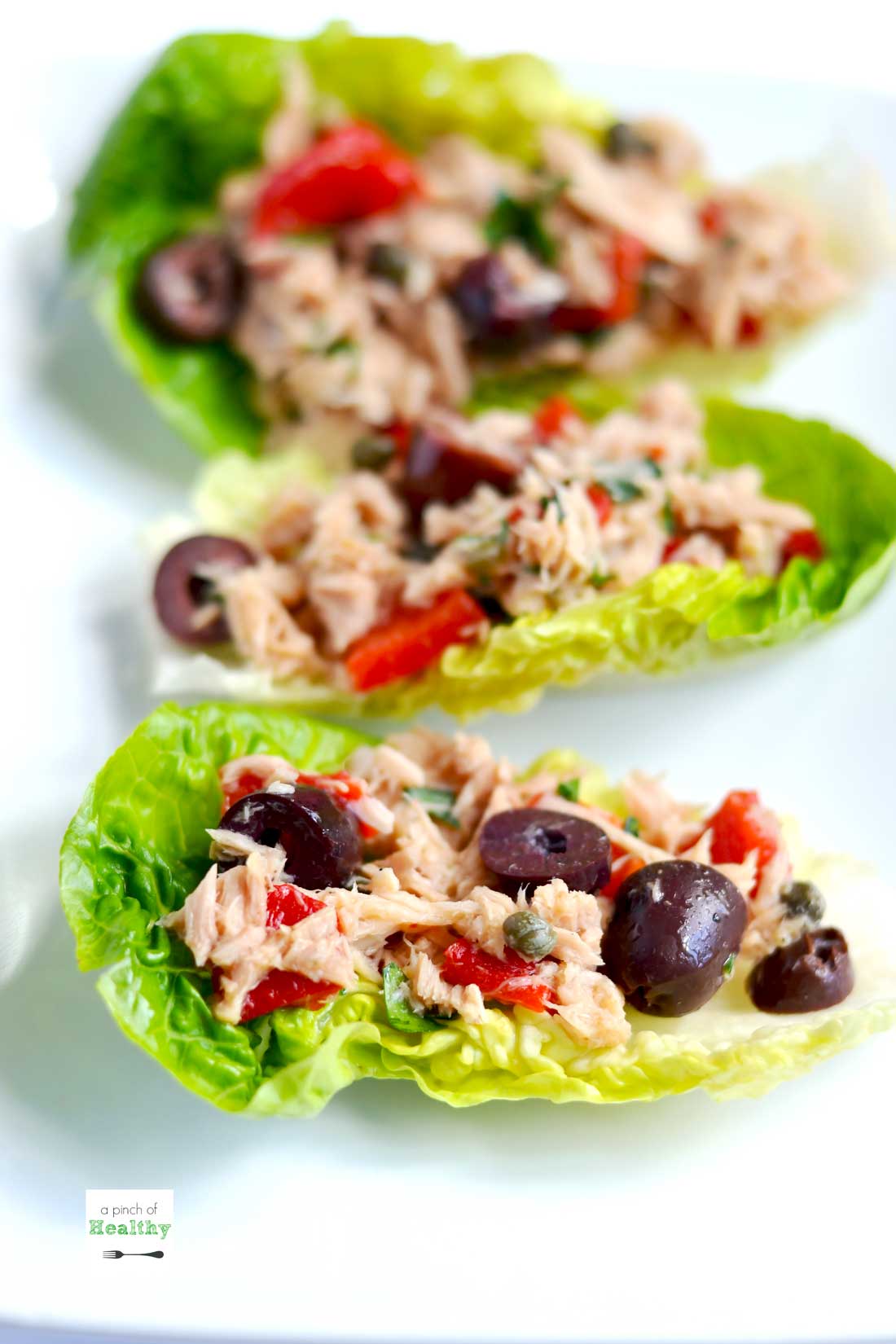 I have a group of friends who host a "Healthy Eat n' Meet" potluck every month. Every month, all the members of the group make healthy meals and take them to the potluck. We eat them together and this encourages us to cook and eat healthy food. They also announce the best dish of the month at the potluck every month. This month, my dish was announced as the best dish of the month.

I prepared a Mediterranean tuna salad and took it to the potluck. Everyone at the potluck party was hooked to its taste! My friends couldn't believe that a salad could be so incredibly mouthwatering. They begged me for the recipe. So, I decided to put it up on my blog as one of the Mediterranean diet recipes. This salad is light and nutritious yet amazingly flavourful!

Made in under 15 minutes this salad features red bell pepper, red onion, cucumber, albacore tuna fish, garlic, chickpeas, black olives, and lemon zest as the main ingredients. The drizzle of olive oil and lemon juice adds a beautiful kick to the salad. It's simply seasoned with salt and freshly ground black pepper. Fresh parsley serves as the best garnish for the dish.
Get it here.
---
13. Mediterranean Chicken and Chickpea Soup
On chilly winter nights, I crave soups that feel like a warm hug to the soul. This Mediterranean chicken and chickpea soup is exactly what a cold December dinner calls for. Every sip of this soup provides warmth to the body and soul. Soups are easy meal prep recipes that require very minimal effort to make but that doesn't mean that soups are any less in taste nutrition than other dishes. Also, if you want some cold soup recipes for hot days, check it.

This Mediterranean chicken and chickpea soup is typical of Mediterranean cuisine – with lots of vegetables, beans, and healthy fats. To prepare this soup, overflowing with flavors of Mediterranean cuisine,  sauté some minced garlic, chopped onions, and bell peppers in a dash of olive oil and season with spices like cumin and paprika. Throw in the chicken thighs, drained canned chickpeas and some broth to the pot.

Braise for a while then cover and cook for about 25 minutes or until the chicken is tender. Remove the cover and bring out the chicken thighs from the pot. Then add in some canned tomatoes and shred the chicken. Put the shredded chicken thighs back in the pot with some spinach and serve in a bowl.
Get it here.
---
14. Mediterranean Chicken and Barley Salad
You might already be drowning in love with my Mediterranean diet recipes and here is some good news for you the recipes don't end here there are more recipes to come, to be honest, I have truly given in to the Mediterranean diet recipes they are truly nutritious and delicious in every sense the Mediterranean salads are so refreshing and the Twist of spices in these salads makes me want to eat more and more of them have you heard of someone being addicted to salads yes it's me and you two will be addicted to these salad recipes once you try them this super easy Mediterranean chicken and Barley salad is the bestest ever salad recipe you will try.

Barley is one of the most valuable and nutritious grains. This Mediterranean chicken and barley salad includes cooked barley shredded skinless and boneless chicken breasts,  diced cucumbers and tomatoes, finely minced dehydrated sun-dried tomatoes, and crumbled low-fat feta cheese. All of these components are tossed with seasonings like sumac, lemon zest, lemon juice, olive oil, and red pepper flakes or roasted red peppers. Some sunflower seeds are also added to the salad for some crunch. The variety of ingredients used in these Mediterranean meal prep recipes not only yields healthy recipes but provides these dishes with a range of interesting flavors.
Get it here.

These High Protein Low Carb Meals are so healthy and great for any time dinner.
---
15. Mediterranean Breakfast Salad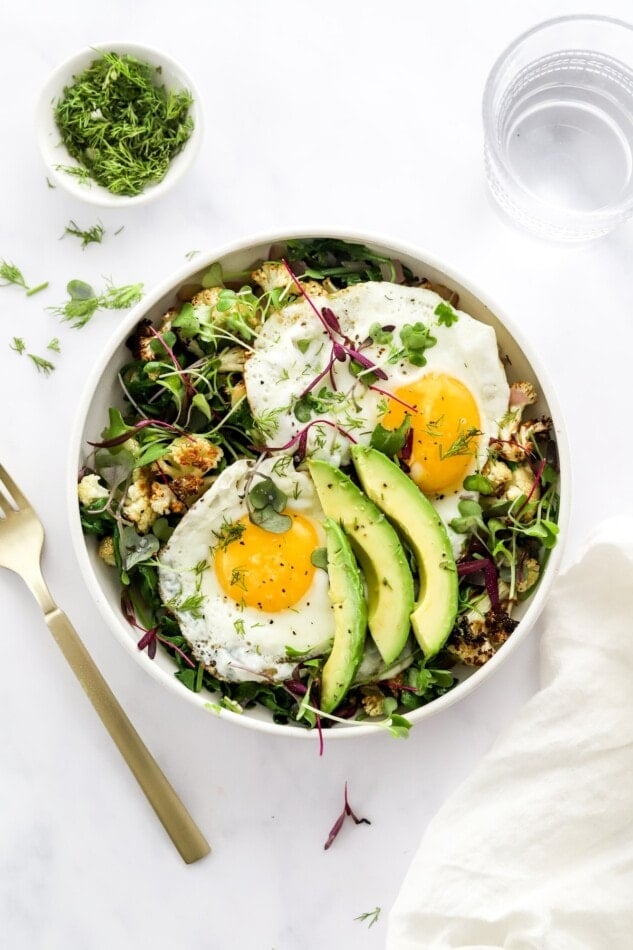 One of my aunts used to eat salad for breakfast. I used to doubt whether she is a human being. But one day, she insisted that I taste her bowl of salad. Though I hesitated at first, I was also curious about knowing what was so interesting about the bowl of salad that she could eat it for breakfast. So I gave it a try and to my surprise, I quite liked it. Though I am not a great fan of salad for breakfast, boy, this Mediterranean breakfast salad has boggled my mind. It's overloaded with veggies including healthy fats, protein, and fiber for a balanced and healthy meal to start your day.

The sumac roasted sweet potatoes, spiced chickpeas, and marinated red onions are the star ingredients of this Mediterranean breakfast salad. Sumac is a Mediterranean spice with a tangy, zingy flavor and a dashing red color. The roasted chickpeas that are seasoned with a mix of warm spices like cumin, garlic, and chili powder, add crunch to the salad. The other ingredients that go into this salad are mixed greens, cherry tomatoes, English cucumber, and avocado. But for breakfast, these sheet pan breakfasts are so good to try.
Get it here.
---
16. Baked Eggs with Avocado 
A balanced diet should have a good amount of protein, good fats, carbohydrates, and micronutrients in it. I am here to help you out with some recipes that are going to be your saviors and help you maintain a balanced diet. I have been following the Mediterranean diet for quite some time and you can find some of these Mediterranean diet recipes on my blog as well.

The Mediterranean use a lot of veggies, whole grains, fruits, nuts, and lean meats in their meal prep recipes. And they are extremely nourishing, refreshing, and flavourful. I will be putting up another recipe on my blog today. It's called baked eggs and zoodles with avocado. It's high in protein and fat (good fat, obvio) and is great for a light dinner or even for breakfast.

Also, this dish looks amazingly pretty. It's made with extra-virgin olive oil, kosher salt, freshly ground black pepper, eggs, red pepper flakes, fresh basil, and avocados. I'm extremely finicky with my eggs and like them perfectly cooked with soft egg white and runny egg yolks. It takes around 9-11 minutes for the eggs to cook perfectly. You can adjust the duration according to your preference and how you like your eggs to be.
Get it here.
---
17. Gingerbread Quinoa Breakfast Bake with Banana 
On holidays, I crave some fancy and healthy breakfast. I enjoy making a good breakfast for myself first thing in the morning. This recipe makes me feel good for the whole day. It's actually true that the first meal of your day can make or break your day. You should always break your fast with healthy meals. Today, I am going to share a breakfast recipe on this blog from my Mediterranean diet recipes.

I am sure you will like it. This Gingerbread quinoa breakfast bake with banana is not only nutritious but also equally scrumptious.  It's one of the healthiest meal prep recipes that you can make for breakfast. It is mixed with molasses, spices, and sweet bananas. And yes it's also vegan and gluten-free. Having quinoa for breakfast is advantageous in so many ways and primarily because quinoa is rich in protein.

Protein is the most important part of your diet and nothing is better than having it as a part of your breakfast. This dish is not only nutritious and delicious but it actually satiates you and keeps you fooled for long. If you ask me, I will rate this breakfast dish a 10/10.
Get it here.

Let's make smoothie recipes for breakfast, what's say?
---
18. Mediterranean Bean Dip with Roasted Squash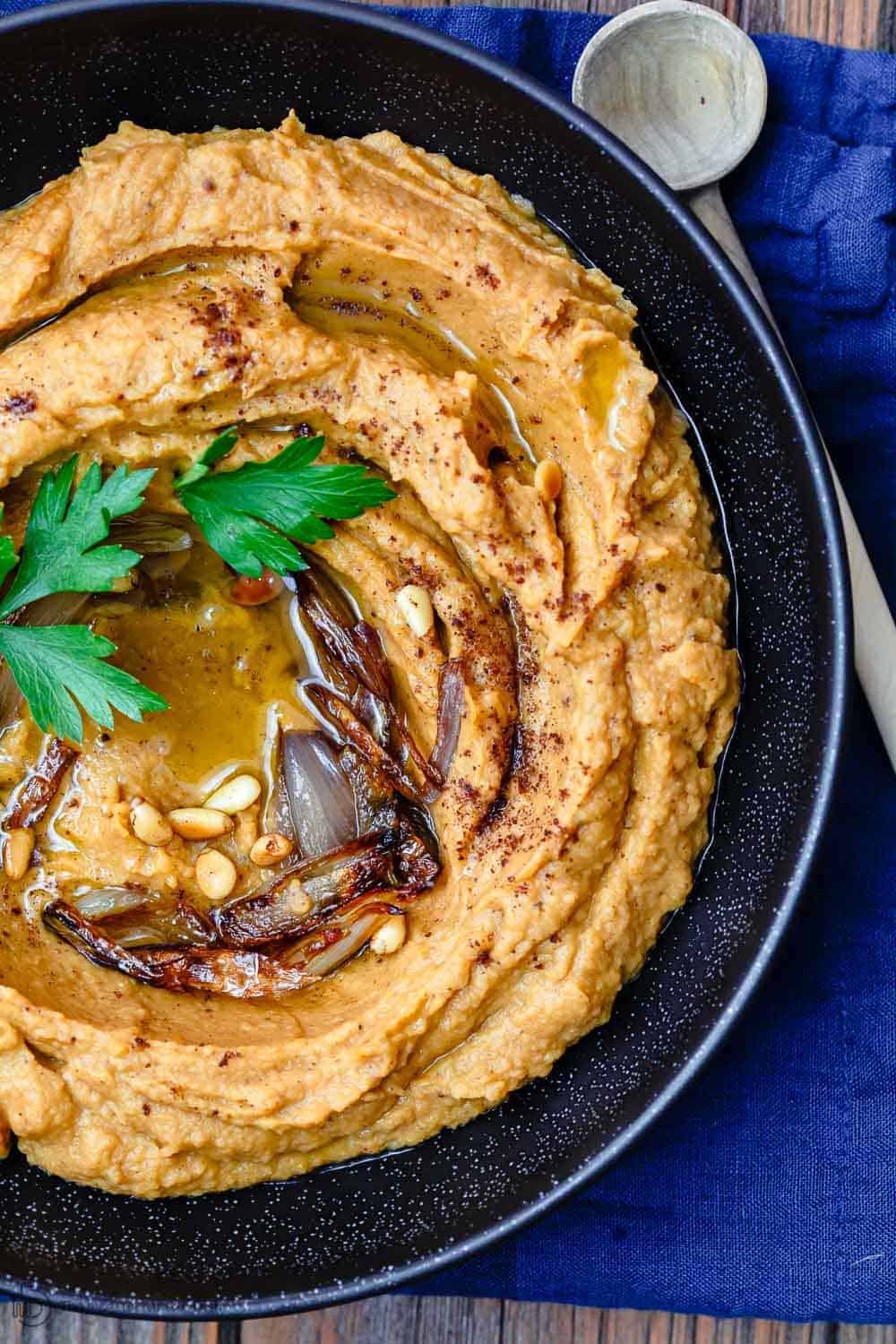 If you have been following my blog for quite some time, it's not new to you that dips are a favorite part of my food habits. Dips are one of those foods that are simple yet full of flavors and spices. I can't wait to share with you the recipe for this Mediterranean bean dip with roasted squash. It's watering deliciously. I don't have one single word that can describe how amazingly delectable this dip is.

The caramelized onions, garlic, and fresh and warm Mediterranean spices like paprika, cumin, coriander, and sumac, take the flavors in this dip to the pinnacle of excellence. Serve it with any neutral chips or with the plain flatbread of your choice and savor the flavors of this mind-blowing dip.
Get it here.
---
19. Gluten-Free Mediterranean Pasta
Who doesn't love a comforting bowl of pasta for dinner? Like the other Mediterranean diet recipes on my blog, this gluten free Mediterranean recipes of pasta too is full of Mediterranean flavors and is also gluten free. I make it quite often for dinner and I am sharing this recipe with you because I love it so much. I can bet that you will fall in love with this recipe too if you give it a try.  It's loaded with colorful vegetables and you will be surprised to know that it takes only 30 minutes to serve this nourishing pasta dish.

This hearty pasta dish calls for some really basic ingredients like gluten-free spaghetti, cherry or grape tomatoes, marinated artichokes, kalamata olives, fresh spinach, and fresh basil. To season the pasta, you'll need some extra virgin olive oil, veggie broth (you can make your own at home as I did), tomato paste, garlic, salt, pepper, and crushed red pepper. This comforting gluten free pasta is one of my easiest meal prep recipes you can easily serve it without any sides. This dish is simply delicious and nutritious as is.
Get it here.
---
20. Mediterranean Quinoa Bowl with Roasted Red Pepper Sauce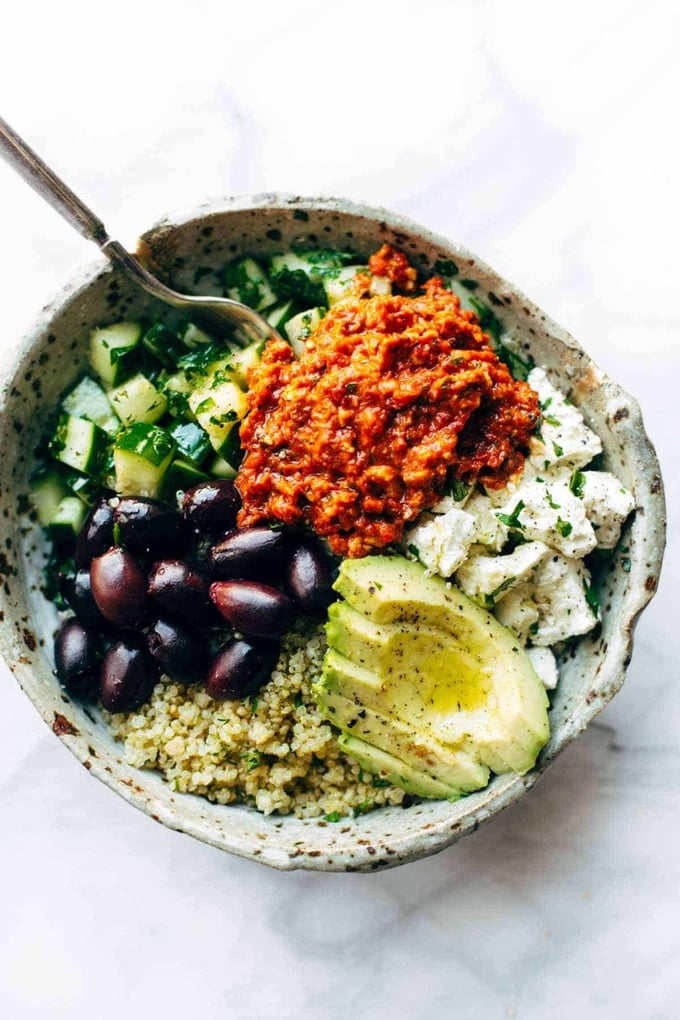 What can be healthier than a bowl of quinoa? But don't worry I am not going to meet you to eat a bowl of boring quinoa. It is spiced up with a whole lot of ingredients including this roasted red pepper sauce. This Mediterranean bowl is one of those healthy meal prep recipes for your weeknight dinners or lunch that will keep you full for a longer period of time. This quinoa bowl is bursting with Mediterranean flavors.

This Mediterranean quinoa bowl features cooked quinoa, diced cucumber, feta cheese, kalamata olives, pepperoncini, thinly sliced red onion, hummus, roasted red pepper sauce, fresh basil or parsley, olive oil, lemon juice, salt and pepper. After trying this dish, you'll never say that quinoa is boring. I'll also tell you how to cook the perfect quinoa every time. Quinoa will become your favorite food from now onwards. I always tell people that no food is boring or bland when paired with the right and interesting ingredients. Enjoy your healthy meals and I will keep on sharing more such recipes.
Get it here.
---
21. Linguine and Zucchini Noodles with Shrimp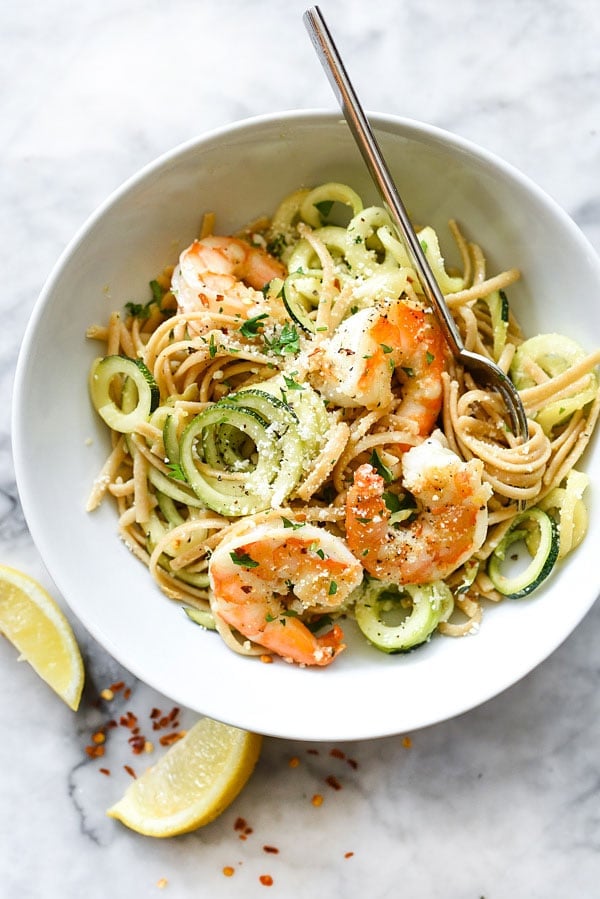 As an admirer of Mediterranean cuisine, I have already posted many Mediterranean diet recipes on my blog. One of the greatest reasons why I love Mediterranean food is that apart from being refreshing and scrumptious, these are wonderfully healthy meals. The Mediterranean people know how to balance both taste and health in their cooking style.

This linguine and zucchini noodles with shrimp is an outstanding Mediterranean dish and can be served as a standalone dinner for busy weeknights. I love a good noodle dish for dinner. This noodle dish is made up of spiralized zucchini, whole wheat linguine pasta, and garlicky shrimp scampi. This dish is brimming with bold Mediterranean flavors to vamp up your meal prep recipes.
Get it here.

Let's make these delicious shrimp appetizers for parties.
---
BONUS
Mediterranean White Bean Salad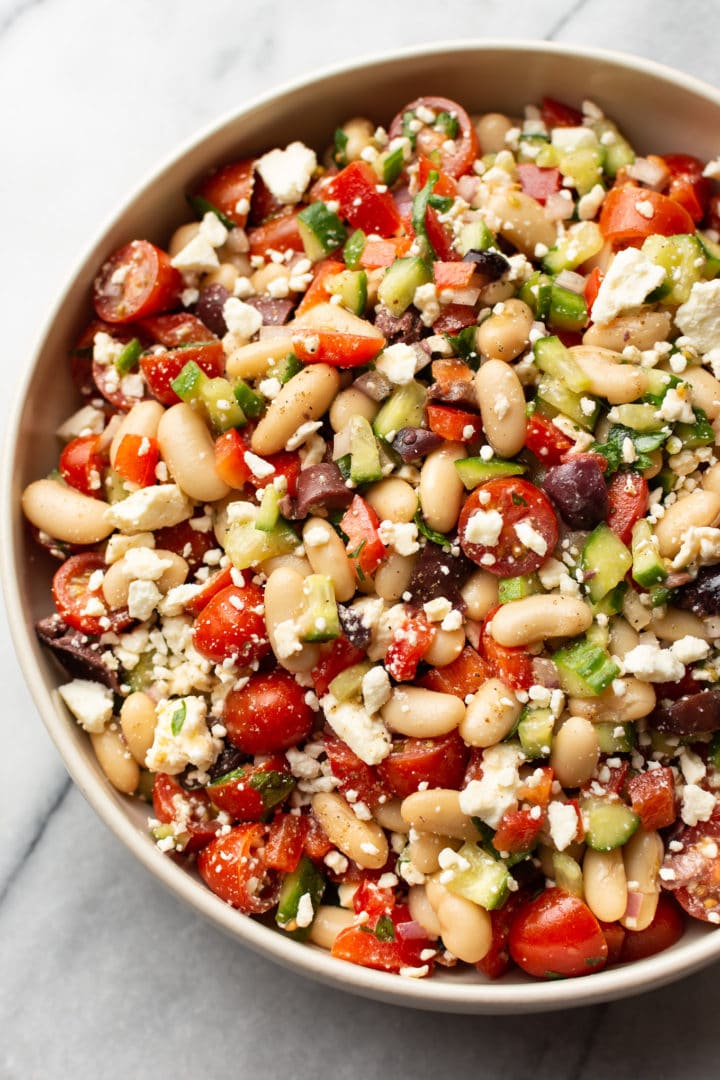 This high protein salad recipe is really traditional.  It is delicious and nutritious. It is very easy to make and best of all, you can make white bean salad in advance.  By letting it face all the elements, you can finish your unfinished tasks.  This delicious salad features cooked white beans, garlic, cherry tomatoes, white wine vinegar, and cilantro. These meal prep recipes are made with olive oil.

Mixed this salad well and serve. This recipe can be eaten in all weather, but it is an ideal salad for the any time for meal prep or for hot season. I am always ready to eat it.  It is extra delicious and beneficial.  I have so much fun making this salad.  This recipe is a favorite of my family.  Make this salad a family meal for you too replace of red meats.  Within a few days, you or your family will see that it will become a favorite salad.
Get it here.
---
Mediterranean Lettuce Wraps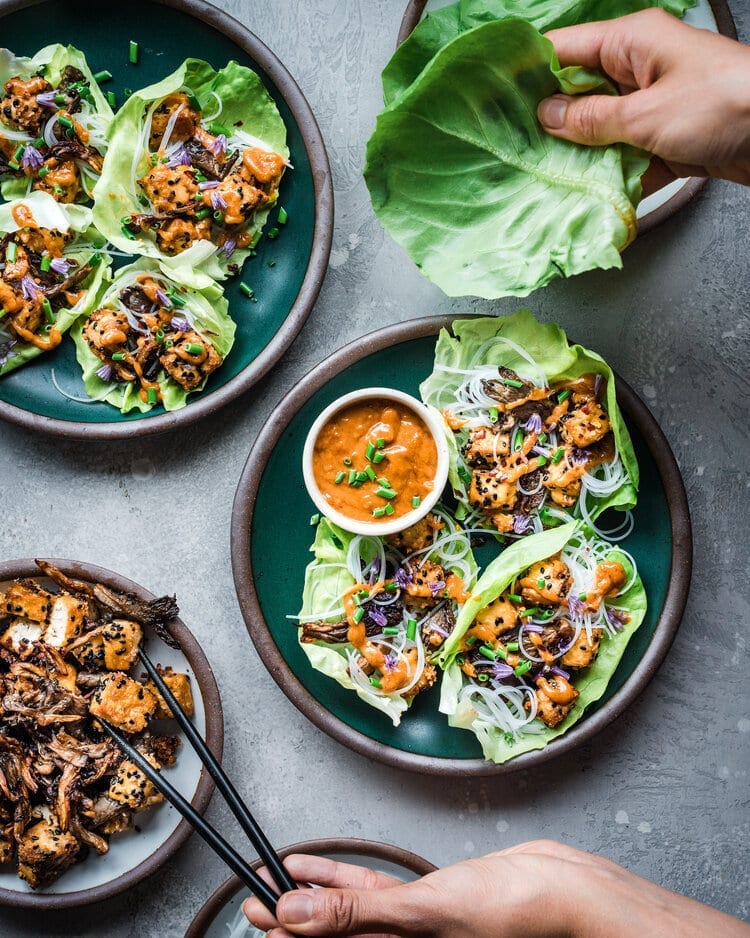 This Mediterranean Lettuce Wraps recipe can be easily packed in a lunch box. You are not busy with breakfast! Why worry! Enjoy this Mediterranean Lettuce Wraps meal in the car on your way to the office. This is the specialty of these healthy recipes. They can be packed wherever you want.  Can be taken away. I make this recipe and take it with me whenever I travel far away. Healthy food is not always available everywhere outside. So these homemade healthy foods are my best friend. This delicious dish is Bibb lettuce leaves,  Loaded with toasted almonds, parsley, sliced ​​shallots, lemon zest etc. Extra virgin olive oil is used in this recipe. Make this healthy dish and stay healthy. Also you can try more lettuce salad recipes for meal prep.
Get it here.
---
Falafel Kale Salad with Tahini Dressing
I always look forward to this Falafel Kale Salad with Tahini Dressing recipe. It is one of my favorite healthy meals. I love its flavor spectrum. I am sure once you try it, you will want to eat it again and again.  It takes 30 minutes. It's crispy but not hard. A very tender recipe. When it's served, it gives a different sense of peace or comfort. It's a comfort food. It brightens up your morning or night.  Make it. I enjoy it at lunch too. This falafel kale salad makes you more refreshed.
Get it here.
---
Jerk Shrimp with Pineapple Rice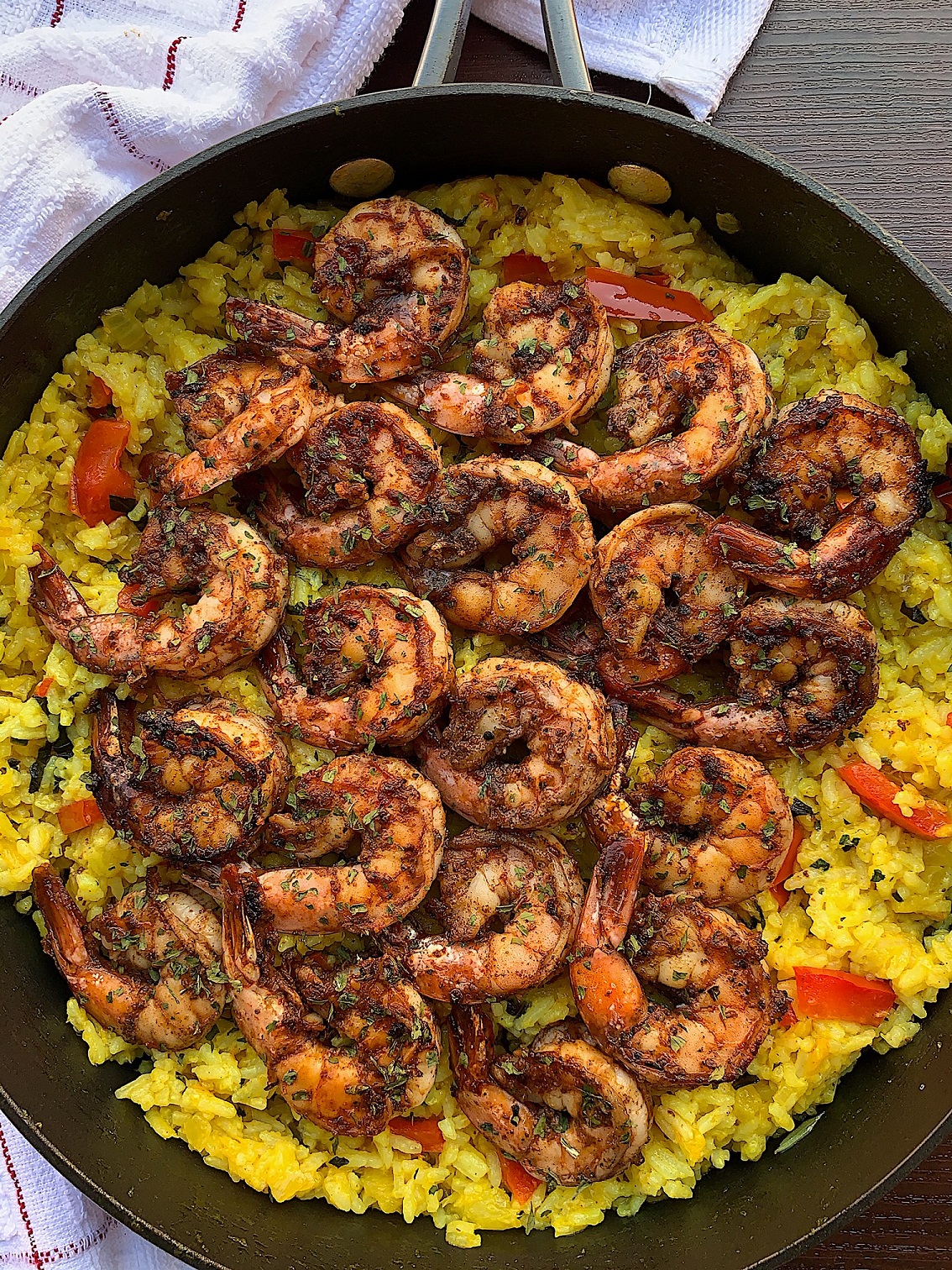 This Jerk Shrimp with Pineapple Rice recipe is one of my favorite recipes. I went on a honeymoon at the sea with my husband. We had a great time there. The sunlight and the cool breeze in the sea made our minds calmer. Some sea with this beautiful environment.  Honeymoons would be incomplete without food. We ate a lot of new seafood during those few days. Everything was delicious. But the Jerk Shrimp with Pineapple Rice recipe was the most tempting for us. It is a very healthy dish. Another important thing is Missing.

I was doing it, it's a Mediterranean recipe. Not many people know this. We eat food discovered all over the world. We don't always know the place of origin of food. I'm a bit curious about cooking. This Mediterranean Jerk Shrimp with Pineapple Rice recipe is prepared by combining pineapple, butter, shrimp, red pepper, basmati rice, cilantro, etc. It is really impressive!
Get it here.
---
Cilantro Lime Grilled Chicken with Avocado Salsa
Looking for good quality grill recipes?  This Cilantro Lime Grilled Chicken with Avocado Salsa recipe is a great grill recipe. It is made with chicken. Chicken breast is grilled with lemon juice, olive oil, cilantro, ground cumin, and salt. It is a great diet recipe topped with avocado salsa.  Which you will always love. Surprise everyone by making these Mediterranean Diet Recipes at the New Year's party this year. I am sure all your guests will feel like amazing.
Get it here.
---
You may Like These Meal Ideas:
Mini Bundt Cake Recipes
Valentine's Day Cocktails
High Protein Snacks
Holiday Cocktail Ideas
High Protein Chicken Meals
Air Fryer Chicken Meals
Summer Punch Recipes
Fritter Recipes
Brie Cheese Appetizers
---
If you like this article about Sweet Potato Recipes, share with your friends or families on Facebook, Twitter, and Pinterest. Choose your favorite recipe and make it at home, let me know which is your best recipe in the comment. Also, you can subscribe to my blog to get all the latest updates first on your mobile.
---
To make these recipes for later, SAVE this pin on your favourite Pinterest Board